Just the term "Spider-Man Statues" probably makes that silly song get stuck in your head. "Spider-Man, Spider-Man, he does whatever a spider can."
How anyone could not love Spider-Man is beyond me, but hey, if you're reading this, you probably aren't one of them! I love everything Spider-Man, including the arachnids themselves. I have quite a collection of non-superhero-generating jumping spiders. My jumping ability remains null, to my displeasure. 
Spider-Man has lived through his fair share of changes; style, big screen character, and costume. We have been there invisibly by his side as he gets upgraded and downgraded. I see nothing wrong with the original Spider-Man and wish they could leave as much as possible about it alone. 
Enough of my nerdy whining, though. We're here to talk about the very best of the best Spider-Man statues you can find and purchase! Some may be outdated, but I'm sure you know by now that you can find anything your little geeky heart desires on reseller sites, but be ready to find other ways to pay for gas for a while! 
Bottom Spidey-Line Upfront
I struggled to pick just one overall winner when it was clear that both of these extremely well-created statues deserved the top most recognition a Spider-Man statue could get. 
What I Look for in the Best Spider-Man Statues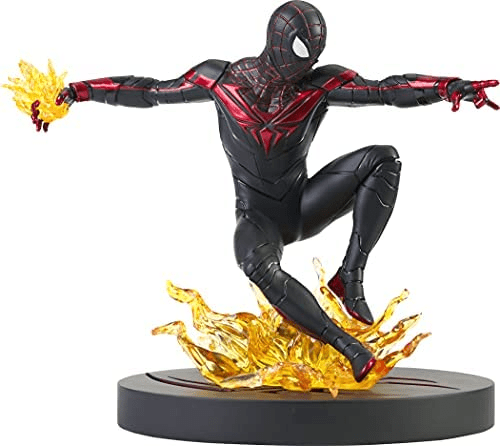 Statues are statues, right? No. There is a massive difference in quality in where you purchase the statue from, for starters. Secondly, the material used to make the statue is also essential. Did a machine create the statue with thousands of its lookalikes, or did an artist's hands make it?
All those crucial details drive the quality of the actual statue up or down. I am not looking for low-quality crap, so I will not even bother listing it. If you want something cheap, you are welcome to go on that quest alone, like a real hero. 
I list statues made using the best materials from the most renowned companies.

The best Spider-Man statues are very realistic in textures and shading.

Listing the best statues means the painting and detail must be close to perfect. 

I prefer larger statues over the small handheld variety. The quality is better on the larger sculptures, even if the price is a bit much.

I tried to include a variety of eras of Spider-Man in this list. Something for everyone, young and old.

I love supporting smaller specialty shops and will add those to this list before anything mass-produced.

I will add fancy high-end statues and also more affordable options.

It is vital that the statues I list can hold up to time and last long enough to be handed down to your grandkids, or somebody's at least.

I like statues that stand out as a little different than what you thought you'd see, so stay tuned!

Fantastic statues need to have excellent bases, not something clanky that will take away from the quality.
How to Make Your Spider-Man Statue Last a Lifetime
Storage is so important, as is upkeep. Below are a few ways to help keep your statues looking new and lasting a long time.
Pick the Proper Display Case
Soft LEDs, glass doors, and well-spaced shelving are perfect. Still, if you are on a budget, check out your local reseller sites, like Facebook's Marketplace, for a china cabinet, bookshelves, or glass cases. You could even use glass aquariums as display shelves.
You can easily glue them together to create an entire shelf. I previously wrote an article on Funko Pop Display Cases, but you could run with the idea and use it for displaying statues.
You can seriously find some unique DIY projects to get super creative with and create the perfect and unique shelving your little heart desires. Check out the links below for inspiration.
Dust with a Damp Paper Towel
Do not use cleaner, and do not scrub. You can easily take the paint off some of the more expensive artist-painted Spider-Man statues.
Check out this article for more information on the dos and don'ts of cleaning your Spider-Man statues. You can check out more ways to keep dust off your collectibles and other hacks here.
Keep Your Statues Out of the Sunlight
Sunlight is an enemy of many, and your precious statues are unsafe while in the path of UV rays. It will dry out the figure, possibly causing cracking.
It will also fade the statue's vibrant colors to a washed-out variety. It's never a good idea, even if you get some fancy UV clear coat to fight those evil rays. Not worth the risk of messing up a beautifully created Spider-Man statue. 
Don't Subject your Statues to Extreme Temperatures
That means no attics or garages. Duh. See the above links on how to and how not to care for your statues.
Best Affordable Spider-Man Statues
Spider-Man Statue – Friendly Neighborhood Spider-Man: No Way Home BDS Art Scale 1/10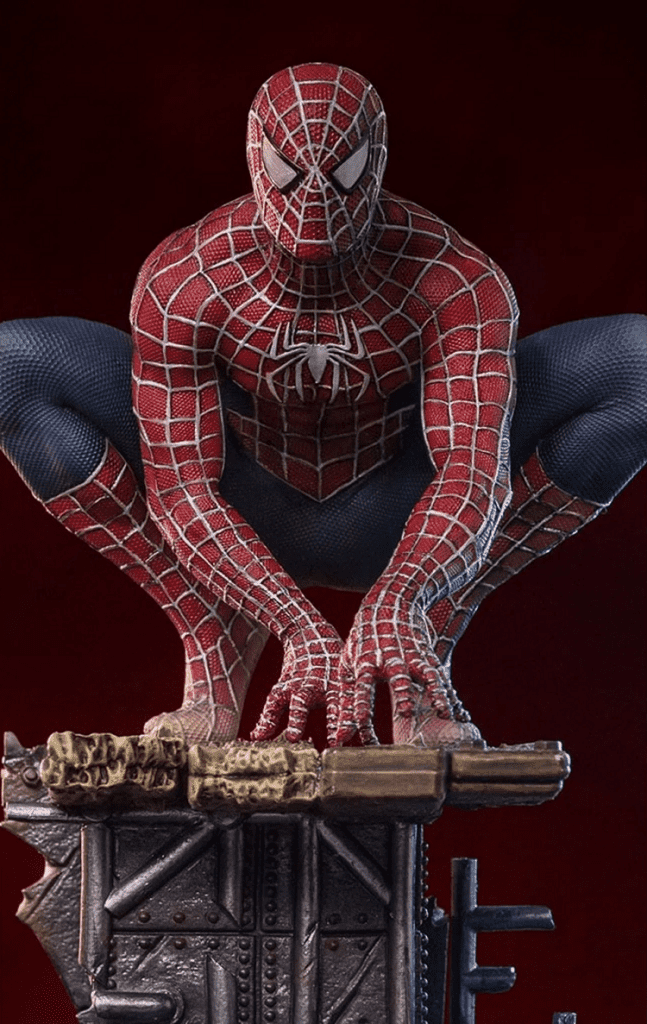 Maker: 

Iron Studios

Release Date: 

January 31, 2023

Size: 

20 x 10 x 10 cm

Materials: 

Polystone

Current price:

 $149.99

Edition:

 C-64
This legendary Spider-Man statue is from the movie, Spider-Man: No Way Home, which is directed along with the entire trilogy by Sam Raimi. 
Pros
I love how realistic Spider-Man's costume material looks.

The destroyed wall with exposed piping is a nice touch.

This is very well done for a small-scale statue of our favorite arachnid hero and is not insanely expensive.
Cons
I'm not going to lie; this is a charming statue, but you can certainly tell where the price difference lies between $150 and $1000. 

From the back, Spider-Man's booty looks a bit lopsided, and he lacks back muscle tone, which you don't see on many of the other statues in the list.
Spider-Man's reaching forearm looks misshapen.
Spider-Mans upper back and neck muscles look a bit off when compared to the smaller size of his head.
Spider-Man Pumpkin Bomb Marvel Gallery PVC Statue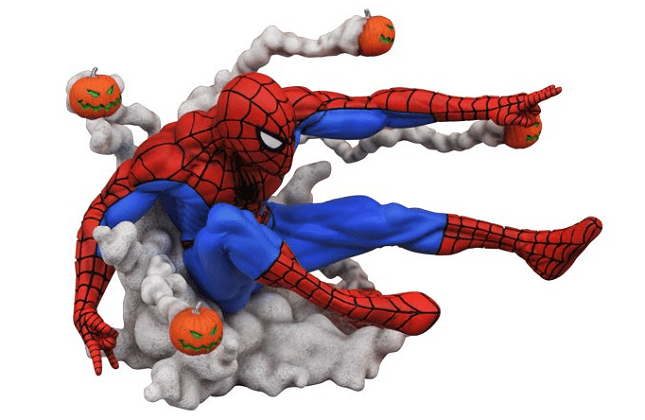 Available at: Walmart

Release Date:

2022

Size: 

9 x 6 x 1.5 inches / 1/8

Materials: 

PVC

Current price:

$50

Edition:

Gallery Diorama
This is a great affordable sculpture of our arachnid hero, Spider-Man, while he narrowly escapes being bombed with pumpkins by one of his enemies.
Pros
If you are a massive Halloween fan like I am, you need this statue of your favorite superhero avoiding pumpkin bombs.
This statue is wall mountable, which is an extra cool and efficient way to display Spider-Man.
The paint is bright and uniform with the character's actual colors.
Cons
Spider-Man looks like he's been hitting some serious gains from steroid use. I think this is way more muscular than any Spider-Man I've seen.
It would have been better if the pumpkins had different faces and a fiery glow inside.
The smoke plumes from the pumpkin bombs should have more yellowish orange to them to make the puffs look extra hot.
Marvel Now! Kotobukiya ArtFX+ Miles Morales Spider-Man Statue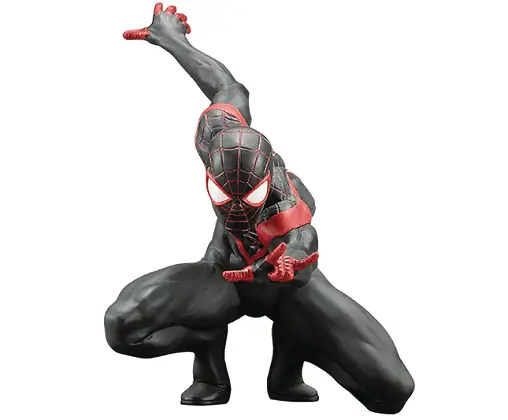 Maker:

Marvel Now! / Kotobukiya
Available at: Ukiyo Kumo

Release Date: 

2020

Size: 

4 inches tall / 1/10

Materials: 

PVC

Current price:

$42.74

Edition:

ArtFX+
This is another decent Miles Morales statue. Here we see our fill-in Spider-Man dressed in his one-of-a-kind suit and crouched like a spider about to pounce on its prey.
Pros
You could paint this statue anyway you want since it is a pre-painted kit.
The definition of Miles Morales's muscles is very realistic looking.
The statue has magnets on its feet so you could stick this Spidey on any metal surface.
Cons
Spider-Man's behind looks too detailed to be wearing clothing. They went too far.
This is a cool import but is fairly cheaply made.
Marvel Gallery Spider-Man on Taxi PVC Figure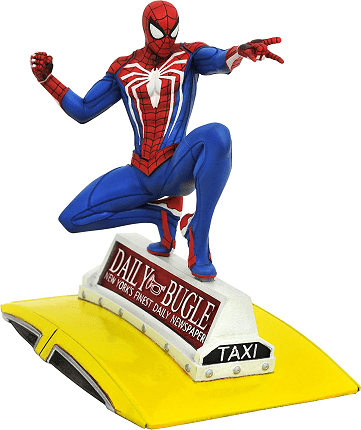 Maker:

Diamond Select Toys
Available at: Amazon

Release Date:

May 26,

2021

Size: 

8 x 4 x 9 inches

Materials: 

PVC

Current price:

$39.63

Edition:

Marvel Gallery / Playstation 4
This may not be a high end Spider-Man statue but it doesn't mean it isn't completely awesome. From the NYC cab to the advertisement for the ever so important Daily Bugle, you can go wrong with this statue.
Pros
This statue has more originality than some of the fancy statues. Where else have you seen Spider-Man surfing on a taxi in statue form?
The newish suit is pretty sharp looking and the colors are vibrant.
The detail on the cab is decent and looks fairly realistic and Spider-Man in this form is reminiscent of the old school Spider-Man toys.
Cons
The front facing foot's sole seems to have a chunk of grey material between Spider-Man's foot and the actual cab.
Spider-Man's web shooting fingers look like they have tight black strings tied around them, which looks weird.
Best Spider-Man Statues in the Universe
The Amazing Spider-Man Spider-Verse Trio ¼ Statue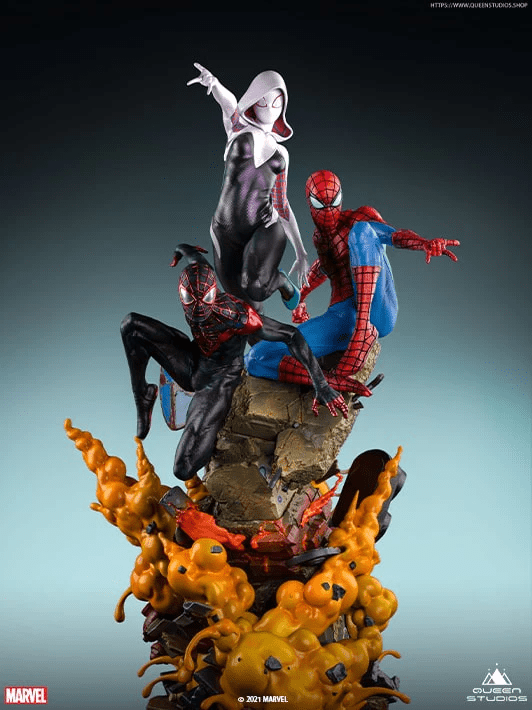 Maker: 

Queen Studios

Release Date:

 Second Quarter of 2022

Size: 

74.5 x 43 x 45.2 cm

Materials: 

Polystone

Current price:

 $1359 – Not Available in the USA

Edition: 

499 Limited
Wowsers! This is one very well-made and visually appealing Spider-Man statue. This breathtaking statue was inspired by Spider-Man: Spider-Verse Volume Three.
Pros
The explosion's smoke plumes are detailed so well that they look like real extra hot smoke. Can you feel the heat?

The debris detail from the explosion on the statue's base is really neat looking and adds an even more realistic sprinkle to this badass statue. I especially like the uprooted stoplight thrown into the mix.

Spider-Gwen and Morales are there with Spider-Man. I love the Ghost Spider! The artists did a fantastic job capturing the curvature of their muscles and bodies, which makes this even more realistic. How much more realistic could you possibly want?!

The spiderweb on the back of the base is cute. It reminds me of one of the Spidey Lego kits my son has in his Spidey mix. 
Cons
The plumes of smoke look a lot like spray foam insulation. 

The spiderwebs should be more realistic looking and less like the Lego version.
Iron Spider-Man ¼ Scale Statue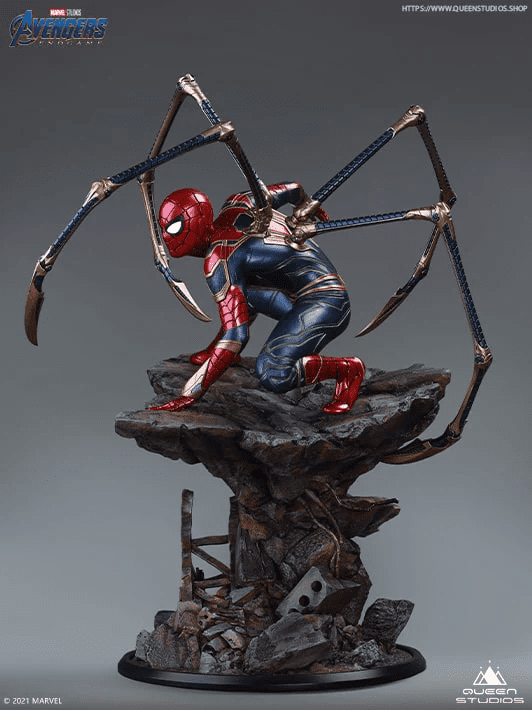 Maker: 

Queen Studios

Release Date: 

Fourth Quarter of 2021

Size: 

51 x 44 x 38 cm

Weight:

 20 pounds

Materials: 

Polystone

Current price: 

$730 Regular, $875 Premium, and $1059 Deluxe – Not Available in the USA

Regular Edition: 

Masked Spidey head sculpt with the blue lens or the 'instant kill' red lens

Premium Edition: 

Masked Spidey head with switch-out arm and Infinity Gauntlet

Deluxe Edition: 

Masked head sculpt, switch out arm, Infinity Gauntlet, and Tom Holland head sculpt switch out
This is a very cool statue, and the deluxe edition is the one anyone would want. I like that you can change the head to actor Tom Holland's head. Seeing Spider-Man's face has always been taboo, which gives this statue a bit of a bonus.
Pros
I love the metallic, gold-edged iron spider suit. The detail on the four spider legs is outstanding.

Seeing Peter Parker's innocent high school face helps the viewer to remember he is just a boy.

The Infinity Gauntlet has loads of detail and looks very realistic. I like that you can remove it if you want, though.
Cons
The Peter Parker head sculpt is a bit creepy in that wax museum kind of way. They needed to give him a splash of color and light in his eyes.

The rubble that Spider-Man is standing on is incredible with the rebar, but it would look even better if it had some items specific to Spider-Man lying around. Maybe a torn piece of newspaper, broken spider webbing, or even a little red and black spider itself.
Spider-Man Premium Format Sideshow Figure Collector's Edition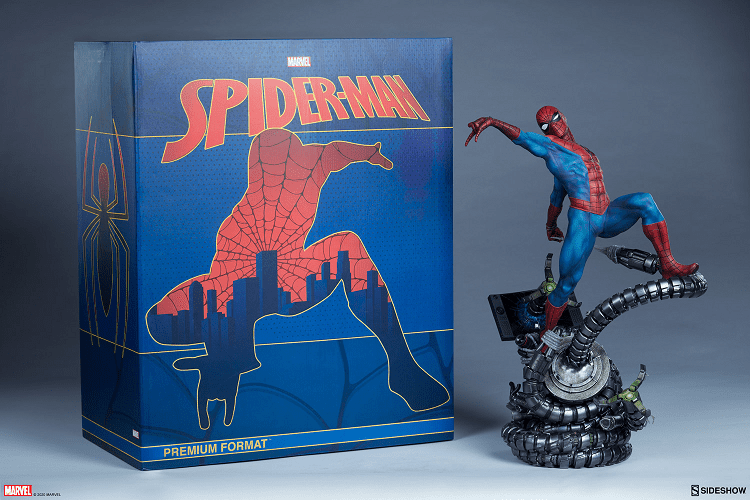 Maker: 

Sideshow Collectibles

Release Date: 

Fourth Quarter 2019

Size: 

57.1 x 43.2 x 40.6 cm

Weight: 

30 pounds

Materials: 

Polystone, PVC, resin, and metal

Current price:

 $630

Edition:

 Marvel Collectibles/Limited Edition 2000
This remarkable statue is well done in the way of design and artistic value. The Exclusive Edition is my personal favorite of the two editions.
Pros
The muscular detail on this Spider-Man statue is some of the best representations I have seen.

Even the spidey suit looks very realistic with different textures created and wrinkles in the fabric where you would find them when bending in real life.

This Spider-Man action statue had to have been hard to capture in a realistic light; the movement detail all the way down to Spider-Man's hand preparing to shoot webbing as he is caught in a mid-air leap is spectacular. 

Spider-Man's clenched fist filled with web rope is perfectly represented as he ties the robot's arm shut. Even the appropriate forearm muscles flex.

The different textures and metal shading on the robotic coil arm look incredibly close to the real thing.

I love the robot tentacle going right through the monitor, branded OSCORP Laboratories.

If you use your spidey-sense, you might even spot Peter Parker's famous camera wound tightly with webbing. 

The two robot tentacle arms with green-tinted claw hands light up green to add to the special effects of this statue.
Cons
The broken glass on the OSCORP Laboratories monitor could have used a bit more realistic detail. It's okay but compared to the rest of this very well-represented Spider-Man statue, it needs to be bumped up a notch in quality and realism.

It's not that the webbing is poorly done, but it should have been a bit thinner to look more realistic.
Spider-Man Marvel Homecoming Lifesized Statue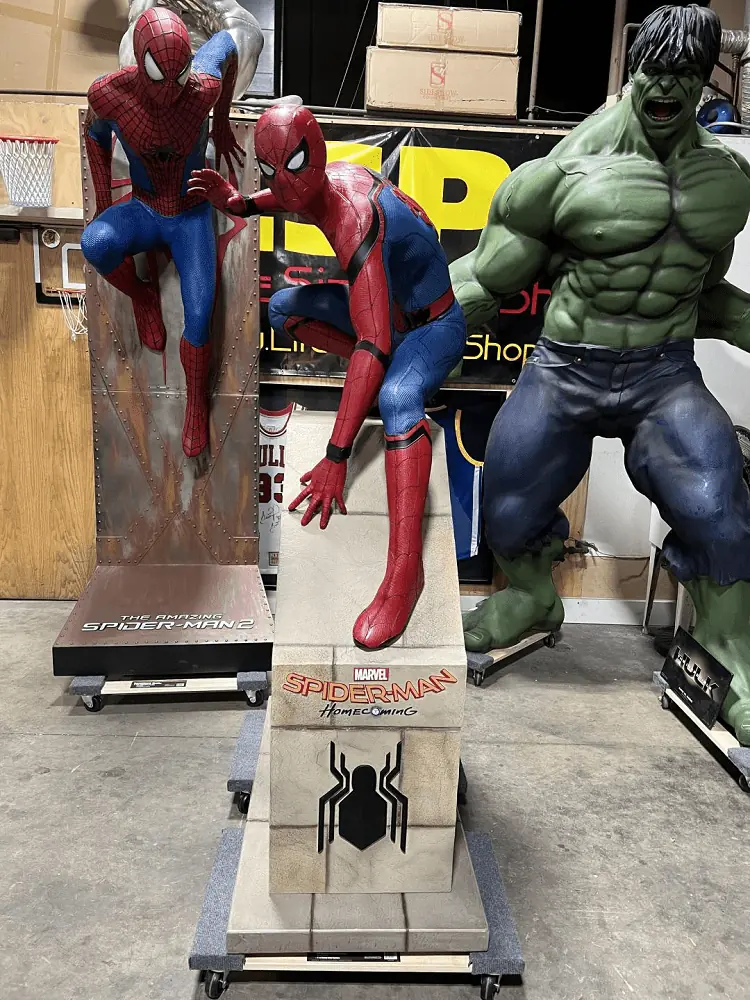 Maker: 

Life Size Prop Shop

Release Date: 

2017

Size: 

76 x 24 x 45 inches including base

Weight: 

Unknown

Materials: 

Fiberglass

Current price:

 $19,995

Edition:

 Discontinued
If you've ever needed a lifesized Spider-man statue in your life, this one is undoubtedly epic looking. At the time I am writing this article, one of these exact statues remains. This statue was created of Tom Holland's Spider-Man around the same time the Spider-Man: Homecoming movie was released. 
Pros
WOW. I don't even know where to begin. This is a very large, realistic-looking Spider-Man all the way down to his crouch. 

The base with the Spider-Man logo is a nice touch.

The suit itself, designed by Iron Man, aka Tony Stark, is on point with its texture, coloring, and even those little wrinkles that show up in clothing where our limbs bend.

The suit's detail around Peter Parker's nose and ears looks realistic.
Cons
Compared with the movies and numerous statues and figurines, this Spider-Man might need to hit the gym. His muscle tone is nonexistent in this statue.

The detail on this massive statue is undoubtedly good but should be excellent. I wish they had put the kind of effort into this size statue as creators have done with the smaller scale statues.
Avengers: Infinity War Spider-Man Iron Spider Limited Edition Life-Sized Bust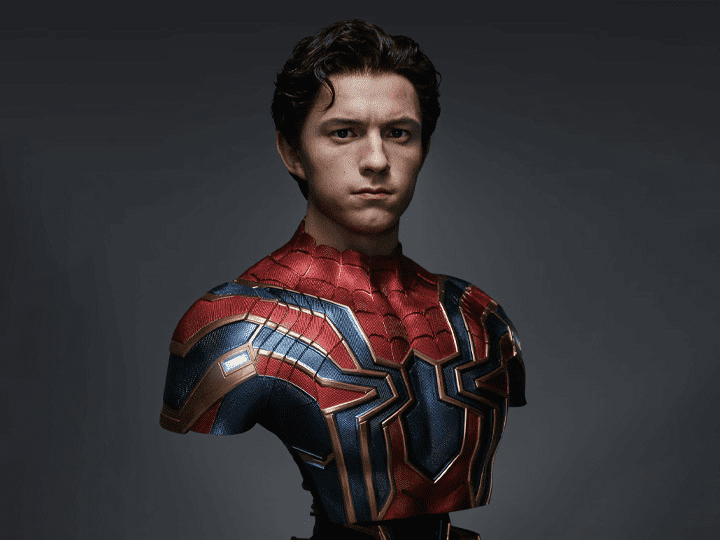 A bit reminiscent of knights' noble armor often seen in movies, right? It's even better since it's an unmasked spidey bust displaying the most recent actor to grace the screen as Spider-Man, Tom Holland.
Maker: 

Big Bad Toy Store

Release Date: 

2018

Size: 

28.35 inches tall

Weight: 

Unknown

Materials: 

Polystone, faux hair, and silicone

Current price:

 $3,679.99

Edition:

 Limited Edition with 888 pieces
Pros
Every inch of this bust is meticulously designed, and it looks very realistic, almost creepy it's so real.

Tom Holland's hair strands, all the way down to the roots, look like natural hair on a real scalp.

It is seriously nuts how real Spider-Man/Tom Holland's skin looks on this bust. It looks like the real Tom Holland or a photo of him. They even perfected the small impurities on Holland's face, like the dimple on his chin and the splash of freckles.

The quality of this Spider-Man bust is top-notch and better than anything I've seen in a Spider-Man statue. This is truly a collector's item. 

Tom Holland's gaze is piercing and captures his youth and determination.
Cons
Holland's under-eye area looks puffier than it is in real life.

Spider-Man's back is cut shorter than the front and is robotic looking, which I don't understand. It would look better if they covered the exposed metal base with the suit as they did in the front.
Tom Holland's cheeks aren't as puffy as they look here, and his ears are a touch larger and stick out slightly more, giving him that awkward highschool boy look.
Spider-Man Hanging from Web Line – Homecoming Life-Sized Statue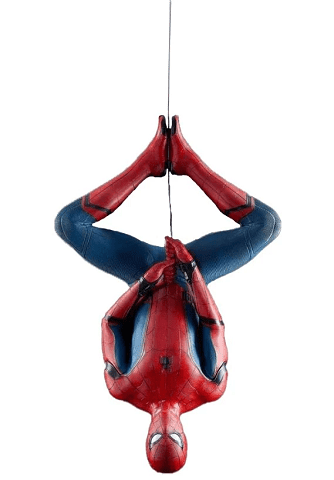 Maker: 

LM Treasures MM

Release Date: 

2018

Size: 

35 x 13 x 57H inches 

Weight: 

30 pounds

Materials: 

Fiberglass and steel cable

Current price:

 $7,500

Edition:

 Only four statues are available
This authentic Spider-Man silliness made me love him from the start. After all, he's constantly dropping in and passing through as your friendly neighborhood Spider-Man.
Pros
This would be an awesome statue to stick in your shop, bar, kid's area, and so forth. It would undoubtedly draw onlookers if you had this awesome statue in or outside your comic book shop!

It reminds me of the fantastic statues you see in Hollywood or Las Vegas. 

Even though this statue may not boast the over-the-top artistic talent that some of the other statues are all about, it is one of my favorites just because it represents "fun and playful" Spider-Man.
Cons
The steel cable should be white instead of silver to invoke those realistic spidey web visions.

Make sure this Spider-Man statue is high enough that vandals will not tamper with it if you come up with a way to position it outside. I would check with the maker regarding the sealant and paint used so you will be prepared if you need to throw on another clear coat to keep it from fading in the sun.
Worth a Mention
The following statues and figures aren't precisely Spider-Man as we know him but are variations worth mentioning based on their fantastic quality.
Spider-Man 2099 Statue EX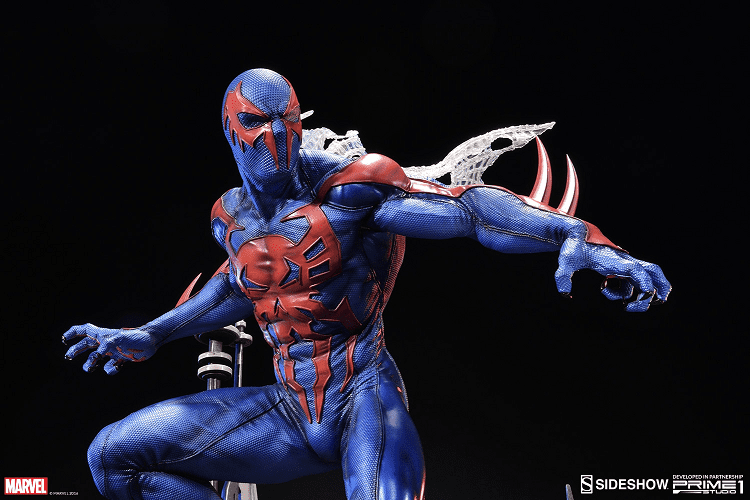 Release Date: 

Size: 

67.7 x 43 x 44.6H centimeters

Weight: 

30 pounds

Materials: 

Polystone

Current price:

 $700

Edition:

 EX Limited Edition 750 
Miguel O'Hara is a kung-fu master who wants to up his game by recreating the year 2099 Spider-Man suit for himself. This is an exciting take on our good ol' classic Spidey, and honestly, it's very well done. 
Miles Morales Sixth Scale Collectible Figure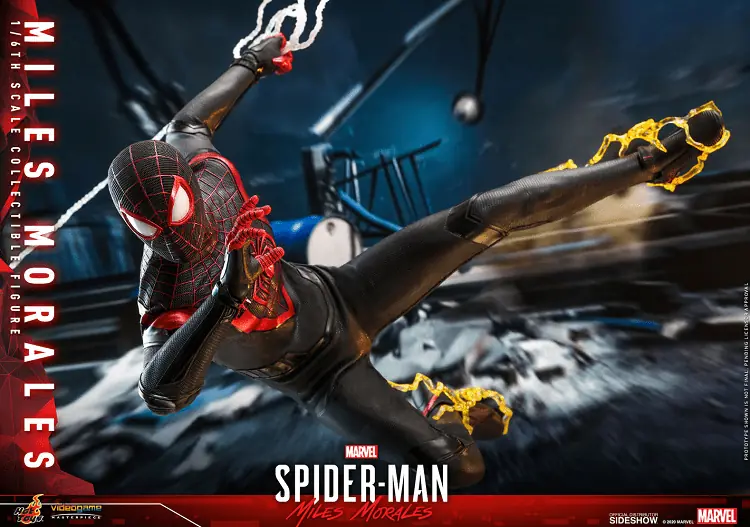 Release Date: 

2020

Size: 

29.5T centimeters

Weight: 

3.5 pounds

Materials: 

Polystone

Current price: 

$270

Edition:

 Sixth Scale Collectible
This is a very cool take on Spider-Man's friend and fellow ally, Miles Morales. Miles comes with some winter apparel, his Spider-Cat, and many different accessories to change out as wanted.
FAQs
Question: What is the Most Famous Spider-Man suit?
Answer: The black suit with silver trim is by far a top fan favorite. We have yet to see Spider-Man wear this particular suit on the big screen.
Question: Does Spider Sense Exist in Real Life?
Answer: Yes, a spider's body is covered with tiny hairs that pick up vibrations. If danger is on the way, they will know way before it reaches them through the vibrations. They also have 320-degree vision, which doesn't leave much in the form of a blind spot.
Question: Why did Spider-Man's Suit turn Black?
Answer: It's a little tough to be extra sneaky when wearing a bright red and blue suit, so Peter Parker turned the suit inside out for a more low-profile look.
Best Spiderman Statues: The Web is Complete
I'm sure if you're like me, you wish you had a super cool Spider-Man statue to put in your living room or roof of your house.
But, as you can surely see with the life-size statue pricing and availability, it's not going to be an easy project unless you are mega-rich. So, in that case, I wear a size 'Spider-Man dangling upside down from a web line.' 
I haven't even scraped the surface of the best Spider-Man statues out there. I keep finding more! With that being said, the overall winner for the best Spider-Man statue is the Spider-Man Premium Format Figure Side Show Collectible Exclusive Edition with the spidey mask swap-out ability.
This statue has it all; great detail, life-like presence, glowing green lights on the robot tentacles, two masks with different expressions, and it is made by a handful of very qualified artists. It's just highly well-made all the way around. 
It took work to pick the best this time around. It was a very close call with the statue of the honorable spidey threesome of pals. The detail on that one is also really spectacular.
You should own both and maybe that Tom Holland Spider-Man bust, just because it is so life-like! Unfortunately, my spidey sense tells me that the article has come to a fitting end.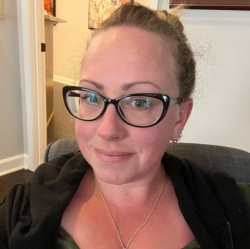 Latest posts by Katie Downey
(see all)