If you're a collector of Funko Pops, surely you've heard that Funko also makes keychains. The keychains are the miniature version of the well-known pops and are adorably mischievous.
Of course, these tiny keychains are also highly collectible, and a good bit of this article delves into the coolest ones out there to help you decide which to purchase first. There are so many different types and brands, such as Disney and Marvel, it can be challenging to find the best Funko Pop keychains. 
Another topic I will cover in this article is how to make your very own super customizable D.I.Y. Funko Pop Keychain. You might recall my other article on creating your own Funko Pop from scratch.
Again, many of the exact instructions will come into play, except the Pop is much smaller, so you will certainly need those miniature sculpting tools, or you can improvise with some household and office utensils that will work just as well. 
I am excited to help you all create the best keychains one could ever ask for and more. I also have written numerous other articles on all that is Funko Pop and invite you all to check those out for other ideas when seeking Funko Pop keychains. Away we go!
My Search Criteria
I have included only the most original, eye-catching Funko Pop licensed keychains I could find online. This does not mean I have listed all of the greatest keychains out there. I fully support you googling your little heart away while looking for specific Funko Pop keychains that appeal the most to YOU. 
I include keychain characters for just about every genre. So you will see some Marvel, Disney, sports, music, TV show, movie, and whatever else I find that fits in with the best Funko Pop keychains.
I try to include Funko Pop keychain characters for any sex or age group, so expect to see something for everyone.
I have included the best keychains with the finest detail in the best forms.
I do my best to include hard-to-find and super-rare Funko Pop keychains for those who want something special.
When describing how to create a D.I.Y. Funko Pop keychain, I make the materials easy to find by linking the most uncomplicated and best-priced items to the descriptions. 

I have linked plenty of D.I.Y. Funko Pop ideas to get your brain churning away at what you want to create.  
My Top Three Funko Pop Keychain Picks
1.Slimer – Ghostbusters Funko Pocket Pop! Keychain: This is one serious blast from the past. The original Ghostbusters movie and cartoon are fantastic, and much of the merch is now collectible. This is a wonderful and unique keychain that any Ghostbusters fan should have.
2. Fox in Sox – Dr. Seuss Funko Pocket Pop! Keychain: This is another Pop that is a blast from the past. Dr. Seuss' books have been popular children's books for as long as I can remember. This adorable rendition of Fox in Sox is bound to make any Dr. Seuss fan smile every time they see it.  
3. Mister Meeseeks – Rick and Morty Funko Pocket Pop! Keychain: Rick and Morty are among the most disturbing and original cartoons ever to grace Adult Swim. Mister Meeseeks is well-loved by almost all fans for his weird and rather depressing existence. Meeseeks want to help, after all. 
Best Funko Pop Keychain Ideas
DC/Marvel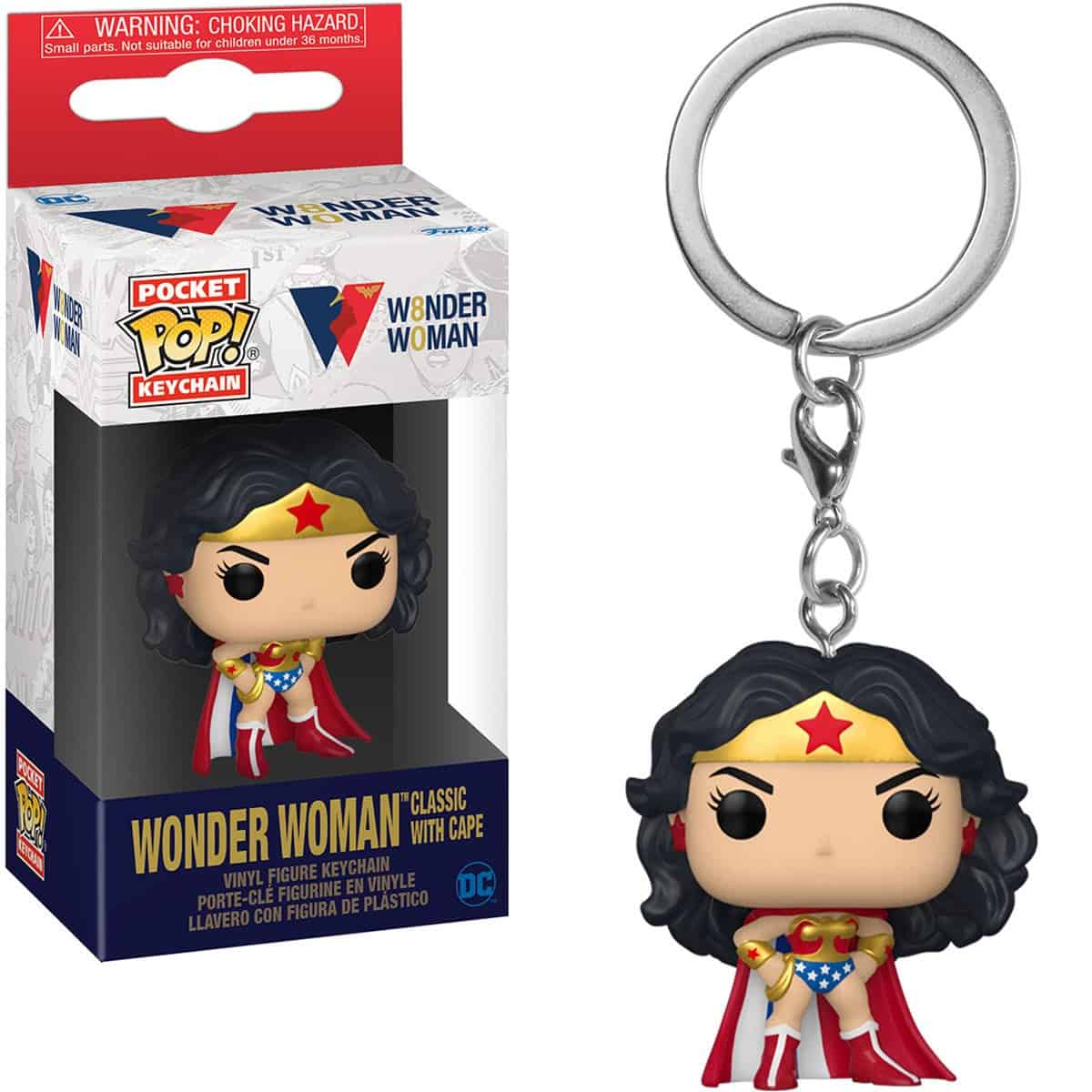 I love this keychain because this version of Wonder Woman is wearing the original outfit that Lynda Carter as Wonder Woman wore.
This is a collectible because of the outfit and because it was released as the 80th anniversary Wonder Woman keychain. I love the new Wonder Woman just as much and like that she is wearing more than the original designer outfitted Wonder Woman in the beginning.
Pros
I love the original coloring on Wonder Woman's outfit. Many of us grew up loving that version of Wonder Woman, which is fantastic.

I like that they remembered to make her dark hair wavy and full.
Cons
The addition of the red star earrings is a bit tacky.

The blue and white section on Wonder Woman's cape is on the wrong side.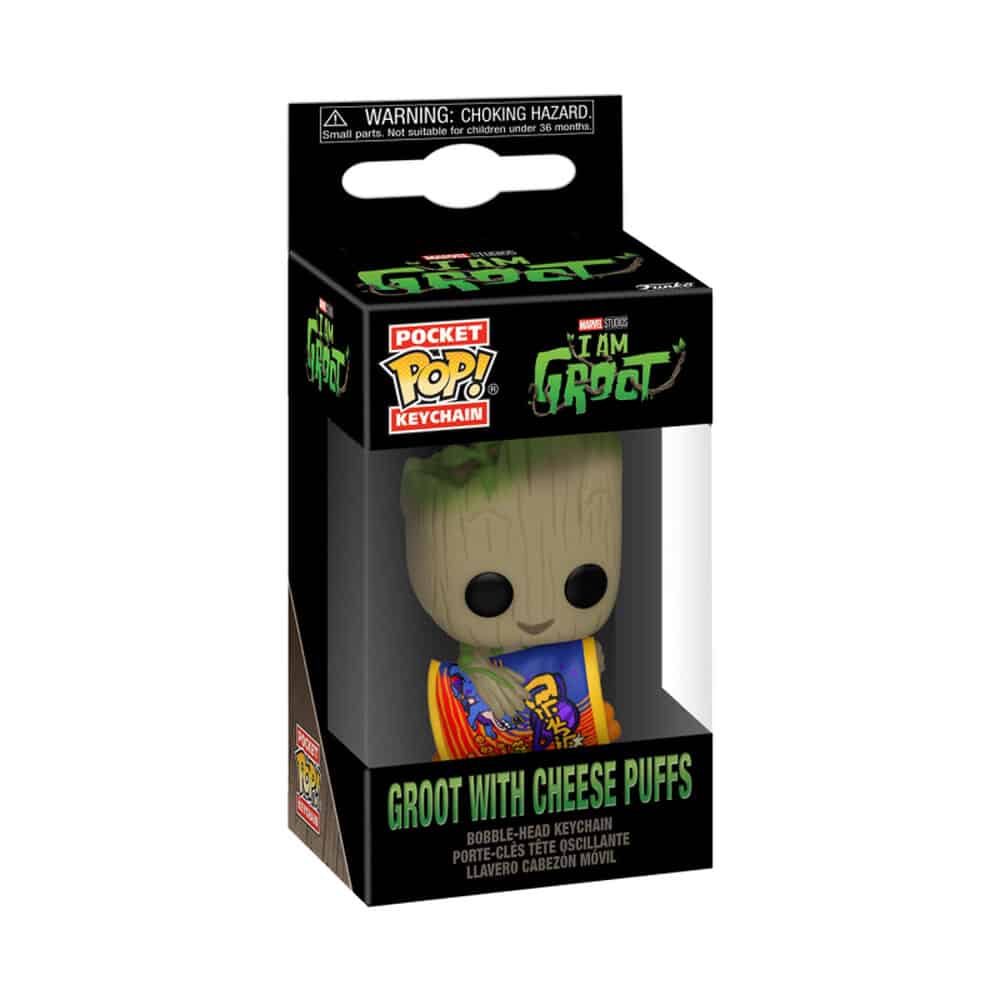 Everybody loves Groot whether they've seen Guardians of the Galaxy or not. So here he is, the cute fun-sized baby Groot that happened after he was killed and had to regrow. Of course, everyone loves cheese puffs, and Groot is one of the fans. But, of course, you can also have the full-sized Groot with cheese puffs in Funko Pop form.
Pros
Groot's little innocent cheese puff smile is adorable, like his eyebrows. Who wouldn't want this little tree man hanging off their keychain?

The bag looks a lot like an authentic Cheetos Cheese Puff bag. 
Cons
Groot's eyebrows need to be much closer to his eyes and not way up at the top of his head.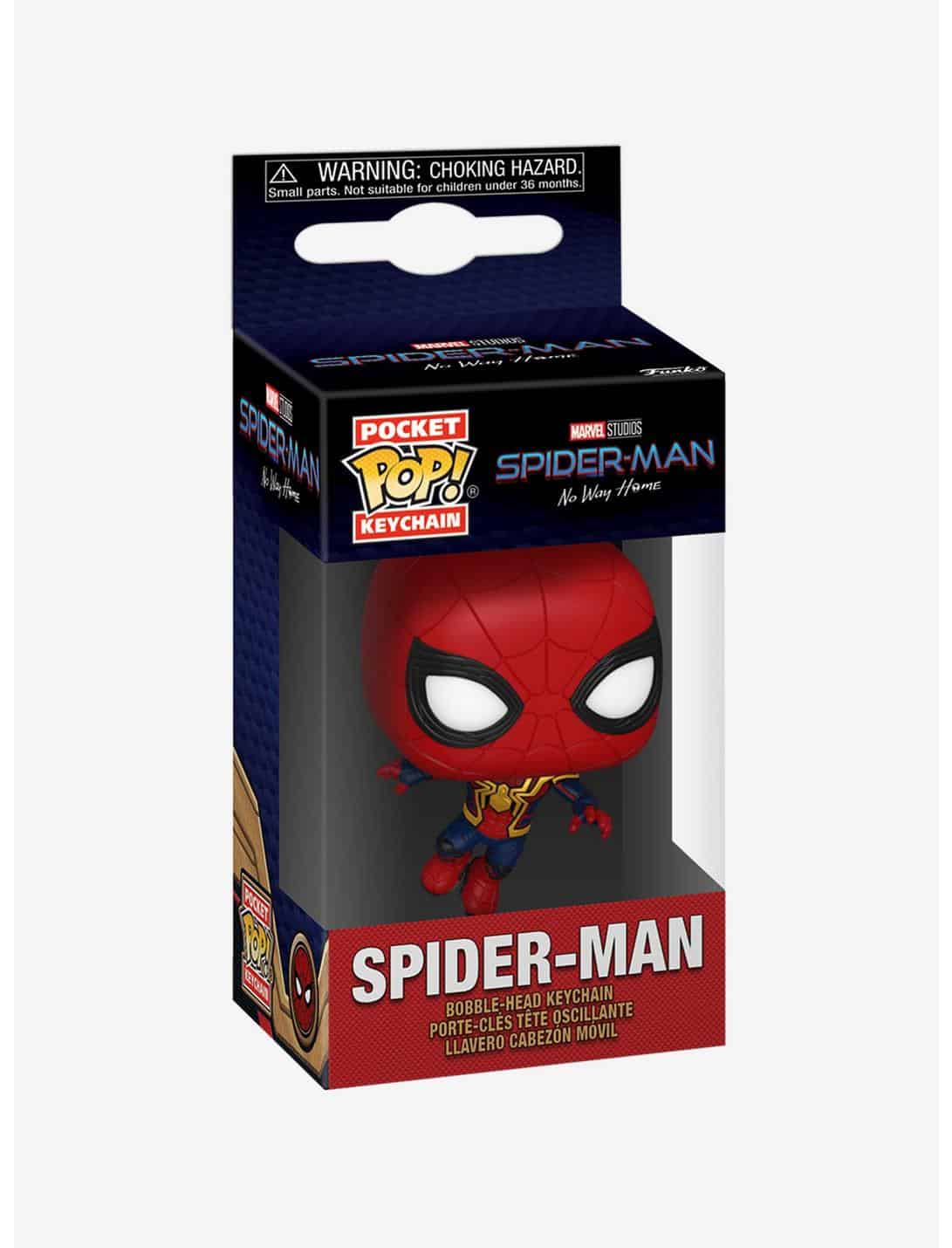 It wouldn't be right if I didn't add a Spider-Man Funko Pop to the mix of the best Pocket Pop! Keychains. You can check out this article on the best Spider-Man bookbags and have a matching Pop Keychain and bag!
This is the suit from the movie No Way Home starring all three Spider-Mans. This specific suit was worn by Tom Holland as Spider-Man. You can also purchase a full-sized version of Funko Pop of Spider-Man. 
Pros
This is a cute version of a Spider-Man Funko Pop. I like it when they aren't just standing there but are in action somehow. 

Spider-Man's eyes say, "It's business time," and it goes well with the Pop.
Cons
The suit is very close to the one in the movie, although it could use more detail to make it look more authentic. There is quite a bit of gold detail missing on his arms and wrists. 

The blue on Spider-Man's suit isn't as dark as it should be for this specific costume.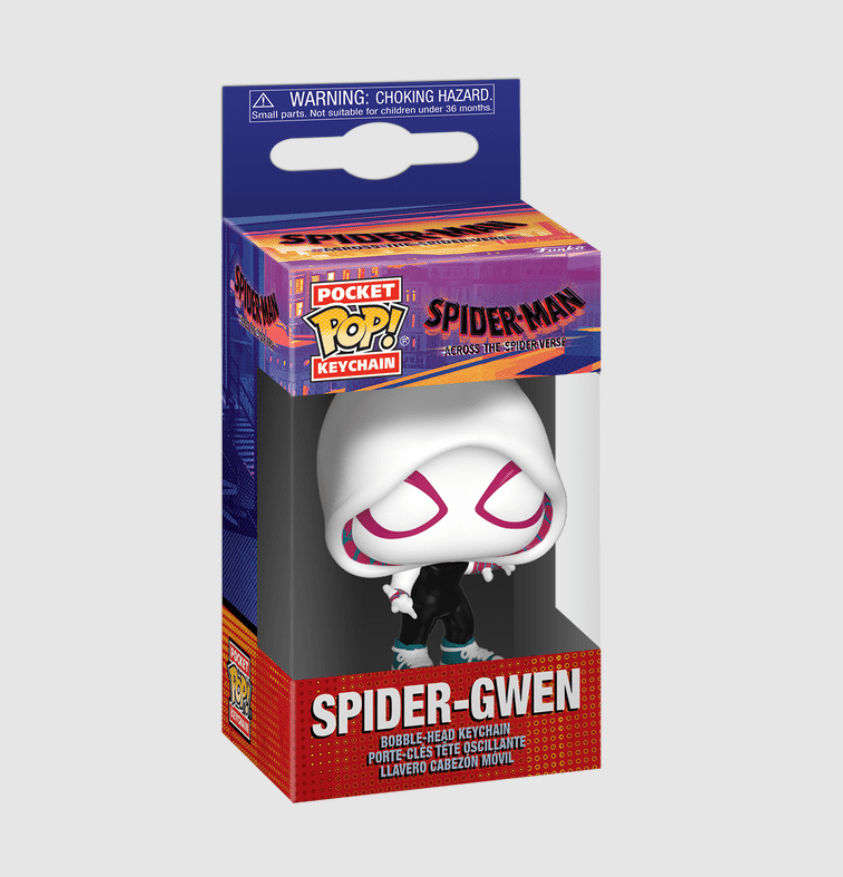 There isn't enough Spider-Gwen or Ghost Spider, as she is sometimes called, stuff out there, which is a shame because she's cool. This little keychain is cute with a feminine twist. Spider-Gwen, or Spider-Woman, existed on Earth-65, where she was bitten by the spider instead of Peter Parker. She takes her superpowers to Earth-616 to fight bad guys and take on school.
*Coming soon
Pros
The webbing detail inside of Spider-Gwen's hood is a nice touch, and I'm glad they added that critical detail.

I like that she is wearing her blue Chuck Taylor Converse shoes, not ballet flats. I understand the concept of ballet shoes, but the blue Chucks are more authentic to the comic book.
Cons
Spider-Gwen's outfit is a bit off from what it should be, with the triangular black suit over top of the white. It is showing too much black.

The underside of Spider-Gwen's arms on the costume does not have the red and blue web design. She also doesn't have web gloves except in fan fiction and artwork.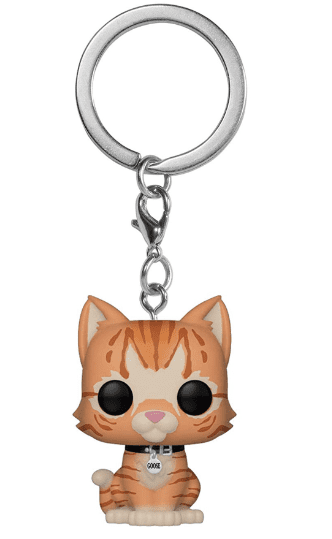 Goose is one of my favorite Marvel characters and one of the most excellent parts of Captain Marvel the movie. Ginger cats are always wonderful. I even have a one-eyed Goose that's been my sidekick for eight years. I will be purchasing this keychain for sure. Goose deserves her keychain and Pop.
She's an intelligent Flerkin from another world, after all. You can also buy a Flerkin-Goose Pop! This is one cool cat of an alien species. Did you know that Goose's real name given to her by Captain Marvel was not Goose but Chewie for Chewbacca in the comic books?
Pros
Goose is adorable, but her labeled collar seals the deal and is a nice addition to this Pop. 
Cons
Goose/Chewie does not have a white chest or a white tip on her tail, yet she does on this Pop. 

The darker orange marks on Goose's face are not exactly like the real Goose's markings, and she doesn't have a broad, light-colored area on the center of her face. 
Disney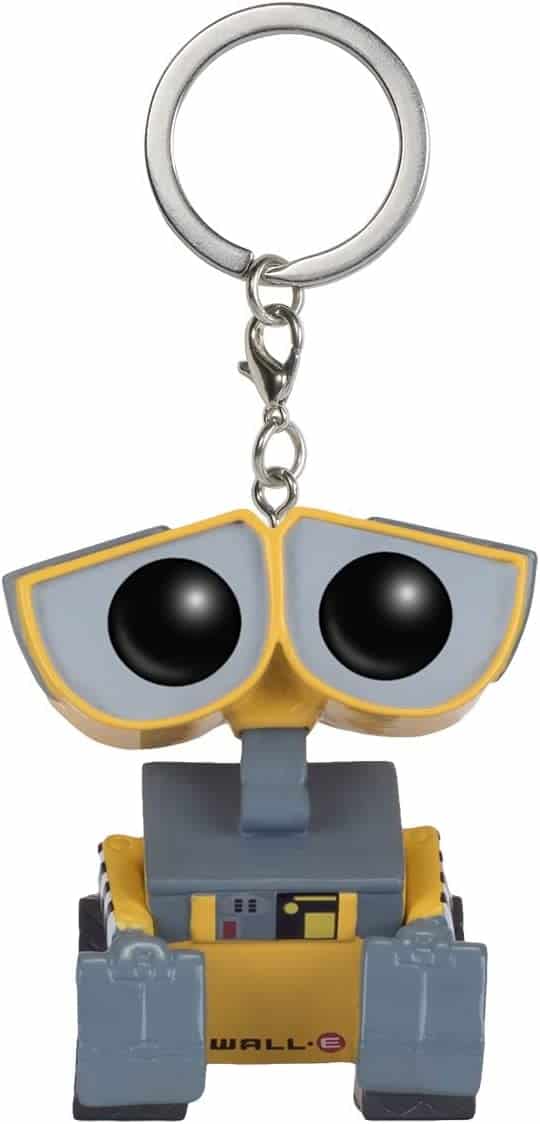 Wall-E was such a great movie and a truly fantastic character. Strangely, given the success of the film, we don't see more Wall-E and Eve gear than we do.
This Pocket Pop! Keychain is a must-have item if you loved the movie as much as I did. It is adorable and quirky and will tug at your heartstrings just like our favorite big-eyed robot friend did in the film. You can also purchase a Wall-E and Eve Pop duo.
Pros
The Pocket Pop! is heartwarming and will make you want to be kind whenever you see it. 

This is what Wall-E would look like, all cleaned up and brand new. 
Cons
Pocket Pop! Wall-E is far too clean looking to be the same Wall-E from the movie about an abandoned robot incapable of cleaning himself.

A lot of Wall-E's detail is missing. Bolts, scratched, rusted areas, and so forth have been omitted from the Funko Pop Wall-E. I wish they hadn't left all of it off. 

Another massively historic classic! I am a huge fan of Lewis Carroll and all of the Alice books. However, I love the Disney movie as well. This is a cute version of our wanderer, Alice driving along in an oversized purple teacup fresh out of Disneyland's Mad Tea Party Attraction.
The Mad Tea Party Attraction sounds terrific with its Mad Tea Party music and oversized items; you might even catch a glimpse of the White Rabbit himself as he hastily runs past. Alice was chosen to represent Disneyland's 65th anniversary and is cruising in style.
Be sure to check out the complete list of Alice Funko Pops! Also, this Pocket Pop! will go perfectly with the next item on the best Funko Pop keychains list.
Pros
Alice sitting in a teacup while in her own Disneyland attraction is lovely and silly. The teacup and Alice look very much like the originals from the Disney movie made in 1951.

The positioning of Alice's eyebrows really give this Pop that sweet and innocent look.
Cons
Alice's hair is too yellow, and in the cartoon, the middle part stands up a bit more.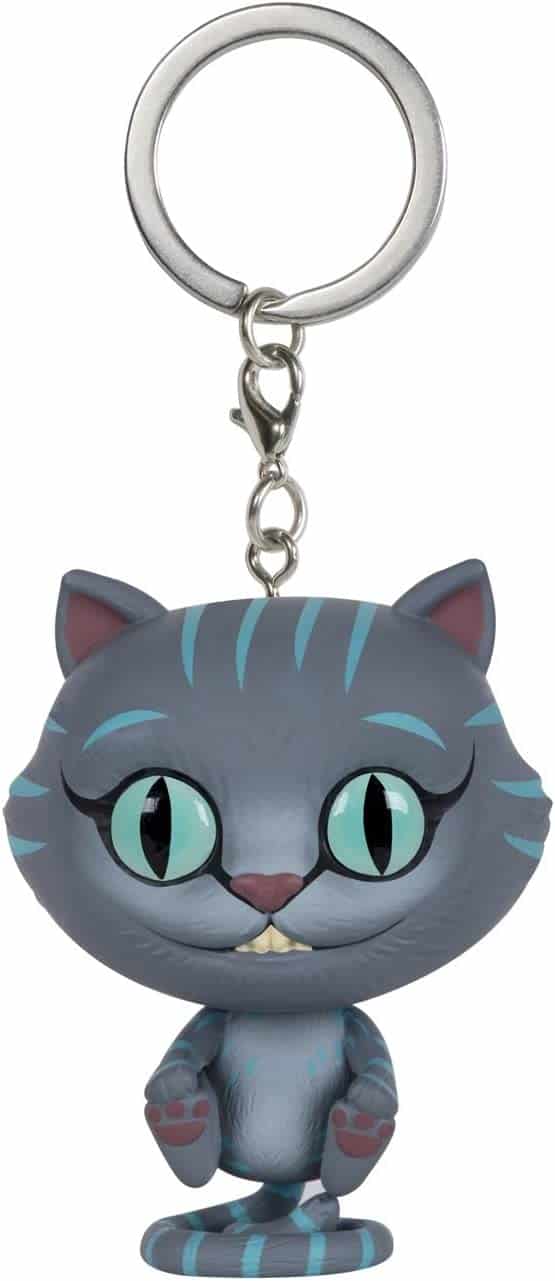 The Cheshire Cat is also a big player in the world of Disney and especially the world of Alice in Wonderland. This Funko Pocket Pop! is from the movie Alice: Through the Looking Glass, which showed a slightly different and not more realistic version of the cat than we first saw in the animated Disney Alice in Wonderland film.
This is the Tim Burton version which was a bit creepier and scarier looking than the pink and purple striped cat we were familiar with before the Tim Burton movie was released. 
Pros
As stated in the pros for the previous Alice-themed Pop- you need both, and if you are only required to select the very best one, I recommend choosing this one.

I love how this floating kitty cat looks deranged while holding onto its toes like it did in the classic Disney movie scene.
Cons
I know the Cheshire or Chessur Cat is supposedly smiling on this keychain, but it looks more like rabbit teeth. It would look better if they had left the top portion black, like shown on the Funko Pop box.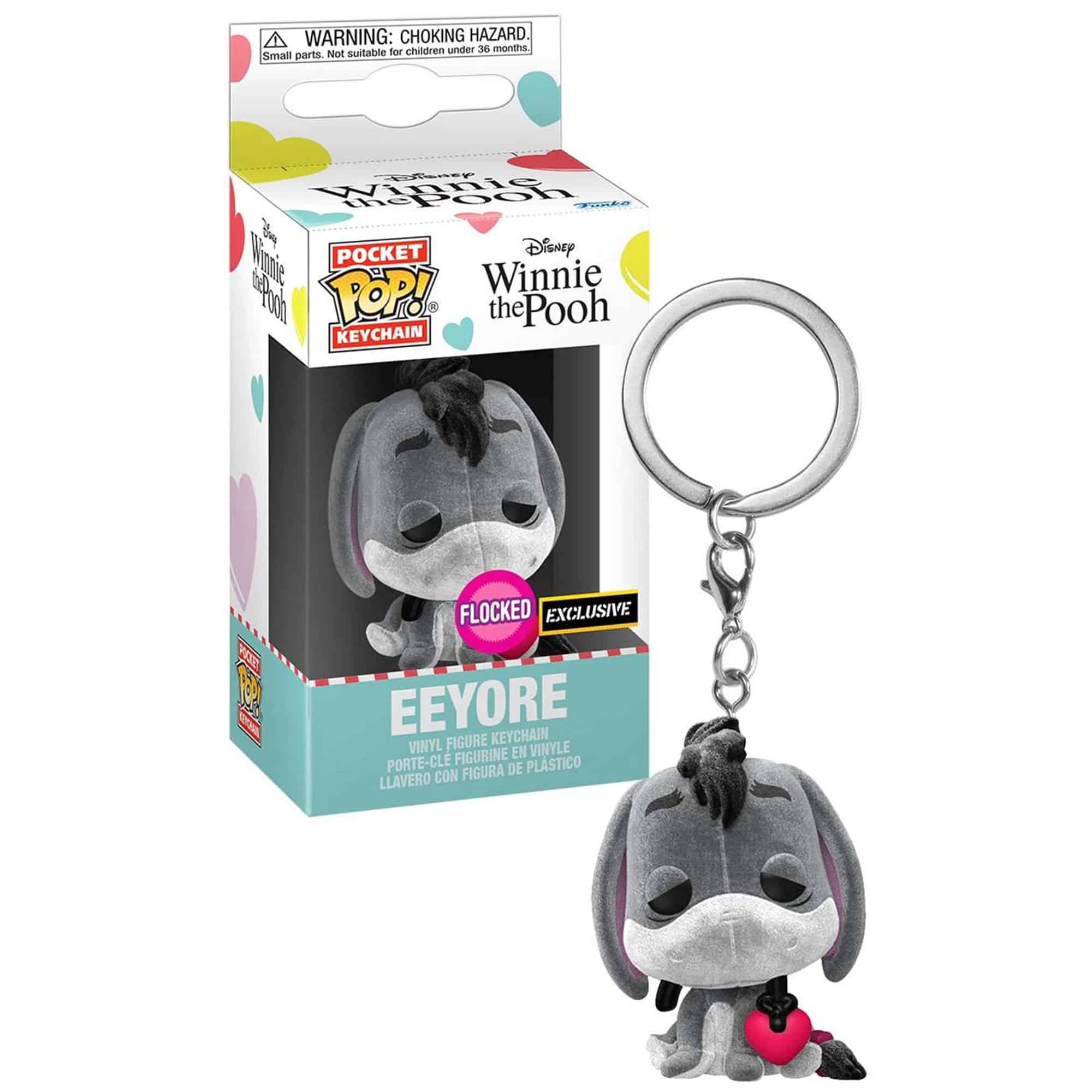 How could you not love Eeyore? He is so sweet and down on himself that you want to hug him and tell him everything will be okay. This lovely keychain is flocked, which means fuzzy to the touch. Please don't get carried away hugging him too often, or his fuzz will rub right off. 
Pros
Loveable and depressed Eeyore looking a bit sad while holding a heart charm hanging from a rope in his mouth is the cutest, most heartbreaking thing ever. The fuzziness just adds to the cuteness.

They nailed the authentic Eeyore look, from the bags under Eeyore's eyes to the telltale downward gaze. 
Cons
I wish they had made Eeyore's mouth and nostrils more apparent. It looks like they're missing altogether unless you look closely.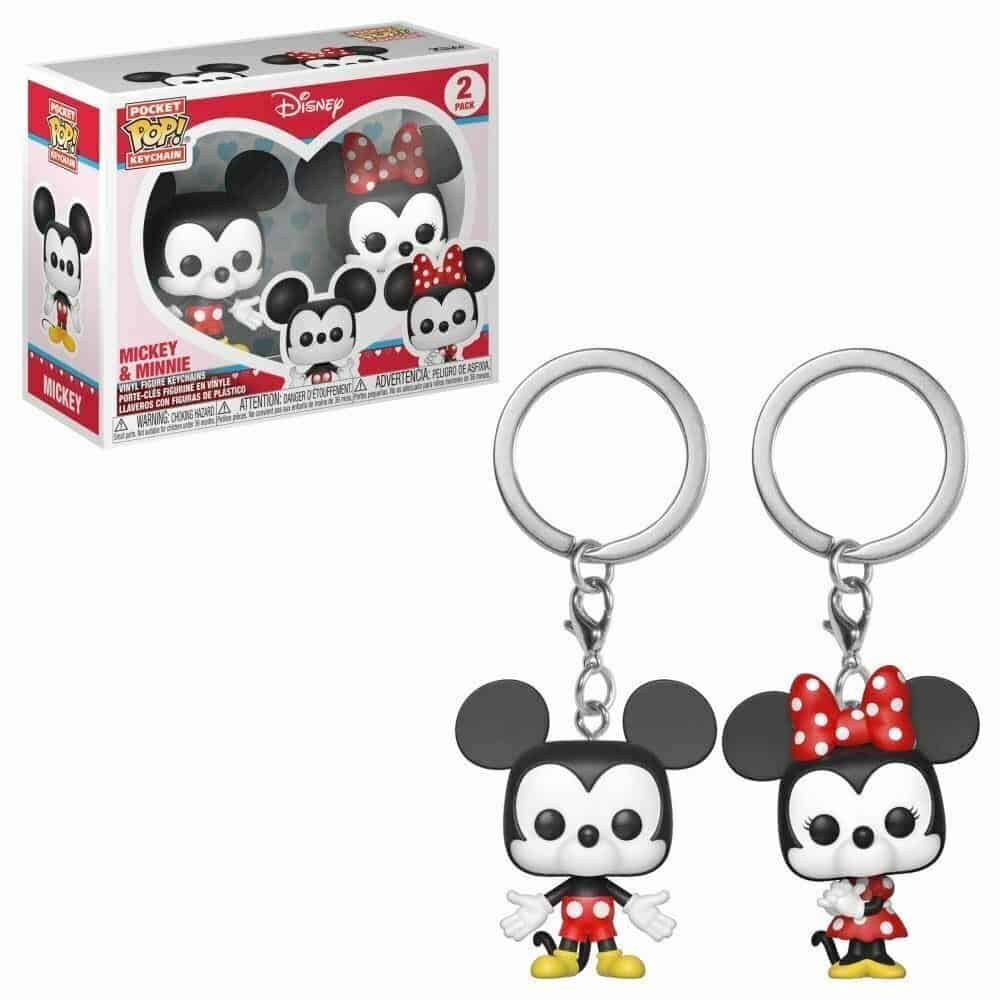 Mickey and Minnie Mouse have been Disney icons for their entire and very long lives. It would be wrong to exclude them from this list. These keychains are also sold separately, but why bother when it's apparent that you need them both? Look how cute they are in their matching outfits.
Pros
It's funny how Minnie is standing there with her hands folded like she's holding back from saying something while Mickey has his hands spread wide.

Their perfectly matched outfits and blank creepy expressions are pretty cute.

Minnie's shoes touch at the heel and are spread wide at the toe, just like she really stands.
Cons
The eyes of Mickey and Minnie should be more of a lengthwise oval shape and not small circles.
The creators forgot to add the frilly white petticoat to Minnie's dress.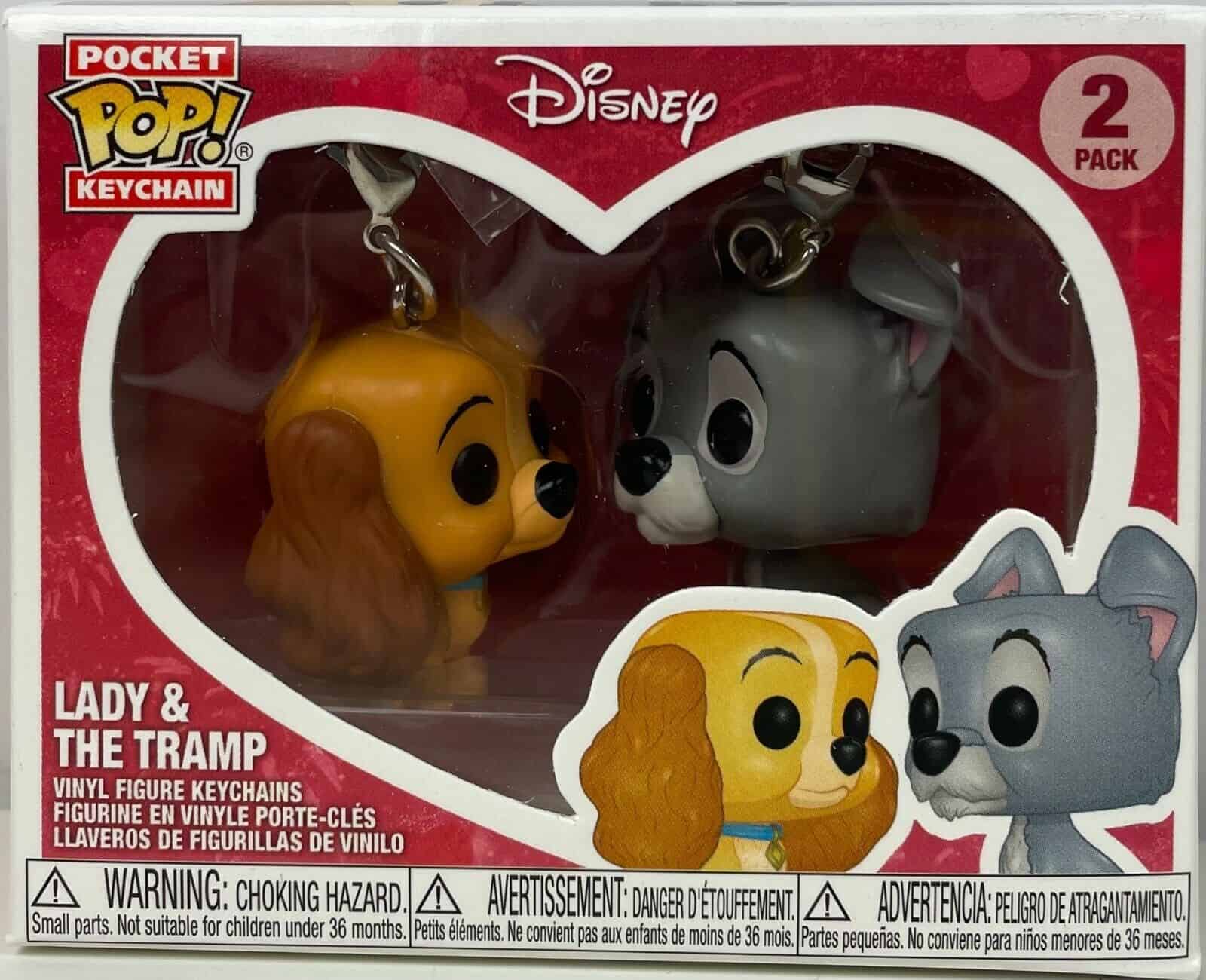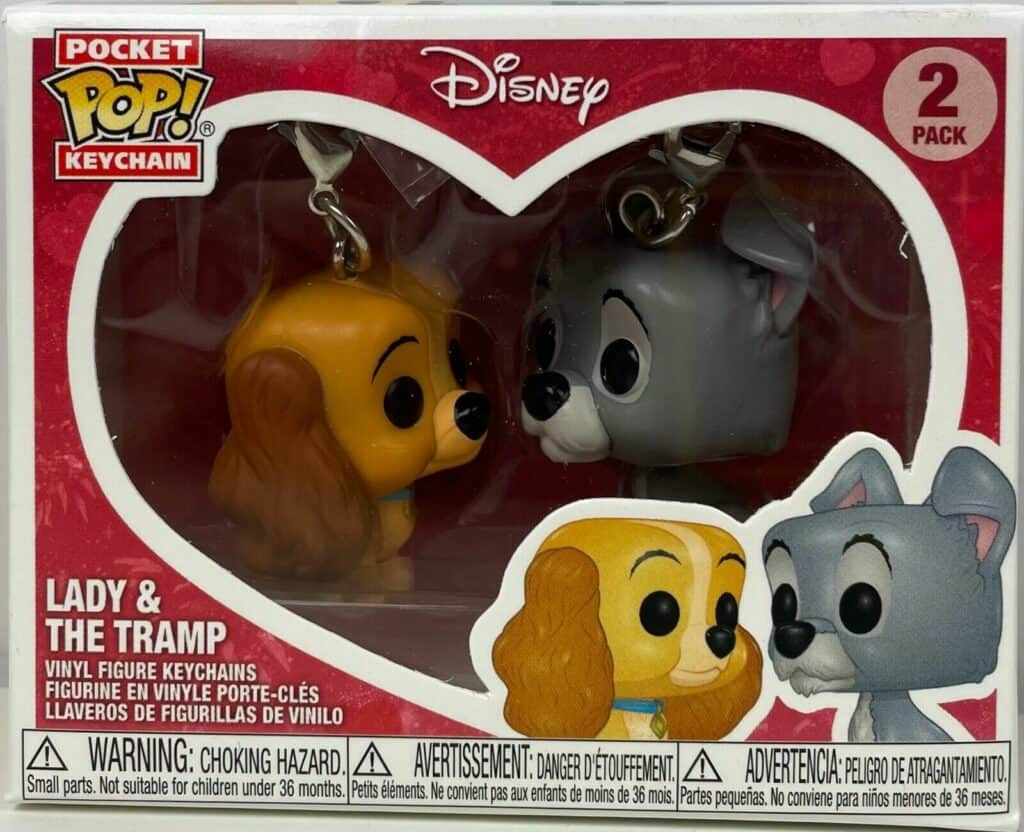 This Pocket Pop! Keychain with Lady and the Tramp is pretty freaking unique. You don't see too much Lady and the Tramp merch, and this variation is extra loveable. Even with the creepy Funko eyes, it's so sweet to see these two lovers gazing into each other's eyes, but where's the spaghetti? 
Pros
This version of Lady and the Tramp is adorable. They both look like big Funko-eyed puppies here. 

Having both of these superstar canines on keychains hanging from your bookbag or wherever will make you smile at their cute puppy dog looks every time you look at them. 
Cons
I wish this came with a bowl of spaghetti to place between Lady and the Tramp because that is a fantastic and memorable scene in the movie, and seeing the two staring into each other's eyes reminded me of it.

The creators should have added "stars" to Lady's eyes like in the Disney movie.
Lady's cheeks look too puffy.
TV Shows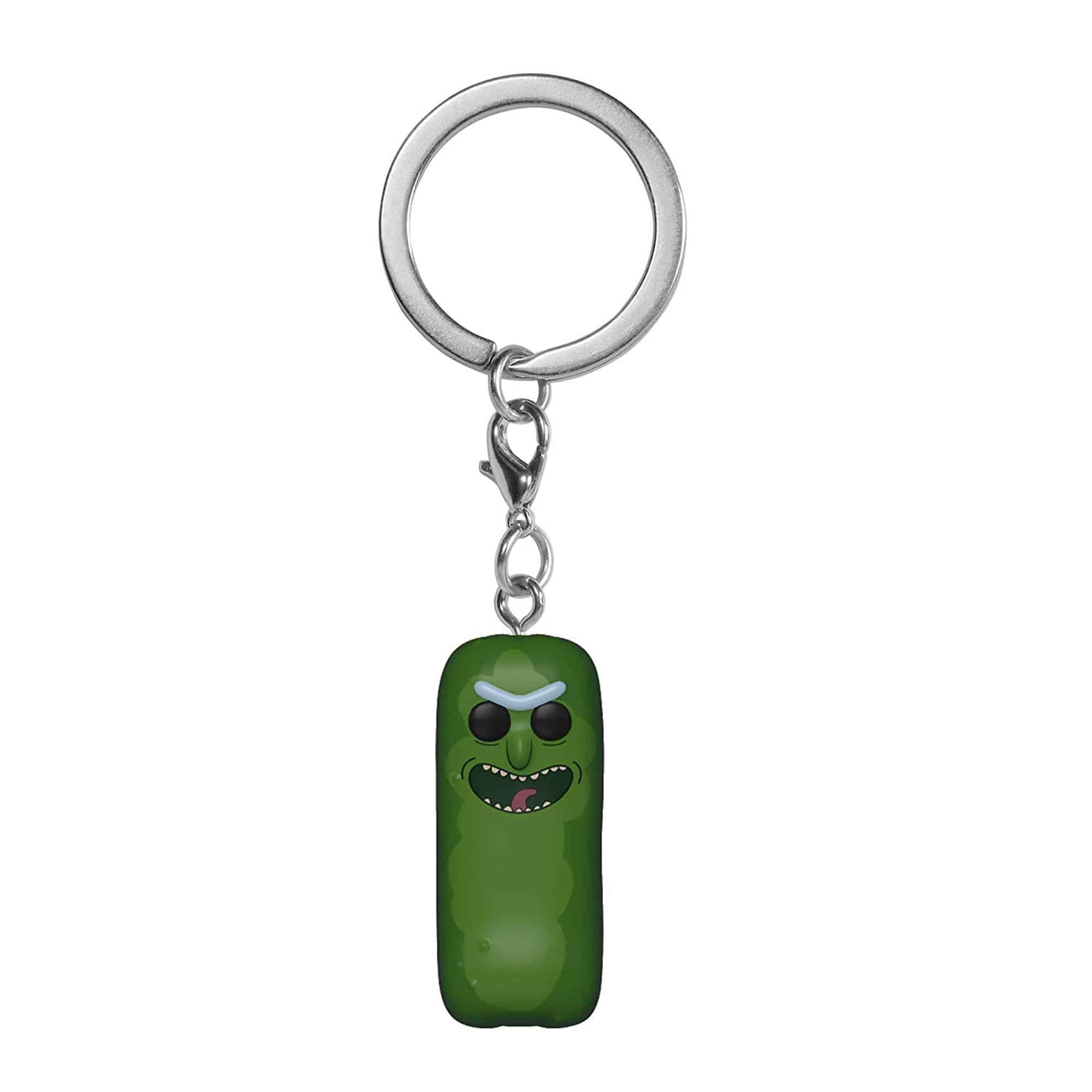 The infamous Pickle Rick episode is probably in the top three best Rick and Morty Show episodes and will remain that way forever. Pickle Rick is nothing short of iconic.
Pickle Rick in Pop form is something you need in mini and regular size. What Rick had to do to get back to his family after missing the therapy session is also nothing short of extraordinary. He conquered the rats and used their leader's body parts to crawl out of the sewer and onto the road, where he finally morphed back into a naked, wrinkly Rick. 
Pros
Rick is fantastic, and this constant reminder of him hanging from your keychain or bookbag is magnificent. Pickle Rick stands for never giving up.

The demented and clinically insane look on Pickle Rick's face, combined with his always righteous unibrow, is something straight out of Adult Swim. They nailed it on this little Pop.
Cons
While this keychain is almost perfect, it would be better if Rick had a little vomit on his face like usual.

Pickle Rick's unibrow should look more like an upturned smile in this form. He only really looked determined or angry when he had acquired the rat "suit."
Pickle Rick's mouth looks pretty close to the original, but his tongue is almost always pointing in the other direction.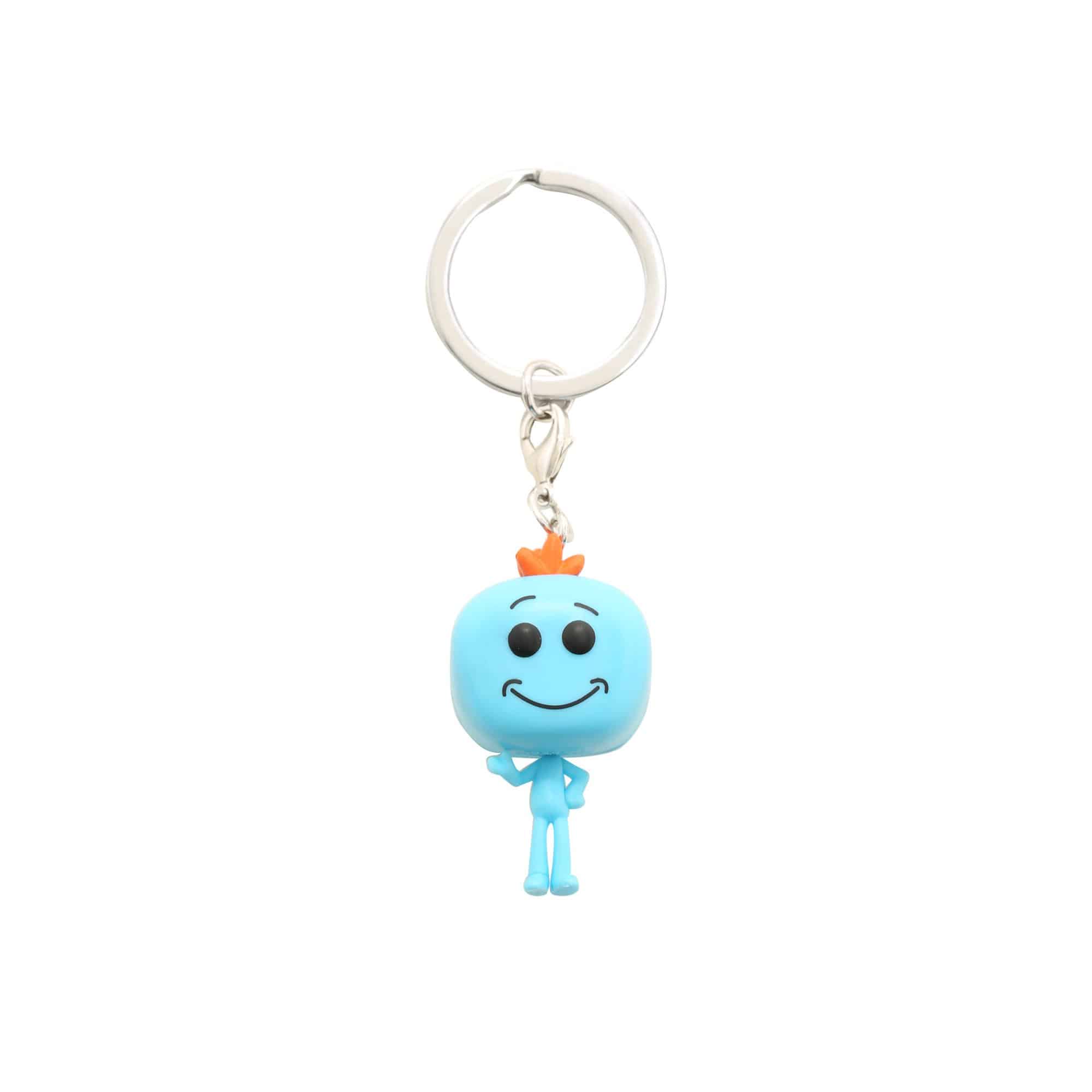 Mr. Meeseeks is here to solve your problems quickly and efficiently. If you stand in his way, terrible things will begin to happen to Mr. Meeseeks, and he will become angry and depressed. Meeseeks aren't meant for long-term use. They must fulfill their duty and die, which all Meeseeks want. 
Pros
Mr. Meeseeks is a naturally occurring phenomenon, and every person needs one. This specific Meeseeks is in a great mood and wants to help you. Look at the charming smile on his face. It's almost identical to the "real" Meeseeks' little smile. 

Unlike many Funko Pops, Mr. Meeseeks' eyes look just as they usually do and do not make him look any creepier than he is, and he is very creepy.
Cons
Chances are that you will keep this Mr. Meeseeks for much longer than you should, resulting in Mr. Meeseeks' extreme violence and rage. It would also make sense to have an angry Meeseeks on a keychain, but nothing is available. 

The dimples around Mr. Meeseeks' smile need to look more like they're stretched, and the two lines protrude a bit more.
Movies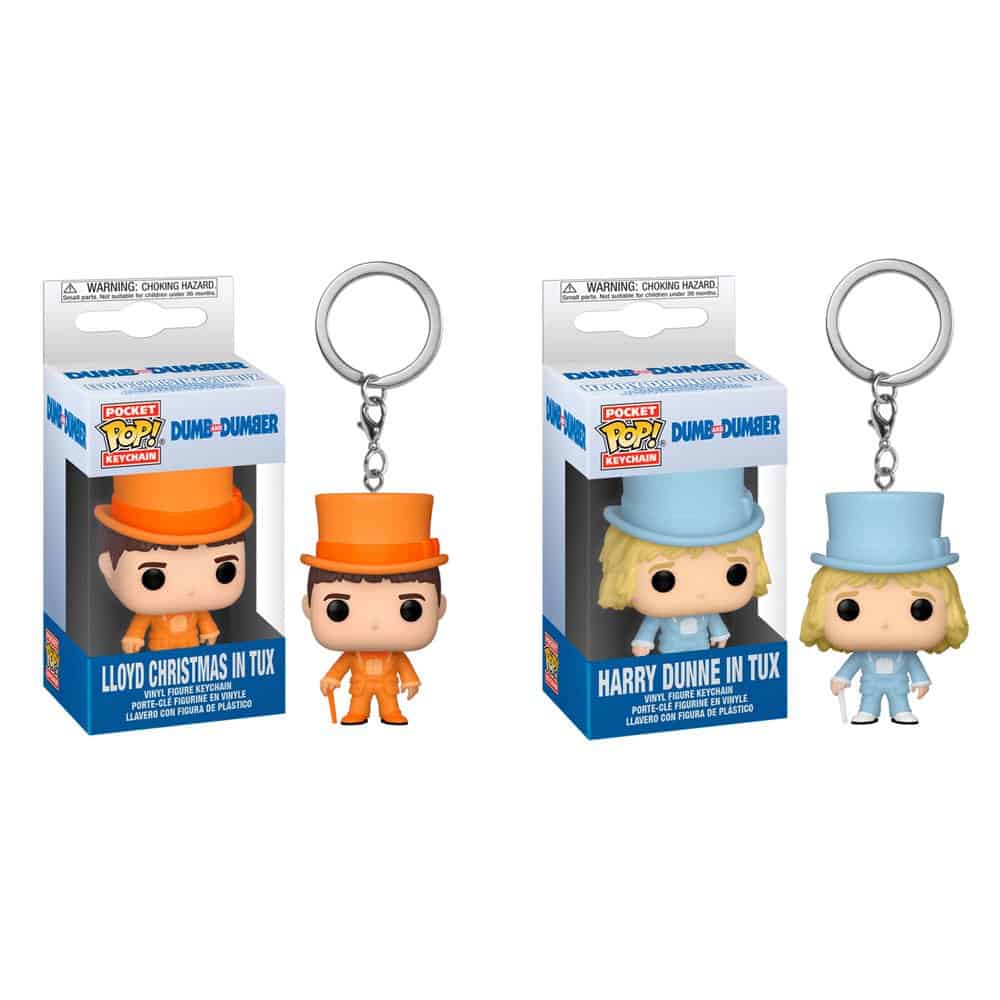 Lloyd and Harry in their super colorful and tacky tuxedos is a fantastic moment in the legendary and super stupid movie, Dumb and Dumber.
This was one of the best Jim Carrey movies, and these two goofy guys made into Funko Pocket Pop! Keychains would make an excellent addition to your collection of strangely iconic Funko Pops or to proudly display on your bookbag. It's your choice, and I support you however you want to showcase these two hilarious nutballs. 
Pros
The haircuts on these Pop keychains are perfect and look just like they did in Dumb and Dumber. I wish they could have also shown Lloyd's goofy chipped-tooth grin. That would complete the look.

You will receive many giggles and comments sporting these two fine fellas on your bookbag or where ever you decide they will be happiest. All the suits and canes are almost perfect and will make you laugh whenever you look at those two.
Cons
Lloyd's dress shirt had black edges on the orange ruffles in the movie, but this Lloyd does not.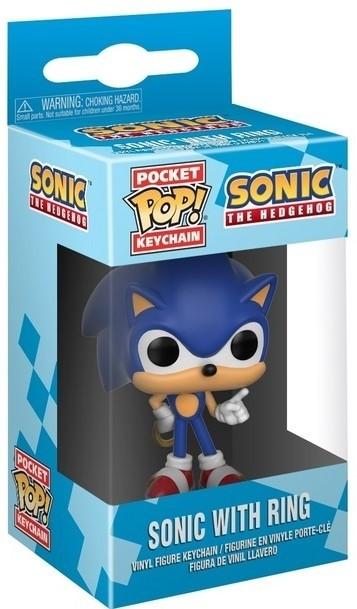 Sonic the Hedgehog is iconic, to say the least. He's also more popular now than he's ever been. I know many a child and adult that will want this keychain. I'm sure my child will want this incredible little blue blur connected to his Sonic bookbag asap! The Funko look is a good look for Sonic. It makes him look like he's on something strange, but maybe he is. 
Pros
Sonic is everywhere and will continue to be everywhere as long as he has new movies and games coming out. This Funko edition of Sonic is charming and will look great on everyone's bookbags. 

Sonic's weird beady black eyes make him look more like a real hedgehog. 
Cons
Sonic's iconic little half-smile on the side of his face is missing. It would be way better if they had added that important detail.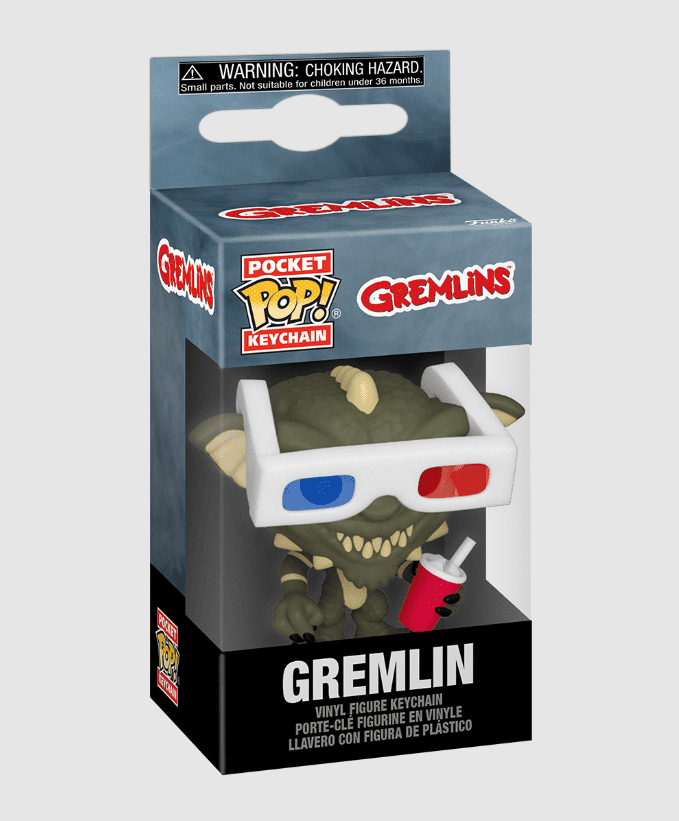 If you don't know who this is, you have some essential research to do! Stripe wasn't a good, nice, or law-abiding citizen; he was insane, liked to create mischief and chaos, and did so with a mohawk.
Truly punk through and through. I love old-school entertainment, and Gremlins was undoubtedly a vital piece of entertainment from my early days. Who wouldn't want a badass Gremlin leader in their presence?
Pros
Stripe is the not-noble leader of the pack of Gremlin babies Gizmo creates, and he loves trouble. The creators of this lovely psycho gremlin Pop masterfully captured the craziness in Stripe's face. 

Don't forget Stripe also has excellent taste in fine films and movie theatre popcorn. Not really- but he does know how to be bad. I love that they added the 3D glasses. That was a hilarious and memorable part of the movie. 
Cons
The creators forgot Stripe's notched-up ears! 

Also, Stripe's ears are much longer and more menacing looking in the movie.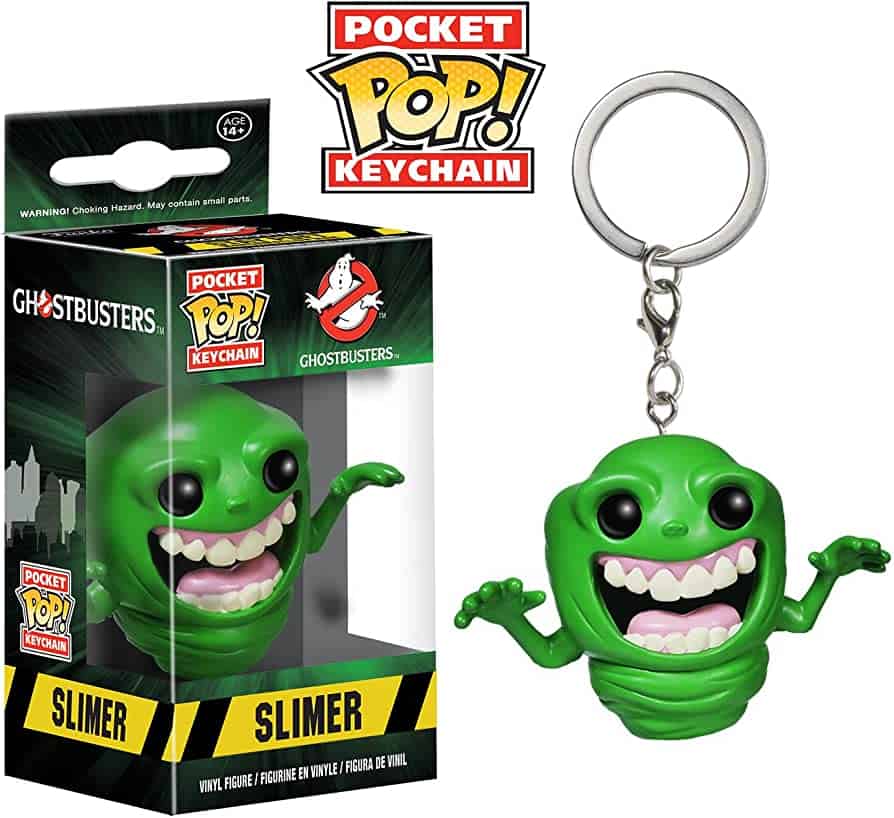 The Ghostbusters were a HUGE part of my younger years, and I loved them. I don't care how many sequels or remakes happen- there will never be any replacement for the original Ghostbusters show and movie. Slimer was one of the most significant characters ever created and a crucial part of the Ghostbusters. He was a good and gooey buddy to all. 
Pros
Slimer is much cuter as a Funko Pop than in the original movie. Even his teeth are nicer, and it looks like he has excellent hygiene. The real Slimer's teeth were a bit grossly colored and stained, and I am going to guess they were slimy. 

This is an excellent Pop and Pocket Pop, but what makes this spooky guy even better is that he glows in the dark just like he should. High five to the designer that made that call. 
Cons
As always, the soulless black eyes are creepy and not much like Slimer's yellow eyes in the cartoon, but it works. I really can't even count that as a flaw. Slimer should also be missing some teeth to look like the authentic cartoon version. I just kind of see this Funko Slimer as the cute version. 
Miscellaneous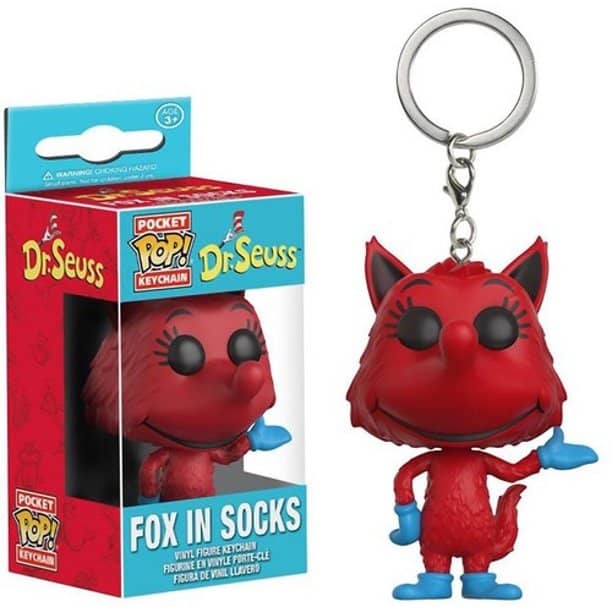 I was pleasantly surprised to see that Fox in Sox had a Pop. That was one of the most outstanding books for children ever written. I love it, and my child also loves it. I hope Dr. Seuss's books become immortal because there is no way such awesomeness could ever go out of style.
This Pop is adorable with its blue socks, yet massively creepy with those goofy black eyes. The best part about this Pop! Keychain is the uniqueness and fond memories associated with it. Be sure to check out the other Dr. Seuss Funko Pops. You can even add Dr. Seuss to your collection!
Pros
I love how this Pop very obviously looks like something made by Funko yet retains the figure and detail of the true Dr. Seuss' Fox in Sox.

The cute eyelashes, little frayed tips of her ears, and smile make this fox stand out among the other Pops.

A lot of Pops turn out to be a few shades different than the actual color of the subject. This time the creators absolutely nailed it. Dark orange red is the right color for this Dr. Seuss fox!
Cons
The fox's nose should be longer and more pointed.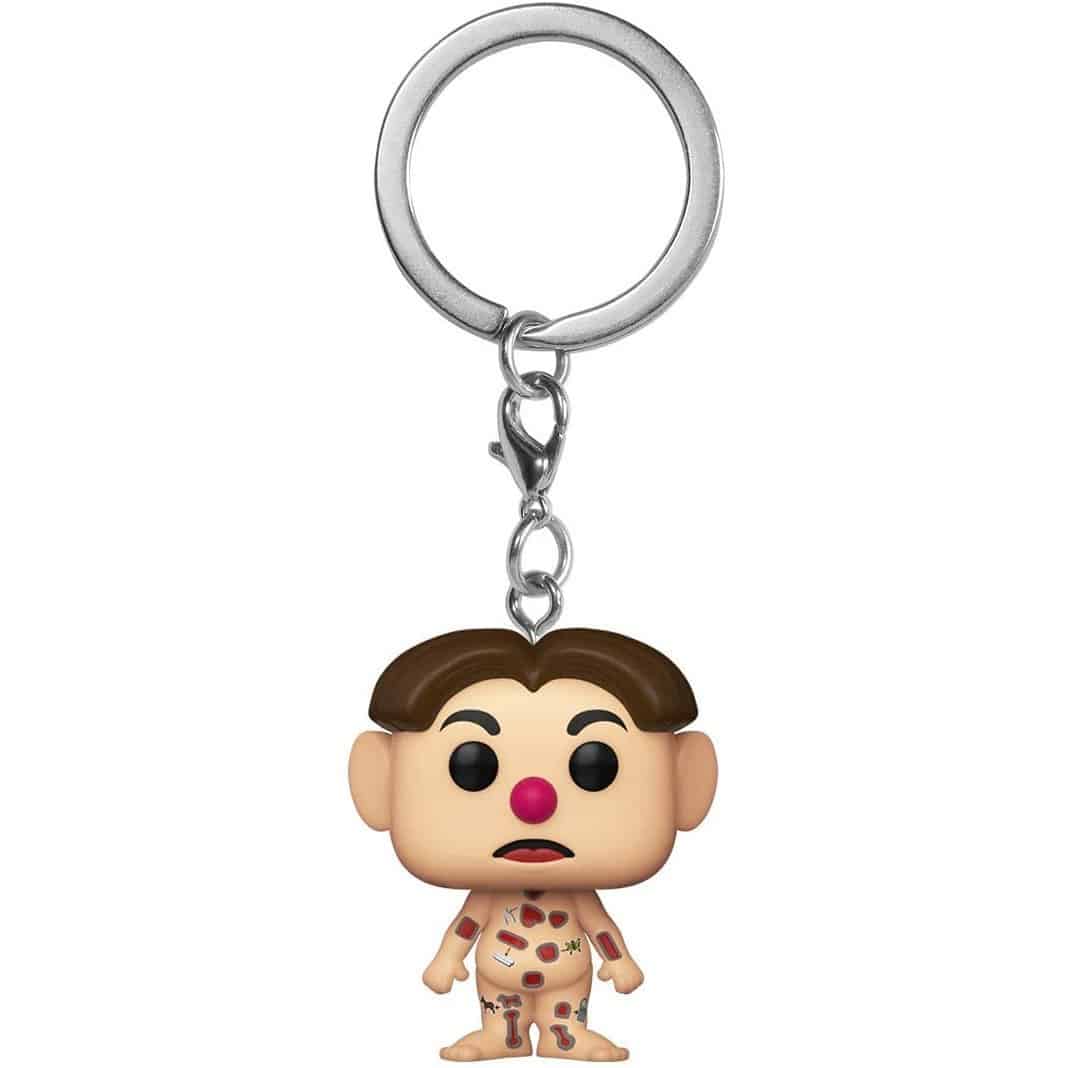 This alarming board game scared me so very badly as a child. I'm still not comfortable with it. However, this keychain is seriously one of a kind. I've never seen any merch for the game Operation, and I'm okay with that, but this is cool and nostalgic. 
Pros
Truly a unique as-they-come Funko Pocket Pop! Keychain. You will be delighted to have this nifty little piece of the past, and I'm sure you will get tons of compliments on it. 

They got this creepy little guy's features down perfectly and didn't leave out any organs, except for the "brain freeze" ice cream cone for the brain. That actually wasn't on the original creepster Cavity Sam, anyway. The ice cream cone for brain freeze was added in 2004. 
Cons
Cavity Sam's ears need to be bigger on this keychain to match those of the game version. 

Cavity Sam had a line on either side of his nose to symbolize jowls. This Pop does not have that.
How to Make a D.I.Y. Funko Pop Keychain
We will briefly discuss how to make your own Funko Pocket Pop! Keychain from scratch. There are two ways that I know to do so; one is from clay, and one is using a regular-sized Pop and attaching a keychain. 
Clay Keychain Pop
Get some decent

air dry

or

polymer oven bake clay

and form it into whatever character you want. If you choose to get many different colors of air-dry clay, you might not have to paint, but you will probably have a much easier time creating fine details with a

paint marker

or by using plain clay and texturizing it by

using sculpting tools

.

Attach the keychain

to the Pop while the clay is still wet for the best results. Remember- clay is very fragile, so this will not be used on a bookbag or anywhere it could get knocked around. A situation where you hang it up high and out of reach of disaster would be best. I've used keychains on my overhead lights and fans as an extension of their pull chains. It's cute, and they don't get banged up. 

When finished, showcase your creation on Reddit, Instagram, Pinterest, Facebook, and anywhere else you can think. Other people will want to see your expertise in the form of a clay Pop keychain, which could inspire them to make one, too! 
Full Sized Pop Keychain
This one is straightforward, but be careful to avoid messing up, or you'll be left with a Pop with a hole in its head.

Simply take the Pop you want to turn into a keychain and drill a very tiny hole using a tiny drill bit or the twist-to-screw piece the keychain comes with into the Pop's head or wherever you want it to dangle from, then attach the keychain itself. It's not a bad idea to use the keychain spiral to set the hole, unscrew, add a drop of super glue for plastic and rubber, and quickly screw the piece back in over the glue.
Hang it wherever you want, or use it as a bookbag customizer.
FAQs
Question: How can you Tell if a Funko Pop Keychain is Genuine?
Answer: You can use the Funko App to scan the keychain's barcode. If the code doesn't show up, you will know to do some further investigating. 
Question: How Big are Funko Pop Keychains?
Answer: The actual Pop is only one to one and a half inches long, but including the genuine keychain will have a complete length of approximately four inches.
Question: How Much do Funko Pocket Pop Keychains Weigh?
Answer: The keychain weighs between half and a full ounce. 
Poppin' Out Funko Keychains
That's a wrap! Now, you can go about your happy way shopping or creating your very own Funko Pocket Pop! Keychain. I could have made this article much longer because there are so many awesome Pocket Pop! Keychains are available, and so many are fantastic and unique.
Just to quickly recap, I found the very best Funko Pocket Pop! Keychain to be Slimer – Ghostbusters Funko Pocket Pop! Glow in the Dark Keychain. It glows and is a spooky and very lovable dude.
Unfortunately, finding yourself a Slimer Pocket Pop is challenging, so when you do find one, it would be in your best interest to purchase it. I have purchased one for myself, so that's one less on the market waiting for you.
I hope this Funko Pocket Pop! Keychain article has shed light on a new and exciting way to collect Funko Pops. They are even better than the full-sized Pops if you ask me.
Being petite and cute has never been a bad thing. If you have children, you can search for their favorite characters to connect to their bookbags. They will surely be happy to take a little buddy along to school.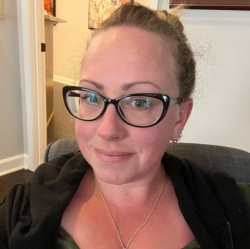 Latest posts by Katie Downey
(see all)