You've been a collector of Funko Pops for some time now, and you occasionally entertain the idea of what it would be like to have your very own Funko Pop modeled after yourself. You're in luck because many other Funko Pop collectors have felt that same calling and wanted to make their own personalized Funko Pop figure.
There are many ways to go about making your own Funko Pop figurine. You can do it the officially licensed way, or if you don't care much about being official, you can turn designing your Funko Pop into a fantastic DIY project! It depends on what you want and where you want to display your creation.
Making a D.I.Y. Funko Pop sounds like an enjoyable and creativity-enhancing way to go. We will discuss how you can bring that vision to life, whether licensed or not.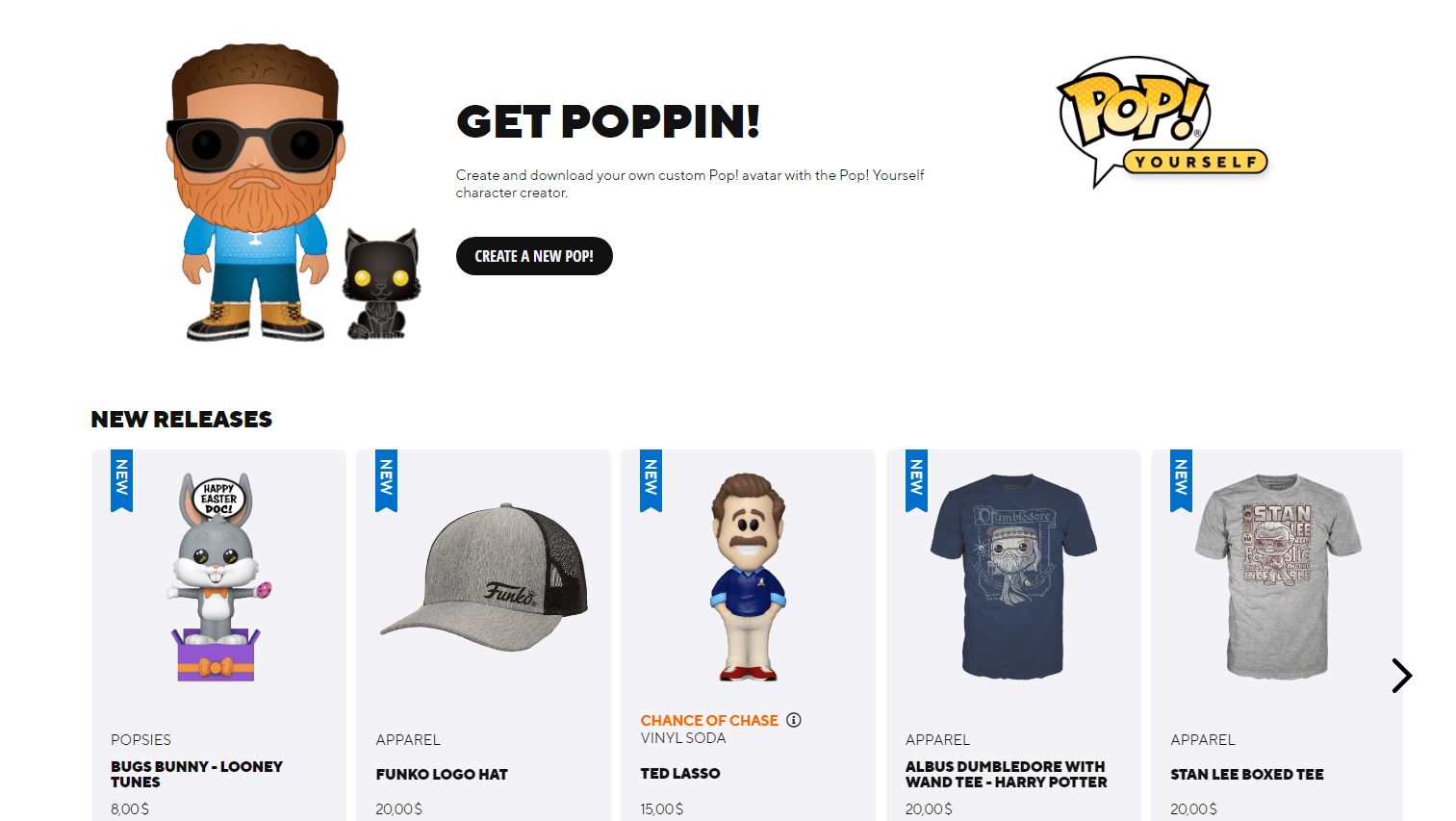 POP! Yourself vs. D.I.Y. Funko Pop
The Funko Factory at the Funko Pop Headquarters or the Hollywood retail outlet are both open to accepting personalized creations of their Funko Pop figures. How exciting is that!?
You will need to practice yogi-style patience as I'm sure there is a wait since everyone wants their own Funko Pop modeled after themselves. We will also explore what steps you must take before and during the licensed and official Pop! Yourself creation.
The bottom line is that Funko Pops are creative and unique on their own, but it would be even cooler if you could also display yourself as the lead Pop to your self-created Pop troop. Of course, nobody will force you to make a Funko Pop look like yourself, either. Maybe you just want to make a Pop that you have thought up. The options are endless.
Bottom Line Upfront
Below are the links that I think will help you the most when trying to decide which route to go when creating your very own custom Funko Pop. It all depends on your ability to make it to the outlets in California or how much time and work you are willing to put into the Pop. The Avatar is the simplest. POP!
People can only be utilized if you reside nearby, but they are expanding that soon. If you want to try making a from-scratch custom Pop or use a blank D.I.Y. Pop and add to its physique, you've come to the right place. If you want some great quick links to use for your custom or D.I.Y. Pop creation, check out the bottom of the page.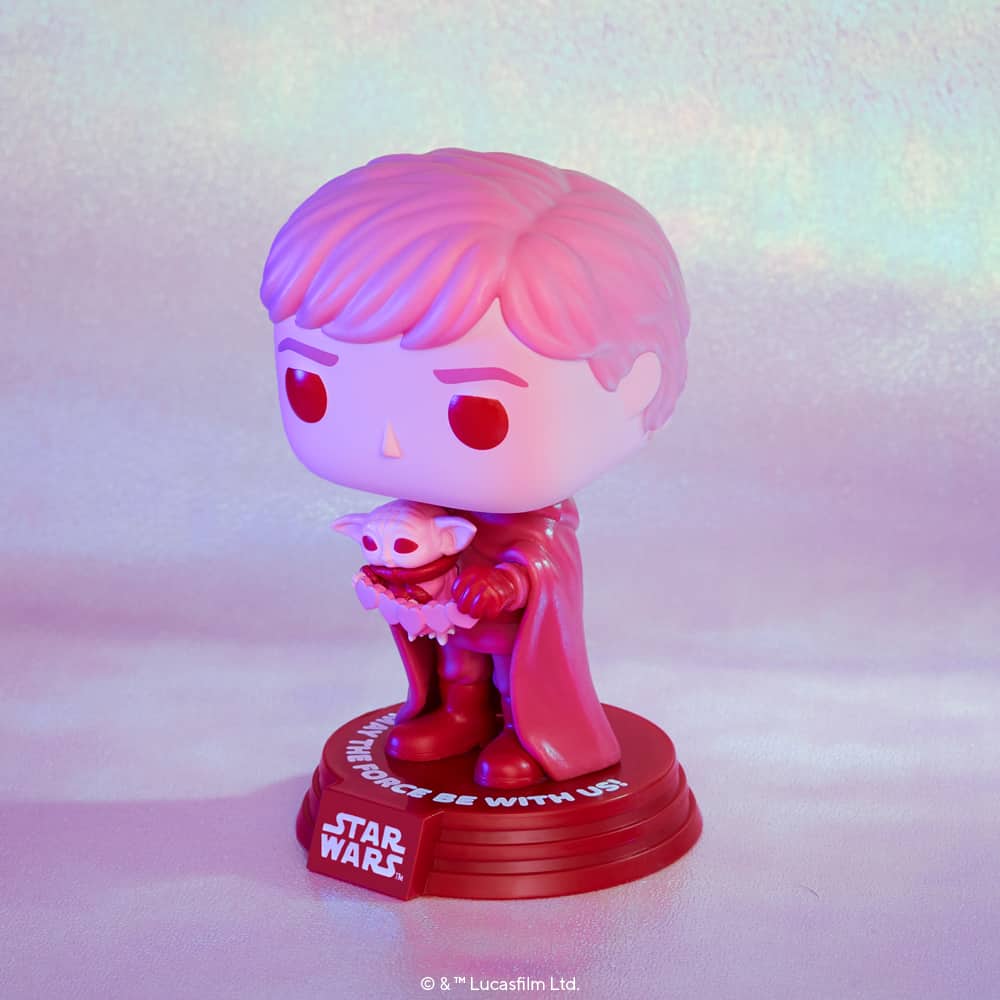 Make a POP! Yourself Avatar
Licensed POP! People
Unlicensed DIY Custom Funko Pop
Tips for Getting Started with POP! Yourself Avatar Online Studio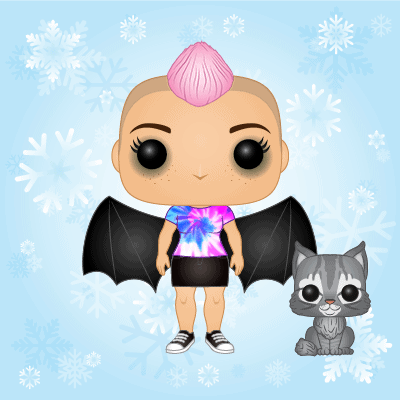 This is the easiest and fastest way to create your very own Funko Pop figure designed after yourself. It's fun and easy, and you can visit as many times as you'd like to generate more Pops of friends, family, and make-believe origin.
This will not be a Funko Pop figure in the physical sense. This is only a Funko Pop avatar that is downloadable. Below are some steps and tips to making the experience a good one.

Tips for Getting Started with POP! People
This is only available to people who can travel in person to the Funko Pop Factory or the Funko Pop Hollywood retail location. Funko has made numerous statements regarding getting their online POP! People should be up and running as soon as possible.
So for now, you'll be traveling possibly very far or making a friend near one of the Funko P.O.P.! People locations and asking them nicely to make the trip for you.
There is something authentic about the experience you get from going to one of the Pop locations and making your Pop in the kiosk. It's much like going to the Build-a-Bear store in the mall and making your very own stuffed friend. It's the experience that makes it so worth it. In an age where everything is done virtually or online, some experiences are better when done in person.
Tips for Getting Started Making a D.I.Y. Funko Pop Figure
This is a bit of a doozy because you are 100% in control of the outcome. You can be the most creative person out there and make an original and fantastic pop. Alternatively, you can make a whole family of Pops fairly quickly using online inspiration or even model the Pop after another Pop but throw in some extra details.
It is truly up to you to make everything except the Pop's actual body if you purchase the D.I.Y. Funko Pop blank figurine. You could, of course, choose to make a Pop entirely from your hands with clay if you want to "own" your work. Either way, it's fun and, often, hilarious.
Below, I will go through a few different mockups to give you an idea of what to expect with the final results. Don't get discouraged if you don't ace it the first time. You can't expect to be great at something if you don't practice a bit first.
First, you will want to figure out what direction you want to go in while creating this Pop. Draw a picture of what idea is floating around in your head that you want to see come to life.
You will need materials for hair, tails, clothing, and such. If you're extra crafty, you could make clothing out of actual cloth materials. If you choose to use clay, decide which type will work best for your goal. Keep in mind that some clays require a kiln to set. That is not what you want, especially since you can't put the D.I.Y. Funko Pop in an oven or kiln. Use air-dry clay. There are many varieties to choose from and also many colors. Of course, you will also need to procure a D.I.Y. Funko Pop. Here are a few that are available on the Funko website. They are 100% black canvases but aren't far from it. Here is a female DYI and a male DIY on amazon. You can also find them on eBay.
At this point in the game, you have the blank DIY Pop, the materials you'll be using, and a well-thought-out and drawn-out plan. Now, it's time to get to work. You can create clothing for your Pop by sewing together fabrics, painting them on, or using clay to create 3-D clothes with plenty of room for details. I suggest using clay for the hair and clothing as much as possible. It will probably be easiest to paint the clay after it is on the Pop instead of using colored clay.
When creating the hair, try to picture what you want it to look like regarding texture. You can make one big all-together hairpiece using colored or natural clay, then use sculpting tools or a toothpick to create strands, curls, or whatever hair you imagine. Also, if you want a highlighted look, you can use one base color of colored clay and then lay neutral-colored clay where you want to paint in the highlights.
If you are going for a realistic touch to the clothing on your Pop, try looking at photos of people wearing what your Pop is wearing and add creases where they would naturally be found.
If you'd like to add accessories to your Pop, create them from clay. Let your imagination run wild; don't worry if flaws pop up. Flaws make things more unique, and there are a million ways to fix them if you feel the need.

A Few Examples of D.I.Y Blank Funko Pop Creations
This is a truly epic example of a D.I.Y. Funko Pop customized into something really great. This is an awesome rendition of Fat Mike from NOFX as created by u/ozma0foz using a blank D.I.Y. Funko Pop and creating the rest on their own using clay. The detail on his bass guitar is seriously fantastic. See more like this in the Funko Pop group on Reddit.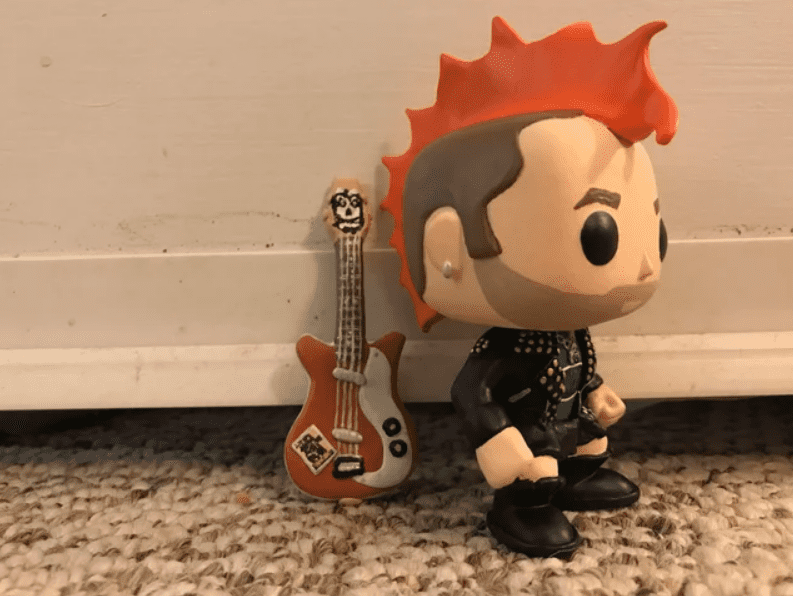 It's Jim Hopper from Stranger Things. This Funko Pop represents when he was a prisoner in Russia. I really like the colors they used and how they appear cold, making the Pop more realistic. Hopper was created by u/MightyFluff666 on Reddit in the Hawkins AV Club group.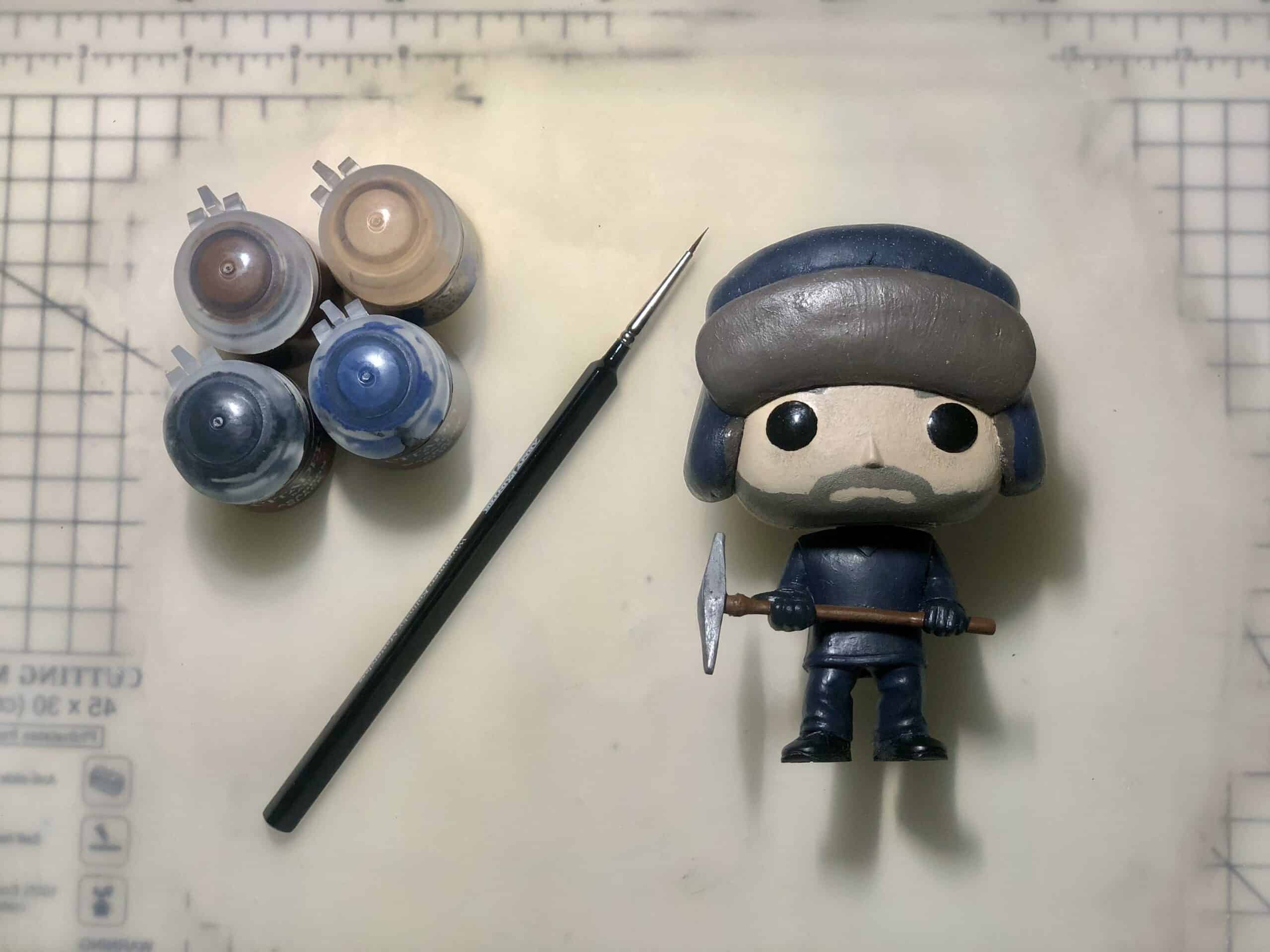 Here we have an awesome Polly Pocket D.I.Y. Funko Pop created by Kerchie. I love how she also created Polly Pocket as her smaller self, as well. Lots of kids (and adults) will absolutely love this figurine. You can read more about it on her website.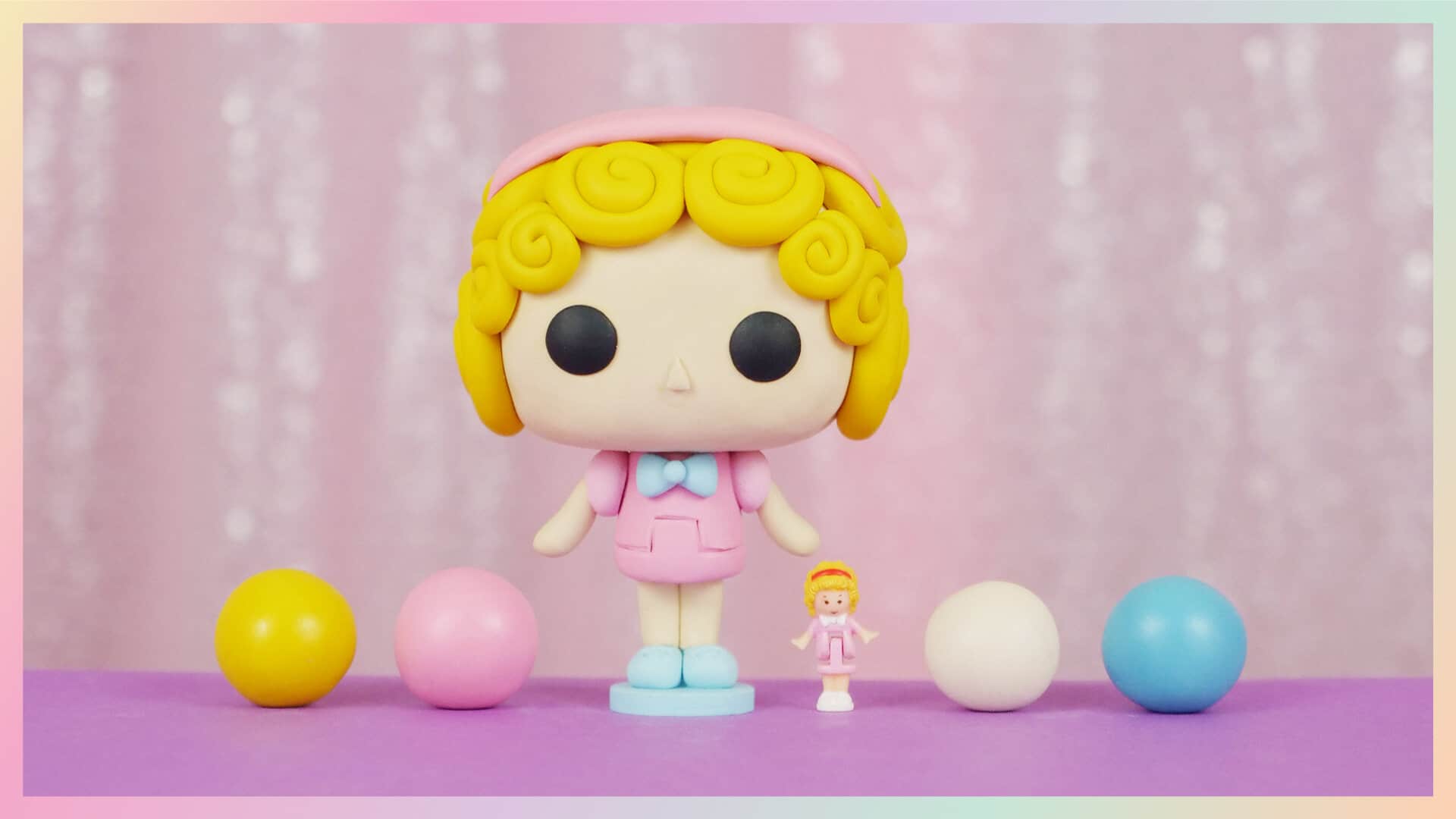 Check out this sick Mad Max Fury Road Pop! I love it! They did a fantastic job on the mask and even added in poor Tom Hardy's undereye bags. After all, Mad Max has a pretty savage lifestyle. You can see more from Cal's Customs here.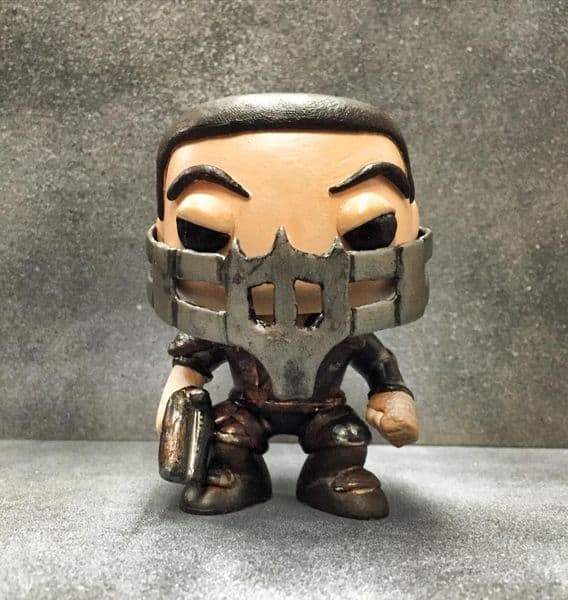 Tips for Getting Started Making a Clay-Based From-Scratch Pop
First, just the way you did when creating a D.I.Y. Funko Pop using the already-made blank figurine, you will want to envision what it is that you want to make. Grab a pencil and some paper and get to sketching.
Make a note on paper with what details you want to include, what colors you want to use, and what materials you'll use to create the overall effect. For example, if you're going to make an alien Pop, what color will you choose for the hair, skin, and eyebrows? What are essential features you'd like to highlight? What accessories will you add to bring your vision to life? When making this entirely from scratch, you can do anything you want.
Choose what material you'll be using to create the general form of the Pop. Some examples are different types of clay. Here's an article discussing types of clay and their uses. I don't always like air-dry clay, but you may, and that's not the wrong place to start. It's inexpensive and will do the job without any long drying times. I like polymer clay because you can sand it down once dry and create incredible detail when it's wet. You don't have to use clay, but it is the easiest. You could make this from paper mache but you will have less control over the fine details. However, many types of air-dry clay also work very well. The kid's version is what I was referring to when I said I did not like it, but I'm sure the more artistically appropriate air-dry clays are light years from the kid's clay.
You will need the appropriate tools to make your creation come to life. You can improvise here and use household items like q-tips, utensils, pens/pencils, or painting supplies. You can use anything that makes sense to you.
Before you begin, it will help you to make a skeleton. This can be done with some primary wire. The thicker the wire, the more difficult it will be to bend- which is good in the long run. You don't have to use the skeleton method, but it is vital when making a figure from paper mache. It does help when adding clay parts on because it will serve as something stable to make it all stick together. Without it, you can easily knock a leg or arm off by accident.
Start by envisioning the body of the Pop. Are you making something with a human shape? Do you want it to have animal qualities, like a tail? Creating the skeleton will make a difference in your frustration level when molding the body. If you use polymer clay, adding a little water from a paintbrush to blend creases and add details works like a charm. Here is an excellent video for making a Pop out of air-dry clay. This video is great for making a Pop with polymer clay. YouTube is your friend and is filled with excellent tutorials. Unless you have a kiln, stay away from ceramic clay.
Now it's time to decide if you will be using colored clay or if your will be painting. I choose both. A lot of what you want to accomplish can be done with different colored clays, but some finer details need to be done with an extra fine paintbrush.
Try to complete the basics of the body at the same time to avoid running into drying issues. When doing this project, give yourself an ample amount of time to get the basic form completed. Once that is finished and dried, the painting and accessories will be easier and take less time.
Now that you have the figure finished and dried. You can sand any places you want. Just be careful because clay is fragile. Once you are finished sanding the larger areas, you can delve into your bag of tools to create details you missed when the clay was still wet. An X-Acto-knife works well, but many of the sculpting tools you can purchase will also work well.
Making a base for your Pop to stand on isn't a bad idea. It will offer more support and prevent the Pop from tipping over and becoming damaged. You can make any type of clay base you can imagine; grass, bricks, anything. You can also not secure the Pop to the clay base and instead use toothpicks to hold the Pop's feet in place. This will not be as sturdy but will still work well if you want to be able to take your Pop off the stand.
Now, it's time to add finishing details, paint, and admire your fantastic work. Now, it's time to make the next one now that you've gotten tons of great practice making this one.
A Few Examples of 100% Handmade Clay Funko Pops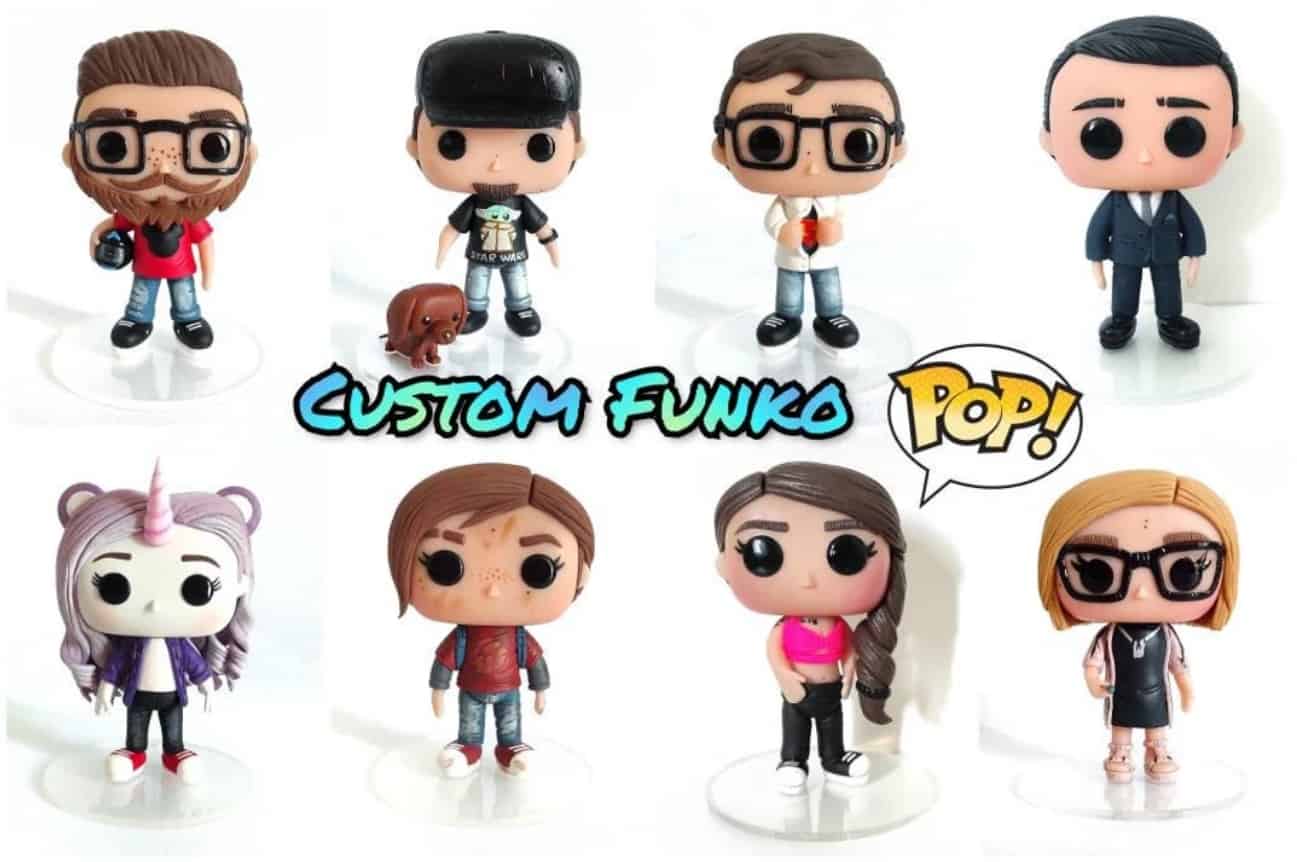 This is an Etsy seller, Clay World Shop, who specializes in handmade clay custom Funko Pops. This lovely human makes each of these from scratch for each customer. I'm sure you probably guessed but they do custom orders. Check out more of their work for ideas and maybe even buy one for your creative enhancement here.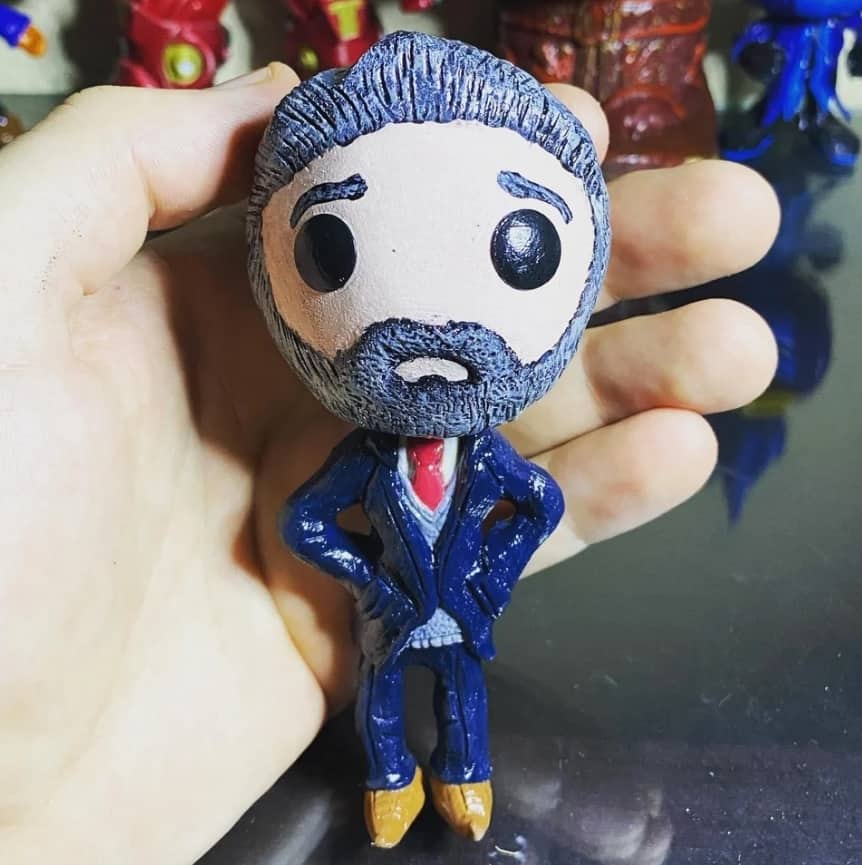 This is a completely custom-made Funko Pop of Canadian media commentator Jordan Peterson. Though I'm not familiar with Jordan Peterson, this is very well done, and as you can see, some flaws are just fine. You can also see on this Pop that using matte paint will give you a more realistic cloth look for the clothing. You can check out Reddit's Funko Pop community and more of u/DimensionsArt94's work here.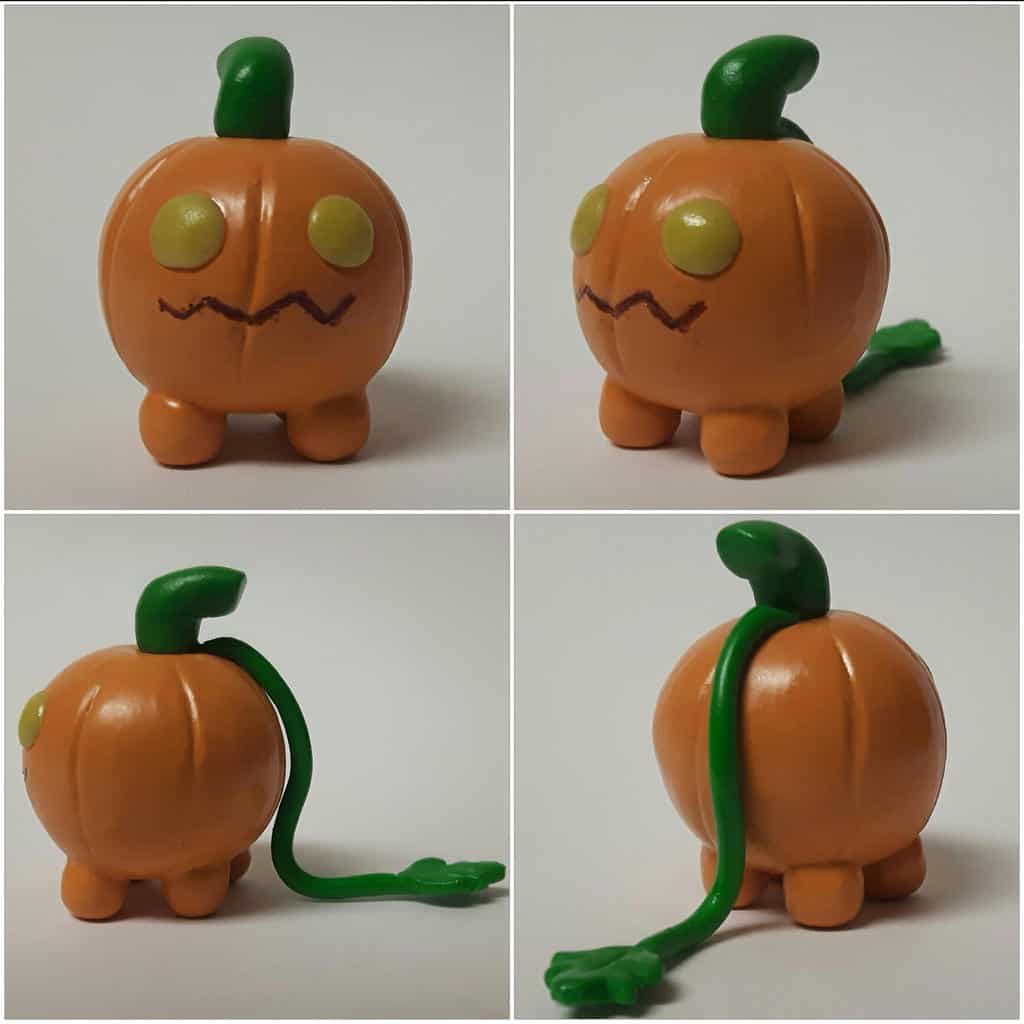 This adorable pumpkin was handmade by TheSweetDisease on the Deviant Art website. Look at that confused little zombie-pumpkin face and its adorable little vine/tail. Remember, it's not just the Pops that can be custom-made; you can also make little sidekicks and accessories for your custom-made Pop.
Links Worth Checking Out
FAQs
Question: Will I be able to build my own customized Funko Pop's POP! People figure by myself?
Answer: No, sadly, with the COVID-19 pandemic, the ability to assemble your figure with your own hands was nixed by health and safety protocol. The only way you will see a POP! People made at this time will be by a factory assembler.
Question: How much will it cost me to make my own Funko Pop figure?
Answer: If you purchase a Pop! People at one of the Funko Pop locations offering this, you will spend $25. If you choose the D.I.Y. Funko Pop, it will run you anywhere from $20 to $75, depending on where you purchase the DIY Pop. If you decide to make an entirely original made from clay Pop, it will likely cost the least, but you will put in the most time and work.
Question: Where can I look online for inspiration in designing my D.I.Y. Funko Pop?
Answer: Pinterest and Etsy are two places to look through the D.I.Y. Funko Pops others have made and pick up a little inspiration for your DIY Pop! Also, YouTube is an excellent resource; whether you are looking at making a Pop from clay or simply adding to a D.I.Y. Funko Pop, you can't go wrong with YouTube.
How to Make Your Own Funko Pop: Final Thoughts
By now, your creative mind is alive with ideas. You might be overwhelmed. Remember, though, this is YOUR Pop, and it doesn't need to look any certain way or please anyone except you, the creator. Custom Pops could be an incredible gift for someone; the more original it is, the more your recipient will love it. You could make these for the next round of holiday gifts if you can find the time to be that creative.
Whoever receives one will surely cherish such a unique and time-consuming gift. Of course, it's the thought that counts, but a warm gesture combined with a smashingly extraordinary Pop rendition of the recipient would be impressive, and they will never forget such a personalized gift.
If you are already comfortable with clay sculpting, this will be simple. Most Pops don't have a ton of detail with their hair or clothing. You can texturize your heart away if you choose. If you feel uncomfortable creating the entire Pop from clay, get a DIY Pop and start small.
If you want to play around with some different ideas, remember to check out the POP! Yourself site. Mix, match, and swap things around as much as you need to. Since you can save multiple Pops you've created once you make an account, you won't have to worry about printing out the final result or being unable to reference it for future builds. Be creative, be unique, but most of all, be YOU! Now, go POP! Yourself!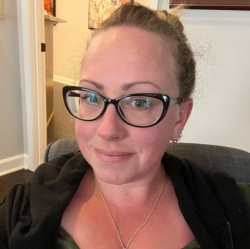 Latest posts by Katie Downey
(see all)