Were you a big ol' Titanic nut as a kid? I was. I obsessed over the history of that fateful maiden voyage and had Titanic toys, posters, books, and more. One thing I wished I had was a cool Titanic model.
Since the RMS Titanic hoisted its sails on its ill-fated maiden voyage in 1912, the ocean liner has captured imaginations worldwide. So much that its spawned countless podcasts, documentaries, books, and movies.
With that in mind, are you fascinated by the macabre case of this once 'seemingly impregnable' ship? An easy way to pay tribute to the famous ship is with one of these colossal titanic model kits. Every product contains a titanic ship model with every detail, major or minor, to a museum-quality standard.
Bottom Line Upfront
Listen, if there's a LEGO option, I want it. That's why I pick the Lego Titanic Set as my fav from this list of great models.
Top Picks
These three titanic model kits are my top 3 picks for those who find the ship's history fascinating.
Best Overall: Revell 1/400
This Revell 1/400 RMS Titanic kit was truly a game-changer for Revell and the Titanic Model Kit industry.
Best for Beginners: Academy 1/700 Titanic Model
Are you a beginner in the modeling realm? Take to the seas with this Academy 1/700 Titanic Model.
Best for Experts: Lego Titanic Set
This Lego Titanic Set allows you to build the legendary ship at a 1:200 scale.
Can You Get Titanic Model Kits?
Yes, you can get titanic model kits in various scales that don't cost a small mortgage. Several brands, like Revell, Suyata, Lego, and Academy, have produced titanic model kits that range in skill levels and scale.
All these model kits are available through the companies' official sites and retail stores like Hobby Sense and Amazon.
Types of Model Kits to Consider
I honestly think that model kits is one of the most unique and rewarding hobbies. It's unique because no other hobbies allow you to recreate scale models of real-life items with such detail. There are three kinds of kits to consider.
Wood
Wood kits use slits that slide into each other to lock the pieces.
Glue
Glue-together model kits are the most complex as they require attention to detail. Glue applicators are also further divided into three different types.
The first is those that retail with the familiar cement glue in a tube. The other two use liquid glue (applied with a brush) or needle-like glue applicators. Note that some wood model kits may also use glue.
Snap
Snap-together model kits do as the name suggests. You assemble the parts by snapping plastic parts into their designated areas. No gluing is required.
Once your titanic model build is complete, consider grabbing a different kit from the above categories.
Model ship kits
Architectural model kits
Realistic castle model kits
Wood model kits
Metal wood kits
Bandai model kits
Star Trek model kits
Star Wars model kits
Engine model kits
Model tank kits
Model plane kits
Semi-truck model kits
Model truck kits
Model car kits

What to Look For in a Model Kit
Are you ready to dive into the extensive list of titanic model kits I spent hours compiling? Well, before you do, I thought you'd appreciate learning about the things to look for in the best model kits.
Tools and Supplies Required
Is the model kit snap together, or will you need glue? Better yet, is it already painted, or will you have to do that yourself? Before investing in a model kit that interests you, ensure you have the modeler's tools required on hand.
Reviews
Reviews are often a perfect indication of a model kit's quality. They also tend to shed more light on the model's complexity level.
Skill Level
The best model kits retail with their skill or difficulty level indicated on their package. Ensure that the model you get fits your comfort level, lest you don't enjoy the process. This particularly applies to those who're either building their first model or haven't done so in a long time.
The first skill level is level 1, which involves snap-together pieces that don't need paint or glue. Skill level 2 generally requires paint and glue, and skill level 3 involves smaller and more detailed parts. Advanced skill levels 4 and 5 boast components with extra-fine details and require expert-level skills.
Please note that most model kits do not retail with the tools required for assembly. These may include razor blades, cutters, or paint brushes (depending on the model kit you've acquired.)
Brands
Generally, you want to stick with brands trusted and well-known by fellow modelers. Some of the best brands in this space are Revell, Tamiya, Hasegawa, Academy, and Suyata.
Type of Model Kit
Picking the type of model kit that fits your interests is extremely important. Remember, model-building requires careful concentration and can take a long time to complete. As such, if you're building something that isn't appealing to you, chances are you'll leave it partway through.
To make your selection process easy, find the list of the different types of model kits you should consider above.
Scale
Put simply, the scale communicates how smaller the model you build will be compared to the real object. For instance, a 1/200 scale titanic model kit would be 200 times smaller than the RMS Titanic ship.
Following that, a real-life Supermarine Spitfire is about 912 cm long. When you divide that by 72 you'll get the length of a 1/72 Supermarine Spitfire model. Basically, the smaller the number on the scale, the larger the model of any particular subject will appear.

What Usually Comes in a Model Kit?
Here, I'll list everything you can expect in a model kit, including accessories and essential tools often included.
The model itself
A paint brush
The main paint colors required
Glue
Tweezers
Side cutters
Craft knife
Key Features of a Titanic Model
What makes today's titanic model kits stand out in the wealth of similar products across the market? The fact they feature exceptional levels of details, from bow to stern. Here are the key features the best titanic models should possess.
As on the real ocean liner, the boat deck's fine detailing should extend to winches, chains, cranes, and lifeboats. Also included should be masts that provide a frame for the ship's intricate communication and rigging lines.
As part of the collection, an authentic scale model should recreate details like the ship's bridge, promenade deck, and more. The cross-section will reveal ornate interior details like cabins from different passenger classes, boiler rooms, and the grand staircase.
Some titanic model kits also feature the original ship's swimming pool, elevators, and first-class dining saloon.
The Best Titanic Model Kits
Ok, let's cut to the good part, shall we? Let's look at the nine best titanic model kits available today. I tried to pick a variety of options for all sort of builders. From beginner to expert, there's something for everyone.
As much of a Lego expert as you think you are, your capabilities will be tested with this Titanic Set. At more than 53 inches long, this LEGO set holds the record as the largest Lego set ever created.
Price Range: $629 – $700
Age Range: Over 3 Years
Number of Pieces: 9,090 pieces
Scale: 1:200
As you probably noticed, you'll need to assemble many pieces to complete the model, so clear your schedule. It'll take 9,090 pieces to build the legendary model to its 1:200 scale. SAY WHAT? And what's more? Once complete, it divides into three sections, which implies you can showcase the ship's intricate interiors. Hwo cool is that?
Pros
The model allows you to turn the propeller to watch piston engines turn
Tension line between masts adjustable
Many exterior and interior features showcased
Manufactured from high-quality materials
It is the largest titanic model kit you can assemble
Cons
Time-consuming to assemble
Not beginner friendly
Academy models engineered this Titanic model shortly after the film was released in the late 1900s. Needless to say, this was uncompromising in its accuracy and attention to detail. The model is a 1:400 scale kit and also includes extra interior detailing parts of the doomed vessel.
Price Range: $61 – $99
Age Range: 14 years and over
Scale: 1/400
Most people also appreciated this model kit's high-quality multi-colored injection from new toolings. This implies that all the different parts have been infused with the appropriate shades, so you don't have to paint the model.
Pros
Finely engraved hull
High-quality construction
Ideal gift for anyone who's a fan of models
Major features of the ship included
Doesn't require painting
Cons
Some people were not pleased with the coloring
Perhaps a better choice for individuals who prefer a smaller, easy-to-build Titanic model is this Academy ACA14217. Having debuted in 2015, this is one of Academy Model's most recently engineered Titanic Model Kits. Better yet, like the 1/400 model we just looked at, this also retails with Multi-Colored parts.
Price Range: $17 – $40
Age Range: 14 years and over
Scale: 1/1000
The model's hull is split at the waterline using a reddish-brown shade below and a black one above. The only downsides I could really find are its scale and miniature parts. Both of these could also be advantages to some. Most non-model builders found the many small parts a challenge to assemble.
Pros
High-quality multi-colored injection
One of the most economical options
Qualifies as the ultimate conversation piece
Easy to assemble even for total beginners
Safe to use for anyone above three years of age
Cons
Too small for some
Has too many small parts
My detailed guide's fourth Titanic Model kit is the CubicFun 3D Titanic Kit. As part of the collection, the ship model retails with as many as 85 LED lights. If this doesn't deliver the ultimate wow factor, I don't know what will.
Price Range: $45 – $69
Age Range: 14 Years and Above
Number of Pieces: 266
Scale: 1/305
The bulbs are fitted inside the hull to illuminate the cabin portholes and deck dramatically. External lighting consists of LED navigation lights positioned on the starboard sides of the bridge. Once all sets of light are in place, take the model into a dark room and turn it on. That will deliver a truly breathtaking display.
Pros
100% quality guaranteed
All pieces fit together precisely without glue
Easy to assemble, and no special tools like tweezers required
Great birthday gifts for both men and women above 14 years of age
Has a lighting effect delivered by 85LED bulbs located under-deck
Cons
Directions on lights placement could be clearer
Would you like a model kit that offers the perfect opportunity to interact with your baby, partner, or friends? This SusenGo Titanic Model Kit could be the perfect solution.
Price Range: $40 – $80
Age Range: 6 Years and Above
Number of Pieces: 1021 Pieces
The kit also qualifies as a welcomed souvenir and gift for any occasion, like leisure time, game time, and more. A detailed color instruction has been included in the package.
Pros
Perfect for kids and adults alike
Easy to assemble
Instructions included
Compatible with most major building bricks brands
No painting required
Cons
The bricks don't lock together well
Revell, creators of super-detailed models for collectors, vehicle fans, and hobbyists worldwide, has wowed the world once again. Featuring exceptional levels of detail, this Revell 1/400 replica model is detailed with textured planking, stairways, davits, and lifeboats.
Price Range: $170 – $500
Age Range: 14 Years and Older
Number of Pieces: 262
Scale: 1/400
When fully assembled, the model will measure an impressive 26.4 inches in length. LED lights have also been included for the illumination of the hull and navigation. A built-in battery box powers them. Note, though, that the 4 x 1.5 V AA batteries required to power the model aren't included.
Pros
LED lights included
Detailed features
Accurate representation of the Titanic
High-quality construction
Electronic components individually matched to the kit
Cons
Requires both paint and glue to complete, and the two aren't included
This Academy 1/700 Titanic is, without a doubt, the most popular small-scale ship model. Academy Model initially released this model in 2007 but later slightly retooled it to create an MCP (Multi-Color-Parts) version.
Price Range: $25 – $44
Age Range: 17 Years and Up
Scale: 1/700
Note that this model will require glue to complete. Feel free to repaint if the model's colors don't pack a punch for you. The two aren't included in the package, so you'll need to purchase them separately.
Pros
Multi-color parts
New tooling for easy assembly and painting
Great gift option
Quality construction
Beginner friendly
Cons
Time-consuming
Not suited for modeling 'experts.'
Best Scenic Titanic Model: Titanic Port Scene & Vehicle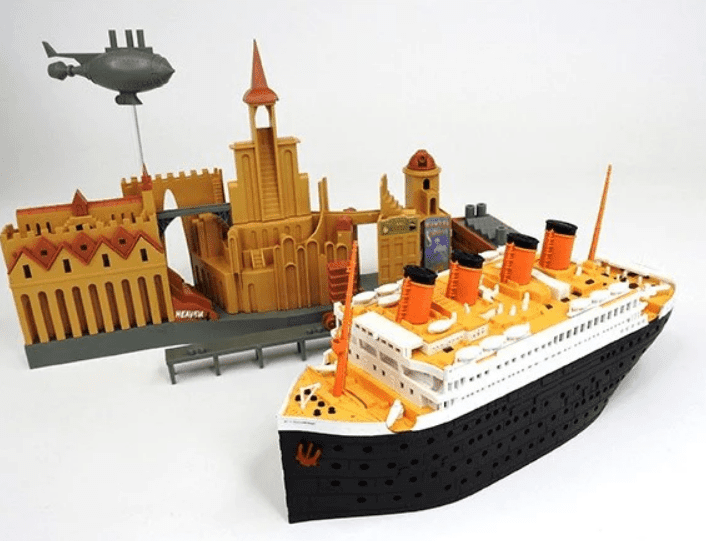 Some people don't care about scales and only want a toy that can cultivate their imaginations, creativity, and hands-on ability. If that sound like you, this Titanic Port Scene & Vehicle from Suyata is the model kit for you.
Price Range: $38 – $48
Age Range: 14 Years and Above
Number of Pieces: n/a
The model's decks are complete with windows, doors, and cabins. But I'd expect nothing less.
Pros
Well packed
Considered using premium material
Easy to put together, even for beginners
Durable
Affordable option
Cons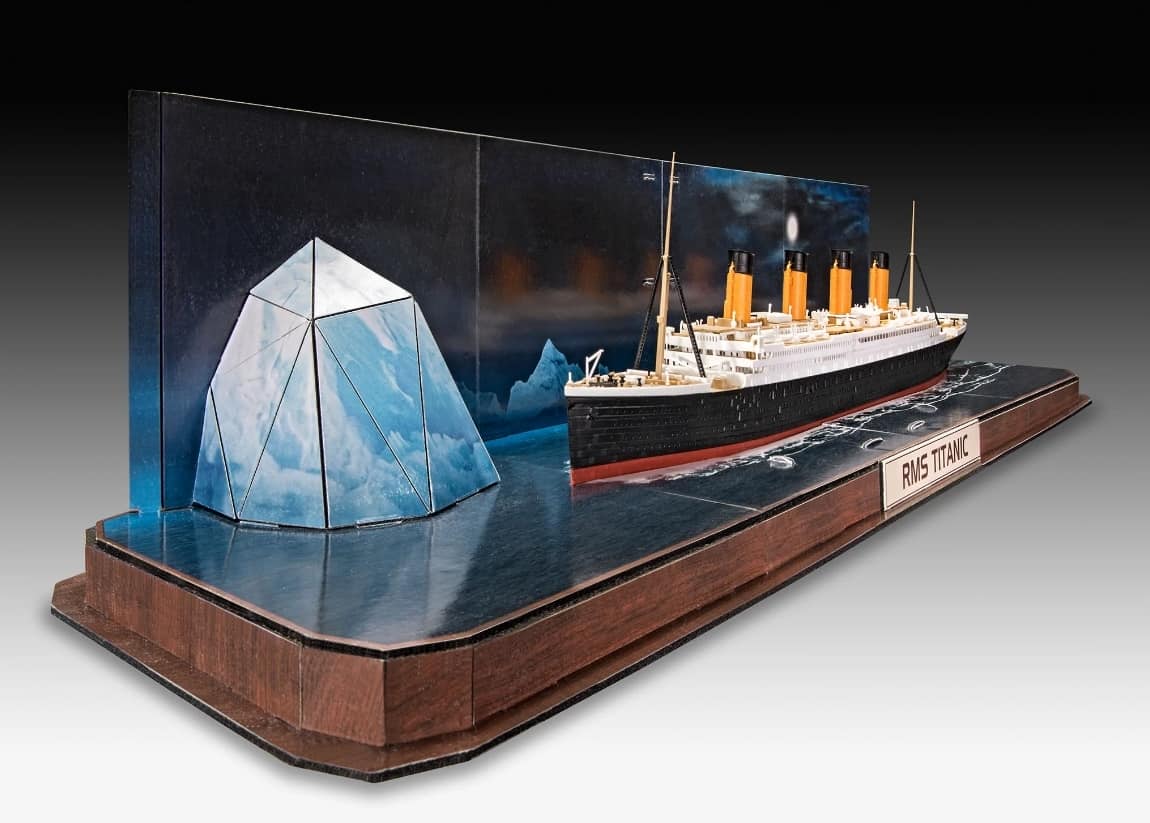 Nautical enthusiasts and historians may want to save up for this one. The model debuted in 2018 and is one of Revell's newer titanic model kits. The design is enriched with added detail, accuracy, and historical attention.
Price Range: $97 – $130
Age Range: 14 Years and Above
Number of Pieces: 156
Scale: 1/600
Features incorporated in this model include the decals, double cable winch, lifeboats, radar masts, raft containers, and more.
Pros
Built using plans and imagery of the ship for a realistic finish
Major parts of the ship included
Decals included
Retails with a display stand
Comes with detailed color instructions
Durable and sturdy constructions
Cons
Not beginner friendly
Time-consuming to complete
FAQ
Question: Where Can You Buy a Model of the Titanic?
Answer: The best place to look for a model of the titanic is your local hobby store. If there's no local hobby store near you, by all means, shop online. Amazon and Hobby Sense offer a wide selection of titanic model kits you can pick from.
Question: What is the Biggest Titanic Model?
Answer: The largest and most accurate titanic model is the Lego 1:200 scale model.
Question: Is LEGO Making a Titanic Set?
Answer: On Oct 7, 2021, LEGO announced via social media that it would release its largest RMS Titanic model kit. The LEGO Titanic set was officially released on Nov 8, 2021.
Bottom Line
While creating each titanic model kit above is enjoyable, it's also a talent that'll take time to master. So, if you're just starting, remember to take your time. Better yet, take breaks between confusing stages and carefully consider how you'd like to approach the next steps.
After hours of concentration, you should watch as your masterpiece slowly comes to life. I guarantee it'll all be worth it in the end, so grab your favorite titanic kit from the list and get building! I highly recommend the Lego Titanic Set if you're a LEGO fan like me.
Continue reading: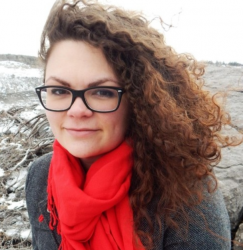 Latest posts by Candace Osmond
(see all)