As I'm sure many of you are, I'm an avid collector. Something is comforting about loving a thing so much that you fill your home with it. Not to mention the thrill of finding a collectible that's been on your In Search Of (ISO) list for years! 
I collect many different specialties ranging from Eevee plushies to Taylor Swift vinyl records. However, my all-time favorite thing to collect is Pokémon memorabilia. I could talk all day about my life-long card collection, my hoard of video games, and my abundance of Pokéball replicas, but my most recent obsession is the model kits. 
I acquired my first one in a Pokémon Mystery Box around a year ago, and since then, they've quickly climbed to a top spot in my little collector's heart. 
The model kits can be intimidating to collect because the majority are only available in Japan, but no worries! I will teach you how to expand your pocket monster collection to include the cutest figures you get to build yourself. 
With this guide, you'll be ready to dive into the world of Pokemon Model kits whether you're a Sinnoh local or are, like me, an Unova resident who's determined to catch 'em all! 
Bottom Line Up Front 
The terrariums are fan-favorites and are insanely cute. They usually show Pokémon interacting with nature or other pocket monsters in their natural habitats.
However, the Desktop Figures set serves a double purpose for those who use a home office! For me, I enjoy the Bandai Quick Builds as they're the easiest to assemble and make adorable bookshelf decor.
The Best Pokémon Model Kits at a Glance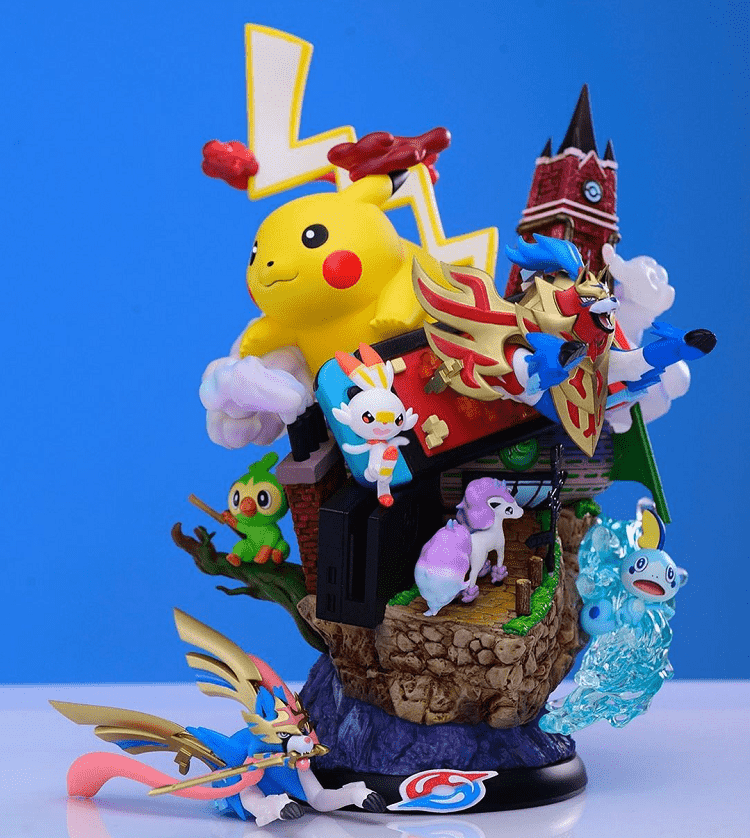 The Best Greninja – Bandai Easy Build: This Greninja is an easy-to-build project with only twenty or so pieces involved. It also comes with a stand for easy display!
The Best Lucario – Bandai Riolu and Lucario Double Kit: Like the Greninja, this Bandai also is an easy-to-build project. The most significant difference is that it comes with a Riolu figure! My little brother loves to play with this set because he can pretend he trained Riolu to evolve into Lucario
The Best Mimikyu – Re-Ment Swing Vignette: I love the Re-Ment figures. While they are insanely simple to build, they are the most uniquely designed figures with only three pieces!
 The Best Charizard – Mega Construx Poseable Model: The Mega Construx kits are the easiest to find no matter where you live, as they are often sold in department stores with a toy section. This one comes with flames that attach to Charizard to give the appearance that he's using moves
 The Best Umbreon – Starrium Starry Night Figure: Umbreon is my favorite pokémon, and this figure gives the dark majestic princess all the justice in the world. Plus, I love astrology. So if you, like me, love space and eeveelutions, this is the Umbreon for you!
 The Best Bidoof – Mega Construx Bidoof Twenty-Six Piece Model: I know Bidoof is an odd favorite to have, but that animated short film earlier this year made me have a spot for this goofball. I picked this figure because it's almost always in stock at Target and is a fun project with a premium ball to store pieces in.
The Best Gengar – Lostlorn Forest:  I picked this for two reasons, one being Gengar is an awesome Pokémon! The second is that this set gives you the option to build a cool-looking tree that I use as a dining room centerpiece during Halloween!
The Best Snorlax – Mega Construx Snorlax and Munchlax Kit: There are a ton of pieces involved in this, but it's still a simple build that younger kids could handle. In addition, the included Munchlax gives the same gameplay options as Lucario and Riolu!
The First Model Kit – TOMY Wind-Up Kits: This is the holy grail of model kits. The very first set and a must-have if you collect!
The Fan Favorite – The Terrarium Collections: The terrariums are probably the most popular of the model kits. There are eleven different series, each with six figures that you get via blind bags. It sort of feels like searching card packs for a rare pull!
For Anxiety – Nanoblocks: I'm going to be real with you. I have a ton of anxiety-like all of the time. These kits are an excellent way to calm my mind as it takes a lot of concentration to build. This is not a kit for new builders but is for those who like a challenge or want to keep their brains busy.
For Students – Desktop Figures: These cute figures are made to hold all your office supplies, from pens to your cell phone!
For Small Children – Bandai Quick Builds: These figures usually have less than thirty pieces and are ideal for younger children as the pieces are bigger than other kits.
Why Pokémon Model Kits
In 1996 Pokémon debuted what would become a world-renown transmedia universe with just two Gameboy games: Red and Green (later released as Leaf Green in the US!). Then, in 1997, I was born, and the obsession began immediately.
It started with the anime, drifted into video games, turned into a huge financial commitment with the cards, and now as a twenty-something-year-old adult, decorates my home.
I know I'm not alone in saying that loving Pokémon is a lifelong commitment. Okay, that may be a bit of an exaggeration, but I can totally see a bunch of us in forty years, with our canes and walkers lining up at Target overnight for a Pokémon drop, and that's what I love!
The community (for the most part) is family. We all bond over our love for these adorable yet deadly little monsters and must collect them in all forms, whether digital or plastic.
The model kits allow you to build your favorite Pokémon. Whether you choose a simple figure or a complex nanoblock, you created it.
It sits among your collection (for me, a giant bookshelf of card binders) and looks insanely cool as many of the model kits show the monsters in their everyday habitat vs. the generic battle stances we're used to with figures.
Gotta Catch 'Em All – Selection Criteria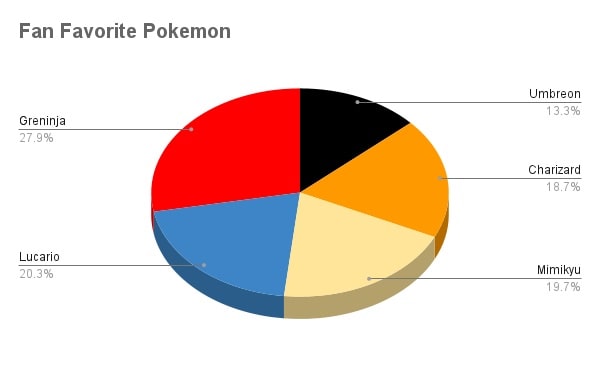 In 2020 Pokémon posted an official poll of the top thirty Pokémon. This data is what I used for the top five fan favorites. But, no worries if, like me, your favorite monster didn't place. I made sure to include tons of others!
I chose model kits with a wide range of pokemon choices as well as a mixture of difficult and easy sets so everyone can have the chance to catch 'em all!
Top Five Fan Favorite Pokémon 
Below are what I consider the best model kit for each fan-favorite Pokémon! I'll help you figure out where to buy, how to build, and the best storage for your favorite pokéfriend to live.
I personally have a Gengar model kit collection. Many Pokémon collectors love their favorite so much that it's the base of their collection. Because of this, I have provided a few backups for these fan-favorite friends!
The Best Greninja Kit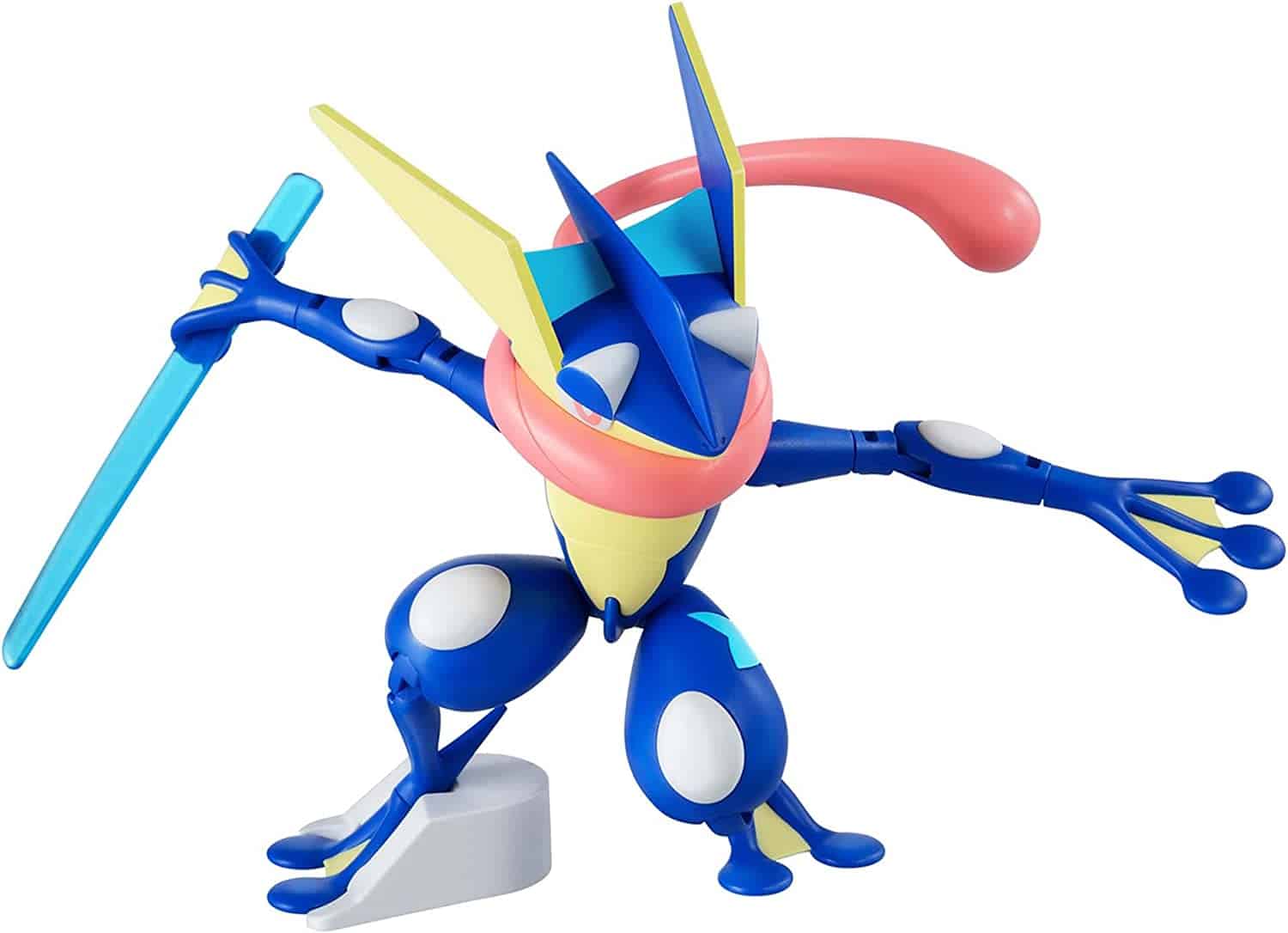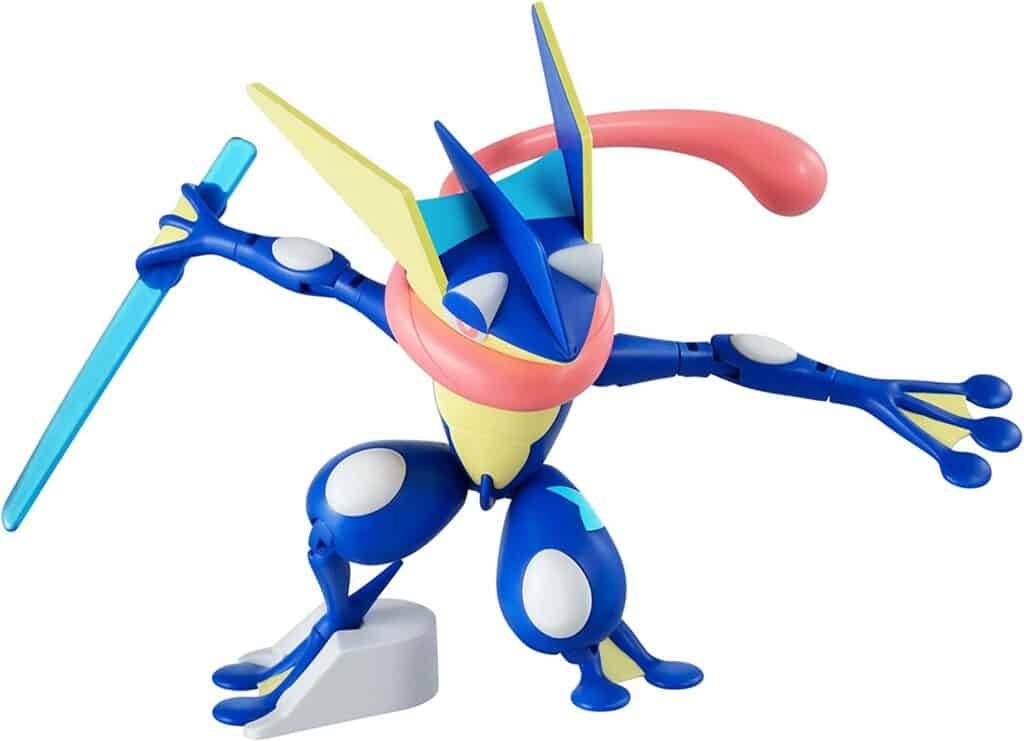 Features
The Bandai Greninja kit is super simple to build but also sturdy. Older children could play with him, and he would stay put together. He also comes with a little stand for display purposes among the rest of your collection! His limbs move, making him posable!
I often found this kit at local card shops, which usually run for Troll and Toad prices. While the price fluctuates daily, this Greninja usually stays around twenty dollars. They will sometimes be at mall stores like Tokyo Japanese Lifestyle, but stock comes and goes in these stores, and pokèmon merch is usually a quick sale out.
Another option is online! This specific figure is available on Amazon as well as Pokèvault.
Pros
Easy to assemble. 

Sturdy. 

Comes with a display stand. 

Fairly easy to find. 
Cons
Small pieces that aren't ideal for children. 

Not suitable if you're looking for a complicated build or big project. 

Will come apart with heavy play. 
The Best Lucario Kit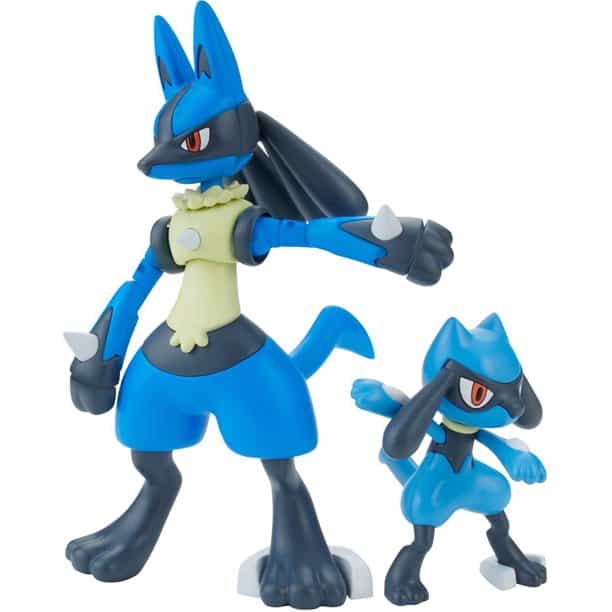 Features
The Bandai Lucario and Riolu kit, like Greninja, is sturdy and great for play. However, there are small pieces, so it is better suited for older children and adults.
He is more flexible than Greninja and can perform his signature move, Aura Sphere. He comes with a stand to help achieve the ideal pose for this move. We also can't ignore his biggest plus, the inclusion of Riolu. 
Prince ranges from fourteen dollars to thirty, and like most Bandai kits, they're usually at local card shops. However, this specific one is easy to find at Walmart as well as Amazon. 
Pros
It comes with a second pre-evaluation figure. 

Easy to find in the states. 

Available on prime for next-day delivery. 
Cons
Small pieces are a choking hazard for children. 

It doesn't sit well in its display stand. 
The Best Mimikyu Kit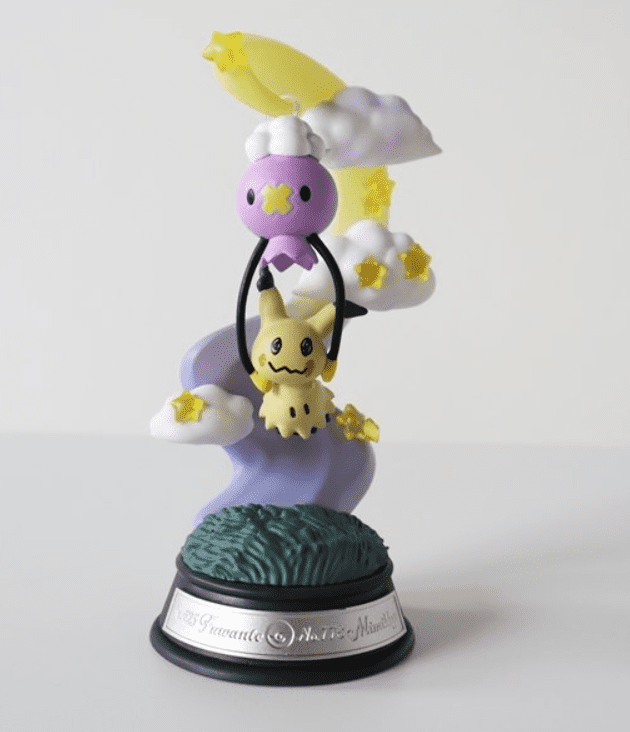 Features
This kit came out in 2021, meaning it's unlikely to be in collectors' stores today. But, the entire collection is available on Amazon Prime for around one hundred dollars, which is about twenty dollars under market price! 
If you like the mystery and want a challenge finding Mimikyu, blind boxes are still available on Pokévault for around twenty dollars a piece. Others in the collection include Charizard and Pikachu, making it a fulfilling hunt for the Mimikyu Drifloon duo! 
However, if you're just looking to add to your Mimikyu collection, it runs for twenty-five dollars and, while challenging, is possible to find at collectors' stores! 
Pros
It has a unique design that shows two Pokémon interacting. 

It comes with a built-in, sturdy stand. 

I, personally, think the swing vignettes are precious! 
Cons
The slightest movement will cause Mimikyu and Drifloon to fall off the stand.

A Japan-exclusive product, making it more difficult to obtain. 

For display only, so not suitable for kids looking to play with their figures.  
The Best Charizard Kit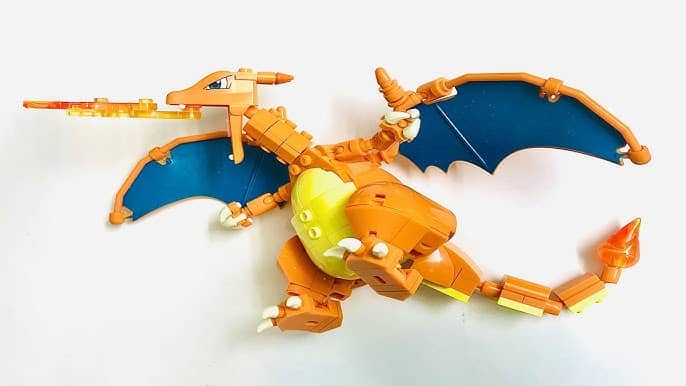 Features
Mega Construx Charizard was one of my first model kits! It's available at Target for fifteen dollars! This Charizard is the funniest to play with on the list as it comes with flame pieces to show different moves and has posable wings to show flight!
If you're not much of a player, it stands relatively sturdy on its two feet and can move into many different poses to fit any display! 
An extra plus for collectors is that it comes with a heavy ball pin perfect for cloth card binders and book bags. 
It's two hundred and thirty-three pieces, making it a time-consuming but fun build, and it is compatible with other Mega Construx kits so that you can add Charizard to your favorite sets! 
Pros
Available at Target and occasionally discounted on Cartwheel. 

Posable figure that's great for both display and play. 

It has over two-hundred pieces, making it a more complex and entertaining build. 
Cons
Lots of small pieces that, if lost, make him unable to rebuild.  

Bulky, making it take up a good bit of space on display shelves. 
The Best Umbreon Kit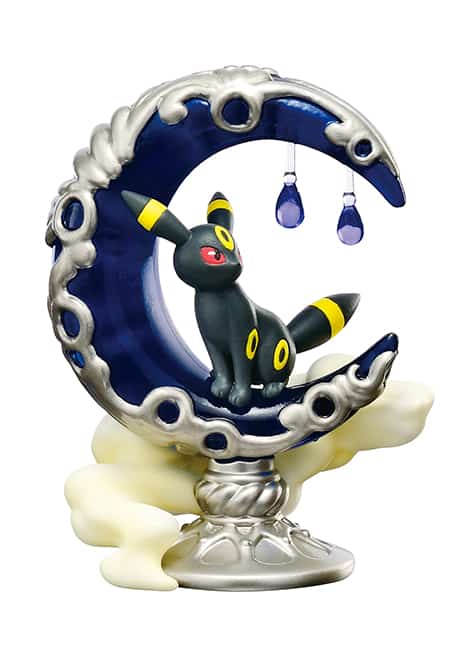 Features
Later in the article, I will go over how to order kits like this directly from Japan's Pokécenter so you can collect the latest Starrium (and many other) collections as they come out! However, this can be difficult and time-consuming compared to simply ordering the complete collection from Pokévault. 
Occasionally the set is available on Amazon but quickly sells out, but it is worth keeping an eye out for if you're not in a hurry! 
Prices vary; you risk repeat figures since they are only in blind boxes. However, if you're not about the hunt, the entire set together usually runs for one hundred and thirty dollars. 
Pros
The entire collection is full of fan favorites in cute space-themed settings. 

It comes with a sturdy stand making it ideal for display.

While it can be challenging to find, hunting for it is fun! 
Cons
It only comes in blind-pull boxes, meaning you have to buy multiple Starrium boxes and could still not pull it.

On top of this, it's a Japan-exclusive product, making it even more challenging to obtain. 

It's only a couple of pieces, making it a somewhat dull build. 
Top Five Fan Favorite Series 
These five collections contain various Pokémon across all eight generations and will likely carry on to include gen nine by the holidays! Unfortunately, while they are fan-favorite kits that are highly collectible and fun to hunt for, they can be challenging to find.
Many are Japanese exclusives that are only available in blind pull boxes. However, don't be discouraged as I broke down exactly how to find and complete your chosen model-kit collection!
The OG: TOMY Wind-Up Kits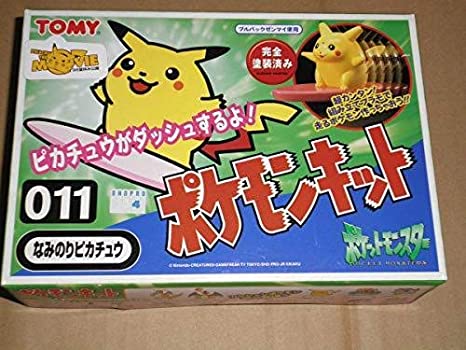 Features
Tomy wind-up kits were released in 1998 following the first Game Boy games' success, the Anime's introduction, and the launch of Base Set TCG. The first release included nineteen of the most beloved gen one pocket monsters, including Dragonite and Rhydon.
The figures are simple to build with only a handful of pieces and, once together, are windable. This allows them to walk short distances on hard surfaces. 
Like many things from the base set era, these figures are hard to find and vary wildly in price depending on the Pokémon. I'd suggest searching local shops and Pokévault for these kits, as resellers are usually offering open boxes for higher prices. Unfortunately, this risks missing pieces, making the model unusable. 
Pros
A piece of Pokémon history. 

There are tons of other Pokémon in the collection, including ones like Surfing and Flying Pikachu. 

There's a series two, making it a challenging but fun collection to complete. 
Cons
They're from '99, meaning they are just as hard to find as some base set Pokémon cards. 

If you're like me, you won't want to open the packaging, making it unbuildable for long-time collectors. 

Hard to find anywhere aside from eBay, where prices are often inflated. 
The Terrarium Collections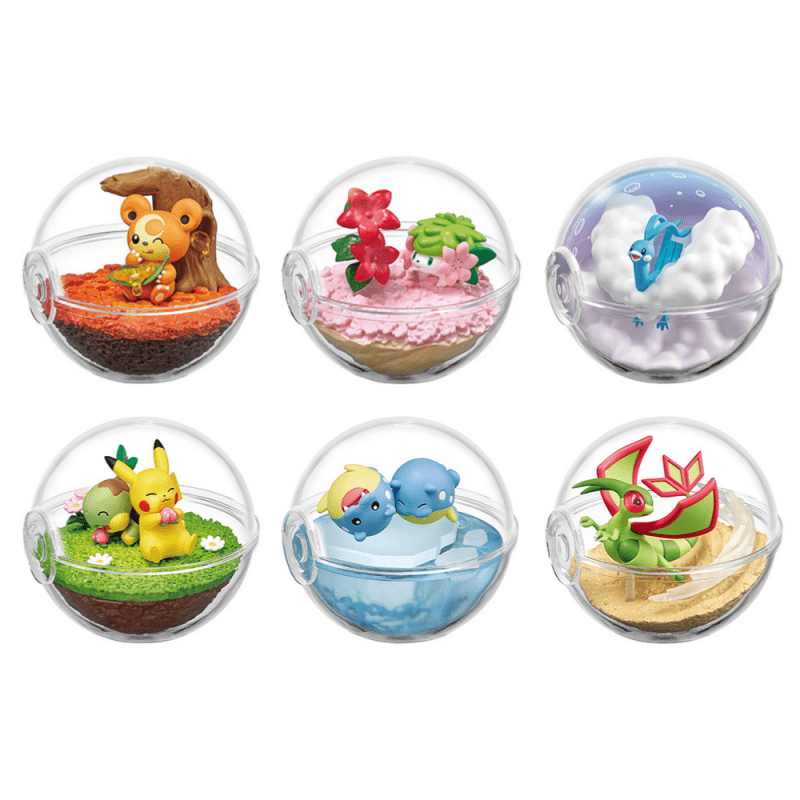 Features
The terrarium series is easily one of the most popular model kits. The latest, series eleven, recently came out and includes favorites such as Teddiursa and Shaymin. But, of course, it isn't a set without an unnecessary Pikachu thrown randomly in. For this set, he shares Pecha berries with a Turtwig! 
The price of terrariums varies based on the series. The older the series, the higher the price. Currently, a complete series eleven runs for one hundred dollars on Pokévault. However, it will eventually find its way on Amazon Prime, which has the entire series nine for seventy-five dollars! 
A unique set recently released to celebrate ten different terrarium series includes. The usual clear pokéball sits on a plastic podium that looks like wood with a golden plastic plaque on the front.
Like series eleven, this set is recent and findable in malls, but since it is an anniversary set, it sells out much faster. The total collection values for one hundred and fourteen dollars on Pokévault.
There is a terrarium for almost any Pokémon you can think of, and the collection continues to grow to include even more. They're easy to build with only three to four pieces and are relatively small, so they don't take up much space when displaying. 
Pros
There are dozens of different Terrarium collections to collect. 

Chances are high your favorite pocket monster has at least one Terrarium model. 

Shows the Pokémon in their natural habits. 
Cons
Like most Re-Ment figures, they only come in blind boxes, so if you're after a specific figure, you'll have to buy multiple boxes.

While they're simple builds, there are tons of pieces children could choke on.
Nanoblocks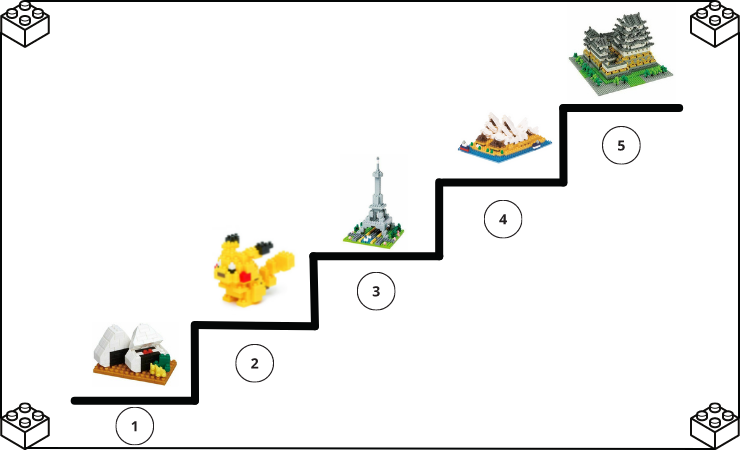 Features
I have a love-hate relationship with the Nanoblock kits. While they're great for a multi-hour project, the tiny pieces are frustrating and must latch in a specific way, or the entire figure falls apart in your hands.
However, as someone who struggles with anxiety and mental health, they are excellent for keeping your hands and mind busy for hours on end, and if you don't mind the occasional restart, a fun build. They're also tricky enough to have bragging rights when you finish one!
Almost every single Pokémon has a Nanoblock kit. In addition, there are also Nanoblocks for key items in the series, such as pokéballs. They're great for fans who genuinely want to catch 'em all!
They are the easiest to find model kits as they are often in the toy section of stores like Barns and Nobel and Hot Topic, as well as on Amazon Prime.
One major downside to keep in mind is the pieces are small, and the figure breaks with the slightest touch, so it can be unsafe for parents of small children and pet owners.
Pros
Easy to find at local card shops and collectors stores inside malls. 

It takes hours and lots of concentration to build, making it great for anxiety. 

Comes in various Pokémon as well as items like balls and berries. 
Cons
Hundreds and sometimes a thousand tiny, ant-sized pieces get everywhere if not careful. 

Hard to build and, if you're not precise, will entirely fall apart at a single wrong move. 

They take hours to make, so they are not ideal for quick projects. 
Desktop Figures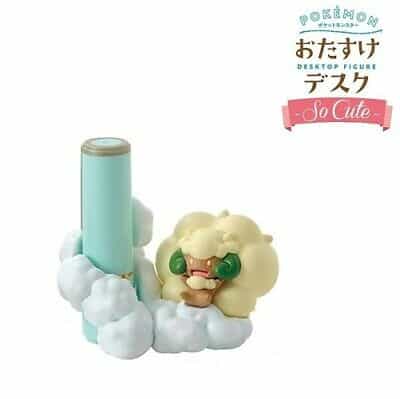 Features
As a die-hard Pokémon fan who happens to work from home, I adore the desktop set! They're perfect for making my desk feel fun, especially during long hours of staring at a computer screen. My one complaint is some of them feel unusable and don't fit in with the rest of the series.
One that stands out to me is the rubber band holders. No matter which one, they can only hold two to three bands before they begin to slip off the Pokémon and honestly take up unnecessary room on the desk unless you heavily use rubber bands.
There are multiple series, meaning that if you want a pen holder but don't care for Squirtle, there are a handful of other options.
This set is relatively difficult to find in the states as it isn't available on Amazon, but most of the different desktop kits are on Pokévault.
Pros
Adorable for home offices and gaming setups. 

A fun way to introduce school supplies and a work area for kids. 
Cons
Very few pieces, so not ideal if you enjoy the building process. 

Some figures are not sturdy enough to hold office supplies. 
Bandai Quick Builds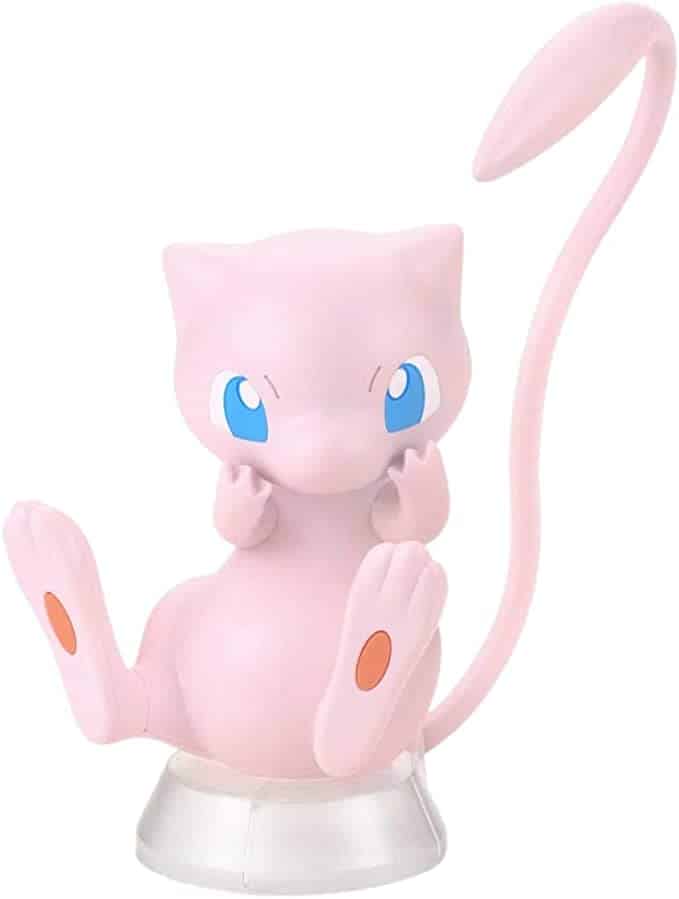 Features
There's a reason that the Bandai quick builds keep finding their way onto this list. They're durable, easy to assemble, and all come with a display stand for collectors. In addition, they come in a wide variety of Pokémon and can often move into different positions based on their signature moves.
They range anywhere from fifteen to thirty dollars in price, making them easier to collect multiple. You can find them at most trading card stores, mall collectors' shops, and Amazon.
My only downside is that they are boring compared to the complex collections on this list, as they are carbon copies of the pocket monsters situated in their most common poses.
Pros
Multiple Pokémon across all generations are available. 

Ideal if you plan to play with your figures afterward. 

It has a display stand so they can sit in complicated poses.
Cons
They often fall off their stands if slightly disrupted. 

Parts can come off when moving them into their different poses.  
Teryn's Top Three Pokemon
As I'm sure many of you, my top five Pokémon are pretty different from the official lists. I included the best model kits for my favorites, where to find them, and how collectible their sets are!
The Best Bidoof Kit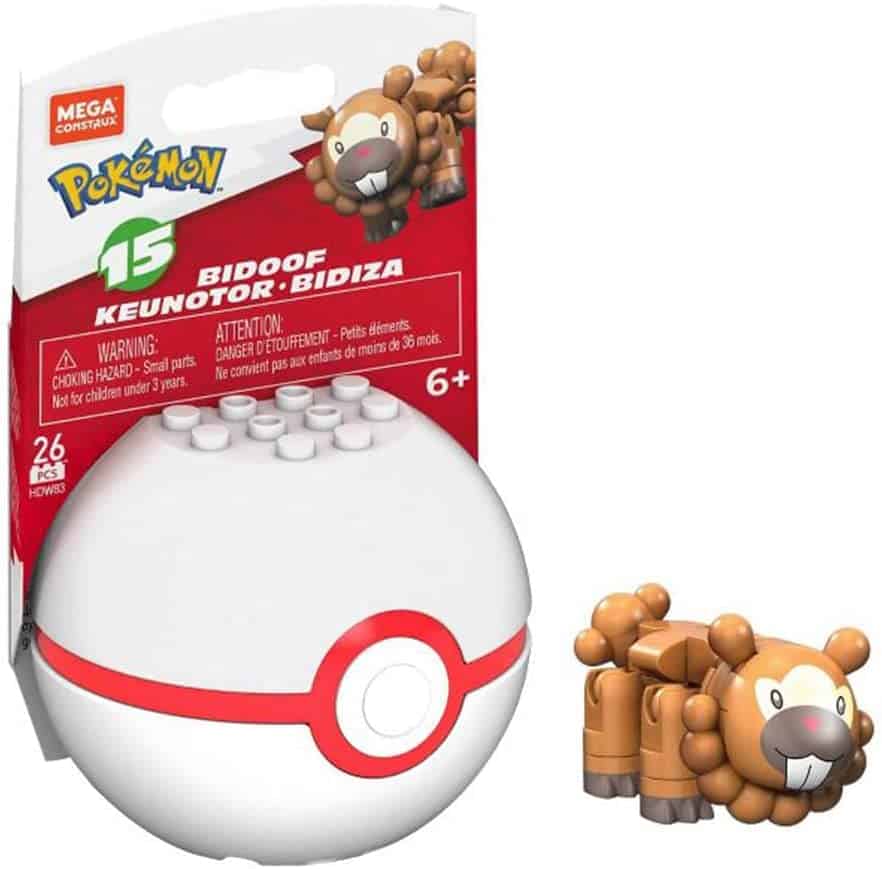 Features
I know. I know. Bidoof is an odd favorite to have, but ever since his April Fools take over last year, I've adored the little man to pieces. His goofy face and giant teeth make him the cutest thing to me.
What I love about this Mega Construx Bidoof is he has so many possibilities. He can sit on top of the premier ball, proudly on display with your collection, or he can hang out inside the ball if you want to play. Like all Mega Construx kits, an added bonus is that he fits in with other series.
This kit can be found on Amazon Prime and through Mega Construx's website for around nine dollars.
Pros
It sits on the premier ball for display. 

The ball also opens, making it fun to play with. 

Easy to find at department stores such as Target. 
Cons
There are many small pieces unsuitable for children under the age of six.

The paint chips pretty easily on the bottom paws of Bidoof if he's often moved off the ball. 
The Best Gengar Kit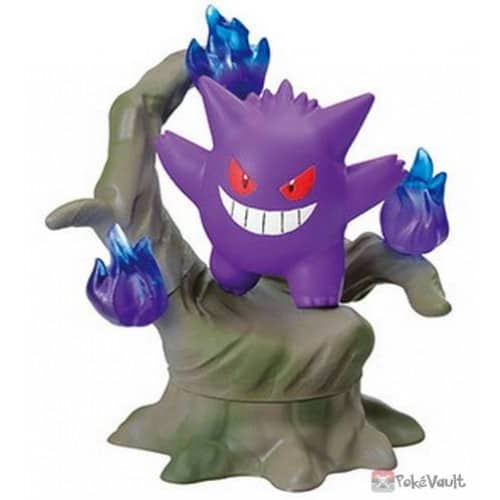 Features
I picked this Gengar kit because it is combinable with the rest of its series. It is the top piece of the third series forest collection and is made to look like a tall tree. Each of the trees look vastly different. Gengar's looks dead and most of the Pokémon on it fit the vibe.
This set came out in 2018, making it a collector's item, so it will take some hunting to find, but it occasionally comes in stock on Pokévault.
Pros
Only a few easy-to-snap-together pieces. 

It stands on its own but also can connect to the rest of the Forest set to build a giant tree! 
Cons
It's the top piece of a set of eight, and all eight are required to assemble the tree model fully.

The model is not as customizable as other similar collections. 
The Best Snorlax Kit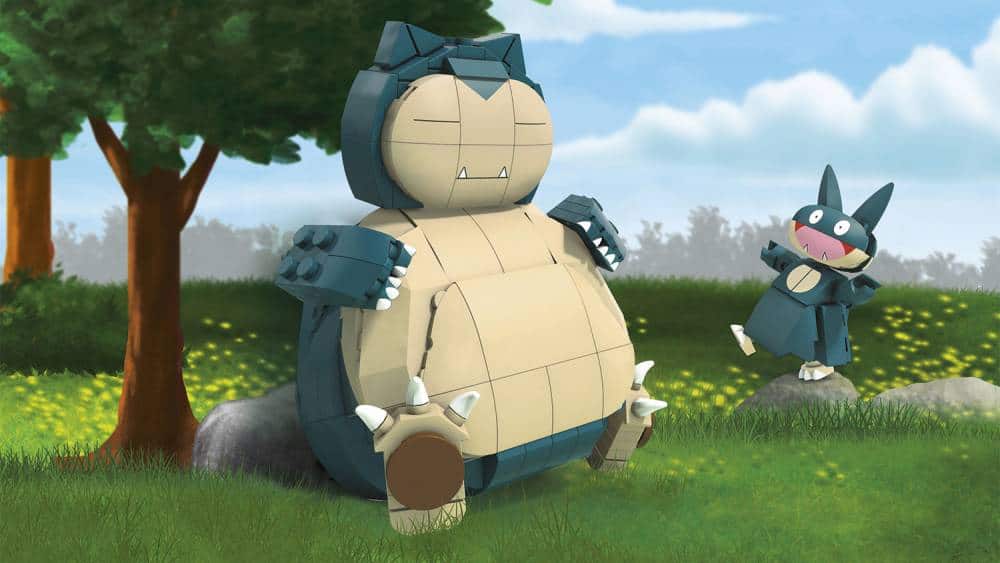 Features
Compared to the other Mega Construx kits, Snorlax's is one of the more complex builds. To me, this makes it more entertaining. However, it doesn't sit well on display as he falls over easily. 
He is available on Amazon Prime and Mega Construx's website, but if you prefer searching in person, can be found at Walmart! While it comes with a buildable pre-evaluation Munchlax, this kit still runs a little pricy for a single Pokémon with no habitat, which ranges around forty dollars.
Pros
The included Munchlax is also buildable and a cute extra to the kit. 

It can be combined with other Mega Construx sets.

Has moveable parts for poseability. 
Cons
There are over two-hundred small pieces that are easily lost.

Snorlax's rounded bottom makes him roll over, so he doesn't really sit in place on display. 
Who's That Pokemon… and Other Popular Questions! 
Question: Are Pokémon Model Kits Available in the UK? 
Answer: Yes! With the recent launch of the UK Pokémon Center, products are much easier to find. In addition, certain sets are also readily available on Amazon and Troll and Toad!
Question: Where to Buy Pokémon Model Kits?
Answer: This highly depends on which set you are collecting. Japanese exclusives like the Re-ment sets are findable at collectors' shops and online at Amazon and Pokévault. However, sets like Bandai easy builds and Mega Construx sets are sold in department stores such as Target and Walmart.
Question: What makes Pokémon So Collectable? 
Answer: This answer varies from person to person, but for me, it's all about nostalgia. But, of course, it also doesn't hurt that I find the little monsters adorable!
Pokémon does a great job at staying young enough to pull in new children but growing with their fanbase to keep the  life-longers happy. They do this by constantly introducing new elements such as shiny Pokémon to add a difficulty level to both the games and collectibles!
Wanna be the Very Best? Here's My Honorable Mentions! 
Did I leave out your favorite? Are you looking to expand your collection even more? Here are five more kits that I consider honorable mentions!
Welcome to Victory Road… AKA The Conclusion! 
Whether you're looking for new toys you can build with your kids or highly collectible mystery models to display with your growing collection. Model kits are an excellent inclusion for any Pokémon fan.
Hundreds of options vary from desktop pals to terrariums of your favorite pocket monster. Model kits have something for every collector and Pokémon fan!
Even More Collectables to Consider: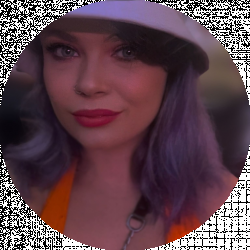 Latest posts by Teryn Greenway
(see all)