Sonicland Boom
Sonic the Hedgehog has been around for what seems like forever! I remember loving that silly little blue blur when I was a kid, and I am far from being a kid now. I first met Sonic the Hedgehog when he was first introduced to Sega in 1991. Crazy how that was thirty-one years ago, and here we are now telling our children or grandchildren about the little blue Hedgehog we came to know. He hasn't changed too much over these thirty-plus years, and I am happy to see Sonic and his super squad of friends make their way back to the big screen, games, and into children's hearts. Of course, your collection of historic Sonic the Hedgehog memorabilia wouldn't be complete without the addition of the Funko Pop Sonic the Hedgehog holy grail! Some of these little vinyl friends are awesome and worth the search and price. So hold on to your credit cards; we're about to take a jog through the world of Funko Pop Sonic figures and discuss which are the best of the best and why. 
Bottom Line Up Front
Sonic is fast and adorable, and this collection of Pops doesn't fall far behind. Want the most sought-after Pop? Then it would help if you searched for Super Shadow. He is worth quite the pretty penny. Want the cutest pop? Obviously, I have to suggest Tails since he is the sweetest little guy. Looking for something a little different? Go with Sonic the Werehog. You really can't go wrong with any of these Pops! I can't wait until they come out with new Funko Pop friends for Sonic.
My personal favorite is actually Tails #07. I chose this Pop because I feel it shows a young, vulnerable Tails when he first leaves his village. He is sad that he is different and losing hope of finding anyone that will accept him for who he is. Being different is hard, and Tails teaches a good lesson on why it's ok to be different. He overcomes the difficult obstacle of feeling like he's not good enough and befriends Sonic, who is also different. I love Tails.
Why Did I Choose These Pops?
I only pick Funko Pops that are available, even if they're rare.

These are the best-looking and coolest Pops out of the collection.

These Pops all come from reputable sellers and resellers.

If you want to start a collection, these Pops are the best ones to get you started. 
Best Sonic the Hedgehog Funko Pops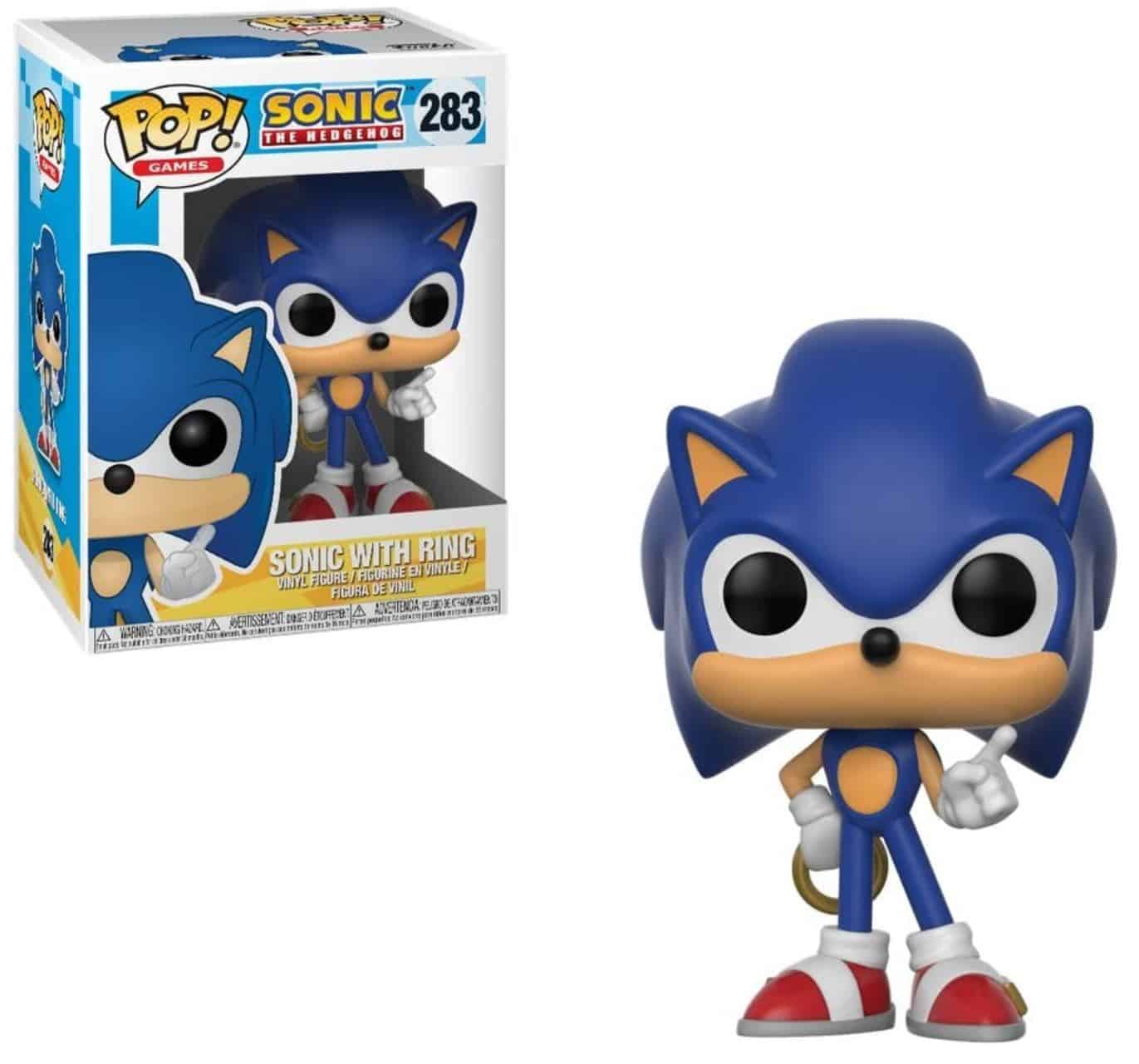 What would Sonic the Hedgehog be without his golden rings?! He would be trapped in one dimension without any hope for escape. Here's a little background on the golden rings: the gold ring is symbolic of Sonic's health system in the game. When Sonic has even one ring, he can take on significant damage from an enemy and still stay alive. Of course, the more rings you have, the better off Sonic's health will be. It's always a good thing to stock up on as many gold rings as possible. They are all over the game, so it's pretty easy to collect them. The bigger the jump and higher the trick, the more rings Sonic will be able to collect!
This Sonic Funko Pop is of traditional Sonic, and he is holding onto one of those magic rings. I love that he has one of the ever-so-important rings in this Pop. I had to add it to my collection because it is genuinely the authentic Sonic the Hedgehog. Luckily, the price isn't too bad either!
Pros
Not hard to find 

Affordable 

Sonic holding a gold ring is iconic

Will increase in value

Sonic looks happy and excited about his next mission
Cons
Not the most unique design

It isn't worth much currently

Shouldn't this fast blue man have a whole pawful of rings?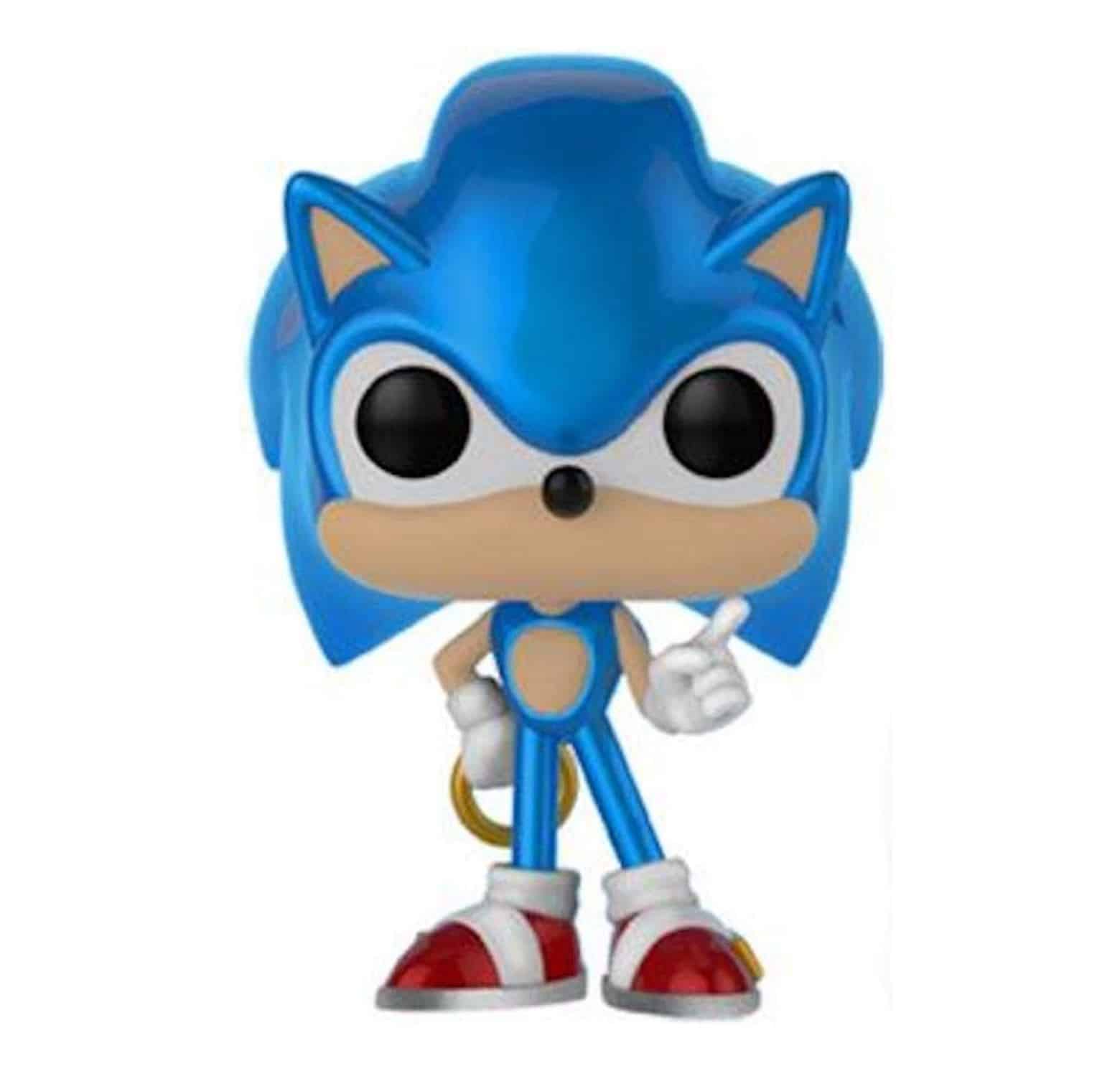 This is the exact same Sonic as the Pop above. The only difference is that this one is a metallic exclusive and slightly rarer than the original. If you want to have the complete collection, this one's for you. Maybe this one will be worth a lot in a few years. Better go fast and buy it before you can't find one anymore!
Pros
It's Sonic, only shiny and metallic.
This one is a collector's item.
Cons
There are way too many versions of this Pop. I think they could have been original.
Why can't it be metallic and glow?
Where is the real Metal Sonic and why hasn't he been popified?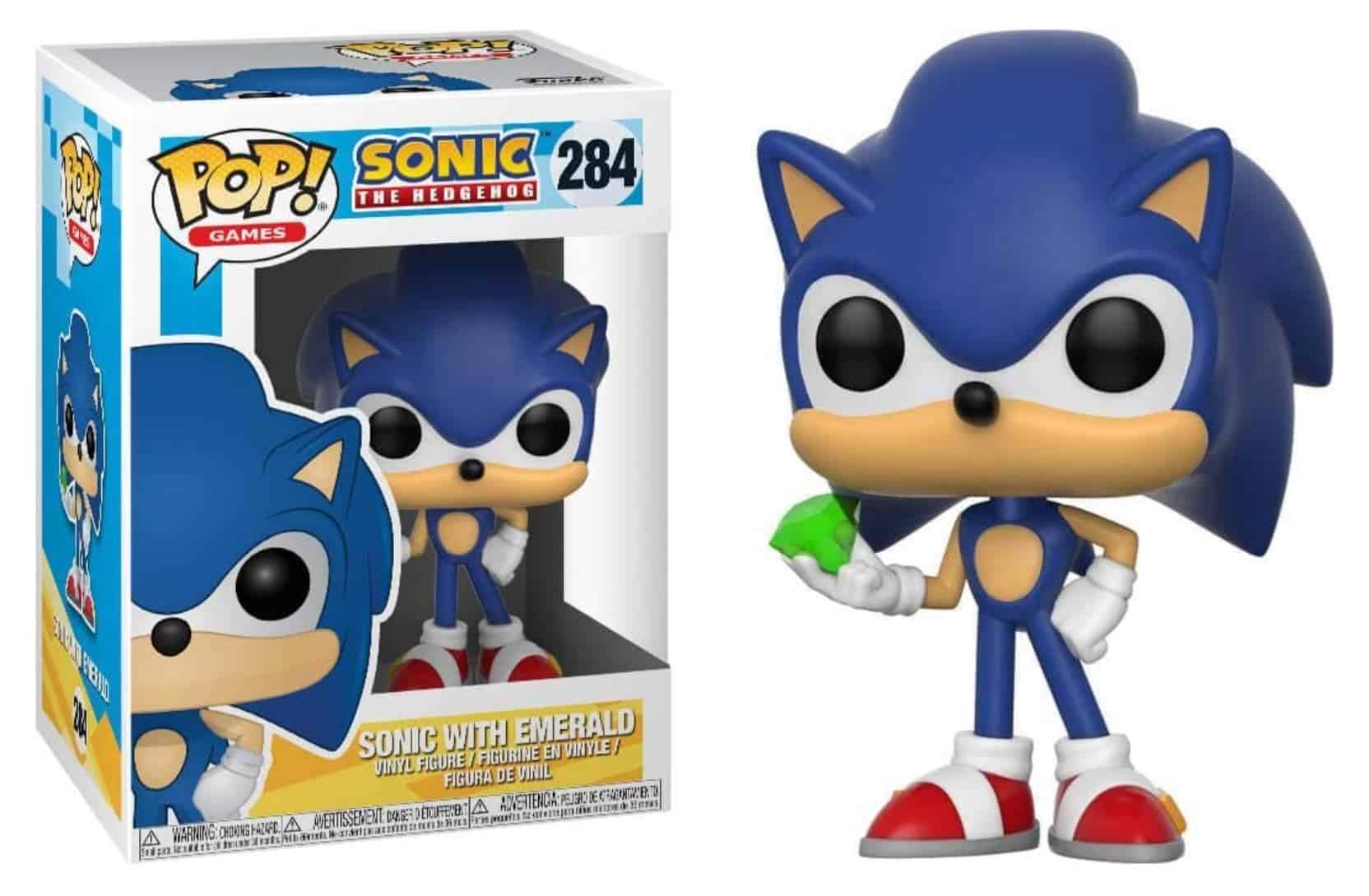 Here is Sonic the Hedgehog holding the almighty green emerald! This massive and beautiful emerald contains mystical properties and is very powerful. With this emerald, Sonic can control the seven Chaos Emeralds' energies. The master emerald resides on Angel Island, which, of course, is a floating island in the sky. Without the emerald held on the island, the island will fall. Knuckles the Echidna is the last of the Knuckles Clan and protector of the infamous Master Emerald. He has thwarted many attacks of the emerald and defeats the wanna-be thieves every time!
This cute little Funk Pop Sonic came out in 2017 but can still be found online without too much effort. The pricing is in the average range for a Funko Pop figure.
Pros
Not difficult to find

Affordable 

Will increase in value over time

Sonic holding a chaos emerald makes it even cooler

I like how Sonic is displaying one of those fancy and valuable emeralds, like, "Look what I have"!
Cons
Not the latest Sonic Pop

Plenty of other Sonic Pop's to choose from

Not the most valuable Sonic Pop

You will have to wait for the shipper to get this nifty little vinyl Sonic to you!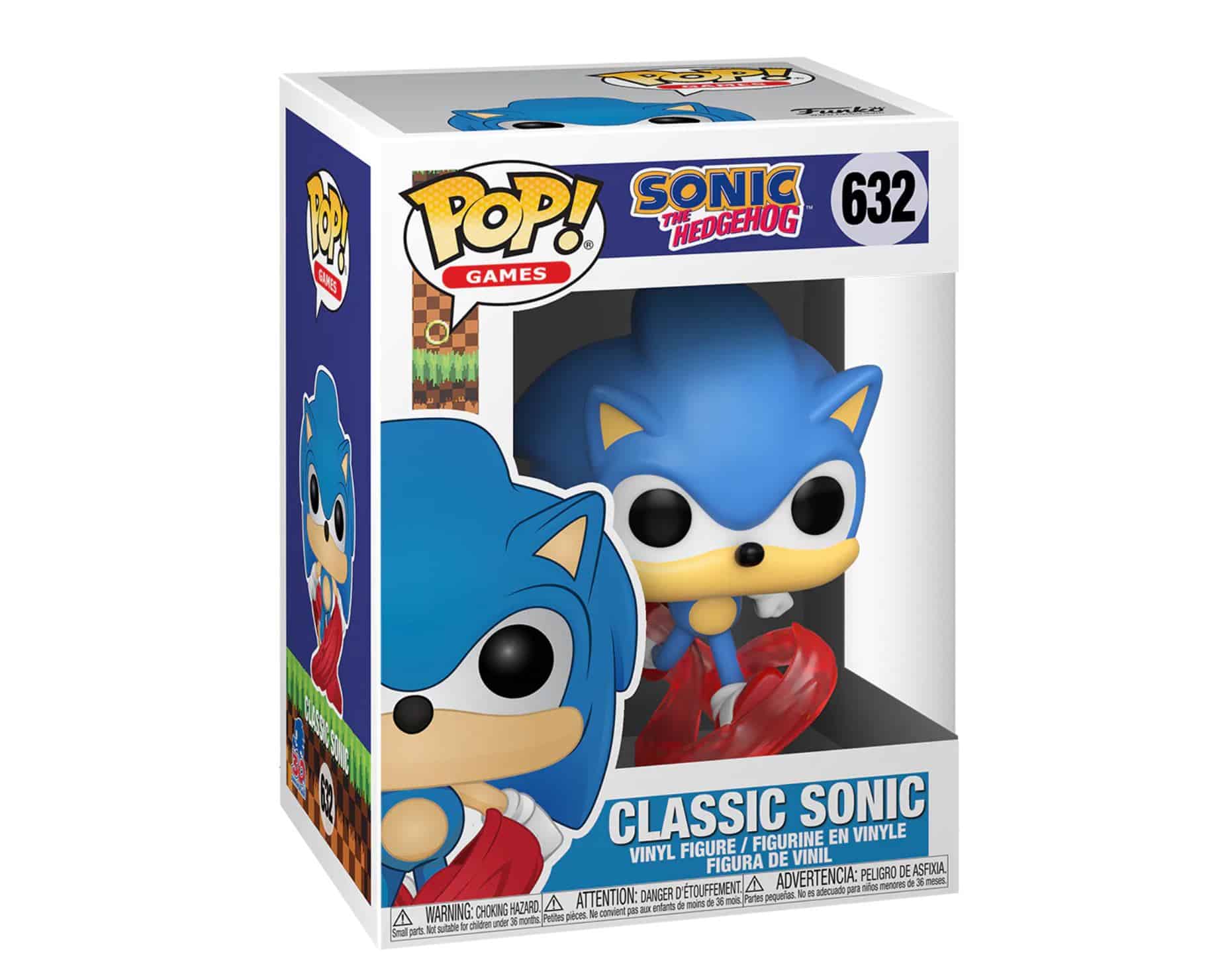 Thirty years is a long time for the Blue Blur to be chasing gold rings and saving the world. Sonic's iconic red and white shoes with the buckle are but a blur when he gets going. He is, after all, the fastest thing on the planet. I bet he burns holes in his fancy shoes tearing up the pavement the way he does. 
In the special 30th Anniversary edition of Sonic, his shoes are a blur as his little blue hedgehog legs kick up the dust right into the bad guys' faces. This Pop is currently very affordable and not difficult to find online. But I bet that will change, and this will be one little Sonic worth a lot of moola!
Pros
Affordable, 

Not difficult to find

Only running Sonic Pop figure

He has fuzzy fur

Sonic is the blue blur, but his shoes are the red blur and can be seen here in action
Cons
Red blurred shoes look strange 

Not the cutest- in my opinion

It seems like he's standing in flames and could have been created to look a bit better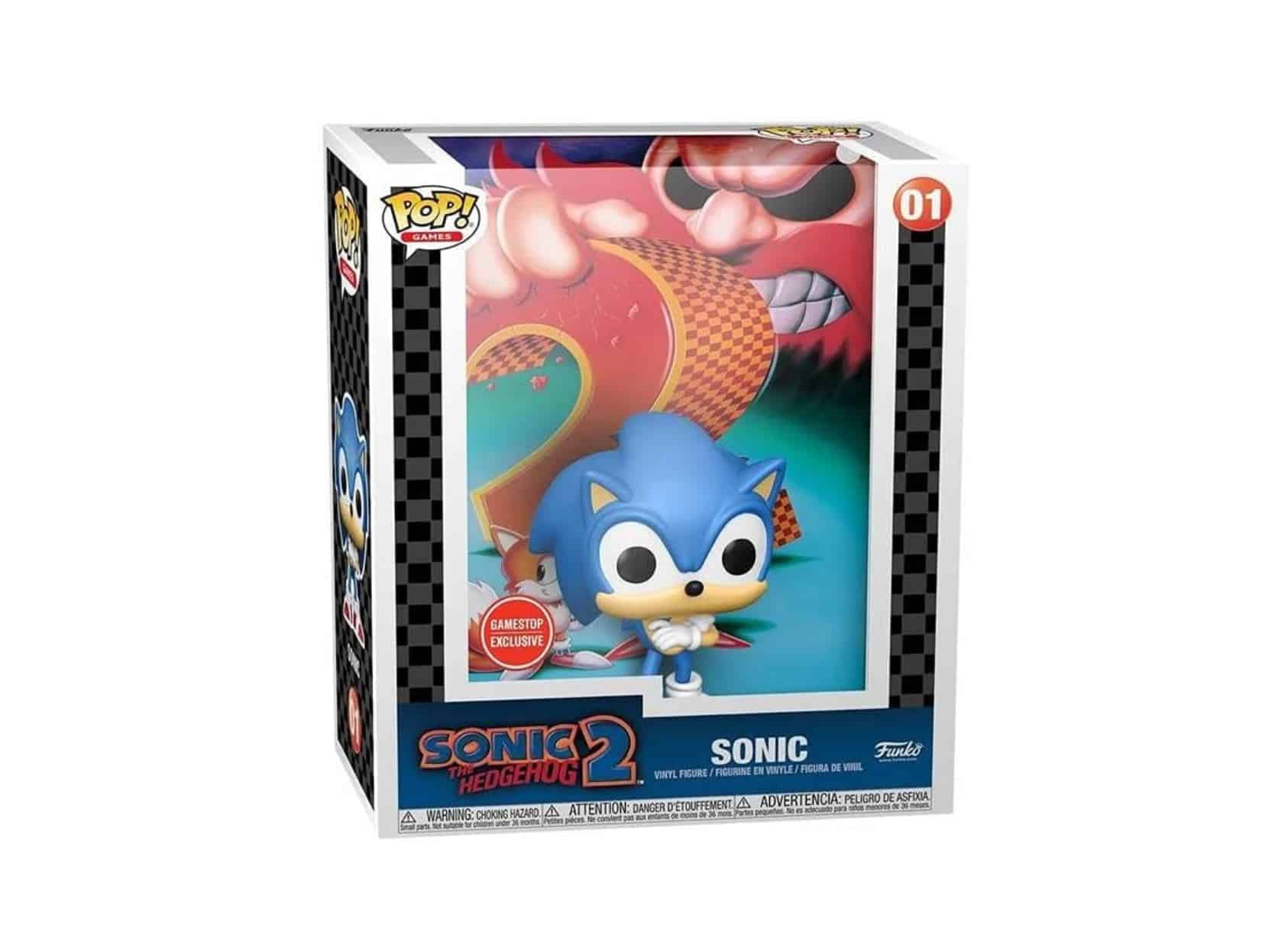 The second installment of the Sonic the Hedgehog Movie hit the screens in 2022, following the original movie that came out in 2020. It's been a rough few years for films due to the decline in public gatherings because of Covid. However, even with the pandemic, this movie still saw good sales with the movie itself and all of the toys and other accessories you can purchase. 
This Funko Pop is a collector's item because it is the only one exclusive to Sonic the Hedgehog Movie 2. It doesn't hurt that its keepsake box is designed to look like the Sonic 2 Movie and has that sneaky Doctor Eggman towering over the tiny and adorable Sonic. This one isn't as easy to find and isn't going to be as cheap as some others. Maybe this one would make a nice birthday present for the super duper fan in your life. 
Pros
Little Sonic with his arms crossed is adorable 

This Pop is definitely a collector's item 

It's worth will increase 

You get to look at crazy Dr. Eggman, too
Cons
Whew, this can get expensive 

Not that easy to find

I don't understand why this Pop is more popular than some of the others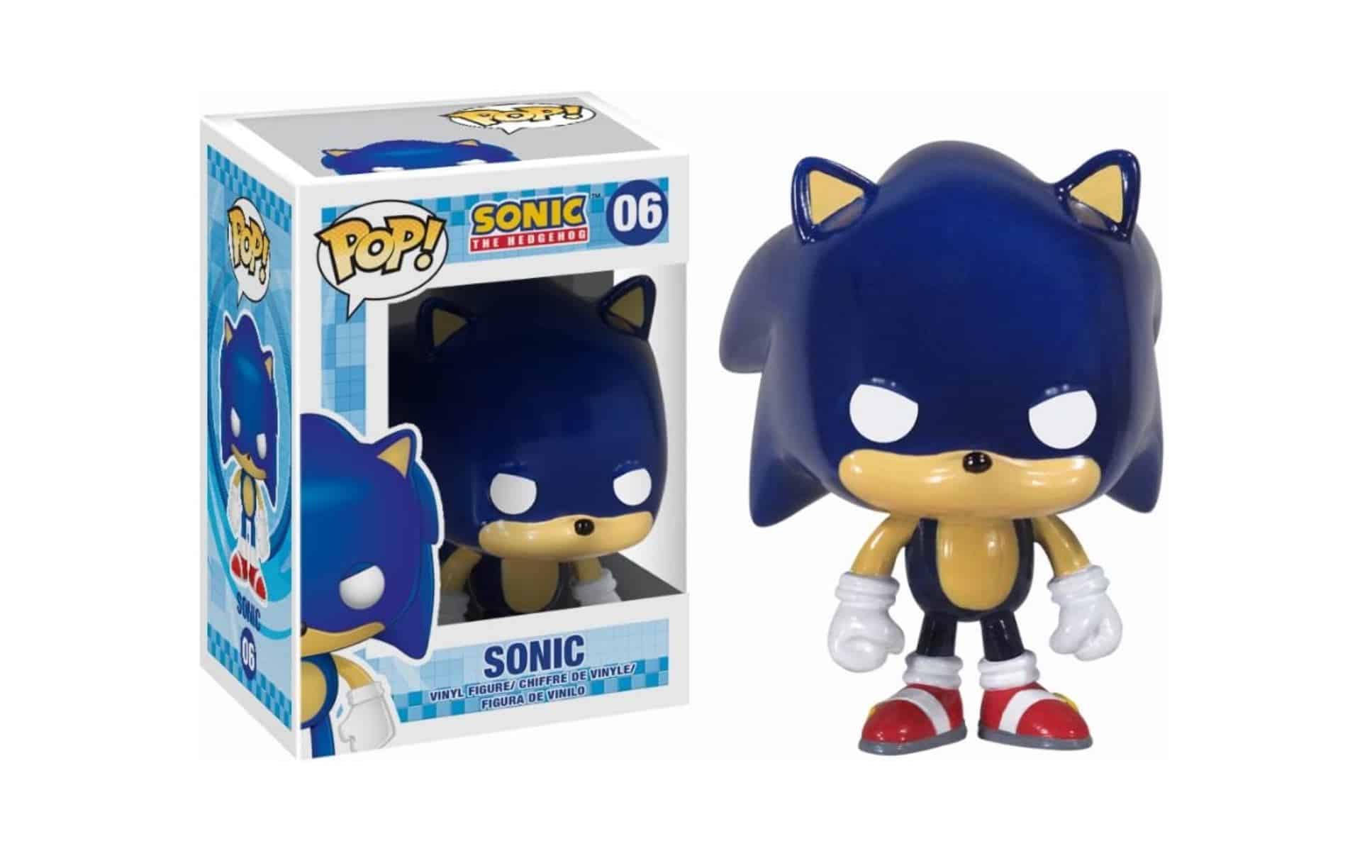 Why are Sonic's eyes white? I don't know! I can't find anything about it anywhere online, either. The most I could find is that people think this Sonic is creepy. I don't blame them. Sonic does look possessed in this little vinyl blue critter. I guess his eyes are white, and his fists are clenched in pure rage and determination to save the world again. I bet he gets irritated having to save the world and everything else so frequently. Maybe he was having a rough day.
This Sonic the Hedgehog Pop is not that easy to find and can undoubtedly get expensive! This figure is from August 2013, so it was released much before the Sonic Movies. It seems that it is a collector, and many people searching for it have driven the price sky high. I didn't do much digging but saw one for over $400. If you find a new or like-new Funko Pop of this dude, hang onto it, and maybe you'll be able to sell it and take a vacation in a couple of years.
Pros
Major collector's item

Original and unique in a weird way
Cons
Not my favorite and I genuinely don't see the hype

He doesn't look much like Sonic with the white eyes

Extremely expensive

Hard to find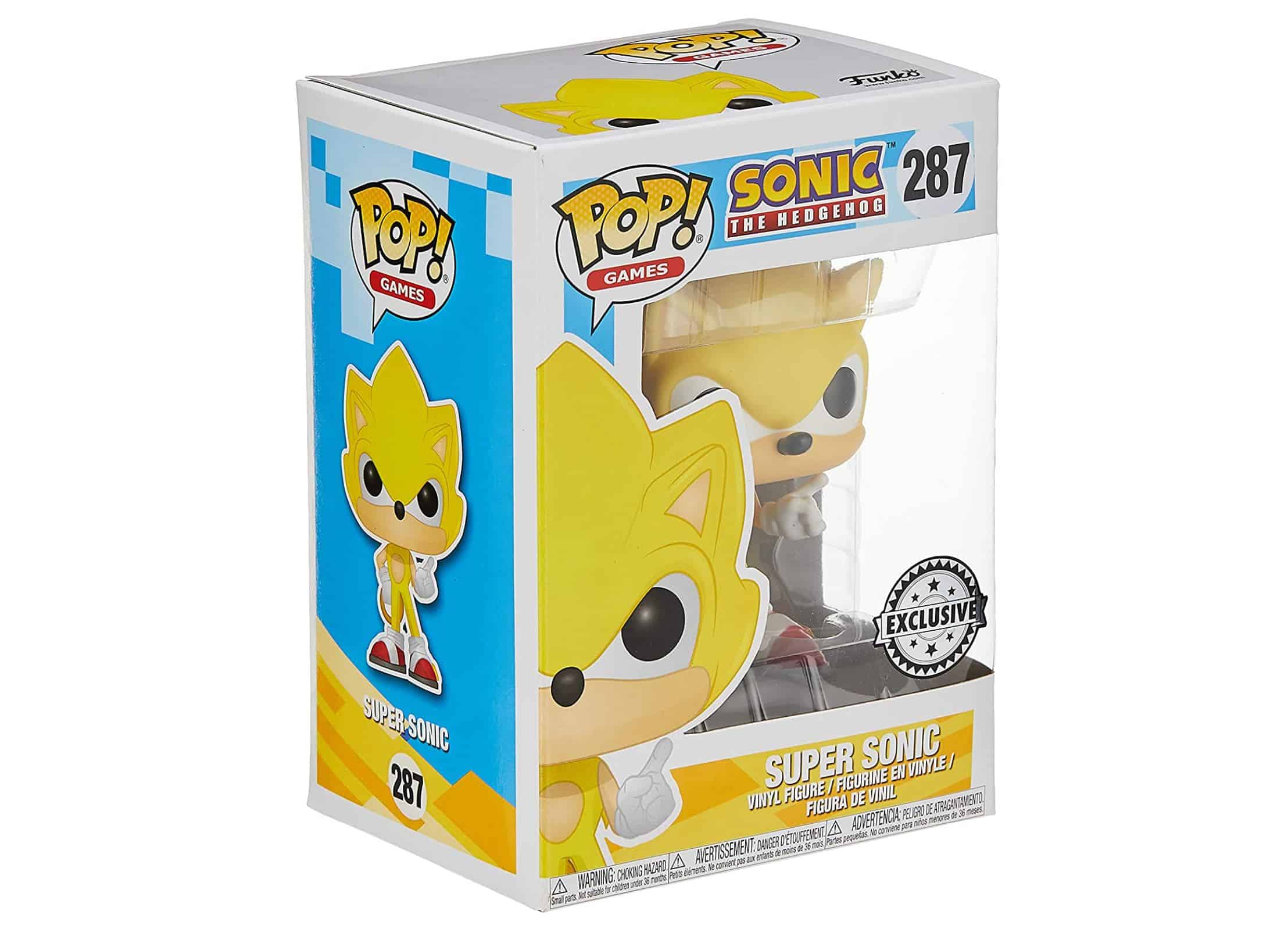 Of course, Super Sonic would be standing there holding one of those super critical golden rings. He is a big deal, and it looks like he wants you to know that. Sure, he's ready to save the world, but maybe he's prepared to tell you exactly like it is. With that pointing finger, it looks like he is about to set the record straight. 
Pros
This little yellow hedgehog is pretty cute in his small but powerful stature

I like how he's ready to "give you a talking to"

He's a bit intense in this Funko Pop, and it's a good thing

I'm glad he was able to hold onto one of those rings
Cons
He looks like he might be looking for a fight

This Pop is very similar to the other Super Sonic Pop

I'm sure you've probably already guessed that he's expensive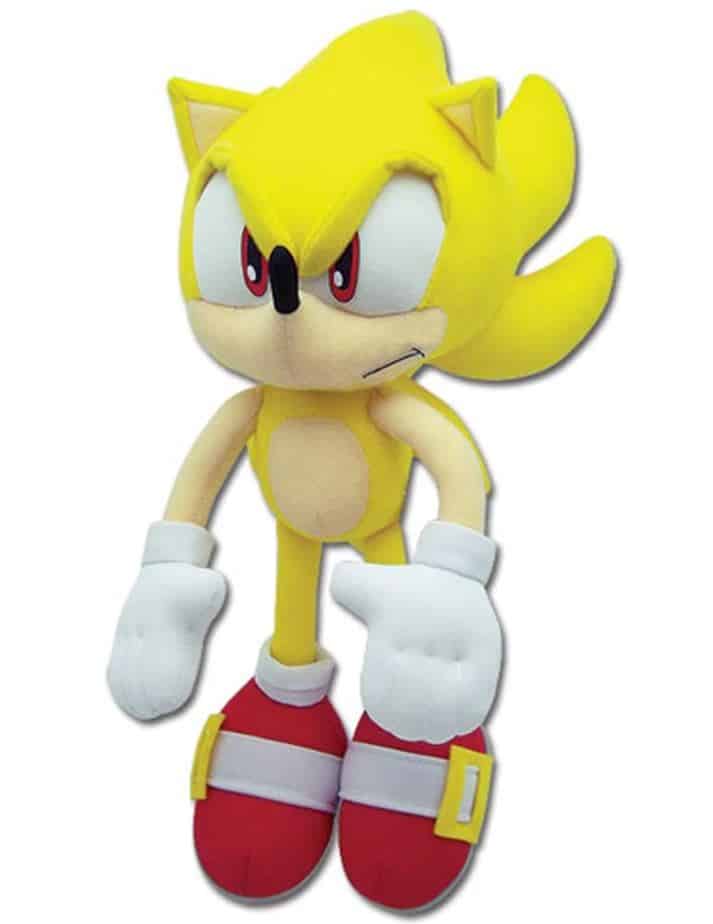 The crazy Chaos Emeralds give regular ol' Blue Blur Sonic the insane power that turns him into the more intense, severe, and ultimately more powerful Super Sonic. Super Sonic glows and only comes out when regular Sonic is using the Chaos Emeralds or when he is under extreme stress. Initially, in the comic book, Super Sonic was a bit of a psycho, but in the game, he has many fans because Super Sonic can kick some major butt and win the game. Be careful, though; sometimes Super Sonic gets a little too excited and accidentally hurts innocent civilians.
This guy looks too cool for school with his hovering, powerful figure as it glows in the dark. Unfortunately, he is not easy to find and is possibly the most difficult to find of our Sonic Funko Pops so far! This Pop was just released in 2022 and is already mostly obsolete. 
Pros
Super Sonic is super cool, and so is this Pop.

I love that Super Sonic glows in the dark.

This collector is already worth a lot of money.

It makes for an excellent addition to your nightstand so you can look over and tell Sonic goodnight as he glows into the night.
Cons
Hard to find

Pricey

It needs enough light, or it will not glow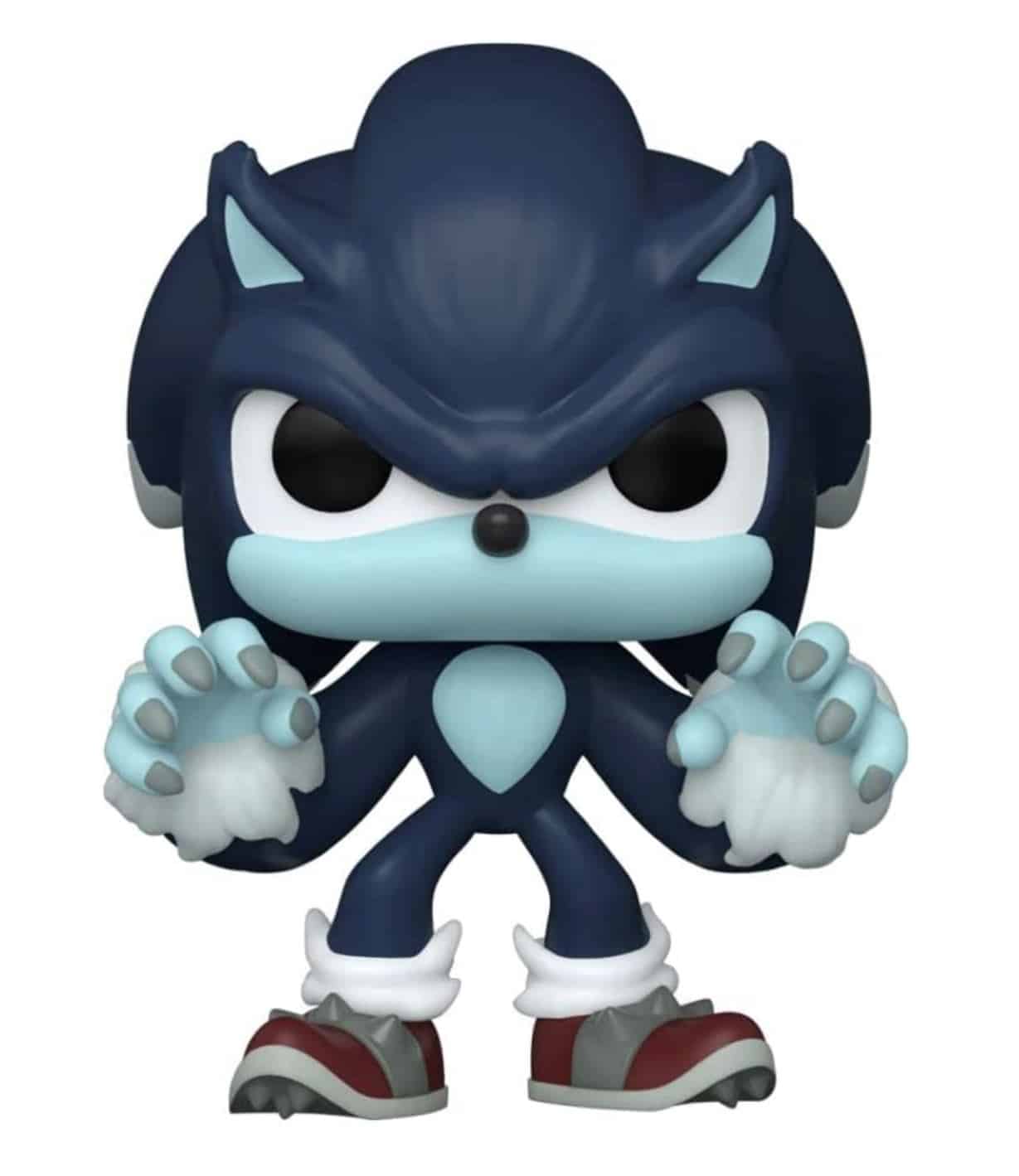 Whoa, who's this!? It's our lovable blue blur after he accidentally absorbed some of Dark Gaia's energy. Sonic turned into this beastly creature at nightfall. In this wacky form, Sonic loses his mega speed but gains strength and strangely stretchable arms. Pretty neat, right?
I don't think I need to go on too much about why this is one of the best Sonic Pops. It's original, rare, and looks gosh darn cool! But, I assure you that if you fast (think; blue blur), you might find one of these werehogs for an attractive price. 
Pros
The werehog look is unique and peculiar

It is thoroughly detailed

It is an excellent addition to any Sonic collection

This weresonic is a bit intimidating with his big claws and growly demeanor but shows Sonic's dark side
Cons
Not the usual cute and fuzzy little blue blur but a beastly creature that's a little scary for kids

Not worth very much currently (though that also means it's not too expensive!)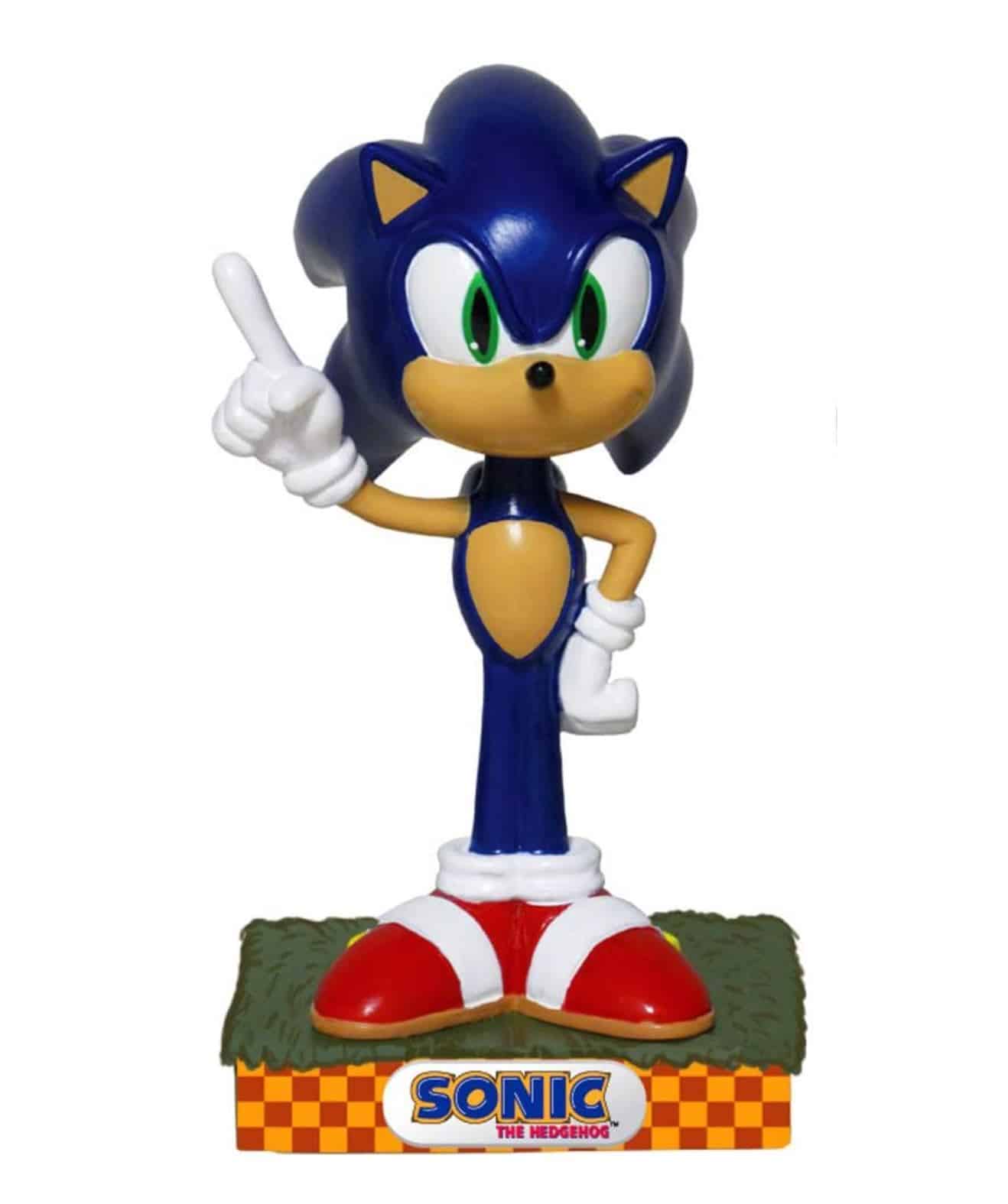 Before Sonic infiltrated Funko Pop, he was a Wacky Wobbler, which was a decision of Funko before the Pop part came along. This Sonic is indeed wacky with his silly bobble head and goofy expression. These are pretty rare and worth a good bit of money. Only Sonic, Tails, and Knuckles were released as Wacky Wobblers in 2010. Funko Pop Sonic was released in 2013.
Pros
Rare and worth quite a bit
If you have the other Sonics, you clearly need this one, too
Sonic looks like he needs to tell us of his next greatest idea
Probably will increase in value over time
Cons
Sonic looks a little strange here
This toy doesn't seem to be high in quality
Expensive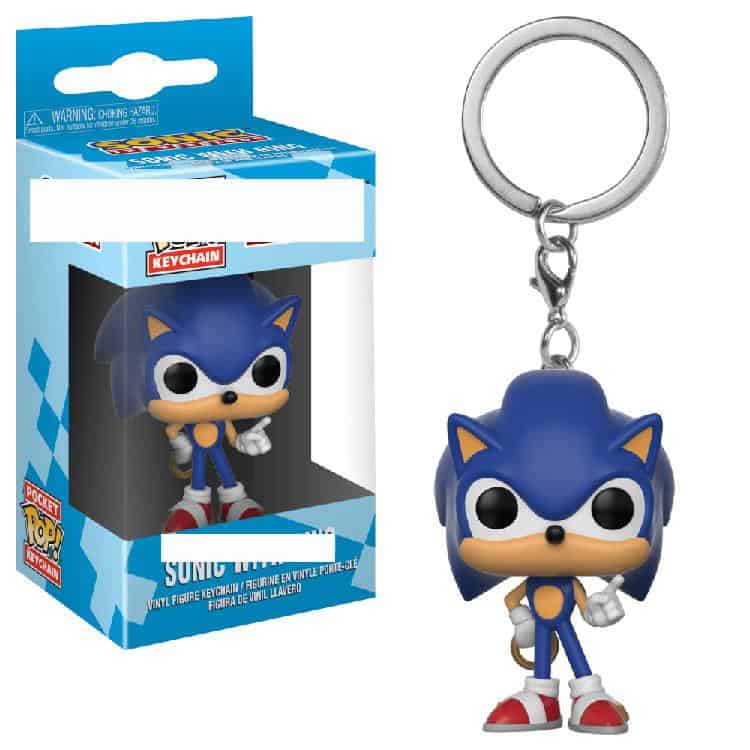 Need an excuse to carry Sonic with you everywhere, but you're an adult and don't want people to laugh at you? Look no further! Here we have a Funko Pop keychain with Sonic and a gold ring just like Pop #283. This cute litter bugger is yours for a low price and cannot wait to go on adventures with you, discreetly.
Pros
Sneak Sonic into every place you go
Teach Sonic about road rage and traffic jams
Hold Sonic whenever you're feeling down
Easy to find and totally affordable
Cons
He's a little guy, so take care of him
He will probably need a regular bath
Might try to steal gold rings
Expect Sonic to have an attitude because he is so short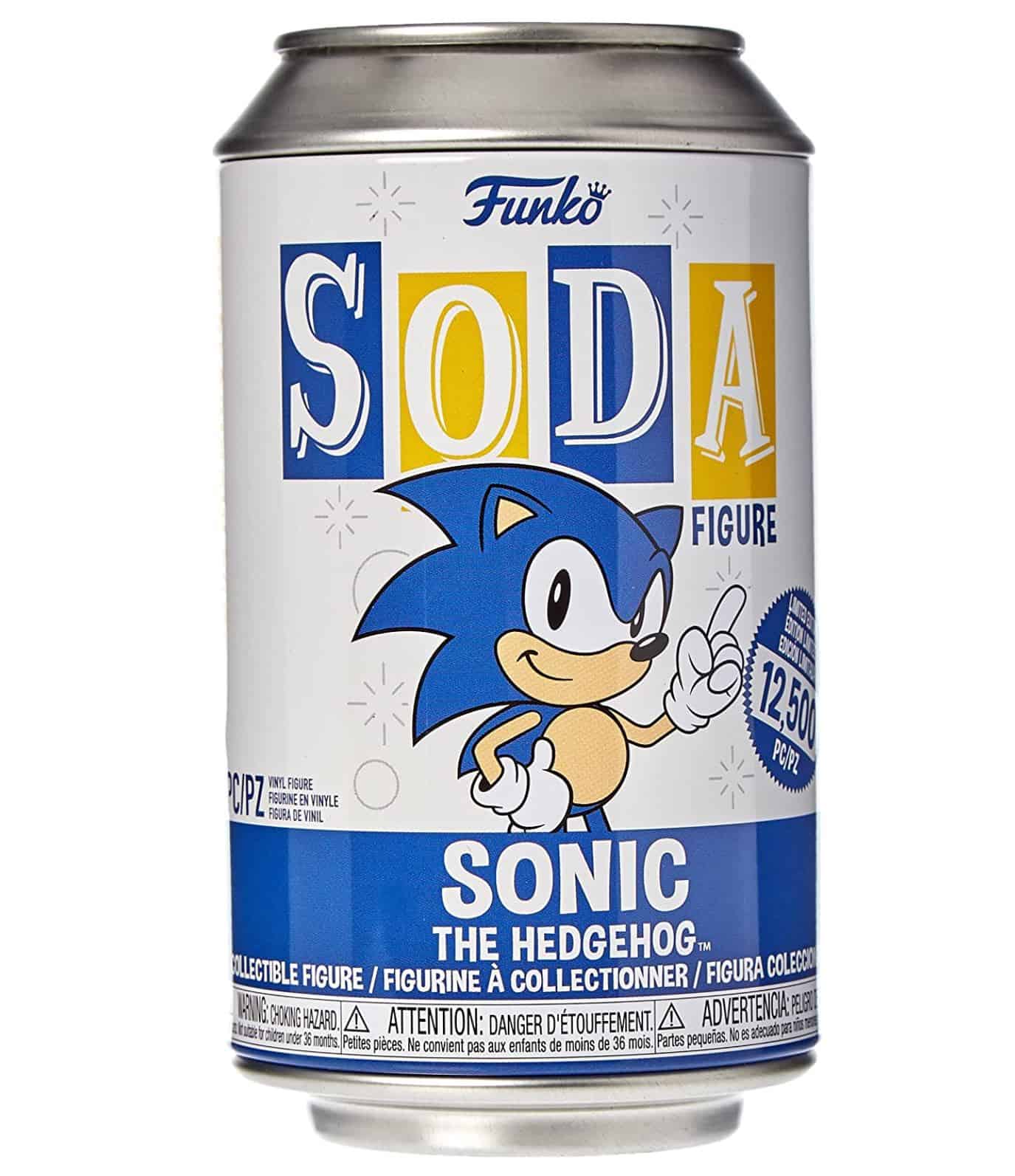 I like this version that Funko Pop put out in a can. Is it soda, or is it Sonic? Inside this cool collector's can is a Sonic Funko Pop looking like he's irritated because he's been waiting a long time and was just about to give up hope. This is definitely one of the more unique things Funko Pop has made to go along with their Sonic the Hedgehog and friends vinyl Pops. What makes this Sonic Pop even cooler is that you have a chance to get a chase model inside, which is rare! Either way, I dig it. I want one for myself. The good news is that this is not obsolete like many of the Sonic Funko Pops and it isn't super expensive! Hooray!
Pros
People will beg to see what you have in that extra cool soda can, and who knows, maybe you'll have thought of something else to hide in there!
Sonic is going to be very happy to finally be out of that can.
This is definitely a collector's item because it isn't something Funko Pop produces too much.
The can is cool.
You have the chance to get a chase Pop in the can!
Cons
Not worth a bunch of money unless, of course, you get the chase Pop.
If you leave it in plain sight in your car, someone might break in to steal it.
Will not be easy to find for long.
Best of Sonic's Friends and Frenemies Funko Pop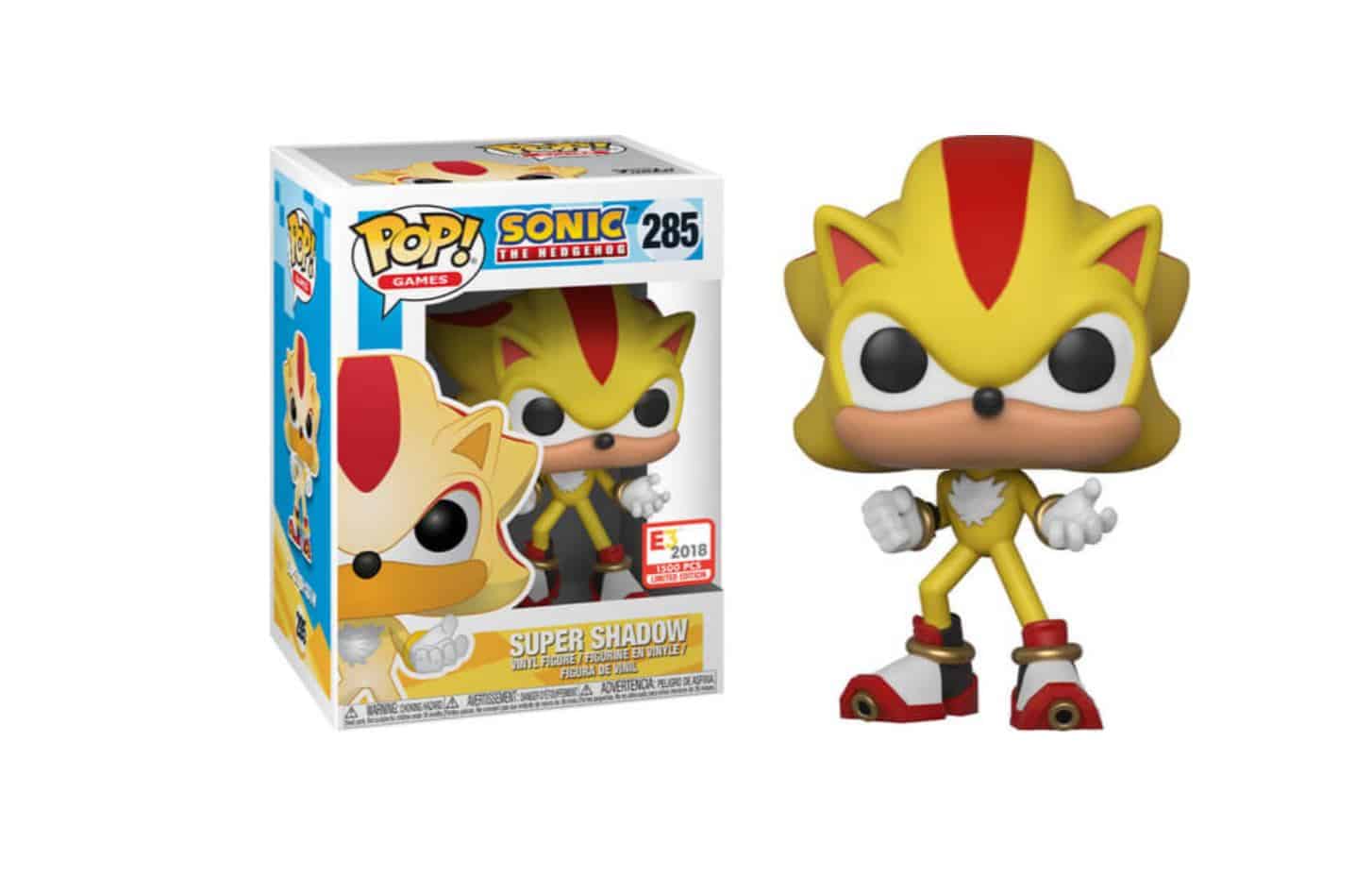 What's with these crazy fast hedgehogs and going super? With the help of the Chaos Emerald, this spiky guy can go from black and red to yellow and red. Super Shadow and Super Sonic team up and do quite a bit of good while keeping the world safe from various enemies.
I love Shadow, and this Pop is a must-have! Be prepared, though; it isn't easy to find and is certainly not cheap. However, if you do some digging, you can find Super Shadow in mint condition for a slightly more affordable price.
Pros
Super Shadow is a sought-after character 

Shadow looks great in yellow and almost reminds me of a Pokemon here

This Pop is rare, and that makes it worth quite a bit of money IF you can find one

Everyone will envy you for your one-of-a-kind Super Shadow Pop
Cons
Difficult to find

Very expensive if you do find a Shadow and Chao Pop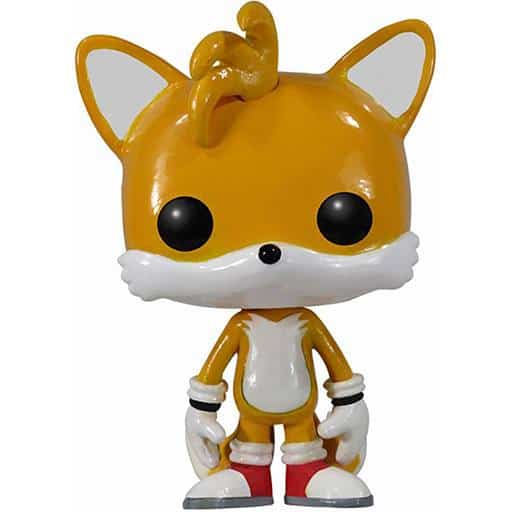 This adorable little dual-tailed fox is my favorite Sonic the Hedgehog character! Tails, whose real name is Miles "Tails" Prowler, is sweet, funny, intelligent, and always ready to help his best friend Sonic. They bonded because they were both different and didn't have any friends. Poor Tails wasn't welcome in his village because his two tails and ability to fly were "weird." Together he and Sonic do amazing things and make being weird an incredible thing to be. 
Tired of hearing how much I love Tails? Hold on because we're not finished yet! Tails' innocence and kindness are his best features. He is just such a lovable character and all-around good guy.
This Pop is adorable and really shows Tails' innocence and sweetness. But, clearly, I'm not the only person who thinks Tails is the cat's meow. Looking online for available Pops leads me to one conclusion; they are crazy expensive and hard to find. However, you might get lucky on Mercari or eBay.
Pros
The first Tails Pop

Tails looks so innocent and lost in this Pop, showing how he was before joining forces with Sonic

Very valuable

Super cute

If you have a Sonic Pop, you need to have Tails so they can keep each other company.
Cons
Weird Pop eyes that don't go with the character

So expensive

Not a con per se, but this little guy pulls at my heartstrings and makes me want to give him a big hug

Obsolete for the most part

You will probably want to keep this one forever, so you will likely never make any money off of it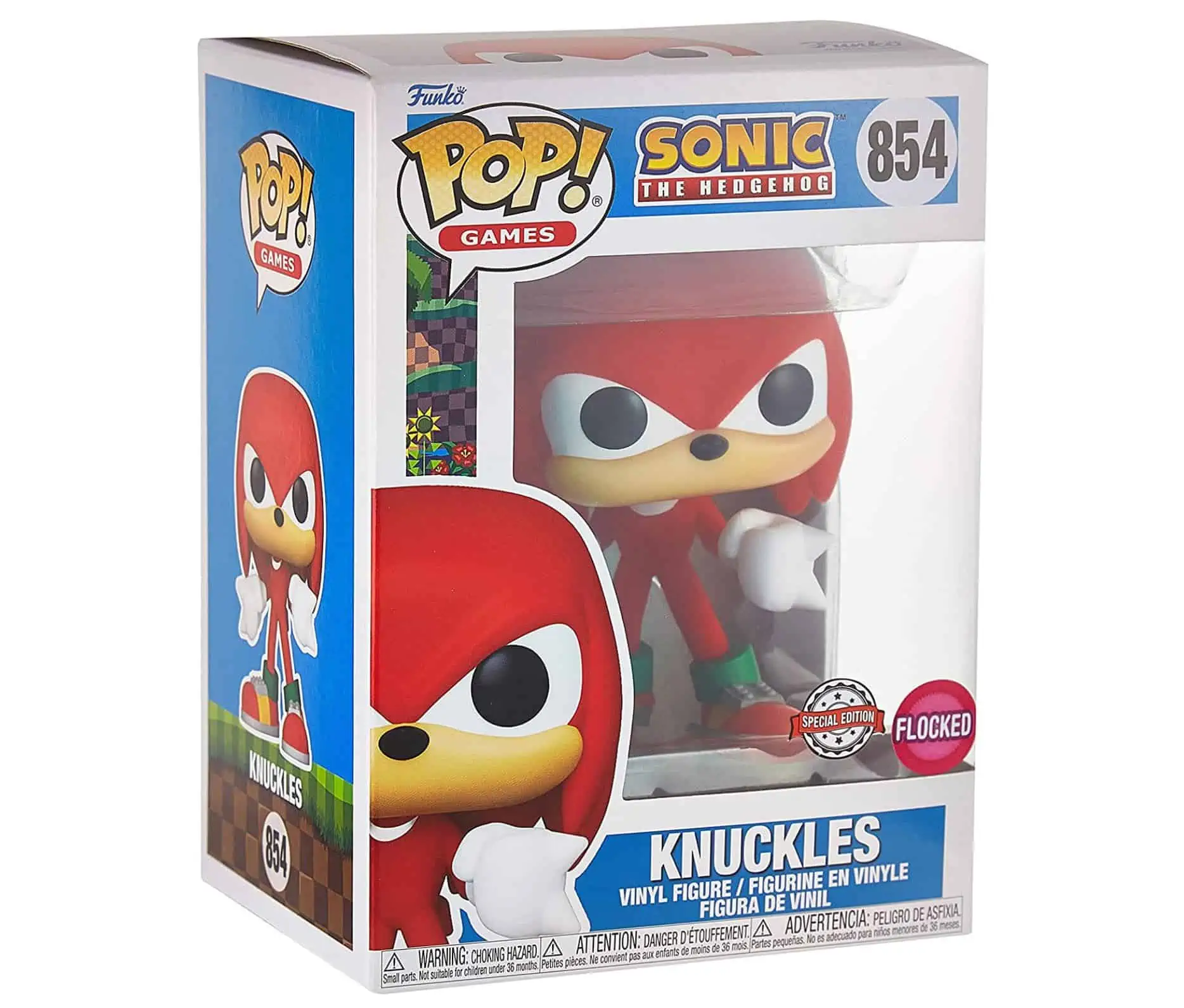 Knuckles the Echidna, the anthropomorphic Echidna, is the current guardian of the Master Emerald. He is the last descendant of the echidna race from the Knuckles Clan. He's excellent at digging and punching through obstacles. He can also trap the wind beneath his dreadlocks and float through the air. Though Knuckles prefers to be a loner, he is close with Sonic and his posse. Sonic and Knuckles have a love/hate relationship, but in the end, Knuckles always helps Sonic.
This is the first of two Knuckles Pops, so of course, you need it for your collection! He gets a bad rap sometimes, but Knuckles is a pretty cool guy. 
This Pop shows a bit more Sonic-type eyes and a bit more detail. It came out in 2022, so it's been updated a bit. You will also notice a considerable difference in price between the old vs. the new Knuckles Pop. The good news is you can find and likely afford this guy right now, so get moving! 
Pros
I like Knuckles' crazy gloves, which can be seen here.

It will be worth money to collectors.

At this exact moment in time, this Pop is affordable.

Easy to find, but this could change.

He is a cute little dreadlocked creature.

He's fuzzy, like velvet fuzzy.

His eyes are more like the typical Sonic-character eyes and not so much like the dead, black Funko Pop eyes
Cons
Not worth very much

It still could use more detail

Only one of two Knuckles' Pops that's available
FAQ
Question: What is the Most Expensive Sonic the Hedgehog Funko Pop Available?
Answer: Super Shadow is the most expensive at $530. The least costly is Sonic the Hedgehog at $8.
Question: What Retailer Carries the Most Extensive Collection of Sonic the Hedgehog Funko Pop?
Answer: I would have to say that Target, HotTopic, GameStop, and Walmart are great places to browse Funko Pops in person, and Amazon has a wide variety online.
Question: What Does "Flocked" Mean When Referring to Funko Pops?
Answer: It means that the vinyl figure has fuzzy, velvety type fur covering some or all of the Pop's body.
Question: What Does "Chase" Mean When Referring to Funko Pops?
Answer: Chase means the Pop is pretty rare and a slightly different version than the original. It could be a small difference, such as the Pop holding different items or one Pop smiling while the other Pop isn't. Sometimes chase versions are very different. They are collectible and worth more than the standard versions.
Conclusion
In conclusion to this extensive list of Sonic the Hedgehog Funko Pops, I wish you the best of luck finding some of these figures. They are certainly popular. I bet we will see more released before 2023. We need an Amy the Hedgehog and Metal Sonic to add to the collection. We probably need a Dr. Robotnik, too! Finally, I hope we'll see the lesser-known characters like the lava monster, Iblis, Scrouge the Hedgehog, or Chaos enter into the Funko Pop playing field. Anyway, kids, I hope you have enjoyed this guide. Now, I gotta go fast!
Continue reading:
Best Pokemon Model Kits Guide – Except I did the Searching Far and Wide for You!
Best Stranger Things Funko Pop Guide
Take a Trip to the Ghost Zone With Me in This Danny Phantom Funko Pop Guide and Other Collectables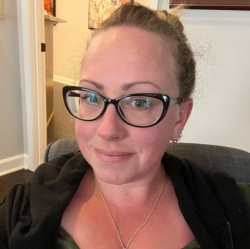 Latest posts by Katie Downey
(see all)