Do you agree that Tanjiro is the main character from Demon Slayer? Still, Gyomei is the mightiest slayer at the Corps? Watch me translate Gyomei's power into your collection in the Best Demon Slayer Statues Guide. Of course, popularity is a must for collectors, but the best collections start with a clever seed of structure.
Focus on collecting valuable reminders of your favorite anime, whether action figures, Nendoroids, or Funko Pop, begins with structure. I'll show you how to structure the ideal collection of Demon Slayer statues for jaw-dropping displays. Of course, I collect everything, including replicas, model kits, and anime statues. What I call structure, you might call a story. So, let's begin the story of your collection.
The Ultimate Demon Slayer Statue
Demon Slayer is a showdown between the protectors from the Demon Slayer Corps and the demons that turn the world upside down. So naturally, a collection should showcase the baseline story. Sure, I could begin with Tanjiro as the main character. But instead, I'll share my favorite slayer from the Hashira Cell.
The Best Hashira Gyomei Himejima Statue is my recommended starter as the most powerful demon slayer. He comes as a polyurethane resin 1:6 scale statue measuring 12 inches, and the details are as powerful as the slayer himself. Gyomei is the mighty slayer able to control stone, and the statue ideally depicts it.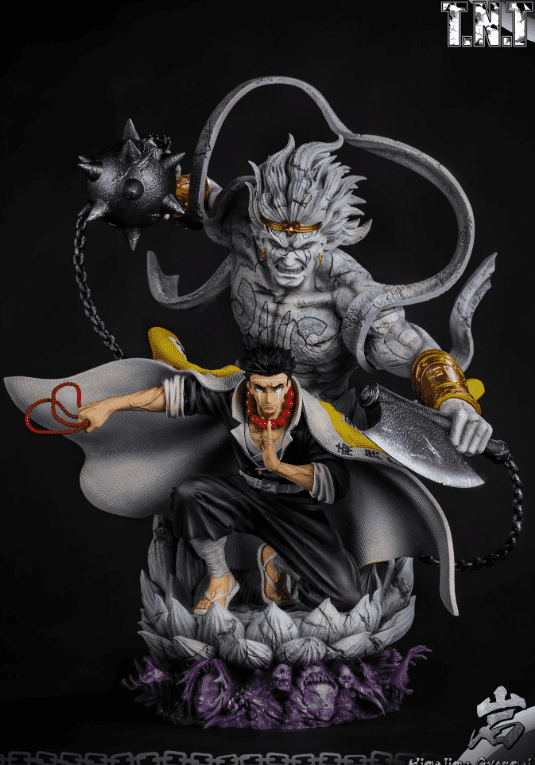 The Gyomei statue even comes with interchangeable heads and arms, which is highly impressive for a resin statue. The artwork is insane, and the base even depicts sculpted images of demons Gyomei slew. The intricacy of Gyomei's arms, face, and the stone statue is phenomenal. I'm gob-smacked with this beautiful statue.
Gyomei is my hero in the show, and he faces many demons, inside and outside. But first, I promised to inspire a baseline story collection for your showroom. So, I've selected some of the most popular demons and slayers to start the battles on your display shelves. I split the demons and slayers into two categories to help you set the story as you wish. Here's a look at my top quality, collectible picks:
A Complete Guide to the Best Demon Slayer Statues
The Demon Slayer Corps are about slashing demons and protecting the world. Tanjiro is a small part of the puzzle because many characters make the show famous, including demons. Let me share the art of collecting the best statues, tips for preserving them, and how I picked the best Demon Slayer statues.
The Art of Collectible Demon Slayer Statues
There's an art to collecting statues, especially for Demon Slayer fans. The sculptures can be colorful with intricate paintwork and popping contrasts. They make beautiful anime collectibles and last long if you pick suitable materials. Some of the longest-lasting quality and most durable statue materials include:
Polyvinyl chloride (PVC) statues are the least durable because they're molded plastic. However, they can last super long if you keep them preserved from the elements in a showcase. You should also touch the paint every two or three years to keep Demon Slayer statues looking brilliant.
Polyurethane resin statues are top-notch because they're sculpted with rock-hard materials and painted by hand. These statues are highly durable and long-lasting. However, they also require careful cleaning and storage to extend their shelf lives. They have a stone-like and porcelain appearance.
Polystone resin statues are the pinnacle choice for collectors, but they're super pricy. They also have a stone-like appearance, which hand-painted details cover beautifully on Demon Slayer statues. Polystone resin isn't unbreakable or invincible, but it's the closest you'll come with collectibles.
All three materials are quality for collectors, and I'll share tips on how to keep them clean and preserved. The art of collecting Demon Slayer statues also involves choosing the correct scales. You won't have much space if you pick life-size or half-size scales. I find these scales the best for collectible statues:
1:4 scale measures approximately 18″ (it's pretty massive for a collectible figure)
1:6 scale measures about 12″ (it's one of my favorite scales)
1:9 scale measures about 8″ (it's another good size)
1:10 scale measures around 7″ (it's a good size but getting smaller)
1:12 scale measures around 5-6″ (it's getting small but doable)
Anything smaller or larger would take too much space or become lost in your collection.
Tips to Preserve Collectible Demon Slayer Statues
Buying the best Demon Slayer statues is the first step. Next, you must preserve your statues because of the beautiful colors and paintwork. Showing your sculptures off a shelf is a dream, but putting these fragile quality statues behind glass in a temperature-controlled showcase is how you keep them for years.
According to the experts at Arista, the ideal temperature for art storage is between 65 and 75°F. Demon Slayer statues are art, and many of them are pricy sculptures you want to keep in tip-top shape. The correct temperature would guarantee long-lasting polyurethane and poly stone resin statues.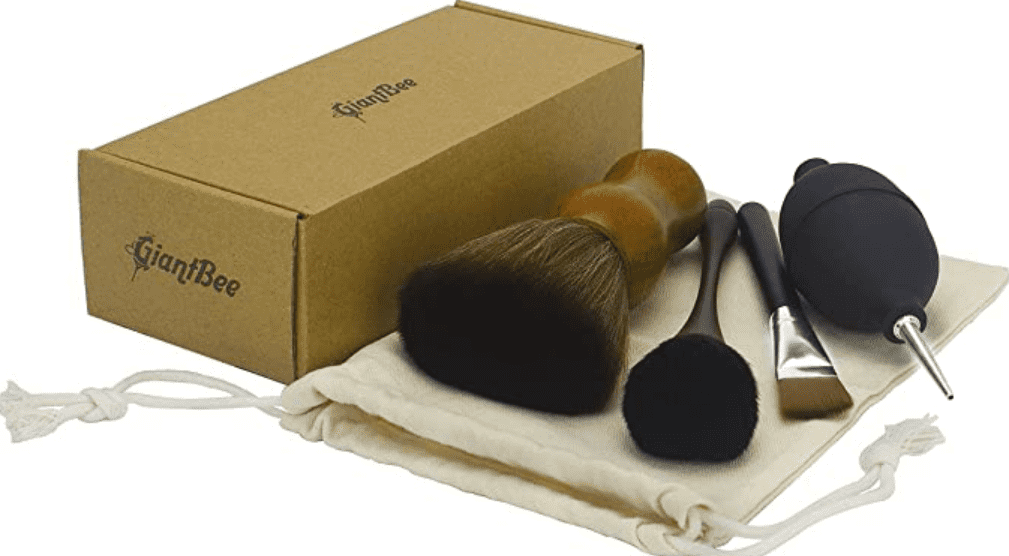 PVC statues are simpler because they don't wear with age like stone. The other preservation rule is that you clean them with the right tools. Use a proper statue cleaning kit to keep the dust at bay. The brushes are gentle, and the ball air blower won't destroy the beautiful artwork. It's advisable to preserve the paint on these statues.
Finally, repairing the paint requires more finesse. I recommend using experts to refinish your paintwork rather than following YouTube videos. Artwork is intricate, and you need expert painters who can match the colors and do it right. Pristine preservation prevents the need for retouching statues every few years.
However, you might consider connecting with the Quarantine Studio to find an artist who can repaint statues if they wear down and fade. The same rule applies to any damage to Demon Slayer statues. The colors and details are far too intricate to play around with and should go-to experts.
Selecting the Best Demon Slayer Statues
Firstly, I want quality statues that last a long time. You should follow quality with collectible statue scales. I'll stick to popular scales for collectors shared in the art of sculptures. Buying statues with suitable scales displays better than having life-size statues that take up an entire room.
Finally, I want slayers and demons every Demon Slayer fan remembers from the show. So, I'll split them into two categories to easily select duos for your shelf in case you aren't buying them all at once. The slayers from Hashira, Demon Slayer, and the Former Hashira are my target for memorable storytelling displays.
Best Demon Slayer Statues Guide: Top Slayers
Every story must begin with a hero, and the slayers are the heroes in Demon Slayer. I included a few of my favorite well-known slayers from the Hashira, Former Hashira, and Demon Slayer cells. I'll share why I love them, what makes them quality collectibles, and what puts them down.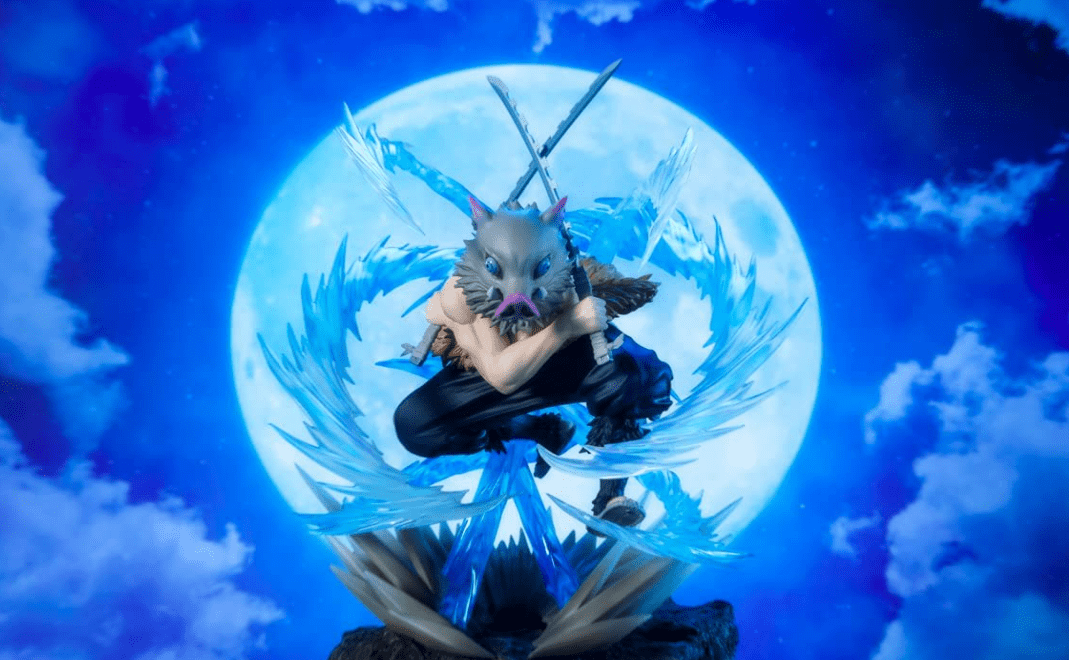 Inosuke is a human who wears a boar's mask and supports the main protagonist in the show. I love Inosuke because his sword skills are impressive. He can control the beast's breath. He makes an excellent anime character. It's a pity that he's a PVC statue, but the details are perfect across the statue.
Features
Slayer: Inosuke Hashibira statue
Cell: Demon Slayer
Scale: 1:10
Materials: PVC
Pros
The Inosuke Hashibira statue is a beautifully hand-painted PVC collectible that shows the beast in action
The Demon Slayer statue comes with effect pieces to complete the beast breathing technique in your showcase
It also includes the boar's mask to change between Inosuke's face and the beast's expression
Cons
It's a PVC statue with an awkward base and little detail around the eyes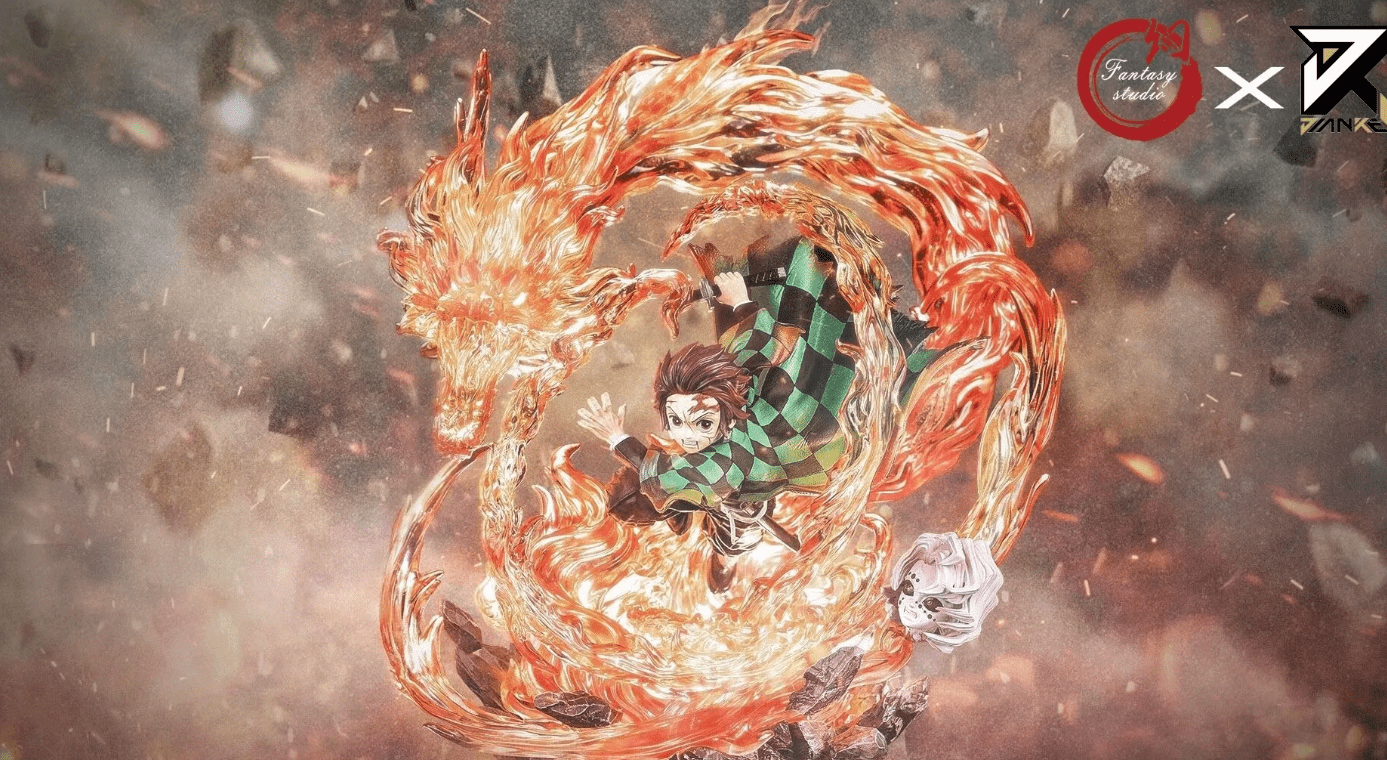 You can't collect Demon Slayer statues without adding Tanjiro. However, he's the main protagonist, meaning I searched for a high-quality figure. I love this Tanjiro statue because you can pick between two scales. It also shows the character engulfed in flames, which shows him using the Nichirin Sword, a fan favorite.
Features
Slayer: Tanjiro Kamado statue
Cell: Demon Slayer
Scale: 1:6 or 1:8
Materials: Polyurethane resin
Pros
The Tanjiro statue comes in a high-quality material with hand-crafted and sculpted effects for a phenomenal collectible
It's rare for a supplier to offer two different scales, showing how they sculpt each statue per order, and it comes with interchangeable pieces
The details will blow your anime-loving mind away with Tanjiro's famous sword carrying the flames Nezuko left on it
Cons
I'm not sure I love the demon's head rolling in the fire, but it might add effects for collectors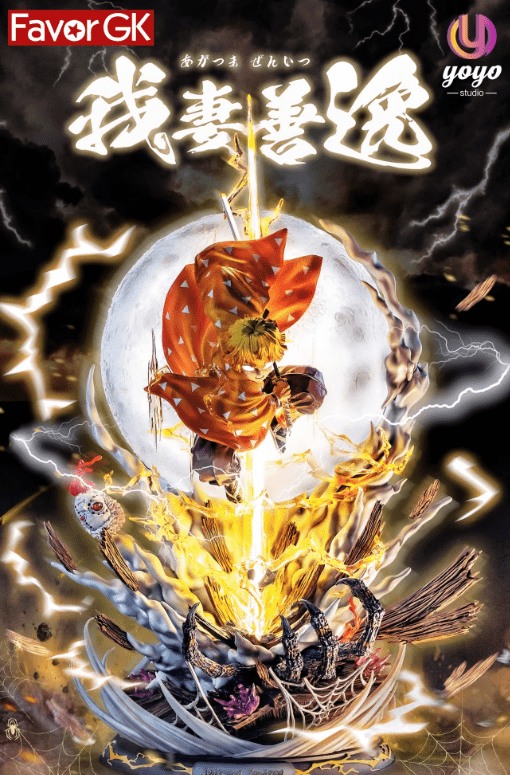 Zenitsu is another famous protagonist who travels with Tanjiro and Inosuke on their journey to find and slay demons. I love that he controls thunder abilities, and the name of his one move is hilarious. Godspeed is an extension of his thunderclap technique that speeds things up to a new level. He's an incredible slayer.
Features
Slayer: Zenitsu Agatsume statue
Cell: Demon Slayer
Scale: 1:4
Materials: Polyurethane resin
Pros
Th Zenitsu statue is more significant than most, almost measuring 18 inches, and the sculptor had plenty of space to create art
The sculpture showcases Zenitsu's mighty thunderclap move with a highly-detailed demon-slaying base that looks brilliant
The figure will be limited to 330 pieces, making it more collectible than most Demon Slayer statues, and it has LED effects
Cons
The statue is a pre-order collectible, and the exclusivity means you have to order one soonest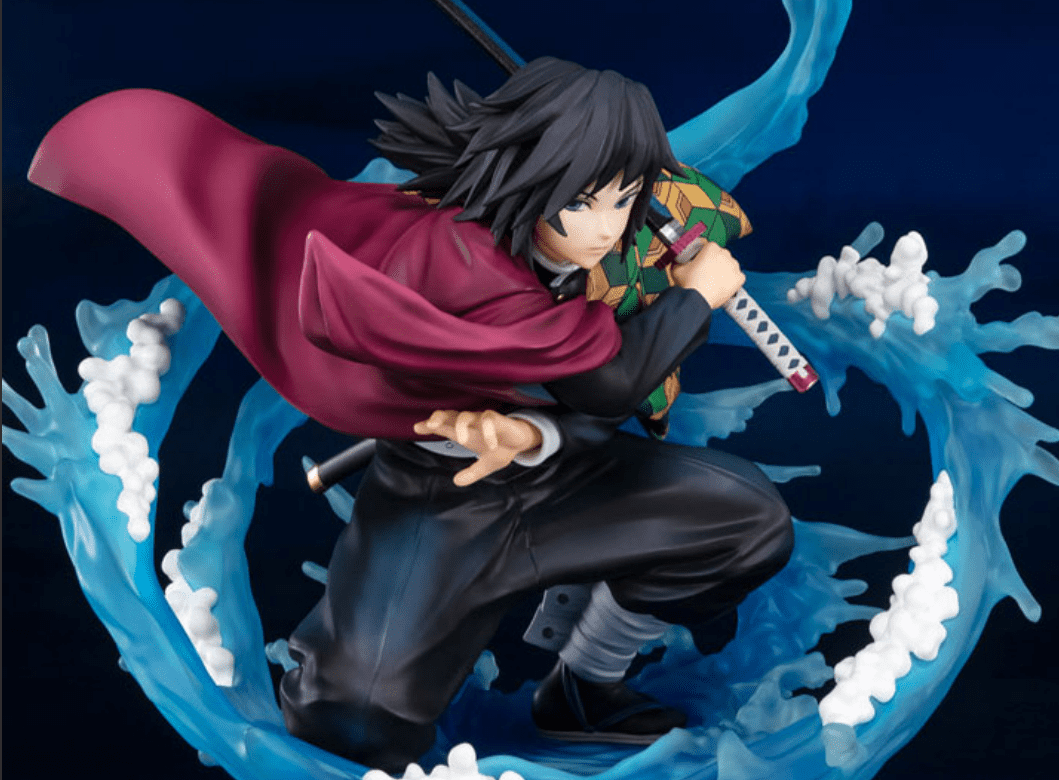 Giyu has the water element on his side, and this statue showcases his elemental powers. I love the translucent water effects because it makes them look more genuine. It also improves the design to have Giyu crouched down in his attack mode. I don't love the PVC sculptures, but the colors look better than resin statues.
Features
Slayer: Giyu Tomioka statue
Cell: Hashira
Scale: 1:10
Materials: PVC
Pros
The Giyu statue is one of the best collectible sizes, and the breathing water effects look fantastic
The details look as close to sculpted figures as a PVC sculpture could look, including patterns on the clothing and sword sheath
The colors are what you'd expect to see with Demon Slayer statues and other anime characters, and the facial expression looks serious, like Giyu is about to slaughter a demon
Cons
I'll never be a massive fan of PVC statues because they're entry-level collector's pieces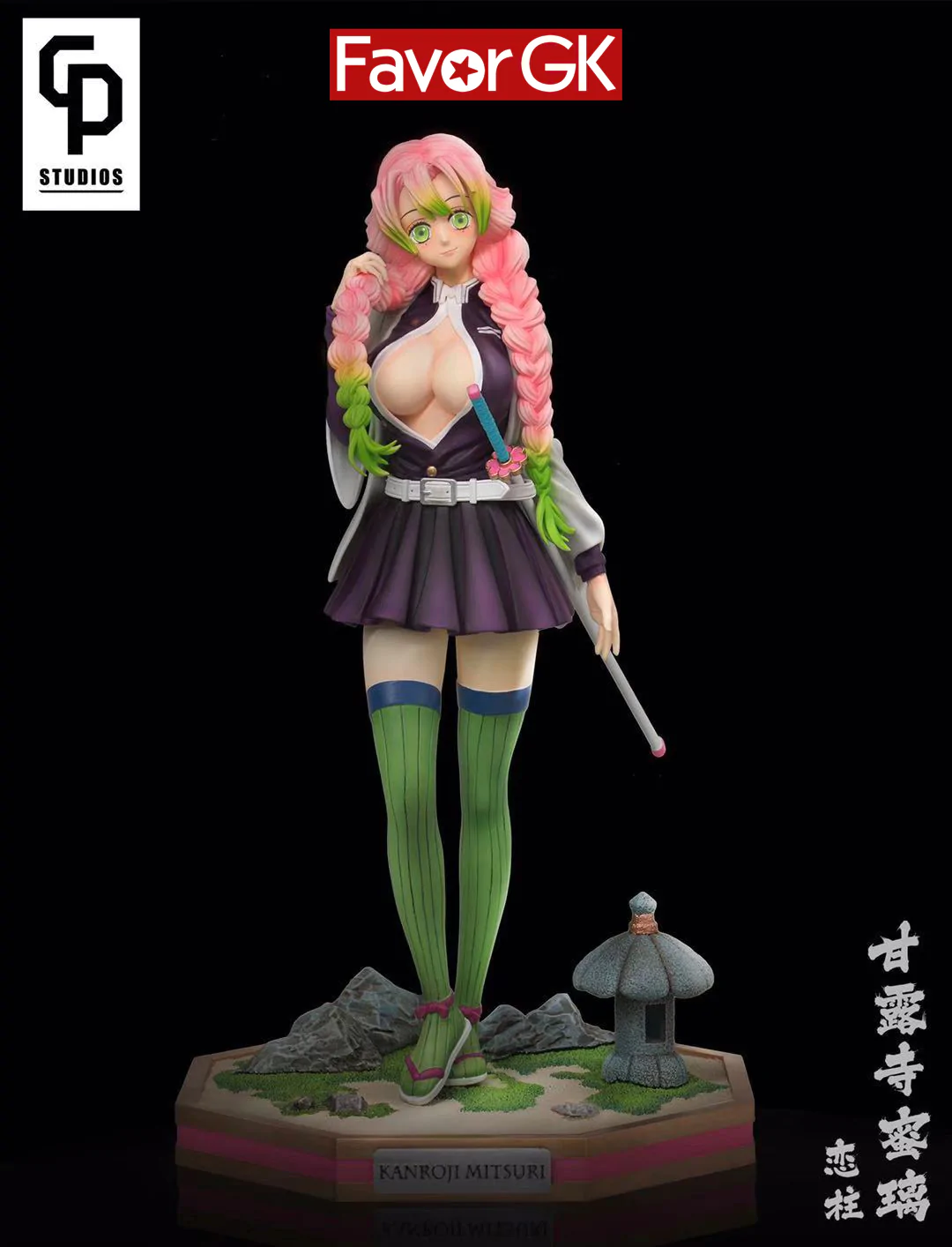 Mitsuri is a female demon slayer from the Hashiri cell, and she earned her right as a combatant in the show. I love her powers because she uses love as an element to support her abilities. Mitsuri is the ideal character to portray the love element for the Demon Slayer Corps because she looks like a female version of Cupid.
Features
Slayer: Mitsuri Kanroji statue
Cell: Hashiri
Scale: 1:6
Materials: Polyurethane resin
Pros
The Mitsuri statue is a gorgeous polyurethane resin designed to last for many years, and it's a 200-piece limited edition
The figure depicts the character perfectly, showcasing beautiful hand-sculpted work with intricate painting to capture her essence
Mitsuri has a peaceful nature and position in this statue, allowing her to blossom as an anime lady with hidden powers of justice and influence
Cons
There will only be 200 statues available, meaning you should order this beauty quickly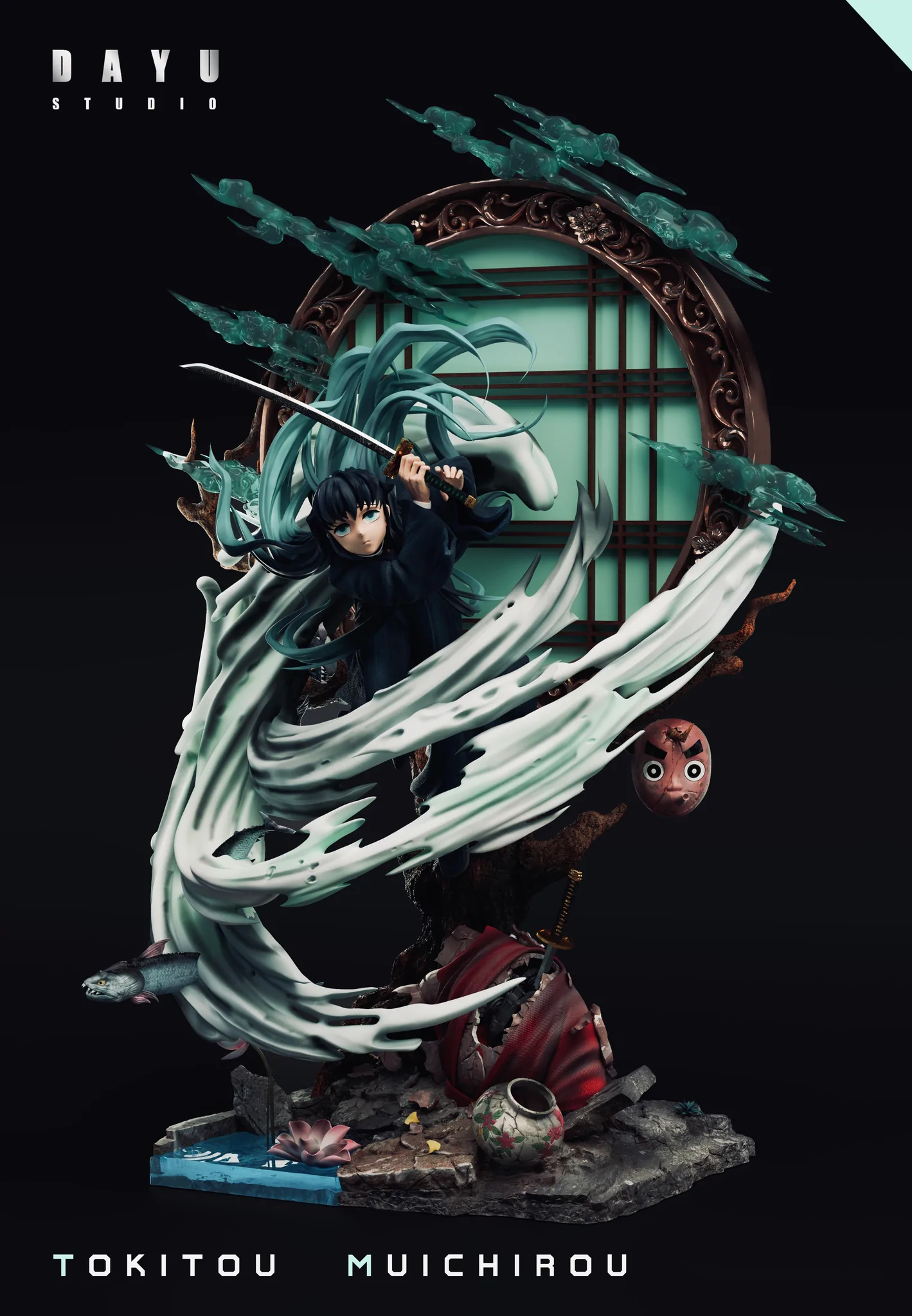 I see Muichiro as the opposite type of lady compared to Mitsuri because she doesn't look super feminine. Her character looks goth-like, but she's in the same Demon Slayer cell as Mitsuri. She also controls an unusual element: mist. So, I'd call her the opposite of her fellow female cell slayer, but she's another excellent collectible.
Features
Slayer: Muichiro Tokito statue
Cell: Hashira
Scale: 1:4
Materials: Polyurethane resin and glass fiber (an unusual find and super fragile)
Pros
The Muichiro statue is beautiful in every way because it blows your mind with translucent mist effects that include a unique material
Muichiro's standing base also looks impressive and showcases her darker side compared to Mitsuri, and it's nice to have a contrast of slayers
The materials are durable if you store this statue at the right temperature, and she's another gorgeous limited edition
Cons
There are only 188 pieces available (so get yours now), and the glass fiber is more fragile than resin and PVC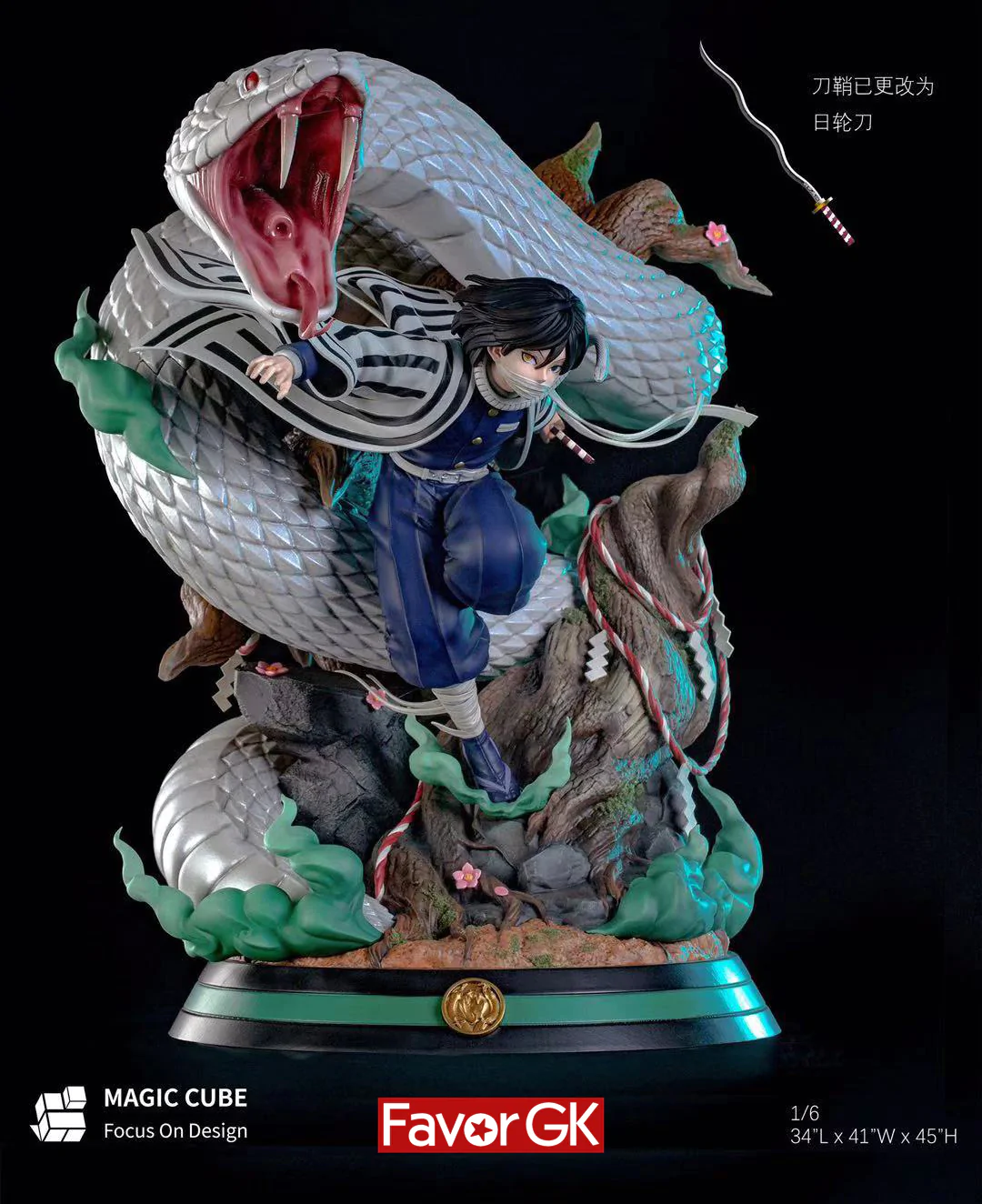 Obanai is a highly unusual slayer who controls a serpent-like element and belongs in the Hashira cell. He has a cold nature with a brutal force behind him. I love his character and eyes. My grandfather had Obanai's two-colored eyes, and it's a unique element. Maybe it's why I love his character as much as I do.
Features
Slayer: Obanai Iguro statue
Cell: Hashira
Scale: 1:6
Materials: Polyurethane resin and metal
Pros
The Obanai statue is a super durable force designed with metal and resin to last longer than most, and it comes with a beautiful serpent wrapping around the character
I love how accurate the sculpture portrays the Obanai, even getting his two-colored eyes right and coldish character depiction spot on
The hand-painted details are intricate beyond words, making this a work of art, and it's a limited edition with a nameplate to customize
Cons
The statue weighs an astronomical 22 pounds and is limited to less than 400 pieces (more reason to order now)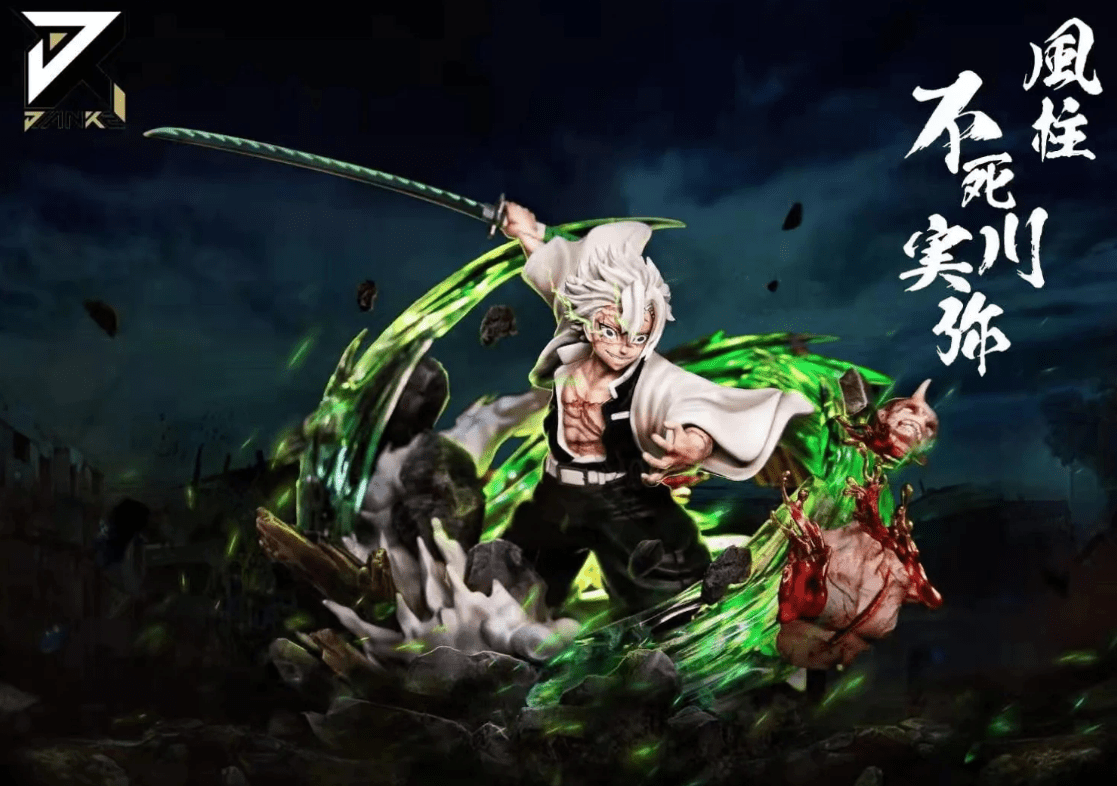 Sanemi is another much-loved Hashira cell slayer from Demon Slayer, and he uses the wind to enhance his abilities. The statue is more gruesome than most, showing demon leftovers swirling around the slayer in a slaughter of the underworld villains. Admittedly, I love how the intricate artwork went into the statue.
Features
Slayer: Sanemi Shihazugawa statue
Cell: Hashira
Scale: 1:6
Materials: Polyurethane resin and metal
Pros
The Sanemi statue is another super durable metal and resin combo that will last many years, and the details are profoundly artistic
The figure shows Sanemi's powers in a victorious battle against a demon, and the effects are unmatched by most anime statues
It's another limited edition and LED lights further enhance the paint and results to show the sculpture in full glory
Cons
I always use the limited edition as a pro and con because there are only 288 pieces available (making it exclusive and potentially unavailable if you wait too long)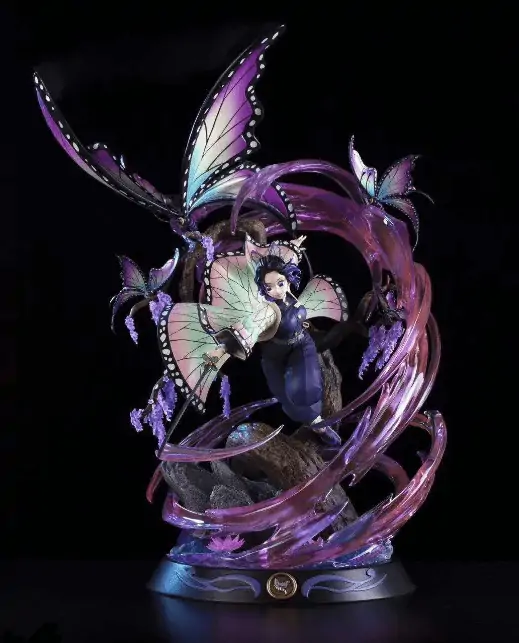 Shinobu is one of the most famous female slayers in Demon Slayer, and she undoubtedly tops my female slayer list. She also has unusual elemental forces behind her combat techniques because she uses insects. The statue beautifies her element as much as possible by using dark purple butterflies to capture her essence.
Features
Slayer: Shinobu Kocho statue
Cell: Hashira
Scale: 1:6
Materials: Polyurethane resin
Pros
The Shinobu statue is a brilliant display of using insect elements as an attractive artwork, and it's a durable material
I love how the base combines nature's forces by using butterflies, translucent effects, and a tree trunk to support the statue
Shinobu is limited to 500 pieces to make her more collectible, and her face has intricate sculpting and paintwork
Cons
The limited availability can challenge you to seek her sooner rather than later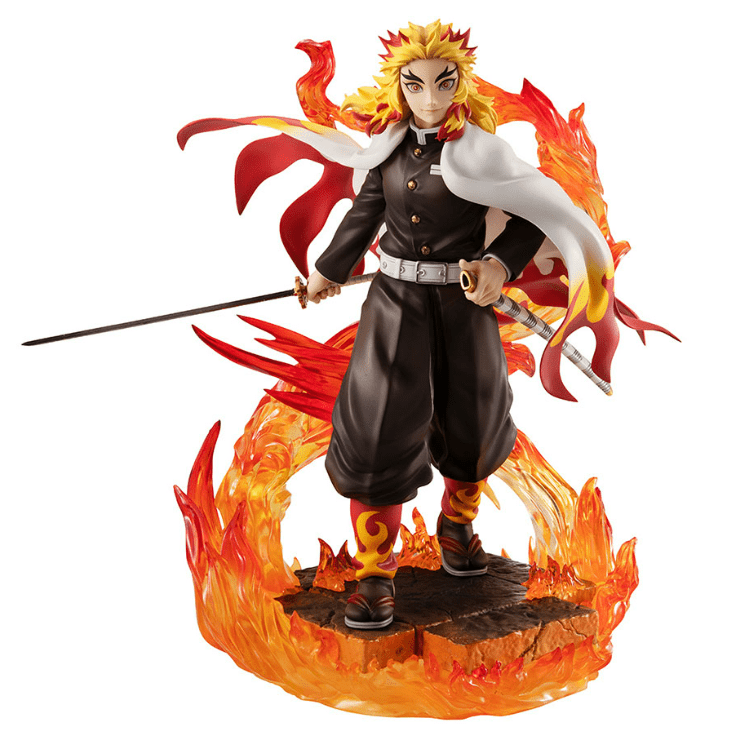 Kyojuro has the flame element behind his techniques, and fire has always been a favorite for anime lovers. Therefore, I couldn't skip this Former Hashira cell slayer. There were many options for Kyojuro because fans love him. However, I chose this statue because the flames engulf the character, showing his true essence.
Features
Slayer: Kyojuro Rengoku statue
Cell: Former Hashira
Scale: 1:9
Materials: PVC
Pros
The Kyojuro statue will last a long time if you preserve it well, and it has gorgeous details from the body to the base
The figure also captures Kyojuro's flaming heart and eyes, and the translucent firebase brings his character to life
It's a GEM series statue sculpted with a 3D printer, but the intricacy is next-level, and you can repaint the sculpture when it fades
Cons
Unfortunately, it's a PVC statue, which I allow, but I don't prefer it over resin
Best Demon Slayer Statues Guide: Top Demons
A story is incomplete without demons if you're doing a Demon Slayer statue collection. So, I included four of the most memorable demons and their goons for you to add to the showcase. Then, I'll share why I love the statues, their quality work, and what takes away from them.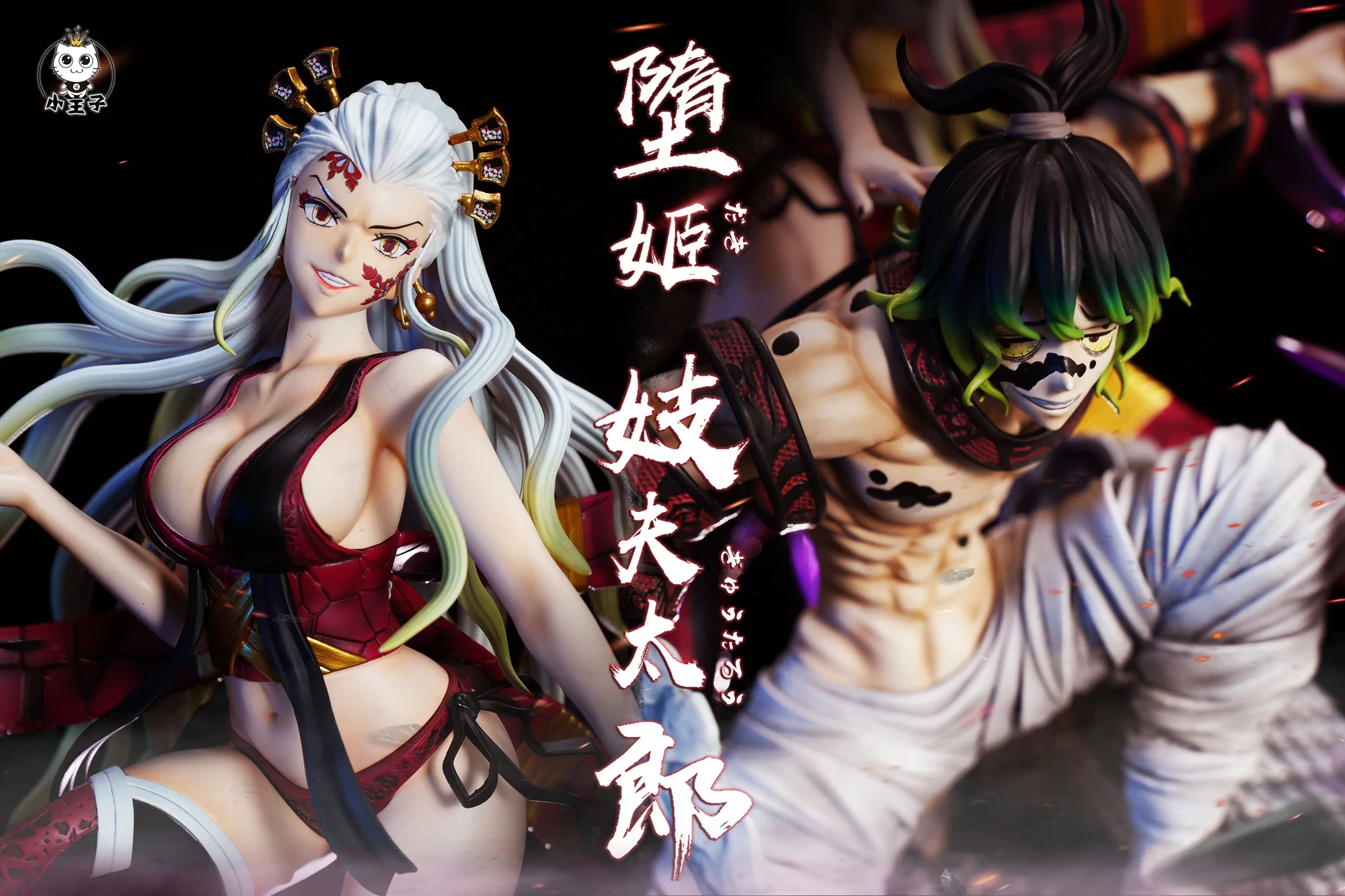 Gyutaro and Daki are two of the most hated demons faced by the Demon Slayer Corps. The former demon killed many Hashira in his lifetime. Hated demons are welcome if you want a storytelling collection. Imagine surrounding the demons with multiple powerful slayers to avenge the deaths of the previous Hashira.
Features
Demon: Daki and Gyutaro statue
Origin: Formerly human
Scale: 1:6
Materials: Poly stone resin
Pros
The Daki and Gyutaro statue is a two-for-one, highly durable piece with exceptional detail on the figures and the base
The demon partners come through as evil and otherworldly, which the artistic paintwork and sculpting portray to the max
I love the details on Gyutaro's stomach, muscles, and pants, and the statue is limited to 166 pieces for exclusive collections
Cons
The demons are limited, and you'll need to order one soon if you like the story idea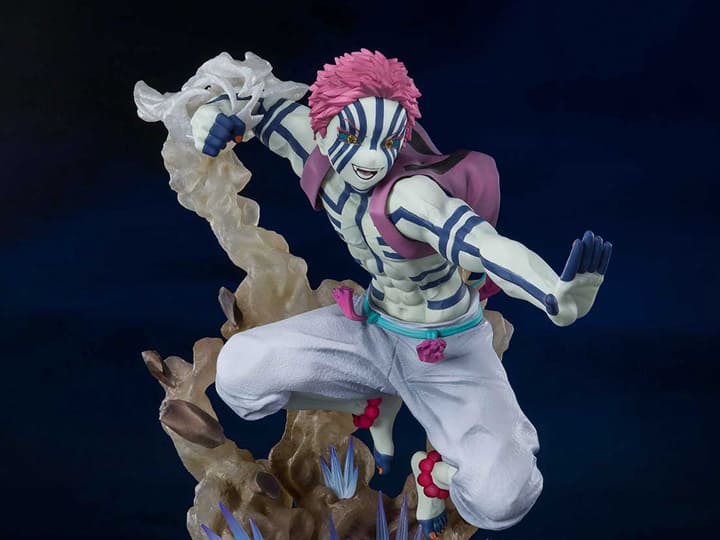 Akaza is a powerful demon from the Twelve Kizuki, under the influence of Muzan, and he's undoubtedly a foe any story collection would bring to life. Of course, you'd never think Akaza is a demon by looking at his statue, but you know his evil ways as a show fan. So, I'd place him among slayers who would destroy him.
Features
Demon: Akaza statue
Origin: Twelve Kizuki
Scale: 1:10
Materials: PVC
Pros
The Akaza statue is a glorious collectible with long-lasting potential if you store him correctly
The figure depicts Akaza's demonic character well because he looks sweet and innocent, even though he's a tyrant and destructive
I love the translucent effects on the base, and Akaza's paintwork is phenomenal, making it a piece of PVC art
Cons
It's a PVC sculpture, and you have to pre-order it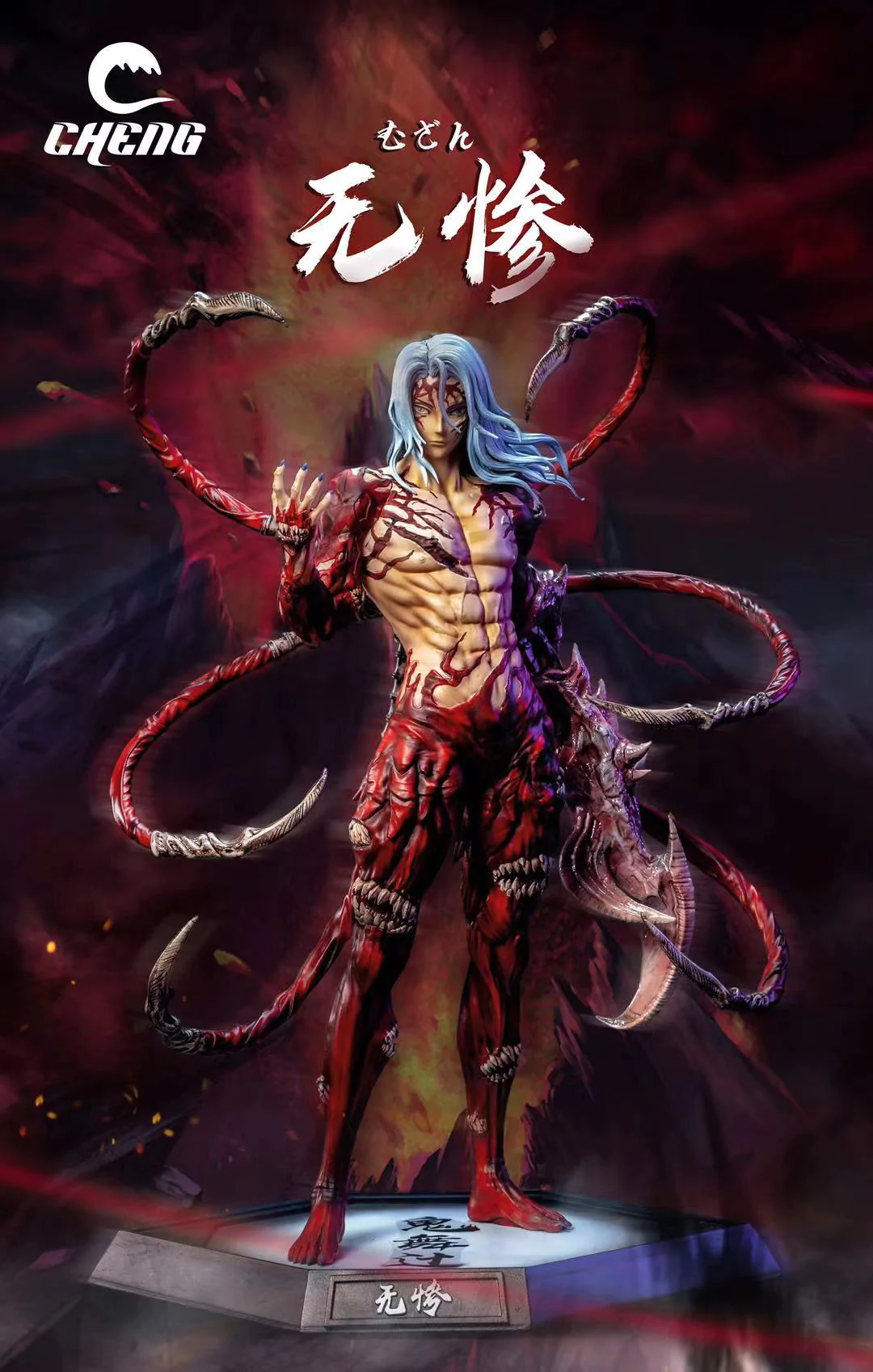 You can't have the best Demon Slayer showcase with demons if you don't consider the main essence of evil: Muzan. You won't want to miss this gorgeous resin statue because it's one of the cheapest you'll find. It's likely because the demon is hated, but it completes your storytelling collection.
Features
Demon: Muzan Kibutsuji statue
Origin: Twelve Kizuki
Scale: 1:6
Materials: Polyurethane resin
Pros
The Muzan statue is a durable resin collectible that showcases the character's demonic flaws and evils
The details are imaginably beautiful if you love gruesome sculptures, and you can see every tooth and artery on the statue's body
It shows a different side of the demon, and it's a limited edition (288 pieces) to increase collectibility
Cons
The limited part is a pain in the side, but be sure to order it before it's gone (Muzan is a rare statue)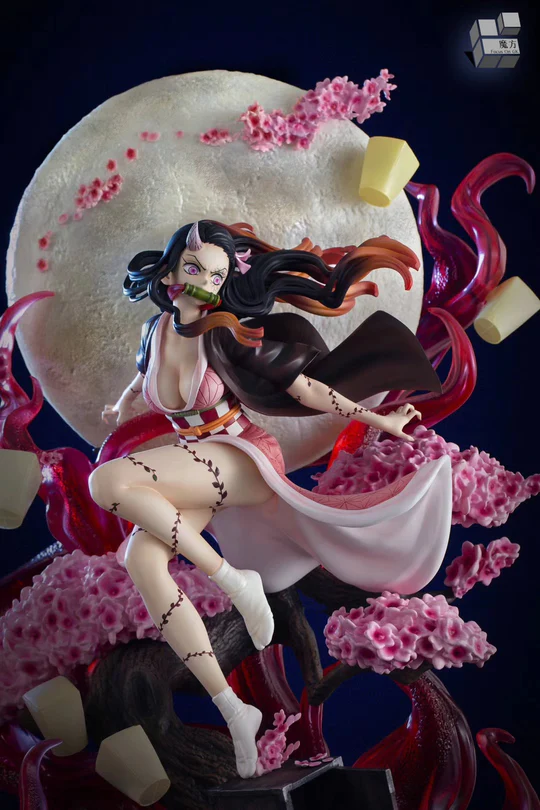 Nezuko is Tanjiro's sister turned blood demon, making her an essential additive to your collection. It's a sad story behind this demon, but many were humans before their possession and transformation. Nezuko's story touches me more than other demons because she's Tanjiro's sister.
Features
Demon: Nezuko Komado statue
Origin: Former human
Scale: 1:6
Materials: Polyurethane resin
Pros
The Nezuko statue is a highly-detailed, super durable resin statue, showcasing the struggle within Nezuko
The details on Nezuko's eyes are insane, and the base comes with beautiful flowers depicting her touch of human essence locked inside a demon
Nezuko would be a must-own collectible Demon Slayer statue that belongs with her brother, even if she turned evil
Cons
The figure says 1:6 scale, but the more accurate scale is closer to 1:4
Top Q&As
Question: Which Demon Slayer Statues Are Good Collectibles?
Question: Which Demon Slayer Statue is the Most Popular?
Question: Which Demon Slayer Statue Types Are the Best?
Answer: I shared quality and unique Demon Slayer statues, meaning they had to meet my quality criteria. Some were PVC sculptures, but many belonged to a source I found with rare and limited editions. I prefer polyurethane and poly stone resin above PVC. So yes, the pricier statues are the most durable and valuable.
My Best Demon Slayer Statues at a Glance
Every story begins with a few heroes. So, here are my top ten slayers from Demon Slayer Corps:
My Best Demon Statues at a Glance
I recommend adding a few demons to the mix if you want a showcase with a story. Here are my top four demons:
Best Demon Slayer Statues Guide: Conclusion
Consider a Demon Slayer collection with quality and durability if you want your fandom to stay in your showcase for years. I also recommend choosing Demon Slayer statues that tell a story. Don't only collect the slayers. Instead, put a few demons among them to create a story on your shelf.
I'm also eccentric and unusual, so I recommend starting your collection with the Best Hashira Gyomei Himejima Statue because he's the most potent slayer. Then, keep your collection growing with the Best Demon Slayer Tanjiro Kamado Statue and add the Best Demon Slayer Nezuko Kamado Statue.
Once you have the three main starters, you can go wild with the rest of the Demon Slayer statues. It will take time because I picked quality materials and rare sculptures to add collectibility. I don't love PVC sculptures, even though I added a few. You won't be sorry if Demon Slayer statue collections are an investment.
Pick your favorite slayers and demons, and start building the valuable collection you deserve today. Remember that my picks are limited editions (which makes them more valuable), so don't waste time waiting too long.
For more anime collectibles:
Best Demon Slayer Figures Guide – Avid Collectibles
Demon Slayer Nendoroid Guide – Avid Collectibles
Nezuko Action Figure Guide For Demon Slayer Fans – Avid Collectibles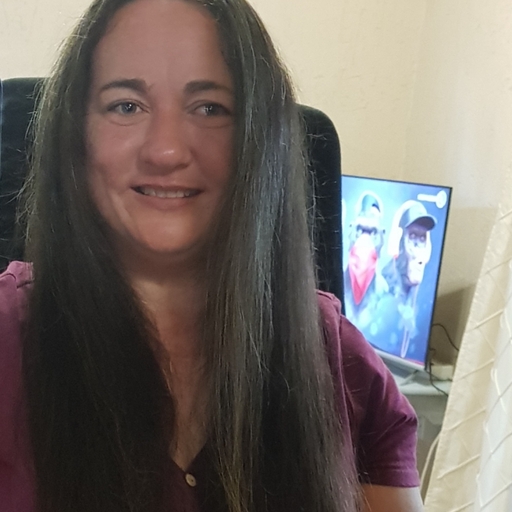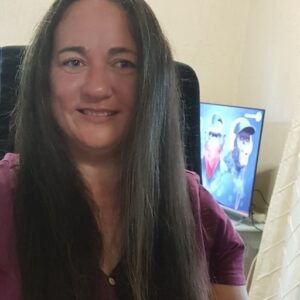 Latest posts by Caroline Lambert
(see all)