Do you chase your dreams of collecting the most unique, fabulous, and rare Funko Pop like me? Excuse the pun, but I'm about to unravel the vision in my Chase Funko Pop Guide. I'll leave no stone unturned to find the best Chase figures, and I'll teach you all the relevant tricks of the Funko Pop collectible trade.
I've been at this longer than Funko Pop existed. I love helping fellow collectors and fans find the best action figures, vinyl figures, statues, replicas, and model kits. Welcome to the start of turning your dream into a game of anticipation and success. Chase Funko Pop is everything you need for a unique collection.
The Chase Dream Revealed
I'm a collector who extends my sights further than my favorite hero or fandom. So naturally, I would look for the rarest, most unique collectibles to inspire various fandoms when I consider chase vinyl figures. But, of course, they're already unique and exclusive, meaning I should look deeper to find the best ones.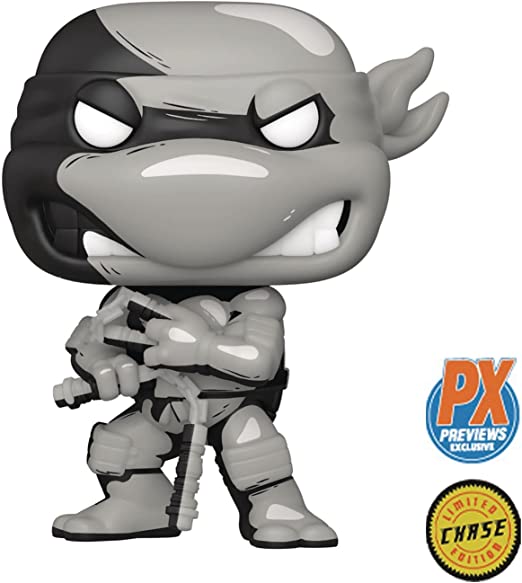 My top pick is unique and noticeably differs from the original. The Teenage Mutant Ninja Turtles Chase Funko Pop has a more notable style variation than most. Additionally, it makes an excellent starter for collectors who fit the TMNT Funko Pop chase fandom. Finally, it's a black and white chase that looks metallic. However, check out my other unique chase collectibles for more popular fandoms:
A Complete Guide to Chase Funko Pop
Chase figures allow die-hard collectors to find the best vinyl figures in any fandom. I'll show you what makes them unique and share tips about finding the best ones. Welcome to the foundation of chase Funko Pop collections for every fan. After the basics, I'll dive into why I love each chase figure from Funko Pop.
Chase 101: What is Chase Funko Pop?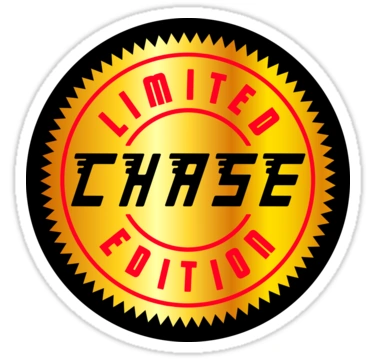 Chase Funko Pop variants are a collector's dream because they differ slightly from the original design. These rare and unusual Funko Pop come with a golden chase sticker on the box. In addition, Funko Pop randomly picks famous figures to recreate collectible variants that offer minor style, color, and position differences. The difference between the original and chase variants can be minor or extreme. Let's look at examples to understand the various chase versus original differences. First, let's compare the Spiderman Japanese TV Series Funko Pop Figure to see the differences between a chase and standard vinyl.
The Standard Spiderman Japanese TV Series Funko Pop comes with a box containing no chase sticker and has no exclusive features. In contrast, the Chase Spiderman Japanese TV Series Funko Pop has a unique chase sticker on the box, and the figure has a glow-in-the-dark effect. Other than that, the two figures look the same. You'll also see a price difference because the chase variant of Spiderman is glow-in-the-dark, and it's a PX Previews Exclusive. As much as the two figures look alike in the daylight, the chase variant is more collectible. The exclusivity also makes it more collectible because the brand only made so many for the exclusive event.
Let's look at another example with more noticeable differences. The Doctor Strange Multiverse of Madness is the ideal example of a notably different chase variant. For example, the Standard Doctor Strange Multiverse of Madness Funko Pop is a gorgeous collectible.
However, the Chase Doctor Strange Multiverse of Madness Funko Pop is more collectible because it differs from the original design. It has an entirely new color style with patterns the standard version doesn't have. It also includes the golden chase sticker on the box and costs more than the standard version. Let's compare one more example to see extreme differences. Taz from Space Jam is a good example. The Standard Space Jam Funko Pop Taz Figure has a closed mouth. However, the Chase Space Jam Funko Pop Taz Figure grins broadly with sharp teeth.
You can't always see the differences, but they're sometimes extreme. Check out my tips for spotting the different types of chase variants.
Collector's Tips for Chase Funko Pop
My first tip is simple. You could easily miss a chase variant because the original and chase issue numbers are the same. For example, the Standard IT Pennywise Funko Pop's and the Chase IT Pennywise Funko Pop's issue numbers are 472. The "golden chase" sticker is often the first tell-tale sign of chase collectibles. I recommend checking boxes for stickers because I've walked into stores that unknowingly sold the variants. For example, some Funko Pop might have multiple chase versions. However, they'll all have the same issue number because the variants are exclusive recreations of the original Funko Pop with that issue number.
My second tip is to look at whether you can find multiple chase variants. A chase variant is often an exclusive design for events, specific stores, and special editions. Some include additional stickers for exclusive Comic Cons or stores like Gamestop. Different types of chase variants may consist of some of these:
Keep an eye out for both slight and extreme differences if you wish to collect every variant recreated from the original figure. It can be a change in color or hairstyle, or you might get an accessory included. However, my final tip is the most exciting one. There's no better place to buy Funko Pop than from the Funko Store. Look at this store page to see the potential for exciting anticipation. Funko has a variety of chase opportunities. I call them opportunities because Funko randomly sends buyers a chase variant for the listed originals on the store page. Collectors like me love surprises and anticipation. So, give it a go.
Buying Guide for Chase Funko Pop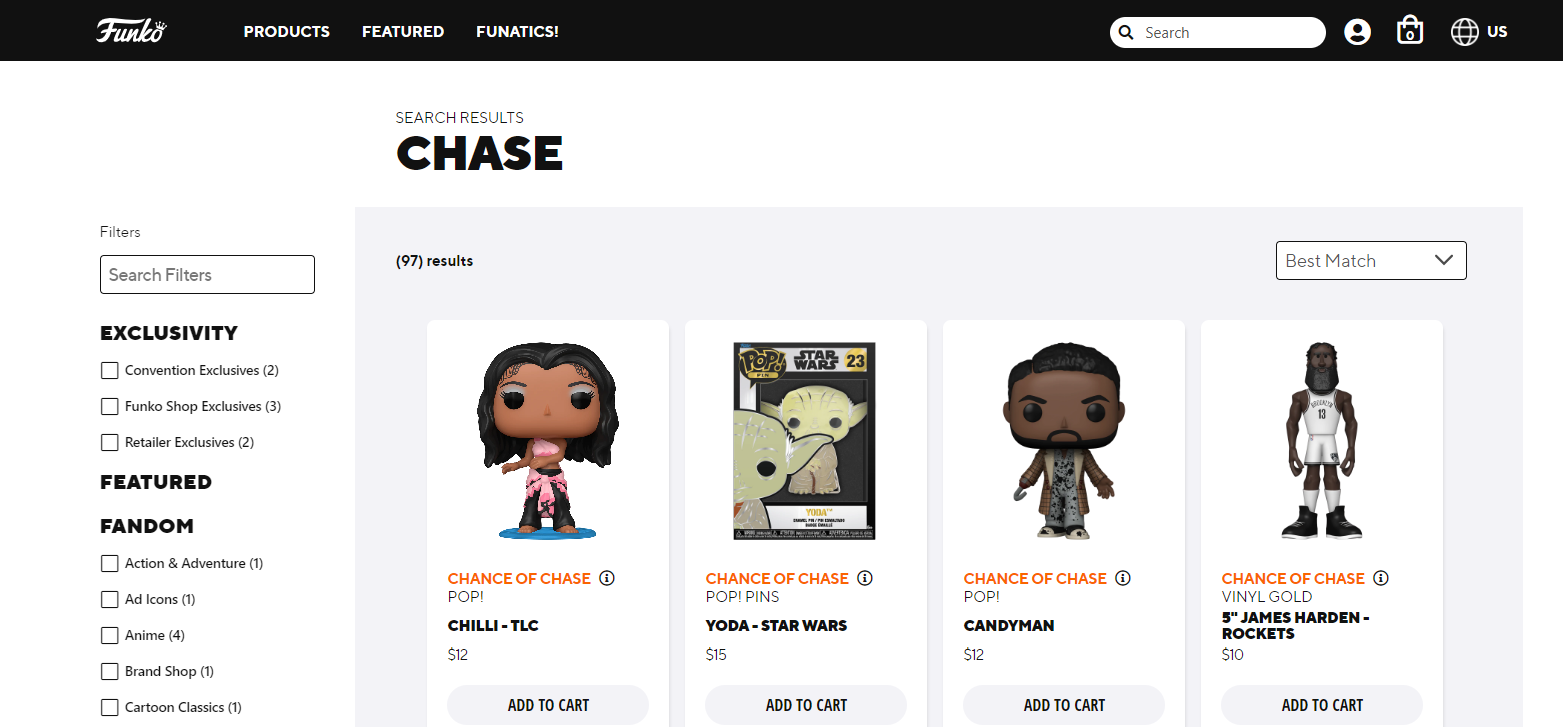 I shared the basics of Funko Pop chase figures, meaning I also want to appeal to every type of collector. I'll show you an ideal Funko Pop chase starter for the biggest movie and series fandoms in 2022, including Marvel and DC heroes, The Mandalorian, The Office, Stranger Things, and more.
Important Note: I want to ensure that you get a chase. The anticipation of maybe getting one is exciting. Still, I'm here to share almost definite starters for each fandom, meaning the Funko Store isn't an option. Unfortunately, the Funko Store only promises the chance of a chase. Instead, I'll source chase variants with a 1 in 6 chance of success at least, meaning the store will send the chase variant every six purchases. It's a roulette game, but the chances are higher than in the Funko Store.
Best Chase Funko Pop Guide: The Dreamy Collection Starters
It's time to see why I chose each starter chase figure from Funko Pop. Remember that I would love to inspire collectors from various famous fandoms. So, let's see which starter figures popped into my heart, encouraging me to chase my dreams. I'll share the differences if the original figure still exists in stores.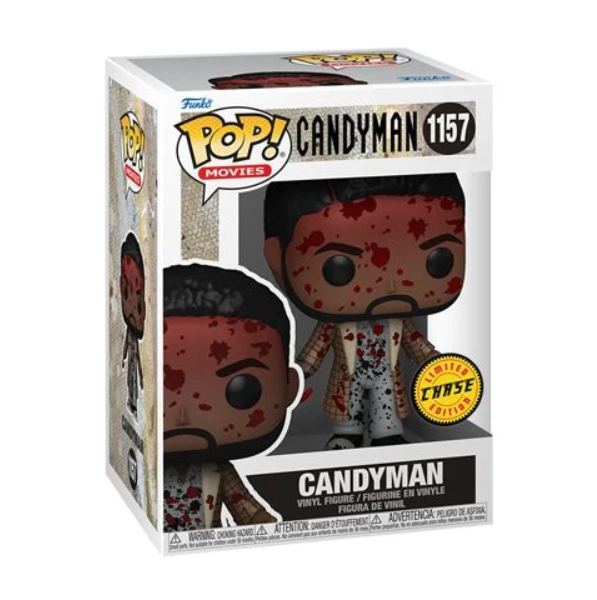 Candyman was one of the creepiest myths I knew as a child. I remember the stories of calling Candyman three times in a mirror. Admittedly, I'm not a horror movie fan. However, a massive fandom exists for horror movies. Candyman Funko Pop is also available at most stores, showing the character's popularity.
Features
Character: Pop! Movies Candyman Bloody Chase
Chase Type: Blood-splattered
Size: 3.75″
Issue No: 1157
Difference: Candyman has a bloody style
Pros
The blood-splattered Candyman Funko Pop undoubtedly appeals to horror movie fans with gore-proof stomachs
I love how Candyman looks like someone who escaped from a mental asylum, and the hook completes the look
Cons
The only difference is blood splatter, and you have to be a horror movie fan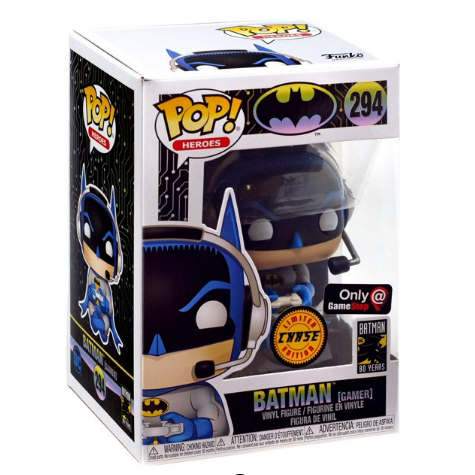 Batman is one of my loved DC movie heroes. So, I looked for a unique chase version. Fortunately, I found this incredible Batman Gamer's Chase Funko Pop with headphones and a serious expression that confirms the hero plays games. Sometimes, chase variants don't have an original comparison, and this example is one.
Features
Character: Funko Pop! DC Batman Sitting Chase
Chase Type: Sitting down with accessories
Size: 3.75″
Issue No: 294
Difference: Batman sits down as a special edition for gamers (it's not a recreation of an original)
Pros
It's an exclusive chase variant without an original, and it triples collectibility with Gamestop exclusivity and the 80th Batman Anniversary stickers
I love how Batman's serious expressions turn from saving lives to bashing criminals in a video game because it appeals to a larger fandom
Cons
Some Batman fans would prefer a chase variant with a comparison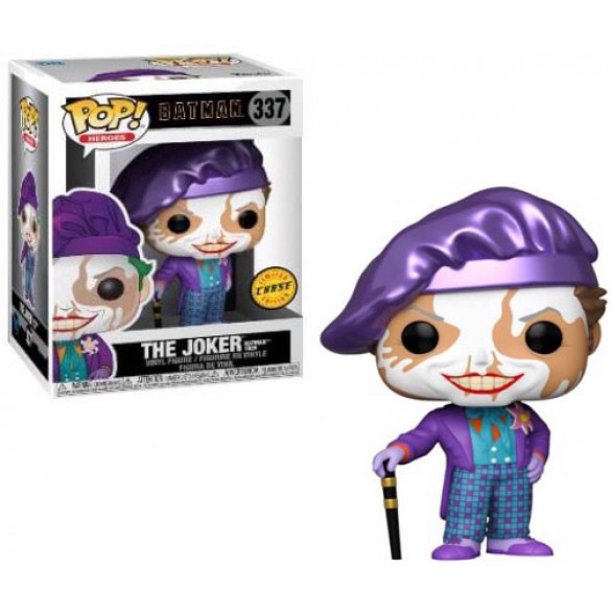 The Joker is a madman with an enormous fandom. Hence, I had to add his famous chase variant. Artists are eccentric like The Joker, and I get the weird connection in this chase version. The Joker still looks as insane as we love seeing him in the movies. However, I imagine he'd color the walls with blood rather than paint.
Features
Character: Funko Pop! DC Joker With Hat Chase
Chase Type: Alternate clothing style
Size: 3.75″
Issue No: 337
Difference: The Joker changes clothes compared to the original
Pros
I love The Joker's character and see how the painter's chase variant adds to the madness within the man
The Joker's chase variant has more impressive details than the original, and the outfit, hat, and cane change for an extreme difference
Cons
Not every fan sees the connection between artists and The Joker for this variant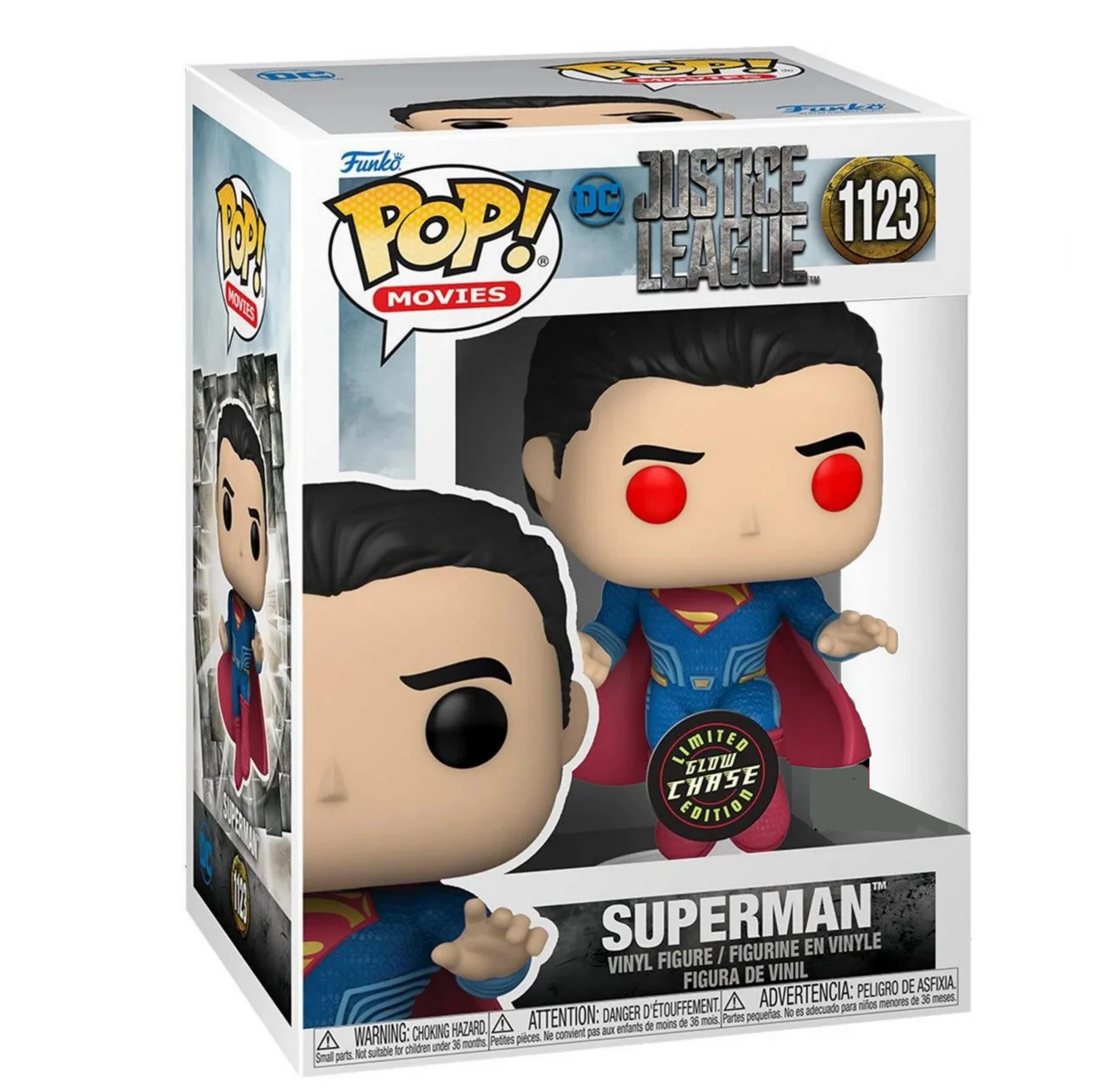 The Justice League Funko Pop range is extensive. However, I could only find Superman as the starter chase variant. I have no issues with Superman. He's a super guy, pun intended. I love how the glowing eyes resemble his heat vision from the movies. It undoubtedly makes him more valuable.
Features
Character: Funko Pop! Justice League Superman Chase
Chase Type: Glow-in-the-dark
Size: 3.75″
Issue No: 1123
Difference: He glows with red eyes
Pros
The red eyes do it for me because it's a simple touch-up that makes a massive difference beyond glow-in-the-dark effects
Superman is an incredible Kryptonian who appeals to DC and Justice League fans, doubling up his fandom
Cons
The Superman Chase Funko Pop isn't available yet, but it will be soon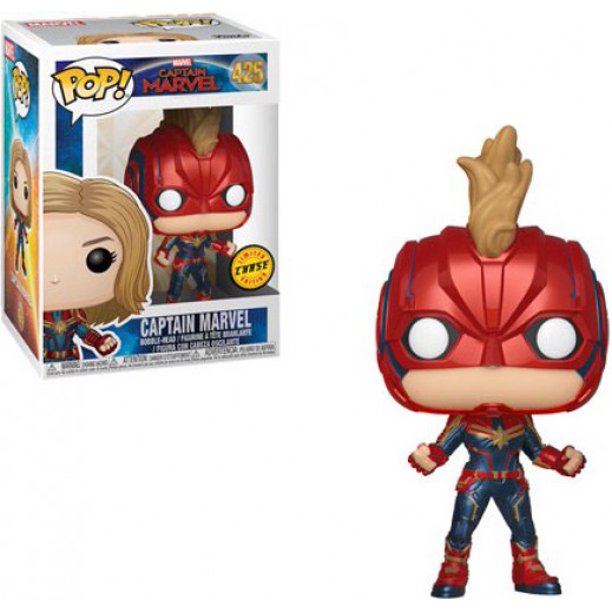 Marvel has an enormous fandom, which breaks down into multiple other fandoms. It's one of the best chase variant sources for collectors. Captain Marvel is a marvelous edition, pun intended. I'm sure you can see I love puns by now. Wordplay and puns are my creative hobbies. I love combining collectible and creative pursuits.
Features
Character: Funko Pop! Marvel Captain Marvel With Helmet Chase
Chase Type: Includes an accessory
Size: 3.75″
Issue No: 425
Difference: Captain Marvel has a removable helmet
Pros
I love Funko Pop with removable accessories because most of the variants have static styles, but you can remove Captain Marvel's chase helmet
Captain Marvel looks hilarious when you remove the helmet, but it adds to the collectibility, even if it makes you laugh
Cons
This chase Funko Pop would've been incredible as a glow-in-the-dark version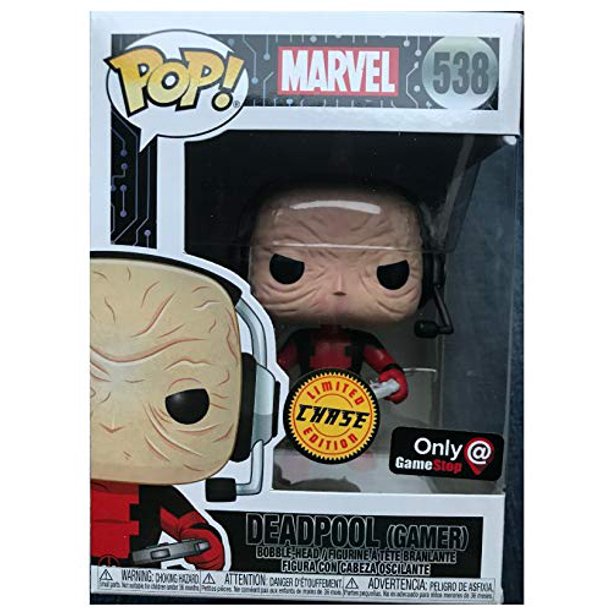 Chase variants are rare, and exclusive, and finding famous movie figures was challenging. Sometimes, I dig into the gamer's pool to see the movie heroes. However, I don't regret the find with this Funko Pop. Again, it's a gamer's chase edition that doesn't have an original for comparison. But, I don't mind because it's fantastic.
Features
Character: Funko Pop! Marvel Deadpool Chase
Chase Type: Sitting with accessories
Size: 3.75″
Issue No: 538
Difference: It's a gamer version of Deadpool
Pros
The exclusive Chase Funko Pop doubles in collectibility because it's also a special edition for Gamestop
Deadpool is another famous Marvel hero with a massive fandom, and the gamer's version looks creepily good
Cons
Deadpool's face doesn't look like the hero from the movies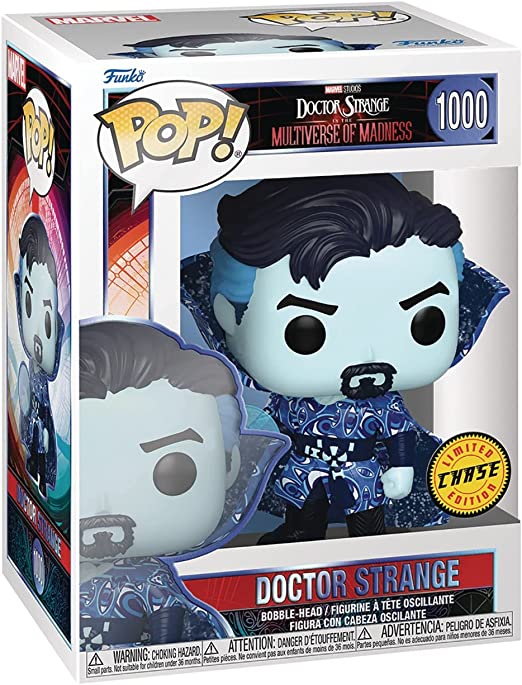 Marvel also brings Doctor Strange, another famous character, with a chase variant. I already shared some of his details earlier. However, this Doctor Strange chase is the best because he changes color entirely. The style is the same as the original, except for his arty design. It's also an excellent bobblehead figure.
Features
Character: Funko Pop! Marvel Doctor Strange Multiverse of Madness Chase
Chase Type: Art-style
Size: 3.75″
Issue No: 1000
Difference: Doctor Strange changes color
Pros
I love the arty design that changes Doctor Strange to more of an oddball, and the limited edition is collectible
The issue number also impresses me because I have a thing for stand-out digits (what are the chances of having 1000?)
Cons
Some Marvel fans would prefer Doctor Strange in his actual color, but dreamy collectors would love this one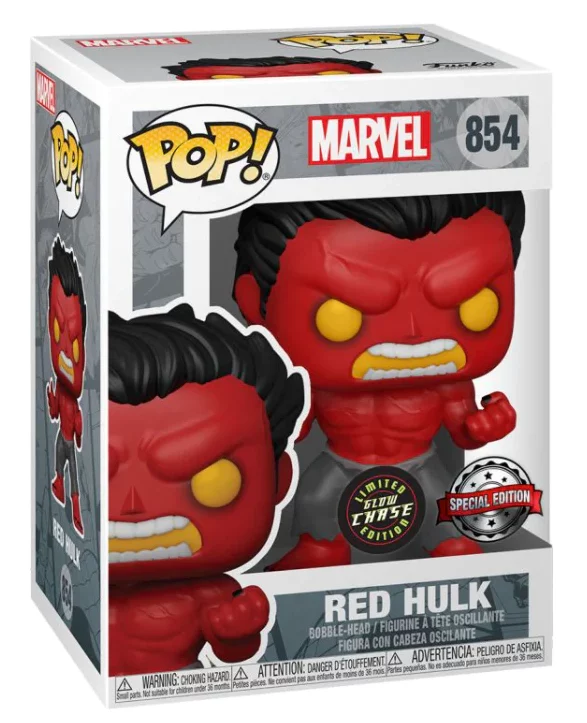 Red Hulk is an unusual find for movie collectors. Still, he appears in The Incredible Hulk and The Avengers: Infinity Wars. However, die-hard Marvel fans know him well, and they'd love to collect a chase variant for Red Hulk. The Red Hulk undoubtedly looks angrier and meaner than his green counterpart.
Features
Character: Funko Pop! Marvel Red Hulk Chase
Chase Type: Glow-in-the-dark
Size: 3.75″
Issue No: 854
Difference: He glows
Pros
I love how Red Hulk's expression blows you away with fear and intimidation, and the chase is also a special edition
The Red Hulk chase Funko Pop glows surprisingly well for the color, and it appears even more fearsome than the original
Cons
I wish it had an accessory or something more than glow-in-the-dark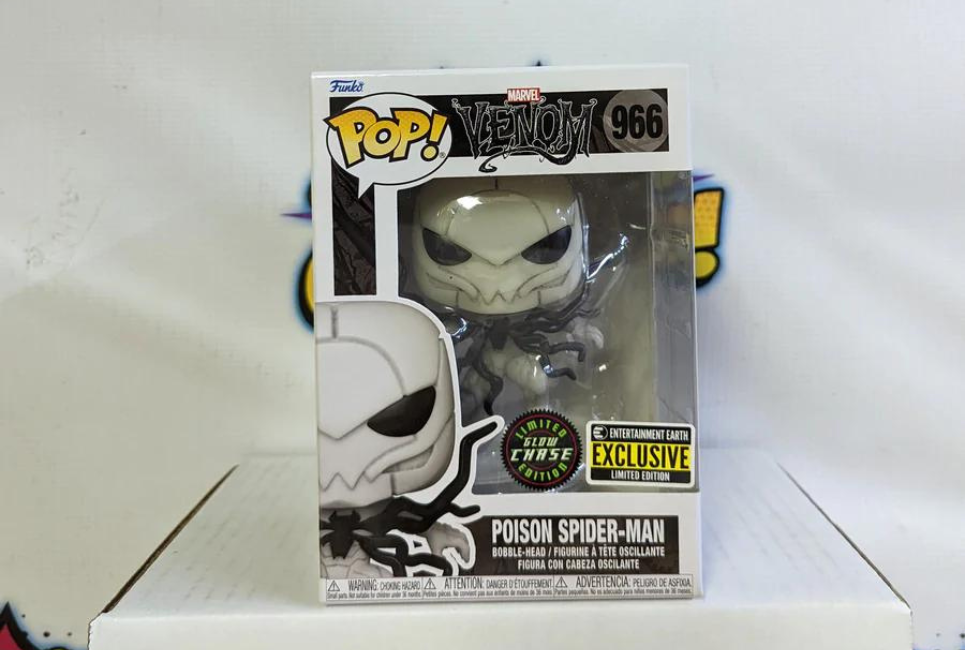 The Spiderman I shared earlier was impressive, but I wanted something more from a chase figure. So, I found another glow-in-the-dark chase variant for Spiderman. However, it's the poisoned version of the hero. I can only imagine how insane this Funko Pop would look on a display shelf at night.
Features
Character: Funko Pop! Poison Spiderman Chase
Chase Type: Glow-in-the-dark
Size: 3.75″
Issue No: 966
Difference: It glows
Pros
The Poison Spiderman chase Funko Pop is next-level impressive if you consider how creepy it would look in the dark
It represents two much-loved Marvel characters because Poison Spiderman is the hero and Venom combined
Cons
Die-hard Spiderman fans might prefer the earlier version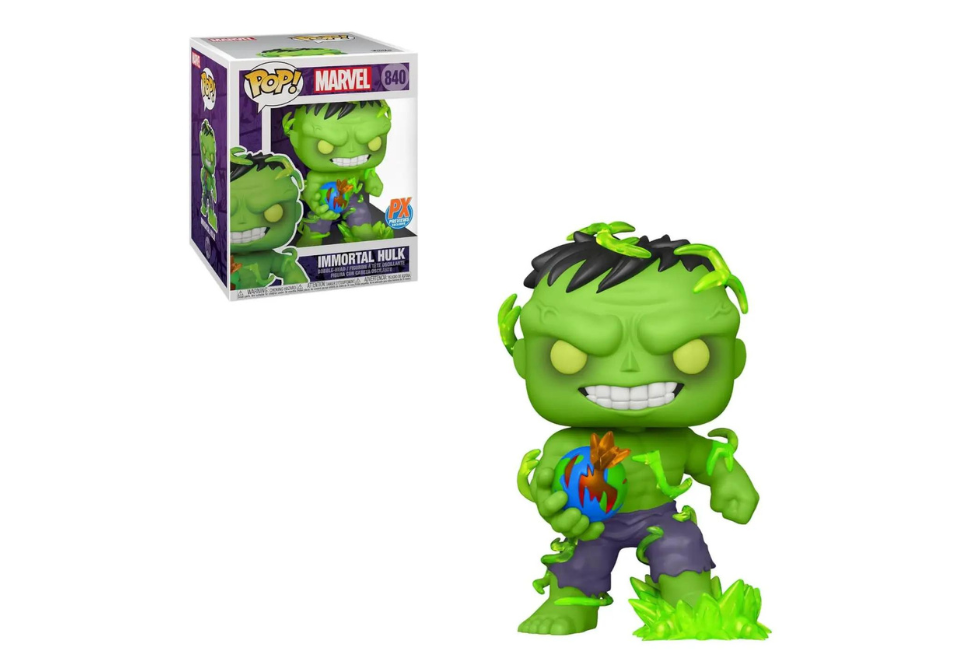 Of course, I wasn't going to share the Red Hulk without bringing the green version to my chase list. The Immortal Hulk isn't the one we know from the movies, but he's a legend to represent the regular guy in your display. The glow-in-the-dark on this chase Funko Pop wows me because it looks like radiation.
Features
Character: Funko Pop! Marvel The Immortal Hulk Chase
Chase Type: Glow-in-the-dark
Size: 6″
Issue No: 840
Difference: He glows with radiation
Pros
The Immortal Hulk's glow-in-the-dark effect is more impressive than any other glow chase because of pumping radiation into his blood
The Funko Pop is also a PX Previews Exclusive to double on collectible potential, and it looks fierce
Cons
The Immortal Hulk comes from the comic books and not a movie, but he works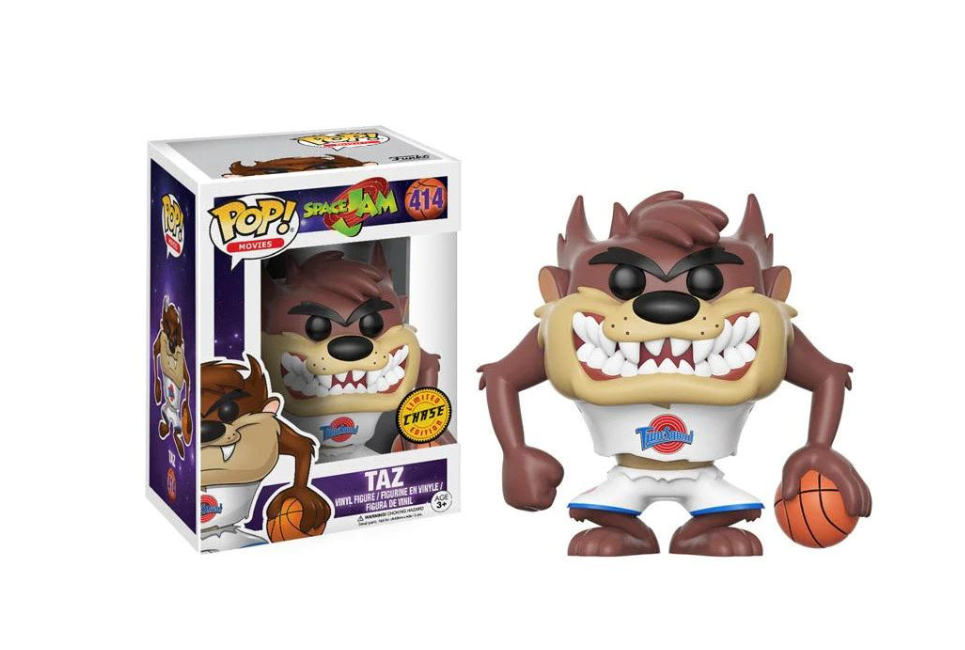 As a child, I loved the Tazmanian Devil and had a few figures and toys for the mad creature. Taz impressed me because of his sassy, aggressive nature. I used him as an example, but the changes to Taz's facial expression make him the Space Jam winner for chase variants. I imagine his growling sounds when I see this Funko Pop.
Features
Character: Funko Pop! Space Jam Taz Chase
Chase Type: Different expression
Size: 3.75″
Issue No: 414
Difference: You see Taz's teeth more than in the original
Pros
Taz is a classic collectible Funko Pop, and the chase variant makes him more desirable for the massive Space Jam fandom
The Taz chase Funko Pop has excellent details, particularly around his mouth and the ball in his hand
Cons
He might not be everyone's cup of tea from the movies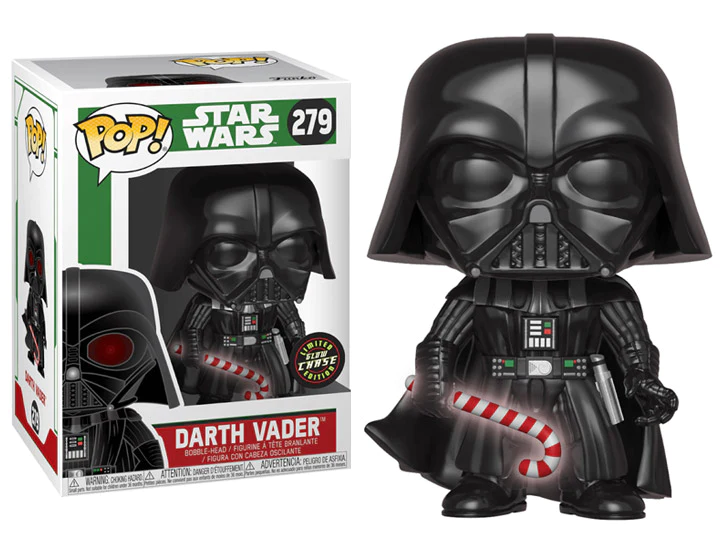 I couldn't skip Star Wars if I'm focused on movie chase variants. A few were available for the Star Wars movies, but Darth Vader made me laugh. Humor is another passion of mine, and some chase variants do the trick. Can you imagine Darth Vader enjoying the holidays? I'm not sure where Funko Pop went with this figure.
Features
Character: Funko Pop! Star Wars Darth Vader Holiday Chase
Chase Type: Glow-in-the-dark
Size: 3.75″
Issue No: 279
Difference: He carries a candy cane and glows
Pros
The snappy humor behind the concept of Darth Vader enjoying Christmas is enough to make this my winner
The chase Star Wars Funko Pop looks like an oxymoron waiting to happen compared to the original version
Cons
I might never stop making jokes about this Funko Pop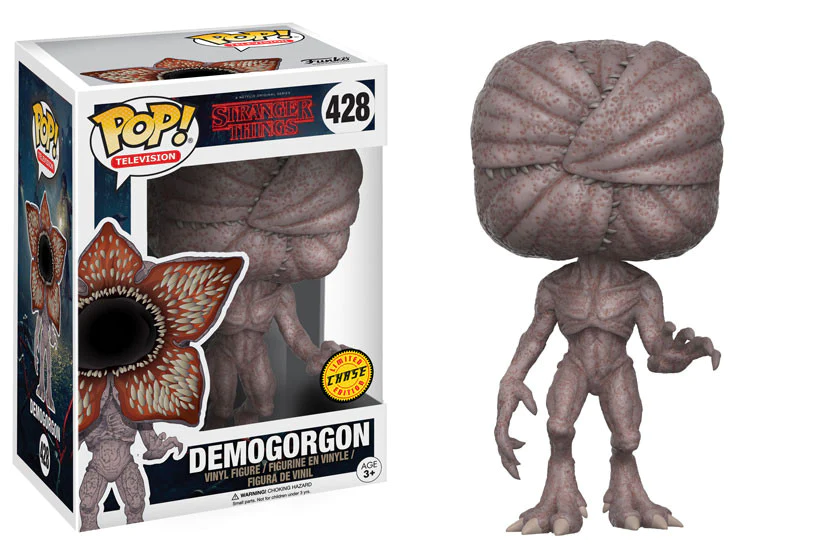 The fourth season of Stranger Things undoubtedly renews the fandom's fire, and the Funko Pop chase figure fits into the timeline. The Demogorgon Funko Pop chase closes up shop compared to the original, which suits me because I dislike horror movies. The Demogorgon also has various chase versions, but I love this one.
Features
Character: Funko Pop! Stranger Things Demogorgon Chase
Chase Type: Different head style
Size: 3.75″
Issue No: 428
Difference: The mouth is closed
Pros
Stranger Things is famous and on everyone's lips, even though I don't watch it, but the Funko Pop are collectible
I love that the Demogorgon's style is entirely different from removing the creepy horror movie effect
Cons
I'll never love the horror movie Funko Pop, chase or not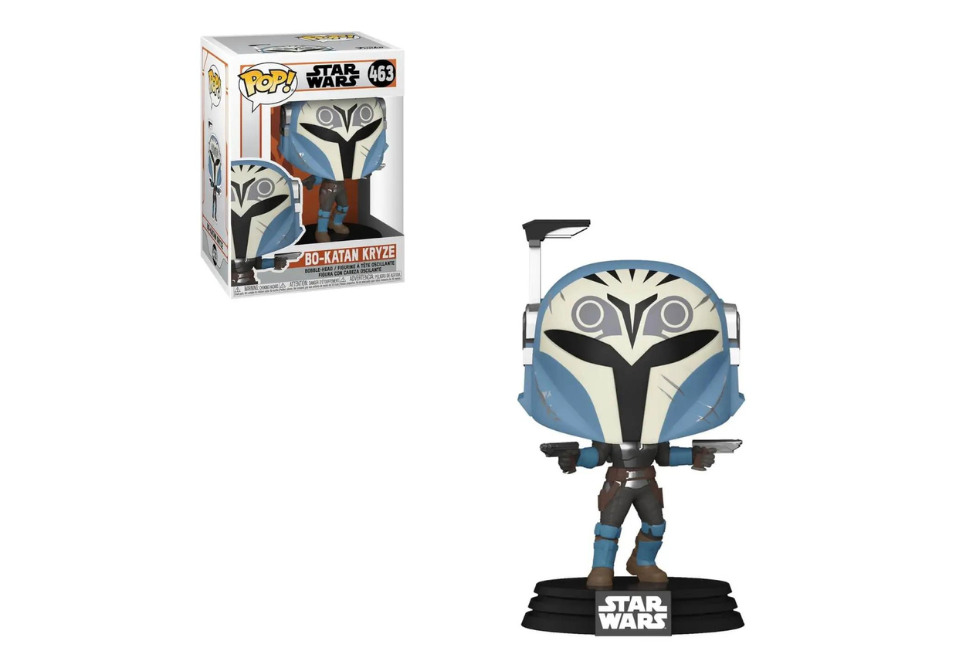 The Mandalorian is a salute to Star Wars fans, and many young children love the series on Disney Plus. It appeals to a newer generation, and various chase versions are available. I love the Bo-Katan Funko Pop chase figure because you can remove the helmet to expose her face.
Features
Character: Funko Pop! The Mandalorian Bo-Katan Chase
Chase Type: Accessory edition
Size: 3.75″
Issue No: 463
Difference: It has a removable helmet
Pros
The Mandalorian chase Funko Pop range has a few extraordinary choices with removable helmets and action positions
Anything related to Star Wars or The Mandalorian makes a Funko Pop more collectible, and adding a chase figure is next-level
Cons
It's another Funko Pop I wish had glow-in-the-dark effects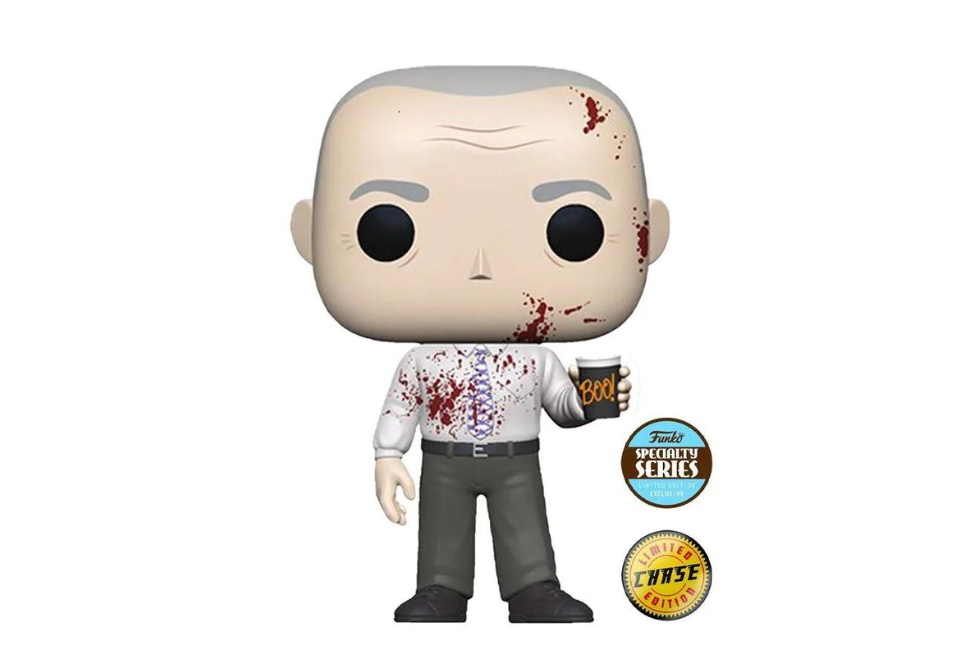 The Office is one of the quirkiest, funniest sitcoms, and a few Funko Pops exist. However, the chase variants are limited. Creed is my favorite character from the show, making this an incredible find for me. The blood splatter is a little weird, but Creed carries a coffee like you often see him do in the series.
Features
Character: Funko Pop! The Office Creed Bratton Chase
Chase Type: Blood-splattered
Size: 3.75″
Issue No: 1104
Difference: Creed has blood everywhere
Pros
The Creed chase Funko Pop has double-exclusivity because he's also a Funko Store special edition
The coffee cup with blood splatter undoubtedly make me wonder what he actually carried in the cup when he caught a fright
Cons
Some Office fans won't appreciate the weird and unique Creed Funko Pop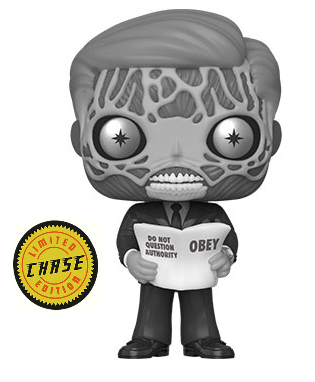 The movie They Live is a creepy film that makes my skin crawl. However, the movie has some incredible Funko Pop. The Alien Chase Funko Pop comes in a simple two-tone design compared to the original, colorful version. The Funko Pop represents so much about the new world we live in today.
Features
Character: Funko Pop! Movies They Live Alien
Chase Type: Black and white chase
Size: 5″
Issue No: 975
Difference: It has a two-tone color
Pros
I love how the alien zombie's booklet tells a modern tale of our world and how we shouldn't always follow the sheep
The black and white chase variant is more collectible, and I prefer the monotone style compared to the bright colors of the original
Cons
It's not one of the most well-known movies, but it has a small fandom
FAQs
Question: Which Anime Chase Funko Pop Are Popular?
Question: Which Video Game Chase Funko Pop Are Popular?
Question: Which WWE Chase Funko Pop Are Popular?
Chase Funko Pop Guide: Conclusion
Funko Pop Chase variants offer a new world where you can meet your collector's dreams. You have a good foundational grasp of the basics, including which types you can find and how to tell the difference between two Funko Pop figures with the same issue numbers. I'd highly recommend the Teenage Mutant Ninja Turtles Chase Funko Pop for TMNT fans. It has a black and white effect that looks more like metallic colors. However, a few excellent options exist should you be a Marvel fan, including the Captain Marvel Chase Funko Pop and the Doctor Strange Chase Funko Pop.
I showed you the best chase variants for movie Funko Pop collectors. I even added some options for anime, WWE, and video games. There's an unusual design for the character you love. So, get collecting and finish chasing your fandom dream to have unique variants.
For more incredible Funko Pop:
Best Attack on Titan Funko Pop Guide – Avid Collectibles
Stitch Funko Pop Guide for Wacky Displays – Avid Collectibles
Best Captain American Funko Pop Guide for Fans of the First Avenger – Avid Collectibles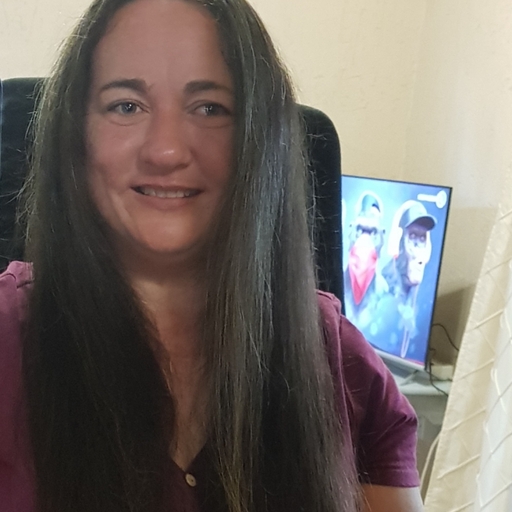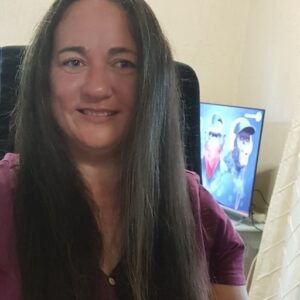 Latest posts by Caroline Lambert
(see all)