Diving into any hobby is a little daunting but mostly exciting. Yet when you're just getting into buying Attack on Titan collectibles, you're going to need help to get to the good stuff. In this case, this best Attack on Titan guide will lead you in the correct direction.
Of course, you may want to have fun discovering things independently. Personally, though, I wouldn't suggest that when it comes to buying anime collectibles. The thing is, I was once a newbie in collecting anime Funko Pops and merch. Can you guess what happened to me?
I bought items with loads of defects and experienced buyer's remorse more than I would've liked. Sure, I'm thankful now because it allowed me to gain the knowledge I currently have. But would I want to go through that again? Nope. I lost time and money when I could've gotten the right collectibles from the start.
So learn from my mistakes and do better than myself. Pick up valuable info from this guide, and save yourself from possible future headaches.
Bottom Line Up Front
As I'm head over heels for anime figures, I know how pressing it can be for hardcore fans to collect all of the available and upcoming Attack on Titan Funko Pops. If I could, that's what I want to do with all the anime and games I love.
Then again, many people just want to buy the core characters in whatever they start collecting. If that's your concern, the focus should be on the 18 Funko Pops on this list.
But should you want to narrow it down, the ones that you shouldn't miss out on are the central trio – Eren, Mikasa, and Armin. They're the primary leads of the series and fully represent what Attack on Titan is all about.
Top Attack on Titan Funko Pops at a Glance
Funko has made 30 Attack on Titan Funko Pops since 2014. While each figure has its charms and appeal, the 18 figures listed below are the crucial pieces that admirers of the series should consider buying.
What makes them so special? Out of all the Attack on Titan Funko Pops, they're the ones that capture the essence of the characters. Keep reading to know about the important details of every piece and why they made the cut.
Why Do These Funko Pops Stand Above The Rest?
As a toy collector, there's one indispensable fact I've learned through years of collecting. There's no need to have all the variations. Just the best one will suffice. This mindset has helped me choose pieces I'm 100% content with, even years later.
So what do the Attack on Titan Funko Pops in this guide have in common that make them the best?
Attractive design – The figure has to have the most physically attractive appearance amongst all the variants of the character. For example, with Eren's Titan Form, I went with the Hot Topic exclusive version because it had better-looking colors and a menacing design.
Good pose – A figure's pose is of utmost importance, as it can make or break it. This means that the pose should emphasize or complement the figure.
The overall vibe is in line with the character's personality – The figure has to accurately embody the character's traits, like what Funko did with the Funko Pop of Sasha Braus.
This set of criteria hasn't disappointed me until now and should also make selecting Funko Pops easier for you as well.
Best Attack on Titan Funko Pop
Funko Pop! Animation – Eren Jaeger Third Version
I'm not usually fond of dynamic poses. Yet, despite my preference, I couldn't stop myself from taking a fancy to this third Funko Pop variant of Eren. It's got an energetic vibe and a clean silhouette that clearly shows the details of the Survey Corps uniform.
Moreover, this one has an exciting pose than the previous Eren Funko Pops that are standing straight. It reminds me of the diverse poses that Attack on Titan statues and scale figures have.
Release date: September 2022
SRP: 12.99$
Rarity: Low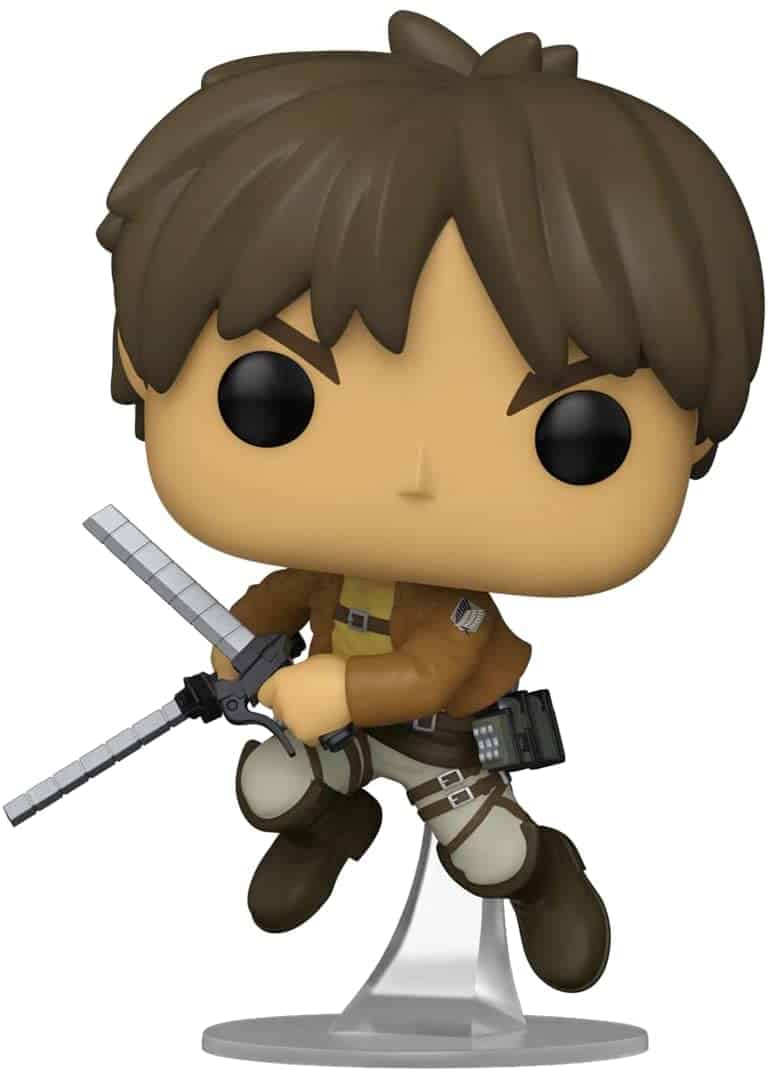 Pros
Due to this figurine's position, the plug-in blades' length and thickness are more visible compared to the other Eren Funko Pops
This version of Eren is more visually stimulating than the older ones because of the strong appeal of the dynamic pose
This Funko Pop has furrowed brows which gives this version of Eren an expressive face
Since this figurine doesn't have a cape, Eren's Survey Corps uniform is in full view
Cons
Unlike the majority of Funko Pops that can stand without the base, this figurine can't stay upright by itself
Funko Pop! Animation – Eren (Titan Form) Hot Topic Exclusive
Aside from having the most screen time amongst all the Titans, Eren's Titan form is also the most distinguished. In short, when you want a Titan Funko Pop, it's got to be the top choice.
With that in mind, the version that properly showcases its power, as seen in the series, is this Funko Pop Eren (Titan Form) Hot Topic Exclusive.
Release date: November 2014
SRP: 12.50$
Rarity: Moderate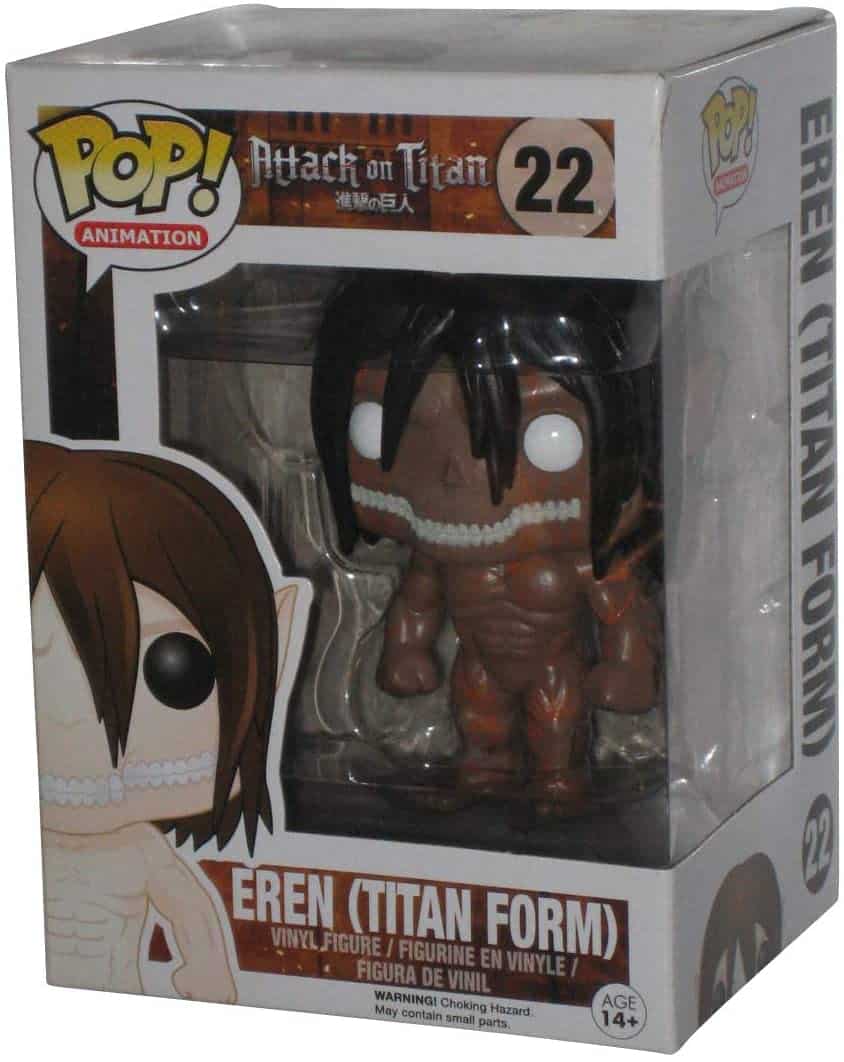 Pros
For me, this version surpasses the regular Funko Pop Eren (Titan Form) since it's got a more menacing color scheme
This figurine is based on the anime-only design of Eren's Titan form, which appears in the last episode of the first season of the anime
This is the sole Attack on Titan Funko Pop with a darker skin tone, making this figure stand out when placed next to the rest of the Attack on Titan characters
Cons
You'll have to fork over at least 89.99$ for this figure, as it's no longer available at the retail price
Some stocks of this version may have paint or sculpt flaws since it was released in 2014
Funko Pop! Animation – Mikasa Ackerman Chalice Exclusive
Are you wondering which Funko Pop of Attack on Titan's badass girl you should get? The best answer is this third variant of the Survey Corps' female killing machine – the Mikasa Ackerman Chalice Exclusive.
Not only will you obtain a limited edition figurine, but you'll also have one of the few Funko Pops with a unique base.
Release date: September 2022
SRP: 20$
Rarity: Low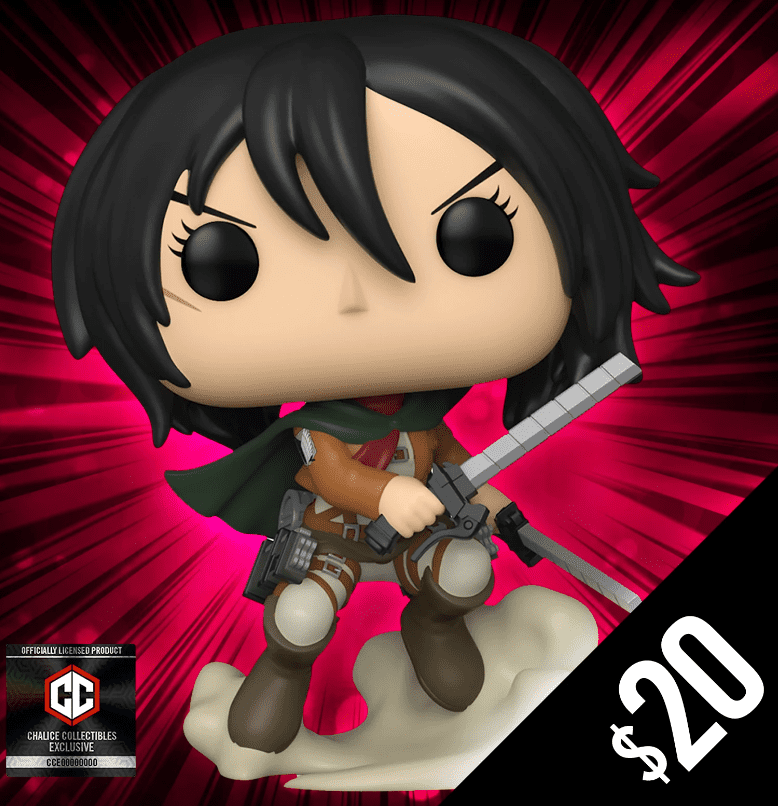 Pros
You'll get a free pop protector when you order this Funko Pop directly from Chalice Collectibles
This figure includes all of Mikasa's key items from the anime, the complete Survey Corps attire, battle gear, and the red scarf
This Funko Pop has a special base instead of the typical clear one. It's styled as a cloud of dust to depict Mikasa's fast movement
This figurine has an intense vibe because of the eyes' serious expression
Cons
As a result of the left arm's position, the front part of this figure's uniform isn't as visible as the other Funko Pop versions of Mikasa
Funko Pop! Animation – Armin Arlelt
Being the token 'good boy' of the series, Armin is a necessary character for Attack on Titan fans. However, this Funko Pop isn't the 'hottie' version of him that girls drooled over in the 4th season.
It should still be good enough, as it's the look that he's best known by. It was his standard appearance throughout the first 3 seasons of the series.
Release date: June 2017
SRP: $15
Rarity: Moderate to High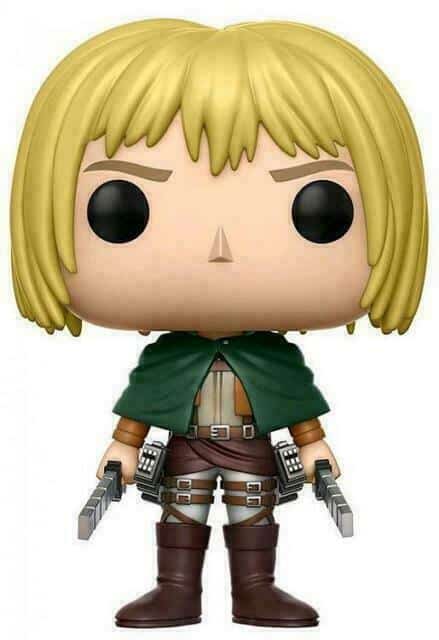 Pros
This figurine doesn't have a dull face despite being part of the older releases of Attack on Titan Funko Pops. The thick blonde eyebrows give this version a 'personality' that most Funko Pops don't have
This was released in 2017 and has better quality than the first wave of Attack on Titan Funko Pops. Most stocks have minimal paint flaws and smooth sculpts
Funko followed the anime's character design as it stayed true to the colors and details
You can display this Funko Pop without a base
Cons
This figure is expensive. It costs 290$ and above since it's the only Funko Pop of Armin
Funko Pop! Animation – Bloody Levi AE Exclusive
Called 'humanity's strongest soldier,' no other version of Levi highlights his strong points as much as this one. I believe this is the Funko Pop that incorporates every aspect of Levi that fans adore.
I wholeheartedly give this figure two thumbs up, whether it's about the design, sculpt, or base.
Release date: September 2022
SRP: 17$
Rarity: Low to Moderate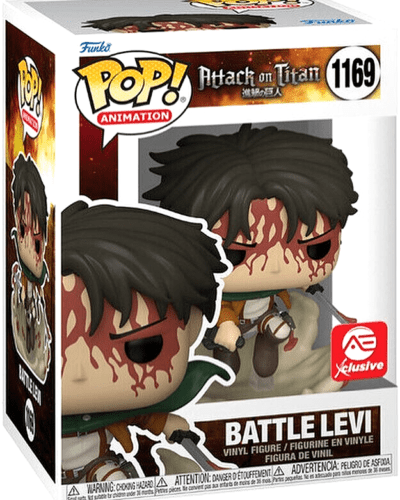 Pros
Even with its simple face, this figurine still successfully conveys Levi's angry expression, just like in the anime
This version of Levi is wearing the complete Survey Corps uniform. Yet since the cape is in a floating position you can still see the entire outfit's details
This Funko Pop has a remarkable base that adds a sense of movement to the figure
This is the most 'mature' Attack on Titan Funko Pop because of the blood splatters on its face and base
Cons
The blood on the base would've been more impressive if it was designed to look like real blood
Funko Pop! Animation – Annie Leonhart
For the past few seasons, Annie hasn't gotten much air time. Yet that doesn't make her forgettable or any less fierce, in my opinion. Thankfully, she makes a spectacular comeback in the latter part of the anime's 4th season.
So should you be interested in her,
I think you'll be pleased to purchase this Annie Leonhart Funko Pop.
Release date: June 2017
SRP: 11.99$
Rarity: Moderate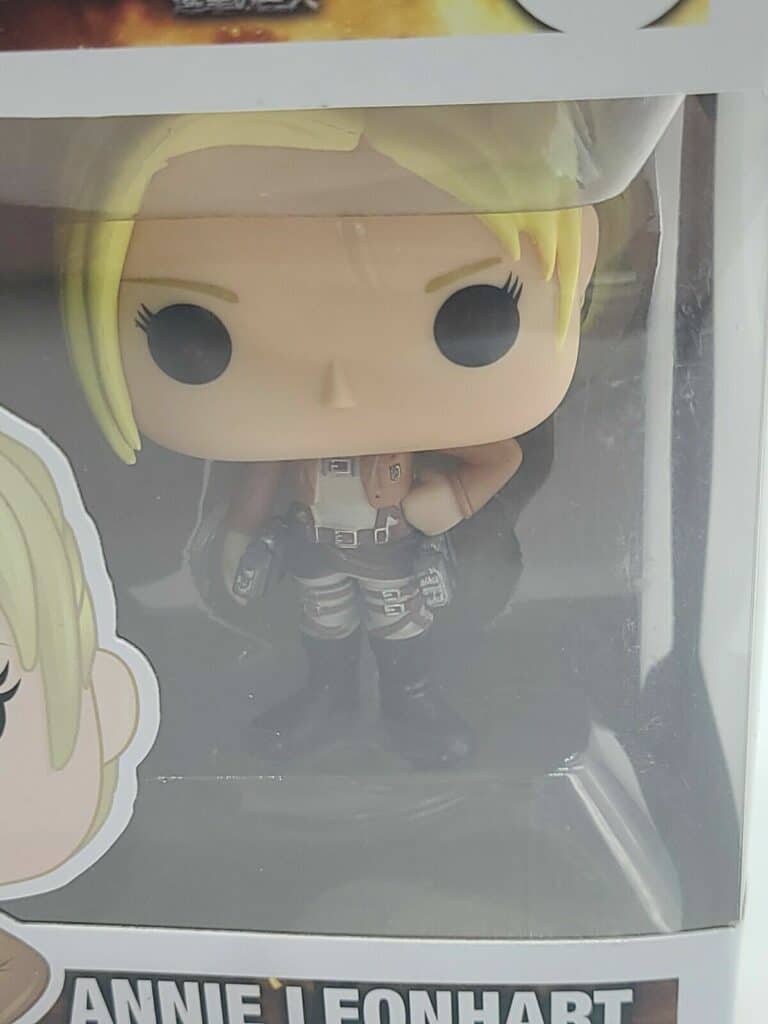 Pros
Funko faithfully copied Annie's attire from the anime. You can even see the white hoodie that she wears with her uniform when you look closely at the Funko Pop's back
This figurine has a more updated design than the first wave of Attack on Titan Funko Pops. Some of the differences are the added eyebrows and hand-on-hip pose
This Funko Pop's skin color is pretty identical to the anime version of Annie
Cons
Minor paint defects are still common with some stocks of this figure
Funko Pop! Animation – Female Titan Super-Sized
As one of the first of the Nine Titans that viewers get familiar with, The Female Titan is a memorable character in the series. It caused some of the best fight scenes in season 1 since it played the main antagonist at that time.
Accordingly, I believe that this Super-Sized Funko Pop of the Female Titan deserves a place in every Attack on Titan fan's collection.
Release date: 1st release June 2017 and 2nd release October 2022
SRP: 19.99$
Rarity: Low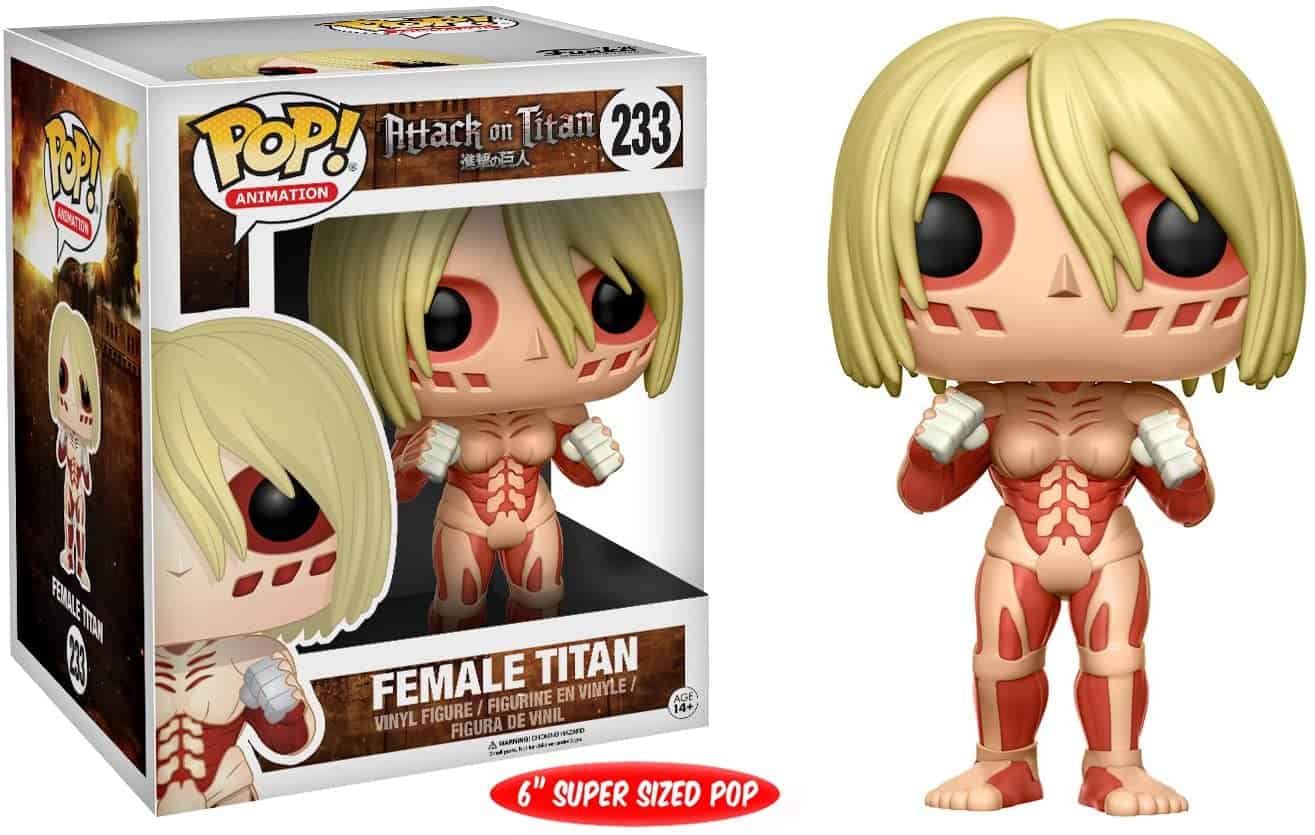 Pros
I love the size difference between this Super-Sized Female Titan Funko Pop and the average-sized Attack on Titan characters
Funko put great effort into making this figure. The body's details, such as the muscles and bones, are sculpted carefully instead of simply being painted on
Since this figure is part of the 2nd wave of Attack on Titan Funko Pops, the paintwork is better and cleaner
Cons
Being a Super-Sized Funko Pop, this figure will eat up a lot of space, especially when you keep its box
Funko Pop! Animation – Ymir
Due to Attack on Titan's mature theme, every season has a high death tally. Unexpectedly, Ymir ended up as part of the casualties as she made her last appearance in season 3 of the anime series.
Regardless of her disappearance, you can still enjoy her sassiness by adding this Funko Pop version of her to your display.
Release date: July 2022
SRP: 11.99$
Rarity: Low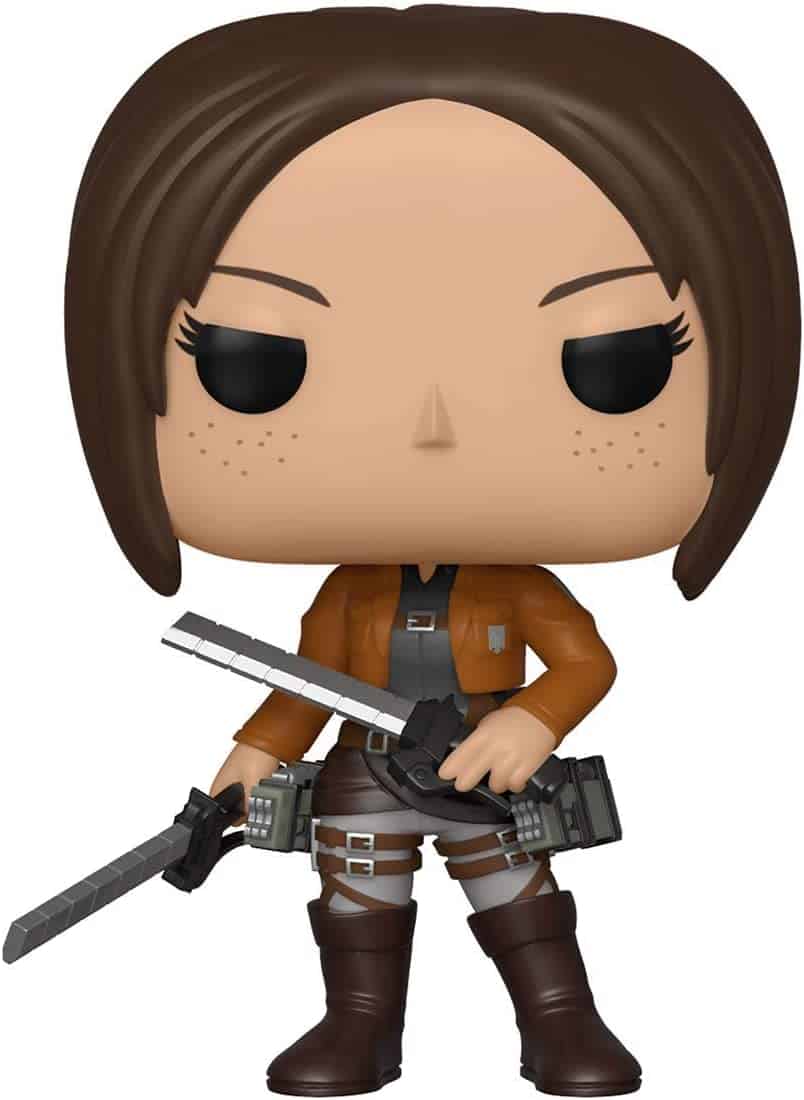 Pros
I prefer this version of Ymir because this figurine's face has more emotions than most Funko Pops. The eyebrows and shape of the eyes duplicate Ymir's expression from the anime
In contrast to the first wave of Attack on Titan Funko Pops, this figure doesn't have a boring pose.
This Funko Pop displays all the important physical details of Ymir's design. You get to see the length of the plug-in blades and the uniform without any obstruction
Cons
The freckles are too concentrated on the middle of the cheeks. It should've been spread out more
Funko Pop! Animation – Ymir's Titan
I wasn't wowed by Ymir's Titan in the beginning. It looked like an odd mix of a witch and a baby, so I didn't pay much attention to it. But when I learned about Ymir and the Jaw Titan's sad background, its image changed for me.
Now, it symbolizes the sacrifices of those living inside and outside the wall. Being such a sentimental character, I highly encourage you to get this Funko Pop of Ymir's Titan.
Release date: September 2022
SRP: 11.99$
Rarity: Low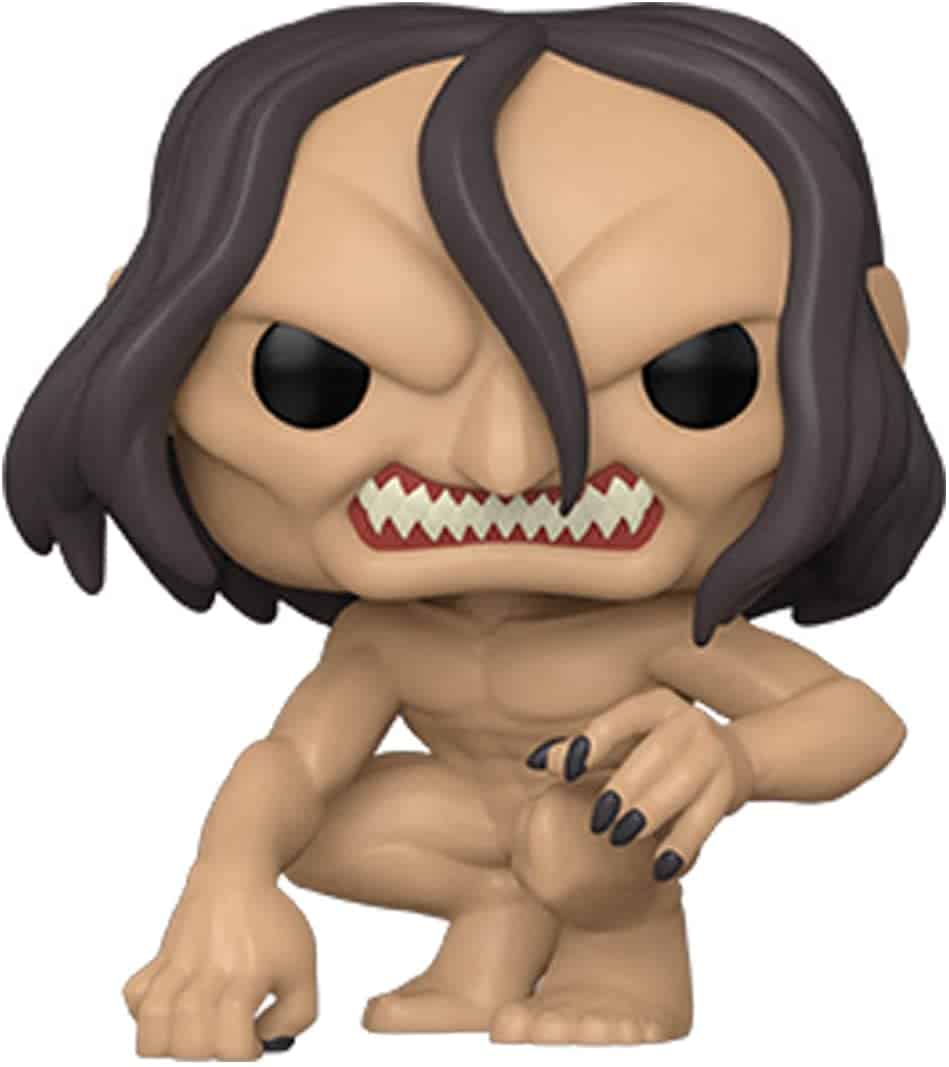 Pros
This figure focuses on the recognizable physical traits of Ymir's Titan. Some of these are the black claw-like nails, sharp jagged teeth, and perching pose
Due to the figurine's position, you can confidently display it on its own. The chances of toppling over are low since its right hand also serves as extra support
This Funko Pop's face seems like a smaller version of Ymir's Titan from the anime. It's not a chibi or cutesy version of the character, like what's ordinarily done with Funko Pop's design
Cons
I feel that the skin tone isn't accurate and should've been a couple of shades darker
Funko Pop! Animation – Bertholdt Hoover
Throughout the series, I've never simultaneously hated and admired a character more than Bertholdt. Even with his passive attitude, he still did a terrifyingly great job as a warrior of Marley.
Thinking back on the damage he brought, his existence certainly affected the flow of the story, didn't it? Therefore it's a no-brainer that this Funko Pop of Bertholdt is a must when you love Attack on Titan.
Release date: September 2022
SRP: 11.99$
Rarity: Low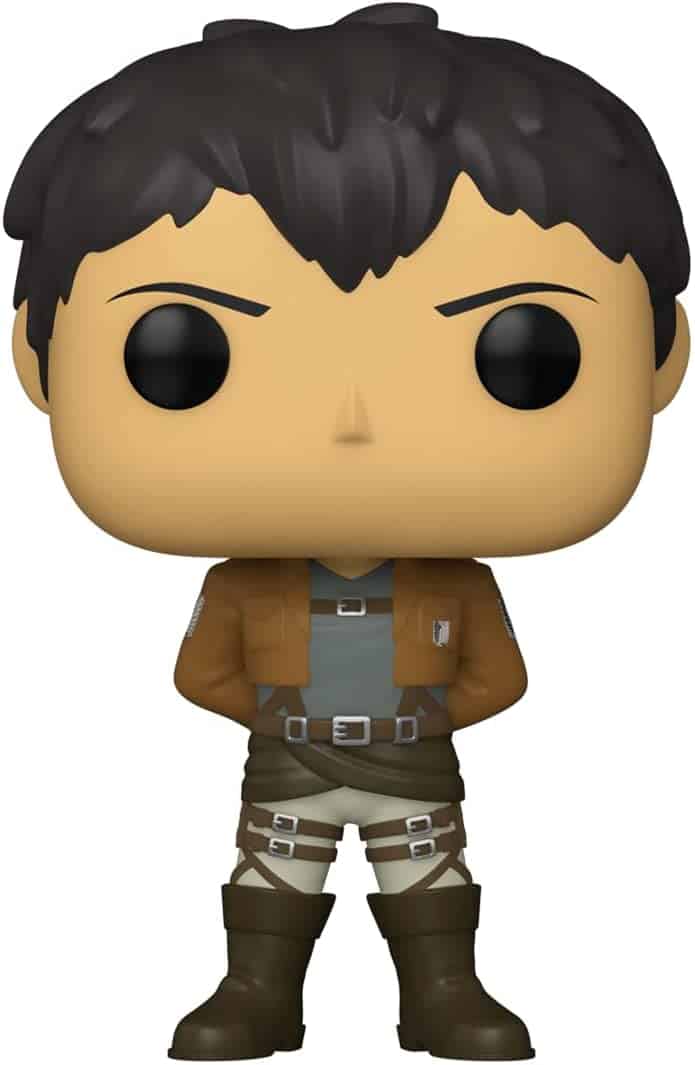 Pros
So far, this is the only Attack on Titan Funko Pop with a 'standing at ease' position. It's much better than the usual boring pose that the Funko Pops f
rom the first wave has
This figure will come from the latest Attack on Titan Funko Pops release. As such, it'll have an updated design and better quality on the whole
The Funko Pop's overall look and design suit Bertholdt's personality from the anime
Cons
This version of Bertholdt has an angry face. It should've been less aggressive because it doesn't match with how he acted in the story
Funko Pop! Animation – Colossal Titan Super-Sized
There isn't any other creature with as much destructive power as the Colossal Titan. For this reason, it's a character devoted to Attack on Titan fans should never go without it. What's more, it's also the first-ever sentient Titan that appears in the story.
With that said, I'm happy to share that Funko did marvelously with this Colossal Titan Super-Sized Funko Pop.
Release date: November 2014
SRP: 18.50$
Rarity: High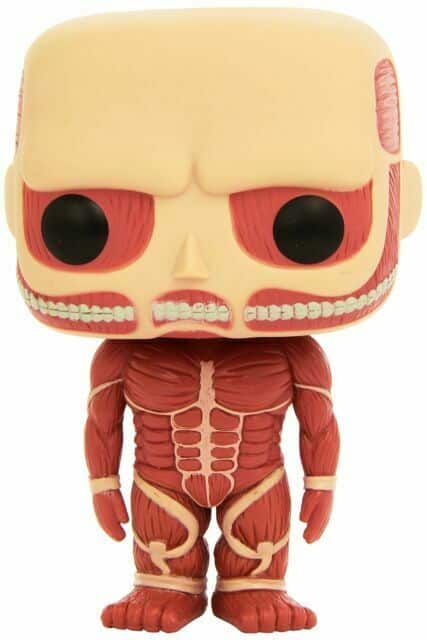 Pros
This figure towers over the normal 4-inch Attack on Titan Funko Pops when placed side by side. It also looks somewhat taller than the other 6-inch Titan Funko Pops, such as the Armored and Female Titan
This Funko Pop has excellent craftsmanship. The sculpt, in particular, gets two thumbs up, as you can trace the individual grooves that make up the skeletal muscle
Even though this figurine belongs to the first wave of Attack on Titan Funko Pops, it's got top-notch paint quality. Most stocks only have minor or insignificant issues
Cons
This figure isn't supposed to have the same height as the other Titans. On that note, this Colossal Titan would've been perfect if it was a Jumbo-sized Funko Pop
Funko Pop! Animation – Erwin One-Armed
Erwin's been gone since episode 18 of the 3rd season. Yet many seasons later, I can still remember the strong presence of the 13th Commander of the Survey Corps. I'm probably not the only one, as he had unparalleled charisma and a will of steel that admirers of the series acknowledged.
This One-Armed Erwin Funko Pop is a worthwhile purchase in light of his heavy influence.
Release date: 1st release December 2018 and 2nd release July 2022
SRP: 11.99$
Rarity: Low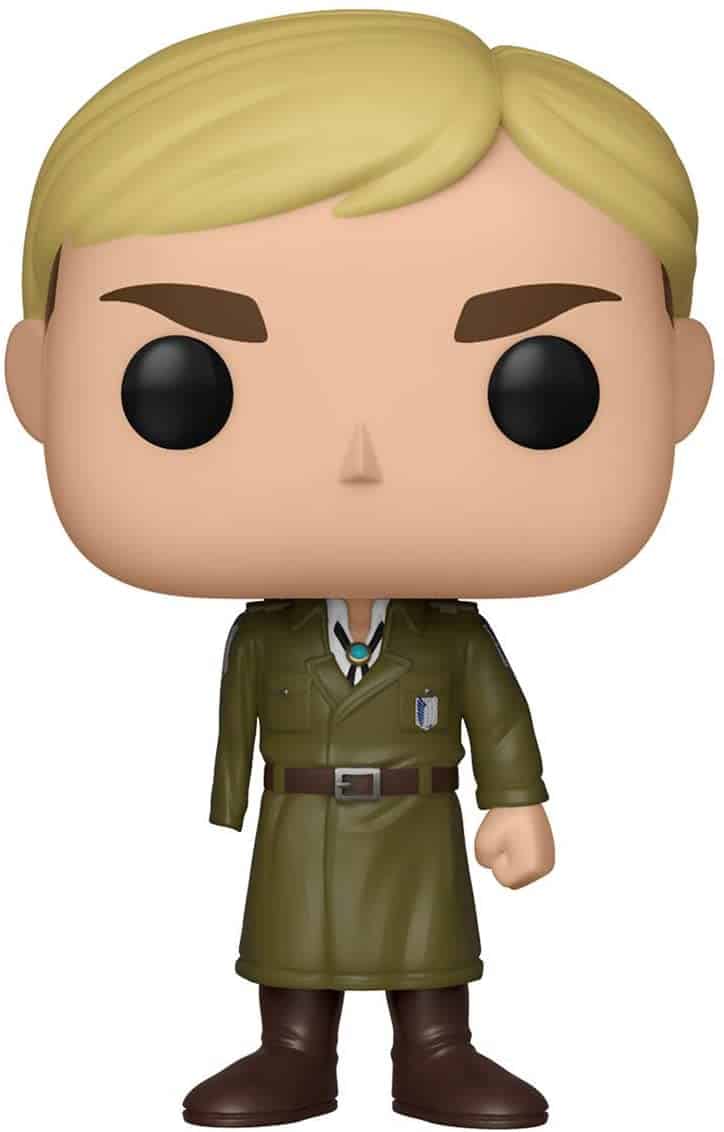 Pros
I applaud Funko for choosing this One-Armed version of Erwin to turn into a Funko Pop. This look is more meaningful and eye-catching in comparison to his appearance in season 1
This figure has a solemn vibe, from the expression to the pose, which appropriately fits Erwin
Most stocks of this Erwin Funko Pop have good sculpt quality. For example, the details on the trench coat are clean, and the empty sleeve doesn't look sloppy
Cons
This figurine's hairstyle differs from how Erwin's hair looks. This version has noticeable bangs, which the anime's character design doesn't originally have
Funko Pop! Animation – Sasha Braus
Everybody's favorite potato-loving scout, Sasha, retains her obsession with food even in her Funko Pop form. She owns the nickname 'Potato Girl,' as this figure brings to life many of her potato scenes from the anime.
From all the Attack on Titan merch I've seen, this is the best Sasha figure you should get.
Release date: April 2017
SRP: 11.99$
Rarity: Moderate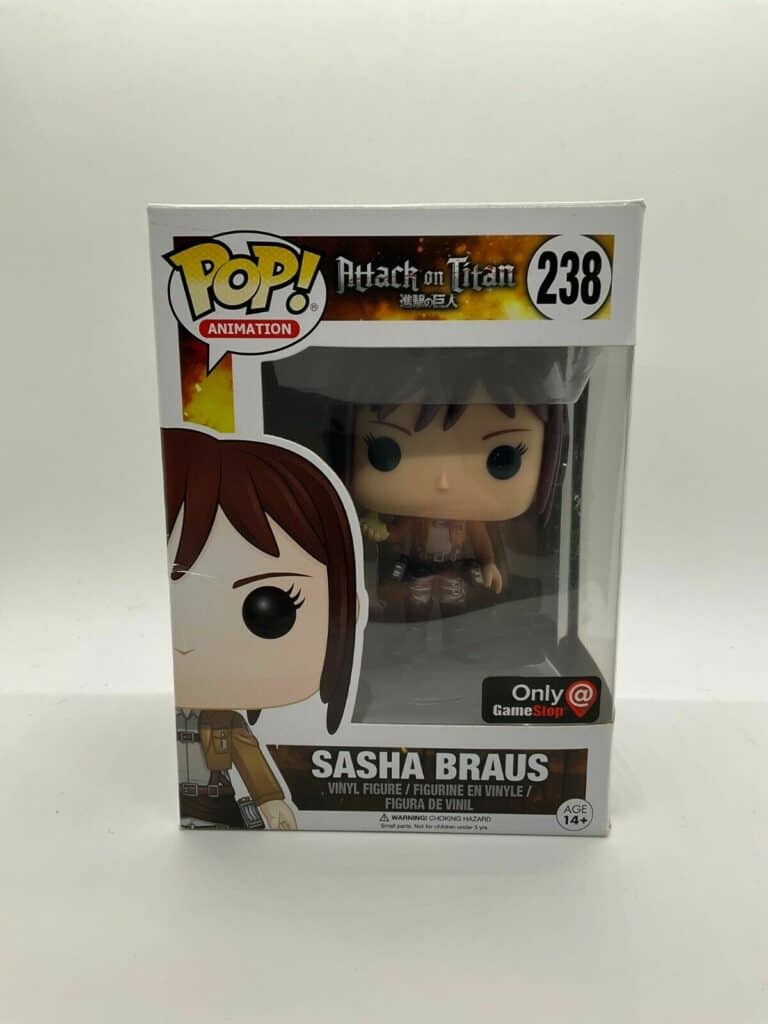 Pros
I think this Funko Pop is unique. It's the only Attack on Titan Funko Pop that shows a character's real personality outside of killing Titans
It's a relief that Funko didn't follow the placement of the eyebrows in the promotional photos. The eyebrows in the promo photos look aggressive and don't go well with Sasha's airheaded personality
This figure generally has a decent paint job, and the potato is even nicely colored and sculpted
Cons
This Sasha Funko Pop is popular with Attack on Titan collectors, so there are only a few pieces on the aftermarket
Funko Pop! Animation – Christa
She's currently known as Queen Historia Reiss of Paradis Island. But she made the most impact in Attack on Titan as a regular scout named Christa Lenz. So this Christa version of her is a pleasant addition to the growing Attack on Titan Funko Pops.
Furthermore, as one of the two remaining Eldians with royal blood, any version of her is welcome in any collection.
Release date: October 2022
SRP: 11.99$
Rarity: Low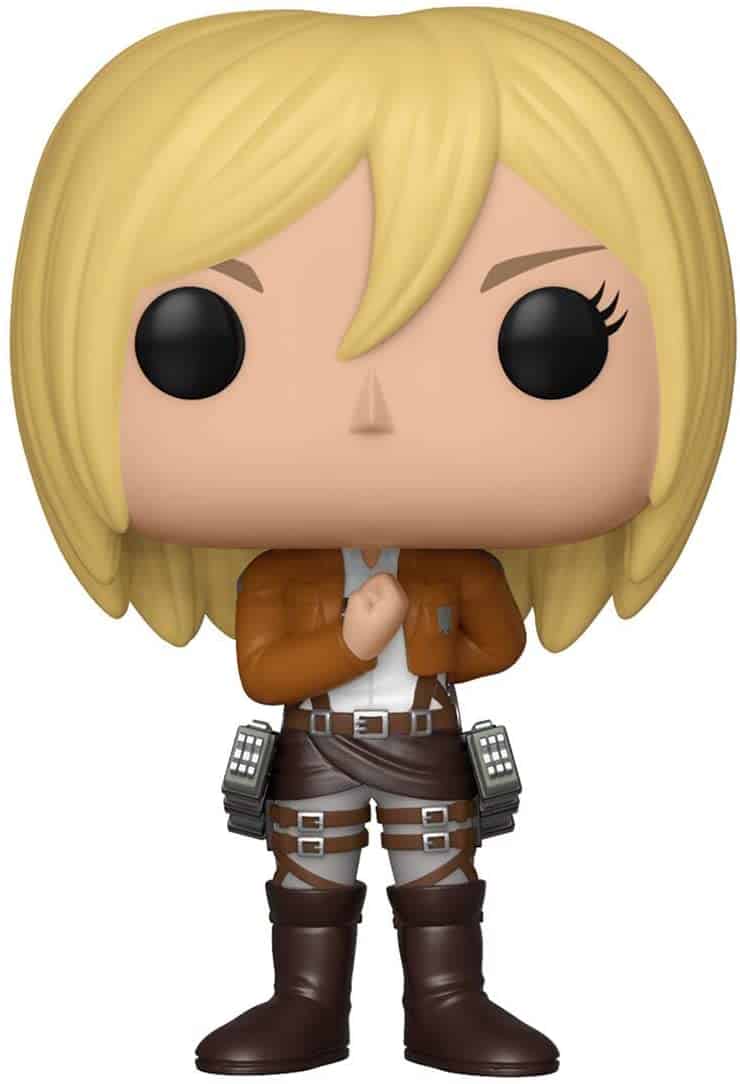 Pros
Funko followed all the principal details of Christa's anime design, such as the style of the fringe, hair color, and uniform
This is the only Attack on Titan Funko Pop character that is in the position of the famous Survey Corps salute
Since it's from the most recent release of Attack on Titan Funko Pops, it'll have improved paint and sculpt quality
This figure will look good standing next to the Ymir Funko Pop. They were always together in seasons 1 to 3 of the anime
Cons
This figure's hair should've been tied up because Christa typically had her hair in a low ponytail
Funko Pop! Animation – Hange
Although Hange is famed for her eccentric attitude, her brilliance as a researcher and soldier could never be overshadowed. Fans can happily get their own 14th Commander of the Survey Corps by buying this Funko Pop version of her.
Whether you hate or love her, it's undeniable that Hange is a unique character that largely contributed to the direction of Attack on Titan's story.
Release date: December 2018
SRP: 11.99$
Rarity: Moderate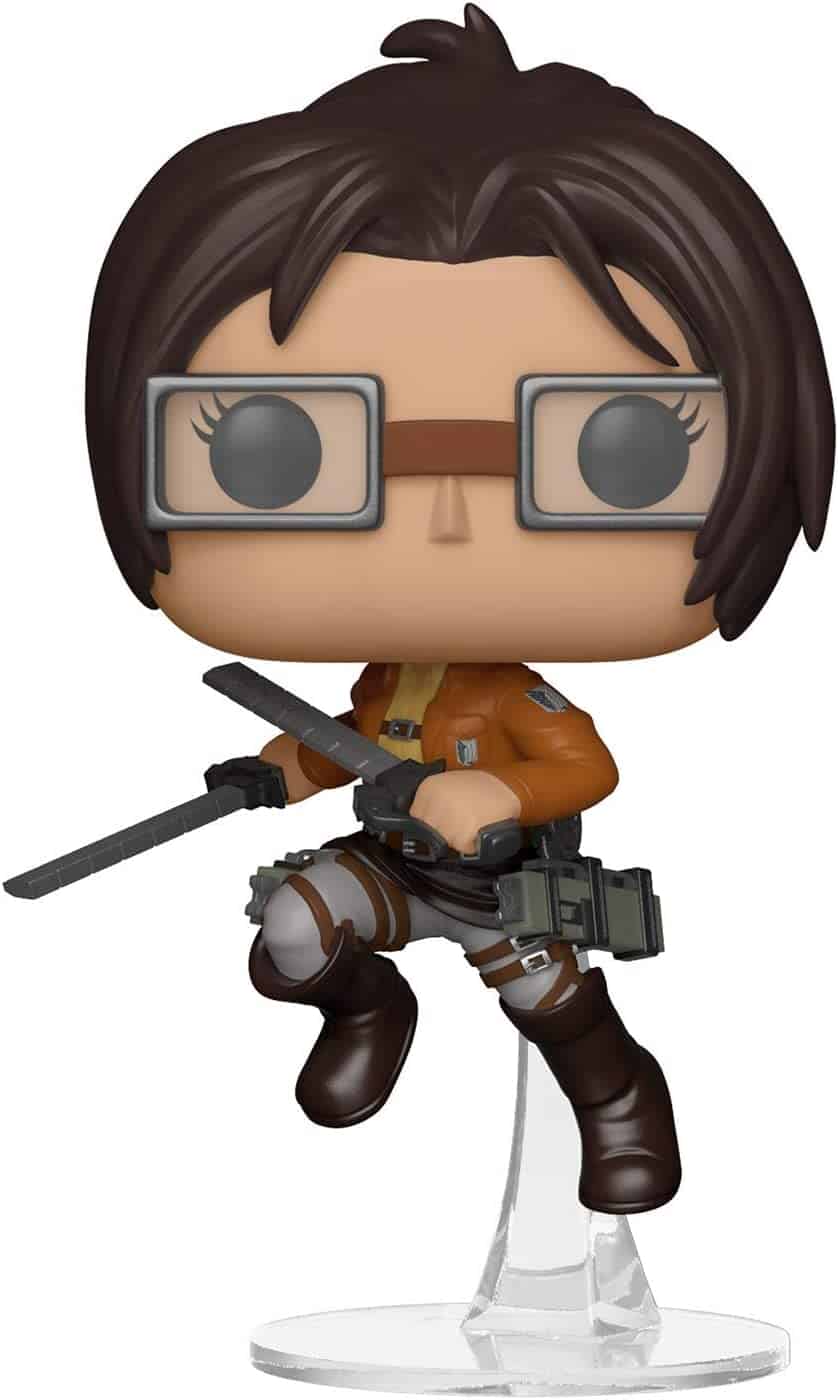 Pros
The eyeglasses of this figure aren't empty. They have 'lenses' which gives this Funko Pop a realistic touch
This is one of the few Attack on Titan Funko Pops that have a dynamic pose, which makes it extra interesting
Since this figure's elevated, it's able to show off the plug-in blades and ODM in action
Cons
 You must be mindful of this figurine's height. It might not fit well on a narrow shelf or container made specifically for regular-sized Funko Pops
Funko Pop! Animation – Kenny
On the surface, Kenny seemed like a responsible member of the military police brigade. Underneath that facade, however, is a stone-cold serial killer with a greed for power.
With his superhuman strength and skills that only Levi and Mikasa rival, he's one of the most incredible characters in the world of Attack on Titan. If you're just as amazed by him as I am, you shouldn't think twice about buying Kenny's Funko Pop.
Release date: December 2018
SRP: 11.99$
Rarity: Moderate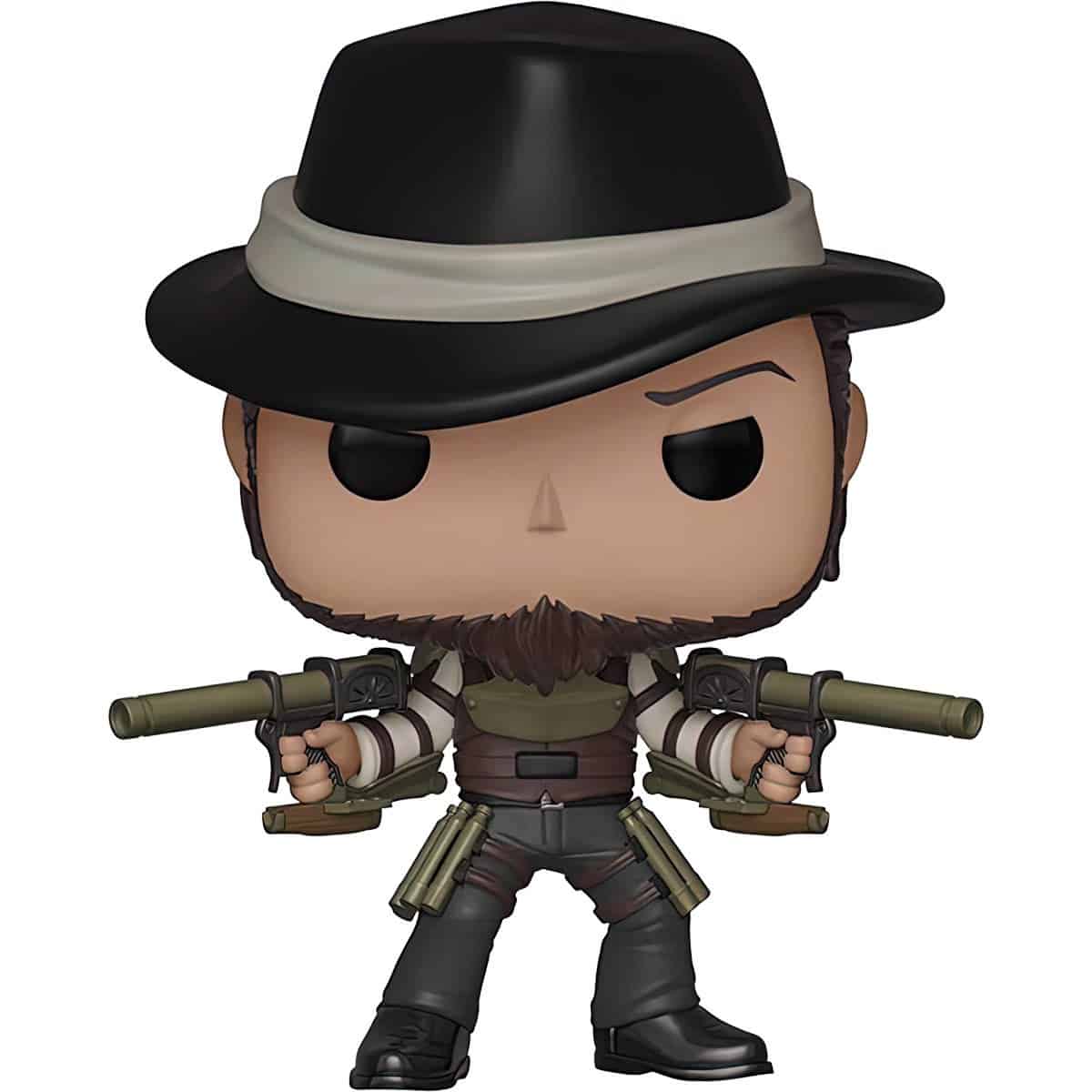 Pros
The expression on this Funko Pop's face is on point. It closely delivers the same arrogance and intimidating vibe that Kenny has in the anime
This figure's guns are well-made. You can even make out the tiny patterns on the gun's slide
Kenny's outfit from the anime has many details, and this figure carefully replicates most of them
This figure doesn't rely on a stand to stay upright
Cons
Kenny has dark brown hair in the anime. Meanwhile, this Funko Pop's hair has a lighter shade of espresso brown hair
Funko Pop! Animation – Armored Titan Super-Sized
I'll never forget the terrifying first appearance of the Armored Titan in season 1. The goosebumps I got when it decimated everything in its path, be it human, cannon, or wall, remains unbeatable to this day.
Apart from its powerful introduction, the Armored Titan also continues to have a significant role in the series. Hence it's only fitting that it gets a magnificent Funko Pop version that fans can be proud to own.
Release date: June 2017
SRP: 14.80$
Rarity: High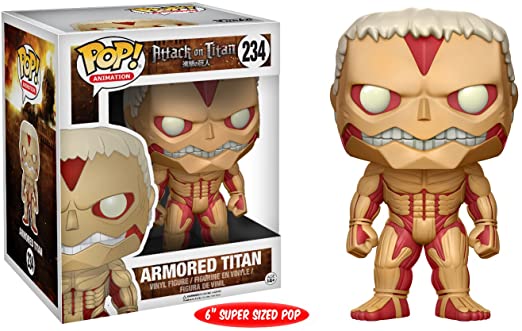 Pros
The teeth of this Funko Pop are finely crafted, as the front of each tooth is neatly sculpted
This version of the Armored Titan follows the design of seasons 2 and 3 of the anime because the hardened skin and muscles are more elaborate
The defined lining on the sculpt of the hardened skin and muscles gives this figure texture and depth
Cons
Some stocks of this figurine may have noticeable paint flaws. A couple of examples are paint excess on the hairline and paint smudges on its head
Funko Pop! Animation – Beast Titan Super-Sized Hot Topic Exclusive
It's been said that the best villains are the effective ones. And boy, did the Beast Titan succeed in doing just that. This ruthless lethal weapon popped out from nowhere in season 2 and effectively became one of the most hated characters in the whole series.
Similar to how Game of Thrones wouldn't be complete without Joffrey, this figure is a vital piece when you want to collect Attack on Titan Funko Pops.
Release date: April 2019
SRP: 18.50$
Rarity: High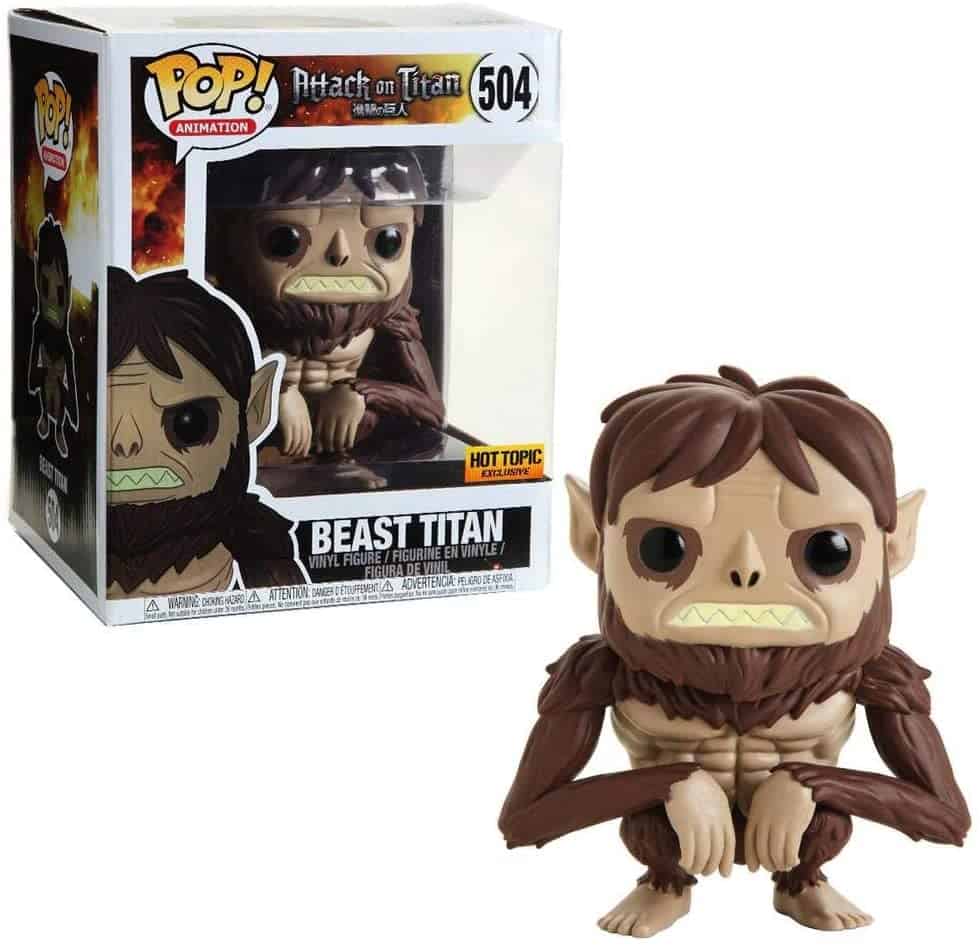 Pros
I like that Funko chose a squatting position for this Funko Pop's pose instead of the regular standing one. It reinforces the Titan's 'monkey' features, such as the long furry legs and arms
You can display this figure on any flat surface as it doesn't require a stand or base
I like the simple yet consistent design of the fur all over the figure's body. The hair smoothly blends in with the fur without looking out of place
Cons
Many stocks of the Beast Titan Funko Pop tend to have small noticeable paint flaws
This version of the Beast Titan is more muscular and ripped than the character's design in the anime. The protruding belly is gone, which puts a lot of focus on the figure's abs
Conclusion
Most toy collectors aim to acquire as many figures from their favorite anime or show as much as possible. This is why for people like me, whose primary hobby is collecting, I'd say why not go for all 30 Attack on Titan Funko Pops? That's what I'd do if the series was my number one.
On the other hand, when you solely want the pieces that best reflect the story, you'll only need the 18 figures I talked about. You'll get the ideal version of every available Attack on Titan Funko Pop with them.
It's because essentially the 18 characters already 'complete' your collection. After all, the 12 figures I didn't mention are variants of some of the characters. All things considered, getting any Funko Pop beyond the 18 should be regarded as a bonus design. They're mainly for fanservice and aren't critical to the series.
Top Q&A
Question: What Is The Biggest Attack on Titan Funko Pop?
Answer: The largest Attack on Titan Funko Pop is the Super-Sized or 6-inch Funko Pop. Only 4 characters have figures that fall under this category. They're the Colossal Titan, Female Titan, Armored Titan, and Beast Titan.
There aren't any Funko Pop figures that exceed 6 inches or reach the 10-inch Jumbo-Sized category.
Question: Can I Complete The Attack on Titan Funko Pop Collection If I Start Buying Now?
Answer: Yes. Because even when Attack on Titan Funko Pops become rare, you'll still be able to find them. For instance, whichever old release you want is likely available on online marketplace sites like eBay.
Question: What Are The Most Expensive Attack on Titan Funko Pops?
Answer: These 4 are the most expensive Attack on Titan Funko Pops on this list:
Armin Arlelt FYE Exclusive – 375$ and above
Armored Titan Super-Sized – 300$ and above
Sasha Braus Game Stop Exclusive – 200$ and Above
Beast Titan Super-Sized – 199.98$ and above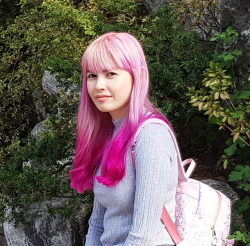 Latest posts by Charissa Fuentes
(see all)