While I'm usually not drawn to anime with goofy art styles, I couldn't stay away from One Piece. It has a quirky yet captivating storyline that's been wowing audiences since the 1990s. The ridiculous but relatable characters are one of its selling points and entice people of all ages.
I was 23 – 25 when I got into the series and immediately connected with Luffy about food. He's a voracious carnivore who loves meat so much that others can use it to sway him. That's how people can convince me to leave the house too.
Moreover, countless otakus like me have been hooked on its story and continue to eagerly watch as Luffy and the rest of his crewmates inch closer and closer to uncovering the mysterious "One Piece" treasure.
In addition, One Piece also has countless types of merchandise sought after by fans worldwide. You can quickly fill a house with tons of One Piece products, ranging from clothes, household essentials, decor, and, my favorite – toys.
So if you've got love for One Piece merch or are eager to build a One Piece shrine will have fun going through this best One Piece Funko Pop guide. Satisfy your pirate cravings, whether for a small display or filling up your shelves and walls with One Piece characters.
One Piece Funko Pops Fans Shouldn't Ignore
It was confusing narrowing down which Pops to include in this guide since many are spot-on mini-mes of the characters. Though if I had the funds to get whichever I wanted, it would be these 3:
Brook New York Comic-Con Hot Topic Exclusive
Tony Tony Chopper Flocked Funimation 2016 Exclusive
Trafalgar Law Glow in the Dark Chase Limited Edition AAA Anime Exclusive Pops.
They're my favorites because they're the cutest variants of the characters. Like in Brook's case, his Soul King attire has better and brighter colors, making it more attractive than the Bonekichi or Samurai ones. With Chopper, the flocked furry texture doubles his kawaiiness in my eyes. And Law's Chase version is simply badass with the heart in its hand.
But for diehard fans, those might not be enough. So the list below includes all the existing One Piece Funko Pops and the version encapsulating their role or significance in the series.
The Nitty-Gritty of Pirate Hunting
Since 2015, when I got into anime figures, I began dropping by all the toy stores whenever I went to malls. My routine when going out would consist of checking out toys – games – food – clothes. Because of my consistent ritual, I became aware of which One Piece Funko Pops appealed the most to fans. Sometimes I would unintentionally hear people explaining to their companions why the Pop in their hands was valuable and their reasons for wanting to own it.
The most common factor was, "it's like I'm taking my favorite version of this character with me." This sentiment was often associated with the series' famous characters and their powered-up forms. Hence, the Pop at the top of the One Piece line is the Funko Pop Luffy Gear Four Metallic Chalice Collectibles Exclusive.
Not only is Luffy number one on Shueisha's official One Piece popularity poll, but this variant also has his most intimidating form. How could the other Pops compete for the "best" title when they're just the regular versions?
To be fair, the rest of the Pops on this list have good quality too. They're solid representations; you'll need them if you want to bring the world of One Piece to you. Because even if Luffy is the heart of the series, the story wouldn't be as engaging without the other characters from the series. It would be ideal if you didn't stop at just the best One Piece Funko Pop and go for every Pop in this guide.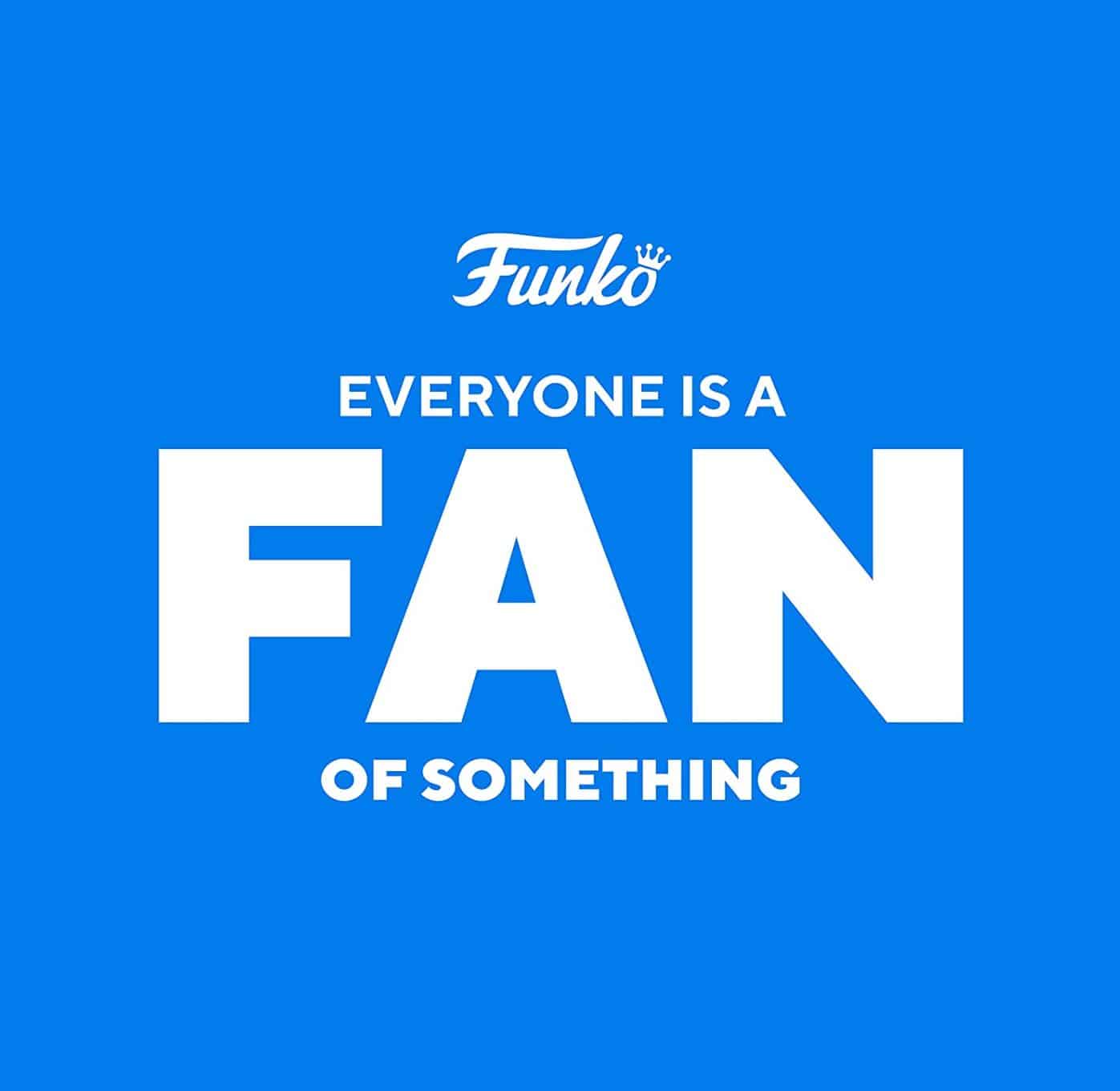 Choosing The Crewmates
What's the first thought that goes into your mind when you hear One Piece? It varies from extravagant plots, kooky yet charming personalities, and creative character designs to me. Yet no matter what angle you view the anime from, One Piece can never be linked to the words boring or plain.
For this reason, the One Piece Funko Pops included in this guide incorporate the following loud attributes:
Have a powerful presence – One Piece is a flamboyant and elaborate anime. The Funko Pops that reflect these distinctive traits the most are the ones that best symbolize the series and its theme
The more accessories, the better – With One Piece being flashy, Pops with plain appearances don't give it the justice it deserves. Characters that are well-decorated or have the trademark equipment better fit the 'best' category
The design brings out the character's strong suits – Most Funko Pops have a neutral look, especially those with the generic standing pose and expressionless faces. So the versions that highlight any aspect of the character's moves and the like are more interesting
The abovementioned criteria align with One Piece's image and appeal. Because though Funko has made several variants of certain characters, some versions resonate more with what's in the anime or manga. And this guide will lead you to the best variants in the One Piece line.
Ideal Companions on the Journey to the Four Seas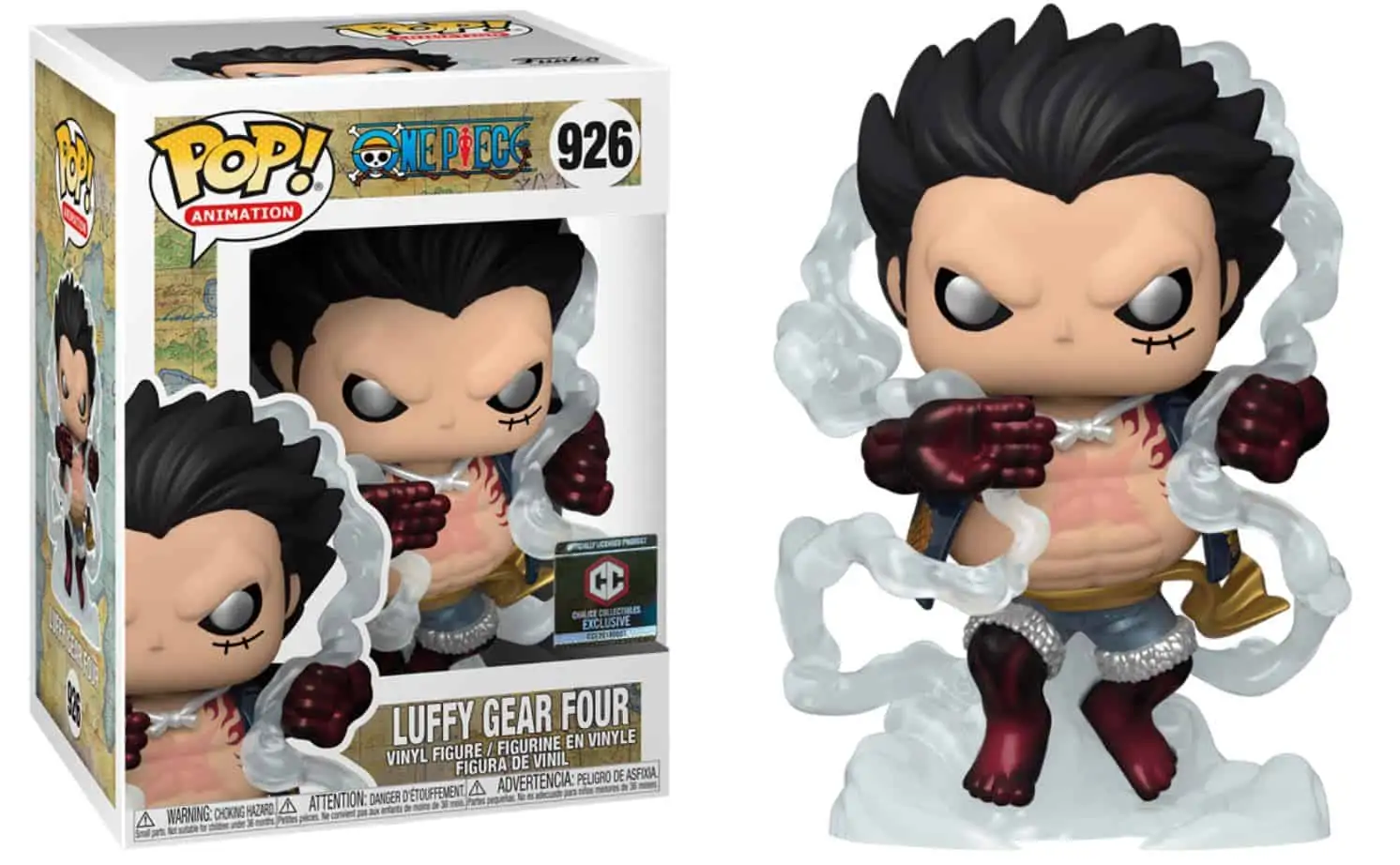 Straw Hat Luffy is most commonly recognized for his lean build and adventure-crazy mindset. Yet his most spectacular appearance as a Funko Pop is this version of him using Gear Four's Boundman. With such a hulking body and intimidating aura, the other two Luffy variants naturally can't compare to the Zoan Devil Fruit powers in action.
Release date: July 2021
Current value: 20$
Rarity: Low to Moderate
Pros
The base and the smoke effects are connected and form a fluid, and interesting-looking support stand for Luffy
The illustrations and colors on this Pop's shirt and chest are clear and precise. The prominent design makes it easy to see that this Pop is from the Dressrosa arc since Luffy changes his clothes several times in the series
With this Funko Pop, you'll have a chibi replica of Luffy's appearance in episode 726, when he unveiled his Boundman form for the first time
The finish of this figure matches the color scheme of Luffy's design, as his gear form has a metallic sheen in the anime
Cons
The flame-like pattern on Luffy's shoulders isn't supposed to be bright red. They're supposed to be a darker shade, like wine red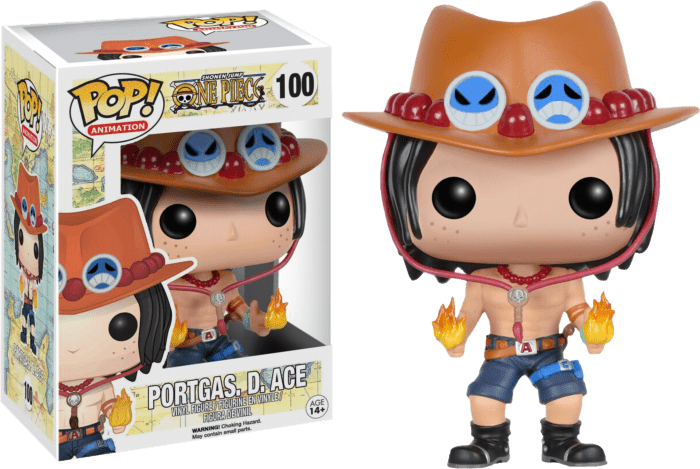 It's been nearly 12 years since Ace's death, yet he still ranks as one of One Piece's most popular characters. Many idolized him for his rugged charm and magnetic personality that awed friends and enemies alike. So this Funko Pop of Ace, in his prime and sporting his iconic flames, is an excellent way for fans to remember him.
Release date: January 2016
Current value: 10 – 12$
Rarity: Low
Pros
The Whitebeard emblem and ASCE tattoos on this figure's back and left arm are clean and have no paint smudges
This Pop features Ace's trademark flame powers which he gained from the Mera Mera no Mi Devil Fruit
Funko copied all the details from Ace's anime version, such as the belt with an A buckle, dagger, and bracelets
This figure's body is loyal to Ace's original character design as it has muscular arms and well-toned abs
I love that this Pop's pose and layout embody Ace's nickname, "Fire Fist Ace"
Cons
The paint job isn't consistent for this figure. Some stocks have messy and splotchy paint jobs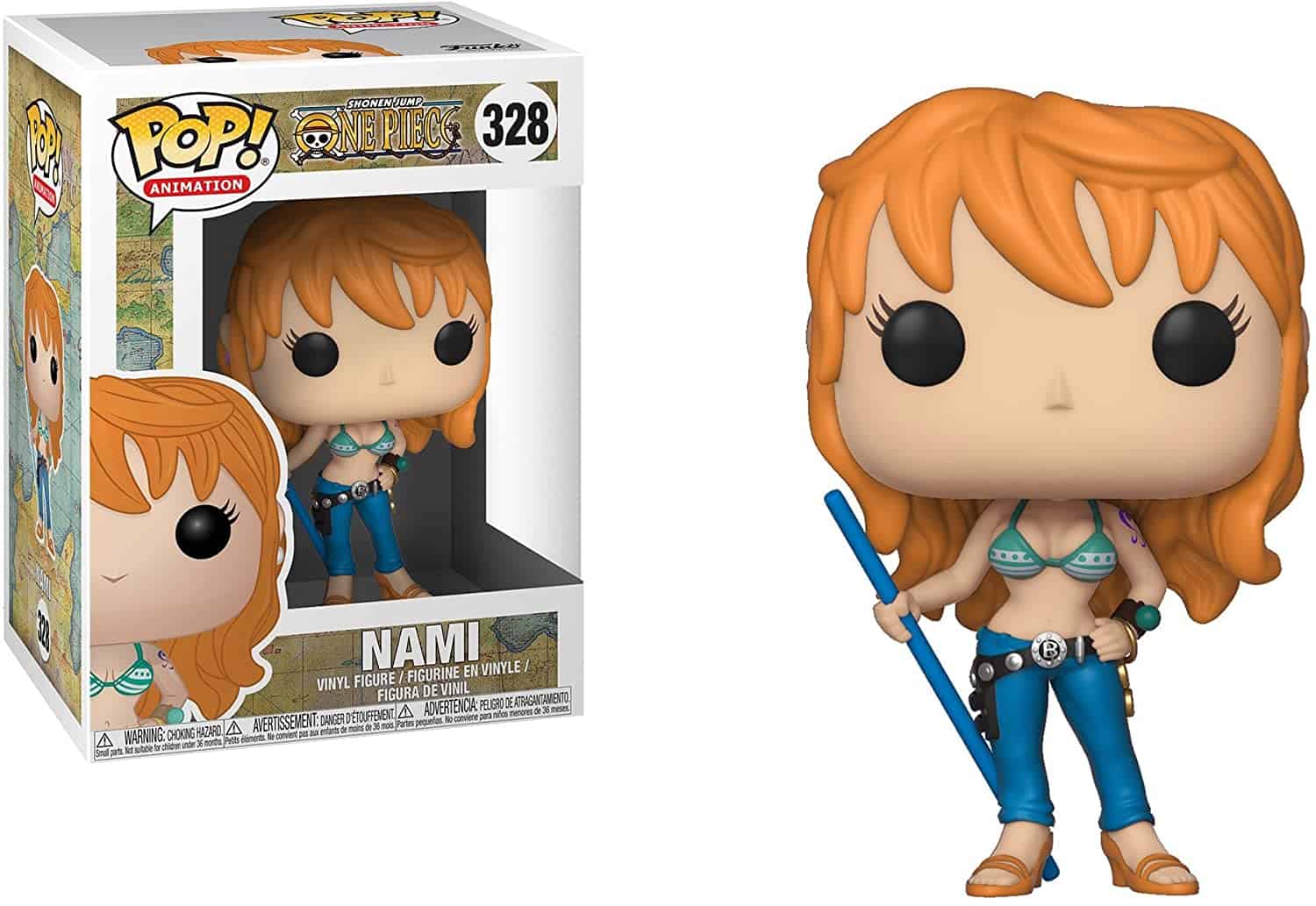 The series creator, Eiichiro Oda, exemplified "beauty with brains" with Nami, which suits her role as the Straw Hat Pirates' Navigator. She started as a skinny young girl but is now a provocatively alluring woman whose head-turner Funko Pop will spice up your One Piece display.
Release date: February 2018
Current value: 10 – 12$
Rarity: Low
Pros
This version is based on Nami's first sexy appearance after the anime's time skip, at the beginning of the Fish-Man Island Saga
This figure has a clean mold for the most part. The sculpt for Nami's chest and hair is accurate to the character's design
I like the energetic colors Funko used for this figure, as they coordinate with the vibrancy in the anime and the general vibe of One Piece
I give this figure a thumbs up for strictly following the source material's appearance, giving it Nami's feisty aura
Cons
There may be a gap between the torso and the shoulders for some stocks of this figure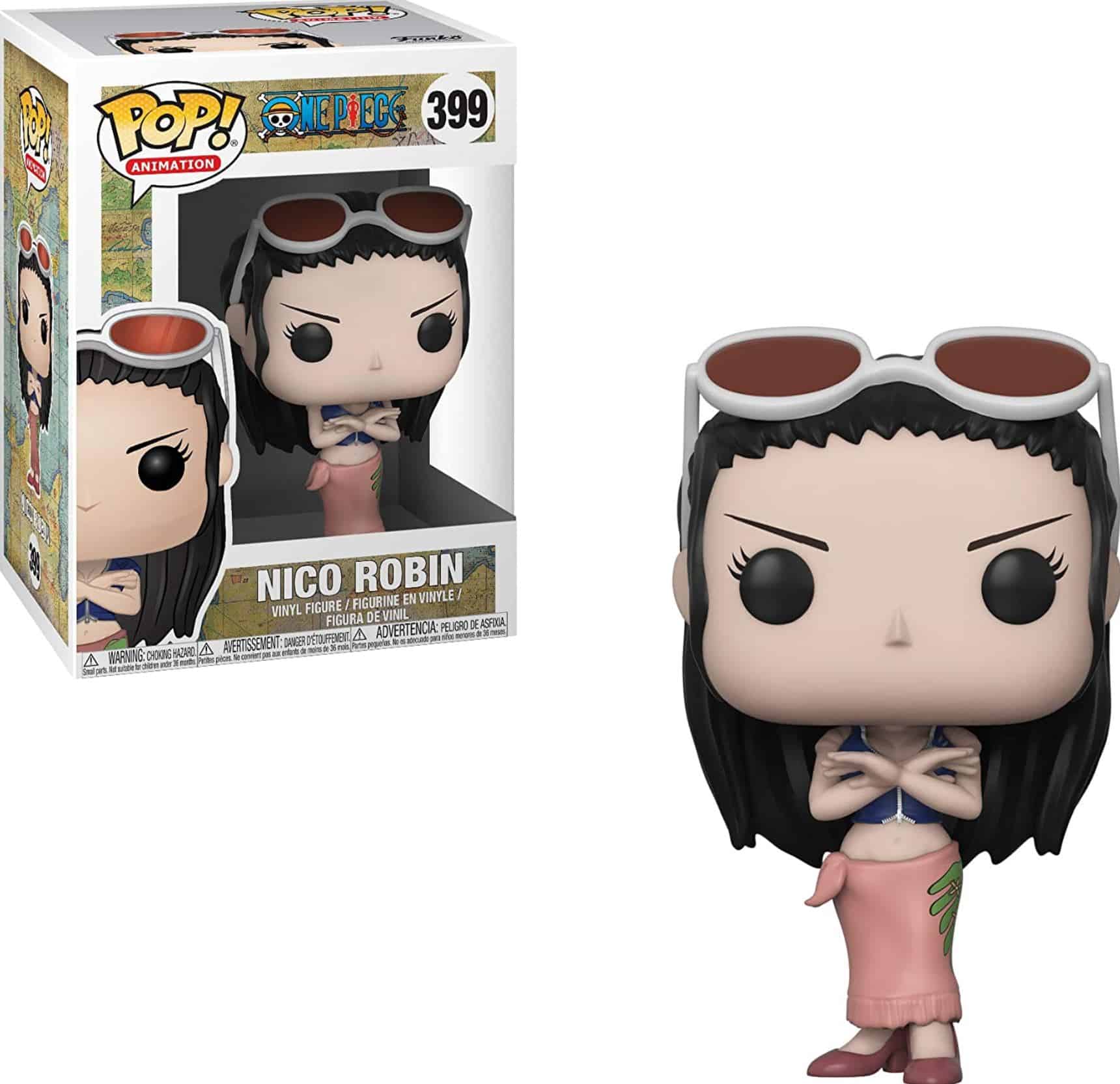 Former villain turned Straw Hat crew member Robin is one of the unique individuals in the One Piece universe. She has a visually terrifying power of duplicating her body parts. I've seen many superpowers in anime, and none have made my skin crawl like her Hana Hana no Mi powers. Thankfully, Funko chose to concentrate on reproducing her beauty in Funko Pop form instead of her numerous arms.
Release date: October 2018
Current value: 10 – 12$
Rarity: Low
Pros
This Pop's appearance is from Robin's new character design in episode 517, after spending time with the Revolutionary Army's Koala
This figure is ready to fight, as it has Robin's attack pose when she uses her Hana Hana no Mi powers
Unlike the older One Piece Funko Pops, this figure has eyebrows which give this Pop an emotional face
I appreciate the color of this figure's skin tone because it's close to Robin's skin color in the anime
Cons
This figure tends to have messy paint along the hairline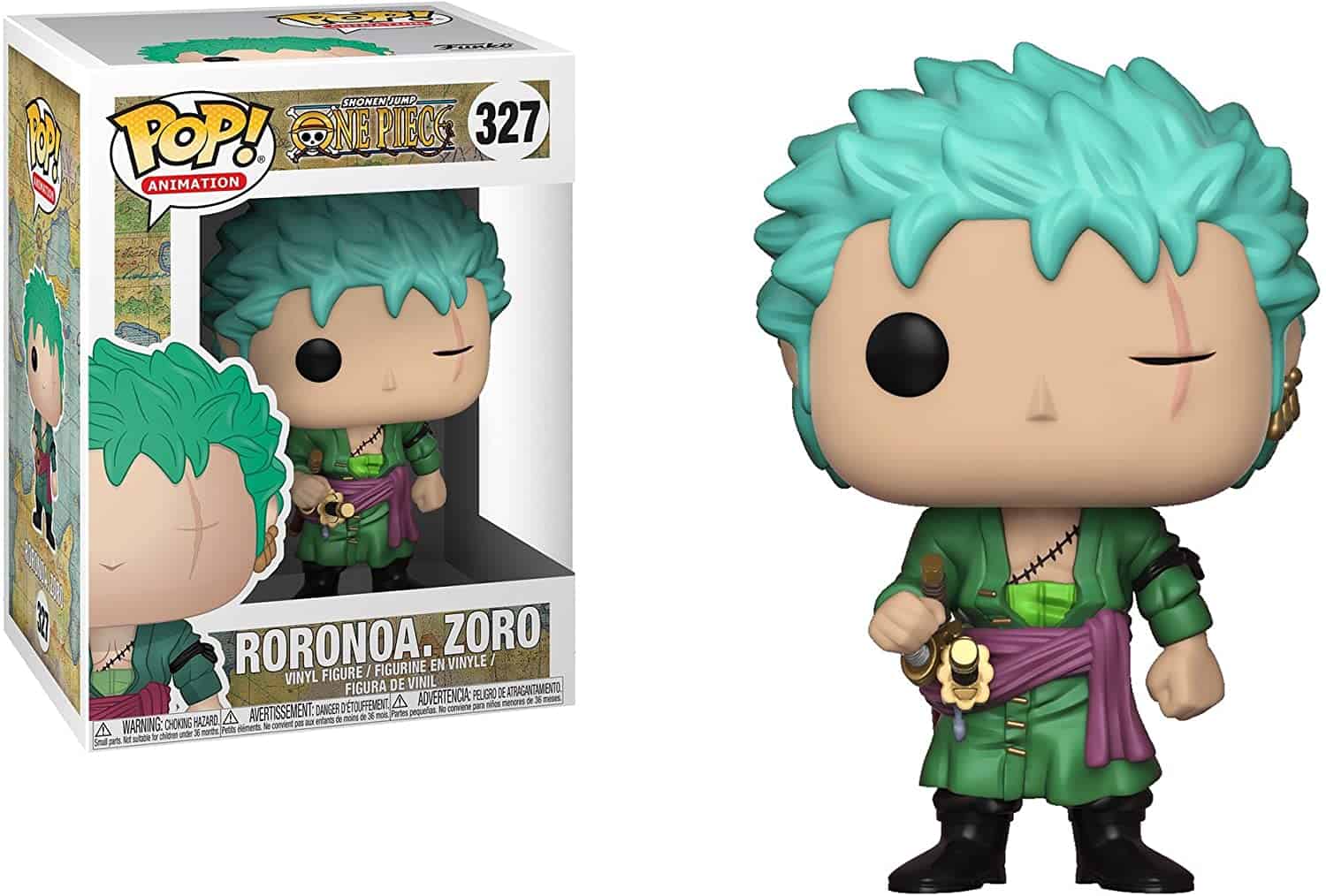 As the first official recruit of the Straw Hats Pirates, Zoro has witnessed a significant part of Luffy's journey. As a result, he's become a regular name on the series' most popular characters list and a Funko Pop that you must own when you're into One Piece.
Release date: January 2018
Current value: 10 – 12$
Rarity: Moderate
Pros
Since this figure is part of Funko's second wave of One Piece Pops, it has an upgraded design from the first releases
I'm impressed with how Funko Pop depicted the scar on Zoro's eye. The mark isn't just painted on but is part of the mold, which creates a realistic image and depth of a keloid
The sculpt for this Pop is precise and on point. You can even see the individual details of the earrings, swords, and the clips on the hem of Zoro's yukata
This version of Zoro is based on his new look in the anime's Fish-man Saga because his clothes deviate a bit from the manga's design
Cons
The shade of this Pop's hair is too minty when it should be more green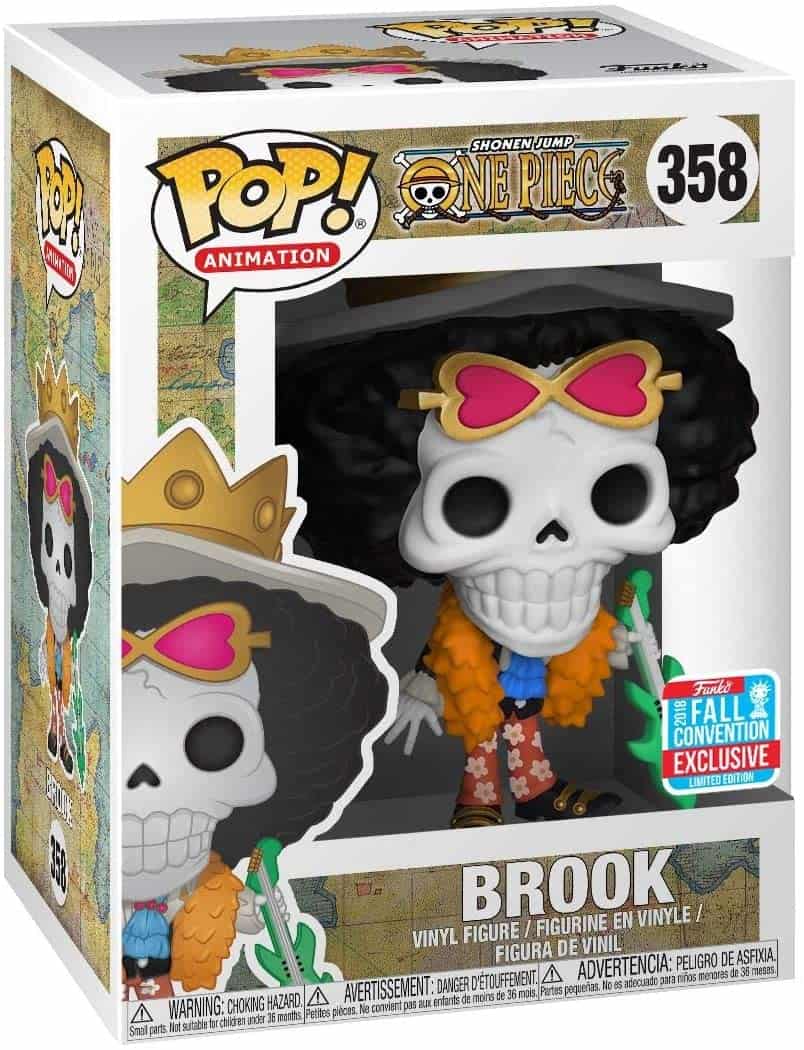 One Piece is typically over the top. But the character that lives up to the anime's exaggerated visuals is Brook, with his bold and fancy get-ups. Even as a corpse, the guy's still rocking his afro and duds like there's no tomorrow. He always acts like the 70s dance kings and performers who can't live without feathery scarfs or glittering suits.
Release date: October 2018
Current value: 500$ or more
Rarity: High
Pros
Of the four Brook Funko Pops, this is the version that matches his wardrobe in the anime the most
This figure is based on Soul King Brook's appearance when he performs Bone to be Wild during his world tour and includes his green shark guitar
This figure has excellent paint and mold since it only has minor flaws
The color scheme of this costume suits Brook more than the Samurai Brook and Bonekichi. It's totally in tune with his personality as a musician
Cons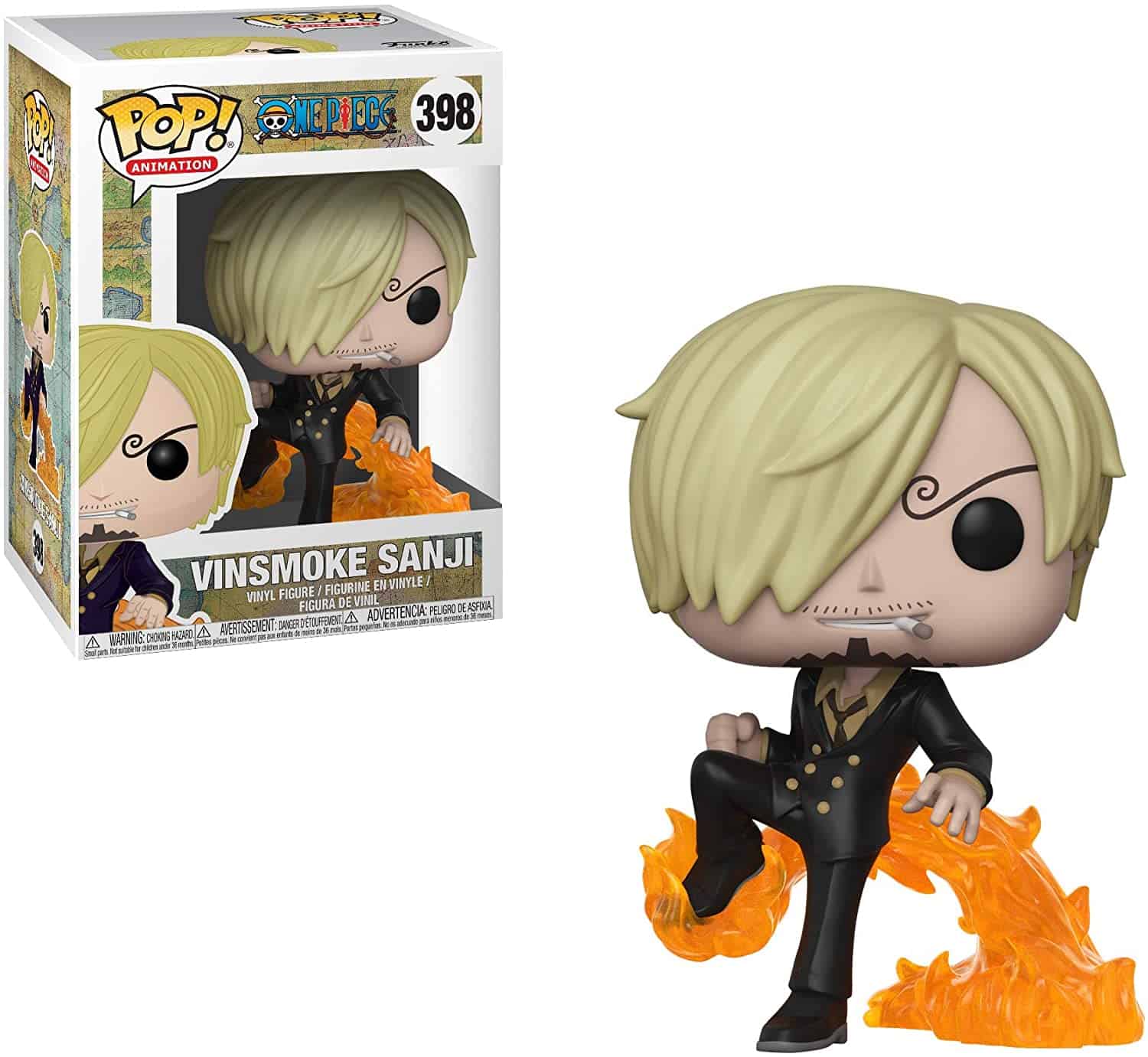 Due to his lineage, the ex-Vinsmoke prince is the crew's most suave member. That is unless women are involved because when that happens, Sanji instantly lives up to his nickname, the "ero-cook" of the series.
Release date: October 2018
Current value: 10 – 12$
Rarity: Low
Pros
The face of this figure gets 5/5 stars from me. It's one of the most detailed faces in the Funko Pop One Piece line, especially since it has the complete parts of a face
This figure has several of Sanji's distinguishing features, a lit cigarette and flame effects for his leg attack
The dynamic pose perfectly suits Sanji since his fighting style is leg-based, the Black Leg Style
The fire part of this figure has a dual purpose. First is the fire effect of Sanji's leg technique, and the second is this Pop's base
Minus the humongous green backpack, this Pop is from how Sanji looked when he arrived on Sabaody after his 2-year training at Momoiro Island
Cons
The color of this Pop's hands is too yellow and doesn't match Sanji's skin tone in the anime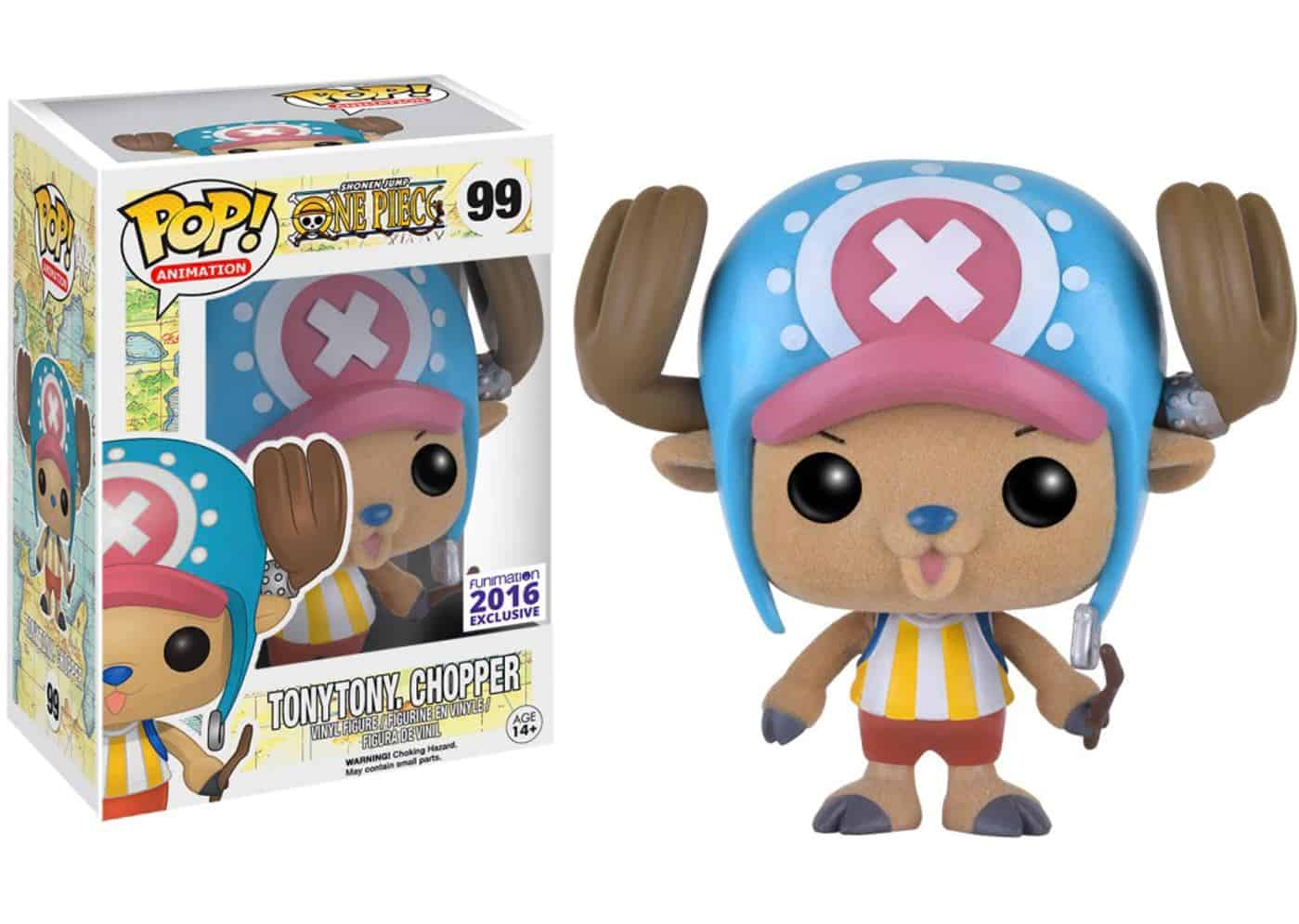 I acknowledge One Piece's enthralling story, yet I'm still not sold on Eiichiro Oda's art style. However, it would be a lie if I said nothing he drew caught my eye because Chopper is his sole creation that fits my taste. Furthermore, aside from being a delightful human-reindeer mix, the only non-human crew of the Straw Hat pirates is also a doctor.
Release date: 2016
Current value: 300$ or more
Rarity: High
Pros
The flocked texture complements Chopper's design since he's furry in the manga and anime
Funko Pop's chibified style appropriately translates Chopper's cute looks in 3D, as it's close to how Chopper looks in the anime
Except for the chubby arms and legs, this Pop has Chopper's correct body proportions from the anime. This version also has his outfit from the Return to Sabaody arc
Even though this figure is from the first wave, it's got decent quality and only has minor issues
Cons
Some of the boxes of this Pop may not have the exclusive sticker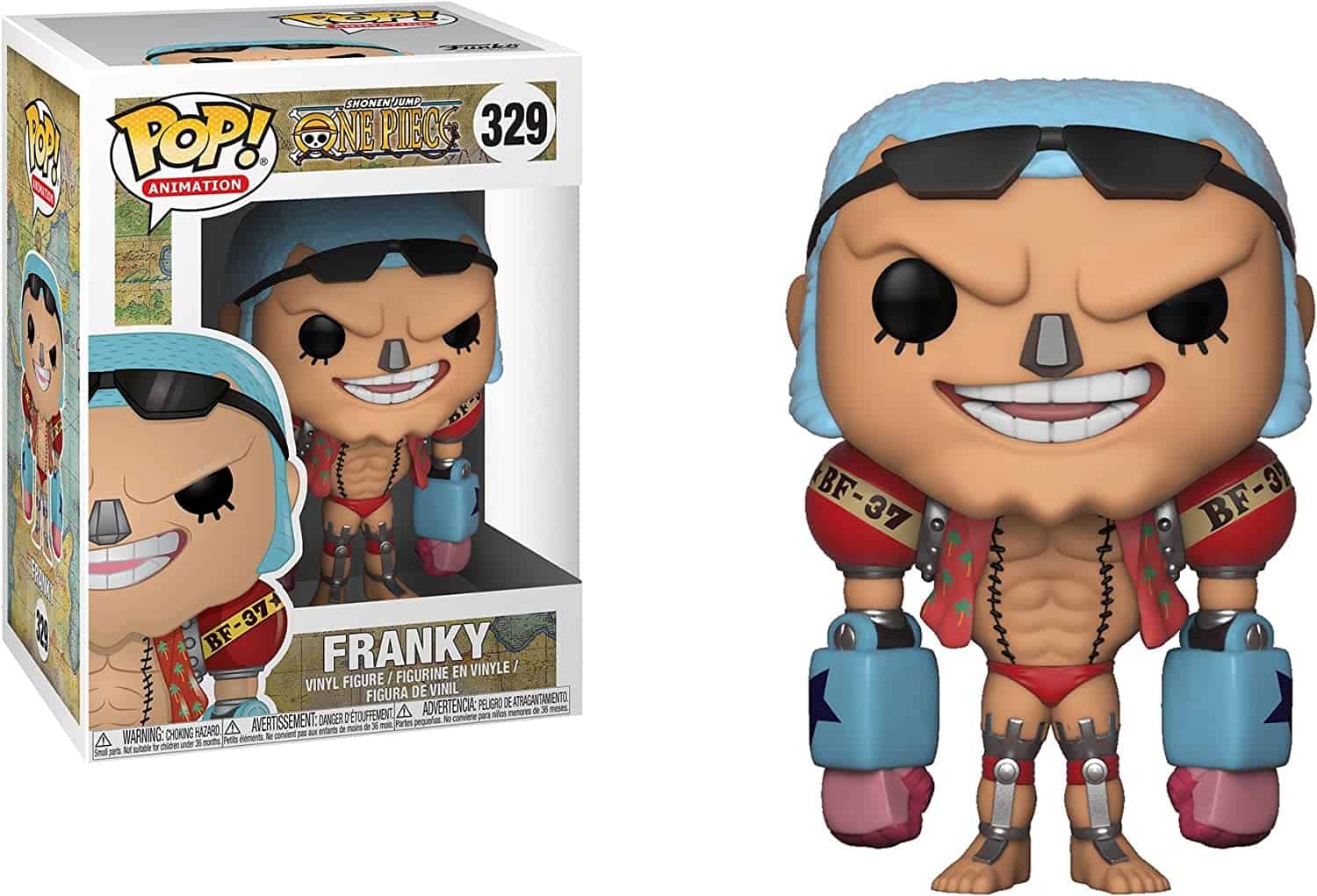 There are all sorts of theories regarding the mangaka's inspiration for Franky, such as Ace Ventura and famous voice actor Kazuki Yao. From what I've watched, I've always thought he was a perverted Frankenstein. Regardless of his origin, Franky is one of the characters that makes One Piece what it is. The absurdity of his antics and cringy attack moves can only exist within the series.
Release date: January 2018
Current value: 12 – 20$
Rarity: Low
Pros
This figure captures Franky's arrogant vibe in the series, as it has his usual cheeky expression
This Pop has a finely sculpted mouth. The way it's molded gives it some depth, accentuating Franky's pearly whites
This chibi version of Franky has his upgraded body which he boasts of having "romantic masculinity" to Nico Robin in episode 519
This Pop has the outfit that Franky wears when he meets the other Straw Hat crew after modifying his body in the two years they were apart
Cons
Since Franky's among the three tallest members of Luffy's crew, this version would've been more suited to be a Super-Sized Pop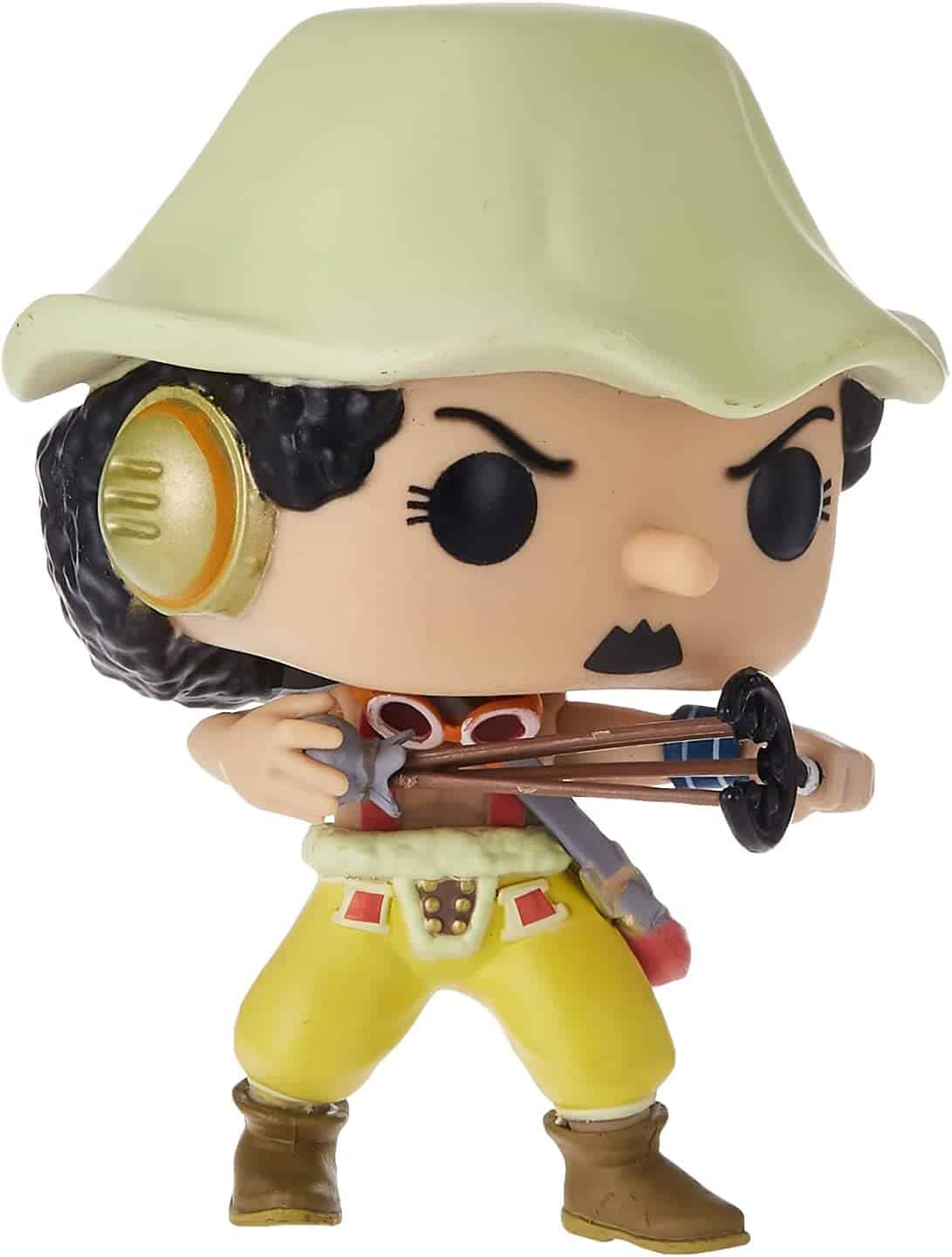 Every shounen anime has a punching bag in the group. It's Krillin in Dragon Ball and Usopp in One Piece. He compensates for being the weakest Straw Hat since he provides the engineering knowledge vital in propelling the story forward. He also makes the other crew members look way stronger in comparison.
Release date: October 2018
Current value: 12 – 20$
Rarity: Low
Pros
Funko sculpted the actual shape of Usopp's long and pointy from the anime since this Pop doesn't have the typical small triangle nose
This figure is in a ready-to-attack stance since Usop's trusty slingshot is pulled back
This Pop is based on the 19-year-old version of Usopp in the anime because it has defined abs that the younger Usopp doesn't have
Funko did a great job with the mold of this Pop, as it mimics the curly texture of Usopp's hair in the anime
Cons
The goatee on this figure looks awkward and incomplete. It should've been larger or positioned lower on the chin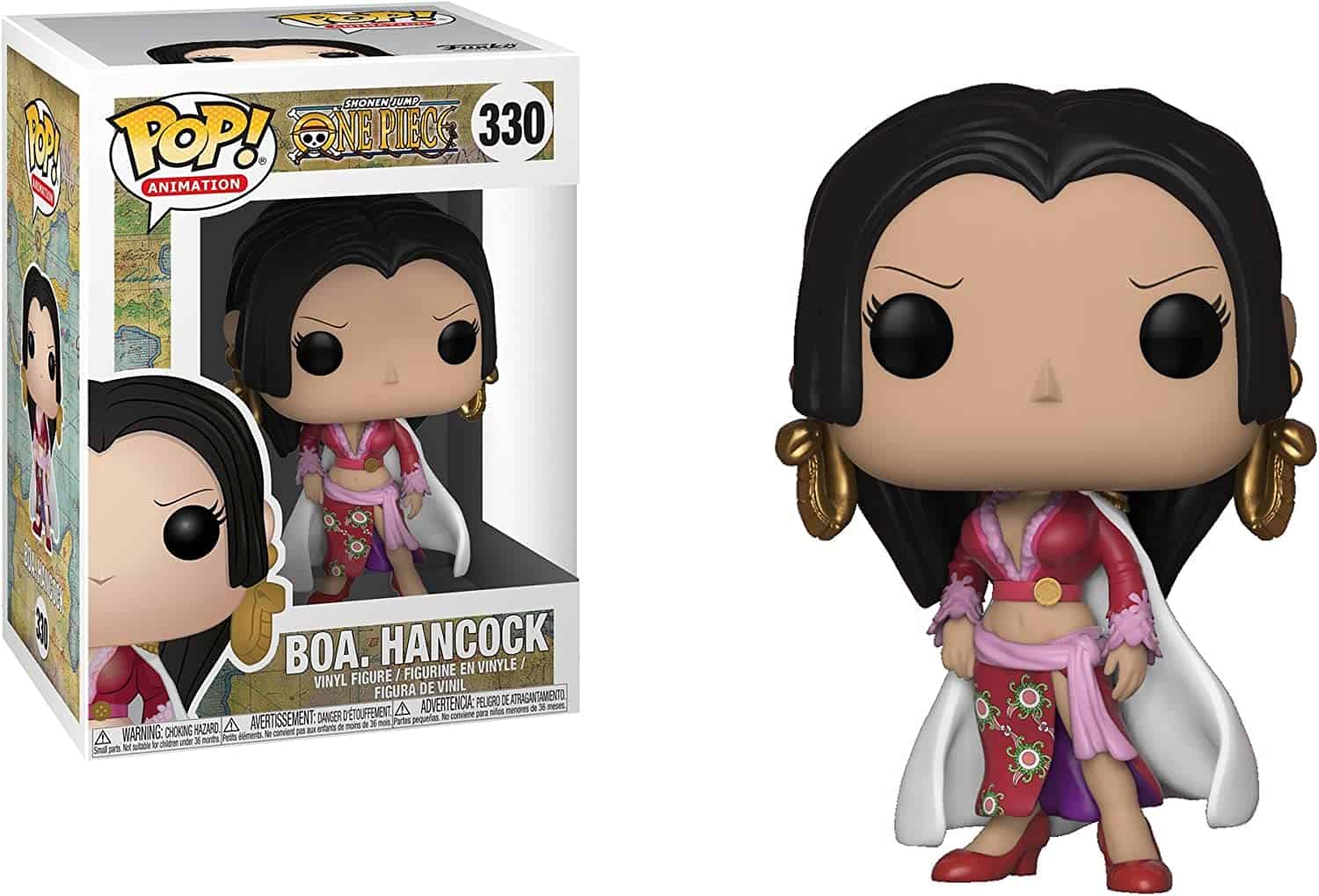 Hancock is Eiichiro Oda's personification of the saying, "if looks could kill," because the Kuja Tribe Empress can petrify anybody who falls for her looks. Despite her gorgeous appearance, she's rarely a damsel in distress in the series and was a villain during the Amazon Lily arc.
Release date: February 2018
Current value: 17 – 20$
Rarity: Low
Pros
This Funko Pop is adapted from Hancock's first appearance in One Piece when she confronted a ship of Marines by herself in episode 411
Save for the times she's with Luffy or her family, Hancock typically has a haughty or disdainful expression. So this Pop's furrowed eyebrows match her arrogant attitude in the anime
Since Hancock always wears a pair of snake earrings in the anime, I'm pleased that Funko carefully sculpted the earrings of this figure
The semi-glossy finish on this Pop's skirt helps enhance the patterns on it
Cons
Many of the intricate linings on Hancock's outfit were left out. Specifically, the pattern on her top's collar and the outline of her sleeves in the anime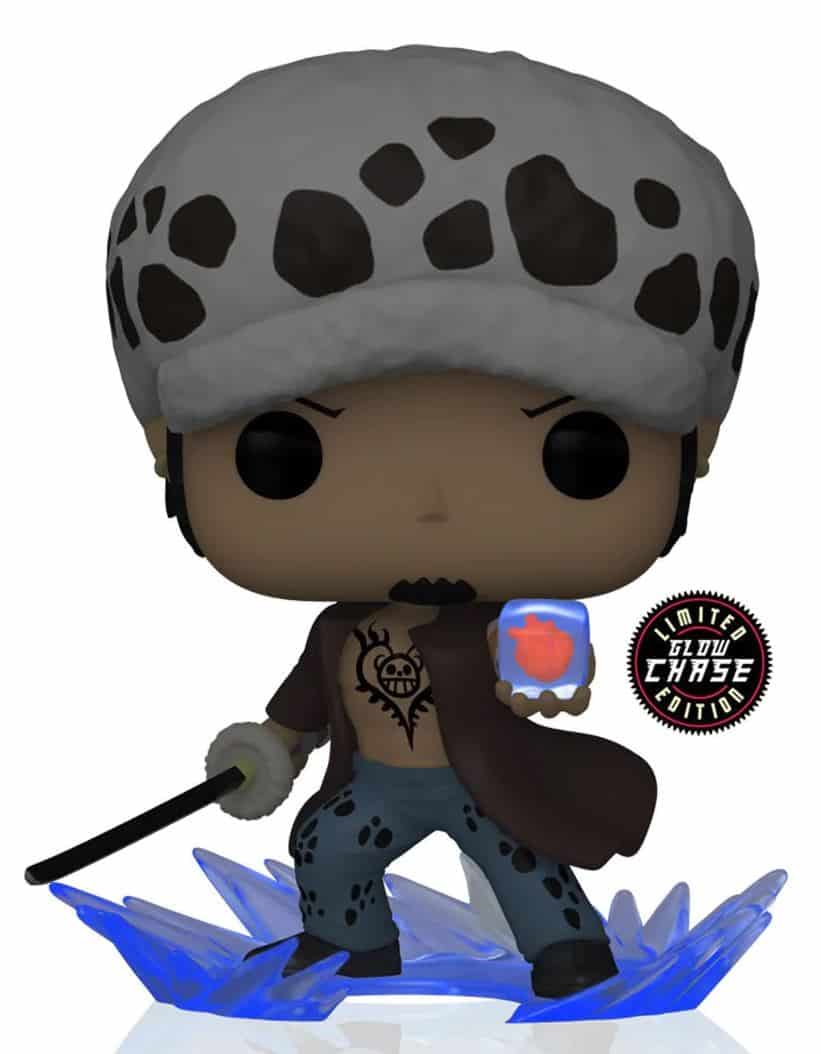 Law only appears now and then in the series, but due to his tear-jerking history, and top-tier skills, he's the fifth most popular character in One Piece. He rightly earned the position since he's a ferocious pirate and has the makings of a protagonist.
Release date: September 2021
Current value: 60$ or more
Rarity: Moderate
Pros
Law is known for having ripped out 100 pirate hearts to prove his worth as a Shichibukai or Warlord of the Sea. This Pop version of him holding a human heart is the epitome of his infamy in the series
Funko didn't censor or distort the heart in this Pop's hand. It's small, but it's how an actual human heart looks like in real life
Law always uses his Katana in the anime, so this version with the unsheathed blade is more relevant to his character than the other version
 This figure has a better-looking goatee than the Usopp Pop
Cons
The color of this figure's hat differs from the color used in the anime. It's too grayish when it should be close to ghost white or a bright shade of white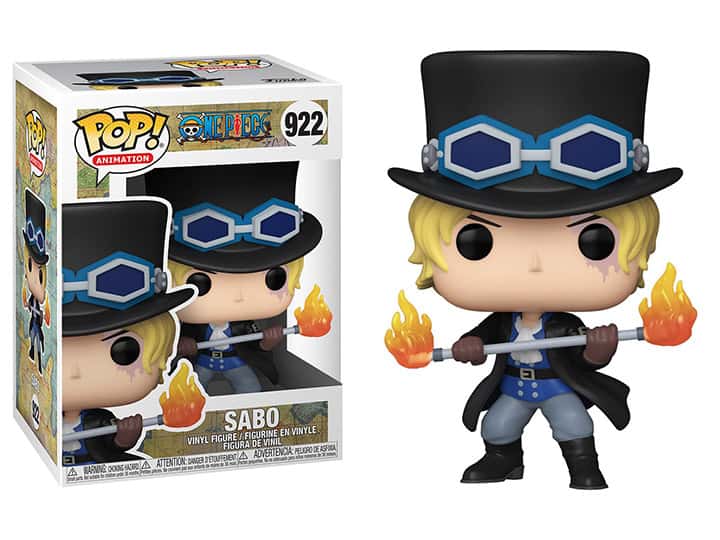 Familiar with the long-lost friend turned new ally cliche? Well, that's Sabo in a nutshell. But thanks to the mangaka's talents at storytelling, Sabo's insertion in the story as Luffy and Ace's sworn brother and the latter's legacy was well-received. He's even constantly part of the top 10 popular characters in the series.
Release date: March 2021
Current value: 12 – 15$
Rarity: Low
Pros
The flames attached to this Pop's metal pipe emphasized Sabo as the new wielder of the Mera Mera no Mi's powers
Since this version of Sabo can set his weapon on fire, this Pop is from Sabo's design in the Dressrosa arc. It's when he meets Luffy again after a decade
The fluttering of this figure's coat goes well with Sabo's attack pose because he often floats or glides when fighting in the anime
Since this Pop is one of the latest releases, it's got consistent sculpt and paint quality
Cons
This figure should've had a similar base to Sanji instead of just a clear base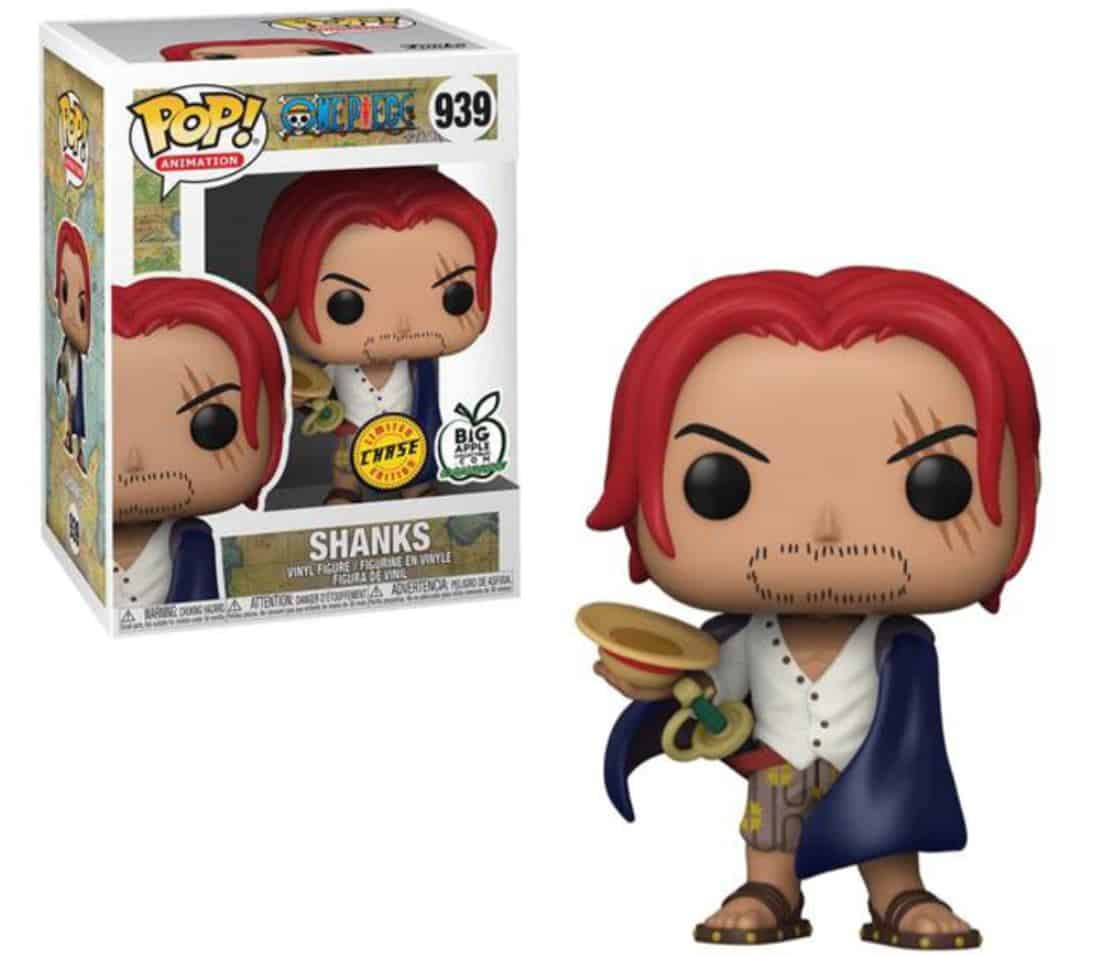 Contrary to most characters in the series that are quick to anger, Shanks shrugs off provocations like they're nothing. This peace-loving nature, along with his other heroic and noble traits, influenced Luffy to be the kind of pirate he is today.
Release date: August 2021
Current value: 79.99$ or more
Rarity: Moderate
Pros
This figure includes the famous straw hat of the series that Shanks asks Buggy to return to Luffy in the Marineford arc
The appearance of this Pop is from Shanks' design in episode 489 of the anime when he negotiates with the Marines and other pirates to end the war
Funko got the right skin color for this figure since it's close to Shanks' tanned complexion in the anime
The figure's pose and position of the cape give this Pop a regal vibe that Shanks possesses in the anime
Cons
The seam of this figure's right arm is too obvious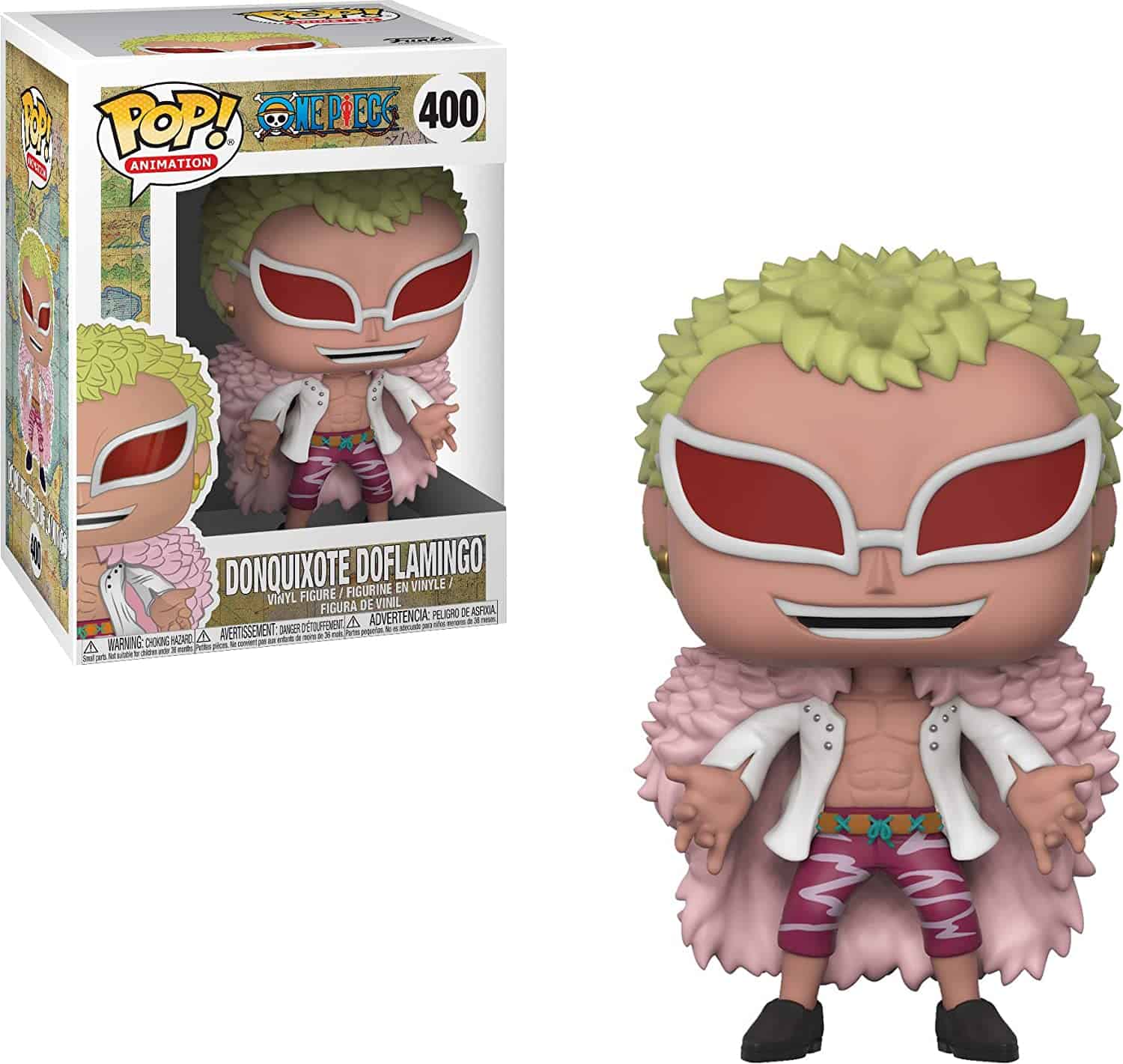 Viewed as one of the series' most well-written villains, the despicable yet pitiful Doflamingo is available in all his feathery glory as a Funko Pop. Doffy's the character that fans can't help but hate and love at the same time. Even I've got a soft spot for this vengeful madman.
Release date: October 2018
Current value: 14 – 20$
Rarity: Low
Pros
This Pop's get-up is based on Doflamingo's new attire after the 2-year time skip, starting episode 608 onwards in the anime
The sculpt of this figure's hair is an accurate 3D rendition of Dofflamingo's fuzzy hair in the anime. The feather coat also gets two thumbs up for having overall good quality
I'm ecstatic that Funko gave this Pop of the pink-loving pirate a detailed grin since Doflamingo always has a sinister smile whenever he's on screen.
This figure's stance is identical to Doflamingo's gait in the anime
Cons
Some stocks may have an ugly gap in between the coat and Pop's shoulders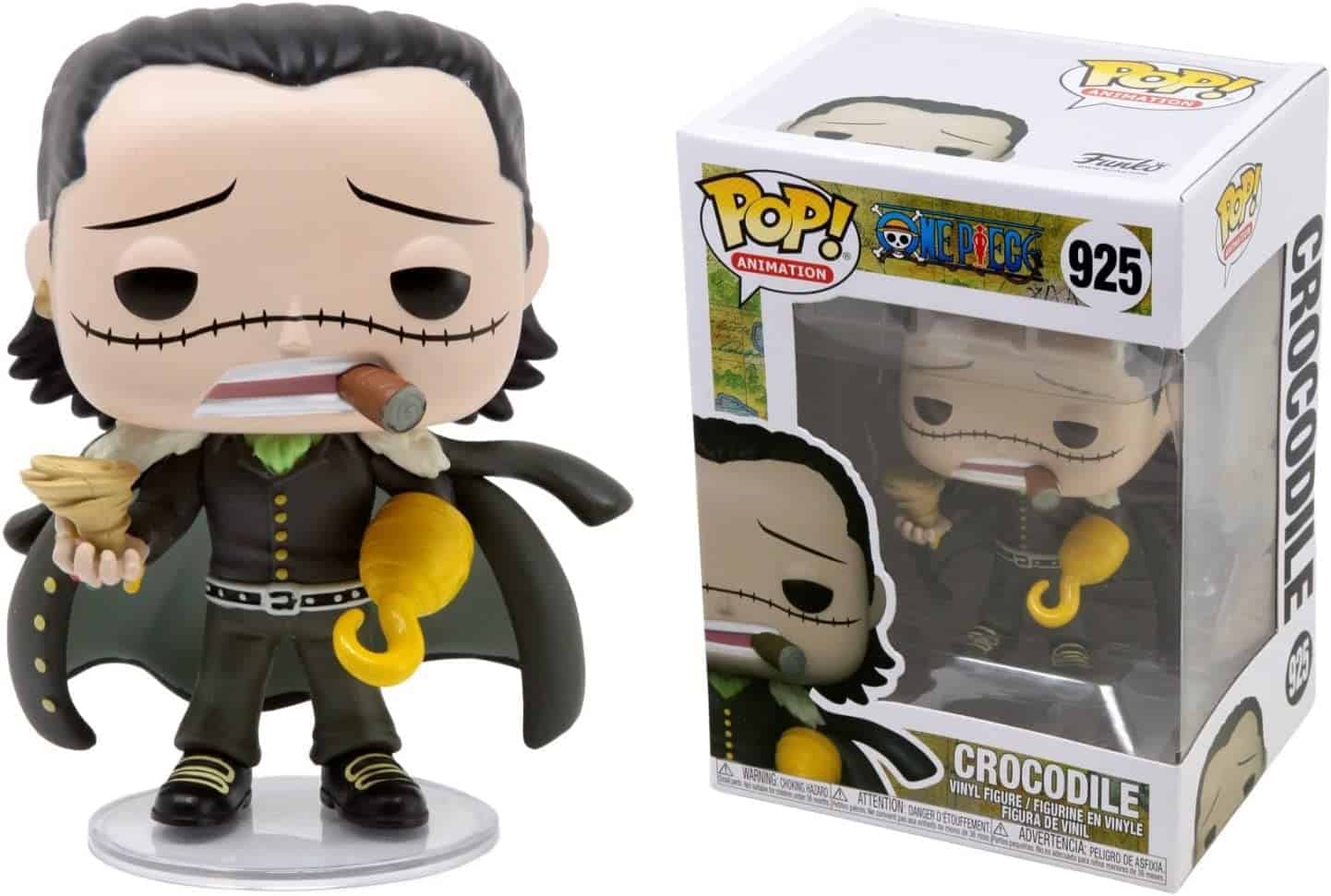 The Straw Hat crew wouldn't reach their current status if it weren't for the many antagonists of the series. And one of the most deadly and powerful villains who pushed them to grow is Crocodile, with his evil plots and bone-chilling sand power.
Release date: March 2021
Current value: 14 – 15$
Rarity: Low
Pros
This figure has an elaborately crafted mouth and comes with Crocodile's staple cigar
The miniature desert storm in this figure's right hand is an excellent display of Crocodile's mastery over the Suna Suna no Mi powers
This figure's attire is from the Impel Down arc. It's what Crocodile changes into after Luffy and Ivan-chan release him from his jail cell in episode 443
Funko recreated Crocodile's standard attributes from the anime, such as the shiny left hook hand, and his condescending expression
Cons
This figure has the wrong skin tone. As what's shown in the anime, Crocodile has a dark and ashy skin complexion, not the beige tone that this Pop has
Enjoying The Worst Pirates
The fun doesn't stop at just collecting One Piece Funko Pops! Because due to their versatility, you can present Pops in various ways. Want to focus on Luffy? Get all 4 Pops of him. Are you interested in the Straw Hat Pirates? Purchase the nine crewmates available as Pops. Are you thinking of reliving a favorite scene? You just have to buy the characters needed to recreate the moment from the anime. Try out numerous scenarios and layouts to find the perfect design for you.
And you know what's especially attractive about One Piece Funko Pops? Setting up a display doesn't have to cost an arm and a leg. You can attain the aesthetics you want, even with a small budget. For instance, you can go for cheap clear acrylic boxes for mini-dioramas or buy a plain bookshelf when you want them sealed and organized. You can be as imaginative or as simple as you want. Just remember that your collection or display should make you happy, not stress you out.
Top Q&A
Question: Will Funko Add More Characters to the One Piece Funko Pop Lineup?
Answer: The probability is high. It's because Funko usually continues to make characters from famous or in-demand anime as long as they're still ongoing. Some examples are Naruto, Hunter x Hunter and Attack on Titan, which started releasing Pops around 2016 – 2018 but still have new characters added in 2022.
Question: Are The Leaks About One Piece Funko Pops Reliable?
Answer: Due to the nature of leaks, some reports may hold some truth regarding Pop prototypes or newly acquired licenses. However, since Funko doesn't generally entertain leaks, they can't be verified by official sources. As such, you shouldn't take unofficial announcements about Pops too seriously.
The only reliable source about incoming Funko Pops is Funko itself or affiliated stores. Otherwise, whatever news you hear is just gossip.
Question: When Was The First One Piece Funko Pop Released?
Answer: The first wave of One Piece Funko Pops came out in May 2016. The four characters released were Luffy, Tonny Tonny Chopper, Portgas D. Ace, and Trafalgar Law.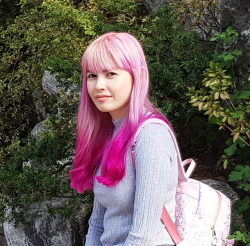 Latest posts by Charissa Fuentes
(see all)