Due to how well known Shingeki no Kyojin or Attack on Titan is, numerous statues and figures have been made based on its characters. But how can you distinguish which ones are high quality and those that should be ignored? Find out about the fantastic pieces you can bring home by reading this best Attack on Titan statues Guide.
I've been invested in the anime since I binged the entire first season in 2 days back in 2013. I think the story's a work of art, which is why I've kept up to date with most of its merch, mainly the statues and figures.
Moreover, since I'm somewhat picky about collecting, on the whole, every item that I placed on this list is certified top-notch. I bet plenty of statues in this guide will catch your eye whether you're a casual or hardcore collector. With that said, I'll be pointing out the top Attack on Titan statues and figures that you should include in your collection.
Bottom Line Up Front
It's so easy to start collecting nowadays, especially if you're into Attack on Titan, since there are literally hundreds of statues of it that exist all over the world. But, unless you've monitored their releases and reviews all this time, you'll have to go through them one by one to find the best ones.
And as someone who's done that for several anime series and characters, I know that doing that is tedious and overwhelming for beginners or first-timers. Not to mention, looking up statues without the appropriate knowledge will probably lead you to buy crappy or fake ones. You don't want that happening, do you?
So, to prevent that, this guide's mission is to inform you of the statues you should get, as they've been tried and tested by different types of collectors. Cause when it comes to discerning a statue's true value, you can depend on your fellow collectors' stamp of approval.
Only people who've scrutinized multiple statues up close, like me, can tell if a piece has:
Superior sculpt or mold
First-rate paint quality
High-grade material
Therefore, if you rely on this Best Attack on Titan statues guide, you're sure to end up with a superb display.
Top Attack on Titan Statues at a Glance
After analyzing every nook and cranny of dozens of Attack on Titan statues, these are the ones that I believe stand out the most since they meet the criteria I stated earlier:
Jean Kirstein Menshdge (No. 31) Chousa Heidan Version by Union Creative Internation Ltd
Krista Lenz 1/7 by FOTS Japan
Female Titan 90cm Class by A-Toys
Armin Arlert, Eren Yeager, and Mikasa Ackerman Ultimate Premium Masterline 1/4 by Prime Studio
The list is composed of only licensed individual and diorama statues made from plastic, resin, and similar materials. The statues in this guide should satisfy your preference, whichever it is you're into.
The Best Attack on Titan Statues
The Best Eren Yeager Statue: Eren Yeager 1/8 by Good Smile Company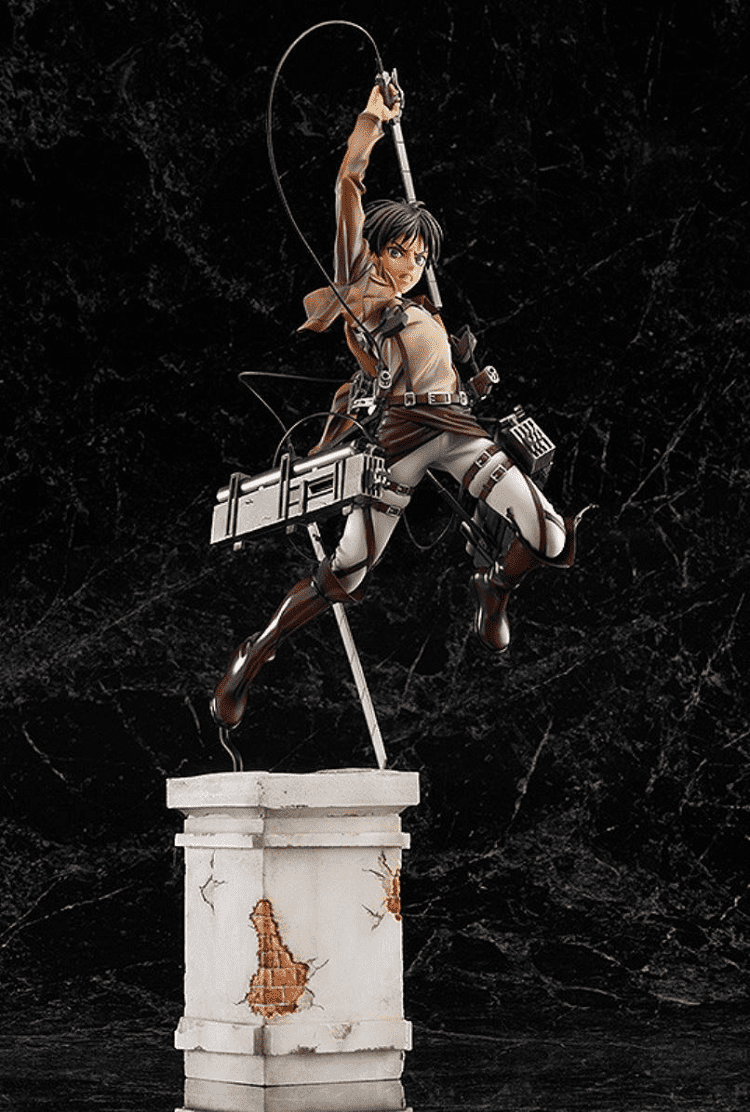 Attack on Titan's main character, Eren Yeager, is available as this remarkable PVC statue from Good Smile Company that's sure to turn heads. This miniature statue is of Eren in his Scout Regiment or Survey Corps uniform, which he wears from seasons 1 to 3 of the anime TV series.
So if you want the 'good' version of the conflicted protagonist by your side, you should definitely think about getting this.
Release date: July 2015
SRP: 164.99$
Rarity: High
Pros
The dynamic pose is not only great but also shows off every part of the statue's design, such as the body's silhouette, and the carefully fabricated wires and straps that wrap around it
The weathered effect on the omni-directional mobility or ODM gear and backplate is on point as it gives the statue a somewhat realistic vibe
The statue's face is commendable cause the frustrated expression translates well as it doesn't look flat or fake
The overall paint quality of the statue is good since most stocks don't have any paint issues or flaws
I personally like the details of the statue's sculpt, since every area was cleanly made and the seams are barely noticeable
Cons
Setting up this statue can take a while since you'll have to assemble it as Eren, the chimney top, and ODM gear don't come in one piece
You'll need to display this statue in a spacious area since it's larger than most 1/8 statues
Some pieces of this statue, such as the ODM gear and straps, are fragile and may break off easily if they're handled carelessly
The Best Mikasa Ackerman Statue: Mikasa Ackerman 1/6 by Kitsune Statue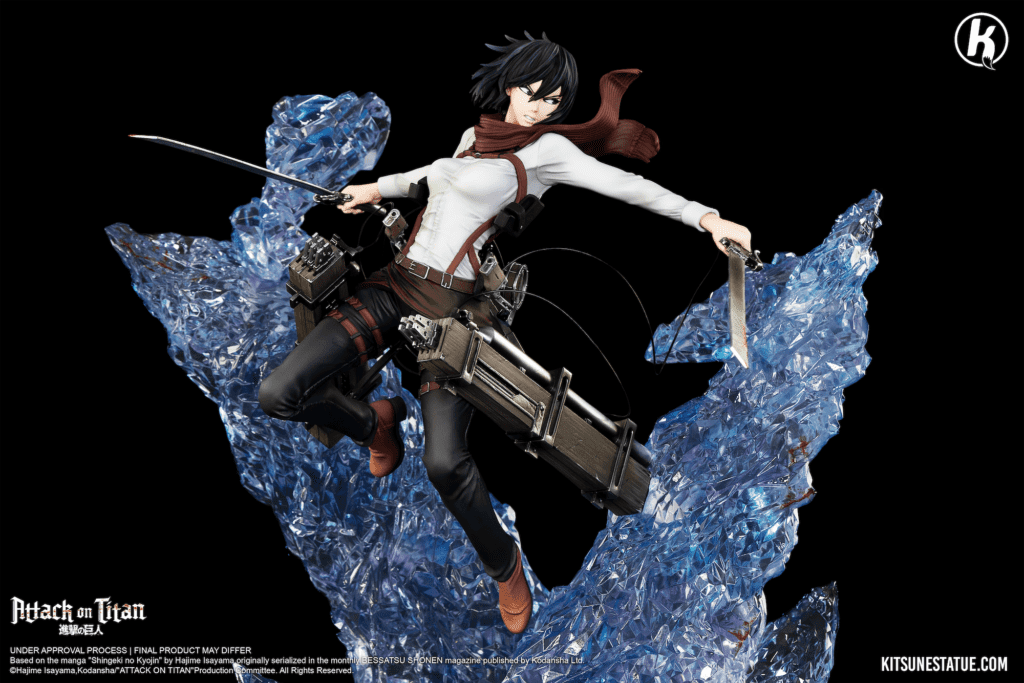 You'll be able to proudly display one of Attack on Titan's ultimate Titan killing machines, Mikasa Ackerman, in your collection when you purchase this jaw-dropping statue of hers.
Like the Eren statue mentioned above, this version used Mikasa's design from seasons 1 to 3. To be precise, it's based on season 3's episode 7, where the Scout Regiment's Levi Squad infiltrates the Underground Chapel to rescue Historia and Eren from Rod Reiss.
Release date: Q4 of 2022 or Q1 of 2023
SRP: 685.90$ or 659€
Rarity: Moderate to High
Pros
This statue's incredible base is modeled after the luminescent ore in the Underground Chapel, and it's the best-looking one compared to all the other Mikasas' bases
You can't ignore how thorough the sculpt of this statue is, as you'll be able to quickly tell the different techniques that were used to create Mikasa's hair, the knitted pattern of the red scarf, and the creases on the clothes, to name a few
I love that Kitsune Statue paid close attention to this statue's paint details, like the natural-looking scratches and chipped paint on the ODM gear and blood splatters on the base
This statue has one of the most expressive faces of Mikasa, making it way more appealing than those with blank or flat expressions
There aren't any visible seams on this statue, giving it a smooth and even finish
Cons
Since this figure has parts made out of resin, it'll be much heavier than the PVC statues or figures
The manufacturer, Kitsune Statue, will only be producing limited pieces of this statue, meaning its price will undoubtedly increase once it's been released
You have to handle this statue with care cause, unlike with PVC statues, you won't be able to glue the resin pieces seamlessly should they get broken
The Best Armin Arlert Statue: Armin Arlert Brave Act 1/8 by Sentinel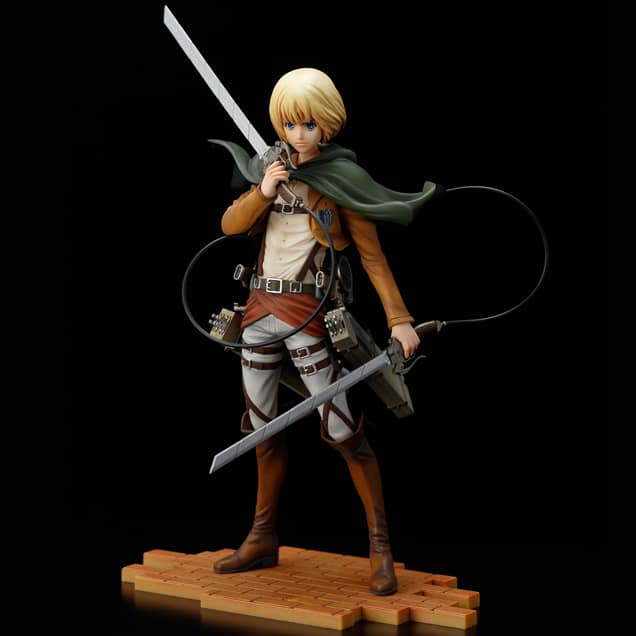 The intelligent and selfless Armin Arlert gets his turn in the spotlight with this 1/8 statue. Although this is one of the few decent versions of Armin that you can get on the market, this doesn't mean that you're just settling for what's available.
As a matter of fact, this statue is actually well-made and recreates how Armin looks in the anime TV series. In light of this, you won't be disappointed by this item should you decide to add it to your Attack on Titan statue collection.
Release date: January 2015
SRP: 114.99$
Rarity: High
Pros
This item includes additional body parts, so you can do 2 poses with this statue, Armin holding the ODM propeller with the plug-in blades and the Military salute
This statue comes with 2 faceplates, which means you can pick if you want to display a serious Armin or an angry one
Aside from the poses, you can also alter the statue's general look cause the green cape and blades of the OMD propeller can be detached
The paint and shading on this statue are accurate to Armin's characters design in the anime
This statue's base has a low-key but attractive design that doesn't take the attention away from the statue
Cons
Due to how near the arms are to the statue's body, switching the arm parts may be a bit hard
The shipping price might be a bit pricey for this statue, being that the box is bigger than the regular size that's used for 1/8 statues or figures
You'll have to hunt stores to get this statue, as there are only limited stocks of this since it's been out for years
The Best Levi Ackerman Statue: Levi ARTFX J 1/7 Fortitude Version by Kotobukiya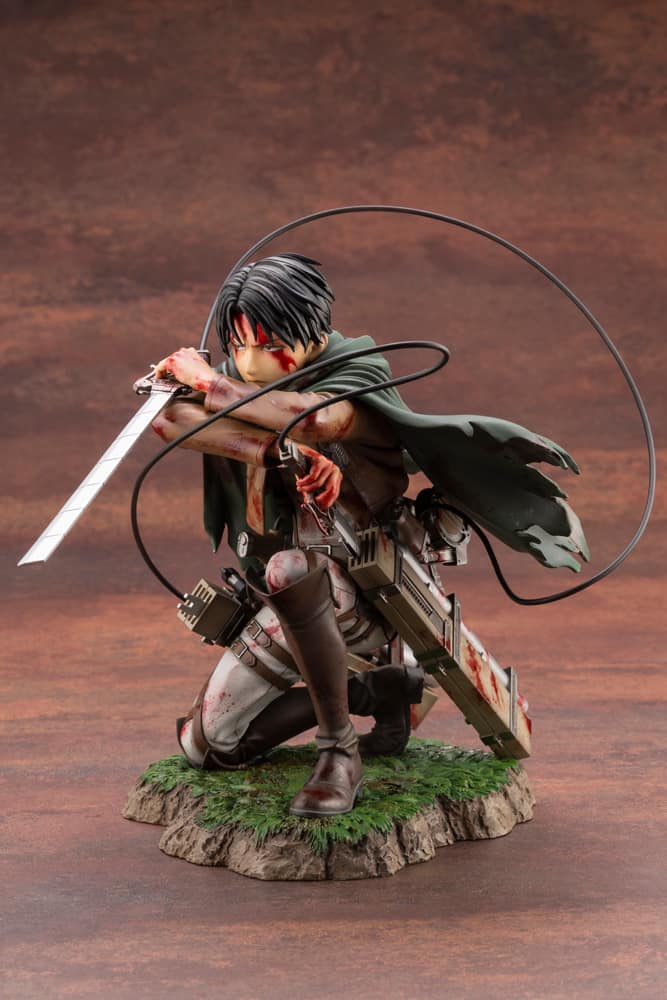 Attack on Titan's official best boy, and the character that's most loved by all fans, Levi Ackerman, is yours to own as this bloody masterpiece. I was initially going to put Levi ARTFX J 1/8 by Kotobukiya in this spot.
But once I saw this version and confirmed that it indeed looks as good in person as it did in the promotional photos, there was no doubt for me – this is the best statue of Levi so far.
Release date: 1st release June 2020, and 2nd release November 2022
SRP: 174.99$
Rarity: Low to Moderate
Pros
The paint quality is awesome, and I love the color of blood that Kotobukiya used on the statue because it looks similar to real blood
The placement and appearance of the blood splatters are on the mark, as you can distinguish the different paint techniques used to achieve them
The expression on the statue's face is on point and fully conveys how intense Levi is in the anime when he's in fight mode
This statue's body proportion feels more truthful to Levi's small size, 5'3 or 160cm, in comparison to most Levi statues, as they make him look taller than he truly is
The statue can stand on its own, and the base is detachable, so you can pair it with a different base or put it on flat surfaces
Cons
This statue may not be a good match for you should you be squeamish about blood
Due to the position of the statue's arms, you won't have a clear view of the lower part of Levi's face unless you look at it from the left side
The grass could've been done better as the base isn't as impressive as the statue
The Best Erwin Smith Statue: Erwin Smith Brave Act 1/8 by Sentinel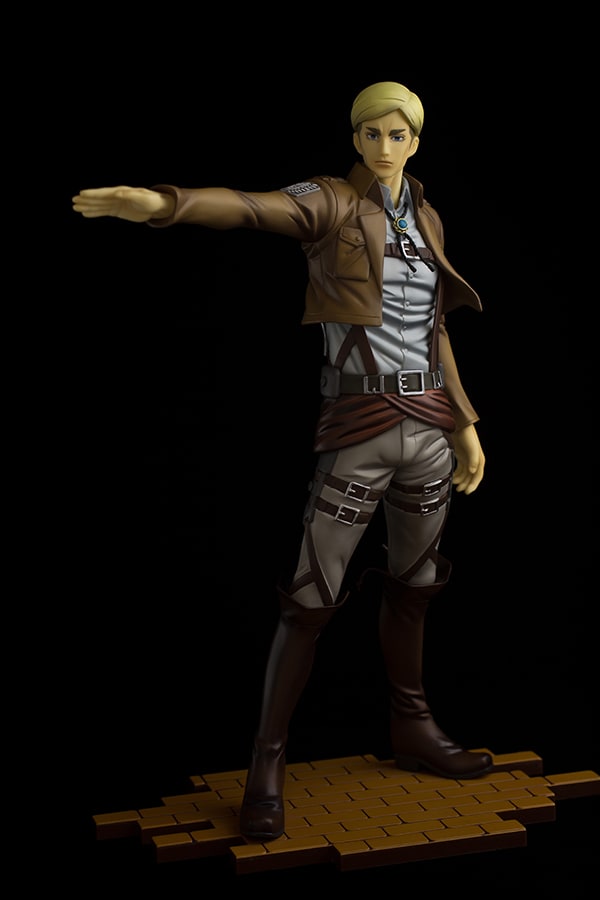 Erwin Smith, the steadfast and charismatic former 13th commander of the Survey Corps, is a must-have when building an Attack on Titan collection.
Seriously, how could he not be when the guy made more of an impact than the majority of the supporting cast, such as Connie or Jean? In light of this, if you're keen on getting Attack on Titan statues, this is one of the statues that you shouldn't miss.
Release date: October 2015
SRP: 154.99$
Rarity: High
Pros
This statue's base can connect with the bases of other Attack on Titan Brave Act 1/8 statues, so you can create a long strip of a brick path, similar to what is shown in the anime TV series
You can display this statue with different expressions since it includes 2 faceplates, a screaming face and a serious one
Many parts of this statue can be adjusted to your liking cause the cape and propeller can be removed, and the face and arms can be switched with the additional body parts
The direction of the statue's head can be changed, meaning you can have Erwin facing whichever way you want
Since this statue has an outstretched arm part and a screaming faceplate, you can replicate many of Erwin's motivating speeches, like the one he gives in episode 12 of season 3
Cons
I think the bulge of this statue's crotch area is too big and should've been toned down
Due to the angular shape of the face, this statue's face doesn't look like Erwin's anymore when the lighting is too bright
Since this statue only got a single release, it's not easy to find and is now worth twice its original price
The Best Jean Kirstein Statue: Jean Kirstein Menshdge (No. 31) Chousa Heidan Version by Union Creative International Ltd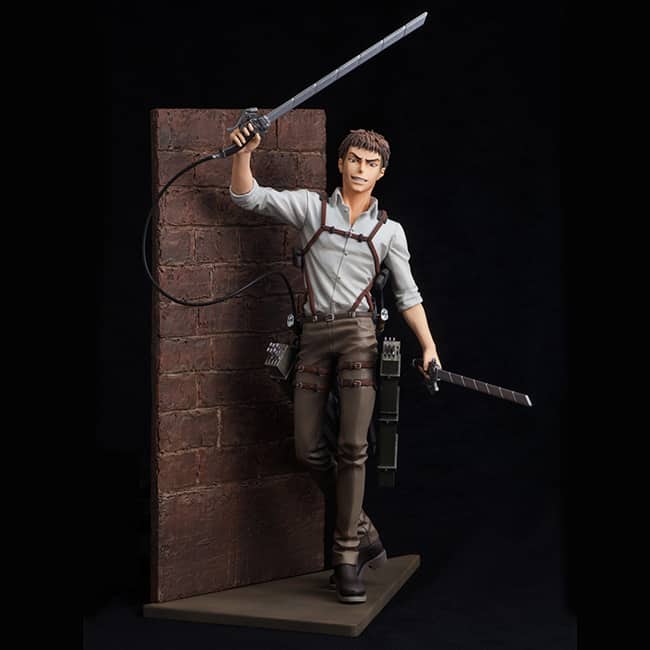 Seeing that Jean is one of the few characters who made it from Attack on Titan's season 1 until the end of season 4, there's no question that this statue of him should be considered a vital piece in your collection. What's more, this version of the Scout Regiment's sassy hothead is one of the only two premium statues of him available.
Release date: July 2017
SRP: 188.99$
Rarity: High
Pros
This statue comes with a detachable solid background, a vertical portion of a brick wall which gives it a unique look wherever you want to display it
This version of Jean doesn't follow the typical sizes of scale figures or statues, yet it fits in quite nicely with 1/8 statues or those that measure around 8 – 9 inches
This statue's pose showcases Jean's body shape and height, which is faithful to the character's anime design, along with the ODM gear
Compared to the other statue by Chara-Ani and Union Creative International Ltd, this version's face is the one that most resembles Jean's
This statue doesn't have to be assembled since the ODM gear is already attached right from the get-go.
Cons
This statue is very rare, so you'll have to make an effort to obtain it as it gets sold out quickly whenever it pops up on marketplace sites
The seams around the shoulders are obvious and should have been minimized
The Best Krista Lenz Statue: Krista Lenz 1/7 by FOTS Japan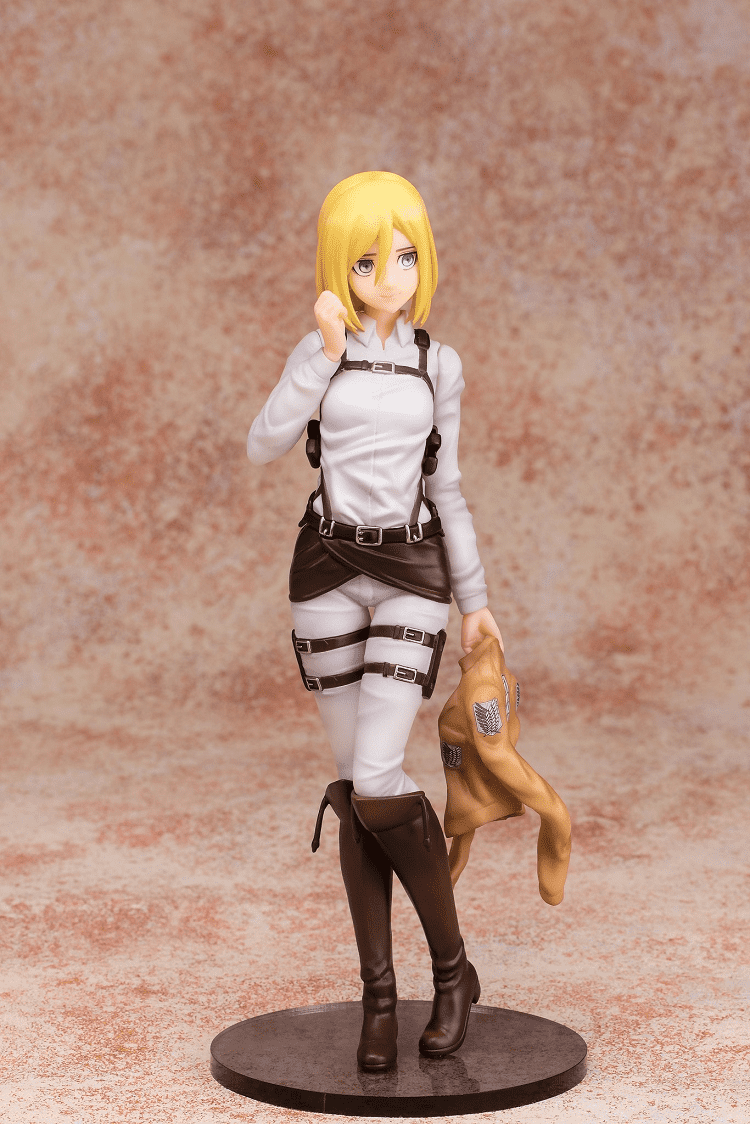 Historia Reiss, the last living member of the royal Reiss family, is captured in her soft-hearted Krista Lenz persona with this statue. If you liked her innocent look for most of the first 3 seasons of the anime TV series, this version should be perfect for you. I also suggest that you find one for yourself soon if you're a fan of hers, cause this is the sole high-end statue of Krista.
Release date: February 2019
SRP: 159.99$
Rarity: High
Pros
This statue is the most decent duplicate of Krista's character design from the anime, as the other available figures and statues are low-end
The statue's details are in line with how Krista looks in the anime, such as her eye shape, the color of her ponytail, and body outline
You can display the statue with or without the Survey Corps jacket accessory since it's removable
This statue seems small next to other 1/8 statues, but it got Krista's height right, as she's only 4'9 tall
Cons
There's a chance that statues from FOTS Japan will have some issues when they're en route to the buyer cause their packaging is subpar
This statue is more brittle than the usual 1/7 statue since it isn't made from PVC
The jacket accessory looks deformed and cheap
The Best Colossus Titan Statue: Colossus Titan Takayuki Takeya Version by Good Smile Company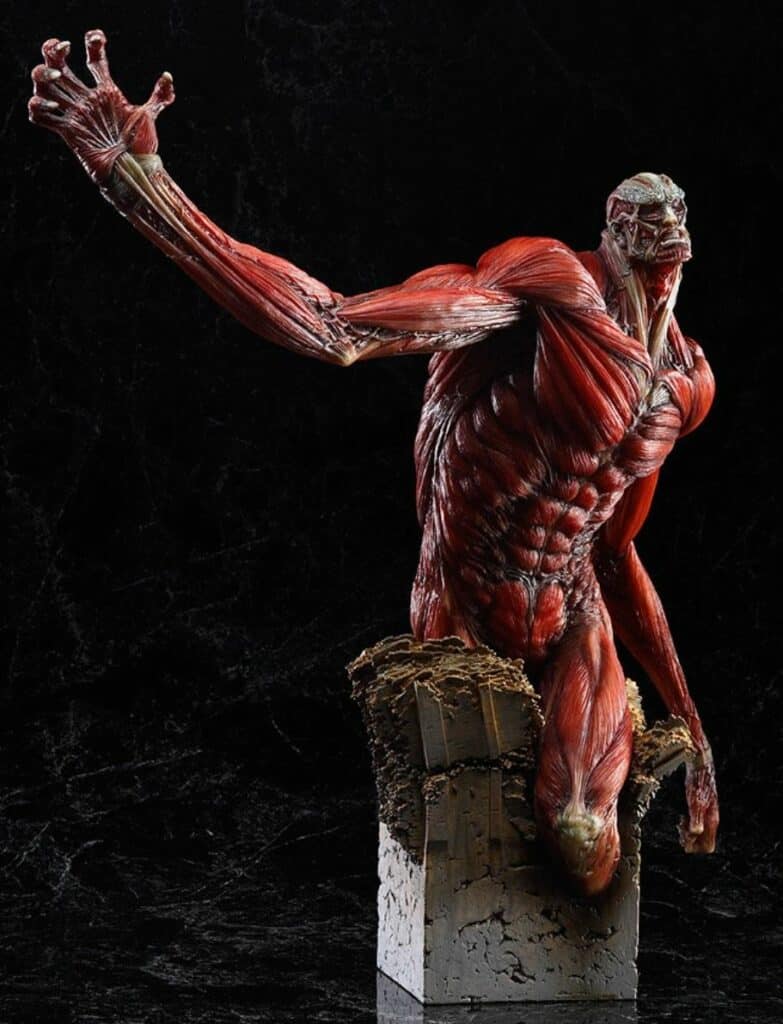 This majestic statue of the Colossus Titan will make any room or display a total badass.  It's undeniably one of the most striking replicas of the gigantic Titan. So should you have the space and money to acquire it, I think you should go for it.
Release date: April 2015
SRP: 612$
Rarity: High
Pros
As this statue is made of polystone, it's tougher than most statues and has strong resistance to decay
Due to the Titan's exterior design, the statue's seams aren't visible and blend in evenly with all of the interconnected muscles and tendons of the body
The paint quality of this statue is wonderful; I particularly like how the red and light yellow colors of the muscles mix together
This statue isn't an exact clone of the Colossus Titan from the manga and anime, yet Good Smile Company's take on the design makes it more appealing cause they gave it a realistic and scary vibe
Cons
You have to be mindful of the statue's placement cause the outstretched arm is more prone to damage since it's far from the body
This statue was released in limited quantity, so you might have to settle with a used stock cause it won't be easy to find one that's brand new at this point
The Best Female Titan Statue: Female Titan 90cm Class by A-Toys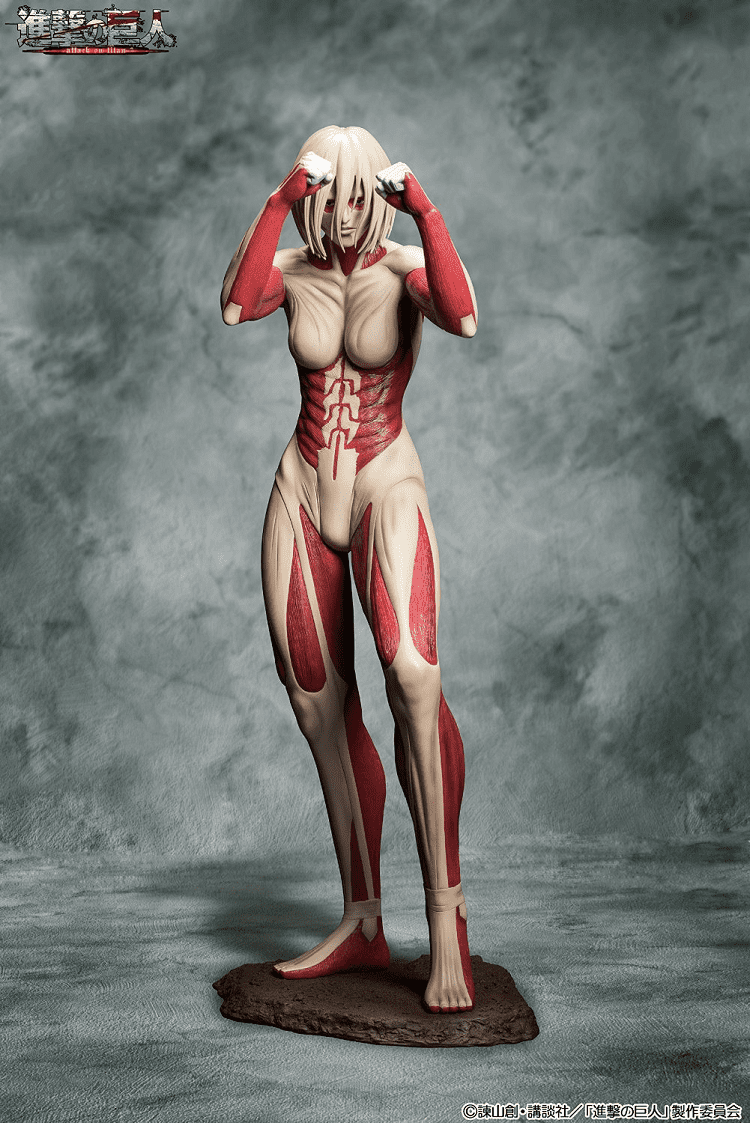 Though the Female Titan was missing in action in seasons 2 to 4, the time that she was on air was enough to make a lasting impression. Her effectiveness as the primary villain in the first season of the anime TV series makes this statue a worthwhile addition to your Attack on Titan statues.
Release date: October 2015
SRP: 449.99$
Rarity: High
Pros
Since this statue is posed in the Female Titan's fight stance, you'll be able to relive many of the scenes from the anime where she squared off with the Scouts and Eren's Titan form
This statue's appearance closely follows the character design of the Female Titan in the anime
As it's made of polyresin, this statue has a better paint finish and texture than PVC statues
This statue's body looks great and has realistic proportion, giving it a lifelike feel
Cons
You have to find a specific shelf or customize one for this statue cause it won't fit on regular shelves as it's one of the tallest Attack on Titan statues at 35 1/2 inches tall
A-Toys messed up the statue's hair color a bit cause the Female Titan is supposed to have yellow blonde hair, not greenish blonde
The Best Diorama Statues: Attack on Titan Armin Arlert, Eren Yeager, and Mikasa Ackerman Ultimate Premium Masterline 1/4 by Prime 1 Studio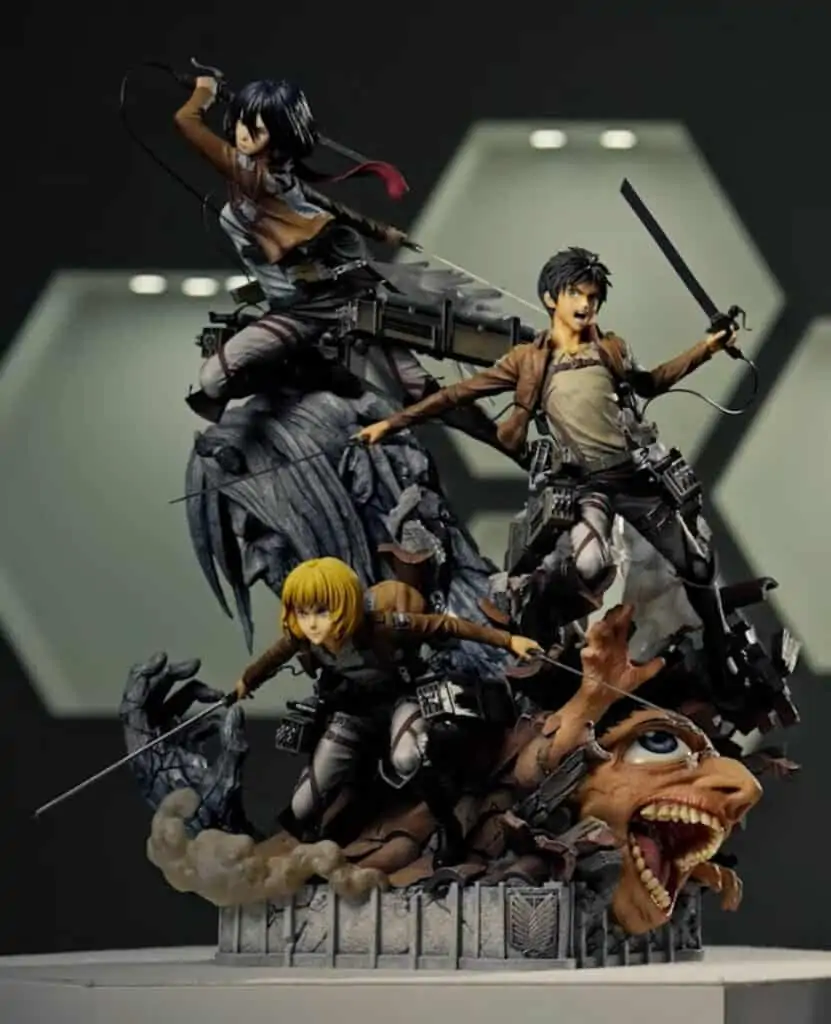 If you want an Attack on Titan statue diorama of the main 3 characters of the series, this is the best choice for you. I've personally seen statues produced by Prime 1 Studio, and I swear, they're like the top-tier luxury brand of statues. You can never go wrong with their statues, and you'll never regret any purchase.
Release date: TBA
SRP: Estimated price is 2,850 – 3,400$
Rarity: Moderate
Pros
The diorama will look as good as the promotional photos, if not better, as Prime 1 Studio has a worldwide reputation for making high-class statues
The statues are painted with vivid colors, and the skin tone of each character flawlessly matches their anime versions'
Not only do the dynamic poses of Eren, Mikasa, and Armin go well together, but they also bring the diorama to life
The diorama's design is to die for cause it incorporates all of the essential aspects of Attack on Titan
You can display this diorama in nearly every angle you want since almost all of its sides have something going on
Cons
This diorama is very pricey as it's high quality and basically comprises 5 statues
You'll have to assemble the diorama piece by piece, as it'll come in separate parts
Female Titan and Rogue Titan by Jimei Palace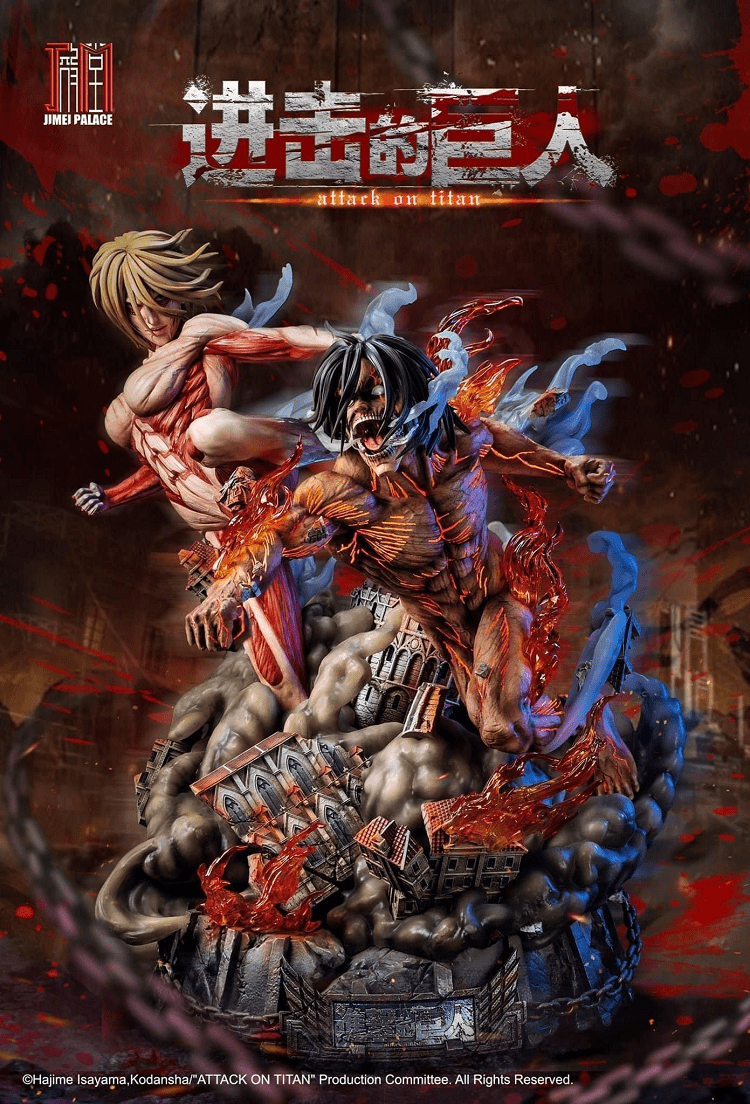 Attack on Titan has created many memorable and explosive action scenes that are in a league of their own. And in case you're a diehard fan, you have the opportunity to display one of the series' most iconic battles with this diorama statue – the epic fight between Annie Leonheart's Female Titan and Eren's Attack Titan at the Stohess District.
Release date: 2022
SRP: 1,309$ or 8,888CN¥
Rarity: Moderate to High
Pros
The design of this diorama is stunning. Every inch has been finely crafted, such as the debris clinging to the Attack Titan's body and the exterior of the buildings
The diorama's layout includes all the key visuals from the episode it was taken from, season 1 episode 25
The light-up feature on the Attack Titan's body is brilliant and even pulsates, just like how it appeared in the anime
Flame effects usually look cheap and unconvincing, but the ones on this diorama look expensive and somewhat believable
Cons
This diorama will take a bit of time to set up to display cause it doesn't come in a single piece and needs to be assembled
Since the statue's body is connected by magnets, there's a chance that certain magnets won't be able to properly hold up parts that are too heavy
Attack on Titan Armored Titan VS Eren and Mikasa Ackerman Elite Exclusive Statue by Figurama Collectors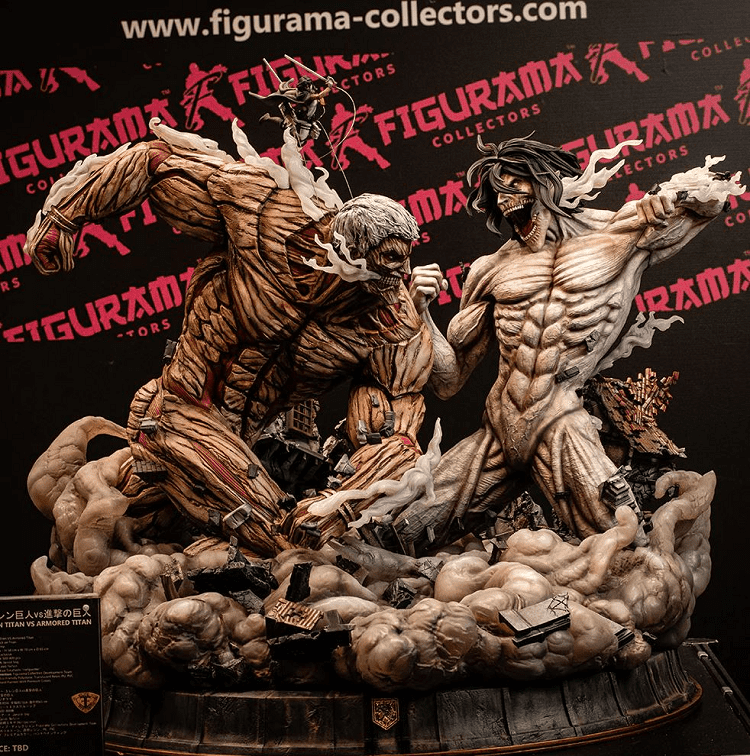 Out of all the Titans in the series, the two that get the most screen time are the Armored Titan and Attack Titan. As such, this diorama statue featuring the two in an epic brawl is an excellent representation of Attack on Titan. This piece is sure to blow your mind in person, whether you're on team Reiner or Eren.
Release date: Q4 2020
SRP: 1,410$
Rarity: Moderate
Pros
This diorama is a combination of Eren and Reiner's fights throughout the series, the base is styled after Wall Maria's exterior, where they fought in episode 7 of season 2, and the interior is reminiscent of the Shiganshina district where they fought in season 3 episode 14
The tiny Mikasa statue is a nice touch to the diorama, as the size difference makes it feel like you're watching a scene from the anime unfold in front of your eyes
The worn out and beat-up effects of the buildings are consistent and seem close to real life
Every part of the diorama has been meticulously sculpted to perfection, and you can even see the different textures of the statues, like the ribs in Armored Titan's muscles
Cons
Cause of its weight and height, this diorama's shipping fee will be pricey
The Armored Titan's hair looks a bit off to me as it doesn't follow the all-white or silver color in the anime
Top Q&A
Question: Is There a Line that has Produced All of the Important Characters in Attack on Titan?
Answer: None as of the moment. Even with Attack on Titan's popularity for nearly the past decade, manufacturers continue to just focus on making statues of Eren, Mikasa, and Levi.
Only Sentinel has released 4 characters from Attack on Titan, 1/8 statues of Eren, Armin, Levi, and Erwin.
However, you'll have more luck getting many of the characters in Nendoroid form as Eren, Mikasa, Armin, Levi, Erwin, and Hange have existing Nendoroid versions. A Nendoroid of Reiner has also been announced to be in production soon.
Question: What's the Difference Between PVC and Resin or other Stone-like Attack on Titan Statues?
Answer: PVC statues are made purely of plastic material. They're lightweight, are cheaper than resin, and their colors will fade over time when exposed to harsh light, direct sunlight, and UV rays.
Meanwhile, statues made of resin, polystone, and similar materials come from plants and are more expensive than PVC. They're heavy and rock-hard since they resemble stone statues and won't get discolored from UV lights.
Large-scale statues also tend to be made out of resin or polystone instead of PVC, like the Attack on Titan Ultimate Premium Masterline 1/4 Statue by Prime 1 Studio on this list.
Question: What are the Common Sizes of Dioramas and Individual Statues?
Answer: Most, if not all, toy and statue manufacturers these days commonly make diorama statues of 1/3, 1/4, and 1/6 size. On the other hand, individual statues or figures may range from 1/3 to 1/8 scale.
Conclusion
Creating a statue collection already takes up a lot of space, time, and money. Yet even if you have all the pieces you want, you'll still be unsatisfied if you can't have a good display area. The most effective way to be content with your collection and display is to plan out how to go about them right from the start.
First off, you've got to think about what type of statue you want. Are you more interested in diorama statues or solo statues? Maybe a mix of both? When you've decided on your target, you need to figure out how you want to present them.
Cause if you're going to put them on a shelf or cabinet, grouping statues with similar appearances will give you the most visually pleasing Attack on Titan display.
Just imagine it. One shelf full of dioramas or individual statues would look way better than a shelf where every statue, regardless of design, is simply crammed in, right? So, you should take your time to sort things out to make sure that you're not only proud of the statues you possess but also happy with where you put them.
Find more cool statues below:
Best Marvel Statues Guide for Superhero Fans
Ultimate Guide to Statue Collectibles for Enthusiastic Fans
18 Best Batman Statues Guide for Batty Fans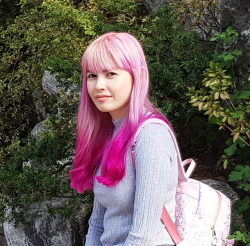 Latest posts by Charissa Fuentes
(see all)