Odin's son undoubtedly gives us the best Thor hammer replicas, and we don't need to be Norse mythologists. Sure, I love Freya, Odin, and Thor from the Nordic culture, but Marvel collectibles swing my hammer. I've collected statues, model kits, action figures, Funko Pops, and Nendoroids for eons already.
Perhaps my passion for collecting the most incredible replicas is nearly as old as the Nordic gods. My clients often think my collector's soul and love for quality props are as ancient as Thor. Nonetheless, I'm here now to show you the best quality Thor replica hammers available so that you can feel like a Norse god.
Bottom Line Up Front
Who wouldn't love feeling like the god of thunder, holding Mjölnir? Thor isn't only a demi-god. He's also one of the best Marvel heroes, and any fan or collector wants to hold his hammer. Okay, you likely want to showcase the immobile, worthy hammer among your prized replicas. In that case, you need the best quality props.
I won't show you the children's playtime Thor hammers. I'll show you the kinds that feel like cold steel in your hands. I'll share the leather-strapped, intricately detailed replicas good enough for the movies. Do you want to know what makes a replica the best? Please look at my top picks before diving into why they're the best ones.
My Top Thor Hammer Replicas at a Glance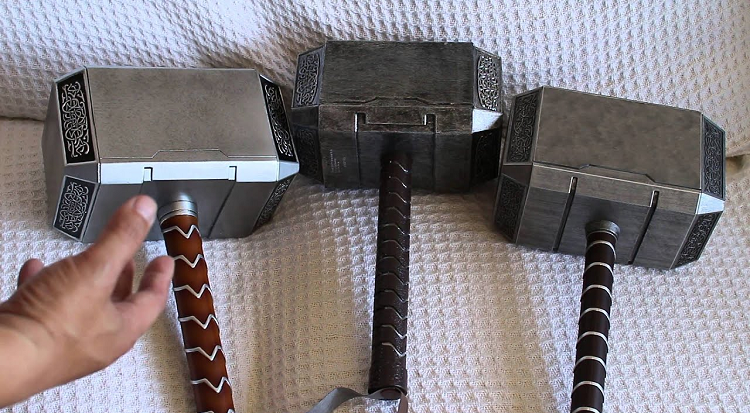 You'd think there are one or two quality Thor hammer replicas. You'd be surprised to see how many options you have—surprised or excited. Either way, here's a peek at the top-notch Thor hammer replicas:
Marvel Official Thor Hammer Replica
Premium Interactive Thor Hammer Replica With Base
I'll also add a few cheaper Thor replica hammers for kids and adults who merely want to swing it around at the next cosplay event. It will be challenging to carry the metal and resin hammers to the next Comic-Con.
Forged Tips for Thor Hammer Replicas
Replicas are identical merchandise forging the mind to believe they belong in the movies. A replica should be so good that you want to return it to Hollywood. For that to happen, you need quality replicas. Quality begins with value, and decent Thor hammer replicas can cost over $100. Why do quality replicas cost so much?
The value comes down to the materials and casting. A foam Thor hammer doesn't feel or look the same as the real thing. It's not a replica in collectible terms. It's the type kids play with at cosplay parties. You want models that make your eyes bubble and your heart thump, meaning they must feel as natural as they look.
Acceptable Thor Hammer replicas include:
Any other material is useless with a Thor replica hammer. Consider the weight as well. They should weigh one or more pounds to feel realistic. Finally, Thor's hammer is an ideal collectible for life-size scales. Replicas can come in half-size, life-size, or smaller scales. However, Thor hammers are perfect when they're life-size.
Bonus Tip: Consider the replica grading if you want top-notch hammers. A 7a grading is an exact replica, whereas a 5a grading is close enough. Quality life-size or 1:1 scale Thor hammer replicas will often be 12a graded, ideal for cosplay and collections. Not all sellers share the grade, though.
Picking the Best Thor Hammer Replicas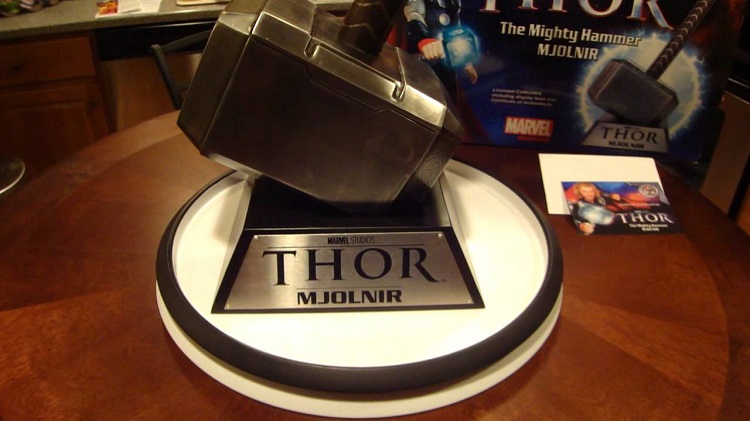 The best Thor replica hammers must be life-size, have excellent details with leather straps, and be my preferred quality materials. Lastly, the hammer should weigh more than a pound to feel like the iconic Marvel prop it should be. I won't focus on grades because you can't always see them.
Best Thor Hammer Replicas for Avid Marvel Collectors
Are you ready to smash your thunder in your prop room? The slamming facts will share how each Thor hammer replica makes my quality list. I'll even share some pros and cons to help you pick the worthy one.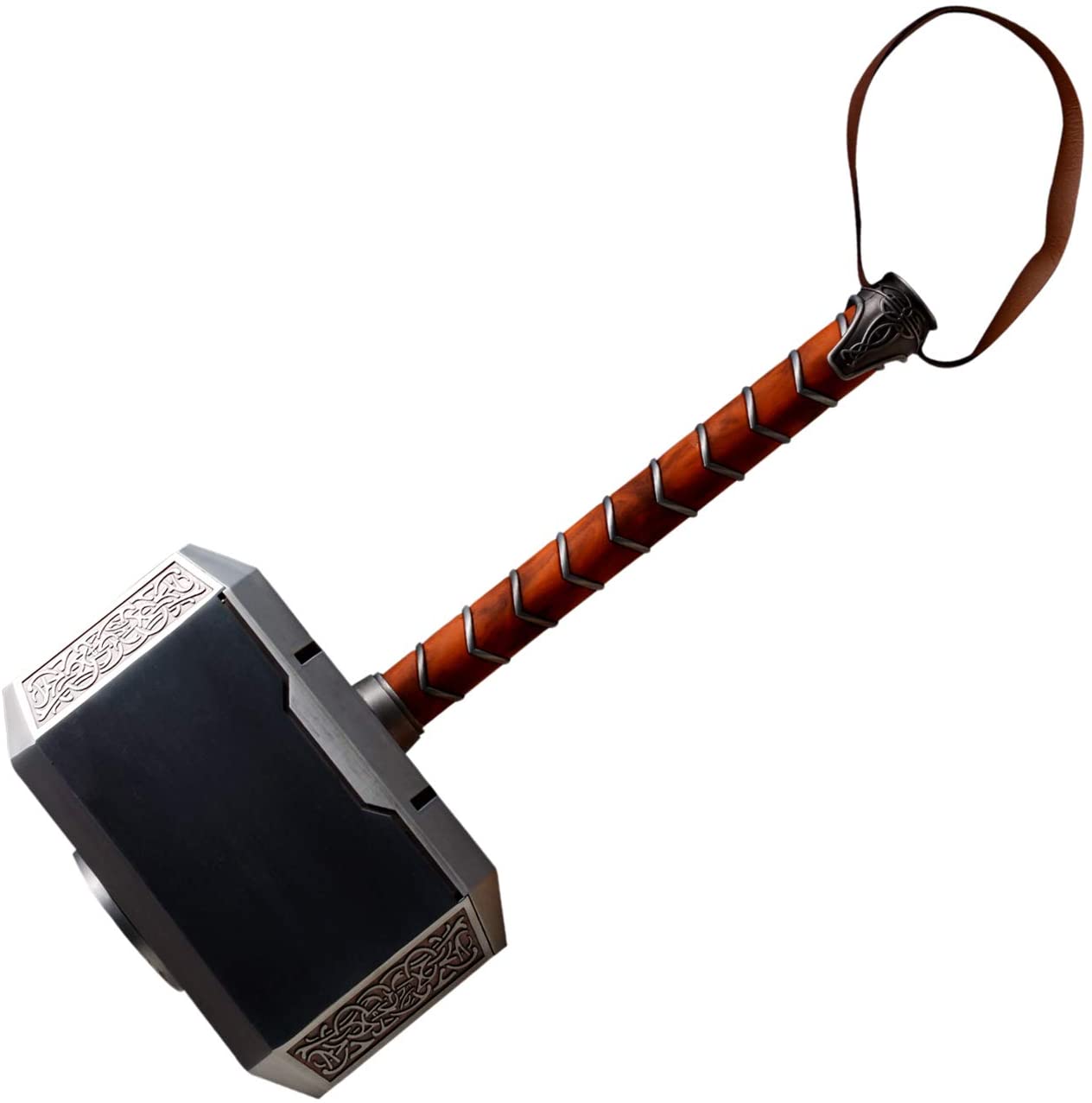 Let's begin with the most basic replicas of Thor's hammer. This prop meets all my requirements, and it has gorgeous details on the ends of the gavel and the handle. The intricate details are thanks to the manufacturer using polyvinyl resin that allows engraved edging. It measures 11.8 inches, making it a life-sized beauty.
Slamming Facts
Materials: Polyvinyl resin
Scale: 1:1
Weight: 4.2 lbs.
Pros
I love the details around the edges, almost looking like vines running around the hammer's head, and the grooves under the head give it more depth
It flaunts a leather strap for your hand and a stand for optimal displays in your showroom, and it weighs as much as a metal hammer
Cons
I wish the handle had a leather grip instead of molded resin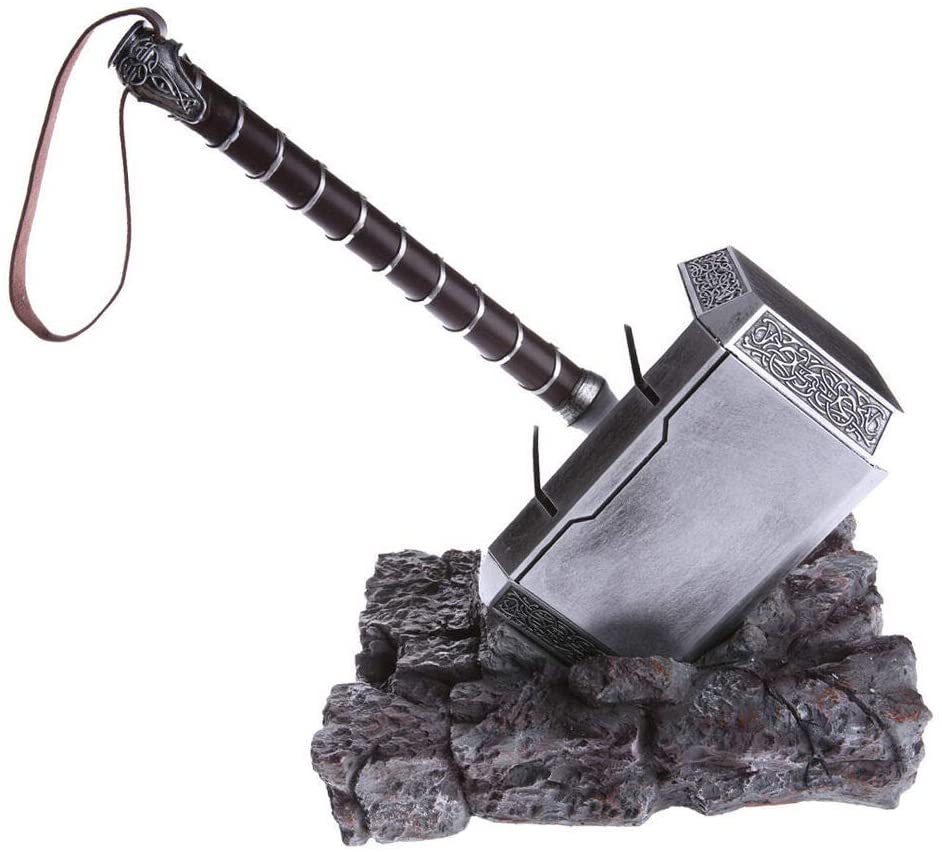 You have to look carefully to notice the differences between the basic and collectible Thor hammer replicas. Sure, the collectible version comes with a beautiful stand that looks like rocks, but the details on the hammer might look similar. Remember that replicas should duplicate the real hammer's design, so they'll all look alike.
Slamming Facts
Materials: Metal, resin, and leather
Scale: 1:1
Weight: 6 lbs.
Pros
The collectible Thor hammer replica showcases a gorgeous rock-styled base that keeps it in the ideal position for displays, and the hammer weighs a ton
The details around the edges and the handle's end are impressive, and the hammer comes with a leather strap for real feels
Cons
The weight includes the stand, meaning the hammer weighs about the same as the basic version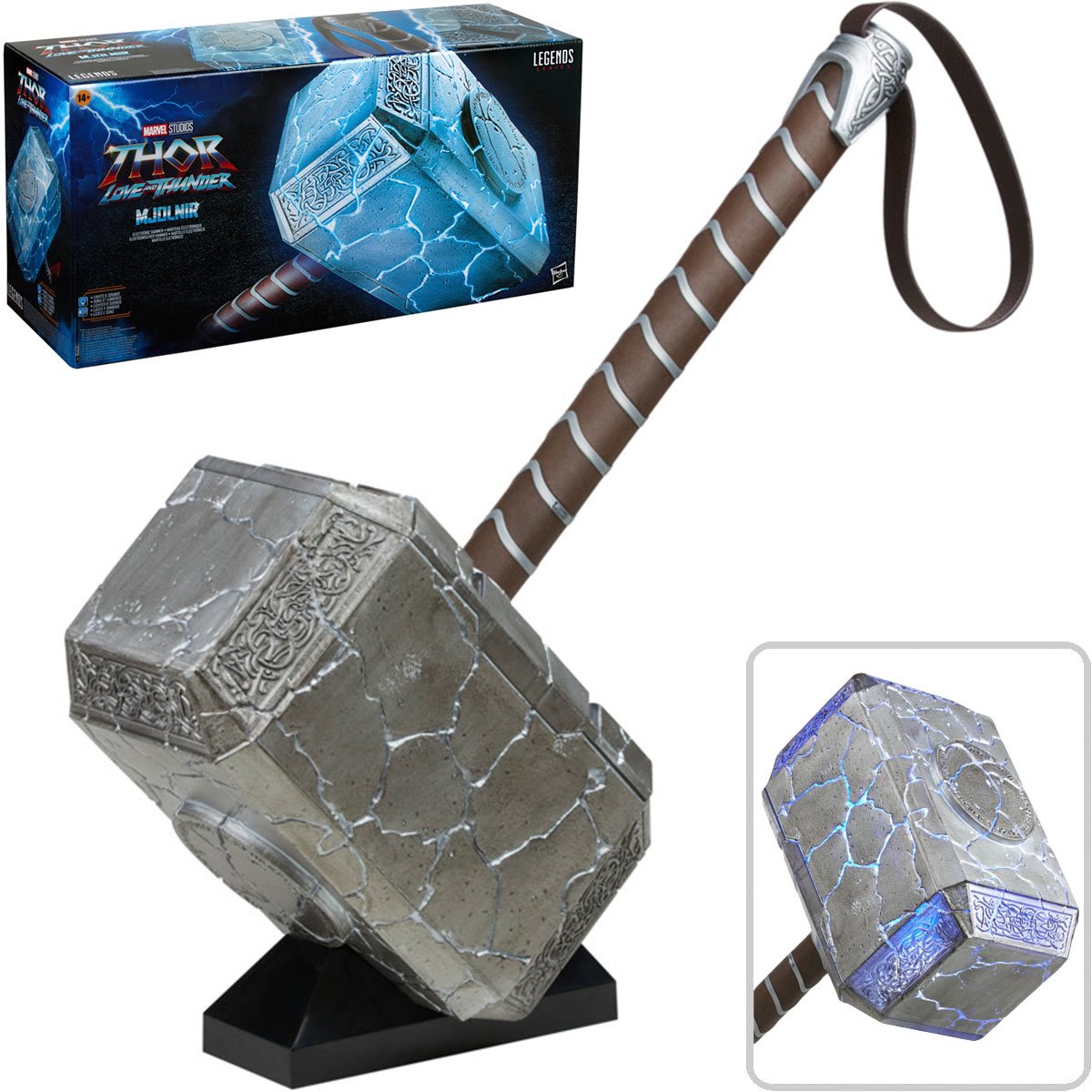 I'm about to strike your collector's heart with thunder because this Thor hammer replica is insane. It's my favorite, in case you haven't noticed. For the love of everything thunder, the Mjölnir electronic lightning effect hammer is nothing like the usual ones you find from the basic and collector's editions. It wows you!
Slamming Facts
Materials: Polyvinyl resin
Scale: 1:1
Weight: 4 lbs.
Pros
This Thor replica hammer makes collecting props as hard as it gets because you'll want to unleash your thunder with the electronic lightning effects
It has the exact gorgeous details around the edges and handle's end, and the hammer comes to life with batteries
Cons
Some collectors want static hammers that don't work with batteries, but the light show is worth it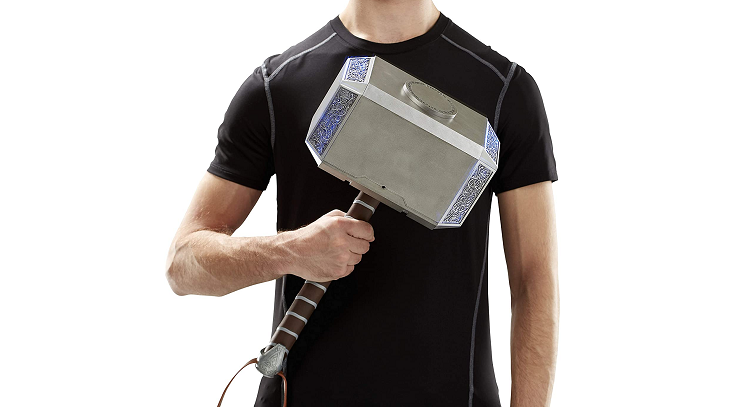 More fans love Thor from Marvel movies because not everyone follows the Nordic culture. Thor's presence in the Avengers movies engraved his hammer's name deeper in the Marvel Universe stone. I'm nutty about quality replicas that look the same as the real things, but I also love how this one lights up with Odin's sign.
Slamming Facts
Materials: Polyvinyl resin
Scale: 1:1
Weight: 4 lbs.
Pros
The Thor hammer replica from Marvel Avengers is another electronic beauty that showcases the Nordic god of war's sign in brilliant blue
The details around the edges and handle's tail match the beauty of the other hammers, and it comes with sound effects to enhance adult cosplay
Cons
Again, some collectors feel like light shows don't improve quality, and the handle doesn't have leather strapping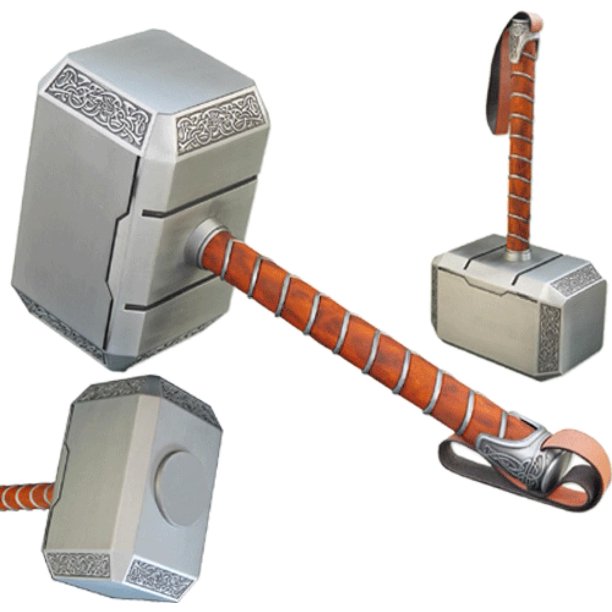 Marvel Legends have a Thor replica hammer without the light and sound shows, and it's a metallic beauty with a lighter design. I mean lighter as in color and not weight. It's one of the heaviest replicas available. It's weird because it has a polyvinyl handle rather than a leather strapped one.
Slamming Facts
Materials: Metal and polyvinyl resin
Scale: 1:1
Weight: 13.75 lbs.
Pros
The Marvel Legends Thor hammer replica looks brighter, and it has intricately engraved details around the edges and on the handle's end
It's super heavy and comes with a stone base for gorgeous displays, and it has a leather hand-strap for easy gripping during cosplay
Cons
It's a pity the handle is molded polyvinyl resin and not wood or metal with leather around it
Marvel Official Thor Hammer Replica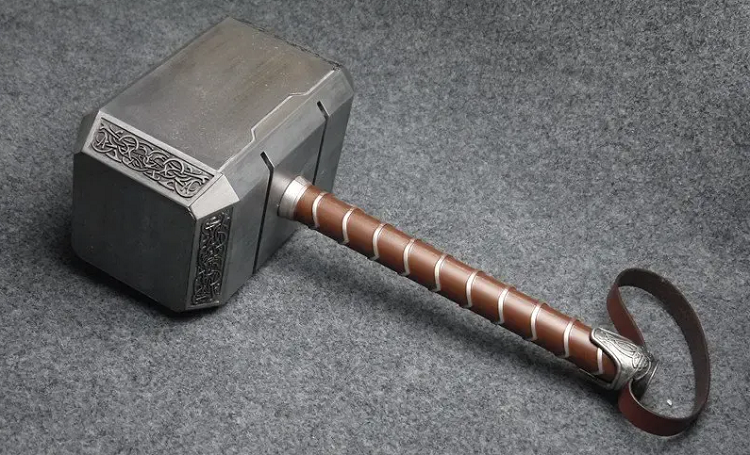 You can't buy a better Marvel prop than looking at the official store. I found this beautiful full-metal and leather version of the previous Thor's hammer. It has the same light colors with a gorgeous handle and engraved details, but it also comes with leather strapping for a better grip during cosplay.
Slamming Facts
Materials: Metal and leather
Scale: 1:1
Weight: 12.7 lbs.
Pros
The Thor replica hammer from the official Marvel online store is unmatched by others regarding quality and realistic feels, and it weighs nearly as much as the previous version
The hammer has metal materials from the end of the head to the tail of the handle, and it feels like you're about to swing thunder
Cons
The leather strapping is so smooth that you'd think it's polyvinyl resin, but there's no resin on this hammer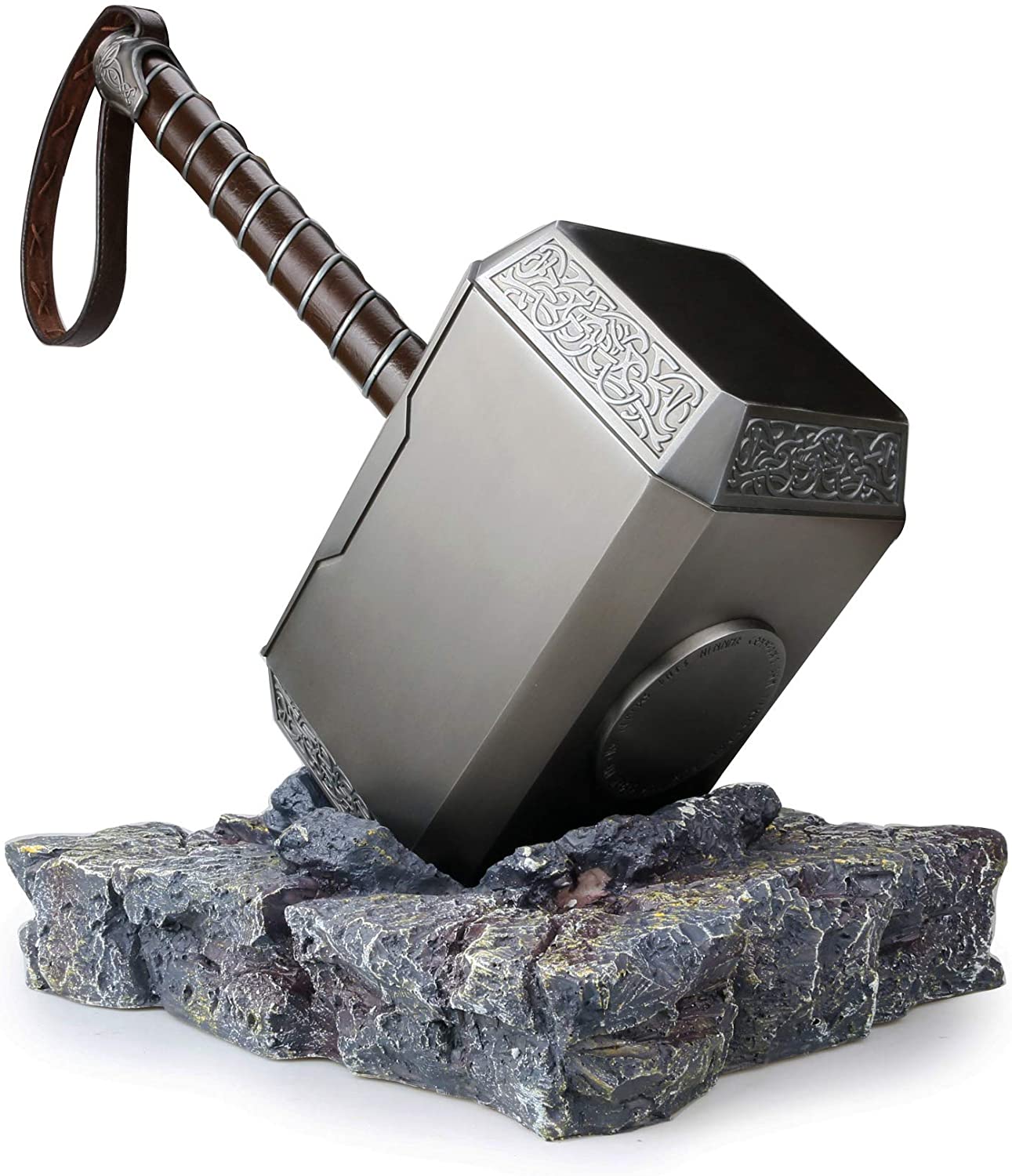 The Collectible Thor Hammer Replica With Stand took a new shape and design with the second version known as metal thunder. The second version took away the resin parts on the handle and around the head's edges to make the hammer heavier and more detailed for premium collectors. The Avengers movies inspired this one.
Slamming Facts
Materials: Metal and leather
Scale: 1:1
Weight: 6 lbs.
Pros
The zinc allow Thor hammer replica has engraved metal details around the edges and on the handle's end, and it comes with a genuine leather grip
The handle's leather is also darker, and the details on the edges are more profound than in the first version, and it comes with a stone base
Cons
You have to look close to find the differences between the collectible and second version hammers
Premium Interactive Thor Hammer Replica With Base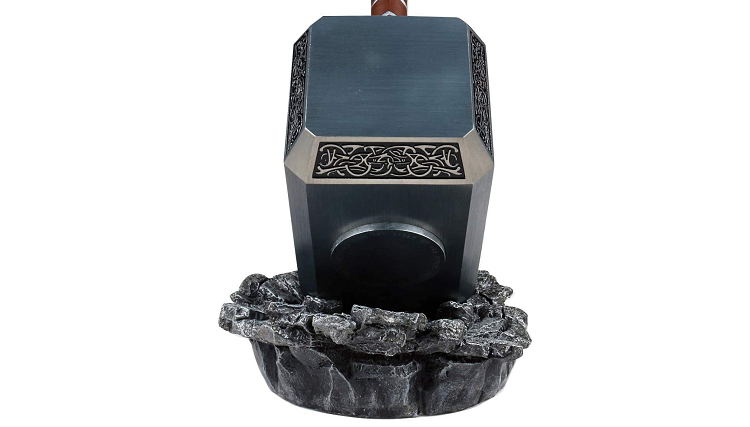 Not every Thor hammer replica must weigh a ton, especially if you're using it for cosplay. The interactive version is a stunning piece of art with aluminum metals to keep your arm attached if you swing it. I enjoy collecting Marvel replicas, but I also have cosplay parties. I use the lightweight versions for backyard fun.
Slamming Facts
Materials: Aluminum metals and leather
Scale: 1:1
Weight: 8 lbs.
Pros
The aluminum Thor hammer replica is complete metal construction that won't make you break the neighbor's windows when you swing it
It has gorgeous details along the edges and on the handle's end, and it comes with sound effects ideal for cosplay parties
Cons
As beautifully accurate as this hammer is, it's better suited to cosplay with the interactive effects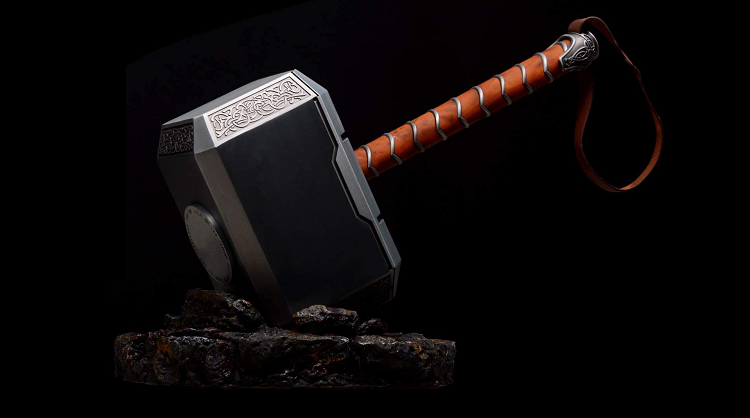 It's weird how lightning strikes when the god of thunder slams his hammer. Imagine how incredible your showroom would look with this beautiful metal Thor replica hammer wrapped in genuine leather. I love that the leather strap has a lighter color, almost resembling cherry wood. It's a beauty I'd add to my collection.
Slamming Facts
Materials: Forged metal and leather
Scale: 1:1
Weight: 8.8 lbs.
Pros
The Lightning Strikes Thor hammer replica has intricate designs on the edges and handle's end, and the leather has an unusual color
It comes with a fantastic stone base to house the god of thunder's hammer, and the weight is ideal for cosplay and showcases
Cons
It looks similar to the basic and collectible versions, although it has more profound engravings
Best Thor Hammer Replicas for Cosplay
I promised a few variants for cosplay or when you attend the next Comic-Con in Thor's costume. These hammers don't fit my criteria for quality collectibles, but they're fun to swing around at cosplay parties.
Halloween Prop Thor Replica Hammer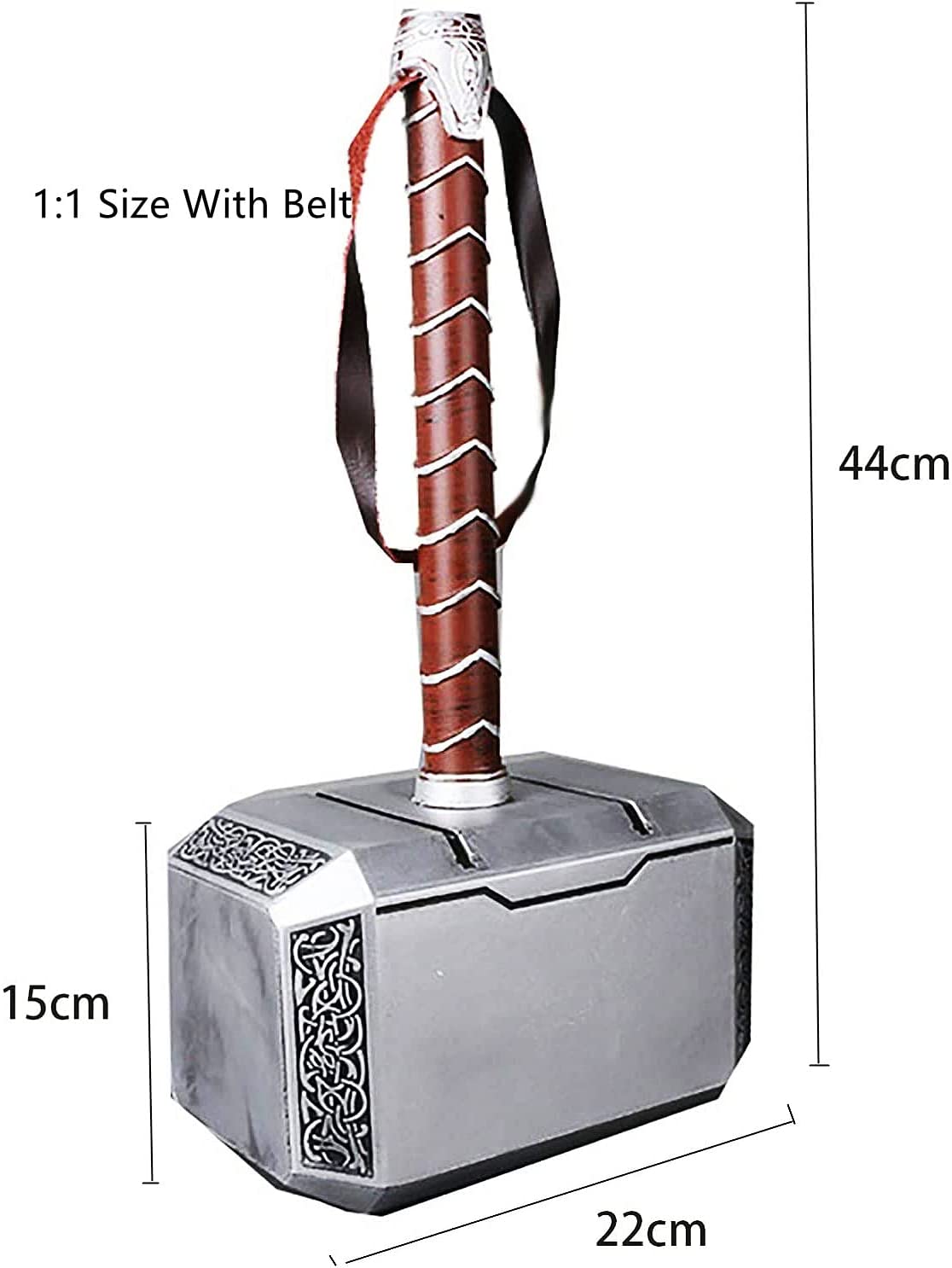 This hammer is impressive as far as plastic props go. It's soft and safe enough for kids to swing at each other. Imagine little Thors running around in costume, whacking each other with foam hammers. You won't win hammer contests, but the prop looks good enough to wear with an outfit.
Pros
It makes for excellent entertainment because you can whack other Marvel cosplay characters without injuring them
It's a life-size hammer that works for older kids and adults who want to enhance their Thor costumes
Cons
It's a foam Thor hammer replica, which doesn't make my quality list
Thor Hammer Costume Accessory

The life-sized foam Thor hammer replica might be too large for little kids to handle. Maybe it's something you do with your children. My son and I love cosplay parties, and we often go as one hero with a mini-me version. This Thor hammer prop is ideal for smaller hands that can't hold the giant replicas.
Pros
It's a lightweight Thor hammer accessory for young kids to wear with their costumes, and it's safe for them to hammer each other
It only weighs an ounce for kids to slam the villains at the party, and no one will get hurt
Cons
It's not a collectible in any sense of the word, but it's entertaining like the last one
Thor's Museum Replica Hammer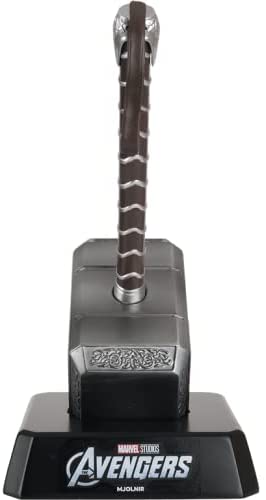 Okay, this hammer replica isn't a cosplay-friendly option. However, it's an incredible piece for fans and collectors. You can showcase the hammer in your living room or keep it on your desk. It's metal and resin, almost meeting my requirements, but it's a smaller version designed for desk displays.
Pros
It's a metal and resin Thor hammer replica that looks like it belongs in a miniature museum
The details are impressive for a 6-inch replica, and it has the Marvel Avengers logo on the front
Cons
It's not life-sized, but it's a fantastic collectible for Thor fans who want to spruce up their workspaces
Top Q&A
Question: What's the Name of Thor's Hammer?
Answer: Thor's hammer has a Nordic name because he's the son of the Norse god, Odin. Mjölnir is pronounced "mee-yol-neer." There's a misconception that Mjölnir is super heavy, lending to why the demi-god can lift it and no one else can. The hammer isn't heavy. Only Thor's hand is worthy of raising it.
Question: Which Thor Hammer Replica Looks the Best?
Answer: Some Thor hammer replicas have beautiful engravings and details. There's one that stands out for me more than others. The Love and Thunder Thor Hammer Replica has an effect that reminds you about Thor's origins and powers. He's the god of thunder, and the hammer comes with a light show that emphasizes it.
Question: What Makes the Best Thor Hammer Replicas?
Answer: Online stores have plenty of poor-quality replicas, and it doesn't help that you can't feel the prop before buying it. I use a strict system where my imitation Thor hammers must weigh more than a pound, use materials with metal, leather, or resin, and they should be life-sized. It's how you ensure quality.
Best Thor Hammer Replicas: Final Rebuke
I know the cosplay versions aren't the best, but you still have nine incredible collectibles from which to choose. The best Thor hammer replicas are metal or resin and come with leather straps in full-scale sizes. They're also heavy. The Basic Marvel Thor Hammer Replica works as a collectible treasure.
The Collectible Thor Hammer Replica With Stand is an upgraded version, but the Metal Thunder Avengers Thor Hammer Replica is next-level smashable. The Love and Thunder Thor Hammer Replica remains my ultimate favorite collectible from the Marvel hero's props. However, your best one is up to you now.
You know what's available, and you have easy access to them. Build your Thor replica collection now.
For more collectible superhero ideas: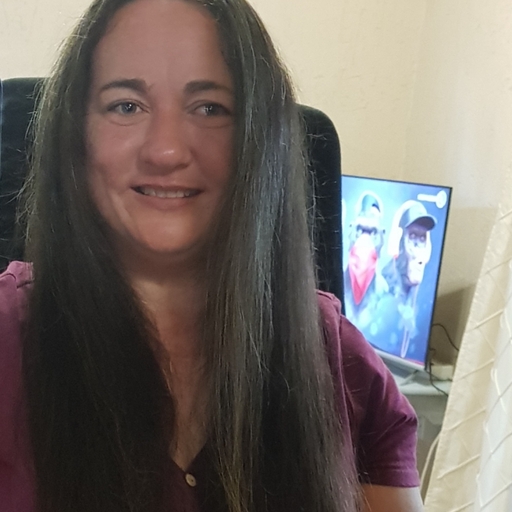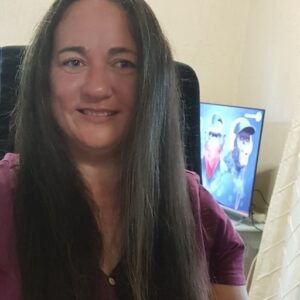 Latest posts by Caroline Lambert
(see all)