"This world is rotten, and those who are making it rot deserve to die." – said Light Yagami to welcome you to the twisted world of Death Note, where even the supernatural comes with a set of rules and limitations – and let's be honest, what's more brutal than a demonic notebook that can only kill people whose names you know? 
Yes, Death Note is a rollercoaster ride of suspense, action, and mind-bending plot twists that will leave you breathless. This isn't your typical Shônen manga – it's a dark, gritty masterpiece that defies expectations and delivers an unforgettable story. The animation is stunning, with vibrant visuals that suck you into the world of Death Note. And let's not forget the epic soundtrack by Hideki Taniuchi, which sets the mood perfectly for each and every scene.
Now, if you're already a fan of the series, you know what I'm talking about. And you definitely won't want to miss out on the Funko POP collection, which features figures of Light, Ryuk, and L. 
But even if you're new to the series, these figurines are sure to pique your interest and make you want to check it out. Trust me; you won't regret it. So what are you waiting for? Pick up a Death Note and join the fight between Light and L. It's a journey you won't forget soon. 
Death Note Funko Pop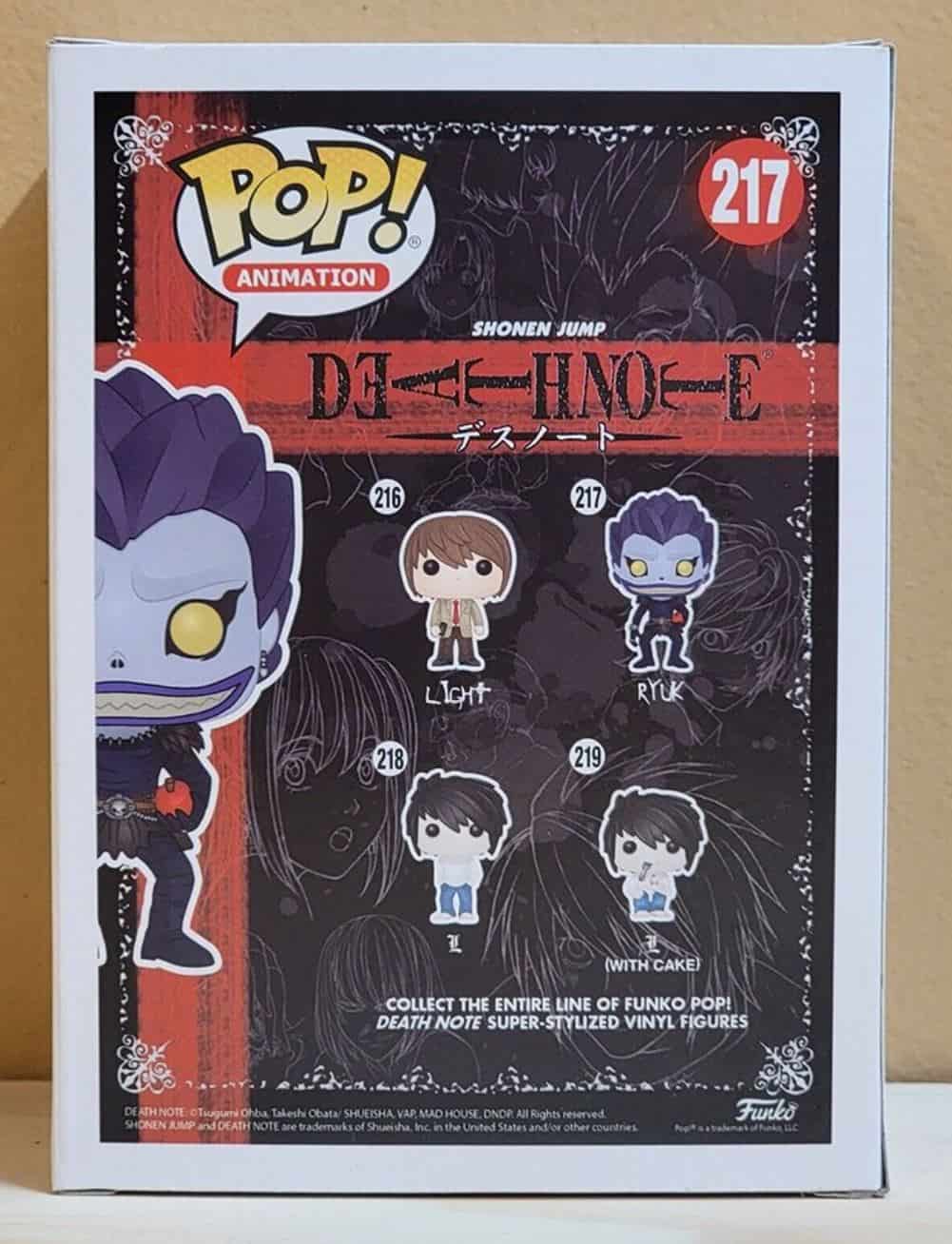 This Funko Pop collection includes figurines of three characters in the series, Ryuk, Kira/Light, and L, in their purest splendor. It's rare to see such perfect duality captured in any work, let alone in a Shônen, so you know these figurines are the real deal.
Light is featured in his classic pose, with a pen in hand, and the Death Note itself is included with the figure. Meanwhile, L is in his signature pose, looking as cool as ever. Both figures are highly detailed, with accurate clothing and facial expressions that perfectly capture the characters' personalities. Ryuk is his usual crazy self.
The Death Note Funko Pop collection was first introduced in April 2017 with the release of the "L with Cake" figurine. The most recent addition to the collection is Light, which also came out in April 2017. While there are currently no chase figures or multipacks available for this franchise, there are still plenty of options to choose from.
Of course, like with any collectible, price is a consideration. The most expensive Death Note POP is Light, estimated at $105.00, while the cheapest is L, estimated at $85.00. But the high-quality materials and attention to detail that these figurines are made with mean they'll be a good investment for years to come.
Whether you're a die-hard fan of the manga or anime series or just appreciate cool collectibles, the Death Note Funko POP figures are definitely worth adding to your collection. In this article, I tried to go more into detail about every figure so you can decide whether the big four are the right match for you!
Bottom Line Up Front 
So, which one of the big four is on the throne? Drum roll, please.
L with the Cake has to win. What I love most about this figure is how it showcases L's quirky personality and unique characteristics in such a cool way.
The hunched-up sitting style, barefoot fashion, and love for sweets are all captured in this adorable figure. Also, it's not only a cute and high-quality collectible, but it's also a testament to the fantastic character development in the Death Note series. It has to be my favorite of the Funko POP Death Note collection; it simply stole my heart!
The Best Places to Buy Funko Pop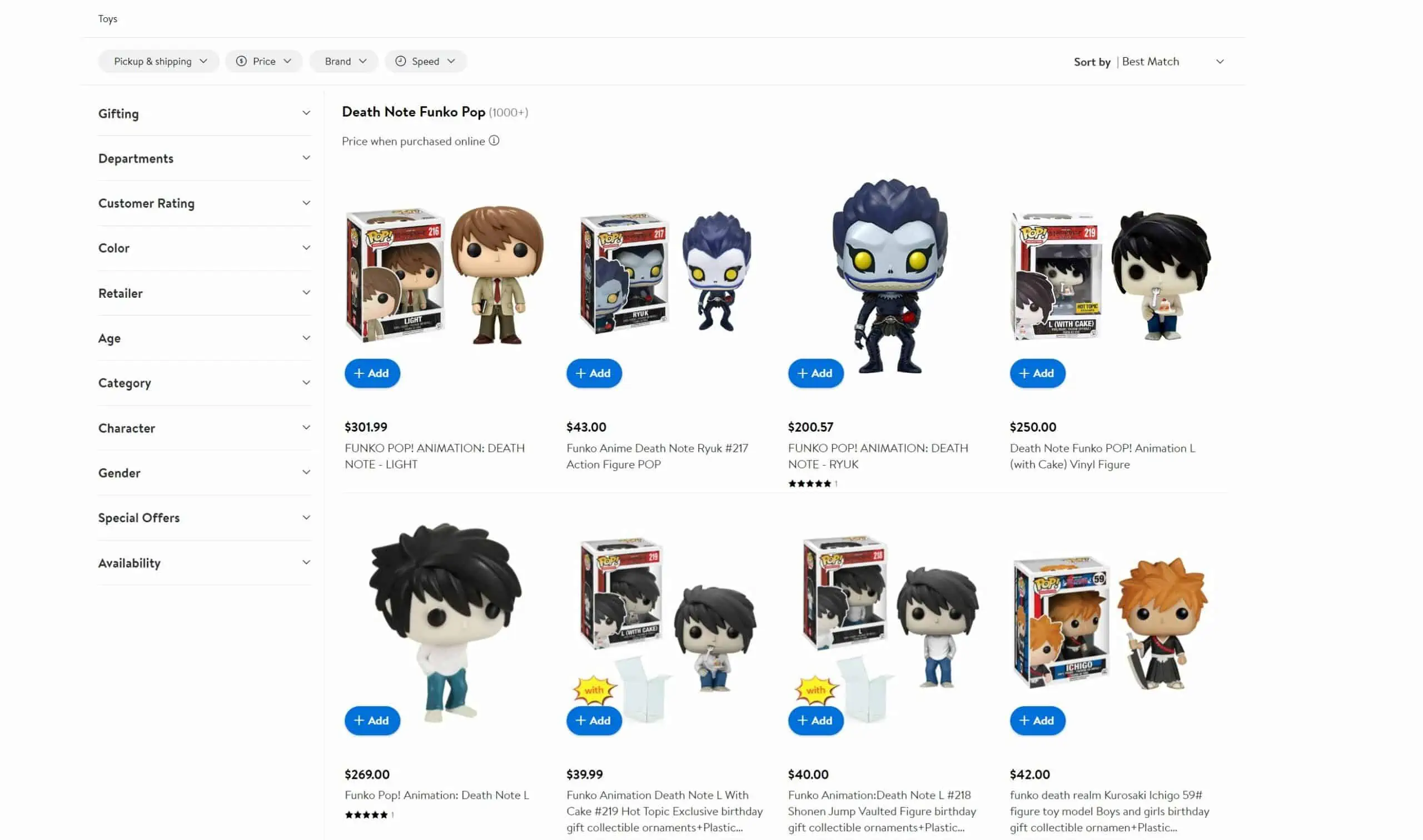 If you're looking to add some original Funko Pop Death Note figures to your collection, you've got a few options. You can check out retailers like Amazon, eBay, or Hot Topic, or head over to the Funko website itself to see their full selection.
Just be careful when buying from third-party sellers – while there are plenty of legit sellers out there, there are also some sketchy ones selling counterfeit figures. So, make sure to ensure that you're buying from a well-known source that sells only authentic Funko Pop figures.
What to Look for in Your Next Funko Pop
If you're a collector or just a fan of Funko Pops, there are a few things to look for to make sure that you're getting a high-quality product. I know you know the basics (paint quality, details etc.), but there are other things to keep in mind when it comes to Funko Pops. Let's take a look at them:
Box Condition

– If you're a collector who wants to keep the box in good condition, check for any damage or dents on the box. Make sure there are no scratches or discolorations, as this can affect the value of your Funko.

Authenticity

– Make sure that the Funko Pop is an official product and not a fake one. Look for the official Funko logo on the box and the product itself.

Rarity –

Check to see if your Funko Pop is a rare or exclusive item. Some Pops are more difficult to find than others and may be worth more in the long run.
The Big Four of Funko Pop's Death Note Collection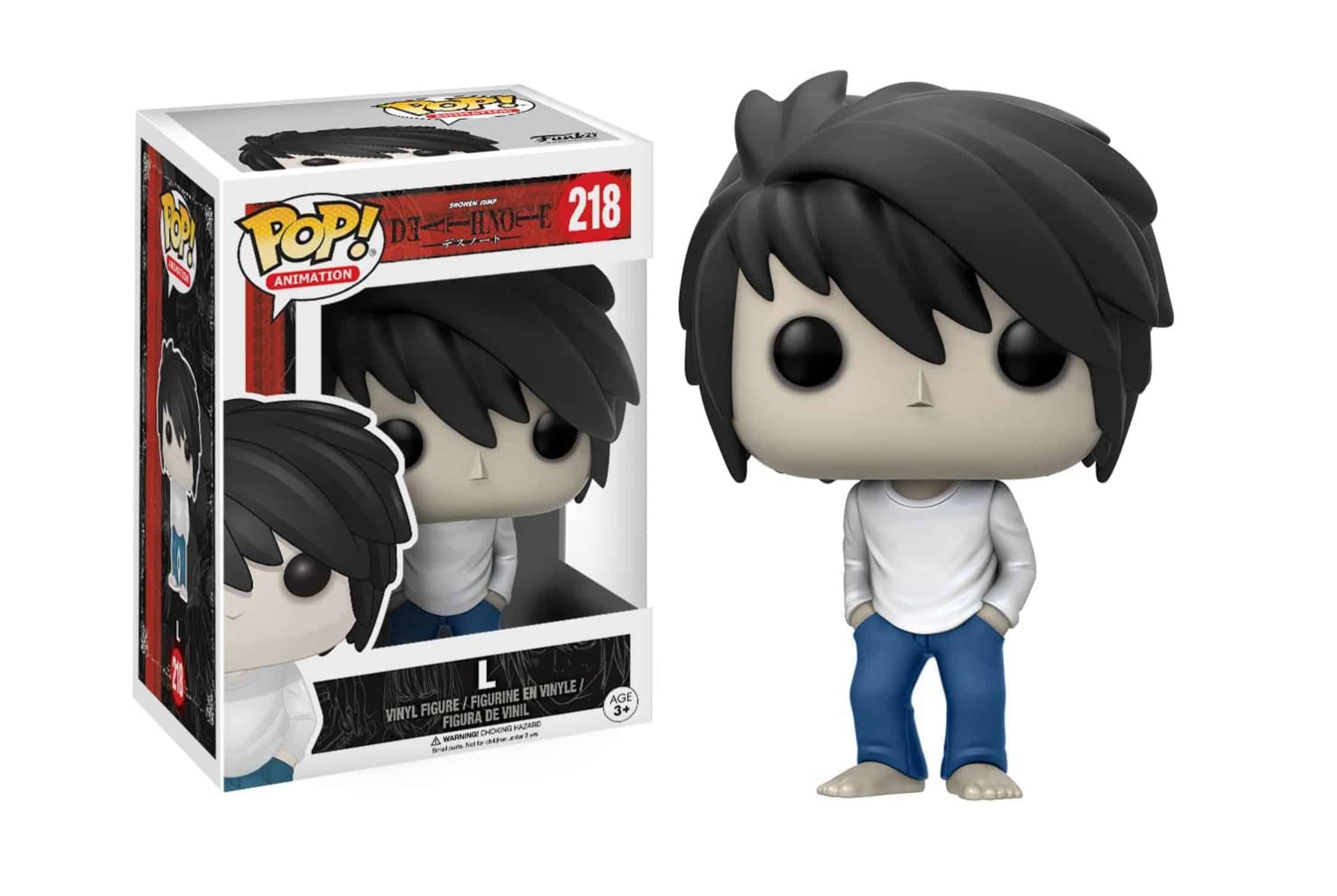 Are you a fan of the quirky detective L from Death Note? Then you won't want to miss out on this amazing figurine! Personally, he is my favorite character. And this Funko version of him, with cracking black-bagged eyes and perfectly styled hair, it's a must-have for any fan of the series. My heart skipped a beat when I saw it for the first time!
One thing to note is that the figure is quite heavy, so it's best to rest it against a hard object to avoid any accidents. But once you've found the perfect spot, you'll love having this insomniac genius on your shelf or desk.
And the quality? It's top-notch! You'll be amazed at the attention to detail on this one, from the accurate clothing to the expressive facial features. It's clear that the makers put a lot of care into creating a figure that truly captures the essence of L.
But as with any product, there are a few minor issues to be aware of. As we said, some fans have reported that the figure can be a bit wobbly on a rolling desk, so it's best to keep it in a more stable location. Also, a few fans have noted that the paint on the hair can be prone to small spots where it didn't quite stick, but this can easily be touched up with a black marker.
Overall, though, I think this L Funko POP figure is a great addition to your collection, regardless of these minor issues. It's cute, it's quirky, and it's the perfect representation of this wonderful character. If I were you, I wouldn't hesitate to grab it!
Pros:
The figure is very well-made, with attention to detail on the clothing and facial features.

The hair is styled perfectly, capturing the essence of L from the series.
Cons:
The head of the figure is quite heavy, so it's best to rest it against a hard object to avoid accidents.

The paint on the hair can be prone to small spots where it didn't stick, but this can be easily touched up with a black marker.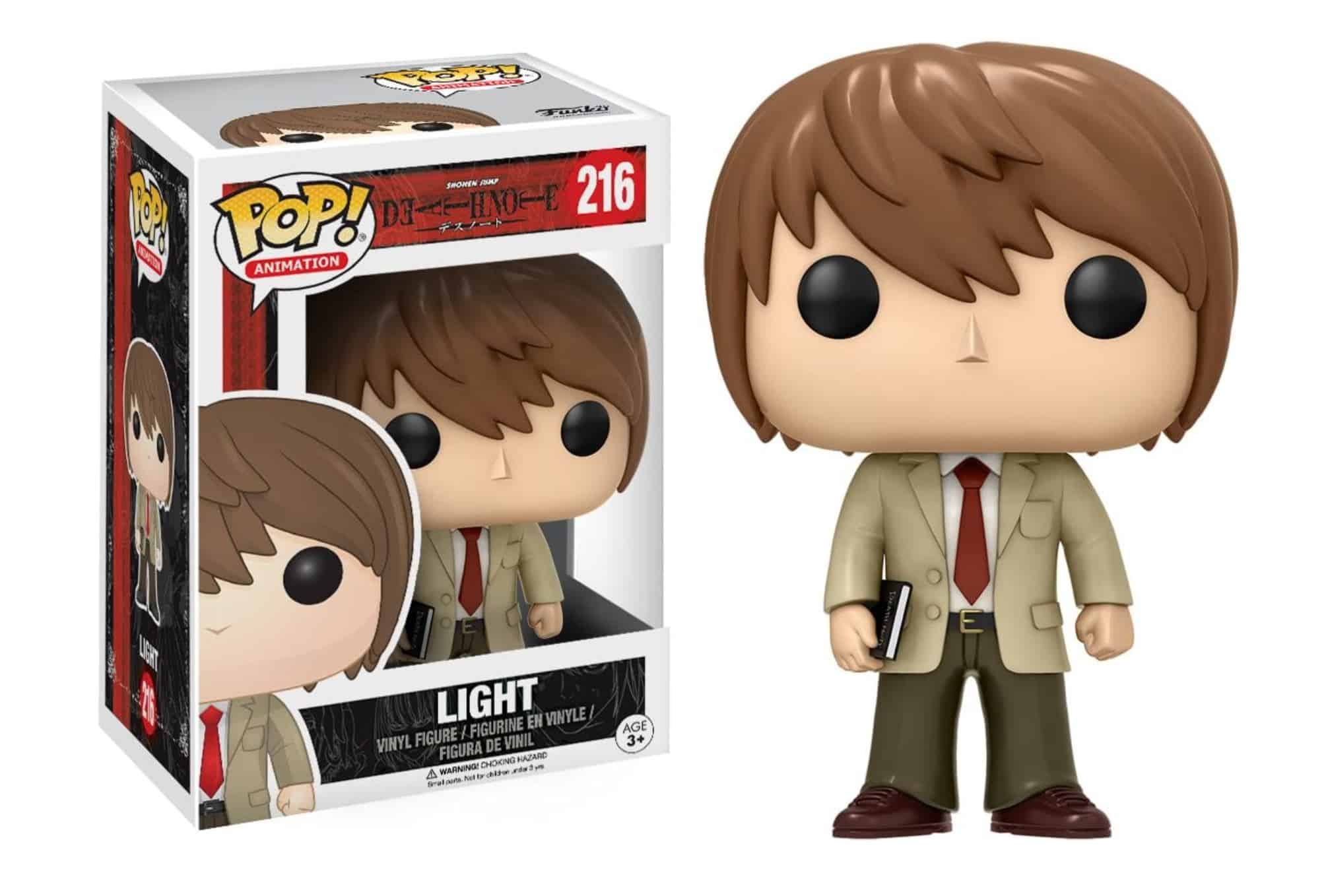 Look at that! They've got our Light all dressed up in a Japanese high school uniform: a beige jacket, dark brown pants, a white shirt, and a red tie. Although he looks like a normal high school student, true fans don't let appearances fool them, because this guy is way smarter than most and has the power to deliver death without being caught.
The Funko POP Light Yagami figure even comes equipped with his signature Death Note notebook in his right hand. With it, he can dish out some serious justice (or what he believes is justice, anyway). And as we all know, this notebook is what sets him on the path to becoming the infamous Kira.
So yeah, the Funko POP Light Yagami figure might look harmless at first glance, but we can't be deceived by that. He's got some serious power in that little plastic body of his.
First off, let's talk about the quality of this figure. It's clear that the creators put a lot of effort into making it as accurate as possible. The colors are spot on, and the figure is easily recognizable as Light, which is definitely a plus. However, I have to say that the design is a little simple, lacking the intricate details that some other figures have. 
This might make the price seem a little bit steep, especially if you have to pay for international shipping. One minor issue that happened to a few figures is that the hair paint seems to be mixed with the face paint. However, this is a minor flaw that can easily be overlooked, especially when you consider the overall quality of the figure.
But let's not dwell on the negatives, because overall, this is a great Pop. The simplicity of the design can actually work in its favor, as it gives the figure a clean and sleek appearance. If you're a fan of manga or anime, you'll be pleased to know that the figure is true to the source material. And even if you're not familiar with the series, it's still a great addition to any Funko Pop collection.
That being said, if you're a fan of Death Note and are looking for a quality Light Yagami figurine, this Funko Pop is worth considering. It may not have all the bells and whistles of some other figures, but it's still a great representation of the character and a welcome addition to any collection. 
Pros:
Good quality Pop

The colors are very close to those displayed on the covers of the manga

The outfit design is simple, but this is true to the original character design
Cons:
The design is very simple and not very detailed, which can make the price seem high

The hair painting may seem mixed with the face in some cases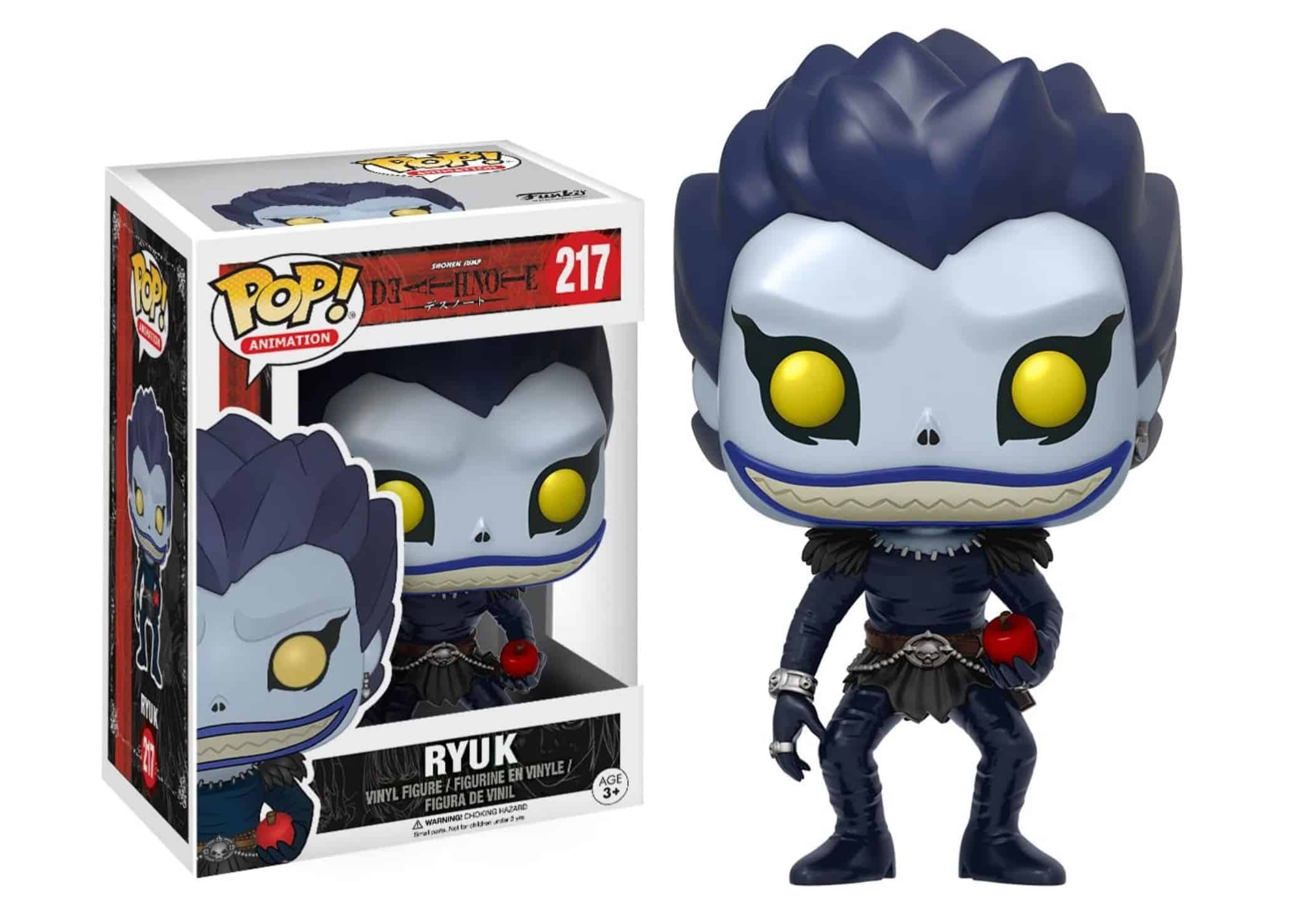 Isn't this one adorable? If you're a fan of Death Note, then you'll be delighted with this adorable Ryuk figure. And, of course, he's holding an apple in his left hand—the only colorful accessory on this otherwise dark and sinister figure.
Despite his creepy appearance, Ryuk is a playful and greedy demon who has a serious thing for apples from the human world (the ones from his world taste like sand, ew). But don't let his love for fruit fool you—this guy is seriously twisted.
The POP figure of Ryuk perfectly captures his horrific and gothic style, with leather clothes that seem to have been sewn onto his skin. And let's not forget about those yellow eyes and blue complexion—not exactly the kind of guy you'd want to run into in a night.
But the most striking feature of this figure is definitely Ryuk's smile. Throughout the epic story of Kira, he's constantly grinning as he enjoys the tragic plot that he helped create. So if you're looking to add some serious darkness to your collection, the Funko POP Ryuk figure is definitely the way to go. But perhaps keep some apples handy to keep him in a good mood.
The quality of the figure is really good, however, one thing to note is that the figure is a little fragile. The feet are quite small, so you may have to be careful when handling them. The paint job, however, is pretty decent, with only a few minor imperfections. 
Despite the minor setbacks, the overall quality of the figure is quite impressive. Ryuk's mischievous grin and wings make him a great addition to any Death Note collection. So, if you're a fan of this character, I'd say go ahead and add this figure to your collection.
Pros:
Good paint job

High-quality figure
Cons:
The figure's feet are small and it can fall down easily with even a slight touch.

While the paint job is generally good, there are a few small flaws.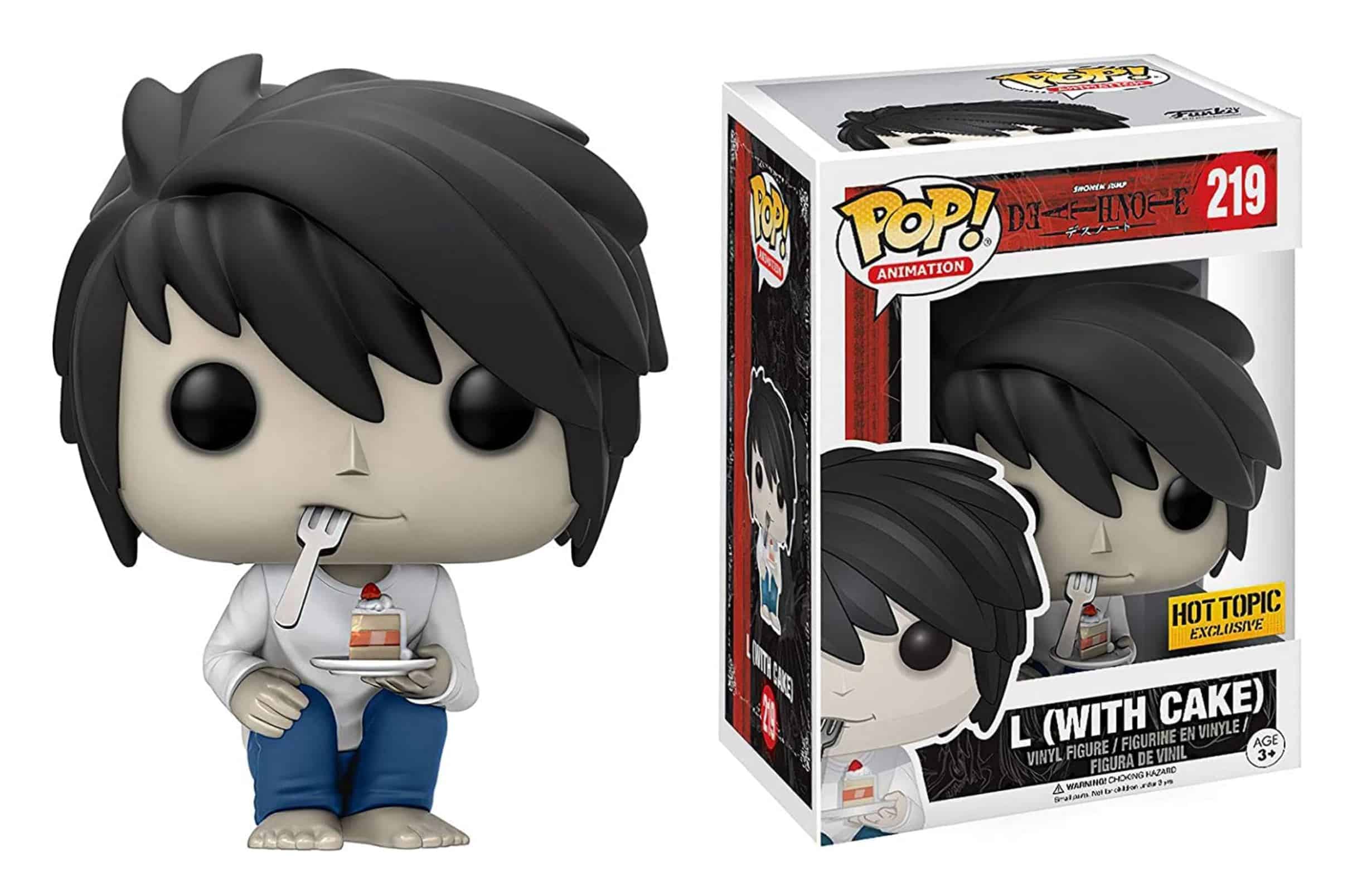 C'mon, look at this one—isn't this the cutest pop ever? I think having it on my desk all the time would be perfect. This is by far my favorite! It really is a must-have for any collector or enthusiast out there. The level of detail in this build is amazing. You'll be blown away by how realistic and high-quality it is.
This Funko POP version of L with cake perfectly captures the character of L in all his authentic and touching glory. I just love how it captures L's signature posture—you know, that hunched-up sitting style that's become his thing, along with his barefoot style and love for sweets.
Who knew a little cake in his hand could make a plastic figure so darn cute? This particular figure depicts him holding a delicious cake in his left hand and a fork in his mouth while staring intently at what could be a potential clue to Kira's identity. 
This quirky collectible has been winning the hearts of Death Note fans all over the world with its attention to detail. 
But it's not just the cuteness that's winning people over; the figurine's small size (it's just 3.75 inches tall) means that you can pop it on your bookshelf, desk, or in a display case, and it won't take up too much space. Perfect for all you collectors out there who are running out of room!
Of course, like any collectible, there are some criticisms. Some fans have pointed out that the paint job and finish could be improved. And let's not forget about the pricing – it can vary depending on how rare the figurine is, which can be a bit of a bummer.
But overall, the Funko Pop L with cake figurine is a popular item for a very good reason! It's quirky, it's cute, and it's the perfect addition to any fan's collection. Plus, who doesn't want a little L with cake hanging around?
Pros:
Attention to detail in capturing L's signature posture, barefoot style, and love for sweets.

Its small size (3.75 inches) makes it convenient for display purposes and easy to add to any collection.

Popular among fans of the Death Note anime series and collectors of Funko Pop figurines.
Cons:
The paint job and finish could be improved.

Pricing can vary depending on the rarity
FAQs
Question: What Death Note Funko Pop figures are available for purchase?
Answer: There are several Death Note Funko Pop figures on the market, including Light Yagami, L, and Ryuk.
Question: Are Death Note Funko Pop figures worth collecting?
Answer: That depends on personal preference, but for fans of the Death Note anime or manga, Funko Pop figures can be a great addition to their collection.
Question: Can Death Note Funko Pop figures be customized?
Answer: Yes, it is possible to customize Death Note Funko Pop figures by painting them or adding additional details. However, keep in mind that modifying the figure may void any warranty or return policy.
Best Death Note Funko Pop: Bring Your Favorite Character to Life
Like you could tell, Death Note Funko Pop figures are a must-have for any fan of the series. From Light's stoic expression to L's quirky posture, each figure captures the essence of the favorite character perfectly. And with the attention to detail put into each design, it's hard not to appreciate the quality of these collectibles.
Of course, there may be some minor issues with paint or balance, but that's to be expected with any collectible item. So, if you're looking for a way to show off your love for Death Note or just want a cool-looking addition to your collection, these Funko Pops are worth considering. So tell me, what is your favorite?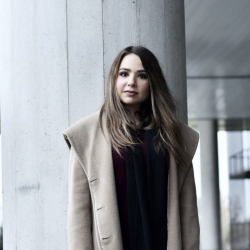 Latest posts by Tena Gasparac
(see all)