Did you know that Oikawa's hair is so perfect, it can stop a volleyball mid-air? One time, a ball was flying towards him during practice, and he didn't even need to move, he just stood there and his hair deflected the ball like a force field!
The other players were amazed, but Oikawa just shrugged and said, "It's all in the styling products, boys." And now I'm asking you: Who needs a boring old alarm clock when you can wake up to Oikawa's fabulous hair on your nightstand every morning?
The two special Oikawa Nenondroids we're talking about here will make you smile with their cuteness, but they'll also remind you to start your day with a winning attitude, just like the Captain himself.  If you've been following the amazing anime and manga series "Haikyuu!!", then you know exactly who I'm talking about: the charismatic and mysterious Toru Oikawa. 
So, Toru Oikawa is the captain of Aoba Johsai High School's volleyball team, and he is mostly known for his charisma, phenomenal skills, and determination to defeat his rival, Shoyo Hinata (the series' protagonist). A few things that make fans around the world fall in love with him, even more, are his sharp wit, playful banter, and unwavering dedication to his team.
And what better way to celebrate your love for this fan-favorite character than by adding the Oikawa Nendoroid figures to your collection? The two cute and highly detailed figures capture Oikawa's signature moves. What more could you ask for?  So let's dive into the world of the Oikawa Nendoroid and discover all the amazing features that make it a must-have for any "Haikyuu!!" enthusiast. Since you're reading this, I bet you're one of them as well.
The two famous Toru Oikawa Nendoroid figures are:
The first one came out in August 2016 and features Oikawa in his high school uniform, complete with a bunch of cool accessories.
The second Oikawa Nendoroid hit stores in October 2020, portraying Oikawa as a coach for the Schweiden Adlers team.
This adorable figure comes with a clipboard, a whistle, and different facial expressions. Both figures are incredibly well-designed, super poseable, and come with a multitude of accessories and interchangeable parts that make them an absolute treasure trove for collectors.
The Best Places to Buy Oikawa Nendroids
Since Nendoroids are popular worldwide, you can find them in a lot of different places. If you are looking to add these figures to your collection, there are a few options where you can snag them:
Oikawa Nendoroids: Which One do You Prefer?
Nendoroid Toru Oikawa: Jersey Ver.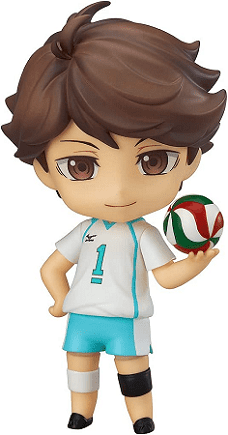 Just look at this cutie! Let's start with the box. If you are a collector of Japanese figurines, then you know that it is completely normal for the main figure to be wrapped in plastic. In the case of this particular figure, it's a clever move by Good Smile Company to prevent any unwanted paint transfer before it reaches its new home.
But enough about the plastic, let's talk about what's inside the box. And boy, let me tell you, it's a whole lot of goodness! This figure comes with an impressive array of accessories that will have you feeling like you've hit the jackpot.
There are 3 face plates, 4 legs, 8 arms, 5 sleeve pieces, a volleyball, an effect piece for the volleyball, one effect piece stand for the volleyball, one jacket with 2 removable and poseable arm pieces, and so on. 
Phew! That was a mouthful. When it comes to the base, it's painted to look like the center of a volleyball court, which is a cute little detail. And it's double the size of a normal frosted Nendoroid stand, which is great for stability.  However, please be careful because Oikawa's black shoes tend to transfer paint onto the base, so handle them with care. 
Moving on to the figure itself, I have to say, some parts are a bit tricky to remove. But, on the flip side, that means they're not going to accidentally fall off while you're posing him. The front of his hair can be particularly stubborn, but it's a small price to pay for a sturdy figure. The same goes for his stand armature—it's not the easiest to get in or out of his back, but it does the job. 
And let's talk about those arm options—they are fantastic! It would be cool if he had a peace hand sign, but we'll get that in his school uniform version. For those who are new to the Nendoroid line, let me just say, you're in for a treat. These figures are highly customizable, and Oikawa here is no exception. 
And let me just reiterate: Oikawa is just the cutest thing ever. He's worth adding to your collection if you're a fan of Haikyuu or just want to add some adorable spiker action to your shelf.
Pros
It comes with an impressive range of articulations, accessories, and interchangeable parts

The base looks like a volleyball court

Overall, a very high-quality piece
Cons
Black shoes tend to transfer paint onto the base easily

The front of the hair and the stand can be difficult to remove or insert

The sleeve comes off rather easily, and some of the extra sleeves are loose on the arms.

It doesn't come with a plain frosted stand, which may be inconvenient for some collectors.
Nendoroid Toru Oikawa: School Uniform Ver.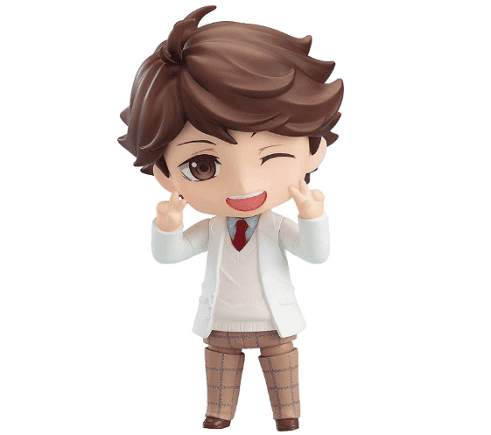 First of all, let me just say that this figure is so, so good in terms of sculpting and painting. Every feature of Oikawa's expressive eyes and signature hairstyle has been flawlessly captured in this figure. Plus, the articulation is so impressive that you'll be able to recreate some of your favorite anime scenes with ease. 
The two face plates that come with the figure are just so cool. One of them features a cheeky wink, while the other has a playful tongue sticking out – which, I must say, is my absolute favorite. It perfectly captures Oikawa's mischievous and charismatic personality.
And if that's not enough, the extra smiling joint, background stand, and Nendoroid stand are thoughtful additions that allow for even more creative display options. But the real standout accessory has got to be milk bread, Oikawa's favorite food. It's such a cute and quirky addition that adds to the figure's everyday charm.
The round base with a volleyball pattern and the background sheet based on the Chindouchuu ramen shop (that the Aobajohsai High School Volleyball team often visited) are also great touches that enhance the overall presentation. Now, let's talk about a couple of minor issues that can happen. First of all, removing the hair is a bit of a challenge, but that's part of the course with Nendoroids, especially if it's your first time.
And secondly, the figure's tiny feet can create some balance issues, but the included stand is a handy solution to this problem.
Now, can we talk about the packaging for a second? In addition to being very well designed, the box is also very well protected. Yes, the price may be a little steep, but trust me when I say that it's worth every penny for the quality and attention to detail that this figure offers. 
In conclusion, I can't recommend the Toru Oikawa Nendoroid School Uniform Version enough. Whether you're a Haikyuu!! fan or a Nendoroid collector, this figure is an absolute must-have. 
Pros
Excellent quality with great attention to detail in the sculpting and painting job

Good articulation and ability to hold various poses

Comes with various accessories, including different facial expressions, hand parts, and a volleyball, which add value to the figure and allow for different poses

Well-designed and protective packaging 
Cons
Difficulty in removing the hair part

The figure's tiny feet can create some balance issues

The price may be on the higher side, but most reviewers felt that it was worth it for the quality and detail of the figure.
Check out other Haikyu!! Nendoroids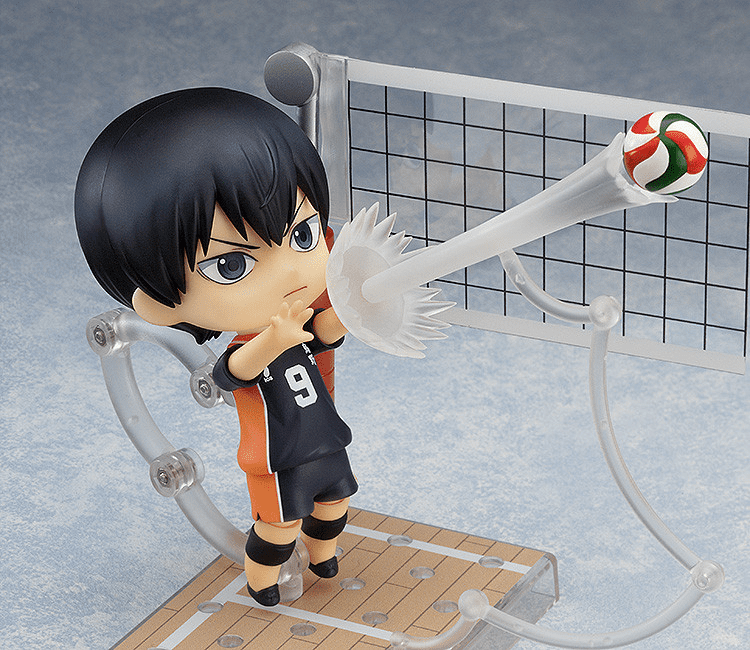 OK, so here's the thing: Our boy Oikawa is not the only one you can have in your collection. Other Haikyuu!! Nendoroids are the ultimate collectible figures as well – so much so that they'll have you saying "Kawaii!" in no time. With so many interchangeable parts and accessories, you can pose and customize your favorite characters to your heart's content. What I like most about them, and why I had to include them in this guide as well, is the fact that the Haikyuu!!
Nendoroids don't just look great on your shelf, they also capture the unique personalities and expressions of each character, from Kageyama's overbearing perfectionism to Kuroo's laid-back yet scheming vibe.  No matter what character you're most fond of, you can build your army of Haikyuu! Nendoroids and show off your love for this dynamic and super inspiring world of volleyball.  
Tobio Kageyama Nendoroid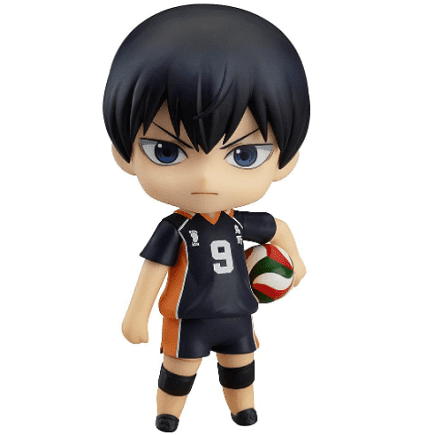 Calling all Haikyuu!! fans – the Natural Setter himself, Tobio Kageyama, is here in Nendoroid form! And let me tell you, he's packed with options. Not only does he come with three different facial expressions, but he also includes a volleyball, net parts, and a special Nendoroid base in the image of a volleyball court.
Plus, there are the "Quick Toss" effect parts and a crown that just had to be included with Kageyama! And if you already have the Nendoroid Shoyo Hinata (sold separately), you can recreate the unstoppable pair in action.
With five pairs of arms, two pairs of legs, three faces, and multiple accessories, you can pose Tobio in countless ways. And the quality is outstanding, as expected from a Good Smile Company figure. The detailing is crisp, there are no paint smudges or trails, and all the arms and legs fit perfectly.
However, there are a few things to keep in mind. Since there's only one main torso, you can only pose him one way at a time.  Overall, I'm thrilled with my little Tobio. He's adorable, and the quality is top-notch. The only downside is that his flat hair makes it difficult to change his expressions, but that's a small price to pay for such a charming Nendoroid.
If you're a fan of the series or just looking to start your Nendoroid collection, I highly recommend picking up Tobio Kageyama.
Pros
It comes with three different facial expressions and a variety of optional parts to create all kinds of poses.

High-quality figure with no paint smudges or trails, and crisp detailing.

The figure's arms and legs fit well and once posed, stay in position.
Cons
Only one main torso, which limits the number of poses that can be created at once

It may be difficult to change Tobio's facial expressions due to his flat hair.
Kei Tsukishima Nendoroid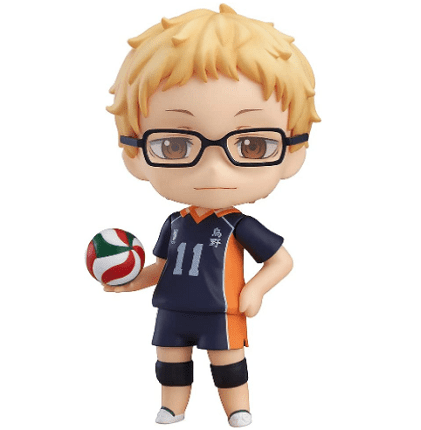 Oh my goodness, the Nendoroid of Tsukki is beyond words! Let me tell you, he did not disappoint. This little guy is just too precious!
First of all, let's talk about accessories. He comes with not one, not two, but three different face plates. And let me just say, the condescending smirk is my favorite. It's just so Tsukki, you know? And the fact that he comes with his signature sports glasses and headphones is just the cherry on top.
But that's not all. He also comes with a variety of different arms and legs, so you can pose him in all sorts of different ways. And the volleyball and court base just adds to the realism. I mean, who wouldn't want to recreate some of the iconic scenes from the show with their own little Tsukki?
Putting him together is a bit of a challenge, though. The stand is a little tricky to snap into his back, but once it is in place, it is nice and secure. And the quality of the paint job is just impeccable. There were no smudges or blemishes to be found. All in all, Tsukki is just too cute for words. If you're a fan of Haikyuu!!, or just looking for a fun and quirky addition to your collection, this Clever Blocker is sure to put a smile on your face!
Pros
It comes with multiple accessories

It has three facial expressions, each well-made and highly detailed.

The quality of the figure is excellent, with no paint smudges or trails, and all the arms and legs fit perfectly.
Cons
Putting him together is a challenge

The stand can be tricky to snap into his back
Tetsuro Kuroo Nendoroid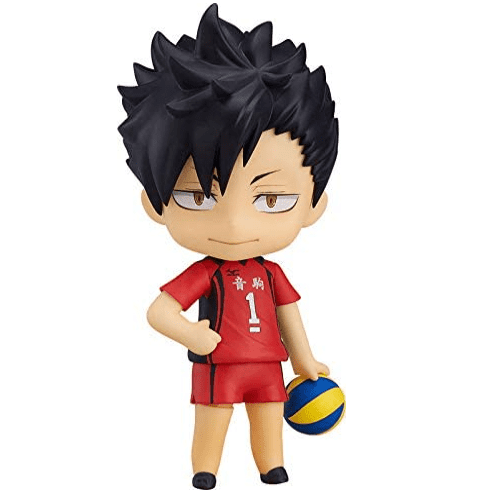 Tetsuro Kuroo, my friends! As a huge fan of the volleyball club's "calm and collected tactician," I was super excited to see this Nendoroid. First off, the three face plates are spot on. His standard expression captures his cool demeanor perfectly, while the grinning expression adds a bit of mischievousness that I absolutely love.
And let's not forget about the malicious smile he had when shaking hands with the captain of the Karasuno High volleyball club – it's downright iconic!
The optional parts are fantastic as well. The volleyball and special base made in the image of a volleyball court allow for some great action poses. And let's talk about the team jersey that can be worn over his shoulders – it's a nice touch that adds to his overall look. And then there's the Calico cat – it's so adorable!
Posing and playing with Kuroo is a blast. It's even better when you have other Nendoroids that he interacts with, as you can create some seriously cool scenes.  And the quality is outstanding. The materials used are sturdy and built to last, which is great for someone who likes to fiddle with my Nendoroids constantly.
One slight complaint is that his hair is super spiky, which can make it a bit difficult to change his faceplate. But honestly, that's a small price to pay for such a fantastic Nendoroid.
Pros
High-quality figure

Optional parts are awesome

A great portrayal of the character

The figure is made of sturdy materials
Cons
Tetsuro's spiky hair makes it a bit difficult to change his faceplate, which may be an issue for fans who want to frequently switch between facial expressions.
Kenma Kozume Nendoroid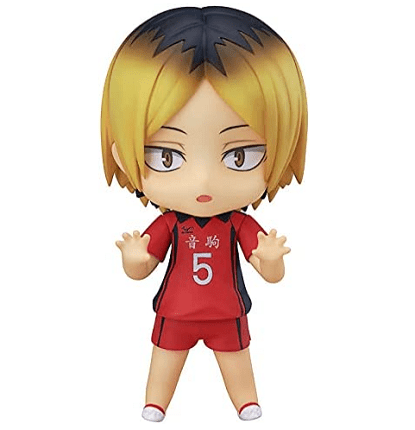 If you're a fan of Kenma Kozume from Haikyuu!, then this Nendoroid is a must-have. He also comes with multiple facial expressions, including one where he looks a little embarrassed, which is just too adorable for words. The attention to detail in this Nendoroid is incredible. From the volleyball court base to the black cat that sits on his lap, everything is just so well-made. And the fact that you can pose him in a variety of ways just adds to the fun.
But let's talk about the real star of the show here—his smartphone. I mean, how cool is it that they included his smartphone as an accessory? It's such a small detail, but it adds so much to the figure. And if you're a fan of the anime, you know just how much Kenma loves his phone.
The only downside is that he's a little tricky to pose at times, but that's just part of the fun. It takes a bit of patience and creativity to get him in the perfect pose, but when you do, it's so worth it. Overall, I'm so happy with how they created this figure. Kenma is such a lovable character, and this Nendoroid captures his essence. It's a must-have for any Haikyuu! fan or collector, and I can't recommend it enough.
Pros
Multiple facial expressions, including an adorable embarrassed expression

Incredible attention to detail

Ability to pose the figure in a variety of ways
Cons
Can be a little tricky to pose at times
Yu Nishinoya Nendoroid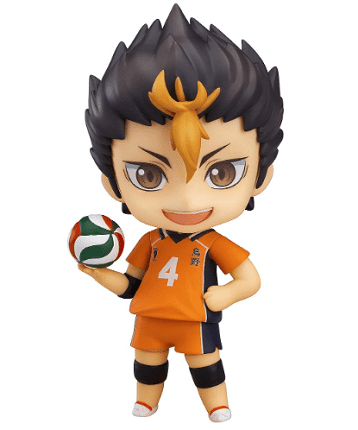 The versatile Yu Nishinoya is known for his exceptional reflexes and acrobatic saves on the volleyball court. Now you can have the mini version of him displayed in your room at all times! First of all, let's talk about those expressions. Nishinoya comes with three different faces: a cheerful smile, a serious expression, and a carefree grinning face.
I love that you can switch them out depending on your mood or the scene you're trying to recreate. Personally, I love the carefree grinning expression because it's just so Nishinoya. But it's not just the expressions that make this Nendoroid so great. The attention to detail is incredible. From his volleyball uniform to the special base made in the image of a volleyball court, everything is just so well-made.
One thing I appreciate about this Nendoroid is the included sports towel. It may seem like a small detail, but it's something that sets this figure apart. It's like they thought about what Nishinoya would have with him on the court.
Now, there have been some reports of discoloration with the paint, but this doesn't seem to be an issue that occurs too often. And even if there is some discoloration, it's such a minor issue that it doesn't detract from how awesome this figure is. Overall, Nishinoya is such a cool Nendoroid to add to the collection. He's just so cute and fun to play with. Whether you're a Haikyuu! fan or just a collector of Nendoroids, I highly recommend adding Nishinoya to your collection. You won't regret it! 
Pros
Great representation of the character, complete with his various expressions and accessories.

Impressive attention to detail

It's made of high-quality materials and is sturdy enough
Cons
Some fans have noticed discoloration with the paint 

It can be difficult to balance it in certain poses
FAQs
Question: What is the Quality of the Oikawa Nendoroids Like?
Answer: One of the things that make Oikaea Nendoroids so great is the incredible level of quality they put into their design. From sculpting to the paint job, every detail is meticulously crafted.
Plus, the figures are highly articulated and can hold various poses, which makes them even more fun to display.
Question: What is the Significance of the Chindouchuu Ramen Shop Background Sheet that Comes with the Oikawa Nendoroid School Uniform Ver.?
Answer: The Chindouchuu ramen shop background sheet is a reference to a popular location where the characters often hang out and share a meal. With the inclusion of the background sheet, you can recreate these moments and add them to the display options for the figure. It's a nice touch that adds to the overall appeal of the Nendoroid. 
Question: How Much do the Oikawa Nendoroids Cost?
Answer: The cost of the Oikawa Nendoroids varies depending on the specific version and where it's purchased from. Although they are generally on the higher side of the price spectrum for Nendoroids, most reviewers feel that they are worth it for the quality and detail of the figure.
Which One Would You Choose?
If you're a die-hard fan of Haikyuu!!, and can't get enough of the charismatic Oikawa Tooru, then these two Nendoroids are an absolute must-have for your collection.
The level of attention to detail is simply incredible, and the various accessories and even milk bread make them all the more charming. Although they may be a bit pricey, the quality and personality captured in these Nendoroids more than justifies the investment.
Be careful with those tiny feet when displaying the Nendoroids, but don't hesitate to add them to your collection and enjoy the personality and quality they bring!
And if you don't want your Oikawa to be lonely, you can add other characters to complete your "Haikyuu!!" Nendoroid squad! That's right! You can add the likes of Kenma Konzume, Kageyama Tobio, and other characters from the series to your Nendoroid collection.
And if you're feeling particularly adventurous, you can mix and match parts between your Nendoroids to create some hilarious and unique combinations. Who knows? You might just end up with a Hinata/Kageyama hybrid that's unstoppable on the court! So don't be afraid to get creative and have fun with your Nendoroid. The possibilities are endless.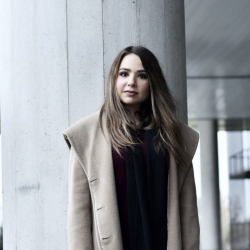 Latest posts by Tena Gasparac
(see all)