It's really tough being an Avengers fan and then being asked to pick the best Avenger action figures of all time. It would be even more difficult to narrow that list down to the best action figure, but that's what I will do in this article. I'm sure some of you will disagree, and that's A-ok.
Everyone is different and likes different aspects of the action figures. Some will lean towards one action figure over another because of its nostalgic value. I will do my best to keep my selection to the best quality and most incredible looking. This is not a search for the rarest action figure, so any timelines will not matter here.
The list of names that makes up the Avengers is everchanging. First, you have the original Avengers; The Hulk, Captain America, Thor, Black Widow, Hawkeye, and Iron Man. After the initial six, things get complicated and could be more fun to follow.
There's always some drama afloat in the Marvel galaxy, after all. Many people are committed to calling Spider-Man an Avenger, but in all reality, he was never an Avenger, so he will not be on this list.
The same goes for Ant-Man and Wasp. Ant-Man broke into a warehouse that, unbeknownst to him, had been taken over by the Avengers. Much later, he is called to be part of one of two Avengers teams when they go to war with each other. But that's a whole different story.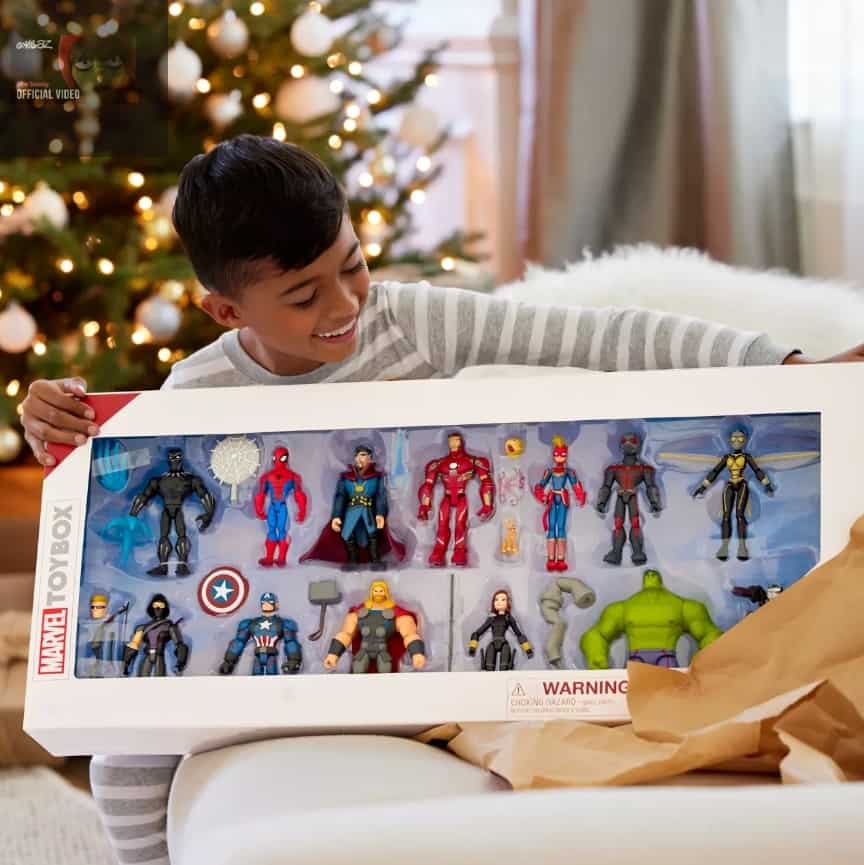 My Top Picks
My first top pick is Thor: Love & Thunder – Marvel Valkyrie ⅙ Scale Collectible Figure. This rendition of Valkyrie is stunning; this action figure is an all-around winner, from her clothing to weapons to physical beauty.
My second top pick is Bandai S.H. Figuarts Shang Chi & the Legend of Ten Rings. Everything from Shang Chi's face to his armor is tasteful and done with the highest quality. Again, this action figure is flawless.
My third top pick is Diamond Select Toys Marvel Planet Hulk Action Figure. This isn't necessarily an expensive action figure like some others, but it is very well-made and decorated.
My Search Criteria
I've included the most relevant Avengers and not every single one because this would be an insanely long article, and only some Avengers have an action figure.
I look for the highest quality Avenger action figures.
I include Avengers action figures from many different places and online shops.
I only list action figures you can find for purchase, whether through a reseller I've linked or a retail operation.
I have done my best to make this a list everyone in the Avenger fan club could enjoy; not all Avengers were male.
The Avengers began in 1963 and are still taking down bad guys today, and I've done my best to list both earlier and later generations of Avengers.
Best Avenger Action Figures of All Time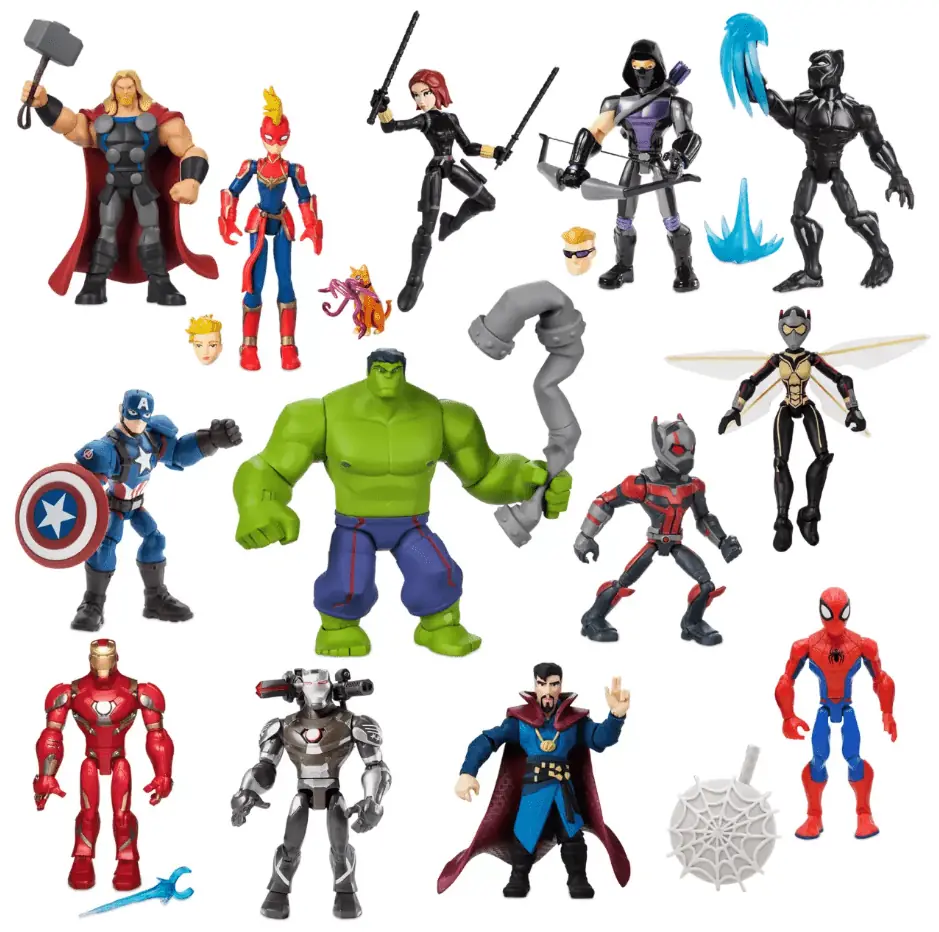 Contents: Iron Man, Hawkeye, Captain America, Captain Marvel, Hulk, Black Widow, Dr. Strange, Ant-Man, Wasp, War Machine(formerly Iron Man), Black Panther Thor, and Spider-Man
Size: All characters are roughly 5 1/2H x 2 1/4W x 1"D
Extras: Alternate heads for Captain Marvel and Hawkeye, loads of small accessories
Articulated Points: Yes
Age: 3+
This is a pretty sweet set for any Avenger fan, though this giftset would appeal to the newer and shorter fans more than us long-term adult fans. I love that Disney included 13 of the Avengers! It is a bit pricey, but it's a lot when you look at all you get for $100+. This might be worth a decent amount of change if you are a hardcore collector.
Pros
I love that Goose, the greatest purr-machine cat-Flerkin in the galaxy, is included in this mix!
I also love that Captain Marvel is included in the set. She doesn't usually get to be in the cool kids' group.
I like that the Hulk has his beatdown pipe.
Cons
I wish more alternate heads for the other characters had been included.
This is a good set, but the detail could be better and aimed more toward children.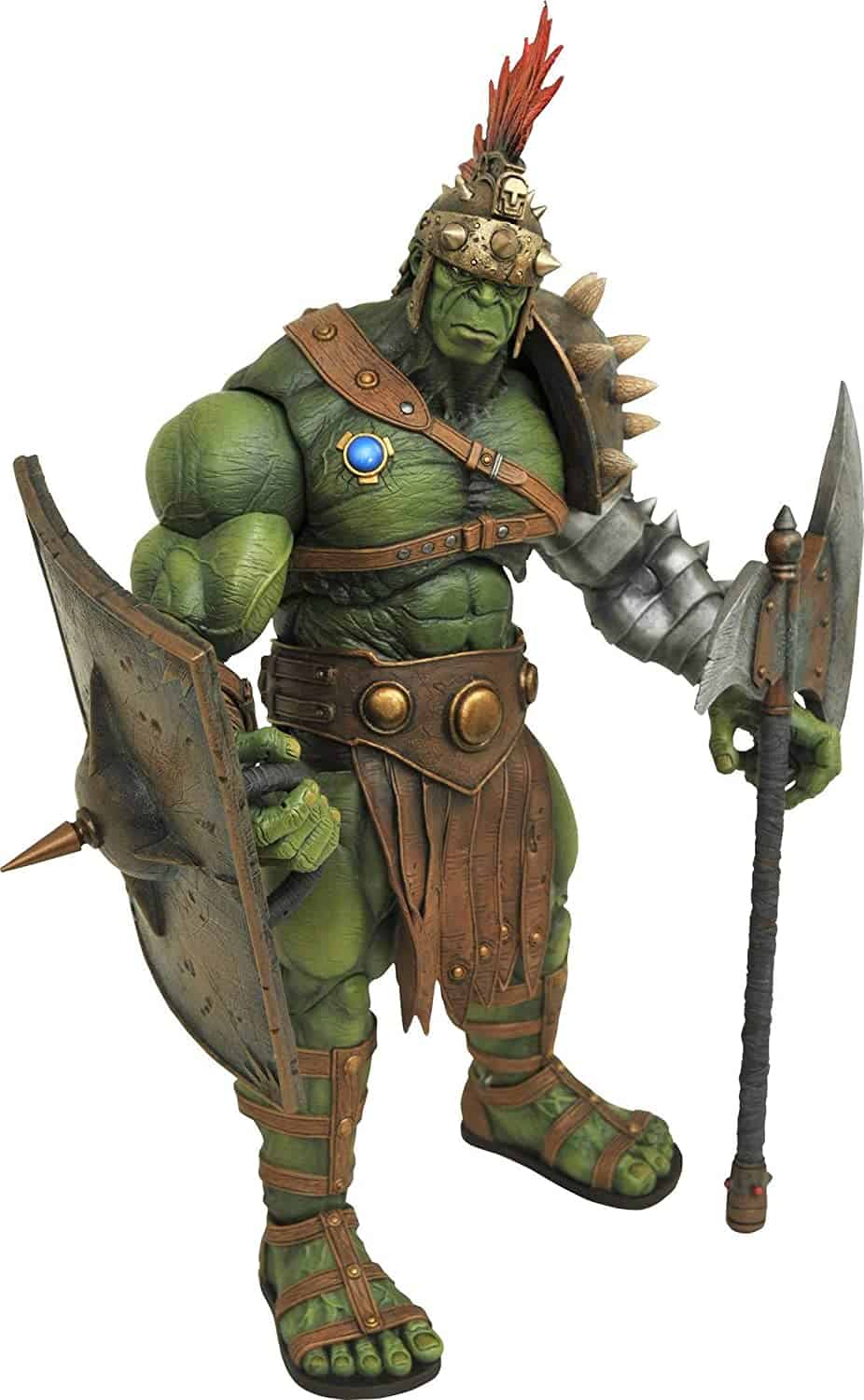 Contents: Hulk from Planet Hulk Comic
Size: 10″, 11.5″ with battle helmet
Extras: Hulk's feathery helmet, 8″ battle ax, and 5″ points battle shield
Articulated Points: Yes, 16 points
Age: 15+
This depiction of the fantastic and always incredible Hulk is well done for Disney by Jean St. Jean. He is not the typical kiddie-version Hulk with pea-green skin. In fact, this Hulk figure is very realistic looking, right down to his muscular and veiny arms.
I love the original pea green Hulk, but this variation is a breath of fresh air for us adult collectors. It's also extra cool since this version was only seen in the Hulk Planet comic books.
Pros
The detail on the Hulk and his armor is exquisite, and I would expect such quality from fancy-business statue creators like Prime One or Queen Studios. Still, you don't see this quality on many plastic action figures.
Cons
It is superficial, but it bothers me that one strip on his battle loincloth turns inward.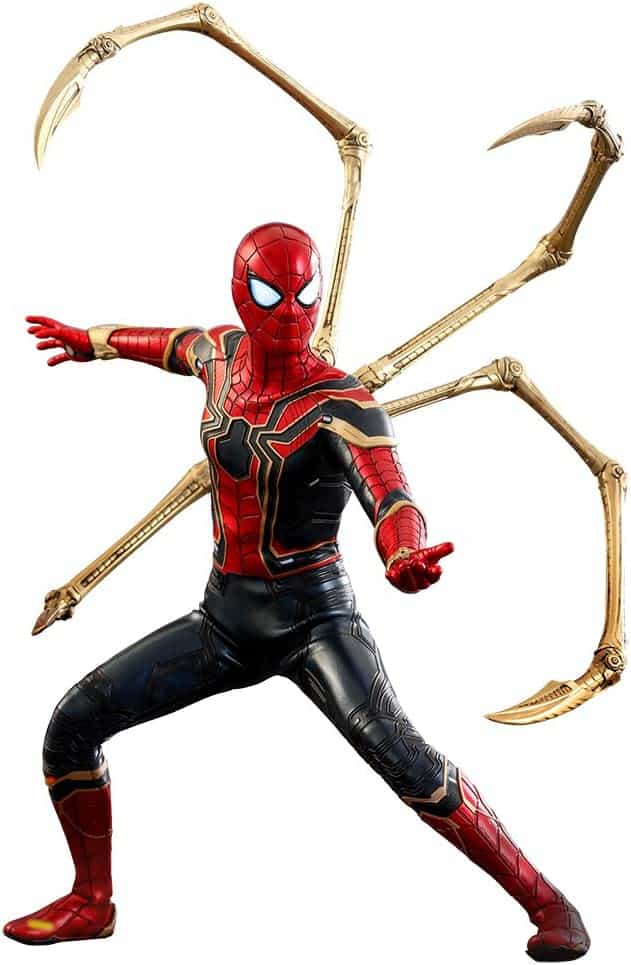 Size: 1/16th Scale or 7″
Extras: Spider iron claws, three different pairs of hands, four different sets of eyes, masked LED light-up head, a swappable Tom Holland head, a Spider-Man mask, one spiderweb, four strings of spiderweb, and an Infinity figure stand.
Articulated Points: Yes, 30 points
Age: 15+
Here is another exceptionally well-made action figure on steroids. It comes with a statue-like price tag, so be ready. This is a very realistic-looking Spider-Man action figure that is not for children. It has small delicate parts and can pose in many different ways.
He would make a great addition to any Spider-Man or Avengers collection. I do not consider Spider-Man an Avenger simply because he rejected the offer after fighting with them. But that's for you to decide for yourself.
Pros
This action figure comes with some wild-looking accessories that will enable you to set up Spider-Man into cool poses.
Cons
Tom Holland as a doll head is flat-out creepy.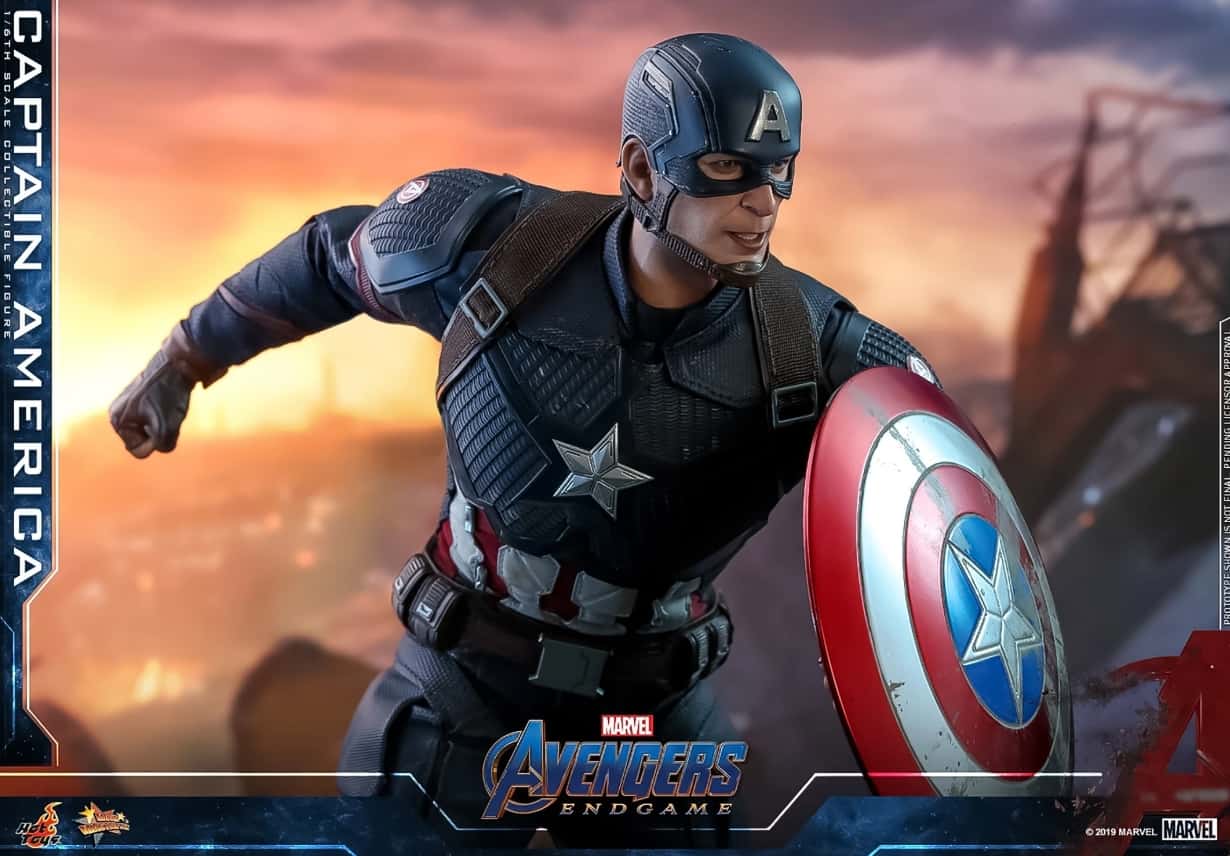 Size: 1/6th Scale or 7″
Extras: helmeted head with three interchangeable lower head parts to form expressions, one Chris Evens head, seven pairs of interchangeable hands, compass, helmet, battle-worn shield
Articulated Points: Yes, 30 points
Age: 15+
Yet another very high-quality action figure of an Avenger, and not just any Avenger, but Captain America himself. THE Avenger. This is phenomenally done as far as detailing goes.
The clothing alone looks very realistic. However, this isn't your $20 action figure, so that has a good chunk to do with the thorough detailing. The scratches from swords on the shield are even exquisite.
Pros
The accessories, expressions, and hand details add personality and determination to Captain America.
The elbow and knee pads have impressive textures that make you feel the thickness and ruggedness of the padding.
Even Captain America's pants look very realistic. The texture reminds me of the same textured military gear made in this decade.
Cons
Chris Evans' hair does not look natural, but it's okay since Captain America generally wears a helmet.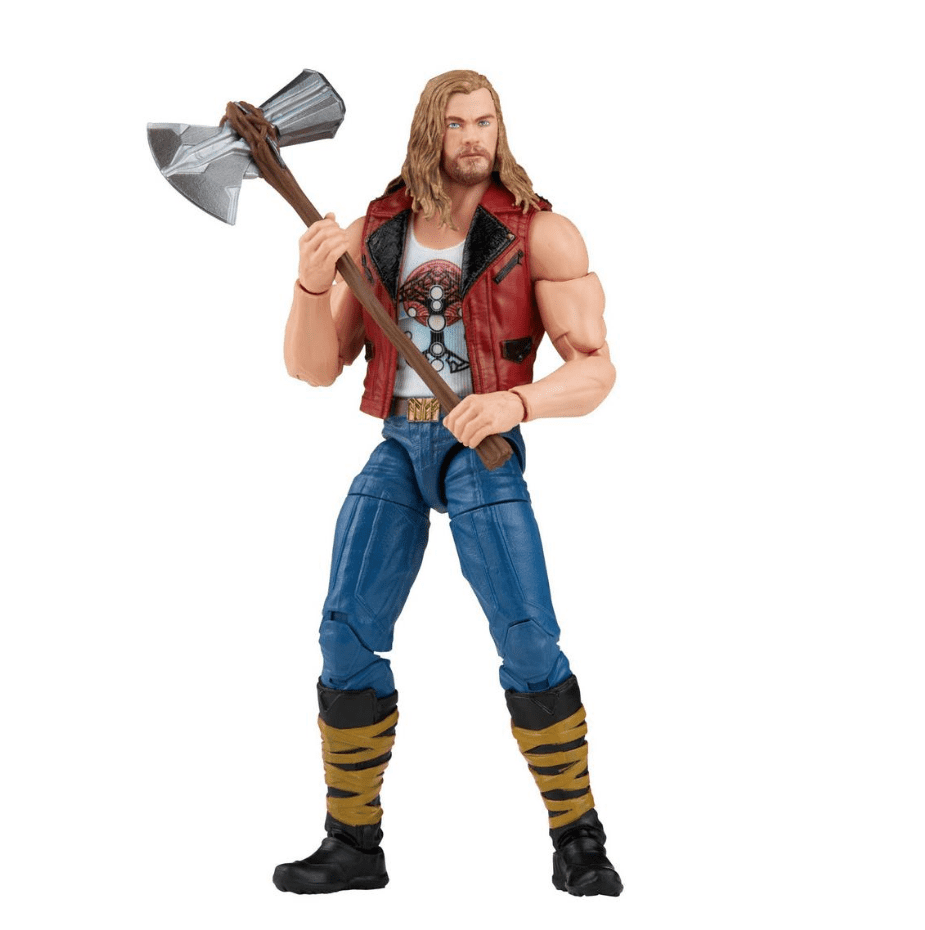 Size: 6″
Extras:
Articulated Points: Yes,
Age: 4+
Thor, in blue jeans, still gives me weird vibes, but this is a great authentic, standard action figure. He reminds me too much of a wrestler from the 80s or some metal band. The figure has a few extras but mostly, what you see is what you get.
It does, however, come with a "Build-a-Figure" piece; if you collect all the action figures in the set, you can create a new action figure. Also, it isn't going to bankrupt you, either, which I'm sure will make everyone happy. This action figure of Thor can be purchased at Gamestop for under $20.
Pros
Many articulated points for awesome action play for the kids and great posing opportunities for collectors.
Thor's facial features are on point with those in the movies, and I can also say the same for his legendary weapon, Stormbreaker.
Cons
With so many articulated points, it makes all the pieces look cheap.
This would look better with actual hair instead of plastic molded hair. You won't have to worry about it getting messed up this way.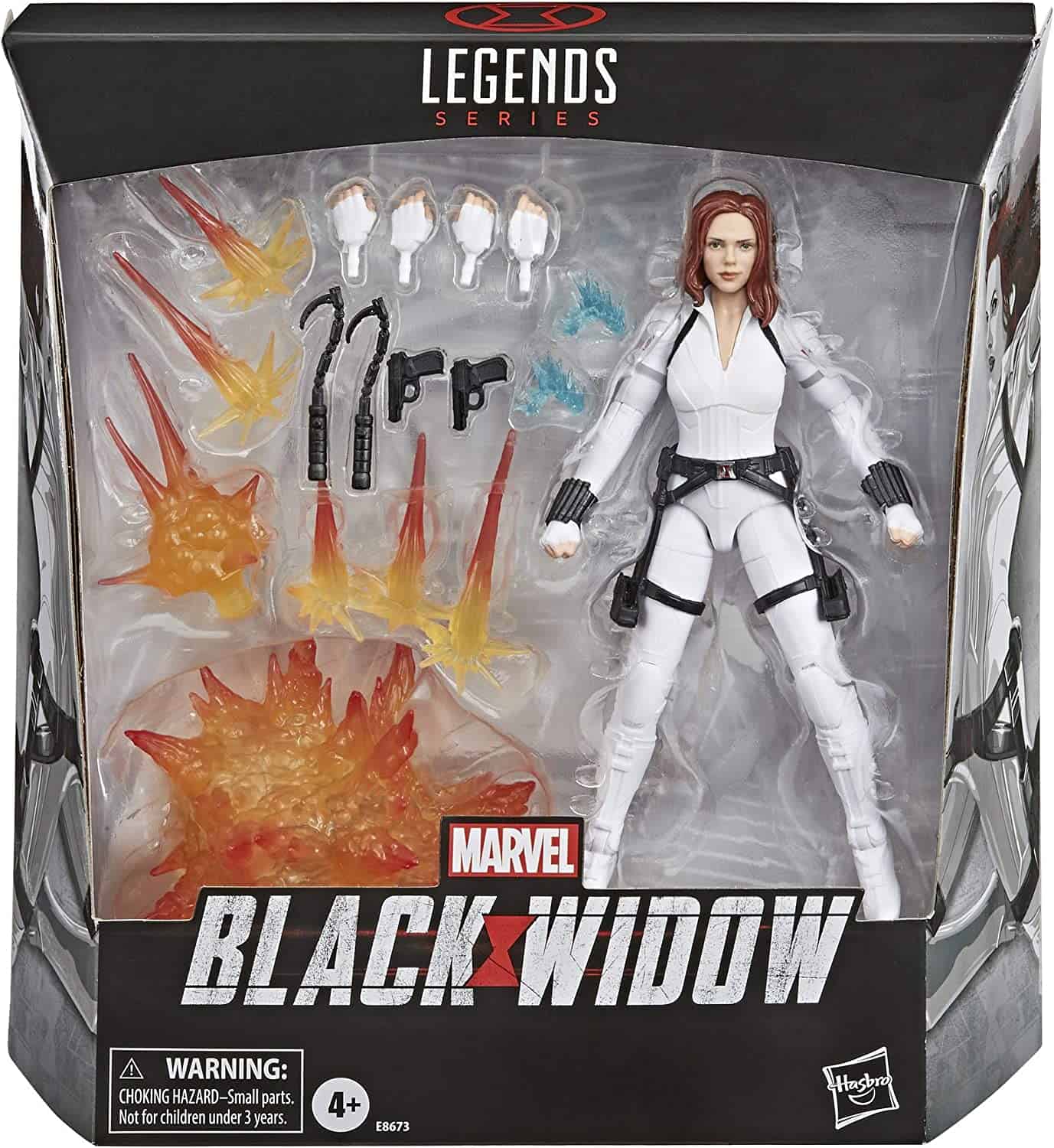 Size: 6″
Extras: Poseable action stand, two grappling hooks, explosions, fire, two sets of extra hands, two guns, and blue sparks that attach to her wrists
Articulated Points: Yes
Age: 4+
This is another Avenger action figure that nails the look of the Black Widow in the movies. This figure is everything you could want from a typical action figure.
There aren't a ton of bells and whistles, and that's okay because if this is going to be a toy and not so much a collectible, it will work great with whatever poses you want to make while fighting the villains.
Pros
The clear stand is great because it allows you to pose the Black Widow off the ground enabling better poses and cool effects when fighting with the other Avengers.
I am happy they didn't overly sexualize this woman superhero's clothing like it is commonly done. Also, her hair length is accurate to the comic books and movies.
Cons
The clear stand pieces look fragile; if this is for play, they will only last for a while.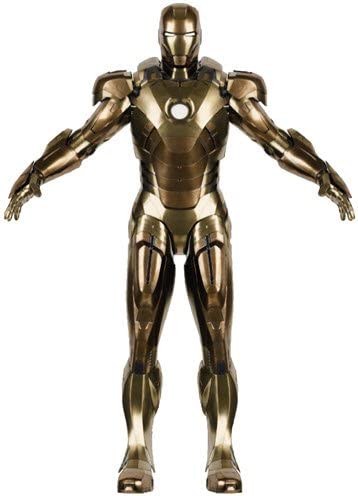 Size: 7″
Extras: An LED light fixture in the eyes and chest, four sets of hands with one including flame bursts, and a second pair of flame bursts are included for the feet
Articulated Points: Yes, over 20 different points
Age: 4+
This sophisticated-looking Iron Man boasts killer style in his heat-resistant 75% metal atmospheric gold suit. This is a little over $100 but well worth it.
Iron Man's many articulated points make for an even more incredible action figure. Reviews state that this figure looks true to size and not like a robot. The gold coloring is really nice, and since Iron Man is made of metal, it feels substantial, unlike other action figures. Here is another Iron Man worth checking out.
Pros
The gold used in Iron Man looks high quality and not tacky, like many metallic paints.
Since Iron Man is 75% metal, this is a much sturdier figure than if made of plastic.
The details on Iron Man's hands are impressive for an action figure. Usually, you see that on high-end statues for $500+ but rarely on smaller, cheaper action figures.
Cons
If this is a child's gift, ensure they understand it can injure someone if thrown.
No, Iron Man can not bathe with you because he has batteries.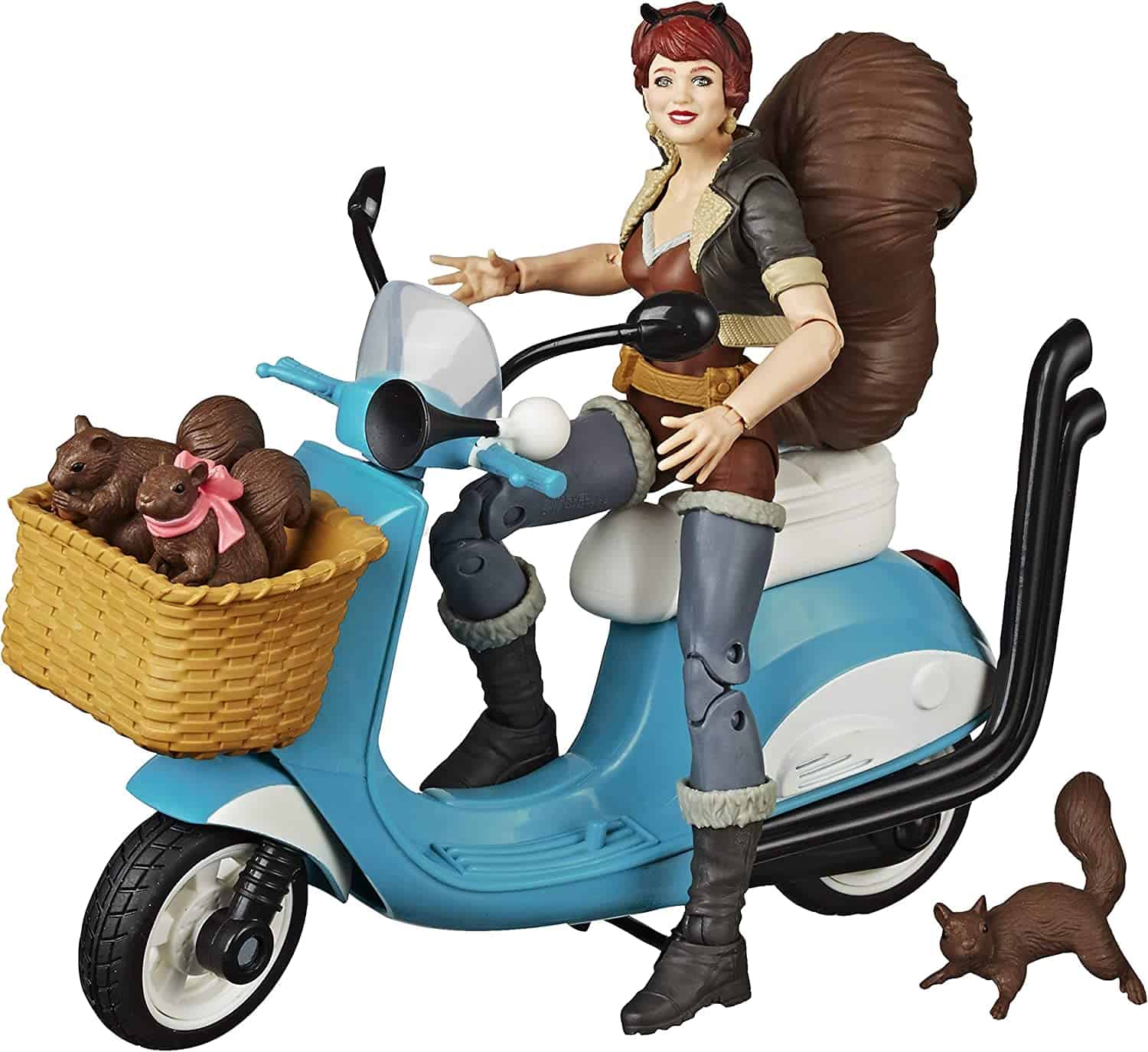 Size: 6″
Extras: Adorable squirrels in a basket on the scooter, mirrors for the scooter, and of course, an old-school scooter horn
Articulated Points: Yes
Age: 4+
I love this Squirrel Girl action figure so much! She is undoubtedly a lesser-known Avenger but deserves as much credit as the others. Squirrel Girl is unique and extraordinary because of that fact.
She comes with three adorable squirrels that ride around in the scooter's basket with her fighting crime. Squirrel Girl also has a fabulous fashion sense with her retro boots and brown body suit with built-in shorts- maybe romper is a better word for what's going on there and her big fluffy squirrel tail.
Pros
Many small details, like squirrel ears and tail, make this a unique addition to your Marvel collection.
This action figure gets extra points for being an Avenger we rarely see. Perfect addition for collectors.
Cons
Squirrel Girl could be better made, and the details on her face could use some reworking.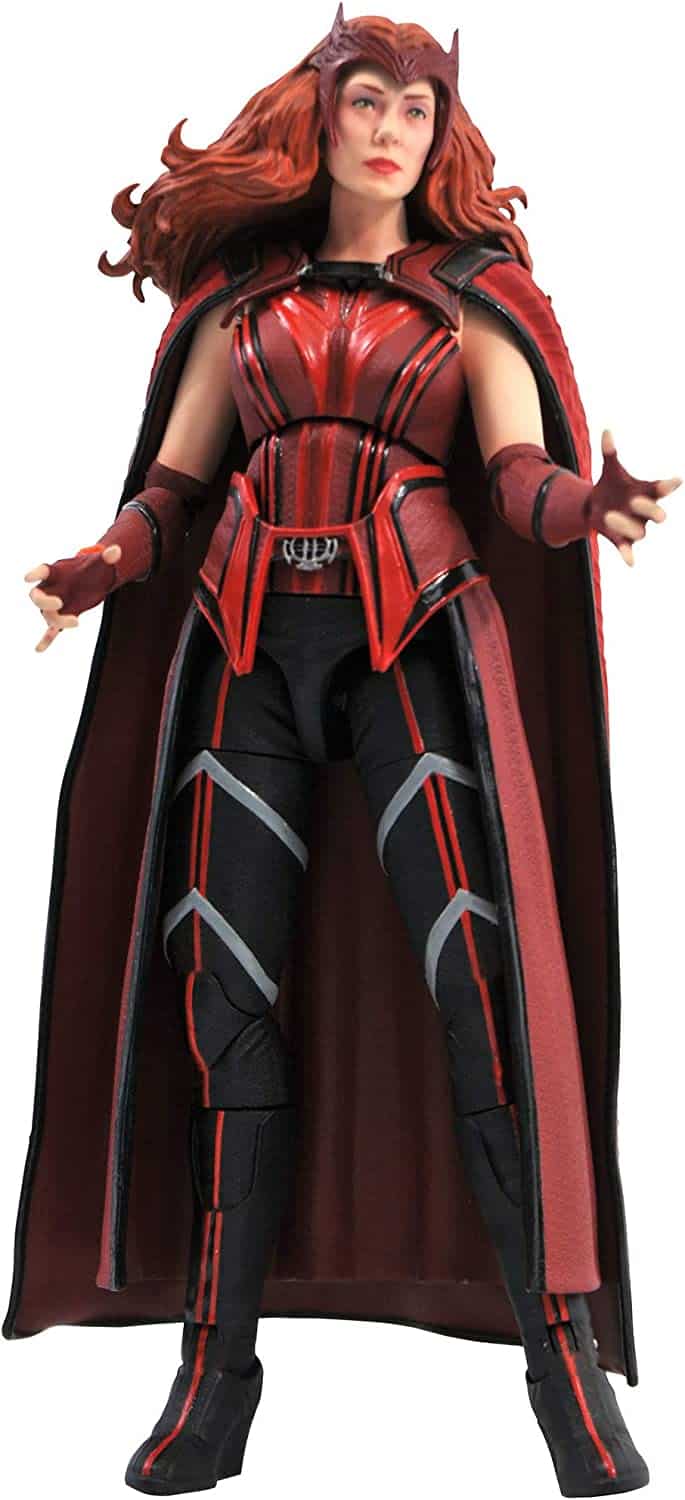 Size: 7″
Extras: None
Articulated Points: Yes, 16 points
Age: 15+
This is a well-made, affordable action figure of the Scarlett Witch, one of the first Avengers. This is a nice-looking action figure, from her cloak to her beautiful hair. The Scarlett Witch does not come with any extras, but she doesn't need anything.
Pros
I like that, once again, we have a female action figure with clothes on, and her body is not exaggerated or geared towards males. Women like superheroes just as much, and it's nice not to see female superheroes exploited.
The Scarlett Witch's facial features look well done and realistic.
Cons
Diamond Select Toys could have added one or two accessories since most other action figures come with a suitcase filled.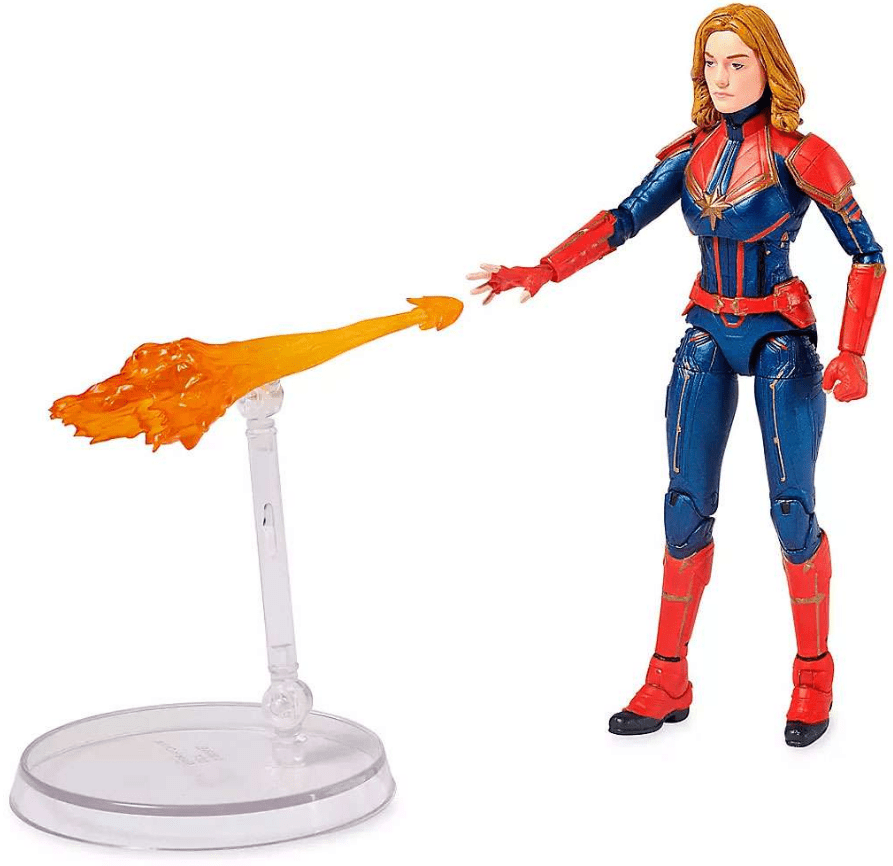 Size: 7″
Extras: Goose, four pairs of extra hands, a Captain Marvel masked head, and some fire that shoots from her fingers
Articulated Points: Yes, multiple points
Age: 8+
I love Captain Marvel and Goose! They are definitely two of my favorites. This set isn't going to break the bank, and it will make a fantastic toy or collectible. The Captain Marvel action figure can even stand on her. The other Captain Marvels I've seen don't look much like her, but this one does.
Pros
They got her hair right. It looks just like it does in the Captain Marvel movie.
Most Captain Marvel action figures do not come with Goose, and this one does. Goose's details aren't too shabby, either.
Cons
It would have been ultra cool in Goose also had articulated points.
The expression on Captain Marvel's face could have been done much better. It looks like she's really sleepy or drugged.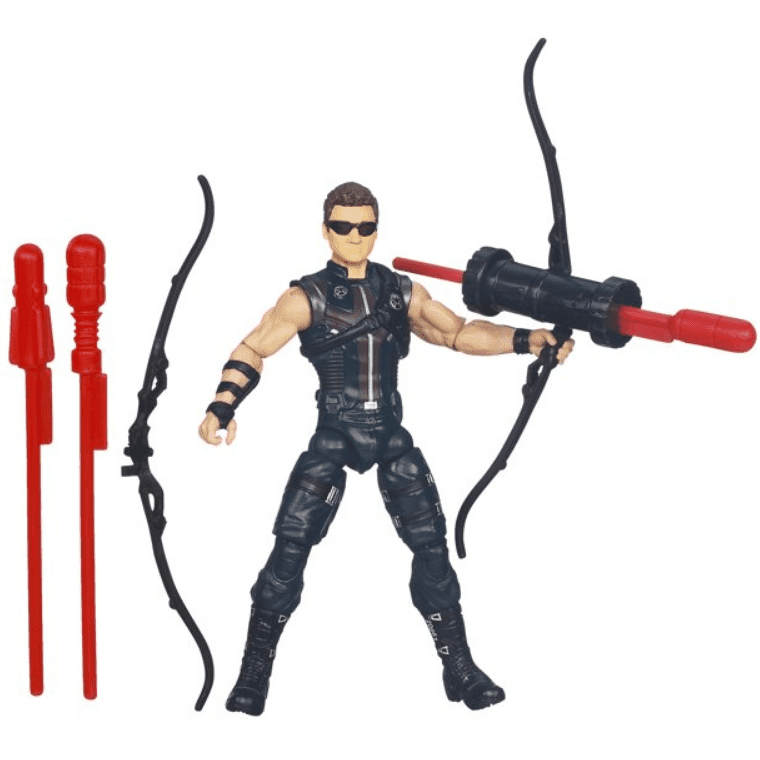 Alright, so this took me a while to figure out which Hawkeye action figure I wanted to include in this list. There are a lot of excellent ones varying in price. I liked this one because it's inexpensive, will probably be worth something down the road, and comes with some cool accessories. You cannot deny that Hawkeye with sunglasses is pretty awesome.
Size: 6″
Extras: Three arrows and a bow, sunglasses
Articulated Points: Yes, multiple points
Age: 4+
Pros
Kids will have a great time playing with the bow and arrows. You won't have to take out a second mortgage to replace it if it gets lost or broken.
This genuinely looks like Hawkeye from the movies. The hair and facial detail is perfect.
I love it when superheroes look a little more ordinary by wearing sunglasses.
Cons
The Hawkeye action figure isn't super fancy and does not come with anything mind-blowing. The details aren't over-the-top, and this isn't a highly sought-after figure.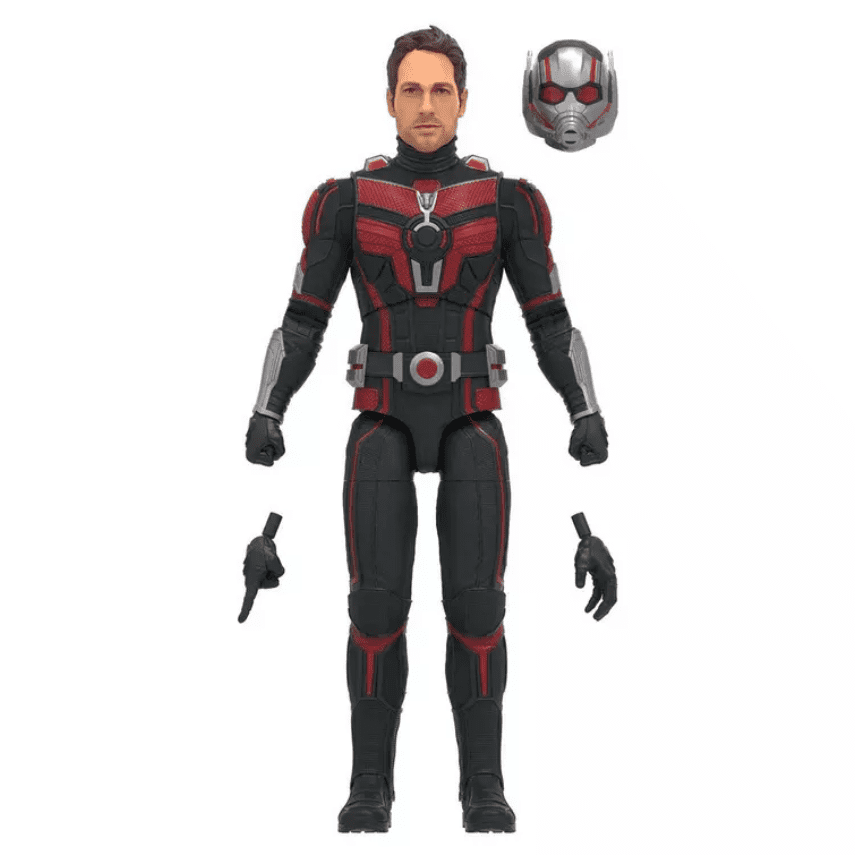 This action figure of Ant-Man is fantastic! It looks just like Paul Rudd. The details that bring this to life are well done for such an inexpensive toy/collectible. If you want to add the Wasp to your collection, you can do so here.
Size: 6″
Extras: Extra helmeted head and two pairs of hands
Articulated Points: Yes, multiple points
Age: 4+
Pros
This Ant-Man action figure nails Paul Rudd's little trademarked smirk making the figure all the more likable.
The texture of Ant-Man's armor looks authentic and lifelike.
Cons
This should be a set with Ant-Man and the Wasp. It would make more sense to the buyer.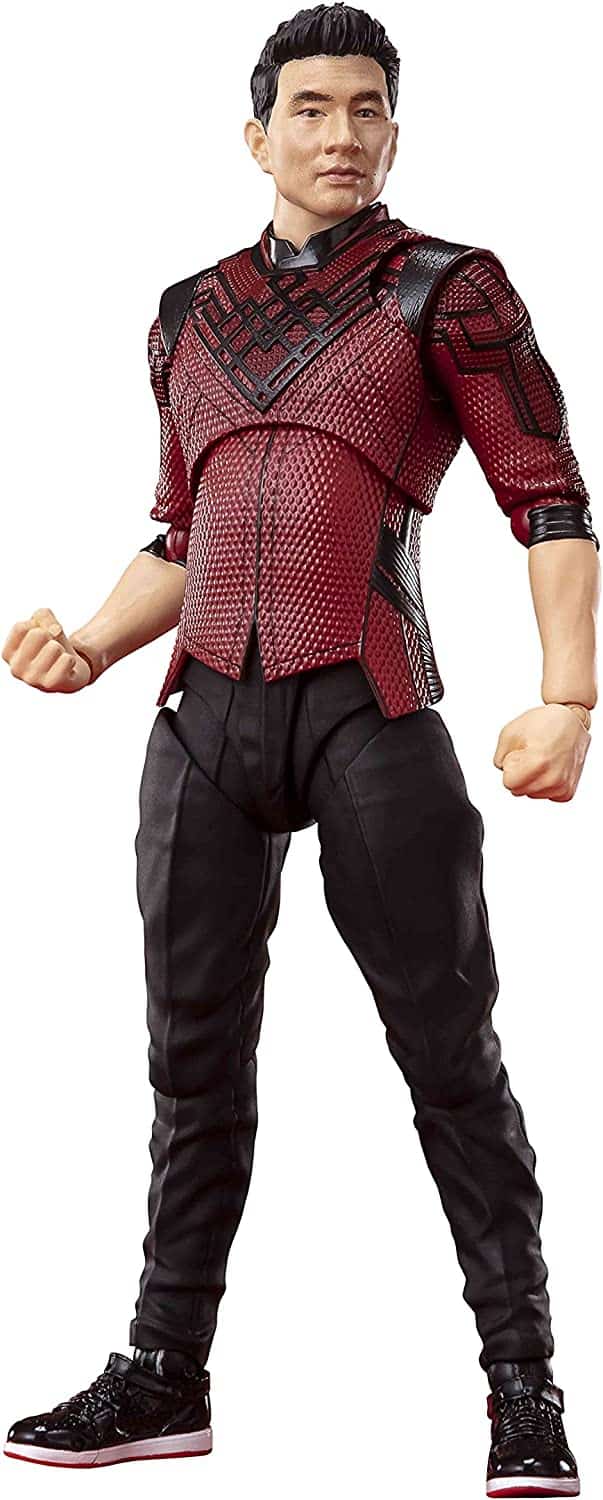 Size: 6″
Extras: Alternate head, bow staff, and four pairs of hands
Articulated Points: Yes, multiple points
Age: 4+
Here we have yet another exceptionally well-detailed and created action figure. Shang Chi is the newest Avenger but is one of the most liked. I loved the movie and have enjoyed seeing the toys that have come out to support it. The beautiful water dragon, The Great Protector, should be anointed an Avenger, too.
Pros
The action figure is lifelike and almost precisely like Shang Chi does in the movie. For under $50, it doesn't get much better or higher quality than this. The detail of Shang Chi's clothing makes it look like actual cloth texture.
The detail on Shang Chi's bow staff is also excellent, showing scales reminiscent of The Great Protector at both ends.
Cons
Honestly, there isn't any. It might be cool if this came with other accessories and, of course, the dragon.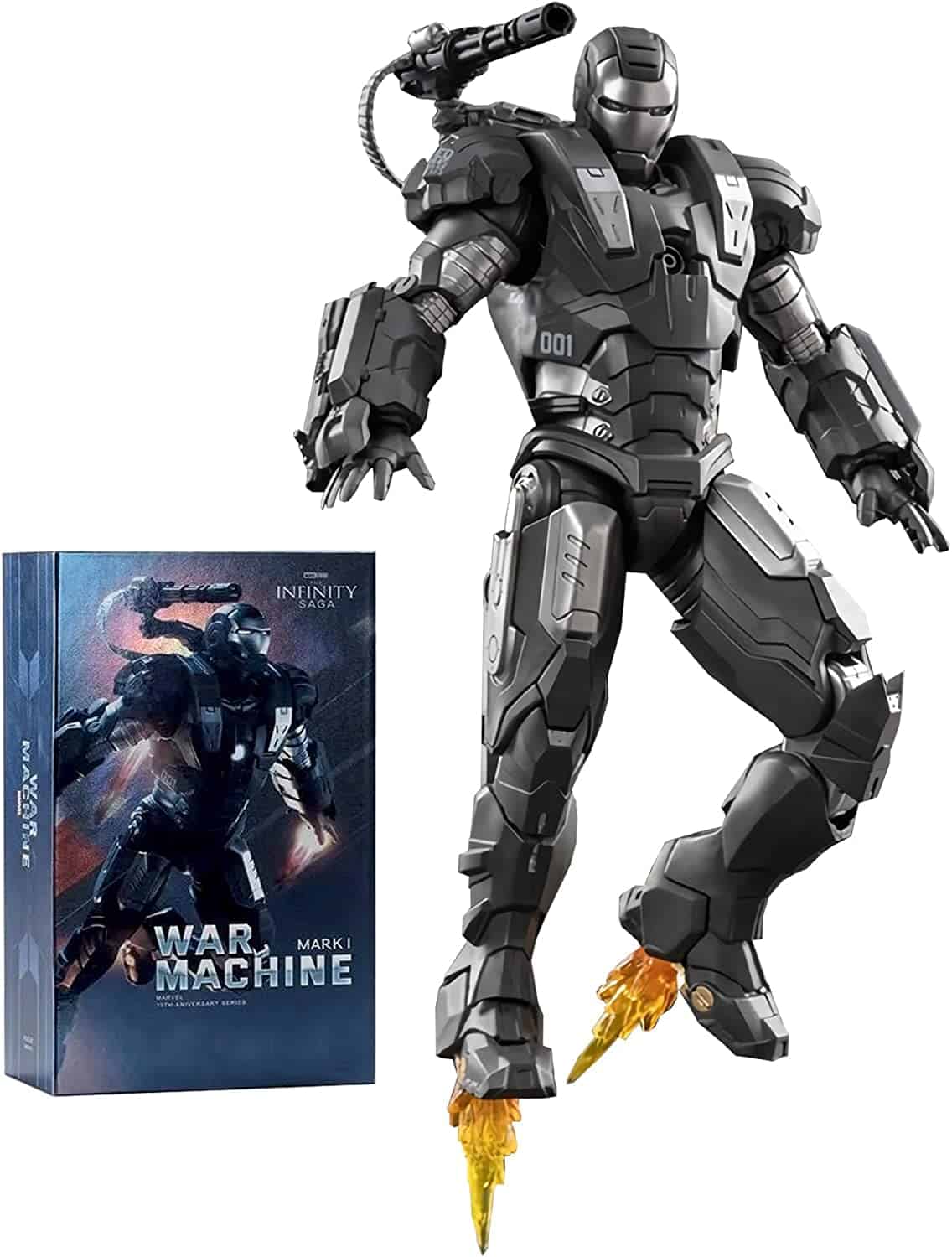 Size: 7″
Extras: Black moveable support piece, 10″ collection level box, shoulder cannon, handgun, two special effects flames, two pairs of hands
Articulated Points: Yes,20+ multiple points
Age: 15+
I'm running out of fun new ways to say, "this is awesome," but here goes nothing; this action figure is exceptionally well-detailed and looks like the statues that go for $500+. Even better, it's not even $50 and can pose in over 20 ways with all the cool accessories that come with the figure. This might be the most extraordinary action figure we've seen so far. Once you've seen this version of War Machine, you might need to purchase both!
Pros
It can't be easy to create a perfect-looking metal texture, but it has been accomplished on this War Machine action figure.
I love how realistic even War Machine's boot tread looks. They did not skimp on the details.
Cons
This War Machine action figure is incredible, but it would be much better if they also made it from metal and not plastic.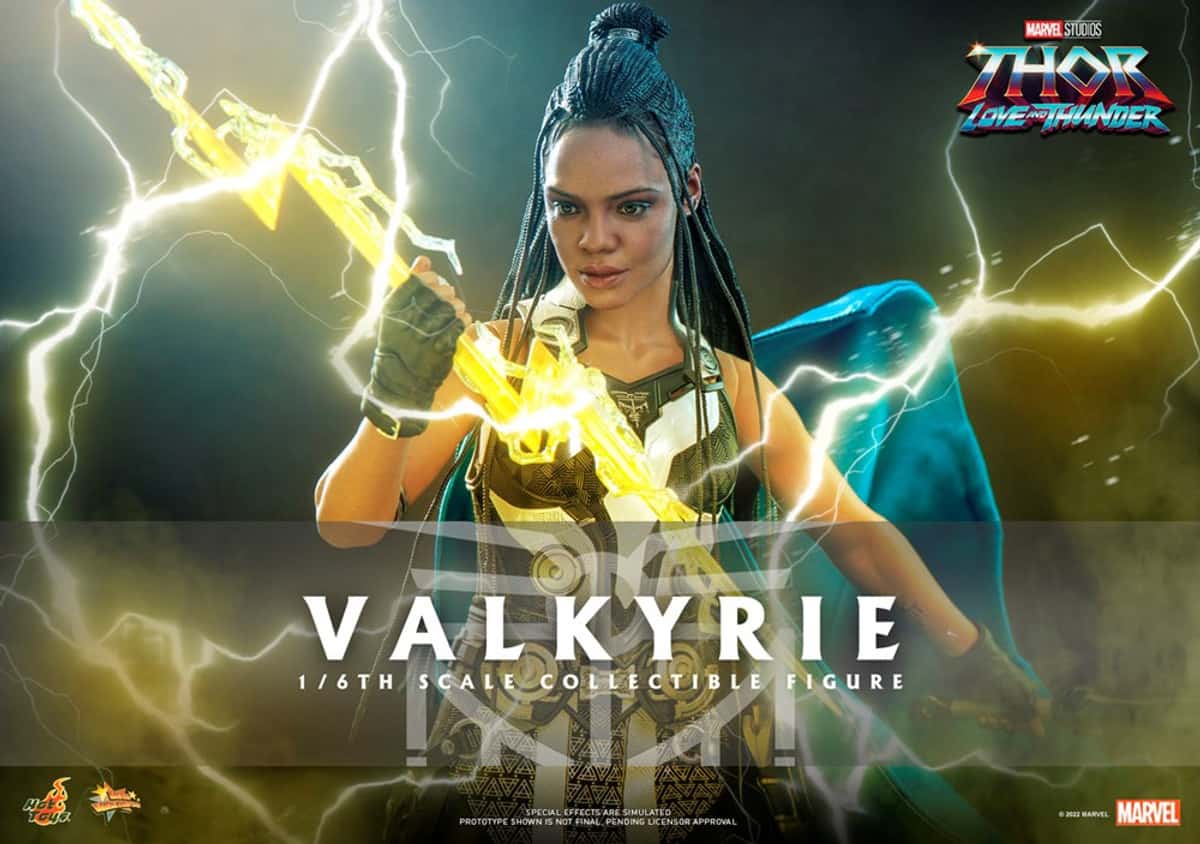 Size: 11.22″
Extras: Dragonfang sword, two daggers, Zeus's thunderbolt, special effect accessories, Korg's face sculpt, portable speaker, and a figure stand.
Articulated Points: Yes, 26+ multiple points
Age: 15+
Based on Tessa Thompson from the movie Thor: Love and Thunder, this version of Valkyrie is genuinely majestic in appearance. Everything about this action figure is artistically created. This action figure is close to $300 and is set to be released sometime between October 2023 and March 2024.
Pros
Valkyrie's dreadlocks and skin look so realistic.
One of the most lifelike action figures I've seen to date.
Cons
You will wait a bit before this action figure can be yours. But aren't all good things worth the wait?
FAQs
Question: Who is the best Avenger, according to fans?
Answer: Thor! He is the most powerful of the Avengers and even took down Thanos, who had all Infinity Stones assembled and working for him. Thor can fly, transport between worlds, and fight like nothing we've ever seen. He is, after all, a god and not just a superhero.
Question: Who is the weakest of the Avengers?
Answer: Hawkeye. You have to feel a bit of compassion for this superhero. First, he only has a bow and arrow and is a regular Joe. On top of that, he stands alongside some of the most powerful superheroes who boast crazy fighting skills and have superpowers. This makes him perhaps a bit braver than the superheroes since he can easily be killed.
Question: Which superheroes have been Avengers?
Answer: This is a loaded question with plenty of solutions, depending on who you ask. However, for an actual Marvel list of Avengers, check the Marvel Database's, Avenger List!
Avenge 'til the End
Whew, we went down a long road of notable Avenger action figures. I don't feel that I listed everything in that category, either. The fact is that there is plenty of high-end Avenger action figures out there if you spend a little time digging.
Some of those figures are rare, like Silver Shirt Luke Cage, and some may be sitting on a shelf at your local comic book store. Either way, I hope you find all the Avenger action figures your heart desires.
The winner for the best Avenger action figure of all time is Thor: Love & Thunder – Marvel Valkyrie ⅙ Scale Collectible Figure. The action figure's quality is not unlike what we see with superhero statues at companies such as Prime 1 Studio.
The facial detail is lifelike and incredibly similar to actress Tessa Thompson's features. I cannot say enough about the quality of this action figure.
The clothing textures are believable, and the 11″ height of the figure is another huge bonus. Valkyrie isn't exactly a toy, but since she is an action figure, she is capable of posing in all the familiar action figure ways. I'm sure there will be kids out there playing with her as a regular action figure. They're lucky.
I hope this article sheds some light on the Avenger action figures, what's out there, what kind of quality you can expect to find, and where to look.
If you've checked out the list of Avengers on the Marvel Database, I'm sure you know this article could have been a book if I'd included every worthwhile Avenger action figure. The list is vast and covers every mighty superhero, with some oddballs thrown in there, too.
Suppose you would like to be the proud owner of a Thor: Love & Thunder – Marvel Valkyrie ⅙ Scale Collectible Figure. In that case, I'd suggest paying the deposit now and waiting for her to be released sometime between October 2023 through March 2024. You don't want to miss out on this massively beautiful action figure.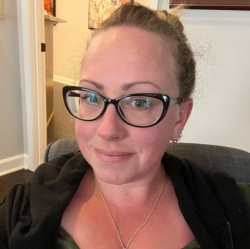 Latest posts by Katie Downey
(see all)