Iron Man is a true self-made superhero of atomic proportions. He's THE man, one could say. He's one of the first superheroes in the Avengers and also one of the all-around nice guys.
Tony Stark wants to do good because he IS good. In fact, he's an all-American (super)hero. If you recall, in the beginning, we meet Tony Stark, who terrorists have captured. He is working overseas, testing out new weapons, when he is kidnapped by terrorists.
The terrorists then force him to create the ultimate weapon for the bad guys, naturally. But our cool-headed American friend, Mister Stark, has other plans. So instead, he makes this badass suit of armor and becomes who we all know as Iron Man.
Once he returns to the good ol' U.S.A. Stark decides to do some fine-tuning to his excellent metal suit and creates the ultimate good guy armor, poised and ready for crime-fighting action.
The article that you are about to digest is all about the man, Iron Man! We will take a journey and look at some of the most extraordinary and most amazingly incredible Iron Man statues the world has ever seen.
My Top Picks
1st Place – Iron Man Illusion Spider-Man- Far from Home Deluxe Art Scale 1:10
Again, this is an amazingly detailed, creepy zombie version of Tony Stark that Spider-Man hallucinates due to Mysterio's illusions and threats. It just wins in every category for me. It won't bankrupt you, looks terrific, is incredibly unique, and will surely be a collector's dream statue in a few years.
2nd Place – Hot Toys Iron Man Mark I Diecast ⅙ Scale Figure
I cannot say enough about this statue. It is impressive, from its realistic running motor on the back of the armor to the fine details on Tony Stark's face; this is an absolute winner.
This statue also recreates one of the most memorable moments in Iron Man; the beginning of everything when Tony Stark fends off terrorists and fights his way back to the U.S.A. I highly recommend purchasing this historic statue.
3rd Place – Diamond Select Toys Marvel Gallery Classic Iron Man Statue
This statue also is very well done, and the reviews are all positive. It would look great in even the fanciest collections.
I love that this statue shows off one of the best parts of the Iron Man armor; the jet boots! Who wouldn't love to have a pair of those? It's hard to believe this statue costs less than $50 and is available for purchase now.
My Search Criteria
I have only added the highest-quality Iron Man statues to this list.

I included a range of statue pricetags and did not leave off any statues deemed "too expensive."

I added different Iron Man armors throughout the history of his existence on earth.

I have included Iron Man statues from an array of other sellers.

All of the Iron Man statues on my list have been thoroughly inspected for flaws.

The statues included in the list are made from different types of materials.

I have included some handmade and painted Iron Man statues and some that are not.

I included some Iron Man statues that show Tony Stark and some that only show the armor.

The statues in this list range from a few inches tall to a full-sized lifelike figure.
Best Iron Man Statues
Iron Man Mark XLIII Maquette Limited Edition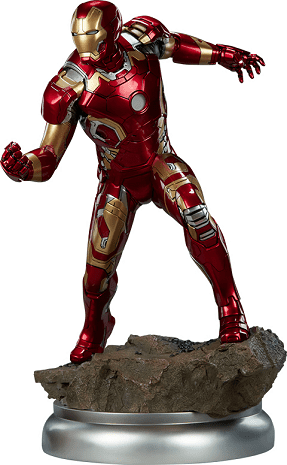 Produced by:

Sideshow Collectibles

When:

Second Half of 2020

Edition:

Limited Edition 1500

Price Bracket:

Over $500

Size:

20T x 16W x 13D inches

Weight:

21.5 pounds

Materials:

Polyresin
I figured we might as well start with a jaw-dropping doozy. This statue is beyond impressive; it is mesmerizing whether you're an Iron Man fan or not.
The craftsmanship is phenomenal, and it's not even a question of how much time was spent on this masterpiece since it was clearly a hefty amount. This is what statues want to grow up to be. Sideshow is known for its dynamite sculptures and artistry.
Pros
The coloring and type of metallic shine are identical to Iron Man's armor in the movie, Avengers: Age of Ultron.

Each small cutout piece of armor is perfectly symmetrical without the slightest flaw in alignment, making it very pleasing to the eye.

The music playing base with the on/off switch is an excellent addition. Just be sure to keep at least three A.A. batteries on hand.
Cons
I don't like the flat silver base plate. It just doesn't go with the remarkable rock and metal effects and looks tacky.
Statue Iron Man Ultimate The Infinity Saga Art Scale 1/10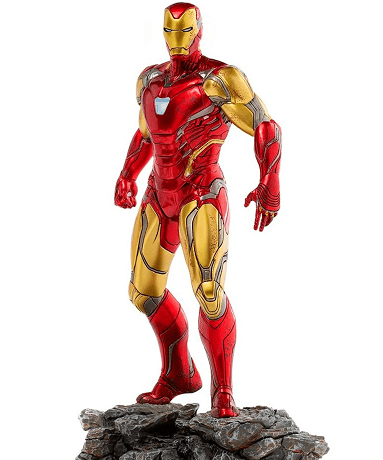 Produced by:

Iron Studios

When:

2021

Edition:

The Infinity Saga and Avengers: Endgame, the movie

Price Bracket:

Less than $200

Size:

9.4T x 6.6W x 2.7D inches

Weight:

1.2 pounds

Materials:

Polystone
Another winner was shot out of the park by Iron Studios. That is a perfect name for the maker of such a beautiful Iron Man statue. It looks like another $500 statue, but it is less than half the price. It also includes light-up effects such as Iron Man's eyes, shoulders, and chest pieces.
This truly is a legendary moment in Marvel cinema that has been nobly created by Iron Studios. This statue represents Iron Man's ultimate sacrifice as an Avenger when he sacrificed his life to beat Thanos once and for all. Unfortunately, this is the last we see of Iron Man.
Pros
I appreciate how the gentle scratches and pits on Iron Man's armor show up like scars from battle on flesh. It captures those final moments in the Iron Man story.

I like how Iron Man stands looking out into the distance with a clenched fist, ready to fight.

I like that Iron Man stands on the rocky rubble of what was once the Avengers' headquarters without any other base under the rock.
Cons
I understand that all three heroic statues are available for purchase, but this would be an even better statue if the three heroes,

Thor

, Iron Man, and

Captain America

, made up one giant statue together. Of course, nobody would be able to afford it, though.
Beast Kingdom Avengers: Endgame Iron Man D-Stage Statue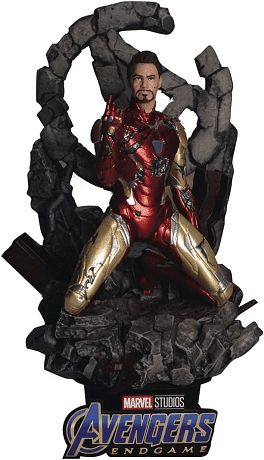 Produced by:

Beast Kingdom

When:

June 1, 2022

Edition:

D-Stage-081

Price Bracket:

Less than $50

Size:

6T x 4W x 4D inches

Weight:

11.3 ounces

Materials:

Polystone
This is a bittersweet statue and the end of Tony Stark and Iron Man. In the final moments, we see Iron Man kneeling, one hand in the air, ready to snap his fingers, delivering all of the Infinity Stones back into place.
Then we watch as the electricity of 1000 stars overpowers Tony Stark's human body, and cracks decorate his final Iron Man armor. He says, "I am Iron Man," one last time.
Pros
I really like this statue and its symbolism in the history of Iron Man. It is an integral part of the story, and the look on Tony Stark's face was perfectly captured on this statue. It makes me tear up a bit, though.

The light-up features on Tony Stark's battle-damaged suit of armor are unreal. It looks amazing with lit-up computer boards. Simply magnificent and so realistically done.

The destroyed Avengers headquarters in the background adds the perfect amount of nostalgia to the scene.
Cons
The highly elevated base under the rock base looks tacky. It would look better if the Avenger: Endgame signage in the front was smaller and quieter. It brings the statue's high-quality look down a few notches.
Iron Man Mark II Deluxe Version 1/9 Scale Statue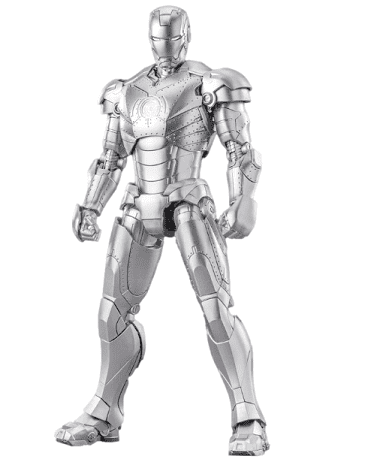 Produced by:

Eastern Model, Morstorm, and Marvel

When:

2022

Edition:

Deluxe Version

Price Bracket:

Less than $100

Size:

9.44 inches tall

Weight:

1.2 pounds

Materials:

Plastic and diecast
It isn't easy to believe this statue is as inexpensive as listed. It looks like a high-end statue with an equally fancy price tag, but that isn't the case. Here we see Tony Stark as Iron Man in the first purposeful build after he escaped the terrorists in the original armor made from machine parts and scraps he'd found lying around.
This is a more uniform and sleek design, and it birthed many more builds with a similar design. This Iron Man armor is a vital piece of the Tony Stark/Iron Man story and history.
Pros
This is a truly unique statue because you can build it yourself.

This Iron Man statue/figure has several points of articulation, enabling you to create awesome poses.

I like that some of this model is diecast. It adds a certain level of realness to the armor.
Cons
This statue has a magnetic base, but I am disappointed that I can not find a single picture online.
Marvel Iron Man Hall of Armor Limited Edition Statue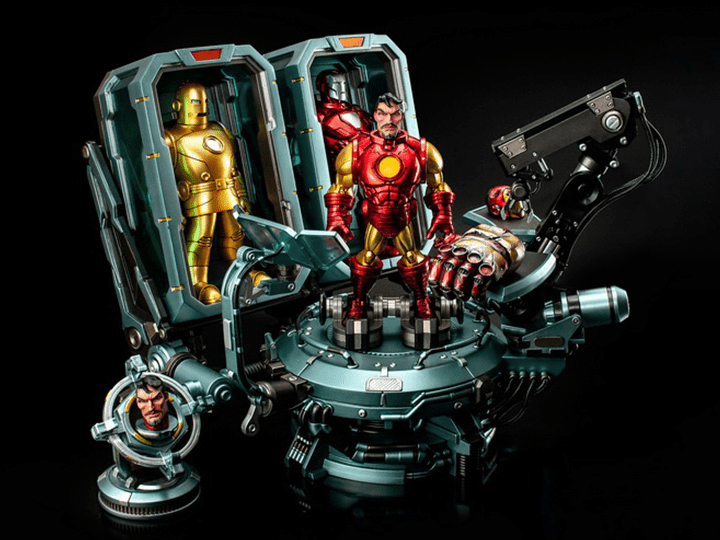 Produced by:

Toylaxy and Marvel Comics

When:

2018

Edition:

Limited Edition of 99 Pieces

Price Bracket:

Less than $1500

Size:

12.2T x 13.8W x 15.35D inches

Weight:

15.5 pounds

Materials:

Polystone
This is an exciting and utterly original take on Iron Man by Toylaxy. It has more of a comic book feel than the other Iron Man statues, and you can certainly see that in the Toylaxy Tony Stark face, they created. He almost looks like a Disney bad guy in this statue.
The statue is unique because it is a Hall of Armor of three different Iron Man armor builds; Mark IV, Mark I gold, and the Silver Centurion. In addition, the statue has tons of extras like heads, necks, and arms.
Pros
This truly unique and rare set stands out from the other statues of Iron Man. It isn't cheap but will be worth quite a bit in the coming years.

I like that this statue has more of a cartoon theme than the others. Tony Stark's muscles are amplified, thus bringing attention to the exaggerated features.

I like the crazy-looking, cartoon-like suit builds.
Cons
Tony Stark's face doesn't look like the Tony Start we know, but this is an artistic take on Iron Man, so it doesn't have to be factual.
Hot Toys Marvel Iron Man 2 Mark IV Diecast Figure with Suit-Up Gantry ⅙ Scale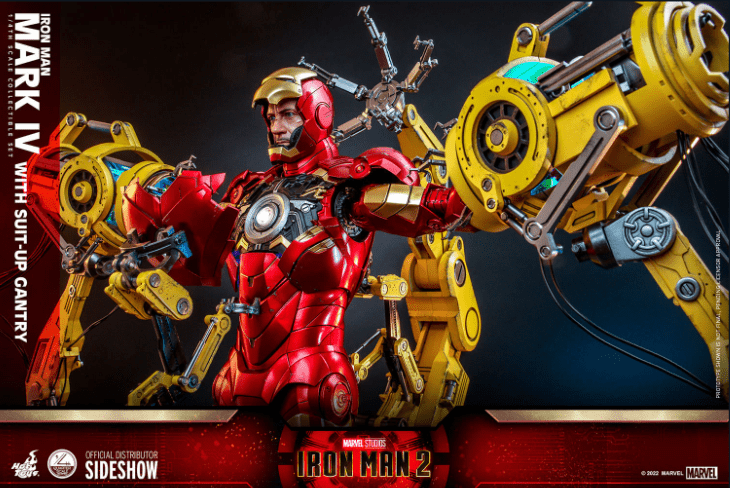 Produced by:

Sideshow and Hot Toys

When:

Preorder 2022 – now and available to ship April – June 2023

Edition:

Deluxe Version

Price Bracket:

More than $1000

Size:

Iron Man 19.13H and Gantry 23.62T x 29.52W x 14.17D inches

Weight:

1.2 pounds

Materials:

Polystone
This is probably out of most fans' price range, but it is a magnificent and original-looking Iron Man statue, and I felt I needed to include it for you all to drool over. It comes with tons of bells and whistles and has 40 points of articulation. That's more than most action figures.
The details are insanely beautiful, and each head is hand painted and done so very well. Make sure you purchase a micro USB cable separately to use the light-up features. Also, you must have three A.A.A. batteries on hand to use for the diorama figure base.
Pros
The detailed hand painting done on Tony Stark's face under the removable helmet's shield are so lifelike you will wonder if someone froze a miniature Robert Downy, Jr. and shipped him to you. You can see each hair of his thin mustache.

I love the hilarious donut, donut box, and coffee—honestly, an iconic Tony Stark moment waiting to be modeled.

The Gantry has a whopping 80 points of articulation! That's the most I've ever seen for any statue or action figure.
Cons
The price is nasty, but that's already been discussed. The only other con I see is the distant look on Tony Stark's face, which is a little weird. It works for most poses but strikes me as odd when he's gazing solemnly into the distance while eating a chocolate-sprinkled donut. It must be one helluva good donut to send him into that stupor!
Hot Toys Iron Man Mark I Diecast ⅙ Scale Figure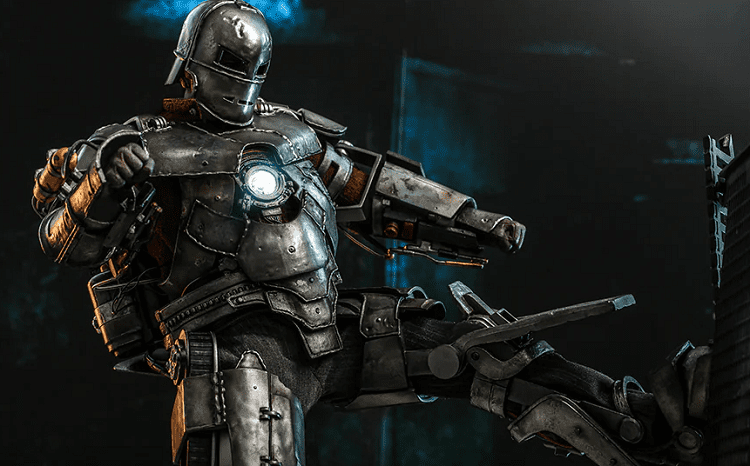 Produced by:

Hot Toys

When:

Preorders are currently taking place and available to ship in the second quarter of 2023

Edition:

Diecast Mark I

Price Bracket:

Less than $500

Size:

11.81 inches tall

Weight:

Unknown

Materials:

Plastic, diecast, and fabric
Everyone starts somewhere, and the beginning of anything is rarely pretty. This Iron Man statue is special because it shows Mark I, the first build Tony Stark made of what became the Iron Man armor. This moment in Marvel history is the birth of Iron Man.
When Tony Stark is held prisoner by terrorists and forced to build weaponry for them, he does what any hero would; find a way out. This armor was pieced together using scrap metal, and machine parts became legendary.
This Iron Man statue has 36 points of articulation, making setting up the perfect action poses easy. It also has L.E.D. lights and is rechargeable with a micro USB sold separately.
Pros
This fantastic statue has a lifelike motor displayed on the back of Iron Man's armor, and it actually runs. It doesn't get any cooler than that right there.

The diecast metal makes this a very realistic Iron Man and gives it a solid feel.

The Robert Downey Jr. face is on point and very realistic. The eyes even have light reflecting on them.
Cons
The only cons are the price tag and purchasing a micro USB charging cord. You can make payments on the website.
Diamond Select Toys Marvel Gallery Classic Iron Man Statue

Produced by:

Diamond Select Toys by Mat Brouillard

When:

June 21, 2017

Edition:

Standard

Price Bracket:

Less than $50

Size:

11T x 3W x 3D inches

Weight:

1.19 pounds

Materials:

Polyvinyl Chloride
Now for a more affordable, easier-to-find statue for the rest of us. This statue is by no means lacking quality. It is not as thoroughly detailed as the $500+ statues, and that's okay. It even comes in a neat collectible box with bells and whistles like some pricier models.
The base lights up a yellowish glow as the flame from Iron Man's jet boots. For the price, this is as good as you'll ever find. Mat Brouillard is famous for his sculptures and special attention to D.C. and Marvel Comics.
Pros
I absolutely love that this statue of Iron Man shows off his fantastic jet boots, which are by far one of the coolest parts of his suit.

The muscular definition is very well done and gives a whole new meaning to buns of steel, er, iron.
Cons
Something is a touch off with the helmet, and I'm not entirely sure what it is, but it could be that it is a smidge smaller than usual.
Queen Studios Iron Man Mark 7 1:2 Scale Statue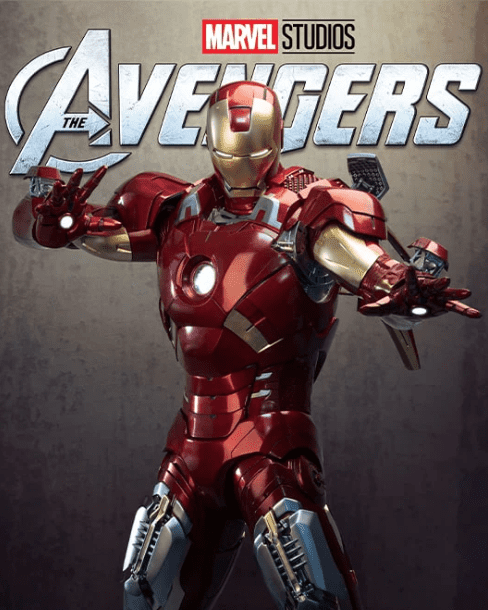 Produced by:

Queen Studios and Marvel

When:

Third Quarter 2021

Edition:

888

Price Bracket:

More than $2000

Size:

42.9T x 31.1W x 22.4D inches

Weight:

Unknown

Materials:

Polystone
Currently, this almost four-foot-tall masterpiece is only available in Brazil, Europe, and Asia. However, you can sign up to be notified when it arrives in the U.S.A. for shipping.
I have no words for this statue. It's insane, looks genuinely like Iron Man, and would probably make your house the "cool house" with all the kids. I think this would make for an excellent prop at comic conventions and shops. It certainly is expensive, and it's obvious why.
Pros
I love that this armor is like that in the Avengers and Iron Man 3 movies in that it has a massive arsenal of weapons peeking out from all over the suit.

The Mark VII armor for Iron Man is the best and most visually appealing version of his armor.

I like that this massive statue has the same critical light-up features as the smaller statues in the eyes, palm, and arc reactor.
Cons
It would have been even better if the designers had made this a genuine lifelike statue at six feet tall, but not everyone needs a museum-quality figure in their home.
Marvel Iron Man 3 Battle Version Lifesized Statue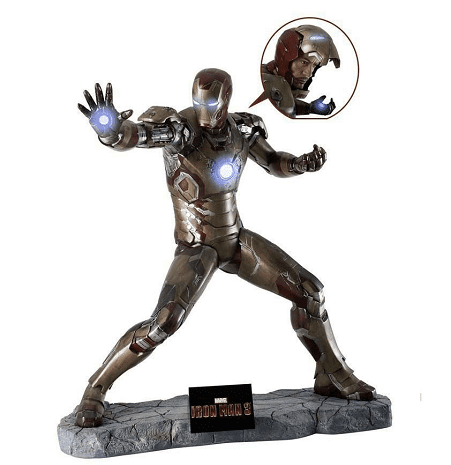 Produced by:

L.M. Treasures

When:

2014?

Edition:

Battle Version

Price Bracket:

More than $7000

Size:

71T x 67W x 35D inches

Weight:

Unknown

Materials:

Unknown
This is a highly cool Iron Man statue, but it is not for everyone at $7000+. This is something you might see at a convention or shop. I would love to see this in real life. Think of all the posing opportunities with it. I am unfamiliar with L.M.
Treasures and initially found this statue for sale through Walmart. There needs to be more info on the details of the statue. I could not find a production date, what the statue is made of, or what it weighs.
I think for such a massive chunk of money, they could list those details. It does, however, say it cannot be kept outdoors.
Pros
I like how the helmet's shield lifts to show Tony Stark/Robert Downey Jr.'s face.

I like that the statue is mounted to a rock base, so you will not have to worry about bumping into it and knocking it over as easily. It's also high enough to avoid being stepped on, and the base sticks out further than Iron Man's foot to protect it even more.
Cons
I'm not thrilled at the lack of information available for this expensive statue. It lights up but does not say how.

The shipping is over $500, which is ridiculous when spending $7000+ on this statue.

It may be the photo quality, but the coloring on Iron Man's armor is slightly off from what it should be.
Iron Man Illusion Spider-Man- Far from Home Deluxe Art Scale 1:10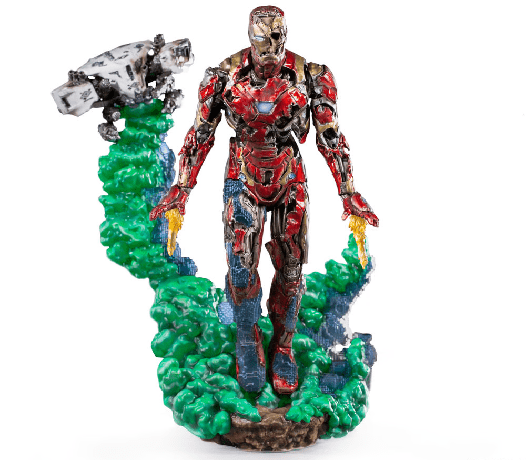 Produced by:

Iron Studios

When:

2020

Edition:

Limited Edition

Price Bracket:

Less than $200

Size:

8.2T x 6.2W x 6.6D inches

Weight:

2.15

Materials:

Handpainted

Polystone
Remember the scene in Spider-Man: Far from Home when Peter Parker hallucinates a zombie Iron Man that blames him for his death? It turns out the entire sequence was created by Spider-Man's enemy Mysterio and was only an illusion.
This statue of zombie Iron Man is phenomenal. It's a ways off the beaten path and isn't something you have likely seen before. It's original and limited, so hurry and get yours before they're gone.
They have sold out on the Iron Studios website but have not on some other sites. This unique collectible will likely increase significantly in price once it has sold out and is only available on reseller sites.
Pros
I am absolutely in love with the creepiness of this zombie Iron Man and will be adding this to my collection as soon as possible. It is unique and rare.

I love how realistic Iron Man's wrecked and broken armor looks while showing peeks under the armor where you can see Tony Stark's skull.

The coloring of this statue really pops and looks wild and completely different than what we are used to seeing from Iron Man.
Cons
The green puffs of smoke look a lot like spray insulation.
FAQs
Question: Where is the Iron Man Statue Located?
Answer: Victoria Square, Birmingham, England, is the home of the massive Anthony Gormley-created Iron Man statue. The statue is a staggering 20 feet tall, with the feet buried beneath the concrete, and it is said to weigh six tonnes!
Question: Which Iron Man suit is in Avengers: Assemble?
Answer: On Battleworld, Tony Stark creates many versions of the Iron Man armor. In Avengers Assemble, the animated series, he is wearing Mark 55 nanotechnology armor.
Question: Who is replacing Tony Stark as Iron Man?
Answer: Riri Williams, also known as Ironheart, will fill the empty spot in the Avengers that Tony Stark left after sacrificing himself to save them all in Avengers: Endgame.
Avengers Assemble!
If you do a google search for Iron Man statues, it will reveal many more that are not listed here. Many of those statues are magnificent and very high quality. They depict scenes for different movies and critical moments. I could easily write several more pages on these statues and still not discuss all that's out there.
The best Iron Man statue in this list of fantastic statues is the Iron Man Illusion Spider-Man- Far from Home Deluxe Art Scale 1:10. This is a unique and well-designed illusion of Iron Man. The statue itself is extraordinary and strange, which I love.
However, it was a tough decision because the Hot Toys Iron Man Mark I Diecast ⅙ Scale Figure was a close runner-up. It could become even more complicated if I were to add in the mega-expensive Iron Man statues. Some of those are ridiculously great and lifelike.
Iron Man has a massive following, showing in all the toys and statues available. I've written about many superheroes, but Iron Man takes the cake for being the most popular among all age groups. He is so popular that the address of Tony Stark's mansion in the movies can never have a home on it.
So many people have visited and researched the empty lot that I'm sure it is annoying for those living around there.
Ultimately, we miss Iron Man and will keep his stories alive forever. After all, he is one of the most badass superheroes out there, and our love for him is vast.
Read More Iron Man Related Articles:
• Best Iron Man Action Figures Guide
• Best Iron Man Funko Pop Guide
• Best Iron Man Helmet Replicas
• Best Iron Man Model Kits: Build Your Own Collection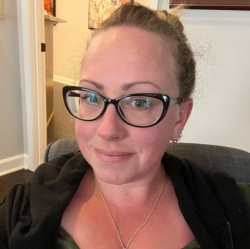 Latest posts by Katie Downey
(see all)