Would you believe me if I said Iron Man was a C-list superhero? Before Iron Man 1 in 2008, Iron Man wasn't anyone's favorite superhero. I owned a few of his comics, namely an omnibus collection of a few of his stories, but I would be amazed if you asked if he was my favorite.
How things have changed thanks to Robert Downey Jr.s performance. Iron Man is a household name and one of Marvel's A-listers alongside the rest of the Avengers. This surge in popularity, of course, meant a rise in merchandise. The wave meant a flood of action figures, toys, and a series of Funko Pops!
With so many to browse through, it can be hard to find the right one, so here's a complete guide to Iron Man Funko Pops! Where I not only inform you of which Funko Pops you should buy but how to evaluate a Funko Pop! yourself!
First Point Up Front
The best Iron Man Funko Pop! you can find on the market is the Iron Man Classic Pop Marvel Comics #04 Vinyl Figure (Bundled with Ecotek Plastic Protector to Protect Display Box). It's an outstanding figure that captures a cool look for Iron Man. Because it's based on the comics, MCU fans probably won't want it, but this is a fantastic gift if you have a fan of superheroes in your life. 
Selection Criteria
I'm evaluating the Funko Pops! by three different metrics:
Quality – By "Quality," I mean how good does the Funko Pop! look? Is it a good representation of the character? But more than that, I ask if the Funko Pop! has anything unique or special. This could be a glow-in-the-dark Funko Pop! or does it have a nice metallic sheen? A good quality Funko Pop! won't just look good. It'll have something that adds a little uniqueness and value to the product.
Availability – What I mean by "Availability" is how easy is the Funko Pop! to find in stores and online? It doesn't matter how highly rated a Funko Pop! is if it is nonexistent. I'll also look at the Funko Pop! price in this section. Funko Pops! are generally affordable, but they can quickly climb in price once you get to the more exotic choices.
Serialization – "Serialization" refers to if the Funko Pops! is a part of any series or unique line. For example, Iron Man Funko Pops! would fit in an Iron Man collection and an Avengers collection. This could also be relegated to the special edition Funko Pops! Like a collection of Iron Man Funko Pops! that glow-in-the-dark.
Best Iron Man Funko Pops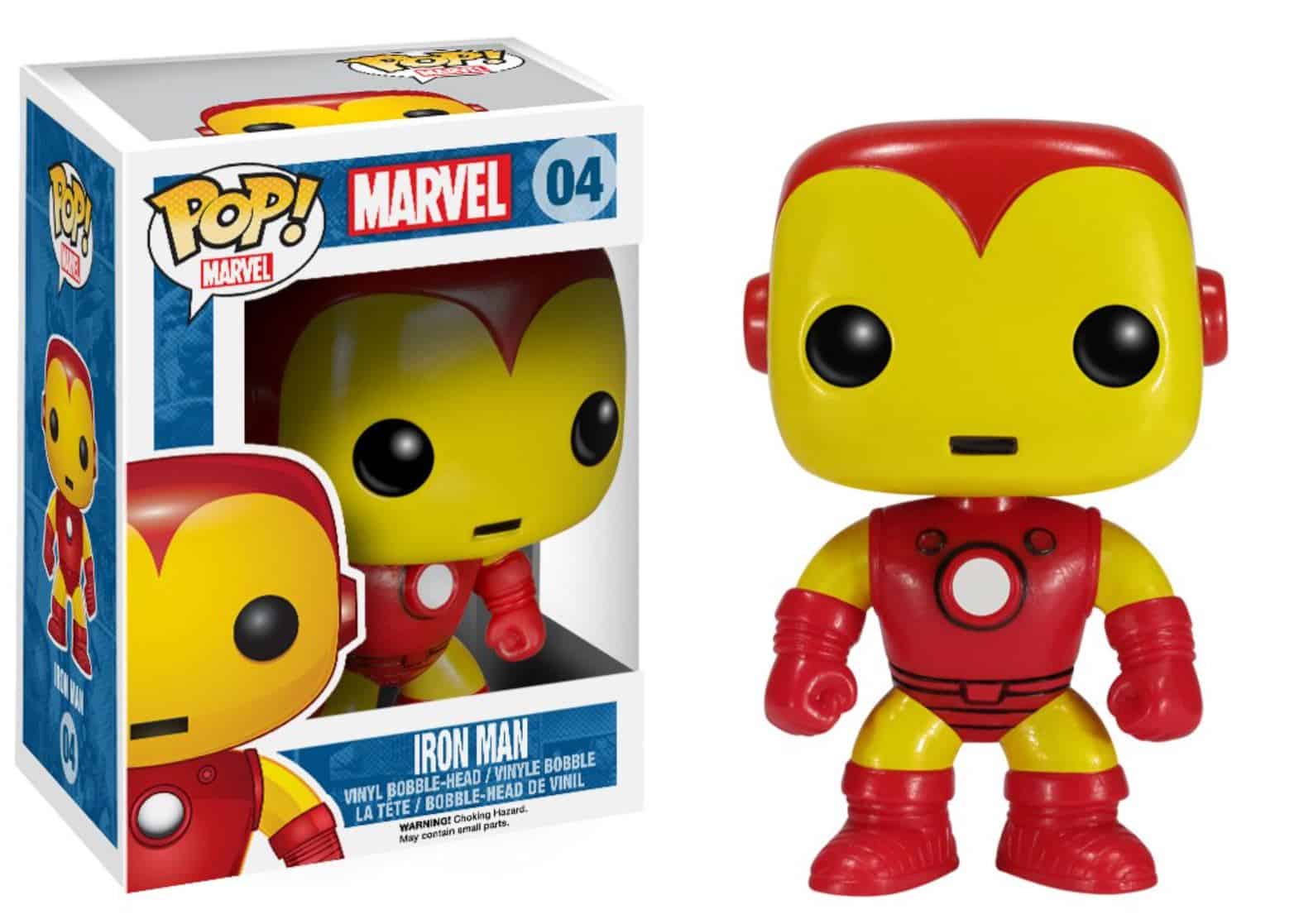 Iron Man diehards and Iron Man stans are sure to love this one. Iron Man's classic design isn't close to one of my favorites, nor was I even alive when it was used, but I can't help but feel a particular bit of nostalgia when I see this.
It harkens back to days of decades past when comic books were a dime, and you could see the many dots that made up the image, when Iron Man had just started and was still finding his flow. It'd be ages before the movies would come along and jet him into the spotlight, but his past can't and shouldn't be ignored.
Quality 9/10 – This Funko Pop! has almost everything going for it. It's a great recreation of Iron Man's old design and even has the thick dark lines around his waist that the old suit was known for. The gloves and boots also have some detailing in the plastic that makes them beautiful additions. However, something about the arms just looks off to me. Like they were designed with too much of a curve rather than an elbow. It's not a deal-breaking thing, but it looks weird.

Availability 9/10 – This Funko Pop! is cheap. The price is below the average for Funko Pops! on Amazon, and it's easy to find. If you don't want to blow out your budget, go for this one. This makes it a solid choice when trying to buy that Iron Man fan in your life a gift. 

Serialization 7/10 – This Funko Pop! benefits from being an Iron Man figurine. That means blending in well with Funko's extensive line of Iron Man Funko Pops! and their more significant line of Marvel figurines, which includes a slew of marvel characters from the comics and movies. A collection can easily be made with this guy. The problem comes in due to not many Funko Pops! having the classic, old-school hero design, an Iron Man from the 60s stands out when put with many heroes using designs less than a decade old.

Pros
High-Quality Funko Pop! with reflective material using the classic Iron Man design is hard to come by.
It's relatively affordable.
Cons
Fans of the MCU wouldn't care for this figure since it's based on comics.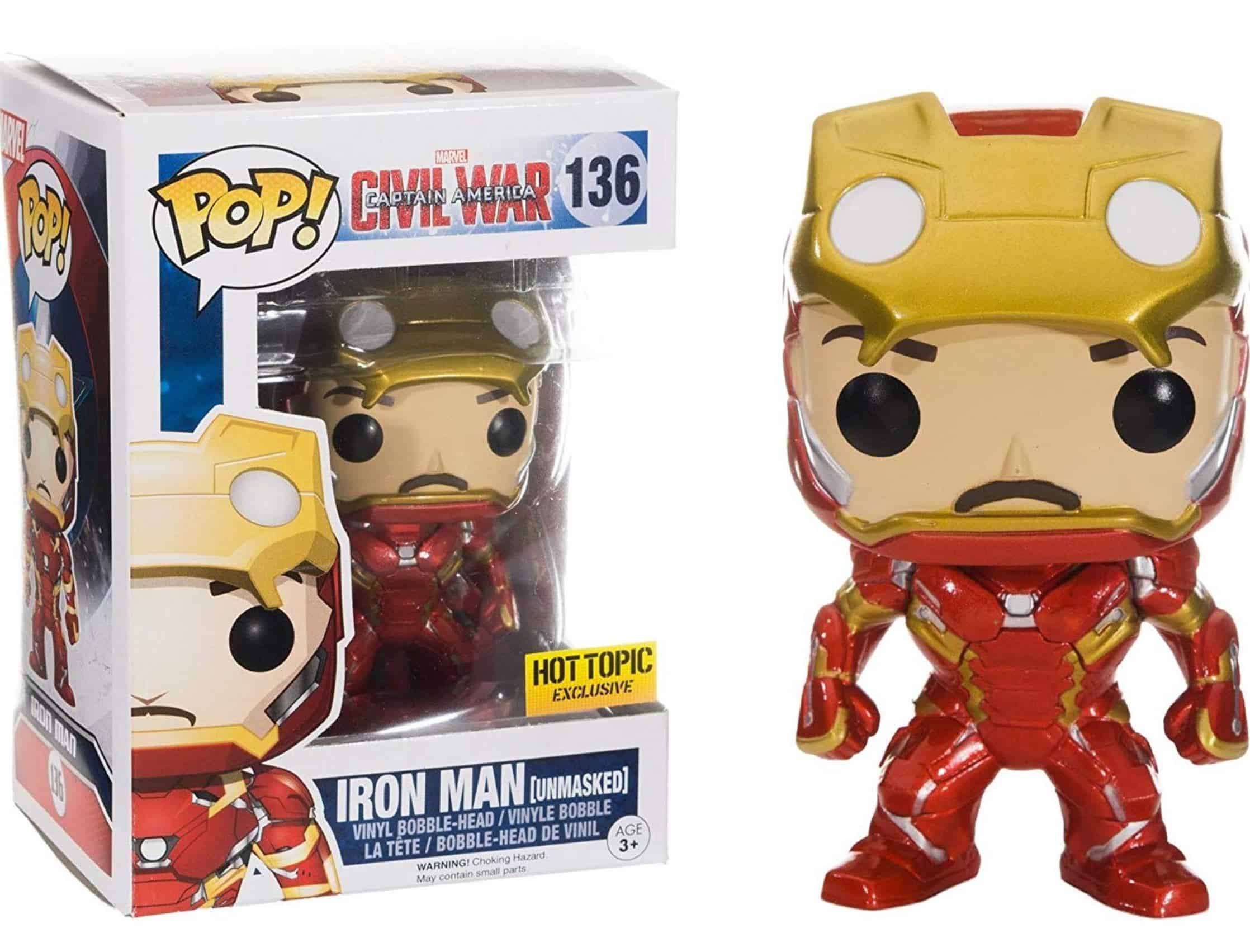 This Funko Pop! is pretty cool. It's an MCU Funko Pop! based on Iron Man's look from Captain America Civil War, but the title could've told you that. My love for this Funko Pop! has a lot to do with how Iron Man's suit looked in the movie, and how it went all in on red with minimal other colors was a nice change of pace from most of Iron Man's other suits. It's from one of the better Captain America movies, which is a neat plus if you ask me.
Quality 8/10 – This Funko Pop! is a surprisingly accurate recreation of the suit from the movie. Its only failings in my book are that Tony's mustache looks a little off, and I don't like how it's missing the rest of his facial hair, nor how thick it is. It is a special due to the Funko Pop! having Iron Man unmasked, but it's not that cool as far as limited editions go.

Availability 7/10 – It loses more than a few points here because it is a limited edition figure. While it can be found on Amazon, you'd struggle to see it in stores. The price tag attached to this one isn't too kind on the wallet, either. If you like Civil War, go for it, but be aware you're paying more than you should for a Funko Pop!

Serialization 9/10 – This Funko Pop fits very well in many collections. You can put it in an Iron Man, MCU, or Civil War collection and make it look dandy. The only problem is that it has the mask up and is MCU related, so if you're primarily a comic book fan or think Robert Downey Jr can go away, this Funko Pop! isn't for you.

Pros
A cool Funko Pop! from Captain America: Civil War
Accurate representation of the Iron Man suit
Cons
Because it is a limited edition, the Funko Pop! can get expensive.
Everyone remembers when they were when they watched Endgame. Even more importantly, everyone remembers the climax. Spoiler alert, but what are you doing if you haven't watched Endgame? When Iron Man finally managed to turn things around and vindicate the character arc that had been following him from the entirety of the MCU.
The most selfish person known to man had finally made the ultimate sacrifice and referenced one of the most iconic lines from his first movie. It's impressive the Russo brothers managed to tie up all loose ends in Endgame as well as they did.
Quality 9/10 – This Funko Pop! looks fantastic. It's got a lot of detail the Funko Pops usually don't have, like the extreme detailing on the busted-up armor, and Tony's mustache and beard look much better here than it does on most other Funko Pop! There's even a trail of blood going down his forehead and a bit of ground to complete the scene.

Availability 8/10 – This Funko Pop is readily available despite what I first thought. I suppose Funko learned from their mistakes and realized this would fly off shelves, so it wasn't short-printed. This means you can find it online and in stores for a reasonable price, and expect it to be a little more expensive than average Funko Pops! 

Serialization 5/10 – Okay, I understand that this Funko Pop! looks cool as all get out, but the main issue is that this Funko Pop! is what it is. It's a specific scene from a particular movie and too specific to fit with anything else. The Funko Pop! isn't even standing, so even the most general and broad Funko Pop! collection will struggle to fit him in.

Pros
A fantastic recreation of one of the best scenes from Avengers: Endgame.
Th colors and detail on the Funko Pop!
Cons
The figurine is very MCU specific. If you're forming a collection not based on the MCU, this Funko Pop! will stand out.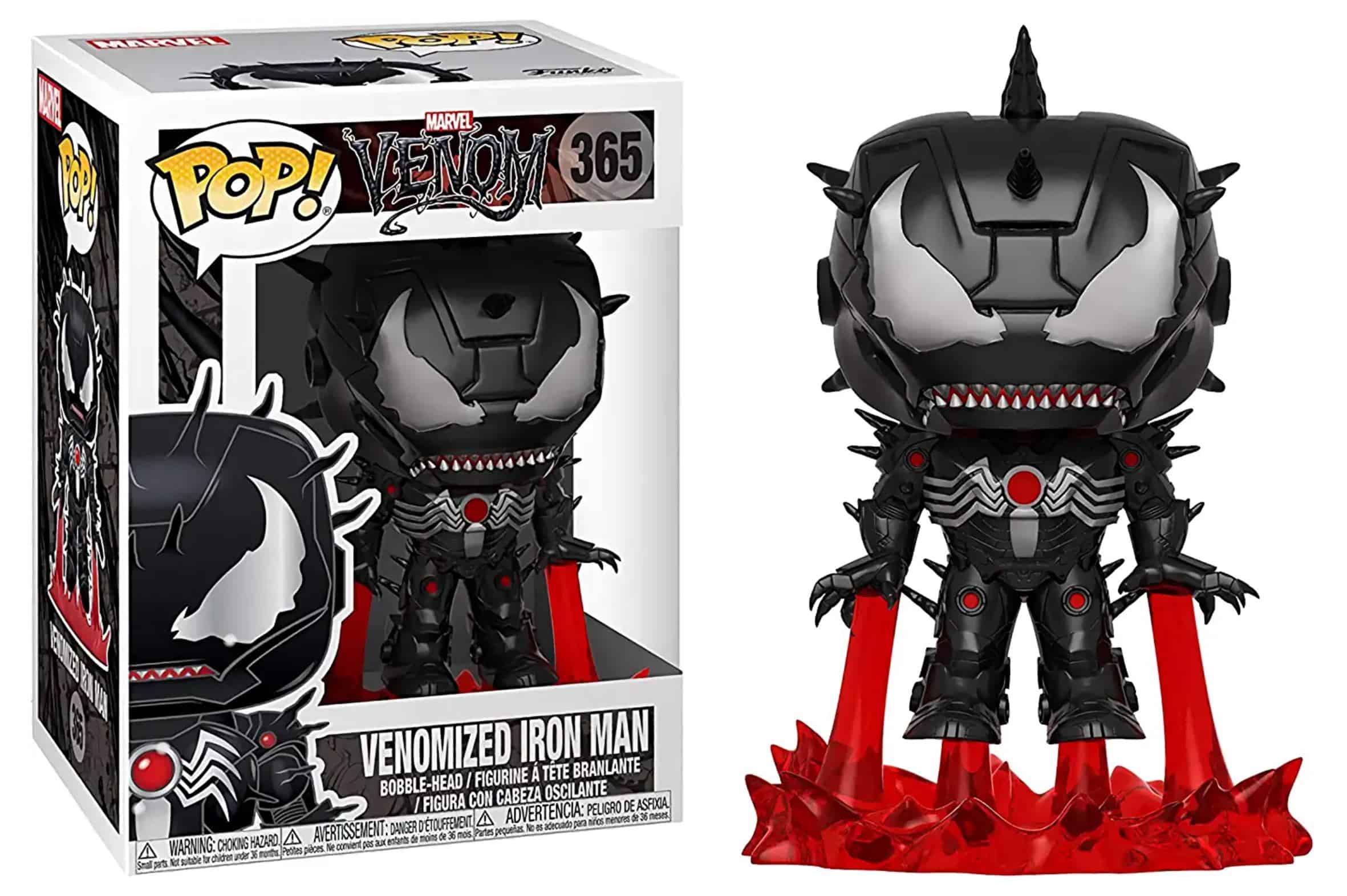 This Funko Pop! is something a little special. I'd be hard-pressed to say there's any that look cooler than this. I'd be hard-pressed to say there are any Funko Pops! with a cooler concept than this. It's Iron Man wearing the Venom Symbiote as a suit. It's incredible. I don't know how to keep saying, this is the coolest Funko Pop! I've ever seen.
Quality 10/10 – This Funko Pop! is fantastic, and I mean it. It has this wonderfully unique aesthetic with the black reflective coating, and it's even doing a cool pose where Iron Man blasts off using his repulsers.

Availability 7/10 – A lot of people seem to agree with me that this is the coolest thing they've ever seen because this was quite hard to find. It even demands a high price from places like Amazon. I've seen Funko Pops! cost more, but they're usually something much more than just a single Funko Pop! If you have other Funko Pops! on your list, it couldn't hurt to get those and set aside money for this one.

Serialization 8/10 – This Funko Pop doesn't fit within an Iron Man too much despite being an Iron Man Funko Pop! because it looks unique. But the Funko Pops! saving grace is that it's a member of a more extensive line of Venomized Funko Pops! You can get a bunch of other Venomized Funko Pops! of your favorite Marvel heroes.

Pros
A very cool design for a Funko Pop! with a great pose.
A great reference to the cover of the Venomized comic books.
Cons
It's not based on the MCU, so fans of the movies won't want it, and hardcore comic fans will be annoyed that the color of the repulsers doesn't match the comic book cover.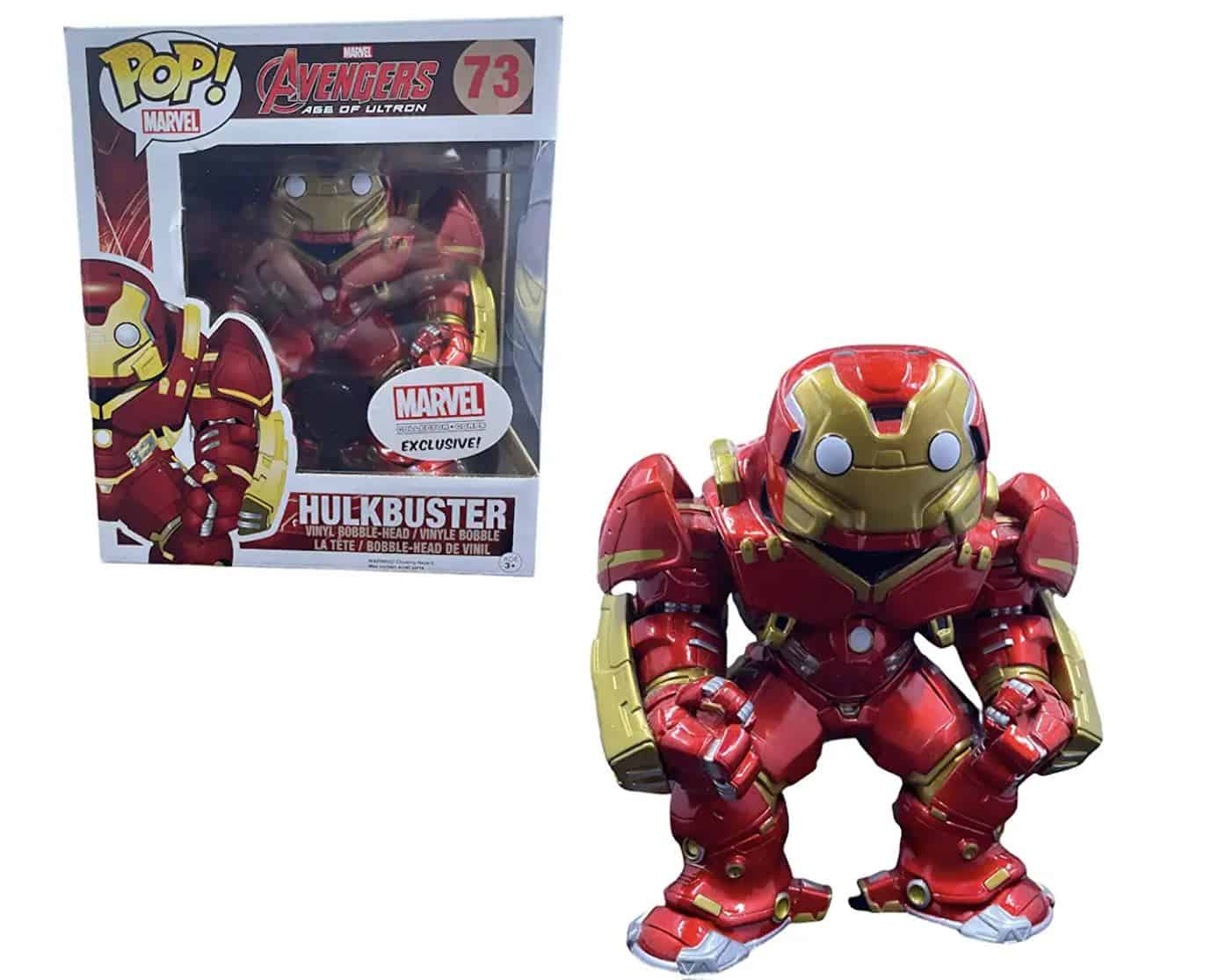 Despite Age of Ultron's mediocrity, there were some pretty cool things in that movie. Namely, the Hulkbuster armor Iron Man used to alleviate the Hulk. This Funko Pop! is an excellent recreation of what we saw in the film; to make it even more remarkable, the Funko Pop! is enormous. It's six and a half inches tall and weighs over one whole pound! It's a behemoth as far as figures go, making it work so well. It's the Hulkbuster.
Quality 9/10 – This Funko Pop! goes out of its way to be something special. It is a fantastic recreation of what we saw in the movie, and it was made larger than expected to be an even closer recreation of what we saw. It's not what Funko usually does to make their figures memorable, but it works, and it works well.

Availability 6/10 – The major issue with this is that this Funko Pop is pretty hard to find and expensive. I'm not sure if that could've been avoided when this Funko Pop! is bigger than the rest. You'll have to shell out a pretty penny if you want to add this one to your collection.

Serialization 8/10 – As I mentioned, this Funko Pop! is large. Typically it wouldn't blend in too well with the rest of your collections. The fact that the size is integral to what the armor looks like in the movies and comics means that it blends in quite nicely. The biggest problem arising from its size is that it's hard to physically fit it with the rest of your Funko Pops! If you have your Funko Pops! on a shelf less than 6 inches wide, you won't be able to put it with them.

Pros
A fittingly ginormous figure that captures what makes the Bulkbuster so intimidating and cool.
Great representation of Iron Man in the movie.
Cons
The Funko Pop! is hard to find and expensive.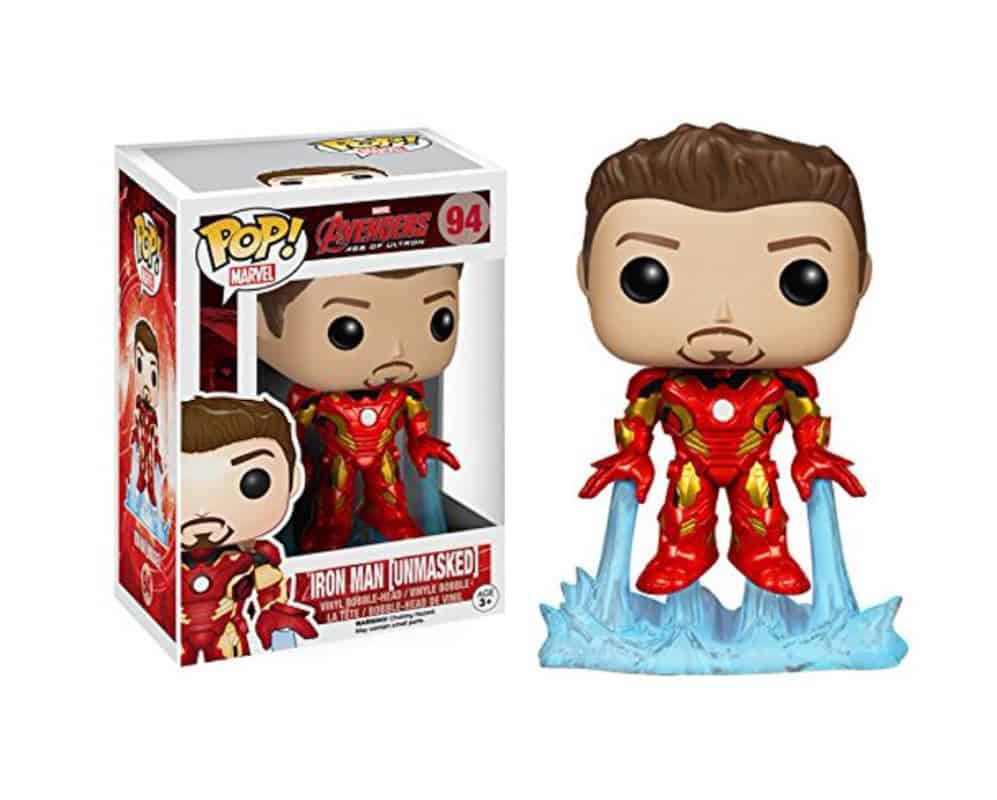 This Funko Pop! is good because it is something simple and solid. It's not larger than life, and it doesn't glow in the dark, either. It's just a quintessential Iron Man Funko Pop! that is more than capable of being the centerpiece of any collection.
It's a fantastic example of a nice neutral Funko Pop! that sets the standard others have to deviate from. Its simplicity means it works great as a standalone thing, so it's a perfect place to start your collection or just collect a single piece of memorabilia of your favorite superhero.
Quality 8/10 – This Funko Pop! has a lot going for it. Its simplistic nature means it works in a collection or on its own, but the Funko Pop! also does a cool pose. It's Iron Man jetting into the sky to have his next adventure. A scene from the comic books that's been recreated in the movies and now recreated as a figure. I also really like how Tony Stark's face looks in this. The beard doesn't look weird. Instead, it's drawn with all of the sharp angular features the artist likes to give him.

Availability 4/10 – The only thing larger than the problem holding this Funko Pop! back is its price tag. It dwarves almost every other Funko Pop! on this list with its price tag. Not even the Hulkbuster asked for such a price. If you like Iron Man 2, I'd suggest you get it. If you're not an Iron Man 2 super-fan, you can buy 4 Funko Pops! for the price of this one. 

Serialization 10/10 – I keep saying this because that is this Funko Pops! stand-out feature, but it's a simple figure with nothing special. This makes it fit in so many collections. Do you want to do an Iron Man collection? It can do that! Do you want to make an Avengers collection? It can do that too! Do you want to make an Iron Man Funko Pop! collection of him without the helmet? This one is probably the best of them that you can find.

Pros
A very cool and generic Funko Pop! that can be the centerpiece of a collection.
The statue is posed better than most other Funko Pops, with Iron Man actually doing something.
Cons
This Funko Pop! is SUPER expensive.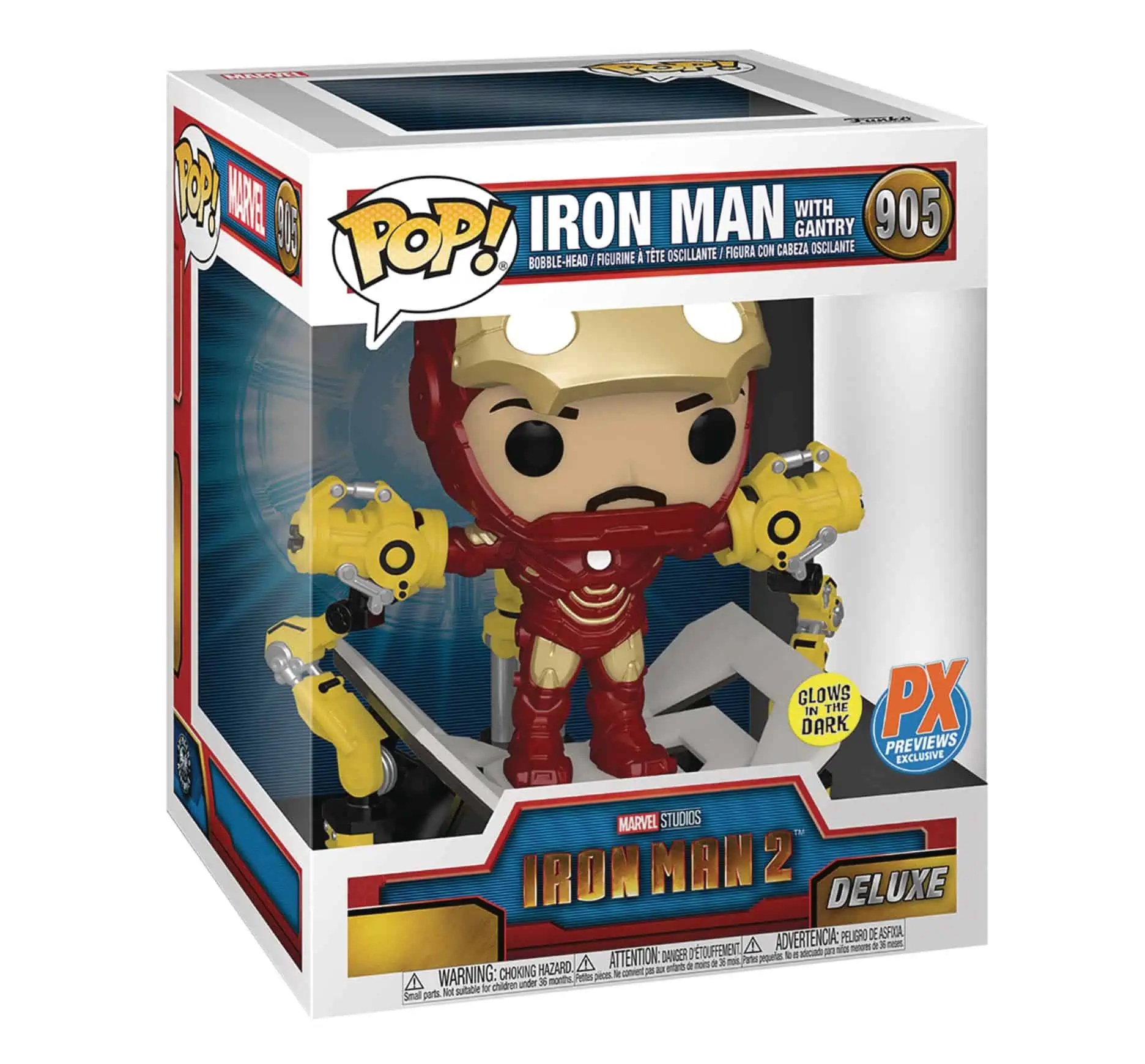 Iron Man 2 got a lot of Funko Pops! and I get why. The writing may have been mediocre, but the cinematography was used to create some great scenes. One of the best scenes from their movies is when Iron Man suits up. There are a lot of things to love about those scenes, and this Funko Pop~ captures it as well as a still figurine could. The figurine can't have the dynamic movement a movie camera can, but what a figurine can do is glow in the dark!
Quality 7/10 – The Funko Pop! has a few issues I mentioned in other Funko Pops! above. For example, the weird way Tony's beard looks and the yellow machine around him make it a bit hard to fit amongst a collection. Its upsides are that it's the best Iron Man 2-related figure you can get and that it glows in the dark. It makes it looks cool for photoshoots since you can have an unorthodox setup with your lights off.

Availability 8/10 – This Funko Pop! isn't hard to find. It was one of the first Funko Pops! I saw this when looking on Amazon, and I didn't see the Funko Pop! too often in the stores I looked at. Another problem is that the Funko Pop! is expensive. I get that the glow-in-the-dark ones usually ask for a higher price, but this one is rough.

Serialization 9/10 – There aren't many examples of glow-in-the-dark Iron Man Funko Pops! there is still a multitude of Iron Man figurines to buy. You could have a pretty good Iron Man 2 collection when there are so many Iron Man 2 Funko Pops! to buy.

Pros
Captures one of the coolest scenes from the Iron Man 2 movie very well.
The eyes and hands of the Funko Pop! glows-in-the-dark!
Cons
It's specific to the MCU, so comic fans won't like this one.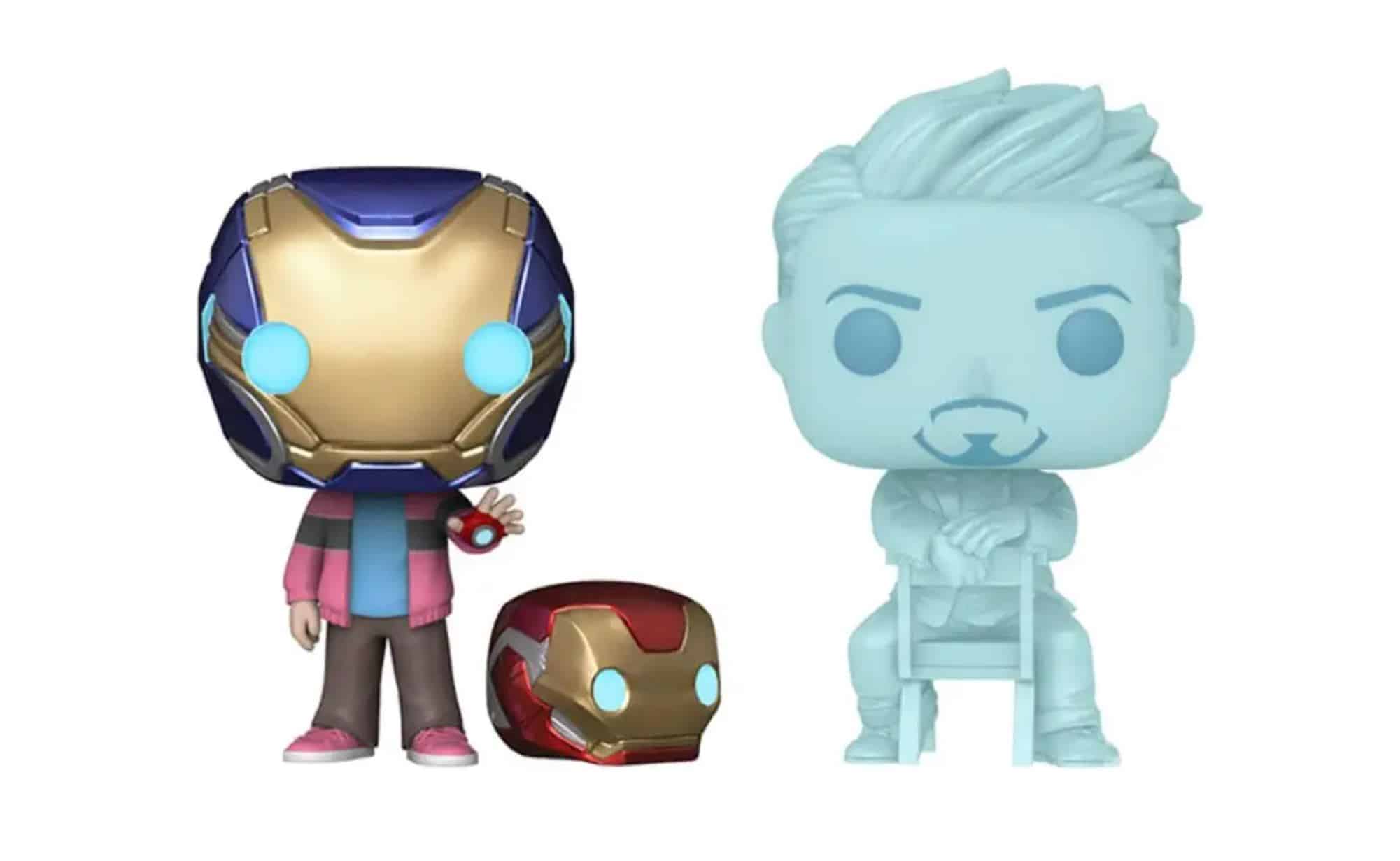 The quality of this Funko Pop! pack, is insane. You get two great Funko Pops! from the Avengers: Endgame movie and a Funko helmet for posterity. This is the only Funko Pop! of Morgan Stark that you can buy! It also comes with a holographic Tony Funko Pop!, which I find really cool. It's a translucent blue that glows in the dark. The eyes of the helmet and the blue Iron Man mask also glow. This is one of the better Funko Pops released by Funko, not just in the Iron Man line.
Quality 9/10 – These Funko Pops! look well-made, especially Tony's hologram. The detail and wrinkle on the figure go beyond Funko's usual standards, and I like the detail on Morgan's helmet. There are a lot of grooves, lines, and curves that I wouldn't expect, but I enjoy it. The fact that it glows in the dark is just a nice plus.

Availability 6/10 – This Funko Pops! set is more expensive than usual, which is to be expected. You do get 2 Funko Pops! and an accessory. However, I would be wary of buying it online from unreputable sources. This set has been in high demand, so unsavory 2nd hand sellers have been putting some unethical things in the mail. If you find it in stores, grab it. If you're buying online, be sure you trust the seller.

Serialization 7/10 – This Funko Pop! fits well with an MCU-related Funko Pops collection! However, it begins to look more and more out of place once you set it amongst broader categories. It doesn't work too well on a general Iron MAn collection because it's so MCU-focused, and neither character is wearing a full Iron Man Suit. Morgan's MCU creation doesn't fit too well with anything that's not MCU related.

Pros
A great two-figure set of a very iconic moment.
The hologram Tony Stark Figure glows in the dark.
Cons
It's pretty expensive as far as Funko Pops! go and very hard to find.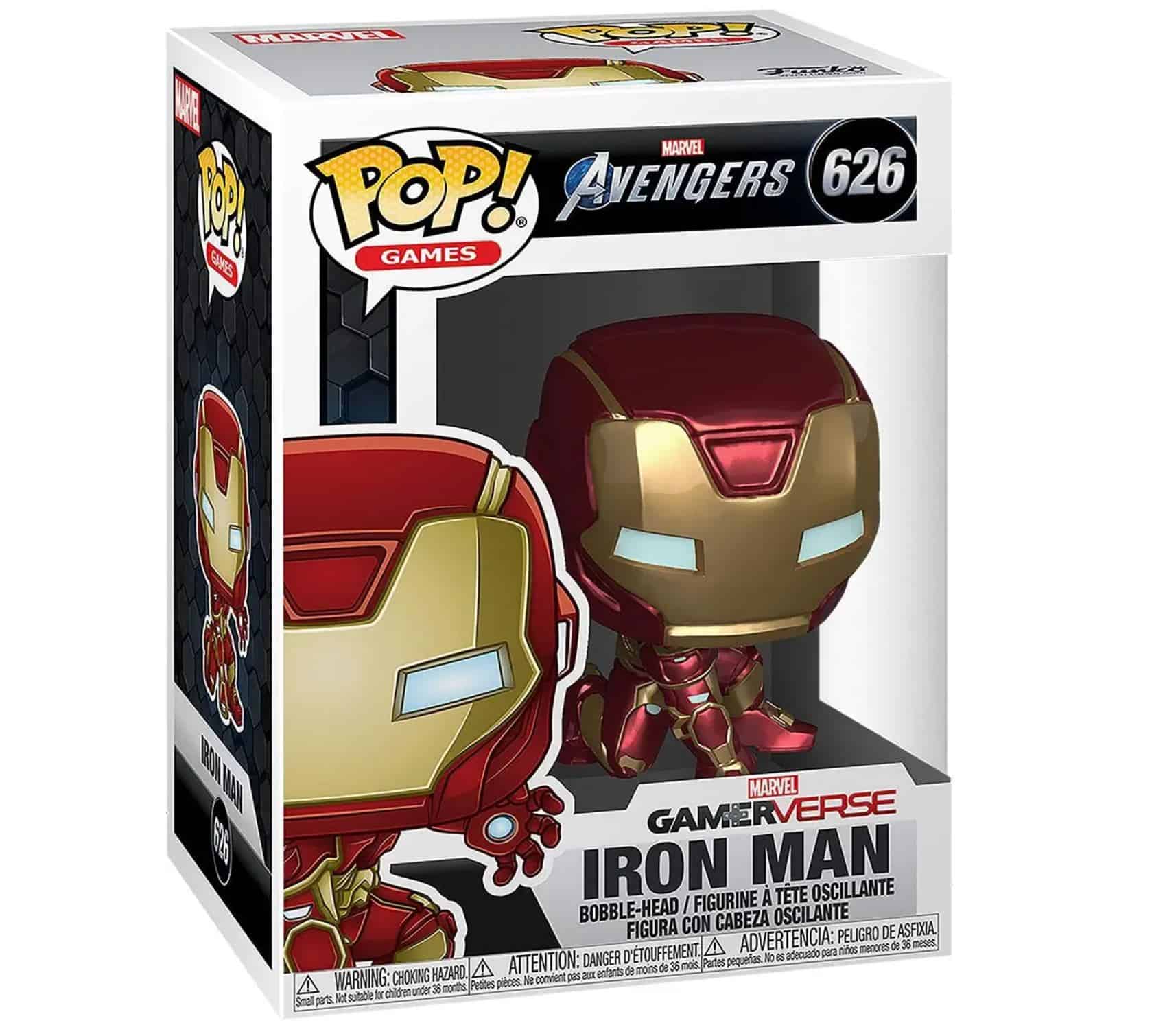 The quintessential Iron Man figurine that's iconic in every way. The suit is based on Iron Man from Square Enix's Avengers game, but it doesn't have anything specific outside of that. Instead, it tries to be very broad and one-size-fits-all to me. It's Tony in an Iron Man suit doing a superhero landing. It's something simple and effective, and it just works. If you're looking to start an Iron Man Funko Pop! collection, you can't go wrong with this one.
Quality 10/10 – This Funko Pop! has a lot of things going for it. The armor's detailing is lovely, and the colors on this figure shine. And speaking of shining, the Funko Pop! has a nice reflective sheen that simulates the metal it's supposed to be made of. I'm surprised we haven't seen more of these Funko Pops! get this metallic shine treatment, but I'm glad this one did.

Availability 6/10 – This Funko Pop! is more than a little hard to find, and its price reflects that. Even on online sellers, you'll be hard-pressed to find one for a low price. If you want this, be willing to shell out more than you probably should for a Funko Pop! of all things.

Serialization 10/10 – Because this Funko Pop! looks so wonderfully generic, it can fit in all collections. As long as it's remotely Iron Man-related, you could stick this one right in, whether it be comic books or MCU. Someone who knows their stuff may be able to tell from the suit, but most won't be able to pick up the difference.

Pros
The Funko Pop! is non-specific enough that it can fit in many collections.
It has a sheen that mimics the suit's metal.
Cons
It's a fairly basic Funko Pop with no bells or whistles.
Frequently Asked Questions
Question: Which is the Best Funko Pop! to Buy as a Gift?
Question: Where Should I Buy a Funko Pop?
The best place to buy Funko Pops! is from an online retailer like Amazon, but I will point you towards Funko's own website since the prices there are sometimes cheaper than what you find elsewhere. If you want to shop in person, the toy section of a Walmart isn't a bad place to look, but a place like Hot Topic is known to have a good selection.
Question: How do I Know if a Funko Pop! Will Make a Good Gift?
Knowing if it'd make a good gift depends on what you know about the person you're buying it for. Do you know they like collecting things? Moreover, are Funko Pop! one of the things they like to collect? If the answer to that question is yes, then narrowing it down to a franchise they like and buying a Funko Pop! from that is the way to go.
Conclusion
Iron Man has a lot of merchandise to his name, partly due to Robert Downey Jr's fantastic work with the character. The key to deciding what Funko Pop! is right for you is based on what you want from one. Do you want a centerpiece that starts a collection, or do you want a really cool one-off?
Overall, I'm actually a little disappointed with Iron Man's offerings. It would've been cool to have a glow-in-the-dark Funko Pop! where the jets from his repulsors glowed, but we get nothing like that. Despite Avengers Tower technically belonging to him, he doesn't even get a Funko Pop! Town. I wish the offerings went past statues from the movie and singular figures. I hope this guide helped you sift through all the merchandise and find the right Funko Pop! for your needs!
Continue reading: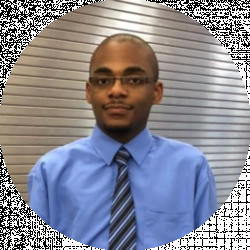 Latest posts by Jaden Hasse
(see all)