Since their inception in 2010, Funko Pops have quickly become a favorite of collectors. They now have characters from hundreds of licensed franchises and are constantly purchasing new ones. However, one of their most successful lines has been their Marvel selection. It has well over 500 different figures available for it, with more being added all the time.
There's a fantastic range of Marvel Funko Pops, so fans of the franchise are sure to find what they're looking for. There are multiple variants of several of the more popular characters, such as Captain America or Iron Man, but even smaller characters from the comics get their own figures. It's excellent that there's so much variety, and it means serious collectors can have a lot of fun tracking down the different figures.
There's even a Stan Lee range paying tribute to the man who started it all. Stan Lee was such a key figure in Marvel history, and it's wonderful to see him in Funko Pop form. Many of his variants are from specific Comic Cons, with him ripping open his shirt to reveal the logo underneath in a very superhero-esque pose. There are also some fun ones where he's wearing a cape.
But with so many figures to choose from across the Marvel range, where do you even start? I've made this guide to showcase some of the figures that I think are the best, and hopefully, you'll agree!
Why Do People Collect Funko Pops?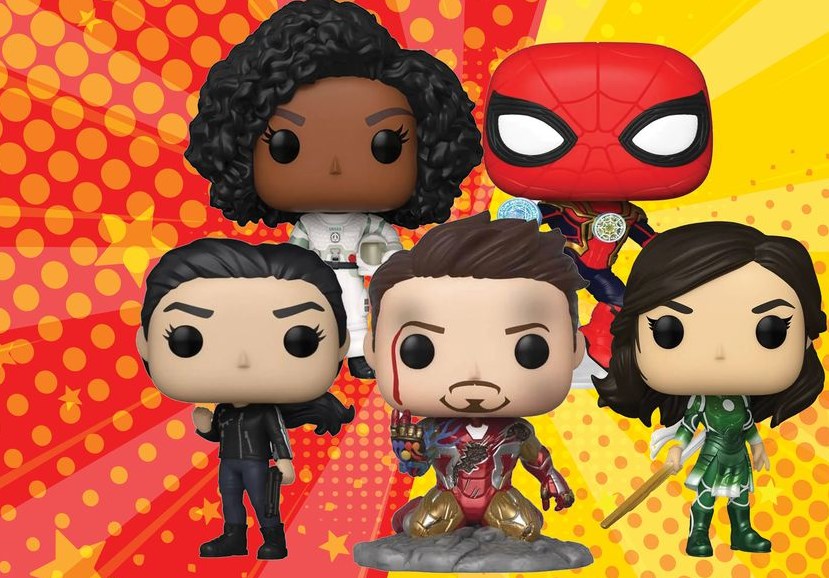 What's so special about Funko Pops, anyway? One thing that sets Funko Pops apart from all the other collectible figures out there is how recognizable they are. Even though the details on each figure are wildly different, there are also similarities. They have their iconic oversized heads, as well as the familiar round, black eyes (although a few Pops do have different colors or shapes for the eyes). They also come in distinct sizes, so they look uniform together on a shelf.
They're also really easy to start collecting, as they're available almost everywhere that sells pop culture items. You can usually find a good range of them in comic stores and even in supermarkets like Walmart or Target. With so many franchises, you're bound to find a character that you really like. The designs are fun, and they're such a convenient size to display.
Also, whilst some collectible figures are prohibitively expensive, Funko Pops are accessible to almost everyone. They're roughly $10-12 a figure, depending on where you buy them from. Some Pops, such as the special edition ones or the larger sizes, can be $20-30, but for the most part, they're pretty cheap. This is great if you want to start collecting figures, but you're on a limited budget.
What Are the Best Marvel Funko Pops?
Now, this is definitely a loaded question, as there are so many factors to consider. However, I've tried to pick the best ones based on the following criteria.
Good value for money (mostly applicable to older Pops, as the currently available ones will all be roughly the same price)

Memorable moment for the character/ from the franchise

Fun design with plenty of exciting details

Character has important relevance to Marvel

Decent range of characters to cover a variety of preferences
I've been collecting Marvel Funko Pops for several years, so I have a good idea of what kind of figures are out there. However, as there are literally hundreds of Marvel Funko Pops, there will undoubtedly be some I've never heard of, so use this article as a guide, but feel free to do your own research if there's a particular character you're after!
Marvel TV Show Funko Pops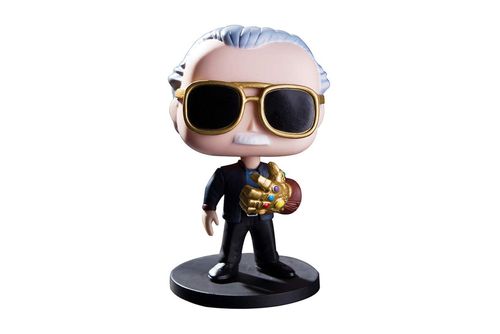 Marvel have Funko Pops for all their currently released shows (except Moon Knight, but they're set to arrive later in 2022). However, there are definitely two stand-out categories when it comes to how exciting the figures are. The Falcon and the Winter Soldier, Loki, and Hawkeye do all have some great Pops, but in my opinion, they don't hold a candle to some of the figures from What If…? and WandaVision. As this article is about the best Marvel Pops, I'm, therefore, only going to talk about my favorite figures from those latter two shows.
What If…?
I really liked how unique the What If…? series was. It was exciting to see alternate stories told in a cartoon form, and I'm definitely looking forward to season 2. However, season 1 still brought us a lot of incredible characters, and so there's an impressive range of What If…? Funko Pops. I've indulged in far too many; if I'm being honest, my wallet is not thanking me!
I couldn't narrow it down to less than 6, so allow me to showcase my favorites, and what I love about them.
941 Zombie Captain America. This is an especially gruesome Funko Pop from what was actually one of my favorite episodes of the series. I love that attention to detail that has gone into this figure. You can see the discolored flesh, the rips in his suit, and even his stance is grotesque and unnatural. This is a must-buy if you're a fan of What If…?.
942 Zombie Falcon. Much like Zombie Captain America, this one is on the list for the sheer amount of detail that's gone into it. The green skin is marred with scratches and bruises, showing just how much Falcon has been through. The rage in his face is palpable and makes him seem intimidating and scary. I also love that we see his Falcon wings spread out behind him, it gives the Funko Pop so much more depth.
945 Zombie Hunter Spidey. My last choice from the zombie episode of What If…?, this Zombie Hunter Spidey is a great one. It's also the last one I need for my collection, but alas I haven't been able to find it in any shops. Spider-Man was one of the foremost characters in that episode, and he was in his element taking down the zombies. The Pop shows him standing ready for action, wearing Dr. Strange's cape. It's an impressive pose and would look fantastic on a shelf.
876 T'Challa Star-Lord (Special Edition). The standard version of this shows T'Challa wearing his Star-Lord mask, raised on an acrylic platform. It's undoubtedly a cool figure, but I prefer the special edition version. The main differences are that T'Challa is standing on the ground, and he isn't wearing the mask. I prefer this as I think the acrylic platforms look a bit tacky, so I try to avoid them where possible. I also like being able to see T'Challa's face, as he looks so calm and collected. I think it's an understated figure, but definitely an impressive one. This was my favorite episode of What If…? and so I love having a Funko Pop for it.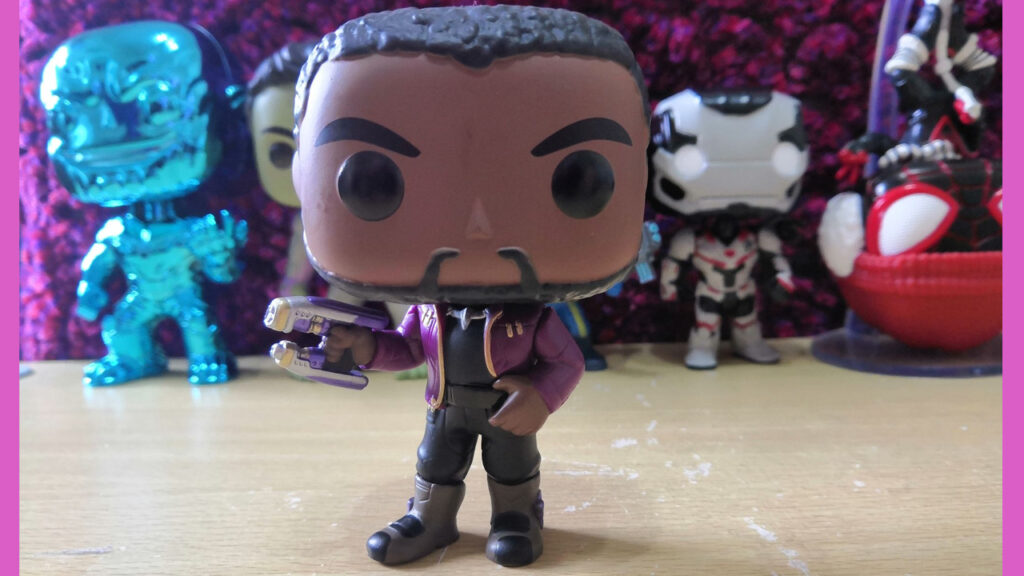 878 King Killmonger (Special Edition). Unlike the T'Challa Star-Lord, this particular Funko Pop doesn't have a regular version and only comes as a special edition. This does mean it's slightly more expensive than standard Pops, but in my opinion, it's totally worth it. Killmonger is easily my favorite villain in the entire MCU, as I find his motives to be so compelling, and Michael B. Jordan brings so much charisma to the character. This figure has Killmonger in a Wakandan Black Panther suit, holding Ultron's decapitated head in one hand, and a dagger in the other. There's also an Infinity Killmonger Funko Pop, but I prefer this one.
870 Captain Carter. The Captain Carter episode of What If…? was my least favorite as I found it too similar to Captain America: The First Avenger. Nevertheless, one of the best things to come out of it was the character of Captain Carter. I've always loved Peggy, and it was amazing to see her in the hero role. This Funko Pop captures her confidence, as she's standing with one foot raised on a boulder. I love the British flag proudly emblazoned on her chest, and the shield is equally wonderful to behold. The only downside with this Funko Pop is that she has a tendency to fall over, even when placed on her acrylic stand. This is only an issue if you display your Pops out of their box, though.
WandaVision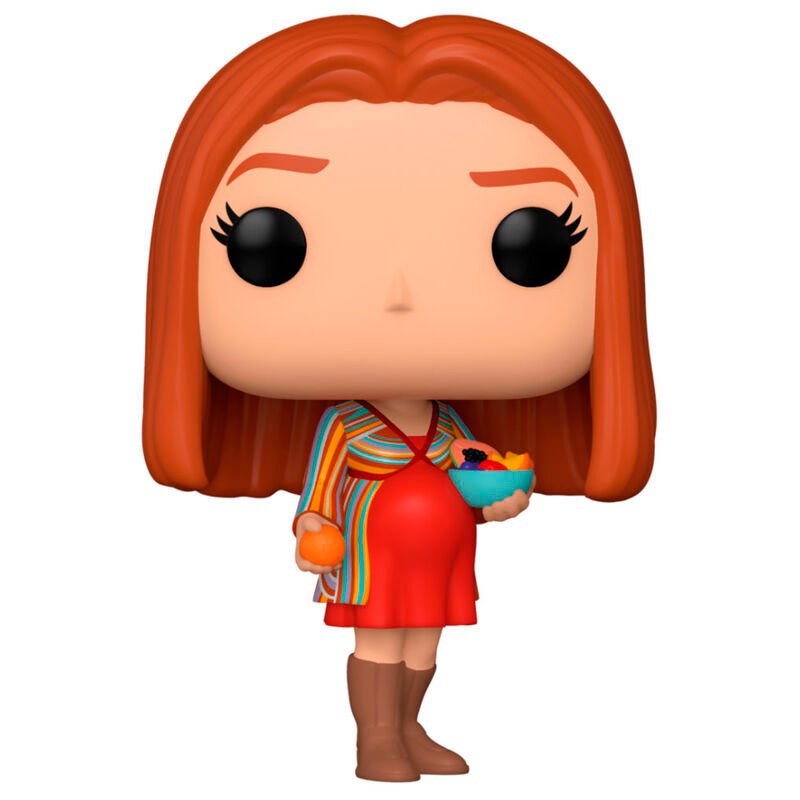 There are some exceptional Funko Pops for WandaVision and it's tough to choose the best ones, but I have done so nonetheless. My personal favorite has to be the 715 Halloween Wanda Funko Pop. I love the vibrancy of her red costume, and the pumpkin bucket is an excellent touch. The Halloween episode is one of the best in the entire series, as it's so fun to watch, but we also learn a lot. I also like that her costume is based on Scarlet Witch's outfit from the comics.
I recently purchased the 713 50's Wanda Funko Pop myself after wanting it for ages. I finally saw it for sale in a local store, and I wasn't about to pass up the opportunity to own it. I love the black and white aesthetic; it's so unique and this Pop really stands out in my collection. I think the way she's dressed is so iconic to that first episode of WandaVision, and she's instantly recognizable.
If you're looking to collect some excellent Marvel Pops, then I would strongly recommend 714 50's Vision (Chase variant). Whilst the regular version still looks good, the Chase is that extra bit special. In case you weren't aware, Chase Funko Pops are rare variants of a standard Pop, with a 1 in 6 chance of appearing when you buy a box from Funko. Stores often store them behind the counter rather than putting them on shelves, so don't be afraid to ask the staff if you're looking for this Pop in a shop.
I feel that Vision is much more natural with his synthezoid head, as it's how we got used to him in the movies. Even though it's great that he's willing to appear human to fit in with the neighborhood, I like when he looks more himself. This Chase version of him has his regular human body but with Vision's familiar head and face. It's still in black and white, and so looks great next to the 50's Wanda.
Marvel Movie Funko Pops
The MCU is the highest-grossing movie franchise of all time, and so unsurprisingly it has millions of fans worldwide. Whilst the shows on Disney+ are excellent, not everyone has access to them, whereas the movies have been seen by most people. As such, there are a whole host of stunning Funko Pops based on the movies.
With these Pops, I'm focusing on characters who have a strong relevance to the movies, even though some of the specific figures may be that character from the comics. However, most of them will be from a particular movie. I can't wait for you to see these awesome Marvel Funko Pops!
Captain America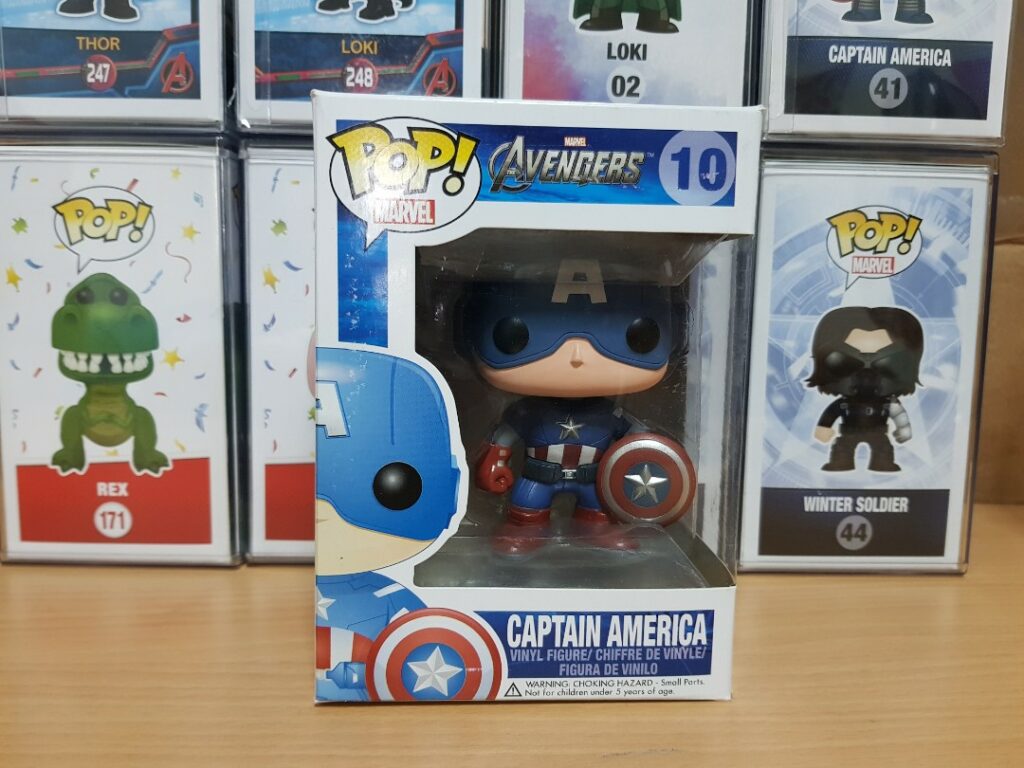 I know it's really basic, but I love Captain America. He's the pinnacle of what a superhero should be – an idealistic good guy who fights for justice no matter what the cost. He always does what's right, and won't let anyone or anything corrupt his morals. It took me a while to warm up to him as at first, I found him self-righteous, but once I realized how genuine he was in his beliefs, he fast became my favorite.
As part of the Marvel Year of the Shield celebration, Funko released a fantastic collection called Captain America Through the Ages. This 5 pack contains depictions of how Cap's suit changed over the years, and I love seeing them all side by side like that. You really get to see the evolution of his outfit, and you're reminded of his moving journey to becoming a superhero. The set comes with a black base that all the Funko Pops can be placed on, so even if you take them out of their box, it's clear that they're one collection. My favorite Pop in this set is the last one, as I'm a sucker for more modern takes on outfits. Although I do like the comics, I'm very much a movie girl when it comes to Marvel.
Another Funko Pop I'd highly recommend is 915 Old Man Steve from Avengers: Endgame. That whole movie is a roller-coaster of emotions, and Captain America's ending gets me every time. As devastating as it was to realize that Steve Rogers would no longer be in the MCU, I think it was a fitting goodbye for his character. Steve was always torn between two generations, and it was clear just how much he missed the man he used to be. It's bittersweet that after saving the world, he was able to live the life he'd always wanted with the woman he never stopped loving.
The figure itself is incredibly well made and is one of the few Funko Pops I own that I keep in box, as I'm too nervous to risk taking it out. I've got it in a Pop protector and everything! Steve is sitting on a bench, with his shield in a bag next to him. You can see the wrinkles on his face, and the colors are muted, showing his age. It may not have the same excitement as some of the other Pops on this list, but for me, it's special because of the feelings it evokes. It's a fantastic display piece for any Captain America fan.
Iron Man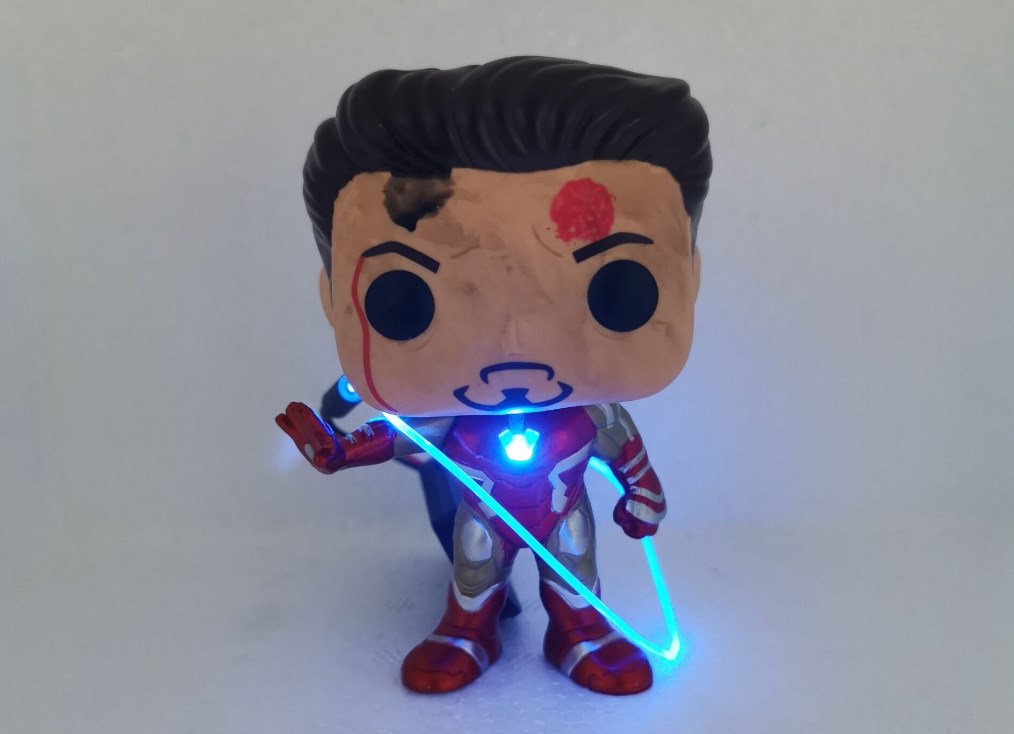 I'm not an Iron Man fan. There, I said it. I find him loud, obnoxious, and arrogant, and a lot of the time he does more harm than good. Having said that, he certainly has his moments, and he's a vital part of the franchise. There are some fantastic Funko Pops available for him, so here are the two best ones.
The 580 I Am Iron Man (Special Edition) Funko Pop is gut-wrenching for sure. As I admitted, I'm not Tony Stark's biggest fan, but it was still sad to have to watch him die to save everyone. I love that he used the line "I am Iron Man", mirroring the iconic moment in Iron Man where he announced his true identity to a room full of press. It was like his story had gone full circle.
This Funko Pop is full of brilliant details, and it's no wonder it's a special edition. He's kneeling on a rock on the ground, with a determined expression on his face. You can see the dirt on his face, and the blood dripping next to his eye, emphasizing how much effort it's taking for him to wield the infinity gauntlet. The damage to his suit reminds you of the devastation of that final battle, and this figure is just a testament to the wonderful scenes in Avengers: Endgame.
A much more uplifting choice is the Tony Stark and Morgan Stark 2-Pack. I pulled this myself from a Pop in a Box subscription, and it has pride of place at the front of my Marvel Funko Pop collection. It's adorable seeing little Morgan wearing the Rescue helmet, and it shows how much she idolizes her parents. She's even got her hand outstretched with one of the Iron Man gauntlets on. But the star of this 2-pack is the holographic Tony.
There's an Iron Man head acting as a projector (and it's worth noting that this is fully solid). Then there's a figure of Tony Stark sitting on a backward chair as if he's watching over her. The entire figure is made in a ghostly blue, with the facial features a slightly darker blue. This is a glow-in-the-dark figure, and the glow is exceptional. Even with hardly any time to charge, it glows brightly and for a long time. If you see this set, definitely try to pick it up for your own collection!
Thor
The first time I watched the MCU movies, I didn't have any real opinion on Thor. I didn't love him, I didn't hate him, he was just there. But upon a rewatch (in chronological order), I started to really appreciate him. Seeing 3 movies with Thor featuring prominently (Thor, The Avengers, and Thor: The Dark World) almost back to back really gave me time to enjoy his character. And one thing you cannot deny about him is that his appearance is absolutely majestic. The flowing blonde hair, the bold colors on his outfit. He was the perfect candidate for some awesome Funko Pops.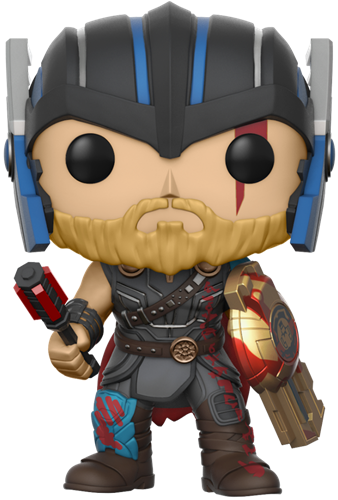 The 247 Thor with Helmet (Marvel Collector Corps) Pop is easily one of my favorites. It's based on Thor: Ragnarok which is inarguably the best of the Thor movies (although with Thor: Love and Thunder set to be released in July 2022, it could potentially be dethroned). This Pop shows Thor ready to enter battle in the arena on Sakaar. He's holding a weapon in one hand and has a shield on the other arm. You can see the bloodstain over one of his eyes, and he's stood determinedly ready. It's fantastically detailed and would be a fantastic addition to a Marvel Funko Pop collection. Unfortunately, it is a little pricy, selling on eBay for around $50, but I feel that it's worth the price.
If you fancy something really special, then you could consider the 587 Avengers Assemble Thor Deluxe. This Amazon exclusive Pop is part of a collection of 6 figures that can be connected together to form one awesome display. However, even if you have no intention of buying the others, it still looks stunning on its own. He's stood on a patch of rocky ground, a discarded Chitauri helmet not far from him, and rubble around the edges. It conveys the intensity of that final battle in The Avengers, and Thor himself is standing proudly in the middle, Mjolnir in hand. The Pop is just under $30, but you get a lot of detail for that price, and I'd highly recommend it for your collection.
Other MCU Characters
Time for a quickfire round! Outside of the above characters, there are still some wonderful Marvel Funko Pops based on MCU characters, so I want to share a few of the best.
1000 Dr Strange (Chase). Although Dr. Strange in the Multiverse of Madness hasn't been released yet, the trailers look absolutely epic. The Funko Pops for the movie have already been announced and are available for pre-order, and this particular one is delightful. This Chase variant of the figure is made of shades of blue, with intricate swirls on the outfit. I'm not exaggerating when I say this is probably my favorite Chase variant of all time.
838 Winter Soldier. Released as part of Marvel's Year of the Shield, this one is wonderfully detailed. It shows Bucky holding Captain America's shield, which is all scuffed up from battle. He's stood in an intimidating stance, with his legs and shoulders squared, and his fist curled. His hair is wavy and gorgeous, with a few strands dangling over his face. The expression on his face is one of anger and determination. I have this Pop myself, and it looks awesome next to the rest of my Marvel Funko Pop collection.
287 Iron Spider. Based on Spider-Man's Iron Spider suit in Avengers: Infinity War, I love the details on this particular Funko Pop. The red, blue, and gold on the outfit really pop (pun unintended), and the vibrant effect they create together is so compelling. Spider-Man is one of my favorite characters in the MCU, and I think Tom Holland did such a great job portraying him, so I think he's a character who's well worth getting in Funko Pop form.
387 Vision. Also from Avengers: Infinity War, this figure of Vision is a marvel to behold (I intended the pun this time). He has a metallic sheen that brings so much depth to the colors. Speaking of colors, Funko has made some excellent choices on that front. His skin is a gorgeous shade of purple-pink, as are parts of his cape. His eyes are a piercing blue, with his suit and the back of his head a darker shade of blue. The bright yellow of the Mind Stone in his head really completes the look, making this figure just perfect. It is quite pricy, but if you look on eBay, you should be able to find one for under $50.
Marvel Comics Funko Pops
Whilst most of the best Marvel Funko Pops come from the MCU (either the shows or the movies), there are still some wonderful figures based on the comics. These figures tend to offer more variety in characters, as there are so many people (or other species) who appear in the comics but not the movies. Here are some of the best examples of Marvel Funko Pops from the comics.
144 Squirrel Girl (Marvel Collector Corps). I love Squirrel Girl, and I think it's a shame that so many fans haven't even heard of her. She has a ton of awesome superpowers – enhanced speed, enhanced agility, enhanced strength, enhanced reflexes, claws under her fingers, and she can even talk to squirrels. This Funko Pop embraced her in all her squirrel-y glory. Her outfit is a brown/ orange color palette reminiscent of autumn, and you can see her ears and bushy tail. She also comes with a squirrel figure which can sit beside her. Sadly discontinued, you can pick one up through a reseller for around $30.
799 Magneto (Blacklight). The Blacklight range of Funko Pops is made with particularly vibrant neon colors, and so it's not surprising that Funko chose to make several of these for Marvel characters. Superheroes are renowned for bold and vibrant costumes, making them the perfect choice for these unique color variants. This version of Magneto is beautiful, with a pink and purple outfit with black detailing. You can see the yellow of Magneto's face from under the helmet, and the eyes are the standard black ones common to most Funko Pops.
164 Gwenpool. This is a very fun character from the comics, a combination of Gwen Stacy and Deadpool. The stories are very funny as Gwen is supposedly from our world and has been transported to the Marvel universe, meaning she breaks the fourth wall a lot. Her costume perfectly lends itself to being a Funko Pop, and this figure looks fantastic. It's a bright combination of pink, white, and brown, and the overall effect is gorgeous. She's holding her phone in one hand and a gun in the other, but her pose is so casual that you can really get a sense of her personality.
FAQs
Question: What was the First Marvel Funko Pop?
Answer: The very first Marvel Funko Pop was released all the way back in 2010, and it was the 01 Thor. It's based on the first Thor movie, and you can see the differences between this one and newer figures, as Funko was still refining the style of their Pop range.
Question: What is the Most Expensive Marvel Funko Pop?
Answer: The 12 Freddy Funko (Tony Stark) Funko Pop is estimated to be the most expensive Marvel Funko Pop, even though it's technically part of the Funko range rather than the Marvel range. Freddy Funko is Funko's official mascot, and there are many variations of him dressed as different characters. This particular one is estimated to be worth around $3,500! It's worth noting that although this is the most expensive unsigned Marvel Funko Pop, some autographed ones may be worth more. Since Stan Lee's death, his signature has rocketed in value, and some of his signed Pops can sell for several thousands of dollars.
Question: How can I Start Collecting Funko Pops?
Answer: If you're looking to start out with collecting Funko Pops, there are some useful pieces of information you should know to help you make smart decisions. Check out our
Ultimate Guide to Funko Pops
to learn everything you could possibly need to know to get started!
Continue reading: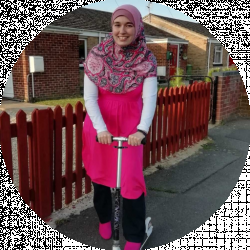 Latest posts by Melika Jeddi
(see all)