I grew up with Playstation. I got the PS1 as my very first console, and from there, I had the PS2 then the PS3. Gaming was a huge part of my life, and up until I was about 20, Playstation was pretty much my entire gaming experience. But when the next gen came out and it was time to upgrade, instead of getting a PS4, I started playing on the Xbox One.
Then my allegiance shifted. I've never really involved myself in console wars seeing as both sides have given me untold joy, but these days I fully align myself with Xbox. Whilst I respect other people's opinions, I consider Xbox to be superior in every way.
Over the past 8 years, I've become more and more attached to the franchise, to the extent that I'm now an Xbox brand ambassador, and have even traveled to attend Xbox Fanfest events in person.
I adore anything and everything Xbox, and I get a Pavlovian response to just hearing the iconic start-up sound effect. Xbox is easily one of my most intense interests, and believe me, that's saying something because I have a ton of hobbies.
Of course, when you love something as much as I love Xbox, you want to celebrate it. You want it to be a large part of your life. What better way than by buying stuff? So, I've put together this best Xbox-themed collectibles guide to help highlight some of the best items on the market.
Get Your Head in the Game
Why Purchase Xbox Themed Collectibles?
As with anything that you spend your hard-earned money on, you want to be sure of the why. Seeing as some of the items on this list can run pretty expensive, they're not exactly ideal for impulse purchases.
So before buying anything, make sure to check your financial situation, and stick within your budget. The last thing you want to do is go bankrupt. Having said that, I think that many of these products are worth saving for.
I can't speak for anyone else's reasons, but I can speak for mine. I love collecting things. It fills me with delight every time I see my merch and collectibles proudly decorating my room. It's a way of interspersing my personality into my surroundings.
It's also just a fun hobby. I adore that feeling of researching a new collectible, deciding which product to get next, and reading reviews. Every aspect of collecting truly appeals to me. I know that's not the case for everyone, but regardless of your reasons, collecting can be a great way to personalize your home.
As for why Xbox, simply put, I genuinely think it's the best gaming company out there. First of all, their company culture is brilliant. They strive for fair treatment of their employees and speak out against damaging practices like developer crunch. They also share really wholesome posts on their social media, making gamers of all skill levels feel welcome.
This in turn leads to a friendly community, and I love interacting with other Xbox users. Whilst there's always some toxicity in any large group of people, I feel that the Xbox community is generally pretty positive, and I enjoy being a part of it. Not only that, but they make the best products.
Their consoles have a great UI, their exclusives are fun to play, and Xbox Game Pass is quite frankly the single best value subscription going, in my opinion.
Overall, there are many great reasons to purchase Xbox themed collectibles, and I can't say what will be a priority for you, but whatever your 'why' is, hopefully, this article will help you to narrow down your choices!
Selection Criteria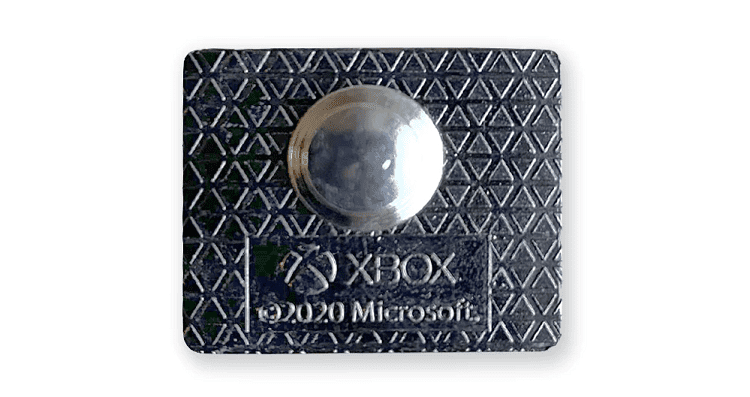 Not a Current Console
Any console that's still easily purchasable online, or which would be used for playing rather than collecting didn't make this list. However, things like unique editions or discontinued consoles could be considered collectibles.
As such, they were all things I pondered over when writing this article. So for example, an Xbox Series X couldn't be considered a collectible, but a day one Xbox could.
Unique Piece of History
I really like when collectibles are limited or unique. That's not to say that all of them have to be, but I definitely wanted to include some items on this list that would be harder to obtain and therefore more special.
The collectibles that are the pride of my collection are often the ones that almost nobody else has. So whilst there are some excellent options in the Xbox store, it's also exciting to own a one-off piece of Xbox history.
Looks Great on a Shelf
For most people, the purpose of collectibles is to display them. It's not just the knowledge that you own them, it's getting to see them day in, day out. A collectible can only bring you so much joy if it's just shoved in some box at the back of your wardrobe.
You want something that you can proudly put on your shelf or display case, and see every time you pass by. It needs to be something with a pleasant appearance that will fill you with joy just at the sight of it.
Value for Money
This does not mean that it will be cheap, in fact, many of the items on this list are higher-budget products. But when you're looking for the best of the best, you have to accept that you'll end up spending quite a bit of money. I do include some cheaper alternatives as well for collectors who can't afford to splurge, though.
The point is, regardless of the price point, you don't want to feel ripped off. Some things are pricey but are so special that they're worth it. Whereas others are dirt cheap but still not worth the handful of dollars that they'd set you back. It's about finding items that are worth the price tag.
The Best Xbox Themed Collectibles
As an Xbox fan and an avid collector, I feel uniquely suited to cultivate this list. I've tried to provide a wide range of products that could appeal to all sorts of different fans.
Whatever your collecting preferences, you're bound to find something here that suits you! These are in no particular order and are simply an array of the best Xbox collectibles out there.
20th Anniversary Halo Playing Cards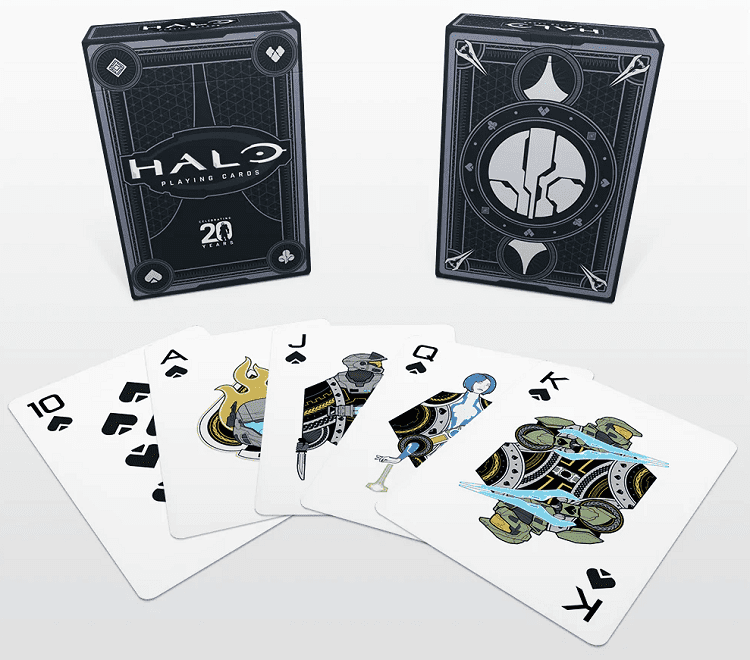 During the 2021 Xbox Fanfest celebration, Xbox conducted a contest with any fan who wanted to join. There were several rounds of quizzes to test your Xbox knowledge, with a smaller and smaller percentage of fans getting through each time.
I love a good quiz, so I was on it like a car bonnet. I managed to place in the top 5% of fans before unfortunately getting eliminated. Still, I'd managed to accrue a decent amount of points, and was rewarded with a $25 gift card to the Xbox store. Living in the UK, over half of that went to shipping and taxes, so I had to be picky about what to buy.
In the end, I chose to buy this delightful set of playing cards celebrating the 20th anniversary of Halo. I knew it would be cool to own something for this momentous occasion, and they were nice and within my budget.
So, I placed my order, and about a month later, they arrived at my door. I try to be picky when buying collectibles as space is a limited commodity, and I love that this item is so compact and small.
I confess I've kept my set sealed in their plastic wrapping and just use it as a display piece. However, if you're so inclined, you could use them for actually playing cards.
They'd certainly elevate game night and would be cooler than any cards your friends might have. I like that they've used Master Chief as the King, and Cortana as the Queen. The design of the box is also beautiful and conveys the dramatic ambiance of the Halo games.
Halo is probably the best-known title in the entire Xbox library, and it's pretty much synonymous with the brand. I'm sure even non-gamers will have heard of it. Therefore, owning a special Halo collectible like this is an excellent way to show your love for Xbox.
Pros
Low price point – excellent for collectors on a budget
Don't take up much space
Piece of Xbox history as they're connected to a milestone event
Beautiful packaging
Cons
The art style on the cards themselves is a little basic
Not fancy enough to take pride of place in a collection, you'd need something else with them
Limited Edition Controllers
One thing that fits really well in an Xbox collection is an array of controllers. Perhaps you may choose to just find one favorite controller, or you might like to choose several to display on a shelf.
Whatever choice you decide to make, here are my top picks for controllers. Yes, these are all ones that I personally own, but the reason I bought them in the first place is that I genuinely believe them to be the best of the best.
Halo Infinite 20th Anniversary Limited Edition Controller
Now, this one only came as part of a bundle with the Halo Infinite Limited Edition Series X. Honestly, the Series X itself is also a fantastically gorgeous design, but unfortunately, the price gauging just makes it poor value for money, as it's almost double the cost of a regular Series X just because of the appearance.
Don't get me wrong, the controller is also double the price, but I feel like it's a bit more worth it in this case.
I really like to collect controllers, and I own several different designs, but out of all of them, this one is my favorite. You should have seen me jumping up and down with glee when I first bought it.
I was almost afraid to touch it, and even though I've owned it for nearly a year, I still always put it straight back in its protective packaging as soon as I'm done playing with it.
The elegant gold lines running all the way across the face give an exquisitely sleek appearance. The silvery blue background really conveys the Halo theme, and the metallic sheen is stunning to behold.
The minimalist design works well, and matches the kind of technology found in Halo Infinite. On the back, the battery pack cover displays a special 20th anniversary Halo logo, etched in gold.
Pros
Stunning design
Part of the 20th Anniversary milestone collectibles
It's useful as well as being a collectible
The metallic surface means dust doesn't show up and it's easy to clean
Cons
Overpriced as you need to buy it from a third party due to being discontinued
Not an Elite controller
Razer Boba Fett Wireless Controller & Quick Charging Stand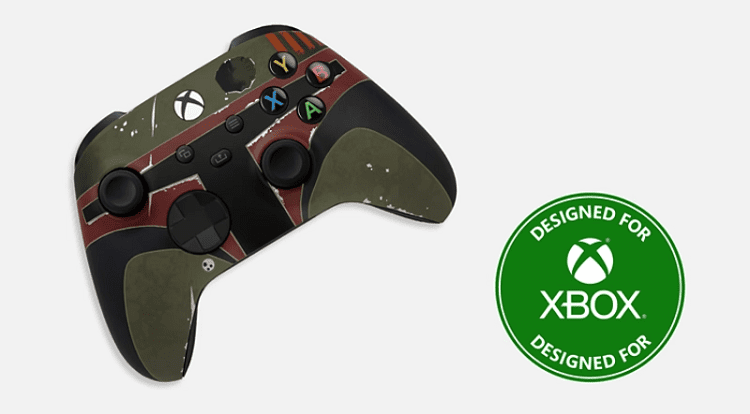 If you're a fan of the Star Wars universe, then this is the controller for you. A design in partnership with the tech company Razer, you can be assured of its quality.
It's based on the iconic Boba Fett helmet design, and there are a ton of stunning details all over the controller. We have the burgundy outline around the eye and center slits, which when partnered with the khaki green of the main background, instantly calls Boba Fett to mind.
This is a fantastic choice, as not only was he a popular character in the movies, but he also gained extra popularity due to his appearances in the Disney Plus TV shows The Mandalorian and The Book of Boba Fett.
The cool thing about this controller (and presumably the reason it's so much more expensive than other controllers) is that it comes with its own charging stand. This means you'll never have to worry about buying batteries.
The stand also fits in with the overall aesthetic, and is a continuation of the lower half of his helmet, and then into his armor. So you see the yellow of his shoulder pads, as well as the various details on his chest, such as Jaster Mereel's clan crest.
The controller has several interesting features, such as pressure-sensitive triggers so that you can get better levels of precision when firing guns.
It also has textured grips to make it easier and more comfortable to hold (unless you're like me where you get annoyed at textures that aren't smooth). It also has a magnetic connection between the controller and the charging stand to facilitate the charging process.
Pros
Great for fans of Star Wars
Comes with its own charging stand
Loads of beautiful details on the design
Cons
Very expensive at $179.99
Non-battery powered controllers tend to lose battery life longevity over time
Call of Duty: Advanced Warfare Controller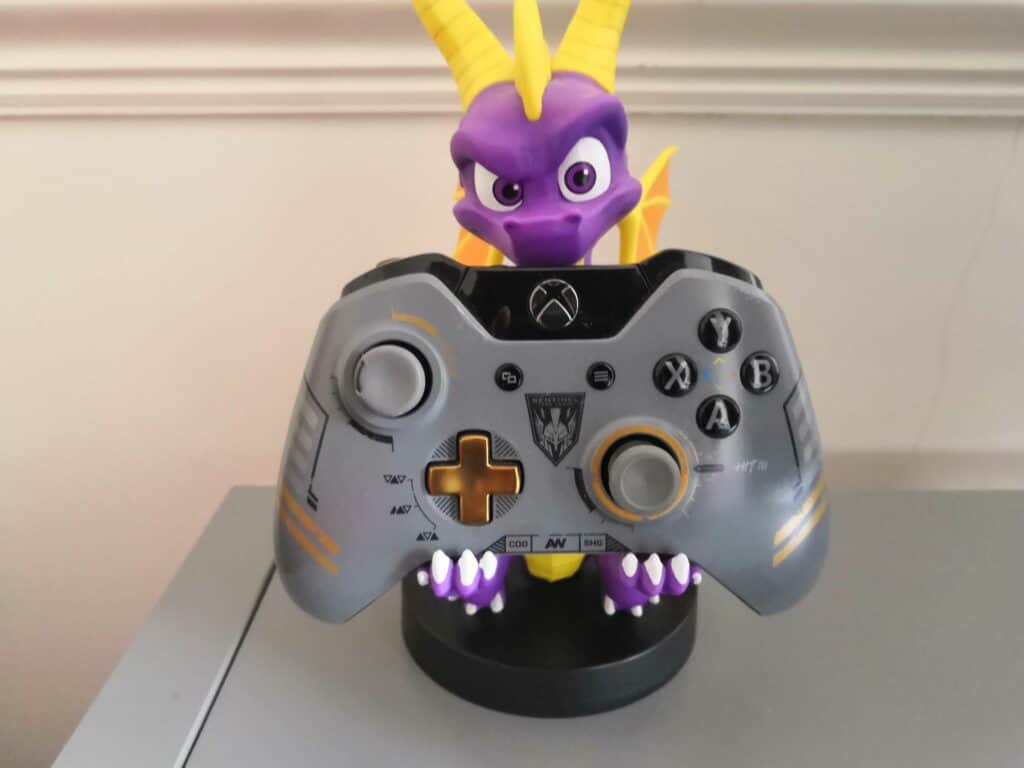 I used to be absolutely obsessed with Call of Duty as a teenager. It got to the extent that my username back then was literally 'CoDGirl1993' (please don't judge me, I was young).
I'm not really an fps fan anymore, but I look back on my Call of Duty days with fondness, and at any moment, I know I could get sucked right back into that action-packed genre. I was even really into the Halo Infinite multiplayer for several months until I realized I was spending too much time on it and had to cut down.
Call of Duty: Advanced Warfare was a wonderful entry for the franchise, really capturing all the quality that the generation had to offer. The graphics were crisp and the gameplay was smooth.
The file size was outrageously large, though, as often developers don't bother to compress seeing as they know these modern consoles can handle it.
The controller design is an homage to the game and features a strong gray background with gold detailing and black outlines. There are various patterns across the face that convey the action of Call of Duty. The Sentinel logo is boldly emblazoned in the gap between the D-Pad and right analog stick.
I really loved this controller, and only retired it when unfortunately I wore down the grip on the left analog stick. It now holds pride of place on my shelf, being held upright by my Spyro controller holder. Sadly, this controller is quite expensive, and you may have to pay quite a bit over retail to get your hands on it.
Pros
Unique design that really conveys the theme
The addition of gold really makes the design pop
Fantastic collectors item for fans of Call of Duty
Cons
Price has been hiked considerably now that it's discontinued
The grip style on the analog sticks isn't as robust as other controllers
Halo Infinite Spartan Chonmage/ Yokai Statue – Exclusive Edition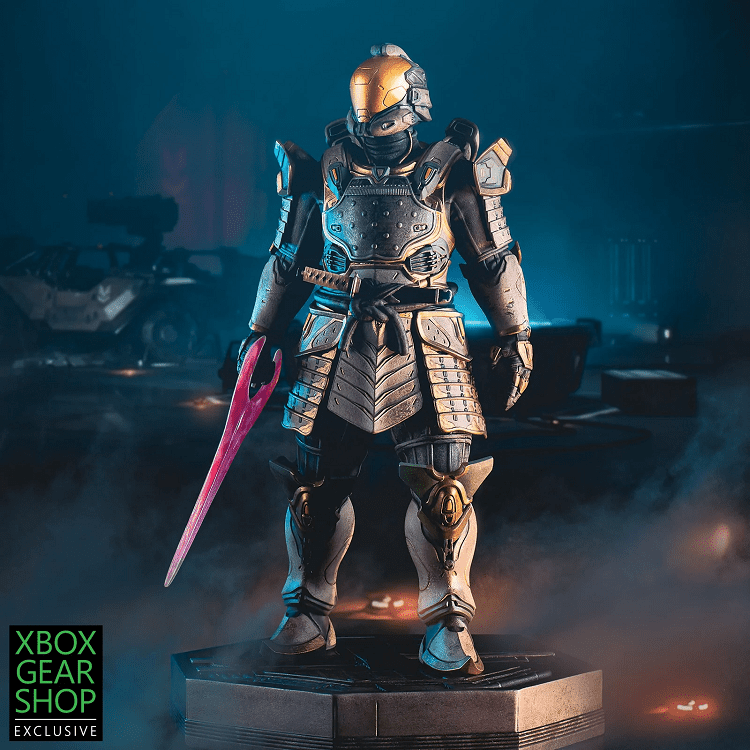 This gorgeous statue is set to be released in December 2022, and it would make the perfect addition to an Xbox collection. I remember when Halo Infinite released the Yoroi Samurai skin (the one upon which this statue is based) as a customization option for your character.
It was part of a limited edition event, and I was determined to earn it. I grinded for hours every day, completing all the challenges I was presented with, and finally, I unlocked the skin.
I immediately put it on, and whilst I looked epic, I was a bit disappointed that there were no alternate color schemes unless you paid for them. Still, the outfit itself is fantastic.
This statue, however, does not just have the bland gray color that comes as default in the game. Instead, the bodice is a metallic gray with gold detailing, and it really pops out at you. There are elements of Spartan green, and altogether it looks beautiful.
Better yet, you can even customize it with interchangeable parts to decide how you want your statue to be displayed. With a possible 4 combinations, you'll have a pretty unique item, as this statue is limited to just 2,500 pieces.
You can use the Yokai helmet, a terrifyingly intimidating piece of kit with horns on top, and spikes around the mouth. It's in a dull brownish-gray to match parts of the suit. Alternatively, you can use the Chonmage helmet. This one reminds me a bit of a goldfish bowl, if I'm being honest.
The front of the helmet is just one large curved piece, although it's entirely gold. Presumably it's a bit like one-way glass, where it appears gold from the outside, but the warrior inside can see perfectly. I know a lot of people think this one looks really cool, but it's not really my favorite.
The weapon choices for this statue are brilliant. There's the Disruptor, one of the standard guns in the game. It's decent to use, although not necessarily one of the best, but in terms of appearance, it's definitely up there.
It's got an almost rectangular barrel, and a large rounded handle, making it easily identifiable, and it conveys the unique style of Halo weapons. However, my favorite of the two weapons presented is definitely the red Energy Sword.
With the possible exception of the Gravity Hammer, the Energy Sword is my favorite weapon in the entire franchise. And not only does this rendition show the gorgeous shape of the weapon, but it comes in a stunningly vibrant red color!
Pros
Interchangeable parts so you can customize your statue
It includes a red energy sword, arguably the coolest weapon in Halo
Exquisite detail on the armor
Limited to just 2,500 units
Cons
Quite pricey at $99.99
Chonmage and Yokai aren't exactly the most memorable factions in Halo
Xbox Series X Logo and Console Pins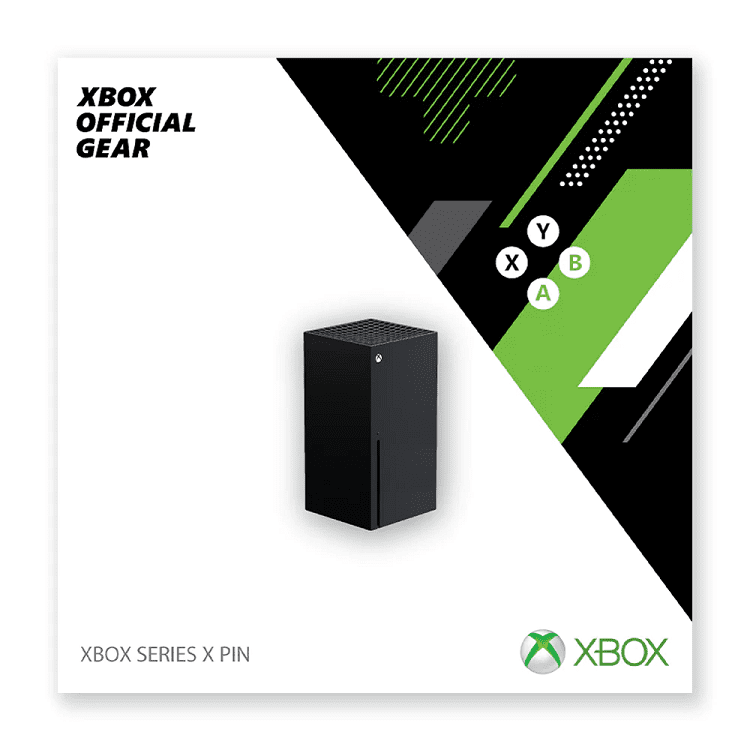 An offering that will suit even small budgets, these are two fantastic pins. One features the console itself, and the other is the Series X logo. I'm a huge fan of pins and have a wide collection, so I'd be remiss if I didn't include these in this list.
Pins are a great and affordable way to show your love for a franchise and tend to retain their value in a way that other types of merch don't necessarily manage. If you haven't got any pins yourself, these would be an excellent way to get started!
The first is the pin for the Series X console. I did a double take when I saw this one, as it really is identical to the console itself. You'd almost think someone had just shrunk one down and taken a picture of it. Despite the realistic visuals, it's still just a pin!
The details are exquisite, and even include a darker shade of black for the shadows. Rather than being enamel, this pin is made entirely of metal, and the image is then laser-etched onto the surface. The result is a really smooth picture, which truly captures all the details. Simple but effective, this pin is an excellent collectible.
The other option is the one with the Series X logo rather than console. The two aesthetics are very different to each other, so you may like to have just one or the other, or go for both as they complement each other nicely.
This one has a metal back but is then topped with enamel. The 'Series X' part is then printed directly onto the enamel for a nice clean finish.
There's something really epic about the font that Xbox has used, and it makes me feel cool just looking at it. If you want a fun, small collectible that is cheap and won't take up too much space, you can't go wrong with either of these.
Pros
Low price point makes them affordable for almost everyone
Can be the start of a larger pin collection
Easily recognizable as being related to Xbox
The detail is brilliant despite their small size
Cons
The Series X console pin isn't made with enamel, so might not fit in as well in a larger collection
The designs are a little basic, and they're not particularly exciting to look at.
Xbox Green Sphere Skateboard Deck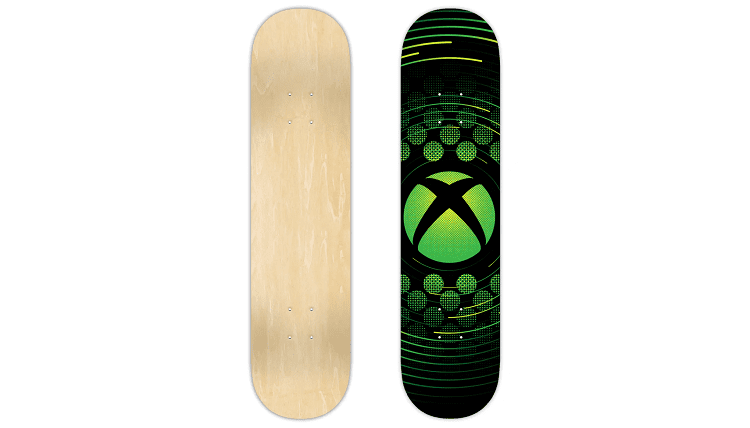 Easily the most unique item on this list, we have this fantastic skateboard deck bearing the Xbox logo and colors. Xbox even acknowledges its uniqueness in its amusing product description, 'Skateboarding doesn't have a lot to do with Xbox…
We made an Xbox skateboard deck anyway because we think it looks amazing'. I have to agree with them, it does look amazing.
The iconic green and yellows of the Xbox logo hark back to the evolution of the brand over the years. It's a nostalgic symbol and one that immediately conjures memories of all the fun Xbox experiences you've had.
The design is bold and vibrant, with the circular Xbox logo in the center of the board, and dynamic green and yellow curved stripes going up and down its length. Smaller, pixellated polka dots converge outwards from the center, eventually fading into black at the edges.
The effect is captivating, and overall this board is seriously rad (as I think skaters say… I'm not certain, all my skater lingo comes from bad 00's movies).
The board itself is made from Canadian maple, with the idea being to give stronger durability for any tricks one might wish to do on the board.
Of course, you're not obligated to actually ride it, and this particular collectible might be better served as an adornment for your walls. Either way, you can pretty much guarantee that none of your friends will have it, and it'll certainly work as a conversation starter!
Pros
It's an item other collectors are unlikely to own
It's priced very fairly for what you're getting
A great way to show your love for Xbox whilst indulging in your hobby (if you actually use it to skate with)
Recognizable design
Cons
Large and bulky, might be tricky to make space for in a collection
Probably won't appeal to a very wide audience
The design could get scuffed if you're actually using it rather than displaying it
Xbox Geomental Sphere Hoodie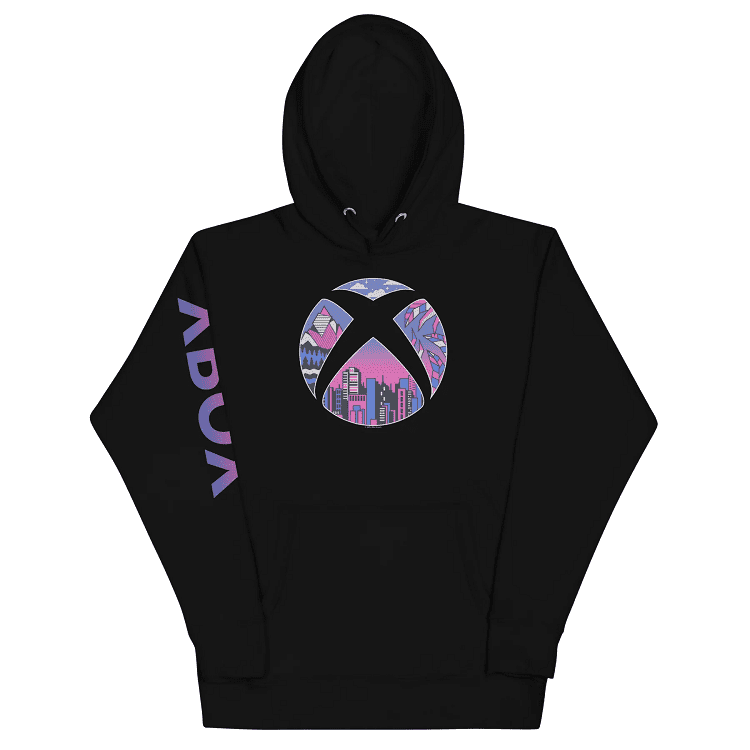 I wouldn't usually count apparel items under the umbrella of 'collectibles', but I'll make an exception for this delightful hoodie. It has a stunning and uncommon design, that really plays on the traditional symbol of the circular 'X' of the Xbox logo.
Although it would obviously look fantastic when worn, this is the kind of item that could also serve purely as a decorative piece. Everyone collects different things, and I know some people like to have certain apparel pieces as collectibles rather than something they wear. This top would be excellent for that.
The design itself is rather unexpected for an Xbox item but works beautifully. The color palette is somehow futuristic and retro at the same time, with neon pastels in contrast with the dark black of the hoodie itself. The X is formed by the negative space and is the same black as the main hoodie. It's the details within the circle that are what stand out.
You have a fascinating cityscape in the bottom panel, the largest of the circle segments. The buildings are bright towards the front, and silhouettes towards the back, giving the effect of a sprawling place that stretches for miles.
The left hand panel depicts a mountain, standing tall above the city. On the right-hand side are geometric tree fronds, which look to be from a palm tree. Finally, the top segment is something I almost didn't notice at first, but I immediately loved it once I saw it.
It's only a small section, but it shows fluffy white clouds with sparkling star effects between them. It's subtle but wonderfully executed. On the sleeve, the word 'Xbox' is written in large block letters, with a gradient fade from purple into blue.
Overall, this is a delightful hoodie and one that would be brilliant in any Xbox fan's collection, whether you intend to wear it or not. They have many apparel designs, but I feel that this one stands out the most. I can see it being highly sought after in the future if it ever gets discontinued.
Pros
Looks great while wearing it or displaying it
Visually pleasing design
A clever blend of retro and futuristic
Cons
The design colors are typically more feminine, but the black background is more masculine, so it doesn't really appeal to either gender
Apparel isn't the most convenient form of collectible if you're looking to display it rather than use it
FAQs
Question: When was the Xbox First Released?
Answer: The very first Xbox console was launched on November 15th 2001, and it had Halo as a day one exclusive game at launch. Since then, it has released the Xbox 360, Xbox One, Xbox One X/S and the Xbox Series X/S (as of September 2022).
Question: Why was the Original Xbox Nicknamed 'the Coffin Box'?
Answer: This is one of my favorite anecdotes from early Xbox history. Essentially, the project at the time was rather revolutionary, and would be an incredibly expensive operation for Microsoft to pull off successfully.
As such, the crew working on it were afraid that it would be a huge failure, and would lose the company money. They nicknamed the Xbox project 'the Coffin Box' as they thought it might end their careers at Microsoft if it flopped. Thankfully, it was a success!
Question: What is the 'Red Ring of Death'?
Answer: This was quite a common occurrence with the Xbox 360 console if it was not maintained properly. Any number of issues could arise with the console, and when it was no longer able to function correctly, there was a built-in warning.
Upon start up, the light around the power button would turn red, to indicate that the console was broken and needed professional fixing. This phenomenon became known by users as the 'red ring of death'.
Conclusion
There you have it! A curated list of the best Xbox collectibles that you can buy. I've tried to account for different budgets and tastes, but ultimately, these are my picks. Yours may be slightly different, so try to see this list as a starting point.
I've chosen items that I think would really elevate an Xbox collection, but there's no need to stop there. You can buy these exact items, or simply use them as inspiration, to give you a better idea of what you're searching for in a collectible.
If you still feel unsure as to what to buy, then I'd suggest keeping an eye on Xbox's official socials. They regularly release new products, so if none of these items jump out at you, then you could wait and see what comes up in the future.
Some of my favorite limited items that come up from time to time are controllers, so you shouldn't settle for anything that you don't love. After all, unless you're rich, you'll need to be picky about what to add to your collection. So whatever you end up choosing, make sure that it's something that you really love!
Continue reading:
Disney Traditions Figurines Guide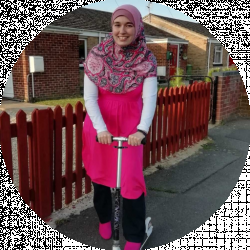 Latest posts by Melika Jeddi
(see all)