There are many debates in the world as to which is cooler. Pirates or ninjas? Lunchables or Kids Cuisne? Funko Pops! or Nendroids? In the latter debate, I lean towards Nendoroids. Funko Pops! are cool and all, but I like the accuracy found in Nendoroids.
They tend to have vibrant colors, soft lines, and most importantly, look cooler than an ice cube and December while having a figure for just about any franchise you can imagine. While that is cool, it creates the problem of finding the right one for you.
Lucky for you, I went ahead and made this guide over the best gaming Nendroids money can buy. Even if you don't want any mentioned on the list, it's sure to give you the skills to help you find the one you want.
I'm Evaluating the Nendroids by Three Different Metrics
Quality
By "Quality," I mean more than simply how good the Nendoroid looks.  I'll also factor in the accessories that the Nendoroid comes with. They all have faceplates to vary expressions, but some Nendoroids come with cool props that can really make them stand out. Nendoroids tend to be pretty solid in this regard, so don't expect the score here to deviate too much.

Availability
What I mean by "Availability" is how easy it is to get your hands on the Nendoroid. The two main things that factor into this are the prices of the Nendoroid: something cheap is much easier to buy than something that costs a quarter of your paycheck.
I'm also looking into how easy it is to find the Nendoroid. Does Amazon have a good stock of them, or are they running out soon? That sort of thing is part-and-parcel to the price but an important thing to consider on its own.

Serialization
"Serialization" refers to if the Nendoroid is a part of any larger series. For example, if the Persona 5 Joker Nenodoroid also has an Ann Takamaki or Morgana Nendoroid figurine to go alongside it. It's important because Nendoroids are collector's items.
The purpose is to amass a large amount and put them on display, and things look better when you pair them with Nendoroids that go together.

Now let's get the guide started!
My Top Pick Up Front
The best Nendoroid on the market is the Square Enix NieR:Automata: Automata 2B (Yorha No.2 Type B) Nendoroid Action Figure, Multicolor It has a lot of things going for it, like being a very iconic character from a very iconic game, and coming with a lot of accessories to make posing the figurine worth your while.
It's even a part of the larger line of Nier: Automata figurines. It's a great choice for a gaming fan and an even better one for those that love Nier: Automata.
Best Gaming Nendoroids
Good Smile Persona 5: Joker Nendoroid Action Figure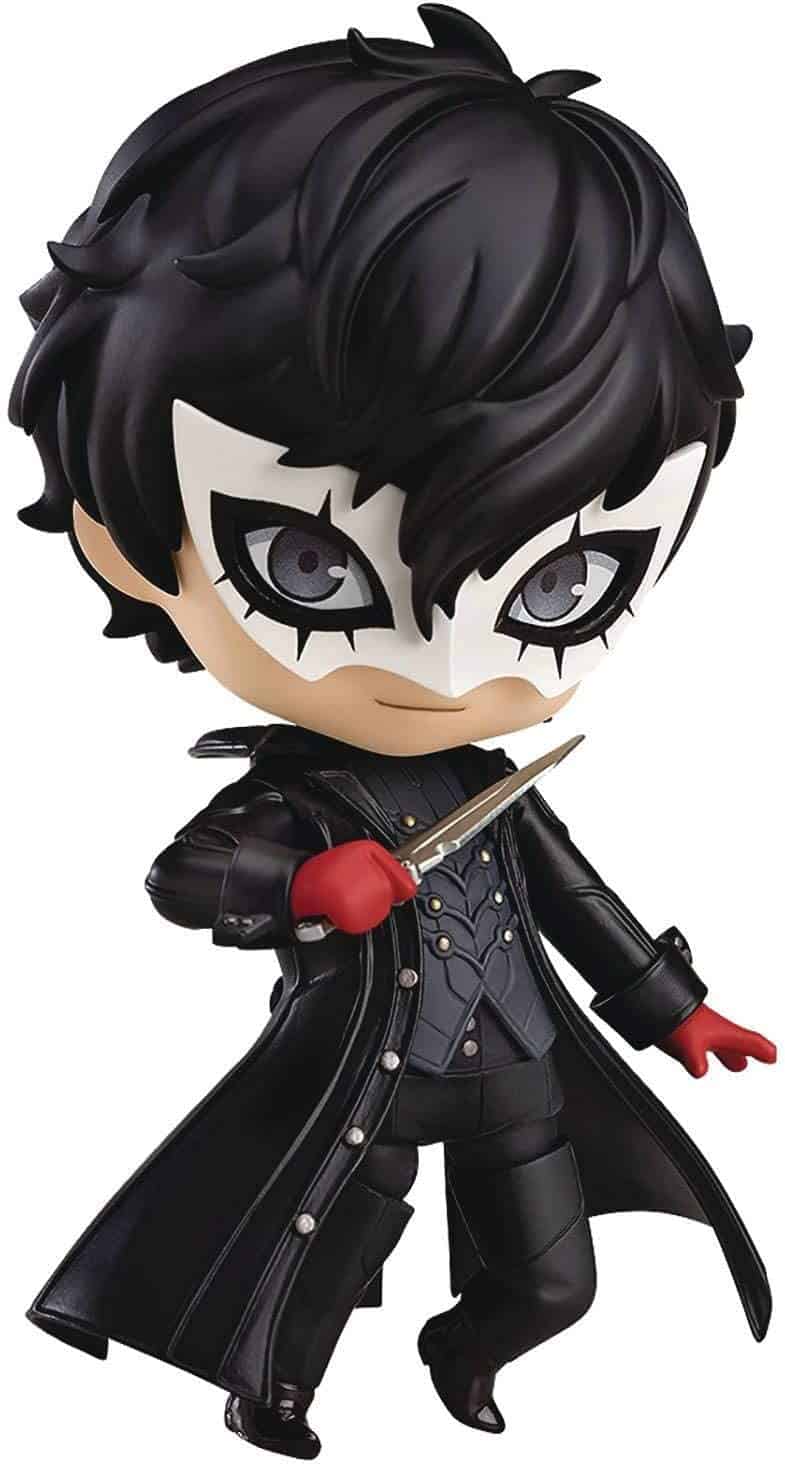 Joker is one of the most iconic JRPG characters to come out of recent memory. The success of Persona 5 is comparable to the JRPG mega icons of history like Chrono Trigger and Final Fantasy 7.
I'm glad to say that this Nendoroid does the stealer of our hearts justice. You can remove and attach the mask it comes with, and it's the mask even comes with a pair of red eyes instead of the usual grey. It manages to be a really good Nendoroid in a sea of high quality.
Quality 9/10
There are a lot of fantastic things about this figure. What I like most about the mask parts you can swap them out. It gives Joker a wide range of expressions to match the variety the body joints give you.
The accuracy of the hair does impress me. It looks just like how it does in-game with the stray curls and all. This is a good first entry on our guide because it shows the standard of quality that Nendoroids have.

Availability 7/10
While these aren't at risk of a stock running out anytime soon, this Nendoroid is also a good example of one of their most prolific problems. That being the price tag. These are simple cartoony figurines that have a lot of potential in how you can pose and swap out parts, but those features come at a price.
This one comes in at around a little over $50, making it a little on the cheap side for a Nendoroid. A fact that doesn't bode well for the rest of the guide.

Serialization 10/10
It's good that Persona 5 is so popular because that means every Phantom Theif has a large enough fanbase to justify some merchandise. You can buy a Nendoroid of every Phantom thief from Makoto (Queen) to even Futaba (Oracle).
IT'd be pretty cool to have a whole collection of Phantom Theif Nendorids for a cool group photo.

Pros
Very accurate representation of the source material.
Is a part of a HUGE lineup of Nendoroids.
Cons
The figure is fairly expensive on sites like Amazon.
Good Smile Kingdom Hearts III: Sora Nendoroid Action Figure, Multicolor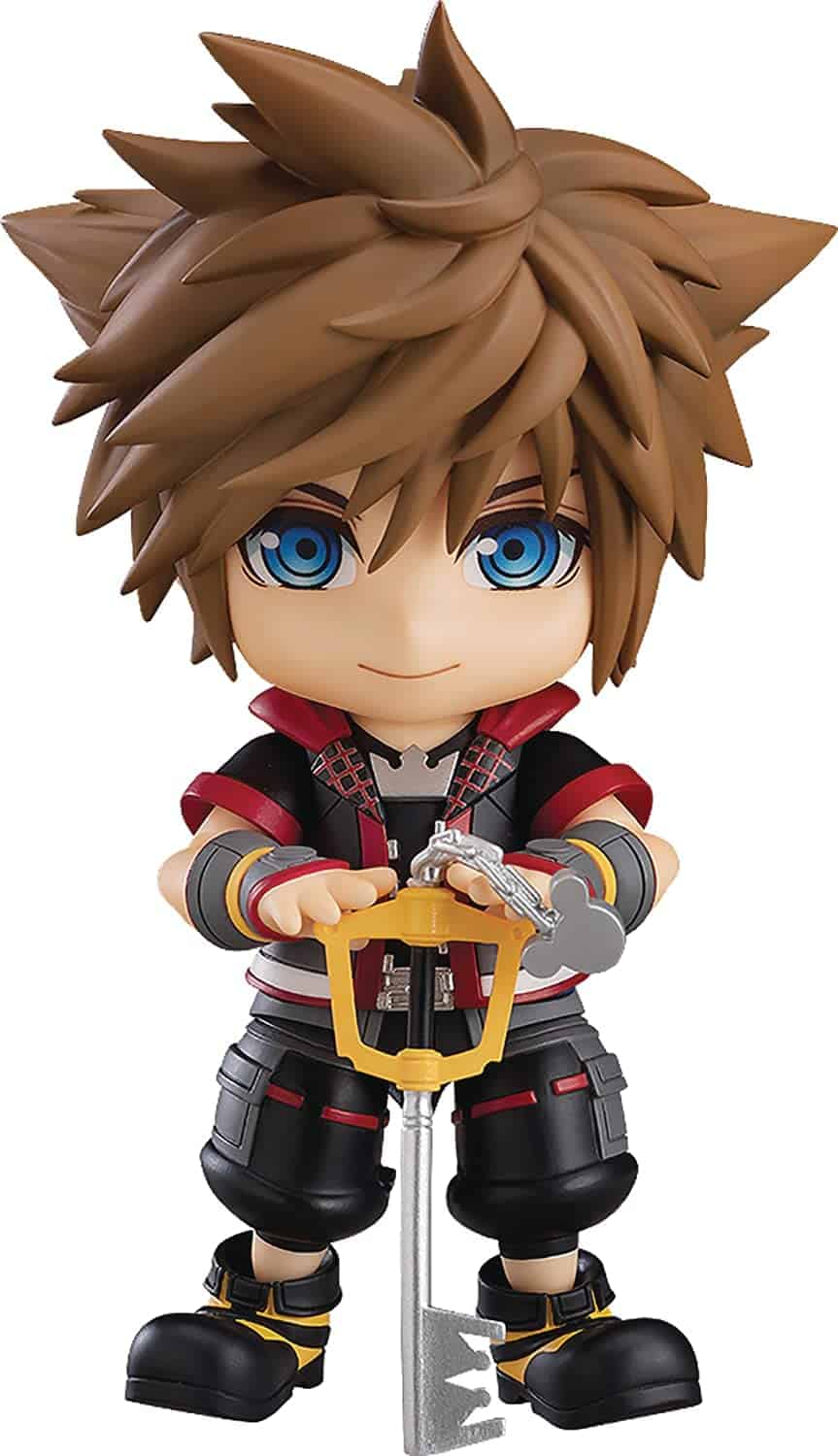 I was faced with quite the choice when looking for a Kingdom Hearts Nendoroid. In the end, I decided to play it safe with the main hero of the franchise: Sora! This Nendoroid has him using his red and black checkered look from the recent Kingdom Hearts 3.
It's a good look that perhaps isn't as iconic as his Kingdom Hearts 2 look, but I think if we give it enough time, the look can be iconic enough to match the 2nd entry in the main series. The Nendoroid also comes with quite a few Kingdom Hearts 3-themed accessories, making it an even better Nendoroid.
Quality 10/10
The faceplates and other things on this Nendorid aren't anything to blow your mind. You got a good mix of serious and casual faces for all your posing and photo shoot needs. What really gets me going are the accessories included with this Nendoroid.
You get 3 keyblades: the iconic Kingdom Key, Favorite Deputy from the Toy Story world, Crystal Snow from the Frozen World, and a Wheel of Fate from the Pirates of the Caribbean world. All 3 of the keyblades are fan favorites from the game, so it's a great selection to choose from when customizing.

Availability 6/10
Like most Nendoroids, the stock of these isn't a problem; Amazon or other retailers aren't running out soon. The problem comes with the price tag, which is $90+ on Amazon and sometimes higher on other places when you're paying for shipping halfway around the world. Be careful with your wallet around Nendroids because they can be quite mean to it.

Serialization 8/10
I was tempted to give it a 7/10, but I'm in a forgiving mood, so I bumped it up to an 8. The Nendoroid comes with 3 other Kingdom Hearts 3 companion Nendoroids. You can get Kingdom Hearts 3 versions of Riku, Kairi, and Aqua. They all come with interchangeable pieces like keyblades, which might be worth the money you spend.

Pros
A great looking figure that's timely to the most recent mainline Kingdom Hearts game.
It comes with 3 keyblades that can be used with other Kingdom Hearts 3 Nendoroids.
Cons
Very expensive even for Nendoroids.
Horizon Forbidden West: Aloy Nendoroid Action Figure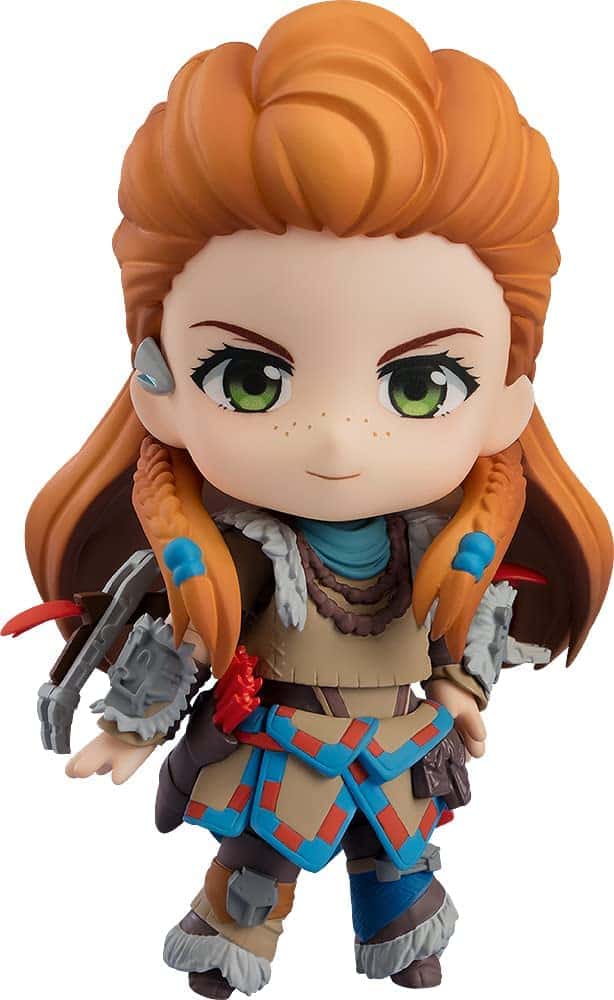 I haven't gotten to playing Forbidden West, but I have played Horizon Zero Dawn. It was a really fun game and a very unique experience. I do wish the game focused more on hunting the mechanical monsters over hunting humans, but what really kept me going through the game was the main protagonist: Aloy.
She had a surprising amount of personality to her that I thoroughly enjoyed while going through the first game. When (but most likely if) I get my hands on a PS5, I'll definitely christen it by playing Forbidden West as its first game.
Quality 8/10
While this Nendoroid looks good, the faceplates included all seem very bland. There's a smile, a wink, and a serious one. I do really like the accessories included with the figure, like one for Aloy activating her focus, her bow and spear, but also a cute little watcher statue to go along with Aloy.
It adds a lot of customization to the Aloy figure, I just wish they had better faceplates to go along with everything else.

Availability 6/10
I've said it once, and I'll say it again, the price may be a pinch point for a few of you since this one comes in at over $80+. You do get a good amount of accessories to go with it, like the spear and bow, which the figure can hold, but I'm not sure if it's worth the usual price that Nendoroids ask for.

Serialization 1/10
The major problem with this Nendoroid is that it doesn't have any companions. You can buy Aloy, and that's it. You won't find any other characters or even any of the mechanical monsters on a Nendoroid list. That means you don't get any other Nendoroids with parts you can swap or a collection to form. You just have this.

Pros
Comes with a lot of accessories like the bow, spear, Focus, and Watcher figurine.
Cons
A one-off that doesn't have a larger line of Nendoroids to go along with it.
Good Smile Nendoroid Shizue (Isabelle)(4th-Run)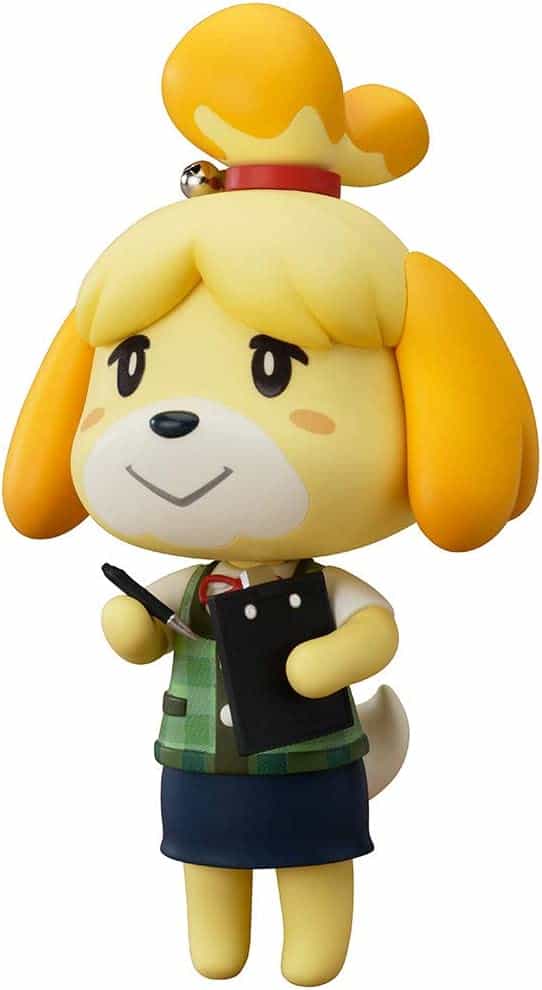 Animal Crossing is a game I need to come back to. My island is probably in a state of severe disrepair right about now, but fixing all that is something my representative will get to later.
This Isabelle statue is a great recreation of everyone's favorite dog secretary. It's got Isabelle wearing her casual green sweater vest alongside a clipboard and musical note accessories. It's a silly, simple, and cute Nendoroid which matches the character it's based on very well.
Quality 8/10
You get 3 faceplates with this one, a neutral smile, a jovial smile, and one of confusion that matches the accessories that come along with it. The clipboard and musical notes are good for a smiling Isabelle, but there's also the question mark to go with her.
The design is based on Isabelle from Animal Crossing: New Leaf rather than New Horizons, but I don't mind that too much. It's a good look for her.

Availability 8/10
This Nendoroid actually has pretty good availability. It's easy to find on online retailers like Amazon and the price, while high, is leagues below what some other Nendoroids are asking for. It's a solid option for a cute gaming Nendoroid to have on your desk. 

Serialization 6/10
The fatal flaw of this Nendoroid is in its serialization. Isabelle is the only Animal Crossing character that has a Nendoroid. Not Tom Nook, not Resetti or K.K Slider.
There is another Isabelle Nendoroid that uses her brown winter sweater look, but it's still another Isabelle Nendoroid. I like Isabelle a lot, but not enough to spend 2 Nendoroid's worth of money on two figures.

Pros
A very cute figure that accurately recreates the character from the game.
It's one of the cheaper options on our list.
Cons
Fairly basic as far as Nendoroids go with little in the way of exciting accessories.
Isabelle is the only Animal Crossing character with Nendoroid, which prevents a good collection from forming.
Good Smile Kirby's Dream Land: Kirby Nendoroid Action Figure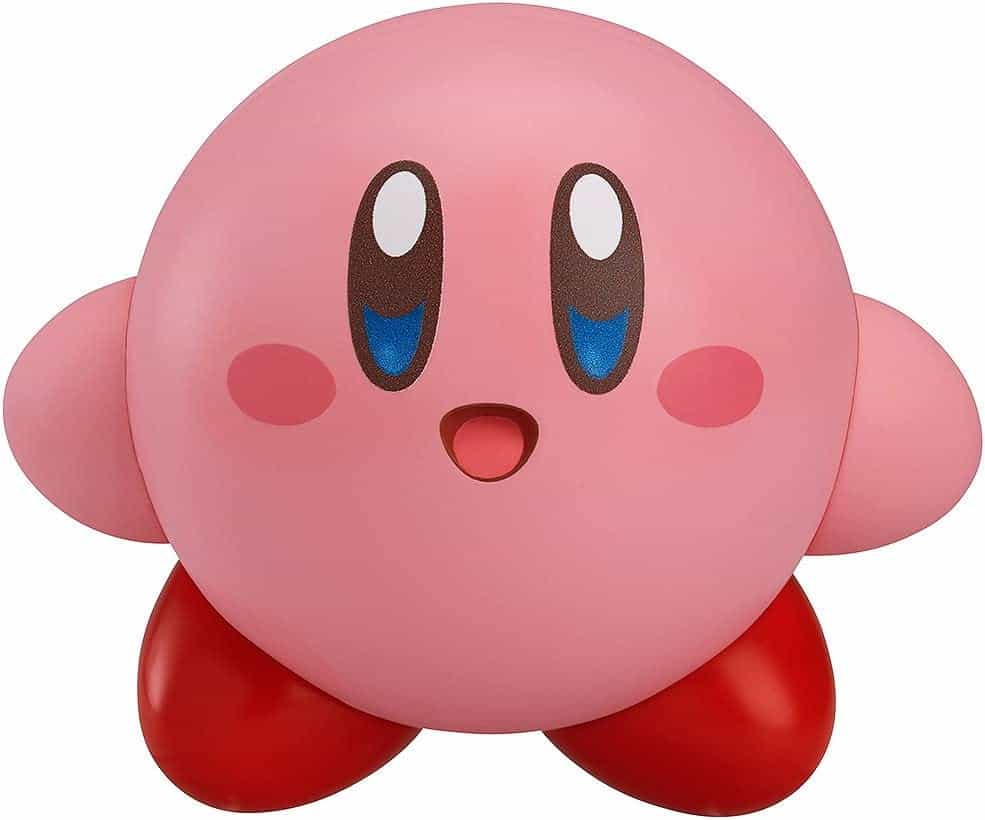 I would say Kirby is a guilty pleasure if playing Kirby games wasn't something I take pride in. Kirby's fun, and he's been fun ever since his first installment on the Gameboy.
This specific Kirby Nendoroid is based on Kirby from the Gameboy Game, although you wouldn't notice that unless I told you. It comes with a few different expressions, and the accessories are Kirby's copy abilities which I think was a great way to incorporate them into this figure.
Quality 9/10
Kirby looks like Kirby. An Adorable little puffball with stubby little arms and stubby little legs. You get 4 different faceplates to have Kirby smile, suck things in, hold something in his mouth, and an angry expression if you feel like recreating the USA Kirby box art.
The accessories you get for copy abilities are fire, wand, and sword. All the accessories look good in their own right, making for fantastic poses.

Availability 4/10
Like almost all other Nendoroids, this figure is expensive, but this Kirby one is more expensive than usual. I think that it's because of all the accessories that the Nendoroid comes with. At least this Nendoroid is easy to find on Amazon.

Serialization 8/10
There exists a lot of other Kirby Nendoroids. I know there's a wand Kirby figure that has a yellow Kirby using the copy ability, a meta knight, and a relatively recent Waddle Dee Nendoroid. If these weren't so expensive, I'd probably buy them myself.

Pros
Comes with lots of accessories for Kirby's copy abilities.
It is a part of a larger line of Kirby Nendoroids.
Cons
Square Enix NieR:Automata: Automata 2B (Yorha No.2 Type B) Nendoroid Action Figure, Multicolor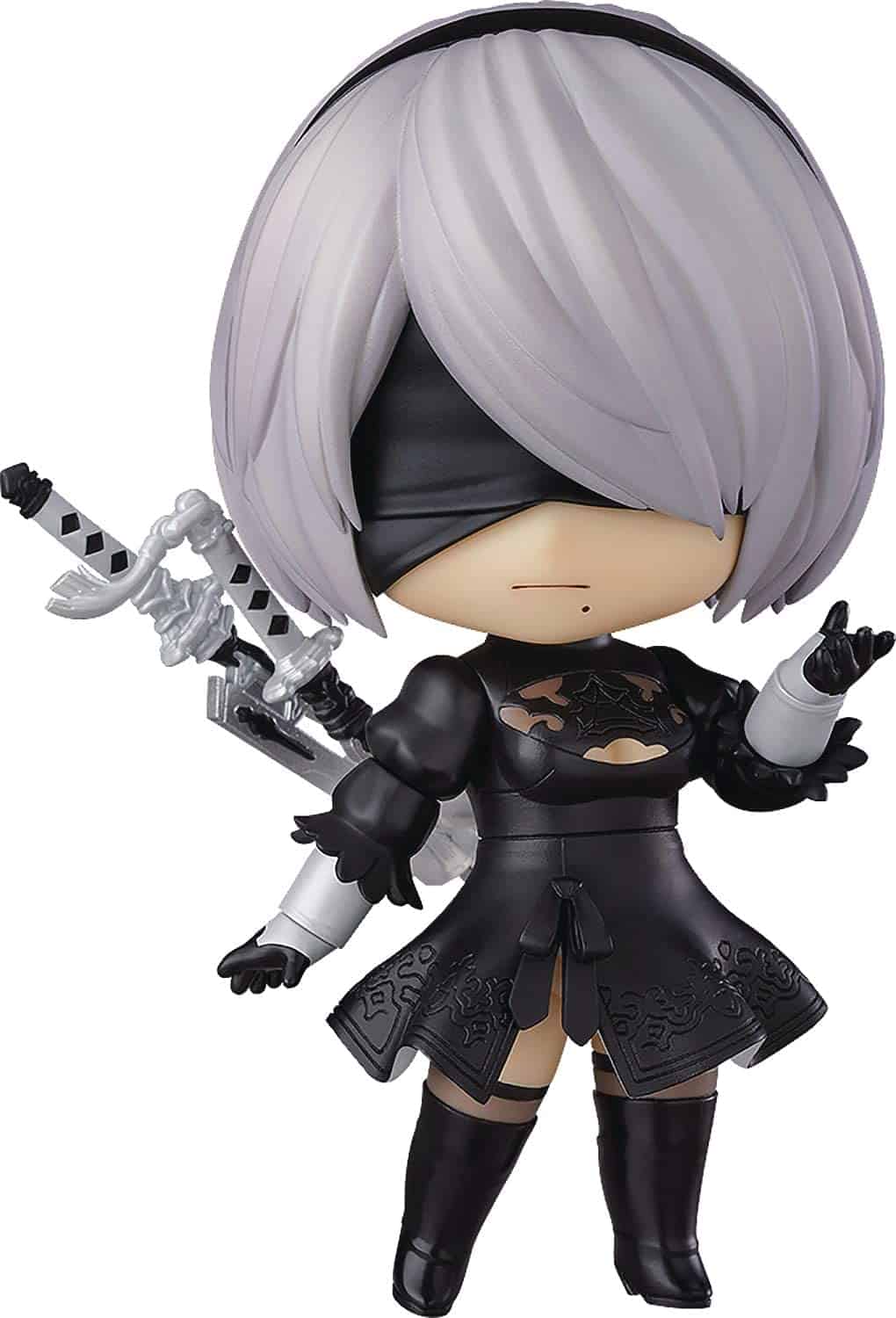 NieR: Automata is one of those games I swear I'll finish someday. I have like 100 hours in it, and I haven't actually gotten to the final absolute ending.
That aside, I do really love the game. Its writing is some of the best I've ever seen from a JRPG, and the hack and slash gameplay was a little basic but enough to keep me interested, like a faster and more forgiving form of Dark Souls.
The writing really does show with the love everyone seems to have for 2B. She was a great character, and I loved seeing her slowly grasp emotions throughout the story, proving how human the inhuman androids were. I really got to finish NieR: Automata someday…
Quality 10/10
You get quite a lot of bang for your buck with this. You get two faceplates, 2B's blindfold (which is thankfully a separate piece), her small and long katana, two slashing effects, and her personal pod.
It's a lot to get your hands on, which means you can really go all put when posing 2B. You could probably recreate just about any moment from the game with it.

Availability 7/10
While it is expensive like every Nendoroid, 2B falls squarely in the middle, if not a little below average. It does get a point for being easy to find on Amazon. It's one of the first Nendoroids to show up when you look up "gaming Nendroids," and I can see why. It's a quality piece.

Serialization 10/10
2B isn't the only Nendoroid you'll be able to find from the Nier franchise. They have figures for 9S and A2, who gets both a short and long hair figure. There are even Nendoroids from Nier Replicant and Emil. They really went all in one their Nier line of Nendoroids, and I am thankful for that.

Pros
You get a lot of customizable pieces for your Nendoroid.
It is a part of a HUGE line of Nier toys whose pieces can be swapped.
Cons
It's a Nendoroid, so it's expensive like all of them are.
Good Smile Nendoroid McCree: Classic Skin Edition, Multicolor (G90680)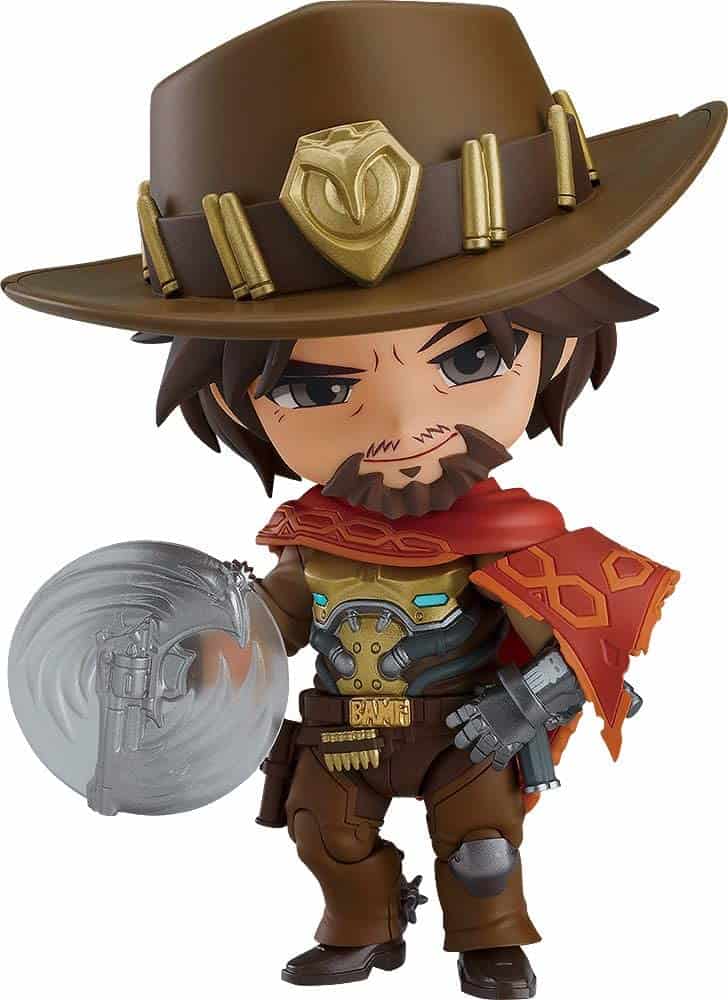 Overwatch was never really my thing. If I'm playing online, it's going to be with a few close friends in Minecraft or completely on my own in a fighting game like Guilty Gear. But one of my friends did play Overwatch, and they got pretty good, so I did bother to keep up with the ESports scene, so we had something to talk about.
One of my favorite characters was Reaper, with McCree coming in a close second. I just loved the concept behind his ult because it just seems so fun and cheesy to use. If I played Overwatch, I'd probably main him, to be quite honest.
Quality 9/10
This Nendoroid figure has a lot going for it. It's a cute chibi-style representation of the character, and you get accessories out of the wazoo to go along with it. The hat and cape are removable.
You get a regular Peacekeeper pistol and a spinning one, alongside a tumbleweed and a Deadeye effect. The pieces aren't exactly swappable with the other Overwatch figures, but they do look really good on McCree.

Availability 9/10
The price of this Nendoroid is well below the average. It makes for a fairly good gift to give an Overwatch fan for their birthday, an even better one if they're a McCree main. I honestly wish more Nendoroids had price-tags to match this one, but I can only dream of that day.

Serialization 10/10
There's a whole line-up of Overwatch Nendoroids. You can get Soldier 76, Lucio, Sombra, Junkrat, and Ashe if you'd like. I don't think they have a Nendoroid for every character, but the ones they do offer are of a quality to match McCree's Nendoroid.

Pros
A good recreation of McCree with lots of accessories to customize your figure with.
A part of a larger line of Overwatch Nendoroids.
The Nendoroid is really cheap as far as Nendoroids go.
Cons
The accessories can be swapped out between Overwatch figures, but they don't look that good holding the wrong weapon from other characters.
Good Smile Touhou Project: Swacchao! Reimu Hakurei Nendoroid Action Figure, Multicolor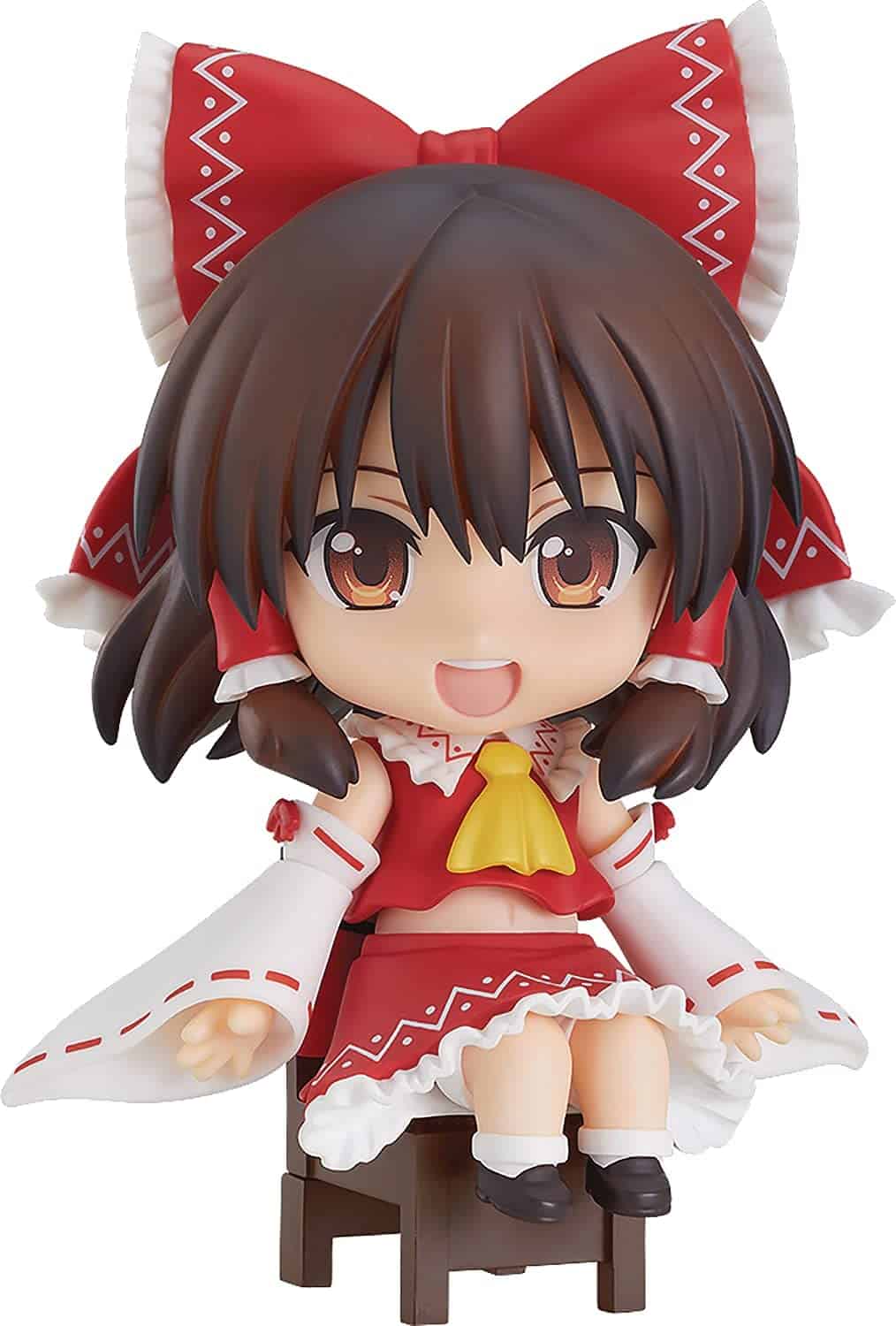 Touhou is a series I've had an odd experience with. It's not one of those things I played too frequently. Only over a friend's house did I ever really play the Bullet Hell games proper. However, one of my favorite games ever is Tohou: Luna Nights. A metroidvania in a completely different style to the usual Touhou games.
It was really fun and has been a game I've completed time and time again, but I always hit a roadblock with the final boss and main protagonist of the mainline games: Reimu Hakurei.
Quality 7/10
This Nendoroid is different from the usual suspects. Rather than being something highly customizable, this is meant to be a desk accessory or something like that. The figure is stable because it's sitting on a chair and small enough to fit in most places. I would like a customizable.

Availability 9/10
Due to not having all of the customizable features and all of that, this Nendoroid gets to have a significantly cheaper price. It's only a little above $30, which makes it ultra-affordable. If you're in the market for a high-quality statue of Reimu this is a fantastic option.

Serialization 6/10
The options to go along with this Nendoroid is sadly limited. You can get a Marisa Kirisame Nendoroid in the specific, sitting-down-statue style to go alongside Reimu. However, that is the only other Touhou Project Nendoroid in the style to go along with it. If you're looking for larger, more expensive things, Nendoroid does have other things to offer.

Pros
A very nice small figure that can fit on your desk or nightstand.
Its cheap price makes it an affordable option.
Cons
This Nendoroid doesn't come with any customizable parts like others in this guide.
Square Enix Dragon Quest XI: Echoes of an Elusive Age The Luminary Nendoroid Action Figure, Multicolor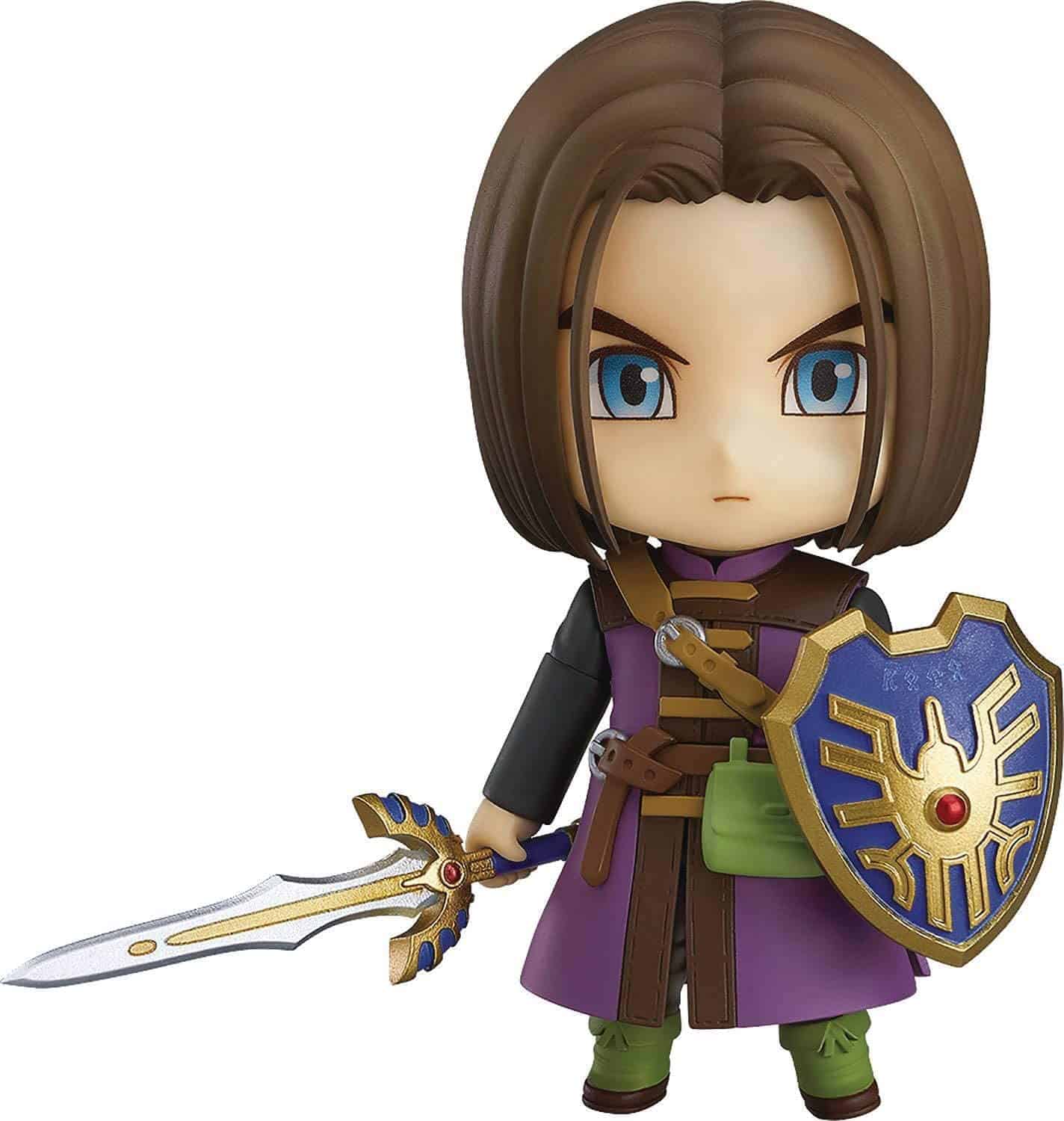 I'm a massive fan of JRPGs, so it's a little weird I only got around to playing Dragon Quests last year. I can see why the series has become synonymous with the genre in Japan.
It's a quintessential JRPG franchise that established a lot of the norms and staples that are still found in games today. This figurine is based on the protagonist Dragon Quest 11 and captured signature artist Akira Toriyama's design really well.
Quality 9/10
The Nendoroid comes with swappable face masks, sword effects, 3 swords, a shield, and an iconic Dragon Quests slime. I really like how much was included because it really adds some fun to posing the figure. The swords are all different, too, making them perfect for giving some variety to the figure.

Availability 8/10
This Nendoroid is surprisingly affordable, coming out at the higher end of $60. While it's not cheap, it's much better than some of the other listings on Amazon. For all the accessories you get with the figure, I think the price is actually pretty good. It could be a full $20 higher, and I wouldn't have been surpised.
Serialization 2/10
This is the only Dragon Quests 11 Nendoroid out there which is a shame. I would've loved to see some of the other characters actually get a figure, but I'll settle for this one.

Pros
The figurine has a lot of accessories for cool action poses.
The Nendoroid looks good, really capturing Akira Toriyama's art style
Cons
The figurine only comes with two face plates, so the expressions it can do are limited.
Frequently Asked Questions
Question: Where is the Best Place to Buy Nendoroids?
Answer: I can't really give a simple response to this question. Amazon is a go-to one-stop shop, but the prices on Nendroids fluctuate on them.
Going to Good Smile's website might not be the best option because shipping all the way from Japan can be killer. Your best choice is to shop around on a few sites like Amazon and eBay just to make sure you're getting a good price.
Question: How Many Nendoroids are There?
Answer: According to the numbers given to each Nendoroid, there are about 1393 Nendoroids as of September 2022.
Question: Which Nendoroid Makes the Best Gift?
Answer: I think the best option for a gift Nendoroid really depends on what the person likes. This is a guide for gaming Nendoroids, and there are hundreds of figures that meet the criteria.
I'd suggest you find out what that person you're buying a gift for likes and then typing in "Name of series" Nendoroid into google to see what you get. If you really want to go at it blind, I'd suggest buying the Good Smile Nendoroid McCree: Classic Skin Edition, Multicolor (G90680). It's cheap and of good quality, so it's the safest bet.
Conclusion
There are a lot of Nendoroids for sale. They all meet a pretty high standard of quality, which reflects their biggest downside: their price. They strike me as filling a similar market niche to Funko Pops! actually.
While Funko designed their figurines with affordability for every fan first and foremost in their mind, Good Smile adds a higher price tag and production value while trying to make something for every single series that it can. It makes them pretty reliable if you're in the market for a figurine from one of your favorite tv shows.
I know I usually look them up as a starting point when I buy a piece of merchandise. I hope this guide helped you learn what makes a good Nendoroid, and happy hunting!
Continue reading:
Best Danganronpa Figures Guide
Best Attack on Titan Statues Guide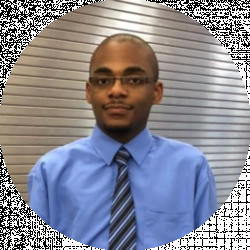 Latest posts by Jaden Hasse
(see all)