I would say Venom is an underrated comic book character if he wasn't surprisingly popular. He's been in comic books, tv shows, video games, and movies where he was and wasn't the main character. I understand why Venom has been in just about everything under the sun. The concept of an alien symbiote that gives you incredible powers at the cost of your humanity is an awesome concept. Marvel seems to agree since they made a whole line of comic books about various characters getting the symbiote. But alongside all the movies and shows and comic books have come an excessive amount of Venom-themed toys. It can get beyond overwhelming to sift through it all, so I made this guide to help you decide which Venom action figure is right for you! Even if you don't like any of the action figures listed, the guide is sure to give you the skills to find the right one for you!
I'm evaluating the Action Figures by three different metrics:
Quality – 

By "Quality," I'm looking at the detail of the action figure, how well it moves, and what joints it has. A good action figure will have key joints in areas like the shoulders, elbows, waist, and knees so that basic posing can be done. I'll also be looking at whatever items come with the action figure here since it enhances the overall experience.

Availability – 

What I mean by "Availability" is how easy the action figure is to find in stores and online. Some action figures can sell out really quickly, making for a shopping nightmare, but I'm also going to be factoring in the price tag in my availability section. It doesn't matter how in-stock an item is; if it is so expensive, it's unaffordable.

Serialization – 

"Serialization" refers to if the action figure is a part of any larger series or line of toys. For collectors, this means you can get a nice set of all your action figures going, and for those who like to play with them, there are more toys with cool accessories to swap between what you have.
Now let's get the guide started!
Top Picks Upfront
The best Venom action figure is, without a doubt, the Venom Carnage Action Figure Collectible Anime Collectible Venom Doll Model Toy PVC Joints Movable Model Toy Figures Collection Model Character Statue Toy Decoration Ornaments (Venom). It just has so many things going for it, like the sheer quality of the surface detailing, showing you the symbiote membrane, and even the extra tentacles that come off the figure. The joints on this are to die for. They give the action figure a range of motion that's normally reserved for posing models for professional artists' use. It's an amazing figure that even has a Carnage companion to go with it if you want to for a small collection of two high-quality action figures.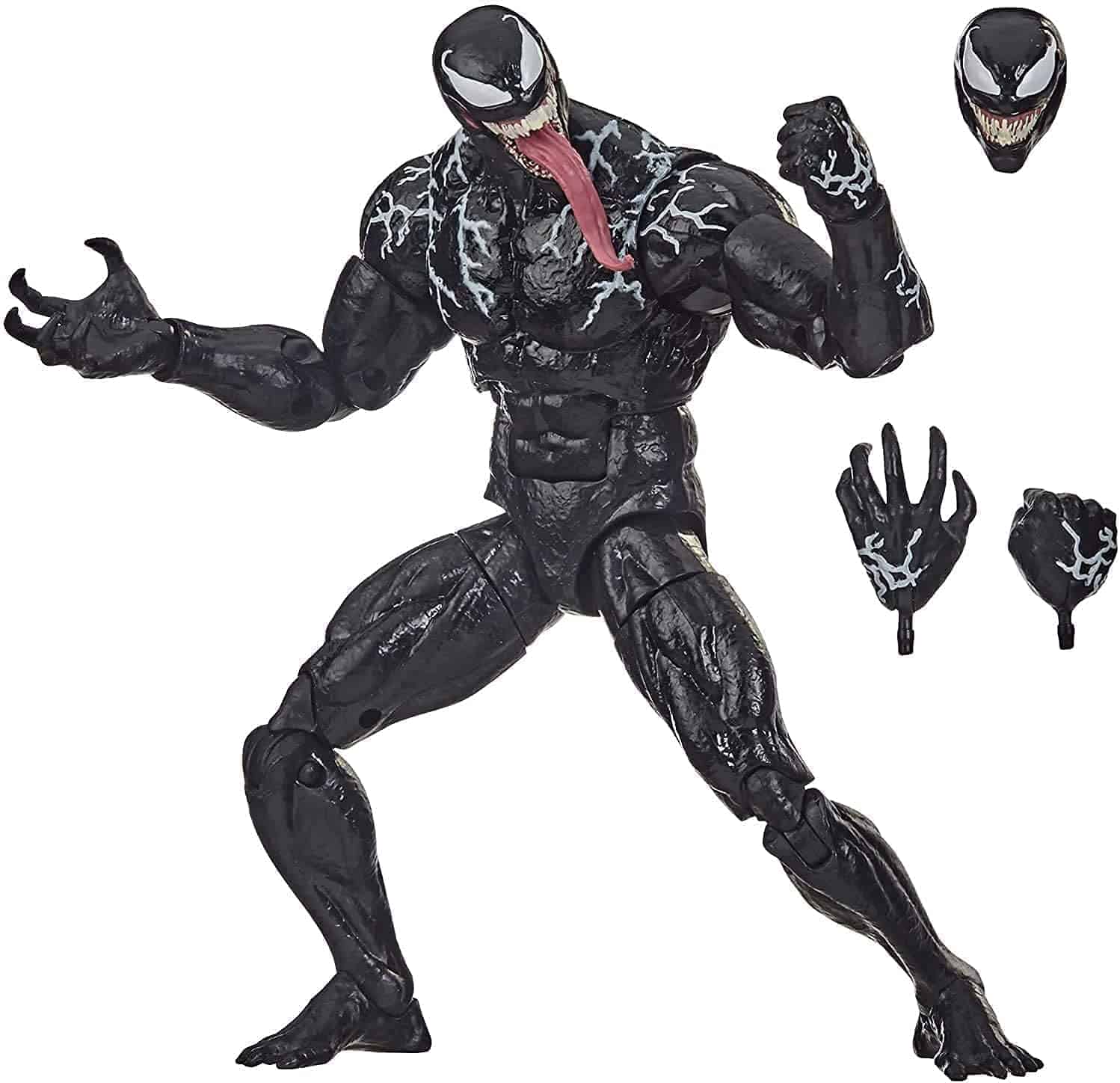 This Venom action figure is based on the Sony movie Venom that came out in 2018. Due to legal reasons, this Venom was dissociated from Spider-Man, becoming his own character; as such, he was given a unique look that I think translates very well into plastic figure form. If you're a fan of the Sony movies, this figure is sure to be something you'll love. It even comes with replaceable heads and hands, so you can get it in all the cool poses you want.
Quality 9/10 – 

The detailing on this action figure is top-notch. There's a neat texture to the entire thing that simulates the membrane of the symbiote, which I really like. The replaceable heads and hands are also a neat addition since it means it's good for collectors who want to pose their figure rather than play with it. The multitude of joints on the ankles, knees, waist, chest, forearms, and shoulders really set this one apart.

Availability 6/10 – 

The problem with this figure rears its ugly head when you get a look at the price tag attached. This figure isn't cheap in the slightest, costing 30+ on marketplaces like Amazon. It's a lot of money to put towards a toy, but it's fairly reasonable as a collector. This would make a great dedicated gift for like a birthday or something. It also lacks other toys in its series, so the head and hand pieces that work are the ones you get in the box.

Serialization 4/10 – 

As I mentioned before, this action figure is a one-off product. There aren't any Riot or Carnage action figures to go along with it, so you won't be able to form a decent collection with this one. It also loses even more points due to being specifically the movie version of Venom, which has fewer action figures to go with it than the comic version does. You couldn't even put Spidey in a collection with this guy.
Pros
An incredibly detailed figure based on Sony's Venom movie

It comes with extra parts and pieces to customize to your liking.

The range of motion on the joints is also really good.
Cons
The action figure is expensive, so it might not be the right choice for your budget.

It's based on the less-iconic look that comes from Sony's Venom movie.
Some say bigger isn't always better, and I'd like you to know that those people are wrong. As the name implies, this Titan Hero figure is ginormous. Standing up, it's one whole foot long, making it the largest thing on our list. That, of course,e comes with some downsides, like the figure being slimmer than Venom usually is. Even the Venom-art on the box has our favorite symbiote with more muscle than the action figure shows. However, for what this action figure is trying to be, a toy for kids to play with, it does its job pretty well. It has a good series of joints throughout its body and a nice reflective sheen that I love to look at.
Quality 7/10 – 

There are some really cool things about this action figure. Firstly, it's large, which is just cool in itself. Secondly, the plastic is pretty high quality, with a nice amount of detail on the body. Thirdly, it has a basic set of joints that aid in it being a serviceable action figure for a kid. The problems come in with the inaccuracy of the action figure's build not matching the character, and being one foot tall makes it hard to store properly. 

Availability 8/10 – 

This action figure is readily available from sites like Amazon and the toys section of most stores like Walmart, but finding a specific toy in person is usually a gamble, so I'd suggest going online. The price tag attached to this action figure isn't the worst either. It's cheap enough that you won't have to plan your budget around it, or if you can't find two or three items at the store, this action figure would probably cost less than you're missing groceries. 

Serialization 10/10 – 

The Marvel Titan Hero series has a lot of toys in its lineup. You can get both Venom and Carnage if you want, but there are also toys for Captain America, Spider-Man, Iron Man, the Green Goblin, and many more. These toys aren't really made as collector's items to show off, but you could get a fantastic collection going with all of them. 
Pros
A huge figure that stands at 1 foot tall.

The price attached to this one is also really good.

There are many other superheroes and villains in the same line of toys, so you can get a good collection going.
Cons
The action figure lacks the muscle mass that Venom usually has.

It's so large putting it away somewhere is a huge pain.

This set really stood out to me when I saw it, mostly due to the car it comes with. It's a 2008 Viper with a nice black-and-white Venom-themed paint job. It's genuinely a nice-looking car to come with your Venom figure, but I honestly can't tell you why it was paired with a Venom action figure, of all things. Maybe the car was shown in the Sony movie, but I'm not enough of a car guy to tell. OR maybe the manufacturer just had a diecast of a 2008 Viper lying around and needed a way to sell them. I honestly have no idea.
Quality 7/10 – 

This action figure set is a weird one. Mostly because it comes with a car, the car itself isn't bad in the slightest. The paint job is top-notch, and the accuracy is 

insane

. The problem arrives when you look at the Venom that comes along with it. It's not a bad figurine with joints on the legs and arms, but it is a very basic action figure.

Availability 9/10 – 

 Despite coming with both the car and the venom figure, the set is pretty cheap. I'm not sure how well you would be able to find this in stores. I had no luck with that myself when I checked their online availability. You might want to try a physical toy store to test your luck with finding one in person. 

Serialization 8/10 – 

As strange as pairing a superhero with a seemingly completely unrelated car is, Venom isn't the only one who had this happen to him. You can buy one for Black Widow, Captain Marvel, and even Poison Ivy from Batman. These could be a really fun thing to collect for a collector, but I'm not sure you could do much with displaying them outside of having the action figures with their cars. 
Pros
A set that comes with a Venom action figure and a diecast car.

The car looks absolutely 

phenomenal

.

The price tag for a Venom action figure 

and 

a pretty good car can't be beaten.
Cons
The Venom figure is relatively mediocre, with basic joints. It can't even fit in the car.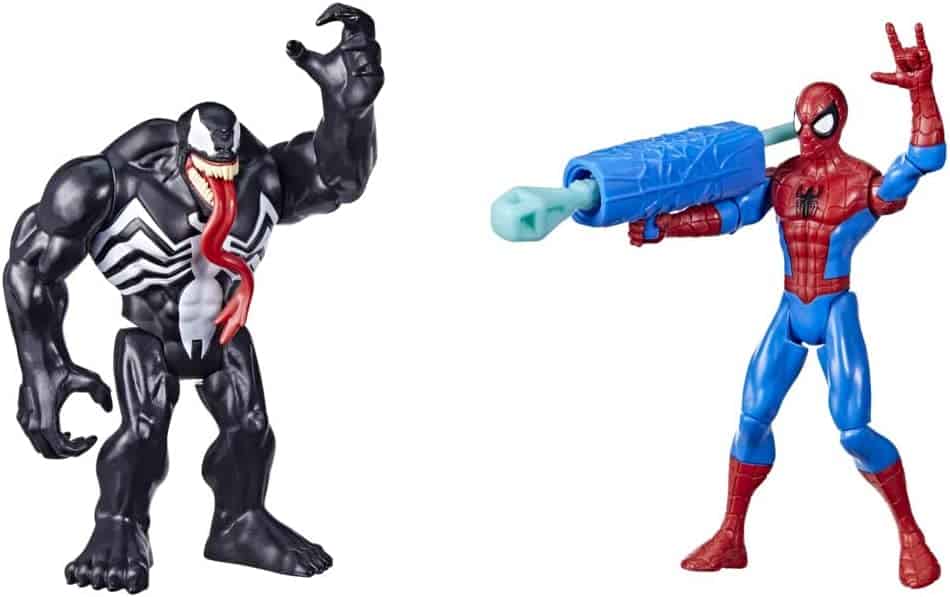 These action figures definitely better suited as toys rather than a collector's items. It comes with a basic Spider-Man and Venom action figure, and the Spider-Man comes with a launcher missile toy for it to shoot at its enemies. As far as toys go, I've definitely seen worse, but the action figures themselves could use some work. They have basic joints on their arms and legs, but everything outside of that doesn't move. The price attached to this pack isn't kind on the wallet either.
Quality 6/10 – 

These figures are not the best I've seen. From a posing standpoint, you can't do much beyond moving their arms and legs up and down, so there's no need for a collector to even look at these. As toys, they're fine. They're made of sturdy plastic, so they can be roughhoused, and the shooter Spider-Man comes with is pretty neat. I could see myself having a decent amount of fun with this when I was younger. 

Availability 7/10 – 

This toy is easy to find on online stores like Amazon and Walmart. The price isn't entirely unexpected for a two-pack, but it is still a lot. Unless you specifically are looking for this, you can find it. The entry above with the Venom action figure that comes with the diecast car is a better example of a good toy to buy a kid for cheaper. 

Serialization 8/10 – 

Just like this toy comes with a spider-man and a symbiote, and you can buy another dual set of Miles Morales Spider-Man with Carnage as the symbiote. It's cool that you can get both Peter Parker and Miles Morales alongside Venom and Carnage to complete your toy set.
Pros
A dual pack that comes with both Venom and Spider-Man.

Spider-Man comes with a toy launcher making it fun to use.
Cons
Both of the figurines are basic, with minimal joints and awkward poses.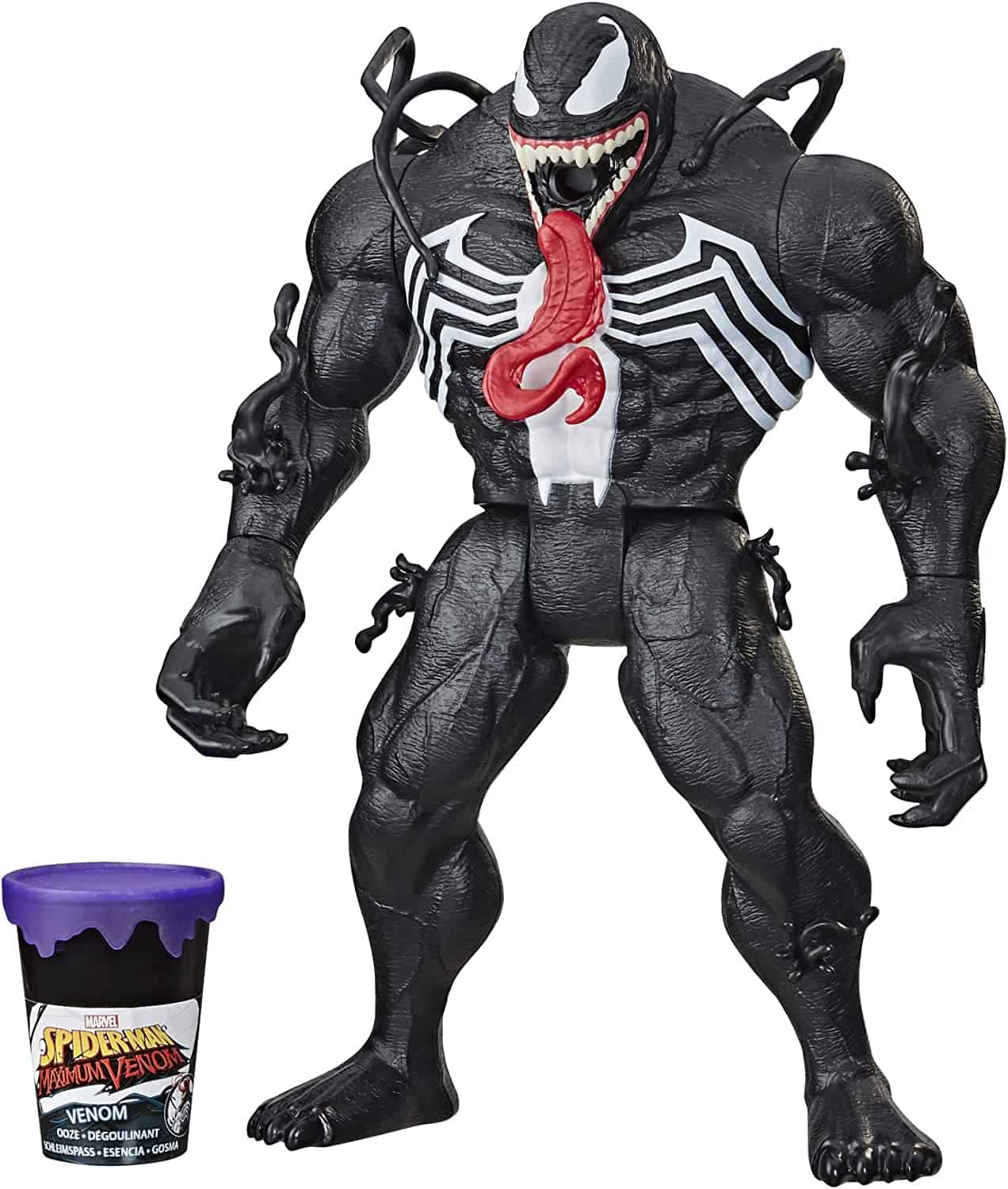 This action figure actually has a really cool gimmick to it. You see, it comes with this little tin of purple ooze, and when you insert the ooze into the back of the figure and turn the knob, the mouth oozes out the slime and swings back and forth. It adds a surprising amount of realism to the figure, albeit in a fairly messy way. The ooze isn't going to last forever, which is fine because the figure also looks really good. It has nice texturing that imitates the overlapping membrane of the symbiote and tentacles and tendrils to go alongside it.
Quality 8/10 – 

The figure has a lot going for it; to the ooze, you can have the figure leak to the impressive detail paid to the action figure itself. That ooze alone gives it points, and the quality gives it some more, but the knob on the back of the figure makes it lose them. You just can't turn the figure around when there's a big ugly knob there that sort of gets in the way when trying to pose it. The joints on the action figure aren't that impressive, either. 

Availability 6/10 –

 The big way this action figures losses on points is in the availability. This thing is 

EXPENSIVE 

when buying off of Amazon to the point you'd have to budget around it. You'll also have trouble finding it in stores or in other places where you might find a better price since the toy has been subject to some pretty good demand from consumers. 

Serialization 3/10 – 

There aren't any other ooze-based action figures to go along with this one. You got Venom, and you only have Venom. It does use the comic design of Venom with the imitation Spider-Man logo on his chest so that the action figure could fit in a Spider-Man or Venom-themed comic collection. 
Pros
The detailing of the figure is pretty good with a good-looking mesh.

It can ooze slime, making it a pretty solid toy for children.
Cons
This action figure is hard to find and expensive, making it a poor choice for a gift.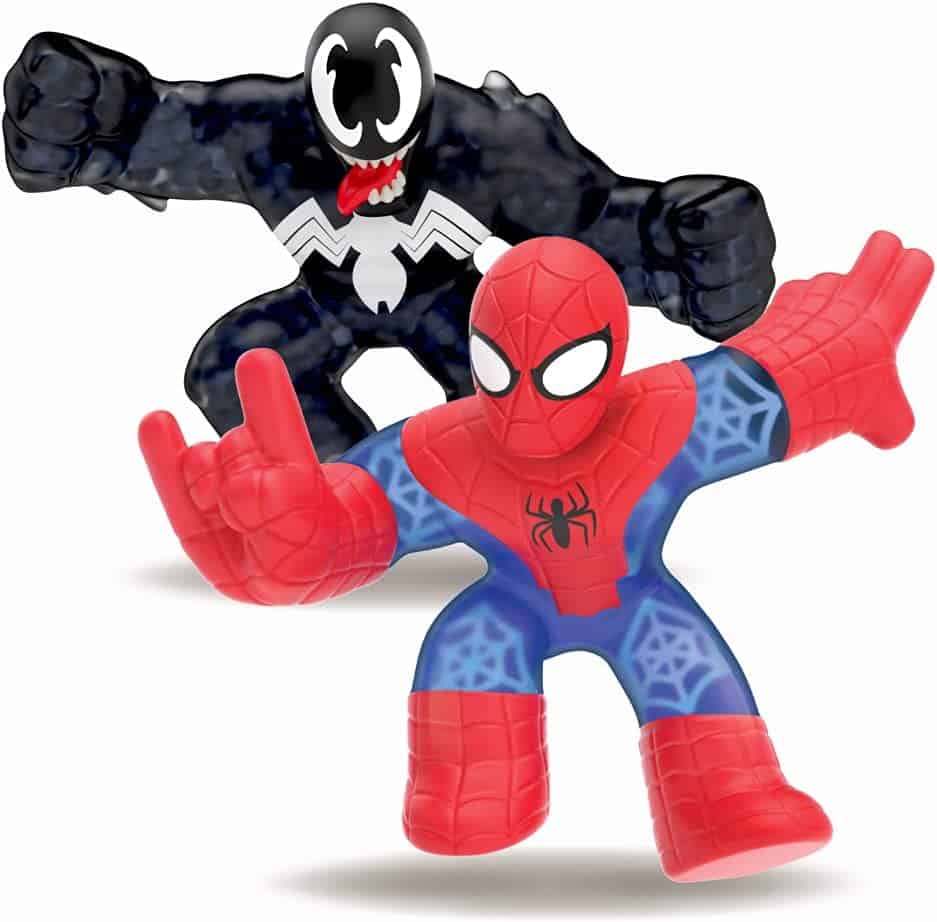 The Heroes of Goo Jit Zu are a weird kind of toy. Their gimmick is that they're filled with this gooey substance that you can pull and stretch. It makes for an extremely durable one that's more than suitable as a toy for children. They can throw it around as much as they want, and there's a good chance it won't break from all the stressful play. A collector likely won't be interested in this one unless they are leaning into the more "toy" side of things over collectors, but they are very good at being toys. I'm not even a kid, and I would probably have fun with these.
Quality 7/10 – 

These Heroes of Goo Jit Zu figures are fine representations of the characters. They look like the comic book characters enough to pass, but accuracy isn't really what the creators were focusing on. Rather a lot of their value comes from their use as a toy. They don't have any joints or anything, but they are filled with goo and squishy beads that make playing with them very fun. These are an excellent choice for a toy. 

Availability 8/10 – 

These toys are some of the easiest to find on websites like Amazon. Finding them in stores is more of a toss-up, but you can always check the availability online before going out to get them yourself. The price of these may be a pinch point, but they do get cheaper when you're buying a single rather than a double pack like this one. 

Serialization 9/10 – 

These Heroes of Goo Jit Zu figures actually have quite a few to their name. There's more than just Spider-Man and Venom. You can get Iron Man, Hulk, Thanos, Batman, and the Joker. I didn't expect Heros of Goo Jit Zu, of all things, to have such an extensive line, but I'm thoroughly impressed. 
Pros
The toys are durable, meaning even rough children will have a hard time breaking them.

It's fun to squish and squeeze the action figures.
Cons
They're barely accurate representations of the character, making them poor choices for a collector.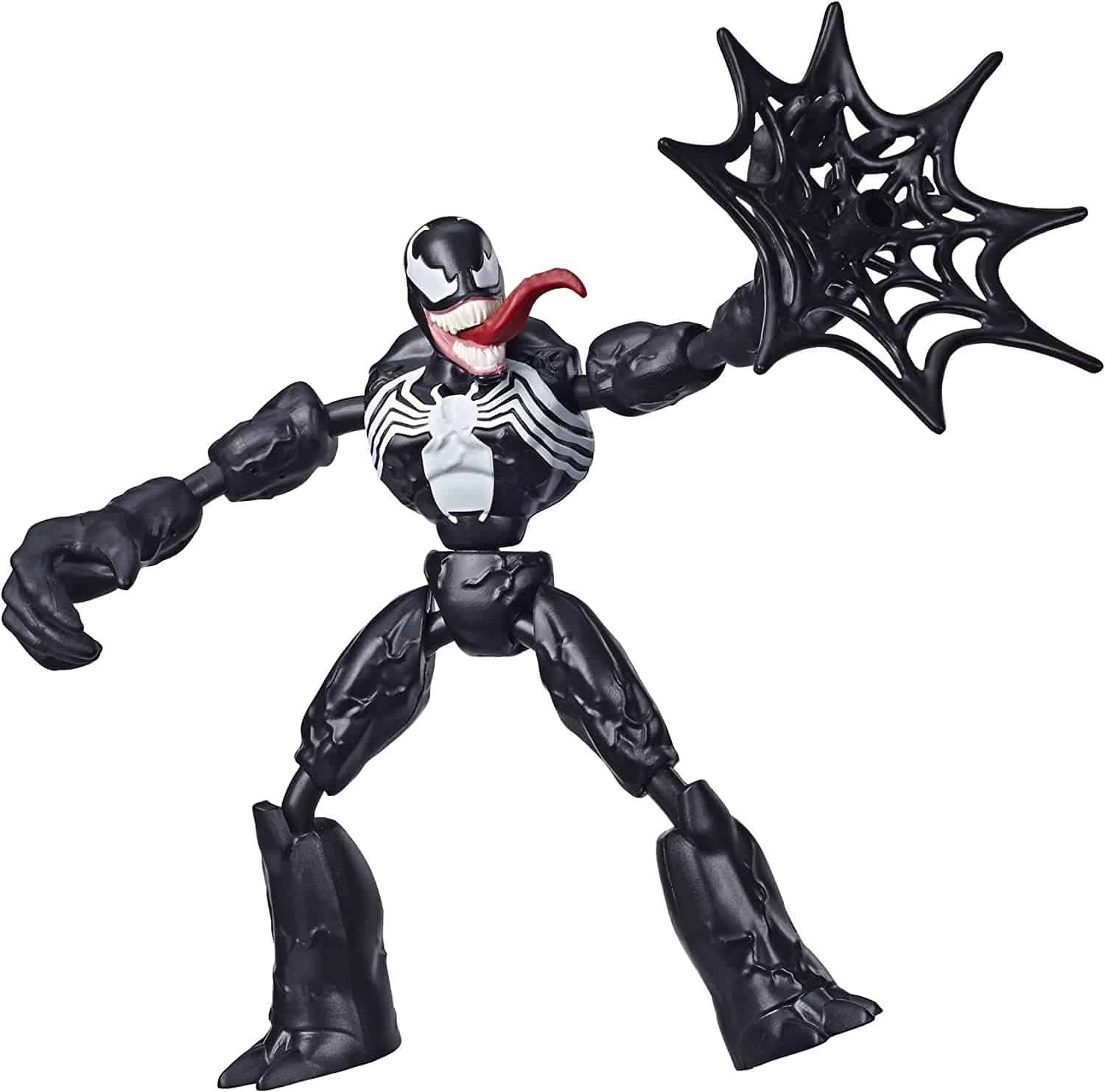 These action figures really stood out to me because, at first glance, I thought they were nothing more than poor representations of the characters hampered by some gimmick. While that may be true, the gimmick they have is actually one that's pretty cool. The entire figure has these bendable pieces that act as a skeleton, meaning you can do quite a lot of posing with them. It's a unique idea that really has a lot of potentials. I hope that the company takes the idea further and works to improve future toys' outside appearance because their maneuverability is fantastic.
Quality 7/10 –

 I have to knock a few points off for how weird the action figures look. It's the bendable skeleton with plastic pieces of the characters stuck on it. The Venom and Spider-man action figures come with a web-shooter thingy that's pretty cool. I'd love this toy if I were a kid who wanted to play with it, but collectors might be put off by how weird they look. 

Availability 9/10 –

 The toys are easy to find on Amazon, but I'm not sure about in-stores. I couldn't find anything for my local stores, but you may have better luck. What really gets them their high score is the price. They are incredibly cheap to the point you don't even have to think about buying them. That makes them perfect for quick, spur-of-the-moment gifts. 

Serialization 9/10 – 

The series extends past just Venom, there exist Captain America and Spider-Man action figures for purchase. Even lesser-known characters like Taskmaskter get to have a Bend & Flex toy for themselves. They all use their comic book appearance, too, which does mean they will look out of place in an MCU-themed collection, so I removed a point for that. 
Pros:
The cheapest option on this list.

The bendable skeleton makes them extraordinarily posable.
Cons:
The bendable skeleton shows, making the characters look pretty bad when compared to everything else on the list.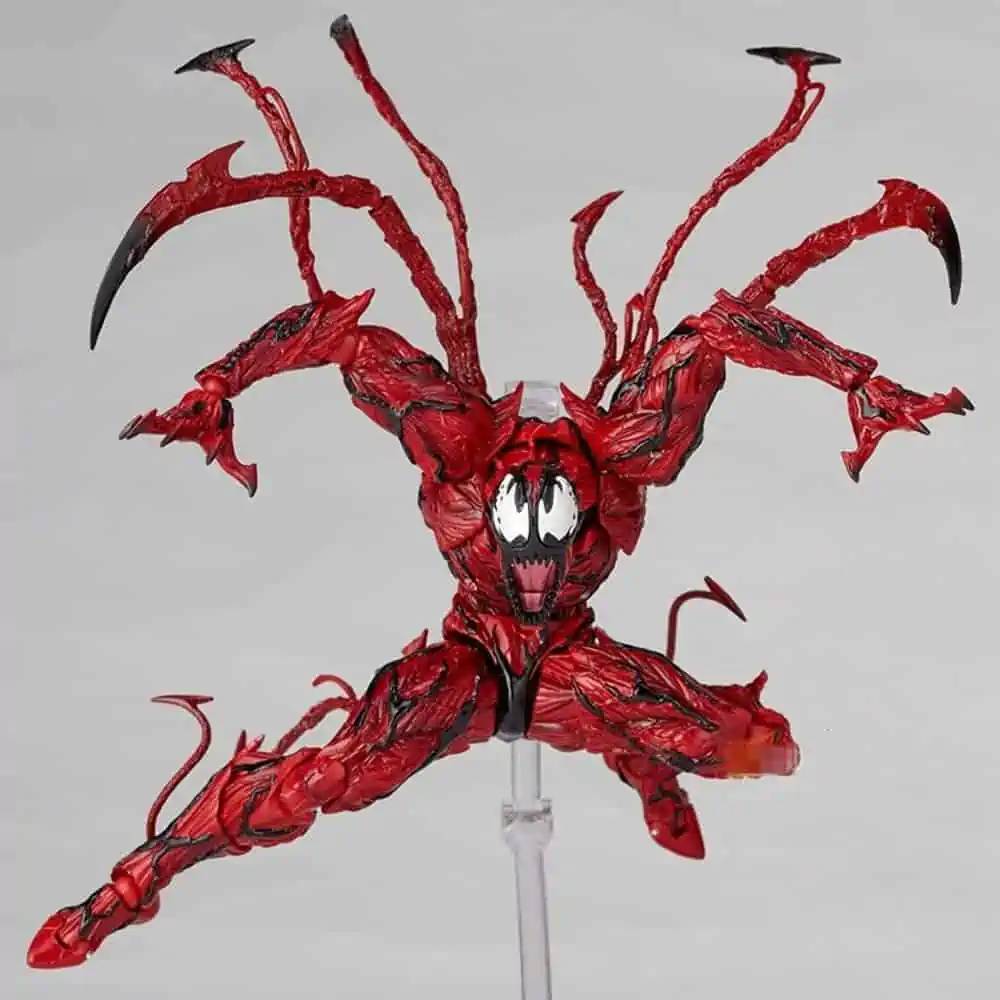 This is a top-tier action figure. The sheer detail and design of this action figure is unbelievable. It's as large and bulky as a Venom figure should be with incredible detail, showing the membrane of the symbiote and Venom's own bulging veins and tendrils writing around him. The joints on this thing are also insane. You got them all over the arms and legs to the point where you can pose it pretty much however you want. Whether you're a kid or a collector, this is a must-have action figure for your collection.
Quality 10/10 – 

The detailing on this action figure is some of the best I've ever seen. The surface is covered in detail lie membrane and veins, tentacles that protrude from the figure, including two extra apposable pieces. The joints this thing has are also unbelievable. The number of joints and the sheer quality of them actually make this pretty good not only for collectors but as an artist's tool who wants to learn how to draw specific positions. I'm genuinely impressed this was even made. 

Availability 7/10 – 

The availability is a sore spot here because I haven't been able to find it in stores, but its stock isn't running out on online marketplaces like Amazon. There's also the price tag attached, which isn't the worst, but it is definitely expensive enough to get me to take a second look at it. Although, I do consider the price to be more than worth it for the action figure. 

Serialization 8/10 – 

The action figure also gets an above-average rating here because Venom isn't the only action figure you can buy from them. They also made one for Carnage that has the same quality as their Venom action figure. Buying both would be a small but fantastic collection of two high-quality action figures that everyone can use.
Pros
A high-quality figure that looks good with a vast amount of detail on the mesh and membrane.

The joints on this figurine give it a range of motion that can rival the artist's figurines.
Cons
The action figure is hard to find, so you'll want to go to Amazon to buy it.
Frequently Asked Questions
Question: Where's the Best Place to Buy Action Figures?
Answer: The best place to buy action figures is usually Amazon. You can do it safely from the comfort of your home, and you don't have to be met with disappointment when you can't find it. The only downside is that prices tend to fluctuate. They can be more expensive or cheaper than the ones you buy in-store, so do some research, like going directly to the manufacturer's website, to ensure you're not getting ripped off.
Question: Which Toy Would Make the Best Gift for my Child?
Question: When Did Venom First Appear?
Answer: In the comics, Venom made his first appearance in May of 1988 in issue #299 of The Amazing Spider-Man. This actually makes him one of the younger comic book characters, and the sheer fame he's amassed is more than impressive.
Conclusion
Despite his popularity, Venom doesn't have too many action figures to his name. I suppose that's because, most of the time, he's just one of Spider-Man's villains. However, with the recent release of the Venom comics and Sony's Venom movie, the big guy's been getting more and more time in the spotlight. He's finally beginning to get the attention and love he deserves from manufacturers, and the toys that do exist are honestly really good. Some action figures are great for collectors due to their detail and joints, and even some are best suited for kids due to their durability and gimmicks. I'm eagerly looking forward to seeing what else Venom action figures have to offer in the future.
Continue reading:
Best Spiderman Action Figures Guide for Furious Face-Offs
Chase Funko Pop Guide for Collectors
Best Marvel Statues Guide for Superhero Fans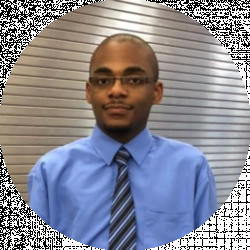 Latest posts by Jaden Hasse
(see all)