I'm a huge fan of Funko Pops and have been collecting for around 8 years now. In that time, they've changed a lot, and these days there are some truly incredible figures available. They've also greatly expanded their list of franchises, and there are Funko Pops for pretty much any character you can imagine! I have a carefully cultivated collection primarily made up of my favorite characters from movies and TV shows, but there are also some that I own because I just love the aesthetic.
However, much as I love buying specific Pops, I also get a kick out of the rush of dopamine that comes from buying a mystery box. I adore that suspense, the tension of not knowing what's inside the box. The realization that there could be anything in there. It's so exciting not knowing exactly which Funko Pop I'm going to get, almost like getting a birthday present when it's not even my birthday. But just like some birthday presents are better than others, the same is true of mystery boxes. And so in this guide, I'm going to help you find the best Funko Pop mystery box service for your needs!
Bottom Line Up Front
What is a Mystery Box Service?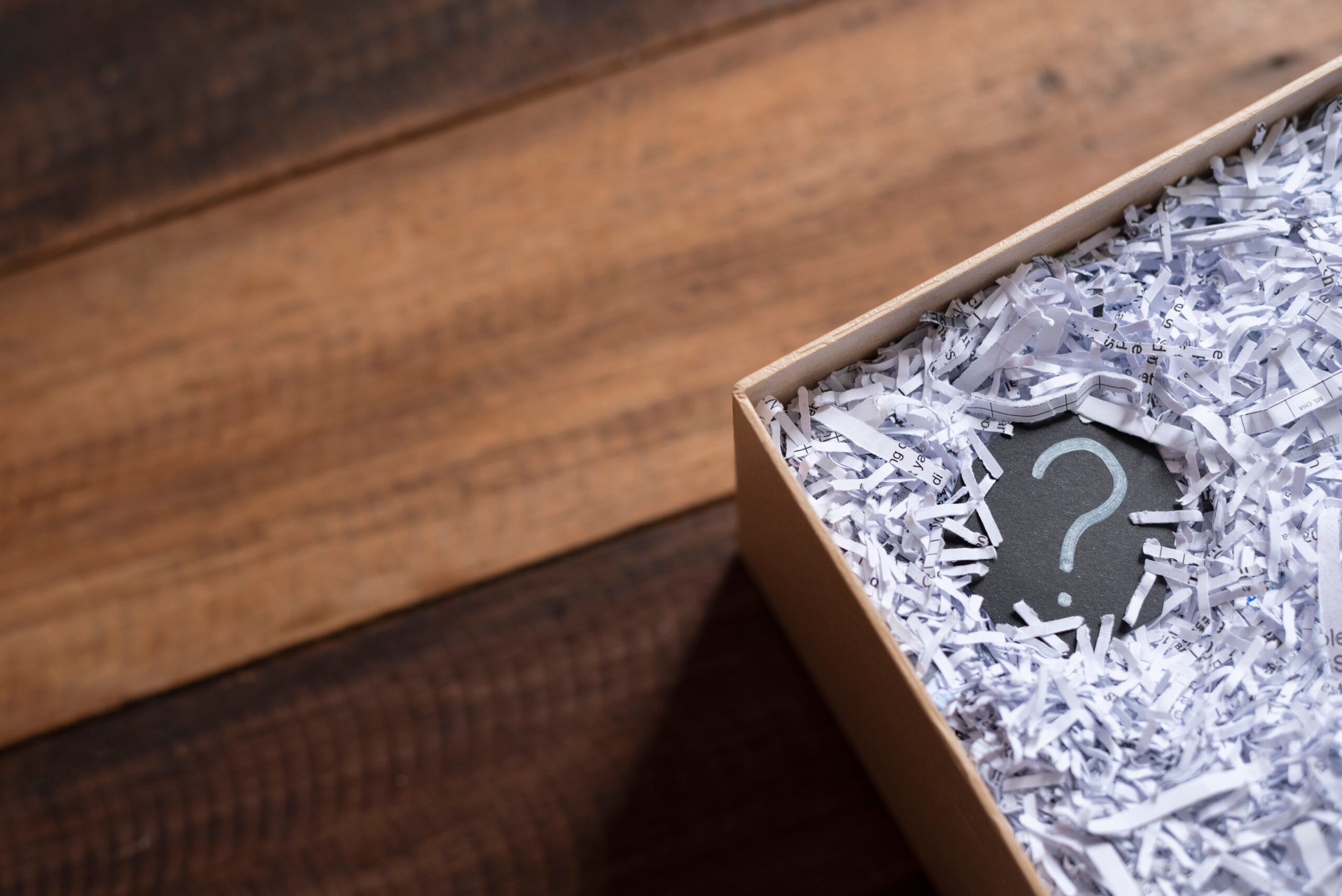 These seem to have exploded in popularity over the past decade or so. Back when I was a teenager you could get a few food-based mystery boxes, but other than that, they were unheard of. However, nowadays you can get mystery boxes for pretty much anything, including Funko Pops.
So, what are mystery boxes? Well, as the name suggests, they're a box of mystery items! You have an idea of what the theme of the box will be, but the specific contents could be anything. You have no guarantees of what you'll get, other than it'll contain a specific type of item, and often you'll get an idea of the quantity/ value of what's inside.
Why would anyone want them? Well, for starters, they're fun! It's exciting not knowing what you're going to get, almost like getting a birthday present. When you receive a gift all wrapped up, it's a thrill knowing that anything at all could be inside. it's the same premise with mystery boxes. They're also great if you know you want to receive a particular type of item, but you can't choose the specifics. It can be stressful buying items individually, so allowing a company to pick things out for you takes away the pressure.
It's also a good way of getting more bang for your buck. Mystery boxes usually offer better value than if you bought each item by itself. This isn't always the case, but you're usually likely to break even or make a profit. They're not for everyone, but I love mystery boxes. Just be careful, they can be addictive!
Who are the Contenders for Best Funko Pop Mystery Box?
There are several Funko Pop mystery box services out there, many of which do very similar things. I wanted to take a look at some of the options, before narrowing it down to the final two. I've tried to choose companies that are either very large, who I've seen several people unbox products from, or who I've used myself. I'm based in the UK, but I tried to pick companies that work internationally, particularly those serving the USA.
Zinga Entertainment

Total paid (excluding postage & packaging) – £9.95 ($13.20)
Total value of Pops received – £32 ($42.45)
Total profit/ loss (percentage) – 221% profit
I was MASSIVELY impressed by this one, I was not expecting it to be so good. They're a smallish company based in the UK (although they do post internationally), but they have plenty of options for Funko Pop mystery boxes and I heard good things about them, so I figured I'd give them a go. I didn't want to break the bank for this one, so I chose one of their single Pop mystery boxes. There were several categories to choose from, including Marvel, Anime, Harry Potter, and many more. They even had an option with a guaranteed Chase figure. For my box, I chose the Special Edition/ Convention Exclusive box. I wanted to get a potentially rare figure for my collection, and I thought it would be exciting to not have any idea what to expect.
I placed my order on a Thursday evening, and the package arrived by Monday morning, which means only a 3-day turnaround (excluding Sunday). Considering that accounts for processing times as well as delivery, I thought that was extremely quick, and I hadn't been expecting it to arrive so soon. It arrived in an inconspicuous brown box. Inside, the Pop was well protected in a wad of bubble wrap. Believe me when I tell you, the Funko Pop box was pristine, not a single scratch or crease anywhere on it.
I received the 408 Special Edition/ Glow in the Dark version of The Mandalorian. I was really happy to see that it was a character I recognized as this mystery box could have contained any franchise that Funko makes, and there are so many that I've never even heard of. I've been watching The Mandalorian recently, so this was perfect timing for me to receive this Pop. I was impressed with the level of detail, especially with the flames coming out of the jet pack on his back. The base is incorporated into the design, and gives the effect of bubbles, probably caused by the heat of the flames. The main reason I don't collect Star Wars Pops is that I'm not keen on the bases, so I'm really glad that this figure uses Pop as part of the aesthetic. I was already really happy with the figure, and then I discovered that it's worth quite a bit of money, too.
I also communicated with their customer service team over Twitter to make sure my information was correct for this article, and they were brilliant. Quick responses, very clear with the details, and polite manner. All in all, this was a fantastic experience, and I'd happily order from them again. If you'd like to order, you can get a 5% discount on your order by following this link and using the code 'MELIKAJ93'.
Toysiverse

I've never ordered from Toysiverse myself, but I've watched several Youtubers open boxes from them, and they always seem to be good quality. They're based in the UK but ship internationally, and have very reasonable postage prices. Their mystery boxes are interesting in that they don't have set ones that are always on sale. Instead, they periodically release particular boxes that people can buy. The prices and contents vary wildly, and there's a chance to get some serious value.
Pros
Great range of products
Fast shipping
Well packaged and good customer service
Often excellent value
Cons
Sell out quickly
International shipping can cut into the profit on smaller orders
They don't always have Funko Pop mystery boxes in stock
Yup, you can also get Funko Pop mystery boxes from the retail giant that is Amazon. They have several listings from sellers which offer mystery figures to the buyer.
Obviously what you get will depend on which buyer you purchase from, but there is plenty of variety on offer. It's convenient to have them all in one place to scroll through, but it's less of a personal service than if you order through a dedicated store.
Pros
Amazon has good customer service so your money is secure
Access to a wide range of products
You can see customer reviews for each listing
Cons
Boxes tend to be less curated than dedicated mystery box websites
You're unlikely to get as high value as other websites
You won't be able to find an unboxing video to get an idea of what to expect
PopCultcha Vs Pop in a Box
Whilst there are some great Funko Pop mystery boxes out there, these are the big two. They dominate the sector, and most serious Pop collectors will have heard of both of them. I wanted to do a review of both of their services to see which would be best. I tried to match the price (excluding postage & packaging) as closely as possible, but unfortunately Pop in a Box has recently changed their subscription model, meaning I couldn't customize the price. However, they were still pretty close in price, and when calculating the overall value, I'll be doing so proportionately. So instead of focusing on the exact amount of profit, I'll focus on the percentage of profit when discussing value for money. PopCultcha is based in Australia, and Pop in a Box has branches in the UK and US, but both companies ship internationally. I live in the UK so I paid in pounds, but for this article, I'll also be displaying the price in dollars.
PopCultcha

Total paid (excluding postage & packaging) – £24.05 ($31.91)
Total value of Pops received – £78 ($103.48)
Total profit/ loss (percentage) – 224.32% profit
Although their site contains a wide range of toys, games, clothes, and other items related to popular culture, they also have an abundance of Funko Pops. They sell them individually and in bundles, but their most exciting (in my opinion) products are their mystery boxes. They have several different boxes meeting different price ranges, and you can go through and select the one that most appeals to you. Some boxes are centered around a particular figure, whereas others have Pops from a certain franchise. For this review, I bought the Marvel Mystery Box.
As it was coming from Australia, and I live in the UK, I was prepared to wait a while. It's a good thing too, as it did indeed end up taking a very long time to arrive, at just over a month. I felt that the delivery process was decent, though, as they weren't charging a premium, and I was able to track my parcel. I even received a text and an email the day before it was due to be delivered, so I knew exactly when it would be arriving, and was able to plan accordingly. The mystery box came packaged in a larger box, which gave the Pops an extra layer of protection.
The Marvel mystery box contained 6 Funko Pops, all of which fit neatly inside it. As such, there was no damage to any of the Funko Pop boxes, which is very important for most collectors. I'll be honest, I keep most of mine out of the box, so it's not something I care very much about, but it's still comforting to see that they arrived in good condition.
The Pops themselves were varied, and I felt like I was getting good quality. With some mystery boxes, there's a worry that you're just getting the cheap stock that nobody else wants. However, that was not the case here. 5 out of 6 of the Pops were special editions, and 4 out of 6 of them had a value above retail. They were also mostly vaulted (no longer being produced by Funko) meaning I had the chance to get some older Pops. Their price values according to the Funko app were £6 ($7.96), £8 ($10.62), £13 ($17.25), £13 ($17.25), £15 ($19.90), and £23 ($30.52) respectively.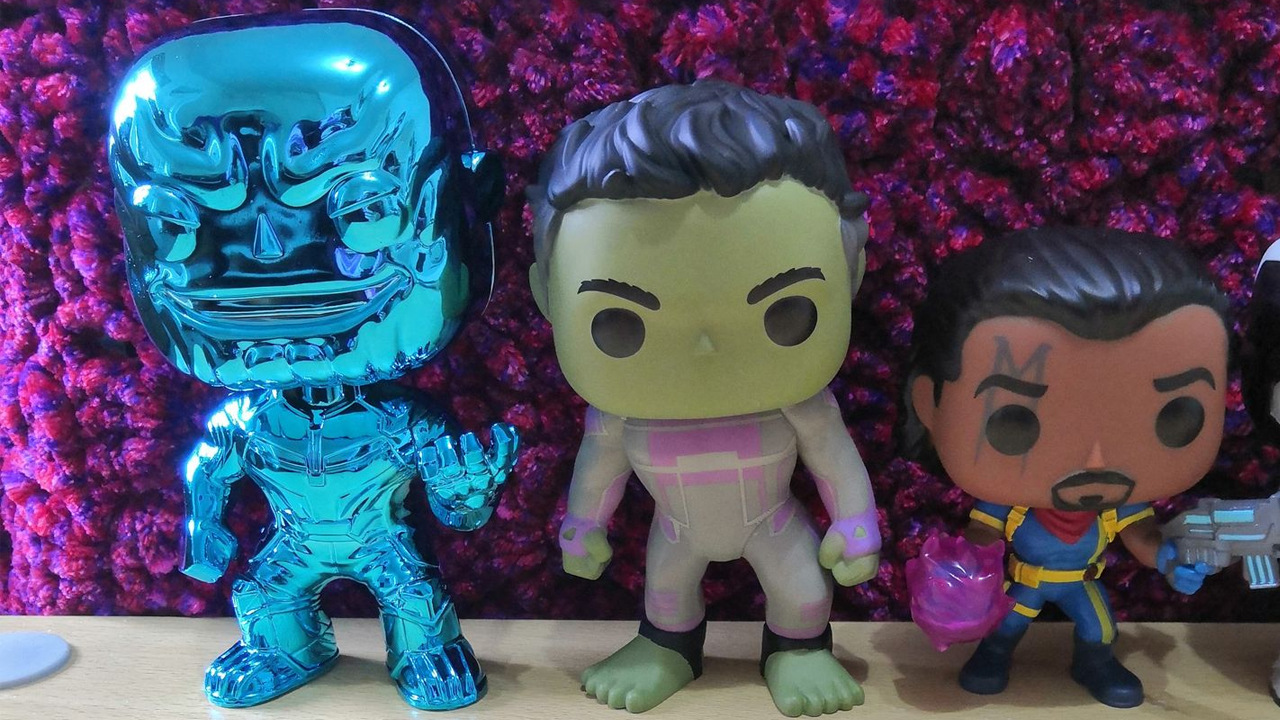 The first Pop I pulled was the 289 Thanos (Chrome). I'll be honest, I wasn't overly thrilled at first as I'm not usually a fan of metallic Pops. I don't like how they're the same color all over, as I feel it mutes the details a bit. However, it was a shade of blue that looked almost teal, which is one of my favorite colors. I also loved the hollow sound that the bobblehead made when I shook it. I was amazed at how much taller he was than a standard Funko Pop, despite coming in the regular-sized box. My next pull was the 493 Special Edition Hulk who was also really tall, so it was fun to get them both in a row. Thanos and Hulk were characters I still needed for my MCU collection, so I was happy to have them.
I next got the 919 Special Edition Bishop. I'm not a big fan of the X-Men franchise as I prefer the MCU, but I'll admit that the Pop itself looks very cool. Bishop is wielding a blaster as well as a pulse of energy, and it's very unique. It's a great likeness to the character, and it's not a figure I've seen before. After that, I pulled the 461 Special Edition War Machine. He was yet another Avenger that I needed for my collection, and I like that it was the special edition version.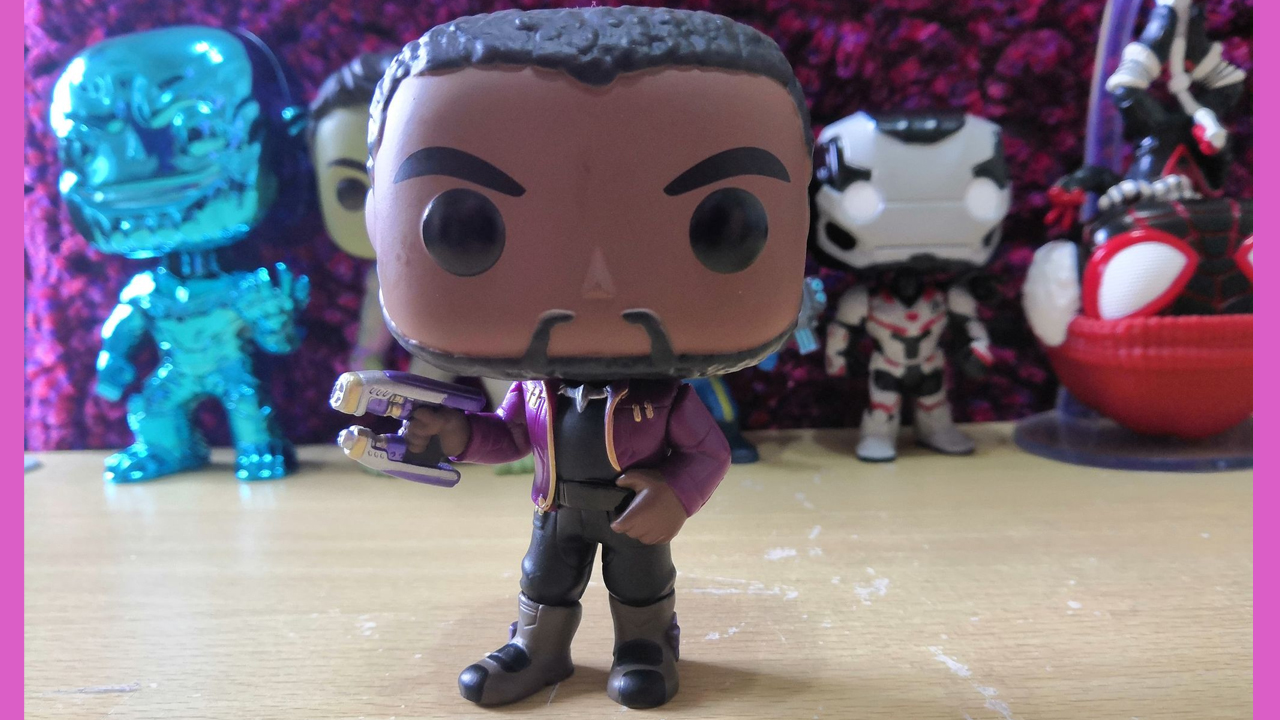 My penultimate Funko Pop was the 774 Special Edition Miles Morales (GamerVerse Winter Suit). This was an awesome one which threw me at first as I thought I had taken the box out upside down. But then I realized it was Spider-Man himself who was upside down! There's an acrylic stand that arches behind the Pop, holding the figure in place. However, it's completely blocked from view when you look at the Pop head-on. I love the unique concept behind this figure, and the colors are super vibrant.
Finally, I pulled the 876 Special Edition T'Challa Star-Lord, and I'd truly saved the best until last. Not only is it worth the most, but it's also my favorite of the bunch. It was specifically on my list of Funko Pops that I was actively searching for! I loved the What If…? episode with T'Challa Star-Lord, but I wasn't a fan of the standard Funko Pop for it. It has him flying on an acrylic base, which I felt would be out of place in my collection. However, in the special edition version, he's just standing on the ground holding his blaster, and I much prefer it.
Overall, I was overjoyed with this box, as I got several new Pops for my collection, and the value was incredible.
Pop in a Box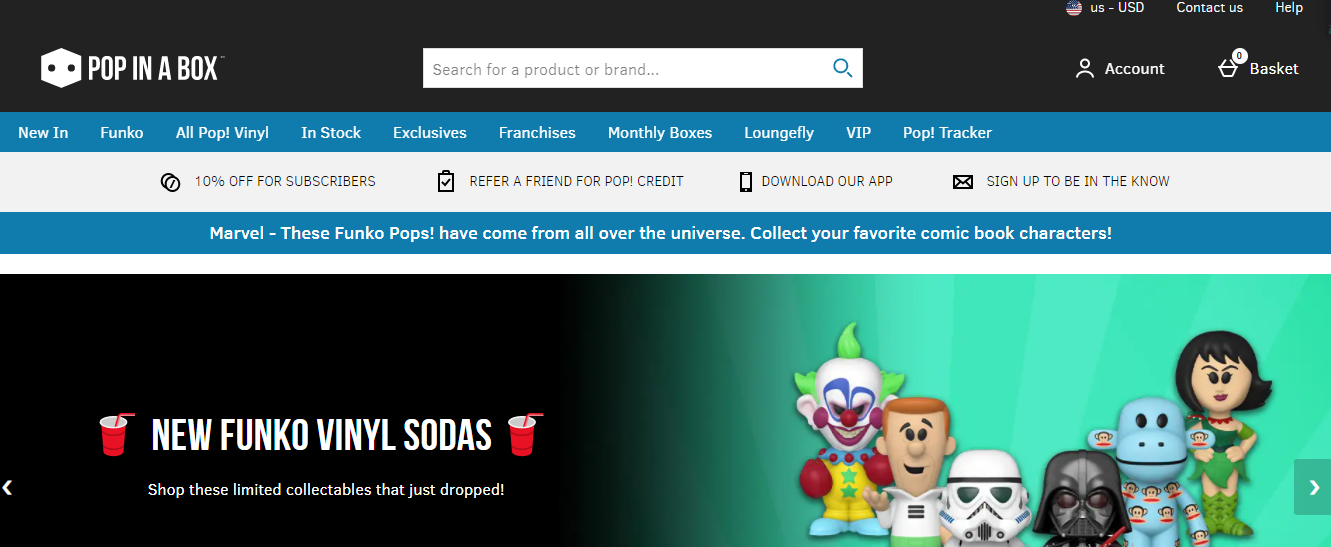 Total paid (excluding postage & packaging) – £21.99 ($29.17)
Total value of Pops received – £81.99 ($108.77)
Total profit/ loss (percentage) – 272.85% profit
Up until incredibly recently (they changed their model two days before I purchased my subscription), you could buy any number of Pops from one to twelve. However, you can now only purchase a two Pop monthly subscription. I did reach out to them to ask why, and they said that their other numbers weren't selling well enough. They also confirmed that there were no plans to change this model any time soon. This is technically a subscription service, but I'm counting it as a mystery box on the basis that you can cancel at any time, and there's no monthly shipping date, everyone will just get their first box 3-5 days after they place an order.
They have several categories for their subscription service, such as Anime, Harry Potter, and DC, but for this review, I chose the Classic subscription. The main draw for Pop in a Box is their Tracker feature on your account. Essentially, you can go through all the Pops on their website and mark them up or down to indicate whether or not you'd like to receive them. You can do this with entire categories, or by selecting Pops individually. It's important to do this before you place an order. In theory, this means that any Pop you receive in your mystery box will be one that you want. You can also potentially get oversized Pops, Moments, multipacks, and Rides, so there's a great chance of getting extra value.
I'll admit, the order did take considerably longer to arrive than I'd hoped for. I ordered it on 17th February and it didn't arrive until 1st March. However, it was definitely worth the wait. I'd spent an hour or so on their tracker before placing my order (it's important to have your tracker how you want it before you buy the box). They have a convenient feature where you can upvote or downvote entire Pop categories, so I'd downvoted all of them, and then went in and manually upvoted any individual Pops that I wanted. I had a good range of commons and more expensive Pops but was realistically expecting either two commons or two special editions. The reality was much better than I'd hoped.
I reached my hand into the box and was immediately confused. I'm terrible with spatial awareness, and so couldn't figure out what size they were, only that they didn't feel big enough to be a 10″ Pop or a Ride/ Moment. However, the plastic part didn't feel in the right place to be common. Intrigued, I pulled the first package out of the main box, and gasped in shock! I'd received the Morgan Stark and Tony Stark 2-pack. This was the Pop I was most hoping for, but I'd thought it was still on pre-order.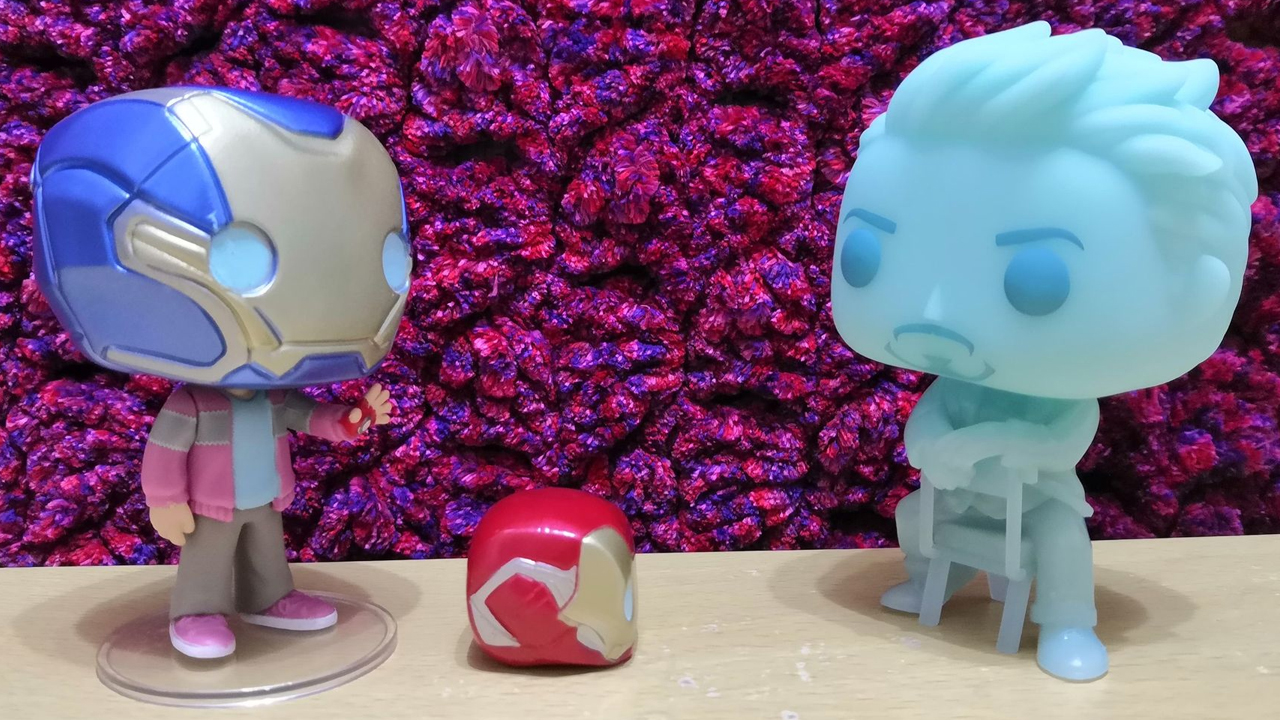 I love that we have Morgan wearing the Rescue helmet, as it's such a cute scene in Avengers: Endgame. It's also really moving to have the holographic Tony sitting on a backward chair, his image being projected by an Iron Man head. I'm not a particularly big fan of his character, but I do feel sorry for Morgan losing her father. It's a touching moment in the movie, and these Pops pay tribute to that. Not only are the molds fantastic, but Tony is also a glow-in-the-dark figure. And it is by far the glowiest (pretend that's a real word) Pop I've ever seen. I have my bedroom light on for about two minutes before I go to bed, and that short amount of time charges the luminescence enough that Tony is glowing brightly for ages after the lights are turned off.
I was already thrilled with my first pull, but I was excited for my second Pop as well. I had felt that they were both the same size, so I figured it must be another 2-pack. Sure enough, it was another one that I'd wanted – Carl and Ellie from Up. Whilst my favorite Disney movie is Tangled, I adore the love story in Up, and Carl and Ellie are my favorite couple. I think that whilst other movies tend to show dramatic and intense love stories, and we only see the short term, Up shows true love. We watch them become friends and then fall in love. We see the ups and downs of their lives, and how they get through it all together. We see their love blossom, and they make a beautiful life full of adventures. I especially love that this Pop is of the two of them on their wedding day, which is such a special moment for the both of them.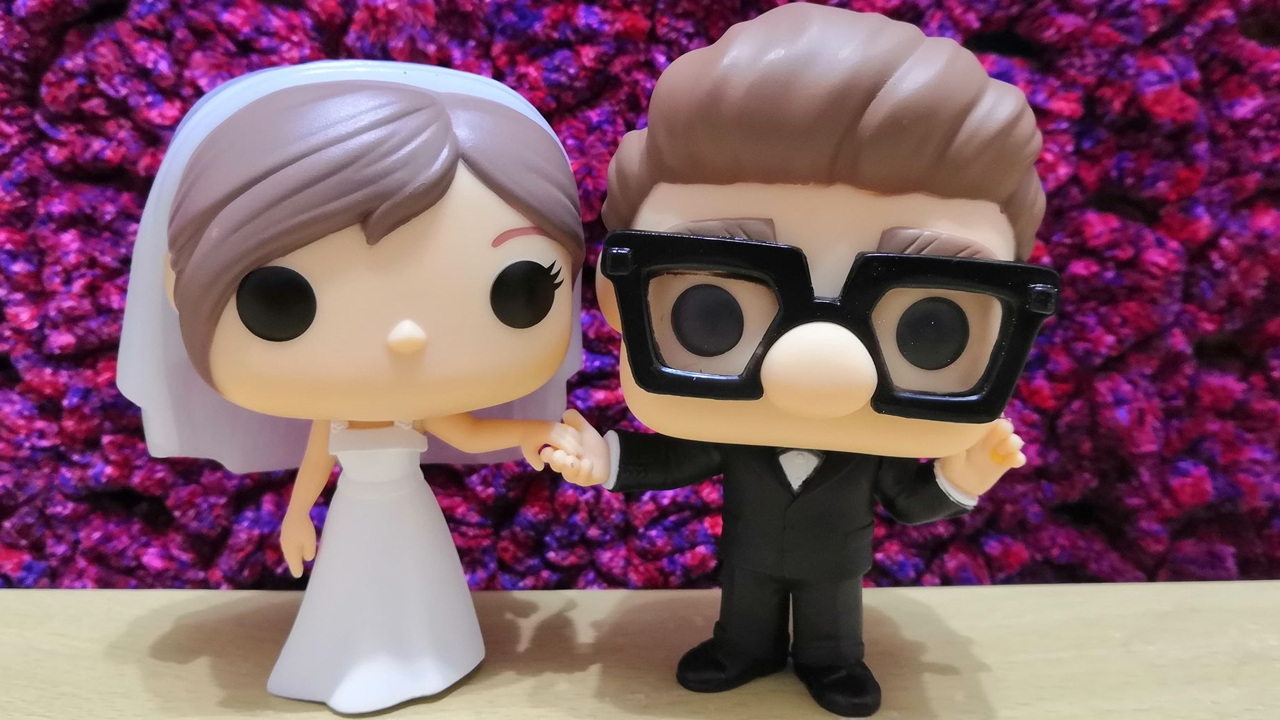 One thing that's fantastic about this 2-pack is that the Pops are designed so that Carl and Ellie can be displayed holding hands. Ellie's hand slots neatly into Carl's, and it's such a cute feature. They stand up well and don't seem to get easily knocked over. If you choose to display them in their box, there's a piece of card propped at the back designed to look like a stained glass window. It gives the appearance of them being in a church getting married.
In terms of the value of the Pops I received, it was so much higher than I could've imagined. The Morgan Stark and Tony Stark 2-pack had a price of £52 on the Funko app. There was insufficient data for it to provide a price for the Carl and Ellie 2-pack, so I counted its retail price of £29.99, which gave a total of £81.99 ($108.38). Considering I only paid £21.99 for the mystery box (excluding postage and packaging), I think that's incredible. It's even more impressive when you take into account the fact that there were several commons on my tracker, so they deliberately chose to give me such excellent Pops.
The only downside with them is that, as I said, the delivery time was a lot longer than stated. There was also slight damage to the front of the Morgan Stark and Tony Stark 2-pack. The box art has a picture of both Pops, with their heads raised above the bottom of the plastic. Unfortunately, Tony's head had been creased downwards, and even though I could fold it back up, there was a clear crease line. The box had been packaged relatively well, with bubble packaging placed on top of the Pops to protect them, so it's a shame this happened. I'm an out-of-box collector so I didn't mind too much, but it's something worth noting. I didn't contact Pop in a Box about it as I was already so pleased with the Pops, and I don't store them in boxes anyway. I had spoken to them previously just to learn more about their service. The customer service representatives were polite enough, but I got the feeling that my questions annoyed them. They weren't unprofessional, but they weren't overly friendly either.
Still, overall, I would highly recommend Pop in a Box based on my experience with them. You can even get 10% off your first order with them, which makes it an even better deal.
Conclusion
So, as you can see, there's a lot to consider with Funko Pop mystery boxes! My personal favorite is Pop in a Box as I love that they have a Pop tracker so I know I'm receiving items that I want. However, if you want to be completely surprised by what you get, then one of the other options might be better for you. Especially if you want access to Pops that are no longer in production, as Pop in a Box is limited by what they have available on their site.
Overall, though, I had a great experience with all three companies that I purchased from. I made significant value (the lowest was 221% profit) and they all were packaged decently and contained what was promised. However, do be aware that this isn't always the case, and buying any mystery box means taking a risk that you won't get what you want. I'd still recommend it if you can afford it though, as it's a fun and cheap way to boost your Funko Pop collection!
FAQs
Question: How Can I Start Collecting Funko Pops?
Answer:
Not sure where to get started with collecting Funko Pops? Never fear! We've made a conclusive
guide to collecting Funko Pops
that tells you everything you could ever need to know about the hobby. Have a read through that, and you'll be ready to dive straight in.
Question: Are Mystery Boxes Worth it?
Answer:
That entirely depends! Sometimes you're going to get amazing value, and other times you'll barely make the price of the mystery box. You also don't get to choose which Pops you get in a mystery box (except for
Pop in a Box
), so there's a high chance you may end up with something you don't collect. Mystery boxes are best if you're someone who enjoys collecting Funko Pops in general, rather than specific Pops for characters you like. However, you can often specify a particular franchise, so if you're more flexible about which Pops you'd want to receive, they can be a cheaper way of expanding your collection than buying Pops individually.
Question: How Much Should I Spend on a Funko Pop Mystery Box?
Answer: Obviously, this particular answer is thoroughly dependent on your budget, so I can't tell you an exact price. However, you shouldn't spend money you don't have. Pay attention to your finances, and figure out how much you can spend on non-necessities. Then decide how much of that you want to dedicate to a mystery box. As a rule, you shouldn't be spending more than about $10-15 per Funko Pop. However, this amount could be higher if you're getting a box with a guaranteed grail (rare and expensive Pop).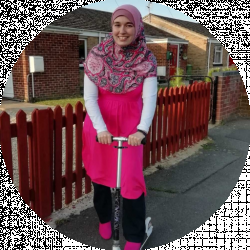 Latest posts by Melika Jeddi
(see all)