My Hero Academia is one of the series I've been following for years, and I mean years. Every week Shonen Jump's Manga Plus has a chapter. I sit down to read it. It's been one huge adventure with many ups and downs. Some characters I liked, some characters I didn't. The anime was only something I watched marginally.
I didn't really see any need to when I already knew the story from the manga, but I'd be lying if I said watching clips on YouTube wasn't a guilty pleasure. The series has amassed an insane amount of love and popularity over the years, earning it quite the slew of merchandise, including but not limited to figurines. So I made this guide which should help you decide which figurine is the best for you and how to find one that is.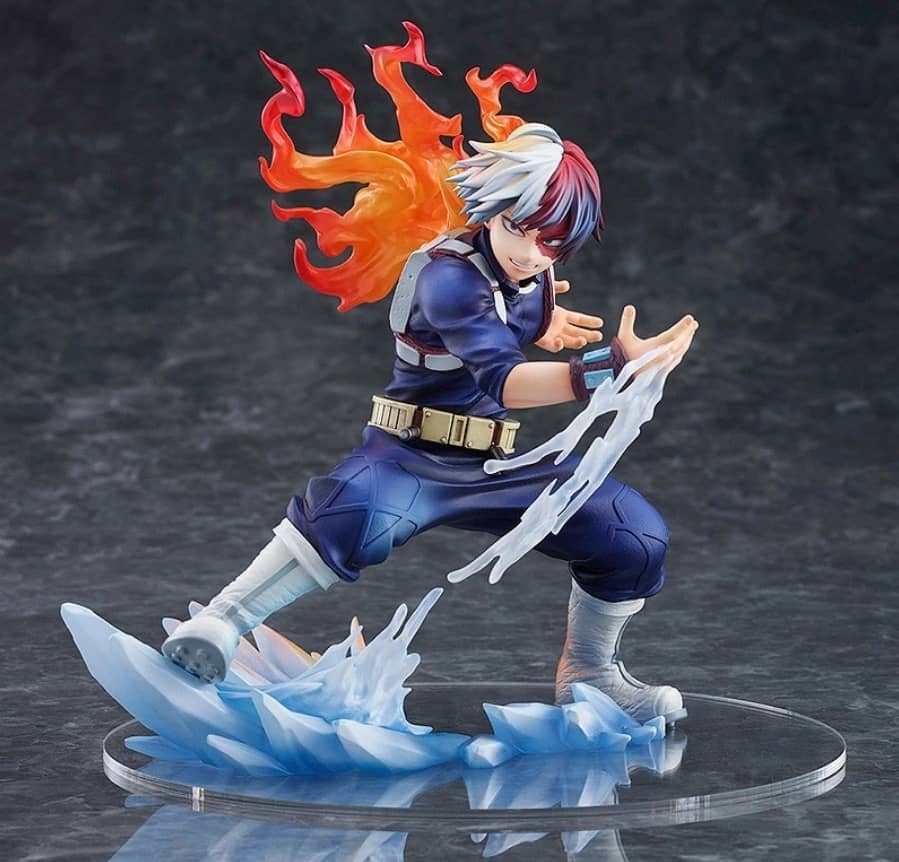 I'm evaluating the action figures by three different metrics:
Quality – By "Quality," I refer to more than the detail on the figure, but how well it's posed. With everything else the same, a statue of the character just standing there is less interesting than one of the character actually doing something. Poses aren't just limited to actions but also recreating moments from the source material. The figure will get even more points if it has something special or unique about it, like glowing in the dark or being a limited edition.

Availability – What I mean by "Availability" is how easy is it for you to get your hands on the figure? The two main parts of this category are where the statue is available for online storefronts and if they have a plentiful stock as well as what the price of the statue is like. A figure that costs $100 is much harder to get your hands on than one that costs $30.

Serialization – "Serialization" refers to if the figure is a part of a larger overarching line of products. When dealing with the more apposable stuff, things from the same line tend to have accessories that can be swapped in out with each other. When dealing with more static stuff dedicated for collecting rather than use, having multiple entries available so collecting a full set adds a lot of value to a collector.

Now let's get the guide started!
First Point Upfront
The best My Hero Academia on the market is the World Heroes' Mission – Izuku Midoriya, Bandai Ichibansho Figure. It has a fantastic design, using the darker outfit from the World Heroes Mission Movie. The price of the statue is a bit much, and they certainly could have posed it better, but having Midoriya tug on his gloves is a decent enough reference that I don't mind too much.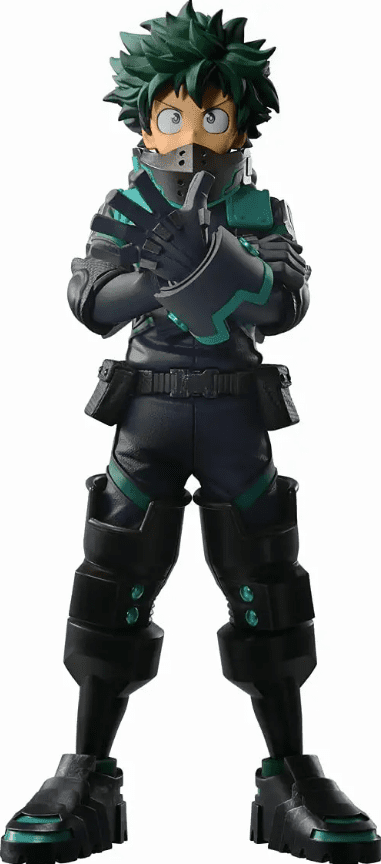 My Hero Academia's third movie was quite the wild ride. The animation was stellar, the plot less so when you realize it's about literal high schoolers dealing with terrorists, but the designs from the movie were some of my favorites. They had a darker color palette that my inner-edgelord just loves, and Deku's is my favorite of these variants.
There's a sense of grim determination with it that we hadn't seen until some of the most recent arcs of the manga. However, I do think this design works far better than some of the author's own work.
Quality 9/10 – This figure looks absolutely amazing. The attention paid to the way the fabric has actual ripples in it is a particular favorite of mine. The problem is mostly in the posing. It is doing Deku's iconic pose where he tugs on his gloves, but I would've liked something else. Like maybe using full-cowl.

Availability 7/10 – The availability of this figure is really good. It's pretty cheap for the quality you get, so Bandai has my thanks for that. It is a little above what other figures in this line go for, but it's not that bad. I would recommend looking into more figures before you buy just to make sure this is the one you want.

Serialization 10/10 – There are plenty of other figures in this specific line from the specific movie. You can buy Todorki and Bakugo figures using their alternate outfits from the movie. If you really enjoyed World Heroes' Mission, then all of these statues should be on your wishlist.

Pros
The figure uses a unique design from the World Heroes' Mission Movie.
There's a wonderful amount of detail on the figure, and the pose it's doing is a reference to Midoriya's most iconic gesture.
Cons
The statue is a bit pricey.
The statue's pose is iconic and basic since it has Midoriya standing in place.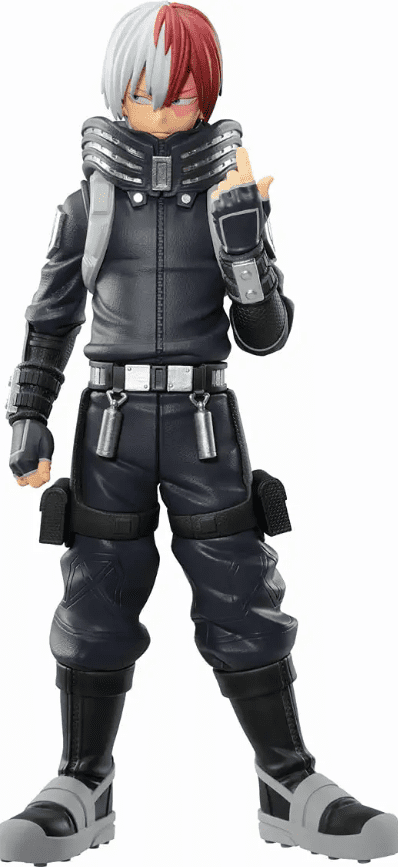 This is the Todoroki figure that was made to go alongside the Deku figure above. It's a fantastic figure with quality to match the above Deku figure. This makes it a perfect companion to the Deku figure, making it great for a collector who wants to make a large set,  and even if you don't want to get them all, the figure looks good on its own.
Quality 9/10 – This Todoroki statue's quality matches the Deku figure's quality. It makes it a matching set, but it's such a perfect match for the Deku figure it also comes with the problem of a boring pose, although I think the pose is even more boring than the one Deku was given.

Availability 7/10 – The real problem with this figure that officially makes it worse than the Deku figure is the price. It's notably more expensive than the Deku figure, making it a less appealing choice.

Serialization 10/10 – This figure is part of Bandai's World Heroes' Mission line. The line includes figures using the darker outfits for the three main characters Todoroki, Deku, and Bakugo, making it great for forming a collection.

Pros
Uses Todoroki's unique design from the Wolrd Heroes' Mission Movie
The figure has a lot of detail, especially on the fabric.
Cons
The pose Todoroki is doing is a very boring one that doesn't reference anything.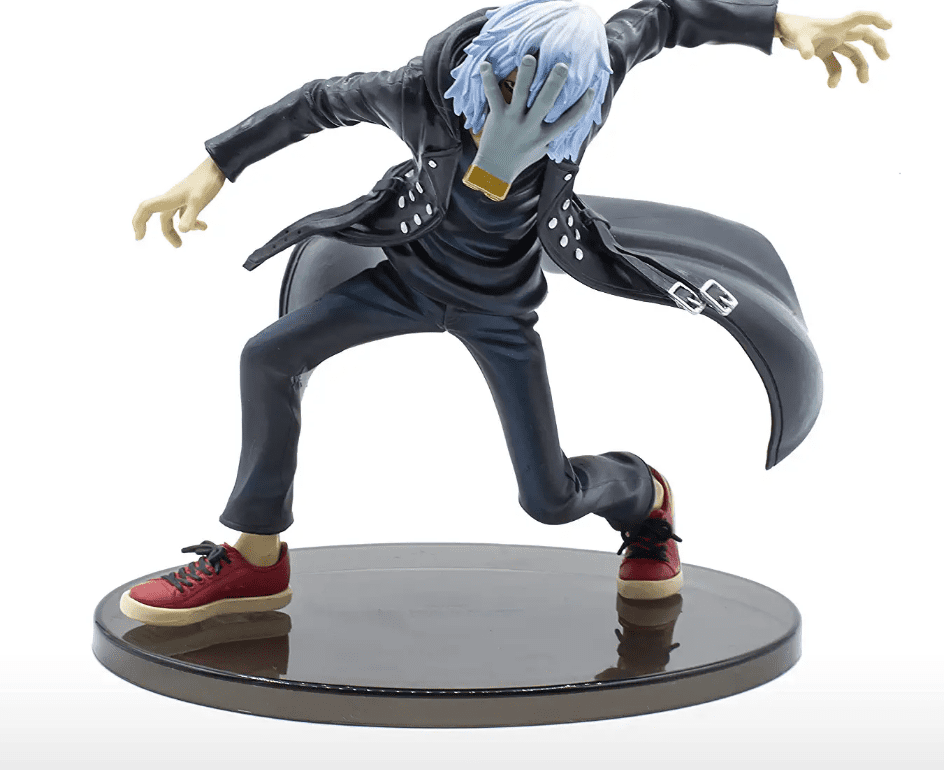 Tomura Shigaraki was one of my favorite villains from Anime & Manga. I really liked the way he seemed to adjust and change alongside our protagonist. It was a really cool idea for a shonen villain that made him more threatening than the usual fare. It also lets him appear early on in the story, so Shigaraki has a strong presence within the audience's mind.
Quality 9/10 – This figure doesn't look quite as good as Bandai's World Heroes' Mission figures. However, the hand Shigaraki wears over his face be removed, which is pretty nice. The pose is also really good, alongside the detailing on the face.

Availability 10/10 – This figure is really easy to find on Amazon, but what's even better than that is the price. The figure is under $30, making it freakishly affordable. I actually went and ordered it myself because I spent more money on Doordashing Five Guys. Buying this figure on the spur of the moment is something that can fit into most budgets.

Serialization 9/10 – This figure is a part of a larger line of figures called "The Evil Villains," which includes but is not limited to Dabi and Toga Himiko. You can get a great collection going with all of them.

Pros
Shigaraki is doing a fantastic pose.
The hand mask over his face is removable, and the detail on Shigaraki's face is great, too.
The figure is a part of a large line, so it's great for collectors
Cons
The figure isn't able to stand on its own, requiring a base mount.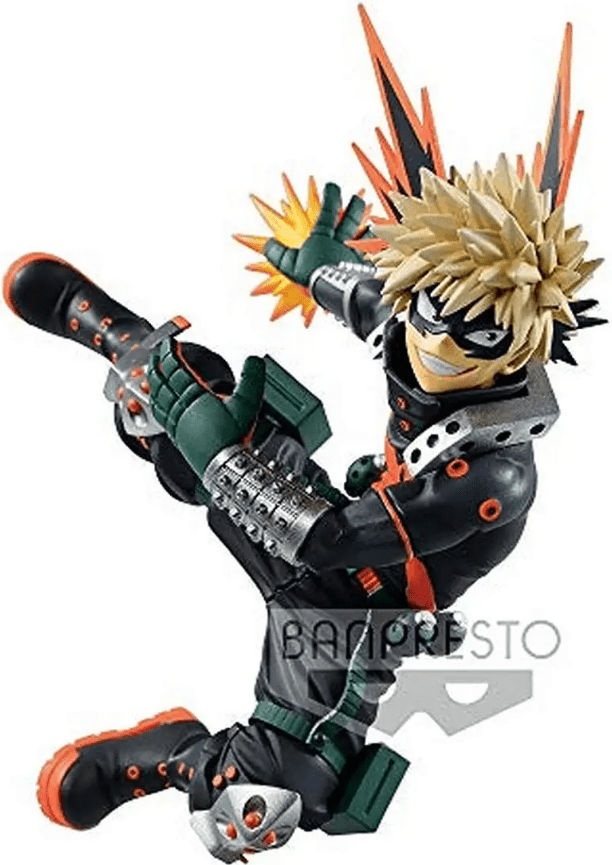 It's a little hard to believe it took me till the fourth entry to finally cover Bakugo, whose consistently the second most popular character in the series. The figure does Bakugo justice with quality detailing that captures the look of the anime. It translated the 2D look wonderfully into the third dimension, which is something I have to give them credit for.
Quality 9/10 – The figure maintains wonderful detailing on Bakugo, who uses his winter hero outfit, which I actually like more than his other one. What really brings this figure into the limelight is the pose he's doing. It's a wonderful pose that has Bakugo actually using his quirk, something a lot more statues should have.

Availability 7/10 – The figure is on Amazon, but you might need to browse because Bakugo has a LOT of figures to choose from. The price on this one isn't too bad, but not great either.

Serialization 10/10 – This is a part of a larger series called The Amazing Heroes which features most of the students of 1A and their teachers. It's a great series for a collector due to the sheer number of figurines available. They all maintain a respectable level of quality, but this Bakugo figure stands out among them.

Pros
Bakugo is doing a great pose
It uses Bakugo's winter hero suit, which I think is his best look.
Cons
While the pose Bakugo is doing is cool, it isn't a reference to any specific moment I can find.
The price of this figurine may be out of reach for some people.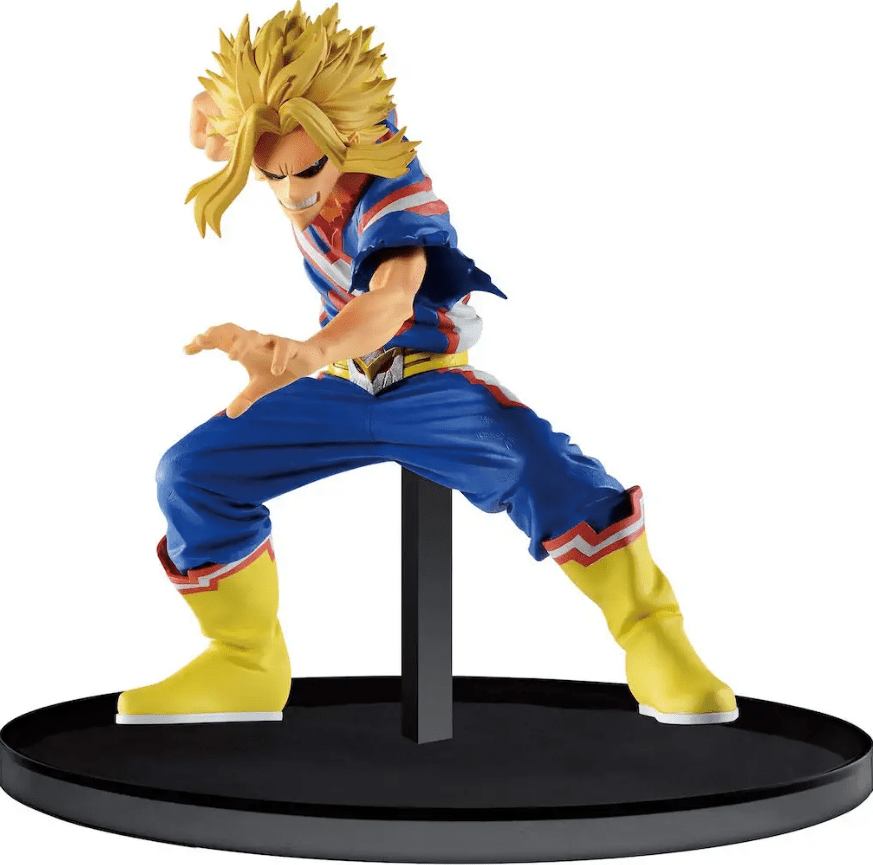 No need to fear because All Might is here! This All Might figure is one of the best. It's the deflated, emaciated form of All Might from when he fought All for One after rescuing Bakugo. It's a scene that gets right to the heart of All Might's character when he burns up all the vestiges of One For All to stop the big bad and save those standing behind him.
Quality 10/10 – If perfection exists, then it's this statue. It's got everything going for it that it possibly could. The detail on the cloth as it hangs down from All Might's body, and even the expression is spot on to the manga. Even the pose is good as it references the moment the smoke cleared and everyone got to witness All Might's true form that, which was a shell of who he was.

Availability 5/10 – The figure is one of the first things you get on Amazon when you look up All Might figures, and I see why. This one is amazing. But the problem lies in its price. It's expensive, which I expected. The quality is indicative of money, after all.

Serialization 4/10 – The figure is a part of a larger series, but the Banpresto Colosseum Special isn't limited to My Hero Academia. That means you can't form a good collection out of it, since it's just a bunch of figures from a bunch of different series. You can still fit this into a My Hero Collection even if it won't fit perfectly with the rest.

Pros
A fantastic-looking All Might figure
A reference to All Might's best moment when he used the United States of Smash
Cons
This figure is SUPER expensive.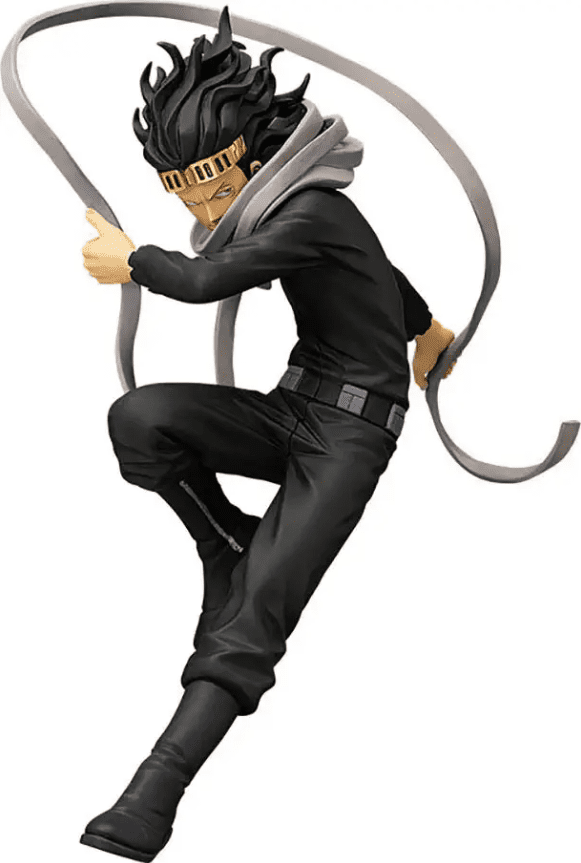 In my personal opinion, which we all know is 100% true and correct about everything, Aizawa doesn't get enough love. He's the teacher of Class 1A. The guy who taught Deku a fundamental lesson about managing his power in a way that won't break every bone in his body. He's a cool dude with a cool power! Give him the recognition he deserves with this figure.
Quality 8/10 – The figure looks good, but it has some issues. The detailing is good, like how other figures in the Amazing Heroes series are. The problem is in the pose. I've seen worse, but I've definitely seen better. I suppose it's the downside of Aizawa's quirk not being that flashy.

Availability 7/10 – This figure is a bit of a pain to find, even on websites like Amazon, but the biggest issue is in its price. It's not the most expensive thing on this list, but it has a price I can't ignore.

Serialization 10/10 – This Aizawa figure is a part of a larger line of Amazing Heroes figures. This means you have plenty to collect when you want to start your own collection.

Pros
The Aizawa figure looks good, imitating the style of the anime very well.
Cons
The figure is posed in a semi-boring way.
It's also fairly expensive as far as figures go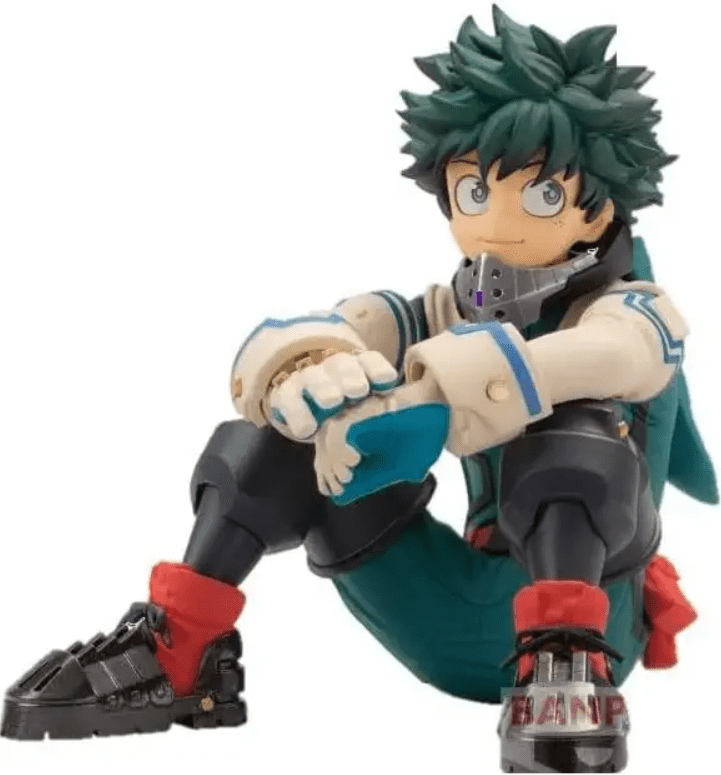 This figure is a bit unique. Rather than trying to look cool like most figures, this one tries to capture a nice chill atmosphere. I think it does that very well, snagging that feeling when you're in between arcs, and you get something nice and chill to slow things down. It's a moment I think we all need as the manga rushes towards it's final battle.
Quality 9/10 – I think there's plenty to love with this. It's not based on any specific moment from the anime or manga, but it's just Deku sitting down, taking a minute to stop and smell the roses. It's a breath of fresh air from the usual gritty and serious statues we get. Perhaps I'm overselling it, but I like it nonetheless.

Availability 9/10 – The price here is another good thing. It's not the cheapest, but the price is respectable for what you get. This may take a bit of digging on Amazon, but it wasn't the worst rabbit hole to dig through.

Serialization 10/10 – The My Hero Academia Break Time Collection includes more than a few fan-favorites like Bakugo and Todoroki taking a quick breather. I could see the Break Time Collection being put on your desk, reminding you to take a moment to relax.

Pros
The figure is unique in its own way, having a relaxed air that most statues don't have.
The figure has a lot of detail from the laces on Midorya's shoes and his wild and frizzy hair.
The statue is a part of a larger line of Break Time Collection figures.
Cons
The pose and concept will definitely be uninteresting to some people, so it's a poor choice for a gift.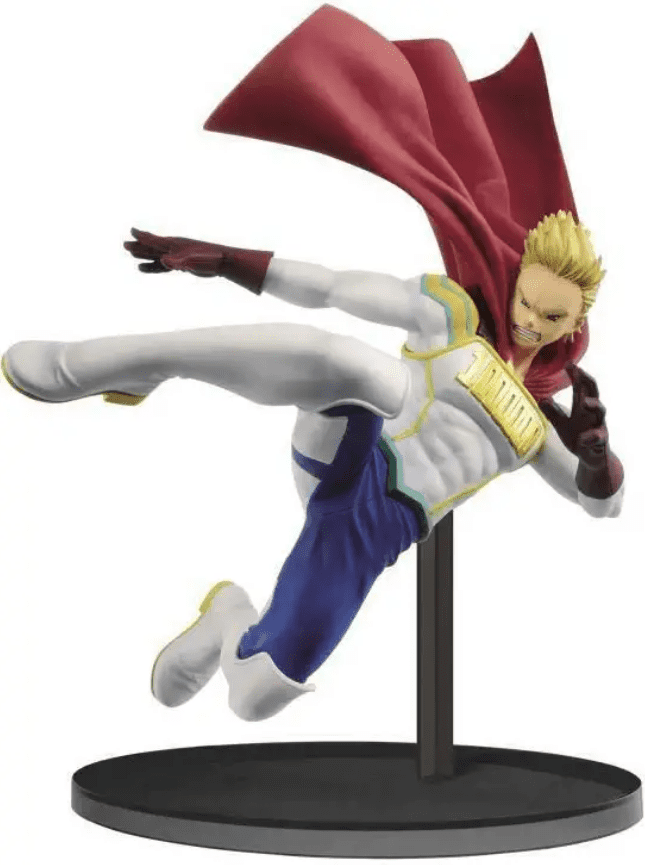 Mirio Togata, better known by his Hero Name, LeMillion, was a great character. He existed to show the gap between the first years and their third-year seniors, but also as a moral role model. He showed Deku what a One-For-All candidate should look like and how they should act. Even making our protagonist understand the consequences of such dedication.
Quality 10/10 – This figure looks good. The detailing on the surface is pretty good. Even the cap looks like it's billowing behind him as he attacks. I like the expression on his face, too. The pose is the real highlight, though. A wonderfully dynamic flying kick that'd do Might Guy's Dynamic Entry proud.

Availability 7/10 – Some problems begin to emerge when you look at the availability, mostly the price. It's not super high, but it definitely leaps over the hurdle to be something I'd call expensive. 

Serialization 10/10 – Once again, I have to give this a perfect score for this one. It has an entire line of toys behind it that really brings out what makes a collector a collector.

Pros
Miro Togata is a very popular character, so this makes it a good gift.
The figure looks fantastic, especially the cape.
Cons
It can be kind of pricey, depending on your budget.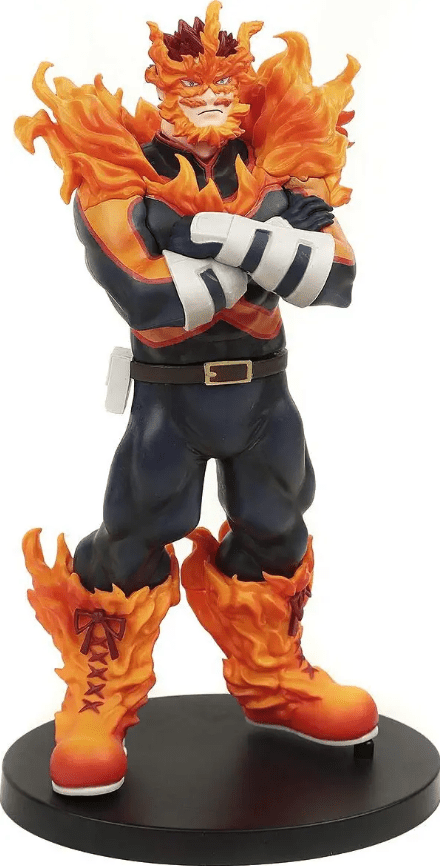 Endeavor is a bit of a divisive character within the My Hero Academia Community. He's done some bad things in the past, but I can't get past how well Horikoshi designed this dude. The fact that he uses his quirk constantly to light his beard and costume just works so well when designing a figure.
Quality 8/10 – The figure is doing a very boring pose which loses quite a lot of points. However, I have to give it credit for the way it handles the fire effects. It's wavy with lots of details that make it look super cool. The figure is covered in enough flame effects to be worth it.

Availability 7/10 – The figure's availability is another sore point. It sits around $35+, making it lean into the more expensive side of things, but not obscenely so. It won't be too hard to put together the money and fit it into your budget.

Serialization 10/10 – This figure falls under the Age of Heroes line, which includes so many characters. You can get Tsuyu, Todoroki, Mineta, Deku, and All Might. There are so many figures for you to choose from it'd be a shame just to buy one.

Pros
The figure looks really cool, especially the fire effects.
Cons
The pose Endeavor is doing is boring.
Endeavor is a pretty divisive character within the community, so it's not the best choice for a gift.
Frequently Asked Questions

Question: Where's the Best Place to Buy My Hero Academia Figures?
Answer: Amazon is a really safe bet when you're in the market for figures, but I'd also take a visit to Crunchyroll's online store. They sell a lot of things and their prices tend to fluctuate less than Amazon. Use them both to ensure you're getting the best deal possible.
Question: Which Toy Would Make the Best Gift for my Child?
Answer: The toy that would make the best gift is probably the Ichiban – My Hero Academia, The Movie World Heroes' Mission – Izuku Midoriya, Bandai Ichibansho Figure. It's a good genric figure that doesn't have anything someone should find offputting. It's a respectable figure of the main character, which should be popular enough.
My Hero Academia has a LOT of characters, so I do recommend doing some investigating into what's the recipient's favorite character so that you can buy a figure of them to give as a gift.
Question: When did My Hero Academia Start?
Answer: The manga for My Hero Academia first started July 7, 2014, which is longer ago than I first expected. It makes me feel kind of old.
The My Hero Academia anime started April 3, 2016.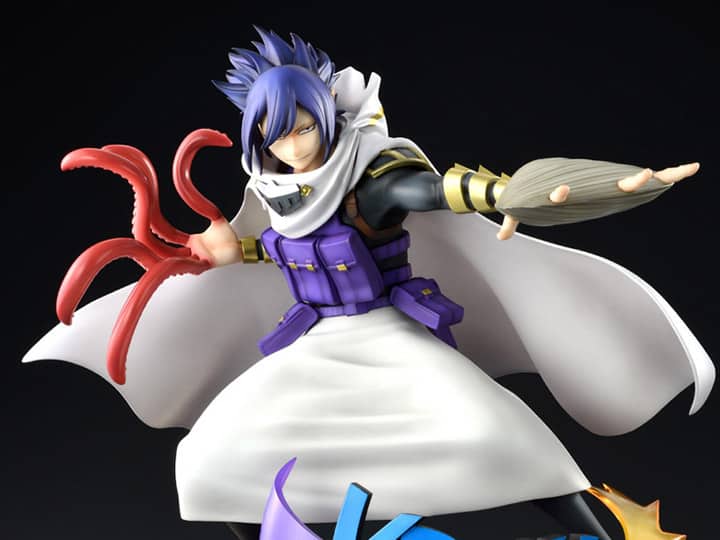 Conclusions
My Hero Academia is one of the most popular modern animes. It has a humongous cast and even more figures. I spent a lot of time browsing the entire selection, and could tell that some major stinkers were tossed into the pile. The fluctuation in quality means you need to know what you're doing as you shop. Otherwise, you might end up buying disappointment rather than a gift. Still, there are a lot of amazing figures. I've even marked a few on this list to buy later.
What you really need to know when shopping for figures is to pay attention to the detail on the figure's surface. Does the fabric have waves and ripples where they should be? Is it availabile to you so you don't return only to find it sold out. Finally, serialization really is a thing that only pertains to collectors. If you're just looking for a single figure, then pay no heed, but if you want more than one, be sure to check the manufacturer's section on Amazon to browse their specific selection.
Continue reading:
Best My Hero Academia Funko Pop Guide
Best One Piece Action Figures Guide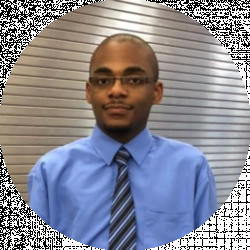 Latest posts by Jaden Hasse
(see all)