I've liked anime since I was in grade school, and my like turned into love as the years passed. Unfortunately, my affections didn't extend to Nendoroids when I first learned about them because they had a completely different style back then. I can still recall how confused I was around 2009 when I saw the original Death Note Nendoroids of L, Light Yagami, and Misa Amane because they were so ugly to me. I thought, "I'm never buying these ugly toys."
However, my feelings for Nendoroids did a 180 the next time I saw them. It was 2011 – 2012, and I had started going to anime and toy conventions since I had more freedom in college. The familiar Nendoroid boxes no longer contained the funky-looking toys but had legitimately cute figures. I remember seeing the Nendoroids of Black Butler's Ciel Phantomhive, Stein Gate's Kurisu Makise, Kimi ni Todoke's Sawako Kuronuma, and ToraDora's Taiga Aisaka.
Whatever aversion I had for Nendoroids disappeared from that point onwards. These days, I don't even think twice about preordering whenever Good Smile Company announces a Nendoroid of the characters I like. I'm a certified Nendoroid lover who can't get enough of these cute chibi figures.
The toy line has become one of my go-to figures, second only to scale figures. I plan to continue collecting them for a long time. Want to know why there's such a craze for it? Then let me show you the best anime Nendoroids so you can understand the appeal and pull of these 4-inch plastic toys.
Bottom Line Up Front
Something you should know about Nendoroids is that their prices can be confusing. The price jump from the standard 60-70$ to the aftermarket 200$ price tag might not make sense for those unfamiliar with toy collecting. For example, you might see a newly released Nendoroid that's initially available for 60-80$, and just months later, it'll already be around 200-300$.
From a newbie's perspective, there shouldn't be such a huge price difference. But unfortunately, it's common nowadays for a sought-after Nendoroid's price to spike up like that. The price surge can sometimes happen over a couple of years, while in some cases, it can only take a year.
The best way to avoid this unpredictable price change is to preorder a Nendoroid or buy it as soon as it's released. Because the longer you put off buying a Nendoroid, the more likely its price will increase, especially if it's a popular character. When it comes to Nendoroids, it's always better to get it while it's new on the shelves than hunt for it when it's a grail.
My Ultimate Nendoroid Choice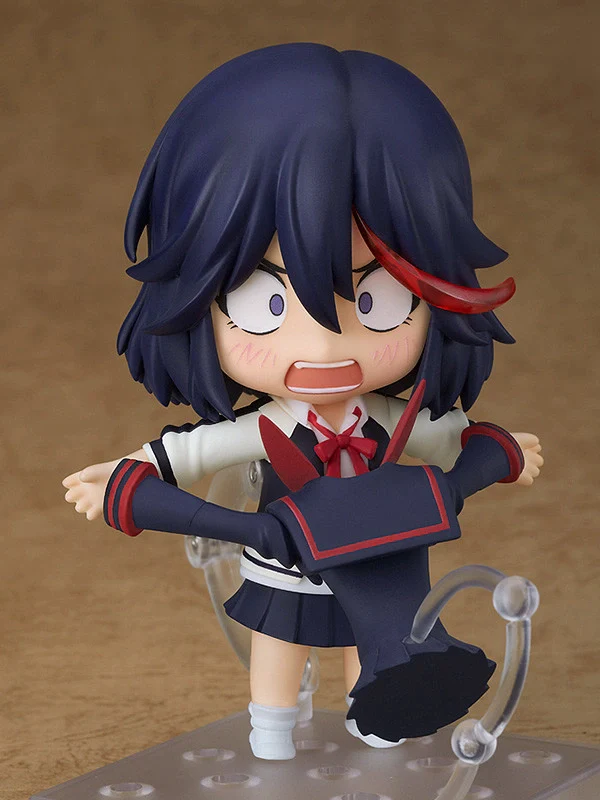 Since I treasure a lot of Nendoroids, it was nearly impossible to choose which one should be at the top. After contemplating their value and overall design, it became apparent that the crown for best Nendoroid goes to the Ryuko Matoi Souvenir Jacket Version. It's a timeless Nendoroid that will always be relevant and wanted in the Nendoroid collecting scene. Kill la Kill has been over since 2013, yet many people still want its unruly protagonist.
Characteristics of a Valuable Nendoroid
When you begin checking out Nendoroids, you'll eventually come across ones that are always a hit with collectors. Not only will these Nendoroids be constantly sold out, but they'll also have higher prices than usual.
What do these wanted Nendoroids have that makes them so desirable from the others? Here are the common patterns that I observed that most wanted Nendoroids have:
Comes from a good anime – A determining factor of a Nendoroid's success is its source material. If the anime is generally well-received, like the series Konosuba and the movie Your Name, people will want to own the Nendoroid of its characters.
It's based on a beloved character – The Nendoroids of the protagonists aren't always the most valuable figures. Most often than not, the fan-favorite characters have a higher chance of being grails than anyone else in the anime. Such as what happened in the Hunter x Hunter Nendoroid line, as the Chrollo Nendoroid is currently more expensive than the Gon Nendoroid.
The character's availability in your country – The demand for Nendoroids varies depending on your location. Of course, some Nendoroids are hot everywhere. However, its market value heavily relies on how many people want to buy it in a particular area. For instance, you can still purchase a Kamina Nendoroid in the Philippines for 57$, whereas its price is almost double in Japan at 98$.
Unlikely to have a rerelease – The more limited a figure is, the more collectors will want to own it. As such, popular Nendoroids with limited releases or low odds of getting rereleases quickly reach the high rarity status.
Best Anime Nendoroids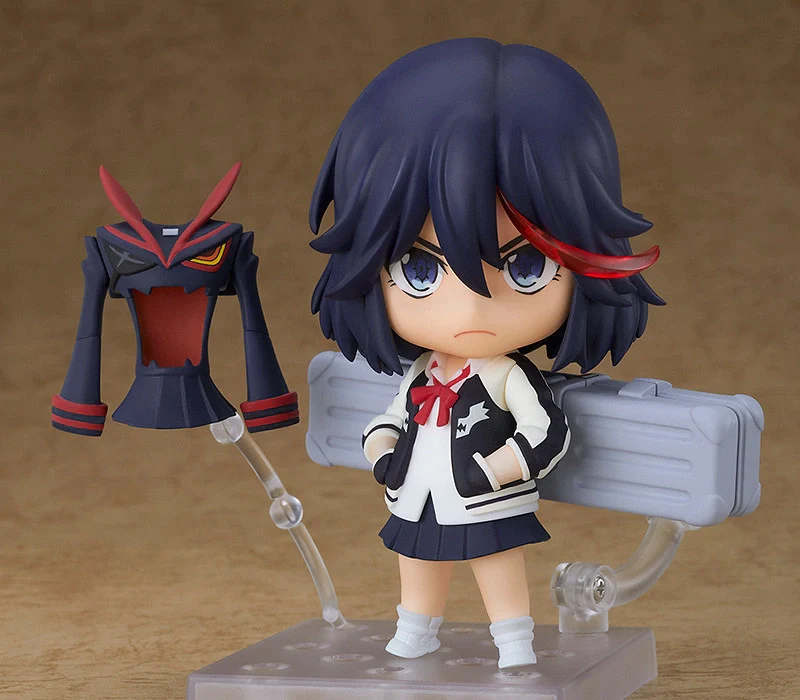 The sassy and tough Ryuko Matoi is an iconic character that remains a best-seller, no matter the form. So it's a given that this second Nendoroid variant of the hot-tempered badass was an automatic preorder for fans like me.
Release date: 1st release May 2021 (The World of Hiroyuki Imaishi Exhibition in Japan only) and 2nd release March 2022
Rarity: Moderate
Pros
This Nendoroid has two of the central characters from the anime, Ryuko, and Senketsu
Unlike the first Ryuko Nendoroid, which has the character's typical Senketsu sailor uniform, this version has the original outfit that Ryuko wears in the first episode
It's a rare design of Ryuko. It's one of the two only official Ryuko figures wearing her street clothes
This Nendoroid includes Ryuko's squatting legs, which the older version doesn't have. So you can copy many of her sitting scenes in the anime with this Nendoroid
This version of Ryuko has more accessories than the first version
Cons
Since this is a limited release Nendoroid, it's a bit more pricey and not as easy to acquire as regular Nendoroids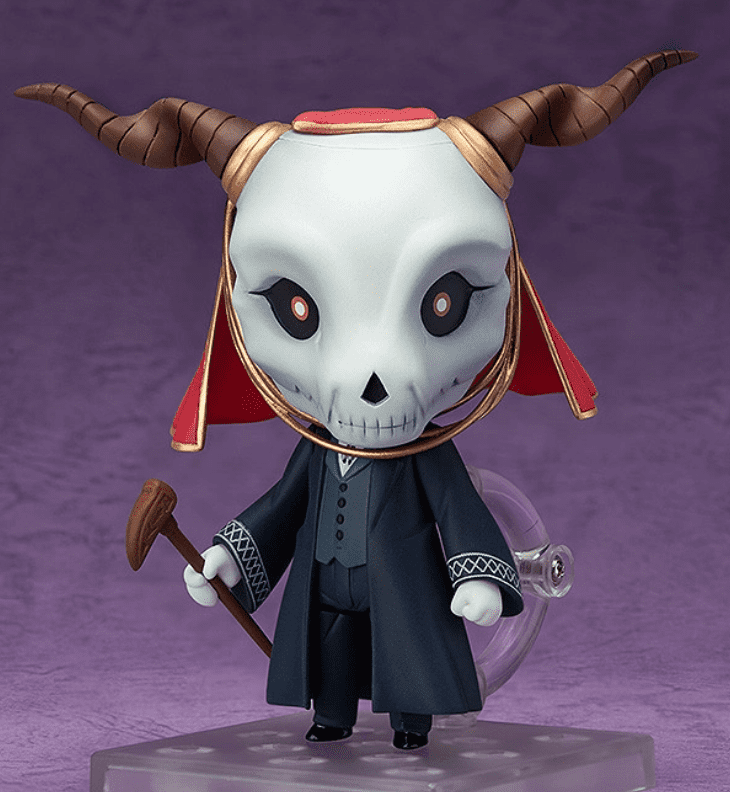 As the sole Nendoroid from the anime, this small Elias figure is considered one of the current holy grails of Nendoroid collectors worldwide. The powerful mage is also a well-liked character, making this figure a must-have for anime fans.
Release date: December 2016
Rarity: High
Pros
This figure includes Elias' most common forms from the source material, his skull head, and the male human head fashioned after Simon's face
This Nendoroid has two of Elias' staple accessories from the anime, his staff and the face cover he wears when going out in his mage appearance
Since this Nendoroid's design and colors are more faithful to the anime, even fans who haven't read the manga won't feel they're missing out on something
Cons
There's only a limited number of Elias Nendoroid available because the figure came out before the anime TV series aired
Many of the Elias Nendoroids that are for sale are pre-owned or BIB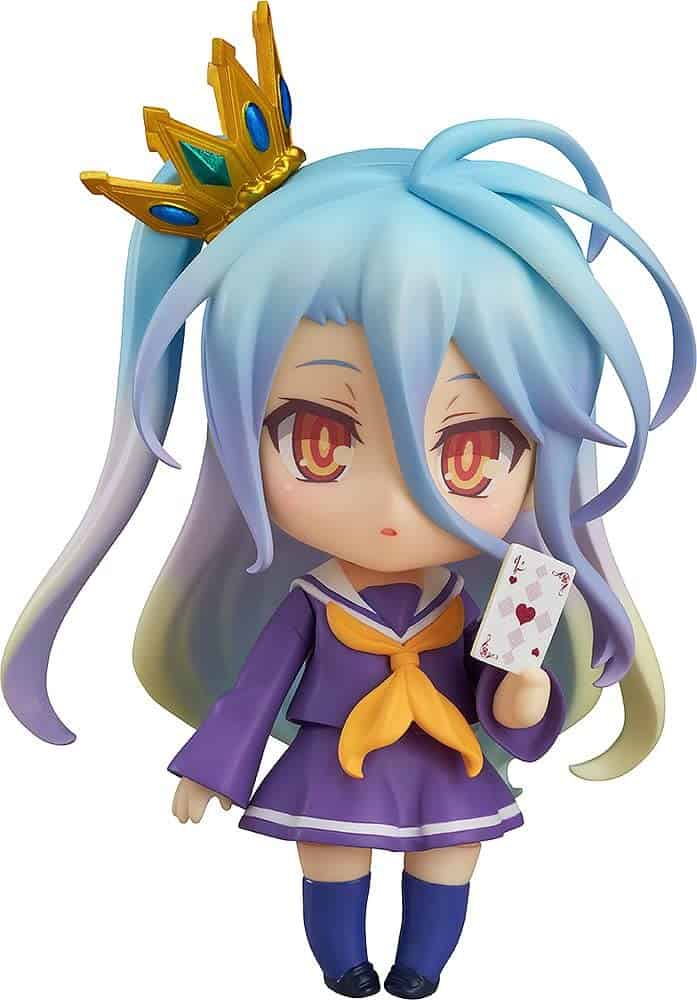 Every otaku's favorite little sister from No Game No Life is within reach in her cutest form in this colorful Nendoroid. Even though it's been eight years since she graced the screens, her title as the perfect 'imouto' remains undefeated.
Release date: 1st release December 2016, 2nd release September 2018, and 3rd release January 2023
Rarity: Low
Pros
This figure is a nearly perfect miniature imitation of Shiro from the anime. It has the correct colors for the hair, clothes, and skin, as well as the parts for the character's usual poses
The gaming accessories are also one of the most appealing parts of this Shiro Nendoroid. They're her most used items in the anime and are also compatible with other Nendoroids
This Nendoroid includes a short novel by the creator of the anime, Yuu Kamiya
It's safe to display this Nendoroid wherever you want, as it's one of the few figures that doesn't overtly sexualize Shiro
Cons
Some stocks of the first release may have rough hair sculpt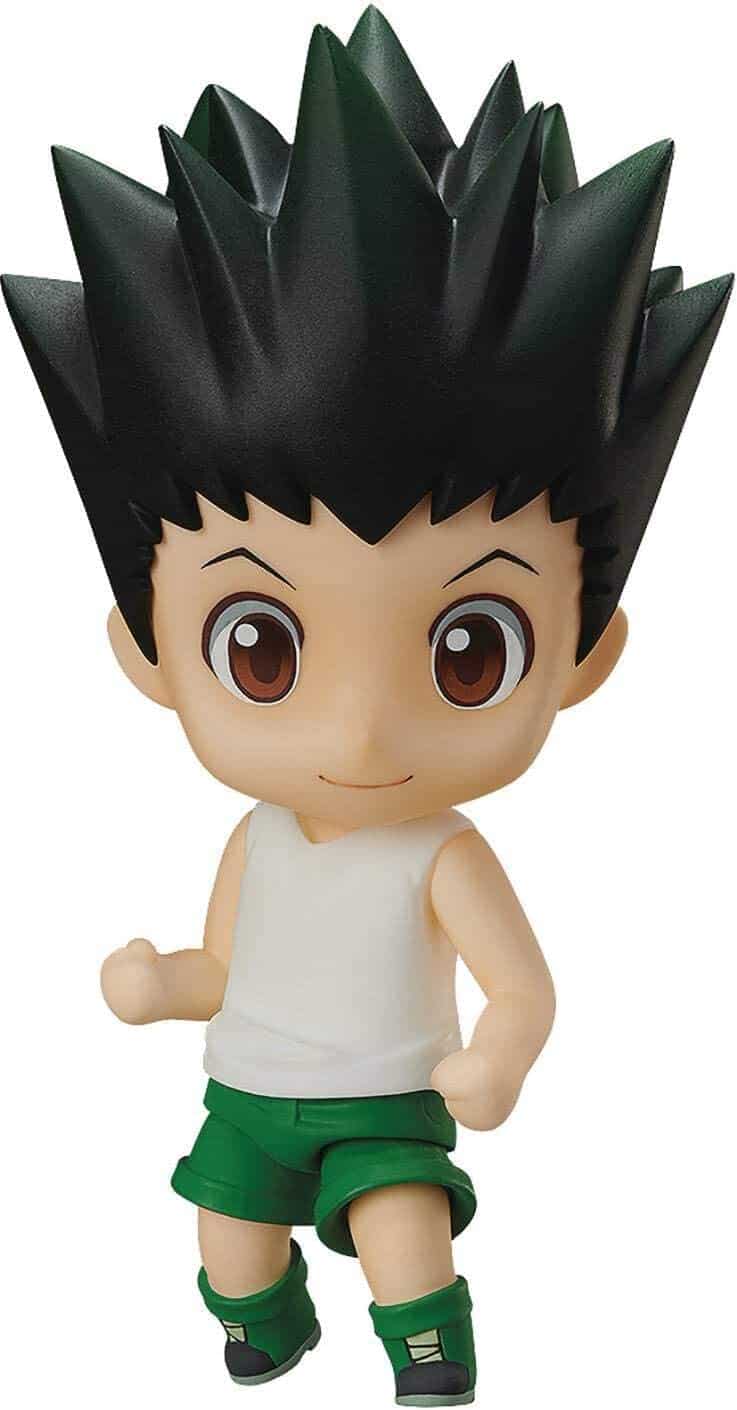 The long-awaited Nendoroid of the world-famous Hunter boy finally got made in 2020. On top of that, Good Smile Company chose to make Gon's most legendary form, which is also a good representative of Hunter x Hunter's most favored Chimera Ant arc.
Release date: July 2020
Rarity: Moderate
Pros
The Nendoroid's expressions are primarily from the Chimera Ant arc, the series' most famous storyline in the anime
This Nendoroid includes a headpiece that recreates Gon's most intimidating form, his adult version with long hair
Since Gon wears this specific outfit often, you can use this Nendoroid to portray Gon in three arcs of the series, Greed Island, Yorknew, and Chimera Ant
This is one of the limited official figures of the Adult Gon
Cons
Good Smile Company should have included another outfit, a ripped version, with this Nendoroid to go with the long hair piece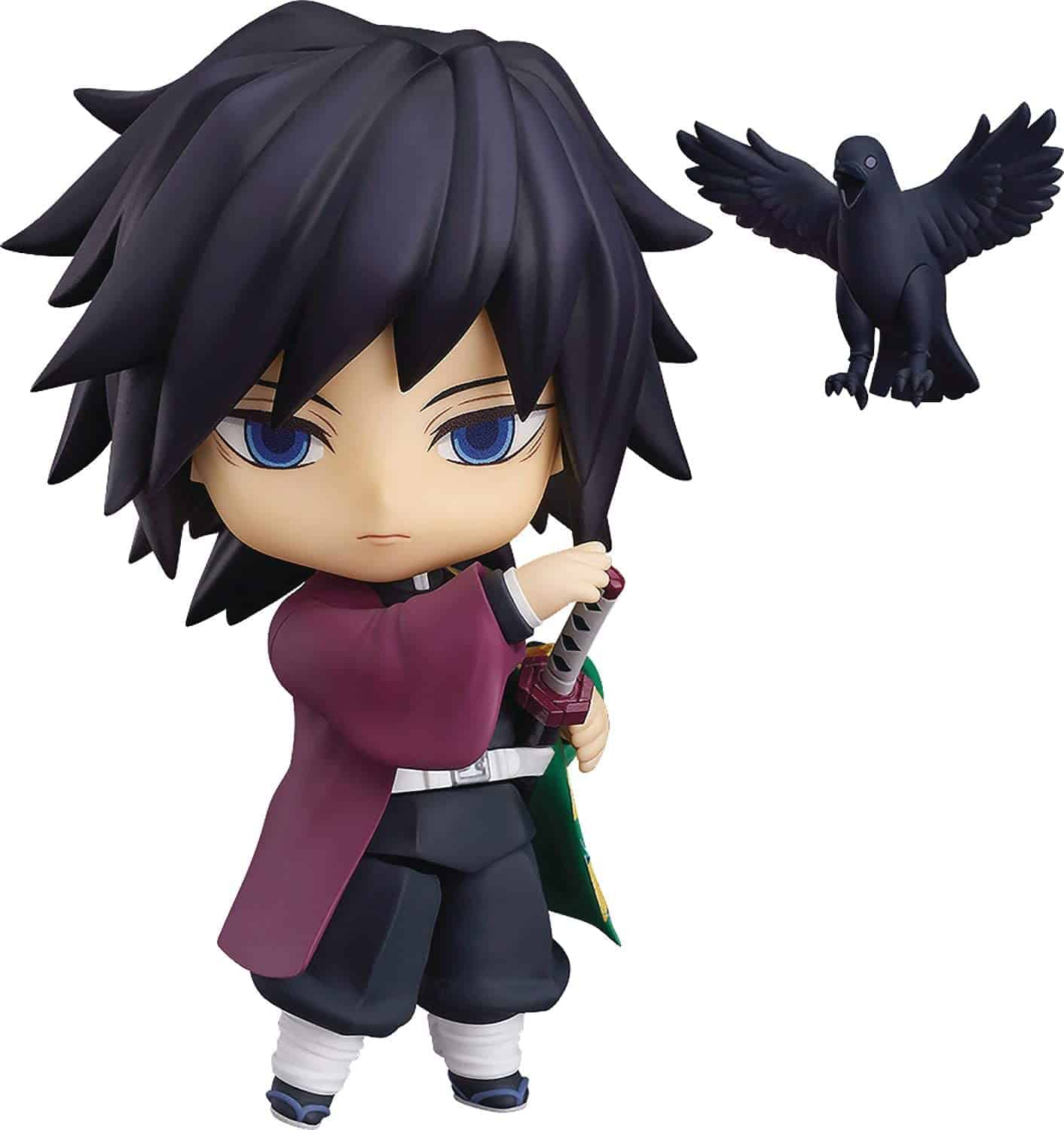 All of the Demon Slayer Nendoroids have excellent quality. But, the Giyu Nendoroid has the most outstanding visuals among them. It's the one that fully conveys the distinct art and fighting style of the anime.
Release date: 1st release January 2021 and 2nd release November 2021
Rarity: Low
Pros
You can reenact the Water Breathing Eleventh Form: Dead Calm with this Nendoroid since it has all the required parts, the backdrop, water effect part, Giyu, and the sword effect part
This Giyu Nendoroid has more effective parts and accessories than the other Demon Slayer Nendoroids. It comes with a background sheet, sword effect part, Giyu's Kasugai Crow, and a shocked effect part
You can display this Nendoroid with more expressions since there are two additional Giyu faceplates available in the Nendoroid More: Face Swap line
This Nendoroid is still available at SRP
Cons
Due to the design of the Demon Corps uniform, the leg movement is a bit limited compared to Nendoroids with thinner pants or legs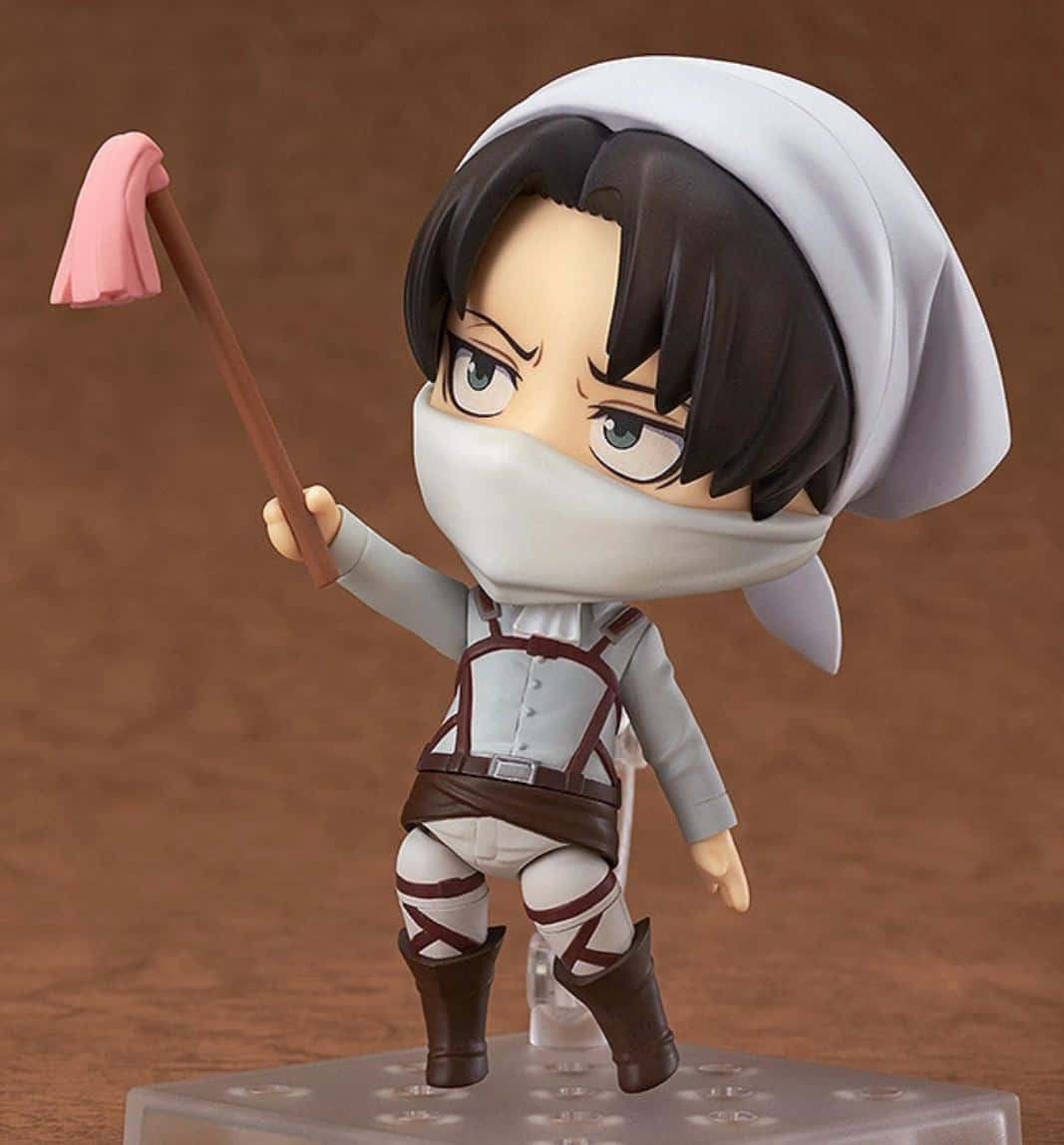 While the Survey Corps uniform is attractive, Levi donning his cleaning get-up just tugs at the heartstrings differently. It deviates from Squad Captain's typical threatening aura and shows off his cute, clean freak side, which Attack on Titan fans adore.
Release date: July 2014
Rarity: High
Pros
This Nendoroid has better faceplates than the regular Levi Nendoroid since they're more expressive
Collectors who are into rare or limited toys will love this Nendoroid since it's only had a single release
You can duplicate Levi's famous cleaning scene from Attack on Titan season 1, episode 15, where he opens the window of the abandoned Scout headquarters building. This Nendoroid comes with a detailed backdrop of the exterior and interior of the headquarters
You can use the mask accessory with any of the Nendoroid's faceplates
Cons
Since this is a hard-to-find Nendoroid, it usually goes for 200- 250$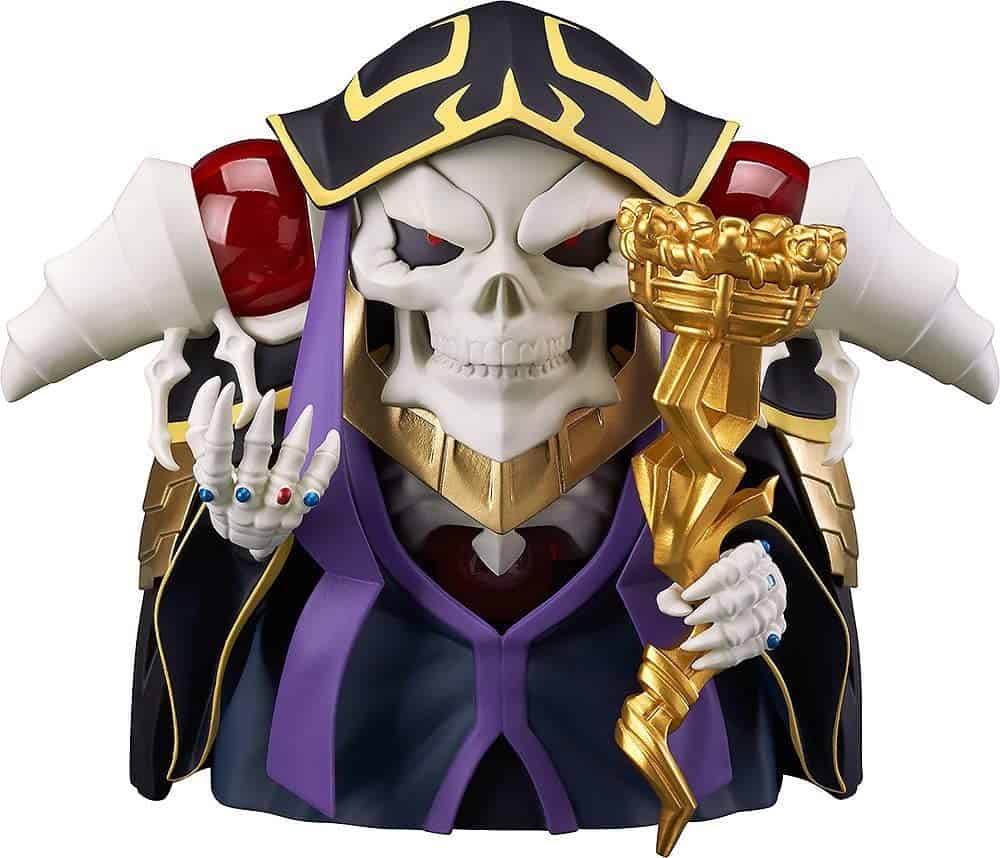 Aside from being one of the original overpowered Isekai protagonists, Nazarick's ruler Ainz is also a highly coveted Nendoroid. Despite this Nendoroid already having two rereleases, the undead Supreme Being's favorability strongly persists, tripling its original price.
Release date: 1st release December 2016 and 2nd release October 2018
Rarity: Moderate to High
Pros
This is a unique Nendoroid, as it's one of the few Nendoroids with moveable face parts
Due to its large size and fancy design, this Ainz Nendoroid has more shelf presence than most Nendoroids
This Nendoroid comes with an effective background that mimics Ainz's aura in the anime
Cons
Since it's bigger than normal Nendoroids, it almost takes up the space of two Nendoroids
The Nendoroid's fingers aren't faithful to the source material. Only the gemstones of the rings have paint, and the bands are missing the metallic color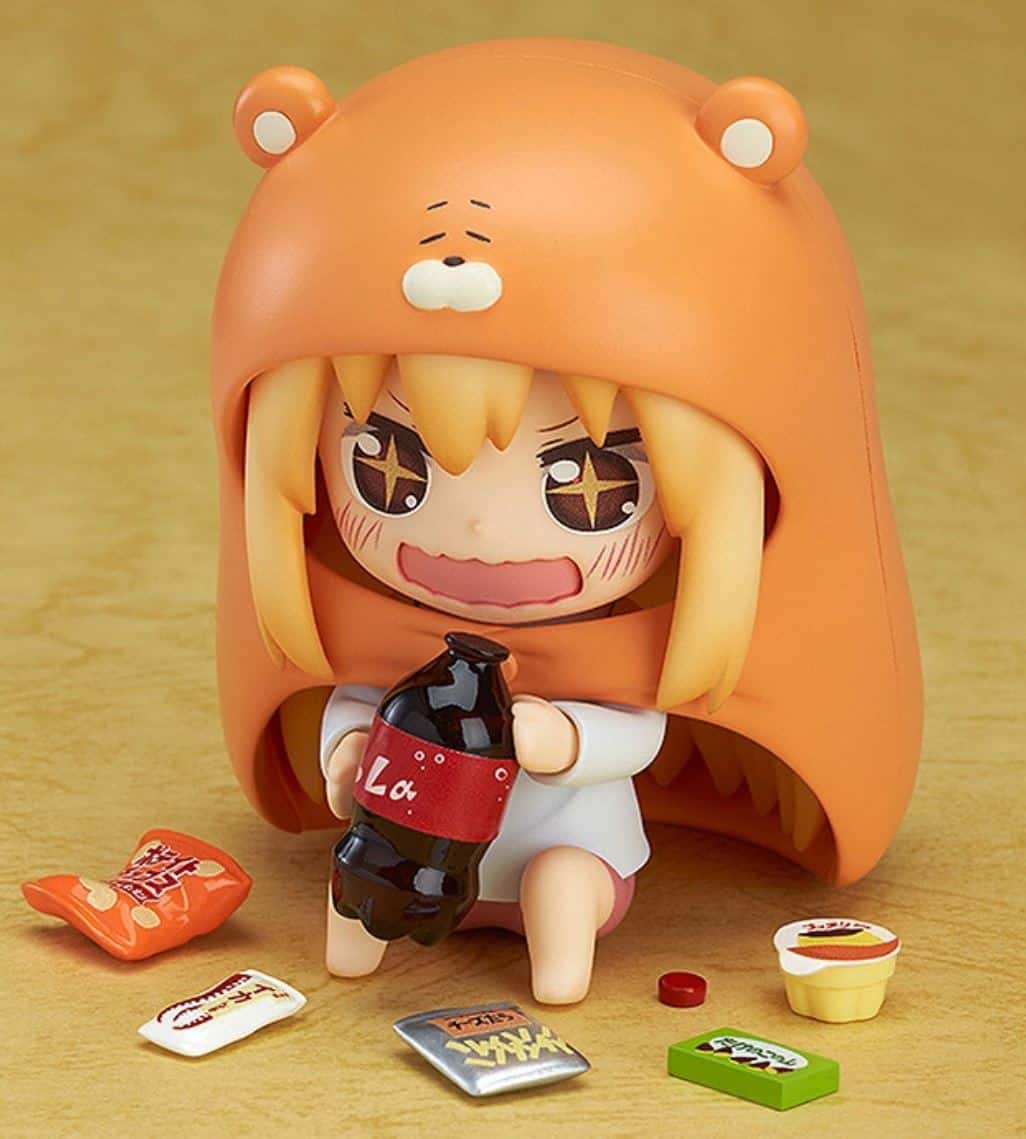 Dubbed as the spirit animal of otakus and weabs, Umaru's Nendoroid of her indoor mode has been in high demand since it first came out. It's one of the most adored Nendoroids to date and is a small but identical clone of the two-faced geek.
Release date: 1st release September 2015, 2nd release February 2016, and 3rd release March 2018
Rarity: Moderate
Pros
How Umaru looks in the anime is what you'll get in Nendoroid form, as this figure is a carbon copy of Umaru's indoor mode
This figure has something that most Nendoroids don't have – five faceplates. Usually, the max number of faceplates per Nendoroid is three, including the default one
This Nendoroid's accessories are spot-on with the anime version. Good Smile Company included most of Umaru's staple food, which the character lists in episode 1 of season 1
Cons
You can't switch to Umaru's outdoor mode since this Nendoroid only has the character's indoor outfit
Due to the design of the Nendoroid, you can't display this Umaru figure without the orange hoodie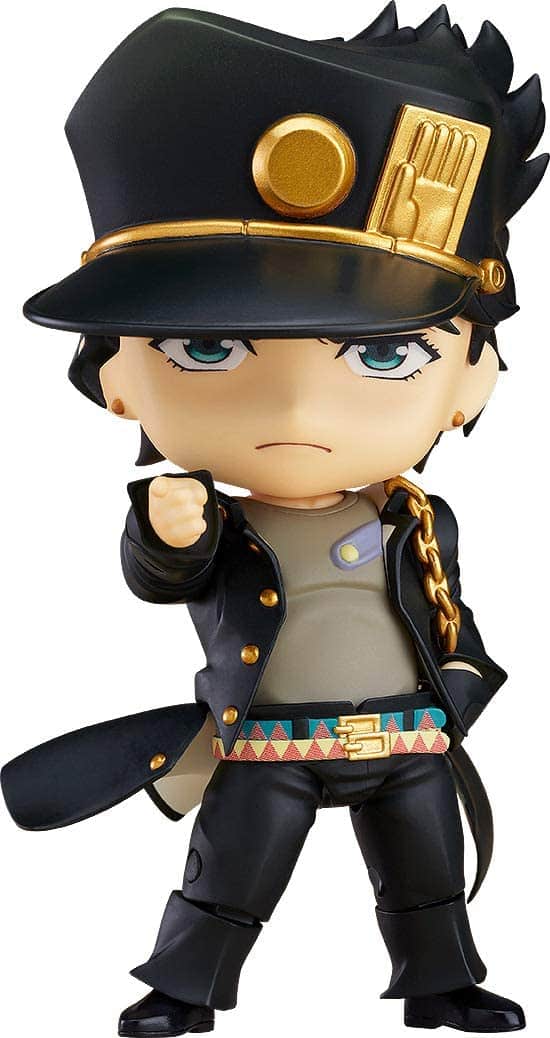 Jotaro's Nendoroid delivers the same extravagant energy to any collection as the anime version, seeing that this figure includes all the best features of Star Platinum's owner. The flashy Joestar descendant is as good as the series' mascot, making this an essential collectible for JoJo fans.
Release date: 1st release January 2019 and 2nd release September 2021
Rarity: Low
Pros
Since Jotaro's one of the well-known JoJo characters, he's a good representative of the series. He appears in three seasons of the anime, Stardust Crusaders, Diamond is Unbreakable, and Stone Ocean
This Nendoroid has the best Jotaro outfit since the other attires he wears are too eccentric
This figure has a better and more intimidating effect part than most of the JoJo Nendoroids
Jotaro's one of the most powerful characters in the series, so this figure has more significance than the other JoJo Nendoroids
Cons
I don't like the visible joint on this Nendoroid's coat because it's distracting and ugly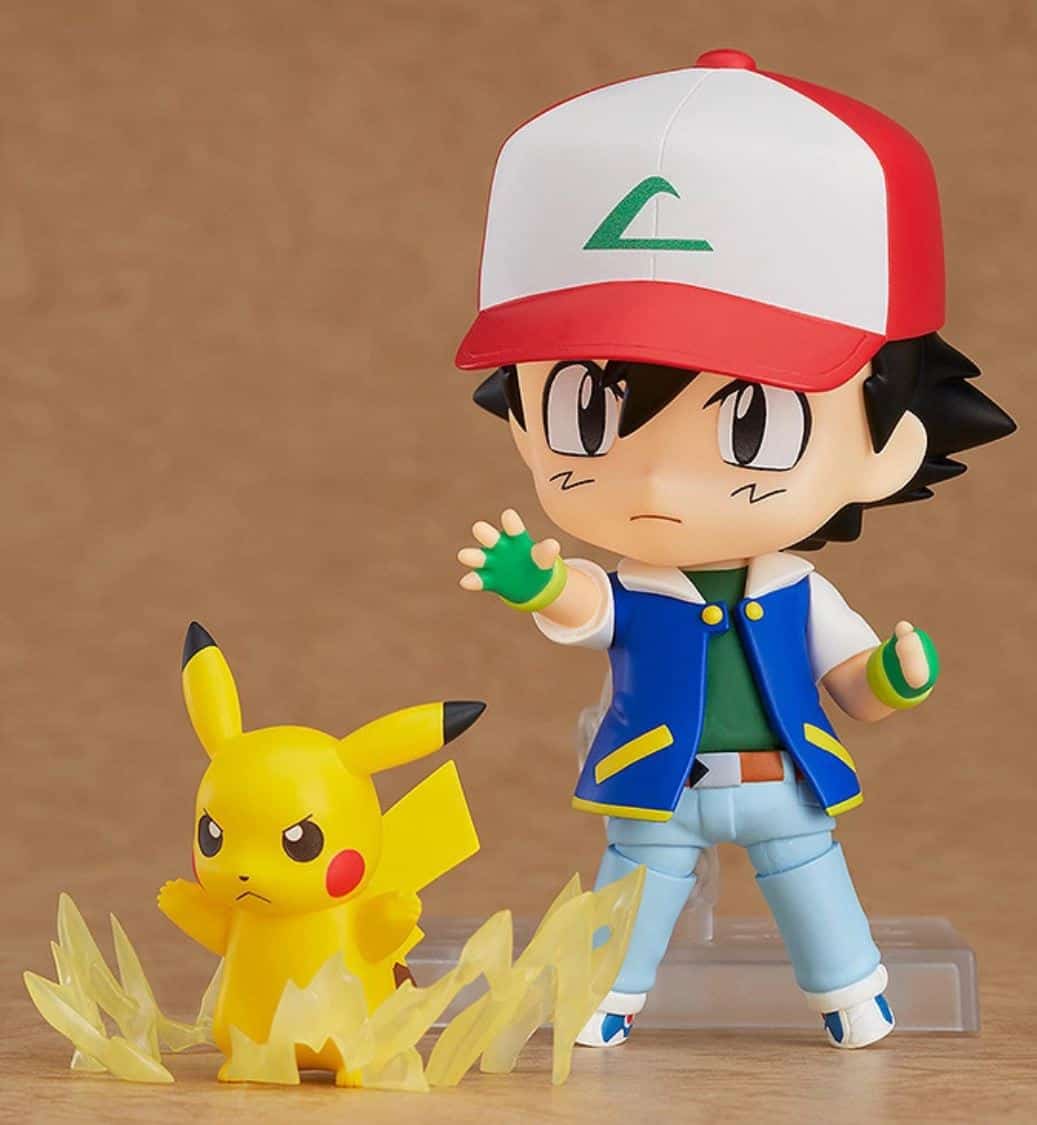 When you want to be the very best, like no Nendoroid collector ever was, you've got to have this Ash and Pikachu Nendoroid. It's an attractive and easily identifiable embodiment of the Pokemon series and franchise.
Release date: December 2017
Rarity: Moderate to High
Pros
The Pikachu accessory has two interchangeable heads, which is an uncommon feature for a Nendoroid accessory
You can reenact many of Ash's battles from the anime as this Nendoroid includes the necessary parts: Pikachu's lightning effects and attack or angry expression
Besides Pikachu, you can display this Ash Nendoroid capturing or interacting with other Pokemons. All that's needed is to place a miniature Pokemon figure next to it
This figure can equip other Poke Balls from other Pokemon Nendoroids, like the Master Ball from the Red Nendoroid or the Dusk Ball from the Marnie Nendoroid
Cons
It's not possible to display this Nendoroid without the cap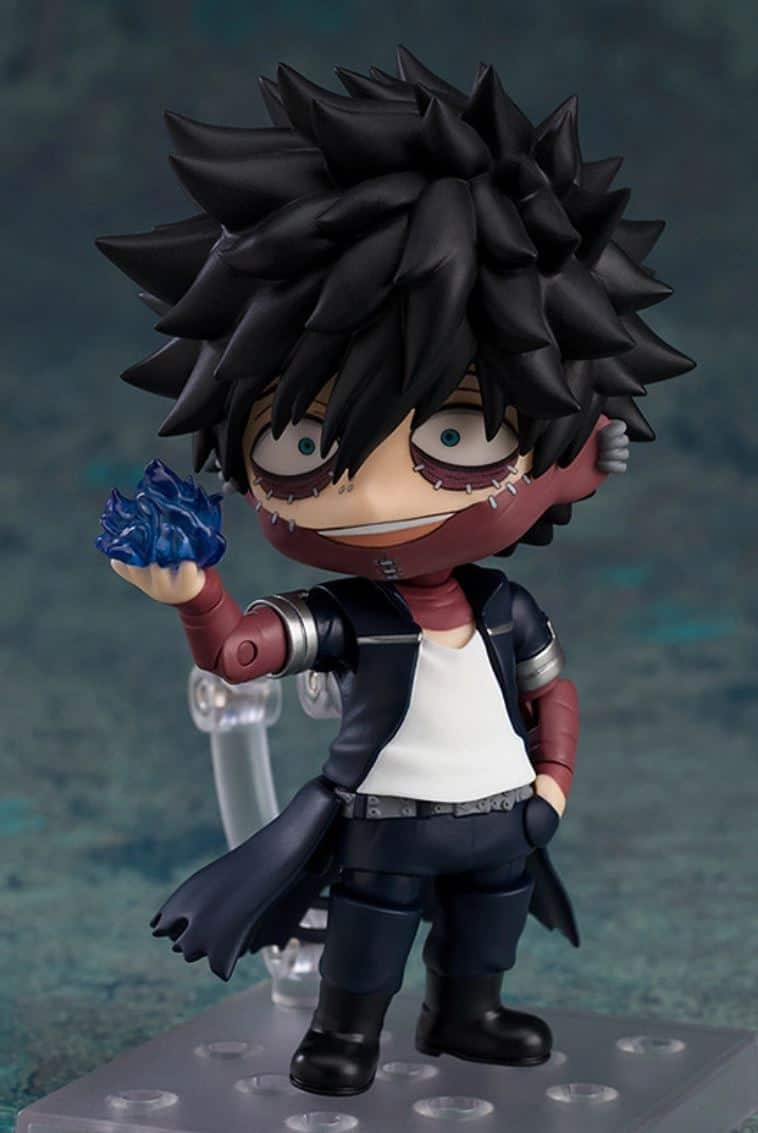 Shigaraki's amongst the most powerful villains in the anime. Yet the antagonist with the most flare is the mysterious flame-powered Dabi. This Nendoroid brings to reality all of the character's signature appearances from the anime and successfully imitates the evildoer's chilling presence in 3D.
Release date: 1st release March 2021 and 2nd release December 2022
Rarity: Low
Pros
This figure has more effect parts than the rest of the My Hero Academia Nendoroids. The others typically have two to three effect parts, while this Dabi Nendoroid has four
In terms of design, Dabi's got the most threatening appearance out of all the existing My Hero Academia Nendoroids
Cons
There should be four surgical staples below this figure's lips, not just three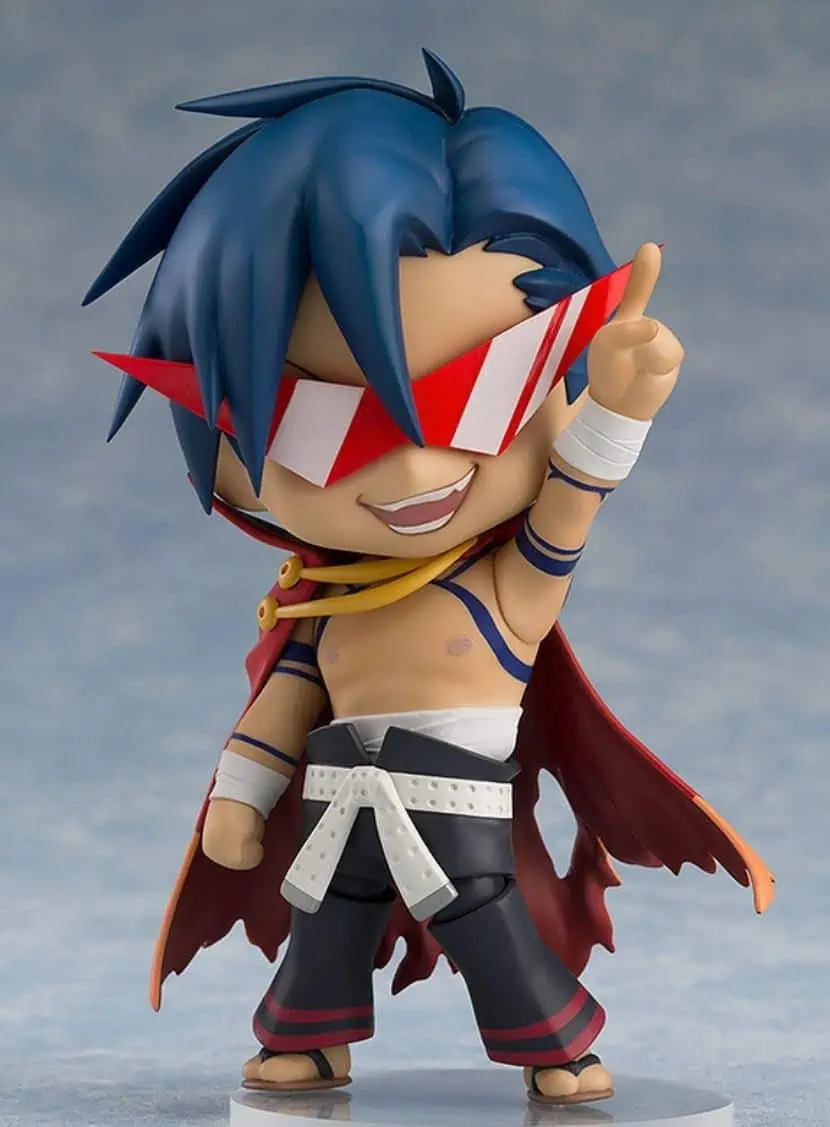 Although Simon's the main lead of Gurren Lagann, Kamina will always be the heart of the anime. The dashing macho-man made such a massive impact on the story that he's the number one character in the series for international fans, with over 30,000 votes.
Release date: November 2018
Rarity: Moderate
Pros
You get to experience Kamina's two looks in the anime, as you can display this Nendoroid with or without the tattered cape
This Nendoroid can reproduce Kamina's pivotal moments in the series, particularly his death scene from episode 8
Due to Kamina being the favorite character of the series, this figure is more recognizable than the Simon Nendoroid
It's one of the few Nendoroids that includes the character's dying appearance or expression from the source material
Cons
Instead of the two variants of the red sunglasses, Kamina's unsheathed Nodachi would've been a better accessory. It would've let you remake more scenes from the anime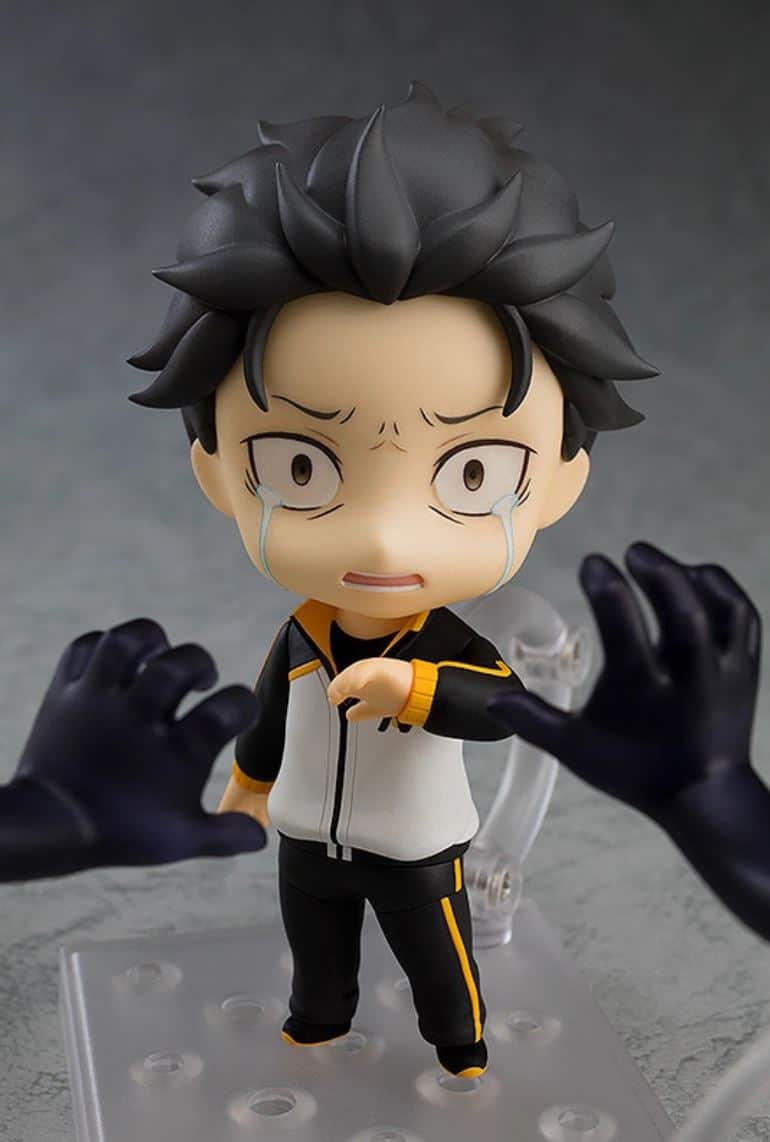 Re:Zero is one of the best well-written Isekai anime and its two seasons were consistently in the top charts when they aired. On top of that, its story showed the believable character development of its main lead, Subaru, which makes his Nendoroid version a must-have for collectors.
Release date: 1st release February 2020 (Winter Wonder Festival in Japan only) and 2nd release July 2020
Rarity: Moderate
Pros
This is the sole figure that includes the Witch of Envy in any form
It's one of the rarest Re:Zero Nendoroids because it's only gotten a single international release. The others have been available for preorder outside of Japan since their first preorder announcement
This Nendoroid is one of the only three official figures of Subaru that's on the market
Cons
Subaru repeatedly dies in the anime, so this Nendoroid should've had a faceplate or accessory related to one of his death scenes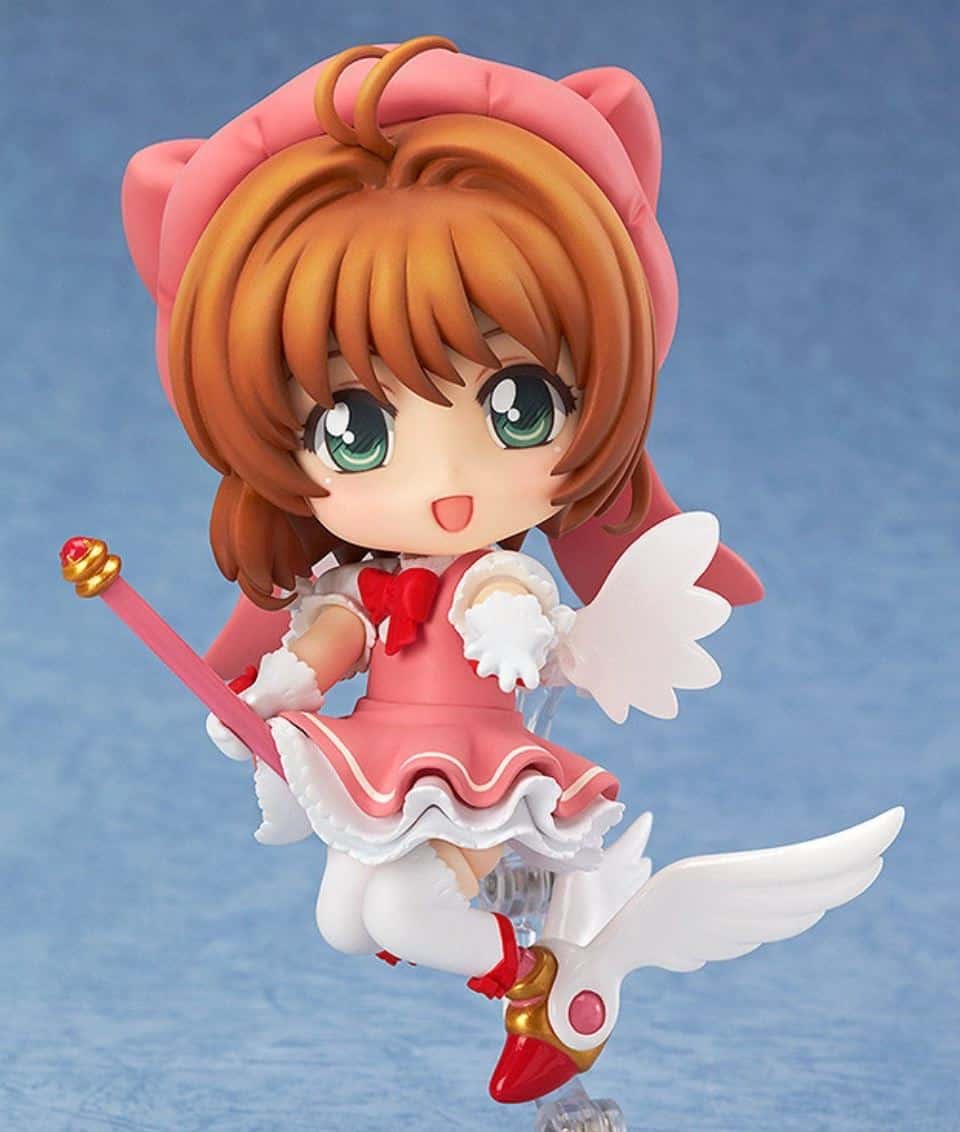 Regardless of how many renditions of Sakura Good Smile Company makes, the OG Sakura Nendoroid has an irreplaceable spot that no other version can dethrone. The Sakura Kinomoto CLEAR and Always Together Pink Promise versions are much flashier, but they're not as established as the Catch You Catch Me outfit.
Release date: 1st release November 2014 and 2nd release January 2021 (Clamp-Fans Shop and Tokyo Otaku Mode only)
Rarity: Moderate to High
Pros
This Nendoroid has Sakura's most widely-recognized get-up from the anime
You can only get Cerberus or Kerberos with this figure. The other Sakura Nendoroids don't include the Clow Card's guardian
This Nendoroid's Sealing Wand is the only wand among the Sakura Nendoroids that can change its appearance
Cons
Due to having an old design, it might be a bit hard to change the poses for some stocks
The Chainsaw Man manga has captivated Otakus worldwide, and its upcoming anime will probably do the same. Luckily, soon-to-be fans of Tatsuki Fujimoto's creation won't have to wait to get their hands on its protagonist, as this remarkable Denji Nendoroid is ripe for the taking.
Release date: October 2021
Rarity: Moderate
Pros
You get three of the critical Chainsaw Man characters, Denji, Pochita, and Chainsaw Man
This Nendoroid is the best embodiment of the series. It includes the two crucial aspects of the anime, Denji as a Public Safety Devil hunter and Denji as the Devil Chainsaw Man
The Chainsaw Man head has an uncommon Nendoroid feature, a moveable jaw
Cons
This figure's box has the same size as a DX Nendoroid, so it'll take up more space than usual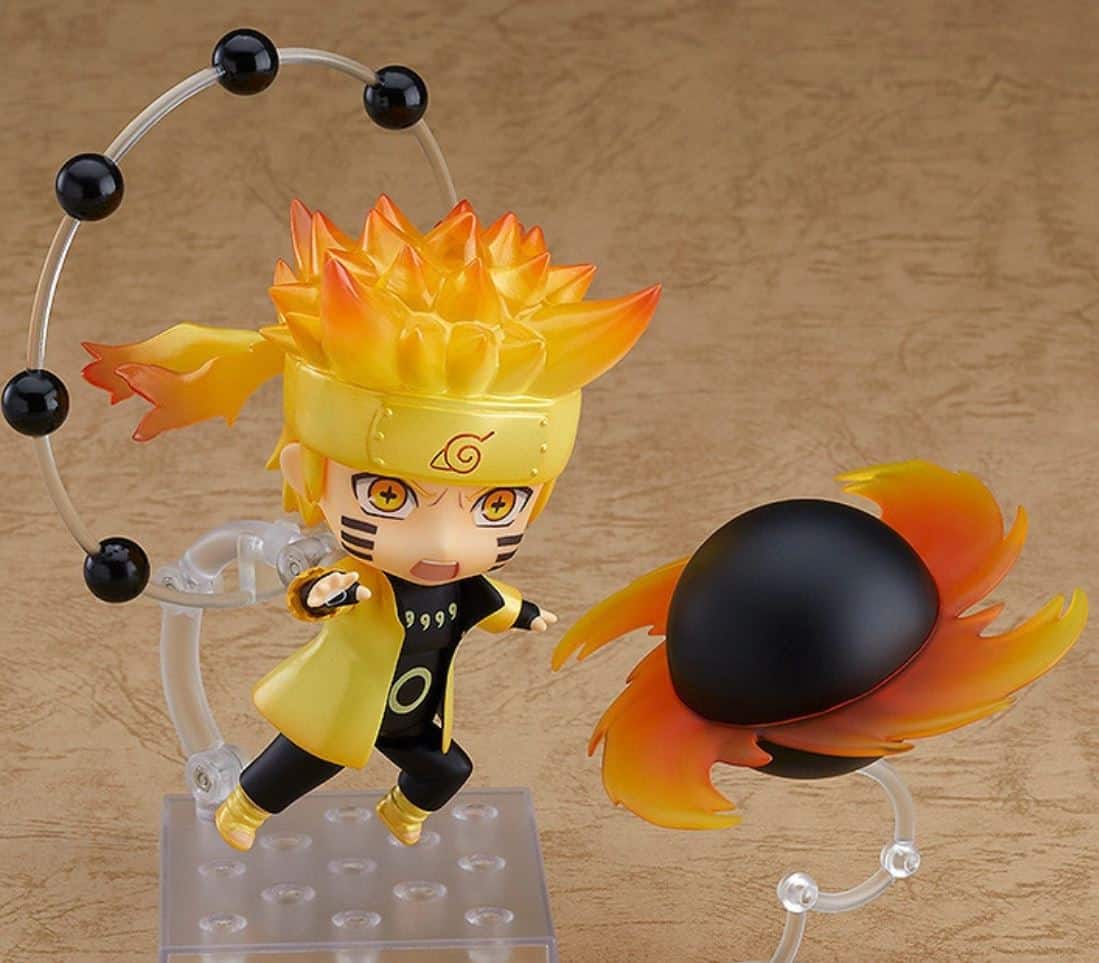 Being one of Naruto's most powerful forms in the anime, this Sage of the Six Paths Nendoroid is the best-looking figure in the Naruto lineup. It's a hard-to-miss figure due to its vibrant colors and spot-on design.
Release date: August 2020
Rarity: Moderate
Pros
You can closely replicate the first time Naruto used this form in episode 421 of Naruto Shippuden. This figure has the necessary parts: a faceplate with a kunai in its mouth, the Six Path Staff, and Truth-Seeking Balls
This Nendoroid includes a Tailed Beast Ball Rasenshuriken attack accessory that most Naruto Sixth Path Sage figures don't have
This figure has one of the most attractive Sage of Six Paths hair colors since the semi-translucent gradient effect gives the illusion that the hair is glowing
Cons
It's missing a noticeable feature of Naruto's Sage of the Six Path form, Kurama's Chakra Cloak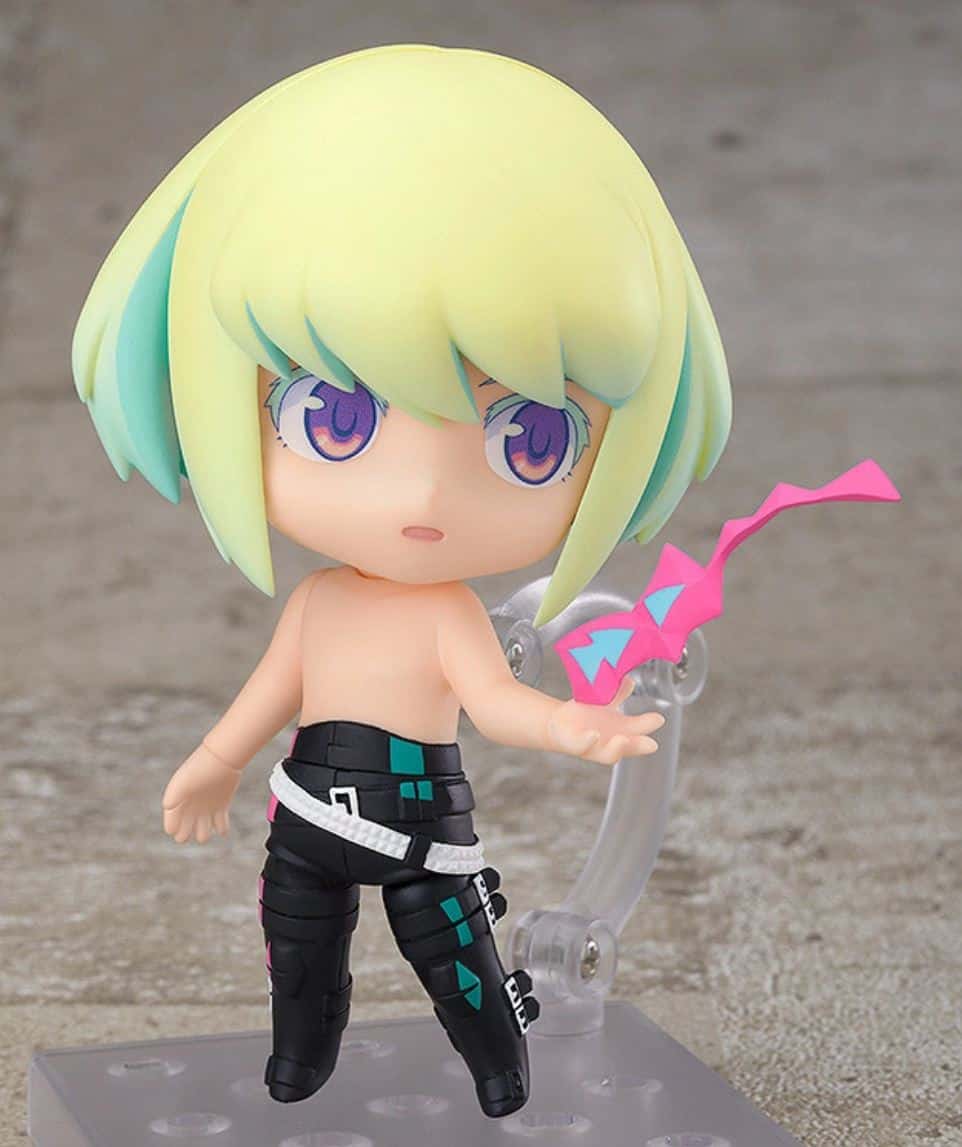 Promare's villain turned protagonist, Lio, is up for grabs as a colorful Nendoroid. This DX version of the aggressive leader of the Burnish contains all the essential parts to relive his vital scenes from the movie.
Release date: October 2020
Rarity: Moderate
Pros
This Nendoroid has the character's two distinct appearances from the anime, Lio in a leather outfit and a topless version
With the extra parts, Super fans of Studio Trigger's movie masterpiece, like me, will be able to copy Lio's first appearance in the movie
Since there aren't any joints on the upper body, the topless torso and bare arms look seamless and clean
Cons
The acrylic Flaming Throne background isn't a standard part of the Nendoroid. It's just a Good Smile Company preorder bonus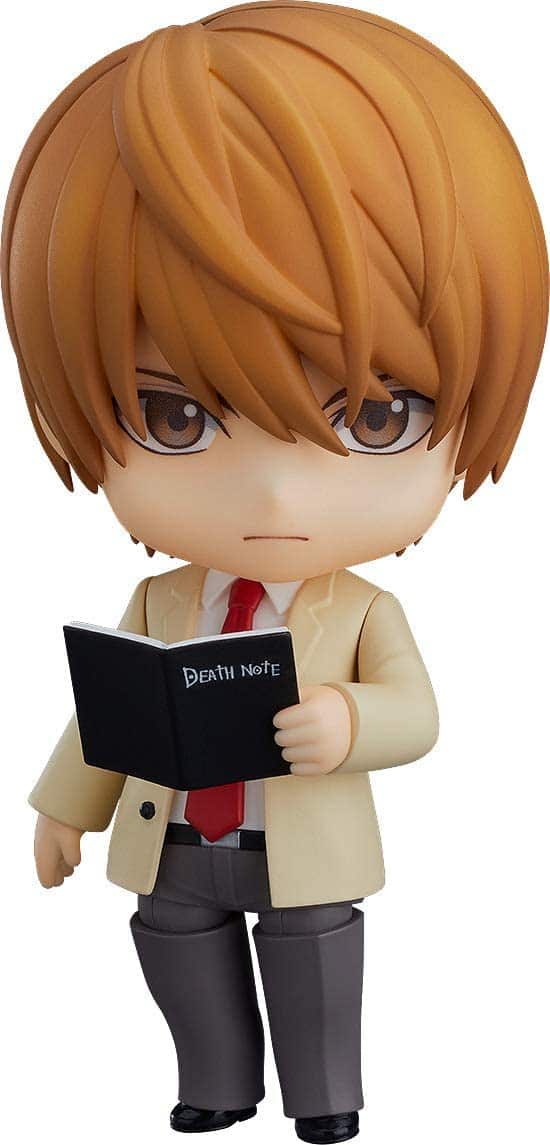 Though the evil genius' glory days on-screen are long gone, Light prevails as an appealing Nendoroid. The master manipulator's new design is a welcome change, as seen by its current in-demand status.
Release date: December 2019
Rarity: Moderate
Pros
The series' trademark items come as accessories for this Nendoroid: Ryuk's favorite red apple, a golden scythe, and the famous Death Note
I love the 'Exactly as Planned' faceplate because it's accurate to how Light looks in the anime. It's his most distinct expression
This Nendoroid carefully follows Light's design in the anime. The hair's mold is particularly well-defined, and the distinct strands entirely hide the seams
You can use the black suit from the Nendoroid More: Dress Up Suits 02 to obtain Light's Detective get-up after the time-skip
Cons
You'll have to buy individual clothes if you want to recreate Light's other outfits in the anime
Conclusion
Good Smile Company is quick to produce Nendoroids of popular manga and anime characters. But not all of them will end up as grails because it's ultimately up to the buyers whether they'll be a flop or not. So I don't suggest you collect Nendoroids intending to profit from them.
It's a risky gamble that may leave you with a bunch of unsellable Nendoroids. I've been there and wouldn't recommend it to anyone. Just thinking back on how long it took to get rid of the 15 Overwatch Nendoroids I had stresses me out. It's better to have fun collecting them.
Moreover, they're the perfect toy line for Otakus to get into toy collecting without splurging much or sacrificing quality. Get started on your Nendoroid collection as soon as possible, so you won't have to miss any more of the great Nendoroids that are about to come out.
Top Q&A
Question: What's The Most Valuable Nendoroid?
Answer: There are currently two Nendoroids that fall under the rarest category since both of them only had one stock ever released.
The first one is the Hatsune Miku Good Smile Color Version Nendoroid which came out in 2009. It was the major prize for the WonHobby Photo Contest of the same year.
The second is the Nendoroid of an original character, the Armored Huke MK2. It was sold at an auction by Good Smile Company in 2011 for 118,000 JPY or 825.81$. The sale proceeds were donated to help with the 2011 Tohoku earthquake and tsunami.
Question: What Are The Most Popular Anime Nendoroid Lines?
Answer: Some of the top Nendoroid lines that you should check out are:
Demon Slayer
Haikyuu!!
Hunter x Hunter
Demon Slayer
Re:Zero Starting Life in Another World
Naruto Shippuden
Attack on Titan
Fate Series
Jujutsu Kaisen
Sword Art Online
JoJo's Bizarre Adventure Series
Question: How Can I Obtain A Hard To Find Nendoroid?
Answer: You have two choices to get guaranteed authentic rare Nendoroids. The first is to search for the Nendoroid in the local toy or specialty shops in your area since they might have it or may direct you to affiliate shops that do.
The second is to target legit local and international online stores. You're likely to have more success this way, especially with Japan-based stores. The downside, though, is you'll have to pay more for the shipping fees.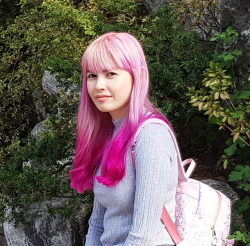 Latest posts by Charissa Fuentes
(see all)