Nier Automata is a thought-provoking game that many consider one of the greatest modern RPGs ever. But aside from its complex and meaningful story, its incredible visuals also strongly contribute to its fame. With such stunning character designs, it's common for those mesmerized by the game to want to possess a piece of its beauty.
Even I couldn't resist getting a Nier Automata figure in late 2019, despite it not being part of my scheduled purchases. Passing it up didn't even cross my mind since it was one of the most stunning figures I had ever seen. Plus, it was up for grabs for a steal price of 144$, much less than the preorder value of 200$.
It's been almost three years since then, and new figures from the game are available now. So with a more extensive selection, sorting out the best Nier Automata figures isn't as easy as before.
You can skip the filtering process, though, as I've done the necessary assessment that should please casual and serious collectors. Just stick with me, and you'll see why the 11 Nier Automata figures in this guide are well-loved by fans. I'm betting you'll discover one or two items you might want to own.
Bottom Line Up Front
Since Nier Automata came out in early 2017, its popularity has steadily grown. As a result, tons of manufacturers are churning out all types of merch to satiate the fanbase. This article will focus on the top-notch Nier Automata figures you can buy, whether your budget is 60$ or 300$ or more.
But of course, although the products I'll be talking about are proven to be of good quality, the high-end stuff will naturally have higher prices. So how much you spend depends on what kind of figure you want to take home. The first six items should be appealing enough if you aren't okay with buying expensive toys.
However, if you're a hardcore Nier Automata fan ready to break the piggy bank, items seven to eleven will fulfill your desires for premium figures.
Properties of An Excellent Figure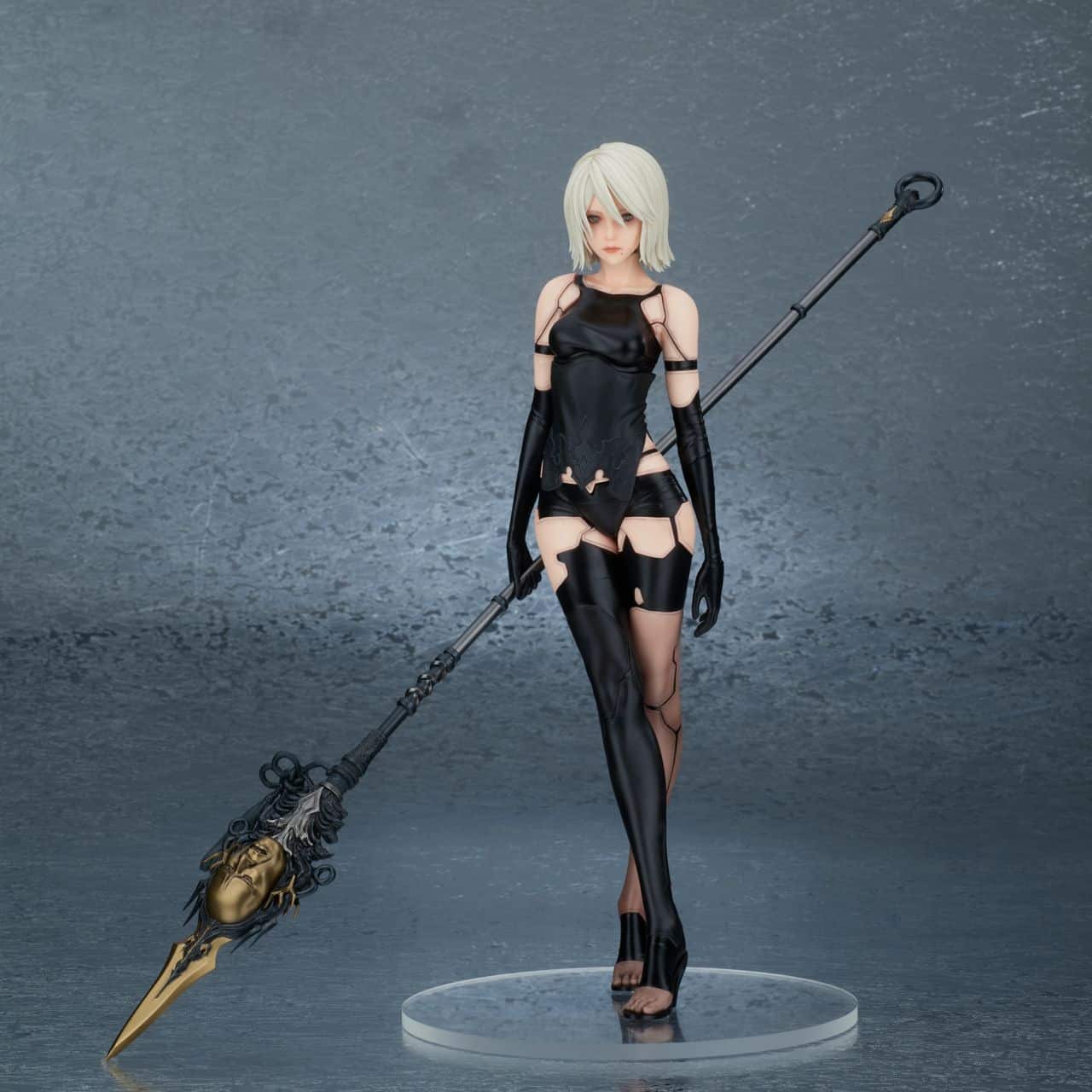 As much as I want to splurge on figures ala Richie Rich, I can't. I'm just an average Joe with a limited budget. So I've had to select my purchases wisely since I don't have the luxury of going after every piece that catches my fancy. My mindset on figure collecting is that since I can't buy everything I want, I have to get the best one, at least.
After years of inspecting figures, comparing their prices, and scrutinizing the manufacturers' quality, I've established a set of criteria that helps me get the most value for my money.
Maintains the game's aesthetics – Nier Automata has a fashionable and prominent style. It's one of the game's outstanding aspects and distinguishes it from other titles. Therefore all the figures included in this article have the game's distinct design or vibe, even the cutesy ones. It has to look like it belongs in the Nier Automata universe.
Looks and feels like a premium product – When it comes to figures, having good quality is just as important as having an appealing appearance. So not only are the items listed here physically attractive but they're made of top-notch materials too.
The craftsmanship justifies the price – The quality of the figures is appropriate to their costs. A 100$ figure looks like every inch is worth 100$, so you get what you pay for with the items in this guide. Nothing listed here will make you think, "This figure is poorly made," or "This looks like a discount item."
Top Picks
Most Budget-friendly – Nier Automata Trading Arts Mini Figure by Square Enix
Best Bang for Your Buck – Nendoroid 2B by Good Smile Company
Most Visually Accurate – 2B Deluxe Figure by Flare & Square Enix
Most Versatile – 2B Dollfie Dream Dynamite by Volks
Best Overall – Nier Automata Masterline by Prime 1 Studio & Square Enix
The Best Nier Automata Figures
They are in order of most affordable to most expensive.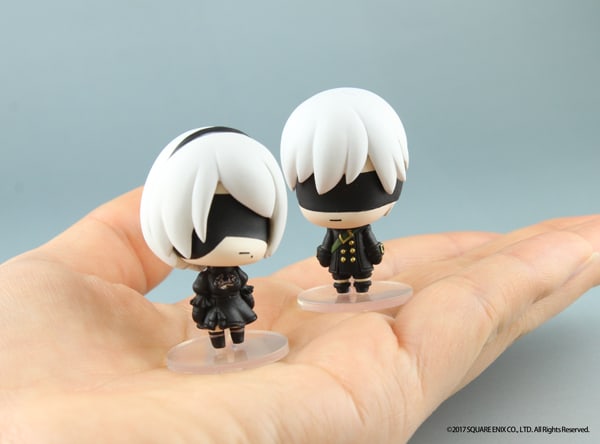 If you want several characters from the game but don't want to spend over 100$, why not go for these mini androids? They're the cutest Nier Automata figures and have a reasonable price tag. Worth picking up when you're into something small that won't clutter up your space.
Moreover, these mini figures aren't as noticeable as Nendoroids and Funko Pops, making them ideal when you want to be subtle in decorating your desk at home or the office. After all, not everybody wants to be conspicuous with their hobbies or merch.
Release date: May 2018
Rarity: Moderate to High
Pros
Even with the chibi style, the mini figures still emulate the same stoic vibe as the characters
When you buy the set, you have a chance of getting the secret character, a rare red-eyed 9S figure
You'll have the game's most vital characters when you buy a boxed set as it includes the three protagonists and their enemies, the machine lifeforms
These figures rarely have any quality issues since they're well-made
You can move the figure's heads, as the neck joints offer some mobility
Cons
Local stores in your area might not carry this anymore as it's been six years since this mini figures set came out
This set of mini-figures isn't available at SRP since its price has increased from 50$ to 76$
Assembly is needed since the mini figures come in three separate parts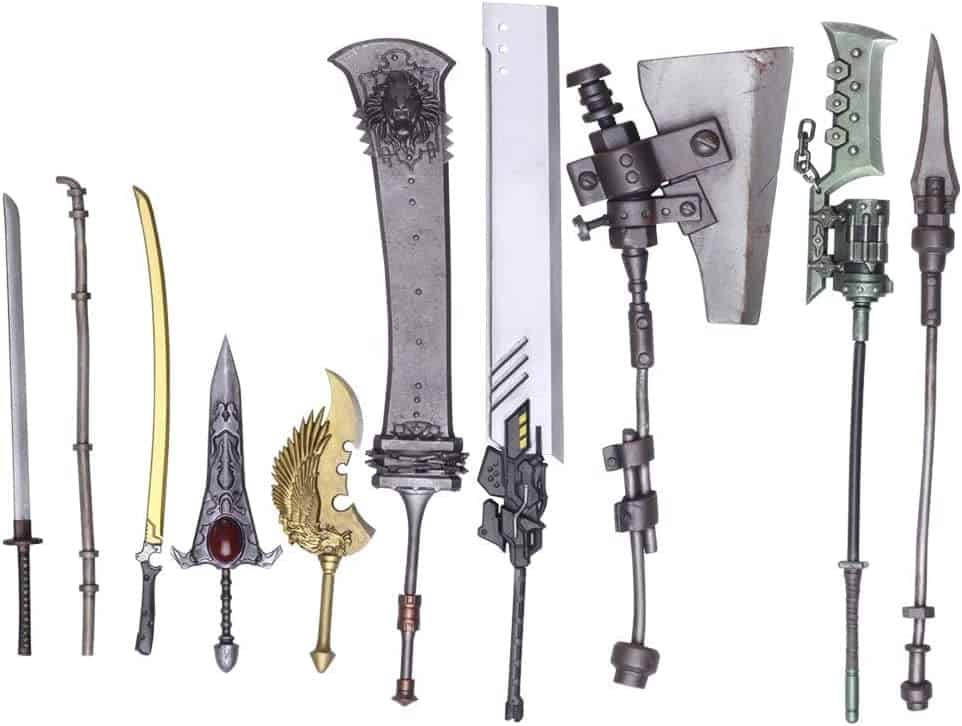 Besides Nier Automata's elaborate character designs, the game's weapons are just as eye-catching. So I'm glad to say that these figures by Square Enix have as many details as their in-game versions.
My faves from this set (not in the game) are the Phoenix Dagger and Ancient Overlord Sword since they're flashy and pretty.
Release date: July 2019
Rarity: Low
Pros
You can still buy this figure set close to SRP
Each weapon comes with an individual stand, meaning you can display them by themselves
Figures from other games or series can equip these Nier Automata weapons as long as they're 1/12 in size. These weapons will go well with Bring Arts, Figmas, S.H. Figuarts, and similar action figures
The figures each include a small colored pamphlet styled after Grimoire Noir from Nier Replicant, which can serve as another accessory
The weapons are small, yet they're well sculpted and even have the appropriate texture to emulate how they appear in the game
The paint quality is superb because the weapons have a believable metallic look
Cons
Since the weapons are 1/12 scale figures, they won't have the right proportions should you want to pair them with larger scale figures
Even though they're 1/12 scale, displaying them all will take up considerable space as the stands are roughly the same size as Nendoroid bases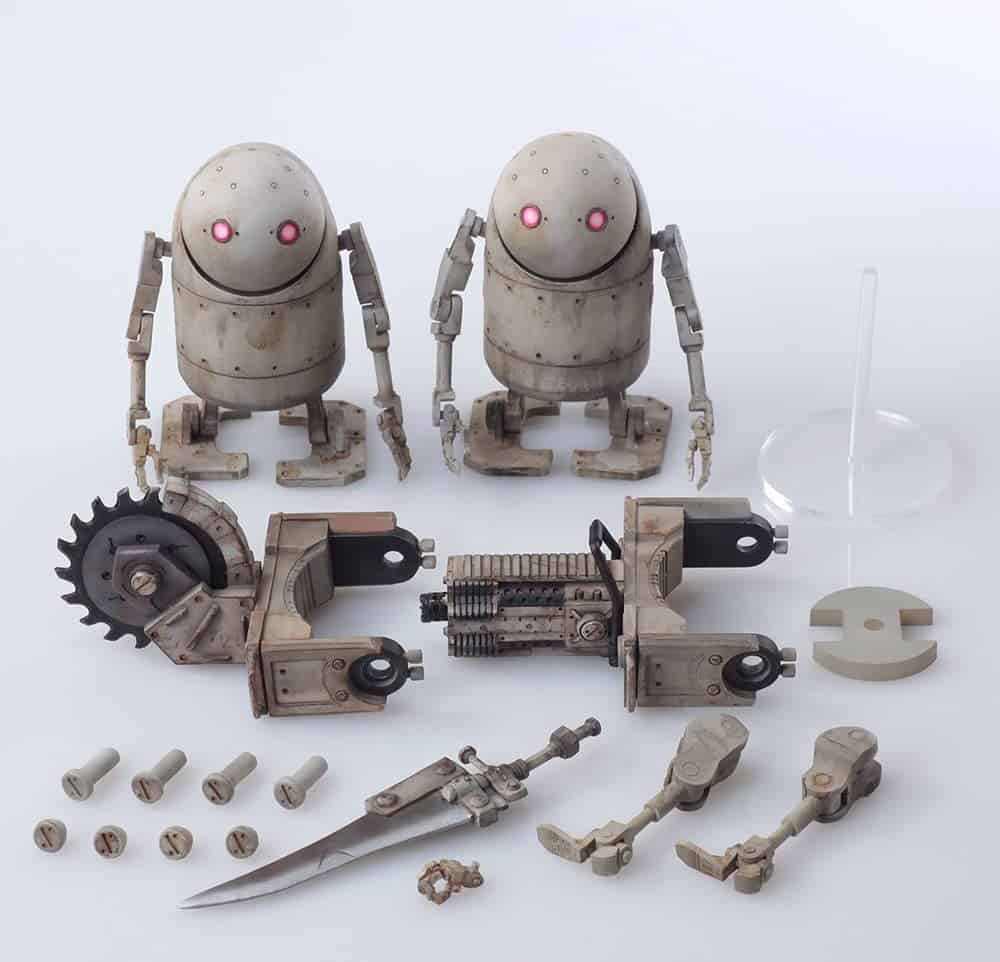 Do you want to bring the bleak world of Nier Automata to your reality? Then you can't forget to bring its residents and antagonists, the Machine Lifeforms, with you. This figure comes as a set of two, and both are precise duplicates of the regular sentient machines in the game.
They'll look great whether you want to display them on their own or pair the set with other Nier Automata figures. They're also a must-buy for those who plan to reenact specific scenarios from the game, like when they cluster to birth Adam or want to emulate the ruins of Earth in 11945 AD.
Release date: May 2018
Rarity: Moderate
Pros
The figure has complete articulation, and the direction of the head's movement follows what's shown in the game
The Machine Lifeform set is visually compatible with 5 – 10 inch figures
I'm pleased that Square Enix carefully copied the Machine's weathered appearance. It looks like the Machine figure's genuinely worn out and has actual rust on it
You get two versions of the Machine Lifeforms with the set as the default standard Small Stubby Machine can transform into a regular Small Biped Machine
You can only obtain the Machine Lifeforms' most common weapons, the Machine sword, chainsaw, and gun when you get this set
Cons
The thin parts of the figure, such as the hands, and arms, are fragile and should be handled with caution
This figure set has become quite pricey at 146 – 160$, more than double its original 59.99$ price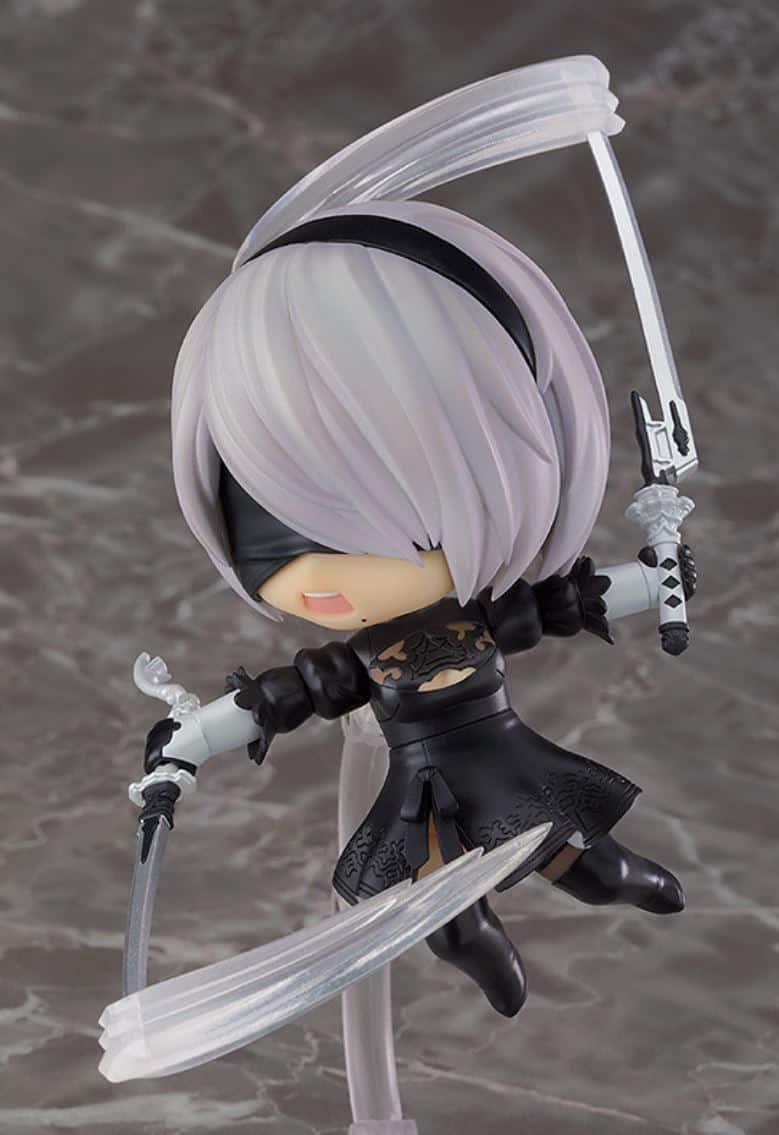 Are you searching for a Nier Automata figure with good quality minus the excessive price tag? This 2B Nendoroid should fit the bill to a tee. It's a compact yet detailed version of the game's primary protagonist and includes nearly every attribute that makes the character attractive.
It's not as sexy as the original 2B, but the Nendoroid still has the vital intricacies of her design, such as the pattern and cutouts of her outfit. What I especially like about this figure is that it has features of the 2B Deluxe Figure by Flare, all for the regular price of a Nendoroid.
Release date: 1st release February 2021 and 2nd release December 2022
Rarity: Moderate
Pros
This standard 2B Nendoroid has two of her looks from the game that you don't usually get with other figures – her uncovered face and her face with the blindfold
The blindfold isn't permanently attached to any part. Hence you can use it on either of the Nendoroid's two faceplates
This 2B figure has more accessories than regular Nendoroids. It also includes most of the trademark items she uses in the game
You can remake many of 2B's attack poses from the game since this figure has a sword effect accessory to depict its fast slashing movement. No other figure offers an effect part
The arms of 2B's support unit Pod 042 can be adjusted
Cons
This Nendoroid's skin tone should be a couple of shades lighter. It's slightly tanner in comparison to 2B's in-game appearance and official illustrations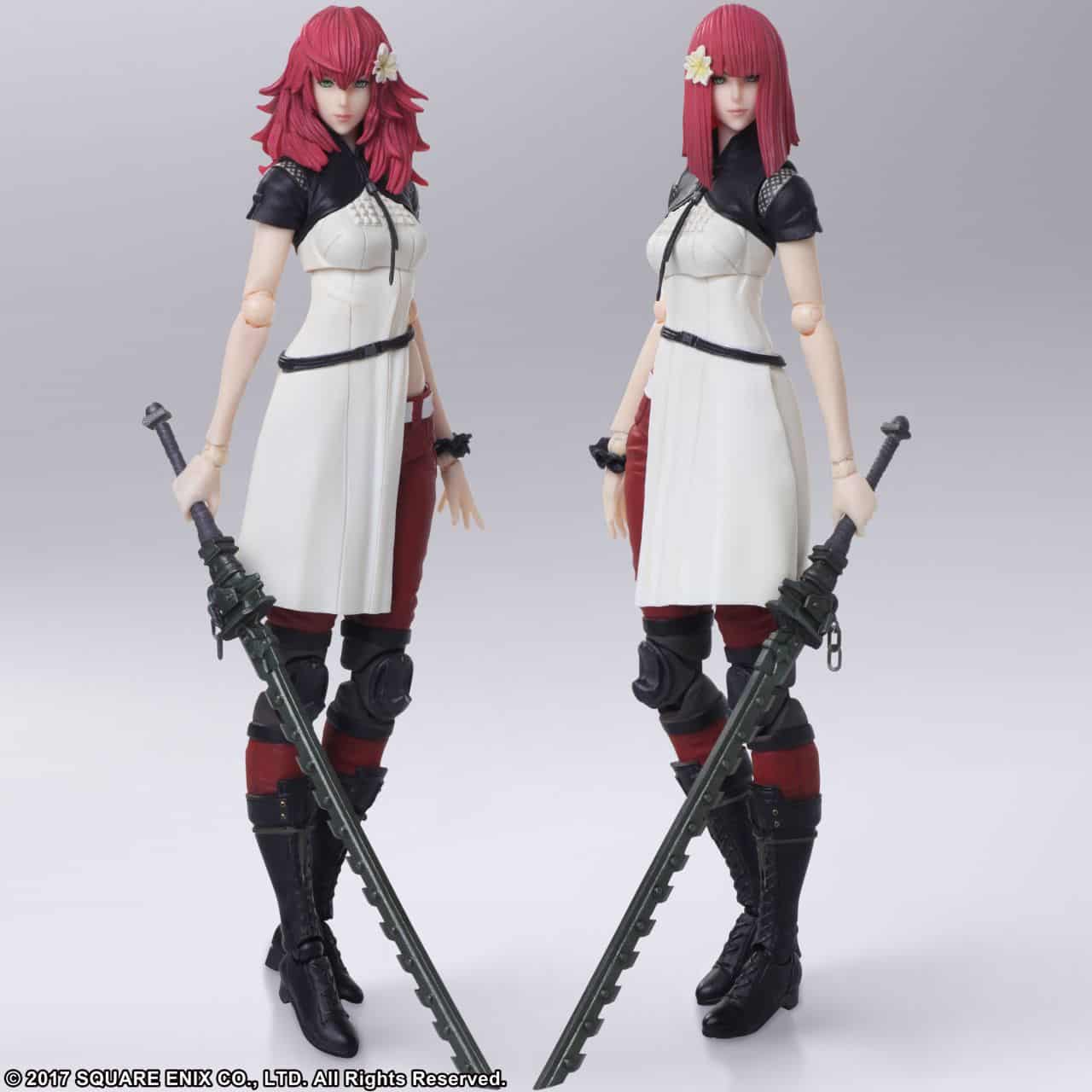 The two red-haired twins have much more minor roles in Nier Automata than in the prequel Nier Replicant. Yet their participation in the game is still vital to reach all the endings, specifically those in 9S' route. As such, diehard fans of the game and completionists will need this set to acquire all the relevant characters in the post-apocalyptic story.
Since these figures are under the action figure category, they don't have the same limitations as the other products with static poses.
Release date: January 2020
Rarity: Low
Pros
You can position these two figures in whatever manner you wish since the ball joints allow a wide range of motions. Both have the same flexibility
These are the only officially licensed figures of Devola and Popola available
You can display the figures in simple upright poses even without the stand
Both of the figures' hair have thin and flexible material, so they don't hinder any of the poses
Since the skirts of the figures are soft and elastic, the range of Popola's left leg and Devola's right leg aren't affected
Cons
You can't buy Devola or Popola individually since they only come as a set
The ball joints for the arms and wrists are too visible. They're distracting for people like me who prefer discreet seams and joints
The figures only have a few accessories, less than what regular Bring Arts figures have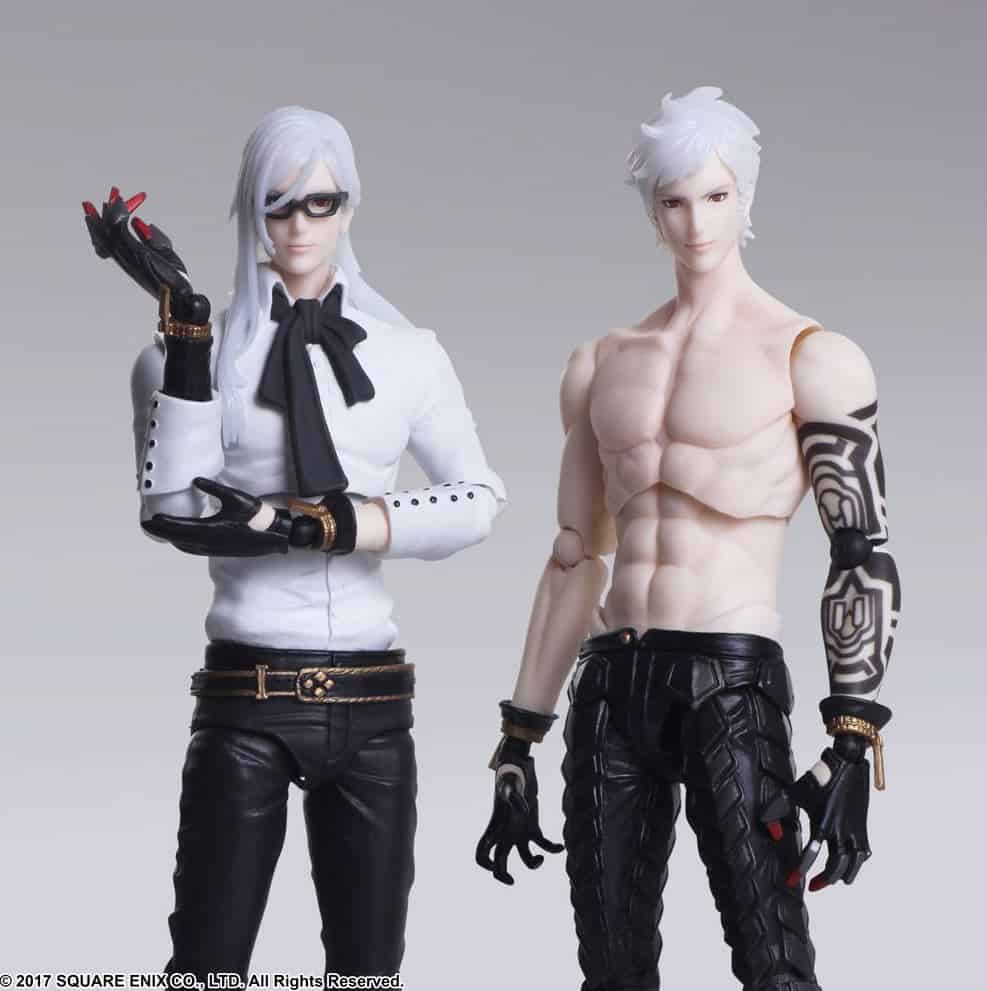 Adam and Even have an irreplaceable spot in the first part of Nier Automata since they're the initial antagonists of the game. The two Humanoid Machine Lifeforms are the ones that plant and cultivate the seeds of doubt in the protagonists, which subsequently propel the story to the other endings.
Considering the brothers' significance, owning their figures is necessary to have a complete Nier Automata collection. They're easy on the eyes, too, so more reason to add them.
Release date: January 2020
Rarity: Low
Pros
Both of the figures' have defined molds that show off their bodyline. Their outfits also have a textured look that closely mimics the fabric of what they wear in the game
The figures have the appropriate heads to imitate how Eve and Adam look in their second and thirds interactions with 2B and 9S
Due to the gloves and Eve's tattoo, the ball joints on the figures' wrists aren't too apparent
Since Square Enix included the book and apple accessories, you can recreate the brothers' cut scene before 2B's one-on-one battle with Adam. Just buy similar looking 1/12 scale chairs and table to complete the scene
You can still buy this Bring Arts set at SRP since plenty of stores have it in stock
Cons
You can't do much with the apple accessory since it's permanently attached to the hand part
The glasses accessory adds no value to this set. It should've been a different item instead, like an alternative body part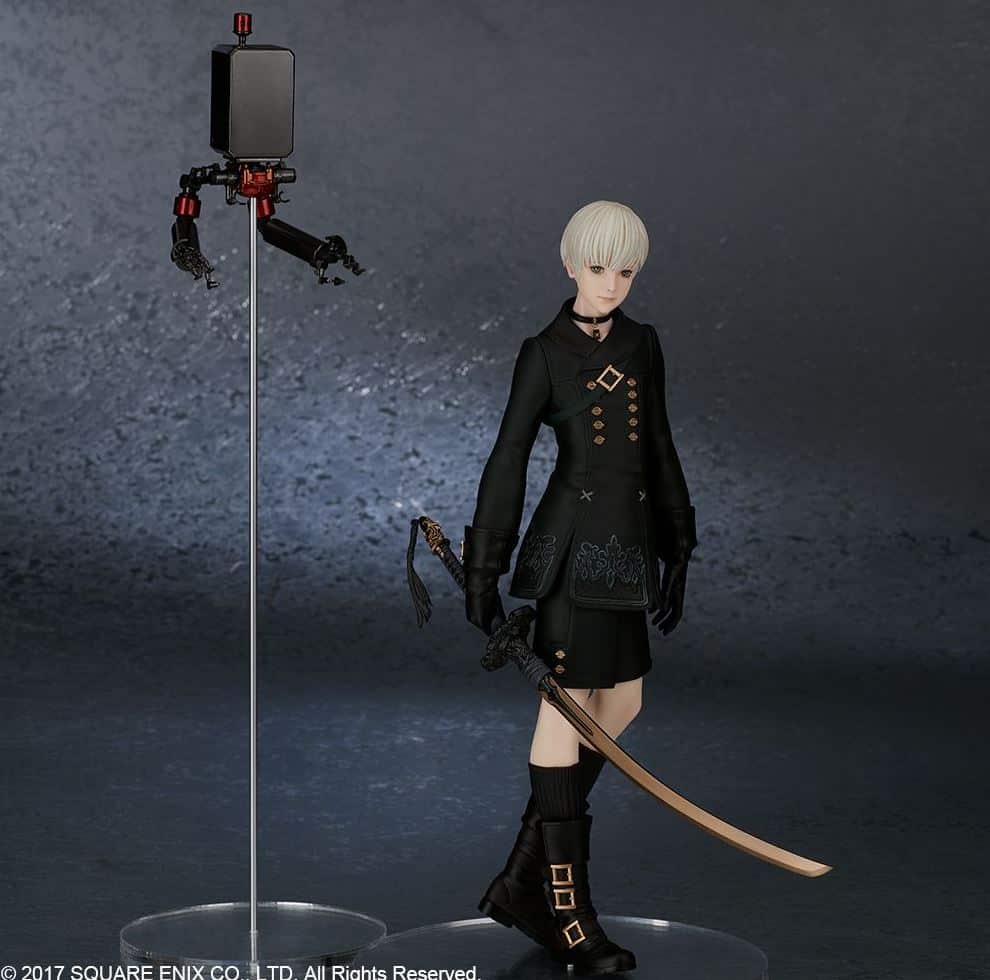 I've been eyeing this 9S figure for a while since I plan to order it from AmiAmi or a local store when I finally have the budget. In the meantime, though, I've investigated it since its release and consider it the perfect replica of the Scanner Type Android.
9S has one of the most cherubic faces I've seen, and Flare did a flawless job of bringing his loveliness to reality. No other toy or figure of the same size has come close to delivering the same high quality, effectively cementing its position amongst the top 9S figures.
Release date: March 2022
Rarity: Low
Pros
The figure looks like it's wearing genuine leather clothes. Even the wrinkles and creases seem realistic
It's the only licensed figure of 9S in his underwear
Because of the alternate parts, this DX version offers four combinations of 9S' appearance that other figures can't: Blindfolded 9S in his shorts or underwear and 9S' uncovered face with the same outfit options
The DX version includes a Support Pod 153 with articulated arms and a separate stand
The figure is a carbon copy of 9S from the game and looks as impressive in person
It's still available for its original preorder price at some stores
Cons
Some stocks may have minor paint flaws on the hair, particularly along the tips of the hair, and the back part of the blindfold
The mold at the back of the figure's head may have some uneven hair strands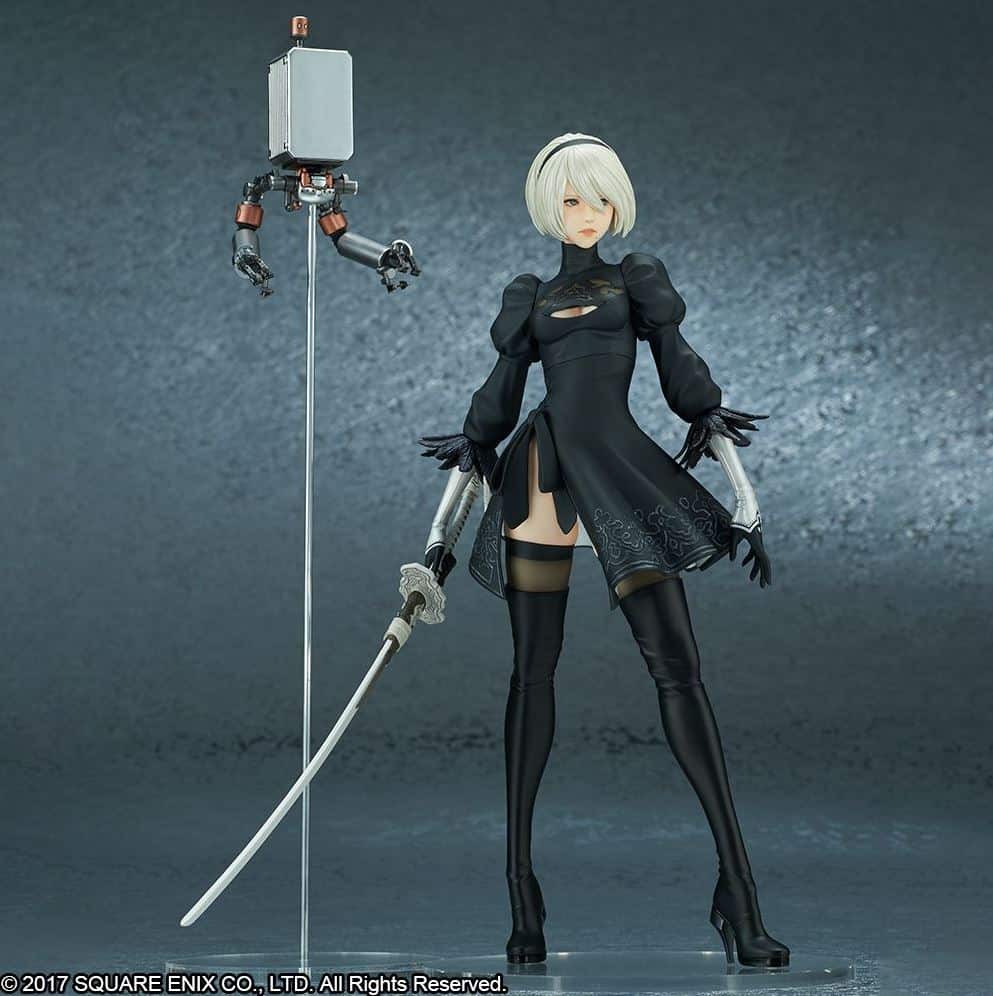 The most beloved Android of the game, 2B, is accessible to fans as this impressive 11-inch figure. I've had this version of 2B since its first release, and it doesn't disappoint. It's a little expensive but worth every penny since this PVC version of 2B is bewitching from head to heel.
I'm also glad Flare made this figure on the bigger side since it's common for manufacturers nowadays to produce 1/8 figures rather than 1/6.
Release date: 1st release September 2019, 2nd release November 2021, and 3rd release December 2022
Rarity: Low
Pros
The appearance of this figure's skin is first-class because it looks soft and lifelike. It's also accurate to 2B's unearthly skin tone in the game
This figure's mold details are impeccable. The stitching all over the dress is fully sculpted, along with the embroidery pattern on the skirt
The glossy paint finish on the eyes gives this 2B's face a touch of realism that most versions of her don't have
You can display 2B without her blindfold and skirt as this DX version includes alternate body parts
This figure has one of the prettiest 2B faces, only second to the 2B by Prime 1 Studio,
Due to its multiple releases, it's easy to find stocks of this figure, be it at local stores or marketplace sites
Cons
There's no separate support stand for the Virtuous Contract sword. So you can't recreate how it's attached to 2B's back like in the game, similar to the 2B Nendoroid
The figure is no longer a grail because it's gotten consecutive releases in the last three years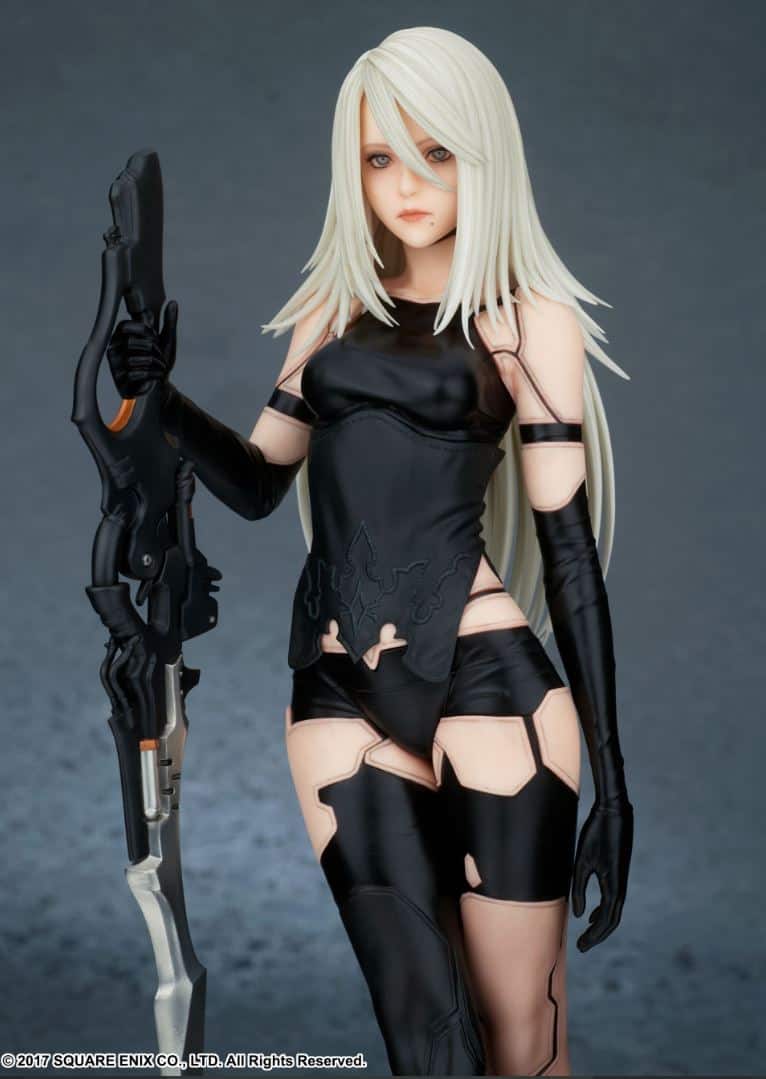 Flare offers three variants of A2 – but you can only get all sides of the rogue Android when you go with this deluxe version. You get the perks of two figures without the hassle of two boxes.
It's an exquisite and sizeable figure of the game's final heroine that you can't obtain anywhere else. This A2 also has a fierce yet haunting vibe that's in tune with the character in the game.
Release date: May 2023
Rarity: Low
Pros
Like with the other Deluxe Flare figures on this list, you can mix and match the alternate torsos, and head sculpts to display the version of A2 that you want
It's the sole A2 PVC figure that can change its pose seamlessly due to the alternate body parts
You essentially get two figures with this Deluxe version and pay a lower price for their designs than if you buy the two A2 variants
Based on the quality of Flare's other Nier Automata figures, you're guaranteed to have an almost blemish-free A2 figure
It's got one of the most attractive and lifelike faces of A2
Cons
This figure's pose is odd and doesn't fit A2's personality. An attack or dynamic pose would've made this more appealing
This figure's face looks good, yet it deviates from the in-game model's appearance. It would've been better if Flare had been more faithful to A2's in-game face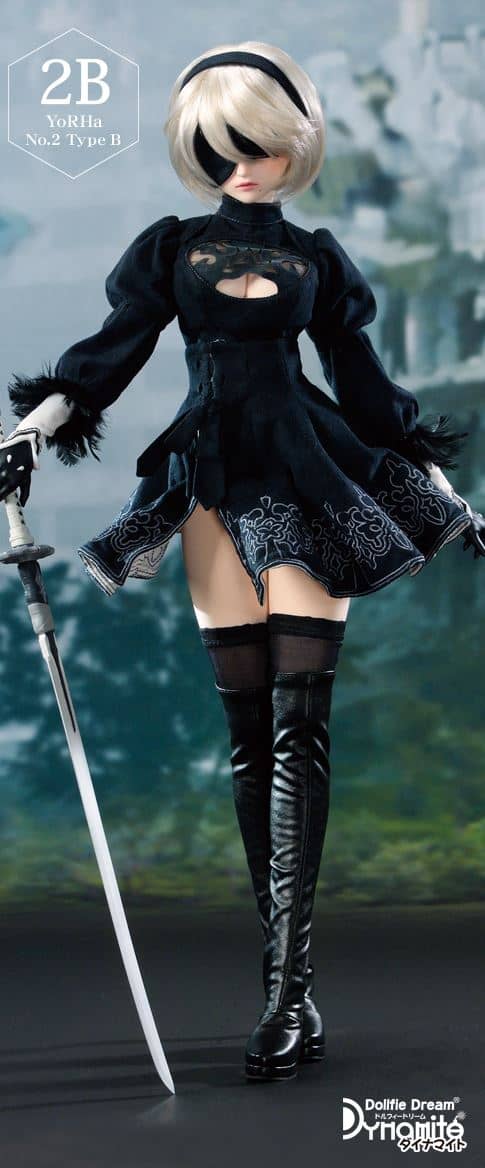 When you want something with the flexibility of an action figure and the captivating good looks of a scale figure – this 2B Doll is the answer. It's the second largest item on this list and is an anatomically correct ball-jointed doll that's as big as a 2-year-old toddler.
One of its main advantages over the other articulated Nier Automata figures is that none of its seams are visible. This figure will consistently have a smooth and tidy appearance regardless of its position.
Release date: December 2019
Rarity: High
Pros
You can customize the doll to your liking, like changing its faceup (makeup) or wig
This figure's costume consists of fabric. So it's able to capture the costume's delicate details that PVC figures can't, such as the see-through patterns on 2B's top
The height of Support Pod 042's stand can be changed, which is something you can't do with the other Support Pod accessories
Due to the costume, the joints and seams of this figure are hidden from view no matter how simple or dynamic the pose is
This figure has the most realistic 2B outfit so far. Its sleeves have actual feathers, and the skirt has a wired hem so you can closely mimic its shape from the game
Cons
It'll take time to set up everything because you have to dress up the doll and assemble Support Pod 042 piece by piece
Since this doll is expensive and has only gotten a single release, there are only limited stocks available on the market
This one falls under the statue category, yet it's worth putting here since it's still technically a Nier Automata figure. It's a jaw-dropping 1/4 scale diorama highlighting the game's central characters, 2B, 9S, and A2.
I'm familiar with Prime 1 Studio's creations and have been drooling over their insanely beautiful handiwork for some time. So if I had 3,400$ to spare, I'd add this piece of art to my collection in a heartbeat.
Release date: March 2022
Rarity: High
Pros
The craftsmanship is top-tier for this diorama. There isn't a single paint or curve that's out of place
I love the characters' dynamic poses. They're aesthetically pleasing while being in tune with the character's movement in the game
The base incorporates many scenes from the game, such as the YoRHa Heavy Armament Android, Machine Lifeform head, and the remnants of Earth's facilities
The paint finish is flawless and gives this diorama depth that typical figures don't have. The different textures are distinctly visible and add a sense of realism to the figures in general
The head sculpts for the three androids are perfect as they look exactly like the characters' in-game models
It's the best representation of Nier Automata because it encompasses the game's distinct style and successfully includes the essential aspects of the game (the androids, their enemies, and their world)
Cons
Being a 1/4 scale statue of the three characters, it's heavier and larger than any other Nier Automata figure
Ordering this overseas will cost a lot since it weights a ton
Assembling the diorama will be slightly confusing since it consists of more than a dozen pieces
Tips for Buying Figures
Every single item in this article will satisfy big-time fans of Nier Automata. I've researched the available figures as much as possible and have picked only the best. I've even personally seen how the manufacturers handle their products and know for sure that not one of them is a dud. They're all quality figures that will look marvelous when placed on a shelf, desk, or display cabinet. I'd even add them to my cart and happily check them out if I had the means.
There's a crucial thing you have to be mindful of when it comes to figures, though. It's that there's a chance you might get a defective stock. That's just how life is, and there's no way to prevent it 100% from happening. As such, it's best to double-check the return or replacement policy of the store.
This way, you'll have some peace of mind, whichever one you order. Considering half of the things I mentioned are expensive, it's only fair to ensure that you get what you like in pristine condition. Thankfully, quality issues aren't a common problem with the manufacturers in this guide, so you can shop without worrying. Just don't forget to stay within your budget because building a Nier Automata collection can be addicting.
Top Q&A
Question: Why Are Most Nier Automata Figures Under Square Enix?
Answer: Though PlatinumGames developed Nier Automata and Yoko Taro came up with the design and story, the IP and distribution rights belong to Square Enix. For this reason, most Nier Automata figures directly come from Square Enix, such as the Bring Arts and Trading Mini Arts figures.
When Square Enix isn't the manufacturer, they take on the distributor's role and partner with figure-making companies. A couple of concrete examples are the Flare and Prime 1 Studio products in this article labeled as Square Enix property.
Question: Are The Blindfolds or Clothes of The Nier Automata Figures Removable?
Answer: The blindfolds and clothes of the characters are usually permanently fixed to the figures and cannot be adjusted. The only Nier Automata figures with removable blindfolds or outfits are those with customization options, such as the Nendoroids and Dollfie Dream Dynamite Dolls. Otherwise, the figures with uncovered faces or body parts typically have two versions or come with alternate body parts or faceplates.
Question: Do I Have to Know Nier Replicant If I Want To Play Nier Automata?
Answer: Nier Automata is the sequel to Nier Replicant. Yet playing Replicant is not necessary to enjoy Automata's story. Because while the two games are connected, they can stand alone since they offer different journeys. However, playing both games is advisable when you want a more complete and immersive experience of Nier's lore.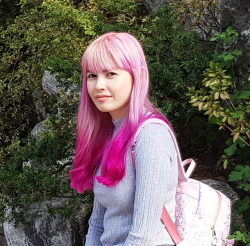 Latest posts by Charissa Fuentes
(see all)