Despite Hunter x Hunter's protagonist being mainly Gon in the anime, most have been drawn to the pretty boy with killer instincts, Killua.
International fans have even shown their support as the young Zoldyck's the number one character in the series, according to MyAnimeList. Hence, if he's also your top boy, you'll need a Killua Nendoroid guide like this one.
Aside from his chibi form, you'll also discover loads of other Killua figures that will thrill you in this article. Want something inconspicuous?
An exciting desk buddy for your office or work area? Or maybe a giant replica of the young assassin fitting for a display cabinet? Whatever kind of Killua you're interested in, it's right here! Let me show you his different forms, starting with the Nendoroid first.
Bottom Line Up Front
Since Hunter x Hunter is an old title, it didn't get as many figures as Demon Slayer or Attack on Titan, despite reaching the same level of fame.
Toy figure manufacturers weren't as prolific back then, so only 9 of the 38 official Killua figures are worth owning. Among them, the Nendoroid version is the most popular one. The 3.9-inch toy has a great design that's a carbon copy of the 2011 anime version and is more accessible than the other figures as well.
I've had time to look closely at the mini Killua since I preordered mine in 2020. And I can attest that it's a rewarding purchase because it's one of the best variants of the boy that currently exists. Luckily, GSC announced a rerelease for it, meaning you can get one without having to pay triple its original price.
In case you're crazy for more Killuas, you'll be glad to know that the details of the remaining eight valuable versions are also in this article.
What Makes the Killua Nendoroid Special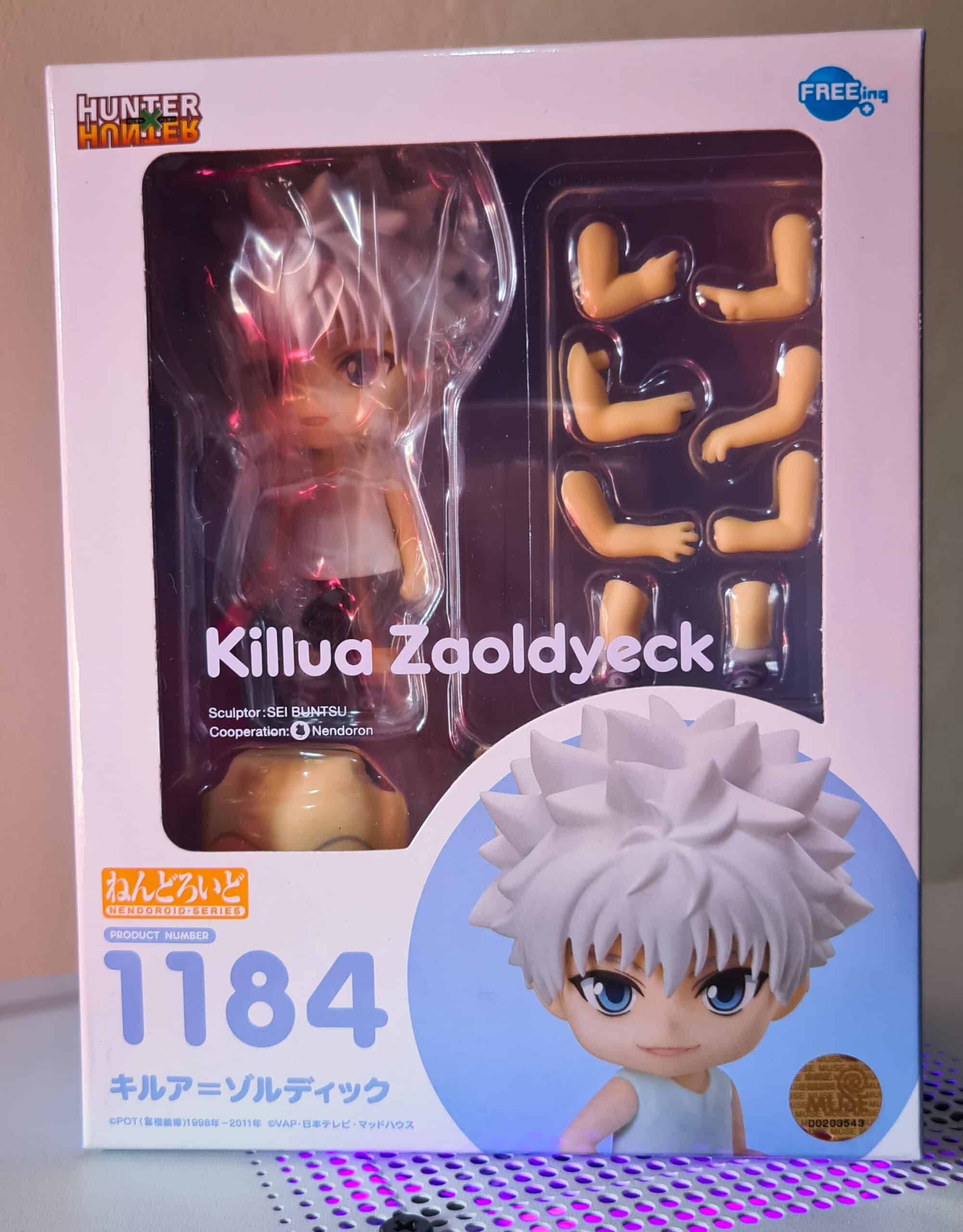 Although tagged as the lead's best friend, Killua feels more like the protagonist than Gon. Everything about the young Zoldyck is just more alluring, from his pretty looks to his mischievous nature. Even the boy's bloody background won him brownie points from fans, further solidifying him as the most beloved Hunter x Hunter character.
Thankfully, FREEing took note of his allure and incorporated his deadly charms into this precious Nendoroid. Just one look at this figure, and you can instantly distinguish all the captivating parts of the assassin-turned-adventurer. And accordingly, should you want a Killua to take home, this tiny PVC clone has to be your first choice.
Release date: 1st release July 2020 and 2nd release July 2023
SRP: $42.99
Rarity level: Medium to Low (once rereleased)
Pros
This Nendoroid has one of the best faces among the Killua figures since it looks completely like the character.
It's one of the few figures of Killua wearing his Greed Island outfit.
This figure doesn't have any boring or irrelevant faces. The character's most recognizable expressions in the anime have been faithfully copied on the Nendoroid's faceplates.
It's the second fully customizable Killua figure. You can pair it with official GSC accessories (such as dioramas and playsets) to reimagine or bring many of the character's scenes to life.
This is the only figure that has Killua's famous funny cat face. It's the boy's most common expression when he's being naughty.
Cons
The phrase plate (preorder bonus accessory) looks too plain. It's the most boring one among the Hunter x Hunter Nendoroids.
Although Killua's Greed Island costume is uncommon, it's less recognizable than his main outfit (the purple turtleneck, lilac shirt, and shorts).
The Rest of The Hunter x Hunter Nendoroids
The Killua Nendoroid is nice and all, but if you're a full-fledged Hunter x Hunter fan, you'll also want the other characters from the series. Here are the three available Nendoroids you must check out to complete GSC's lineup.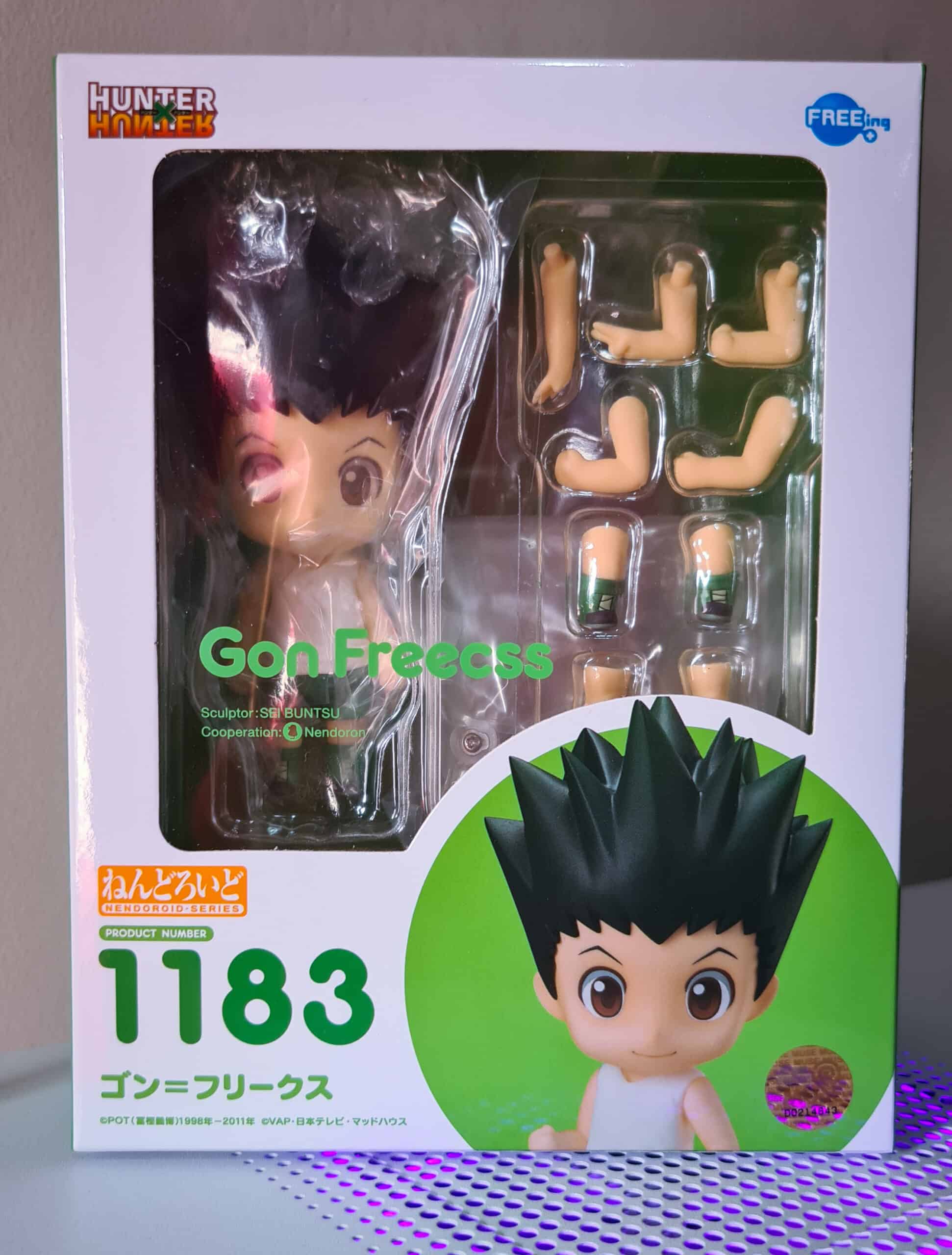 Gon is the heart of the series and the typical stereotype of the goody-two-shoes hero. What separates him from the cliche leads, though, is his reckless thirst for adventure. The Whale Island native's fun-loving nature and perseverance push the story's direction into often life-threatening situations.
As for his Nendoroid, I'm happy with how it turned out. This version is just as bright-eyed and lighthearted as the character looks on screen (save for the transformed version).
And because it's the lone figure that includes Gon's important forms, it's a key piece to any Hunter x Hunter collection. Buying it should be a give since you're essentially getting two figures for the price of one.
Release date: July 2020
SRP: $43.99
Rarity level: Medium to Low (once released)
Pros
This is the only figure that can transform into Gon's two forms, the regular child and adult forms from the Chimera Ant arc.
I applaud FREEing for following the actual colors from the source material. Because unlike most of the Gon figures that incorrectly depict the kid with pure black hair, this figure has black-green hair that becomes more obvious under bright lights.
This Nendoroid is the sole version of adult Gon that you can customize because the rest are static figures.
It's one of the three articulated Gon figures (Figma and the DX Action Figure by Comaniaco).
Due to the rerelease announcement, this is the easiest Gon figure to acquire at the moment. You won't have to hunt for it or order it overseas.
Cons
This Nendoroid has one of Gon's dullest outfits from the entire series.
The figure is too bare. FREEing should have at least included hand or effect parts to emphasize his Jajanken attack moves better.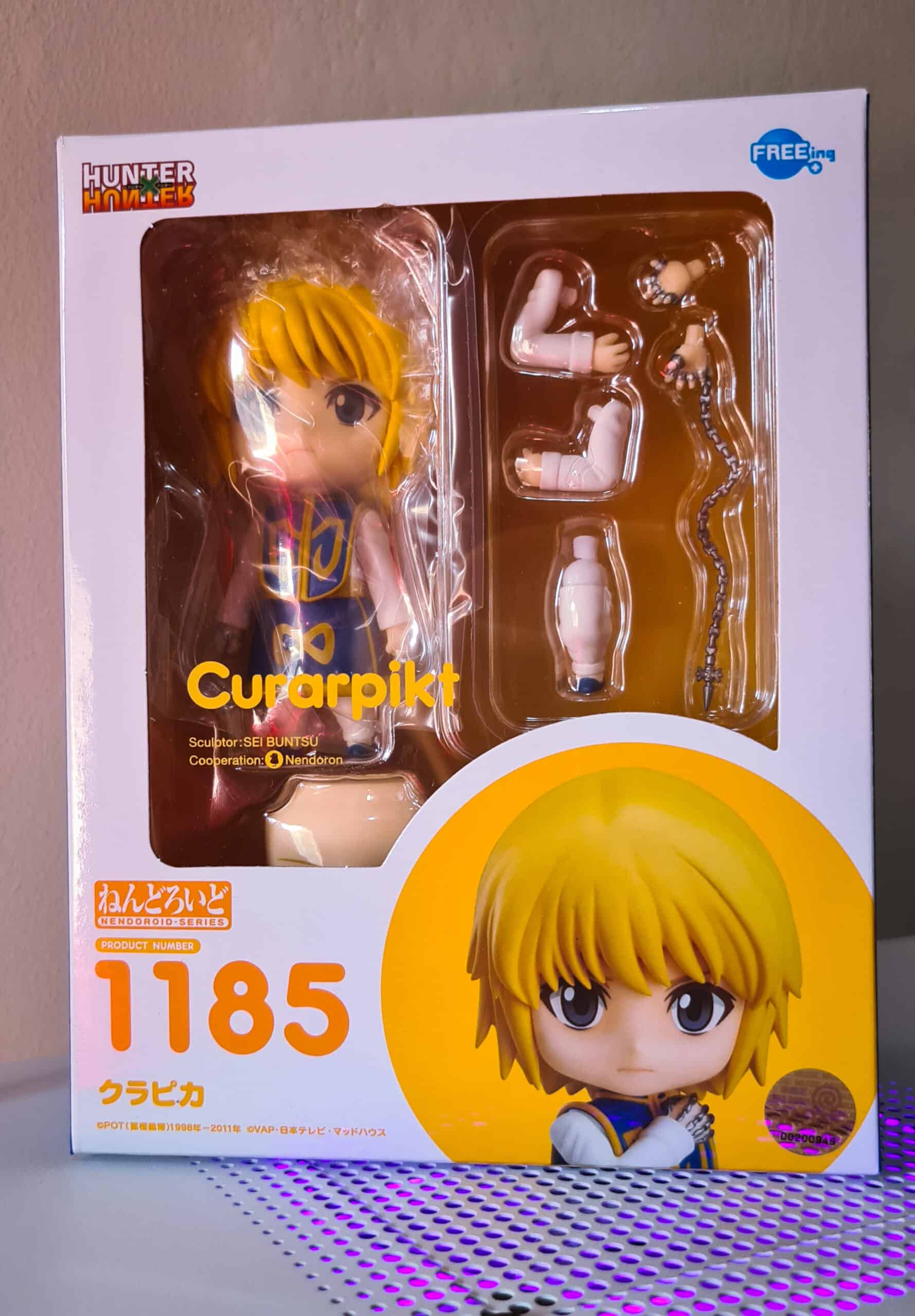 FREEing deserves two thumbs up for this figure, as the last living member of the Kurta Clan is a sight to behold in Nendoroid form. You can tell from just a quick glance that they carefully crafted every part of it. Considering the figure's quality and accuracy to Kurapika's anime character design, anyone will be ecstatic to have it.
Additionally, this Nendoroid allows you to play around with Kurapika's different emotions, which you can't do with other figures. Want to display him in his happy, vengeful, or serious state? This is the toy you need.
Release date: June 2020
SRP: Around $42 to $45
Rarity level: Medium to Low (once released)
Pros
This is one of the only two official Kurapika figures that can change its eye color.
You can exhibit Kurapika with or without the chains on his right hand. It's the Nendoroid's unique feature, as no other version offers this option.
This is the lone figure that can recreate two of Kurapika's exact looks from the anime. The first is the character's usual appearance in his default outfit, and the second is the bodyguard attire (you'll need the black suit from the Nendoroid More: Dress Up Suits 02).
It's one of the most attractive and articulated figures of Kurapika and is a spot-on duplicate of the 2011 anime version.
Due to the hairstyle and costume's design, you won't see any seamline on this Nendoroid. All the joints and lines are hidden under the outfit.
Cons
The skirt part limits leg movement, so you won't be able to pose the lower half of this figure as freely as a regular Nendoroid.
Since the figure is getting a rerelease, it's lost its rare status.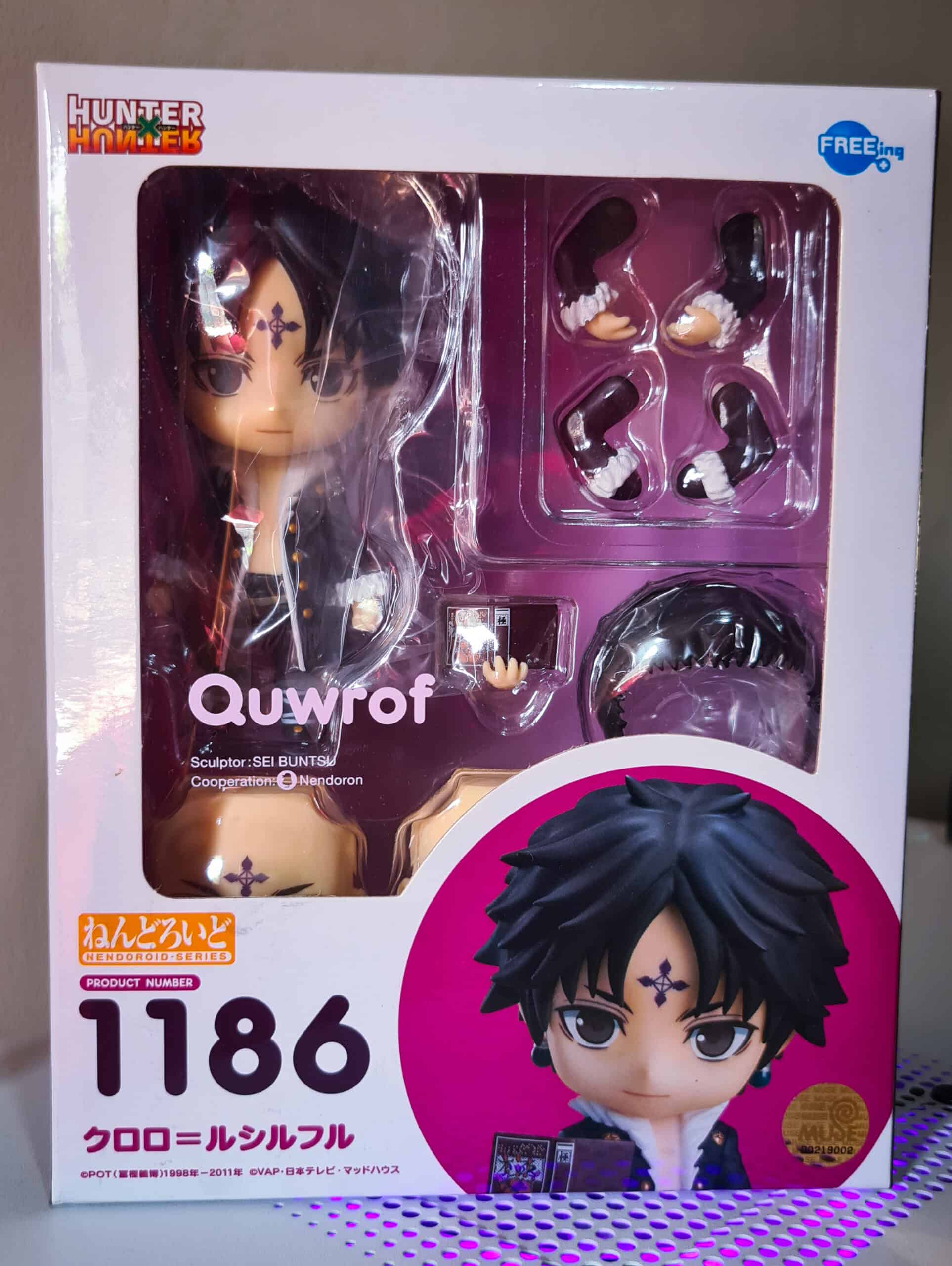 Hunter x Hunter's mangaka, Yoshihiro Togashi, has a knack for creating likable villains, and Chrollo is the ultimate proof. The Phantom Troupe's leader is one of the series' most cunning and ruthless humans. Yet, he's been among the top 10 characters since his first appearance in the 1999 anime version.
Given how much fans love him, it wasn't surprising that GSC made a Chrollo Nendoroid instead of Leorio. This figure even became the most sought-after character in the lineup. Fortunately, you can obtain FREEing's enigmatic and debonair version at SRP this year since all four Hunter x Hunter Nendoroids are getting rereleased.
Release date: August 2020
SRP: Around $42 to $45
Rarity level: High to Low (once released)
Pros
This is one of the few official and premium figures of the Phantom Troupe's leader. It has a more polished and updated design than the older Chrollo replicas.
You can alter the Nendoroid's appearance since it has two front hair pieces. It's also one of the few toys that show Chrollo with his hair down.
It's the only officially released Chrollo that's completely articulated and customizable. The rest of the available variants are just static figures.
You can move the Bandit's Secret book accessory around since it's detachable.
Since this toy's manufacturer has changed from FREEing to GSC, this Chrollo will likely get multiple releases due to its popularity. This means it'll be easier to buy starting in late 2023.
Cons
The Nendoroid is missing a prominent feature: Chrollo's abs. Almost all of the other figures show off his stomach.
This figure's skin tone is supposed to be much paler as it's based on the 2011 version.
More Killua Figures Fans Will Love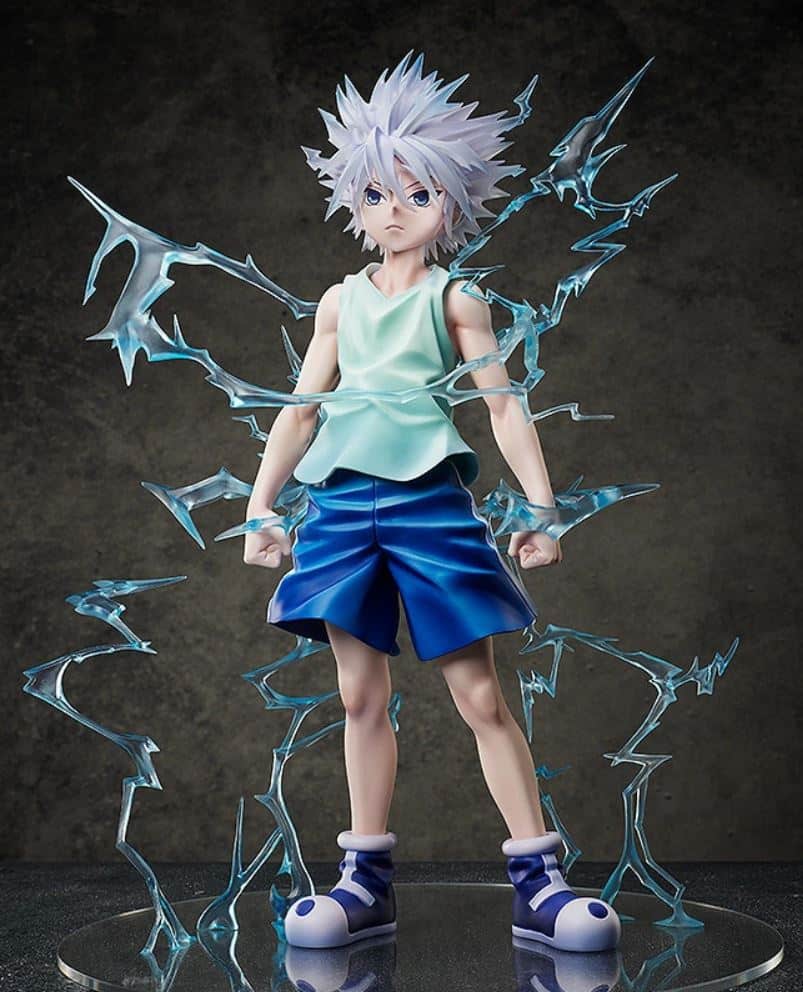 Though Killua's best known for his assassin roots, it's his electrical prowess he wields for the majority of the series. So when you want Killua in his most powerful electric form, you should consider this figure. It's among the most stunning Killuas to date and is made by one of the most meticulous figure-making companies.
It costs twice the amount of 1/6 – 1/8 figures, but I'm telling you, it's worth every cent. I own a few 1/4 scales by the manufacturer (the Bunny line), have seen many up close, and have nothing but praise for FREEing. You'll never regret buying this figure because of its excellent quality.
Release date: January 2024
SRP: $382.99 to $581.99
Rarity level: Medium to Low (once it's released)
Pros
This is the most enormous licensed Killua scale figure at 18.5 inches, making it an exceptional centerpiece for your collection.
It's the most accurate figure to the 2011 anime character design, as FREEing got the correct colors, especially the skin tone.
The figure's appearance is based on Killua's Godspeed mode, the character's most powerful state in the anime. It also includes lightning effect parts you won't usually see in other variants.
You don't have to hesitate or worry about ordering this figure since FREEing is a fantastic company. They always deliver what they promise in their promotional photos.
The craftsmanship on this piece is flawless. There aren't any visible seams, and the creases on the body and clothes are lifelike.
Cons
You might have difficulty displaying this figure since it won't fit in tight or narrow cabinets.
Due to its size and weight, ordering this from overseas will be expensive.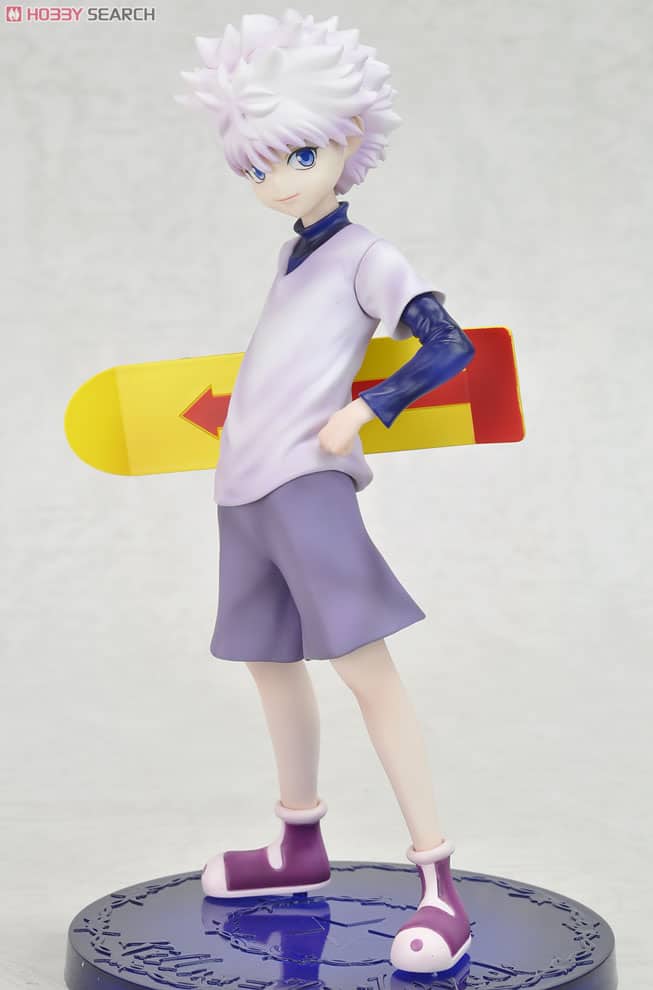 Although MegaHouse's version is among the oldest releases, it's one of the most attractive Killuas. And unlike regular scales stuck with a single pose, this 7-inch PVC copy offers a total of four.
One of the reasons why this Killua variant appeals to me is because it has a colder atmosphere compared to the others. The figure resembles the boy's initial frosty and detached attitude in the first part of the series, the Hunter Exam arc. Even with the smiling faceplate on, the figure still looks every bit the professional assassin that Killua was raised to be.
Release date: July 2012
SRP: Around $34
Rarity level: High
Pros
You can recreate Killua's memorable moments from the anime as this figure features two of his trademark appearance. First is his scenes with the skateboard, and second, the ones with the claw hands (the Assassination Arts technique he often used at the start of the series).
What I love the most about this figure is that it has Killua's correct skin tone (ashy pale), which many manufacturers don't get right.
It's the only premium scale figure that comes with a detachable skateboard accessory. So you have the option to display Killua with or without it.
Since the figure has additional arm parts and faceplates, you can mix and match them to create up to four looks.
It's one of the only three figures that show Killua in assassin mode (the other two are the Figma and Nendoroid variants).
Cons
The figure has a fluffier hairstyle than what you see in the anime and manga versions which diminishes its resemblance to the character.
Most of this figure's stocks on the market are preowned since it's an old figure.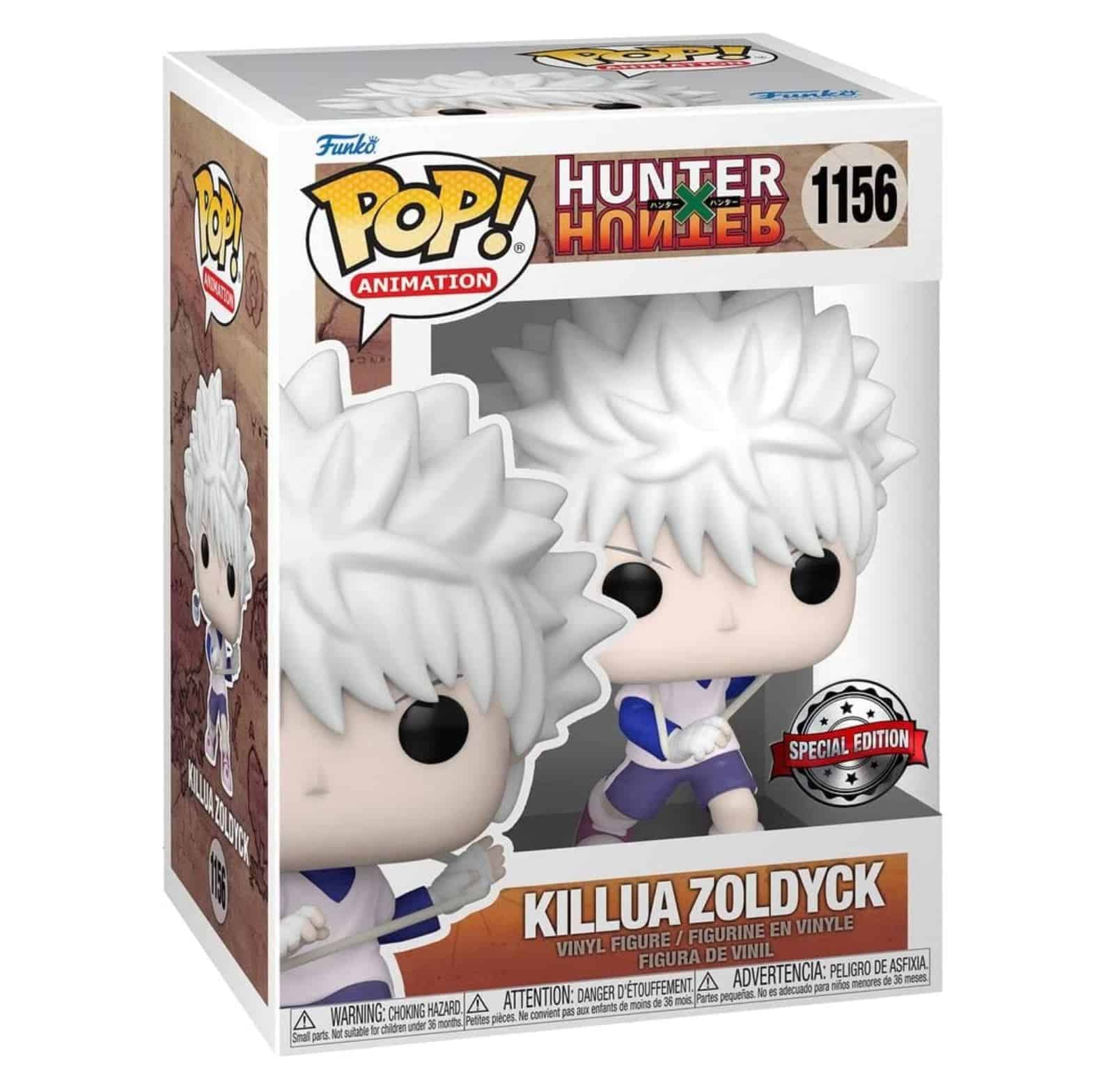 Not only are Pops easy on the eyes, but they're light on the wallet too. So if you want to own a tiny Killua without endangering your budget, this Pop is the answer. It's a good starting piece for your Hunter x Hunter collection or beginners in the toy collecting hobby.
Now, what sets this variant apart from the three other Killua Pops is its uncommon design. You see, the young Zoldyck's figures primarily focus on his skateboard or electric energy. This is one of the few that highlights his Yo-Yo, which the character used during the Greed Island and Chimera Ant arcs.
Release date: July 2022
Rarity level: Low to Medium
Pros
It's one of the four figures featuring Killua's Yo-Yo and has a dynamic pose showcasing the weapon and Killua's attack moves.
This Pop costs less than most Killua figures. And since it's small, you can store or display it in any place you want.
The Pop's common defect (cast lines on the hands) are almost unnoticeable since they blend in with the bandages.
It has better overall quality than the older Pops in the Hunter x Hunter Funko Pop lineup since it's one of the most recent releases.
This version is a good choice for young collectors or those with kids because it's not as fragile as Nendoroids or scale figures.
Cons
It's the cheapest and most accessible Killua on the market. So there's no exclusivity in owning this Pop since anybody can buy one.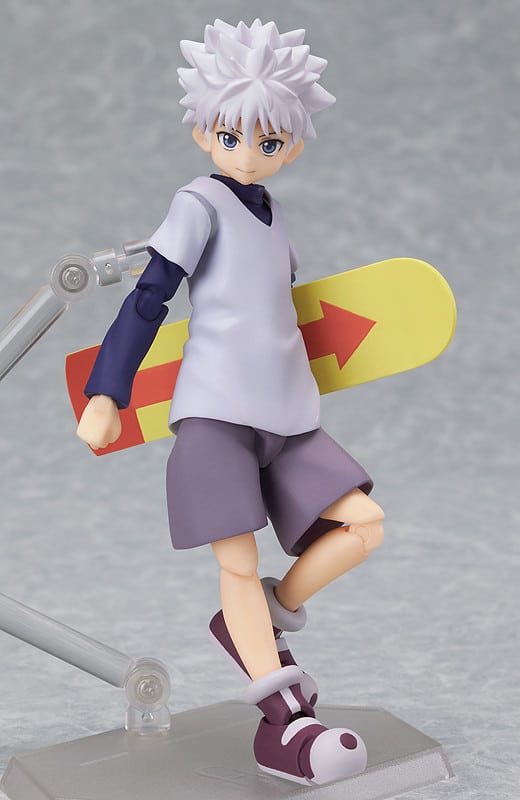 Of all of Killua's official plastic duplicates, this Figma is the best toy to demonstrate his swiftness and skills. With its fully articulated and customizable body, you can reenact many of his scenes from the anime. Are you interested in having Killua do his action scenes or funny skits? You name it, and this figure can do it.
The 5-inch variant is among the smallest Killuas, yet it offers numerous ways to enjoy the character. Those who like changing up their display frequently or simply want to admire Killua in action should go for this one.
Release date: 1st release June 2013 and 2nd release April 2014
SRP: $28 to $35
Rarity level: High
Pros
You can display this figure in various dynamic poses because it's the most flexible Killua figure.
It's the sole action figure of the character and can use most, if not all, 1/12 accessories (backdrops, weapons, dioramas, etc.)
This toy will notably increase your collection's value and prestige, as it's among the most sought-after Hunter x Hunter figures.
The figure has a supposed stand so it can remain upright no matter its position. As such, you can pose this Killua as wacky as you want, like jumping mid-air or similar poses.
You can recreate dozens of scenes from the series using this Figma, as it's the only Killua that can equip (hold, ride, and carry) the skateboard.
Cons
You'll have to be satisfied with a used stock of this figure since it's hard to get one that's MISB.
The color of the Figma's shoulder joints' are lighter than the t-shirt, so they're distracting when exposed.
Killua Zoldyck Q Posket Version B by Bandai Spirits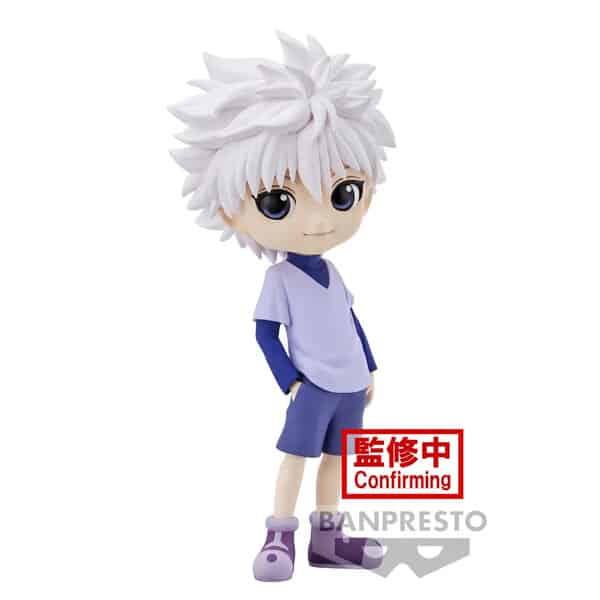 While Killua's impish attitude is what mainly attracts everybody's attention, his lethal side is just as enticing. For this reason, this toy is the ideal version for fans who love his deadly persona the most.
It presents the Zoldyck heir in his original heartless state, which you rarely see in figures. Even with the Q Posket's cutesy design, this Killua still delivers the same cold aura the character showed in the anime.
All things considered, I suggest checking out this figure when you're looking for a well-made Killua that's budget-friendly. Moreover, since it's about to be released, you won't have to fret about hunting it down like the rest of the figures in this article.
Release date: July 2023
SRP: $13.50 – $26.99 (depending on size)
Rarity level: Low
Pros
Q Posket maintains consistent high quality for all of their figures. As a result, this toy will have little to no paint or sculpt errors.
The toy gives off a murderous vibe because it's one of the two existing Killua figures that portray his assassin face.
This Killua toy has no visible seams or joints, giving it a tidy and smooth appearance.
Storage or display space isn't an issue with this figure since it comes in two small sizes (the standard 5.5 inches and the petit 2.7 inches).
The figure has Killua's trademark pose that's frequently shown in the anime and official illustrations.
Cons
You might accidentally buy a fake Killua if you aren't careful since there are tons of counterfeit Q Poskets in the market.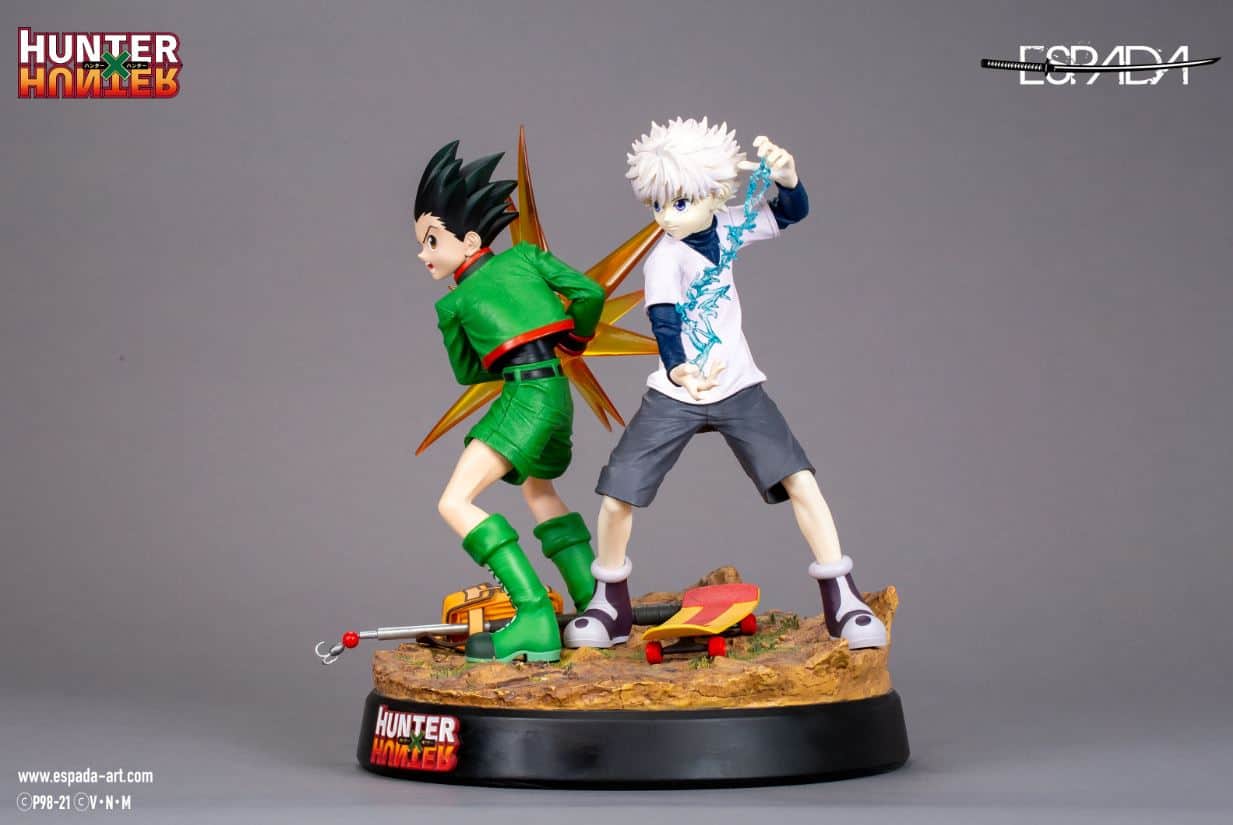 Despite my adoration for PVC figures, there's no question that resin statues have a league of their own. Stone-based beauties like this one have a sophisticated air since they're basically the luxury line in the anime figure scene. This is why this particular Killua double oozes a refined and high-class aura that's unmistakably classy and expensive.
Espada Art thoroughly created every part of this figure, so you'll get precisely what's in the promos. It's an exciting and refreshing diorama that'll please all Hunter x Hunter fans. You should definitely cop this if you have the funds and space.
Release date: Q2 2021
SRP: $449
Rarity level: Low
Pros
It's the sole official resin statue of Killua. Furthermore, this version only has a limited number of stocks, meaning only 400 – 750 people can own it.
The diorama has the most energetic version of Killua so far because it shows the boys in attack poses with effect parts (these are two features rarely present in other variants).
You can alter this figure's pose and expression to your liking since it has several replaceable body parts for Killua (two arms and faces).
The statue's appearance and layout are a highly detailed copy of Gon and Killua from the 2011 anime. It gives off Greed Island vibes.
Since this Killua is smaller than typical statues (they're mostly 1/3 or 1/4 scale in size), you can put it in regular-sized display cabinets.
Cons
You can't buy the Killua statue separately since this diorama comes as a set with Gon.
The figure weighs more than a PVC toy since it's made of resin. Therefore some cabinets or shelves may not be sturdy enough to carry it.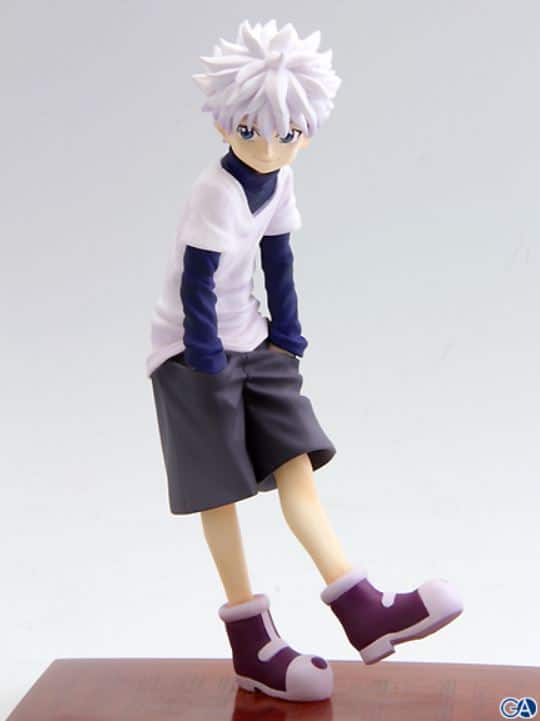 Prize figures are usually a dime a sozen, and their aftermarket prices stay close to SRP. However, this mini Killua is different. Sure, it's old, but it's one of the first non-chibi PVC replicas of the young Zoldyck with decent quality. As such, it's become a wanted and rare figure that collectors continue to be interested in today.
This version is extra appealing to me because it's the only Killua figure part of a large set. Banpresto's DX Hunter x Hunter line consists of 10 characters: Gon, Killua, Kurapika, Leorio, Chrollo, Hisoka, Silva, and Zeno. So it's a toy you should obtain when you feel like displaying more than the four leading characters of the series.
Release date: August 2012
Rarity level: High
Pros
Even though the figure is 11 years old, its design is still attractive and true to the character. It's among the better-looking Killua figures that have been released.
This figure has a relaxed pose that's based on Killua's usual appearance in the source material. It's the character's go-to pose all the time.
My favorite part of this toy is its face. The expression feels alive and embodies Killua's spunky and mischievous vibe.
The rectangular base complements the figure, as the shape looks much better than the regular circular black ones that most prize figures have. It also has the same red-orange color as the lower half of the Hunter x Hunter logo.
Cons
The hair's sculpt has a couple of rough areas, and an obvious seam line is on top of the figure's head.
Due to its age, some stocks of this figure may have a bit of discoloration if it wasn't stored properly.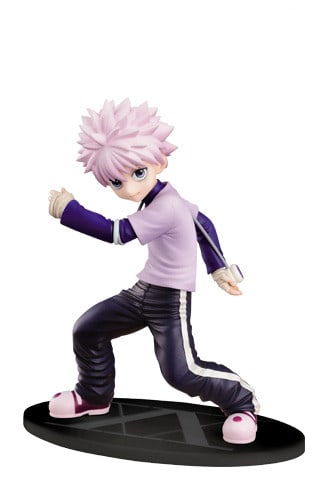 The last PVC Killua that should be in a Killua shrine is this Greed Island variant. From afar, it just looks like your average prize figure. But when you inspect it closely, you'll discover it has a special design. The toy combines the Zoldyck heir's 2011 anime and manga appearance.
I'd also like to emphasize that it's the only one of its kind, making it a must-have for Killua stans. The figure's only real drawback is that since it's an old release, it's unlikely to be available locally. That shouldn't be much of a problem, though, as plenty of trusty sites often have it in stock.
Release date: August 2013
Rarity level: High
Pros
This figure consists of Killua's character designs from the manga and 2011 anime versions. The jogging pants are from the manga, while the colors and the toy's body type are from the anime.
It's one of the only three figures that show Killua wearing jogging pants. This specific pants' design only appears in the manga.
The figure's pose is directly taken from Killua's stance before he fights Sub in the latter part of the Greed Island arc (when he uses his Yo-Yos battle for the first time).
It's the sole Killua figure with the hexagram pattern on the Yo-Yo, as shown in the 2011 anime and manga. The other figures with the weapon either leave it blank or use a spiral image.
Cons
Since it's a prize figure, defects are unavoidable, like rough sculpt along the hair strands and minor paint smudges.
The figure's hair has a distinctly pink hue when it should've been mostly light purple with hints of pink.
FAQs
Question: Why Are Killua Figures Expensive?
Answer: There are two main reasons for this.
1. Killua figures are rare. It's because only a few figure-making companies existed during the '90s and early 2000s. Most of them produced trading toys, like the ones in Gachapons, which is why the premium full-sized figures are even more scarce.
2. Due to the limited Killua figures in the market, sellers can increase their prices as they see fit. They know there's a demand, and collectors are willing to pay since there's no alternative.
Question: How Many Official Killua Figures Have Been Released?
Answer: 38 licensed Killua figures are on the market right now. Eight have been announced to be in production and are expected to come out between mid-2023 to 2024.
Question: Which Hunter x Hunter Characters Have Figures?
Answer: More than 30 characters from the series have a PVC replica. Many of them only have a single figure, so I'll focus on the characters that have the most (at least four or more). These are:
• Main leads – Gon Freecss, Killua Zoldyck, Kurapika, Leorio Paradinight
• Villains – Illumi Zoldyck, Chrollo Lucilfer, Hisoka Morow, Meruem
• Supporting Characters – Biscuit Krueger, Isaac Netero, Komugi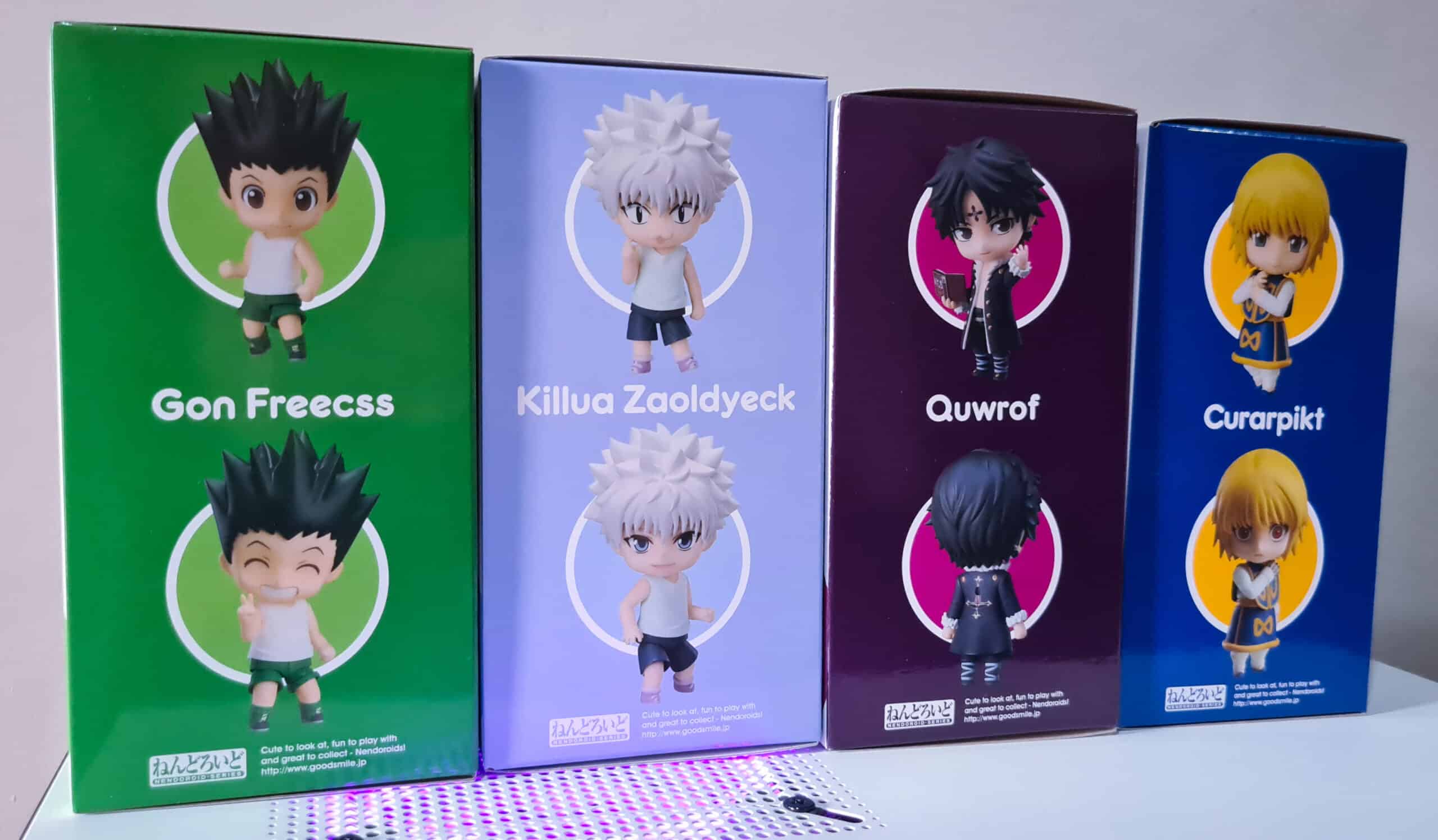 Conclusion
Seeing how meticulously made the Killua Nendoroid is, it's undoubtedly necessary for devoted Hunter x Hunter fans. GSC and FREEing hit all the right spots regarding quality and design, so it's a superb product that will never lose its charm and value. Seriously, there's no cuter and finer Killua than this.
However, as a collector, I must admit that focusing on one toy line isn't always enough. There are just so many interesting figures, you know? Moreover, these variants showcase multiple sides of the character, making fans feel closer and more in touch with them.
Therefore if you've given in to your urges and want to admire the various forms of the silver-haired Hunter in person, the toys I mentioned here should be your target. Create your best space now, and fill it with all the Killuas you want.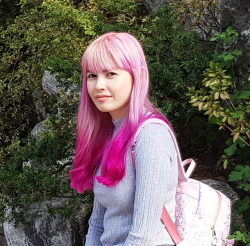 Latest posts by Charissa Fuentes
(see all)