Tanjiro, the main protagonist of the series, spoke with a calm and empathetic tone: "I would never harm those who regret their actions. After all, demons were once humans too, just like me." His words sent shivers down the spines of his fans.
But it is not just the poignant quotes that make this Demon Slayer so beloved. The stunning visuals, well-developed characters, and unexpected plot twists contribute to the series' massive fan base. And with such a dedicated following, it is no surprise that there is a wide range of merchandise available for fans to enjoy. From sword replicas to character figures, there is something for every fan to enjoy.
In this article, we are going to take a closer look at model kits, a popular choice among fans, and find you the perfect one. I have dug through the internet to find some of the best options out there, so let us dive in and explore!
Bottom Line Up Front
One of my favorite model kits, but also the most popular on the market, is the Demon Slayer: Kimetsu no Yaiba Tanjiro Kamado Model Kit. There are many reasons for its high rating.
This kit comes with all the intricate details you need, including his facial expression and signature haori (a type of kimono overcoat). Plus, it's easy to put together—no painting is required—so it's great for both beginners and experienced builders. All in all, it's a very good (and safe) choice.
Another favorite of mine is the Hi-Reeke Cosplay Anime Kokushibou Sword Building Block Model Kit. This sword is a real beauty, and you will have a blast putting it together. In my opinion, what makes a model kit great is the combination of the final product's quality and the overall building experience. This one has both!
No worries, there are plenty of choices out there. Take your time and explore all the options mentioned here, and we'll be sure to find the perfect fit for you!
Demon Slayer Model Kits: Where to Buy Them?
Demon Slayer has a large fanbase and therefore, a lot of merch. However, not every merch is something that you would like in your collection.
Here are a few places where you can't go wrong when looking for your new model kit.
As always, I urge you to go to your local comic book store that sells collectibles and may carry Demon Slayer merchandise. They often have a selection of collectibles from popular anime and manga series.
For those who are not sure what we are dealing with, here is a bit of an overview of what differentiates model kits from classical figures. So, model kits are miniature versions of real-life objects that you put together using glue and sometimes paint.
They're usually inspired by characters or vehicles from movies, TV shows, or video games. When picking out a model kit, here are some things to think about:
Skill level:

Some kits can be pretty tricky and may require more advanced modeling skills, so I made sure that I chose a selection of the ones that are appropriate for every level of difficulty.

Overall quality (non-negotiable)

: You want to be sure they fit together well and are made of durable materials. The instructions that come with the kit are also important, and it's crucial that they are clear and easy to follow.

Level of detail

: I've checked reviews and photos of completed kits to get a sense of how closely they resemble the characters and scenes from the series. A high-quality kit will have all the accurate details and a good level of precision in its design, which will make the building process more enjoyable and satisfying. 
It's always a good idea to check out what other customers have said about it. Reading reviews can give you a good idea of the overall quality of the replica and if it's worth the price. This can help you make a more informed decision when choosing your model kits. But let's not get too bogged down in the details, let's dive in and find the perfect model kit for you!
Demon Slayer Model Kits: Choose the Best One for Your Collection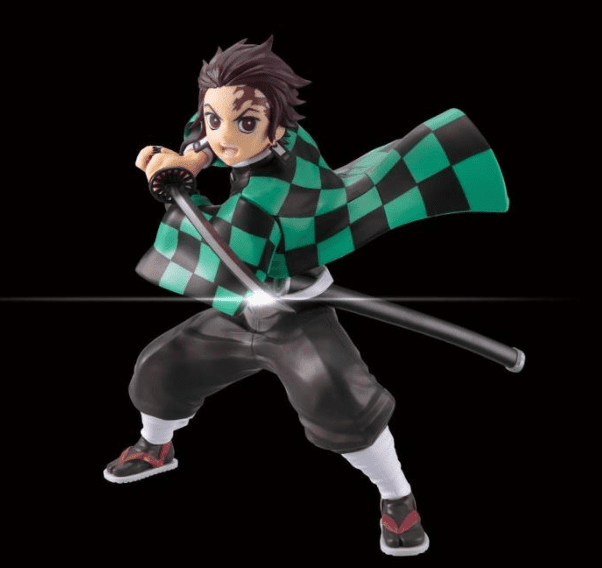 This is probably one of the most popular Demon Slayer model kits! It has a fun build and great quality, especially for the price. The face and eyes are pre-painted, so you already have the desired effect without the use of stickers, which some fans like.
The jacket is also pre-painted, but some stickers are still required for other parts of the model, such as the back, buttons, collar, straps, and handle of the blade. The building process is quite easy, but it is recommended that you take your time, and I'm never opposed to that.
Some parts are easy to work with, but the model numbering inside the jacket can be seen, which may require some filing to make it look perfect from all angles. Despite this, the attention to detail on the face and jacket is what makes this model kit stand out and is its main selling point. It gets a thumbs-up from me!
Pros
Great quality for the price

Pre-painted face and eyes save time and effort.

Cleverly designed and simple to use

Attention to detail on the face and jacket is the main selling point
Cons
Model numbering inside the jacket can be seen, requiring filing for a perfect finish

Not recommended for people who don't like using stickers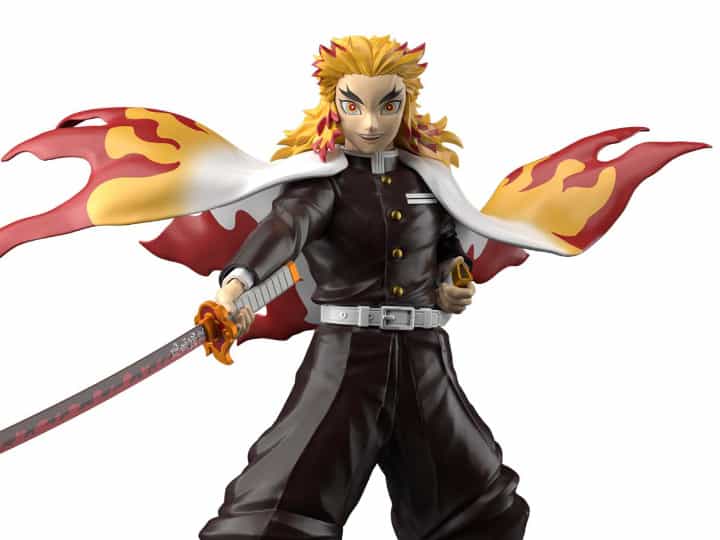 Beginners, pay attention! This fixed-pose model kit is great for newbies building model kits. It features a high level of detail, such as in the recreation of Kyojuro's hair, the creases in his uniform, and the fluttering haori.
After you've spent your time and energy and finished your model, Kyojuro will stand about 12 cm tall in a dynamic battle pose, holding his Nichirin sword as if ready to face an enemy.
The plastic kit technology from Bandai Hobby allows for the hair to be molded in multiple colors for a more realistic appearance, and I really like it. Additionally, the haori parts come pre-painted, perfectly recreating Kyojuro's iconic look from the anime series. 
Pros
Great for beginners

High level of detail

Haori parts come pre-painted
Cons
It may not be suitable for more experienced model builders

Only one pose option is available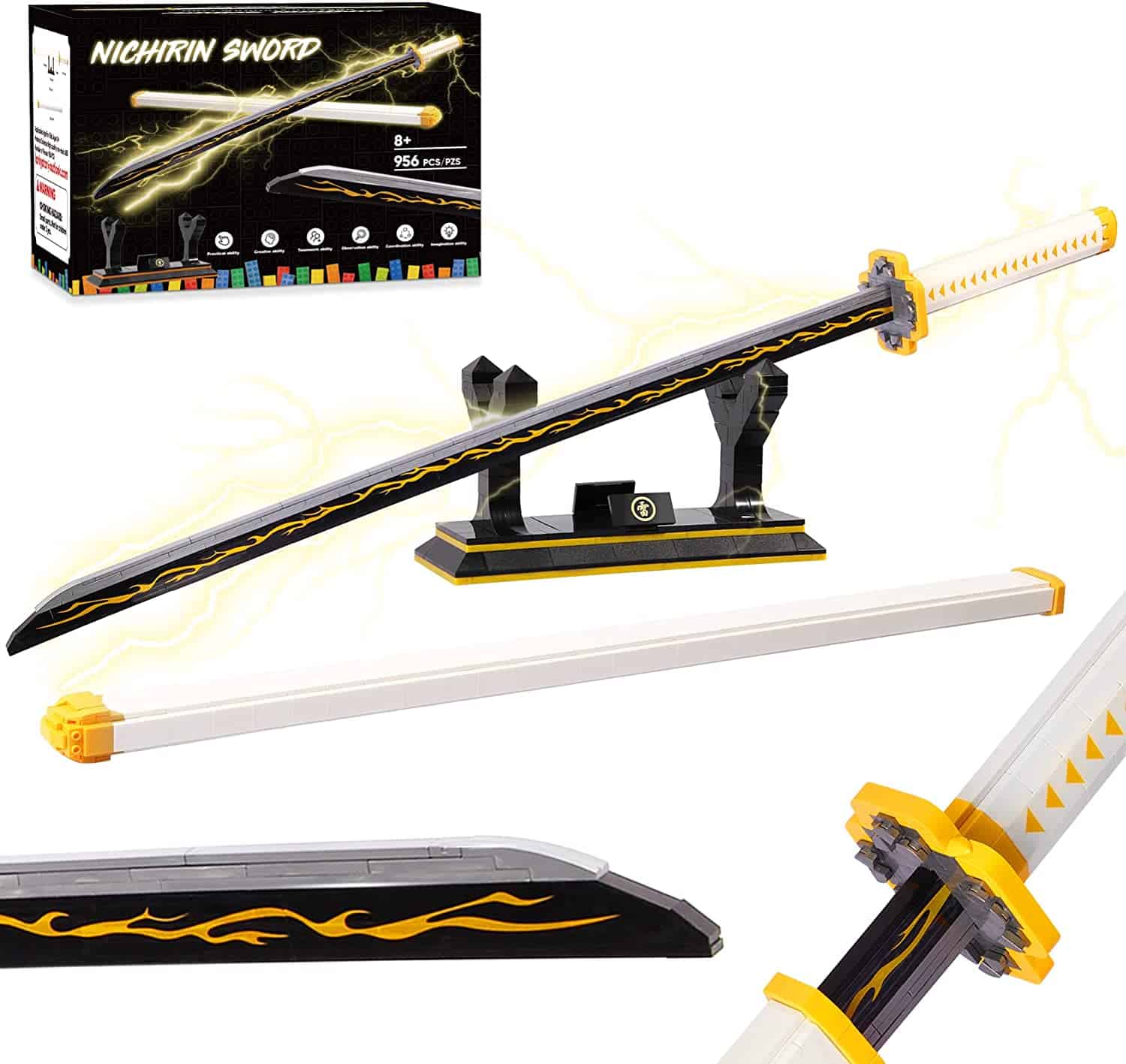 Swords are the most popular model kits in the Demon Slayer universe. This Zenitsu katana sword contains 956 building blocks and comes with a scabbard and stand.
The high-quality materials and 39-inch length make it similar to a real katana sword and make it a perfect choice for cosplay. However, please note that it is designed for light swings, and you should not swing it vigorously.
After building it, the sword's construction is surprisingly sturdy, holding together well even when picked up by the handle. The instructions are easy to follow, although some fans were confused about the black and gray pieces, so it is better to build it in a well-lit area. There is also an issue with some pieces that were missing, but the build is fun and simple.
Pros
High-quality materials

39-inch length makes it similar to a real katana sword

Perfect for cosplay

Easy-to-follow instructions
Cons
Not suitable for vigorous swinging

Some fans were confused about the black and grey pieces

Some pieces can be missing
The Demon Slayer Sword model kit is an intricate and highly detailed building set that consists of 380 pieces. What I like about this one is that it is carefully designed to accurately capture the appearance of the demon sword from the anime series, exuding the dominance of a warrior.
The sword is 19 inches long, making it a perfect replica of the katana sword in the anime and satisfying the needs and desires of anime fans.
It also comes with a stable sword stand that is composed of 392 blocks and was also carefully designed by a well-known designer to support the sword firmly. The combination of the sword and stand perfectly and vividly restores all the detailed elements from the series.
It is not your average Lego building set; it is quite complex and includes small pieces, so the only downside is that the instructions to build it may be difficult to understand.
Pros
An intricate and highly detailed building set with 380 pieces

Carefully designed to accurately capture the appearance of the demon sword from the anime series
Cons
Not an average Lego building set, it is quite complex and includes small pieces

Instructions to build it may be difficult to understand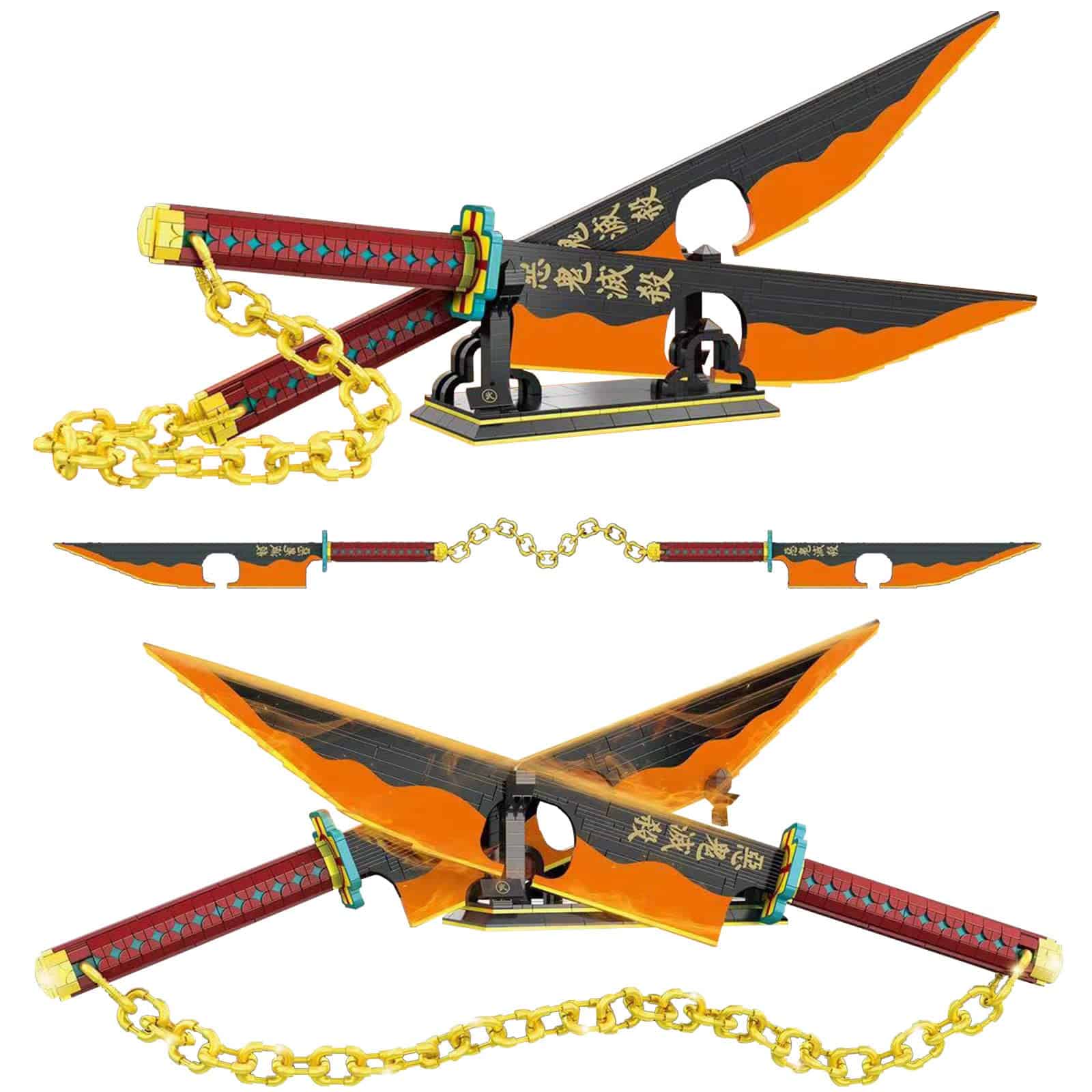 This one is pretty cool! The blade and handle are all made in accordance with the original animation, so it perfectly restores the vivid image of all the elements. It contains 1478 blocks! And what I like about them is that they are really good quality.
A total length of 82 inches (including chain length), and a single sword length of 41 inches make it closer to a katana sword, giving you a perfect grip, which means that it's not only a cool build but also a very good choice for cosplay.
One problem is that the black and gray pieces in the manual can be confusing, and you can build them incorrectly if you flip them around – so make sure to look at the box to keep all the gray pieces along the sword's bladed side.
Pros
The blade and handle are made in accordance with the original animation, resulting in a vivid and accurate representation of the elements

The sword is a nice collectible and is perfect for cosplay

The sword is composed of high-quality building blocks and is sturdy in construction
Cons
The black and gray pieces in the manual can get confusing and may be difficult to distinguish when building in a dimly lit area

The instructions can be easily misinterpreted if not followed closely, resulting in building the sword incorrectly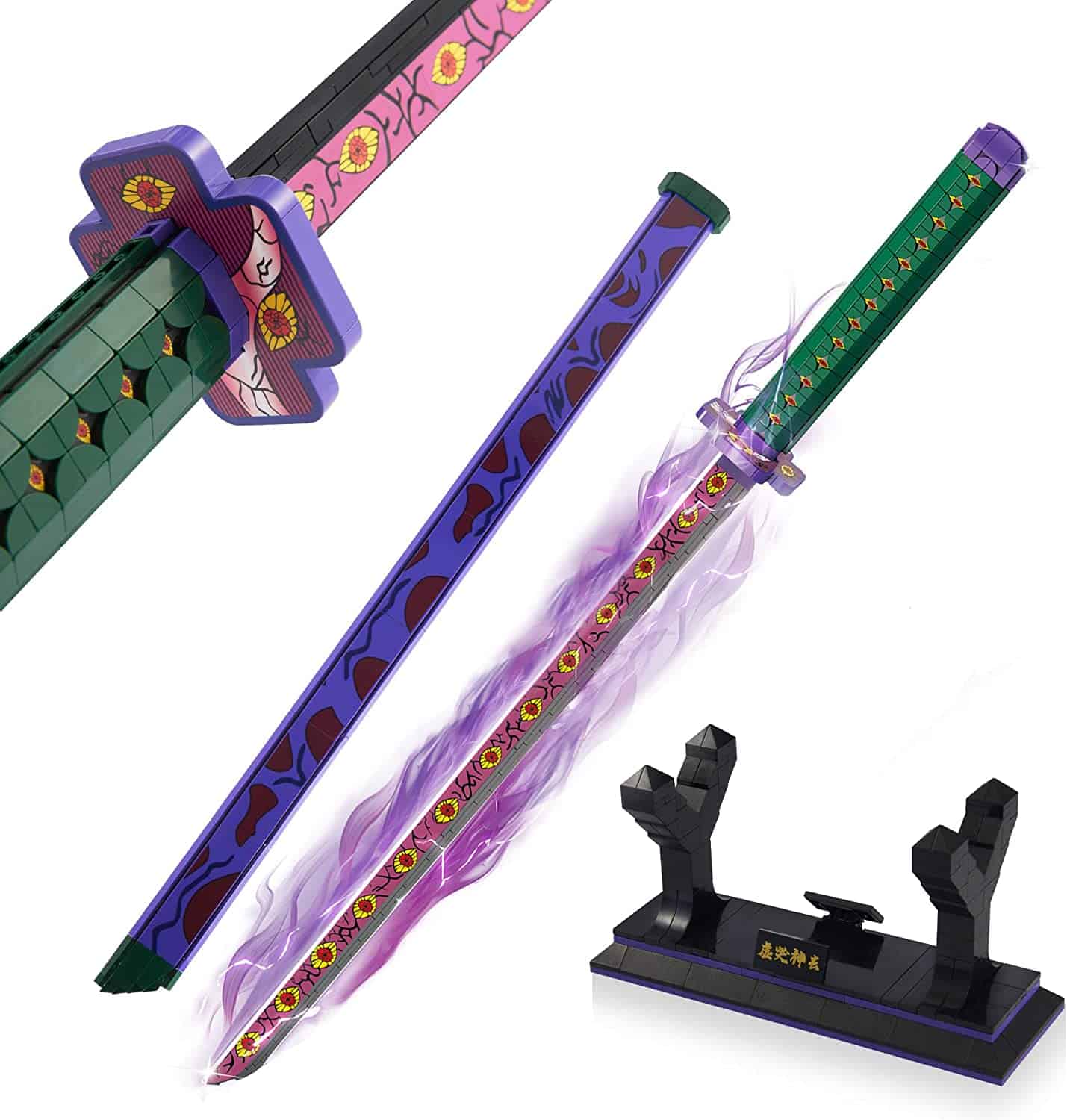 Here comes Agatsuma Zenitsu's sword! I really like this one! It was a super fun build, especially for the price. Made of safe and high-quality ABS material, the assembly is smooth and burr-free. It's also much bigger than expected.
When built, with the sword in the sheath, it is approximately 39″ long. Overall, it is a fun build. Things that fans don't appreciate much are that the stand doesn't hold the sword as stable as it should and that the instructions are not very chronological.
There are a few cons, but despite them, the end result is pretty good.
Pros
Fun build

Budget-friendly

Made from high-quality material
Cons
The stand is not very stable

Instructions should be more chronological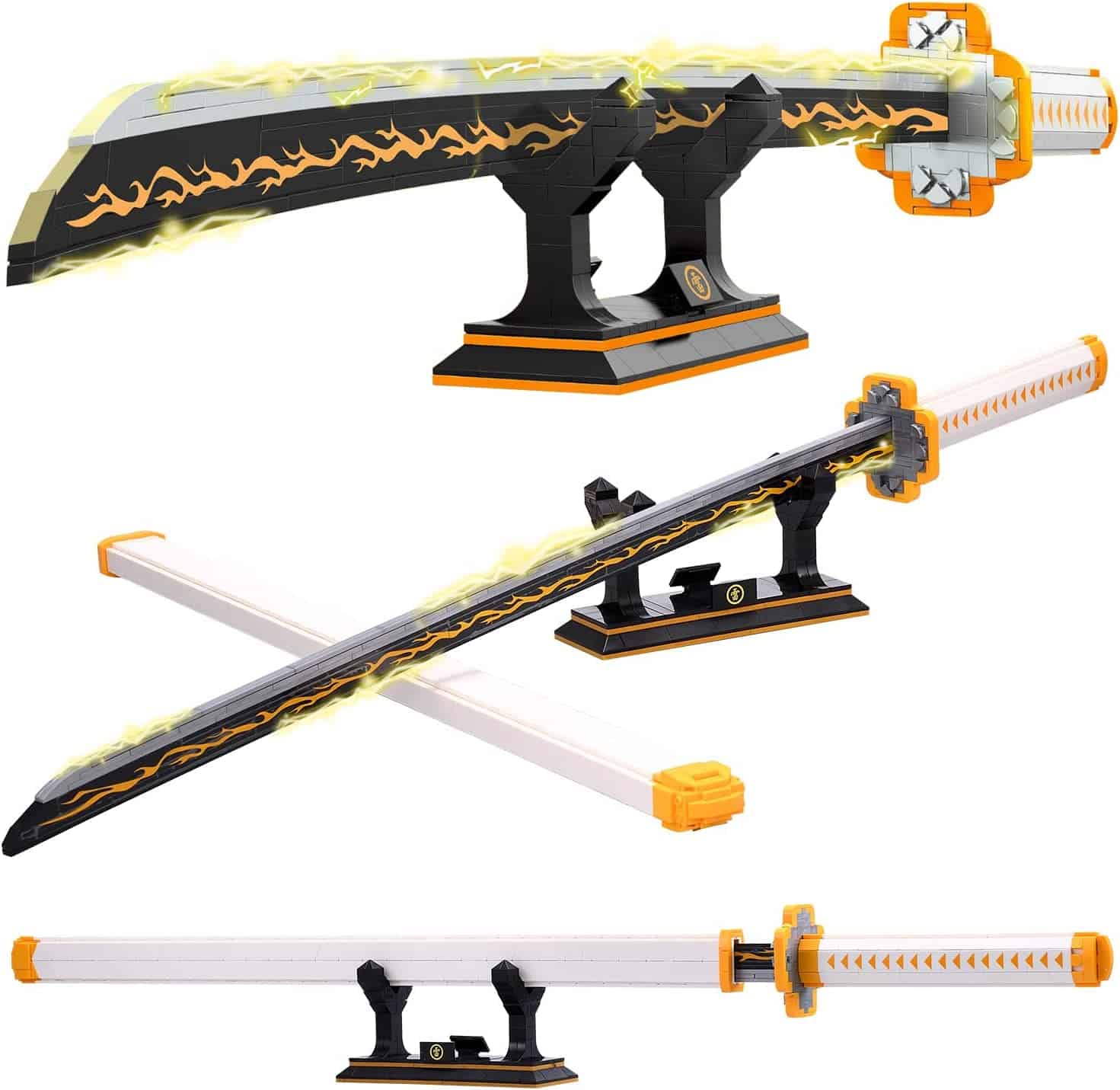 This is an excellent building set for DS fans. The instructions are good and easy to follow, and the end result is pretty impressive! The thing, however, that fans didn't like is that you can see the poor sticker finish (they aren't as good of a quality as the rest of the sword), but beyond that, the sword is pretty cool and sturdy.
It is a fun build and a great collectible that you can present. Also, for comparison, the instructions are equivalent to those that come with a Lego set, which means that the parts come together well and come apart about as easily as Lego blocks do.
Pros
Good instructions

High-quality piece
Cons
Stickers should be better
FAQs
Question: What Materials are the Model Kits Made From?
Answer: Even though it highly depends on the manufacturers, some are made from PVC, ABS, or resin, but it varies from kit to kit. 
Question: Are the Kits Easy to Assemble for Beginners?
Answer: It depends on the level of difficulty of the specific kit. Some model kits are suitable for beginners, and some are more difficult; it depends on your prior experience building model kits.
Question: Are There Any Particular Kits or Characters that are Highly Sought After by Collectors?
Answer: Yes, some of the popular characters, such as Demon Slayer: Kimetsu no Yaiba – Kamado Tanjirou & Nezuko, Demon Slayer: Kimetsu no Yaiba – Hashibira Inosuke, and Demon Slayer: Kimetsu no Yaiba – Tomioka Giyuu, are among the most highly sought after by collectors.
Best Demon Slayer Model Kits: Do you Have a Favorite?
That's it. We've outlined some great model kits! If you are a fan of Demon Slayer, you're going to love them. They're packed with super cool details and accurate representations of the characters and weapons from the series. Plus, some of them even come with special features.
You'll be in good hands since these kits are officially licensed merchandise made by some of the best brands in the business. Hopefully, I helped make your job a little easier by finding a new piece for your collection!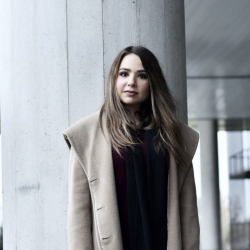 Latest posts by Tena Gasparac
(see all)