I've been crazy about anime as far as I can remember and never outgrew my fascination with toys. So it was an easy and exciting progression for me to expand my hobby from watching anime to collecting anime figures. And a favorite toy line that's got a permanent spot in my heart is Nendoroids. I have around 60 now and still have plenty more to tick off my wish list.
Finding specific Nendoroids will be challenging, especially when the target is a hard-to-find character. But that's part of the joy of collecting Nendoroids – Obtaining grails that you first thought were out of reach. If seeking out those elusive toys is what primarily excites you and drives your passion for collecting, this rarest Nendoroids guide will get your gears running.
I've got a long list for you to enjoy right here. Let's get to it now, so you can start hunting as soon as possible.
Long Story Short
This guide will discuss the 17 rarest Nendoroids worth putting into every Nendoroid collector's collection. What differentiates this from other articles with similar topics is that it's about limited and valuable Nendoroids that people want.
I stayed away from rare figures that are stagnant in the market and hold no significant monetary value. Each product you'll see here is wanted and costly, whether in the local or international Nendoroid collecting scene.
Keep on reading to learn what factors contribute to their worth.
First-Rate Nendoroids
Just because a Nendoroid has an insane price tag doesn't automatically mean it's rare. Because an item must only be available in limited quantities to fit the textbook description, but if I focus strictly on the specifics, this article will simply have old Nendoroids from obscure anime or games that nobody wants. It doesn't sound interesting, does it?
So to produce a relevant list of the rarest Nendoroids, I chose to concentrate on scarce yet desirable figures to collectors. Therefore the items you'll see will have the following attributes:
In demand – There's no value in a rare Nendoroid when people don't want it. For this reason, the figures listed here are the ones that get sold out immediately whenever they're available on the market.
In short supply – One of the enticing aspects of rare Nendoroids is that not anybody can get them because only a few pieces exist. Some Nendoroids may be so limited that you can only buy them BIB because that's all that's accessible on the market. A perfect example is the Elias Ainsworth Nendoroid since more than 80% of its available stocks for sale are labeled as used or opened.
Only had a limited or exclusive release – Certain Nendoroids are unlikely to get reproduced even when the anime or show they're from is ongoing or still popular. It's usually due to exclusive releases or licensing issues, like what happened with the China-only Nendoroid, the Naruto: NARUTO Animation Exhibition in China version.
My Personal Picks
Most Elaborate Design – Nendoroid Sakura Kinomoto: Always Together ~Pinky Promise~ Version
Most Eye-Catching Layout – Nendoroid Jiraiya & Gamabunta Set
Most Unique Variant – Nendoroid Naruto Uzumaki: NARUTO Animation Exhibition in China Version
17 Rarest Valuable Nendoroids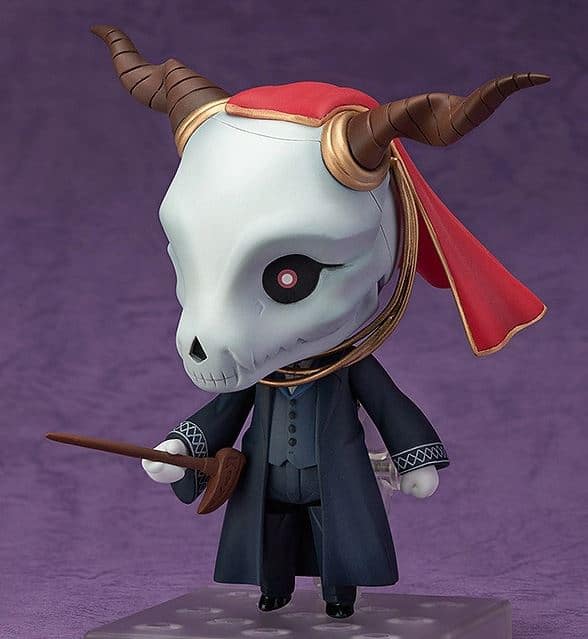 In the anime and manga, Elias is a feared entity by all. Yet to Nendoroid collectors, this 4-inch miniature toy of him is as attractive as gold or diamonds. Fans of the notorious mage have been begging for a rerelease since 2017, but there's been no hint that GSC will answer the pleas.
Release date: December 2016
Price range: 350 – 450$
Pros
This figure is one of the most wanted Nendoroids internationally because the anime TV series came out almost a year after the toy was released. As a result, anime-only fans weren't able to order during the preorder period
The Nendoroid's grail status is unlikely to change anytime soon. It's due to the figure's manufacturer, FREEing, having a reputation for not rereleasing their Nendoroids
This Nendoroid has a distinct product number, 666, which adds a mischievous appeal that suits Elias' inhuman nature
It's the only articulated figure of Elias, as all the others have static poses
Cons
You'll have to settle with a BIB stock of this figure unless you're okay with spending 400$ or more for a brand-new one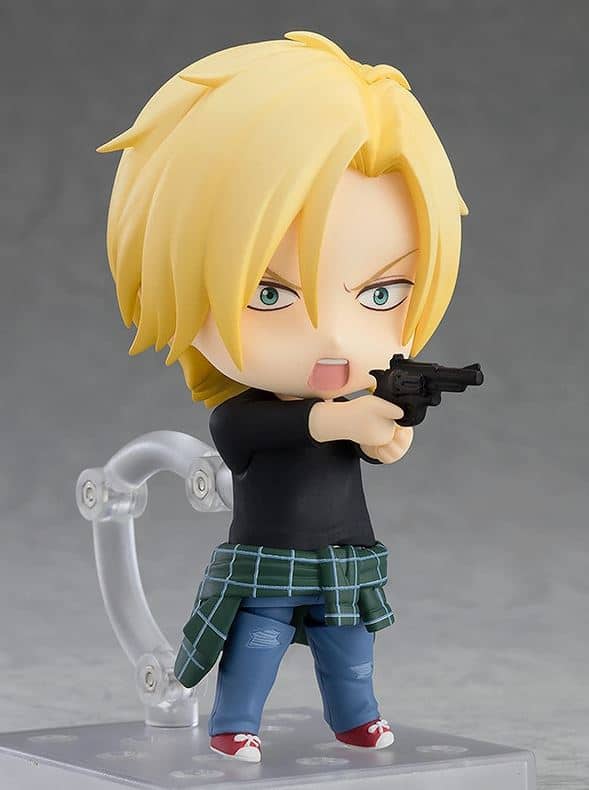 Manga readers have loved Banana Fish since the 90s. Though it wasn't until after the anime aired in 2018 that toy manufacturers began making figures of its characters. Soon after, fans proved the appeal and hold of Banana Fish, as every one of its figures is now worth double or triple its original price. This Ash Lynx Nendoroid is no exception, as you won't be able to find a MISB stock for lower than 200$.
Release date: July 2019
Price range: 230 – 300$
Pros
Unlike the other Ash Lynx figures, this Nendoroid has customization options so you can display the character in various poses
GSC might not reproduce this figure anymore since the manga is done and has been fully adapted into the anime TV series
A bonus base with an image of the New York skyline silhouette is available for this Nendoroid. It's a nice nod to the story's setting, which no other Banana figure has done so far
Cons
There's a chance of paint transfer from the flannel shirt accessory to the Nendoroid's body over time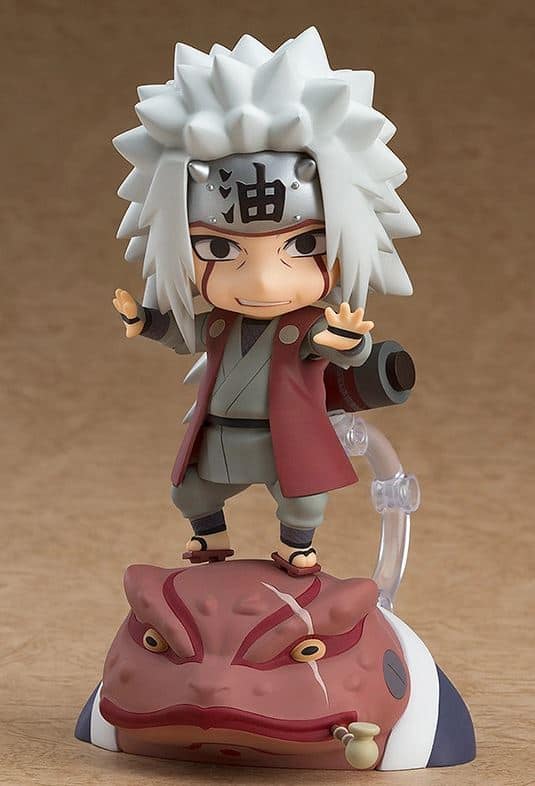 As Jiraiya's the most popular Sannin or Legendary Three Ninjas of Konohagakure, GSC gave him the star treatment he deserved. His Nendoroid includes nearly every essential aspect of the character, which the Tsunade and Orochimaru Nendoroids don't have. Furthermore, the Gamabunta base alone elevates the figure to a higher level than regular Nendoroids. No wonder it's a coveted item by many.
Release date: 1st release July 2018 and 2nd release December 2018 (Both limited releases)
Price range: 225 – 300$
Pros
This figure has one of the most creative and attractive Nendoroid bases ever made. Definitely among the top, if not the best
You get three significant characters from the Naruto universe with this figure, Jiraiya, Gamabunta, and Naruto. The rest of the Naruto Nendoroids just feature two at most
It's the only Naruto Nendoroid that includes a toad summon. You also can't buy Gamabunta separately
It's the best-looking articulated figure of Jiraiya
Cons
GSC left out Jiraiya's trademark mole, which is a prominent feature of the character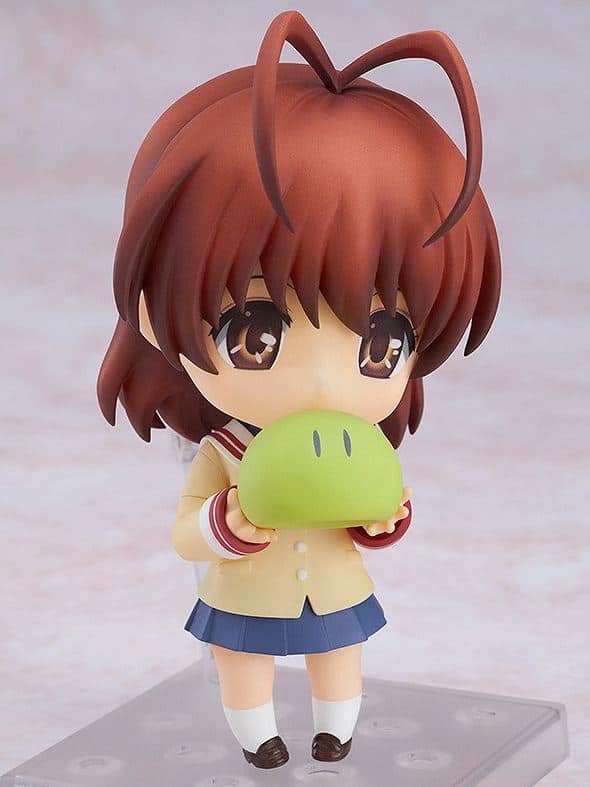 Regardless of whether you hate or love Clannad, one thing is for sure – Nagisa's Nendoroid is a grail. Even if the anime doesn't make you tear up, maybe the 200-300$ price of this figure will. Moreover, considering there hasn't been any news about the series recently, the odds of getting additional figures are slim to none.
Release: June 2018
Price range: 200 – 350$
Pros
GSC captured Nagisa's expressions from the anime perfectly. The faceplates radiate the same bubbly energy as the character
This Nendoroid is an accurate tiny replica of the character from head to toe. The design of the eyes and shading of the hair, in particular, is spot on
You can easily recreate many of her scenes at school using ready-made stages and dioramas, like the Dioramansion 200: Hallway figure by PLM
Cons
The preorder bonus accessories jack up the price a lot, as it's normal for the Nagisa Nendoroid with the bonus to cost 300-500$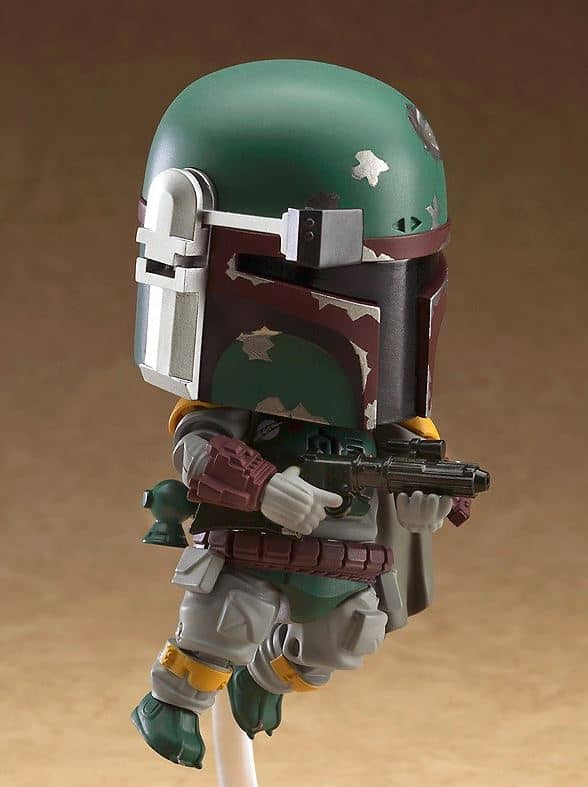 Neither Darth Vader nor Han Solo has anything on this Boba Fett figure, seeing that it's currently the priciest Star Wars Nendoroid. The bounty hunter is the hardest to find out of the nine characters in the lineup. The character's renewed popularity also played a part in this, as the Disney+ series, The Book of Boba Fett, reinvigorated fans' love for the human clone.
Release: June 2017
Price range: 200 – 270$
Pros
It's the most expensive Star Wars Nendoroid and has never gotten a second rerelease
This Nendoroid includes one of the most iconic scenes from the original Star Wars trilogy, Han Solo frozen in carbonite
The weathered effect on this figure is on point and exudes the appeal of a seasoned fighter
The figure is fully articulated, and the seams are inconspicuous due to the costume design
Cons
This Nendoroid's outfit is missing some details from the movie, such as the different colored braids, and scuff marks on the shoulder pads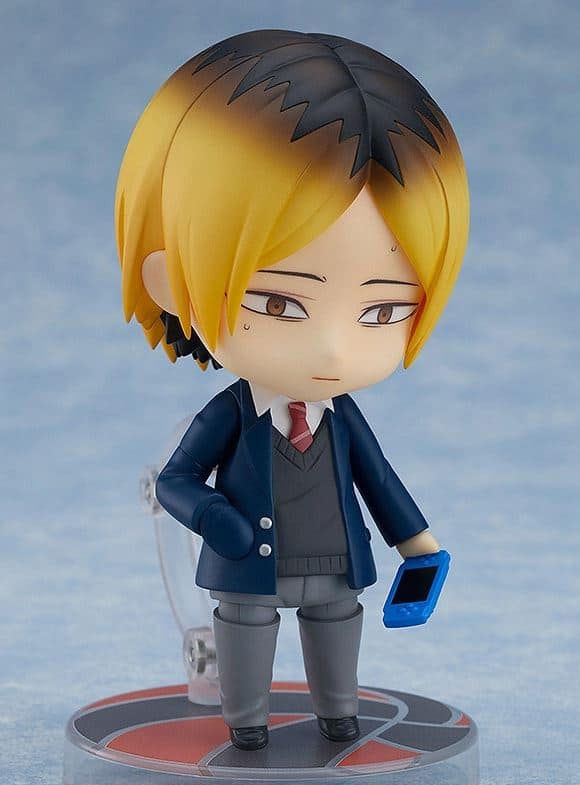 While Tobio and Hinata are the main leads of the anime, this figure of Kenma in his school uniform overshadows the two's multiple Nendoroid variants. It's been one of the most expensive Nendoroids in the Haikyuu!! lineup and is even more wanted right now. It's because almost every Haikyuu!! Nendoroid has gotten a rerelease in the past two years, except for this one.
Release date: January 2019
Price range: 220 – 300$
Pros
This Nendoroid has Kenma's unusual appearance in the series that you won't see anywhere else. It's also the only figure of the character in a school uniform
None of this figure's accessories are preorder bonuses, so you'll get everything that's in the promotional photos: the volley-ball themed base, two accessories, and the backdrop
You can mix and match the parts of this figure with the other Kenma Nendoroids to create more poses
Cons
Since this Nendoroid doesn't have any additional leg parts or articulated arm parts, it has limited mobility and poses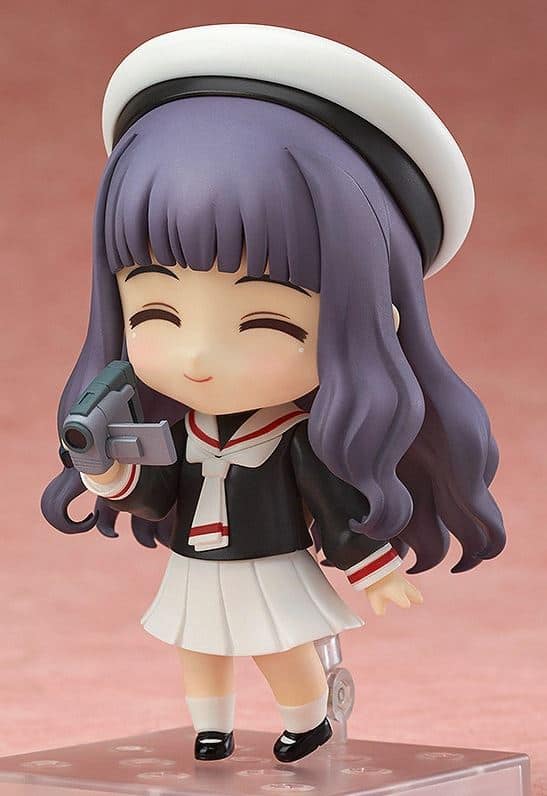 There's no doubt that Sakura's the star of the show. That doesn't mean her BFF is chopped liver, though, since Tomoyo's Nendoroid is just as high in demand. Given that this is the most beautiful Tomoyo figure you can buy, its MISB price has never gone lower than 200$ for the past few years.
Release date: June 2015
Price range: 220 – 300$
Pros
It's the perfect companion piece to any of the Sakura Kinomoto Nendoroids since Tomoyo is always ready to film her best friend in cute costumes
This Nendoroid is the number one licensed Tomoyo figure because it has the finest quality and design. The other Tomoyos are outdated and look like bootlegs
You can get a Keroberos accessory with this Nendoroid, as it's the figure's preorder bonus item
Cons
The sculpt for the front hairpiece is distracting because there are two visible seam lines on both sides of the bangs. They're ugly and look awkwardly placed
This Nendoroid only has two standard accessories, and the video camera isn't detachable from the hand part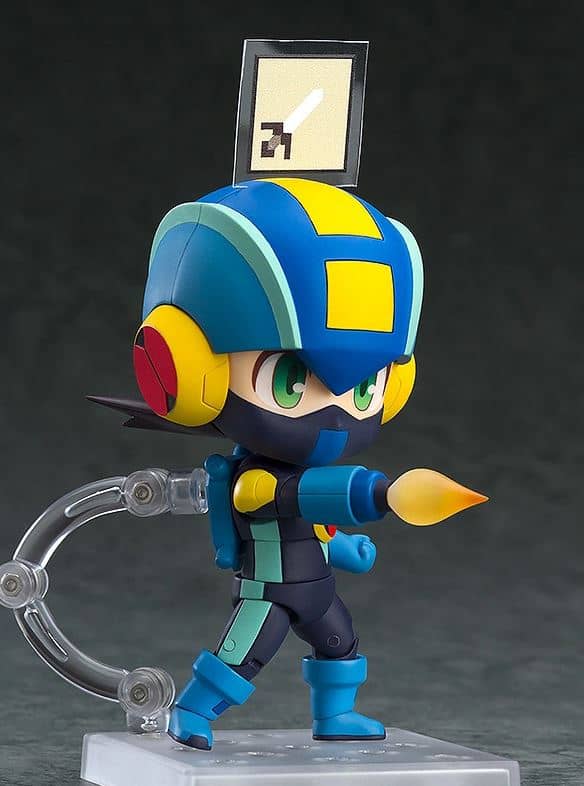 The OG Mega Man will always be the game franchise's undisputed mascot and central character. However, Megaman.EXE trumps him in Nendoroid form. Not only is this a grail figure, but it's also from a unique timeline than the other Mega Man versions.
Release: May 2017
Price range: 200 – 300$
Pros
It's the only Mega Man Nendoroid that's from the spin-off game series, Mega Man Battle Network
This figure has a more modern face and costume in comparison to the other six Mega Man Nendoroids
You have more display options with this figure since it's a super moveable edition. It can do more intricate poses than regular Nendoroids
Megaman.EXE embodies the Game Boy Advance generation of Mega Man players
Cons
There might be some difficulty in securing certain positions because the joints may be too loose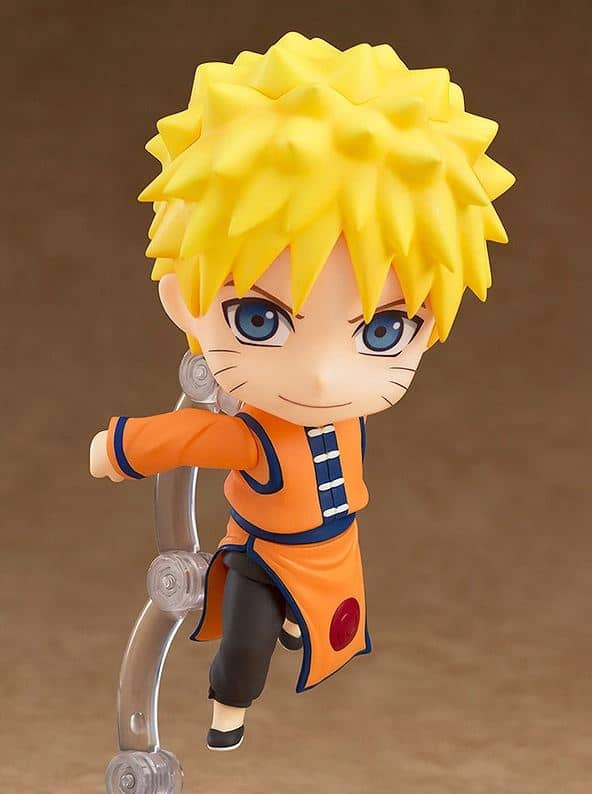 Are you searching for a unique Naruto figure that you can add to your collection? This is it! You won't see the same character design on any other Naruto toy besides this Nendoroid. Not even Funko Pop! has this version. It's from a specially made illustration of the character only featured in the NARUTO Animation Exhibition in China.
Release date: 1st release April 2018 and 2nd release May 2018 (Both in China only)
Price range: 170 – 300$
Pros
It's one of the few premium figures of Naruto (Shippuden version) that doesn't include the Konohagakure forehead protector
Since it's a Mainland China-exclusive Nendoroid, this figure was never available in any official GSC retailers outside of China
It's the only licensed Naruto figure that's wearing a traditional Chinese martial arts outfit
Cons
The figure is lacking in terms of accessories and body parts. It just has two faceplates, two sets of arm and leg parts, and an extra joint piece – way fewer items than what a regular Nendoroid comes with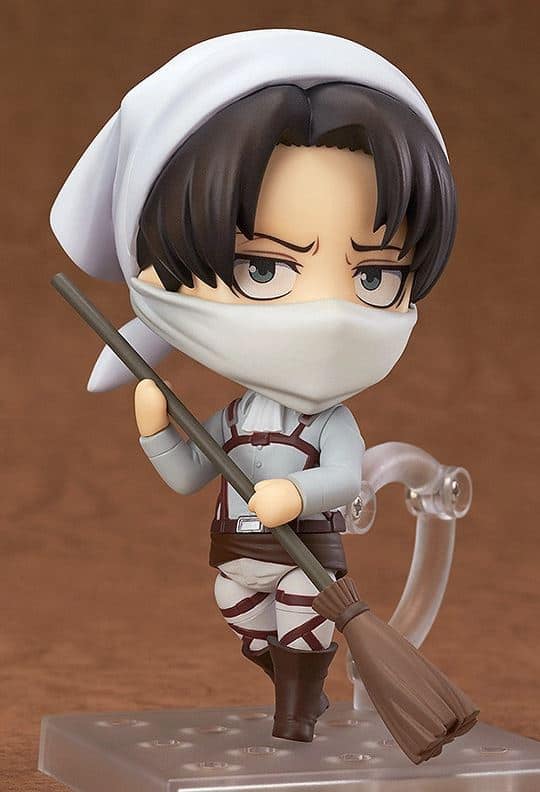 Levi's the most popular character in Attack on Titan, and every figure of him becomes a hit – this Nendoroid included. It's among the strongest soldier's best-sellers since it highlights his two charming sides: his cuteness and clean freak personality. But this toy's appeal doesn't stop there, as it's also as good as a diorama, thanks to the highly detailed backdrop.
Release date: May 2019 (Limited release)
Price range: 170 – 350$
Pros
It's the only special Nendoroid variant in the Attack on Titan lineup. All the other Nendoroids are based on the characters' combat uniform or everyday attire
Since the mask accessory is detachable, you have two of Levi's looks to choose from: with or without the mask. The other Levi Nendoroids don't have the same option
This Nendoroid's appearance is from a fan-favorite scene in season 1 of the anime. It's where Levi's neat freak side is on full display
Cons
Since this Nendoroid has an older design, it has ball joint legs, which look weird in some angles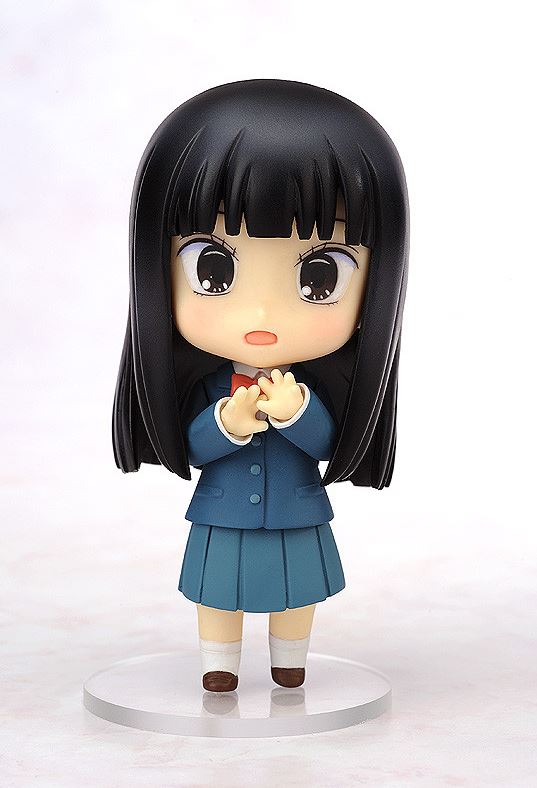 The glory days of the rom-com anime, From Me to You are long gone. Nevertheless, its main girl, the shy Sawako, is still turning heads as one of the most sought-after Nendoroids nowadays. This figure is already close to 12 years old, yet collectors far and wide are happy paying 10x its original value just to have it.
Release date: August 2011
Price range: 190 – 250$
Pros
This Nendoroid is the only licensed and decent-looking figure from the anime. It will probably remain as the sole Nendoroid release of the character, as well
Unlike most Nendoroids which typically have 2-3 faceplates, this figure has four. They also have varied expressions that successfully convey Sawako's personality from the anime
It's an old release, but it's still a cute Nendoroid
Cons
You'll likely have to ship this from overseas, as most stocks of this Nendoroid are in Japan
This figure has limited display options since you can only do two poses with it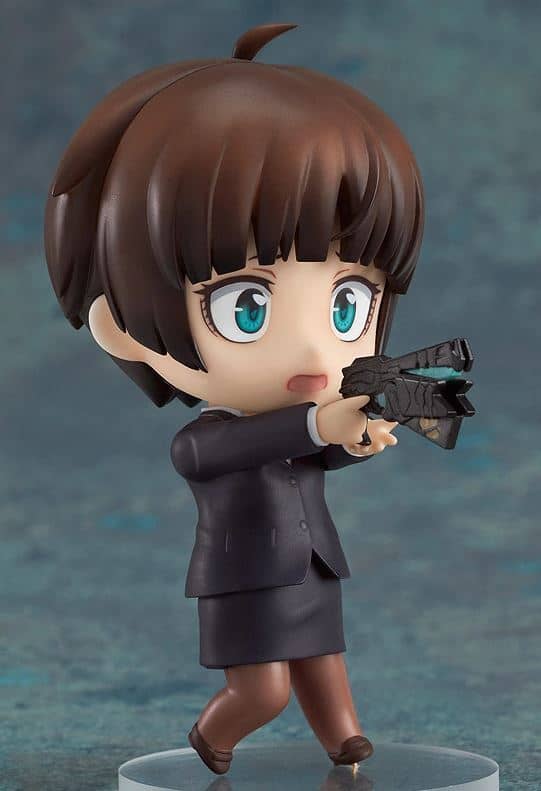 Don't let Akane's simple-looking figure fool you, as it's far from ordinary. It was the only PSYCHO-PASS Nendoroid for a long time, so its value naturally increased. But even after adding a Shinya Kougami Nendoroid, this version of Akane has remained the ultimate representation of the cyberpunk anime.
Release date: August 2013
Price range: 180 – 220$
Pros
It's the only official figure resembling Akane's appearance in the anime. The other two Akane figures available look more like counterfeit products because of the poor face sculpts
Akane is the face and protagonist of the PSYCHO-PASS series, making this Nendoroid the ideal figure for fans
Although this figure has an older Nendoroid design, it has decent articulation. It also doesn't look out of fashion, even when placed next to newer Nendoroids
Cons
The Nendoroid has slits on the sides of the skirt that aren't part of Akane's uniform in the anime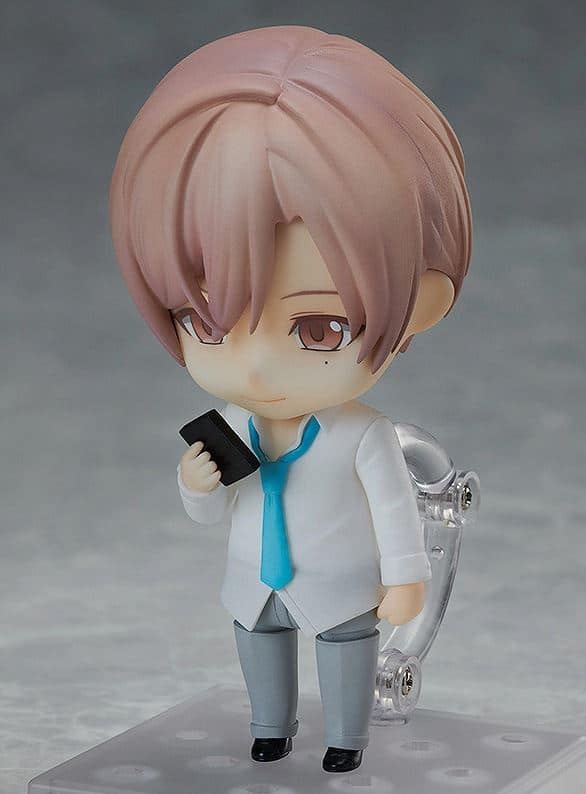 Whether you're into BL (Boy's Love) or not, as long as you're part of the otaku community, you know there's a strong demand for it by fujoshis (female fans of BL). Hence, it shouldn't be surprising that even though Ten Count has no anime adaptation, the Nendoroid of its protagonist still receives so much love.
Release: September 2019
Price range: 160 – 200$
Pros
It's one of the few Nendoroids that's based on a BL character
Similar to the Elias Nendoroid, this figure is manufactured by FREEing, meaning it's got almost zero chance of getting a rerelease
This figure's hair has a fantastic paint job, as the gradient effect emulates the same colors in Shirotani's colored illustrations
Cons
GSC didn't include Shirotani's white gloves as an accessory, even though it's part of the character's basic look. They're also crucial to the story because of the character's mysophobia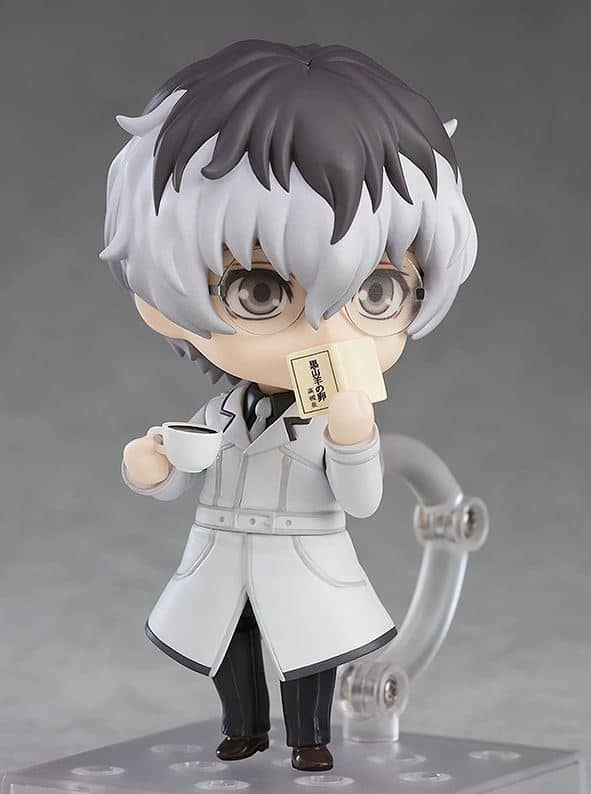 Tokyo Ghoul fans were initially disappointed to discover that a Haise Sasaki Nendoroid would be released instead of a Ken Kaneki. The public sentiment turned to appreciation soon after when it became clear that GSC wouldn't be producing anyone else from the anime. Consequently, this figure is now a highly desirable Nendoroid as collectors are eager to get their hands on the only Nendoroid of the one-eyed ghoul.
Release date: November 2018
Price range: 150 – 235$
Pros
All of Haise's most used items come with this figure. They also have thorough details since the book accessory's title is readable, and the glasses have lenses that look identical to what he wears in the anime
Despite Tokyo Ghoul's popularity, this is the only Nendoroid from the series. So this figure is a must-have if you want a Nendoroid representation of the anime
The Nendoroid has a clean and sophisticated appearance since the seams aren't visible at all because of the Ghoul Investigator uniform
Cons
This Nendoroid is missing a key detail from Haise's character design, as none of the faceplates has his signature left ghoul eye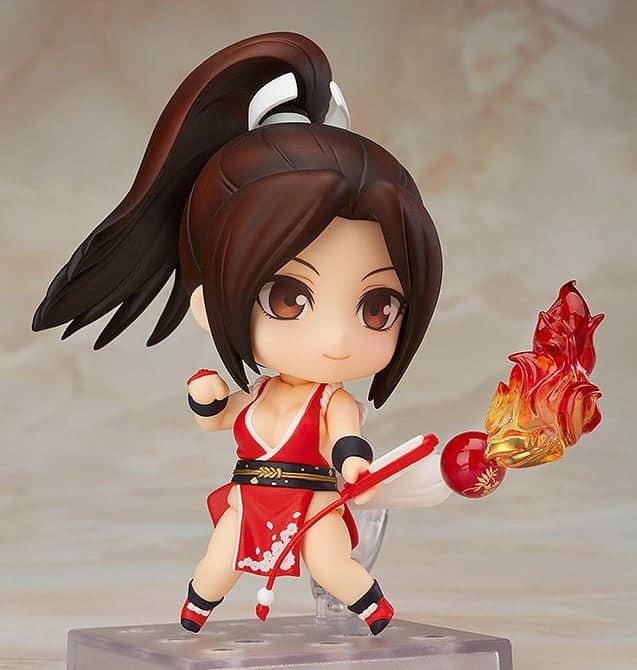 Mai has such tantalizing good looks that she's primarily associated with the King of Fighters franchise instead of the main leads. As such, this voluptuous Nendoroid of hers is a big deal to collectors, especially fans of the games. Given her fame and allure, this figure quickly added to the list of rare and wanted Nendoroids.
Release: April 2017
Price range: 166 – 240$
Pros
Due to the design of Nendoroids, this Mai figure isn't overtly sexy. It can show off the character's trademark assets without looking obscene
This Nendoroid has excellent detail in general. The accessories specifically are noteworthy, with the flame effect for Mai's Ryuuenbu attack standing out the most
The ball joints of this figure's legs suit the character's design and give this Mai Nendoroid the curvy appearance she's known for
Cons
Due to how thin and small the fan accessories are, attaching them to the Nendoroid can be a bit tricky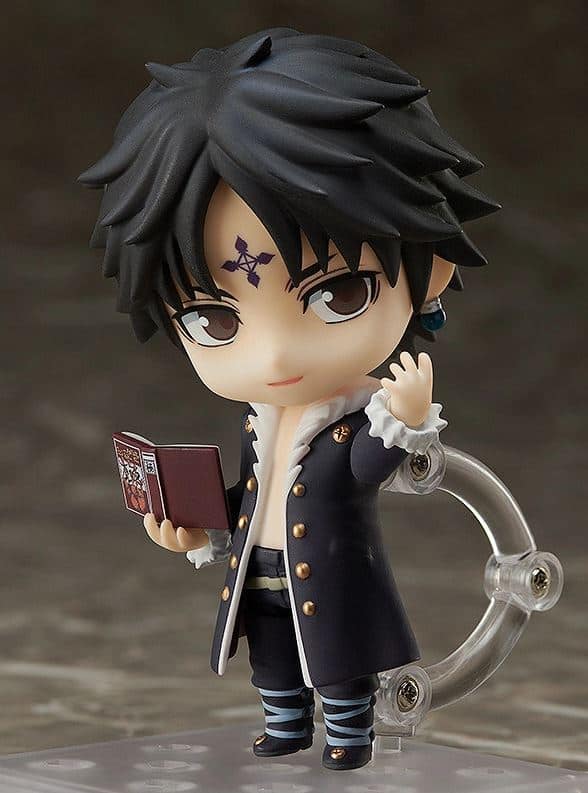 Despite being ruthless and manipulative, the Phantom Troupe's leader belongs to the top ten most popular characters in Hunter x Hunter. Even in Nendoroid form, Chrollo's charms seep through, seeing that it's more wanted than the Gon and Killua Nendoroids.
Release date: August 2020
Price range: 100 – 200$
Pros
This Nendoroid includes two different front hair pieces, meaning you can display Chrollo with his most common hairstyles in the anime
The expressions on the faceplates are in line with the character's personality, allowing you to recreate many of his scenes
This figure follows Chrollo's character design in the Hunter x Hunter 2011 remake, which has a more attractive costume than the 1999 version
It's the only articulated figure of Chrollo
Cons
This Nendoroid only has a single accessory, the Bandit's Secret book, and you can't remove it from the hand part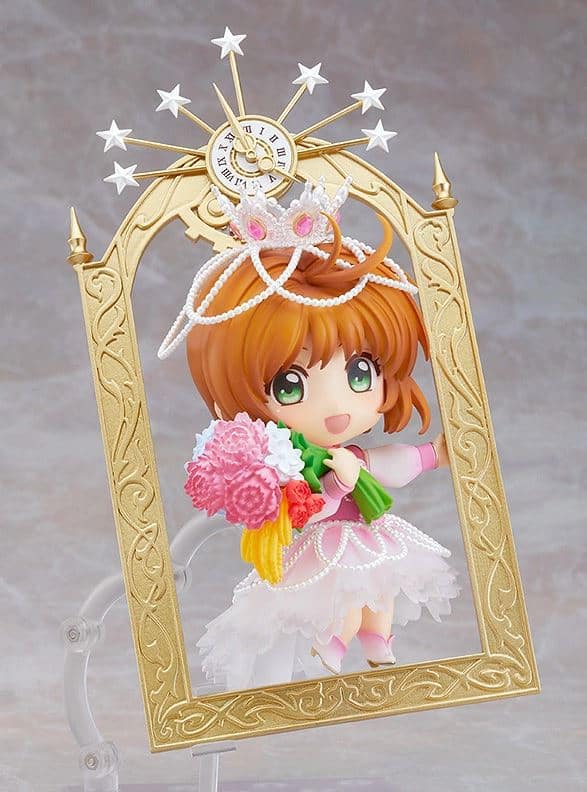 Card Captor Sakura has been a household name in the anime community since it first graced TV screens. It's been 25 years since then, and Sakura continues to empty the pockets of old and new fans with her various Nendoroids. Just take a look at this anniversary edition as proof. It's only been out for a year, but it's steadily climbing the ranks of the most desired Nendoroids.
Release date: May 2021 (Exclusive release)
Price range: 130 – 180$
Pros
The box has beautiful and uncommon packaging (a box sleeve) that showcases Clamp's 30th Anniversary illustration of Sakura Kinomoto. The image is also the basis for this Nendoroid
This figure has one of the fanciest and largest Nendoroid accessories, the golden clock frame
The Nendoroid had a limited release because it's a collab figure between CLAMP and GSC for their 30th and 20th Anniversary, respectively
Among the six Sakura Nendoroids, this variant has the prettiest costume
Cons
This Nendoroid has tons of fragile and delicate parts, like the crown, that may get damaged during shipping
Important Reminders About Buying Rare Nendoroids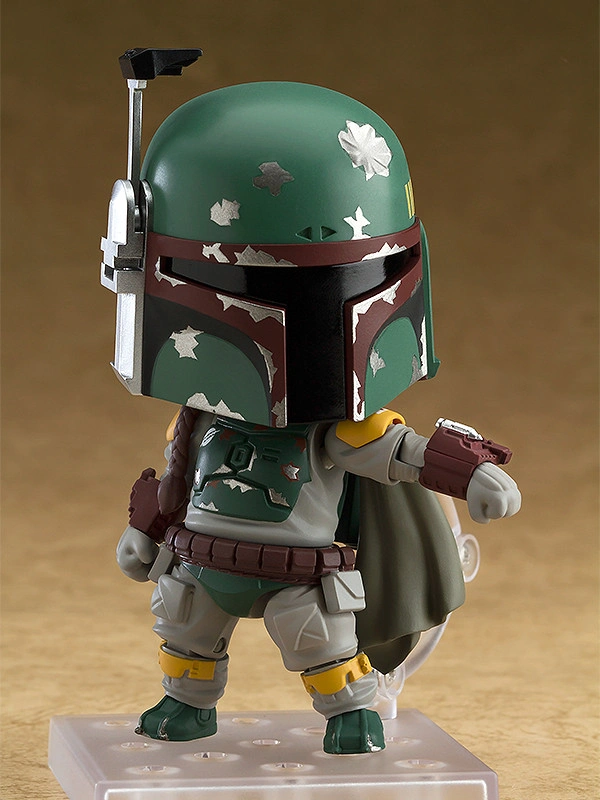 Since they're no longer in production and aren't available at retail stores, there are several risks to purchasing rare Nendoroids. Hence, before you go on a Nendoroid spree, you need to be aware of a few facts.
Replacements Will Be Unreliable at This Point
Given the lack of supplies, replacements are impossible to obtain in case of defective parts. So, you should be aware that you won't be able to request a different stock of the Nendoroid because it will probably be the only one they have. This possible issue shouldn't dissuade you, though, as the odds of getting a complete dud are low because GSC makes quality products.
Prices Can Unexpectedly Change
The prices of out-of-stock Nendoroids are determined by buyers and fluctuate every day. Therefore, the same item may have a different price after a day, a week, or a month. There's no way to correctly predict how much a Nendoroid's value will increase or decrease.
You May Have to Order Overseas
Regular toy stores won't carry rare Nendoroids, meaning you'll have to look for them at specialty shops or online stores. Most of the time, you'll have better luck obtaining what you're searching for in Japan-based stores like AmiAmi. So you'll have to familiarize yourself with international shipping costs and how customs work in your area.
Conclusion
A particular thrill comes with owning rare items, and the feeling can be addicting. That's why a lot of people seek them out. Then again, if you're just getting into toy collecting, you should try regular-priced Nendoroids first to get the hang of things. Check out newer lineups, like Demon Slayer, or Disney Nendoroids, to get an idea of how the community and market work.
But if you already have experience and are itching to go after rare Nendoroids, the ones listed in this article should be perfect. Even if they're not all to your taste design-wise, when your focus is purely on their value, none of them will fail you in that department.
Plus, since they're from different types of anime, there's likely something that will appeal to you as an otaku or click with your aesthetics. I'm not fond of Card Captor Sakura, yet even I'm considering getting the Sakura Pinky Promise version because of the design and rising rarity status.
Be it for the prestige or
So, are you ready to drop big bucks on these adorable 4-inch figures? Get going, then, and have fun hunting down grail Nendoroids.
Top Q&A
Question: How Many Nendoroids Are There?
Answer: According to the official Good Smile Company website, they have manufactured over 2,000 Nendoroids, including unreleased characters.
However, that number excludes the other toy lines under the Nendoroid label, the Nendoroid Doll and Nendoroid Swacchao! With all the Nendoroids lines combined, the total would be roughly 2,400 – 2,500.
Question: How Much Do Nendoroids Normally Cost?
Answer: Regular and exclusive release Nendoroids have a preorder price of 40 – 60$, and DX variants have a starting price of 75 –  99$.
Question: How Often Do Nendroids Get Rereleases?
Answer: Due to the high demand for Nendoroids, it's become common for GSC to reproduce popular Nendoroid lines. Ongoing anime series typically have a good chance of getting a rerelease when the newest season airs.
A concrete example is the Haikyuu!! Nendoroid line. When the anime's fourth season, Haikyuu!! To the Top, aired in early 2020, GSC decided to rerelease many of the Haikyuu!! Nendoroids in 2021 and 2022.
Continue reading: