Oh, how I have loved classic Batman for decades! How can you not? It's a Warner Bros classic. Plus, there are the fabulous Catwoman, Batman affiliates, and bad guys; truly something for everyone. Even the people who didn't become engrossed in the Batman saga know precisely what you're talking about when you speak of the Joker or Robin. Batman has been around since May 1939.
The iconic and sleek Batmobile is probably the most extraordinary and most memorable item for everyone. I bought a black Honda Civic new in 2001, and I, being a young punk, accessorized it to the max. My Dad always referred to it as the Batmobile. Unfortunately, my Dad is long gone, but my "Batmobile" is still going reasonably strong at 350,000 miles! But, of course, the real Batmobile is a vehicle designed from lust. I wonder how many miles the very first Batmobile had on the odometer? 
If you're like I am, you love finding those throwback figurines from the OG Batman and, of course, the Batmobile. I enjoy going to antique shops and flea markets, searching for vintage items of the sort. You can, of course, find anything on the internet. So I am here to guide you on this superhero-sized journey to find the very best classic Batman figurines that one can find!
Criteria I Use to Find the Best Classic Batman Figurines
Anyone can write about Classic Batman Figurines. I go above and beyond because I am a major Batman fan, admire uniqueness in figurines, and don't want to waste your time with junk. 
I only list items that you can purchase.

I'm not too fond of cheaply-made junk.

I only list authentic and true-to-form Classic Batman figurines.

I only link sellers and sites that are trustworthy for purchases.

I do not list anything with negative reviews.

I list an extensive range of prices if at all possible.

I find the best collectibles and write about those.
My Top Picks
Bottom Line Upfront
These figures are great examples of original superheroes that have evolved over the decades into what is currently trending. The colors expressed in these collector items are perfect for the happy 1960s. 
My favorite of these very well-made Classic Batman figurines is the DC Retro Batman 66 Black and White TV Edition Figurine. It isn't hard to see why if you are a long-time original Batman fan. This figurine is exactly on point with the original Batman from the 1960s black and white show. I think it fully embraces the timeless age of the character and beloved show.
A Few Things To Know
Every Classic Batman Show figurine on this list stands six inches tall.

Each figurine on this list is posable; most come with 12 points of articulation.

All of these figurines are in stock through the links provided.

Each figure is what I call new-old stock, meaning this is a new 2021-2022 figurine but is made to look like it did in the 1960s.

 Each figurine comes with action bubbles that can be attached to their arms.

The batmobile and batcycle can fit any of these figurines.

These collectible figurines were exclusively released for sale at Target. Robin is only available on Amazon at this time.

Each figurine is made by McFarlane Toys.
Best Classic Batman Figurines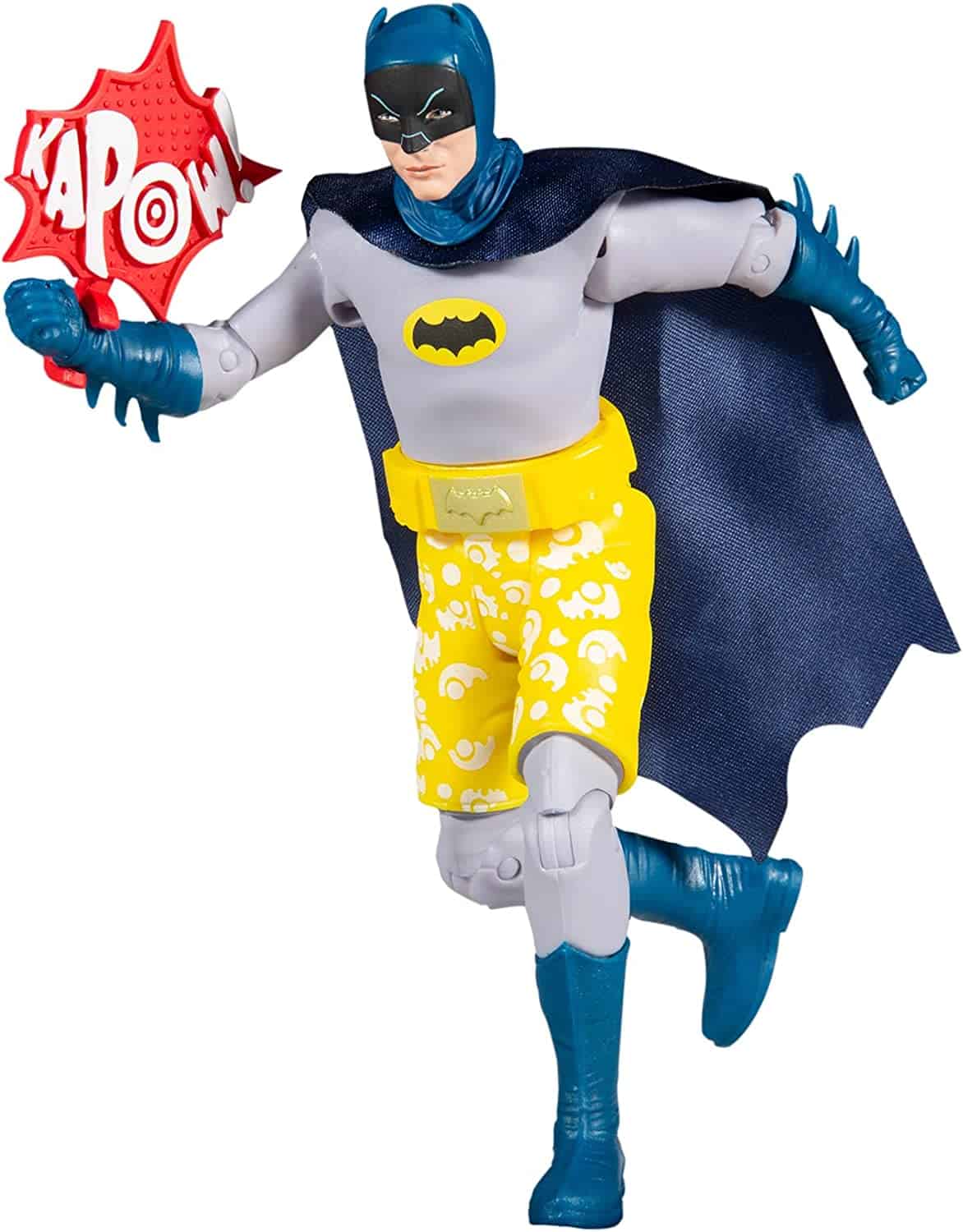 This throwback Batman toy is looking sharp in his yellow swim trunks. This figurine is from the episode "Surf's Up, Joker's Under." This collectible stands six inches tall. It is also fully poseable.
Pros
Cape is made from silky polyester cloth.

The figure has two connectable "kapow" speech bubbles to attach to Batman's arm.

The detail on Batman's eyes and lips is very well done and looks realistic.

The hood's detail is excellent and looks just like the 60s Batman.
Cons
I don't particularly appreciate how the arm spikes look.

Collectible/toy is for ages twelve and above only.

I cannot figure out the design on Batman's swim trunks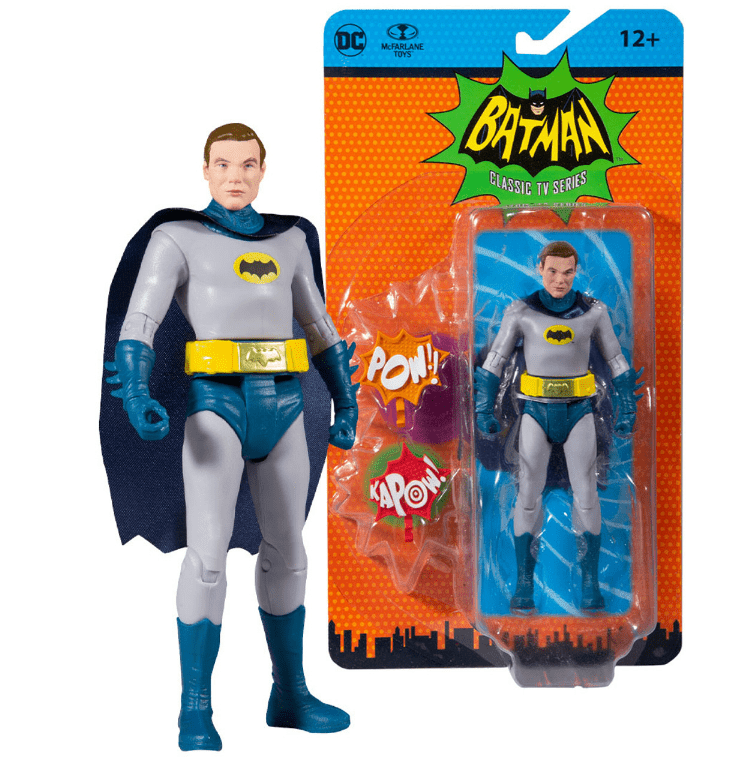 This six-inch figure looks like it really came from the 1960s! The vintage-looking figure is our dear Batman WITHOUT a mask, and Bruce Wayne's face in full view. Batman's uniform also looks like the very being of Batman's notorious suit. This is definitely a collector and is made to look like the first Batman that appeared on TV.
Pros
A very cool, unmasked version of Batman.

The facial details are very well done and look realistic.

It comes with two action word bubbles to attach to Batman.

Twelve points of articulation make this figure highly poseable.
Cons
The facial features look realistic, but they are still super creepy.

Batman's skin looks like the color you would find in a morgue. 

It would have been nice if they added a removable mask.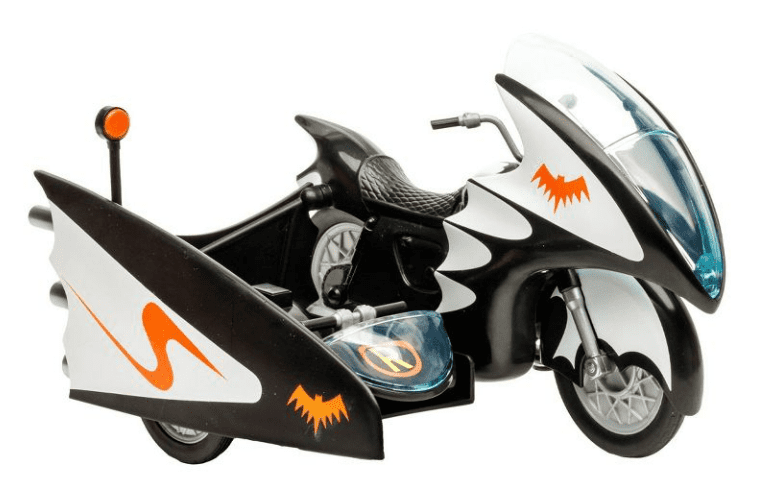 Okay, if you're as big of a fan of Batman's vehicles, this is a great find. It looks authentic, is a collector, and must be added to your vintage Batman collection.
Pros
Looks just like the Batcycle from the 1960s Batman show.

I like the retro orange bat on the side of the cycle.

The wheels work, and all of the Batman 66 Retro figures can fit on it.

The sidecar can be removed and used on its own.
Cons
It has not been released yet, but it will be before 2022 is over. 

This would be neat if the sidecar had a catapult-style release so they could separate while driving.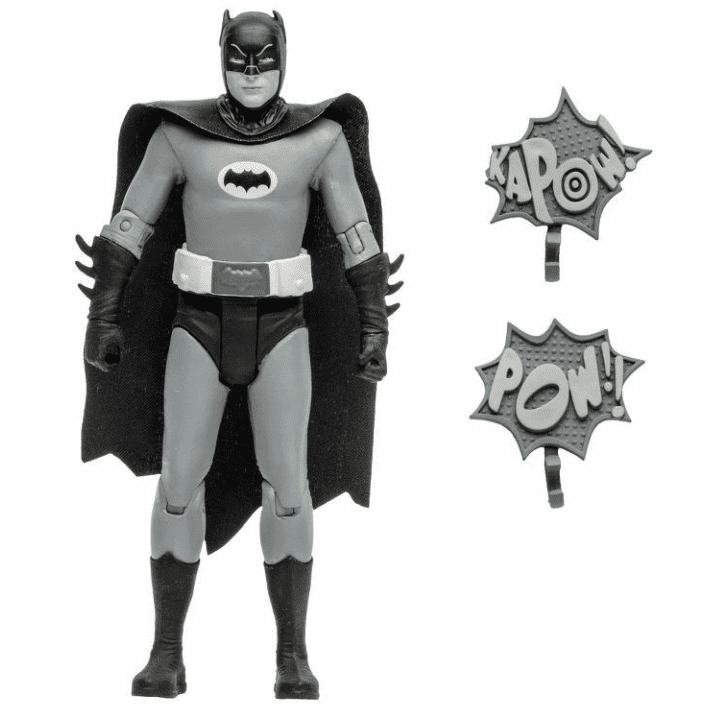 This monochromatic Batman figurine will take you back to the era of black and white TVs. This is an excellent new-old-stock version of the true classic Batman. I think this figure is so unique.
Pros
I love the monochromatic look of the ancient black and white tv screen that Batman first aired on. Truly a collectible. 

Once again, they succeeded in making the facial detail very realistic looking.

The packaging is very cool and shows the OG Batman in black and white on the back. 
Cons
The leg and arm connections look a little wonky, but it's pretty standard on vintage figurines from the 60s.

Not out yet, but it will be on October 14, 2022. Preorder now. 

I would like to see some different action bubbles on the other models.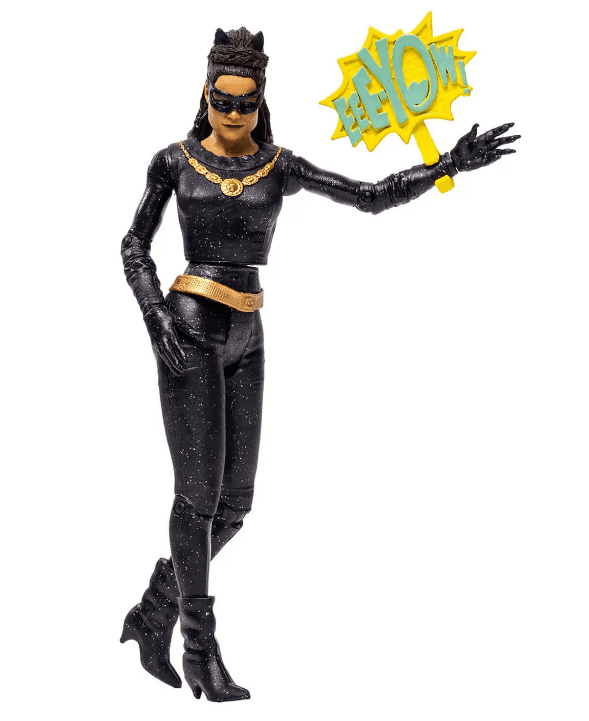 This is Catwoman, as seen from the very beginning of her fame. Season 1 Catwoman was played by Julie Newmar in the classic 1960s TV show. Of course, this is before the slick-looking new sexy Catsuit was updated, and she doesn't yet have the iconic whip. Either way, this is dripping with nostalgia and all the accompanying feelings.
Pros
This figure is a very accurate representation of the original fierce and beautiful Catwoman.

The wrinkly detail on Catwoman's suit is realistic.

The necklace is well-detailed and looks just like the real version.
Cons
The suit's speckles confuse me a little. Didn't the original Catsuit have glitter that sparkled and not white speckles?

The area where Catwoman's legs bend looks a little odd.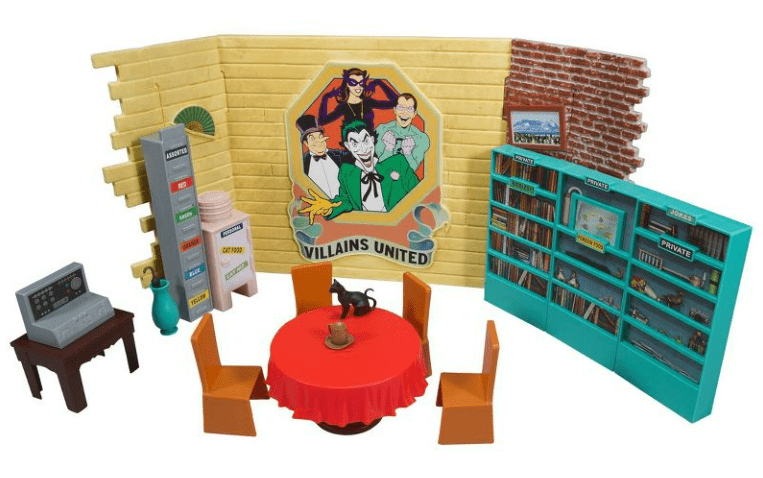 This is not a figure, but I felt it needed to be included just because it is that fantastic. So if you have all of the figures and want to set up a mock scene, this playset is your answer. It is filled with thoughtful details and colors.
Pros
I love the detail on the villain's bookshelf filled with riddles and penguin stuff.

Check out the cat food container that also holds Catwoman's catnip.

The ancient Hecate cat statue on the table is a nice touch.

The more I look at this play set, the more items I notice that belong to each of the four villains.
Cons
This playset is for ages twelve and up only.

You will need to purchase the villains to go in this playset.

The saucer should be filled with milk.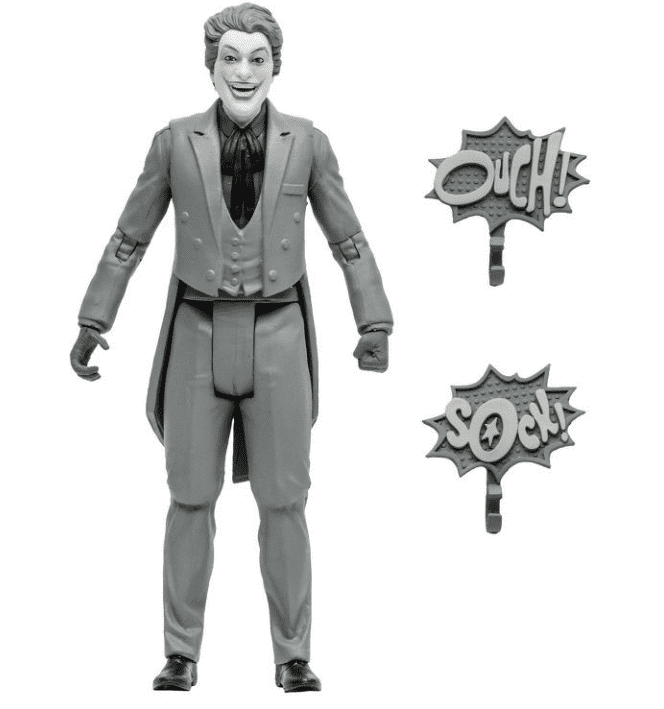 This figurine is an excellent replica of the original monochromatic Joker seen on the 60s Batman show. He is one of Batman's top enemies and is iconic in the show. The Joker has such a huge following that we keep recreating him ever so slightly and pushing out more movies. It's hard not to feel empathy for the poor man.
Pros
I like that the action bubble signs say something other than what the other figures' said. 

The detail on The Joker's coat sleeves and buttons is thoroughly done.

The eyebrows on the figure are identical to the real Joker's eyebrows.
Cons
Preorder now. This figure will be released on October 14, 2022, and will ship once available. 

Is it just me, or does the crotch of The Joker's pants look long and weird?

The Joker in black and white is nostalgic, but it doesn't look that much like the Joker I grew up with in color.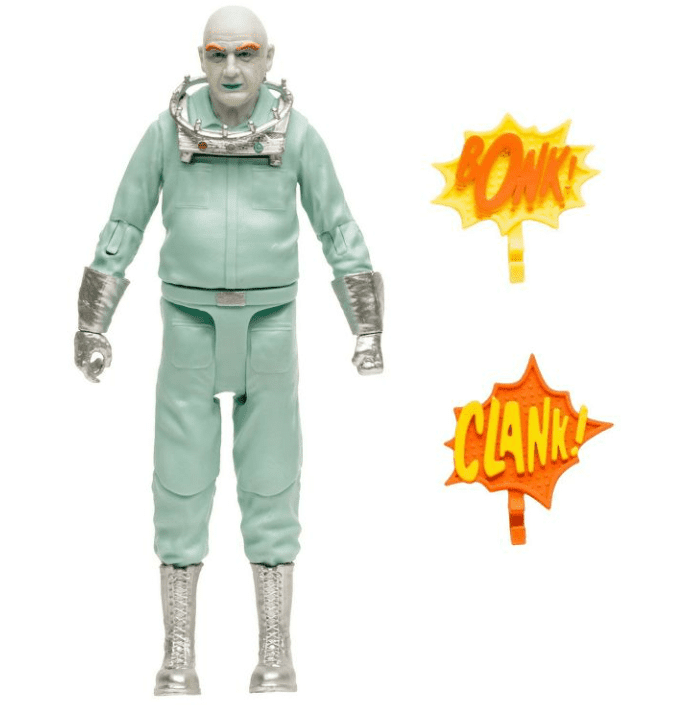 Are you old enough to remember Mr. Freeze? Where did he go? Why isn't he in any of the newer Batman movies? He was a one-of-a-kind villain who spent most of their time chasing his revenge of the Dynamic Duo. He has brain damage and blames Batman for everything. I mean, look at those crazy eyebrows!
Pros
Mr. Freeze's blue lips are a nice touch on an important detail- he's freezing cold!

I think he looks better without hair since sometimes he did have hair in the episodes.

Mr. Freeze's cold suit looks just like the tv version.
Cons
Mr. Freeze's skin tone suggests he may not be alive anymore, but he is really just that cold.

Where is his freeze-ray gun?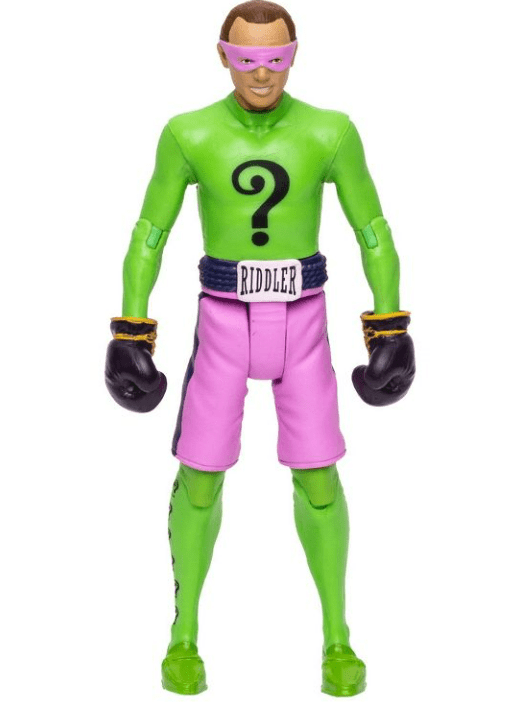 That Riddler was always a fun guy. He was always causing trouble but smiling while he did it and chanting his weird riddles that only Batman seemed capable of getting right.
Pros
This figure captures Frank Gorshin's character as The Riddler. 

They got the receding hairline and color right.

The green shoes look perfect and just like the originals.
Cons
The original Riddler had bright blue eyes. This figure's eyes are brown. 

The green on the Riddler's shirt is much brighter than on the show. His question mark jacket was much closer to the color seen here.

This figure's expression isn't nearly as crazy as it needs to be to look like the real Riddler.

Where is the Riddler's ever-so-important staff?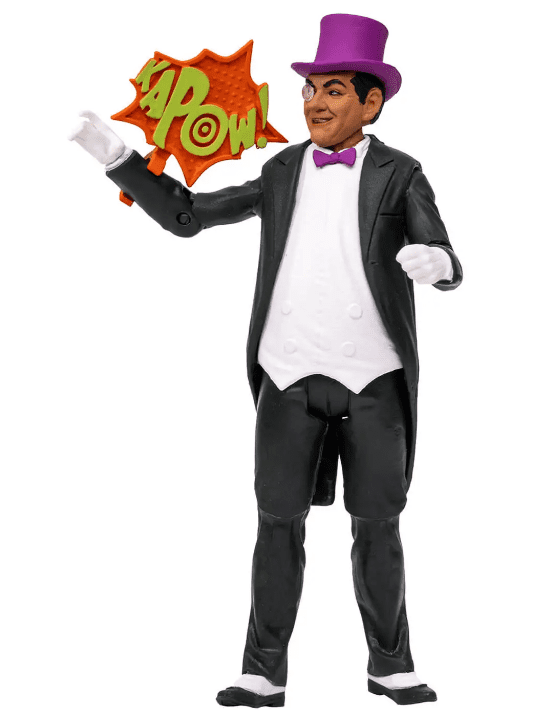 It isn't nice to say, but The Penguin always creeped me out. There's just something icky about his demeanor. He was one of the duo's four enemies, so I guess being creepy goes with being a villain. This was the lightweight, not-so-scary version of The Penguin from the very beginning. The current Penguin is much more bizarre and scarier. I'm not sure how he would be considered a lady's man anymore. 
Pros
The button and texture detail on the bottom of The Penguin's shirt is very detailed and well done.

The shoes look great and just like the original ones in the show.

The Penguin's tie never seems to be perfectly straight in the show, and they captured that perfectly here.
Cons
It would probably be frowned upon by some, but I think he should have his icon cigarette in the extra-long cigarette holder.

The Penguin figurine should definitely come with his super weapon; the umbrella!

The Penguin's white shirt looks a little off from the typical frilly, ruffly one he generally wore. He probably owned more than one shirt, though. 

The Penguin's jacket looks more like leather than cloth on this figurine.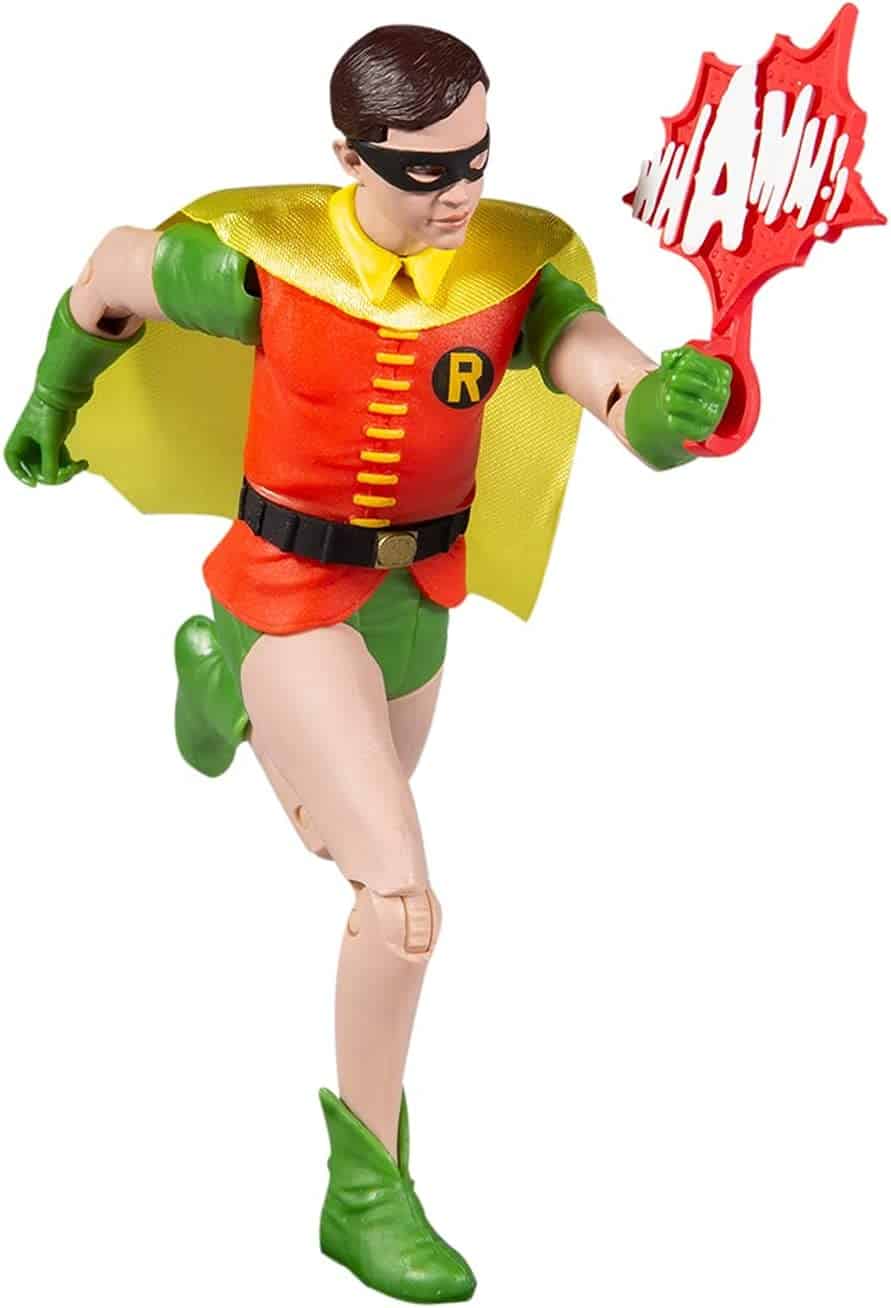 Everyone loves Robin. He's such a friendly kid who is always eager to help Batman save the day and fight those crazy villains right by his side. 
Pros
Those boots on Robin's feet look perfectly in tune with the ones from the show.

They even captured the color and texture of Robin's tights flawlessly.

The figurine's eye color is very close to the actual Robin's eye color. 

I like that the cape is removable, like those of genuine vintage figurines.

The cape is fabric, not plastic.
Cons
Robin's belt had gold straps along it, and this does not.

The yellow collar on the figurine is a much brighter yellow than the original show collar.
FAQs
Question: What Batman Figures are Worth Money?
Question: What was the First Batman Action Figure?
Answer: In the mid-1960s, the Marx Toy Company created the first posable Batman figure. The figure came with accessories and stood four inches tall. 
Question: What is the Rarest Batman Figure?
Answer: Ideal Super Queens Batgirl ($17,925) – The first dolls of the characters sell for insane amounts. However, to the Batman fan, having this extremely rare collector's item could push you to consider spending $18,000 if that was feasible. 
Question: Should I Take my Action as Figure Out of the Box?
Answer: That is entirely up to you. If you want to keep it in its original condition as a collector's item and resell it later, it's best to leave it in the box. Some people like to store the boxes in a UV-resistant display case.
Question: What IQ is Batman?
Answer: 192. Batman's stated IQ is an unbelievable 192, several notches above the famed theoretical physicist (Albert Einstein), who was estimated to have an IQ between 160 and 180.
Conclusion
Batman is one of a kind and will always be a classic. The shows, comics, and movies will live on in the hearts of enthusiasts forever. Collecting these excellent and amazingly detailed figurines can help preserve that memory. In addition, they are all quite affordable compared to other collectibles and are currently all available by clicking the link for each figure type.
Most of these can be found at Target. Target likes to promote toy sales pretty regularly, so I'm betting you will be able to see all of these for even cheaper than their current price one day soon. 
Let's talk about the figure that was my top pick out of all the figurines. First, I have to say that as far as detail and quality of detail goes, I would pick the DC Retro Batman 66 Black and White TV Edition Figurine. I love this figurine because it is an accurate iconic rendition of the original black and white TV Batman. It takes me back to the time of black and white tv shows and bunny ear antennae.
Whichever Classic Batman figurine you like most is sure to be a winner. All of these figurines are great compared to some of the newer stuff. I highly recommend getting the DC Retro Batman 66 Villan's Lair Playset and setting up all your Classic Batman figurines on a shelf lounging around the lair. Holy conclusion, Batman!
Continue reading:
Best Batman Action Figures Guide
18 Best Batman Statues Guide for Batty Fans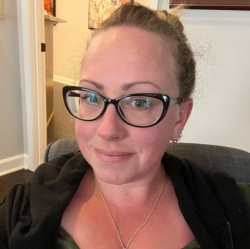 Latest posts by Katie Downey
(see all)