Spider-Man is one of the most popular characters, not only in comics but in general. Ever since he first appeared on the silver screen, thanks to Tobey Maguire, who really hit it off with Spider-Man way back in 2002. Since then, more people have stepped into the shoes of Spider-Man, and more movies have been made. Not just live-action, Spider-Man's even gotten to be animated with Spider-Man Into The Spider-Verse. He's really come a long way since he first stepped onto the page, thanks to Stan Lee and Steve Ditko. How far the web-slinger will come in the following years is something only time can tell.
Selection Criteria
I'm evaluating the Funko Pops by three different metrics:
Quality – By "Quality," I'm referring to more than just the surface detail of the figure. Funko has a decent standard of quality, but sometimes I will take points. What's most important to this metric is if the Funko Pop! has anything special about it. Things like it glowing-in-the-dark or being reflective or stuff like that. It really adds to the value of the figure.

Availability – What I mean by "Availability" is how easy it is to get your hands on the Funko Pop! This factors in how easy you'll likely be able to find it in physical retailers like Walmart, but also the price of the Funko Pop! on places like Amazon and other things like any shortages.

Serialization – "Serialization" refers to if the Funko Pop! is part of any series or has a quality that makes it good for specific collections. This could be a series of metallic Funko Pops! or MCU Funko Pops! Collecting them is the point of Funko Pops! existence, so the many ways and reasons you can collect them is pretty important.

Now let's get the guide started!
Bottom Line Upfront
The best Spider-Man Funko Pop! you can buy is the number one of our top picks: Funko Pop! Marvel 80th – First Appearance Spiderman! It manages to catch all Spider-Man Funko Pop! That most Spider-Man fans will enjoy! It's a cool classic design that manages to be timeless. That being said, fans of specific versions of Spider-Man, like the MCU or one from the Spider-Man Video Game on PS4, may not like this one, so be sure to check if you intend to get this as a gift.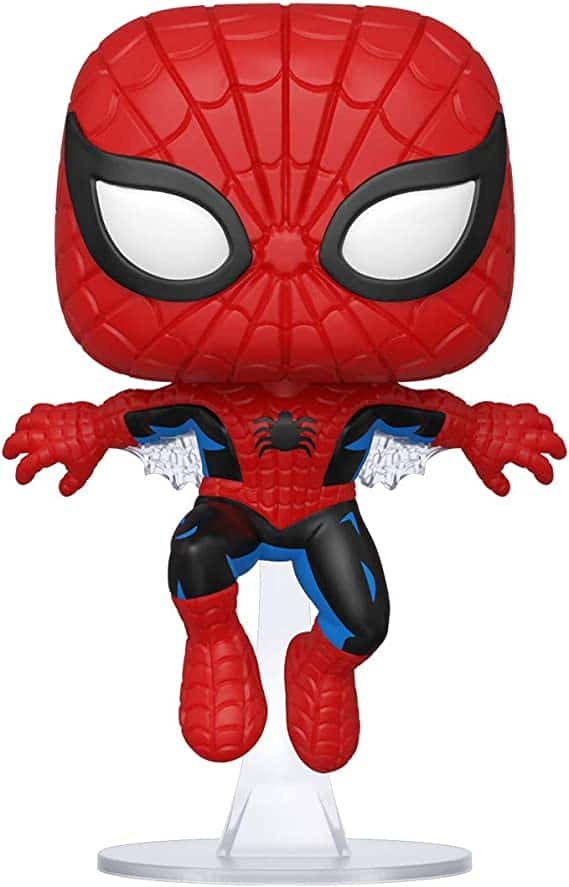 This Funko Pop! is a piece of history. To celebrate the birth of one of the most popular heroes of all time, Funko Pop! and Marveled partnered together to make this. Deep blues and bright red, with the web-like mesh between the arms. This really is a recreation of Spider-Man's first appearance when he showed on the covers of comic books all across America.
Quality 10/10 – I can't tell you how much I love this Funko Pop! Not only is it a great representation of what it's supposed to be, but it's got a lot of details that didn't need to be there. My favorite of these is the coloring on the blue, which mimics the way the comics colored it way back when they were constrained to using dots.
Availability 9/10 – What I love almost as much as the detailing of this figure is the price tag. It hangs around a minuscule $11, which is lower than most Funko Pops! go for at MSRP.

Serialization 8/10 – There are a lot of Spider-Man Funko Pops! from the MCU and comic books, so you can get a sizeable collection going for both of them. I did have to reduce it by a point or two due to this statue's best quality. That unique shading on his legs is, like I said, unique you can't get any other Funko Pop! that I know of with that kind of shading.

Pros
This Funko Pop! looks really cool!
Great representation of a classic look for Spider-Man.
Cons
The serialization is poor because there aren't any other Funko Pops! with the unique shading.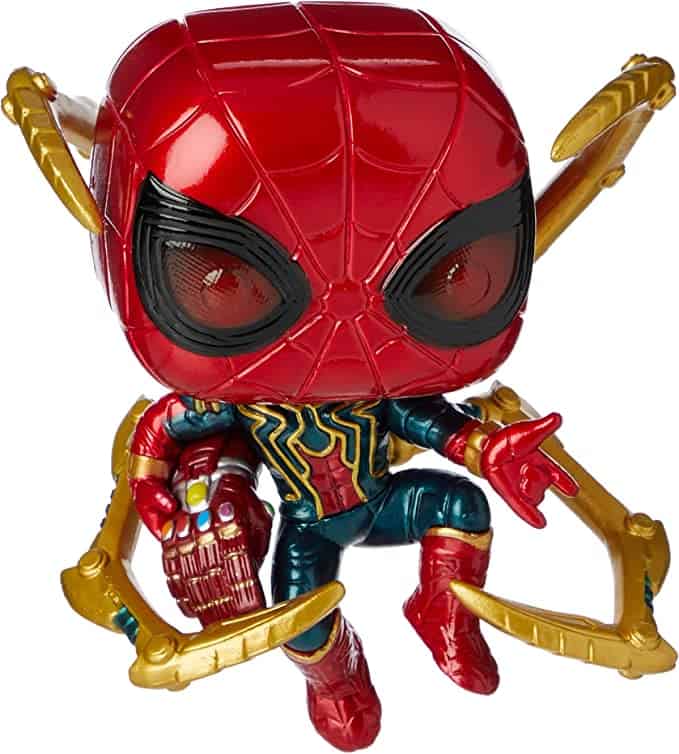 It's crazy how big the Marvel Cinematic Universe has gotten. It's managed to touch upon so many comic events that its kind of insane. One of them is the Iron Spider Suit from the Civil War event in the comics, which is actually kinda funny since it wasn't in the Civil War Movie. Instead, this Iron-Spider came from Avengers: Endgame, where Peter finally activated Instant-Kill Mode. It was a short scene but apparently big enough to justify getting a Funko Pop!
Quality 8/10 – This Funko Pop! is a bit special due to the reflective sheen it gets, which is a pretty nice way to show that it's the metallic Iron-Spider suit. However, I do have to take some points for what's on Spider-Man's right hand. While he did carry the infinity gauntlet, he never actually wore it like the Funko Pop! is doing. Everything else about it looks really good, though.

Availability 8/10 – This Funko is also surprisingly cheap. It goes for the usual MSRP of Funko Pops! which is $12, meaning you'll struggle to find a better price for it if you're buying new. If you buy it second-hand, you might be able to get it for something like $8 if you're lucky.

Serialization 8/10 – You can get a pretty good collection going with this Funko Pop! because there are a lot of MCU-based Funko Pops! even outside of Spider-Man. However, I can't give it full points due to it being restricted from any collection based on the comics since the Iron-Spider from the movies looks different than the one from the comics.

Pros
Nice reflective sheen to show that the suit is made from metal.
Part of a pretty large MCU collection of Funko Pops!
Cons
A mostly non-canon MCU Funko Pop! so those that care for accuracy wouldn't want this.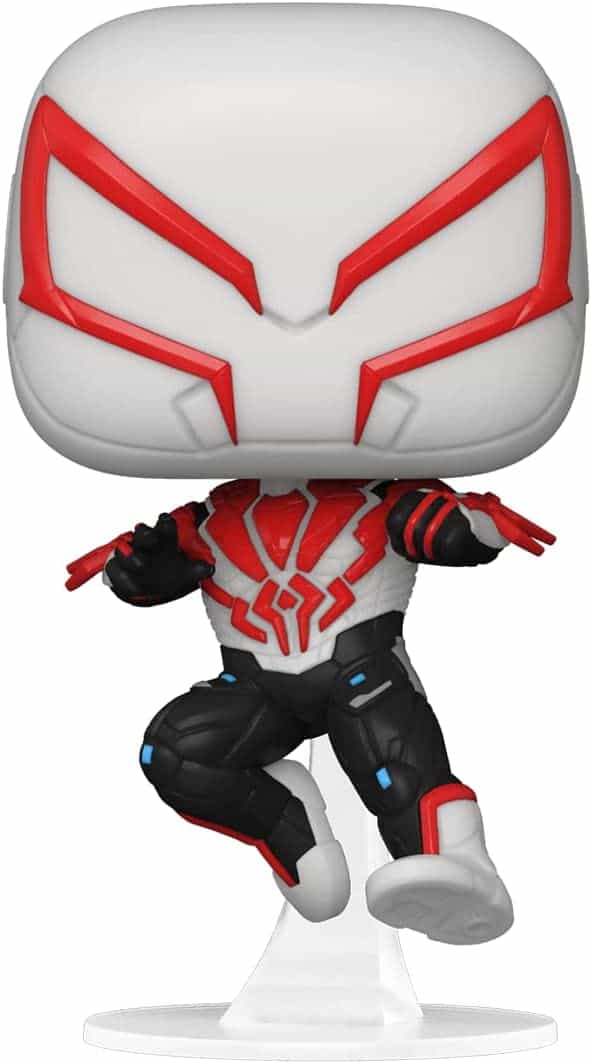 This is a part of Funko Pops! unique Beyond Amazing Collection. The Beyond Amazing collection is actually a Spider-Man-specific collection, but Peter Parker isn't a part of it. There are a lot of great things in the collection, like classic Sandman and even Mysterio figures if you want them. this Funko Pop! is based on the modern version of Spider-Man of 2099: Miguel O'Hara, and it is a great representation of a suit we don't see all that often outside of the comics.
Quality 9/10 – This Funko Pop! has a surprising amount of detail in places I wouldn't normally expect. Rather than the surface being an entirely smooth texture on the outside, there are these lines and divots indicative of the suit. I really like how they went out of their way to include that. There are even treads beneath his feet on his shoes. How often do Funko Pops! get that?

Availability 7/10 – The major problem with the Funko Pop, however, is the price. A little over $15 isn't a bad price in the grand scheme of things, but it is a lot for a Funko Pop to be asking for. You can buy a few actual Spider-Man figures and toys for that price, so be sure a Funko Pop is what you want before you make your purchase.

Serialization 9/10 – The amount of Spider-Man 2099 Funko Pops! is quite limited. I struggled to find more for the protagonist of the series, let alone any of Miguel's antagonists. However, the Funko Pop! does belong to two lines, The Beyond Amazing Collection and the Spider-Man Gameverse collection, so that's two specific sets outside of the usual Spider-Man theming you can make with this one.

Pros
The Funko Pop! is one of the few Spider-Man 2099 Funko Pops! we have.
Cons
It's more expensive than your average Funko Pop!
There aren't many Spider-Man 2099 Funko Pops! for you to buy, so a 2099 collection is basically impossible.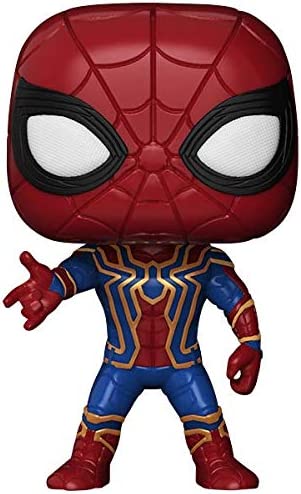 Iron-Spider really is one of the more iconic suits from Spiderman's history, so it was a no-brainer that it'd show up in the MCU at some point. This is a pretty good recreation of the suit we saw during Infinity War. It's evocative of the moment from the movie when Tony tells the young boy that he's an Avenger now, and that includes all the hardships and tribulation that comes with the job. Peter finally made it to the big leagues, but at what cost?
Quality 10/10 – Just like the Instant Kill Iron-Spider earlier in the guide, this one has a unique reflective sheen to it that really makes it stand out. It's evocative of the suit being made of metal as opposed to the usual cloth. I really like the detail since it was unnecessary when making the Funko Pop!

Availability 7/10 – The Funko Pops! usual price is higher than what's usually seen from a Funko Pop! sitting at around $15. It's not a bad price in the grand scheme of things, but $15 for a Funko Pop! is a little much if you're asking, but if you're heart's dead-set on Funko Pop! collecting, then, by all means, go ahead and buy it.

Serialization 8/10 – There are more than a few MCU Funko Pops! for you to buy. There's even another Iron-Spider Funko Pop! if you want to get both. However, you can't fit it into a comic book Spider-Man collection, so you're locked out of that.

Pros
It's a good Iron-Spider figure when there aren't that many of them for you to buy.
Cons
It's more expensive than the MSRP Funko Pops! you can buy.
The pose the figure is doing is pretty boring.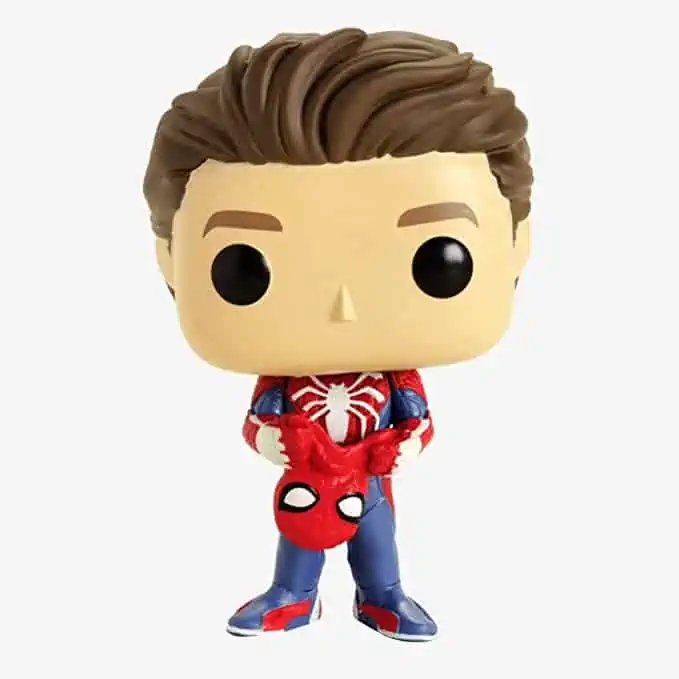 This is also from the Spider-Man Gameverse collection. Specifically from the recent Spider-Man game on PS4. Much like the Spider-Man himself, the game was amazing. One of my favorite parts about the game was all the suits you could collect, but to be honest, I didn't go around wearing them all that often. Why would I when the game's most iconic suit: The White Spider, looked that good? It's a sin we don't see it more often when buying Merchandise, but Funko went out of their way to make this even more special by having Spider-Man unmask himself.
Quality 10/10 – This Funko Pop! has a higher mark of quality than most other Funko Pops! even outside of the Spider-Man line. It would've been easy for it to be a normal Funko Pop! to just have white-spider Spider-Man standing or even doing a cool pose, but this one has him unmasking himself. It's a neat pose we don't see all that often despite it being something Peter does more than he should.

Availability 6/10 – This Funko Pop! actually goes for a pretty high price for a Funko Pop! at $20 a pop. That's a lot for a Funko Pop! to be asking for, but all things considered, it's pretty cheap for any gaming merchandise, especially for a White Spider figure, so that makes this the best budget option.

Serialization 8/10 – There are more than a few Spider-Man Funko Pops! to go around; however, your options for video game Funko Pops! are fairly limited. I do know a few other White Spider Funko Pops! exist, so you can get a fairly good PS4 collection going, but outside of that, your choice for other characters from the PS4 game are quite limited.

Pros
A great Funko Pop! from Spider-Man for PS4.
It has Spider-Man unmasking himself, which is a more interesting action than standing there.
Cons
As far as Funko Pops! go, this one is definitely one of the more expensive ones.
It's specific to the game, so comic or MCU-fans may not want this one.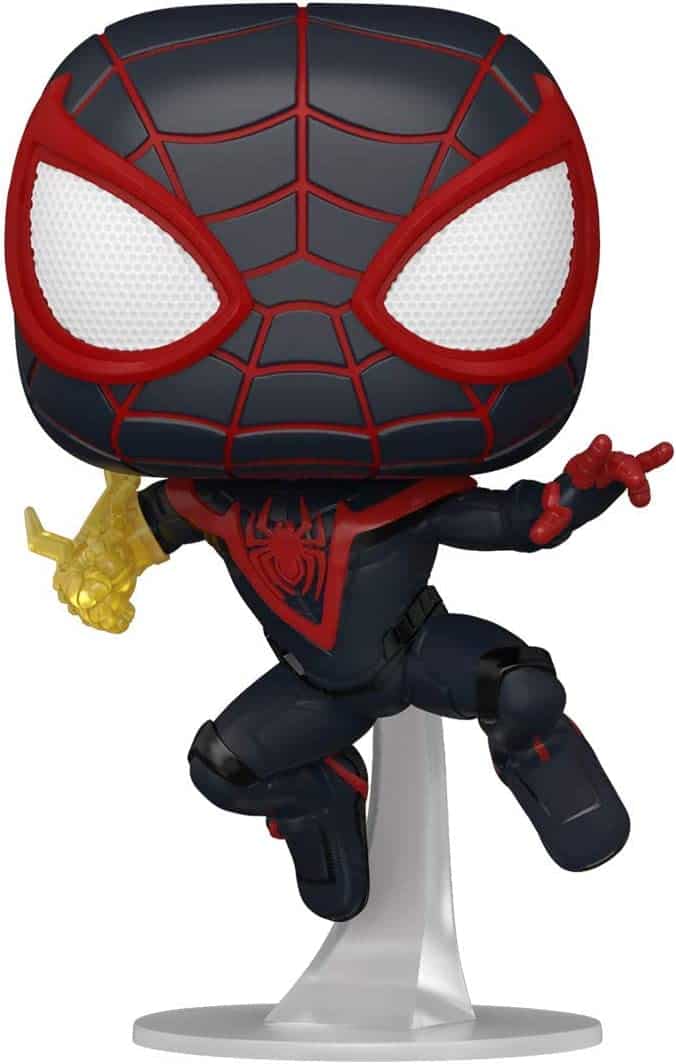 Some say a Spider-Man list should stay mostly Peter Parker. However, I'd point them to Spiderverse when it says "anyone can be Spider-Man," although this Funko Pop! is based on the spin-ff game to Spider-Man PS4, where you got to play as Miles Morales. While the game was very similar to the previous one, I do have to put some love on my boy Miles. They really went out of their way to make him feel different by giving him unique powers like invisibility and shocking touch. I can't wait for the next Spider-Man game to see how they improve on the formula even more.
Quality 10/10 – The Funko Pop! has a level of detail I didn't expect. The webbing on the suit is actually a series of depressions, and the eyes actually have a mesh-like texture to them. Combine that with the figure actually doing an interesting pose and the lightning effect on Mile's hands, and I don't get why Funko doesn't do this more often. They know how to make a quality figure; this one certainly proves it.

Availability 7/10 – The price of this Funko Pop! maybe a pinch point for some of us. It's priced at just over $15, which is more than you usually pay for Funko Pops! The Funko Pop! is also a bit annoying to find online. I had to do some digging and didn't see it at my local Walmart, so your best bet for buying it is probably online.

Serialization 8/10 – There are quite a few Funko Pops! made off of suits from the Miles Morales game. My favorite among the selection is the Miles Morales Winter Suit, but you can also get the Red Suit and the 2020 suit. All of them are good representations of the suits we got in the game, on top of being some of the few collectibles from it.

Pros
A great Funko Pop! of Miles Morales from the game.
Is a part of a bigger series of Funko Pops! with matching quality
Cons
The larger collection is only 7 figures large, so it's still pretty small.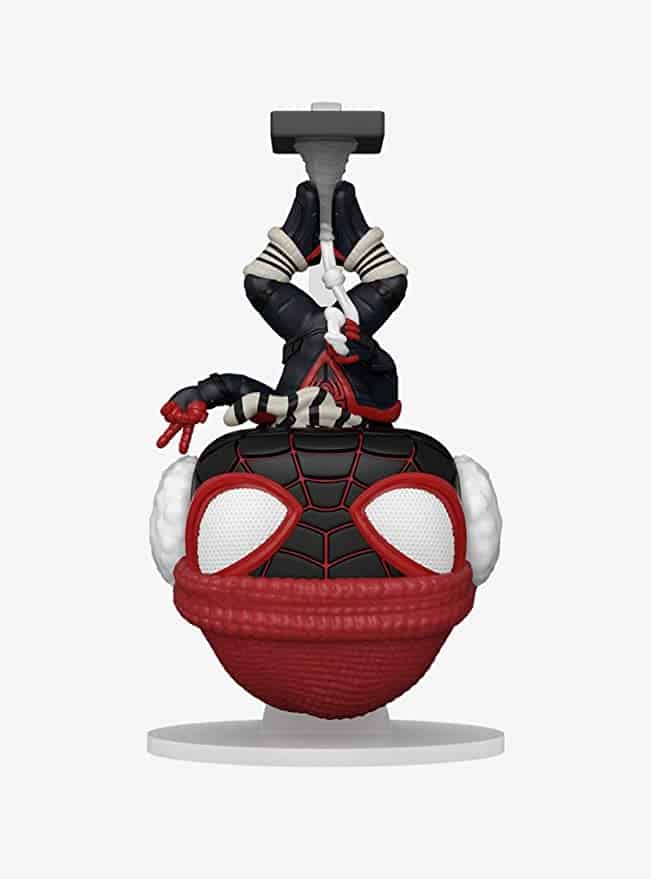 This is another one of the Funko Pops! based on the Miles Morales video game, and this is actually my favorite. The winter suit isn't too different from the usual look of Miles Morales, but I really like the simple aesthetic of the beanie and earmuffs. Beyond that, I appreciate the way the Funko Pop! was posed. Despite hanging upside down being one of the most iconic things Spider-Man ever does, I don't see it come up in figures and statues all that often, probably because having them hang upside down like that is a logistical nightmare from a manufacturing standpoint.
Quality 10/10 – As I said above, I love this figure. It's really cool to have a Miles Morales figure actually doing the iconic Spider-Man pose. The winter suit's design is also one of the more iconic looks created for the game. I'm impressed they managed to capture all of what made it so good so well.

Availability 6/10 – Availability is where this statue really takes a hit. Most Funko Pops! go for around $12, many of the more expensive ones featured on this guide are around $15, but this one is an unholy $24. That is insane for a Funko Pop! On one hand, you probably shouldn't be spending that much on a Funko Pop! of all things, and on the other hand, there aren't that many Miles Morales figures to buy, let alone from this game.

Serialization 8/10 – As I said above, there are more than a few Miles Morales Funko Pops! however, you're limited to buying around 7. That's quite the limited number for a collection, but you could get one going. Although, the price of all the figures would quickly stack up to become something unaffordable.
Pros
Miles Morales is a cool character from a good game, and this is the best Funko Pop! from it.
Cons
It was expensive. Like, very expensive.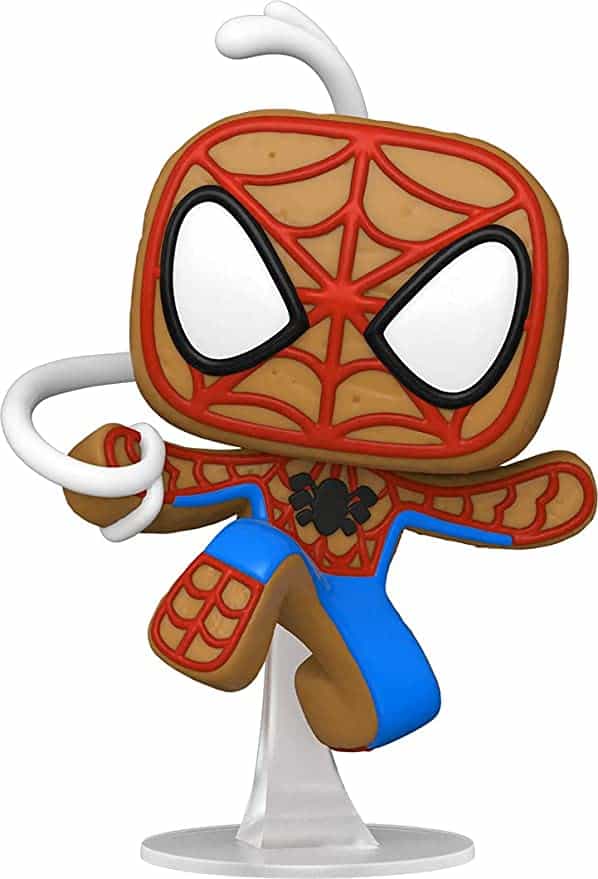 When I first saw this Funko Pop! I actually did a quick google search to see if there was something I was missing. Maybe this was a reference to a really weird, 60's Spider-Man comic or something, but evidently, Funko just decided to make Marvel characters into Gingerbread men, and honestly I kind of dig it. It's weird, it's certainly stupid, but gingerbread men are cute so I will defend these to the death.
Quality 10/10 – I will fully admit that I am a little weirdo who likes gingerbread men too much. Putting my conniptions aside, I'm impressed with the detail of the figure. Even the brown gingerbread part of this has divets and other bready details. The icing being used to make Spider-Man's suit is actually a pretty nice detail.

Availability 7/10 – The price of the Funko Pop! isn't as bad as the Winter Miles Funko Pop! but it does fall in line with the rest of the more expensive Funko Pops! on the list. That being said, $15 is still not that bad, so it shouldn't really price you out of the purchase, but it's more than I would like to spend.

Serialization 7/10 – There aren't any other gingerbread Spider-Man for you to purchase, but there are also plenty of other gingerbread superheroes Funko Pops! you can buy. If you want Gingerbread Hulk, Scarlet Witch, or even Iron Man, then go wild!

Pros
Gingerbread Spider-Man is very cute, and perhaps I like it too much.
Cons
It's not based on the MCU locking it out of movie collections, and it looks too different from normal Spider-Man to be fit inside any comic-related collections.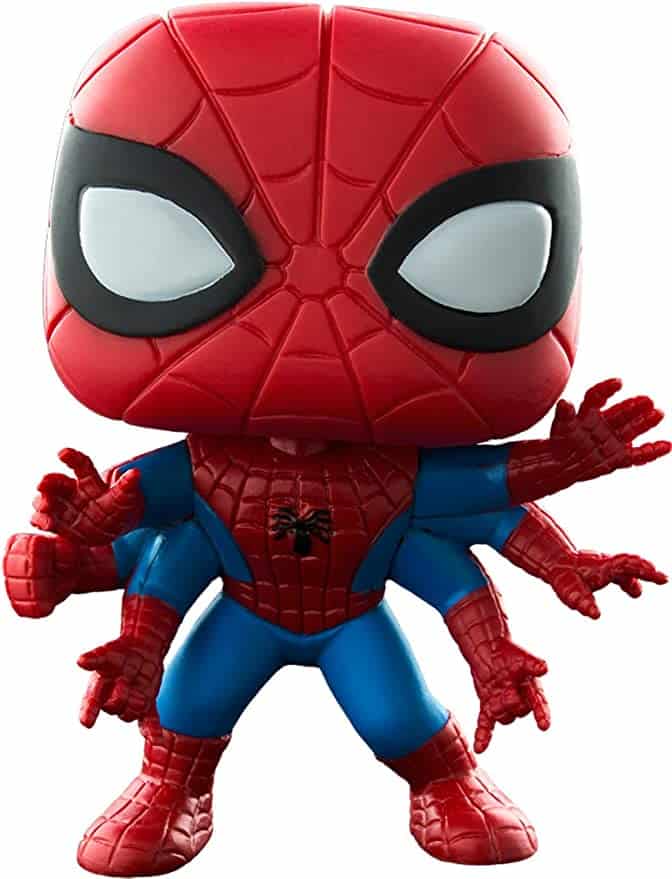 Way back in 1971, there was this really weird Arc within the Spider-Man comics. It took place during issues #100 – #102. What happened was Peter made a serum to get rid of his spider powers that backfired and made them more intense (yet somehow didn't give him the ability to shoot webs out his butt), giving him the four extra arms. It was a weird arc, but I'm glad it was created. Some of the most memorable moments in comic history happen when writers are allowed to do whatever they want. The fact that we still remember 6-armed Spider-Man is proof enough.
Quality 9/10 – This Funko Pop! looks good enough. The surface details on the suit are good, and they managed to fit all the extra arms onto the Funko Pop! pretty well. However, I do have to take a point from this due to the pose being so basic. It's a bit interesting, but there's not much other than that.

Availability 6/10 – Much like for the pose, I have to take one extra point out of this category due to this Funko Pop! being just a twitch more expensive than even the expensive Funko Pops! on the list. It sits around $20, which still isn't a lot in the grand scheme of things, but once again, I'm not sure if I'd be willing to spend it on a Funko Pop! of all things.

Serialization 8/10 – This Funko Pop! would fit pretty well in a comic book collection because so few other Funko Pops! are so wonderfully ripped from the comics. You will have to do some digging to find other comic book-related Funko Pops!

Pros
A great comic book related Funko Pop! from one of the most memorable Spider-Man comics.
Cons
It's expensive for a Funko Pop! sitting at $20
The posing of the Funko Pop! is pretty basic when setting the extra arms aside.
Frequently Asked Questions

Question: Where's the Best Place to Buy Funko Pops?
Answer: The best place to buy Funko Pops! is likely Amazon, since they cover a HUGE amount of products, and Funko likes to put all their products on themselves. You can even buy Funko Pops! second-hand, meaning you might get a lower price!
Question: Which Funko Pop! Would Make the Best Gift?
Question: When did Spider-Man First Start?
Answer: Spider-Man in the comics first appeared in Amazing Fantasy #16, and his first appearance in movies was in Sam Raimi's Spider-Man in 2002.
Conclusion
Spider-Man is one of the most beloved comic book characters for a very good reason. He's been around for ages and managed to stand the test of time, acquiring a rouges gallery that includes villains more iconic than some protagonists, like Doc Ock, Green Goblin, and Venom. A character who's been so popular he's gotten his own movies. But amongst them all, Spider-Man himself reigns supreme. So Supreme Sony and Marvel managed to go through legal hell to get him into the MCU! If what we see now has anything to say about the future, Spider-Man is only going to keep growing larger and larger.
Continue reading:
Best Mandalorian Funko Pop Guide
Best Spiderman Action Figures Guide for Furious Face-Offs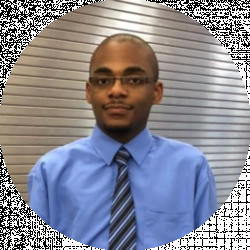 Latest posts by Jaden Hasse
(see all)