Star Wars is more popular than ever, thanks to Disney's acquisition of the property. While the movies have been… of debatable quality, the Star Wars TV shows streaming on places like Disney+ have been ginormous hits for very good reasons. From the Bad Batch to The Mandalorian, all of these shows have a standard mark of quality and care put into them that really shows, thanks to their overwhelming popularity. With the popularity came the usual flood of merchandise, including but not limited to Funko Pops! With so many options in front of you, it can be overwhelming to find the right one for your needs. So I made this list to help you find the best Mandalorian Funko Pop!
I'm Evaluating the Action Figures By Three Different Metrics
Quality – By "Quality," I'm referring to things like the surface detail of the Funko Pop! This includes wrinkles on the skin, bends in fabric, and other things. However, I'm also factoring in things like posing since a figure actually doing an action is more noteworthy than a figure just sort of standing there. The more iconic a moment the figure is referencing will also get points in this category.

Availability – What I mean by "Availability" is mostly how much the Funko Pop! costs. Expensive things, even if they're in stock, are far less available to the average person, after all. However, I'm also taking into account if an item has been short-printed or frequently sold out in this section, alongside how easy it is to find in brick-and-mortar retailers like Walmart.

Serialization – "Serialization" refers to if the Funko Pop! is part of any series or extensive line from Funko. This can include the overarching Franchise but also things like specific characters or based on special qualities like being glow-in-the-dark or having a metallic sheen. Funko Pops! are made to be collected, so the kinds of collections you can make from them matter a whole lot.

Now let's get the guide started!
Bottom Line Up Front
The best Star Wars The Mandalorian Funko Pop! you can buy is probably the Funko Pop! Star Wars: The Mandalorian – Ahsoka with Lightsabers Vinyl Bobblehead. While Ahsoka isn't super iconic to The Mandalorian as a franchise, Ahsoka is one of the most iconic and beloved characters to ever come from Star War's extended media. Die-hards and some casual fans are sure to recognize this fan favorite. The pose is cool, and the detail on Ahsoka is wonderful. My only knock against it is that it doesn't really have anything special about it.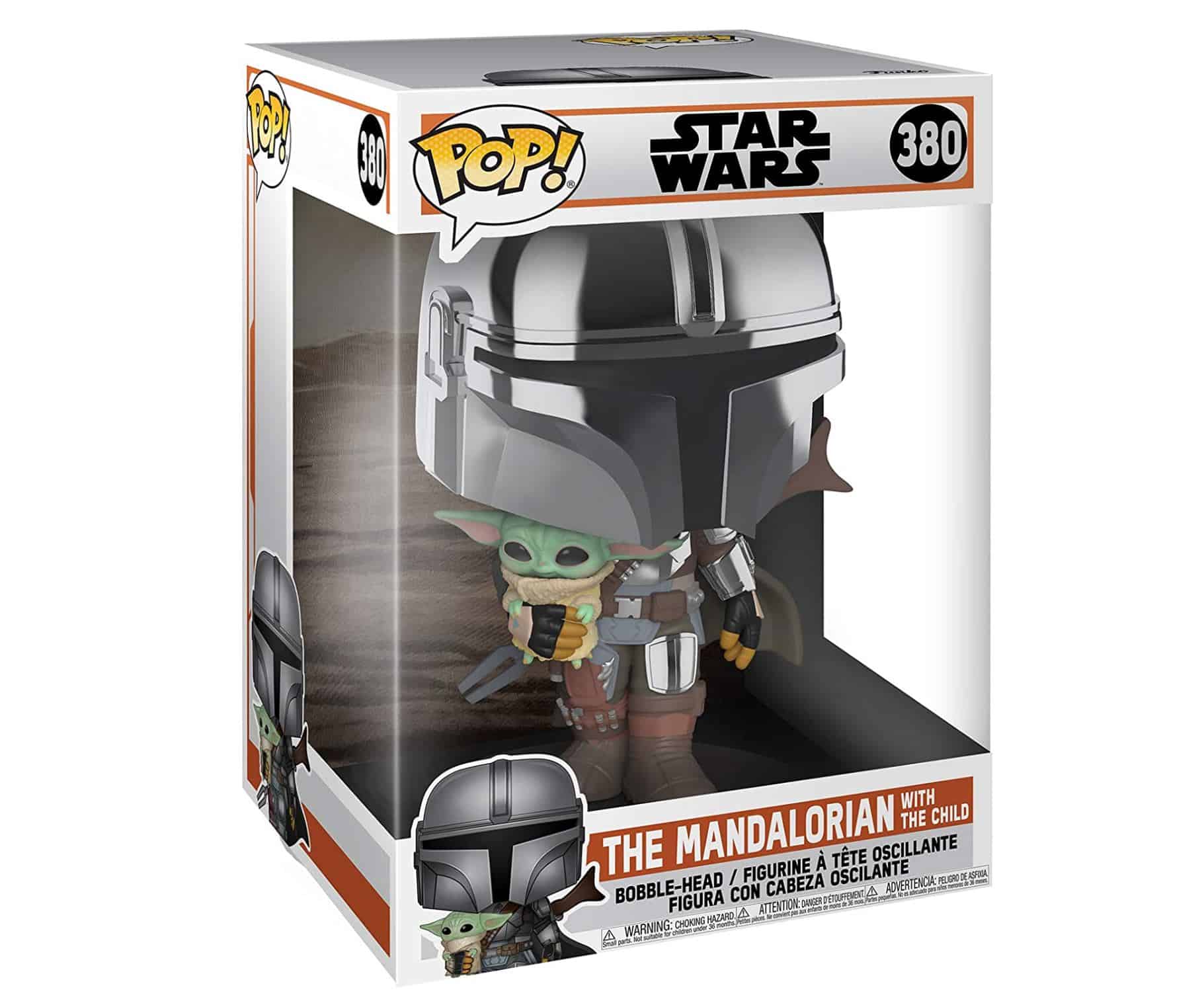 This is the basic, quintessential Mandalorian Funko Pop! It has the character the series is named after (if you discount that The Mandalorian's real name is Din Dajarin) and the character that has inspired your parents to make countless cringe-worthy memes on Facebook, Baby Yoda, or as it's actually named, Grogu. It doesn't have much else going for it, and it doesn't need it. There are no bells or whistles attached to this one. It's just the two most iconic characters from the show.
Quality 8/10 – The detailing on the figure isn't bad by any means. Baby Yoda looks nice, and the Mandalorian's armor even has a nice reflective sheen to it that sells the Beskar steel look. However, the problem comes into play when you look at how the figure is posed. It's just the Mandalorian and Grogu…. standing there. I found it odd that it's all they did when the two of them have done so much. Funko could've at least made the Funko Pop! run instead of just standing there doing nothing.

Availability 4/10 – The real pinch point on this figure is definitely the price. Most Funko Pops! tend to go for around $12, some of the expensive ones go for around $15 or $20 on the high end of things. This Funko Pop! lies FAR outside the normal at an unholy $39. That's so expensive for a Funko Pop! that you might as well try and buy an actual figure or statue of the Mandalorian that isn't as stylized as Funko Pops!

Serialization 10/10 – There are quite a few Funko Pops! of The Mandalorian to buy. If there weren't, I wouldn't have been able to make this guide after all. You could also get a pretty good Star Wars collection going and even one for the Star Wars shoes like The Clone Wars and Mandalorian.
Pros
The reflective sheen helps this Funko Pop! look really good.
It comes with The Mandalorian and Grogu.
Cons
The Funko Pop! is SUPER expensive, even more than the expensive Funko Pops!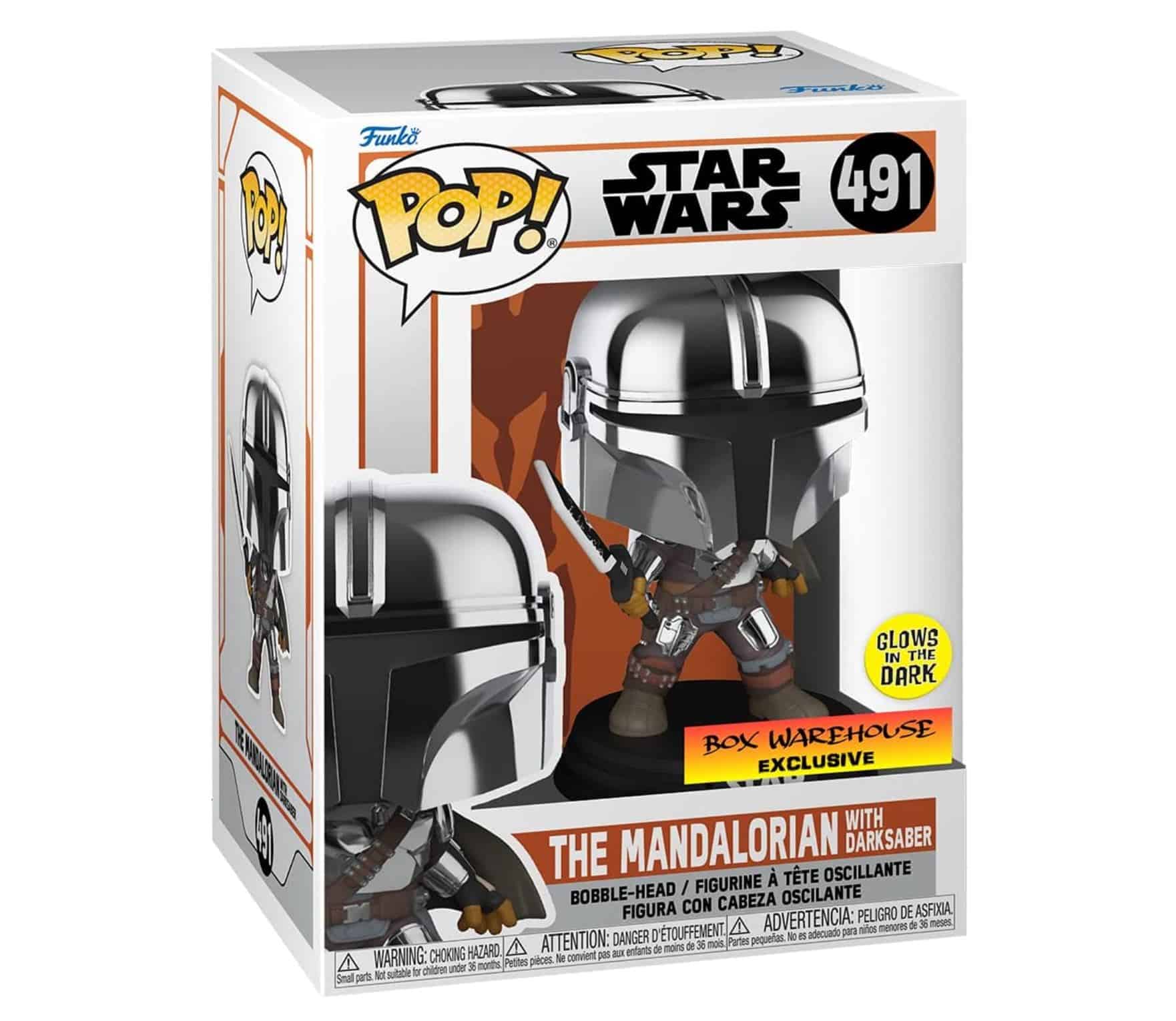 Despite sounding like something you'd read about on Fanfiction.net way back in 2004, the Darksaber is also one of the coolest things, and I won't let anyone say it isn't. It's just cool, you know? A pitch black lightsaber with a white outline, a blade that looks like a blade, and is used as a symbol of ruling Mandalore? Total fanfiction nonsense, but it's also one of the coolest things I've ever seen. Maybe it's my inner child, but hot diggidy dog, I can't wait to see The Mandalorian use it more in future seasons.
Quality 10/10 – This Funko Pop! is special in more ways than one. It has the usual look for Funko Pop! Mando with the reflective sheen, but the Funko Pop! also gets its own pedestal to stand on. That aside, it also glows in the dark. Specifically, the edge of the Darksaber gives off a white light. That, combined with the reflective sheen of the armor, really helps the figure look dynamic in the dark.

Availability 6/10 – Once again, I have to take off a few points from this section solely due to the price tag attached to this one. Your average Funko Pop! sells for around $12, but this single Funko Pop! is being sold for twice that amount. Consider that you can buy two other Funko Pops! for the price of this one, and you really have to go out of your way to make sure this is something you want to buy.

Serialization 8/10 – You can collect quite a few Mandalorian Funko Pops! and don't get me started on the amount of Star Wars Funko Pops! you can buy. There are even quite a few of the glow-in-the-dark Funko Pops! from The Mandalorian. You could actually get a fairly decent collection of glowing Funko Pops!

Pros
The Funko Pop! glows in the dark, which makes it look really nice.
There are more than a few glowing Mandalorian Funko Pops! to buy.
Cons
This Funko Pop! is more expensive than usual, being sold at $20.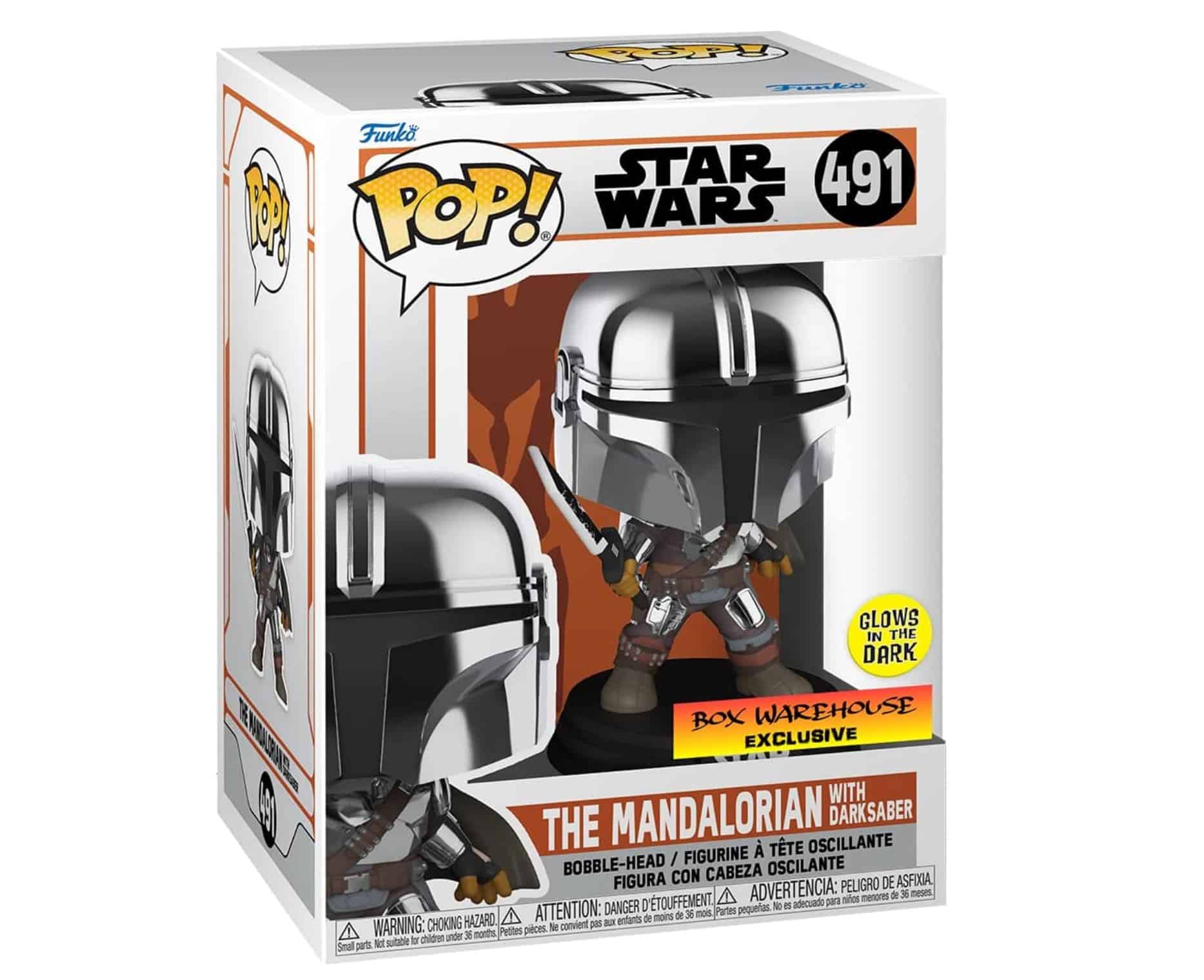 Within Funko Pops! many, many special lines, one of the lesser used special lines they have is the Super Sized line. All of the Funko Pops! included with this one are bigger than most, and Grogu is no exception. The Funko Pop! stands at around 10 inches tall, which is over twice the size of normal Funko Pops! which are usually around 3.75 inches. You may struggle to find shelf space for this one, but that might be worth it if you really are a fan of Baby Yoda.
Quality 8/10 – Honestly, this Funko Pop! falls into a weird spot with me. It's a fairly good representation of the character from the show; however, it looks like Funko diverged from their usual style with this one. The character has a well-defined mouth and cheeks and everything. I know my biggest complaint with Funko Pops! is that they sometimes look too off-model for the character, but at the same time, why buy a Funko Pop! that doesn't look like a Funko Pop!? You'll also struggle to find shelf space for it since it's just SO big.

Availability 4/10 – Much like the Mandolorian and Child Funko Pop! that has the number 1 spot on our list, this Funko Pop! is extraordinarily expensive, sitting at around $39. It's a lot to be asking for a Funko Pop! but you do get a much figure that's much bigger than normal.

Serialization 6/10 – There is more than one Super Sized Funko Pop! for you to buy, but there are not many to get a collection going. This is also a part of the extensive The Mandalorian and greater Star Wars lines, but it's being Super Sized makes it stand out when put in a collection with the rest.

Pros
A Super-Sized Funko Pop that's bigger than normal.
A very accurate recreation of Grogu from the show.
Cons

The Funko Pop! is so big it's hard to find a place for it.
An accurate recreation of the character does kind of defeat the point of buying a stylized Funko Pop! doesn't it?
Like all Super-Sized Funko Pops! it is fairly expensive at $39.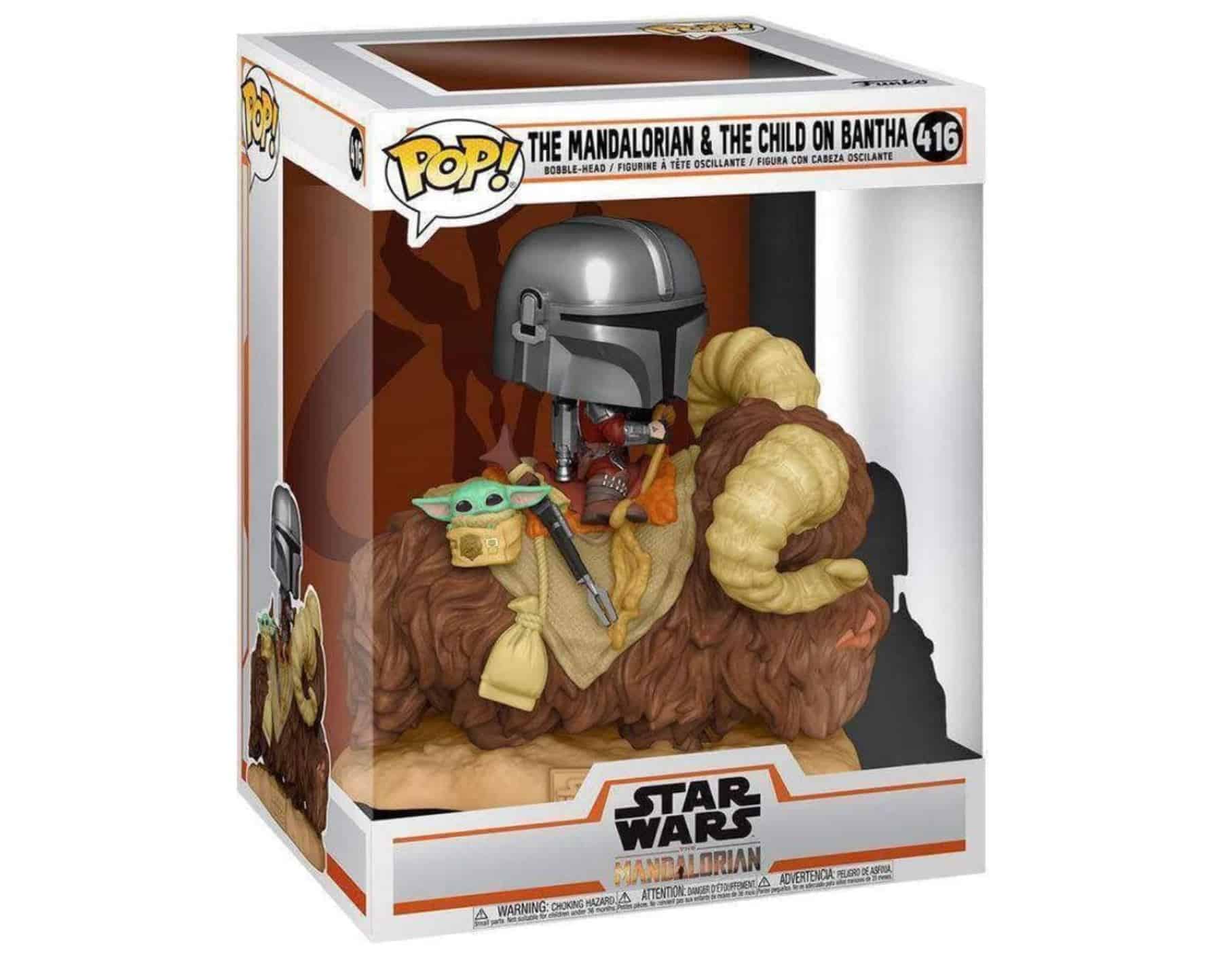 This Funko Pop! is a special one. It's a deluxe Funko Pop! meaning it is, once again, larger than the normal ones. I couldn't find the measurement of this Funko Pop!, but the dimensions of this Funko Pop! are 3 x 3 x 5 inches. The dimensions do show that it is a fair bit larger than most Funko Pops! but not outrageously so like the Super Sized ones.
Quality 9/10 – I do like the details included with this Funko Pop! but the detailing is nothing that particularly stands out to me. What I really like about this Funko Pop! is that it's a good reference to the show, something Funko Pops! tend to struggle to actually do. That being said, I do feel that the Funko Pop! loses some value due to it being stylized like most Funko Pops! are. Baby Yoda and the Bantha are fine, but Din's head just looks way too large to me.

Availability 7/10 – This wasn't too hard for me to find in stores, probably due to The Mandalorian's popularity, but the price is a pain point for some. It's not the most expensive thing on our guide, but $29 is certainly enough to get a head-turn from me. Make sure this is what you really want before buying it.

Serialization 10/10 – The Funko Pop! does fit in a general Star Wars and The Mandalorian collection, but what really gets me is how many Deluxe Funko Pops! The Mandalorian has. You can get a really good collection of nothing but Mandalorian Funko Pops! for yourself, and frankly, all of the Deluxe Funko Pops! look pretty good. Factor in the greater Star Wars franchise, and you can get SO MANY deluxe Funko Pops!

Pros
This Funko Pop! is a fairly good reference to the show.
There are a lot of Deluxe Funko Pops! for you to collect.
Cons
It's more expensive than what Funko Pops! usually go for.
To be honest, I kind of fell off with watching The Mandalorian. It probably has a lot to do with me no longer being able to justify paying for Disney+, but putting that aside, this moment was so massive that even as I did my best to avoid spoilers, I couldn't escape seeing this on Twitter. A young Luke Skywalker (thanks to not a small amount of CGI) making a return to retrieve Grogu from the hands of Din Djarin. It was the culmination of something we knew would probably happen for a while, but to see it, even as a tiny clip on Twitter, was something else.
Quality 9/10 – I really do like this Funko Pop!. Seeing Luke is cool beyond belief, and the detail on Grogu's face as he looks up at his new master is heartwrenching. My problem with it is Luke's eyes. Why does he look like he's fighting off the urge to pass out right on the floor? Get this boy a bed and some beauty sleep, for god's sake! It would've been so much better if they'd just done the normal circular eyes. And I can't avoid looking at them since Luke's face is the focal point of the figure!

Availability 10/10 – While I wasn't able to find this Funko Pop! too easily in Walmart, I was able to find it at my local Barnes & Nobles, which is a nice change of pace. Outside of that, the price of this Funko Pop! is, for the first time, really good. It comes in at the price of a normal Funko Pop! that being $12, making it more than affordable compared to everything else on the list.

Serialization 10/10 – There are plenty of Star wars and The Mandalorian Funko Pops! to go around, and this is one of the better ones for bridging the gap between the two. You get Luke from the movies and Grogu from the TV show.

Pros
This Funko Pop! manages to bridge the gap between the Original Trilogy with Luke and The Mandalorian with Grogu.
It's a recreation of one of the most iconic scenes, not only from The Mandalorian but in Star Wars.
Cons
Luke's face just looks really weird. Like, I don't know why this is what they went with.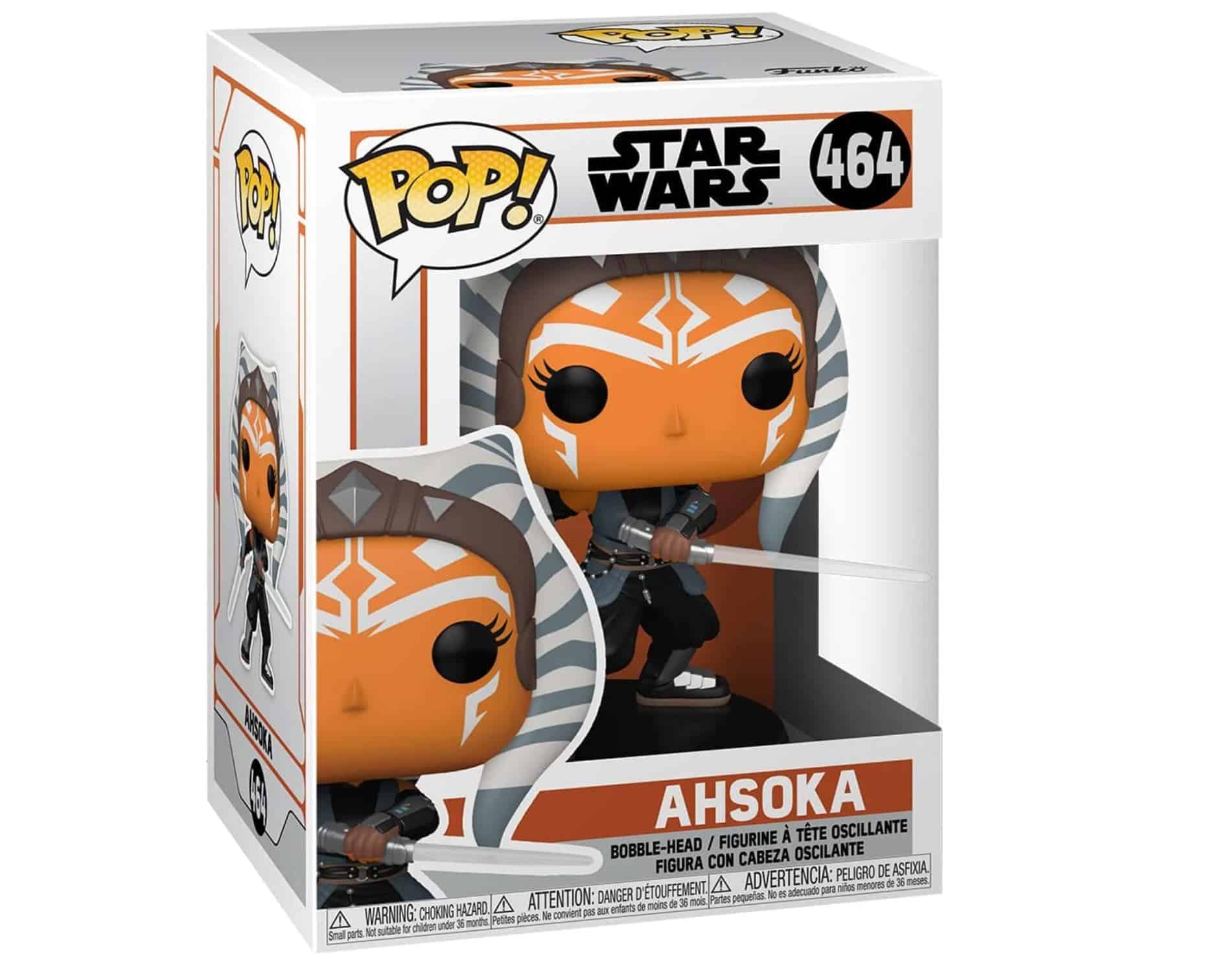 Would you believe me if I said people didn't initially like Ahsoka? Yeah, way back when she was first introduced on Cartoon Network in the Clone Wars, people that she was pretty cringe-worthy, but time sure did change that. Nowadays, if you say you dislike Ahsoka, people get out their pitchforks and torches, and I am one of them. Ahsoka's great! We've seen her journey from Padawan to almost becoming a Jedi Knight if she didn't leave the Order, to her encountering Darth Vader in rebels.
Quality 10/10 – This is a great representation of Ahsoka Tano. She's got her dual lightsabers, and they even managed to make her translate well into Funko's squarish style. They even got the pose right. Rather than just standing there, she's got her lightsabers out, ready to pounce on an enemy. How this isn't more popular is beyond me because it is easily one of the best The Mandalorian Funko Pops! I've seen.

Availability 10/10 – What is perhaps my favorite part of this Funko Pop! is the price. On a list from a franchise where everything seems to be worth the big bucks, a Funko Pop! that cost the usual $12 is such a breath of fresh air. If you manage to catch it on sale, you can get it for even less. It's not strange to see Funko Pops! dip into the single digits thanks to relatively small discounts. 

Serialization 10/10 – I've honestly got to give this Funko Pop! a perfect 10/10 in every category, thanks to it being Ahsoka Tano. Not only has she been in so much, like the Clone Wars TV show, Rebels, and now The Mandalorian, that she can bridge the gap between basically every era of Star Wars on her own. She's the key you need to make a solid Star Wars collection out of basically anything.

Pros
Ahsoka is a fan favorite and beloved character, so this Funko Pop! would make a great gift.
Cons
It's a simple Ahsoka Funko Pop! with nothing special about it.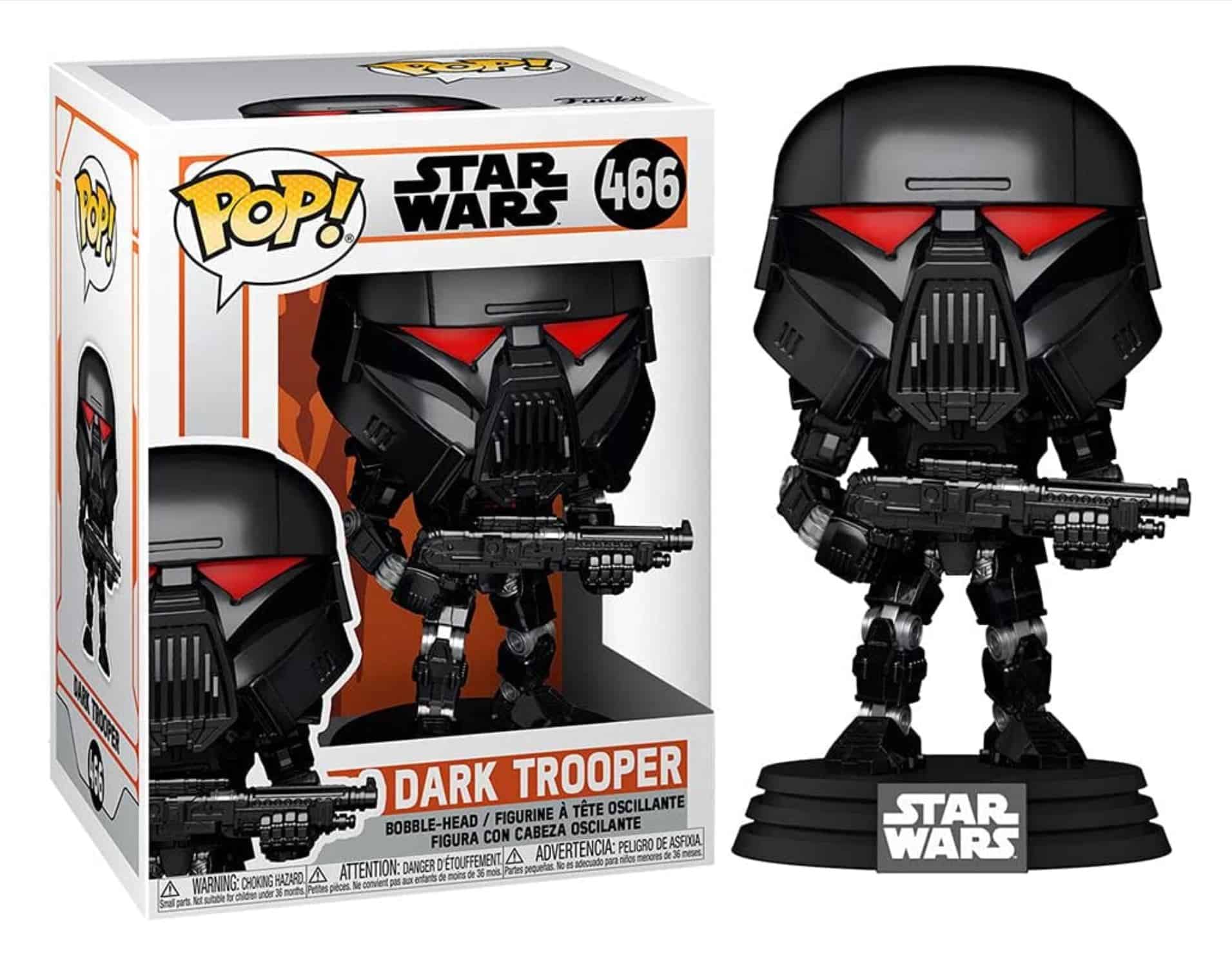 I know we aren't supposed to idolize the bad guys, but I'd counter that with the fact that Disney shouldn't have made them look so cool! So dangerous and deadly that even The Mandalorian struggled not only to take these down but to just get away from them. The fact that it took Luke Skywalker, not even apprentice or Jedi Knight Luke, but Jedi MASTER Luke, to put them all down is insane. Even if he made it look effortless, that just goes to show the power in our former-protagonists hands. Or, well, hand, since his daddy got rid of one of them.
Quality 9/10  – I'm impressed by the amount of sheer detail on this figure. The tiny details, like the fingers, actually having modeled joints, and the gun actually has all the features from the one in the show, are impressive when you think about how small all those details are. The only problem is that this doesn't look too much like a Funko Pop! which defeats the purpose of buying a Funko Pop! doesn't it? You want something with Funko's unique style if you're buying a Funko Pop! so why bother with something that doesn't have it?

Availability 8/10 – Maybe it is due to the Dark Troopers being antagonists or something and relatively minor ones even if they presented the physical threat. Still, they were sort of hard to find on Amazon. I had to do some real digging to get them to show me these. The price on these is good, sitting at the usual $12.

Serialization 7/10  – Yes, this Funko Pop! could fit in a general Star Wars collection. It'd struggle to do that because these are new inventions of The Mandalorian TV show. These don't fit so well into any collection other than The Mandalorian, which might be a good or bad thing, depending on how you view it.

Pros
The figure itself looks really good. It has great details on the things like the joints and other machine-like parts.
Cons
The Funko Pop! only fits in a collection about The Mandalorian.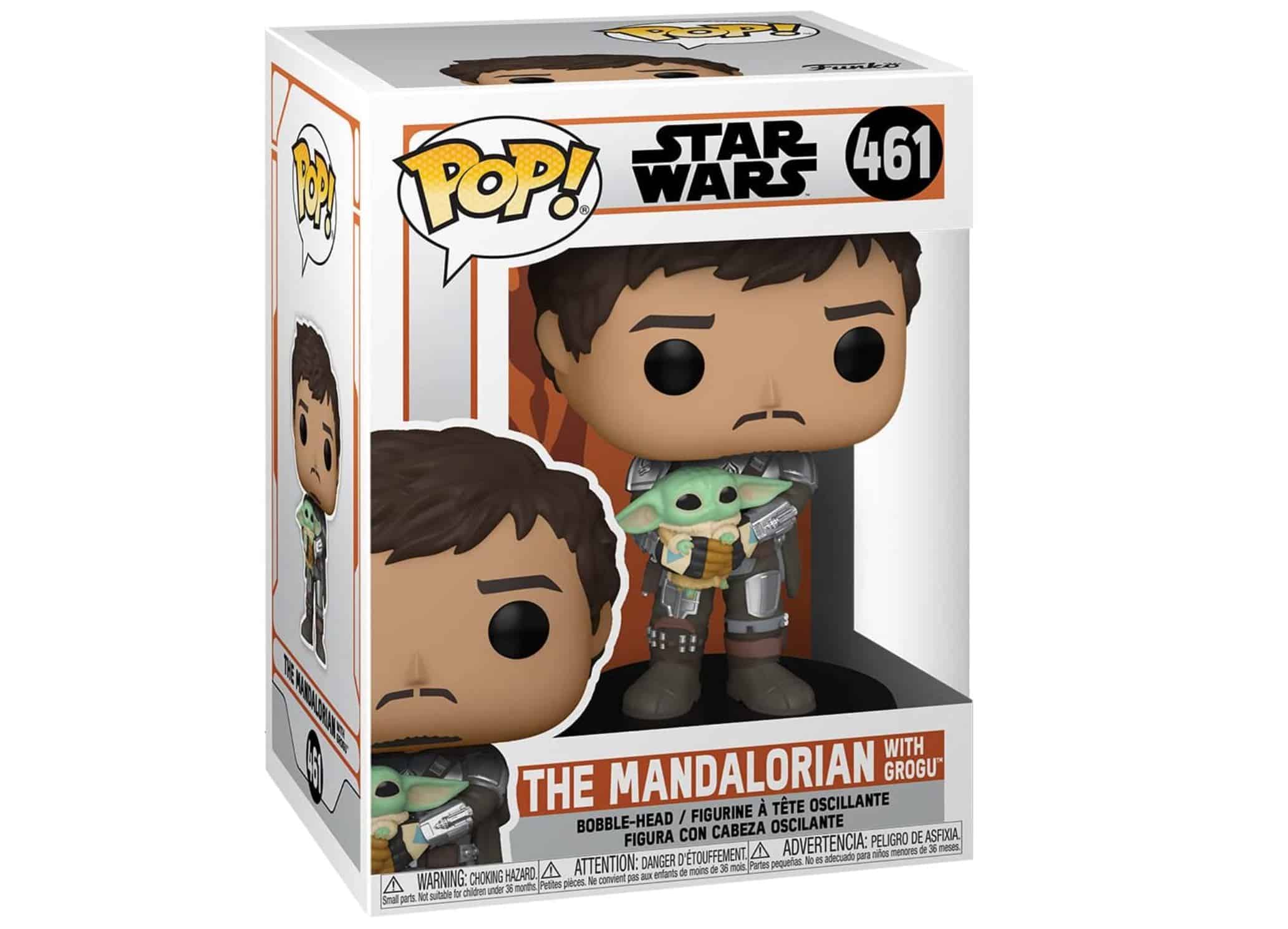 What makes this Funko Pop! one that stood out to me is that it has the Mandalorian without his mask. You know what, they actually incorporated that really well into this Funko Pop with Din's beard and mustache. The biggest reason I put it on the list, to be honest, is that when looking it over, I noticed so many complicated and special Funko Pops! that I wanted to tone it back down and get something simple. A Mandalorian Funko Pop! showing the main character and the little meme machine known to your mom and dad as Baby Yoda. That fact alone makes this Funko Pop! pretty good.
Quality 9/10 – This Funko Pop! honestly is a little lacking in the finer details, but I honestly don't think it needs them that much. It's exactly what it needs to be, and that is a figure of the two most iconic characters in The Mandalorian (save for Luke probably), and it just touches the heartstrings, you know? It brings you back to Season 1 when there was still so much we didn't know about Grogu, like the baby's name.

Availability 10/10 – For the most part, this Funko Pop! is priced right at the average, if not slightly lower, at $11.45. A single quarter isn't much of a saving, but it is cheaper than most, which I suppose is pretty nice.

Serialization 9/10 – The Funko Pop! does fit splendidly in any collection about The Mandalorian as a centerpiece. I can't say it really fits in the more broad Star Wars collections, but you might be able to make it work with a lot of effort.

Pros
The Funko Pop! has two characters in one: Din Djarin and Grogu.
The Funko Pop! is cheaper than most, sitting just below normal Funko Pops at $11.45
Cons
There's nothing special or super interesting about it. It's just Din and Grogu.
Frequently Asked Questions

Question: Where's the Best Place to Buy Funko Pops?
Answer: The best place to buy Funko Pops! is probably Amazon. They have a large selection that covers many topics, and their search functions work pretty well too. I also have to mention Funko's own website since they tend to sell their Funko Pops! at MSRP, meaning you might be able to find them for a better price there.
Question: Which Funko Pop! Would Make the Best Gift?
Question: What is a 'Mandalorian'?
Answer: A Mandalorian is primarily a person that comes from the warrior planet Mandalore in the Star Wars Universe. Mandalorian is much more of a mindset and ideology, so many Mandalorians aren't actually from the Mandalorian species.
Conclusion
The Mandalorian is one of the best things to have the Star Wars name attached in a LONG time. It's a show that managed to return to Star Wars roots, creating a massive galaxy filled to the brim with plenty of memorable and iconic characters and forever expanding the lore. The fact that it took Disney this long to get to the heart of Star Wars is probably not a good sign, but if they're able to keep this up, I expect good things. Not only from their shows and movies but in the merchandise that is spawned from them. The Funko Pops! that do exist a pretty good, with a huge collection to choose from. If none of these on the guide suited your fancy, than I hope I at leats gave you the skills to help you find the correct Funko Pop! for you. Happy hunting!
Continue reading:
Best Star Wars Model Kits for Galactic Flights
Best Xbox Themed Collectibles Guide
Best Funko Pop Mystery Box Services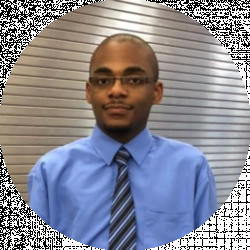 Latest posts by Jaden Hasse
(see all)