In 2021 Pixar released Luca, a movie that captures the feeling of summer, friendships, and adventure in childhood. Sea monster Luca explores the human world of land for the first time with his new friend Alberto. The themes of friendship and fun made the film instantly popular as everyone flocked to the feelings of nostalgia and love.
It was clear a lot of work went into the movie and gave Pixar and Funko confidence in its success. A month before the film's release, they announced the Luca Funko Pop collection, which would be available soon after the movie premiere. It's a small collection focusing on the three main characters, but I wouldn't be surprised if more figures are in the works.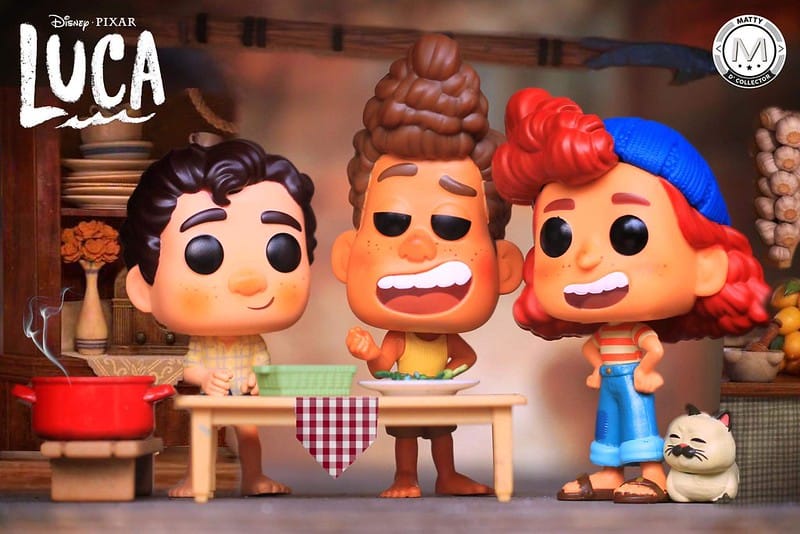 The Full Collection at a Glance
The current collection of Luca Funko Pops includes the three main characters, Luca, Giulia, and Alberto. Giulia's figure includes her grumpy cat, Machiavelli. Since the story is about the relationship between humans and sea monsters, Luca and Alberto get two Pops, one human, and one sea monster.
My Top Picks
It's hard to decide on the best figures in a collection when there are so few to choose from. Each has its own good qualities and depicts fun characters. Ultimately I decided on two that I preferred. I based my preferences on the pose, general appearance, and expression.
Luca: My favorite of the collection is Luca in his sea monster form. I love the optimistic look on his face and pose. The way he spreads his arms and curls his tail behind him makes it feel like he's floating in the water, setting his pose apart from other Funko Pops. I also enjoy the light green and blue color scheme. It's very pleasing and reminds me of beautiful pictures of a clear ocean.

Alberto Scorfano (Land): In terms of expression and personality, I don't think I've ever seen a figure communicating it so clearly and loudly as this one. He's got a wide, crooked smile paired with half-lidded eyes and cocked eyebrows that just scream he's up to something. How he holds his fingers together oozes performative confidence, just like all the kids I used to know who pretended to be experts about everything.
What Sets Luca Apart in Funko
As Funko Pops have rapidly increased in popularity, their figures have gone from limited to one base body silhouette to a growing variety of poses, props, and effects. The Luca collection is an excellent example as they break the traditional Funko Pop head shape to emulate the movie's animation style.
Pixar has become well-known for its exaggerated designs paired with beautiful visuals and heartfelt storytelling. Luca is no different. The character design showcases large, round heads, bean-shaped mouths, bouncy hair, and highly expressive eyes. The overall roundness of the characters gives them an almost toy-like quality that's perfect for translating into vinyl figures. So it makes sense that Funko took advantage of that when designing their figures.
The most apparent unique element of the Luca collection is, of course, the fact that two of the figures are sea monsters. Rather than being regular humans standing, they have larger feet, long tails, and fins. 
My favorite part of this collection is the poses. Guilia and the human forms of Luca and Alberto are all on their feet in poses that express their personality. What really shines, though, are the poses of the sea monster forms. Rather than being on the ground, they hover on clear stands in poses that invoke the idea of floating in the water. It's very striking and gives the figures a lot of character.
Rather than the standard square head, each character has a head shape similar to the film. Giulia and Luca both have taller, trapezoid-like heads, with Luca having rounder cheeks. Alberto has the most apparent silhouette change, with his head being more of a bottom-heavy eight shape. These unique silhouettes make the Luca figures stand out against other Funko Pops.
Alongside the head's shape, the faces are also altered to mirror the film. With how large the character's mouth and teeth are in the movie, it would feel wrong to go the traditional Funko route of removing the mouth. So, instead, they all have mouths, and all but one open their mouth in a big, toothy grin.
It mimics the child-like joy that oozes from the movie in every scene. The noses also change from the typical tiny triangle to large, round noses with red blush or two round nostrils. The exaggerated expressions make these figures so joyful and fun compared to the stoic or subtle looks of other Funko Pops.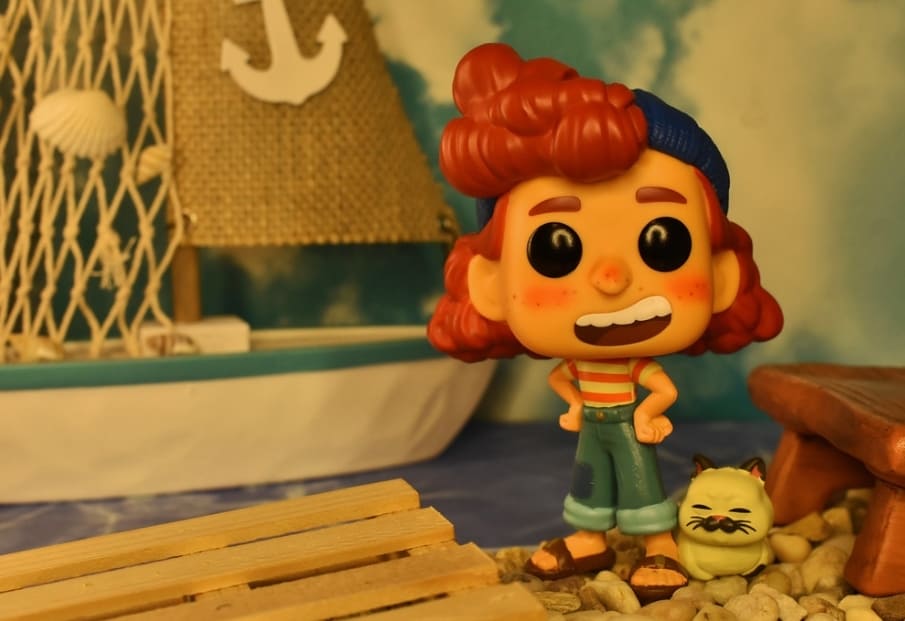 Looking In-Depth at the Figures
Giulia and Machiavelli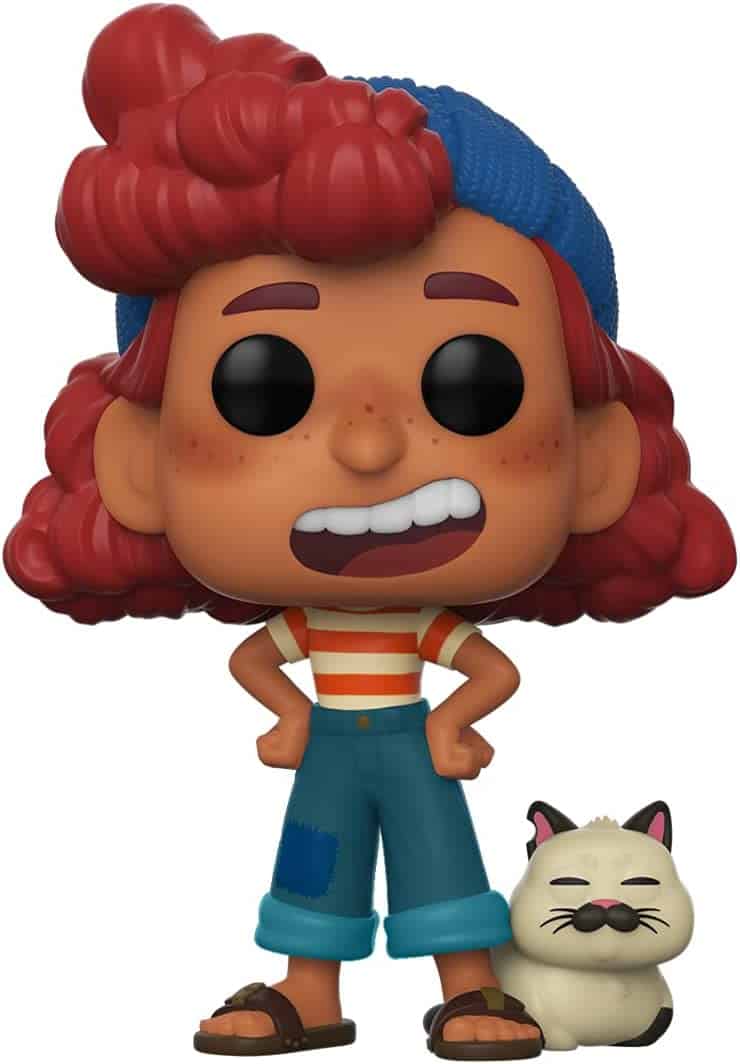 It's hard not to be charmed by Giulia's spunky attitude and a strong sense of justice. She's a girl that knows what she wants and will do anything to get it, as long as it's fair. Her intense friendliness to Luca and Alberto and eventual loyalty to keeping them safe make her an ideal friend to two insecure boys.
Her figure stands with her fists firmly on her hips and her feet apart. She's clearly ready to take on an adventure. Still, the presence of the sleepy fat cat by her feet makes a comedic juxtaposition.
Release Date: July 2021
Current Value: $12
Rarity: Low
Pros
Her hair looks exactly like the movie.

A lot of her personality is shown through her face and pose.

Machiavelli is adorable.
Cons
Her skin is a tad darker than in the movie, making some of her colors look less vibrant.
Luca (Land)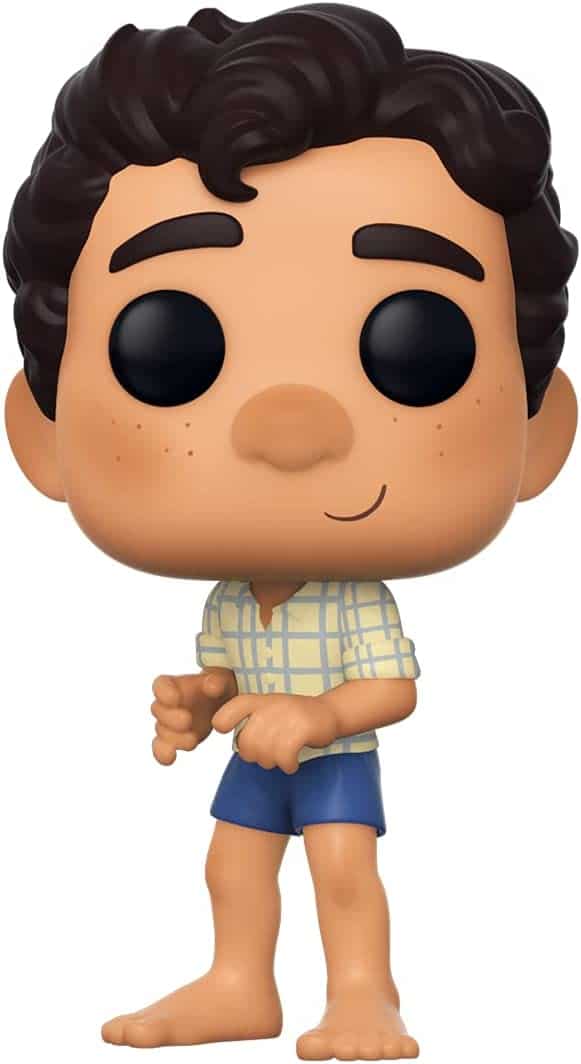 As someone who fears breaking the rules yet wants to explore the unknown, I relate to Luca. He wants to do the right thing and struggles when he isn't sure what the right thing is, or worse yet, what he is told is the right thing isn't what he wants. The Pop of his human form shows his personality's anxious yet hopeful side. Unlike his friends with broad stances, taking up as much room as they please, and wide grins, Luca holds his hands in front of him with a subtle smile.
Release Date: July 2021
Current Value: $12
Rarity: Low
Pros
Good contrast between the more confident characters in the collection.

Exemplifies his personality very well.

The curl of hair on his forehead is absolutely adorable.
Cons
The asymmetry of his eyebrows is subtle enough that it's hard to tell if he's meant to look inquisitive or if it's just an accident.

There's a strange amount of detail put into his knees.
Alberto Scorfano (Land)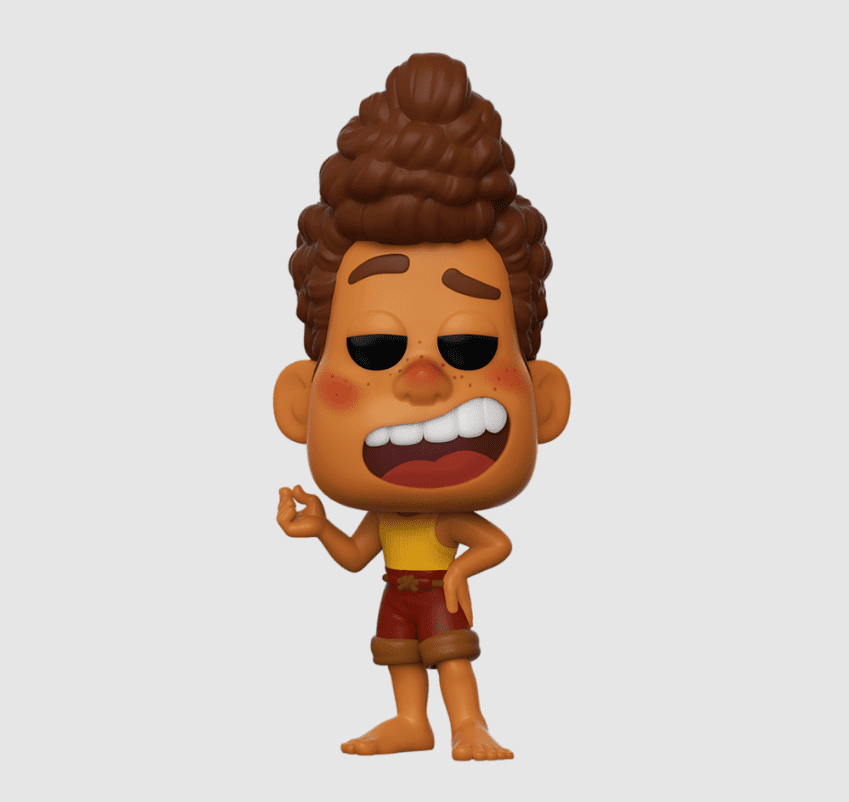 Alberto is the ultimate summer-time pal. He's enthusiastic, bold and loyal to a fault. I love the way Luca's reserved personality contrasts with his bombastic one. The cocky expression on Alberto's Pop perfectly shows off his fun-loving attitude.
Release Date: July 2021
Current Value: $12
Rarity: Low
Pros
The half-lidded eyes, hand gesture, huge smile, and raised eyebrows give him a super lovable and confident expression.

The colors of his skin, hair, and clothes all go well together.

The giant poof of hair on his head is charmingly ridiculous.
Cons
The red blush on his nose and cheeks is too dark and sometimes looks more like a sunburn.
Luca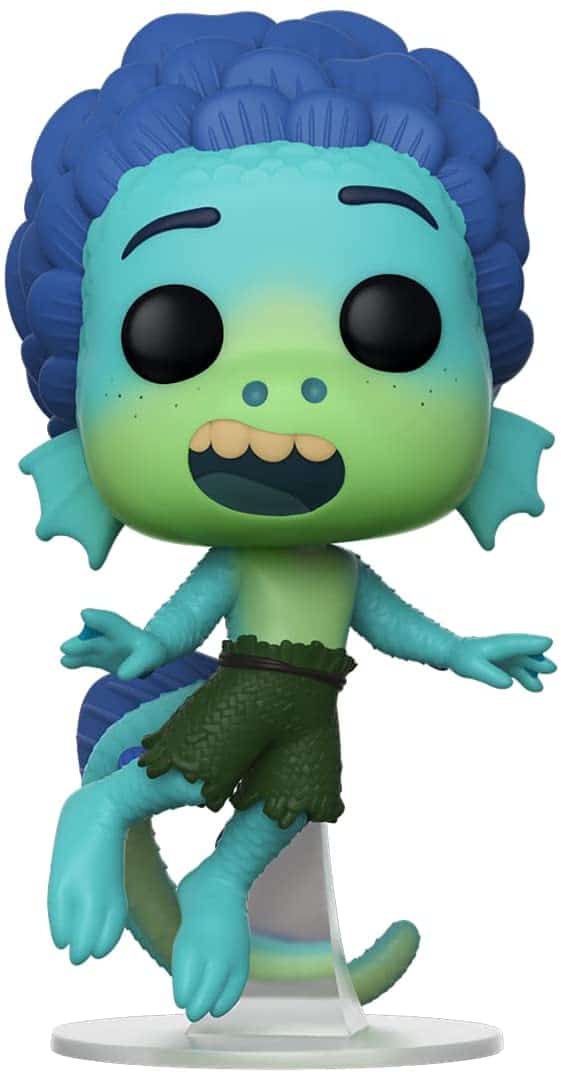 I'm absolutely in love with the sea monster designs. It can be hard to balance humanoid and fish-like features when there's no clear divide between them, like in traditional mermaid depictions. Certain elements are required for humanoid characters, like hair and ears, that fish simply don't have. The use of various kinds of fins solves this problem.
I love the look of the thin, rounded fins they use in place of hair. Meanwhile, subtle scale textures, gorgeous color gradients, and well-balanced proportions make the sea monsters in Luca very pleasing to look at.
Release Date: July 2021
Current Value: $12
Rarity: Low
Pros
Pleasing blue and green color scheme that is highly reminiscent of the ocean.

The pose looks sweet and optimistic, just like Luca.

The entire figure is just adorable.

Seaweed shorts have excellent texture on the trim.
Cons
The mouth looks a little small.
Alberto Scorfano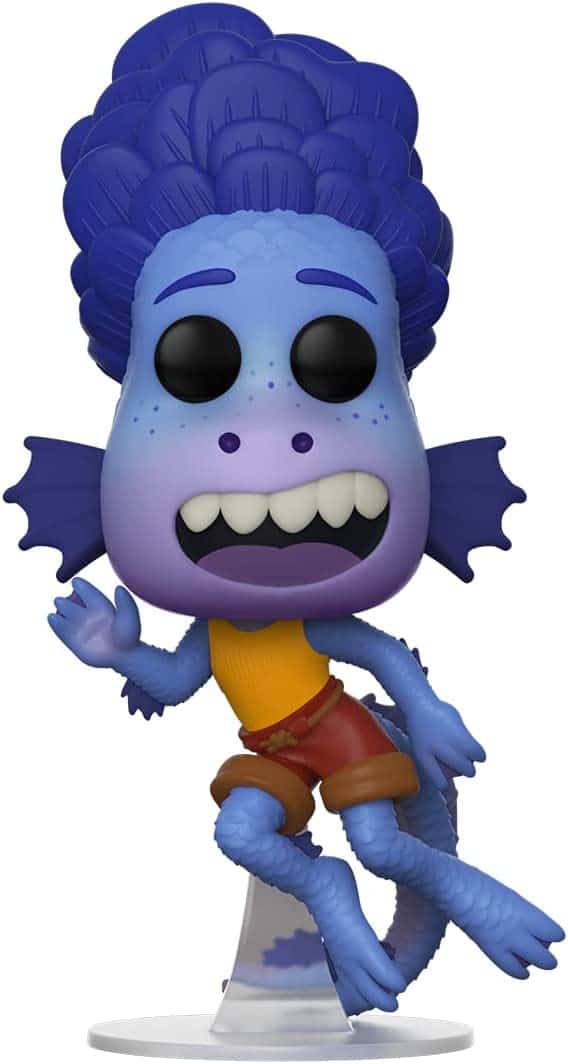 I've already sung my praises of Alberto and the sea monster designs. Compared with Luca's, Alberto's design gives a good indication of the variety seen in the sea monsters in the movie. They've got very different color pallets, but both stick within the cool colored range. Luca's rounder features, while Alberto's tend to be sharper; look at the teeth, toes, and fins.
While it's clear they are from the same species, they aren't just slightly different versions of one base character. Every element of their design has their personality and story put into it.
Release Date: July 2021
Current Value: $12
Rarity: Low
Pros
Has a darker color palette that is more reminiscent of the deep sea.

Alberto's expression here isn't as extreme, so it comes across as less obnoxious.
Cons
How he is posed, with so few of his limbs overlapping, reminds me of a cheesy mid-jump picture rather than swimming.
Alternative Collections
Depending on your luck, you might finish your Luca collection pretty quickly. However, if you like the vibes of the Luca collection and want to expand, here are some other ideas.
Pixar
Pixar movies have a particular brand of heartfelt whimsy. If you liked Luca, there's a good chance you enjoy plenty of other Pixar films. To expand your Luca collection, you could get your hands on other Pixar Pops.
Meilin Lee- Turning Red

: The immediate successor of Luca, Turning Red, had similar, massive success as people related to the charming group of friends the story circles around. Meilin's Pop is just as expressive as the Luca figurines and sports bright colors and youthful energy.

Remy- Ratatouille

: If you liked how the sea monster forms differentiated from the typical standing poses of most Pops, you might like the diorama created with this deluxe figure. It's more pricey, but the scene of Remy lovingly pouring sauce on the titular dish of the movie evokes a charming aura. Much like the sea monsters look like they're swimming mid-air.

Boo- Monsters Inc

: Do you like the Luca set for their spunky, childish personalities and appearances? Boo, in her monster costume, conveys an even more innocent and adorable kid. Much like the Luca set, she is given a mouth to convey her naive friendliness, and her monster costume gives her a unique silhouette.
Summer Fun
One of the biggest draws to Luca was the way it captured the freedom summer gives to children. It's a time to go play outside and make new friends. Here are a few ideas if you want a summer fun collection to warm your spirit in the colder months.
Lilo and Stitch in Hammock- Lilo and Stitch

: Another Disney movie that encapsulates childhood friendships and the freedom of summer is Lilo and Stitch. What better setting than Hawaii for a summer getaway? This figure of Lilo and Stitch lounging in a hammock encapsulates relaxation with friends.

Lapras- Pokemon

: In my opinion, Lapras is one of the best water-type pokemon and fills a friendly sea monster role very well. If you want some watery pals for the summer, then Lapras would be a perfect choice.
FAQs
Question: Where to Buy Luca Funko Pops?
Answer: The Luca Funko Pops have been out for a little over a year, so they aren't in high demand but are still being stocked. In terms of physical stores, you can find them anywhere that sells large Funko Pop collections like Hot Topic, Walmart, and Target. Online there are dozens of options like Pop in a Box, Entertainment Earth, and Amazon.
Question: How Rare are Luca Funko Pops?
Answer: Luca Funko Pops aren't very rare on the grander scale of figurines. They are pretty popular, so you'll frequently find places where they are sold out, but they are still being made, and you can easily pre-order one. So it's more a case of supply and demand than a case of Funko deciding to make these figures rare.
Question: Can Funko Pops Become Rare?
Answer: Yes, over time, the rarity of a Funko pop can fluctuate. With hundreds of figurines, it's impossible for Funko to continue producing all of them, so eventually, the number of available figurines dwindles. Once production stops, the figure's rarity is dependent on its demand. More people will want popular characters, so they become harder to get.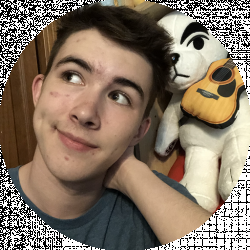 Latest posts by Mika Zans
(see all)