As someone who has always been a fan of musicals, I was ecstatic to be a part of the rise of Hamilton. The show has brought new life to a genre most people looked over as either childish or pretentious. Few stage productions have had the same kind of impact on popular culture.
While Funko Pop will make merchandise for anything popular, this is their first time producing merchandise for live theater. In the cases of shows, movies, and comic books, the characters all have a set look to them and are unlikely to change.
This isn't true for live performances, especially Hamilton. Between Broadway shows and tours, one character could have dozens of different actors playing them. This poses a problem for designing permanent vinyl figures.
Luckily the immense success of Hamilton and the recording of the original cast on Disney+ has cemented the look of the characters in the public consciousness. When you see Hamilton yourself, it won't be Lin Manuel Miranda playing the lead, but you will still recognize a figure made to look like him in the role.
The Best of the Best
When looking at the best of the Hamilton Pop figures, I decided to focus on how well the figure depicts the character's personality, how interesting the Pop looks, and the character's likability. I think the overall ideal collection would be a complete set since the whole group looks good in an ensemble, but if you want a few or just one, here would be my recommendations.
King George- I picked King George as the best due to his figure's immaculate detail and expression. If you want only one and want to make a statement, this is the one for you.

Alexander Hamilton, Blue Coat- Of course, each version of Hamilton looks excellent. Still, I find the one depicted in his blue soldier's uniform to be the most appealing because it is the most iconic of his looks and has the most energy in the pose.

Thomas Jefferson- Jefferson has a big personality, and his figure portrays that. He stands in a dynamic pose meant to capture your attention with his purple coat whipping around him and his cane in front.

Aaron Burr- Many characters in Hamilton have big, bombastic personalities but are balanced by more reserved folks who also deserve their share of attention. This Aaron Burr may not be overly energetic, but his pose and expression show restraint and calculation.

The Schuyler Sisters- Maybe including a trio is cheating a bit. Each of the Schuyler sisters looks beautiful in various dancing poses, but I think they look best when complimenting each other and make the best smaller collection within the larger one. They even made them available to buy in 

one box

.
Quick Look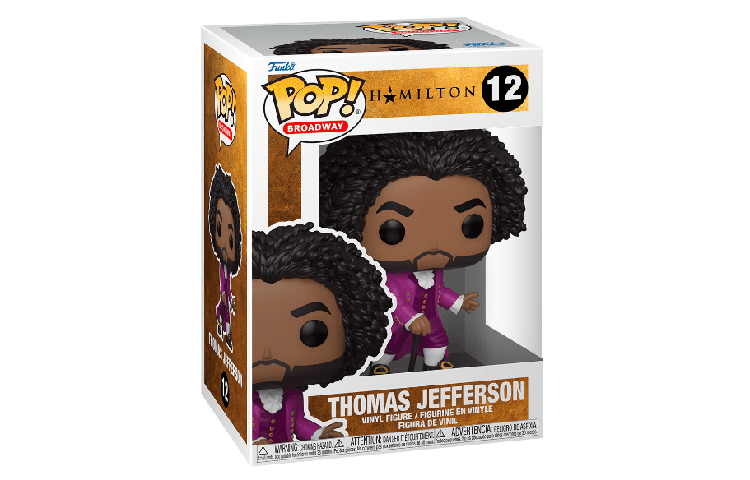 A Look at the Full Cast
Currently, the complete collection of Hamilton Funko Pops isn't beyond reach. There are only fourteen figures of ten different characters, most at reasonable prices. The low number of figures makes this a much more accessible collection than other Funko series that may have dozens of figures. Most figures are also easily accessible, and only a few are rare or exclusive.
Alexander Hamilton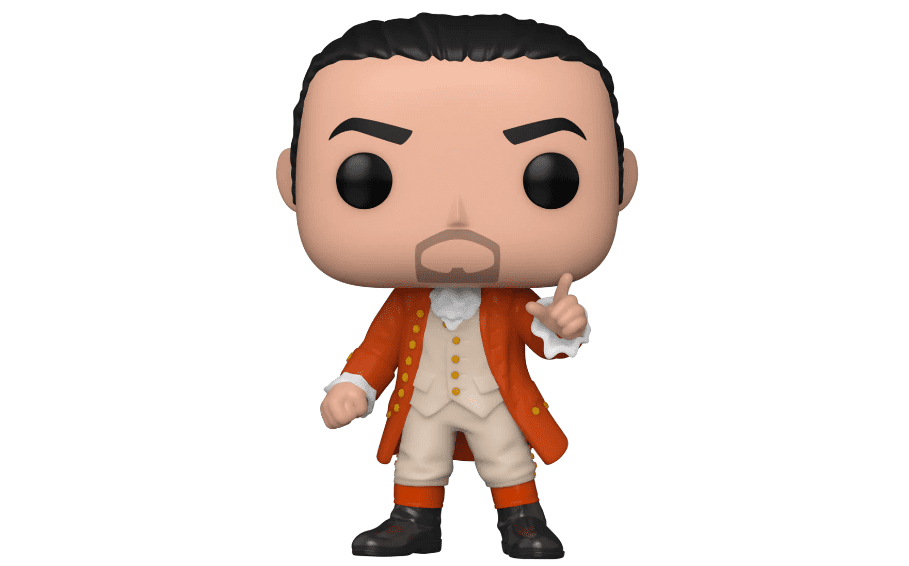 We'll start with the ten-dollar founding father without a father, Alexander Hamilton, in the likeness of Lin Manuel Miranda as the title character. Hamilton has a few different versions available. This first one is Hamilton's brown coat in the opening act, after the opening number but before joining the war.
Release Date: 

April 12, 2021

Current Value: 

$12

Rarity: 

Low
Pros
The pose mimics the iconic star point pose from Hamilton's logo to the best of Funko Pop's ability.

The eyebrows and pointing finger represent Hamiltion's initial anger and ambition.
Cons
While very recognizable, this isn't Hamilton's most standout look from the musical.

The coat tends to look bright orange instead of brown.
Alexander Hamilton Metallic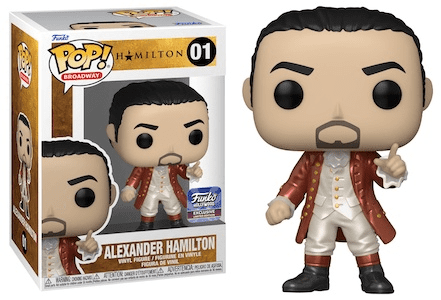 The first variation of Hamilton is identical to the first one, but his clothes are given a metallic sheen. This figure is part of an exclusive limited edition set.
Release Date: 

March 3, 2022

Current Value: 

$17

Rarity: 

High
Pros
The shine will add interest to your collection.

As a special limited edition, it will increase in value.

It reinvigorates the start of the set.
Cons
Not everyone likes metallic variants.

It is harder to come by than the original.

The non-metallic colors look washed out.
Aaron Burr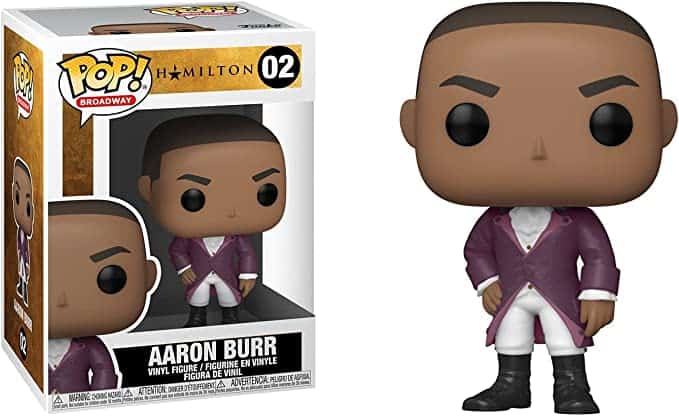 Where would alexander Hamilton be without his infamous rival, Aaron Burr? You need a cool, calm head contrasting with Hamilton's unrestrained ambition and drive. Leslie Odam Jr. plays an excellent foil, which is evident in his figurine.
Burr's figurine depicts him in his first act coat of purple, in a much more restrained pose than Hamilton's bold point, but with the same intense eyebrows.
Release Date:

 April 12, 2021

Current Value: 

$15

Rarity: 

Low
Pros
The pose and expression emulate Burr's personality flawlessly.

The color palette's browns, purples, and whites complement each other very well.

Incredibly detailed coat, including buttons and lining.
Cons
Not as energetic or impressive as the other figures.

It works best when paired with Hamilton.
Angelica Schuyler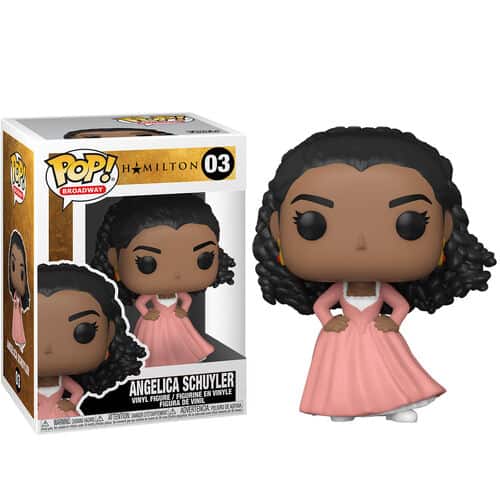 As the oldest of the Schuyler sisters, Angelica makes her appearance first in the line. Renee Elise Goldsberry portrays her as full of vigor and energy, and her figurine counterpoint does not disappoint. Angelica wears the pink dress from her introductory number, The Schuyler Sisters, and her pose emulates their dance.
Release Date: 

April 12, 2021

Current Value: 

$15

Rarity: 

Low
Pros
Angelica's pose makes her seem assertive and opinionated, just like in the musical.

The sculpting of the hair and dress make her look like she is in the middle of a dance.

The curly hair is sculpted in great detail.
Cons
The wave of the hairline can sometimes appear messy.

The white shoes peeking out from under her dress look more like sneakers than elegant pumps.
Eliza Hamilton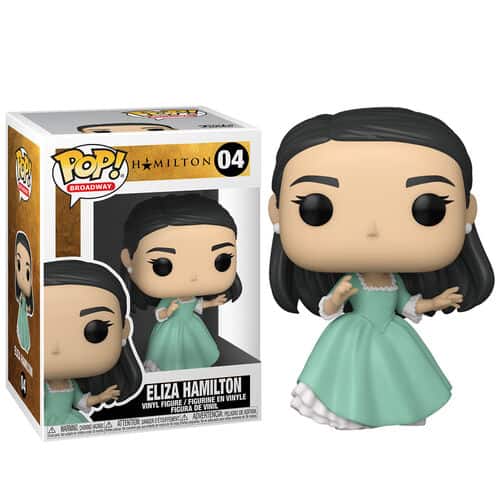 Like her elder sister, Eliza's figurine wears the blue dress of her introductory number, The Schuyler Sisters. However, her pose is less imposing and more graceful. It conveys the same shy beauty that Phillipa Soo did when she originated the role.
Release Date: 

April 12, 2021

Current Value: 

$15

Rarity: 

Low
Pros
The pose, hair, and dress all look very elegant.

The pastel colors are soft and inviting.

The dress and hair suggest some movement, like Angelica, but is far more subtle.

The strange shoe shape that bothers me on her sisters is less visible.
Cons
The pose doesn't match with the more energized poses of her sisters.

A lot of her loving character is lost by only focusing on her role in the trio of sisters.
George Washington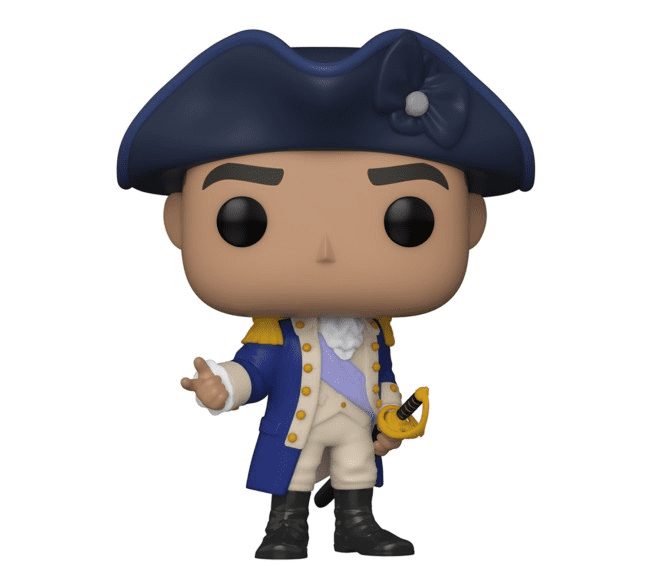 General George Washington, played by Christopher Jackson, cuts an imposing but gentle figure. When he is on stage, it's clear who's in charge, yet apparent that he's going to do his best for his people. This figurine conveys the same message in his general attire and outstretched hand.
Release Date: 

April 12, 2021

Current Value: 

$15

Rarity: 

Low
Pros
Excellent detailing on epaulets, sword, and hat.

A calm yet sturdy stance represents George Washington's personality.

The hat makes him appear bigger and more powerful than the other figures.
Cons
The sash lacks the ribbon detail seen in the musical.

The ribbon on the hat is much rounder and fuller than the ribbon in the musical.
Peggy Schuyler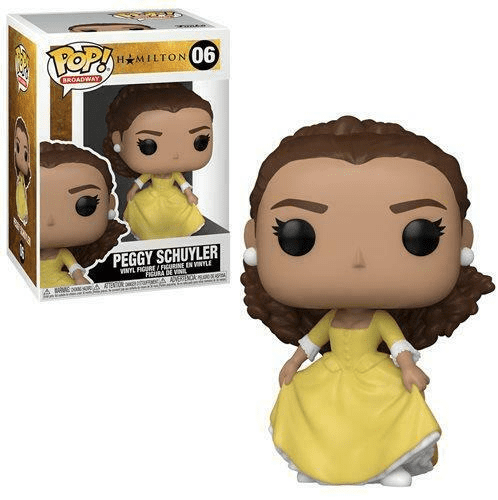 Sadly separated from her sisters, we have the third Schuyler. Beyond being the youngest and trailing along behind Angelica and Eliza, Peggy doesn't have much character or contribution to the musical as a whole.
Jasmine Cephas Jones only portrays her in the first act as in the musical she doesn't get romantically involved with Hamilton; in real life, she died before the events of the second act. However, despite her small role, she is still charming and has captured the hearts of many.
Release Date: 

April 12, 2021

Current Value: 

$15

Rarity: 

Low
Pros
Like Angelica, she has a dynamic pose with movement in her dress and hair.

Her dress folds realistically, reacting to how she is grabbing her skirts.

Lifting her skirt, she shows off layers underneath with finely detailed ruffles.
Cons
It might look strange to have Peggy without the entire Schuyler sisters' trio.

Again, like Angelica, the shoes look more like sneakers than pumps.
Alexander Hamilton with Blue Coat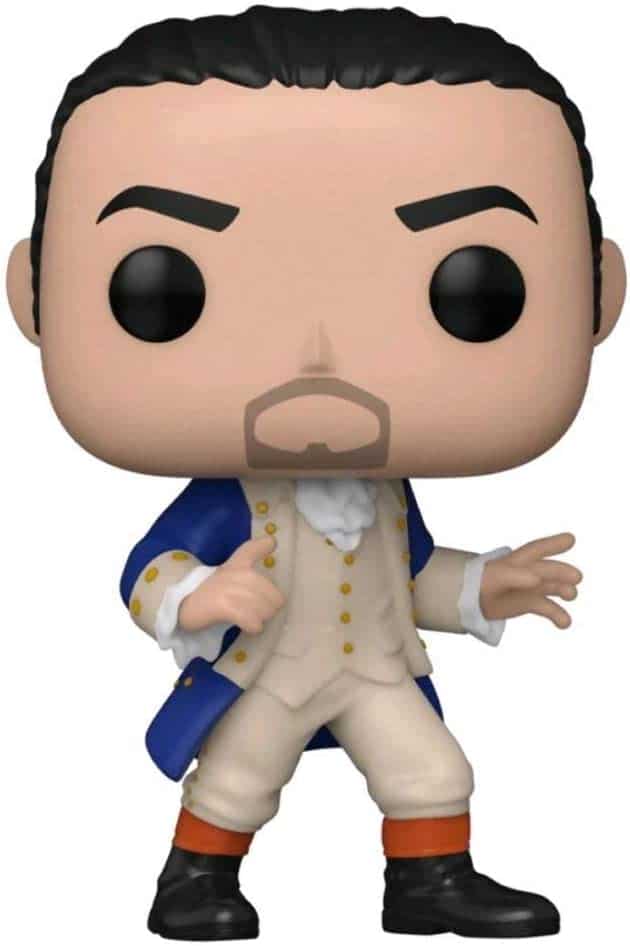 The first set of Hamilton figures ends with another Hamilton wearing his more iconic blue soldier coat. His pose has changed from pointing to a more active stance that looks like he's preparing to jump into action. This figure is a Walmart exclusive.
Release Date: 

April 12, 2021

Current Value: 

$15

Rarity: 

Low to moderate
Pros
The most iconic of Hamilton's outfits.

Excellent pose.

Matches the war uniforms of Lafayette and Washington.
Cons
In some cases, the facial hair is too low on the face, making the face harder to read.
Lafayette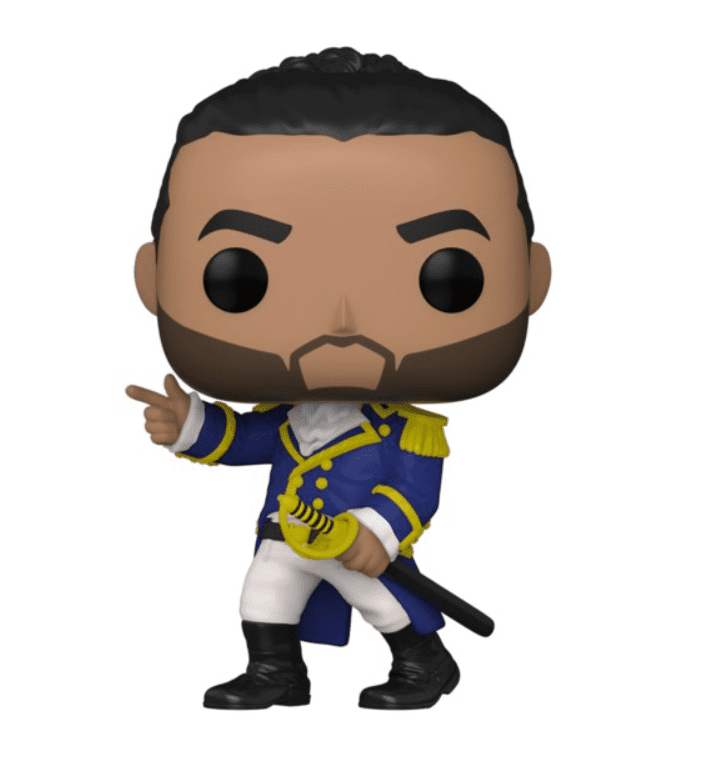 Released as an exclusive at New York Comic Con, Lafayette, played by Daveed Diggs, was given his own figure. The outfit and pose would suggest that this represents Lafayette's most iconic moment in the musical, his speedy Guns and Ships rap.
Anyone who has seen this performance knows it is packed with speed and energy that could never be fully represented by a still figure, but this one comes close.
Release Date: 

October 5, 2021

Current Value: 

$17

Rarity:

 Moderate
Pros
Well-designed facial hair.

Dynamic posing.

Detailed buttons, trim, and epaulets on the coat.
Cons
The hairline may appear messy.

The yellow on the coat is a bit too saturated.
Hamilton, Act 2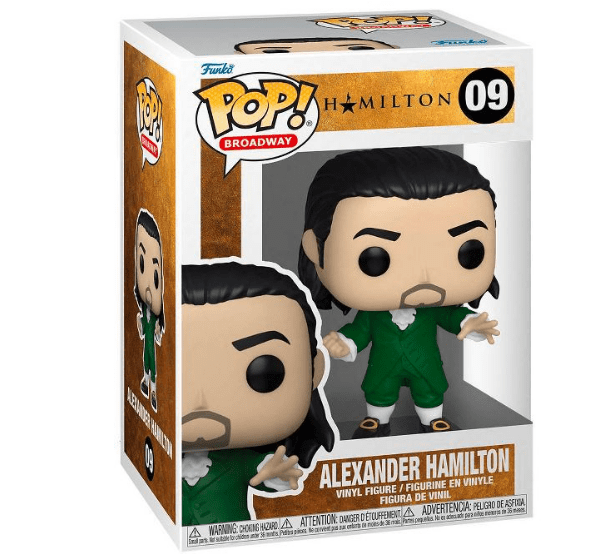 The second set of Hamilton figures focuses on the characters of the second act and gives us our final version of Hamilton. Here he wears the bright green suit he dons while working as a lawyer, and his hair is released from its ponytail.
Release Date:

 January 20, 2022

Current Value: 

$12

Rarity: 

Low
Pros
Shows the growth of Hamilton's character.

Well-sculpted hair.
Cons
The monotone green outfit can be a bit boring.
James Madison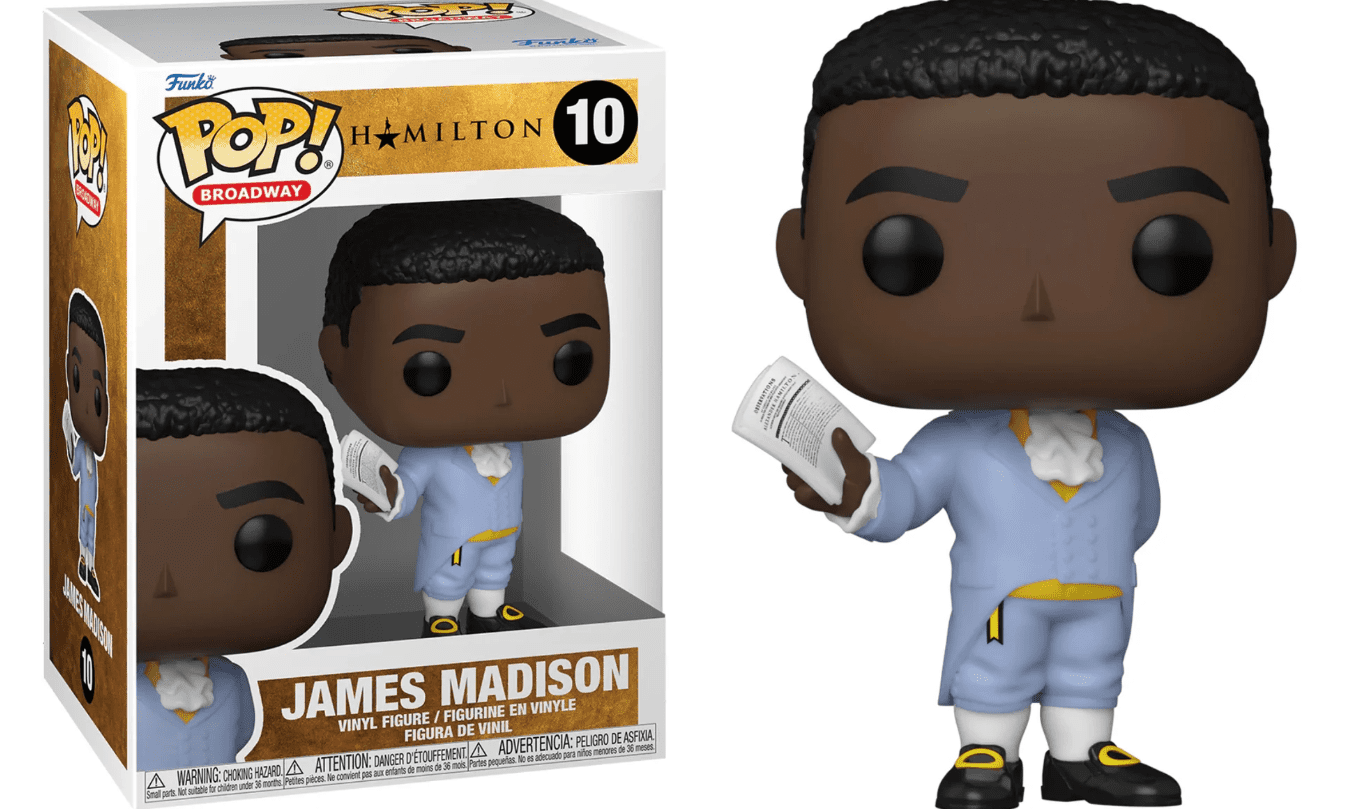 James Madison isn't exactly the most attention-grabbing character in the whole musical. Still, his role as Jefferson's sidekick offers a comedic effect, especially when contrasted with Okieriete Onaodowan's role as the bombastic Hercules Mulligan in act 1.
Release Date:

 January 20, 2022

Current Value: 

$13

Rarity: 

Low
Pros
The federalist paper prop gives a lot more to his character.

His reserved stance shows a lot about his personality.

Excellent ruffle detail on his cravat.
Cons
The hair is less detailed than the other figures, missing a thin, shaved line.

Not a particularly memorable character.

A print of something hanging below his coat isn't as apparent in the original costume design and creates a distraction here.
King George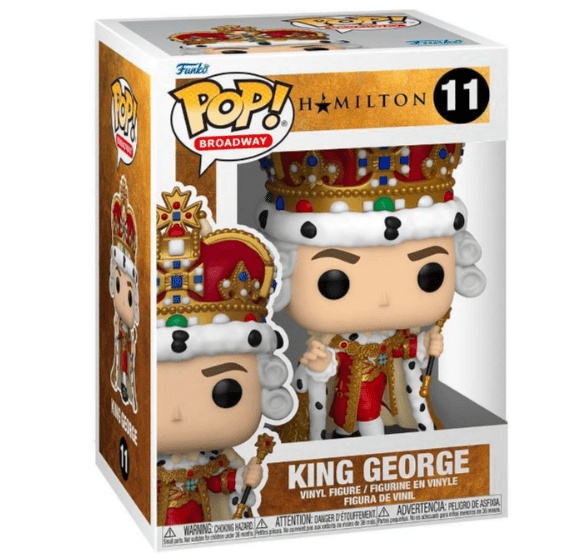 This is the only figure of the second set that appears in attire from the first act rather than the second. But how could they ignore the glorious costume Jonathan Groff wears when he first steps onto the stage? Between the crown, cape, wig, and gaudy jewels, you couldn't possibly forget this iconic look.
Release Date:

 January 20, 2022

Current Value: 

$12

Rarity: 

Low
Pros
Absolutely covered in impeccable detail and color.

The raise of one eyebrow and the way he holds his hand flawlessly emulate his superior sass.

The complex position of the legs depicts the particular walk necessary to convey character and maintain balance.
Cons
It might look too elaborate if you don't like over-decoration.
Thomas Jefferson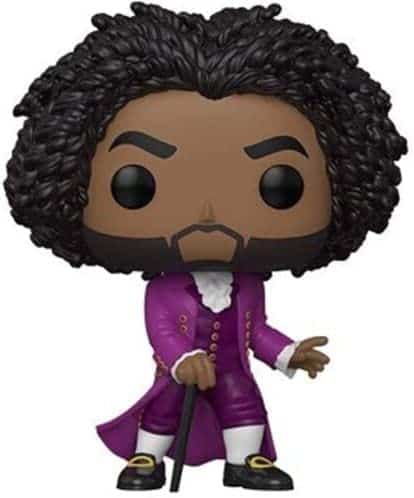 The biggest introduction in act two is that of Thomas Jefferson. With his big hair, bright outfit, and immense charisma, it's hard not to be mesmerized by Daveed Digg's dual role. In fact, Lafette and Jefferson are the only characters in the current figure line-up that share an actor, even though about half the actors switch between two significant roles at intermission.
Release Date:

 January 20, 2022

Current Value: 

$13

Rarity: 

Low
Pros
One of the most energetic and bombastic-looking figures in the set, definitely an attention grabber.

Very detailed buttons on the coat.

Finely sculpted curls in the hair.
Cons
It might be too attention-grabbing if you want to showcase other elements of your collection.
King George (Red)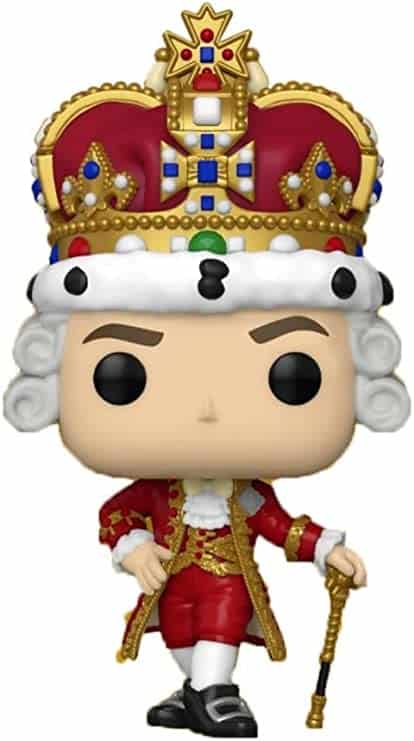 King George is the only character to receive a variant figure aside from Hamilton. Much like Hamilton in his blue coat, this figure of George in his more subdued but still ostentatious outfit is a Walmart exclusive. It still maintains a similar expression and stance but has lost the cape, and he stands with one hand on his hip and the other on his cane.
Release Date:

 March 15, 2022

Current Value: 

$15

Rarity: 

Low to moderate
Pros
Less flashy than the original version, if you don't like that sort of thing.

Still highly detailed and expressive
Cons
I don't understand why this one is labeled as red; they have the exact same colors.
Merch for Theater Fans
Fans of live theater often don't get the same opportunities for merch as anime or comic books fans. The medium simply isn't as accessible to a larger audience, and you can't watch a live show whenever you feel like it. Thus, when you are a fan of a Broadway show, you are often limited to merchandise sold at the show or fan-made things found online.
I hope that the Hamilton Pop series will prove a success for Funko and that in the future, they will explore more Broadway shows and offer musical fans a new way to show their love.
In the meantime, if you are looking for other ways to satisfy your love for Hamilton or other shows, keep checking sites like Redbubble and Etsy. Independent artists can create unique and loving works, like mugs, shirts, and stickers.
FAQs
Question: Will There be Hamilton Funko Pops?
Answer: Yes! We have a collection of fourteen figures available to us now, coming from a few different releases. With the most recent release being in January 2022, I wouldn't be surprised if even more were on the way.
Question: How Many Alexander Hamilton Funko Pops are There?
Answer: In terms of Hamilton as a show, there are fourteen Funko Pops. In terms of Hamilton as a character, there are four, a brown coat, metallic brown coat, blue coat, and green coat.
Question: Where to Buy Hamilton Funko Pops?
Answer: There are various places to buy Hamilton Funko Pops. The easiest way would probably be through amazon, though that might result in higher prices for specific figures.
You can also find some figures on the official Funko Pop website and Pop in a box. For harder-to-get figures, I would suggest Mercari. I haven't encountered any Hamilton Funko Pops in a physical store yet. Walmart has exclusive figures, and I imagine any other store that sells an extensive collection of Funko Pops might have them if you're lucky.
Continue reading: