Naruto was one of the first animes I ever watched. I remember staring at the screen of my family's home computer for hours on end, closing more ads than episodes I watched, but still, I loved it. I got all the past the battle in the Final Valley into the filler between part 1 and Shippuden, but that's ultimately where I stopped.
Other series like Bleach were calling my name, but after Naruto ended, I did go back and read the manga. Something I do every so often, just to remind me why Naruto is so popular.
Of course, with my love for the series came a love for merch. I've looked at booths at comic-con and shopped online, learning how to spot a good deal when I see one and what makes a good statue. So let me share with you what I know.
Bottom Line Up Front
The best Naruto statue is Banpresto Naruto Vibration Stars-Uchiha Sasuke-, Multiple Colors (BP17427). The statue has a lot going for it on its own, referencing something iconic about the series and being visually striking by having Sasuke do an iconic action pose with his signature jutsu in hand.
What makes this statue even better is that you can buy a Naruto statue to go along with it, fully completing the look. Neither of the statues are that expensive either, meaning you can buy both at once without feeling too much pain in your wallet.
Selection Criteria
Their Availability – By availability, I mean "how easy is the statue to find?" and "how much does the statue cost?" There are two often overlooked things when recommending products online. It doesn't matter how cool or perfect anything is if no one can find it, let alone afford it. Does the statue actually deserve the effort you'll put into finding and paying for it?
Their Quality – What I mean by quality is more complicated than just how nice the statue looks. A good quality statue will have to take care to recreate something or a moment from the show. Or maybe it has something special about the way it looks. Does it glow in the dark or have a particularly unique style to it? Do these unique things make the statue cooler, or are they just pointless additions?
Their Serialization – Serialization refers to how many there are in the statue's specific series. I know just as good as anyone that you can never stop at one statue so serialization matters. You'll want all your statues to look nice when you put them all together, so statues with a style isolated to themselves can look good on their own but jarring when put with the rest.
Without any further ado, let's get this guide started!
WFLNA Naruto Figure Itachi Uchiha Anbu Figure Anime Figure Action Figure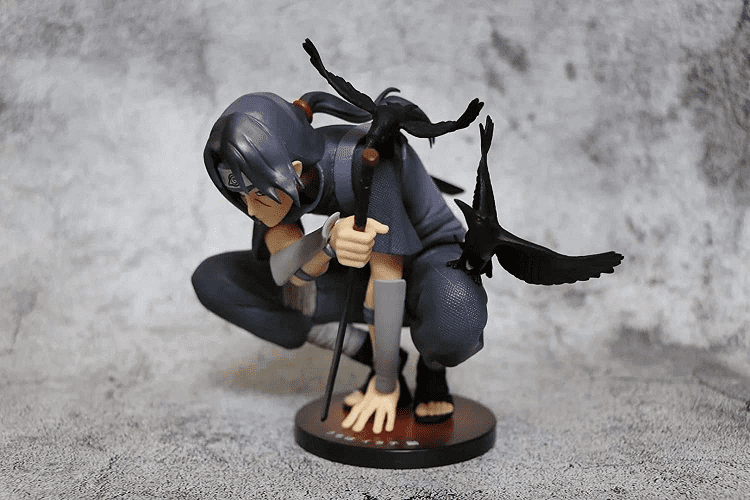 Itachi's always been a fan favorite, so why not start with him? This statue is a recreation of the iconic scene of Anbu-Itachi beginning the Uchiha massacre, crouching atop a pole, silhouetted by the moon.
It's an ominous scene that carries a lot of weight for two of the most essential characters in Naruto. It does a good job of capturing the look of the anime and for an excellent price to boot!
Availability 9/10

This statue's strong point is its price tag. Statues and figures can get very expensive very quickly, so having a good quality statue that won't break the bank is fantastic. The fact that it's in stock and readily available on Amazon also gives it extra points in the availability department.

Quality 7/10
The statue looks good for what it is. It shows anime-Itachi looming over the Uchiha compound on the night of the massacre. It does lose a bit of points for not having the pole he's supposed to be on. Without it, Itachi just looks a little odd crouching on flat ground.

Serialization 6/10
I couldn't find any other pieces to go along with this one. That makes the piece relatively isolated. However, it is still a statue of a significant series like Naruto. With a bit of effort, you could probably find statues to go along with it, but not from the same retailer or the exact same style as this one.

Pros
A good recreation of a specific moment.
Has a very low price.
Cons
Not a serialized statue with others to go along with it.
Naruto Bust Statues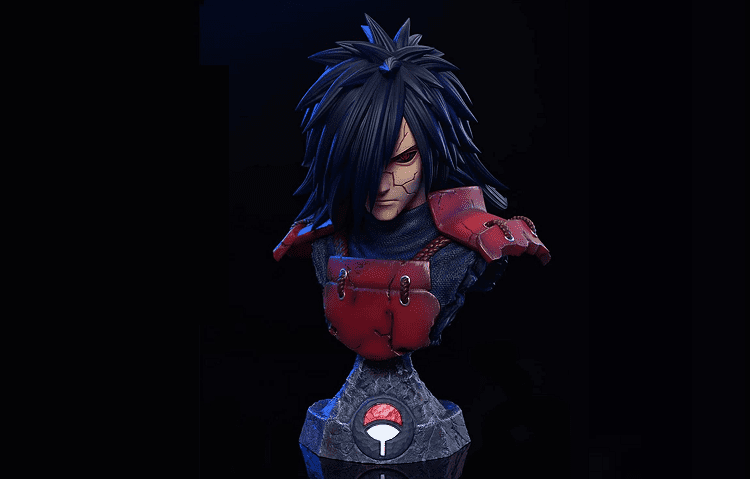 Rather than being full-body statues, these are busts: statues that only show the head and shoulders. It gives the creators more room to focus on the facial details and create something you don't get with other statues.
I can't point to what specifically about the style that I like, it just somehow does a good job of adding some realism to the characters while also keeping them goofy.
Availability 8/10
These busts fall right in the middle of the price pack. They aren't overwhelmingly expensive, but they are priced high enough to make you hesitate, especially if you're buying more than one. Of course, they got the point boost from being readily available off of Amazon.

Quality 8/10
These busts look absolutely fantastic. There's a good blend of realism with Naruto's art style that works really well. A personal favorite of mine is the Obito's busts with the cracked mask. They do lose some points for being relatively small at only 6.3 inches. It does make them fantastic desk ornaments.

Serialization 9/10
What I really like the most about these is that there's one for everyone. If you want Sasuke, you can get Sasuke. If you want Naruto, you can get Naruto. It means you can get them all and have a nice set going across your shelf.

Pros
Wonderfully made and look great.
Options are avalible for Naruto, Sasuske, Obito, Madara, and more.
Cons
Begins to get expensive when you buy more than one at once.
All of them are kind of small.
HERVI Anime  Naruto Nine-Tailed Demon Fox Statue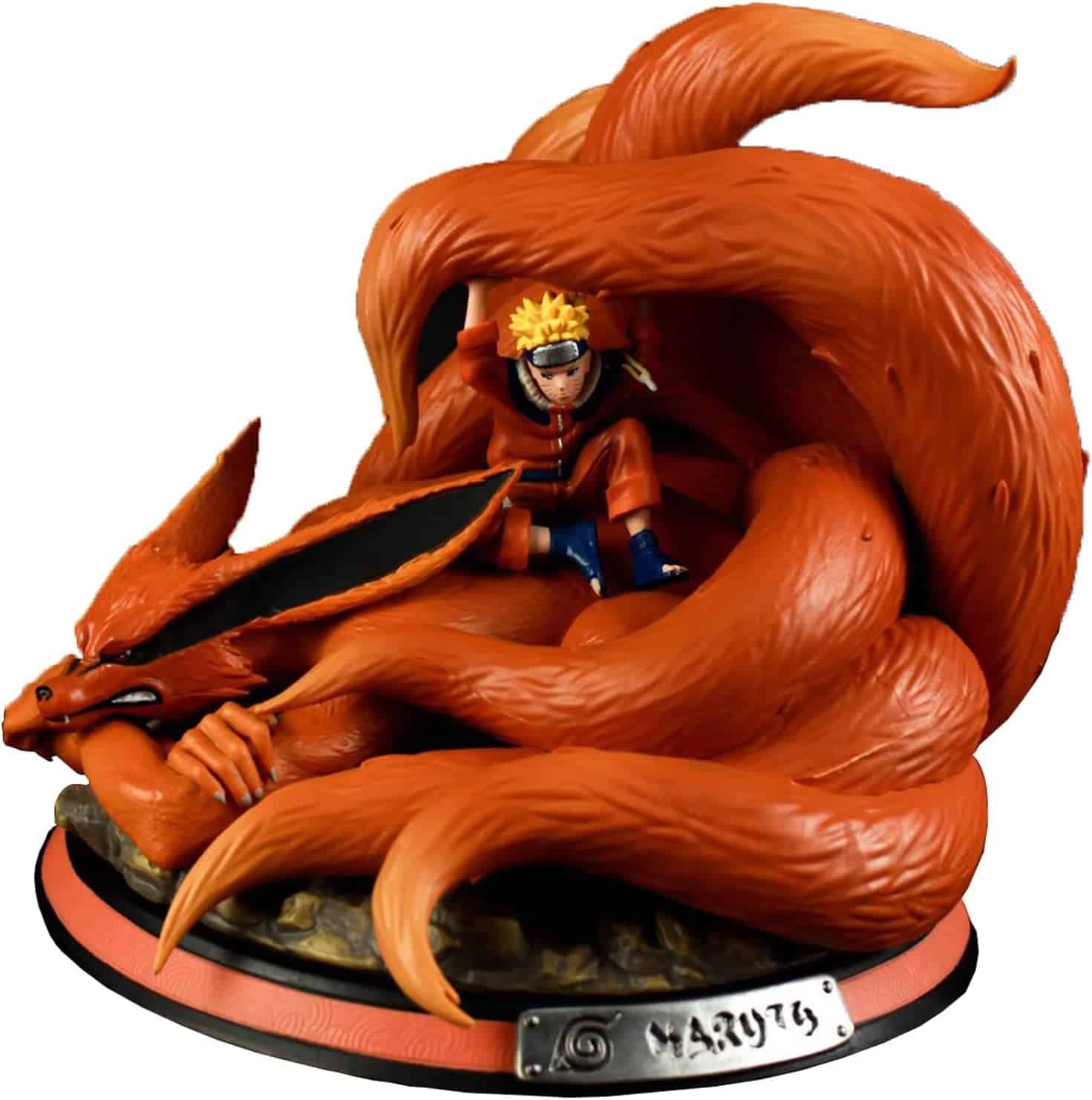 With Kurama's passing in Boruto, why not have a fantastic piece to remember the Nine-tailed fox with this statue? It's relatively large and conveys quite a sentimental feeling.
It's supposed to be from way back in the early days of the Naruto, back when kid-naruto wasn't quite sure what the Kyubi inside him was or what he wanted. All that existed between them was mutual animosity, which only makes it sweeter that those feelings were overcome.
Availability 6/10
While this is easily available off of Amazon, it loses a LOT of points due to that price. Over 200$ before taxes and shipping? That's not something I'd have to buy. I'd have to set aside some money from my paychecks, geez!

Quality 9/10
While the price may be high, the statue really does look amazing! It has excellent detail and high fidelity on both Kurama and the smaller Naruto. There's also something I really like about how Kurama's tails are spilling off the platform. It really makes Kurama seem larger.

Serialization 6/10
This statue is much more of a standalone piece than a bunch of statues meant to be collected. That's not that much of a problem when the single statue does look this good, but you won't be able to start a statue collection with this particular style.

Pros
The statue looks amazing.
Cons
A standalone statue without anything else in its series.
It is very expensive to buy, ranging over $200
Fukujin Anime Acrylic Stand Figure, Kakashi Figure, Anime Humanoid Decorations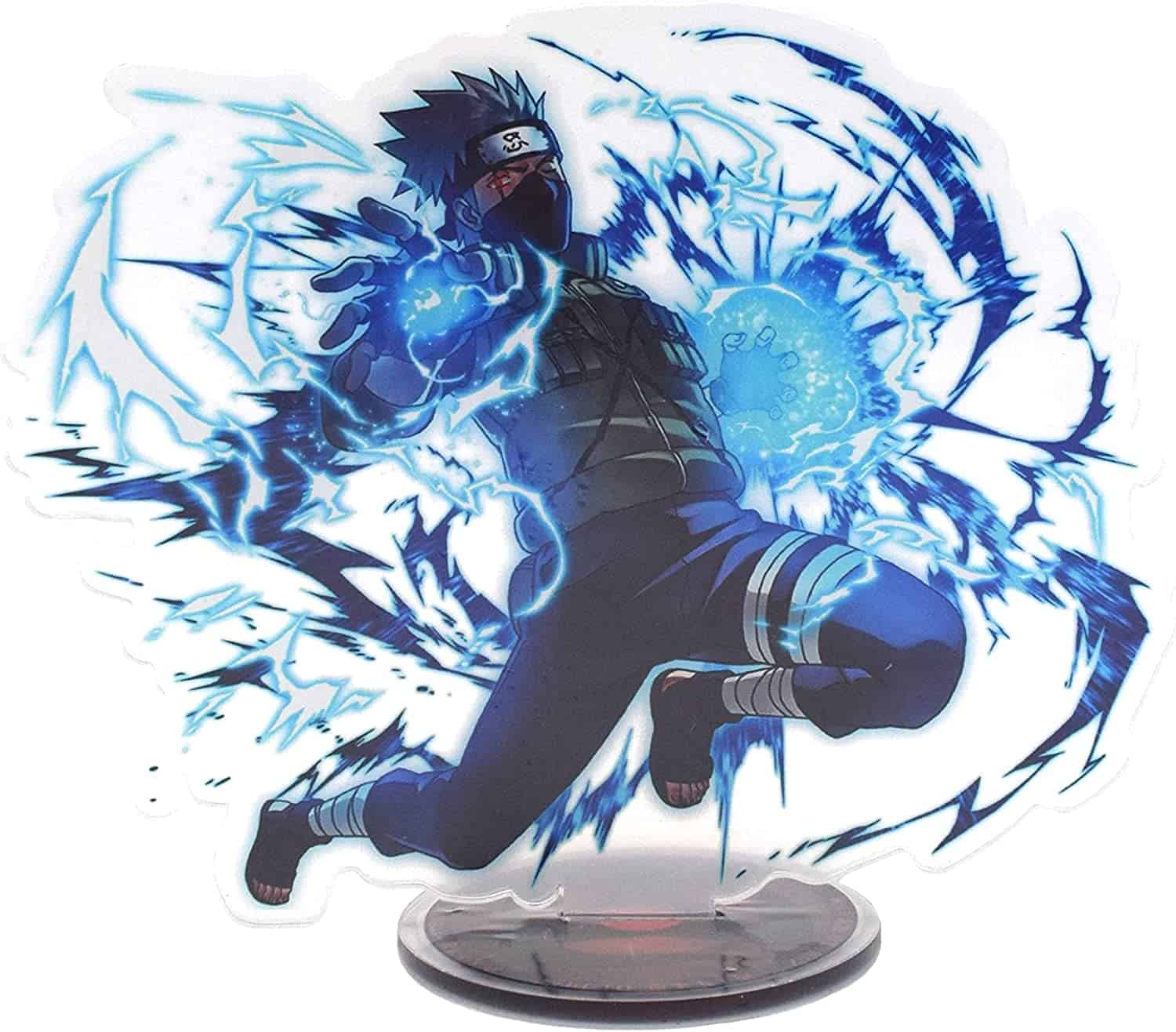 This is different from most statues rather than being a full 3D model. It's an acrylic 2D print on a stand. This has the benefit of being drastically cheaper but also being startingly accurate representations of characters.
This one shows Kakashi with a Raikiri: Lightning Blade in his right hand, sharingan out, ready to show you why he's revered as one of the Leaf Village's strongest ninjas. It comes with some nice shading to make it look even better, something other statues don't have the privilege of getting.
Availability 10/10
Same old. It's available from Amazon easily, but its price gives it so many points for this category. If money is tight, but you still want to show your love to your favorite sensei, then I'm sure you could find a Might Guy Acrylic somewhere, but if you want to go for Kakashi, this is a great choice.

Quality 8/10
I do have to dock some points since Acrylic stands aren't like other statues. They're more like stand-up 2D images, so I'm limited with the number of points I can give them. The 2D image used does look fantastic, which has a lot to do with the points I gave it.

Serialization 9/10
This isn't the only Acrylic they've made for Naruto. You can get another one for Kakashi that shows his perfect Susanoo, one for Itachi that has his Sharingan hanging behind his back, and even one for Might Guy using the Daytime Tiger. I really like how many you can collect because it allows you to get a stellar acrylic collection going.
Pros
These are very cheap. You can buy two or 3 of these for the price of some chepaer statues.
They look pretty good for what they are.
Cons
Probably not as 3D as you want your statue to be.
Banpresto Naruto Vibration Stars-Uchiha Sasuke-, Multiple Colors (BP17427)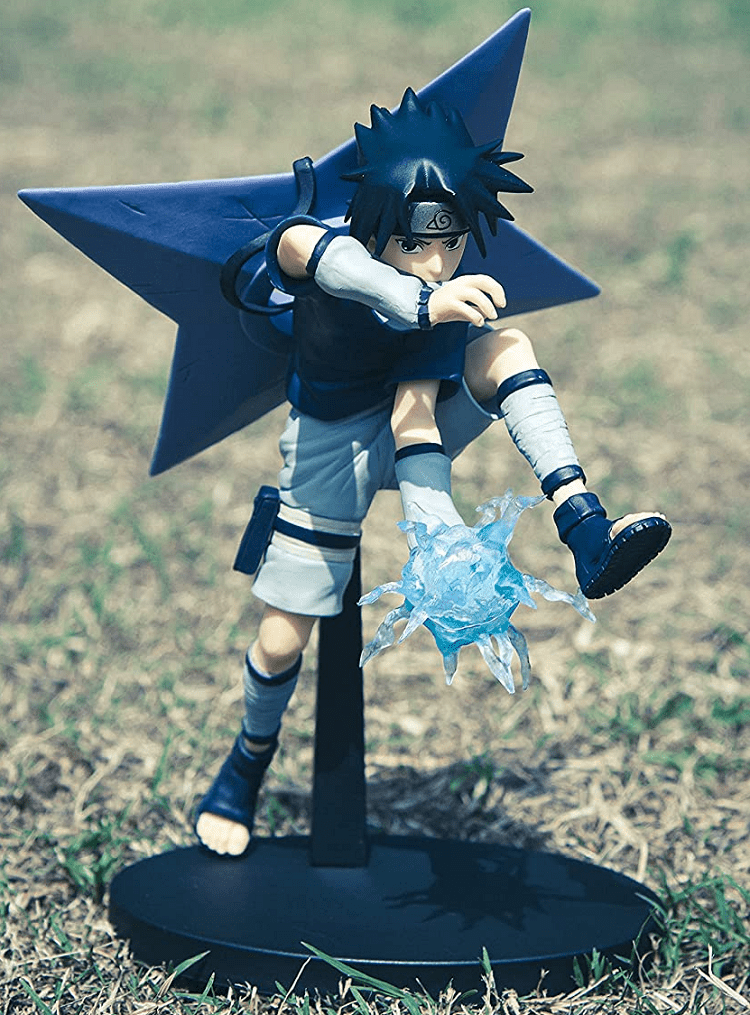 All of you Sasuke-stans will be happy with my next pick since it's another Sasuke statue. This one being kid-Sasuke rather than his adult counterpart. You may recognize this pose since the model is based on one of the more iconic images used all over promotional material.
It harkens back to the series' early days somewhere in between the past and the present when two of the most potent jutsu around were the good ol' Chidori and Rasengan. Just looking at it gets me in the nostalgic mood that makes me want to reread the series all over.
Availability 9/10
This statue is readily available on Amazon and other digital marketplaces. What's more, the price falls into a good average. You could certainly find worse statues for a higher price than what this one is asking for.
That's what I like about this statue. For something that's so iconic and visually Naruto, you'd expect it to cost more. Instead, it's a solid and cheap option.

Quality 9/10
The statue looks good. It's not the character sitting down or doing something static, rather, they are up and ready for action. Beyond that, I like how simple the Chidori is here. It's not this overexaggerated effect.
Instead, it's just a ball of lightning, like it is in the show. The feet do look a little wonky, but they did a great job on Sasuke's face, which is what you usually are looking at.

Serialization 10/10
While this statue isn't a part of any extensive series, it does have the one companion that matters: Naruto. If you get the two of these, you can actually recreate the promotional image in 3D.
Honestly, it'd be a waste just to buy the one Sasuke statue. Neither are particularly expensive, so why not go ahead and buy them both? They'll look really nice.

Pros
A low price for the quality of the statue.
An iconic piece of the series being refrenced.
Cons
Looks best when you buy the accompanying Naruto statue.
Shoutoac Anime Action Figure PVC Collectible Model Toy Statue Giftanime Figures Uchiha Obito 12.6in Oversized Toys Gift Characters Collectibles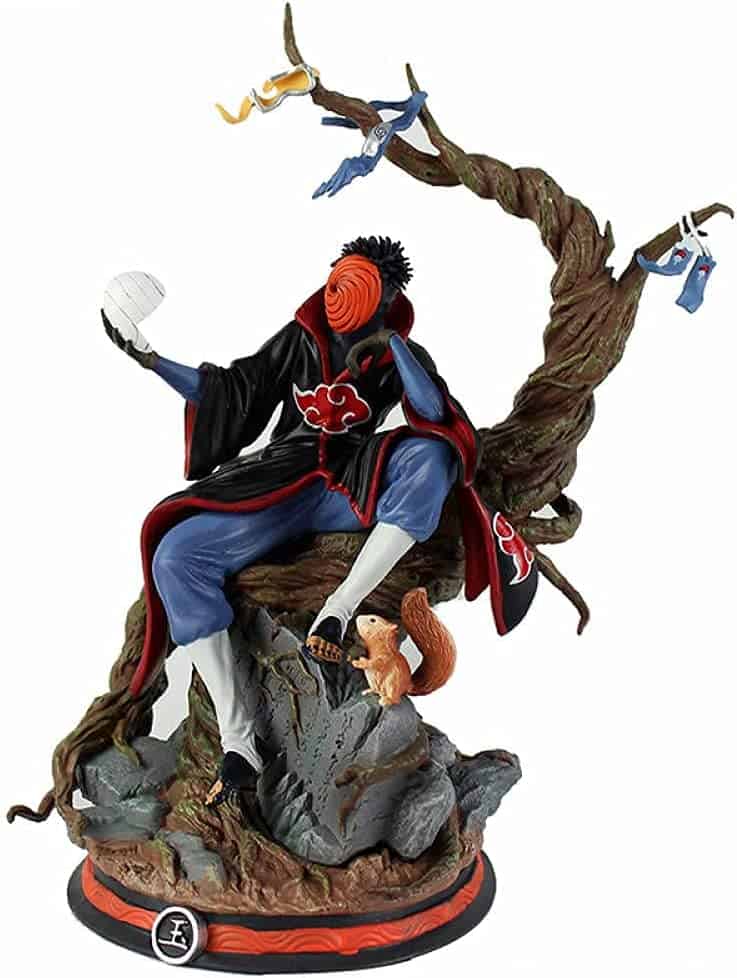 While this doesn't recreate any specific scene from the show, the depth of the message it conveys makes it something I love. It shows Obito sitting atop a curling tree, looking at his masks and all the things they represent, like the life he left behind.
You get extra pieces so you can swap out the mask, which is some nice customizability. A detail I love you may not have noticed at first are the memorabilia on the tree behind him, like his goggles, headband, and Uchiha tags.
Availability 8/10
You can find this one easily on Amazon and other websites like it. I just wish the price was as easy as that. The statue isn't the most expensive, but it's definitely not the cheapest. $100+ is quite the asking price for a statue, but I think this one is well justified by the price tag.
The statue has detail and a unique style, and it comes with parts, so it has some customizability to it. I personally prefer the look of a maskless Obito looking at his white mask.

Quality 9/10
I really like the style of this particular statue with the rugged tone and attention to the finer details like the grooving of the tree. However, what makes this statue stand out the most is the emotion behind it.
There's the idea we never really got to see in the series of Obito reflecting on what he's doing and everything that's led him up to this point. Despite his eyebrows being knit together, there's an air of peace to it. I just really like this statue.

Serialization 5/10
This statue is a victim of some pretty poor serialization, in that I couldn't even find a statue similar to it. I couldn't find much info on the company that made this, but from what I see, they haven't made any other Naruto statues, so finding a Naruto statue with the same style just ain't happening.

Pros
This statue looks fantastic.
It has more emotion behind it than many other statues and figures.
Customizable parts let you create the look you desire.
Cons
Leans towards the more expensive side of statues.
Only one of its kind, so you can't get a specific collection going.
TAMASHII NATIONS Bandai Figuartszero Naruto Uzumaki -Rasengan- Kizuna Relation Naruto Shippuden, Multi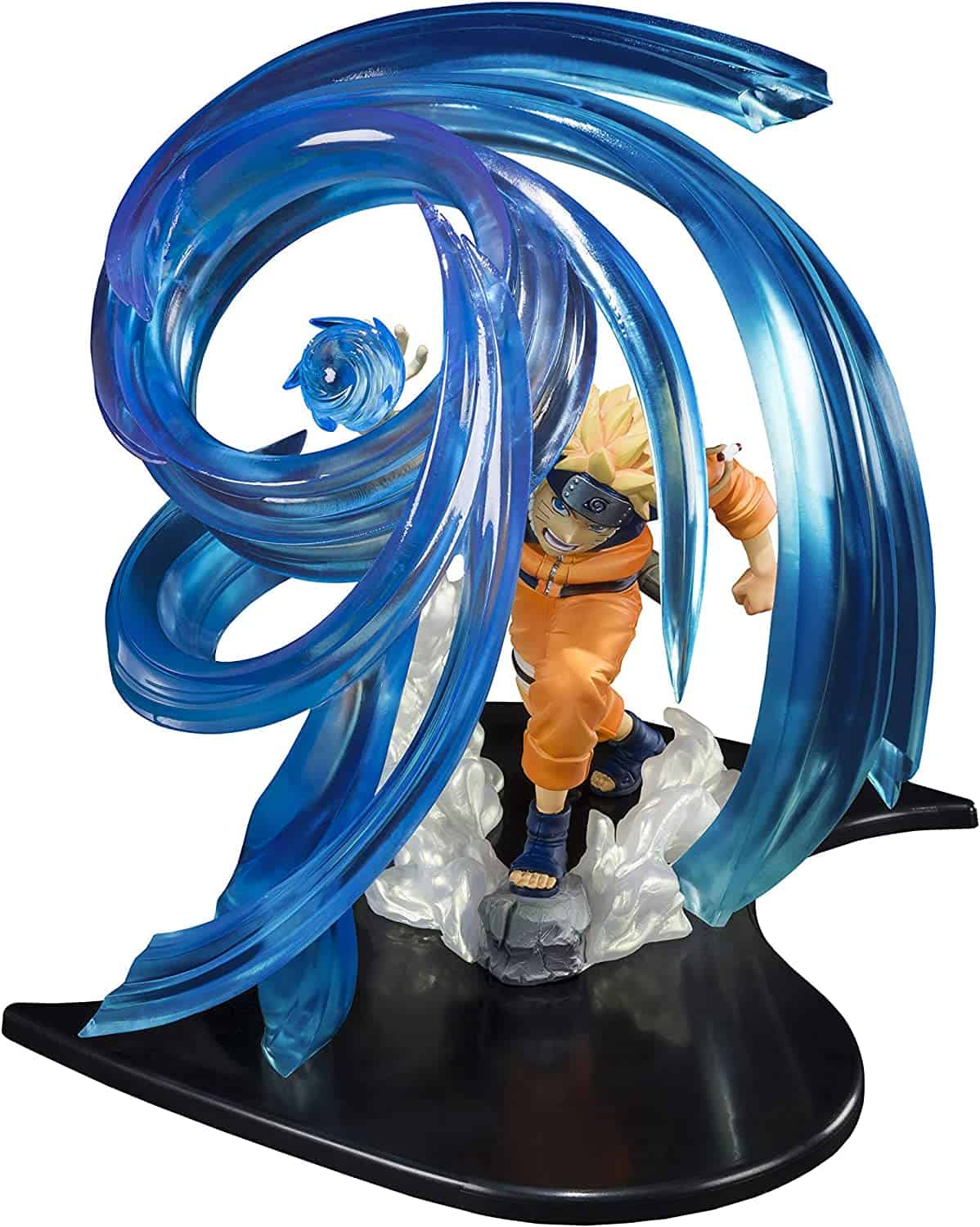 Do you remember way back during the Find Tsunade Arc when she first made her bet with Naruto if he could learn the Rasengan? Do you remember the moment during the three-way-deadlock when he finally did it?
The sheer magnitude of Naruto finally driving the Rasengan into Kabuto, who had seemed all but untouchable at the point, was palpable. If you really don't remember it, then hopefully, this statue should jog your memory.
Availability 8/10
This statue isn't too hard to find, but I did have to browse Amazon for a bit before finding it. The price tag is what gives me my reservations. I've seen worse statues ask for more, but it is enough money that I'm not jumping off the railing to go and buy it. Maybe someone with more liquidity would, but that just isn't me.

Quality 9/10
I do like what the statue does. Nothing about the pose is wonky or looks out of place. Naruto looks pretty accurate to how he does in the anime. I especially like how the wind effects for the Rasengan aren't connected to the Rasengan. Instead, they're connected to the base, which makes the statue look different from its peers.

Serialization 10/10
This is another TAMASHII NATIONS statue, so the bases connect with others in its product line. This one, in particular, is based on the three-way-deadlock, so the statues for Jiraiya and Tsunade link up with this one. The three of those statues look good when put together, serving as a great memory of one of Part 1 of Naruto's more iconic moments.

Pros
One of the most iconic moments of Naruto that has been captured really well.
The statue's design is great, definitely above other statues in a similar price range.
Cons
The price isn't too kind to the wallet.
Naruto Shippuden – Sasuke Uchiha – KIZUNA Relation, Bandai TamashiiNations Figuarts Zero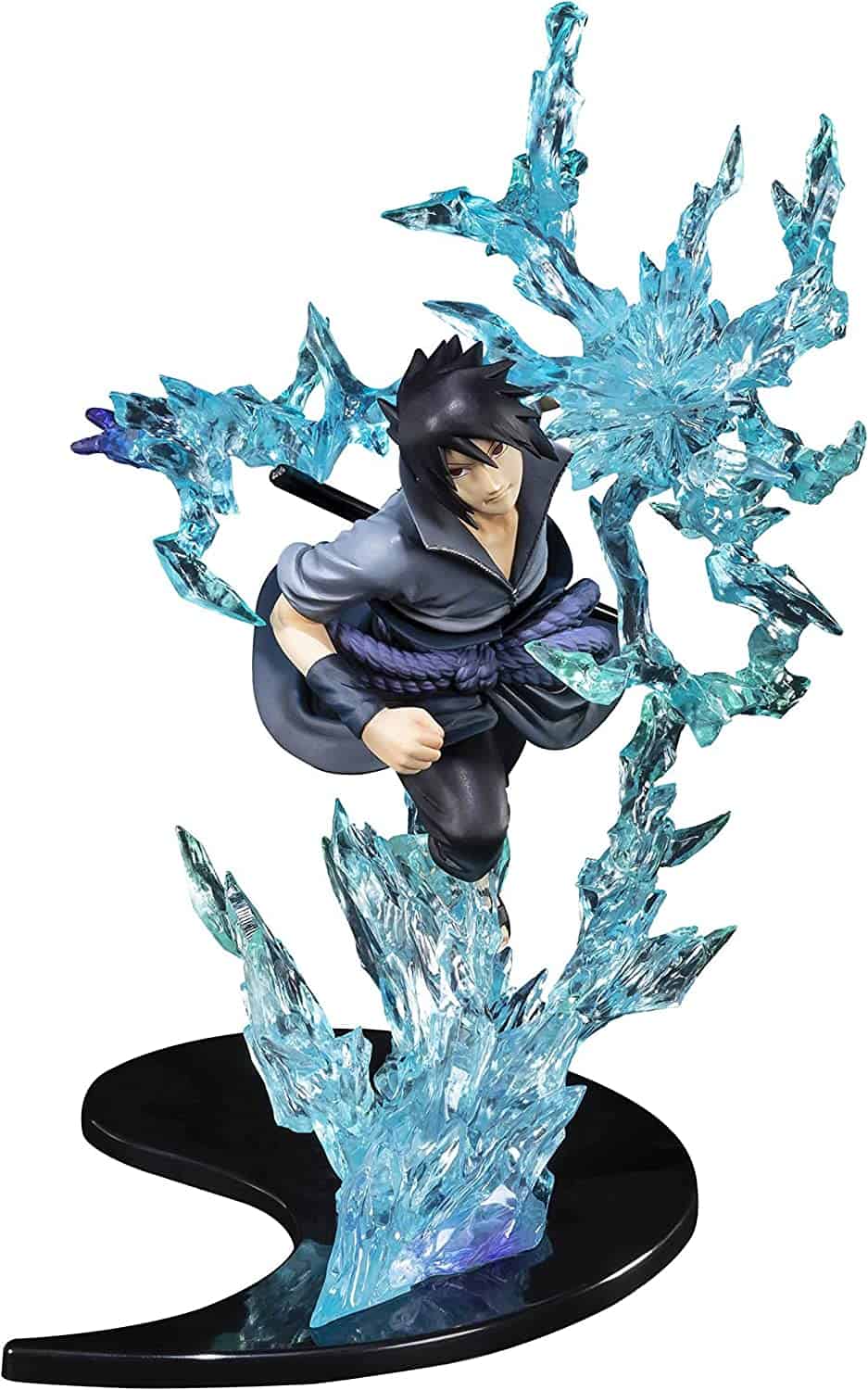 It's a little weird it took me this long to finally get to a Sasuke statue, right? That aside, this one is a pretty good choice for all you Sasuke-stans. It shows Sasuke with his iconic Chidori in hand as he reels back.
It's not taken from any specific moment from what I can tell, but does it really need to be? It's Sasuke using Chidori. That sight alone is iconic enough to be worth buying. Even better, it comes with a matching Naruto statue for you to purchase if you want to make a dual-set.
Availability 7/10
The statue is readily available on Amazon. It's not the most expensive thing on this list, but it's definitely enough to make me pause. You might have to budget around this purchase, which isn't a good sign because I'm not sure the statue looks good enough to match the price.
Quality 7/10
The statue does show Sasuke using the Chidori, but there's something about the finer details that are just missing. The way Sasuke's face looks on the statue just seems a bit off to me. Like they used an action frame for reference that was a little smeared. I think they followed the 2D style of the anime too closely when adapting it into three-dimensions.

Serialization 10/10
What gives this statue the most points are how many other pieces are in its series. In this particular line-up, they've got a Naruto and Kakashi statue whose bases connect to form a nice trio.
Outside of those three, they have even more statues with connectable bases to go along with each other. If you don't like this one, you can almost certainly find something from them you like.

Pros
A good Sasuke statue that shows him doing an action rather than just standing
Cons
The statue looks wonky when you put a good eye on it.
JCAMZ Uchiha Itachi Anime Throne Action Anime Figures Collection Collectible Model Children Toys 35cm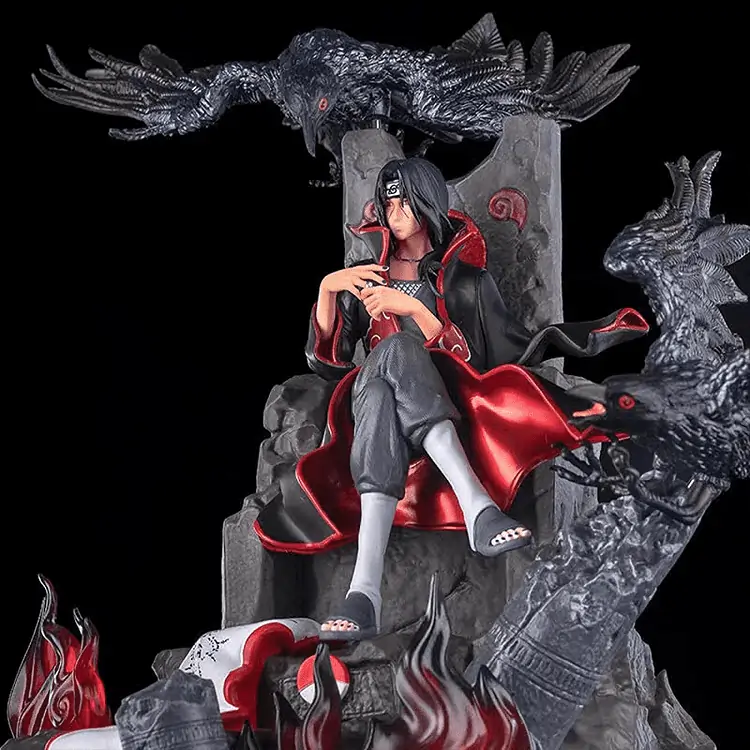 I would ask, "do you remember," but there isn't a snowballs chance in the Sahara that you don't remember Sasuke and Itachi's final confrontation. There's something about the way Itachi was casually sitting there on the throne that stands out. The casual ambivalence of the moment Sasuke has been training and fighting to have.
It set the tone for the entire fight that there was something going on behind the scenes that Sasuke couldn't quite ascertain. At first, we thought it was Itachi's psychotic motives of gaining an Eternal Mangekyo Sharingan, only to learn from Obito that it was the love he felt for Sasuske. This battle isn't one I'll soon forget.
Availability 7/10
The statue isn't particularly hard to find in online retailers, but the price knocks this rating down a peg or two. It's on the low-end of the expensive statues, which is a good thing since you won't completely break your bank, but it is still one of the expensive statues.

Quality 7/10
While it does try to capture an iconic moment, it is not a 1-to-1 recreation. Some details weren't there in the anime, like the fire, crows, and scroll, which I don't like. I'd prefer if it tried to stay true to the scene it's trying to reference.
There's also the fact that Itachi just looks a little weird in this one. It'll hold up at a distance, but a close inspection reveals the flaws. I do like what they did for his coat, though. It somehow looks like real flowing fabric despite being plastic.

Serialization 7/10
JCAMZ does have a few other Naruto statues available for purchase. They have one of Obito, Naruto, and Six-paths Jyuubi Madara, but they don't have anything quite like this Itachi statue. The Obito one is similar, but it's not as elaborate. You could buy it as a companion to this, but it won't be a perfect collection.

Pros
References one of the most iconic scenes in the series.
One of the larger and more elaborate statues on this list.
Cons
The price tag attached to this statue is large.
Itachi's face doesn't hold up to close inspection.
WGQQN Uzumaki Narut & Uchiha Sasuke Anime Model Action Figure PVC Statue Collectible Collection Desktop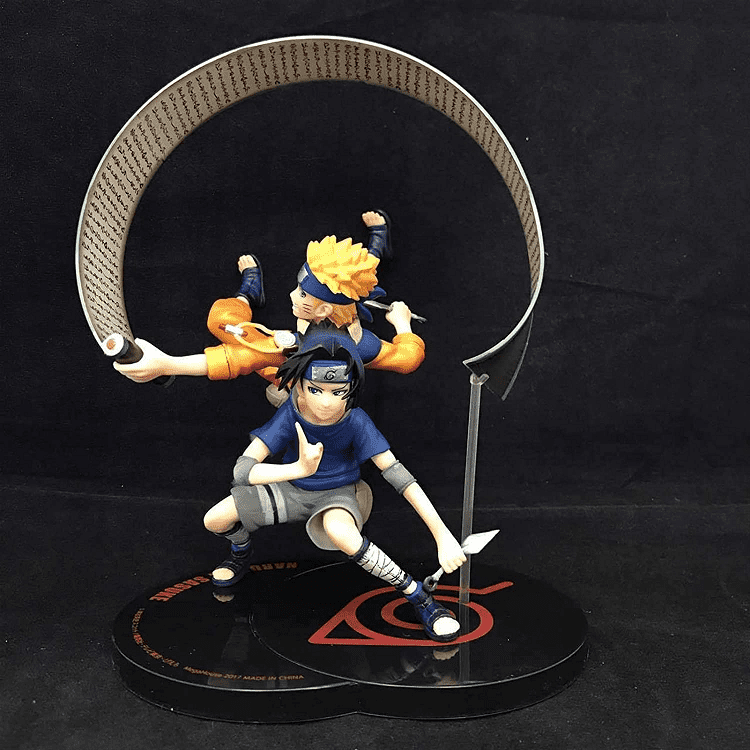 This is actually my favorite statue on the list because this is a faithful recreation of the cover of the 17th tankobon for the Naruto manga. How more cover pages haven't been turned into statues is beyond me, but I'm glad that this one got the privilege.
Moreover, it comes with both Naruto and Sasuke, so you can count this as going towards two halves of your collection. I just can't gush enough about this statue! I'm not gonna lie. I actually bought this one for myself after getting a good look at it.
Availability 8/10
The statue has the standard availability of being findable in most online retailers like Amazon and Alibaba. The price is somewhere in the middle, placing it on the high-end of the cheaper statues you can buy. Of course, that's to be expected since you get both Naruto and Sasuke in this single-figure piece.

Quality 10/10
With how awesome Kishimoto's art style is and how awesome the covers he draws for Naruto's tankobon volumes are, I don't get why more statues aren't made of them. Even amongst those fantastic covers, this one is highly memorable.
It comes from the volume where Sasuke finally, for the first time after the Uchiha massacre. There were a lot of emotions in those chapters, so why not catalyze them with this statue?

Serialization 5/10
This isn't just the only Naruto statue I could find from those manufacturers. It's the only Naruto statue based on a volume cover that I could find at all. That's a real shame because being able to form a collection of statues based on covers would have been the coolest thing. I suppose we'll just have to settle for just this one…

Pros
Captures one of the best covers of the Naruto Volumes really well.
The price isn't too bad for what you get
Cons
This is the only thing I could find based on a Naruto cover, so you can't get a collection going.
Frequently Asked Questions
Question: What Naruto Statue Makes the Best Gift?
Answer: I think buying Banpresto Naruto Vibration Stars-Uchiha Sasuke-, Multiple Colors (BP17427) alongside the Naruto statue meant to go along with it is a great gift.
You get to give two of the most iconic characters in Naruto doing two of the most iconic poses. They aren't that expensive either, so they won't hit your wallet to hard when trying to buy a gift for a loved one.
Question: Where's the Best Place to Buy the Statues?
Answer: If there isn't an anime or comic convention near you, then I'd recommend taking your search online to places like Amazon or Alibaba. They're both tremendous digital marketplaces with a lot of statues from a lot of series to offer.
Question: What Makes a Statue Good?
Answer: A good statue will try to capture a moment that's more than just a character doing a pose. It should be one of the moments that you can remember off the top of your head, and the quality of the model should hold up to close inspection by someone who knows what the characters are supposed to look like.
Conclusion
I'd definitely recommend you get a statue or two if you're a Naruto fan. The series has had a huge impact on all of us, so it's nice to memorialize that in some way. Statues are a fantastic way to do that!
They are like little glimpses of some of your favorite characters and moments, but with a whole new dimension and presence. I think the best statue you can buy will always give you a new angle to view the things you love from.
I mean that in a literal and metaphorical sense. Beyond the action and plot, hopefully, you understand the characters' emotions and what the author was trying to convey. Good luck and happy statue hunting!
Continue reading:
17 Best Naruto Action Figures Guide
Best One Piece Funko Pop Guide
Best Demon Slayer Funko Pop Guide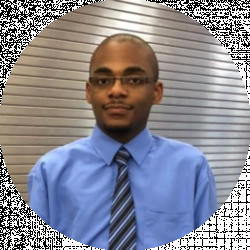 Latest posts by Jaden Hasse
(see all)