I've steadfastly followed Demon Slayer since it hit the TV screens in 2019. I liked it so much that I've absorbed all the info I could find about it for the last couple of years.
The manga? I've read and finished it. The merch? I'm updated with the announcements and keep up with the aftermarket prices. All things considered, you don't have to look elsewhere for the Best Demon Slayer Funko Pop guide – it's right here.
I'll be talking as a fan and collector about the different aspects of the items in this guide. The objective here is to show why these Pops are the best and give you a heads up on anything you need to know. So, you should find the answers to buyers' common concerns with Funko Pops.
Because when it comes to collecting toys, ignorance is never bliss. You have to know about these things. I got a firsthand taste of how disappointing it can be to take home a figure only to find out that you don't connect with it or can't stand its flaws.
Nobody wants that kind of surprise, and you won't have to endure that situation if you keep reading. Stay with this guide to discover the good and the bad of Demon Slayer Funko Pops.
Bottom Line Up Front
As is the case with any anime, the protagonist and their posse are usually the faces of the show. Therefore the first four items on this list are what you need to form the core of a Demon Slayer Funko Pop collection. But if I were to rank which one of the Pops in this article is the cream of the crop, I'd have to go with the Tanjiro Kamada Glow in the Dark Box Lunch Exclusive Funko Pop.
It's currently the most stunning Tanjiro in the Demon Slayer Funko Pop line. Even I would want it for myself if given a chance. That's how attractive it is to me. The entire design, from hair to base, is simply perfect. The leaping attack pose, the dragon winding up Tanjiro's side, and down to the flowy water base – every part of this figure complements each other well. Not to mention, it also has better quality than most Funko Pops.
The other pieces in this list are top-notch, too, of course. I'm just saying if you can only get one, the Tanjiro Kamada Glow in the Dark Box Lunch Exclusive Funko Pop would be the best choice. Though, the other 8 Pops also have their own stories to tell and will surely be a feast for the eyes should you put them in your collection.
Top Demon Slayer Funko Pops at a Glance
Due to its breathtaking animation and distinct art style, the Demon Slayer anime is famous for its flashy and mesmerizing fight scenes. And the Funko Pops below are the ones that deliver the same vibe.
Why Are These Pops in the Best Demon Slayer Funko Pop Guide?
Funko has a habit of producing many different versions of characters from popular anime. Since Demon Slayer is such a big title, it shouldn't be a shock that 13 of its 21 Funko Pops are variants. Tanjiro alone already has seven variants.
So how did I select the items to put in this guide? What do they possess that makes them outclass the others?
Recreates a scene or gives a similar feeling from the anime: The figure that most closely resembles a scene or moment from the source material is more appealing than a standard-looking Pop
Correctly portrays the character's official design: It's easier to feel an attachment to or connect with a Pop that sticks to the character's original appearance
Has an exciting pose or base: Bases and poses strongly influence the general appearance of a Pop. Hence, those with an elaborate style easily outshine the rest
Accurate representation of the character: The best version of a Pop is the one that matches the overall appearance and attitude of the character
Other factors, such as paint quality and the like, also affect the selection process. But the ones I listed above preceded them because quality issues aren't a deal breaker for Funko Pops.
Best Demon Slayer Funko Pops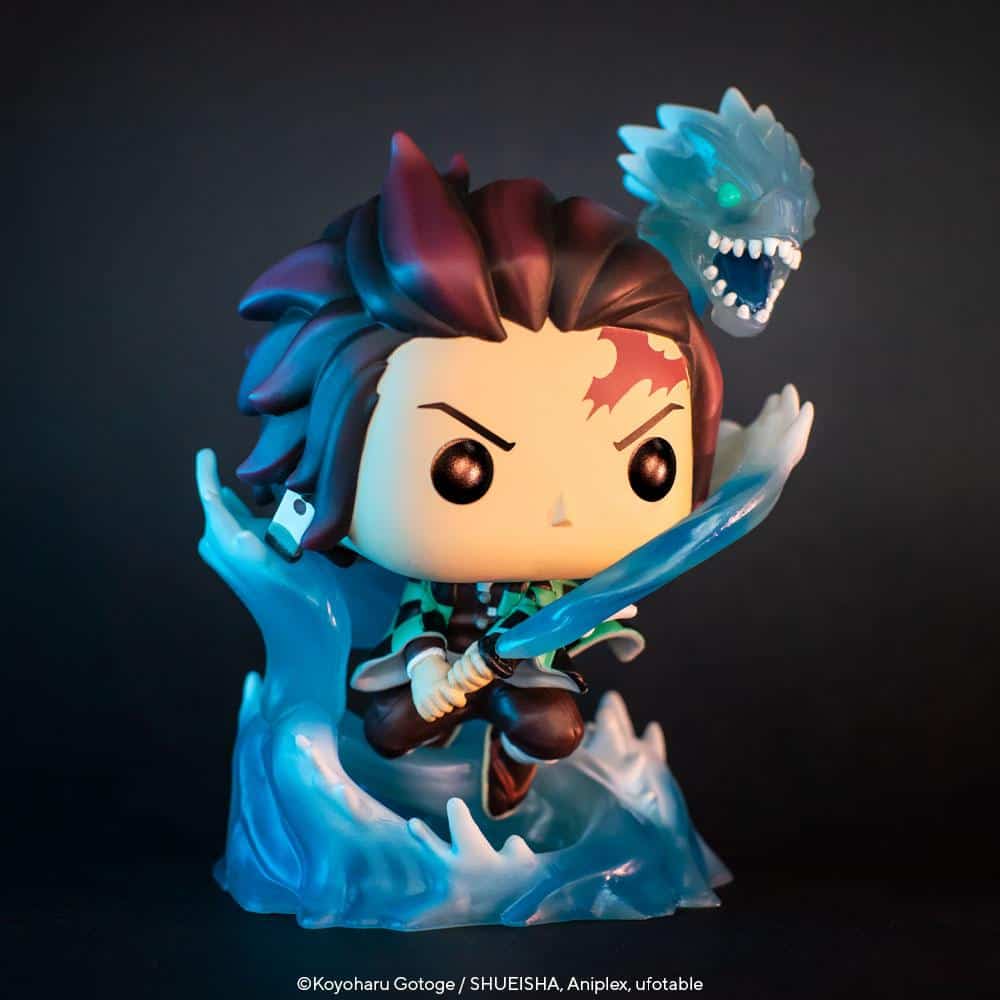 Of the several Tanjiro Funko Pops available, there's no doubt in my mind that this Pop stands on top of the rest. I was initially contemplating between this and the Hinokami Kagura Dance version. After a thorough comparison, however, I couldn't deny that the Water Breathing technique version has superior visuals.
Because even though the Sun Breathing technique is more powerful storywise, it doesn't have the same beautiful dragon that this Tanjrio has.
Release date: September 2021
SRP: 20$
Rarity: Low
Pros
This figure magnificently breathes life into a recurring scene in the anime. It's of Tanjiro performing the Water Breathing Technique Tenth Form: Constant Flux
The water dramatically adds to the appeal of this Funko Pop. Combined with the dragon and Tanjiro Pop, the entire figure looks like a mini-diorama
The angry eyebrows give this figure a somewhat emotional face, which is much better than the neutral expression of regular pops
The sculpt of this figure is precise and has barely visible flaws. Another notable part is the gradient shading and color of the hair
Based on its appearance, this version looks like it's the strongest Tanjiro. It feels as if this could beat the other versions without breaking a sweat
Cons
There are some areas of the water dragon that doesn't glow in the dark
The dragon's head is too close to Tanjiro's. There should've been more space in between them for both to have a better view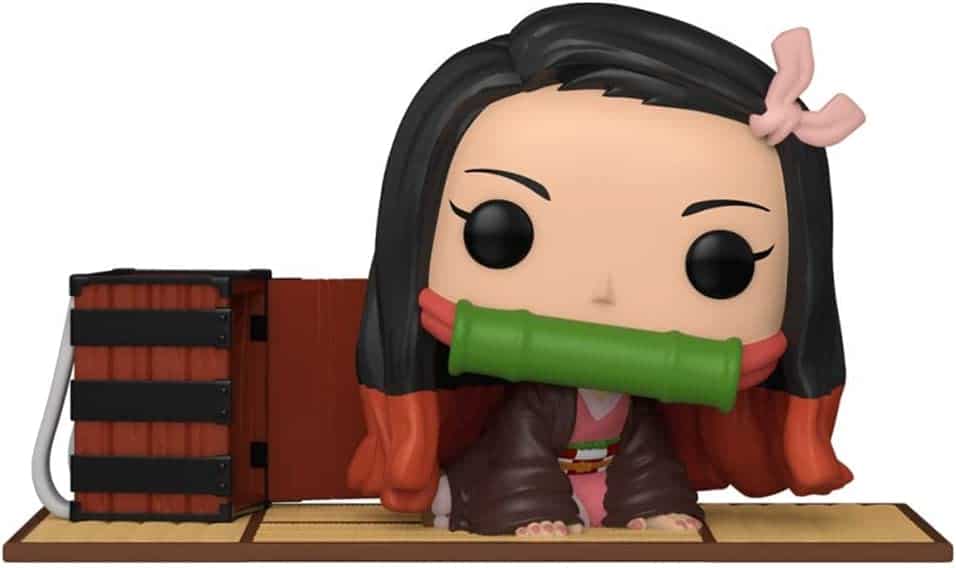 Nezuko has many nerve-wracking scenes in the series, doesn't she? From frequently losing her limbs to setting Demons on fire, she's a show-stopper. Yet there's only one image of her that all fans will automatically recognize – being inside a wooden box.
So to have a Funko Pop of Nezuko as she shrinks and retreats into her famous box is a need for Demon Slayer collectors everywhere.
Release date: December 2021
SRP: 30.90$
Rarity: Low
Pros
I consider this figure of Nezuko as a tiny diorama. It includes all the things that are present when she turns into chibi Nezuko, such as the tatami mat base and the wooden container Tanjiro carries her in
This figure comes in one piece since the Nezuko Pop and box are both attached to the base. There's no need for assembly
Even upon close inspection, this figure has barely any noticeable flaws
This Funko Pop set is essentially a complete reenactment of Nezuko going into the box from the anime
The design and layout of this figure suit Nezuko's childlike attitude and emphasize her adorable appearance. It's much cuter than the other Nezuko Pops
Cons
The box is larger than what this Funko Pop needs and will take up an unnecessary amount of space
This figure isn't a convincing mini Nezuko since it's almost the same size as the regular variant. The Pop's head should've at least been smaller
Although Zenitsu's one of my least liked characters in the series, I can't disregard his strength, especially when he's in sleep-fighting mode. To be honest, the Demon Slayer Corps's wimpy member is a badass in serious fights. He repeatedly steals the spotlight in several scenes in the anime and manga.
In light of his contribution to the story, this sole Funko Pop of him is an indispensable piece when you want to collect Demon Slayer items.
Release date: May 2021
SRP: 12$
Rarity: Low
Pros
I like that this figure's eyebrows seem as thick as Zenitsu's in the anime. They also aid in highlighting Zenitsu's sleeping state
The fluttering effect of the cape is perfect for showing off Zenitsu's skills. It's able to give the impression of his lightning-fast movement
This Funko Pop has a clean and even sculpt on the whole. The hair is also flawless and doesn't have any evident seams
The figure's bright colors are accurate to the anime, and the pattern on the haori and kyahan or leggings is consistently neat
The paint job of this figure is clean for the most part. Even the belt that's mostly hidden under the haori has precise paint
Cons
The shape of the bangs isn't right because the tips are too curvy and rounded. They're supposed to be razor-sharp, just like Zenitsu's hairstyle in the anime
Some stocks of this figure may have noticeable gaps on the back part of the shoulder and arm parts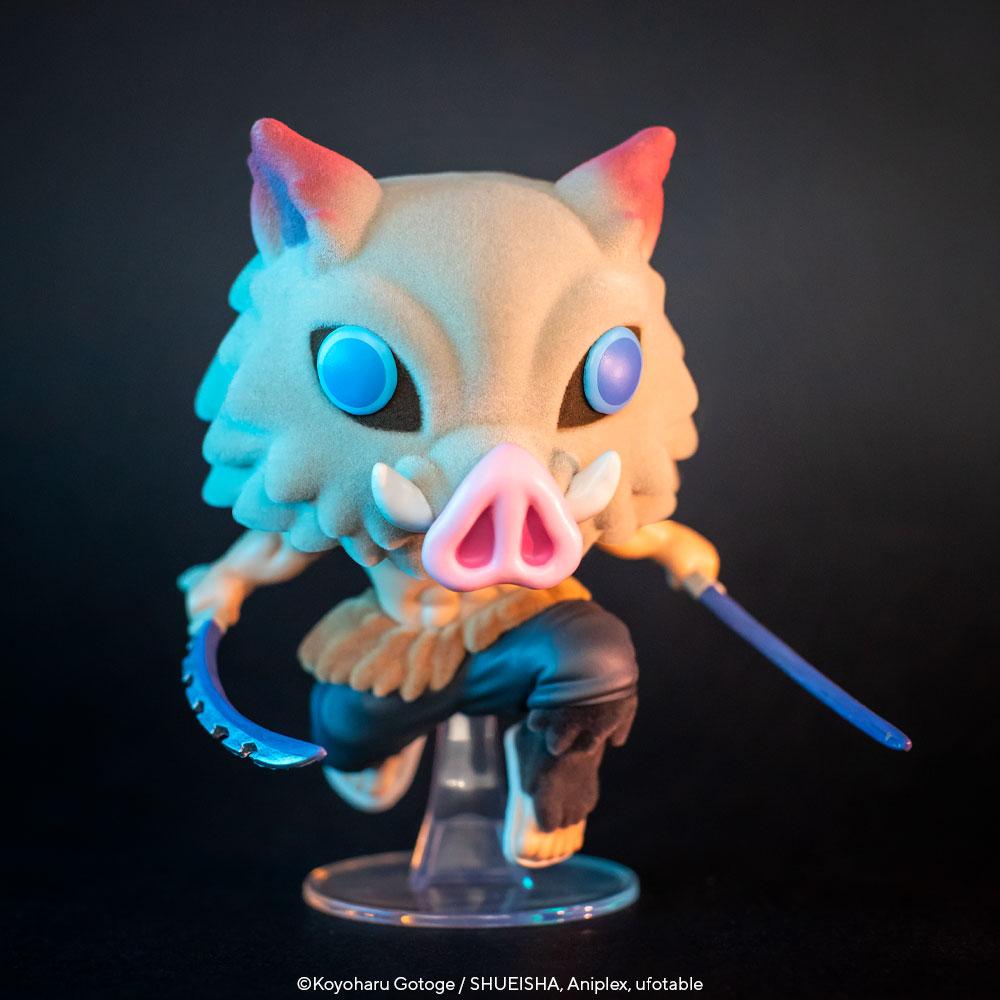 Tanjiro may be the main protagonist, but Inosuke's the one in the lead when it's about looks. But besides his gorgeous face, he's also got a goofy and eccentric personality which further increases his allure. Being funny and a looker is always a killer combo on every occasion.
I'm not the only one he enamors since he's the second Demon Slayer character with the most Funko Pop variants. Among the four of them, though, this is the winning version.
Release date: September 2021
SRP: 20$
Rarity: Low
Pros
I love the textured appearance that the flocked parts have. The velvety material adds a sense of realism to this Funko Pop
The dynamic attack pose of the figure is spot on for Inosuke's attitude. It's how he always launches himself in the anime when going for an attack
This Funko Pop has a detailed muscular body with an even and almost blemish-free sculpt
I prefer this version of Inosuke more than the Chase variant. It's because the boar head looks much better due to its details and colors
The craftsmanship for this Funko Pop is just superb. It seems like it's of high quality and reminds me of a Nendoroid
Cons
It's common for some stocks of this figure to have black paint splotches on its face and body
The flocked surfaces are a bit sensitive because any scratches it receives will be conspicuous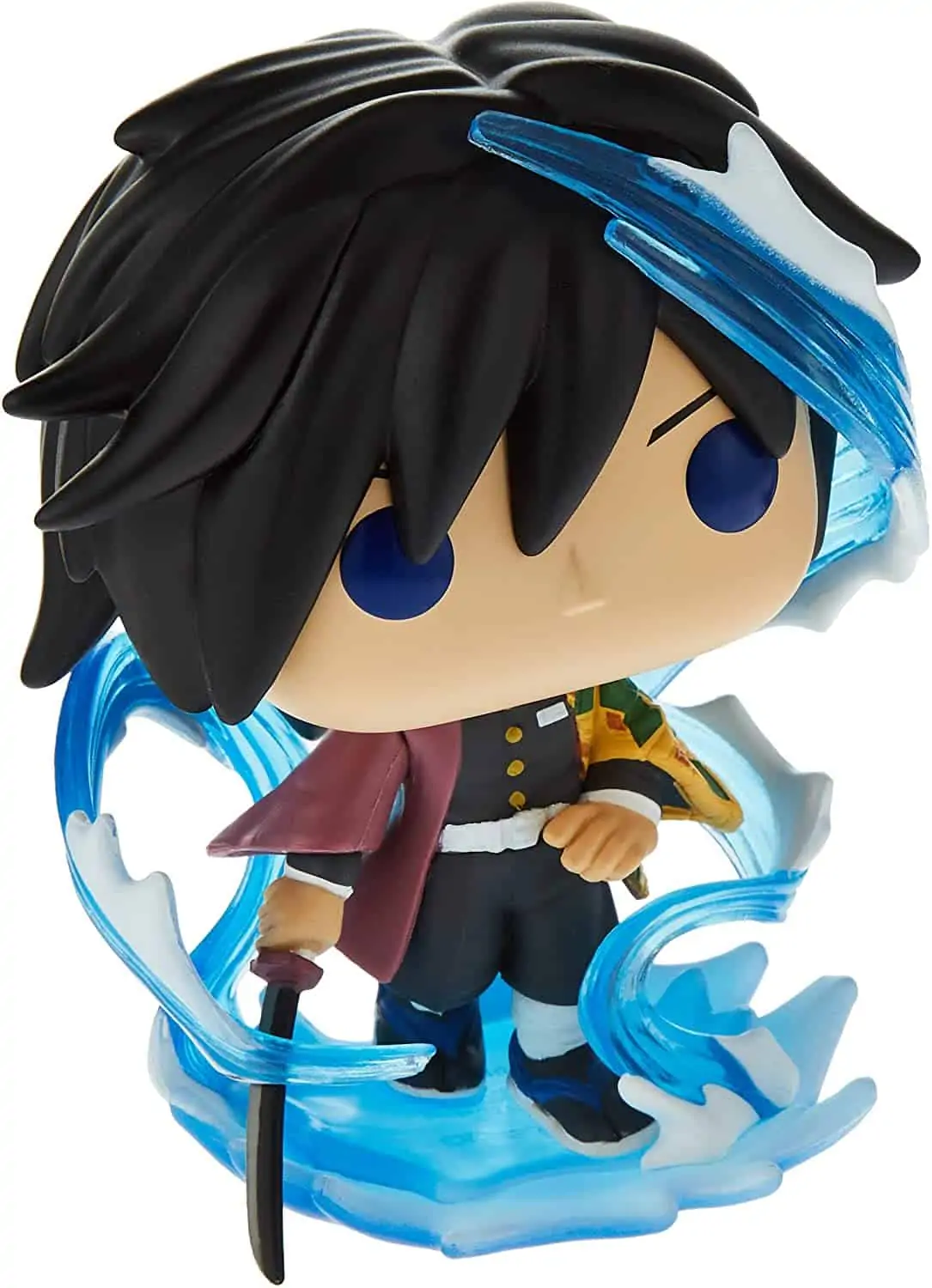 Every Demon Slayer fan's favorite Water Hashira, Giyu, is ready for the taking in this fancy-looking Funko Pop. What I especially enjoy about this figure is that it's got blue eyes instead of the emotionless black eyes that regular Funko Pops have.
In addition, it's got the features that are usually associated with Giyu in the series. Any way you look at this, it's an elegant and classy figure that would look terrific on any display.
Release date: May 2021
SRP: 19.99$
Rarity: Low
Pros
This figure has a feature you don't usually see in regular Pops. It's one of the few Pops that has the character's actual eye color
The base and the effect parts are combined to create a seamless torrent of water that gracefully swirls around Giyu
This figure's hair has a glossy finish, which makes the silhouette and color of the hairstyle stand out
The placement of the water effects is good, as it looks effortless and graceful. It also mimics the appearance of the Third and Fourth Form of Water Breathing techniques from the anime
This figure is a tiny yet correct version of Giyu. Funko copied Giyu's character design from the anime carefully, from the pose, and water effects
Cons
Some stocks of this figure may have rough molds of the haori's sleeves
The seams on the shoulders of this figure are a bit conspicuous for some stocks. There may be a slight gap between the torso and arms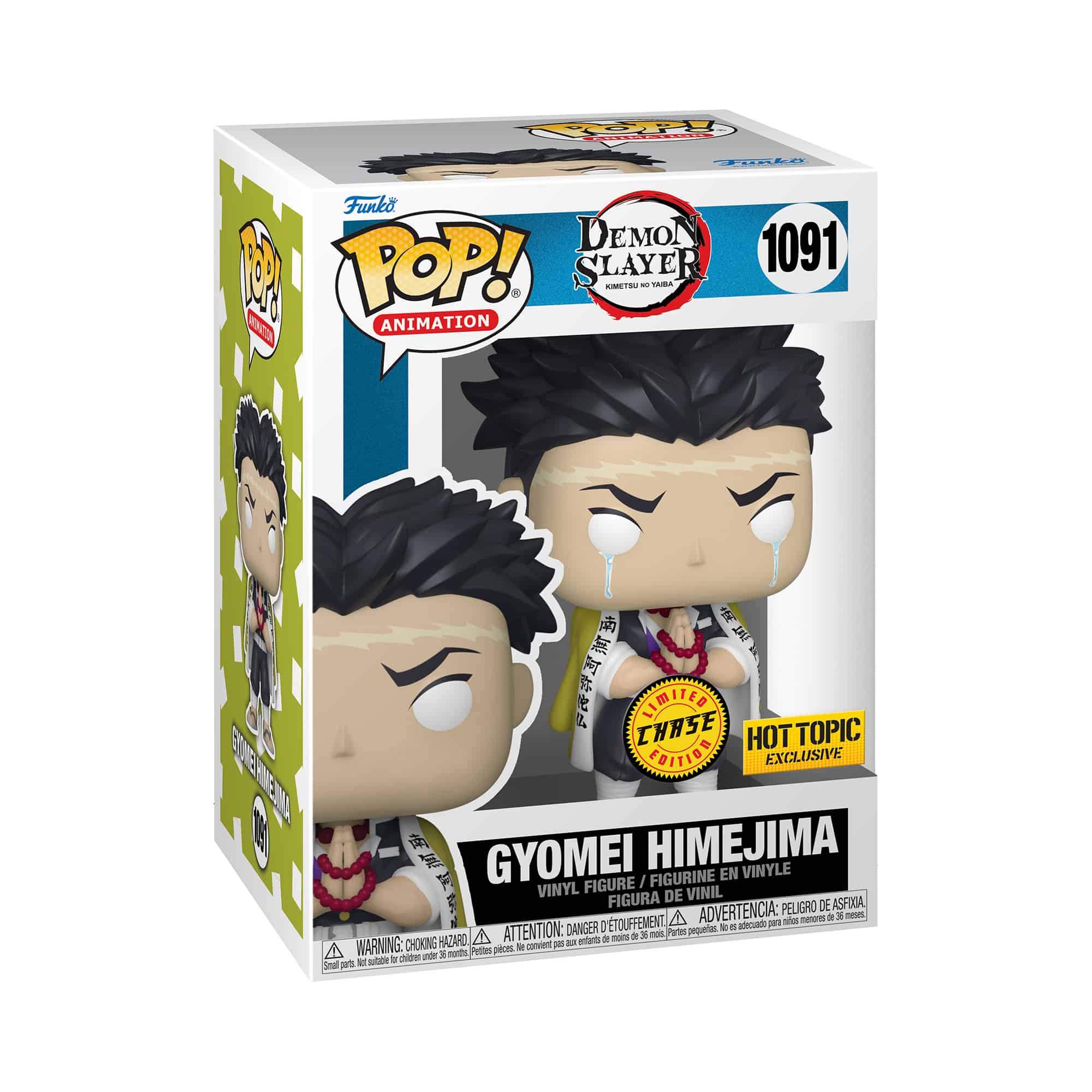 He hasn't had much air time in the anime yet, but Gyomei is a powerhouse character in Demon Slayer that you can't overlook. Trust me. Once he reveals his skills and tragic backstory, he'll instantly be on the list of the series' favorites, like Rengoku.
There might not even be a single dry eye when it's his turn on the screen. With that said, I'm pretty sure you'll be wanting this Funko Pop of him sooner or later.
Release date: February 2022
SRP: 14.90$
Rarity: High
Pros
This Chase Pop of Gyomei is faithful to how soft-hearted he is. It's because this variant looks sad due to the tears, while the other version looks angry
Gyomei's a large and beefy guy, so I'm glad Funko replicated his big build in this Funko Pop version. The figure even has thick and veiny arms to accentuate his muscular body further
This figure has good and precise paint quality. You can even read the Shin Buddhist chant written on the robe since the kanji or Japanese characters are legible
This figure has the exact pose and appearance of Gyomei in the anime. It's his trademark look no matter what medium
This figure has some weight and can stand solidly on its own. So you can display it without worrying that it'll fall over
Cons
This variant is more expensive than the other version of Gyomei. Its current aftermarket price is over 120$
The mark on this figure's forehead isn't evident. This Pop's skin color should've been darker to make the scar look more prominent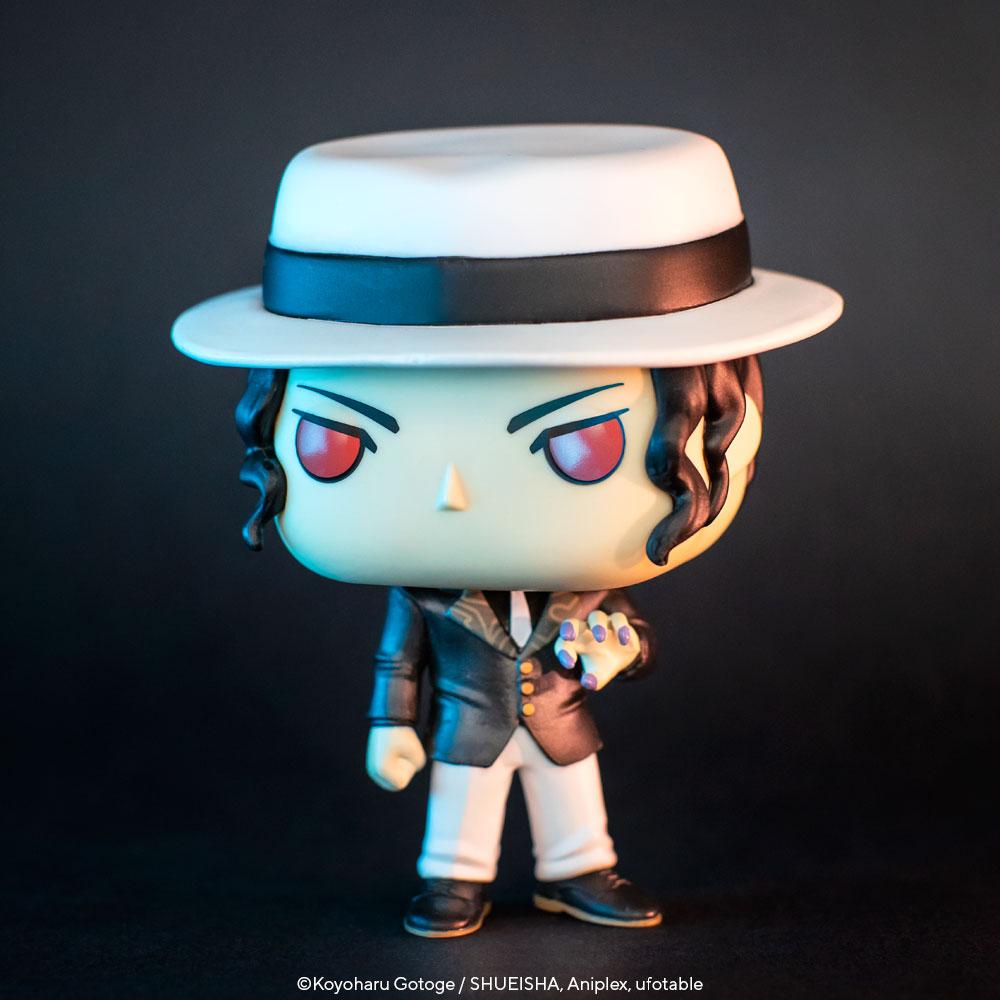 A criminal has never looked this smooth in an anime. Yes, that's an MJ reference since Muzan does look like him. Jokes aside, though, the father of demons is begrudgingly an attractive villain. Not only is he strong, but he's also sophisticated and stylish. If he weren't a mass murderer, I'd call him an immortal fashionista instead.
Despite his multiple personas throughout the series, his most memorable attire is the suit and tie from the first season. In light of this, Muzan should be on your priority list if you're a Demon Slayer fan. There's no story that would be complete without the main evildoer.
Release date: September 2022
SRP: 12$
Rarity: Low
Pros
Funko did a spectacular job with the expression on this Pop's face. The shape of the eyebrows and eyes convey the same irritation and malice that Muzan has in the anime
Muzan's hands are lethal weapons that have taken countless lives. So the emphasis on this Pop's hand and nails are in line with the character's design
This figure has Muzan's most well-known outfit from season 1. It's the black and white suit he was wearing when Tanjiro met him for the first time
This Funko Pop includes many small details that make Muzan's look unforgettable. For example, it has distinct patterns on the suit's lapel and the brick-red buttons
This figure has a commendable sculpt as most stocks are smooth and clean
Cons
I wish the sculpt for the front part of the hair was different because they remind me of instant noodles
This figure shouldn't be raising its left hand. Muzan used his right hand to scratch and poke humans when he was wearing the suit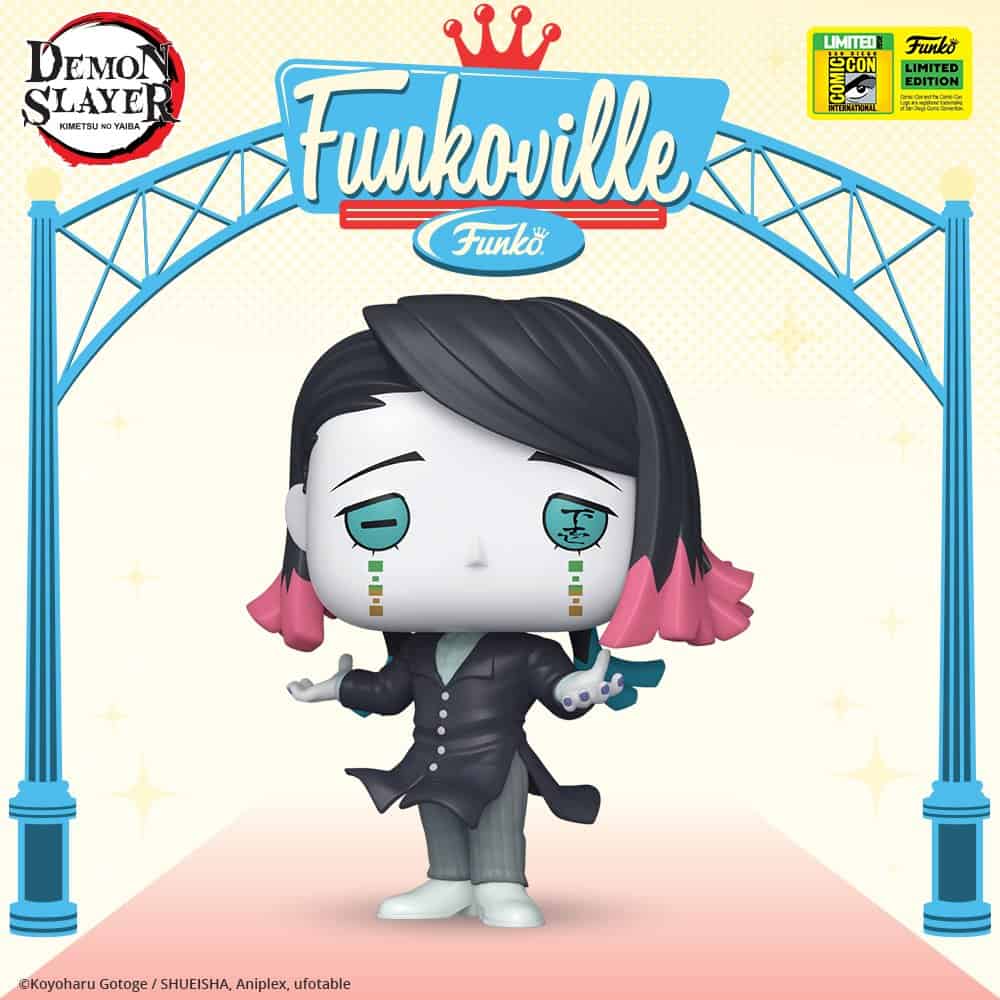 The movie Demon Slayer: Mugen Train was incredible with its beautiful imagery and jaw-dropping fight scenes. And if it's your favorite arc, then you need to have its primary antagonist, former Lower Rank One of the Twelve Kizuki, Enmu.
I don't like him, but I've got to give props to Funko because this Enmu Pop has an eye-catching design. This exclusive Funko Pop closely captured the sadistic demon's flashy appearance.
Release date: July 2022
SRP: 15$
Rarity: Moderate
Pros
The flapping effect on the clothes is suitable for this Pop since it's how it looked like when Enmu was on top of the train
I'm in awe of this Pop's rich and playful colors. They're easy on the eyes and also follow Enmu's character illustration
The paint job for this figure is consistent and clean, so there are almost no obvious paint flaws
This figure has a nice sculpt, specifically the hair parts, as it's accurate to Enmu's in the movie
Funko chose the perfect pose for this character because it's Enmu's go-to pose in the series and movie
Cons
This figure looks sad to me because of the shape of its eyes, which contradicts Enmu's vibe in the movie
Stocks of this figure may have excess vinyl or plastic material on the chin or hair area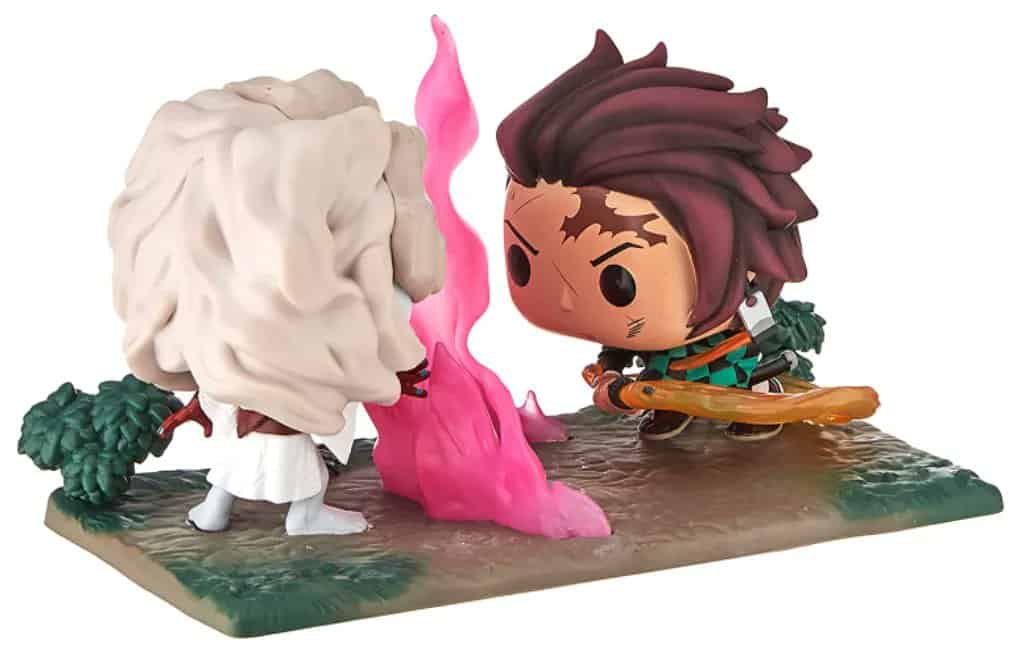 With Demon Slayer being a shounen anime, it naturally has an abundance of fight scenes. Among them, the most memorable scene from the first season was Tanjiro's final face-off with Rui. It was a visual masterpiece that solidified the epic status of the series.
So, it's more or less a given that this Funko Pop recreation of that scene is a crucial piece in any Demon Slayer fan's collection.
Release date: February 2022
SRP: 35$
Rarity: Low
Pros
This Funko Pop Moment is based on one of the best action scenes from season 1 and is an excellent 3D representation of the Demon Slayer series
This Funko Pop Moment has the only licensed Pop of Rui since it's not available as a solo figure anywhere
The base is highly detailed and doesn't look cheap. The soil even has a textured appearance and some shrubs to bring the scene to life
The Funko Pops of Tanjiro and Rui are well-done. The paint and molds are certified 10/10
The Tanjiro figure has cuts and scratches on its face, which adds to the intense atmosphere of the Funko Pop Moment
Cons
This figure would've looked better if the pink flames were taller than the Pops. It's because the fire completely covers both boys in the anime
The flame part might not be flatly attached to the base of some stocks of this figure. There's a chance you can buy one that has a gap between the flame effect and the base
What Other Characters Might Funko Release in The Demon Slayer Funko Pop Line?
Due to Demon Slayer's continuing success, you can expect Funko to ride the hype and produce characters that were in the movie and second season. Any company would want to strike the iron while it's hot, right?
Now Funko just recently released the antagonist of the Demon Slayer: Mugen Train movie, Enmu. So, the characters they might target next are Kyojuro Rengoku and Akaza since their scenes were the movie's climax. Maybe they would even do a Kyojuro and Akaza Funko Pop Moment since their intense battle made almost the entire anime community tear up.
As for the second season's characters, the ones with a high likelihood of getting Funko Pops are Tengen Uzui, Gyutaro, and Daki. They were significant characters, after all, and were the focus of the Entertainment District arc. However, I would love to get news about Sumiko, Inoko, and Zenko Funko Pops since they stole the first part of the show.
On a serious note, it's also possible that Funko will pay attention to characters that just briefly made an appearance in the anime. It's not far-fetched seeing that Gyomei Himejima got made into a Pop even when he only got a few seconds of screen time.
Should that be the case, Funko could announce Pops of Kanao Tsuyuri and Shinobu Kocho since fans like them. The other Hashiras may also get licensed, like Mitsuri Kanroki and Muichiro Tokito, as they will have critical roles in the third season.
More Demon Slayer Merch To Enjoy
Are you crazy about the anime and want to immerse yourself in Demon Slayer merch? How about branching out to other toy lines? The more toys, the merrier the collector, I always say.
If you want something small and similar to Funko Pops, Demon Slayer Nendoroids are worth checking out. They're roughly the same size as Pops yet have more details and articulation. Plus, you'll have a broader selection of Nendoroids since 14 Demon Slayer characters have Nendoroid versions.
They're a little more expensive than Funko Pops but make up for the price difference with accessories and mobility. You should give them a shot when you want to try out different poses and reenact various scenes.
On the other hand, should your interest lie with huge toys, then Demon Slayer scale figures might be something that fits your fancy. They're like small plastic clones of the actual characters since they have the same life-like proportions minus the moveable options. Plus, you could concentrate solely on your favorite characters, for instance, and strictly go for Nezuko figures since there are tons of them.
You could also check out Demon Slayer statues when you prefer large-scale figures. It's the most expensive Demon Slayer collectible line since statues typically have a starting price of 900$ or above. In addition, they're generally made of stone and are around 20-30 inches tall.
Conclusion
I've inspected numerous Funko Pops, and I'm pleased with the craftsmanship of the Demon Slayer line. From what I've seen, I would even go as far as to say that factory defects and paint flaws are no longer a big concern. Errors are still present but are not as prevalent or distracting as before. So you can start a Demon Slayer Funko Pop collection without a worry.
On top of that, since the anime is massively in demand, I have a hunch that Funko will give it the same treatment as the Naruto Funko Pop line. In other words, they will probably release almost all the recurring characters and create many variants.
Moreover, since the Demon Slayer Funko Pop line is only at the starting point, most pieces aren't tough to get yet. Nevertheless, the ones that you should zero in on are the Pops in this guide. They're the best Demon Slayer Pops as they perfectly embody the identities of the characters in the anime.
It would be ideal if you could have the budget for a complete Demon Slayer set. I'd want to purchase them all, too, if I wasn't also collecting games, manga, and figures. But as I talked about earlier, the Tanjiro Glow in the Dark Box Lunch Exclusive is the champion of this list. If you can't get them all, at least take home the best one.
Top Q&A
Question: Where Can I Buy Demon Slayer Funko Pops?
Answer: Due to Funko Pop's popularity and accessibility, you'll be able to purchase authentic Demon Slayer Funko Pops in most places. Many online stores sell them internationally, but your local malls and toy stores should also have them in stock.
The usual credible online sites you should check are Amazon, Funko, and Barnes and Noble, to name a few.
Question: Will There Be A Rengoku Funko Pop?
Answer: Rengoku isn't part of Funko's recent announcements of incoming Demon Slayer Funko Pops. However, since he's one of the most popular characters in the series, likely, he will eventually have a Funko Pop version soon.
Luckily, you can still enjoy Rengoku in other forms in the meantime. There are already Nendoroids of him available, as well as many scale figures and statues.
Question: How Many Demon Slayer Funko Pops Has Funko Made?
Answer: Funko has created 21 Demon Slayers Funko Pops.
6 versions of Tanjiro Kamado
4 versions of Inosuke Hashibira
2 versions of Nezuko Kamado and Gyomei Himejima
1 version of Zenitsu Agatsuma, Giyu Tomioka, Muzan Kibutsuji, and Enmu
1 Tanjiro Kamado and Rui Moment
A 2-pack of Tanjiro and Nezuko Kamado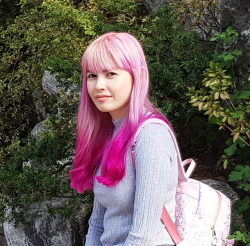 Latest posts by Charissa Fuentes
(see all)