Introduction
As a long-time fan of the Legend of Zelda series, I have seen the Master Sword design change and improve over the years. The first version that the world saw appeared in artwork for A Link to the Past, which featured different colors than what has become the usual blue color scheme. My first Zelda game was Ocarina of Time, in which the iconic Master Sword had a very clear visual aesthetic, albeit in pretty simple polygonal 3D graphics on the N64.
There are other legendary blades from the game series, but the Master Sword is easily the most iconic weapon wielded by Link, despite not appearing in every title. There are different iterations and versions, but the primary design traits remain consistent enough for fans to not require multiple different replicas for their collection. It has a blue handle and flared wing-like guard connected to a blade (usually) bearing the mark of the Triforce.
In this article, I will showcase different Master Sword replicas and point out which types would be best suited to different goals. If you are looking for a replica to display as a collector, the best option is different from the Master Sword replicas better suited to cosplay. The venue at which you plan to cosplay and the age of the user are important factors to consider when selecting a replica for such purposes. 
Also, consider that geographical locations may come with different restrictions on the type of replica that is right for you. Remember that the Master Sword is a weapon and while most replicas are relatively harmless and intended for use by fans of the Legend of Zelda, it is best to check your local laws and regulations before obtaining or carrying a replica sword because it could be viewed as a serious weapon in the eyes of the law.
Bottom Line Up Front
I love using real steel replicas for cosplay, especially if it will appear in a photo. My choice for the best Master Sword replica is this 40-inch sword that comes with its matching scabbard to easily complete a Link cosplay.
My Top Picks Up Front
Stainless Steel Master Sword Replica

 – My top pick is good for cosplay, a steel replica that comes in the regular version and a black variant that would be suitable for a Dark Link cosplay.

Swordmaster 1:1 Scale replica with a display plaque

 – A realistic scale steel replica of the Master Sword with a display plaque for mounting on the wall.

High-Density Foam Master Sword Replica

 – This foam replica is safe for LARP or cosplay at locations where pulling out a real steel blade would be unsafe or inappropriate.

Officially-licensed Legend of Zelda Master Sword

 – The official Nintendo product is great for kids because the scale is a bit smaller than the Master Sword is in the games.

Ocarina of Time Combo Collection

 – This custom-made master sword replica also comes with the Hylian shield, both made for cosplay with additional display features.

Master Sword by ForjaDeOceo

 – A beautiful steel and aluminum realistic scale replica of the blade, forged by hand, with a real leather handle wrap.

3D-Printed and Hand-painted Legend of Zelda Master Sword in Stone

 – The small-scale 3D-print has the Master Sword mounted inside the iconic pedestal with the Triforce, making it a detailed little replica model for a shelf or desk.
Tips
Cosplay Advice
If you are a cosplayer looking for a suitable Master Sword to compliment your outfit, there is a lot to consider before selecting a product. First, if you enjoy DIY projects, you may prefer to find instructions and methods for building a Master Sword replica to the exact size and specifications you personally need. Purchasing a Master Sword is easier, but there is not a one-size-fits-all solution for Legend of Zelda cosplay purposes.
Conventions, Renaissance Festivals, and similar events where such cosplay would be appropriate have varying rules depending on who is running the event. Before buying or bringing a replica weapon, the first step is to check the event rules and regulations. If your replica is made of metal (even if it is unsharpened), it might need a special tag or marker added to the handle to indicate the material. At most conventions I have visited, there is a rule preventing cosplayers from drawing weapons that could be considered real.
If you want to be able to safely draw and pose with a replica Master Sword for photos or just for fun, it is important that the materials used cannot pose a potential danger to the user and bystanders. Safe alternatives I recommend are high-density foam or plastic with detailed paint. Having a realistic replica of the Master Sword is fun, but for the sake of public cosplay activities, safety comes first.
Ideal Scale
A replica intended for display on a shelf or wall does not necessarily need to be an exact 1:1 imitation. Additionally, replicas that will be used by children should probably be smaller in scale and safe for play. Luckily, there are more options for Master Sword replicas that would be appropriate for a younger user than when I was growing up. Depending on your height, you may also consider getting a smaller scale Master Sword replica, regardless of age.
Replica Accuracy
Even if the replica is not made with accurate materials, it can still appear to have accurate details. The first step to finding the best replica option for you is to find images of the exact version of the Master Sword you have in mind. Then you can compare different replicas that are available to your source images and figure out which would be closest visually to the version of the Master Sword you want.
Selection Criteria
In my search for the best Master Sword replicas, the number one priority is looking the part. There are plenty of replica designs out there that were clearly inspired by the Master Sword, but few that adhere strictly to the established design for the purpose of bringing the iconic Nintendo weapon into our world in a tangible form.
One criterion I always consider for weapons is how feasible it would be for cosplay and long-term active use. The durability of replicas varies greatly and depends on not only the materials selected by the manufacturer but also the design itself. The sword also needs to be light enough to safely carry if it would be worn for long periods of time. Most of all, I would only recommend a replica weapon with valuable qualities that would make me willing to add it to my own collection.
Product Recommendations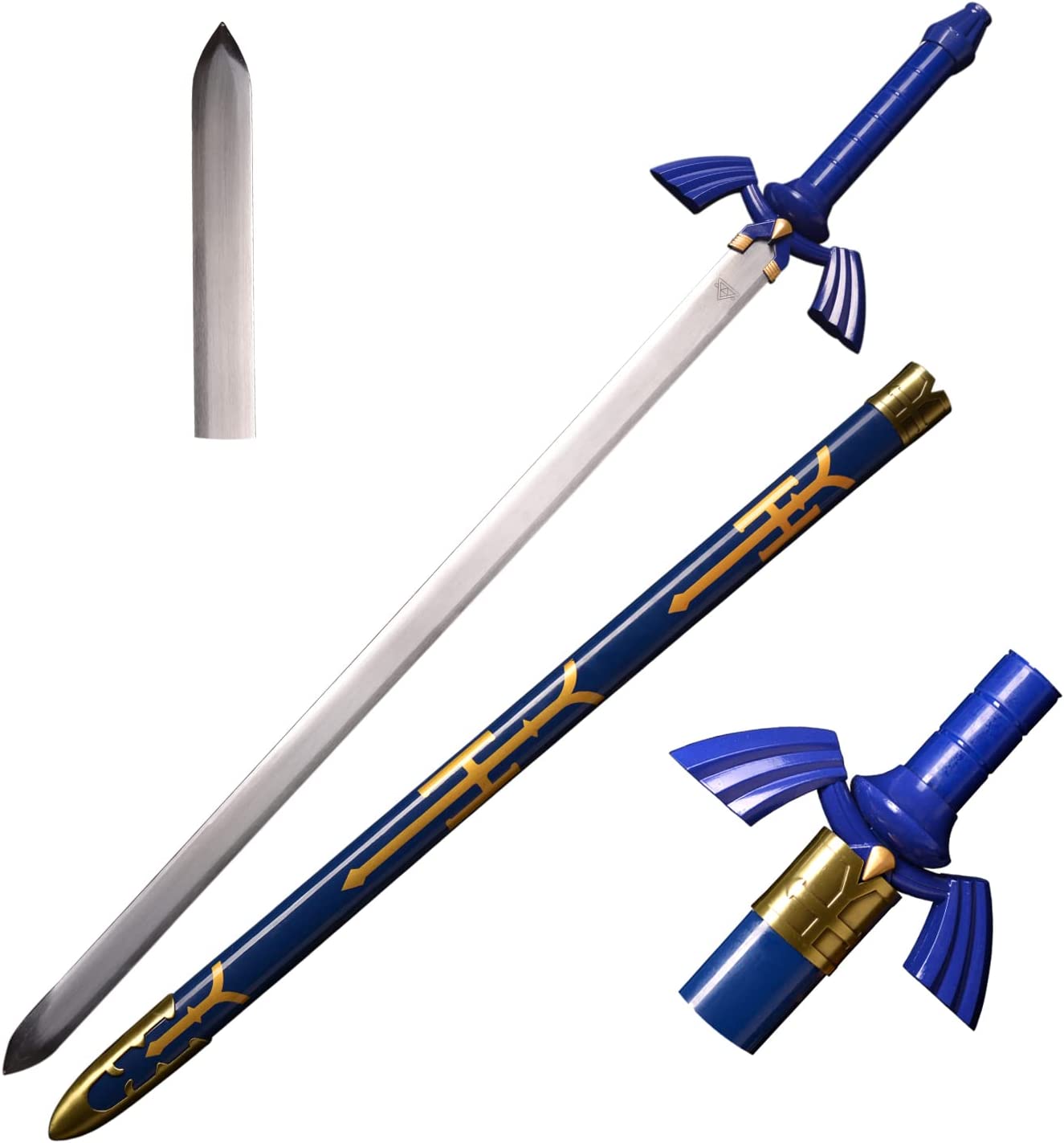 This real steel Master Sword replica looks incredible for cosplay and casual display. I got this kind years ago and have had little to no issues with it. The blade is real metal, but the blue handle, pommel, and guard are all plastic. The whole structure is very sturdy, and the user can safely swing it for photographs or video without any damage. Edges of this replica are not sharpened, since it is not a real weapon. However, it does not appear to be blunt at all. The very tip of the blade is a little sharp, though. Because of the realistic scale and materials, this is not a good replica option for a child user.
This Master Sword measures almost 40 inches total, with a 25-inch blade. The blade itself is a little straighter than some of the iterations of the Master Sword in-game. The Master Sword usually starts slimmer towards the handle and shifts to wider dimensions a little further down the blade. Of course, this difference between the replica and the real Master Sword is not even visible while housed inside the scabbard. The matching scabbard totally looks the part, and for cosplay purposes, it compliments a Link costume well.
The main problem with this model is the flared guard on either side. While not extremely delicate, users need to be very careful with how it is stored. Mine accidentally fell one time, and because of the angle that the guard struck the ground, part of the plastic structure cracked and broke. I recommend storing it flat or hanging on hooks, mounted safely. The guard does not easily break, but it's the one part of the replica that is durable enough to hold up under rough conditions.
Pros
Realistic scale, materials, and appearance, matching scabbard, detailed enough for high-quality cosplay photography.
Cons
The plastic guard is not intended for rough use and can be damaged if enough force is applied.
This replica Master Sword is an actual 1:1 scale with the in-game counterpart. It looks amazing, but I wish it came with a proper scabbard to match. Because of the slightly unusual but accurate shape of the replica, it would not be an easy task to create or use some other kind of sheath for the blade. It is just not designed to be carried around, but if you want a replica for a collection displayed at home, this would be an excellent option. 
The handle and guard are almost identical to the Twilight Princess version of the Master Sword. The unsharpened stainless steel blade has the triforce design engraved. Since the entire structure is metal, users should consider how it is going to be mounted to account for weight. Because the blade is not full-tang, it is possible that it could pop out of the handle if it was swung around with enough force. It should only be mounted on the clean wall plaque and not wielded at all.
Pros
Realistic scale, materials, and appearance, stylish display plaque for interior decoration, lots of detail on the handle and guard.
Cons
It is not intended for cosplay, only for display.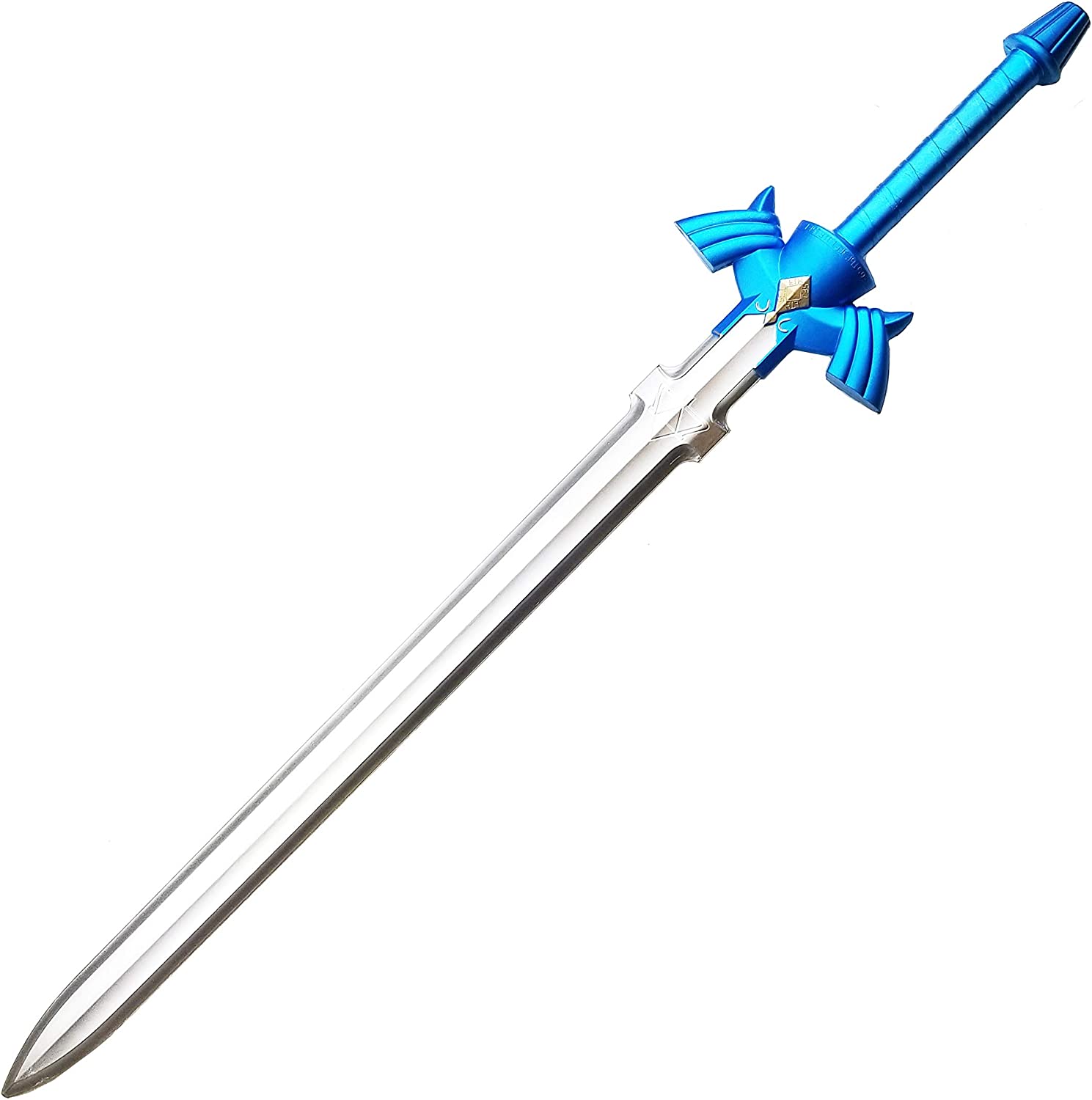 This replica is designed to take a beating, so feel free to whip it around in a real-life spin attack. I would just be careful that nothing breakable is nearby. Even though it is a completely safe replica and not a real sword, it could probably still smash pottery if something fragile was knocked over. It is made of plastic, wood, and high-density foam to be safe while looking like the Master Sword. 
It would be the best option if you need a non-metal Master Sword replica or if you want to be able to have mock sword fights with friends in a cosplay or LARP setting. Because it is so affordable, being delicate may not be necessary. While it is very durable for play, it would not be impossible to obtain a replacement if yours was accidentally damaged irreparably. Unfortunately, it does not come with a scabbard to protect the blade while carrying it around, so users may need to obtain a generic sheath or make their own for carrying it around.
Pros
Safe materials for play or LARP, Realistic scale, Stylish and detailed appearance, Highly durable materials and design, very affordable.
Cons
The paint job may not be perfect, it does not come with a scabbard.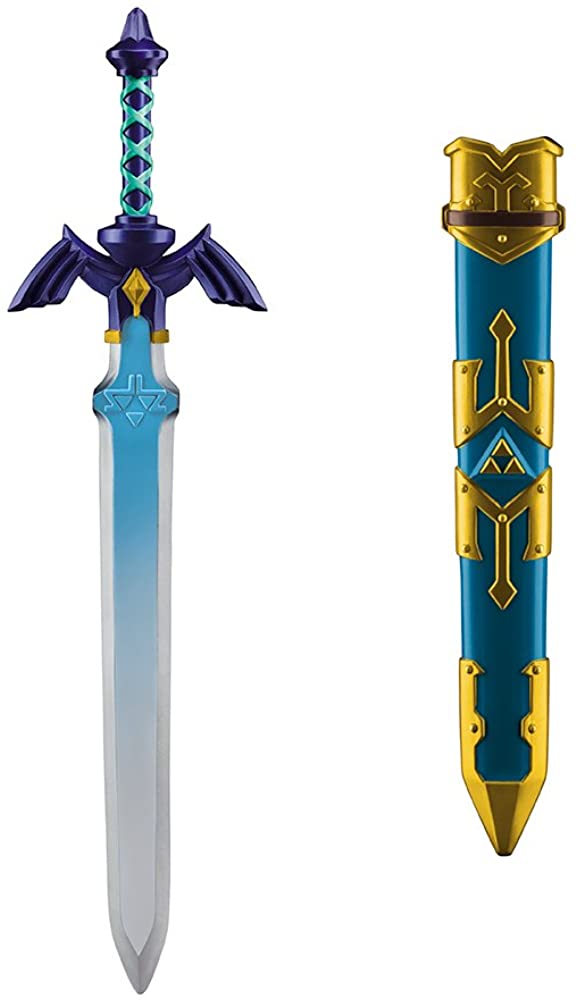 For a simple plastic sword mold, Nintendo really went all-out with the official Master Sword replica. I am frustrated that they put so much effort into making it look so amazing, only to completely miss the mark on the size and scale. It is only 26 inches long, making it useful for a child who wants a safe and detailed Master Sword replica to go with their costume. However, older fans are out of luck. Currently, Nintendo has not produced any larger official Master Sword replicas.
If you need a replica for cosplay and you are not a small child, do not buy this. I cannot recommend it for that purpose, but that does not mean this replica is completely pointless. It is still a detailed replica made of completely safe materials for all ages. The compact design means it would take up way less space if you wanted something to mount and display on a wall. Every part of the sword and scabbard that comes with it is detailed and matches the in-game appearance. For that reason, the officially licensed Nintendo Master Sword is still a quality collectible for fans of the Legend of Zelda series.
Pros
Safe materials for kids to use, Detailed design and appearance, affordable, officially licensed Nintendo product.
Cons
The smaller, compact scale makes it suitable for a children's toy or collectible display but not ideal for realistic cosplay.
#05
Ocarina of Time Combo Collection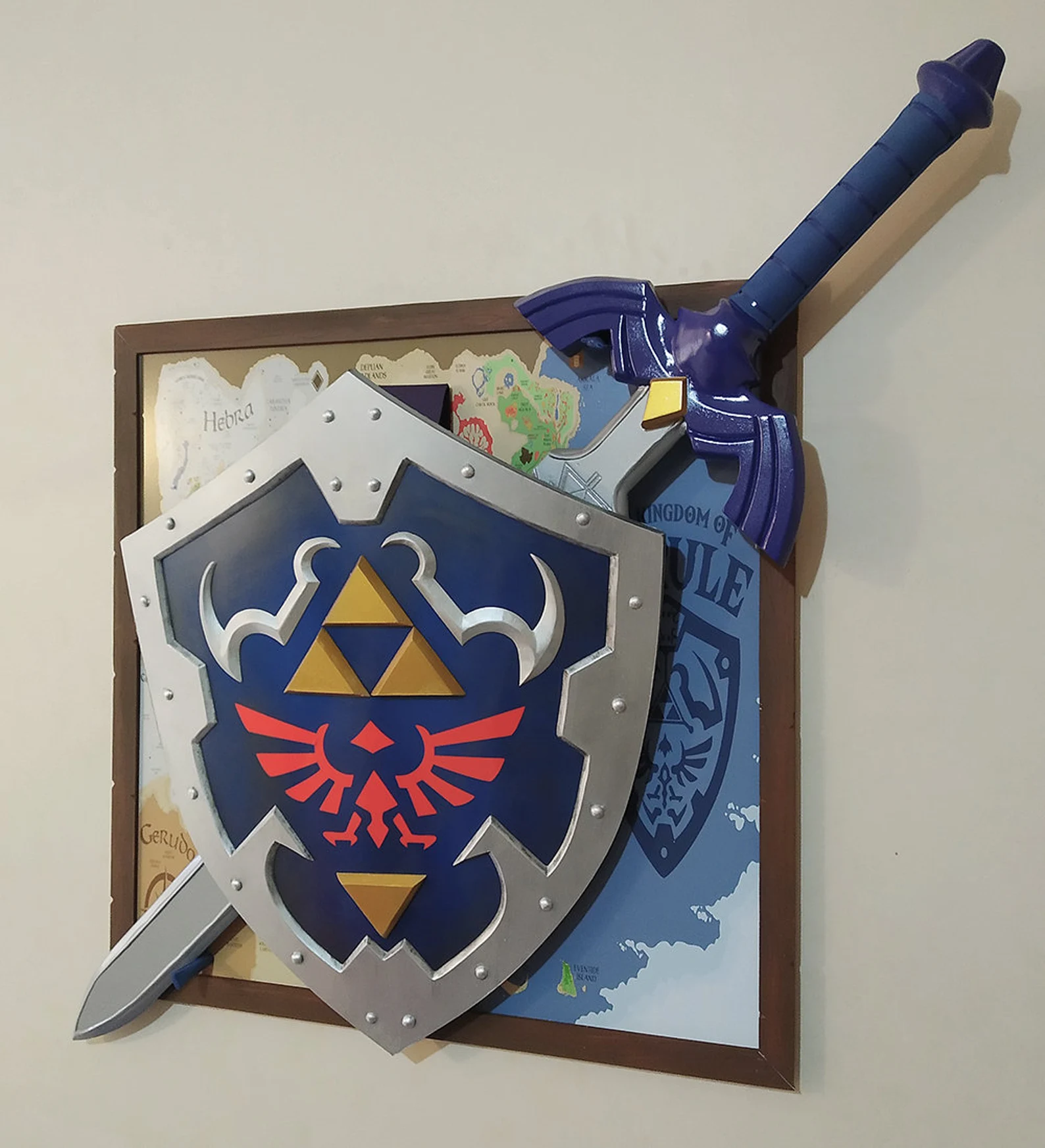 This Master Sword and Hylian Shield are handmade from wood and PVC with automotive paint and varnish to create a bright and colorful look. Since Ocarina of Time was my first game in the series, this replica is particularly nostalgic for me. You are able to order just the Master Sword replica or have the sword with the scabbard. However, if you are already willing to go for a beautiful, expensive replica set for cosplay, why not go all out? You can get the Master Sword and Hylian Shield together, and if you also intend to display it, there is a special option that includes brackets and everything needed to safely mount it all on a wall. It can also be ordered to include a pedestal for mounting in case you would prefer that over a wall mount.
Because of the customization options for this collector's art piece, the exact contents can vary depending on what you want and your budget. The Master Sword and Hylian Shield replicas look game-accurate, with realistic scale. They're not made of metal, so they are completely safe replicas for cosplaying in almost any setting. They could be safely used by children, but they might be a little large. This replica is my personal favorite, but if you are not a long-time fan of Ocarina of Time, it may not deliver the exact look you want.
Pros:
Realistic scale, highly detailed design, safe materials for cosplay or LARP, game-accurate appearance, and customization.
Cons:
The replica set is pretty expensive, you might have to wait for shipping.
#06
Master Sword by ForjaDeOceo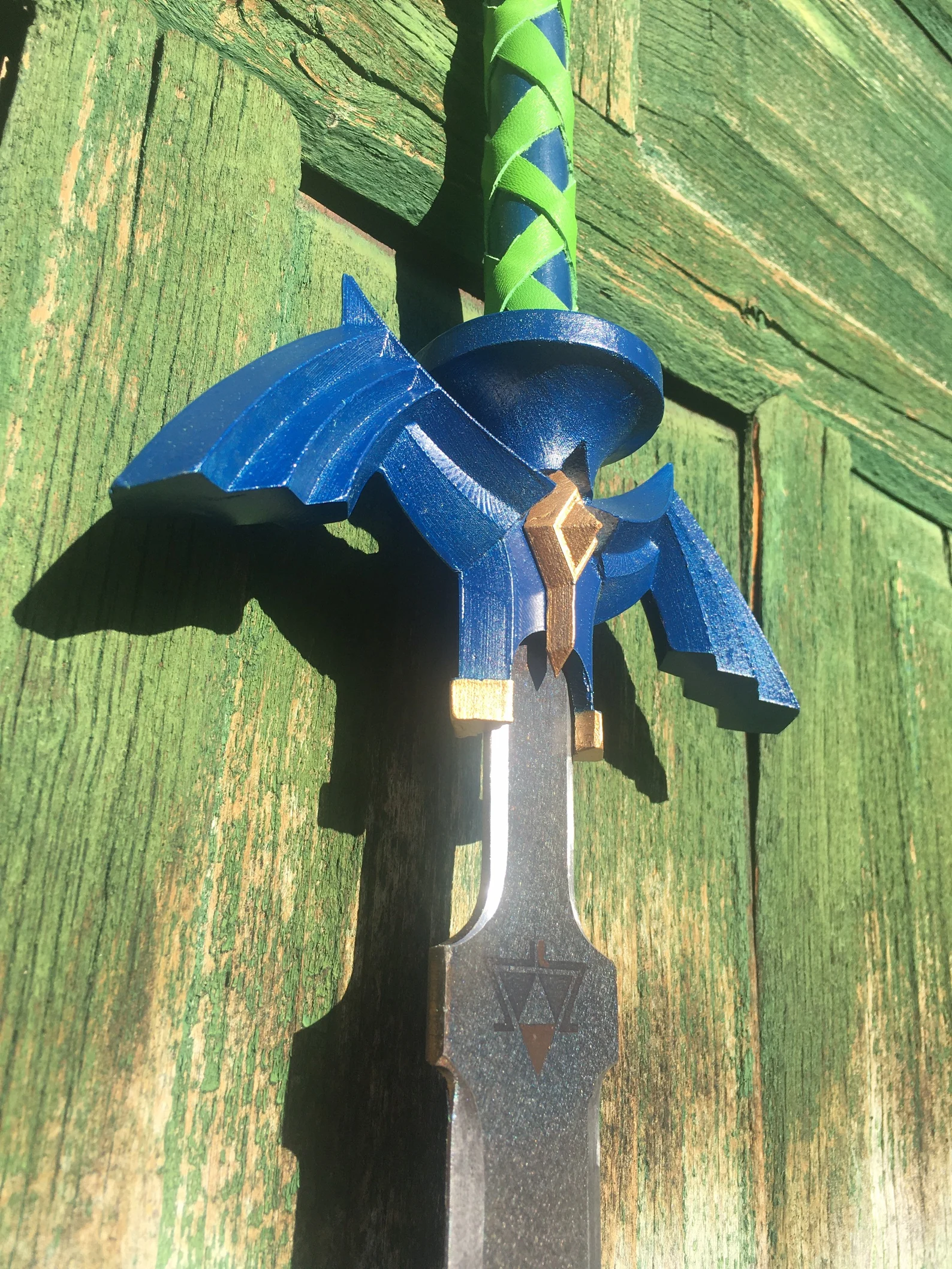 This realistic scale steel replica is not designed for use as an actual weapon, but it certainly looks the part. Even the handle and guard are made from metal, hand-cast from aluminum. The leather wraps on the handle are real leather that has been dyed. The steel blade is hand-forged, engraved, and heat-treated. It measures 100 centimeters long, or almost 40 inches. Every detail comes together to make this Master Sword replica pretty close to the real deal. Overall, it is a beautiful piece of art that is clearly smithed with care and dedication.
For a cosplay photoshoot, I couldn't really hope for better visual aesthetics. It's a bit of a pricey investment, so not really a good choice for a more casual collector or anyone just looking for a simple replica that sort of looks the part. Unfortunately, it does not come with a custom scabbard fitted to the sword. Yet the quality of this hand-forged masterpiece could be a good motivator to learn how to craft your own replica scabbard just to have a way to carry it around.
Pros
Realistic materials and scale, Beautifully detailed appearance, Genuinely looks like a real weapon (even though it is just a replica).
Cons
It does not come with a scabbard, and it takes time for it to be custom-forged.
#07
3D-Printed and Hand-painted Legend of Zelda Master Sword in Stone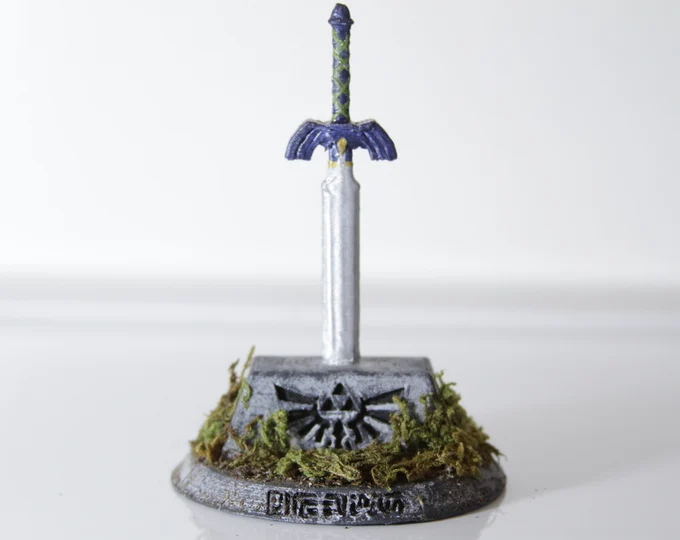 While not a full-size replica of the Master Sword, it is a very detailed little replica that is perfect for displaying in the home or office. It comes in 4-inch and 6-inch scales, depending on how much space you might have for display. The hand-painted details on the print look incredible. It is made from PLA, acrylic paint, and moss that creates the effect of grass around the pedestal for the sword. The entire structure is a solid plastic statue, so the sword cannot fall out. The artist also has the option to add a Hylian Shield of the same scale as the sword.
One customer mentioned using it as a cake topper for a themed Legend of Zelda cake. Because of the smaller scale, it could also be displayed with other Legend of Zelda statues and figurines. While it would not feel like holding the real Master Sword in your hands, it is a good replica to add to a collection. It might be difficult or unsafe to display a larger replica in a workplace, but this model could be easily placed on a desk in an office setting.
Pros
Safe materials, Detailed appearance that is great for display, Different styles and designs to suit different spaces.
Cons
It is more of a plastic model than a replica blade and cannot be used for cosplay.
FAQs
Question: Are Replica Swords Legal?
Answer: In many places, owning a replica sword is perfectly legal (especially if it is not a real weapon). However, it is best to consult local laws. Some places, like the UK, for example, may allow people to own metal replica swords but not allow them to be carried around in most public places. For most places where a convention is being held, and cosplay is expected, people will probably not prevent you from carrying a safe replica weapon as an accessory/part of your outfit. I have not run into any trouble carrying replica swords at comic conventions and Renaissance Festivals in the United States. 
It is important to double-check the rules for the places you plan to have your replica weapon, but usually, a fake weapon replica is legal. The more realistic it looks in terms of materials and overall appearance, the more hoops you may have to jump through. Many events and locations will have you mark a real metal replica with a tag or something similar so that security personnel knows it is not dangerous.
Question: Where to Buy Cosplay Weapon Replicas?
Answer: Popular weapon replicas can be easily found online, usually available to order on large platforms like Amazon and Walmart. If you need a more specific niche weapon replica, checking out the various weapon replica stores online that are specifically tailored to gaming and anime enthusiasts could be easier to find exactly what you want. There are also many Etsy creators who produce replica weapons for cosplay or collectors, but these are usually art pieces that are not mass-produced. But if you are willing to spend more money, you could find someone capable of crafting a very detailed and realistic replica.
Question: Where is the Legend of Zelda Master Sword for Sale?
Answer: The officially licensed Nintendo Master Sword replica is not available for purchase on the Nintendo website, but many third-party providers carry the item, like Walmart and Amazon. Countless other unofficial Master Sword replicas are also available online. Some people have even made real swords designed to look like the Master Sword. For the purposes of carrying around a replica in public safely, it is generally better to pick one of the many options that are not real weapons. If you are an avid collector of real swords and weaponry, you might still want to consider adding a realistic Master Sword to your collection for display.
Conclusion
It is hard to beat the realistic look of this Stainless Steel Master Sword Replica. I have personally used this kind for cosplaying Link before and highly recommend it. If you want a realistic-looking blade that is not some kind of custom forged piece (which could break the bank), it is the best option currently available. Depending on the rules of an event, it may not be able to be drawn, but it still looks fantastic mounted on the back of the wearer. As long as the user is careful with where they store it, the replica is durable enough to last for many years.
Continue reading: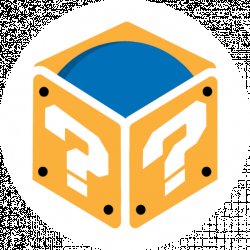 Latest posts by Avid Collectibles Team
(see all)