Gaming is fun and exciting, I know. But finding those little collectible figurine "trophies" is pretty fun, too! Maybe it's silly to some, but not me! I love seeing fantastic little figures to display on my special shelf. Gaming figures are always incredibly cool because they have famous star characters from those beloved games. Not only are my favorite gaming figurines super awesome and very retro, but they are also worth a lot of money! 
I just purchased two Sonic the Hedgehog collectible gaming figurines the other day. They weren't cheap at the brand new, just released price. I hope those cute little Blue Blurs will increase in value over the next twenty years, and my son can trade them. He loves Sonic, too. Whether you collect these cool figurines for display or to get rich off of (LOL), I am about to list the coolest ones I can find for you!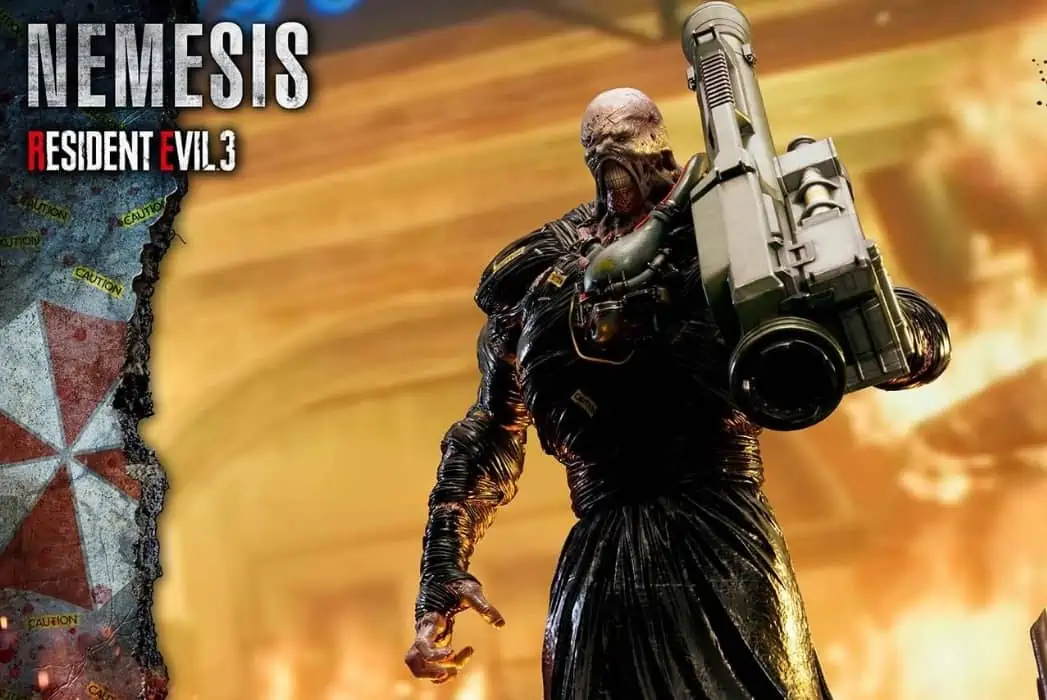 Bottom Line Upfront
God of War is the best artistically created figurine or statue: Kratos & Atreus The Valkyrie Armor Set Deluxe Version. The detail on both Kratos and his son Atreus is exceptionally well done and flawless. Of course, you will pay for that kind of perfection, but if you have the means to buy these guys, do it. 
My Top Picks
First Place
God of War: Kratos & Atreus The Valkyrie Armor Set Deluxe Version – This is the best of the gaming figurines and statues because of the superb detail. 
Second Place
Wonder Woman: Injustice II Limited Edition 500 – I have always loved Wonder Woman, and any collectible you can find probably wouldn't be as impressive as this one. Plus, since it is a collector's edition, it comes with different parts you can change out. 
Third Place
Splinter – Teenage Mutant Ninja Turtles Limited Edition 500 – this looks so good that I had to put it on this list. Plus, it's Master Splinter.
My Search Criteria for the Best Collector's Edition Gaming Figurines & Statues
I added the best of the best that I could find in the world of gaming figurines and statues.

I look for statues and figurines with the most exquisite and unique detail.

I try to add something for everyone on the "best of" list.

I added games from different genres, some are kid-friendly, and some are definitely not.

I added figurines and statues with a wide range of pricing.

I added both male and female character options.

I paid attention to the original detail of these gaming icons in the actual game so that I could genuinely and honestly compare them to the statue versions. 

I have added gaming figurines and statues from both new and older games.

None of the statues or figures listed are mass marketed. They are all limited collector's edition items.

I've added figures that almost everyone in the gaming world will be familiar with.
Best Collector's Edition Gaming Figurines & Statues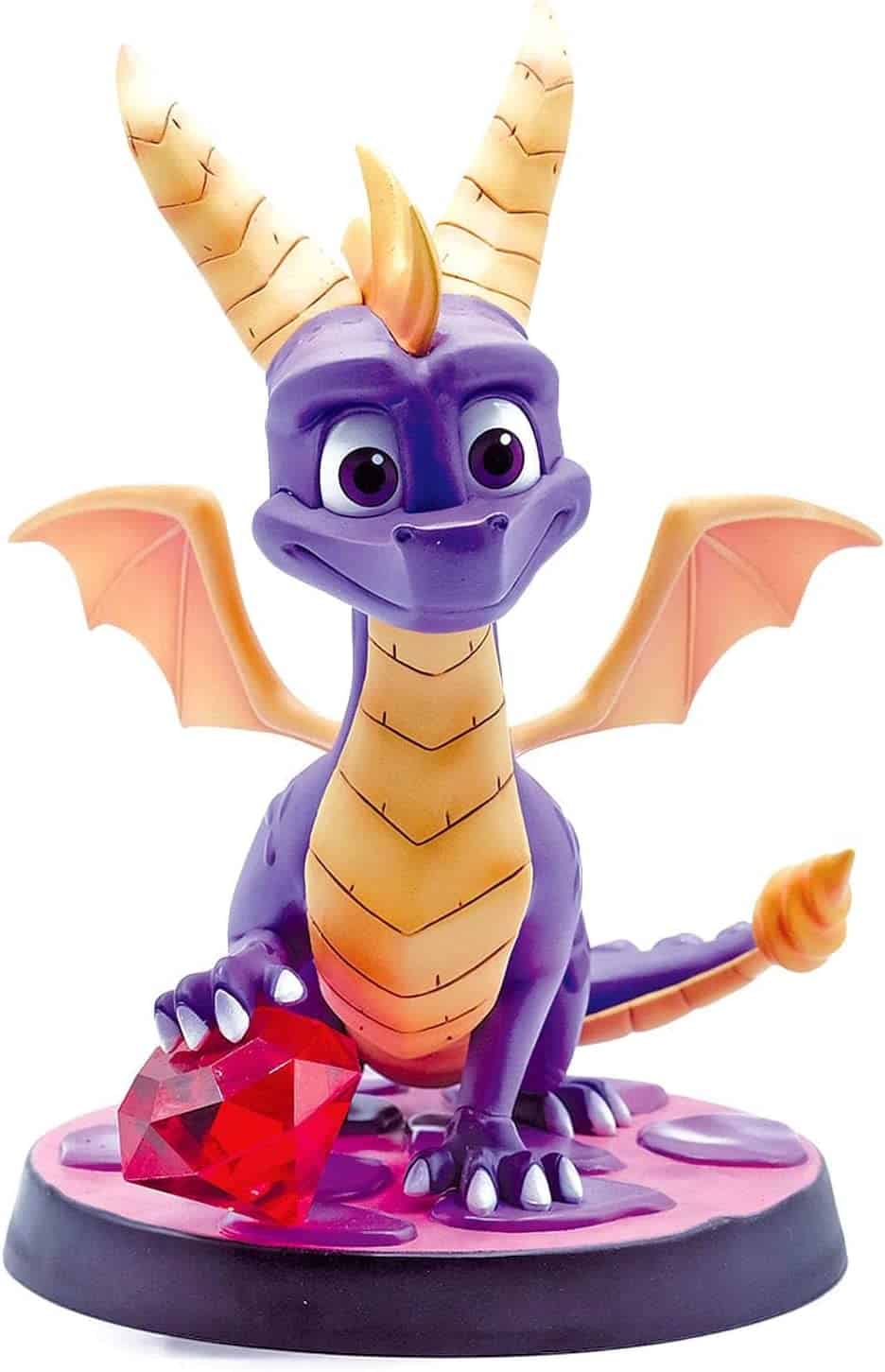 Hold your horns! It's Spyro! Spyro may be 24 years old, having made his first appearance with Playstation on September 9th, 1998, in that first game. However, he is still just as cute and endearing as he was back then. This adorable figurine was released on May 28th, 2019. We have certainly come a long way since those pixelated video games.
Spyro has some new games available and also some reboots for those mega fans out there. I'm sure there are people out there that have waited for this little dragon for 24 years! I know I have, and I love how good this figurine looks.
Stay Tuned: It is teased that a fan-created Spyro 4 is in the works. No release date has been set and we aren't 100% sure there will be a Spyro 4.
Pros
The vibrant purple of Spyro, the dragon in the video game, is perfectly captured on this figurine.

Spyro's slightly raised darker purple spots are also done with perfection.

At ten inches tall, this is a hearty-sized statue! The base is 1.9 inches.

The transition of colors on Spyro's tail is fantastic. The orange coloring blends into the yellow perfectly.

The quality is that of a $500 statue for a fraction of the price.
Cons 
Be careful where you purchase this from. Not all shippers are created equal and if you are looking for a perfect collector's edition box, choose wisely.

Some reviews state tiny blemishes on the paint of the base and Spyro's feet.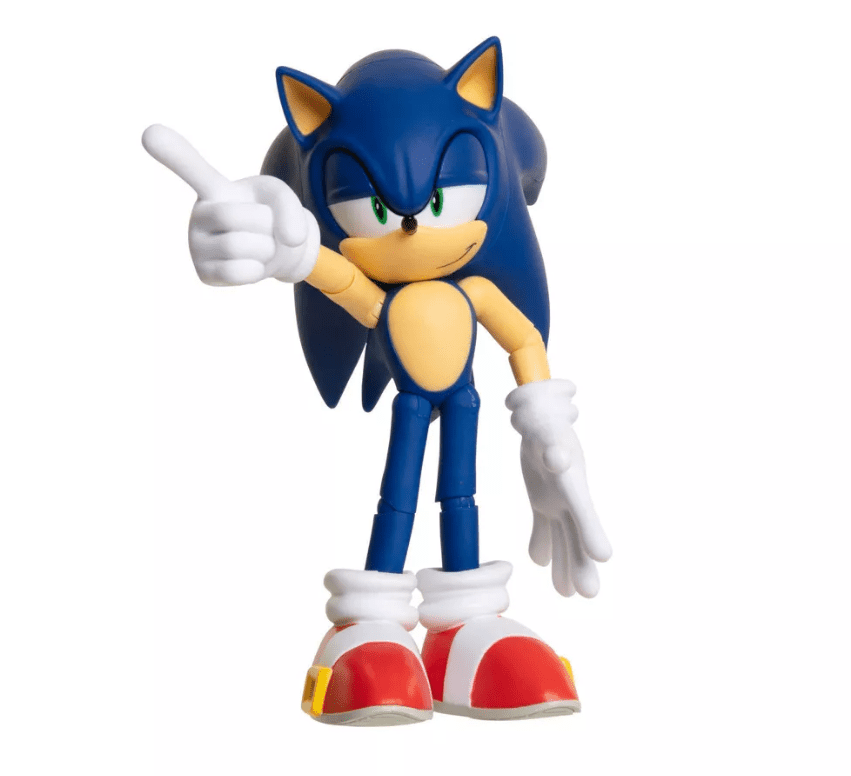 This six-inch tall new Sonic the Hedgehog collectible is available now, but it looks like it's selling out fast. This super awesome, modern Sonic the Hedgehog figure is from the new Sonic movies and also, the Sonic Origins Video Game released in June 23rd, 2022. This figurine was released a bit earlier in March 18th, 2022. 
So hurry and place your order now if you want to secure it at this price. I have already seen it double in price on a couple of sites. It isn't cheap, but it will undoubtedly increase after the last figure has sold out. 
*Not for children younger than fourteen years old*
Stay Tuned: Sonic Frontiers Video Game being released November 8th, 2022 and the next theatrical installment of the Sonic the Hedgehog series, Sonic 3 hitting theatres on December 20, 2024.
Pros
It has interchangeable parts; three mouths, three sets of eyes, and three sets of hands.

Includes the fancy and super sparkly chaos emerald and the wisp.

Sonic comes with a curved base setup for modeling.

Affordable at Target currently, but that will change soon.

Thirteen points of articulation for sporting all those extra cool Sonic moves.

This version of Sonic is charming!

The figurine is very well made.
Cons
Quite a few small pieces will be difficult to keep track of once out of the packaging.

With so many areas that bend and twist, Sonic is left with many joints that look a little off on this otherwise smooth figurine.

Sonic's arms are a bit thick. Not a deal breaker but it looks a little off.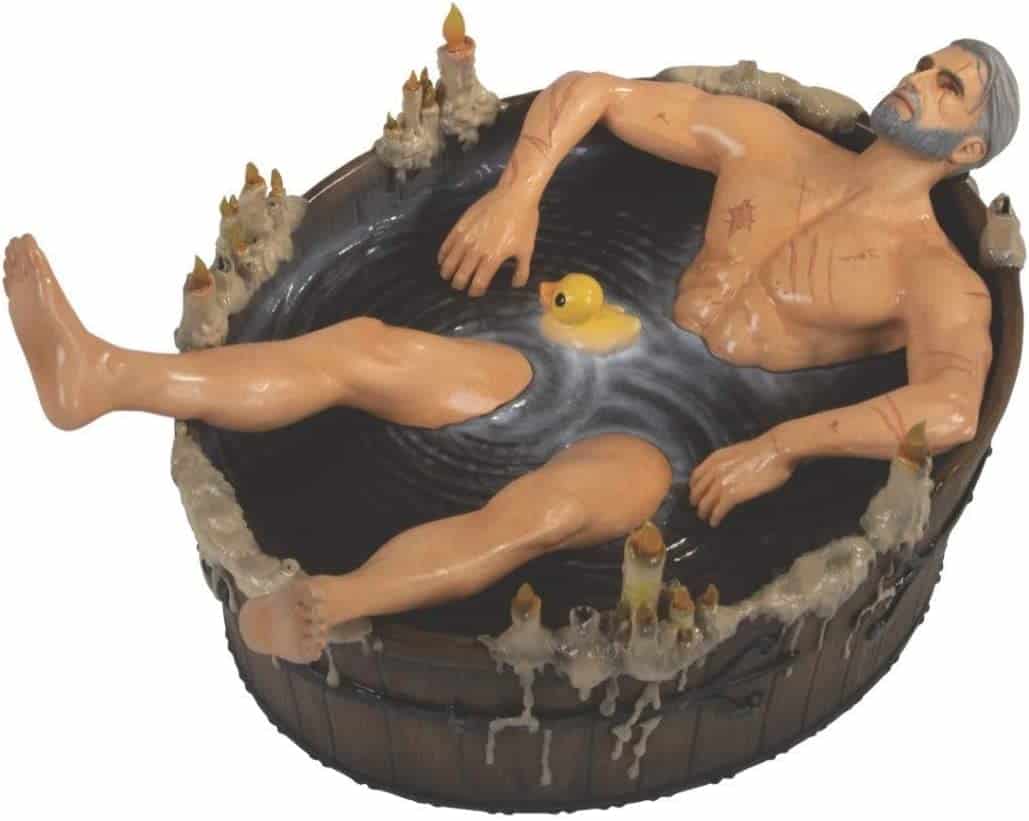 This figure is from the infamous bathtub scene where Geralt smells like horse poop and is forced to bathe before attending a fancy dinner. This fantastic figure is available on Amazon for a fraction of the price as some of the other figurines I have listed.
Stay Tuned: The next installment of The Witcher TV Series will be in the summer of 2023 and the next video game series will begin in the near future and will be called The Witcher Polaris. A statement was made suggesting there will be three games in this new series.
Pros
The rubber duckie in the bath is a nice touch.

The candles circling the bathtub look very much like real candles.

The creators did a good job recreating the Witcher's scars and wounds.
Cons
Where are the Witcher's nipples?

Geralt's hair looks more grey than white on this figure.

The Witcher's face doesn't look realistic.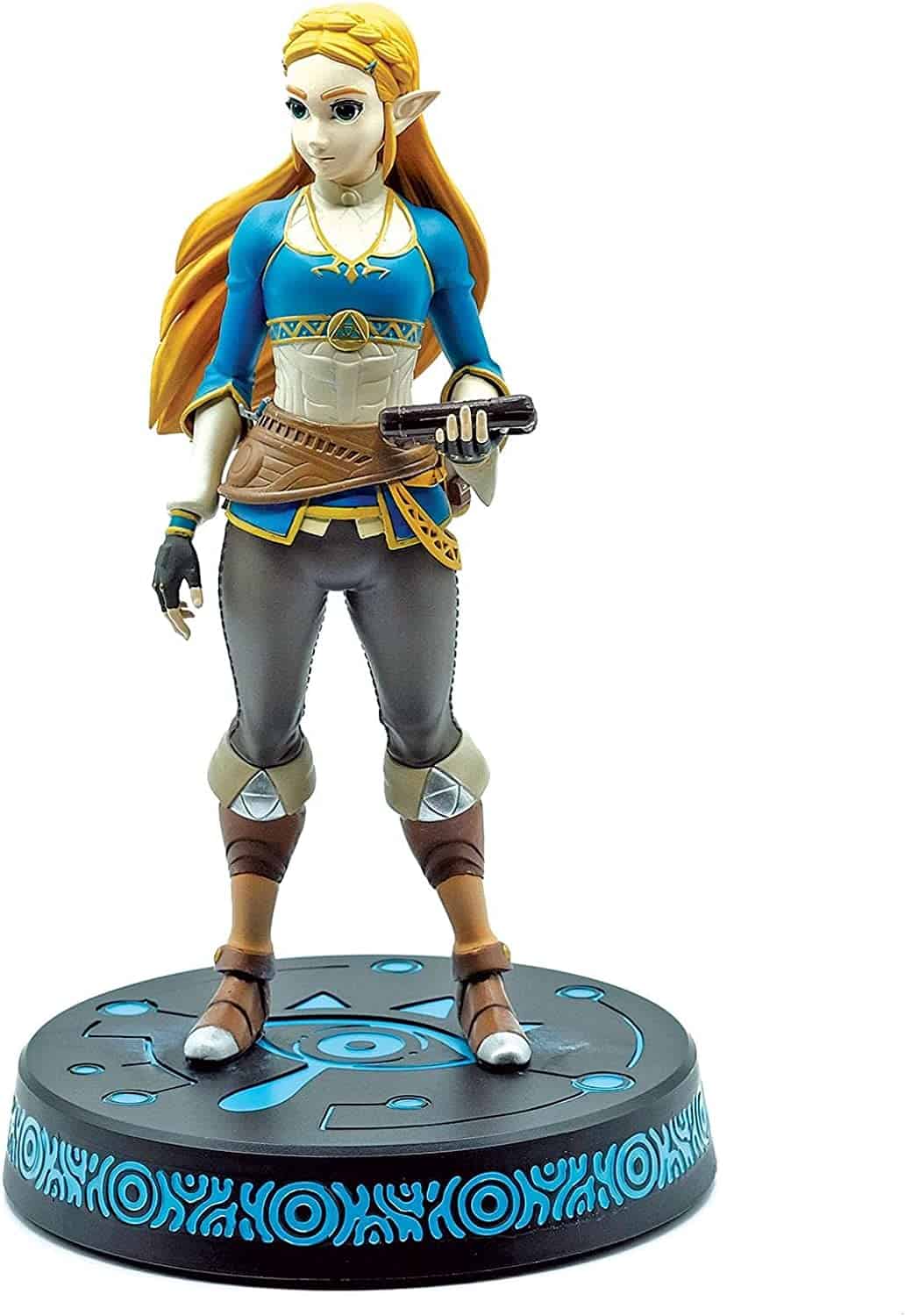 Can you believe the Legend of Zelda came out on February 21st, 1986!? So it's 36 years old and still going strong. Now, that's a great storyline! This lovely PVC statue of Zelda stands ten inches tall and can currently be found on Amazon for under one hundred dollars. Zelda is holding the Sheikah Slate, which has LED lights in it, just like the base she's standing on does. This gorgeous figure is from The Legend of Zelda: Breath of the Wild.
Stay Tuned: The next in the Zelda video game series will be Legend of Zelda: Tears of the Kingdom is said to have a release date of May 12th, 2023. There was recently a spoof poster floating around in social media land of a Legend of Zelda movie coming to screens, but it was a spoof and a spoof alone.
Pros
Zelda's beautiful blond hair and facial features are well done and look just like the video game version.

The creator was wise to include life-like wrinkles where Zelda's knees bend, just like anyone wearing pants would have in real life.

Zelda's pretty eyes are very life-like and accurate to her video game image.

The LED lights are a terrific addition to this collectible figure. 
Cons
Maybe it's just me, but her behind looks weird to me.

Zelda's complexion looks so pale that it's almost white. 

Her eyebrows appear so bushy they protrude from her face a bit.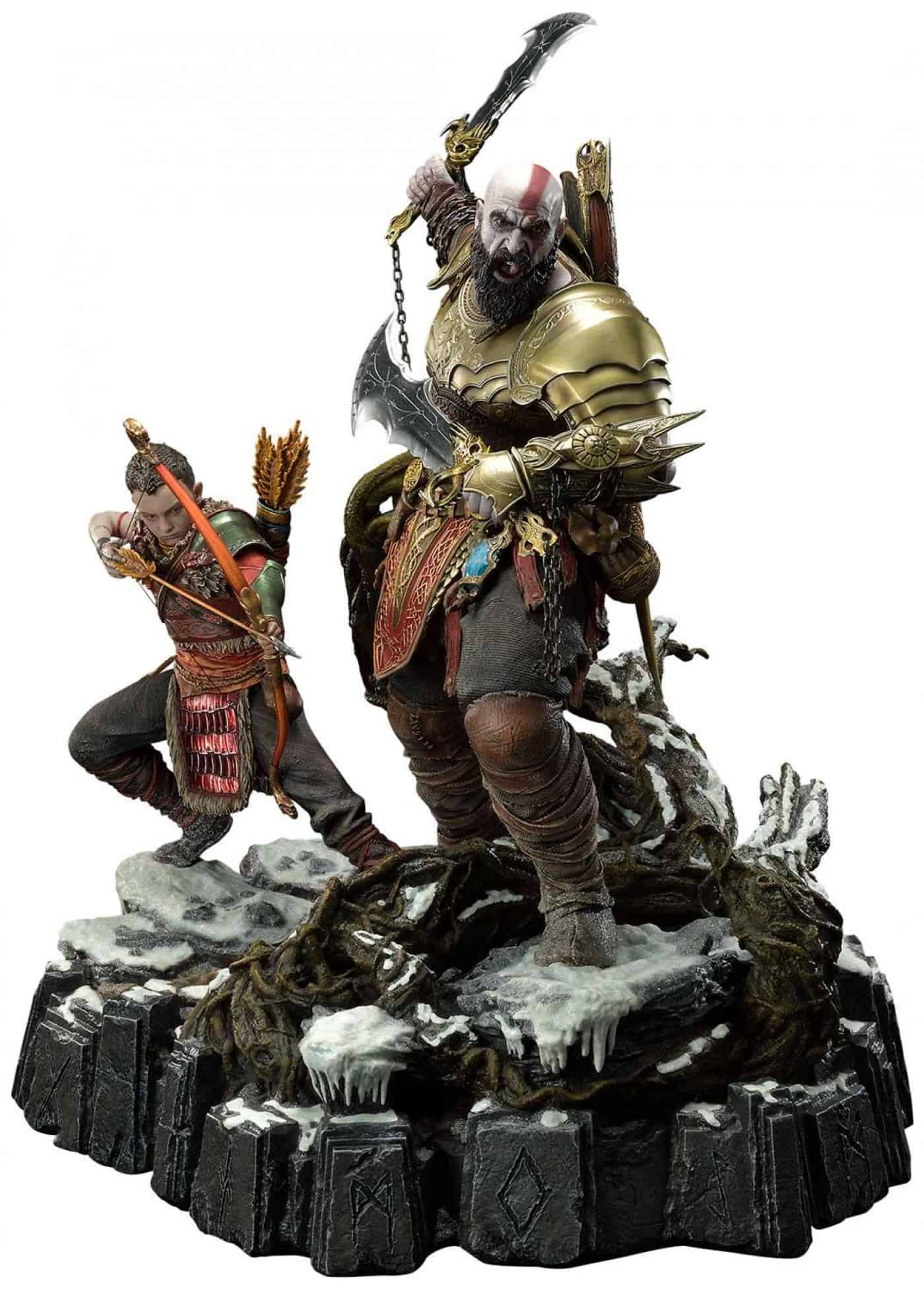 Wow. This statue is insanely detailed and artistically created. It looks so realistic and captures the term life-like perfectly. Kratos and his young son Atreus stand side by side, ready to fight together. Whether fighting fierce dragons or bad guys, this father-son team tugs at your heartstrings.
Stay Tuned: God of War: Ragnarok coming November 9th, 2022. There will be three different types released; Collector's Edition, Digital Deluxe Edition, and the Jotnar Edition. 
Pros
Prime One Studio does not disappoint with this remarkable statue.

The detail and scarring on little Atreus' face are very realistic.

The features and coloring of their armor are an exact replica of the game's version.

The worried age lines on Kratos's face set the tone for the father-son team.

The texture of their clothing is very realistic, with tears, snags, and all.
Cons
Kratos looks younger in the video games.

This is a very high-quality figurine, and the price reflects that.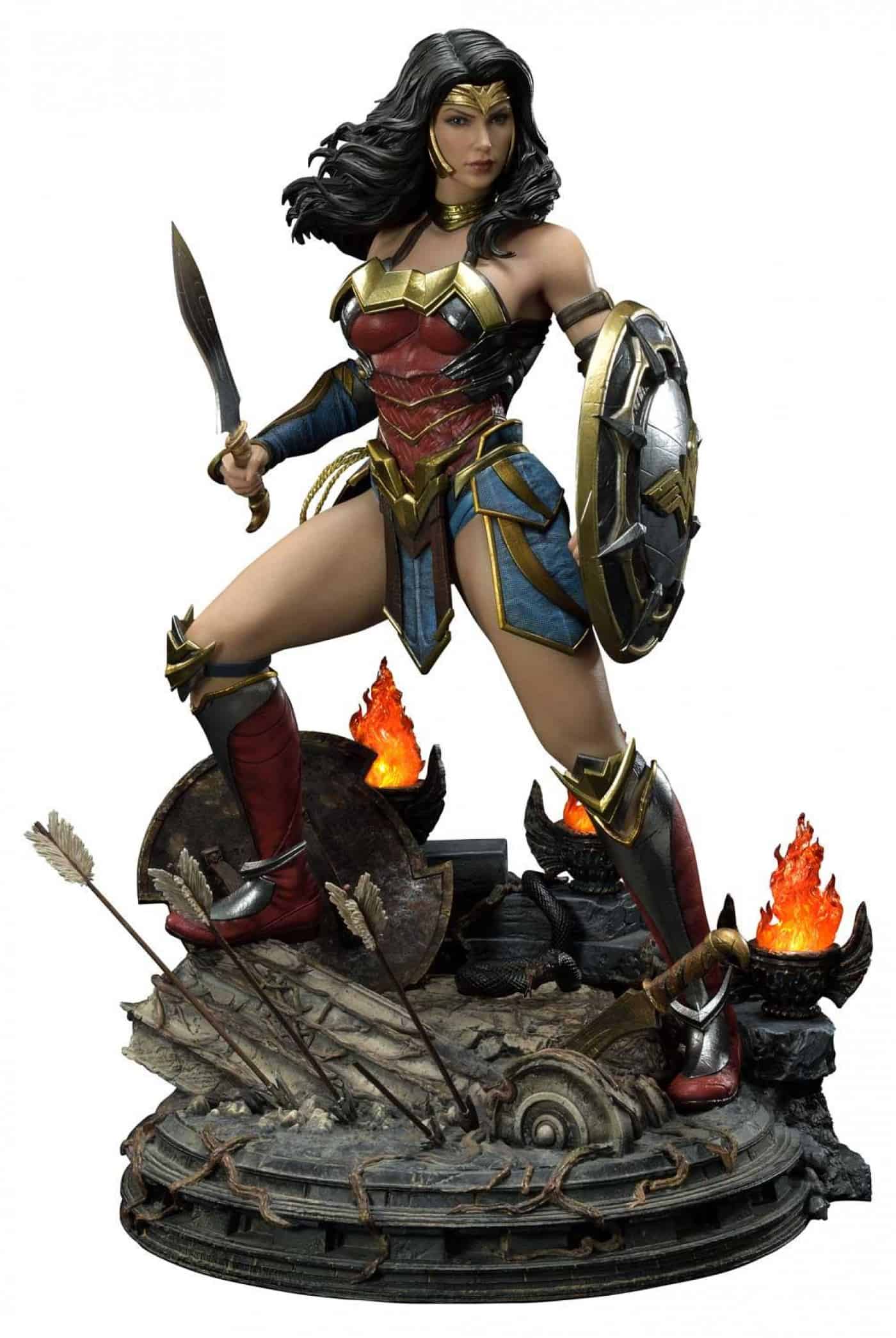 This statue of Princess Diana of Themyscira, aka Wonder Woman, looks so realistic it's rather unreal! Not only is it absolutely beautiful, but it is a special limited edition with changeable parts. This figurine stands almost 41 inches tall and 16 inches wide, giving authority to this impressive statue. The statue from the Injustice 2 video game will be shipping from October 2022 through December 2022.
Stay Tuned: Wonder Woman 3 will hit theatres sometime in 2023 and it's said there is a Wonder Woman video game coming out in 2023/2024.
Pros
LED lighted base sets a beautiful, theatrical scene for the figurine.

This pretty warrior princess comes with some awesome switch-outs. You can change her weapons, shield, and Lasso of Truth, and it even comes with three different facial expressions with different tiaras – open mouth, closed mouth, and angry battle face.

This reminds me a bit of the original Wonder Woman from the 1941 comics.

The black snake hissing at her feet is a nice touch.
Cons
Wonder Woman's eyes in the video game are blue, and this statue's looks to be a darker color.

This statue is selling out fast since it is a limited edition and is pricey, like Prime One generally can be.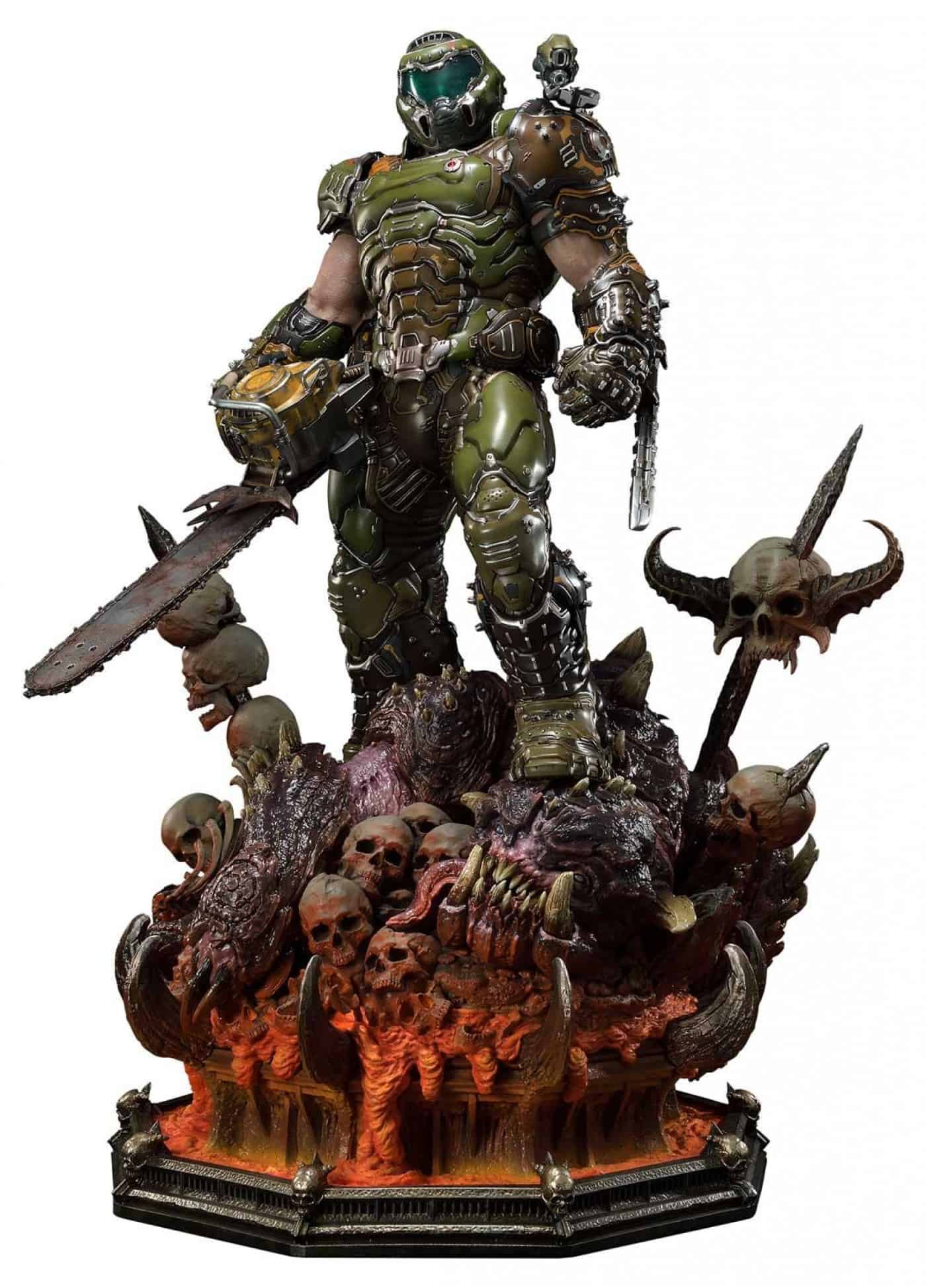 Remember playing Doom when you were a kid and had to wait for your Dad to get off the big, gaudy computer so you could play? I definitely do! Doom has come a long way from the pixelated game it once was. The best part about Doom Eternal is that you can play the old-school Doom I and Doom II! This statue is for all of you super fans from the 1990s and the new fans from the 2016 reboot. This amazing statue was released March 20th, 2020 along with the Doom Eternal video game.
Stay Tuned: There is nothing currently guaranteed going forward with the Doom franchise, but with the massive popularity the last installment of Doom saw, I doubt this is the end.
Pros
The Doom Slayer comes with five completely badass weapons; Crucible Sword, Super Shotgun/ Plasma Rifle, BFG 9000, Heavy Cannon, and the Chainsaw.

One of the infamous pink monsters lays at the Doom Slayer's feet.

The Doom Slayer's helmet lights up, which makes it eerie cool. 

This statue is 43 inches tall! That's huge.

These statues are very limited editions, and 250 were created. 

This Doom Slayer is even more vibrant looking than the video game version it's based on.
Cons
Very expensive but worth it for this huge, well-detailed statue.

Maybe it's just me but do his boots look sort of small and weird?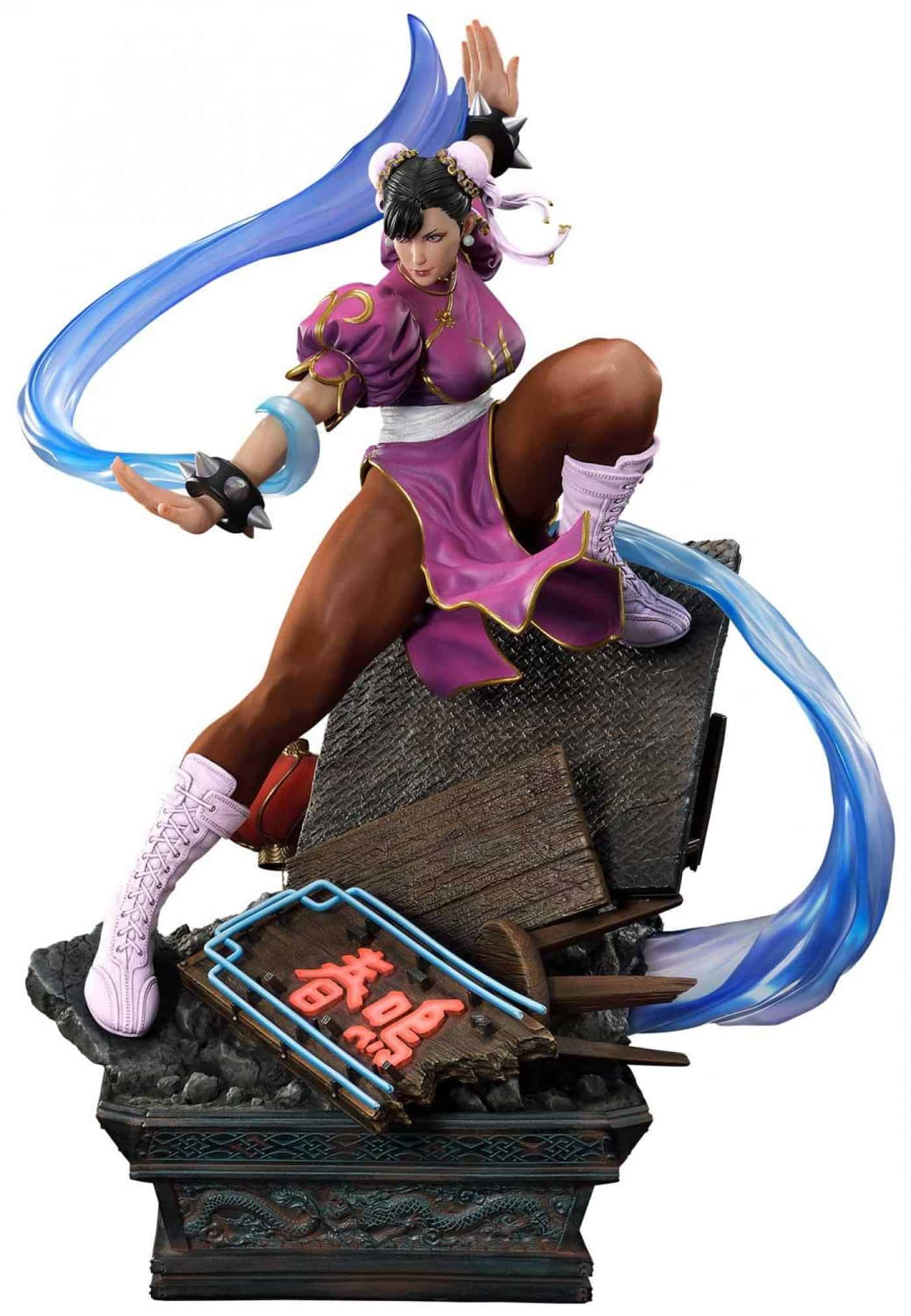 The infamous Chun-Li from Street Fighter has never looked better in figurine form. Here she is in this super special limited edition pink outfit. This figure is from Street Fighter V, which was released in 2020. Only 250 of these have been created, which deems this figurine as super rare. This beautiful figurine will be released between December 2022 and March 2023. 
Stay Tuned: Street Fighter 6 will be coming out in 2023. No release date has been given yet.
Pros
Chun-Li comes with two interchangeable heads; one smiling slyly and one that is very serious.

Her outfit is very realistic and looks like real fabric.

The Chinese alley fight scene lying at Chun-Li's feet goes perfectly with the gaming statue.

The creators did very well making this figurine almost an exact replica of the gaming version of Chun-Li.

Her hairline is realistic looking.
Cons
Chun-Li's eyebrows are not long enough, and it looks weird.

I'm not sure why they had to include faint nipple detail.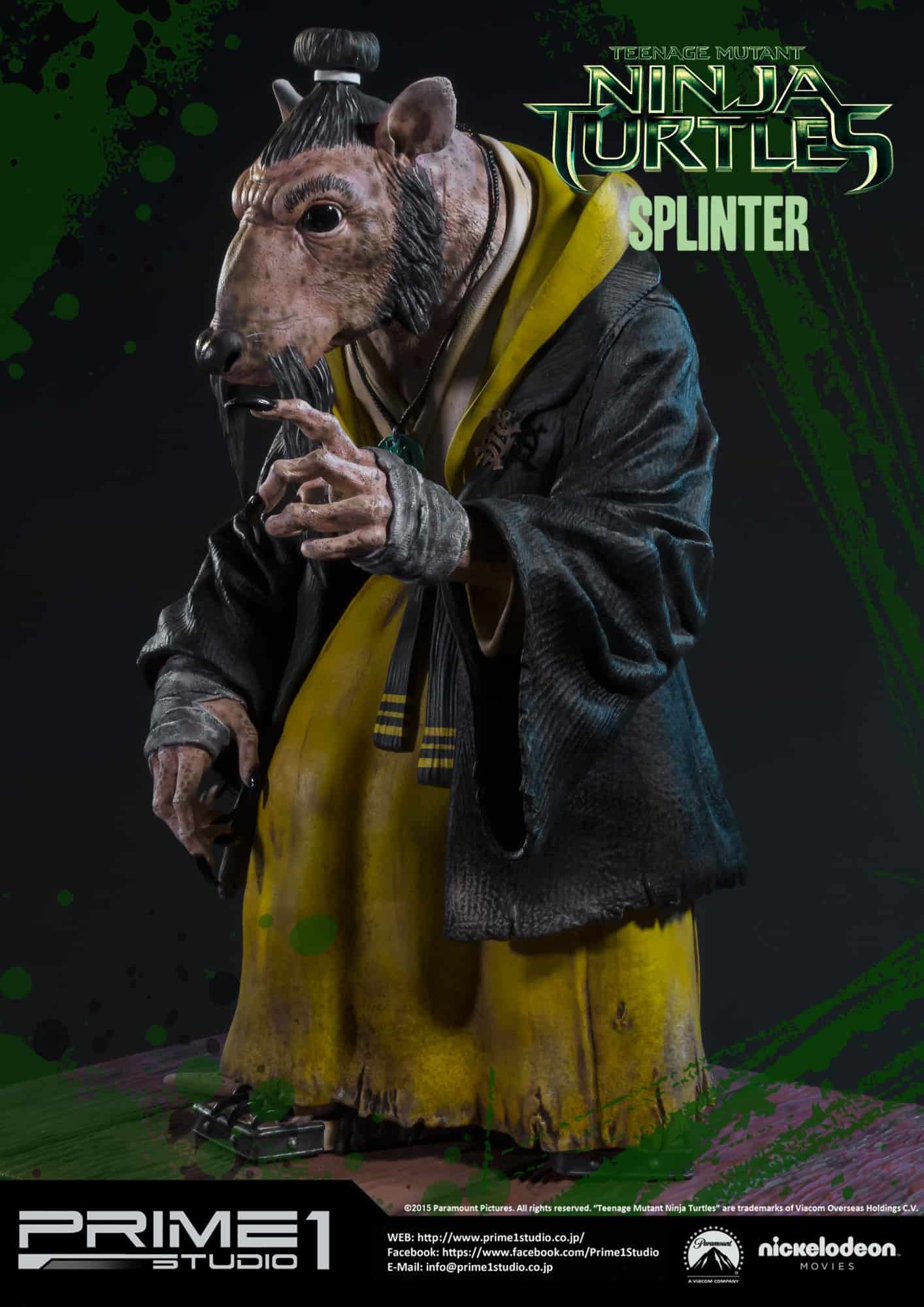 I love this one. Master Splinter looks great as a Prime 1 Studio statue, and if I had the money, I might just buy it. He stands almost a foot and a half tall and would look amazing as decoration. This statue came out along with the hit Teenage Mutant Ninja Turtles movie and video game that followed it in 2014. I cannot say a single negative thing about Prime 1 Studio's skills when it comes to creating these amazing statues.
Stay Tuned: In 2023 there will be a new AAA Teenage Mutant Ninja Turtles video game coming out. There aren't any other details on it at this time. 
Pros
This is one exceptionally well-detailed mutant rat.

The detail on Splinter's long robe is so realistic that it's hard to believe it's plastic.

Splinter's little rat nose looks very life-like and even glistens.

The mottled detail on Splinter's tail is superb.
Cons
There is no notch in Master Splinter's right ear.
New Video Games on the Horizon
Keep your eyes open for these sure-to-be hits to be available for preorder and purchase! Click the title of the game to travel to the info, preorder or order screen.
Honorable Mentions
It's tough choosing which collector's edition figurines or statues make the "best of" cut and which don't. Here are a few more that I think deserve a mention. Plus, I really like them!

FAQ

Wrapping It All Up
That wraps it up, kids! Do yourselves a favor and check out Prime 1 Studio's site. If you haven't been there before, I'm going to warn you; it is seriously amazing. I highly recommend putting down some coins for the soon-to-be-available God of War: Kratos & Atreus, The Valkyrie Armor Set Deluxe Version statue.
You will not be disappointed; it is amazing and one of the best gaming figurines or statues I've ever seen. If you aren't looking to spend a small fortune, check out Amazon's gaming figurines. They aren't too shabby if I say so myself.
Continue reading:
Ultimate Youtooz Figures Guide
The Best Nintendo Themed Collectibles Guide That You Need to Own!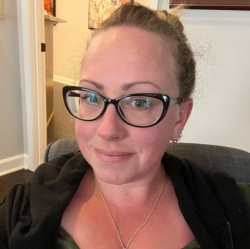 Latest posts by Katie Downey
(see all)