"Bad Deadpool… Good Deadpool!"The quote from that famous counting bullets scene perfectly describes the variety of Deadpool figures on the market. Like many Marvel Comic superheroes, this absolute GOAT also has a lot of mini-lookalikes.
As you are aware, Deadpool may be a foul-mouthed, gun-toting anti-hero. Yes, his humor can be quite endearing, and his action figures are no exception. From the classic red-and-black suit to the unique Deadpool Unicorn, most of his action figures share this hilarious banter and snarky attitude.
Plus, they have all the features you would expect from any action figure. So whether you are customizing your Deadpool figure or just displaying it on your shelf, you will smile every time you look at it. If you are on the hunt for a fun addition to your collection, Deadpool action figures are the way to go. Now, before Deadpool breaks the 4th wall and warns me to get to the point, let's start!
Bottom Line Up Front
It's hard to choose a favorite figure, but if I had to, I'd pick the Diamond Selection one. I really like it. This Deadpool stands 7″ tall and comes on a deluxe base. It features 16 points of articulation and a detailed sculpt. And it's important to understand that Diamond Select's Marvel Select toys are among the highest-quality action figures on the market today.
So if you're a fan of Deadpool, you should invest in one of these talking action figures. It'll be worth it – trust me!
As for the next one, I would like to mention the classic – Gentle Giant Premier Collection Deadpool. This figure features highly detailed sculpting and paint applications, and it also comes packaged with a certificate of authenticity in a full-color box.
It's limited to only 3,000 pieces, which makes it very exclusive. If you want to get a quality piece for your money, this figure checks all the boxes. These are my favorites, but to be honest… whichever Deadpool figure you choose, one thing is for sure – you'll have fun with it. So get ready for some serious action!
Find Your Favorite Deadpool Here…
Many of the Deadpool figures I mentioned are available on Amazon (pretty sure eBay has a nice collection as well), but please be sure to check the reviews and the product listing. Of course, I always urge you to take a look at your local comic book or toy store, as they often have a wide selection of Deadpool action figures. 
Some of the pieces are limited editions, so you have to put extra effort into finding them, but a majority of them can be purchased pretty easily if you do a little bit of digging. If you're a fan of the Merc with a Mouth, check out the Deadpool figures mentioned below. I did quite a research, so you can be sure you're getting your money's worth. 
I based my search on the following criteria:
Articulation

The sculpting quality

The level of detail in the design

Accessories
Whether you're looking for a classic figure or something unique and one-of-a-kind, I hope you'll find what you need. Now ready to pick up some awesome Deadpool action figures!
Best Deadpools…Here They Are!
Diamond Select Toys – Marvel Select: Deadpool Action Figure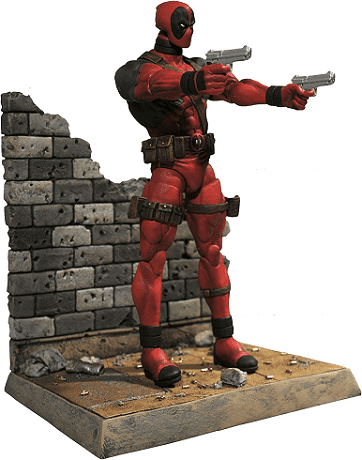 First, let's talk about articulation. This figure features over 16 points of articulation, so the position abilities are great (even though they can always be a bit better, I suppose).
His shoulder sticks out and rotates (important to mention – the right shoulder is blocked by flash grenades), and his elbows are tight and bent at about 110 degrees. The middle area also rotates, but you have to be careful not to be too rough with it because of the Deadpool symbol on the belt.  
When it comes to the accessories, I like them as well as the base. Our Deadpool comes with plenty of add-ons, including two katanas, two pistols, and a knife. The gun has a nice black wash to bring out the details, and the blade has a metallic look.
Holsters can hold handguns and swords, but unfortunately, there is no hidden compartment in the base, which is quite a downside, as well as no protection for rifles and SAI. The weapons are made of decent heavy-duty plastic that doesn't flex like some toys, but if you aren't careful, the swords may snap in half.
All in all, I would say this is an awesome figure and well worth the money, but it is more of a collection piece than it is for playing purposes.
Pros
Very detailed

Good assortment of weaponry

Heavy-duty plastic
Cons
The sheaths need some improvement

Poor flexibility limits some poses

The katanas may break if you aren't careful
Hasbro – Marvel Legends Series 12″ Action Figure – Deadpool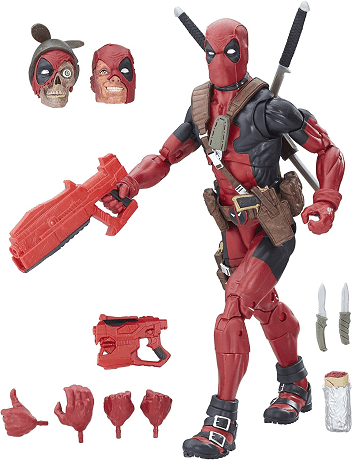 This figure is very well made and articulated. He's also huge! At 12 inches tall, he towers over most mini Deadpools. The accessories are great and nicely detailed, the sculpting is on point, the joints are tight, and the paint is error-free. 
It includes 14 accessories (plus 2 sets of extra hands, including a burrito-holding hand and thumbs-upping hand)… But whenever a burrito is in question, you know you're up for a treat! While we are on the topic of accessories, I must warn you there were some complaints about the gold holstered guns that are not removable.
The good thing, however, is that our Deadpool comes with a lot of other sword options, guns, and knives, so the number of accessories can make one forgive them for this.
Another potential issue is that the skull head is awesome but does not fit properly on the figure. Also, some have complained that they wish the beanie would come off just because they prefer a battle-damaged skull. It's up to each individual.
All in all, I really like it. If you can pass on those problems mentioned, this is a high-quality figure that I would definitely recommend!
Pros
Highly articulated

Variety of high-quality accessories

Detailed sculpt

Shows a lot of Deadpool character
Cons
Gold-holstered guns that are not removable

Skull doesn't fit on the figure properly
Toybiz Deadpool Marvel Legends Series 6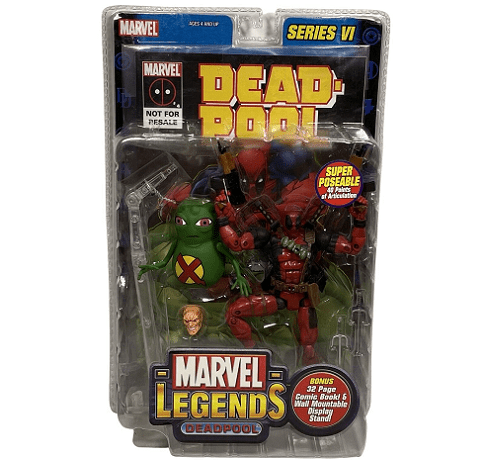 Marvel Legends Series 6 Deadpool 90s era-inspired design is packed with a dupe, a stand, a bunch of weapons, and an alternate head. The degree of sculpted and painted detail is amazing here! A lot of fans had a problem with its aesthetic but it's more than evident now that it is a must-have in every collection.
There is only one word that fans use for this figure – articulation. It is really insane! And if you're not only a fan of Deadpool, but the whole Marvel gang, you will recognize that this figure has the same body mold as Bullseye, Spiderman 2099, and Sunfire. Doesn`t sound bad, right?
The main downside of it is the lack of accessories (two small short swords) and its very particular aesthetic (that may not be a downside, though). But look at the pros: Solid figure, high-quality material, very good character design and sculpting work, it is extraordinarily articulated, and there are no paint issues.
Sounds like a bestseller to me!
Pros
Made from high-quality material

Great character design

Great sculpting work

Very good articulation
Cons
Gentle Giant Ltd – Premier Collection: Deadpool Statue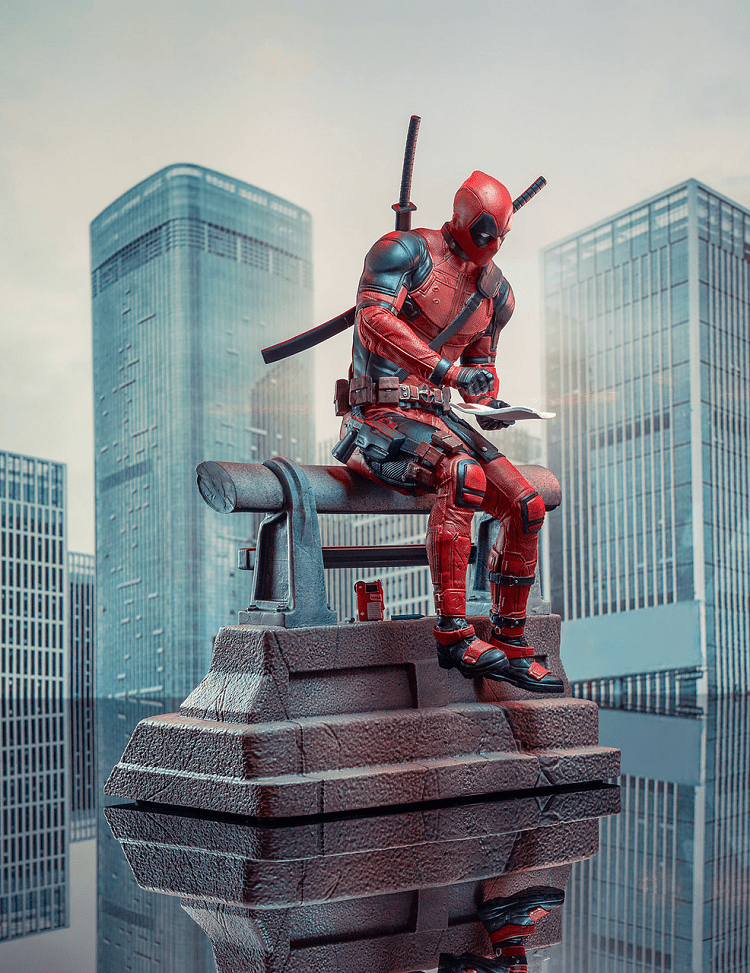 Do you remember the highway scene in Deadpool's first film, when he sketches to Salt-N-Pepa's "Shoop"? Well, this scene is now transformed into this collector's dream figure.
There are a few reasons why this figure is a complete must. It is designed by Caesar & sculpted by Rocco Tartamella, and it has super highly detailed sculpting and paint applications… it's simply amazing. And yes, it looks just like Ryan Reynolds.
Let's talk more about it – I think it has to be emphasized that his whole suit is incredibly detailed. Even the wounds on his red chest are there.  You can see scratches on the base (which btw has such a great weight to it) and they put a lot of thought into making it as similar to the screen one as possible. Even the writing on the radio is accurate.  
My only gripe is that it was slightly unbalanced due to a missing bottom rubber piece.
But all in all – a work of art.
Pros
Very detailed

It shows Deadpool's personality
Cons
Slightly unbalanced in the base due to a missing bottom rubber piece
Kaiyodo Revoltech Deadpool Amazing Yamaguchi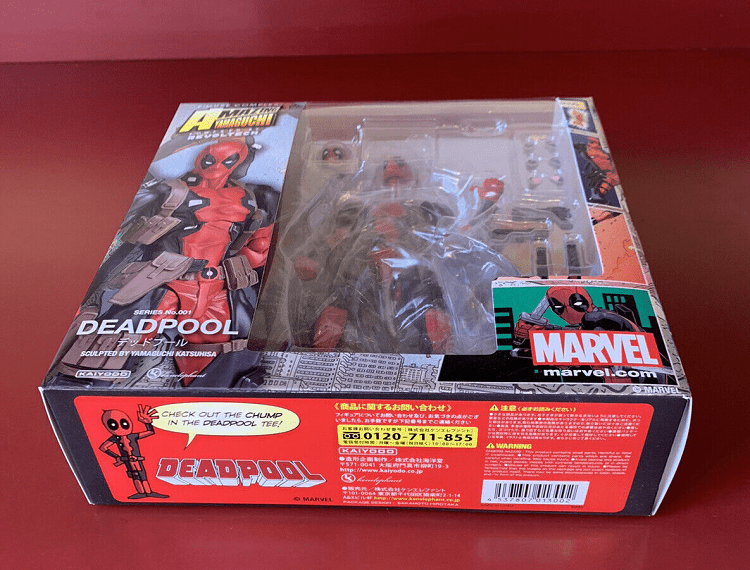 Revoltech nailed it with this one! Very stylized and good-looking. There are some fans who dislike the intense articulation points, but with this one – it just works. And like every figure that Revoltech brings to the table, you can get creative with his poses. When I say creative I mean super dynamic, and that is not something that you see every day.
As for the accessories, this Deadpool includes a couple of sets of hands – open hands, thumbs up, and weapon grip. Quite enough to play with. You can also recreate a bunch of scenes with the 5 pairs of eyes. It comes with two swords and pistols as well as a stand where you can pinch your Deadpool or simply plug it into the stand.
The paint is good, the material is good quality, there is not a thing that I would change about it. However, as I mentioned above, emphasized joints are a point of contention with some fans, but I think they make this figure even more unique.
Pros
Great articulation

Good accessories
Cons
Some fans dislike the emphasized joints
FIGMA DX Deadpool Figure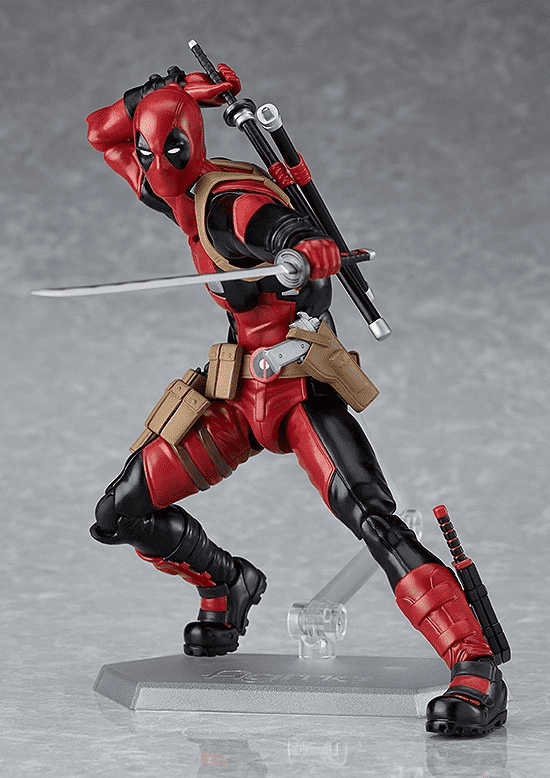 This is probably one of the most talked about Deadpool figures. Why? Because you can recreate with it every one of the Deadpool scenes that comes into your mind! Joints that are tight but posable allow you to act out a variety of different scenes. Deadpool's articulation is one of the best here, for sure.
When it comes to details, the sculpture is beautifully rendered, with wrinkles and shading to emphasize that this is a human inside a suit and not just a painted-on. The belts and armor pieces on DP's suits are also well done. His little logo on his teleporter belt looks excellent as well!
When it comes to this figure, there is always a debate if a Deadpool should be skinny or buff. This one is more on the skinny side and I'm not bothered with it, but it can be a problem for some fans.
That said, the sheer amount of accessories does its best to make up for this.
Pros
Very detailed

Number of accessories
Cons
Possible QC issues

It's more on the skinny side
Marvel Legends Series Back in Black 6-inch Deadpool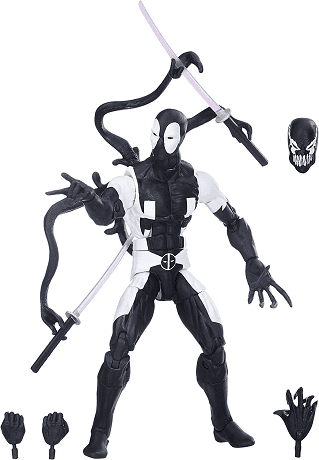 This 6-inch scale Marvel Legends Deadpool figure represents the unique look with the detailed, black formalwear Symbiote suit design. It's inspired by Deadpool Back in Black comic (2016.) and it even features symbiotic tendrils to wield his swords.
And like what you would expect – great articulation. It also comes with an interchangeable head, detachable tendrils as I mentioned, and weapons. The paint is also good. In terms of overall bulkiness, some fans enjoy it. On the other hand, I focus more on its design and character, but altogether it looks polished and clean.
One of the problems with the tendrils is that they are difficult to attach. The good thing is that they are flexible, but trying to make them hold the katanas (that are pink, btw) – is not an easy task. Generally, this is an interesting and unique figure that would be a great addition to any collection.
Pros
Shows Deadpool character

Great articulation
Cons
Tendrils don't hold katanas very well
Hasbro Marvel Universe 2011 Deadpool Greatest Battle Comic Pack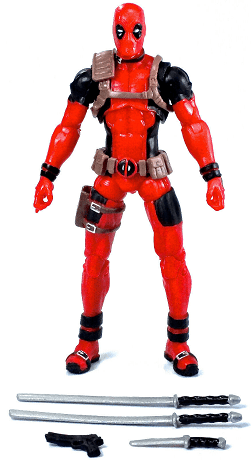 Check out this 3 3/4" scale action figure released in 2011. Marvel's battles comic pack Deadpool 2 figure set including Taskmaster and a reprint of issue 36 ("Cable & Deadpool #36"). This is generally thought to be the best Deadpool of the 3 and 3/4-inch scale. 
The comic is about Deadpool proving his badass status by freeing a captured Taskmaster and asking him to fight him so the generals will believe he is a badass. Typical Deadpool! But let's get back to the figure – in the package, you get a pistol and two swords, both good quality, however, the pistol is quite soft and elastic. This is also one of the cons – there are not many accessories.
When it comes to the figure itself, it's very well-painted and detailed. The material is also very good. All in all – nice one to have in your collection.
Pros
Cons
There can be more accessories

Accessories made from soft material
HOT TOYS DEADPOOL Dusty version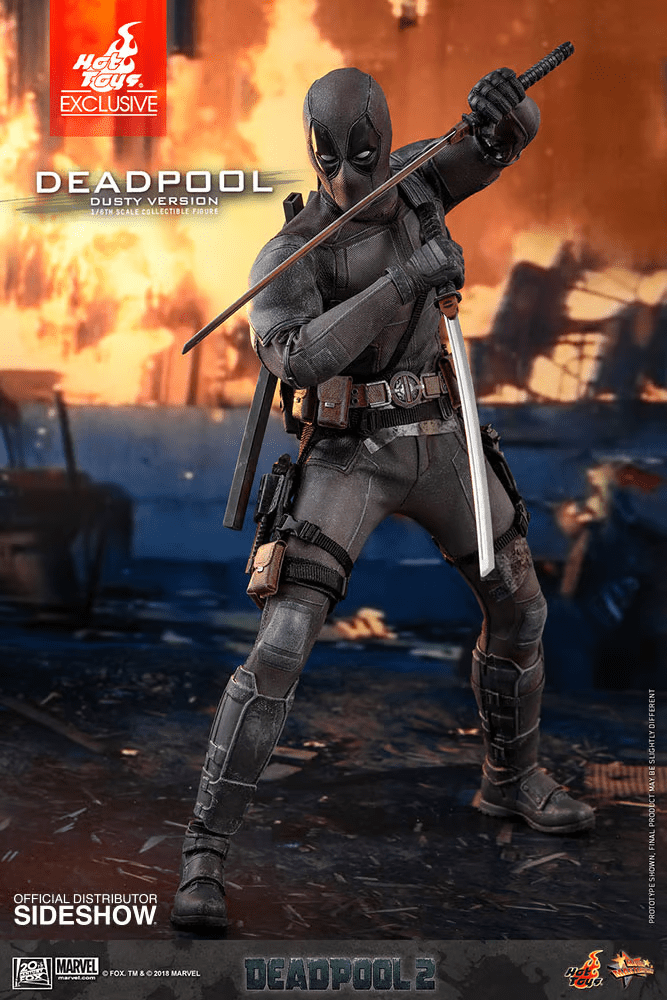 Whoa, look at this sixth-scale figure of Deadpool (Dusty Version) from Hot Toys! This figure is so special. The scene where Wade Wilson's suit gets covered in ash in the Deadpool 2 movie – is now a fricking cool figure from Hot Toys. So let me present you a recolored Movie Masterpiece Series figure in gray!
Upon first glance, many fans will notice that it looks similar to the previously released Deadpool MMS – except it's gray with some red spots peeking through (like in the movie).  The similarity with the Deadpool 1 figure is uncanny. Despite their almost identical appearances, the highly collectible figure remains in demand.
You get all Deadpool's signature weapons, including a pair of metal swords, a dagger, pistols, two pieces of coins, a battle-damaged bandage sticker, a time-traveling device, and a specially designed dynamic figure stand. One of the rare issues that might bother some fans is the lack of an alternative head. He was unmasked for a good majority of the scenes where his suit looked like this.
Pros
A lot of accessories

Very detailed
Cons
Needs upper neck articulation

The same figure as Deadpool 1
NECA Quarter Scale Deadpool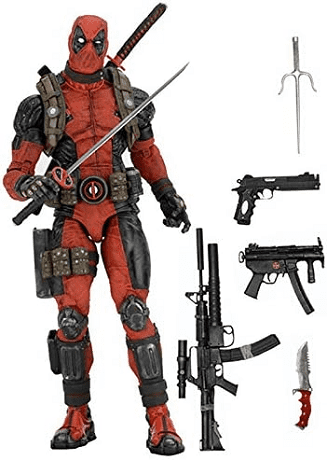 Ok, so I'm going to give you a perspective of how tall this figure actually is. The scale of most action figures or model kits assumes that a person is 6 feet tall. This figure is 18 inches tall which is basically 1/4 of 6 feet. Yes, this is one big guy!
A height like that gives the artist plenty of room for details and layers of paint. There are 30 points of articulation, as well as katanas, machine guns, pistols, and knife accessories. You name it! Moreover, the word "SNAP" is printed on his boots, which is hilarious. Very "Deadpool".
It is a very well-built figure, but it is heavy (some may even say too much). However, that makes the ankles have a lot to support and keep steady. Even though the articulation is spectacular, the only downside is that there isn't any finger articulation (but you get alternate hands).
Pros
30 points of articulation

Variety of accessories

Very well built
Cons
Too heavy for some fans

No articulation in his fingers
FAQs
Question: Which Deadpool Figure has Been Voted the Best?
Answer: Votes for the best overall Deadpool action figure go to Marvel Legends Series: Deadpool 2 (in revamped dark purple carbon suit). This figure also includes accessories such as a pistol, knife, and dual swords. 
Question: How Many Marvel Figures are There?
Answer: There is a whopping number of 1275 Marvel Legends action figures.
Question: Yes, we like Deadpool a lot, but what is the Most Famous Action Figure of all Time?
Answer: Drumroll, please… It's G.I. Joe.G.I. Joe's action figure is the most well-known of all time! As the very first action figure, the G.I. Joe came out with a wide variety of looks and accessories and had instant popularity. A squad of "Real American Heroes" have been added to the toy line throughout its nearly 50-year existence.
Now it's Up to You…
As you can see, there are many Deadpool statues available for purchase, and they make great collectibles or gifts for fans of this unique character. You should keep a few things in mind when choosing a Deadpool statue, regardless of the price. These are the size of the statue and the level of detail.
Size is an important one – some statues are small enough to fit on a shelf, while others are larger and more suited for display cases.
Think about where you want to put the statue and how much space you have before deciding. The level of detail also makes a difference in the quality of your figure. It depends on what you are after when purchasing your new collectible.
Hope this article helped and hope you'll find the perfect Deadpool figure just in time for the Holidays!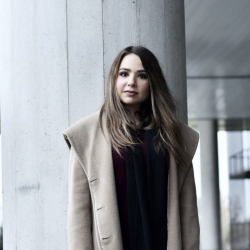 Latest posts by Tena Gasparac
(see all)