Darling in the Franxx was one of winter 2018's memorable seasonal anime. The show was a frequent hot topic back then since it was primarily inspired by Neon Genesis Evangelion and made by Studio Trigger. Everyone had high expectations for it, including me. Sadly, its story failed to make the same impact as the classic and mostly got mixed reviews.
However, one thing came out of the anime that's a certified hit: the pink-haired heroine, Zero Two. Everything about her was loveable and instantly trapped every otaku's heart when she appeared on the screen. She was so fascinating that she immediately gained a large following that's still active today.
I'm concrete proof of her thriving fanbase, as I've kept an eye out for all her figure announcements. A handful of pieces have joined my collection, and I'm still planning to get more.
Therefore if you're a fellow devotee, you're at the right place for the best Zero Two figures guide. Let me give you an up-close look at the character's most stunning PVC versions, so you can physically worship everybody's favorite girl.
Bottom Line Up Front
Zero Two is one of the most beloved characters in the anime community, and as a result, she has gotten tons of fantastic premier figures. These figures present different aspects of the character, which made it difficult to determine the one that fits the 'best Zero Two' label the most.
After much consideration, though, it became clear that the figure that should be part of every fan's collection is Zero Two 1/7 by Max Factory. It's a charming variant of the extraordinary parasite with the most relevant design to the anime's art style and overall aesthetics. Moreover, Max Factory's version fully exhibits Zero Two's cheeky attitude, which endeared the character to fans in the first place.
Selection Criteria
Bright Color Combination
Zero Two's trademark colors are a significant part of her appeal. So the figures with designs and color palettes that enhance or match them are what I included in this list.
They're the ones that bring out the best features of the character. For example, I chose the Red Zero Two 1/4 Bunny Version instead of the White variant because the red suit and black stockings are visually more attractive than the plain-looking white suit and bare legs combo.
Well-defined Face
The number one requirement I had for the figures in this guide is to have a detailed face. It's because issues in other parts of the figure's body can be tolerated or hidden, but the ones on the face can't. As such, I've verified that all 11 figures have on-point face sculpts and expressions.
The toys that didn't make the cut, like the Zero Two Pop Up Parade, have faces that look like they were rushed during production or made by amateurs.
Comes From a Reputable Product line/Series:
I mainly concentrated on toy lines (scale and non-scale) that consistently provide quality figures, like Aniplex and GSC. I avoided most of the Prize Figures toy lines, such as the Zero Two PM figure by Sega and the Zero Two Ichiban Kuji Figure by Bandai Spirits, because they look cheap and have sloppy craftsmanship.
Top Picks
Best Comprehensive Design – Zero Two 1/7 by Max Factory
Most Aesthetically Pleasing – Zero Two 1/7 Uniform Version by Aniplex
Most Unique Variant – Zero Two Childhood Version Nendoroid by Good Smile Company
Most Sentimental Design – Zero Two For My Darling 1/7 by Good Smile Company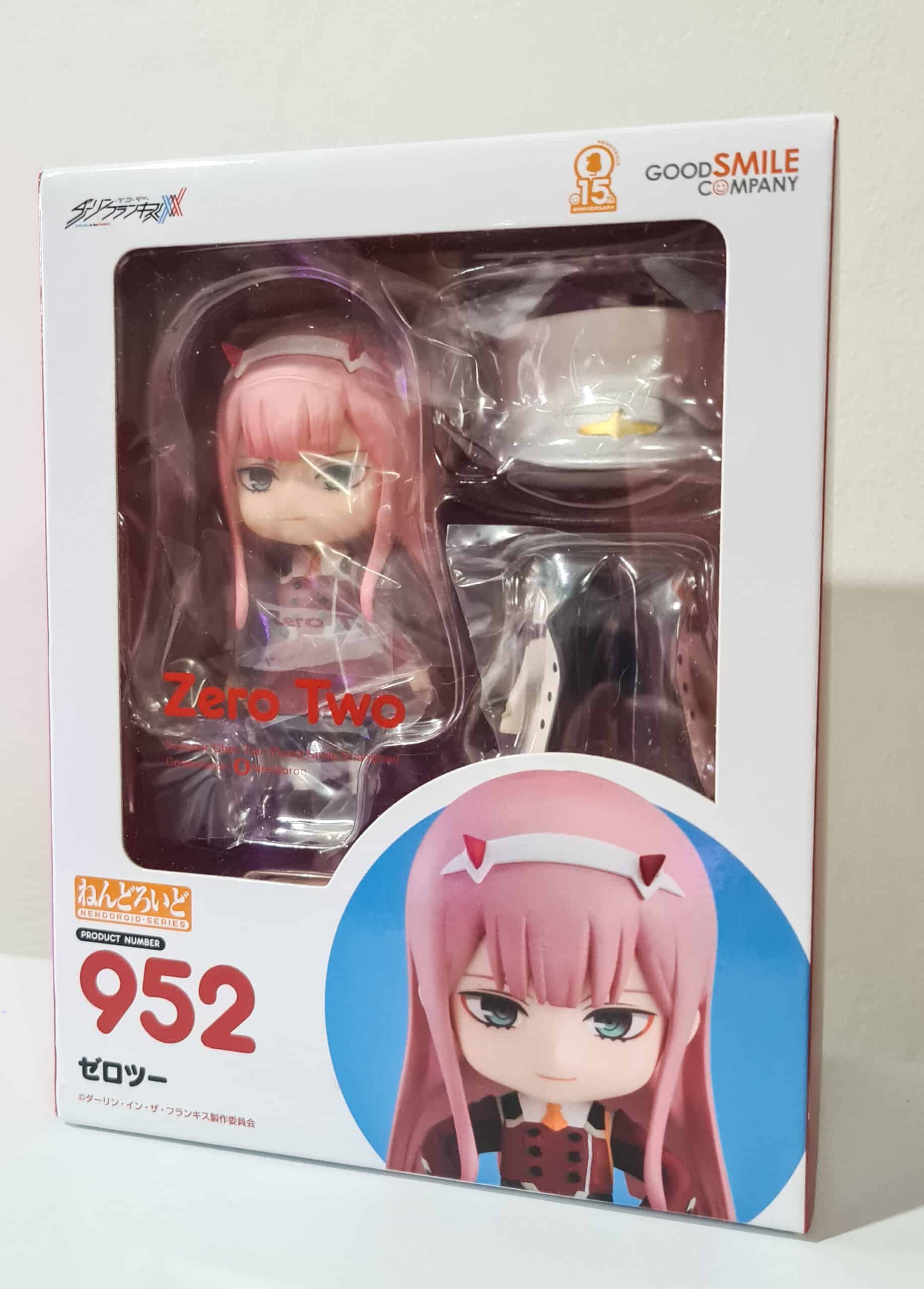 As one of the cutest Zero Two figures, this chibi version has been a best seller since it first came out. It covers the character's basic look and poses, making it the ideal pick for both new and seasoned collectors. The Nendoroid is also customizable, which gives it more display options than scale figures.
This mini variant is the first Zero Two figure I got, so I've personally scrutinized this several times before. It's an adorable figure that I recommend if you want a premium Zero Two that's below $100.
Release date: 1st release December 2018 and 2nd release September 2021
SRP: $35 to $56
Rarity: Low
Pros
This figure has two of Zero Two's iconic outfits from the anime, her unique red parasite uniform, and the Nines Special Forces' white cape and hat
You can turn this Nendoroid into a tiny version of Zero Two's 1/4 red and white Bunny Versions by FREEing. All you have to do is put the head onto the same color variants of the Nendoroid More: Dress Up Bunny outfit
GSC went with the character's cutest expressions from the anime, as all three faceplates emphasize Zero Two's naughty disposition. It's also one of the two figures that include her famous grinning face from the anime
This figure has one of the most accurate faces of Zero Two
Due to the rerelease, there's an abundance of this Nendoroid. So you can easily buy one around the retail price
Cons
The quality of the second release's stocks isn't as polished as the first. Many of them have minor paint errors, like paint smudges and dots that the first release didn't have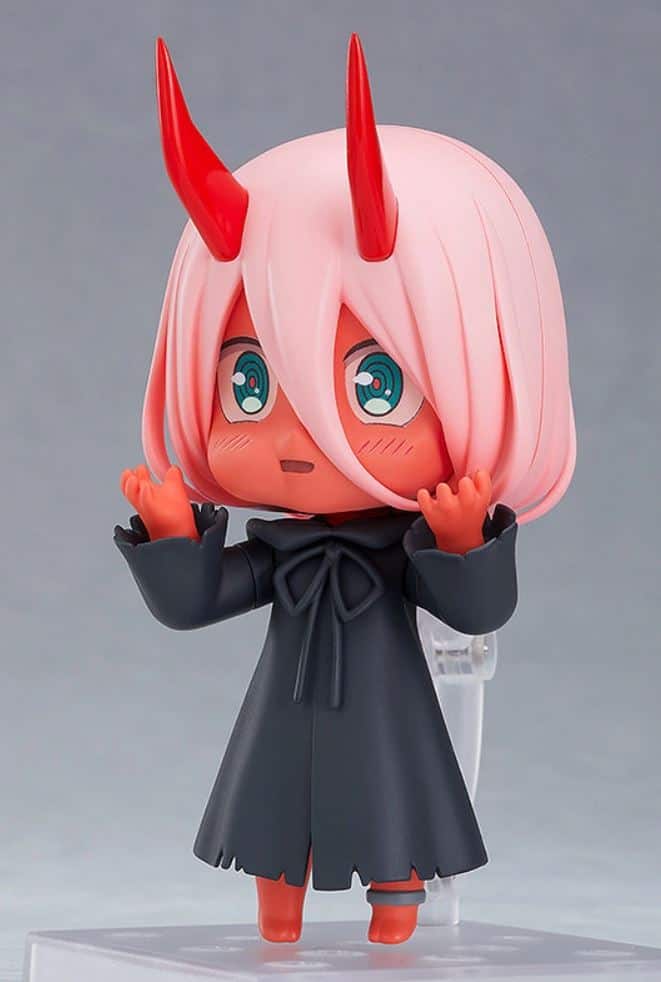 This Nendoroid was one of GSC's most welcomed announcements in early 2022. Because even in her original dinosaur form, Zero Two still melted hearts in every corner of the world, including mine. Whose heart could stay cold when faced with those chubby cheeks?
It's not as vital as her regular Nendoroid variant, but you should buy it if you want to have all of Zero Two's forms. I'd also like to stress how unique this is as it's the only one of its kind. This Nendoroid might even be the first and last Klaxo-Sapien Zero Two since her sexy human-looking version is much more in demand.
Release date: September 2022 (Good Smile Company Online Exclusive Release)
SRP: $61.99
Rarity: Low
Pros
This Nendoroid is the only licensed figure of Zero Two in her original human-Klaxo Sapien form
You can recreate most of the character's scenes in the anime with this Nendoroid since most of the items she used come as accessories
This Nendoroid contains key items and images to the storyline that don't appear in other figures (the storybook and Zero Two's original appearance)
Since the figure is wearing a cape, there won't be any visible seam lines or joints on the body, no matter the pose
This variant will likely increase in price quickly when it's no longer in stock on the GSC site since it's not a regular release
Cons
The hairpiece without the hood has several prominent seam lines (the stray strands of hair)
Since it's an exclusive release, you'll either have to order the figure directly from GSC or place a special order to get it from your local stores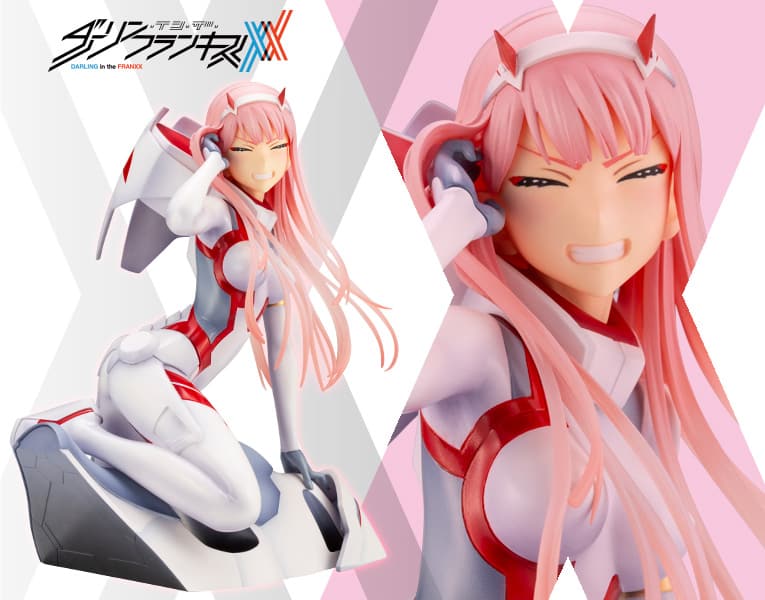 Among all the PVC Zero Twos, this is the rarest one. Not only is it a limited variant, but it's also an exclusive release. Meaning if you're the type who likes to own grail figures, then this is the parasite for you.
I carelessly ignored this version's preorder in 2018, and it's turned into one of my greatest regrets as a toy collector and Zero Two fan. Because although I own the regular red suit version, this is way prettier and has a better quality too. I'd buy it in a heartbeat if I had money to spare. So if you can splurge on it, do it.
Release date: July 2019 (Kotobukiya Shop And Event Exclusive Release)
SRP: $100
Rarity: High
Pros
It's one of the only two figures of Zero Two in her white suit
Some stocks of this figure come with a Shikishi illustration board of Zero Two wearing the white suit
It's the rarest Zero Two figure. Hence, owning this piece will substantially increase the worth of your collection, as it may also never get another rerelease since it's a variant
It's the only scale figure of Zero Two with her famous wide grin, which adds to this figure's appeal. This expression is what makes it more attractive than the regular red suit variant
You won't have much problem with space when displaying this piece as it's much smaller than the typical 1/7 scale figures
Cons
Due to the figure's limited stocks in the market and grail status, it's worth two scale figures as it ranges from $350 – $450
The figure's skin tone is too warm and yellowish, which is in contrast to her pale, ashy skin tone in the anime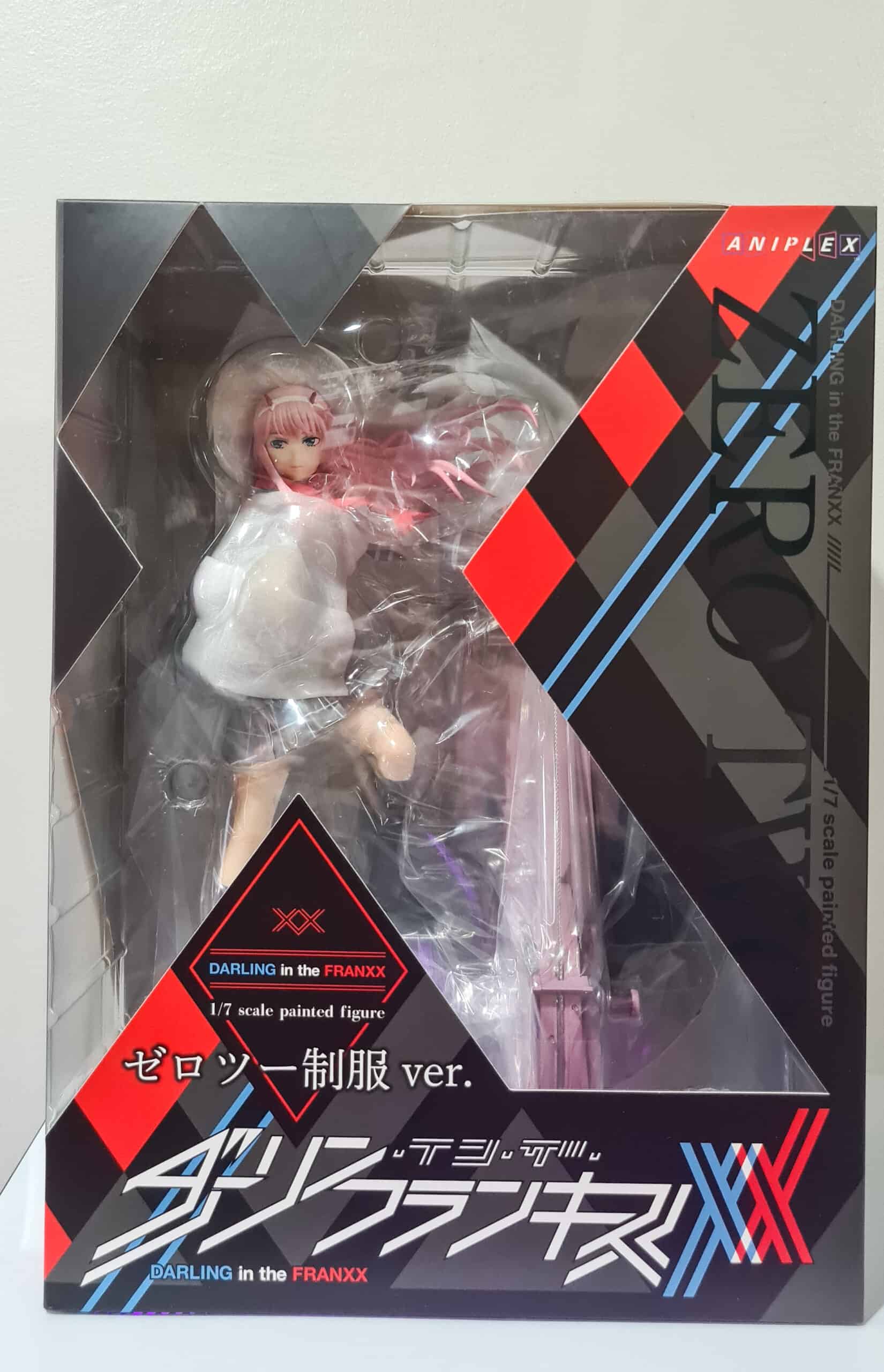 Even though this schoolgirl version of Zero Two doesn't appear in the anime, nobody can disregard its visuals. Every detail about this piece is impressive, making it a sought-after figure for collectors. Thankfully, I managed to score it during the rerelease and could drool over it in peace.
I'm thrilled to have this figure, especially since it looks stunning face-to-face. I now completely understand why the first release's aftermarket price went up as high as $500 – $600. The photos don't capture its beauty completely, so you should admire it in person by adding it to your collection if you can.
Release date: 1st December 2019 and 2nd release July 2022
SRP: $223.98 – $279
Rarity: Low to Medium
Pros
The stocks of this figure that came directly from Aniplex include a Shikishi board of Zero Two in the uniform
Aniplex did a remarkable job with this figure's skin because it looks soft and realistic
It has one of the most attractive bases in all the Zero Two figures. The design is large enough to immediately grab your attention yet not too extravagant to upstage the figure
I like the layout and direction of the hair and clothes, as they give this figure a sense of movement and elegance
It's quick to set up and doesn't require much effort since you just plug Zero Two into the base
It's the sole high-end scale figure of Zero Two wearing the school uniform from the ED or the ending song of the anime
Cons
The black circular base looks too tiny for the pink mechanical contraption. It would've been better if it were larger or had a different shape (square or rectangular)
Since this version of Zero Two only appears in the ED song, this figure isn't canon and has no bearing on the storyline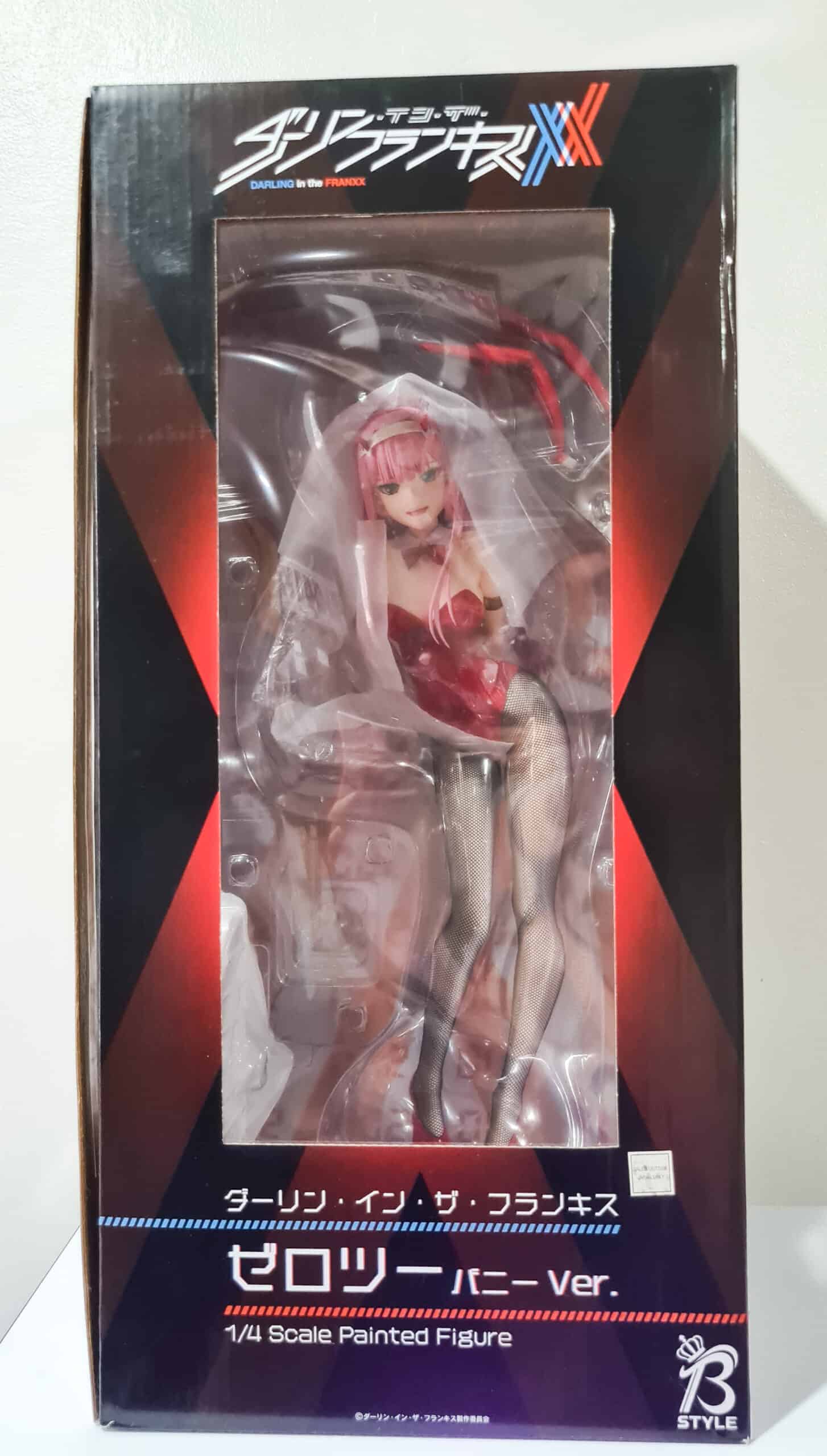 The 1/4 Bunny line is at the top of FREEing's premium toy products. The high level of craftsmanship is apparent even from a brief look, as nearly every part of this Zero Two figure is impeccable. It's among my favorite pieces in my collection, too, since it would pass for the real-life parasite if it were a life-sized scale.
Given its rich colors and lifelike texture, it continues to be a hot item until now and is in demand all over the globe. Even the newly released Bare Leg version isn't a match for it. Fortunately, this giant Zero Two is relatively easy to obtain as long as you have the money.
Release date: July 2020
SRP: $200 – $300
Rarity: High
Pros
It's got 10/10 quality since the entire figure seems like it's been professionally painted and sculpted by hand. The bunny suit and ears also look like they're made of genuine patent leather
The figure's legs have real fishnet stockings, which gives them a visibly toned shape that paint can't imitate
This version has remarkable skin since it has Zero Two's correct skin tone from the anime and looks soft to the touch
The figure would be a great centerpiece in your collection since it's one of the largest Zero Two figures that you can purchase
You can display this figure with or without the bunny ears and headband since they're both removable
Cons
There's a possibility that the stockings' color will bleed into the figure's skin after a long time if it always stays in a humid or hot area
The legs' position looks awkward and distracting at some angles
This Bunny Version is lacking Zero Two's fangs, which the Bare-Leg version has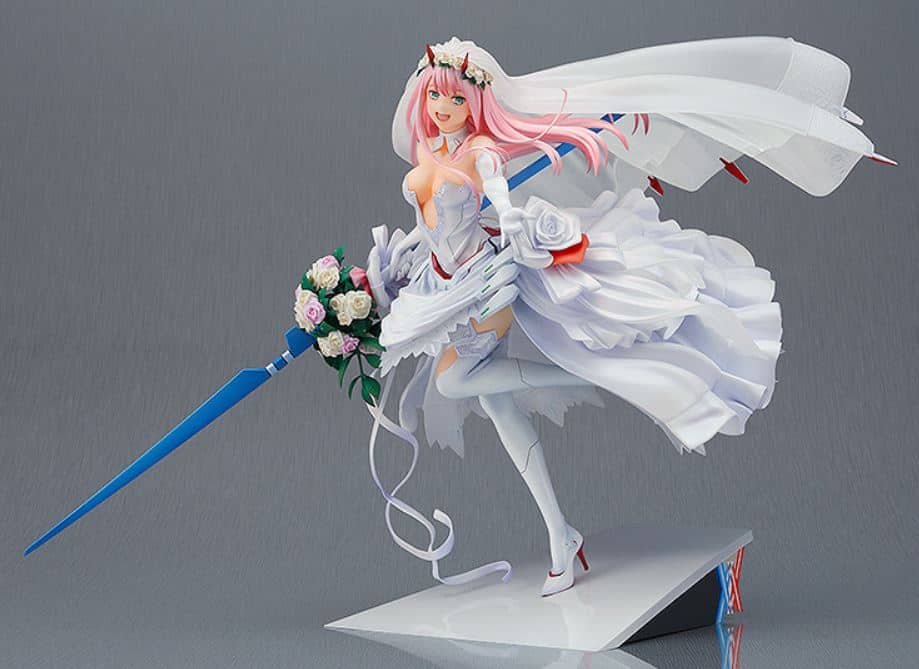 GSC gave Zero Two's final form, Strelizia True Apus, a glamorous wedding twist with this striking figure. It still maintains the outline of the original outfit from the anime, so it's instantly recognizable to Darling in the Franxx fans. Instead of the typical thrusters and rocket launchers, the character is adorned with lace and floral ornaments.
Because of its design and connection to the ending, this figure should be an automatic buy for hardcore fans. It's the happy ending that the character deserved but didn't get!
Release date: July 2022 (Good Smile Company Exclusive Release)
SRP: $238.99
Rarity: Low
Pros
The figure is based on Zero Two's Strelizia True Apus form, which first appears in episode 23 of the anime
There are three options when buying this figure: you can get it as it is, with the preorder bonus postcard, or with the framed Memorial Board (the last two have the same illustration of Zero Two in a wedding dress)
It's the most elegant Zero Two figure of the bunch. The dress' pearly paint finish, in particular, gives the character a mature and luxurious appearance that you won't see on the others
GSC did a fine job of creating the base. The simple design directs all eyes to the figure, yet it still clearly incorporates the signature logo of the anime's title
You can showcase the figure with or without the veil and lance accessories since they're both detachable
Cons
The flower crown doesn't have the same detailed sculpt as the rest of the figure
You have to use the distracting metal support stand, or else the figure will start to lean backward after some time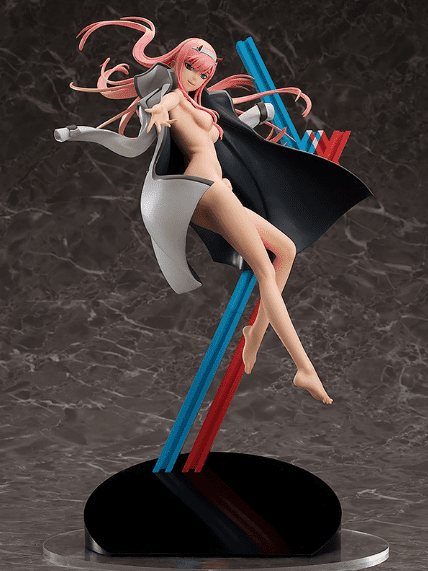 Are you a fan looking for a figure that screams "Darling!" from head to toe? Then your first target on this list should be this one. It's the best version of Zero Two you can get right now, as it depicts the character in her purest form.
There isn't any other figure that conveys the anime's art style as intensely as this version. From the straightforward layout, seductive pose, and expression, you can see that it embodies Darling in the Franxx's visuals and vibe.
Release date: December 2020 (Exclusive Release)
SRP: $125 – $160
Rarity: High
Pros
This figure has a unique base and support stand comprising the anime title's signature XX logo. It also has the most futuristic design, which accurately reflects the style and timeline of the anime
It's the most revealing Zero Two figure, as it's based on the anime's first OP when Zero Two reaches down to Hiro at the end of the song
The figure has a much better face than what's shown in the promo photos. It's among the best Zero Two faces, and you can view it from various angles without it looking weird
Aside from the regular Nendoroid version, this is the only figure that features the character's Nines coat
Most stocks of this figure have no visible paint or mold flaws, and the skin color looks lifelike
Cons
You have to mind the size of your cabinet or shelf when you want to put this because it's the second-tallest Zero Two figure at 12.8 inches (including the base)
Since it's an NSFW figure, it'll be hard to display when you share your living space with other people (children, family, etc.)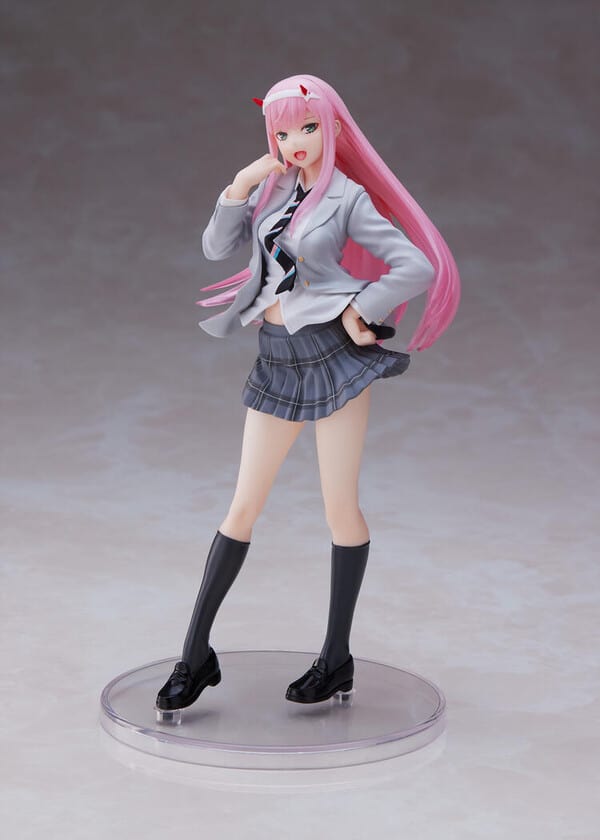 Taito's prize figure is the number one choice if you have a tight budget but want your Zero Two fix. While it's not on par with the high-end scales by Aniplex and the like, it has a decent sculpt and paint job that's easy on the eyes.
And seeing that it's among the cheapest variants of the pink-haired parasite, it's an excellent figure to start getting into the hobby. It'll allow you to familiarize yourself with figures in general, so you can decide if you feel like scaling up or would prefer to stick with prize figures.
Release date: July 2022
SRP: $14 – $30
Rarity: Medium
Pros
It's one of the only two figures of Zero Two wearing the school uniform from the ED song. The outfit makes it more special than the other variants since they all have her usual costumes
You can save more money when you buy this figure since it's cheaper than a standard scale
It's the best-looking version among the four Zero Two Prize Figures (Two by Bandai Spirits and one by Sega) and has much better quality as well
Instead of a plain base (which most Prize Figures have), this Zero Two has a colorful and modern base that complements the figure's design
Since it's a recent release, this figure has better overall quality than the older Prize Figures
Cons
This figure may have paint issues around the hair, hairband, and the necktie
Some stocks of this figure have noticeable seam lines all over its body. The affected areas are the hair, hands, and legs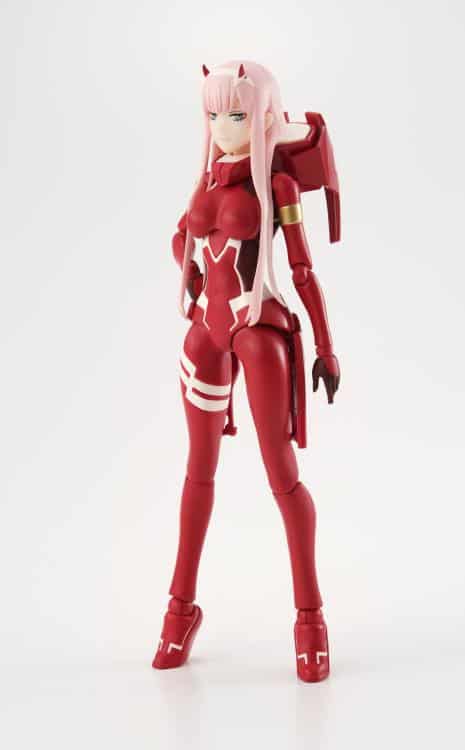 Scale figures are undeniably delightful products. Sadly they're not the kind of toys that you can play around with. For this reason, Zero Two's S.H. Figuarts is perfect when you're into action figures. This variant has the mobility and flexibility to let you enjoy the character in various ways.
Are you thinking of replaying scenes from the anime? Or do you want to create a new storyline? You can do all of them and more with this 5.5-inch dino girl.
Release date: October 2018
SRP: $49.99
Rarity: Low to Medium
Pros
It's one of the few fully articulated Zero Two toys and is the only action figure of her that's been released
The base looks like the Franxx's cockpit. This prop makes it easier to reenact many moments from the anime, especially the battle scenes
It's the only Zero Two figure that can transform into her Pistil mode. It even has the pilot screen showing the synchronization between partners and the moveable control handles attached to the suit
Since this version follows the standard 1/12 action figure scale, you can use other 1/12-sized accessories with it (like motorcycles, dioramas, and weapons)
You won't have a hard time hunting for this figure wherever your location is. Because even though it's been out on the market for years, it's frequently available in online stores and marketplace sites
Cons
Instead of four faceplates, it seems like this figure only comes with three since two of them look almost the same
It doesn't come with a standard base, so you'll have to buy it separately if you want to pose the figure without the cockpit base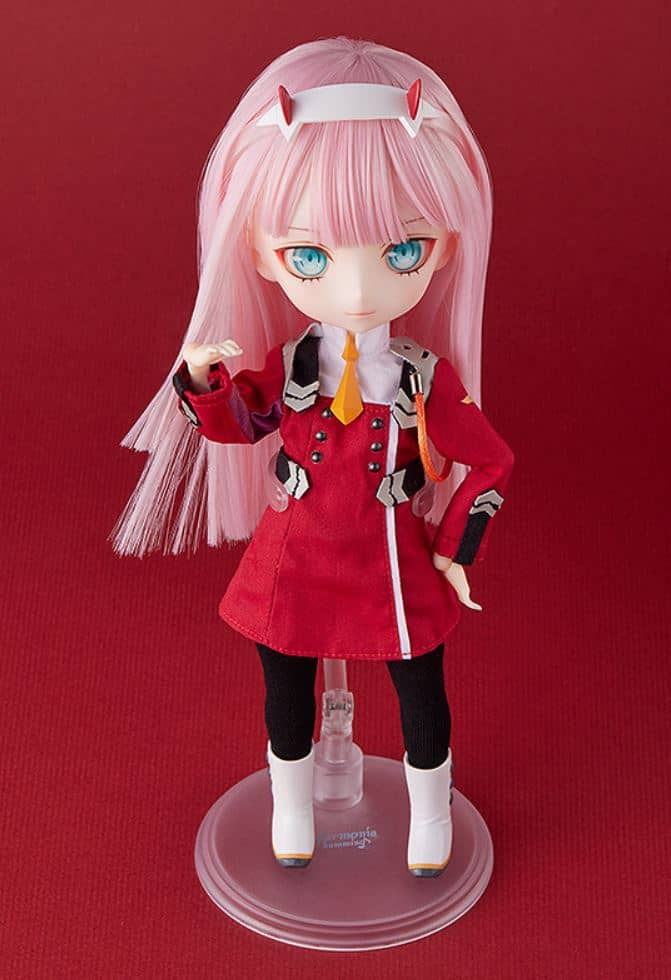 Do you want a gorgeous Zero Two with the same mobility as an action figure? GSC's Zero Two Harmonia Humming is what you've been searching for. It's the 6th largest figure of the pink parasite and captures her exquisite face like no other.
Additionally, since the figure has doll-like features, you can do more with it than with a scale or a Nendoroid. Want to act out a fight scene? Or a romantic one? Whatever you have in mind, this Zero Two variant can achieve it.
Release date: September 2023
SRP: $207.99
Rarity: Low
Pros
It's one of the limited poseable Zero Two figures. And because this is a ball-jointed doll, you can do more poses than the S.H. Figuarts version since it has more articulation points
This figure offers a feature that the others can't: you can completely customize this Zero Two's appearance to your liking since the clothes and body parts are removable.
It has one of the prettiest Zero Two faces. I especially like the moveable eyes and makeup because they're faithful to the source material
This figure almost has no visible seams or joints since the whole body is nearly covered. The only exposed ball joints are on the wrist
Since the figure's body parts are detachable, you can replace them with Harmonia Humming Doll should they get damaged
Cons
The Zero Two figure will arrive naked, so setting it up will take time and effort. You'll have to put on every piece of clothing and accessory yourself
Since several parts of this figure consist of different fabrics and materials (the clothes, headband, etc.), it's more sensitive to staining and damage. You must keep it away from dust and dirt at all times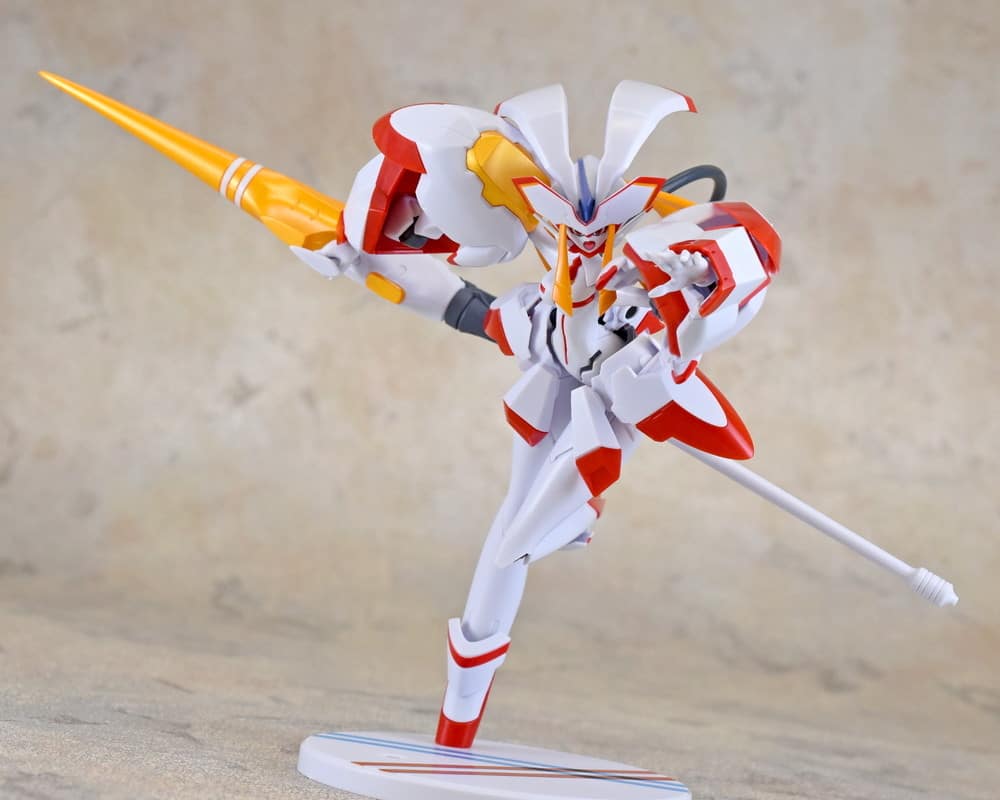 Strelizia is Zero Two's robot and is a separate unit from the Klaxo-Sapien clone. But since the mecha physically unites with the character later on, it's worthy of a spot on this list. There wouldn't even be any Darling for fans to love if the Franxx didn't exist in the first place.
Furthermore, since the figure is a carbon copy of Strelizia's appearance in the anime, it's the perfect partner for the miniature Zero Twos. It would look great specifically next to the S.H. Figuarts and Nendoroid versions.
Release date: October 2018
SRP: $34.99 – $54.99
Rarity: Low to Medium
Pros
This figure has a noticeably superior appearance compared to the Strelizia Moderoid by Good Smile Company. It looks well-built and feels sturdier as well
The figure offers a broader range of movement than the GSC version, meaning you can recreate several scenes from the anime without trouble
Most stocks of this figure have no issues regarding mold and paint. It also comes as a single piece, so there's no need to assemble anything
This primarily white Strelizia is more well-known than the red or Kiss version since it's what Zero Two used for most of the series
What attracts me the most about this variant is that it looks neat and classy. There aren't any prominent seam lines, and most of the joints are out of sight
Cons
Although Bandai made this to pair with the S.H. Figuarts Zero Two, it's too small. Strelizia should've been at least 8 inches or taller to create a clear size difference between the two
FAQs
Question: Is Zero Two A Robot?
Answer: No, she's not. Zero Two is a half-human and half-Klaxo Sapien hybrid that Dr. Franxx made with the genes of the Klaxosaur princess. The robot she rides in the anime is her Franxx named Strelizia.
Question: How Many Licensed Zero Two Figures Can I Buy?
Answer: A total of 16 official Zero Two figures currently exist. Fifteen are already available in the market, and one is about to come out in late 2023. Only 4 have articulation (2 Nendoroids, 1 S.H. Figuarts, and 1 Harmonia Humming), and the remaining 12 are in fixed positions.
The top 3 most expensive figures are:
• Zero Two 1/7 The 13th Unit Version by Kotobukiya
• Zero Two 1/4 Bunny Version by FREEing Uniform Version by Aniplex
• Zero Two 1/7 by Max Factory
The three of them currently have a price tag of $300 or more and are no longer in stock at regular stores.
Question: How Many Characters From Darling In The Franxx Have Figures?
Answer: Toy manufacturers have only focused on making four characters in the series. They are Zero Two, Ichigo, and their respective Franxx mechas, Strelizia and Delphinium. The Darling in the Franxx toy line has 24 figures: 16 Zero Two figures, 4 Ichigos figures, 3 Strelizia figures, and 1 Delphinium figure.
Tips on Collecting Zero Two Figures
It's never too late to join the Zero Two lovers club since almost all of her figures are still accessible. Besides that, many of them have superb craftsmanship, so it will be worthwhile to buy them. They'll look impressive wherever you display them and retain their value even out of the box. That's how coveted Zero Two figures are.
The only drawback is that you'll need to get the rare ones from credible online stores or sellers since you won't find them at retail stores. For example, when you want the best figure in this guide, the Zero Two 1/7 by Max Factory, you'll have to order from anime specialty sites like Solaris Japan and Ninoma.
However, if you're going into the hobby completely blind, I suggest you go for the recent releases first. This way, you can still get them locally and slowly get acquainted with how hunting figures work. Once you're more used to the local collecting scene, you can target the hard-to-find ones since you'll be more informed. Because whatever figure it is you want to pursue, you'll get it safely when you have the proper knowledge.
And now that you know what the fuss about Zero Two figures is, you can decide how many pink-haired cuties you want to welcome.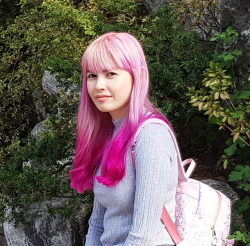 Latest posts by Charissa Fuentes
(see all)