Genshin Impact is currently one of the most addicting online games in the world. It's got such a massive and dedicated fanbase that hundreds of its merch are flying off the shelves like crazy. Out of all of them, the characters' figures are worth buying the most.
They're on a different level as they have a unique appeal that no other product can offer. How could other toys compete with figures when it's like having a miniature 3D version of your fave Genshin husbando or waifu? It's a rewarding feeling unlike anything else!
Therefore, if you're interested in making a personal Genshin team, this best Genshin Impact figures guide will make it as easy as pie. Keep your eyes glued to this article, and you'll learn all the relevant information to create your perfect PVC harem or collection.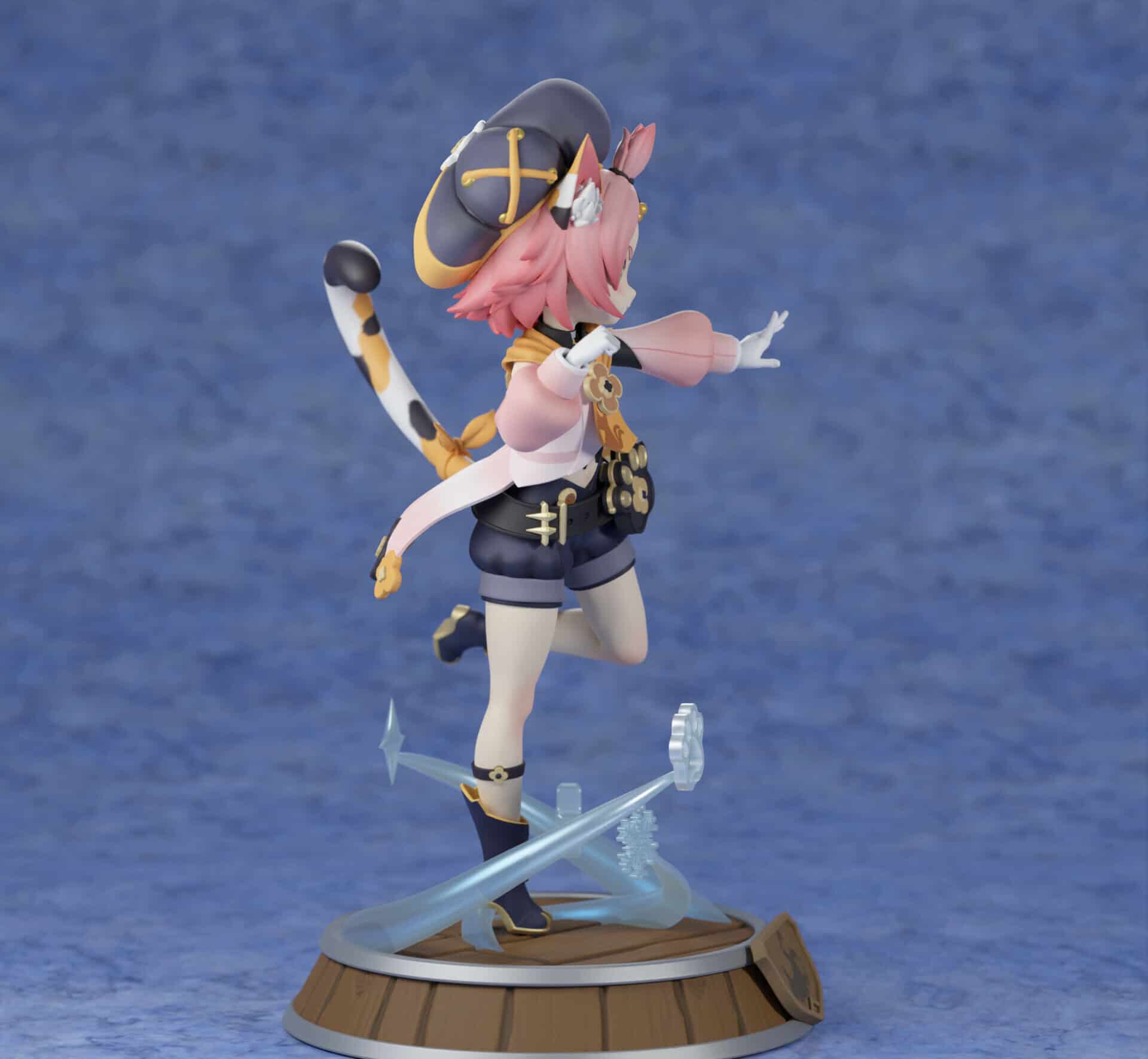 Bottom Line Up Front
The Genshin Impact figure that should be number one on your to-buy list is Ningguang 1/7 by HoYoverse. It surpasses the quality, design, and layout of the other figures from the game.
My Personal Picks
Best Overall Design – Ningguang 1/7 by HoYoverse
Most Budget Friendly – Venti Nendoroid by Good Smile Company
Best Bang For Your Buck – Klee Spark Knight Version 1/7 by HoYoverse
Most Badass – Xiao Yaksha Version 1/7 by Apex
Words from a Seasoned Figure Collector
The items in this guide aren't the run-of-the-mill toys you see daily. Aside from being pricey, they also come with specific concerns you can't ignore. Some common examples are space and display issues. Thus they require more thought and consideration before you purchase them.
I know you're itching to check out what you have in your cart. But believe me, impulse-buying figures rarely turn out well. Just take a look at me. I got into the hobby without preparation and made tons of bad purchases.
Was it fun? Yes, definitely. Though, the stress of disposing of unwanted figures outweighed the minutes of joy I had from obtaining them. So, to stop you from making the same mistakes, you should keep this guide in mind. It will equip you with the knowledge I gained as a collector.
You'll get all the vital details so you'll know what to expect from each item and on collecting figures on the whole. After all, there's no better view than from a collector who's personally seen the handiwork of the toy manufacturers producing Genshin Impact figures.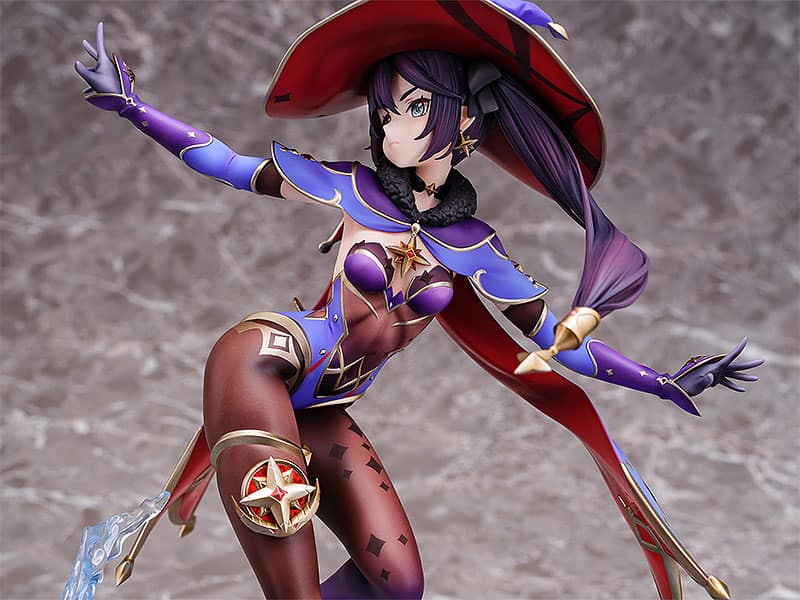 Selection Criteria
Has the Most Accurate Design
Genshin Impact's bright and refreshing visuals constitute a significant part of its allure. Consequently, figures nearly 100% identical to the characters' official design are more attractive than those that only bear a resemblance. For this reason, the items in this guide are all true to the characters' appearance and vibe.
The Best-looking Version of the Character
The figures listed below fully capture the beauty of the characters on various levels that other figures can't.
Licensed Figures Only
There are plenty of Genshin Impact figures in the market. However, your collection will only have solid value when you buy official figures. Because unlike Garage Kits, bootlegs, and the like, licensed figures have first-rate quality as they go through thorough professional assessments. Besides, even if they're not flawless, they still have excellent craftsmanship and offer replacements in case of defects.
The Best Genshin Impact Figures Available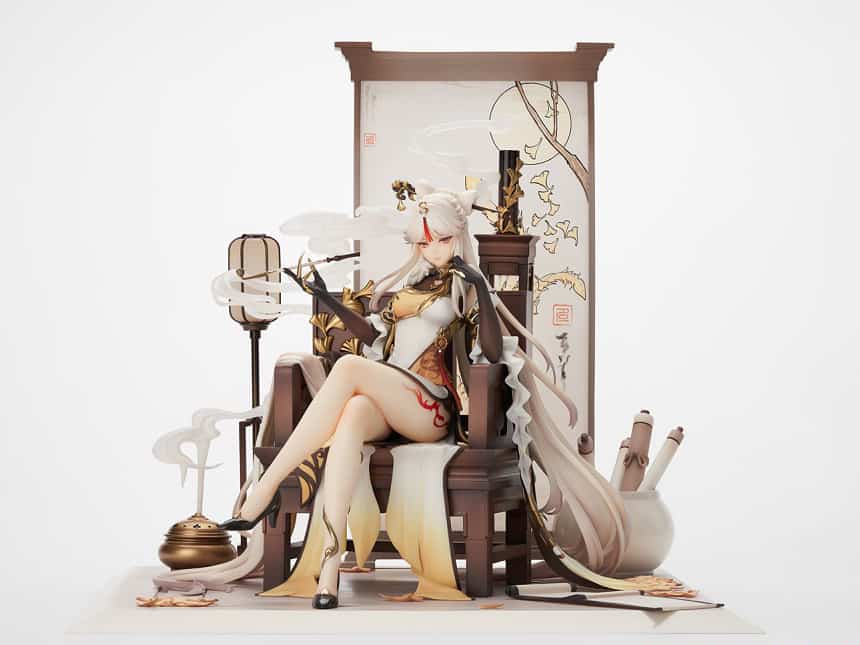 I always remind myself "manage your expectations" when it comes to figures because nothing is perfect. Yet I'm happy to declare that this version of Liyue Qixing's Tianquan sure comes close to it!
My boyfriend recently got this figure, so, thanks to him, I could admire this piece in person. Every part of this figure has been impeccably crafted, from the majestic box down to the scroll accessories. It's a high-quality piece of art that any Genshin Impact fan will love.
Release date: October 2022
SRP: 222 – 415$
Pros
It's the only Genshin Impact figure with a one-of-a-kind fancy outer box that's made of wood-like material
You don't have to fret about anything falling over when moving or adjusting this figure. Because save for the open scroll and the Jade vase, you can attach everything to the base
It's among the most mesmerizing Genshin Impact figures and the only one that includes a complete diorama set
The figure's sculpt and paint job are generally clean, as there aren't any apparent errors (no noticeable seam lines, paint smudges, etc.)
It's the sole figure that depicts a distinct area in Teyvat (the interior of the Jade Chamber)
Cons
You'll have to carefully think where you'll put this figure because it occupies a lot of space (a whole DETOLF shelf)
Ordering this figure overseas will be costly since it's heavier and larger than regular ones. The entire set (the base, Ningguang, and accessories) measures around 10.6 x 11.8 x 11.8 inches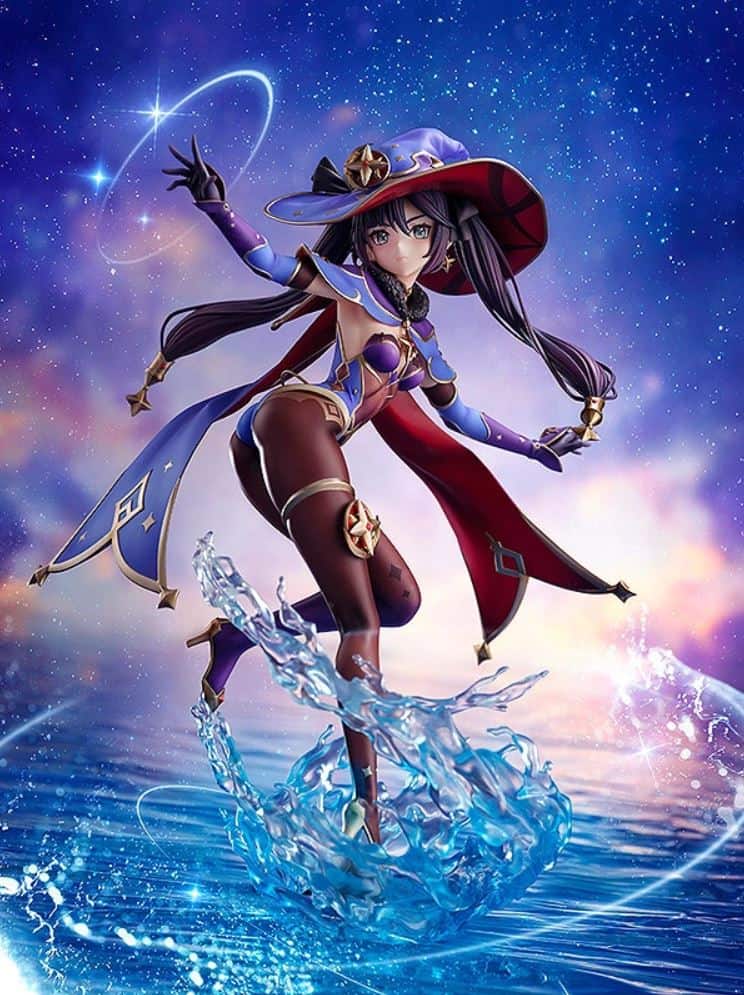 Mona is famous in the Genshin Impact community as the mage with the to-die-for booty. Naturally, this figure highlighting her asset is a must-have when she's your waifu. Don't worry, though, as there's plenty to love about this piece than just her plump behind.
As you can see from the released product, Wonderful Works delivered what they promised and brought Mona's tantalizing features to life.
It's also important to note that this might be the last Mona figure with her original outfit. There's a chance that future scales of the mage will use the less revealing new default costume due to China becoming stricter with its censorship laws.
Release date: October 2022
SRP: 118 – 220$
Pros
The figure has a neat and seamless appearance since it's directly connected to the water effect and base. Plus, even if the metal peg doesn't go through all the way, it still won't be evident since it's hidden behind the effect part
What I love about this piece is that the shading technique adds realistic depth to the figure. It accentuates Mona's bodyline and the clothes' texture
Wonderful Works did a splendid job on this figure's water effects. It has a natural-looking layout, so it looks somewhat believable
It's one of the few Genshin Impact figures with dynamic poses, as Mona looks like she's in the middle of casting an attack spell
Cons
Some stocks may have problems inserting the base's peg into the figure's foot. Luckily, it's easy to fix, but you will need a blow dryer to soften the slot on Mona's foot
You'll need to put some effort into lighting up the figure's face for display or photos since the huge hat casts a shadow on Mona's face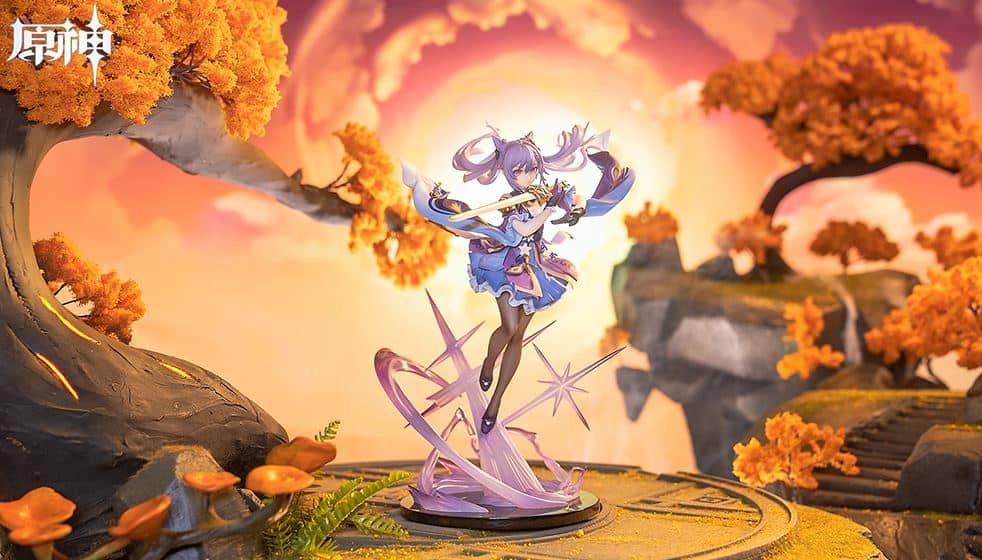 Apex deserves a Chef's kiss for Keqing's figure, seeing that it's as good as a clone of the character. It's a lovely piece that I'm positive stans of the electro user will be happy to put on display. There isn't any other merch that even comes close to possessing the delicate and dignified presence of Liyue Qixing's Yuheng like this one.
What's especially appealing about this version is that it replicates her attack stance. The pose is a good call since it's more attractive than going with her banner illustration, as Apex did with the others.
Release date: December 2022
SRP: 130 – 260$
Pros
It's a highly detailed figure, as you can see that Apex faithfully recreated the intricacies of Keqing's costume (like the electro pattern on the vision and the various ornaments on the clothes)
The dynamic pose is from the character's Elemental Burst Starward Sword attack
This figure includes two versions of the Lion's Roar sword, meaning you can display Keqing wielding either one
The base's design matches Keqing's vibe to a tee. It's pretty and looks like after the electro energy she conjures when she attacks in the game
Cons
This figure has minor but visible sculpt flaws. The two most noticeable ones are the seam line on the right sleeve and the rough molds of the detachable twin tails
Since the hair pieces can't be fully inserted into the head sculpt, stocks of this figure have a small gap between the head and the twintails
The small accessories on Keqing's clothes are fragile and will immediately fall off with some light pressure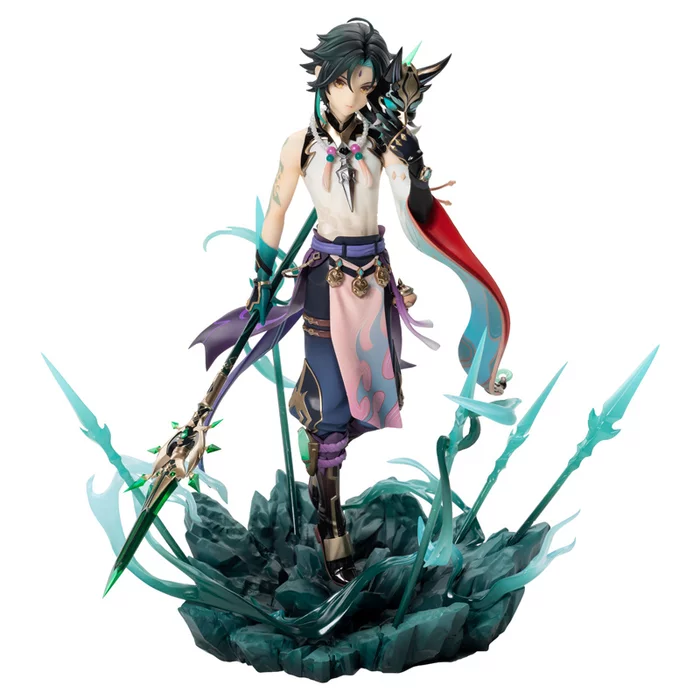 As one of the consistent top characters, it was inevitable for Xiao to get a figure. He has such a strong hold over fans that he got a scale ahead of Zhongli, Diluc, and Childe, despite being released later than them in the game.
I'm glad for the favoritism, though, since this is one of the most striking Genshin Impact figures. Xiao's base, in particular, is top-tier and only second to Ningguang's. And from what Apex has done with Keqing, it's undeniable that this will be another hot seller.
So even if the Adeptus is your boy or not, it would be in your best interest to snatch this up before it becomes a grail.
Release date: June 2023
SRP: 174 – 250$
Pros
It has an intimidating base that showcases Xiao's elemental power. The design is also similar to the visual effects of the character's Elemental Burst, Bane of All Evil
This figure has a more comprehensive appearance than the others since it has all of Xiao's trademark items (mask, spear, and attack effects)
It's one of the few male scale figures from the game, second to the Aether 1/7 by Kotobukiya
There's no need to hesitate in ordering this figure. Because based on Apex's track record, the item will look the same as what's shown in the promo photos
Depending on the store you order this from, the figure will include a preorder bonus item: an official poster or Shikishi board with Xiao's illustration
Cons
Since the figure has many thin and small details (the ornaments on the sash), the odds are high that they'll be prone to breaking off, like with the Keqing 1/7 by Apex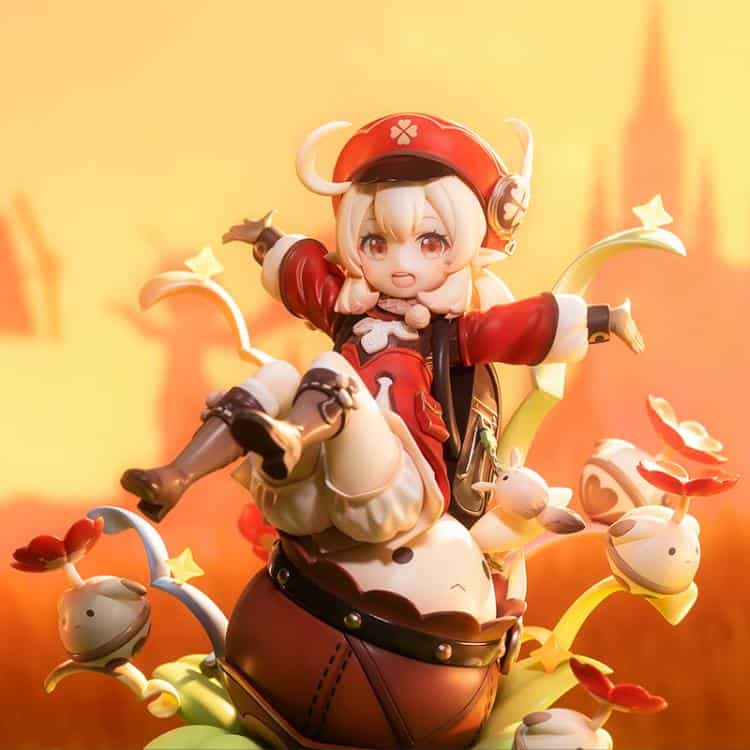 Can't get enough of the pyromaniac's explosive antics? Then this Klee figure is a necessary addition to your shrine. I've combed through all the Genshin Impact figures, and this is the best Klee you can have. It's got everything that fans love about the tiny knight.
With this figure, you'll receive what you see in the game, as it looks like Klee directly jumped from the screen to reality. Not only is it a carbon copy of the troublesome pyro user, but it's also one of the cutest Genshin Impact figures.
It's worth pointing out that this version has the least number of factory errors among the existing figures. So it's the ideal introductory piece for newbies and the best choice for fussy toy collectors.
Release date: February 2022
SRP: 145 – 170$
Pros
It has a dynamic and fun pose that matches the character's personality. The figure's entire appearance is also memorable because it includes Klee's signature bombs
Even with an elaborate base, this figure only takes up a little space. It's size-appropriate to the character as well, which becomes more noticeable when displayed with other Genshin Impact figures
This figure's among the easiest ones to display. It comes as a single piece and will fit nicely anywhere due to its small size

It has commendable paintwork as the figure's outfit and accessories have a lifelike texture

You can confidently buy this version without worrying about its quality since stocks have little to no detectable blemishes
Cons
This figure has already doubled its market price. Most stores outside of China are selling it for around 250$ or more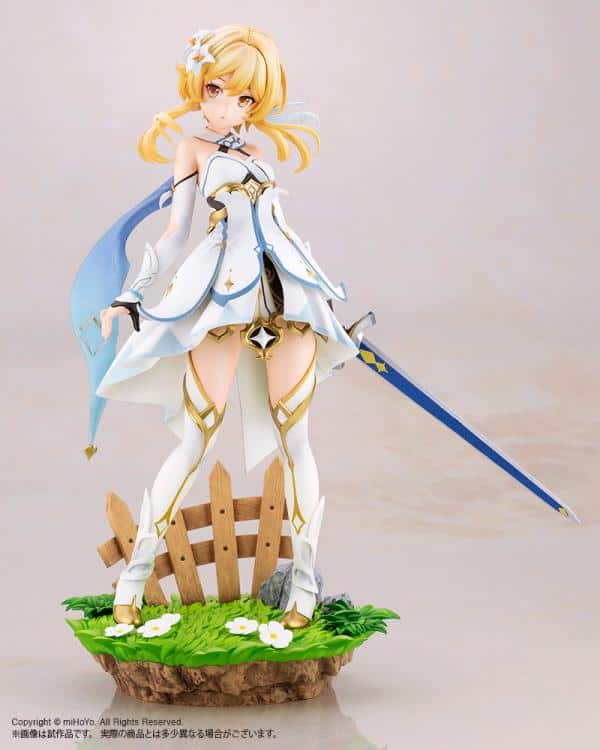 Genshin Impact's story mainly revolves around the two otherworldly twins, Lumine and Aether. As such, this figure is sure to be a hit and a sought-after piece as it's the sole scale of the female Traveler.
On top of that, you can be at ease with the craftsmanship of this figure. Based on how well-made Kotobukiya's Barbara 1/7 scale is, this Lumine will have the best mold and paint job. The Nendoroid and Funko Pop variants won't be able to compete against it at all.
Release date: April 2023
SRP: 114 – 170$
Pros
It's the only scale figure of Lumine that offers a second faceplate as a preorder bonus
Since this figure is by Kotobukiya, it'll have smooth and clean paint and sculpt quality
The base has great details and is reminiscent of the grass fields of Teyvat. Additionally, the earthy color scheme and design also complement Lumine's outfit, which enhances her innocent aura
Going by my experience with Kotobukiya, this figure's skin tone will have a realistic hue and follow the promotional photos' color
The figure has a timeless appearance since it's from the game's official art. It's also one of the character's most recognizable looks, meaning this version will stay relevant even if other Lumine variants come out
Cons
The figure's right hand looks stiff and awkward due to the fingers' positions. It can be distracting since Lumine's hand is in full view and emphasized by the black glove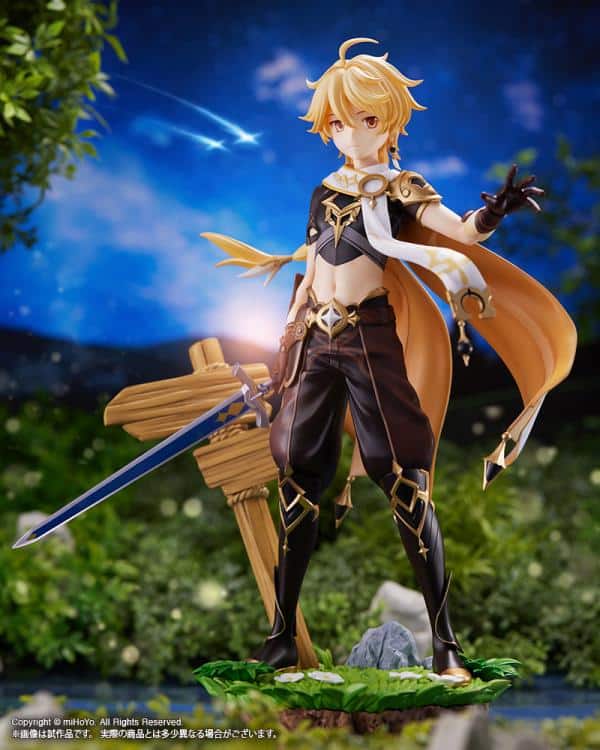 If there's one character from the lineup that you should prioritize, it's Aether. Given his screen time in the media and promos, it's evident that he's the face and best representation of the game. Hence this lone scale figure of him should automatically be added to your cart to complete your Genshin Impact collection.
Moreover, it's safe to say that this version is in expert hands since Kotobukiya is doing it. I've owned a couple of their works and primarily have good experiences with them.
Release date: April 2023
SRP: 114 – 170$
Pros
The figure's bonus faceplate has a much better expression than the ones for Lumine and Barbara's figures. Aether's extra face is entirely different from his default faceplate. Meanwhile, both girls' bonus faces look almost the same as their default faceplates
It has a similar-looking base to the other Genshin Impact figures by Kotobukiya. So the three of them (Aether, Lumine, and Barbara) will have a neat and uniform look when you display them next to each other
This figure is a copy of Aether's appearance in the character's official illustration. There isn't a hair, muscle, or color that's out of place
It's the only high-end large-scale figure of Aether
Unlike Apex figures, you can't easily detach any of the small accessories or ornaments on Aether's costume
Cons
The strip of hair on top of the figure's head is more fragile than the rest of its body since it's the thinnest part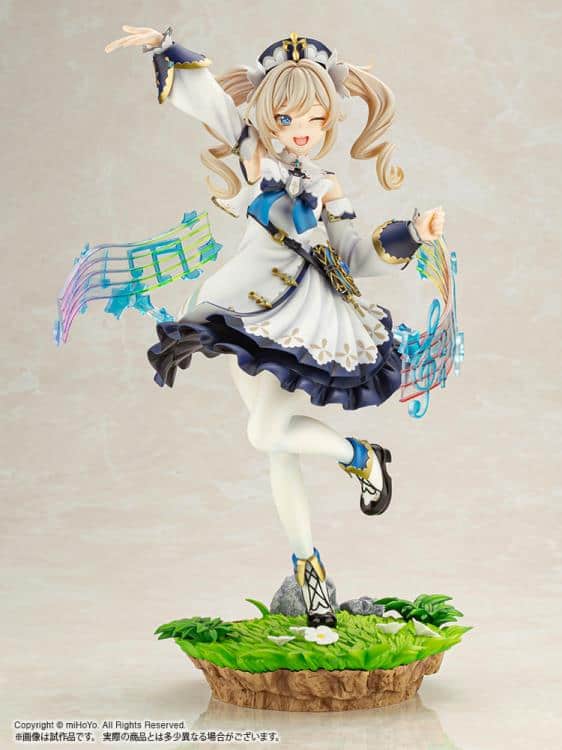 Barbara may not be every player's cup of tea in the game, but this figure's aesthetics are welcome on any fan's shelf. Who could say no to this colorful reproduction of Mondstadt's number-one Idol? I know I can't!
I also love that Kotobukiya played up her cutesy side instead of going with the basic look like with Lumine and Aether. The musical notes surrounding Barbara make this more attractive than the source material. If this had a more playful base, it would rival HoYoverse's Klee 1/7 scale for the most charming figure.
Release date: November 2022
SRP: 121-180$
Pros
You can play around with this figure's appearance in two ways since you can display it with or without the musical note effects
The effect parts attach to the figure's skirt seamlessly. Additionally, the two support pieces for them aren't noticeable in some angles, which gives the illusion that the musical notes are floating
Since this figure's paint job and sculpt are precise, most stocks of this variant have barely any evident errors
The support peg under Barbara's foot is crystal clear, so it blends well with the base. Due to this, the figure has a smooth and neat appearance from top to bottom
Cons
The extra faceplate isn't worth getting. The only difference between the default and bonus faces is the open eye, nothing else
You might have trouble inserting the effect parts into their designated slots under the skirt. In some cases, there might be excess plastic material in the holes that you'll have to remove to put in the musical notes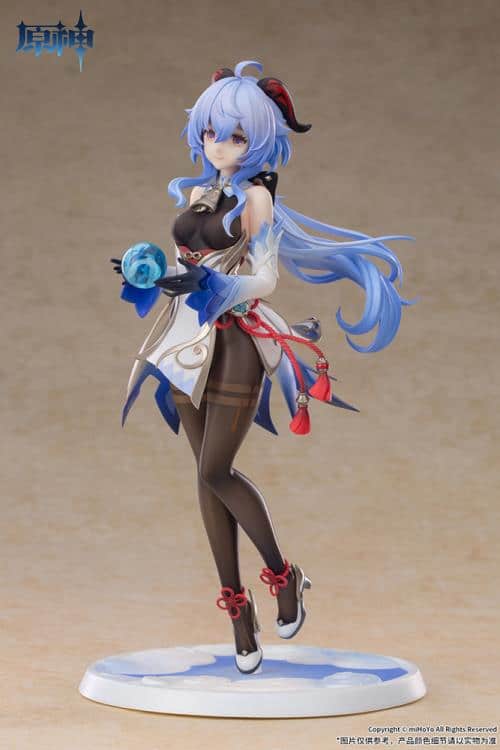 Another fan-favorite character you can proudly display in its glorious PVC form is this Ganyu scale. While it's not as flashy as the other Genshin Impact figures, its beauty doesn't lose out in any way. It's also the only premium figure of the Adeptus at the moment, making it a need for Ganyu stans.
I'm not a fan of APEX (yet). But I have high hopes for this variant after seeing how detailed their Keqing came out. Because although the base isn't swoon-worthy, it'll still be the best Ganyu figure because of its colors and mold.
Release date: February 2023
SRP: 110 – 225$
Pros
It's a spot-on 3D recreation of the character's banner design, but with a better face. This version has a more innocent and sweet expression which better suits Ganyu's timid nature
Based on Apex's past works, you can expect this figure to have the same vibrant colors and well-defined sculpt that's in the promotional photos
I like that Ganyu's hair isn't sticking to the body. This position allows anyone to have a clear view of the outfit's back details
The visible support peg is so tiny and thin that it's not noticeable at most angles
There are two preorder bonuses that you can get with this figure: a Shikishi board or a clear file folder with Ganyu's official illustration
Cons
It has one of the most boring bases compared to the rest of the Genshin Impact scale figures
Apex didn't correctly follow the colors of Ganyu's outfit from the game and illustrations. Instead of having a metallic gold shade, the collar's bell accessory and the costume's lining are silver
The costume's small ornaments are likely to fall off easily, similar to the Keqing 1/7 by Apex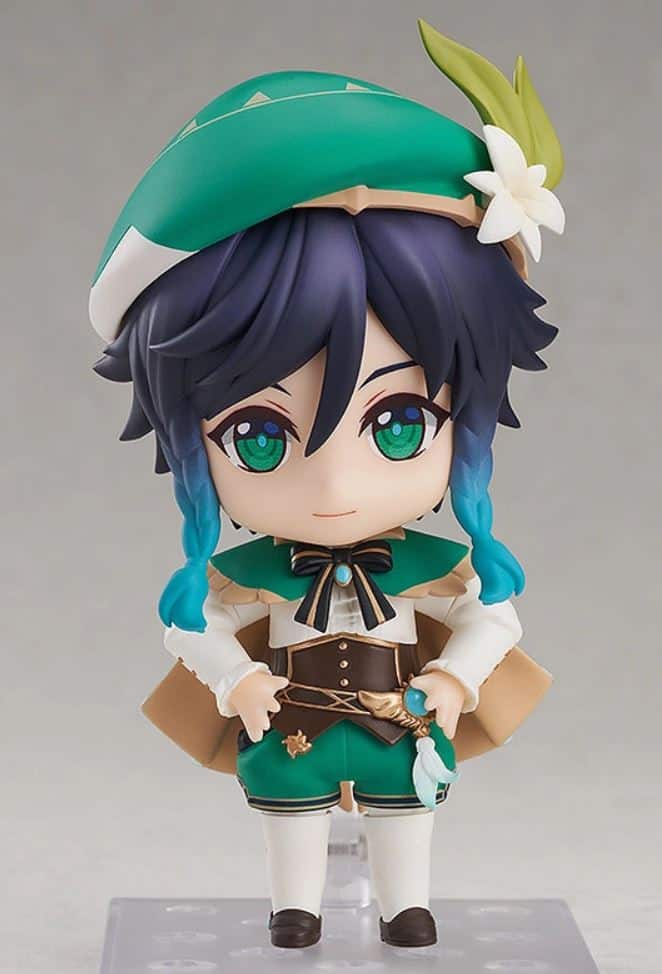 Venti may be an oldie, but he's a certified goodie that's beloved by every fan. The ancient shota is so popular that his name's been a constant on the top 10 Genshin Impact characters since he first appeared. That's some star power, considering there are over 50 characters in the game.
So while there's no news about a large-scale figure of him, this mini version is the best option. A little Anemo Archon is better than nothing.
Release date: October 2022
SRP: 44 – 63$
Pros
Since this Nendoroid is only 4 inches tall, you can put it in tight and narrow spaces that typical scale figures can't fit in
It comes with Venti's staple items from the game that you can attach or detach from the figure: the wooden lyre Der Fruhling, and the 5-star Skyward Harp bow
The figure has a clean paint job since most stocks have no errors. I also love how Good Smile Company got the gradient colors of Venti's hair correctly
You can alter Venti's appearance a bit since the cape, collar, and hat are removable. The cape also has two moveable parts that you can adjust to change its direction
It's the only top-quality and articulated Venti figure that you can buy
Cons
There should've been a magnet inside the cap to secure it since it falls off the figure's head with the slightest movement
The bow accessory looks incomplete since the strings are missing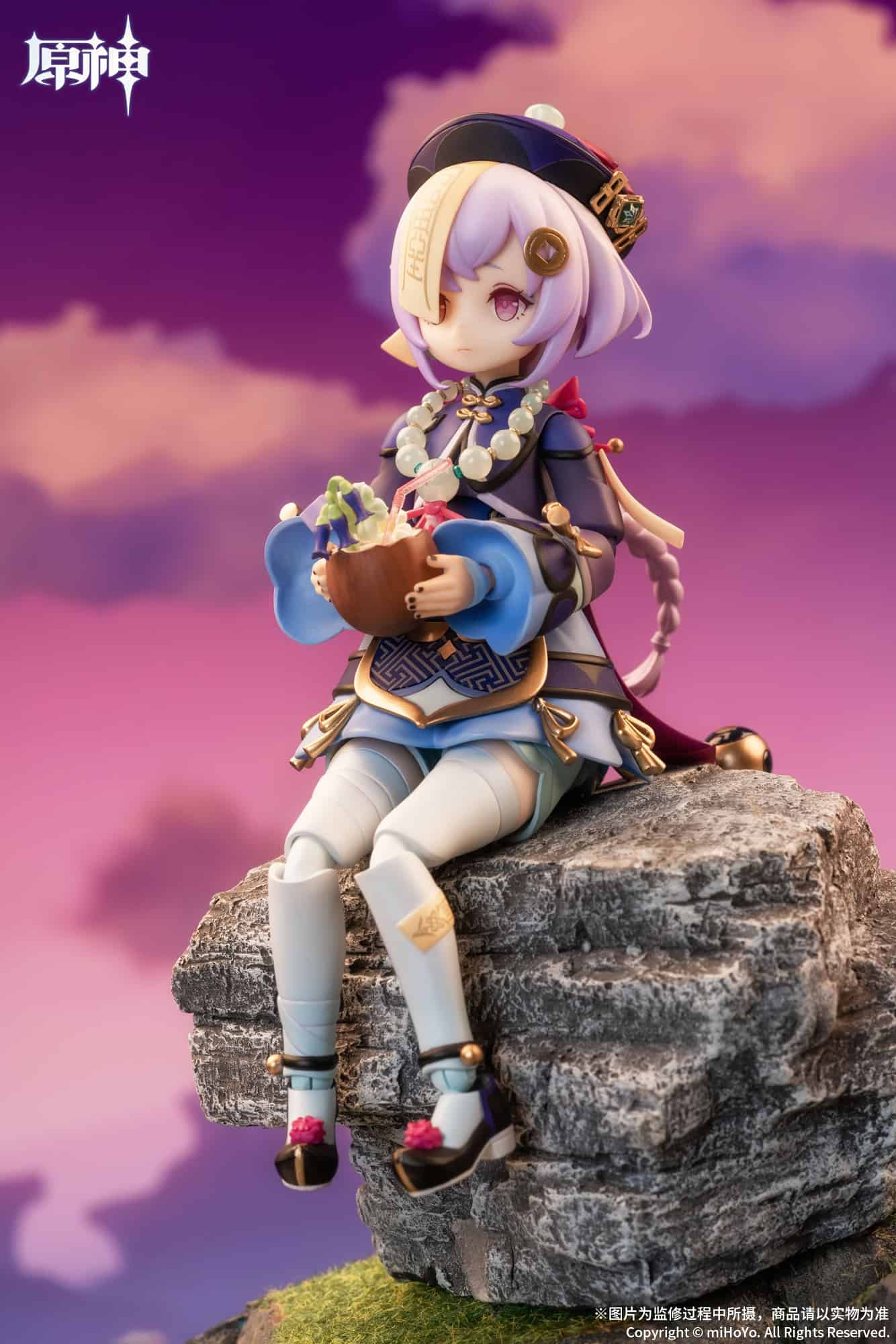 She may be a zombie, but Qiqi's appeal is far from dead. The forgetful pharmacist's refreshing personality makes her one of my faves from the game. I love how her monotonous voice and calm demeanor cutely contrast her itty bitty size.
Fortunately, Apex accurately duplicated the cryo user's in-game model and her aloof aura. If this figure didn't have ball joints, it would've passed for the tiny real-life version of the reanimated chibi.
Regardless of your fondness for her, I suggest you get this figure if you want a complete collection. It's because this might be Qiqi's only licensed figure since she's in the bottom half of the popularity rankings.
Release date: January 2023
SRP: Around 100$
Pros
It's the tallest Genshin Impact action figure to date. It stands at 6.3 inches, whereas the Mona Figma by Max Factory is just 5.9 inches
This figure's advantage over other action figures (like Figma, Bring Arts, Etc.) is that it comes with alternate clothes, which help to achieve more lifelike poses
It's the only official Qiqi figure
Due to its ball joints, this figure can do various positions that Nendoroids and scale figures can't
You can get two preorder bonus items when you order directly from Genshin's official store, Genshin Tmall: a Qiqi notebook, and a rubber badge
Cons
This figure has an unnatural-looking thigh gap. Its thighs are too far apart, and it's most noticeable when the figure is in an upright standing position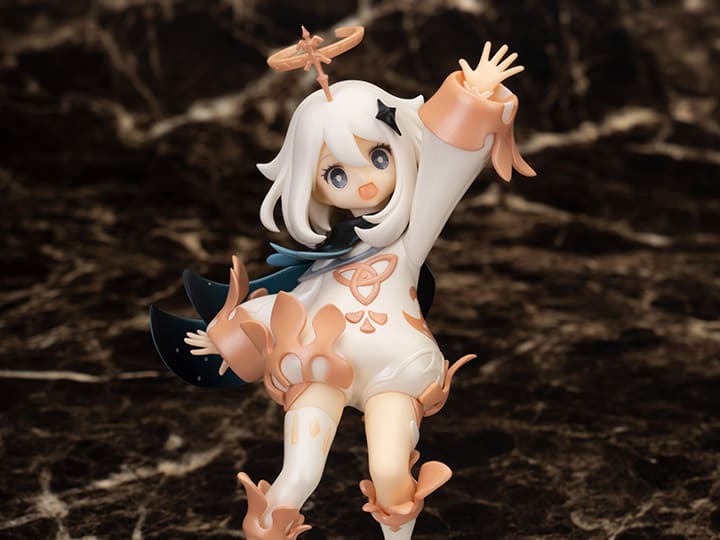 At this point, Paimon is synonymous with both versions of the Traveler. As a result, any display will be lacking if their tiny companion is missing from their side. With that said, the game's talkative emergency food is a core character that you must have.
Before purchasing this, you should know that it doesn't have the same specs as the Genshin Impact figures mentioned above. It's slightly rough around the edges compared to the others since it's HoYoverse's first figure. But even if it's not the best out of the bunch, it's still the best version of Paimon that's been made.
Release date: June 2021
SRP: 47 – 82$
Pros
It's the only officially licensed premium Paimon scale figure. The other variants of the character have lousy quality
This figure matches the character's in-game proportions. So it'll be the smallest one when displayed next to the other Genshin Impact scale figures
It comes with two bases: the default sparkly blue base, and the plain white one
Similar to the Venti Nendoroid, you can put this figure nearly anywhere since it's smaller than the average scale figure
Cons
This figure has limited display options because its face looks weird from the sides.
You have to be extra vigilant when buying this figure since there are tons of bootleg versions of it
Incoming Figures
Are you still hungry for more Genshin Impact figures? You're in for a treat because several characters will get the PVC treatment in 2023. The following toys are already in the planning stages according to the recent WonHobby (Wonderful Hobby Selection) expo:
Zhongli Nendoroid by Good Smile Company
Raiden Shogun Nendoroid by Good Smile Company
Kaeya Alberich Nendoroid by Good Smile Company
Fischl by Alter (a 1/6 or 1/7 scale figure)
Going by past release patterns, most figure-making companies will reveal the prototypes by the 2nd quarter of 2023. Preorders will likely open up by the 3rd to 4th quarter of the same year.
FAQs
Question: What Are The Best Genshin Impact Toy Lines To Collect?
Answer: When you want the best quality, go for scale figures for large-sized toys and Nendoroids when you prefer smaller ones.
Question: How Much Will I Have To Pay For All The Genshin Impact Figures?
Answer: You'll have to shell out around 1,440 – 2,305$ to buy all the released and soon-to-be-released Genshin Impact figures on this list.
Question: What's The Most Affordable Genshin Impact Toy Line?
Answer: If your primary concern is keeping a low budget, I recommend buying Genshin Impact Funko Pops. Each character only costs 11$, so you can get all the available characters without even reaching 100$. They're accessible as well and are available at most toy and anime shops.
Conclusion
Initially, I wasn't hyped about Genshin Impact figures when I discovered most of them would be from Chinese manufacturers. I doubted the quality since I knew a couple of Chinese figure companies because of a MOBA game I play, Omnyoji. What I saw before didn't wow me, so I wasn't looking forward to anything.
For this reason, I was pleasantly surprised that the recent Genshin Impact figures were incredible. The caliber of the Ningguang and Keqing scales proved me wrong and earned my respect. Of course, they still don't surpass my go-to Japanese brands (Alter, Flare, etc.). But they are impressive enough that I wouldn't think twice about buying them anymore.
Now, I'm happy that Apex and HoYoverse will continue to make future characters from the game because it's evident they'll be great. Experience these gorgeous figures yourself, and start working on your dream team.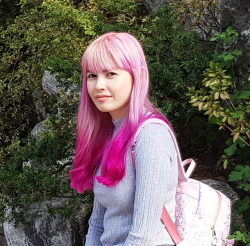 Latest posts by Charissa Fuentes
(see all)