Finding the rarest Magic the Gathering (MTG) cards require me to become a Planeswalker, capable of using sorcery and collectible experience to find the diamonds among the soil. So, call me a Planeswalker because I'm about to enchant you with the rarest Magic the Gathering cards guide that brings the rarest picks to light.
I'm a new pop culture collector who enjoys Funko Pop, statues, Nendoroids, replicas, model kits, and action figures. In addition, I had an antique business for 13 years. I often helped clients source the rarest of their best collectibles, even MTG cards. Trust me, finding the rarest MTG cards requires experience.
So, let me help you find the MTG cards of your dreams because I enjoy helping clients and readers source the rarest collectibles.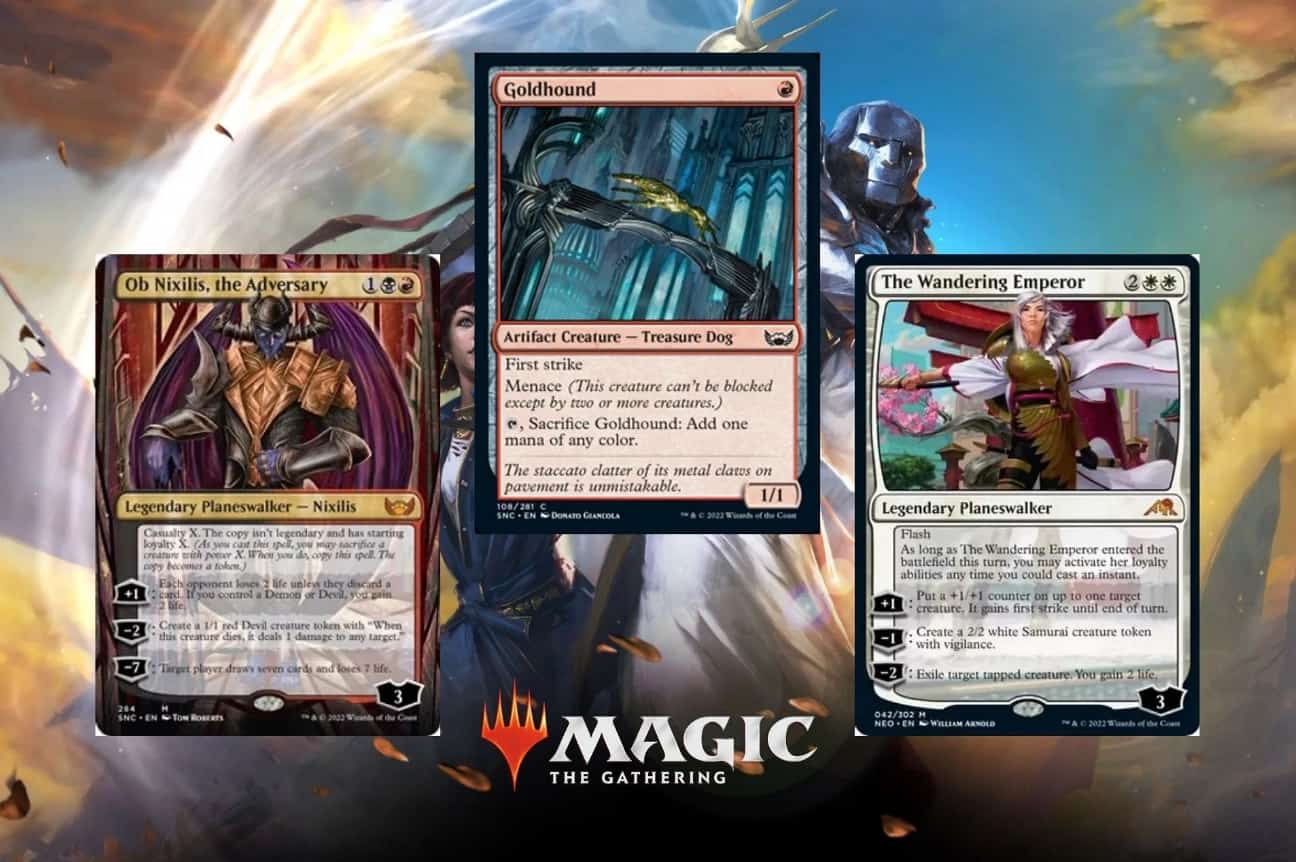 Bottom Line Up Front
Please answer a question before moving ahead. Do you want the rarest Magic the Gathering cards of all time? Or do you want the rarest MTG cards you can buy without hunting down the original illustrator? Admittedly, I'm taking a different approach with my rare MTG card collection. So, I'll focus on the rarest cards available to buy.
It's easy to list which cards sold for more money on auction, but what are the chances you'll be able to buy them? So, I'll share the rarest cards you can buy without breaking the bank and your patience. In addition, I'll share every buying guideline from a professional perspective should you wish to buy pre-owned cards instead.
So, you'll be able to buy the ultra-rare Alpha Pack Black Lotus MTG Card if you wish. However, you'll know whether it's genuine, the condition, and everything a collector deserves to know before the reseller or auction house tries to fool you. Unfortunately, not every collector can spend $1.2 million on a single MTG card.
That's how my rare MTG card buying guide comes into action. You'll know what to look for before spending even $50,000 on an Invitational MTG Black Lotus Card. Instead, you'll have a few rare MTG cards to collect that you can buy today. But first, let me share my best and rarest MTG card available for purchase.
The Beta MTG Savannah Lions PL Summons Card is my favorite because I'm South African and know the animal. Unfortunately, it doesn't score high on my rarity scale. Still, it comes from an original set and won't cost a fortune. Meanwhile, I have ten rare MTG cards you can buy today.
So, check them out before diving into my ultimate guide to finding the rarest MTG cards.
A Glance at Some Rare Magic the Gathering Cards
I don't wish to spoil everything upfront. So, here's a glance at my top ten rarest MTG cards available for purchase. The only hint I'll share here is to list them in order of affordability. However, I'd love to show you more soon enough.
A Complete Guide to the Rarest Magic the Gathering Cards
MTG is a massive role-playing fantasy game that has millions of cards. So, how will you know which cards are uncommon and rare? First, you'll have to understand every factor in the card's anatomy. In addition, there are ways to improve your chances of finding rare cards, and I'll share how I source the rarest cards.
Magic the Gathering Cards: Already a Collectible Joy
Magic the Gathering, or MTG cards, started as a tabletop game. Still, the second purpose was a collectible/trading relationship, much like the old Pokémon cards everyone used to own and trade. However, MTG is one of the oldest tabletop card games in the wizards and multiverse realms, dating back to 1993.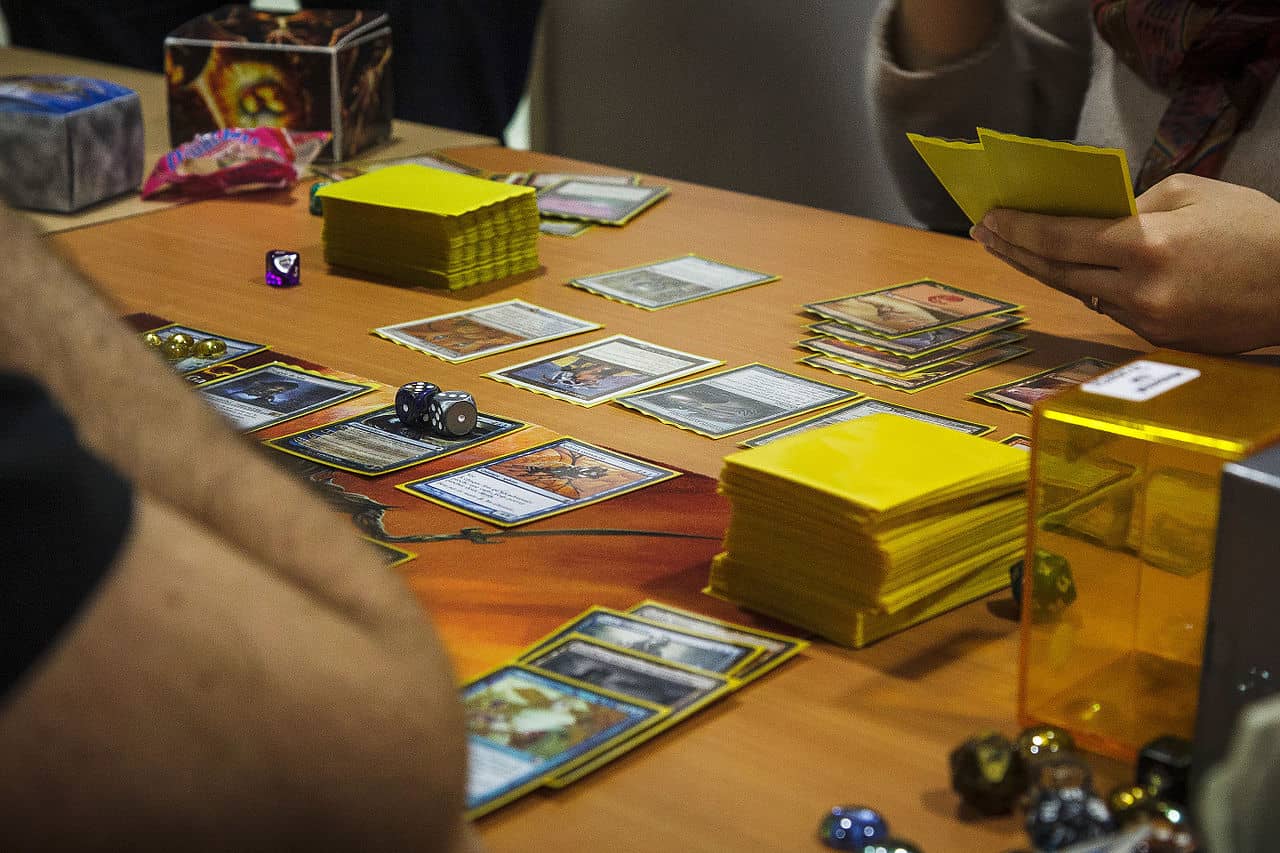 The game is simple yet tremendously fun. One player adopts the role of a Planeswalker. Its role is a magician capable of crossing planes in the multiverse to cast spells, summon beasts, and use powerful artifacts. Fantasy role-playing games (RPGs) are massively popular because nothing beats a player's imagination.
MTG has become a phenomenon you can play in person with tabletop collectible cards or as an online video game in MTG Online, MTG Arena, and Magic Duels. However, I'm a classic fan who enjoys playing RGPs in person. So, I'm all about finding the rare cards available.
Meanwhile, it helps to understand how the cards look and work when over 20 million prints are available.
Understanding MTG Card Anatomy
Before finding rare MTG cards, it helps to understand the anatomy. So, let's break it into simple indicators that will help you identify uncommon and rare cards.
The Type Line
Firstly, the card has a type line, which tells you whether it's a creature, instant, enchantment, artifact, sorcery, or land card. The type line also reveals the type of enchantment or creature. So, you might have a creature card with a dragon.
The Expansion Symbol (Rarity Indicator)
Next, you have the expansion symbol on the right side of the type line. This symbol reveals from which expansion pack the card came or the card's issue. The number inside the expansion symbol shows the pack or deck number from which the card originates.
In addition, the expansion symbol has a rarity indicator by using different colors. For example, a black expansion symbol indicates common cards you find in many packs. Meanwhile, a silver expansion symbol indicates an uncommon edition. However, a gold expansion symbol indicates a rare card you won't easily find.
Finally, there are two types of rare MTG cards:
Rare cards with gold expansion symbols
Mythic rare cards with orange, bronze, or red symbols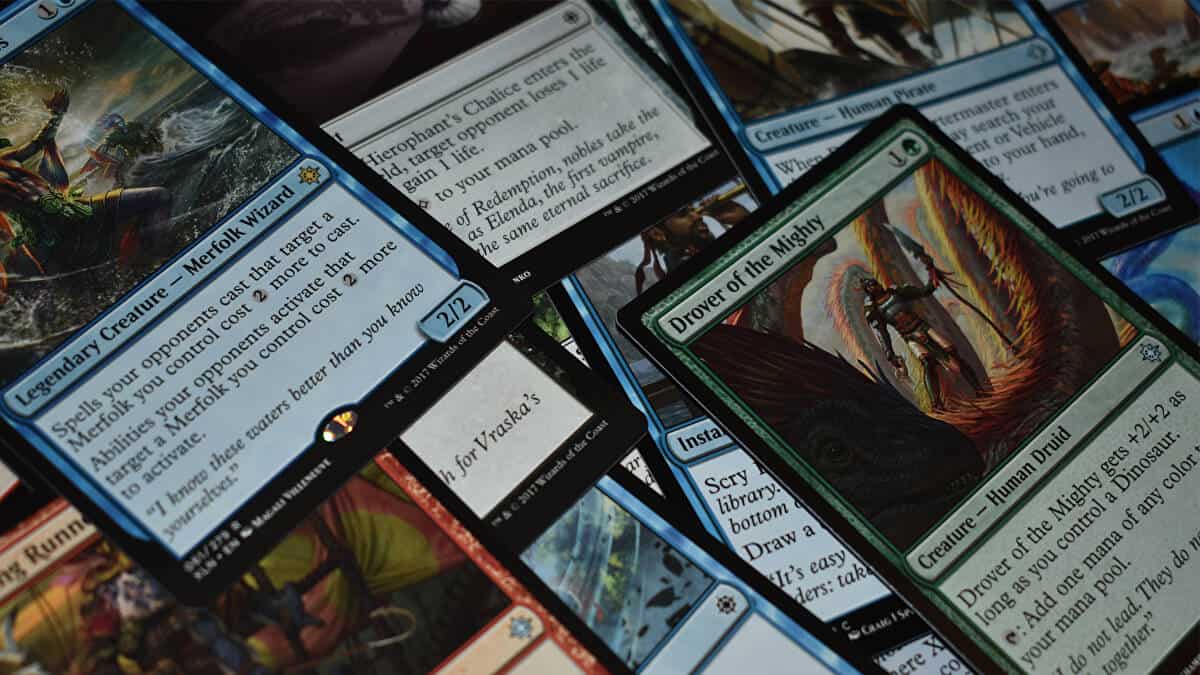 Text Box Anatomy
Next, the text box is the primary information under the type line and picture. This box has separate anatomy. So, let's break the anatomy of the text box quickly:
Non-Italic Words and Abilities
The non-italic words describe the card's abilities, special skills, and what the creature or wizard can do. Magic cards have essential information about what the magician can do with the card. However, the card will have symbols before the words to show what direction the card must face before playing it.
The flavor words are a story behind each card and are the italic text underneath the card's abilities. This text also clues how your card fits into the multiverse of MTG. Unfortunately, you won't get many hints about your card's rarity from the flavor words. Sometimes, the cards merely have a quote or joke.
Tailbit Information
You'll see the designer's name at the bottom left corner of your card. Then, the bottom center of your card has the collector's number. Admittedly, it's hard to collect every card in sequence. You'll spend years hunting them down. Finally, the bottom right corner of the card has the toughness rating.
The toughness rating is essential in gameplay. For example, a creature card with a 1/1 rating stands no chance against a 13/13 rating. The toughness ratings typically range up to 20/20, the most powerful cards.
Card Border
Most MTG cards have a black border because they're common. Silver borders come from two special packs not allowed in tournaments: Unglued and Unhinged. These packs offer humor in play and don't appeal to serious MTG players. Finally, a golden border connects rare cards from various expansion packs.
Upper Type Line
The top type line has the card's official name on the left. Meanwhile, the type line's right side shows you what is necessary to play the card. For example, you might have to spend three red mana and use a generic card first. There's nothing to hint at rare cards in the upper type line.
Bonus: Foil Cards (Chance of Rare Card)
Fortunately, every expansion pack you buy will come with one foil card, a shiny version compared to others. As a result, these cards have a higher chance of being rare, valuable, or powerful. The only difference between foil cards and standard cards is that the former has a shinier and more colorful design.
How to Find the Rarest MTG Cards
Breaking down an MTG card's anatomy is one of the simplest ways to determine whether a card is rare. Unfortunately, buying multiple expansion packs won't always help you find rare cards. They consist of ten standard cards, three uncommon cards, and a single rare or mythic rare card. So, you'll b searching forever.
Instead, I have a quick tip for finding rare MTG cards. You must look beyond the expansion symbols and border colors to find the rarest MTG cards. Of course, every collector and player will look for golden or bronze symbols. However, you can look further for the ultimate tell-tale signs of a rare Magic the Gathering card.
I'll share my insider knowledge from my antiques and collectibles business to help you find the better and rarer versions of MTG cards. I gathered these tips by looking at past trends, auction results, and eBay price histories. So, follow these tips to find your rare collector's MTG cards:
Look for cards from the original 1993 Alpha and Beta decks, especially if the illustrator signed the cards. Any of the original MTG card sets will be more valuable and rare than newer expansion packs.
Look for Alpha Time Walk cards because they allow you to cheat the system, making them sought-after by serious players. Nothing makes a card more worthy than giving you an extra turn.
Mint-condition Ancestral Recall cards from the Alpha and Beta decks are also high in demand. They aren't as well-known as the Mox artifacts, but these cards fetch reasonable prices from serious collectors.
Find cards with intensely powerful abilities. For example, some artifact cards require no mana to play, making these cards sought-after. Cards high in demand will soon turn into valuable and rare finds.
Search for Mox Jewelry cards because they're also in demand and often seen in auction houses. Mox Jewelry cards from the Alpha and Beta prints are famous. Popularity increases the demand.
Find resellers willing to sell Reserved List cards, which aren't allowed to go to print again. Admittedly, it would be best if you had the luck of the Irish to find these, but they're super rare and will never come to new packs.

Buying Guidelines for Pre-Owned MTG Cards
Finding rare cards is exciting. However, the excitement dies once you pay $1,000 to receive a damaged card. So, the first buying tip I have is to know the pre-owned card condition ratings. They're as follows:
Mint (M) cards were never used before and remained in their packaging.
Near Mint (NM) cards were removed from their original packaging but never used.
Light Played (LP) cards were played without their sleeves for extended periods and showed a fair amount of wear and tear.
Good (GD) cards were used often but still offer good condition with few spots. Unfortunately, players didn't use these cards in sleeves.
Played (PL) cards have extensive wear and tear from a lot of playing time without the sleeves.
Poor cards are a no-go for collectors because they have damage beyond the typical sleeveless playtime.
Never buy a pre-owned MTG card from a reseller without knowing the condition grades.
Beckett Magic the Gathering Graded Cards
Before sharing how I sourced the rarest MTG cards, I have a final grading system to share. Magic cards have a graded approach for collectors who want mint condition collectibles. So, this section is for the die-hard collectors who enjoy top MTG cards. A few MTG cards come in plastic sleeves or cases with graded numbers.
These cards are ideal for collectors. The resale value slowly increases while the card's condition remains mint. Professional grading through Beckett Grading Services (BGS) adds value and collectibility to MTG cards. You can also grade your MTG cards with the Beckett System. Nonetheless, two collectible card grades are as follows:
Quad Grades
Quad grades have two categories, namely Quad 9 and Quad 9.5. These are the best Becket card grades available. A Quad 9 card earns nine points for every gradable aspect. Meanwhile, a Quad 9.5 card earns at least 9.5 points for every gradable aspect. These cards are rare and valuable.
Basic Grades
Basic grades don't make cards unworthy of collecting. Many cards fall slightly short of Quad grades, earning 8.,5 points for every gradable aspect. However, they're still worth collecting.
Bonus: Some graded cards go for a second grading, resulting in two grade adjustments. Undergraded MTG cards go through Beckett's system before finding that the previous grading was incorrect. Overgraded cards mean the card grades less than the first time, which happens with age and non-mint cards.
Knowing Beckett MTG card grades will also help you find rare pre-owned collectibles.
How Do I Find Rare MTG Cards?
Firstly, I dig a tunnel halfway through China before laying a foundation with everyday Magic the Gathering Cards as a sacrifice to the multiverse plane gods. Then, I begin a secret chant to wait until they rain into the tunnel. Indeed, I'm just kidding. So, please don't run away because I promise I don't find them that way.
Instead, I'll find the rarest MTG cards you can buy today, meaning my list won't be full of boring options you can't see until the next rare auction. Then, I'll measure each card on a scale of one to five, with the higher number showing an ultra-rare card. The scale will work like this:
Cards receive one point for selling for more than $1,000
Cards receive another point for having rare or mythic rare symbols
Cards receive the final point for coming from a unique or original set, or the card is a foil edition
Cards get another point for having a GBS rating of 8.5 or higher
Cards earn a final point for being in near-mint condition
Rarest Magic the Gathering Cards Guide: For Sale Today
It doesn't help that everyone lists rare cards you can't find or afford. So instead, I'll help you find available MTG cards to start your rare collection. In addition, I'll list them from cheapest to most expensive. However, I'll prioritize the lowest rarity scale should two cards have a similar price range.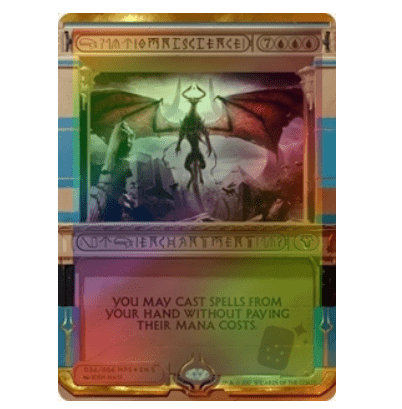 The Omniscience card from the Masterpiece Series is a powerful entity that allows you to play cards without spending their spell costs. So, this card is an excellent example of how powerful abilities can turn an MTG card into a valuable and rare collector's piece. In addition, it's an affordable option with a good rarity rating.
MTG Card Collectible Pros
Cost: Under $300
Rarity: Mythic Rare
Set: Masterpiece Series/Foil
Grade: None
Condition: NM
Rating: 3
MTG Card Collectible Cons
The card isn't graded
It doesn't come from Alpha or Beta sets
It's a medium-rare MTG card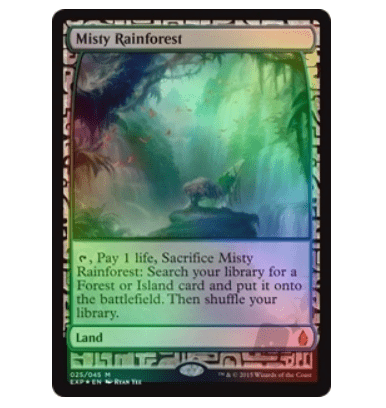 The Misty Rainforest MTG foil card is another affordable collectible from the best-selling RPG trading cards. In addition, it has a mythic rarity that makes it feel special. Unfortunately, it doesn't have the best play or ability, but it's a collectible treasure you'll see for sale often. I'd love to find a graded version of this foil MTG card.
MTG Card Collectible Pros
Cost: Under $400
Rarity: Mythic Rare
Set: Masterpiece Series/Foil
Grade: None
Condition: NM
Rating: 3
MTG Card Collectible Cons
It's an ungraded card
It's not from the original sets
The overall rating is medium-rare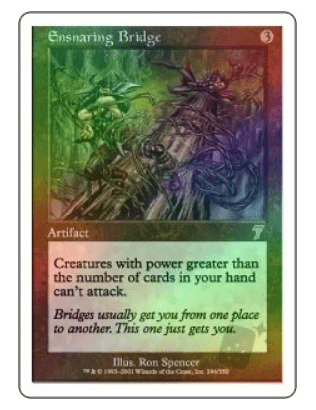 The MTG Ensnaring Bridge card is an unusual artifact that stops other players from using creatures stronger than the number of cards in their hands. Unfortunately, it can also trap you as a player. So, use it with caution. Meanwhile, the foil MTG card is becoming a rare find and won't cost your entire life savings.
MTG Card Collectible Pros
Cost: Under $800
Rarity: Rare
Set: 7th Edition/Foil
Grade: None
Condition: NM
Rating: 3
MTG Card Collectible Cons
The overall rating is medium-rare
It doesn't come from the first sets
It has no grading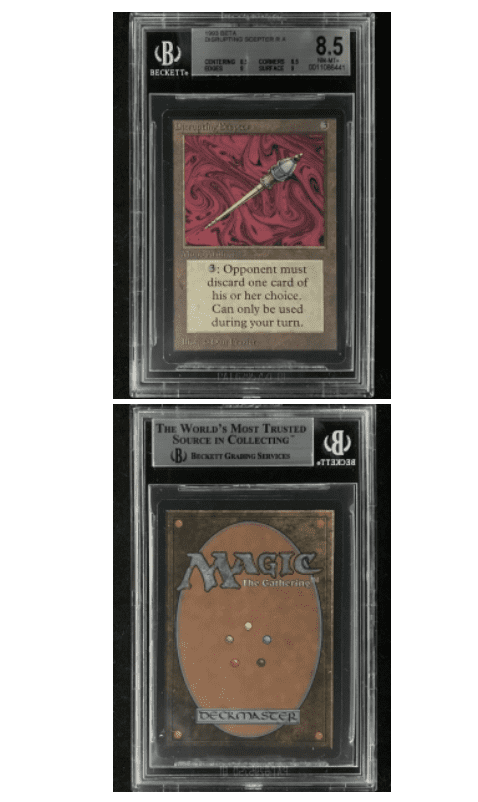 The Disrupting Sceptor card is a gorgeous collectible from the Beta set. However, you must be careful to buy only one from the Beta set and not later versions. Meanwhile, the card's abilities are brilliant because it forces an opponent to throw one card out. Indeed, the opponent chooses the card, but it still gives you an advantage.
MTG Card Collectible Pros
Cost: Under $800
Rarity: Rare
Set: Beta
Grade: GBS 8.5
Condition: NM
Rating: 4
MTG Card Collectible Cons
This card isn't for sale as often as others
I'd love to find a mint-condition version
It doesn't rate fully on my scale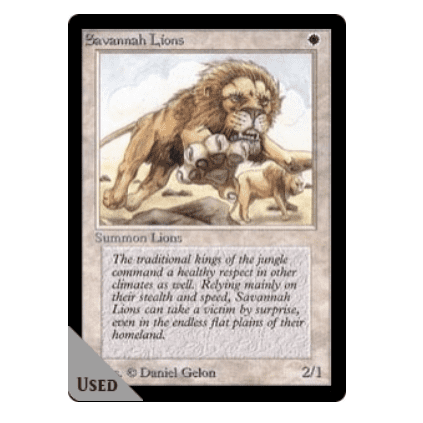 I'm South African, meaning I enjoy the Savannah Lion's card as a home-ground advantage. It doesn't matter that the beast has minimal strength on MTG cards because it's the king of the jungle on land. Meanwhile, I would summons this beast merely because I feel at home with a lion walking on my plane.
MTG Card Collectible Pros
Cost: Under $1,000
Rarity: Rare
Set: Beta
Grade: None
Condition: PL
Rating: 2
MTG Card Collectible Cons
Unfortunately, it's not a graded card
It's not in near-mint condition
It scores low on my scale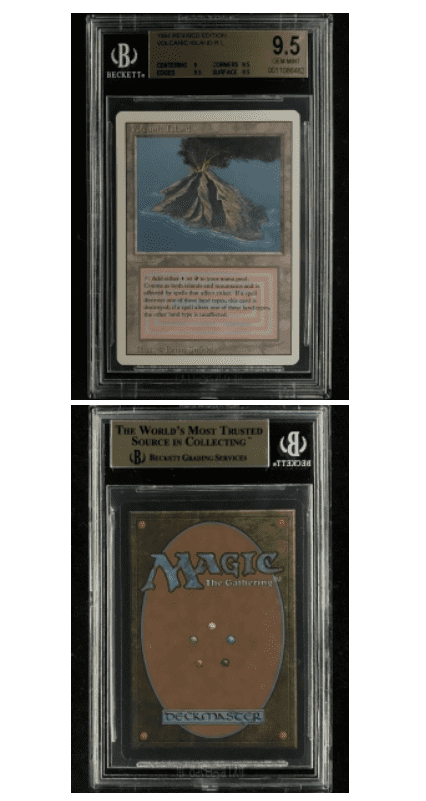 Some MTG cards gain rare values and belong in a pricier range. Yet, I'm unsure why because I can't pinpoint the reason. Indeed, it meets my 5-point rarity scale's top end. However, it doesn't come from the original sets or have a unique element. But it's a rare find nonetheless. Also, it grades well and comes in a near-mint condition.
MTG Card Collectible Pros
Cost: Under $2,000
Rarity: Rare
Set: 3rd Edition Revised
Grade: BGS 9.5
Condition: NM
Rating: 5
MTG Card Collectible Cons
There's nothing special about the card beyond my point-scale
It might be overpriced, even with the rating
The card has no exciting abilities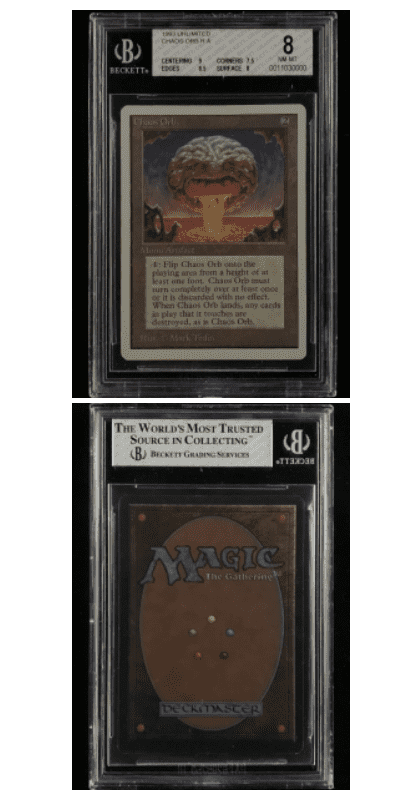 It's a pity this card receives such a low grade because it's a brilliant artifact to use in play. I love how players must drop the card like a nuclear bomb before it destroys everything it touches. I'd play this rare MTG card if I owned one. The name also appeals to me because the card causes chaos if you play it correctly.
MTG Card Collectible Pros
Cost: Under $2,500
Rarity: Rare
Set: Unlimited
Grade: BGS 8
Condition: NM
Rating: 4
MTG Card Collectible Cons
It's not from an original set
It doesn't score fully on my scale
It has a low grading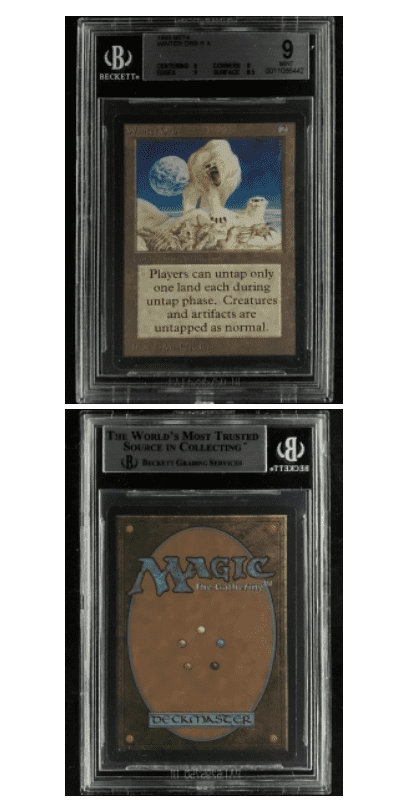 The MTG Winter Orb card also comes from the Beta set. However, buy the original Beta set and not newer reprints. Meanwhile, this Beta MTG card measures top on my rarity scale because it knocks all balls out of the park. In addition, the MTG card's artwork is beautiful. So, enjoy hunting this card if it sells before you grab it.
MTG Card Collectible Pros
Cost: Under $2,500
Rarity: Rare
Set: Beta
Grade: BGS 9
Condition: NM
Rating: 5
MTG Card Collectible Cons
This rare MTG card will cost a lot
I wish it were in mint-condition
It would be super valuable if it had a GBS 9.5 grade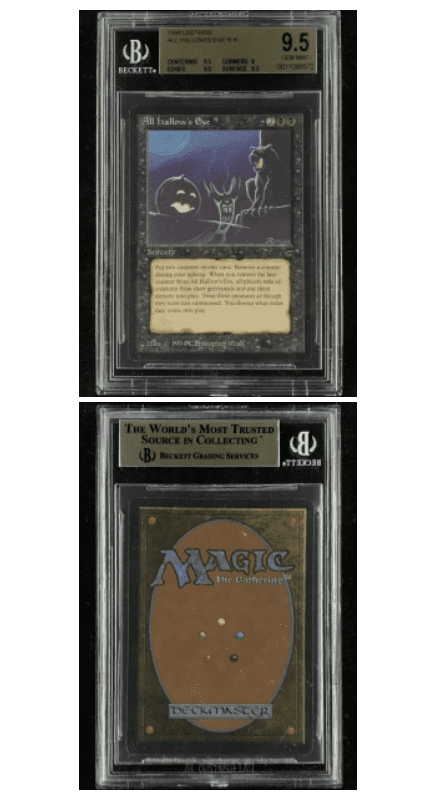 I couldn't find many rare MTG cards from the Legends set, making them an appealing option for MTG trading card collectors. Meanwhile, this card has incredible abilities, summoning all creatures from every player's graveyard. So, it adds more time to the game and allows players to change their fate.
MTG Card Collectible Pros
Cost: Under $2,500
Rarity: Rare
Set: Legends
Grade: BGS 9.5
Condition: NM
Rating: 5
MTG Card Collectible Cons
It doesn't come from the original sets
It will cost you a lot to buy this card
I wish it were in a mint-condition at that price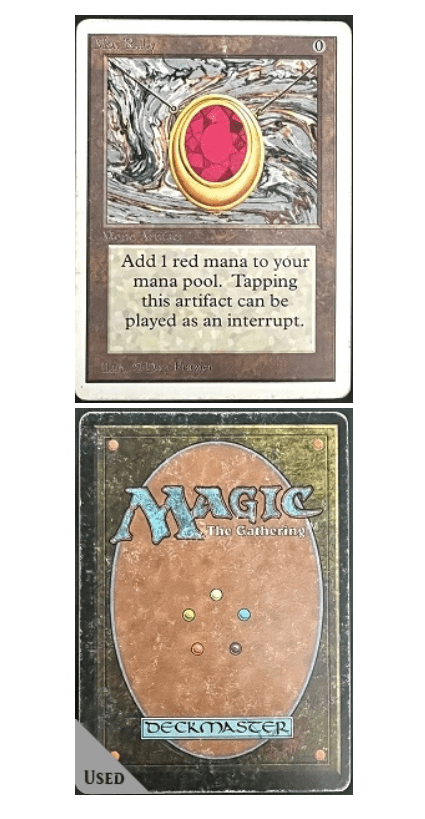 The MTG Mox Ruby card is one I mentioned in my added tricks to find rare options. Unfortunately, Mox cards are primarily rare and pricy. So, this card will set you back. However, it's the most-enticing card on my list. In addition, it often becomes available for purchase. So, you won't wait long if the card sells before you get it.
MTG Card Collectible Pros
Cost: Under $5,000
Rarity: Rare
Set: Unlimited
Grade: None
Condition: PL
Rating: 3
MTG Card Collectible Cons
It doesn't score well on my scale
I'd instead look for a near-mint condition card
It has no grade or original set collectibility
FAQs
Question: How Can I See if My MTG Cards Are Rare or Valuable?
Answer: Identifying whether you own a few rarer cards is easy. The best place to search the value and rarity of cards in your possession is the MTG Gathering Search Engine. Alternatively, you can use the Advanced Gathering Search Engine. Sometimes, the expansion symbols don't show a valuable card.
Question: Where Can I Buy Rare Magic the Gathering Cards?
Answer: I recommend starting with the MTG card anatomy to trade collectible cards with friends. Then, it's time to hit swap meets, estate sales, and collectible stores. In addition, visit game and trading card stores frequently, leaving your details for immediate notifications. Finally, eBay has an ocean of rare MTG resellers.
However, I recommend using my buying guidelines, the grading system, and other tips to find genuine rare MTG cards from eBay resellers. So, don't buy cards from resellers refusing to share your desired card's condition, grade, and expansion details.
Question: What's the Rarest Magic the Gathering Card Worldwide?
Answer: Suppose you're looking for the golden nugget and have the money to buy it. In that case, sit down before I share the rarest MTG card. The MTG Alpha Autographed Black Lotus Card with a BGS rating of 9.5 in mint condition will cost you $1.2 million. It's officially the rarest, most expensive, and most sought-after card.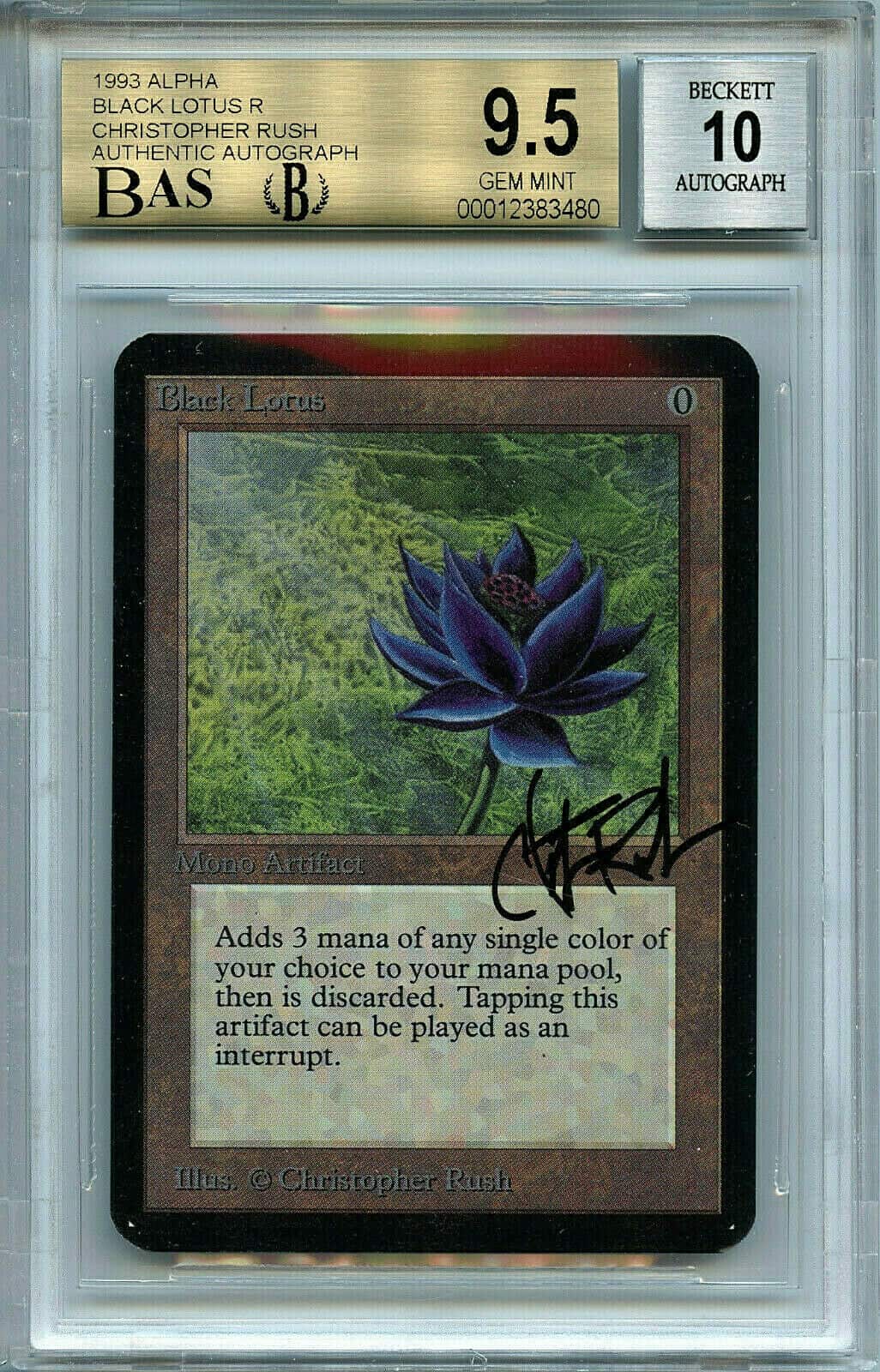 Rarest Magic the Gathering Cards Guide: Conclusion
Magic the Gathering cards are a collector's dream plane in the multiverse. Unfortunately, it's a challenging collectible if you don't know the facts that make them rare, starting with the anatomy of each card. Then, you must understand the Beckett grading system and the simple tricks that make cards rarer with time.
In addition, the better your card's condition, the more it rises in value. However, that doesn't affect the rarity entirely. So, familiarize yourself with the features, editions, and rarity elements that make each card collectible before buying one. Furthermore, I shared options that won't cost a college fund.
Meanwhile, I recommend the Beta MTG Savannah Lions PL Summons Card as an affordable option. Alternatively, I recommend the Unlimited MTG Mox Ruby PL Artifact Card because it's a famous collectible from the Mox artifact range.
So, invest in your first rare MTG card from my most irregular list of available options.
For more brilliant collectibles
Best Collectors Edition Gaming Figurines & Statues – Avid Collectibles
Rarest Nendoroids Guide – Avid Collectibles
Rarest Yu-Gi-Oh Cards Guide – Avid Collectibles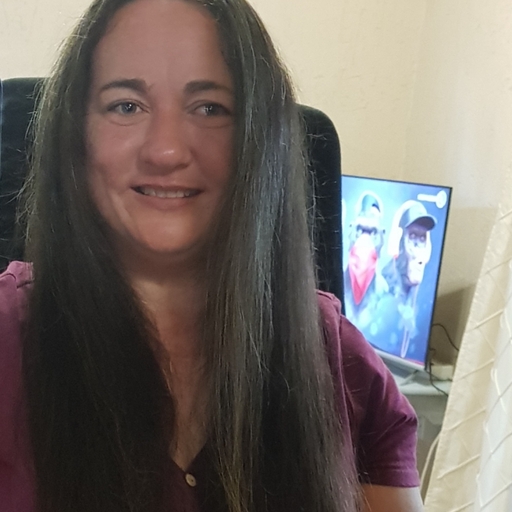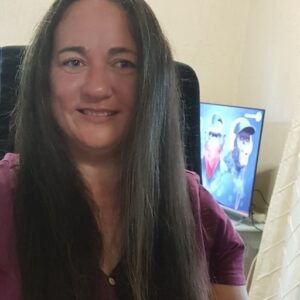 Latest posts by Caroline Lambert
(see all)