Loads of anime tackle virtual reality, but only a few have won over viewers, like Sword Art Online. I wasn't even keen on watching it when it aired since I thought it would just be another boring VR adventure anime. After the first five episodes, though, all my doubts were washed away as I became a fan of Kirito and Aincrad's game mechanics.
A decade has passed since its TV premiere, yet the anime still mesmerizes otakus left and right. Moreover, since it cemented itself as one of the most bankable titles throughout the years, companies are constantly producing high-caliber Sword Art Online products.
A quick web search about 'Sword Art Online Toys' will instantly show you thousands of mini Kiritos and little Asunas you can access. However, when your interest is in obtaining the best Sword Art Online figures, you'll need a specific guide – like this one.
You see, I've handled a fair amount of anime figures since I've been collecting them. For this reason, I know the pieces that fans of the series would want to own. Discover what these breathtaking 3D beauties are by checking out the list I've compiled for you.
Bottom Line Up Front
Going through hundreds of SAO figures was tiring! But thanks to years of being a meticulous figure collector, I knew how to filter out the remarkable scales from the so-so ones. As a result, the figures in this article have all received a thorough assessment and my seal of approval.
Not only do they measure up to my standards, but they've also been tried and tested by different collectors. Essentially, everything in this article came from reliable sources – personal experiences and observations on the actual products.
Knowing such in-depth details about the figures will make it easy for you to see why they're the best of the best and the right pieces for your collection.
Selection Criteria
I initially didn't put much effort into researching anything beforehand when I started to get into toy collecting. My mindset at the time was, "if it looks good in the promotional shots, that's good enough for me."
It wasn't until I inspected my first few expensive scales that I realized how I went about things was wrong. Why? Because the figures I had bought looked better in pictures than in person. I quickly changed my approach within my first year in the hobby and developed a strict checklist to avoid more regretful purchases in the future.
Fortunately, that did the trick since I've been happy with most of my PVC toys until now. Hence, my checklist below will also help you zero in on the best SAO figures.
A decent pose – A figure's pose can ruin or enhance its overall appearance. So this guide only consists of scales that have average to superior poses. You won't find any confusing or odd-looking scales anywhere here. Because as long as a figure's pose isn't ugly or wacky, it won't negate or diminish the toy's appeal.
Has a top-notch appearance – It doesn't matter how intricate or unique a figure is. If it looks cheaply made, it won't be attractive on any shelf. Only figures that look like professionals skillfully crafted them deserve to be under the best category.
Minimal paint and sculpt issues – Flaws are common in scales since nothing is ever 100% perfect. But what makes a figure stand above the rest is that it has the least number of errors. The less noticeable they are, the better.
My Personal Faves
Most Dynamic Layout – Asuna Ordinal Scale Version 1/8 by Aniplex
Most Beautiful Variant – Asuna Undine Version 1/7 by Alter
Best Representation of a Character –  Yuuki Konno 1/8 by GENCO & Knead
The Best Sword Art Online Figures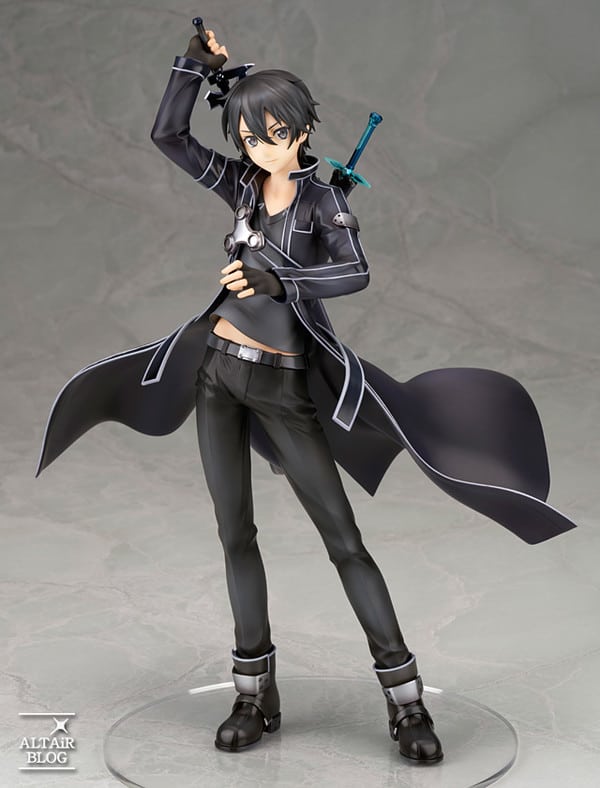 The ever-dependable and charismatic hero of the series is yours to claim in this sleek and high-quality Kirito figure.
Release date: March 2022
Rarity: Low
Pros
It has a flattering base with a minimalistic design that subtly enhances the figure's elegance. Plus, since the stand visually blends in with the scale, you can display it without worrying about clashing colors with others
The two scabbard accessories are detachable and functional, meaning you can display the swords in two ways: sheathed and unsheathed
The scale has Kirito's trademark pose when he reaches for his sword, and the fluttering cape gives this figure a dynamic feel
This figure has the most accurate face and body shape because it matches Kirito's character design in the anime
It's the sole premium scale figure of Kirito that has his complete original costume from the anime's first season. The one by MegaHouse only includes his first sword (Elucidator), and the version by Hakoiri and Genco has the Ordinal Scale attire
Cons
Attaching the sheaths to the figure's back is tricky since you must delicately pop them in place. Otherwise, applying too much pressure might scuff the paint on both sides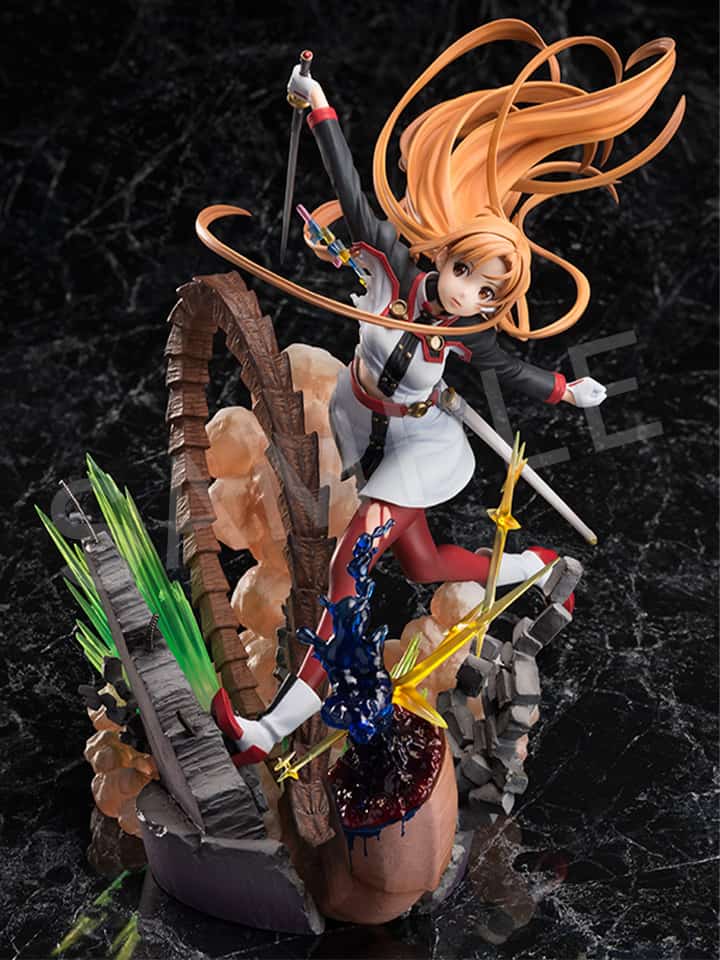 No matter how many girls pop up in SAO, no one can ever dethrone Asuna as the anime's number one girl. And you can witness her charm and strength in real life by putting this version of her in your collection.
Release date: May 2018
Rarity: Moderate
Pros
It has a large and imposing base that only a handful of SAO figures can go against
Unlike most Asuna scales that primarily concentrate on her beauty and sexiness, this figure shows off her badass side. It's also one of the few versions that correctly depict how she looks when in battle
The pose has an energetic vibe that gives you a clear view of the figure's details. You don't even have to turn it around to get a good look at everything
It's a precise replica of SAO's character designer Shingo Adachi's original illustration of Asuna (specifically made to be the basis of this figure)
Orders from Aniplex include a shikishi (a type of paperboard) with the Asuna illustration by Shingo Adachi
Cons
Due to the dynamic pose, this figure looks odd at certain angles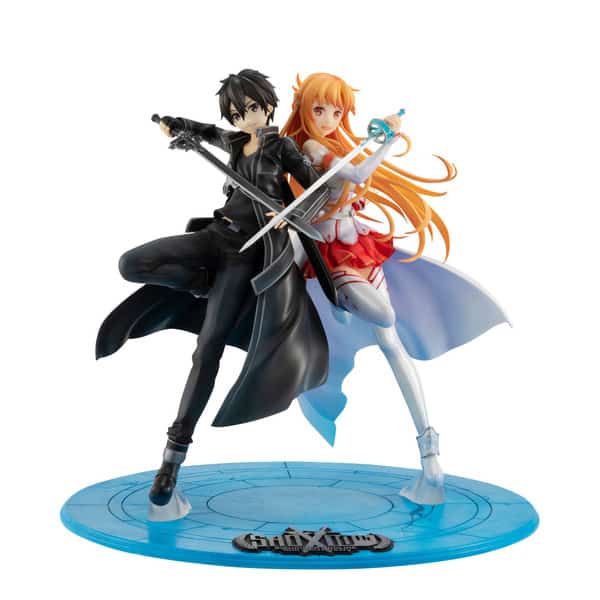 The protagonists and perpetual lovebirds of the series come as a package deal in this energetic coveresque figure set.
Release date: February 2021
Rarity: Low to Moderate
Pros
Seeing that this includes the series' two leads, it's the figure to buy when you want a representation of the anime as a whole
The dynamic side-by-side pose is perfect for the two since they're partners in battle and love. It's also similar to many of their official illustrations together, especially for the anime
This figure set has a unique feature: You can fully rotate Kirito and Asuna's sword-wielding hands to adjust their sword's position
It has good paint quality, particularly for the Asuna figure's outfit. The pearl-like sheen makes the clothes look as though they're of satin material, not plastic
You have the option to use the transparent support pillars or not since the figures can stand up even without them
Cons
The figures are smaller than regular 1/7 scales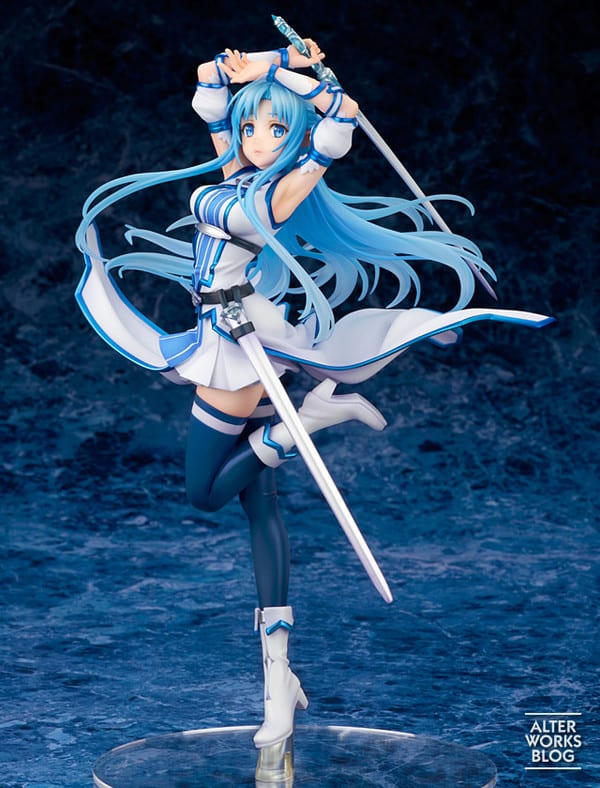 Seeing how fine this item is from head to base, this variant of Asuna might as well be a full-pledged siren due to its compelling visuals.
Release date: May 2022
Rarity: Low
Pros
The figure has a soft and ethereal vibe that outclasses the other Undine variants. It's also among the prettiest Asuna scales in general
This figure has an attractive lifelike skin tone that you only see in top-quality scales
The base's simple design complements the figure's color scheme and completes the overall look
The sculpt's craftsmanship is superb. It's apparent that every part of this figure has been made with great care and attention, as even the sword's elaborate hilt looks amazing
It has a graceful and dynamic pose that fits the Undine water fairy race. The arrangement of the clothes also gives the figure a flowy and dainty feel
Cons
The tips of the figure's hair aren't supposed to have a semi-translucent color because they're dark blue in the anime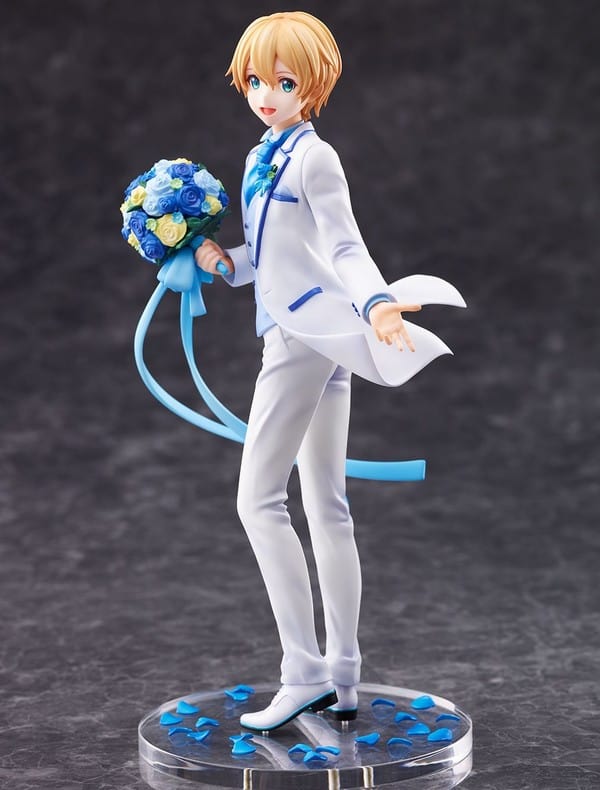 Though Eugeo doesn't get his happy ending in the anime, this gallant-looking version of him can at least enjoy the world on your display or shelf.
Release date: March 2022
Rarity: Low to Moderate
Pros
It's the lone high-end large-scale figure of Eugeo. The rest of his available PVC statues are either prize figures or miniature ones
This figure is a priority for fans who want to complete the main cast of the anime's Alicization arc since Eugeo's one of its central characters. His presence also strongly influences Kirito even after his death, which makes Eugeo important to SAO's storyline
You have two options to display the base: with or without the petals. And since the petals have to be placed piece by piece, you can arrange them however you want
The figure has a commendable paint finish as it gives depth to the outfit and accentuates the figure's fancy atmosphere. Even the shoes look expensive and. classy
Cons
The bouquet of roses doesn't have the same defined mold as the figure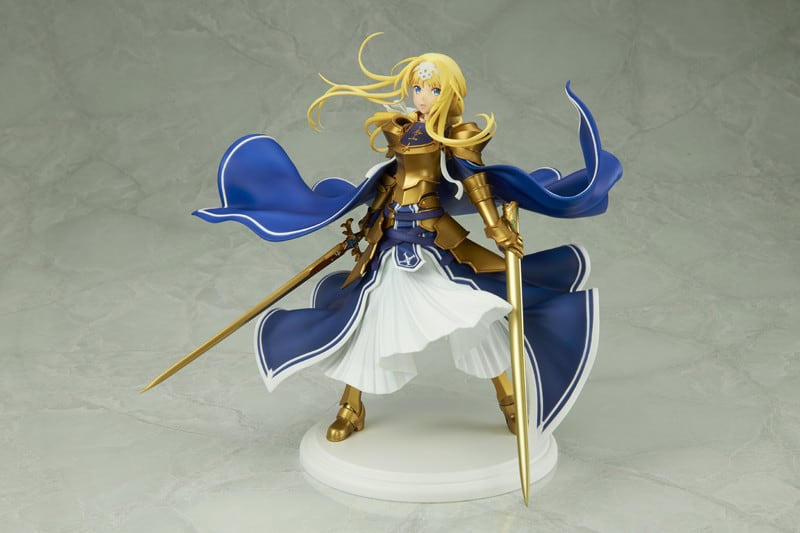 Although Alice appeared late in season 3 of the series, she has quickly become one of the memorable characters in the franchise. So for you to have a complete SAO figure collection, this version of her should undoubtedly be on your to-buy list.
Release date: June 2021
Rarity: Low
Pros
This version has one of the best-looking armors among the existing Alice figures. Wanderer got the right shade of gold and glossy paint finish to make it look sturdy and realistic without coming off as gaudy or tacky
It has incredible sculpt and paint quality because stocks of this scale have little to no discernable flaws
You can display the figure with or without the sword and scabbard since they're both removable
This figure seamlessly combines Alice's beauty and regal aura as a knight. It makes her look more like a battle angel than an Integrity Knight
Even though it has a simple pose, the flowy layout of the clothes and hair gives the figure a dynamic feeling
Cons
This figure would've looked better if it had a solemn or aggressive expression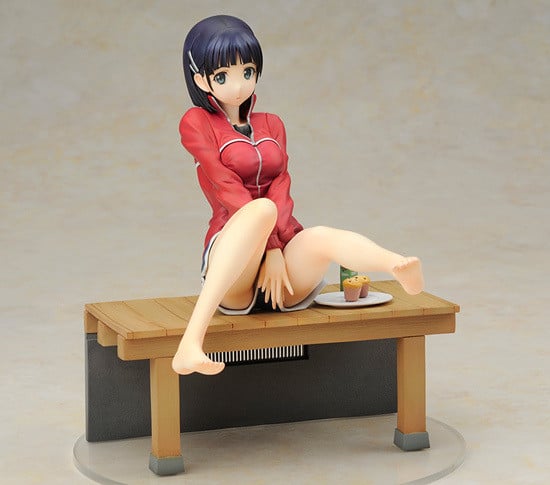 Leafa's bright and bubbly design is undeniably inviting. Then again, Suguha has a sweet charm that her avatar can never possess. And you can experience her girl-next-door allure up close with this endearing scale figure.
Release date: May 2014
Rarity: Low to Moderate
Pros
It's the only non-sexualized scale version of Suguha, meaning it's safe to display anywhere
Out of all the Suguha figures, this one feels and looks the most like her. Because, unlike the rest that doesn't match her attitude (since they focus on the character's breasts), this version's pose and aura are in line with how she acts outside the game
It has a unique base that's relevant to Suguha as a person since it has the same design as her house's veranda
Even though it's an older figure, it still has good quality that doesn't lose out to the newer ones
You can adjust the placement of the figure, base, and accessories to your liking since they don't come in one piece
Cons
The magnet that connects the figure to the base is weak. So the scale will quickly fall over if you move the base without securing Suguha first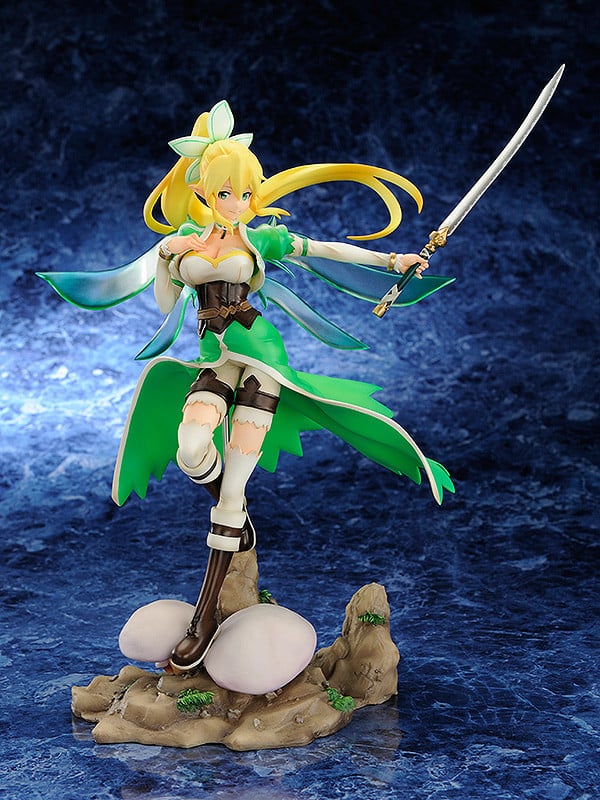 With her gorgeous looks and bared cleavage, it's obvious why Leafa's more popular with fans than her real-life counterpart. And if you're simping hard for her and desire a PVC duplicate, this variant won't let you down.
Release date: May 2014
Rarity: Moderate
Pros
This scale has the most attractive translucent wings compared to the other Leafa figures. You can also remove them, which gives you more display options
The scale has an ornate base that mimics the landscape of ALfheim Online. Additionally, it's one of the few Leafa figures that doesn't stick to the regular plain base
This figure has Leafa's costume from the second season of SAO, which is the character's most widely recognizable outfit in the anime
It has a pretty and expressive face that emphasizes Leafa's cute side
This figure features two details that only a couple of Leafa figures have: an unsheathed sword and wings
Cons
Due to the color and conspicuous placement under the figure, the metal support pillar can be distracting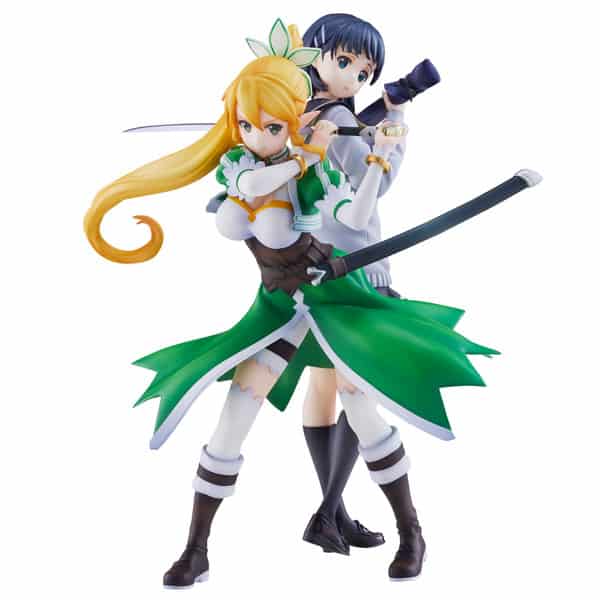 This set of figures is the ultimate embodiment of the SAO universe, as it's the only one that features the anime's VR aspects – the player and their avatar.
Release date: July 2020
Rarity: Low to Moderate
Pros
This figure has a meaningful pose as it shows the connection between the two characters. Because although Suguha is the actual player, her online avatar, Leafa, has more screen time and is better known to viewers
It's the only licensed figure of Suguha wearing her uniform and shinai (kendo sword) bag
What's nice about this figure set is that it comes with two detachable bases. Therefore you can display Leafa and Suguha separately or next to each other
Both figures have smooth molds and don't show any seam lines
The figures' expressions successfully capture Suguha's different attitude in real life and online, as Leafa
Cons
The two figures stand too far from each other. This set would've had more impact if Union Creative had stuck to the characters' original back-to-back position on the base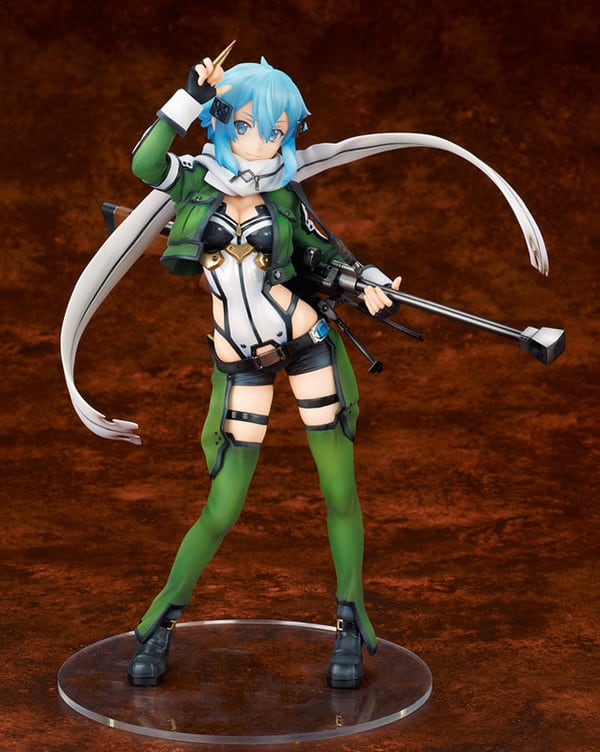 Since her on-screen debut in season two, Sinon has consistently been in SAO's top five most popular characters. So whether she's your waifu or not, owning this knockout piece should be a given.
Release date: 1st release October 2018 and 2nd release September 2021
Rarity: Moderate
Pros
The figure's entire design is from SAO's music collection track covert art by Abec, the illustrator of the SAO Light Novels
This scale has one of the best paint quality among the Sinon figures. Its colors are so rich and vivid that the others look pale and dull in comparison
It's a highly detailed figure, as every nook and cranny of its body has realistic creases that contribute to its lifelike appearance
Since the scarf is detachable, this figure gives you two of Sinon's looks. There's also barely any risk of damaging anything since you have to remove the head to put on or take off the scarf
The figure has almost no visible seams at all. The only detectable seam line on the hair doesn't even look like one since it blends in with Sinon's hairstyle
Cons
The pose isn't as intimidating as the Sinon figure by Aquamarine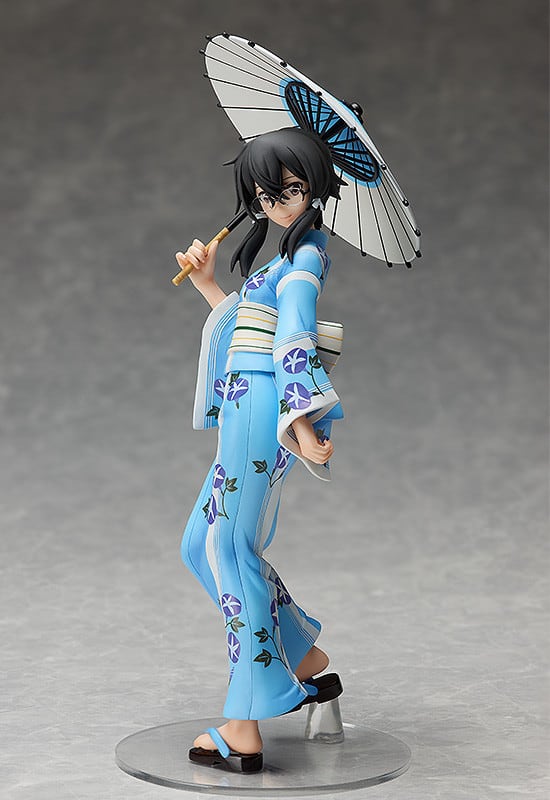 The skilled player behind Sinon finally gets her well-deserved turn in the spotlight as this cute and lovely figure.
Release date: April 2018
Rarity: Low
Pros
It's the only licensed high-end figure of Shino, which makes it a necessary addition to your collection when you want to have all the central characters of SAO
The figure has a solid sculpt since it correctly replicates Shino's face and body proportions from the anime. Even the glasses are well-defined and look believable
This figure's design is from an official illustration by Akira Takata, one of SAO's key animators in the second season
Since the umbrella accessory's detachable, you can exhibit the figure with or without it
Cons
The base looks too small for the figure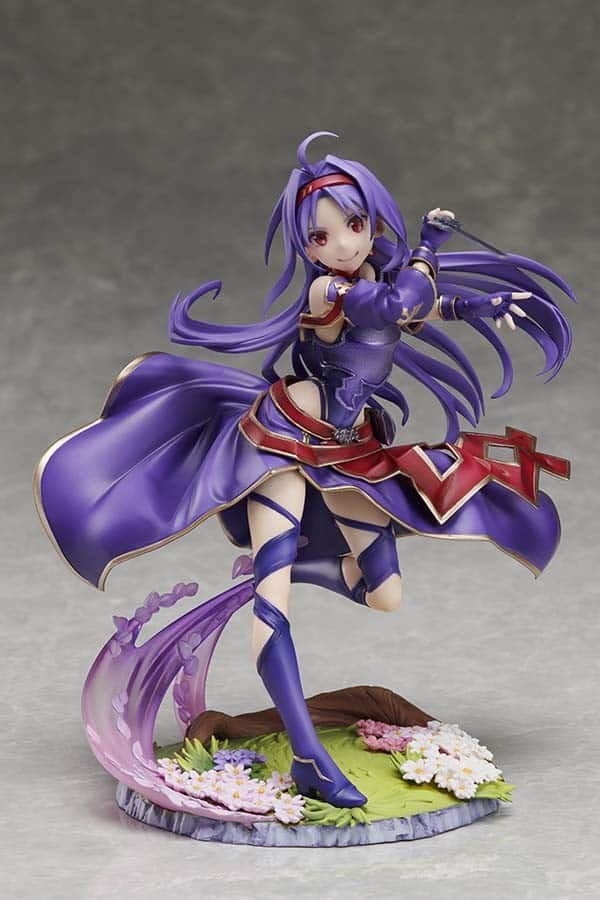 While Yuuki's tragic story ended just after seven episodes in SAO's second season, her legacy lives on with this dreamy mini replica of her ultimate attack.
Release date: January 2020
Rarity: Moderate
Pros
It's an elaborate figure that fully conveys the character's fun-loving personality from the anime
The figure has vibrant colors that make the character's design pop out. It's much more colorful and dynamic than the rest of the available Yuuki figures
This scale has an attractive base that includes an effect part that highlights the speed of Yuuki's attack
The layout combines the character's best aspects from the anime: Yuuki's fighting style and her avatar's cute design
Since the skirt is removable, you can enjoy this Yuuki figure in full costume or just in her leotard
The figure is a recreation of Yuuki's or Zekken's Original Sword Skill, the Eleven-hit Combo Mother's Rosary, which makes it more important than the other versions
Cons
Yuuki's face follows the light novel's design, so its appearance may seem off to anime-only fans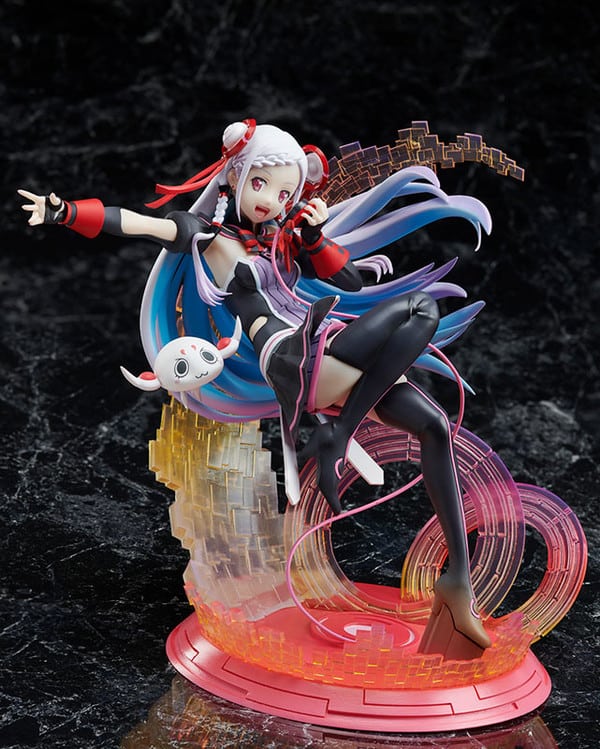 Befitting her role as the singular AI idol in the world of SAO, YUNA is obtainable as a dazzling scale figure that any fan would be lucky to have.
Release date: November 2019
Rarity: Moderate to High
Pros
It has a large and flashy base that delivers the Augmented Reality vibe with the pixel-like effects surrounding it. These effect parts also give the figure a futuristic appearance, which distinctly belongs to the Ordinal Scale film
The dynamic pose not only plays up YUNA's idol status but it's also similar to how she makes her entrances in the film and anime
It's the best figure to represent Ordinal Scale's story because it showcases the core elements of the movie: the songstress and her hidden participation in SAO's story
The figure had an exclusive release, so having it will give you a feeling of accomplishment as a collector since not everyone can access it
Cons
Instead of having pale and ashy skin, like in the film, this version of YUNA has yellowish skin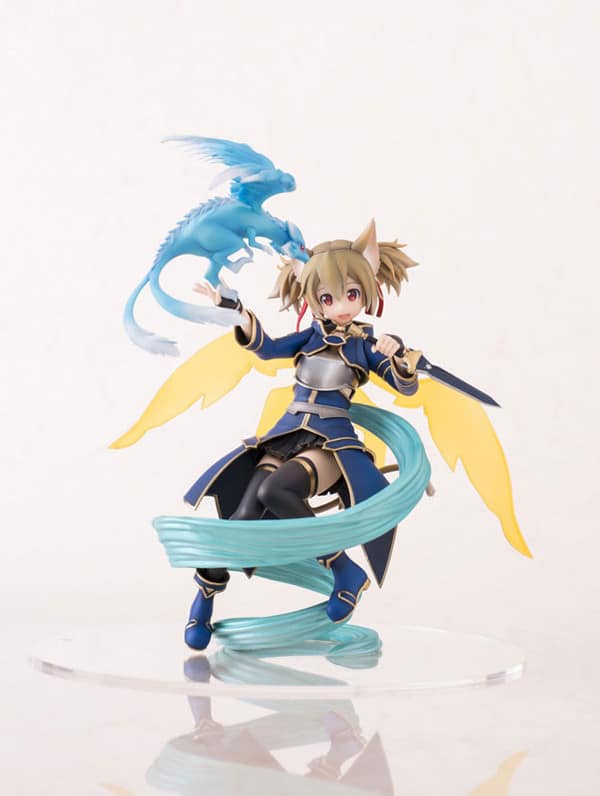 Her role isn't as prominent as the lead girls, yet Silica's recurring presence has helped shape the series, making this piece a must for SAO collectors.
Release date: May 2015
Rarity: Moderate
Pros
You gain two characters from the anime with this figure, Silica and her tamed monster, Pina
It's one of the most attractive versions of Silica despite being among the oldest figures of the character
This premium scale has better paint and mold quality than most Silica figures, even the newer ones. Most stocks of this version only have minor issues
It has the best pose among the high-end Silica figures since it's action-based, unlike the ones by Pulchra, FREEing, and Broccoli that are too cutesy or sexy
Cons
It's smaller than most SAO figures because it doesn't follow the standard size for 1/8 scales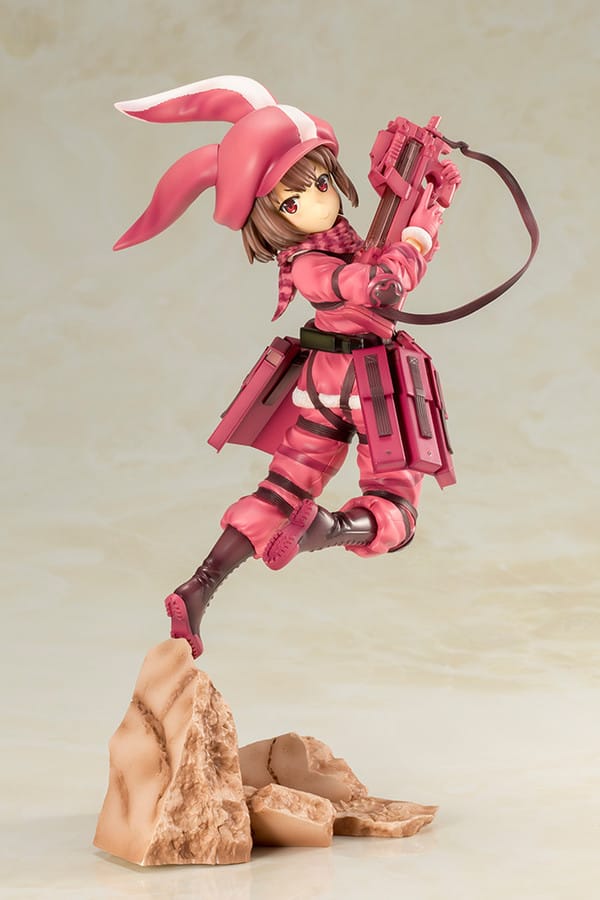 As the protagonist of the Gun Gale storyline, the Pink Devil is just as vital to your SAO shrine as Kirito and Asuna. So don't forget to add this miniature LLEN to your display.
Release date: December 2018
Rarity: Low to Moderate
Pros
It has a great base that's fashioned after GGO's battlefield, making it easy to recreate scenes from the anime
This figure's dynamic pose is similar to how LLEN moves when she's attacking in the anime
The scale's expression is true to the character. It's how LLEN looks whenever she eliminates an enemy
You can enjoy this figure with two faces because the exclusive AmiAmi version comes with an additional head that has a teary-eyed expression
The figure's whole look, from the pose, base, and face, brings LLEN to life and makes it feel like you're watching her in action
Cons
The P90's magazine shouldn't be transparent, as it's either pink or gray in the anime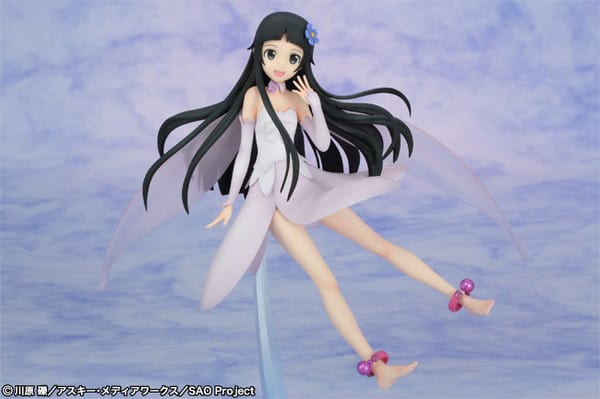 Being the digital daughter of the series' heroes, Yui holds an irreplaceable position throughout the series. As such, no SAO collection would be truly complete without this version of her.
Release date: August 2013
Rarity: Moderate to High
Pros
It's one of the two most detailed versions of the character so far. The rest of the Yui figures you'll see on the market have subpar quality, and many of them don't even resemble her
You'll be able to display Yui in her actual size in the anime since this is a life-sized scale of her
It's the number one official Yui figure that you can get, as it has the best paint and sculpt quality out of all the Yuis
Cons
Some stocks of this figure may have a noticeable seam line on the top of its head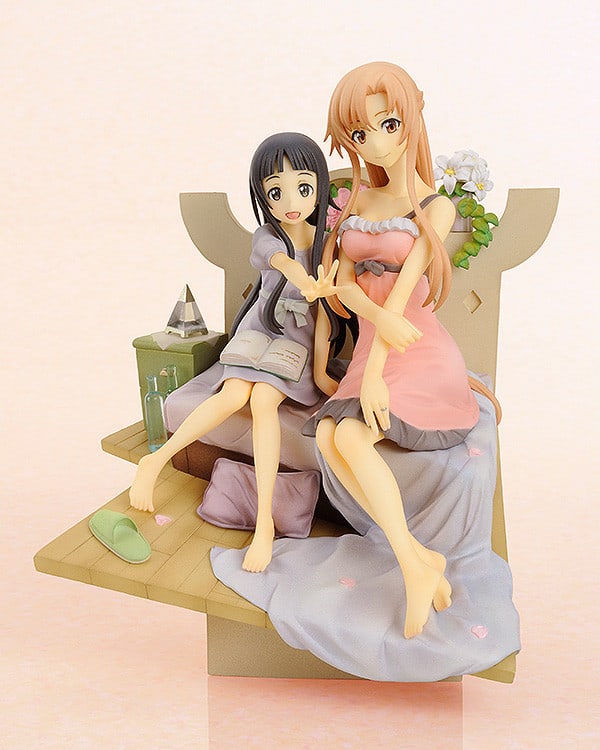 There isn't any other SAO figure that perfectly presents the deep love and bond between Asuna and Yui more than this.
Release date: February 2015
Rarity: High
Pros
It's the only figure that shows Asuna and Yui's close mother-daughter relationship in the anime
The base's design is from the interior of the Log House in Aincrad, where Kirito and Asuna lived together as a couple
It has a warm and homey vibe which is reminiscent of the domestic life that Asuna, Kirito, and Yui had in the first season when they lived as a happy family
Contrary to its bulky appearance, this mini diorama doesn't take up much room. Even when the Yui and Asuna figures are on the base, it occupies the same space as a regular 1/8 figure
It has one of the few good Yui figures
Cons
The uneven layout of the base can be distracting since it gives the impression that Asuna and Yui are slipping down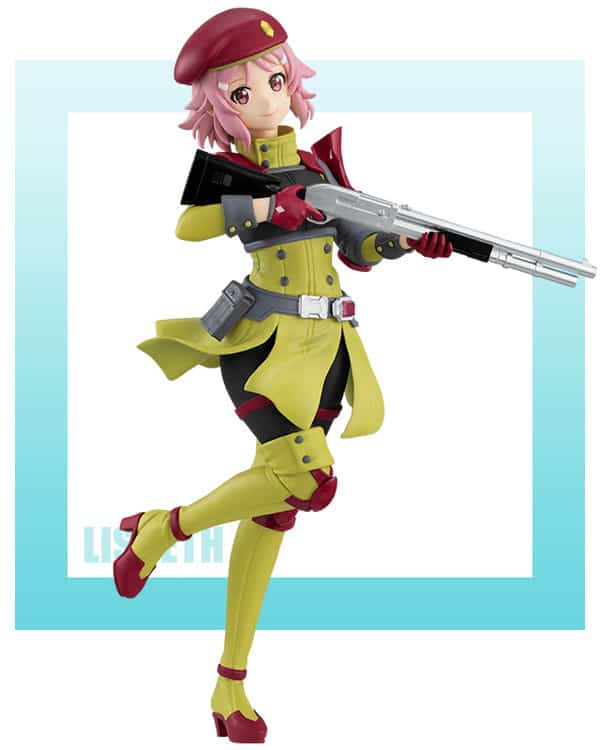 It's the only prize figure on the list, and it's here for a good reason! It has the looks and quality to satisfy anyone searching for a decent Lisbeth figure.
Release date: June 2019
Rarity: Low
Pros
Among the 14 licensed figures of Lisbeth, this is the only good-looking version
Since it's a prize figure, its aftermarket value is unlikely to go beyond 50$
It's around the same size as a 1/7 figure, so it'll match well with large-scale figures
Lisbeth's attire is from the first episode of Sword Art Online Alicization when she plays Gun Gale Online with Klein, Silica, and the others
Cons
FuRyu should've chosen a different costume for Lisbeth because her GGO outfit doesn't appear much in the series
Tips From A Seasoned Figure Collector
Collecting SAO figures will undeniably be no easy task because it will be hard to distinguish the best ones when you're just a beginner in the hobby. Because even I, someone who personally handles anime figures frequently, had a tough time selecting which ones are worthy of being in this guide. That's just how many beautiful SAO figures there are!
So if you want to skip hours of headache and confusion, this article is the key to your perfect SAO shrine. Furthermore, it'll also give you the info you'll need should you want to get more than the 18 figures listed here. Because what you've learned in this guide is enough to ensure you won't end up with a dud.
Remember what you've read, and you'll know what to watch out for to be happy with your figures. After all, there's nothing more satisfying for a collector than to take home the finest mini version of their favorite character.
Top Q&A
Question: Which Sword Art Online Character Has The Most Scale Figures?
Answer: The lead girl, Asuna, has the most figures, with over 240. Kirito is in second place, with 70 – 80. And lastly, Sinon is in third place with 40 – 60.
Question: What Are The Popular Versions of Asuna Available As A Scale Figure?
Answer: The most popular versions of Asuna that you can buy are the following
The Knights of the Blood Asuna from Sword Art Online Season 1
Titania, the Queen of Fairies, and Undine, the Water Fairy Asuna from Sword Art Online II
Ordinal Scale Asuna from the Sword Art Online: Ordinal Scale film
Gun Gale Online Asuna from Sword Art Online: Alicization
Stacia The Goddes of Creation Asuna from Sword Art Online: Alicization War of Underworld
Question: What Are The Best Sword Art Online Toys To Collect?
Answer: Aside from scale figures, I recommend trying out Nendoroids and Figmas. They're articulated toy lines, so they have plenty to offer that static figures can't. On top of that, they're also high-quality products and have most of the integral characters from the series.
Continue reading: