Remember when you were a silly little troublemaker, sporting your Last Unicorn ringer tee and aluminum Smurf lunchbox as your purse? Then, Hot Topic landed on our planet and made finding weirdo wear and 80's gear easy. Remember when cruising the aisles of your local mall with your two gothic friends and that kid with the neon pink mohawk was the greatest thing ever? I recall when I first saw Hot Topic; I, of course, thought I was too cool for that store and laughed it off. Later down the road, when a friend dragged me kicking and screaming into the store, I realized how awesome their merchandise actually was.
Finally, a place to find all sorts of fantastic things from my favorite old-school cartoons, movies, and video games existed! I always loved the purses and bags they sold boasting the white rabbit from Alice in Wonderland or Gizmo from the Gremlins movie. It was a new place to find new-old-stock niche items. I have become feral and somewhat reclusive in my old age and now avoid malls, people, and anywhere people might be; however, there's always Hot Topic online! Being a collector of obscure and hard-to-find Funko Pop figures, I always loved Hot Topic's selection of exclusives. They had the best ones, don't you think? In case you need a refresher course on which Hot Topic Funko Pops were at the very top of the coolness mountain, I am here to help you again.
What Made Me Choose These Funko Pops
It is definitely a tough choice when choosing the best exclusive Pops from Hot Topic because they have offered so many really great ones over the years!
I chose the oddest, most unique Hot Topic exclusive Pops I can find.

I try to pick a wide variety of Pops, so there's something for everyone.

With luck, I have chosen Pops, which you can still find if you try.

The more obscure the Pop is, the better for us collectors!

These Pops jumped out and shouted, "Look at me!" in that weird high-pitched vinyl voice.
Bottom Line on Hot Topic Exclusives
Overall, there are many Hot Topic Exclusive Pops. They range from horror movie villains like Leatherface to beloved classic Disney characters like Bambi. There will be more as time passes. These Pops were released exclusively by Hot Topic though you may find them listed by resellers on Amazon, eBay, or Mercari. Every Pop I have listed is as affordable as it will ever get, meaning now is the time to buy. But, again, time will tell, which, if not all, will become rare and expensive for collectors. You can search for even more Hot Topic Exclusive Pops online. I lost count as to how many Exclusive Pops are out there.
The Hottest of the Hot (Topic) Pops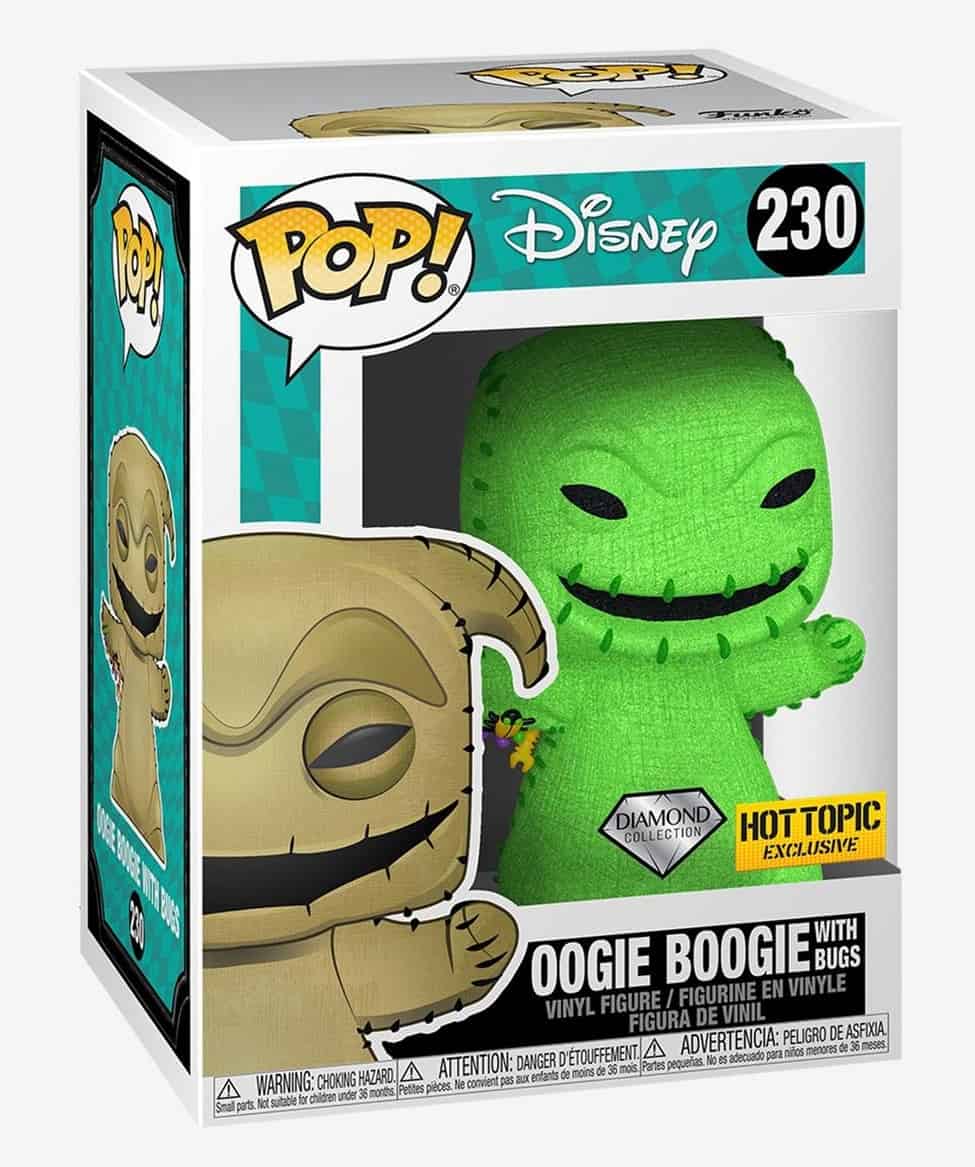 Who didn't love The Nightmare before Christmas?! It was such a fabulous movie that it is still massively popular almost thirty-three years later. Oogie Boogie was one of the main antagonists. He was said to be the scariest monster of all; at least, that's what he thought before Jack Skellington banished him to a life in the basement of his evil henchmen Lock, Shock & Barrel. Oogie Boogie is pretty terrifying. He's a giant burlap sack animated by creepy crawlies with a hive mind, and his voice is deep and frightening. Oogie Boogie isn't unlike a loud, obnoxious gambling man who doesn't get his way. 
This Pop is excellent because it's from the exclusive diamond collection only found at Hot Topic. In addition, Hot Topic has always carried great Nightmare Before Christmas gear. 
Pros
Oogie Boogie's detail, especially with the bugs, is very good.

Oogie Boogie looks excellent in green diamonds, even if it's not his true color.

I like how the creators added texture to Oogie Boogie's burlap sack and didn't slack on the stitches.

Oogie Boogie will help you be the scariest Trick or Treater out there this Halloween.
Cons
Oogie Boogie is generally a brownish burlap sack and was only neon green when he was lit up by the blacklight in his lair. I think this would look more true to character if it was the traditional burlap.

Oogie Boogie might be a little challenging to find and may not be the original price, but it is still an excellent addition to your collection.

I think Oogie Boogie looks a little too huggable as this Pop. He needs to be taller and his face more menacing.
#02 The Simpson's Halloween – Itchy and Scratchy (Skeleton) Pops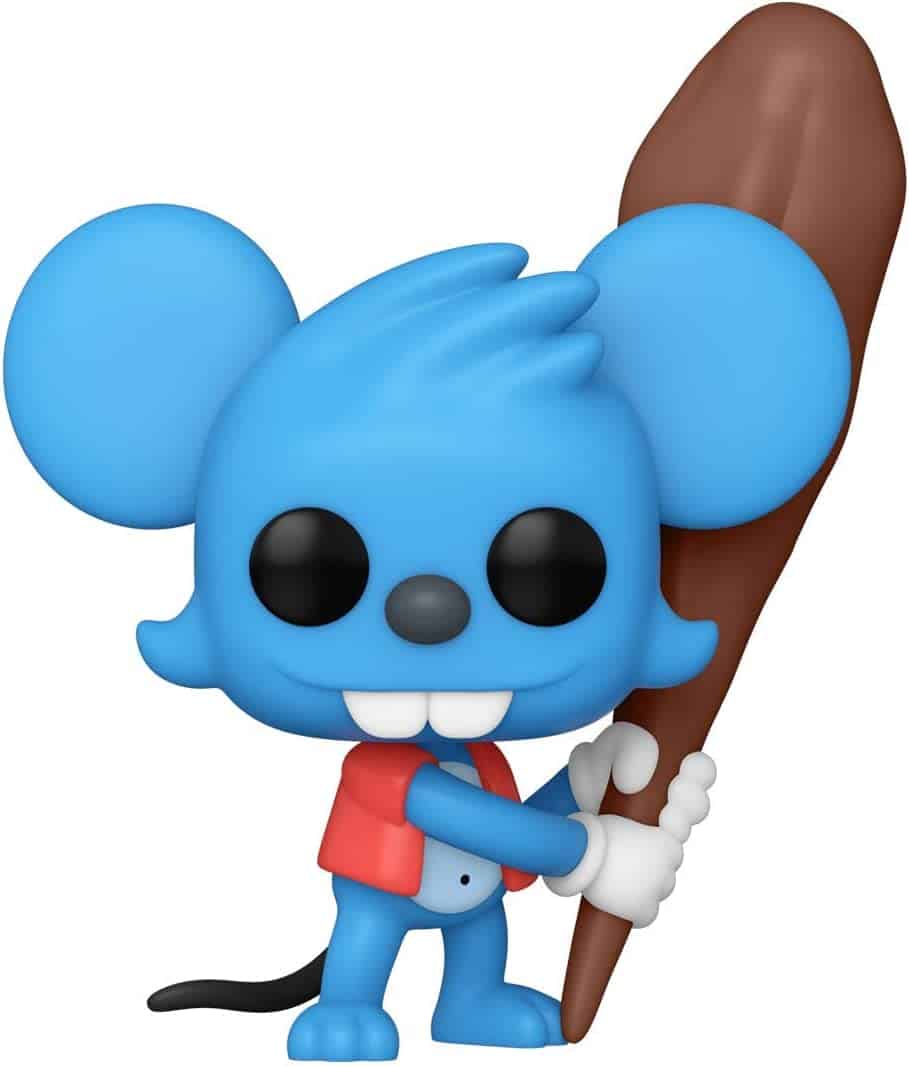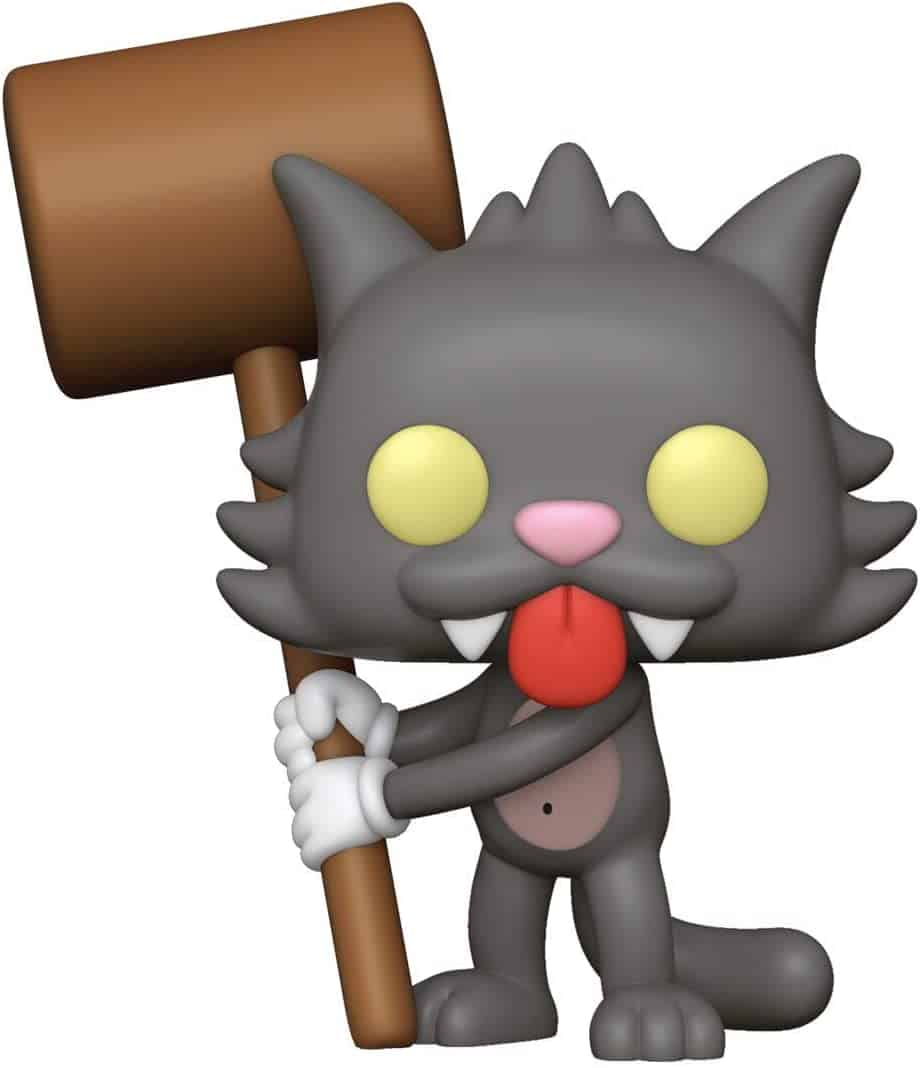 Itchy and Scratchy are a hilarious cat and mouse duo that the Simpson's crew likes to watch on tv. They always try to outwit and kill each other in exciting and gruesome ways. It wouldn't be a typical episode without these two playing a dangerous and violent game of real cat and mouse. Watching Itchy and Scratchy get blown up, decapitated, run over, smashed, and set on fire is hilarious. Good old-fashioned, wholesome family fun!
These Pops are cute in their disturbing Halloween outfits. Itchy and Scratchy are ready to trick or treat or kill each other! Look for them to make an appearance at Hot Topic in August 2023.
Pros
Itchy and Scratchy are recreated perfectly in color and form with these adorable and deranged Pops!

Itchy's cute little toothy smile is hilarious and endearing.

Scratchy looks like pulling his head off is a normal everyday chore, which only adds to the humor.

If you preorder, they will be at your house before Halloween 2023. 

I like how Scartchy's head is a bit like a jack-o-lantern.
Cons
You will need to compose yourself and have some patience. Itchy and Scratchy will not be yours to love until August 2023. Y

ou might forget all about them in a year's time, which is why you should preorder. 

Itchy and Scratchy would look more authentic if their Pops were fighting or playing tricks on each other.

I think these are decent but I will always like Itchy Pop #903 and Scratchy Pop #904 more because they truly look authentic to their wacky characters in those Pops.
Itchy should be wearing a Halloween costume, too.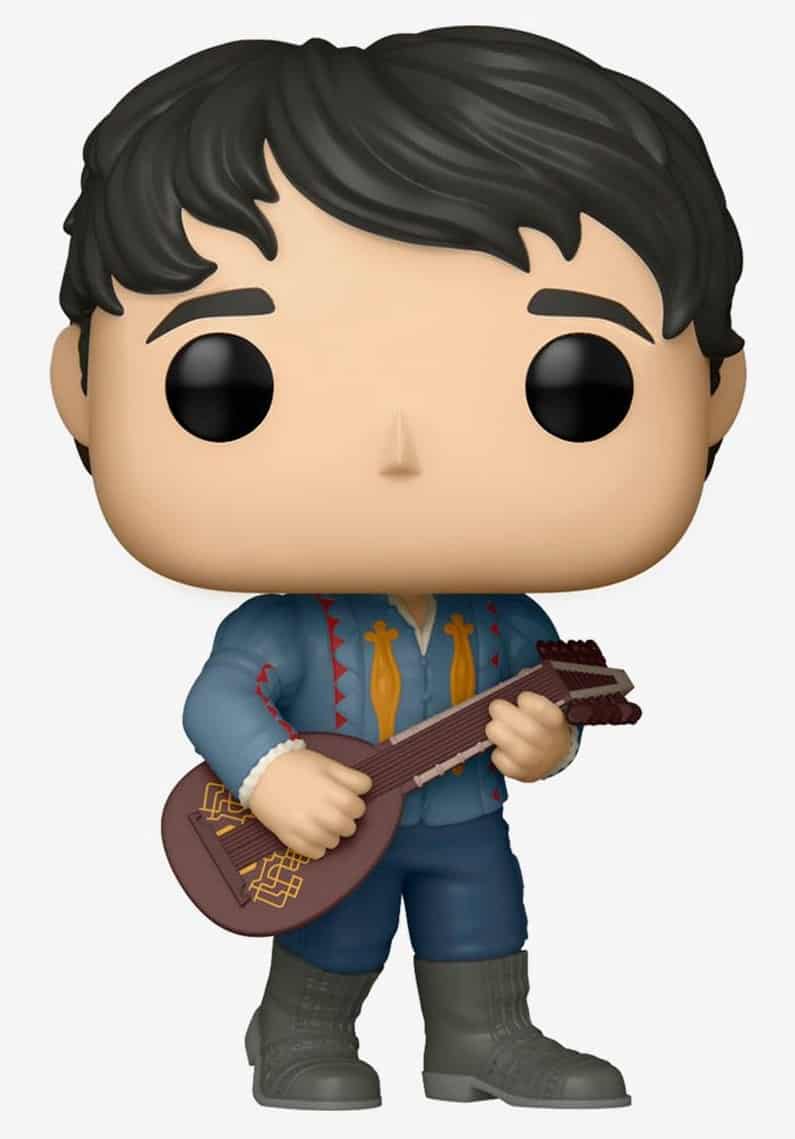 I don't know about you, but I am sick and tired of waiting for the next season of The Witcher. Jaskier is a sarcastically funny and sometimes annoying sidekick of the Witcher. Their meeting was accidental, but their bromance is no accident. Jaskier delights with his goofy ballads and running speed. He always seems to be running from someone or something. He is more of a lover than a fighter and says hilarious things throughout the episodes. Now, you can have a little punk Jaskier of your own!
Pros
Jaskier's empty expression suggests this Pop is about to make a witty comment.

The detail and presence of the lute make this Pop work as a representation of the real Jaskier.

Not everyone will have this Pop, making it unique.

The texture used to create waves in Jaskier's hair was well done.

I like the detail on Jaskier's clothing and boots.
Cons
Jaskier's facial expression should be more aloof and goofy, like his character in The Witcher. This Pop looks far too serious.

Jaskier isn't worth much money and may never be.

Jaskier's hair in The Witcher is always on the long and on the shaggy side with a side part. This Pop has neatly kept, shorter hair. They could have done better with that detail. Longer messier hair with a sloppy side part would have been more realistic.
Jaskier has a low-brow look on the show, his eyes need to be closer together and near his straight eyebrows.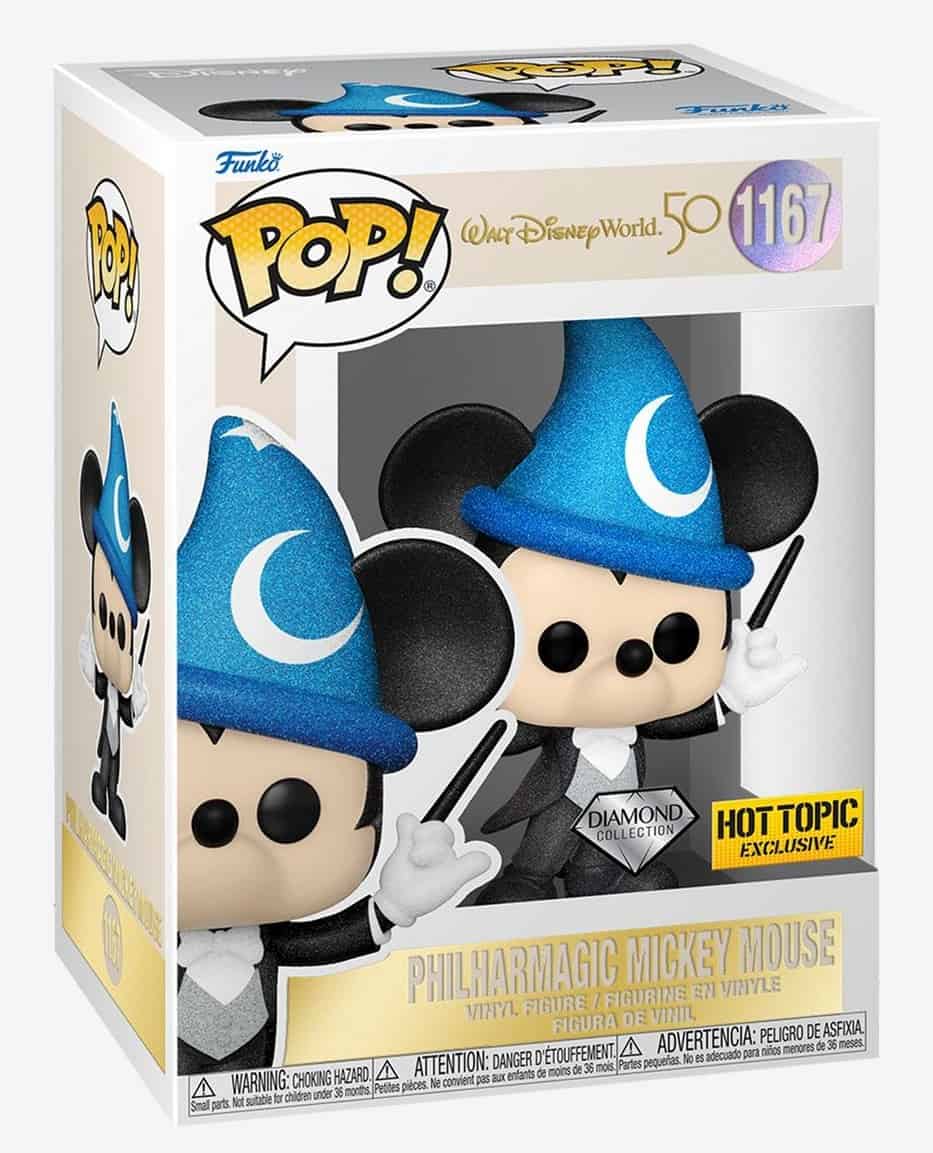 What a cute little Mickey Mouse Pop! He has his charming magic hat on from Fantasia. This is a special edition and a collector, so I'm betting it will be worth money in the future. Dressed to impress, Mickey Mouse is all set to direct the PhilharMagic Orchestra. You might have seen this at Fantasyland in Magic Kingdom Park at Disney. The orchestra is made complete with 3-D glasses. 
Now you can have your own personalized orchestra with this adorable Mickey as the conductor. Now all you need is Donald Duck.
Pros
Mickey Mouse has always been a collector's prize. This Pop is no exception as it is a 50th Anniversary Special Edition.

Mickey is dressed to impress, so you could take him to a real orchestra if you'd like. You may get some strange looks but whatever.

Mickey's sparkly diamond hat is on point with the actual hat Mickey wears in the PhilharMagic Orchestra.

This Pop's simplicity is crisp and feels very put together.
Cons
This Mickey Pop is nicely detailed but Mickey's nose is too small.

I think Mickey's eye shape should have been closer to the cartoon version like Funko Pop does with many other characters.

This Mickey Mouse Pop is a little tough to find and is on backorder. 

Mickey Mouse is always smiling and I think a tiny crooked Mickey smile would have been perfect on this Pop.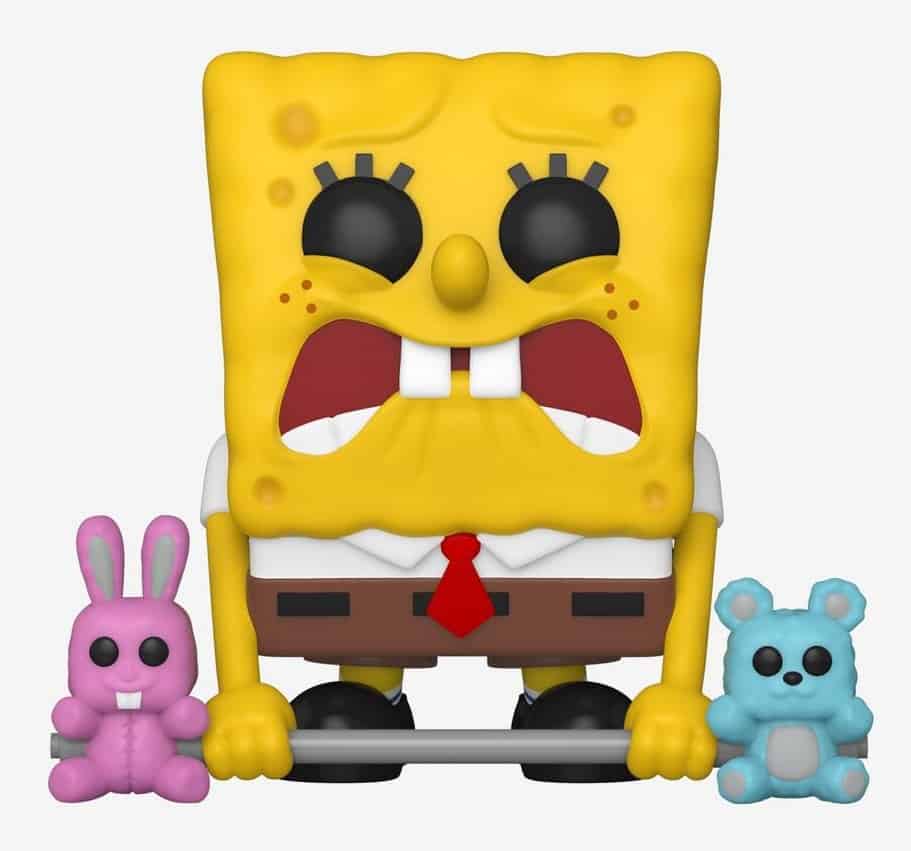 Who lives in a pineapple under the sea? It's SpongeBob SquarePants! I always loved him and the show in general. SpongeBob is hilarious with his slapstick humor and sarcasm. His best friend, Patrick, is equally hilarious, and if you have this Pop, you need a Patrick Pop to spot him while he's weightlifting. Check that Patrick link. I did the hard work for you.
Pros
SpongeBob is one of those cartoon characters that look good as a Pop. 

He has his adorable stuffed bunny and teddy bear for weights. The detail is excellent.

Even with the OG Funko Pop dead eyes, SpongeBob SquarePants can and does pull it off like the champ that he truly is!

You can really tell that SpongeBob has excellent dental habits.

SpongeBob will be worth money and I bet his value will increase quite a bit. 
Cons
SpongeBob's cheeks are round little freckled balls when he is in cartoon form. This Pop does not display his cheekiness very well. 

SpongeBob is stuck forever lifting weights.

If you get SpongeBob, then Patrick, you will also need to get Sandy Squirrel. This is a slippery slope. 

Sandy Squirrel

 will break the bank, or at least your bank. She is $500+ on amazon. I'll throw in $4.

Some of SpongeBob's charming optimism is lost in the solid black eyes of this Pop.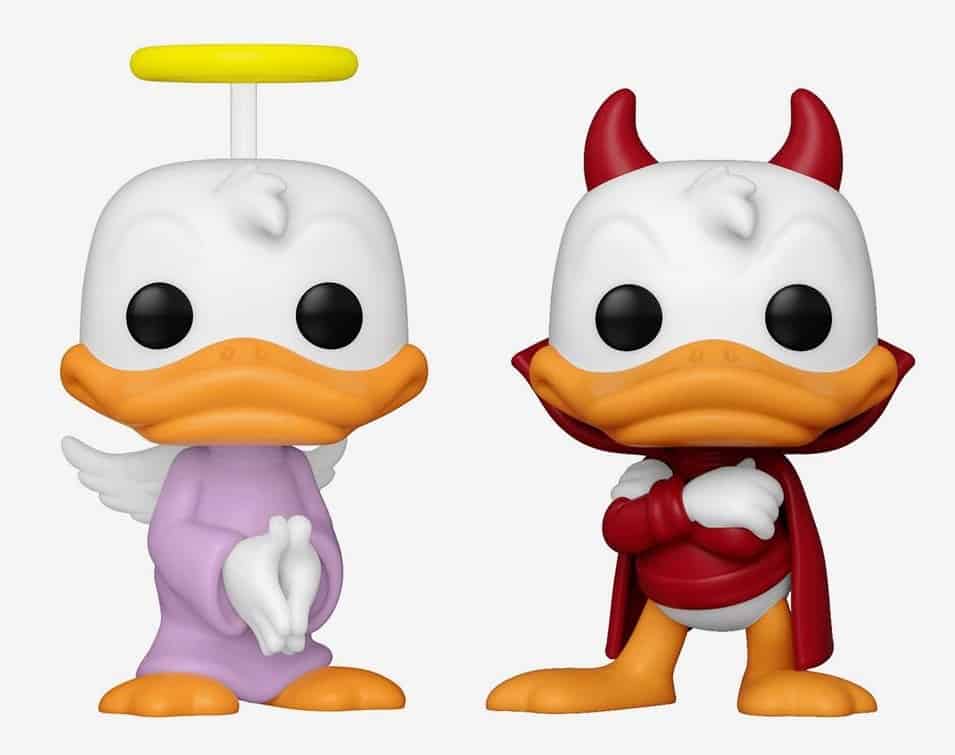 I always thought Donald Duck was hilarious. The angel duck and devil duck on his shoulders always cracked me up because it's so true; you can choose to do the fun naughty thing or the nice good thing. Right and wrong, black and white; that's what it all boiled down to in Mr. Duck's little mind. Donald certainly said colorful stuff to anyone who would listen, especially anyone who dared to ruffle his feathers. Remember when those two would start arguing about what the authentic Donald Duck should do and then end up in a nasty fight with feathers flying everywhere?
Pros
These Pops have a clean, minimalistic look. 

Their simplistic detail is clean and well crafted.

This Pop set was exclusive to the Wonderous Convention in 2022 meaning they will be worth money in time if I had to guess.

They are small enough to tape to your shoulders and pretend to be your angel and devil sidekicks, should you decide to go as Donald Duck for Halloween.

These beauties are selling for $24 through Hot Topic right now!
Cons
Do you really want a couple of ducks who will judge your every move? Isn't life challenging enough? 

The devil duck should have a smoking pipe and an angry expression like he always did in the cartoons.

These Pops need a bit more detail to capture their good and evil differences. Currently, they look to be in a trance.

I think this Pop would be more true to character if the angel duck had the devil duck by the throat or something of the like.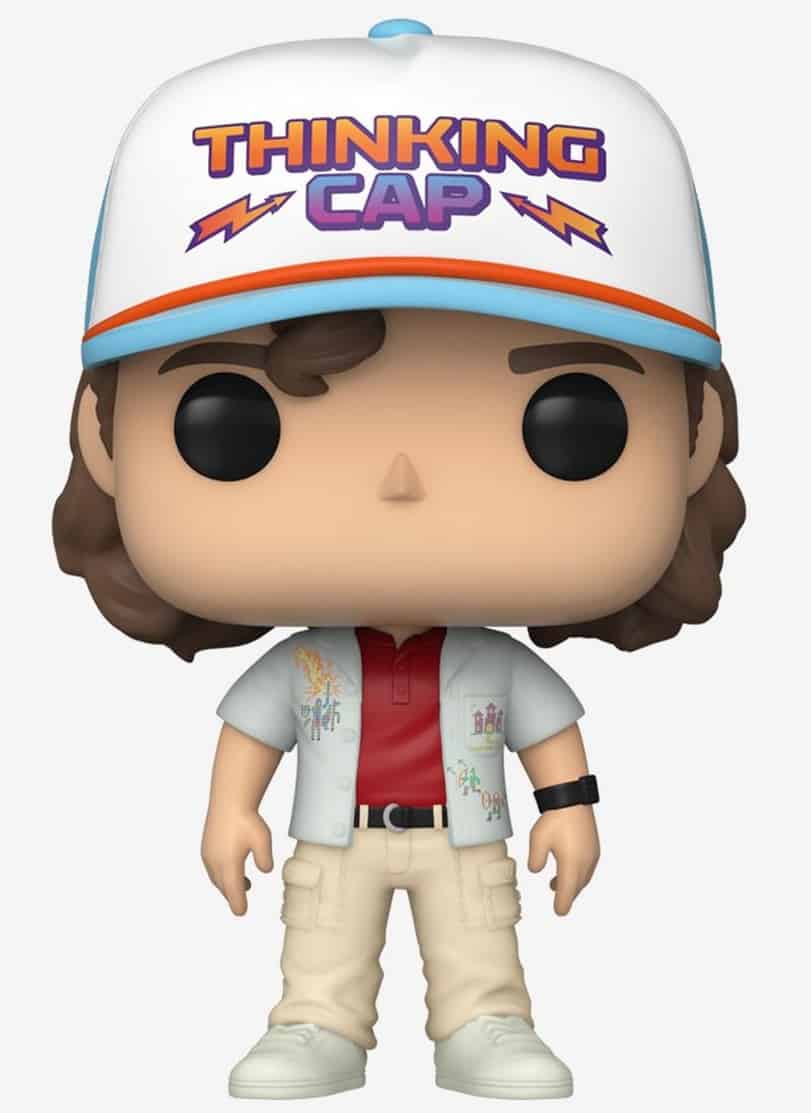 I love this kid. He may even be my favorite Stranger Things character. He has a great attitude, raised Dart from a smaller Dart, is friends with Eddie, has a genius girlfriend, and I could go on and on. I previously wrote about this Dustin Pop in my Best of Stranger Things Pops. Check it out. Dustin has a lot of great Pops, and this is one of the best and the latest released. Judging by some of the other Stranger Things Pops, I bet this will be worth a chunk of money somewhere in the near future. If you get your little tail in gear, you can order it now from Hot Topic for October 2022 delivery for $14.90! What a steal!
Pros
The hat really looks like a genuine trucker hat, just like in the show.

You will get to gaze forever upon Dustin's excellent 'thinking cap.'

You can 

buy the Dustin Thinking Cap Pop

 for $40 if you act fast.

Dustin's fancy little curl hanging down on his forehead looks good. 
Cons
The Thinking Cap's coloring on this Pop is not true to the original coloring in the show. There is more of a yellow-orange fade going on with the original hat. 

Dustin has a wide nose and thick, close-together eyebrows in the show, whereas this Pop has neat eyebrows and a tiny nose.

This Pop should also be wearing his bookbag because Dustin is almost always wearing his bookbag.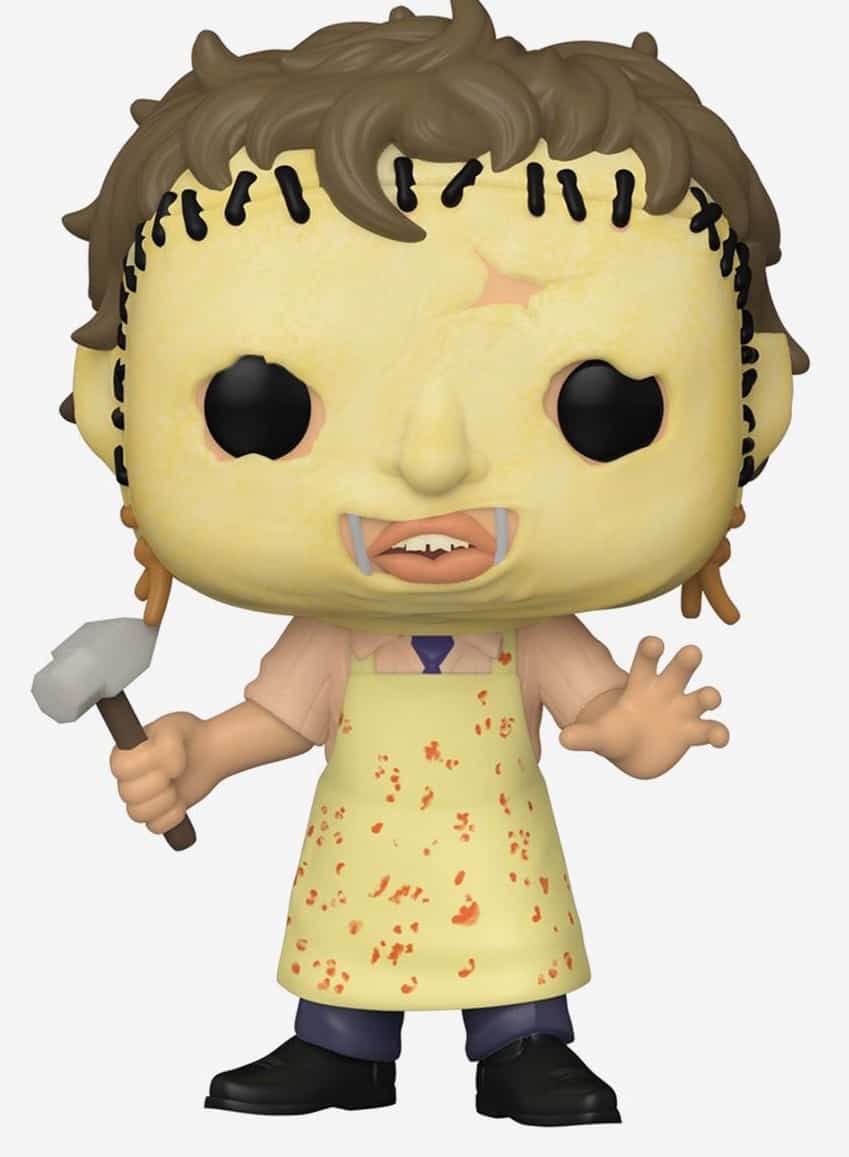 I'm pretty sure most of us have seen The Texas Chainsaw Massacre a time or two. It's a horribly disturbing and deranged movie that will stick with you for life. Leatherface is the main character and creature of your inbred hillbilly nightmares. I suspect that fans will jump all over this Pop. In his human skin mask, Leatherface has his famous hammer and is ready for action. Even though he is the main character, Leatherface takes orders from his hillbilly kin and is a bit of a derp. His derpiness is nicely and eloquently captured in this Pop. 
Pros
This Pop shows excellent detail in the skin mask.

Your besties are also horror buffs and will want this, so get a couple as holiday presents. They are selling at Hot Topic for $7.99 but act fast!

The hammer that Leatherface is carrying is just like the one in the movies.

This Pop's mouth is very detailed and looks extremely close to the original.
Cons
Leatherface's tie had white and lighter blue in it. This Pop's tie does not. 

Whereas Leatherface was a big guy, this Pop is rather thin. He needs more meat on him. Pun intended.

Leatherface the Pop doesn't have messy enough hair. There should be blood in it, as well. Murdering with hammers and chainsaws is just not going to leave you with that clean of a  look. 

Leatherface's apron was very dirty and very bloody, the Pop version is lacking. More stain, please.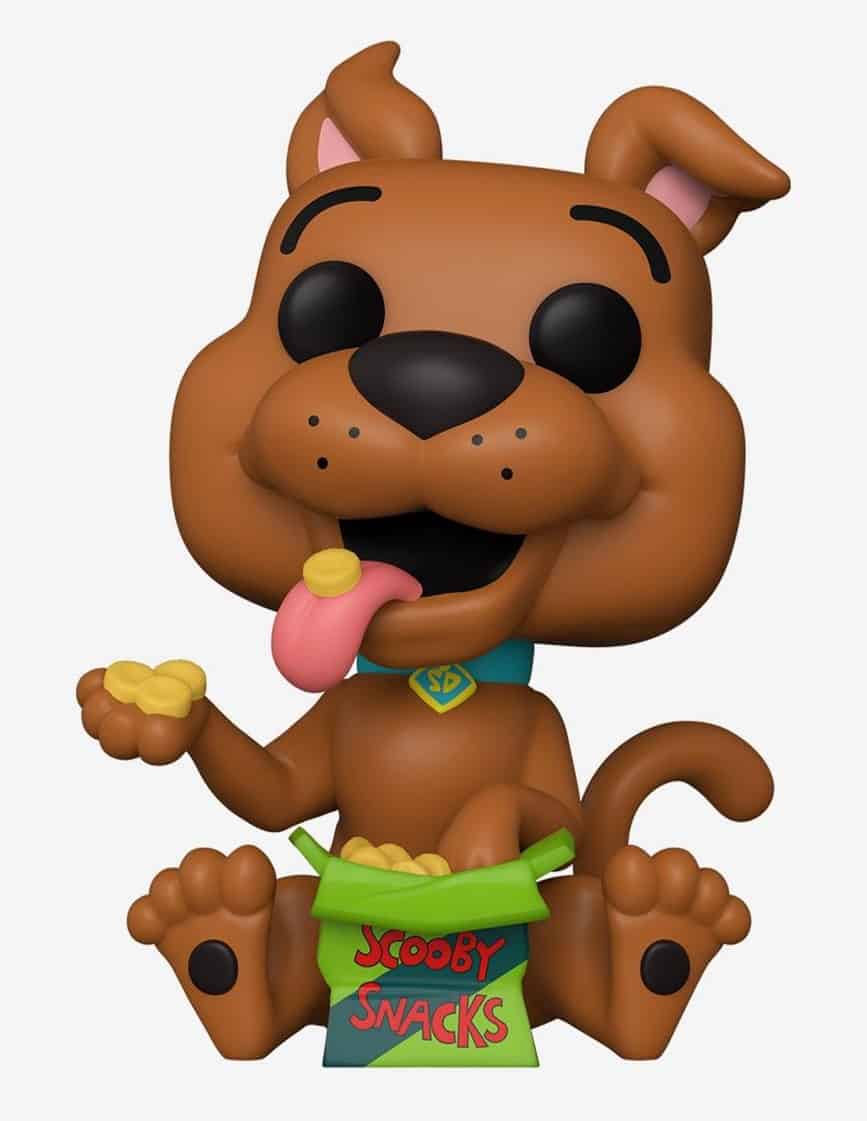 One of the most extraordinary dogs to ever grace our TV screen has undeniably been Scooby-Doo. He is a massive great Dane who loves Scooby Snacks and his human pal Shaggy. Together Mystery, Inc. solves ghostly mysteries and goes on epic adventures. This Pop is super duper neato because our canine mystery solver has the munchies and is seen crunching away on those beloved Scooby Snacks. But, judging by his eyes, it's entirely possible he's had a few too many!
Pros
The detail on the collar and Scooby's ears is perfect.

This Pop captures Scooby-Doo's iconic and goofy stature wonderfully.

Surprisingly, this Scooby Pop is not overly expensive right now.
Cons
Despite the massive Scooby-Doo following, this Pop may not be worth a ton down the road. That's one mystery you guys can solve together.

Scooby's eyes were close together in the cartoon and I wish the creators had done that to this Pop. It creates a more simple-minded real Scooby look. 

Scooby the cartoon has a black spot on his shoulder, but it doesn't look like this Pop does.
This is a cute dog Pop but it just doesn't look "Scooby-Doo" enough for my liking.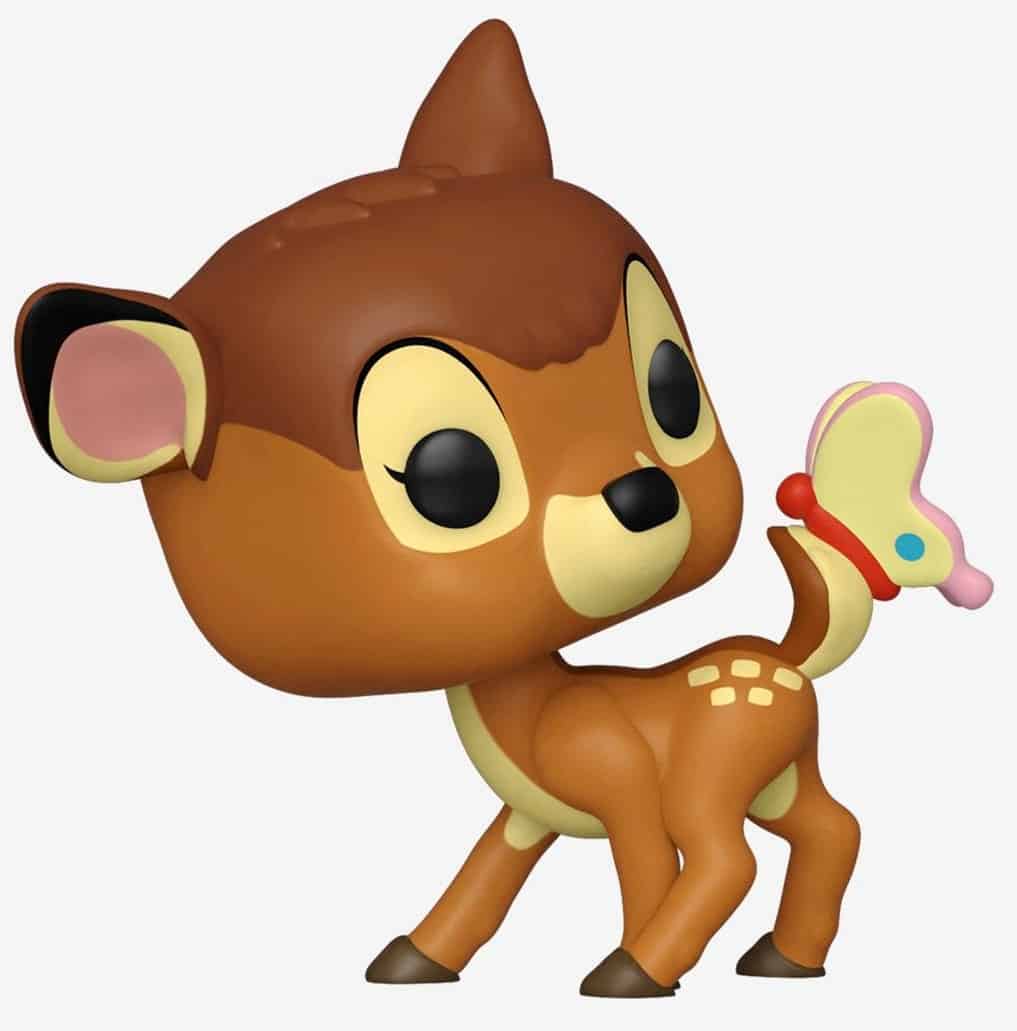 Bambi was the second movie Disney attempted to bring to the big screen. I think it's safe to say we all felt similar emotions while watching Bambi's mom vanish into the mist as man shoots her. Bambi becomes an orphan without anyone to help him. This adorable vinyl Bambi Pop reminds me of the Happy Meal toys that came out along with the movie. It's definitely a keeper. You should be honored to have this young prince in your life. Bambi will always be a classic.
Pros
This adorable Pop was just released at the end of July 2022. You can be one of the first ones to own it.

It's a Summer Convention Limited Edition, which means it will be worth money, so maybe buy several. 

The creators did a great job capturing Bambi's child-like innocence in this Pop.

Bamvi's delicate features and cute white-rimmed ears look on point.

The butterfly scene where Bambi learns to talk is sweetly portrayed with this Pop. 
Cons
The butterfly on Bambi's tail is colored slightly differently than the one in the movie.

Bambi will never reach the butterfly on his tail.

The term, "Bambi eyes" does not apply here. Bambi's black eyes are small and beady, whereas his eyes in the animated film are big and beautiful with long lashes.

Bambi has huge fawn ears and this Pop's are tiny in comparison. The detail is there, but I wish the size was, too. Not a deal breaker but doesn't fully depict the adorable Bambi we all grew up with.

Children will try to take this from you when you aren't looking.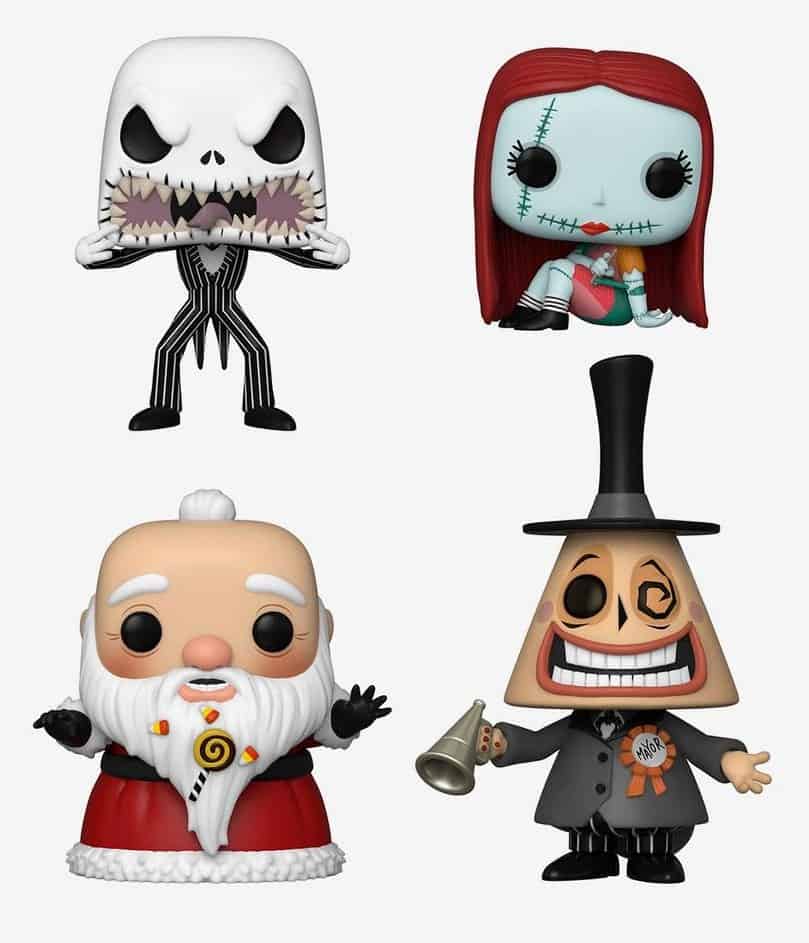 We've already talked about the Oogie Boogie Funko Pop, but I saw this set and knew you, too, would absol-freakin-lutely need it in your life. I am a massive fan of The Nightmare Before Christmas and have watched it several times every year since it came out. There's is something for every Nightmare Before Christmas super fan out there; framed photos, music boxes, shirts, and these great Pops. This set is so great! Jack looks scary instead of sweet and innocent; Sally looks like the lovely lady she is as she sits down to sew up a tear in her arm; Sandy Claws is incredible with all of the candy stuck in his vast beard, and the Mayor is just as he should be.
Pros
The detail on the Mayor goes hand in hand with that of the film. His suit is perfect. 

The detail on Jack's super scary teeth and Sandy Claws' beard candy are exquisite.

This set of characters would go perfectly with the green sparkly Oogie Boogie.

The Sally Pop captured Sally's whimsical and gentle spirit nicely. 
Cons
Sally's face looks a bit off to me, though the sewn-on eyelashes are pretty cute.

If and when they become worth some money, you will have difficulty parting with them. 

The real Santa Claus might be hesitant to leave you a present if he sees this.

Jack Skellington would fit in a bit more in his Santa Claus outfit.

I would have liked it better if they included the Easter Bunny alongside Sandy Claws.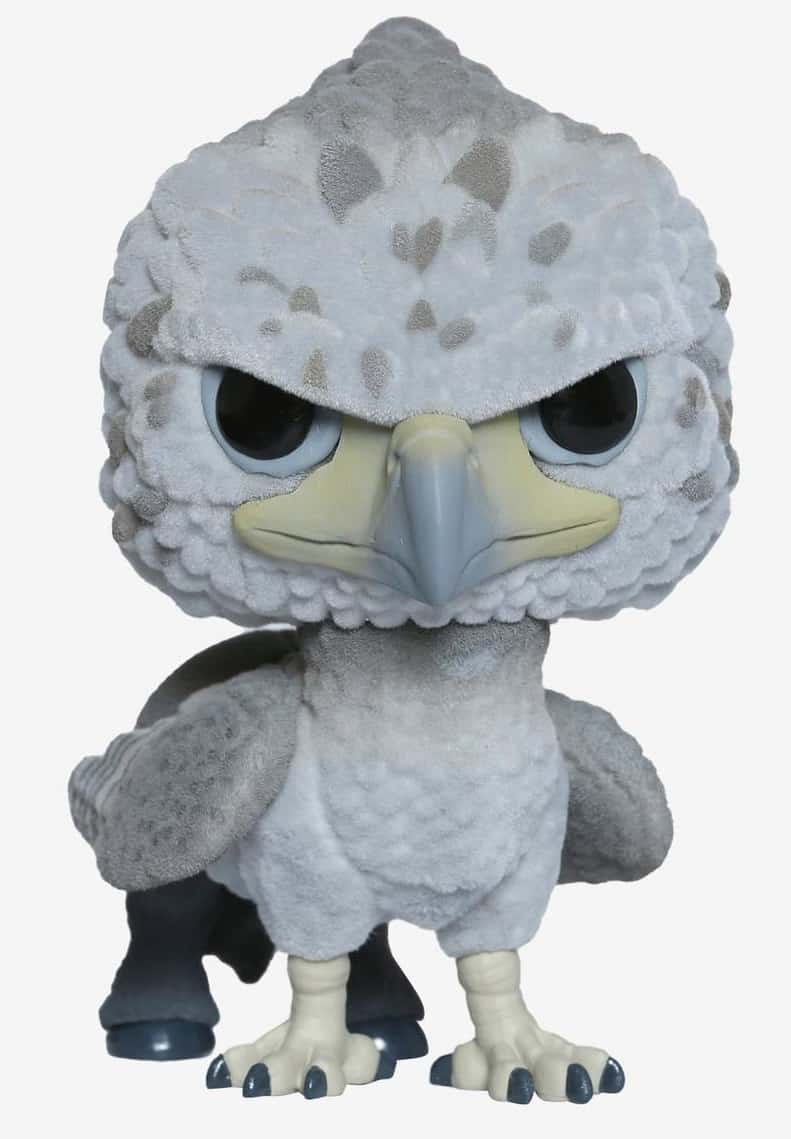 Buckbeak the Hippogriff is Hagrid's animal companion and is pretty terrifying and majestic. Hippogriffs are mythological animals that are half horse and half eagle. They are said to be very proud creatures, which is what you will be if you add this to your collection. This exquisite animal was sentenced to death for attacking Draco Malfoy in Harry Potter's third year of Hogwarts, the wizarding school. Hermoine saves the day and Buckbeak by doing a time transfer where Buckbeak lives with Sirius until Sirius' untimely departure. Buckbeak becomes Harry's because of Sirius' will, but he lets him live with Hagrid, who now calls him Witherwings to "disguise" him. Buckbeak fights in two wars with Harry Potter and has great affection for the little wizard. You need this Pop. I don't need to explain why.
Pros
Buckbeak's rear horse end is done well along with the hooves.

Buckbeak is a noble and loyal friend. I'm sure you could use one of those.

The detail on Buckbeak's feathers really brings out his rather terrifying beauty.

He's fuzzy, also known as flocked for your enjoyment.

Buckbeak's baby blue eyes make him look ghostly and surreal, which he is.
Cons
I wish more time had been spent making Buckbeak's tail look as well detailed as the rest of him does. It looks like more of a blob than hair.

You might get irritated knowing this is one version of Buckbeak, but Hot Topic also has the 

golden-eyed flocked version

available. The golden-eyed version isn't as majestic looking as this Pop, though.  

Buckbeak's talons need to be longer and more severe-looking just like you would see on an eagle. His front feet wouldn't be as flat looking.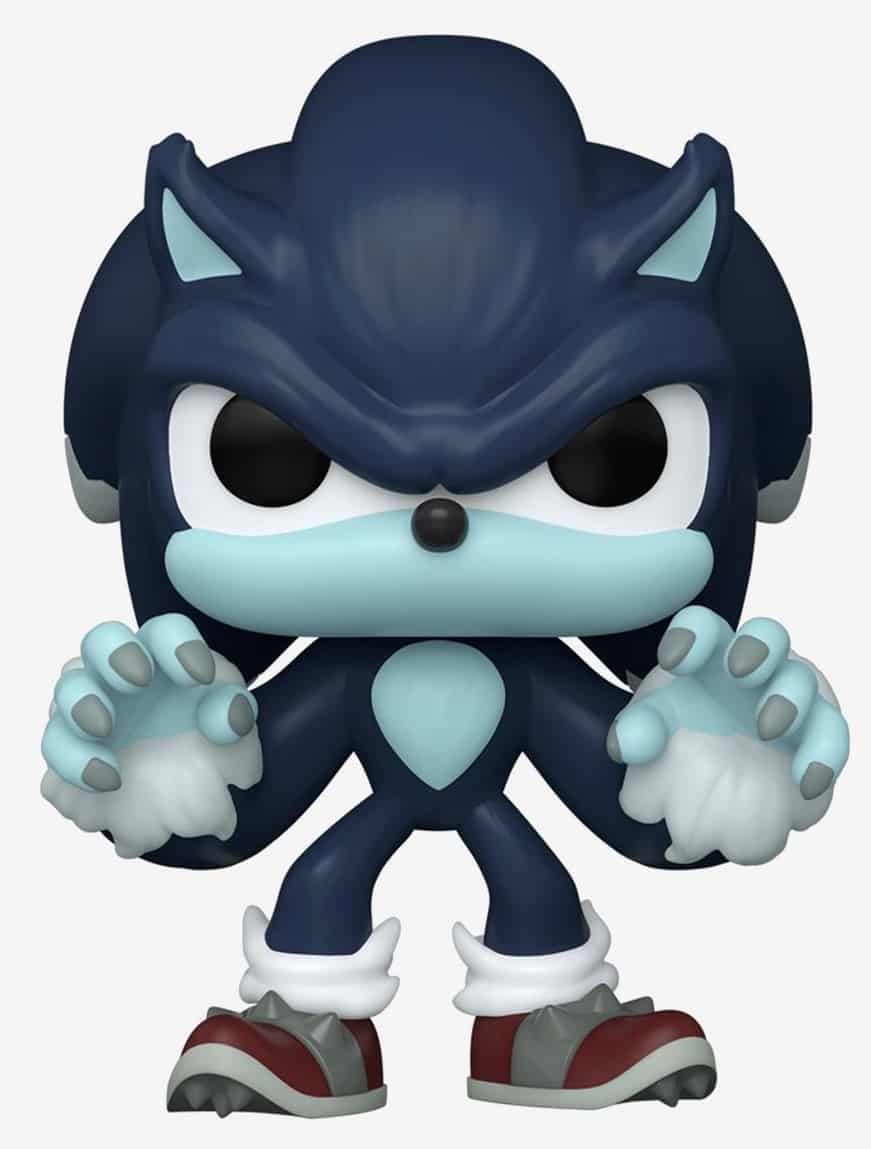 This rendition of Sonic the Hedgehog isn't available yet, but you can place your presale order in October 2022. Sonic the Hedgehog has made a massive comeback with games, toys, and movies. Kids are once again utterly obsessed with the blue blur. There are many great Sonic the Hedgehog Pops out there, and I have previously discussed them in detail in my recent article, Best Sonic the Hedgehog Funko Pops. This version of Sonic is creepy, a little scary, and completely weird. When Sonic accidentally absorbed some of Dark Gaia's energy, this was the repercussion; he turned into a werehog at nightfall. Before Dark Gaia realizes what's happened, Sonic transforms into the werehog. As the werehog, Sonic loses his speed but gains crazy strength and stretchy arms.
Pros
Sonic's hands and claws are really well done and look like I would expect a werehog's to look.

This creepy Sonic isn't something you see every day.

The spiky detail on Sonic's iconic shoes, which also changed when he became a werehog, look great. 

I like Sonic's dark blue coloring.
Cons
Werehogs seem like they would have bushy chest hair and hairy hands. This Pop has neither. It would have been cool if his gloves had tears from his transformation as you see in the werewolf movies. 

Sonic should have some sharp werehog teeth showing to really nail this look.

I think this would have been great as a larger-sized Pop. Werehogs are big and scary compared to normal hedgehogs.

Kids will absolutely try to steal this from you.
FAQ
Question: What is the Difference Between Hot Topic Exclusive and Hot Topic Pre-Release?
Answer: Hot Topic Exclusive means that Hot Topic is the only store you will find that Pop for sale. Hot Topic Pre-Release means that Hot Topic received the Pop several months before other retailers.
Question: Are Hot Topic Funko Pops Worth Anything?
Answer: The value of all Hot Topic Funko Pop Vinyl Figures will generally gain about 4% per month. It is hard to say which Pop will take off in popularity. The price of Funko Pops is like the price of everything else; if supply is low, that will drive the price up if people are trying to source it. If the Pop is something you could only get by attending a Comic-Con then your chances of having a Pop gain a substantial amount of worth improves. The more rare, obsolete, strange or limited the Pop is, the more it will be worth over time. The popularity of the character the Pop is made from is also important.
Question: What does Flocked Mean in the World of Funko Pop? 
Answer: Flocked means the Pop is vinyl but has a velvety cover over the hard plastic, thus making it fuzzy.
Question: Which Store Offers the Best Funko Pops, GameStop, or Hot Topic?
Answer: This is tough to answer because there isn't a clear-cut better store for finding Funko Pops. They both have a wide array of Pops, and both stores offer deals and discounts at times. But, overall, Hot Topic is cheaper than GameStop.
Conclusion
I enjoyed researching these Hot Topic Pops and hope you enjoyed reading about them. Hot Topic has always been a niche store, and Funko Pop is undoubtedly niche. You will always find slightly more obscure Pops at Hot Topic than anywhere else. That is what they are famous for; merch you cannot find anywhere else for collectors and hobbyists. From their Naruto tee shirts to their Mega Death posters, there really is something for everyone in their stores. The one catch to shopping at Hot Topic in person is that you will climb over many school-aged children and fight the masses for the latest and greatest Pops. They are also a mall store, so be ready for nasty parking lot duels, noisy people, and a good bit of walking. Their exclusive Pops are worth it, though. Just look at it as an epic quest you are on to find the werehog.
If you cannot make your way to the local mall, you can always shop their most recent exclusives online. Some of the earlier Hot Topic Exclusive Pops are harder to find and will take some googling. I wish you the best of luck on your search!
Continue reading:
Best One Piece Funko Pop Guide
Best Demon Slayer Funko Pop Guide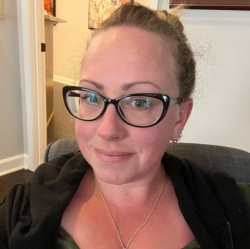 Latest posts by Katie Downey
(see all)