As a collector of Funko Pops for nearly a decade now, I consider myself to be somewhat of a connoisseur. In my early years, I was all about just grabbing whichever figures took my eye, but these days I'm a lot pickier about what I buy. I try to curate my collection to a high standard.
These days I pretty much exclusively stick to superhero franchises or characters from shows I already own figures for such as Once Upon a Time or Game of Thrones. However, my number one favorite series to collect is Marvel. I'm trying to own at least one of every Avenger, and aside from Thor and Dr Strange (the version of him that I want is rare and expensive, so I'm saving up), I'm basically there.
I actually own two different T'Challa figures at the moment, both of which I love, and so I'm excited to get into this best Black Panther Funko Pop guide so that I can show off my favorites. Obviously, the two I already own are on this list as I wouldn't have bought them if I didn't love them, but the others are all ones that I definitely have my eye on.
This list is about the best, not the easiest to buy, and some of them could be tricky to source as they're discontinued. There's also a range in prices, but if you're trying to get the perfect Black Panther collection, then you may have to break the bank a bit. Please be responsible, though, as you should never go into debt for a hobby, especially collecting.
With that in mind, let's explore the wonderful world of Funko Pops, find out more about the character of the Black Panther in the MCU, and find your new favorite figure!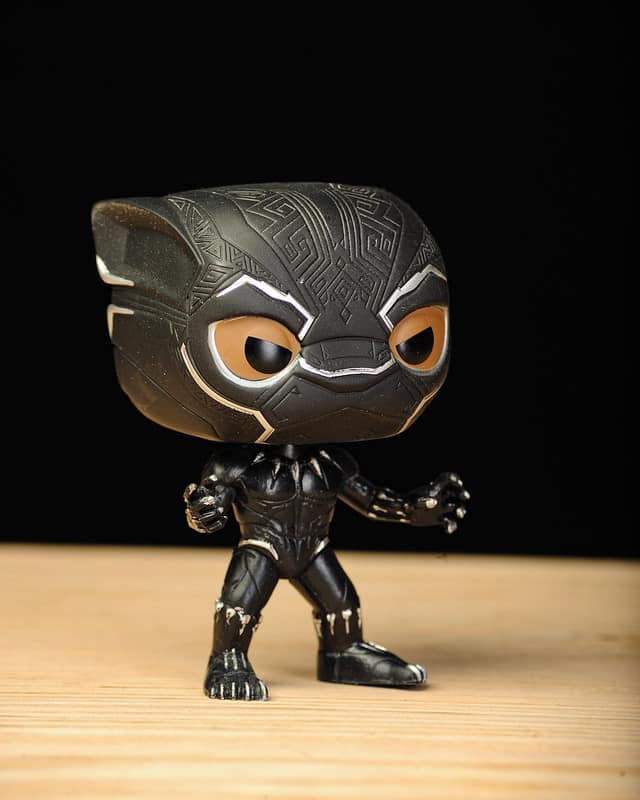 Wakanda Forever!
What's the best Black Panther Funko Pop that's currently available? 876 T'Challa Star-Lord (Special Edition) (As of August 2022)
What's the best discontinued Black Panther Funko Pop? 311 1966 Black Panther
How many MCU movies does Black Panther appear in? 4
What's the best non-T'Challa Black Panther Funko Pop? 867 T'Chaka
Who Is Black Panther?
Although in this case referring specifically to the character, 'Black Panther' is technically a title passed down between generations. It is a legend borne from the secretive nation of Wakanda, and the lore surrounding the Black Panther is the backbone of Wakandan society. It is seen as the protector of their country, and a mystical ceremony imbues powers to whomever currently holds the position as the Black Panther.
In the MCU, Prince T'Challa assumes the mantle after his father, King T'Chaka, is murdered by a bomb during the attempted signing of the Sokovia Accords in Captain America: Civil War. After this, T'Challa is consumed by grief and goes rogue, seeking revenge on Bucky Barnes, who he believes is responsible for the terrorist attack.
Eventually, T'Challa realizes the truth, and decides to honor his father's memory by doing the right thing. Not only does he leave Bucky alone, but he also forgives Baron Zemo, the one who's actually responsible for his father's death.
The Black Panther suit is made of Vibranium, the strongest material known to man. It's the same material that Captain America's suit is made of. T'Challa's sister Shuri made some modifications when T'Challa took over the role of Black Panther, and it's an incredibly high-tech piece of equipment.
The character of Black Panther appears in several movies in the MCU – Captain America: Civil War, Black Panther, Avengers: Infinity War, and Avengers: Endgame, as well as the TV show What If…?. Sadly, Chadwick Boseman (the actor) died in August 2020, and so the character of T'Challa will not be appearing in any future movies. The role of Black Panther will be resumed in Black Panther: Wakanda Forever, but played by a different character. It's not yet been revealed who it will be, but my personal guess is Shuri.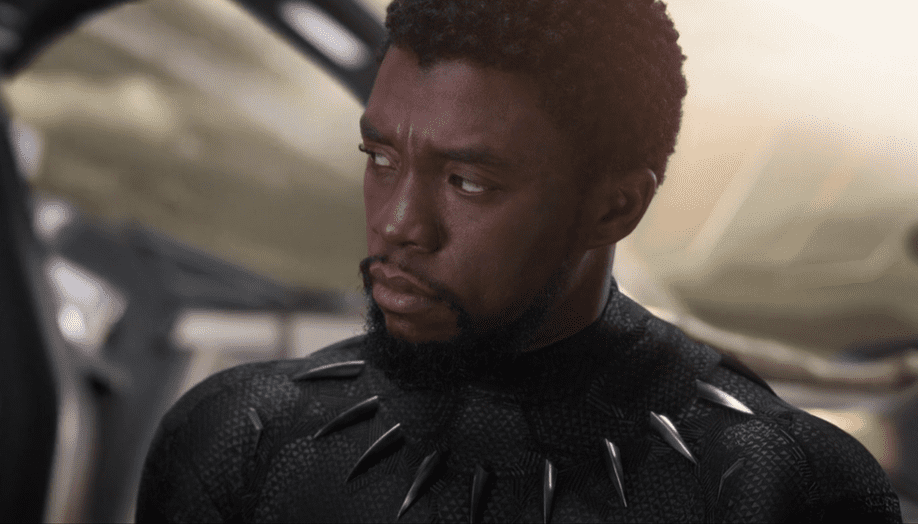 Selection Criteria
I tried to consider several elements when deciding on which Black Panther Funko Pops to include in this guide. My selection criteria can be found below:
Appearance – This was definitely the biggest factor in my decisions, as ultimately, I think it's what matters most when displaying your Funko Pop. Yes, they're collectibles, and so looks aren't the only thing to tconsider, but you want something that will be pleasant to look at. So for this list, I chose figures with an intriguing design, and plenty of attention to detail. I always want to buy Funko Pops that will make me smile when I see them, so this was the number one element I considered.
Relevance – I tried to pick Funko Pops that related to significant moments in the MCU. I don't really like that some Funko Pops are based off of very obscure moments and don't even look that great, and that's not what I wanted here. Black Panther is such a cool and complex character, so I wanted to choose figures that reflected that side of him, not ones that I felt were just created for the sake of it.
Uniqueness – Obviously, there are certain suits and poses that are iconic despite being pretty common, and there are several of those on this list. But I also wanted to include ones which really stood out and captured a totally different vibe. So I made sure to pick a handful of Black Panther Funko Pops that had an entirely different appearance from the rest of the figures on this list.
Value For Money – Now, I'm of the belief that a particularly special design is worth forking out for, so this criterium doesn't necessarily mean cheap. But I did try to pick ones where I felt the price was justified, even if it's expensive. Similarly, sometimes there are ones which are very affordable, but quite frankly, the design isn't fancy enough to warrant even the low price.
What Are the Best Black Panther Funko Pops?
There are plenty of Black Panther Funko Pops on the market, based on a range of different suits and scenes. I've scoured through all the ones available, and chosen only the very best of those. Of course, there's always a level of subjectivity in articles like this, and these picks are based on my own opinion, but I'd highly recommend you to at least check them out! Also, please note that the figures below are in no particular order as I love them all for different reasons, so it was almost impossible to rank them.
876 T'Challa Star-Lord (Special Edition)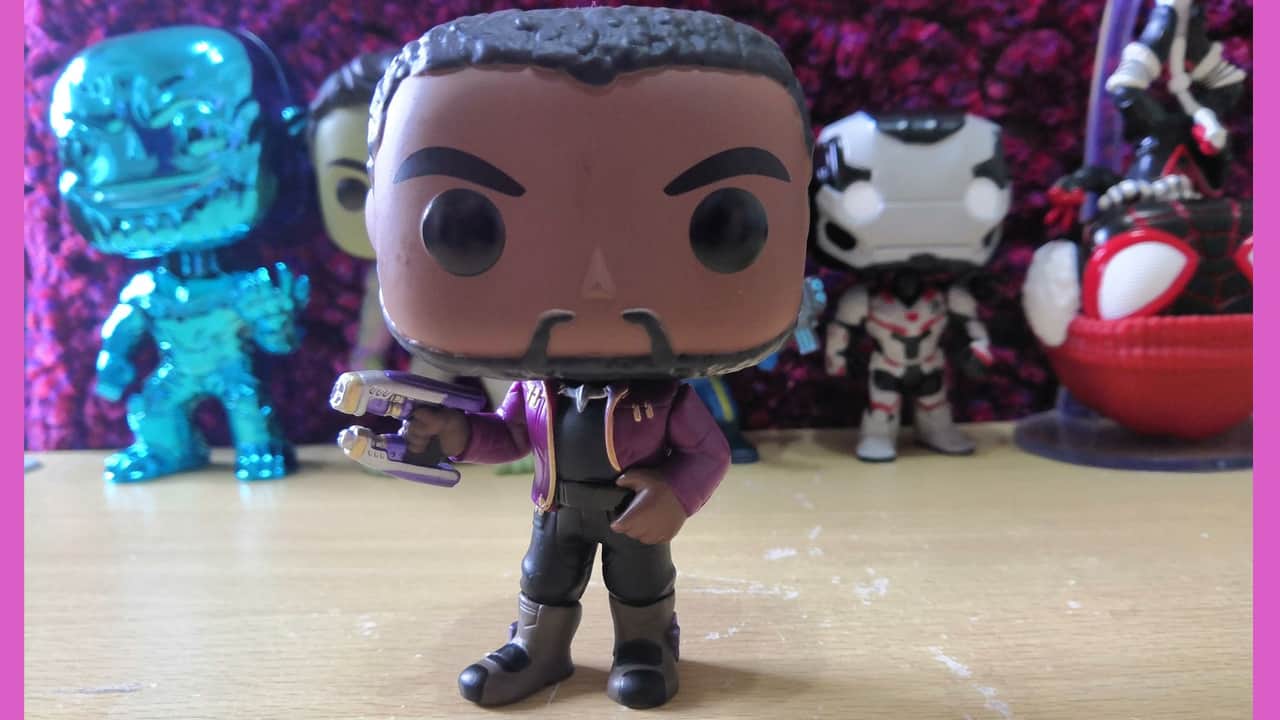 Although I enjoyed nearly all of the What If…? series, the T'Challa Star-Lord episode was my favorite by far. Chadwick absolutely killed it as this alternate version of T'Challa; he brought so much depth and fun to the role. I cried my eyes out at the end when there was a tribute to Chadwick Boseman with his face superimposed over the cartoon background. He was a truly phenomenal actor, and What If…? was a fitting last role for him.
Purely in terms of appearance, the 871 standard edition Funko Pop of T'Challa Star-Lord is probably better. The regular version features him wearing his trademark face mask. I must admit, I love how they combined the iconic style from the Guardians of the Galaxy movie with Black Panther's classic black, purple, and gold colors. It also has an acrylic platform that makes it seem as if he's flying. This platform is the main reason I'm not interested in the figure, as I've always found them to look a bit cheap.
However, there's nothing cheap about the 876 T'Challa Star-Lord. This is a Special Edition, which means it had a limited release and was more expensive than the regular version. I immediately loved this figure as it really conveys Chadwick's energy. T'Challa is stood in such a cool and collected pose, one hand on his hip, the other confidently holding his blaster. I like that there's so much attention to detail on the face, as the facial hair is instantly recognizable. Also, his eyebrow game is on point.
The colors are super visually pleasing. Not only is the skin color spot on, but the shade of purple used for the jacket is so vibrant and sophisticated. It's lined with gold, and the effect of the two together is mesmerizing. The main body of the suit is black, and he's wearing brown jet boots. The texture on the hair is brilliant, and is one reason why I prefer to display this one out of its box.
I actually received this one as part of a Marvel mystery box from Popcultcha. I was thrilled when I saw what I'd pulled, as I'd had my eye on that Funko Pop for a while and was already planning to buy it individually anyway. If you want this one for your collection, you should keep an eye on eBay, although it is also available on Amazon and other retailers. Looking online, it seems there's a vast range of prices, and I saw it from anywhere between $8 and $50.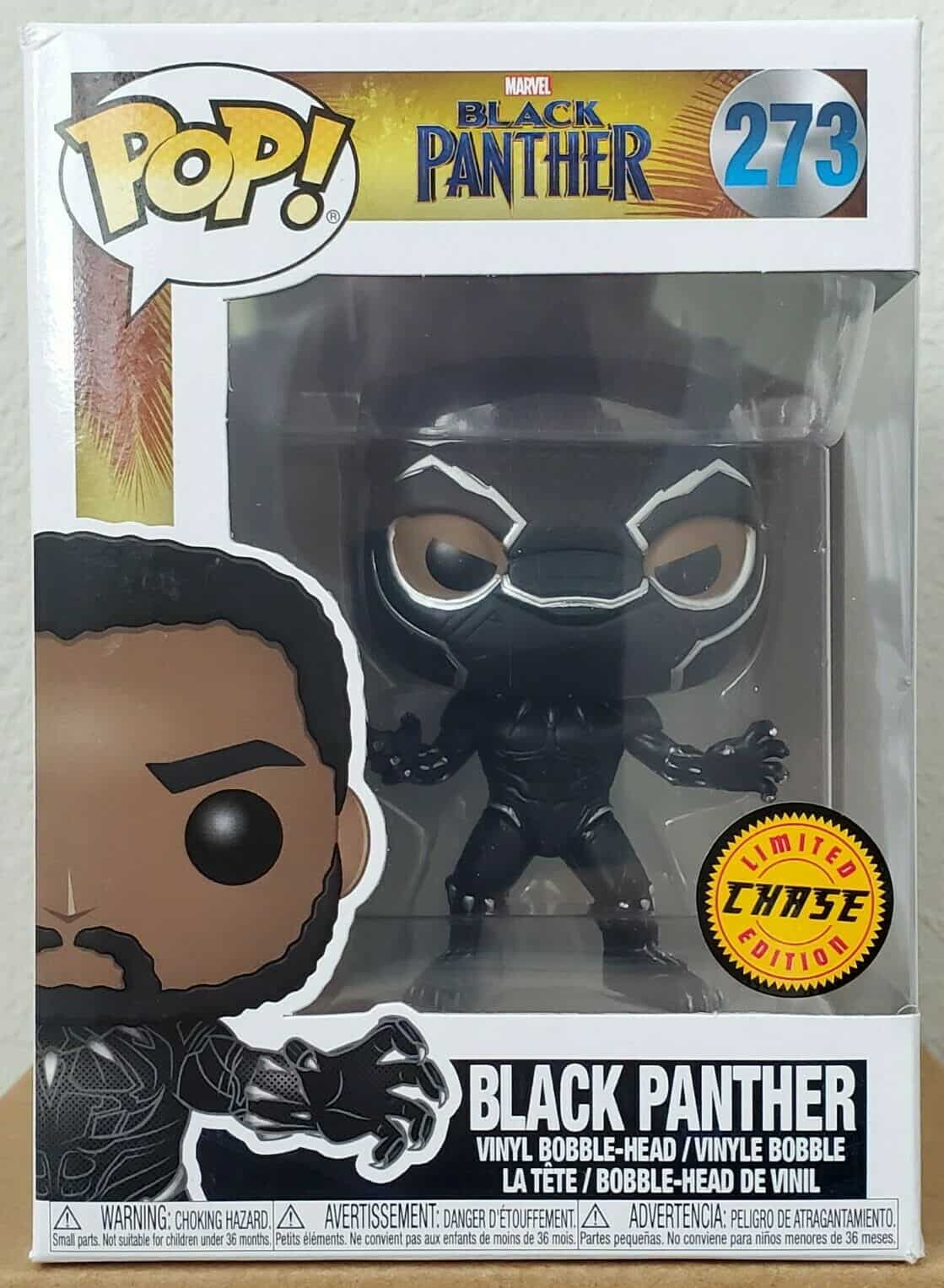 If you're unfamiliar with the term, a Chase Funko Pop is a rare variant. Chase versions are produced at a 1 in 6 rate for that particular Funko Pop, and are denoted by a sticker, as well as a difference in the design. Not all Funko Pops have a Chase version, and they're highly prized amongst collectors.
The standard version of this Pop is exactly the same, except T'Challa is unmasked. That means that on the box art for the Chase Pop, you can still see T'Challa's face, as the box is always based on the standard variant.
I absolutely adore the design of this one. Some Chase figures are only popular for their rarity and actually don't look as good as their standard counterpart (1190 Selina Kyle comes to mind), but this is not the case here. As far as I'm concerned, there's clear superiority here when it comes to the overall look of the figure. It's captivating, impressive, and definitely feels most reminiscent of the movies.
The figure stands with its arms open and claws bared. It's intimidating, and showcases just how dangerous Black Panther can really be. The suit is an elegant jet black, with silver detailing on the joints and claws. You can also see his iconic silver necklace jutting out below his oversized head. The feet are stood shoulder-width apart, giving the figure a lot of stability when standing upright.
But the mask is definitely the star of the show. It's almost entirely black, but with silver markings around the cheeks and eyes. Speaking of the eyes, this figure has holes in the mask, so you can see the actual eyes protruding from below. They still have the raised circles that are standard across most Funko Pops, but instead of being filled in with black, they're only partially filled.
It makes it appear as though T'Challa is squinting in determination. There are intricate patterns atop the forehead part of the mask using typical Wakandan designs.
891 Blacklight Black Panther
This one was a total impulse buy for me, but I haven't regretted it for a second. I didn't even know it existed, but from the moment I saw it on the shelf, I knew that I just had to have it. I actually bought this one in a two-pack with a shirt as well, which promptly became my favorite t-shirt. And whilst the figure itself is extraordinary, I'd definitely recommend trying to find it with the t-shirt too.
There's actually a pretty wide range of Blacklight Marvel Funko Pops, and one of my biggest Funko Pop regrets is not buying the Captain America version when I saw it in a store. It would have been really cool to have a few of these side by side on a shelf. Still, the Black Panther one is fabulous by itself, so I'm not too disappointed. The Blacklight series involves vibrant neon recolors of the characters, with seemingly no rhyme or reason to the color choices made. They're not glow-in-the-dark, but they are very bright.
Honestly, before we even get to the figure itself, I need to draw attention to the gorgeous box design. It's pitch black with orange borders and splatters of a whole rainbow of neon colors. It looks like someone dipped a paintbrush in each color, and ran their finger over it so that it created splashes on the box. Adorned on the front, like any other Funko Pop, is an image of what the figure looks like. I'm usually an out-of-box collector, but I make an exception with this one.
The figure itself is mostly black and purple, with yellow highlights in various places. There are intricate patterns on his head, and the colors really make the details pop. The figure is stood in the same pose as the 273 Black Panther Funko Pop, so they probably used the same mold for the body. I would say the only thing I dislike about this figure is that the black shading around the mouth area of the face makes it look like Black Panther has a silly bushy moustache. Other than that, though, it's fantastic.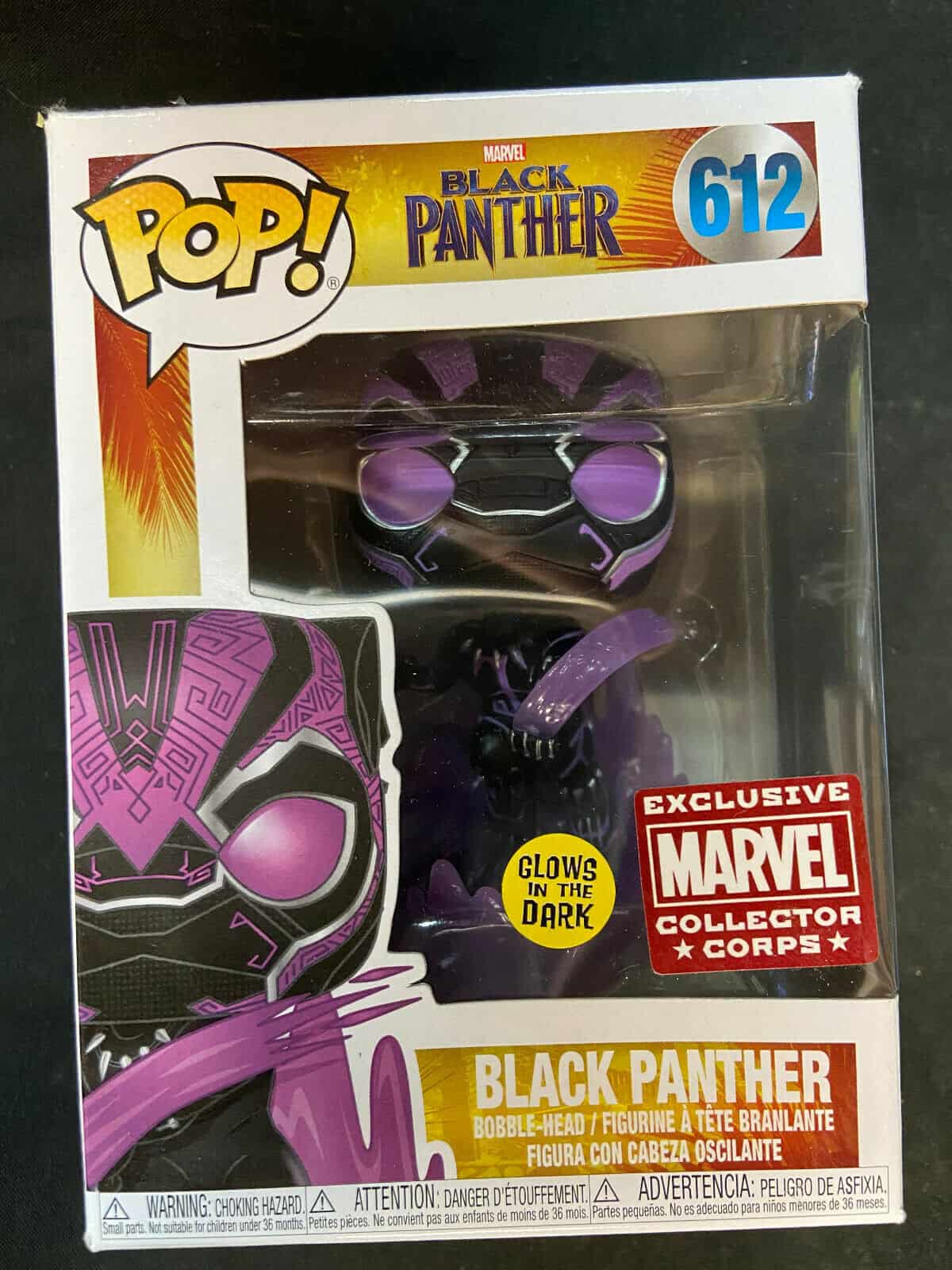 Despite how epic and unique this one looks, and the fact that it's both an exclusive and discontinued, amazingly, it's actually very affordable. You should be able to find it on eBay for $25, or even cheaper if you're happy for it to be out of its box. This Marvel Collector Corps Funko Pop is based on the Black Panther movie but has taken some creative liberties. The Marvel Collector Corps sticker on the box really makes this figure stand out, as those are pretty rare.
I don't usually like Funko Pops that don't have their feet firmly planted on the ground, but I make an exception for this one. Normally, any 'flying' Funko Pops have ugly transparent acrylic stands that I think make the figure look cheap. And yes, Funko Pops aren't exactly top-shelf items, but they're still relatively high-quality figures and I think their appearance should reflect that.
So I think it's excellent that Funko opted to go with a dramatic purple swirl that suspends Black Panther in the air. Better yet, it's glow-in-the-dark, and gives a really cool effect once the lights are off.
The pose looks as if Black Panther is ready to pounce, and whilst one hand is shrouded by the purple swirl, the other has its claws out, ready to swing at an enemy. Instead of the usual black circles, the eyes aren't technically visible on this Funko Pop. Instead, we have wide glow-in-the-dark purple eye-holes in his mask. There are also various other details of the mask which utilize the purple, and the overall effect is stunning. Honestly, I'm a massive fan of this one and may well add it to my collection one day.
I've never seen this particular Funko Pop in a shop, which is a shame because I'd have absolutely bought it. This particular one is a Super sized figure. I'm usually only interested in Regular sized Funko Pops, but I'll make an exception for this one as it's such a unique figure. Just bear in mind that if you're buying this, it'll take up a bit more shelf space than the others, as it's about 10 inches tall (in the box).
My first impression of this 1966 Black Panther figure is that it really reminds me of Batman! I think it must be a combination of the black color scheme and the cape, but I don't think it would look out of place amongst my other Batman figures, despite being a Marvel character.
Unlike the others on this list which are based on the movies, this particular one is from the main Marvel Funko Pop line, which is based on the comics. I'll admit I've never read a Black Panther comic, so I can't entirely relate to this particular suit, but I still love the way it looks.
The figure itself is entirely black from head to toe, except for the eyes, which are white. The eyes are still raised in full circles, but the paint job cuts off the upper third of the eye, just like in several of the other Black Panther Funko Pops. White eyes are often used in figures where the surrounding facial features are black, as it means they're still noticeable.
The hem of the cape curls up at the top, and frames his neck and chin really nicely. He's stood in an open pose which is very comic-esque. His suit has various features, including thick boots and a utility belt.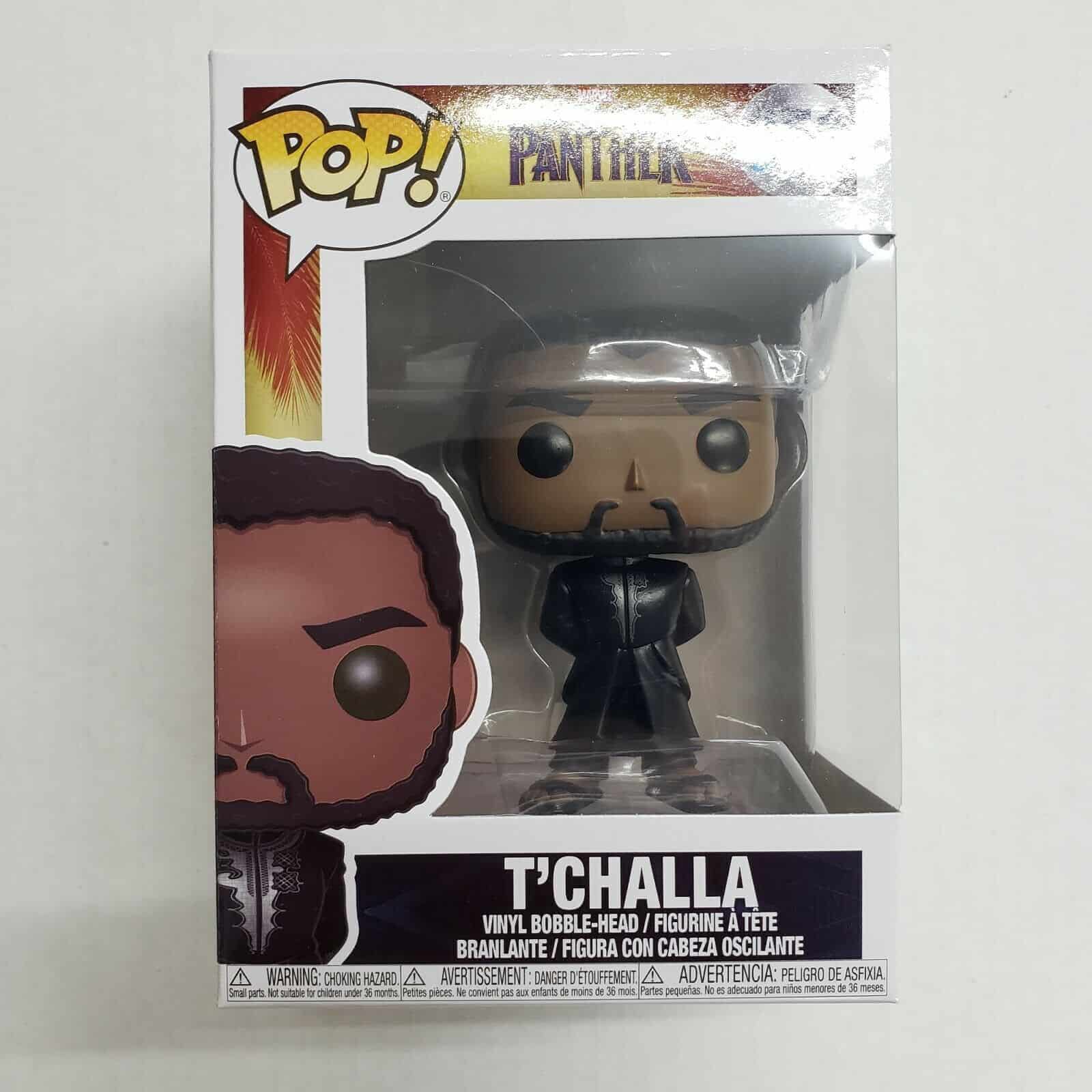 This one is as majestic as anything. It's from the Black Panther movie, and I just love the sophistication that oozes from this figure. If the other figures on this list are primarily about showcasing power and intimidation, this one is all about charm. I think it's great that Funko have some Pops where T'Challa is out of his suit/ mask, as it demonstrates the different sides of him.
In an ideal collection, I think there would be a good mix of both. Whilst this particular figure probably wouldn't be the right choice if you were only buying one figure, it's perfect if you're rounding out your collection.
In the movie, T'Challa assumes his position as king of Wakanda, and when he's not busy fighting, he sits upon his throne in his elegant black robes. Some fans complained that the robes were too minimalist and not regal enough, but I thought they perfectly suited him.
They complement the backdrops really nicely, and work well with T'Challa's appearance. I suppose I could be a little biased, though, as his robes strongly remind me of the thobes I see during Eid celebrations in my own culture. This outfit was a fantastic choice for Funko to make into a Pop.
The figure stands comfortably with his hands behind his back. It's a very casual pose, and yet it's somehow also domineering in its calmness. The figure has the same head mold as the 273 Black Panther Funko Pop. However, it looks totally different because of the stark contrast in the bodies.
The body features the robes from the movie, complete with the silver detailing on the chest. I really like the way that the back of the robe drapes behind him. It's also amusing to see that this figure is wearing sandals, so you can see T'Challa's bare feet!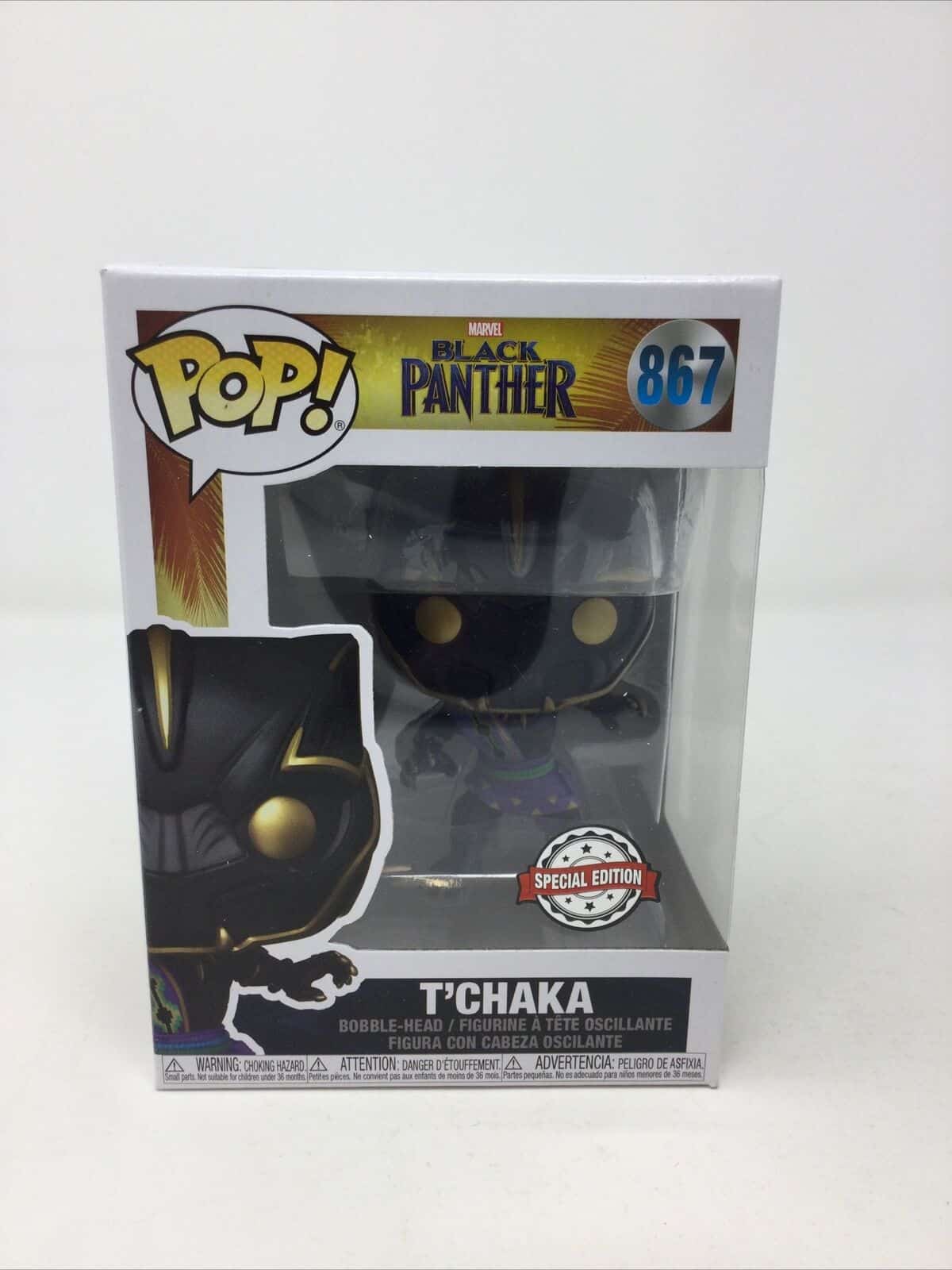 While the other Funko Pops on this list were of T'Challa, I wanted this final one to pay homage to the other character who assumed the role of the Black Panther – T'Chaka. This was T'Challa's father, and the king and protector of Wakanda in the years prior to Captain America: Civil War. I really wish we could've seen more of him as he seemed like an excellent character, so it's a shame that he died so early.
The figure itself is gorgeous, and actually, a lot more detailed than most of the other Black Panther Funko Pops available. I'm pretty sad I don't have this one for myself, but I couldn't justify the price. It's not overly expensive compared to some of the others on this list, as it's around $30, but that's still more than I can justify for a purchase outside my main collection.
Because although T'Chaka is part of the MCU, he's not an Avenger, and with limited space for displaying my Funko Pops, I have to be picky. Still, if you're looking to expand your Marvel collection, this is definitely a great one for you.
He's stood in a menacing pose that commands attention and respect. A strip of decorated purple fabric is wrapped neatly around his body, forming a sash and thick belt. It looks elegant and is full of charm, part of what makes this Funko Pop so appealing. My favorite part is the head, though.
The mask looks awesome! It's black and minimalist, with gold lining highlighting certain features. It's absolutely exquisite, and a delight to behold. There's also gold lining on the claws of the hands and feet, making T'Chaka look even more powerful. This is such an excellent figure, and one I definitely recommend if it's in your price range.
Conclusion
As you can see, there are some absolutely fantastic offerings for Black Panther Funko Pops, and a surprisingly wide range. I've tried to include options from different movies and TV shows, so that regardless of your favorite, there will be a good option for you. I think it's great that Funko created some with the mask on, and others that are unmasked. Obviously, I love the full suit look, but there's also a subtle brilliance about the ones where you can see T'Challa's face.
Hopefully, there should be at least one figure on this list that strikes your fancy (and if you're anything like me, then you'll love all of them). But if you want one last suggestion, you could consider the 130 Black Panther Funko Pop. It's from Captain America: Civil War, and it's one of the first iterations of Black Panther Funko Pops.
Personally, I don't think it's quite as good as the others on this list, but you may feel differently. Although it's discontinued, it's not particularly expensive, and you should be able to find it on eBay for $20-25.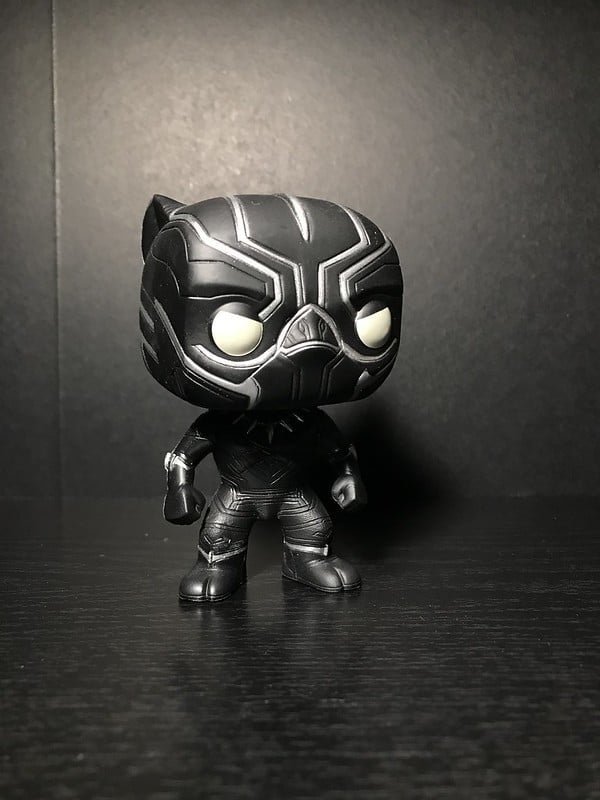 FAQs
Question: How can I get Into Collecting Funko Pops?
Answer: Luckily for you, I've actually made an entire guide covering this topic! In it, I discuss absolutely everything you need to know in order to get into collecting them, including where to buy them and how to curate them.
Question: What Movie Does Black Panther First Appear in?
Answer: T'Challa makes his debut in Captain America: Civil War, and takes on the role of the Black Panther after witnessing his father, T'Chaka, die in a terrorist attack. In later movies, he goes on to fight side by side with the Avengers in the war against Thanos.
Question: How Much do Funko Pops Cost?
Answer: Depending on where you buy them from, Funko Pops will usually retail somewhere between $10-15, although you'd expect to pay a little more for Special Editions. However, once a Funko Pop is discontinued, they can really hike up in price, and some of them go for hundreds or even thousands of dollars. But the opposite is also true, and some crash in price to the extent that you can pick them up for $5 or less.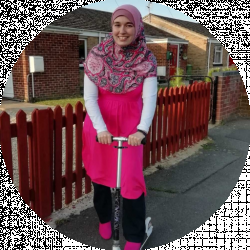 Latest posts by Melika Jeddi
(see all)