For most ARMYs, stanning BTS doesn't simply stop at attending their concerts, playing their music on loop, or buying each of their albums. These days, supporting your favorite K-Pop band is usually done by getting every type of merch they produce under the sun. And if you've had enough of the typical shirts, plushies, and accessories, chances are you're searching for new BTS items to add to your growing shrine.
If you fancy cute 3D representations of your fave boys, like me, having this best BTS Funko Pop guide will point you in the correct direction. Because in this article, I'll show you the top Pops in the BTS lineup that any fan would be glad to have. Whether you're a long-time ARMY or a recent convert, you'll want to get a couple, if not all, of the mini figures you'll see here.
Bottom Line Up Front
As enticing as all of the BTS Pops are, some pieces shine more brilliantly than others. So I only concentrated on those figures in the lineup as they exhibit the best aspects of the members – as artists and individuals.
The Pops you'll find here do not only possess attractive appearances, but they also feature the members' personal traits. It's why, regardless of the reason you're into them, be it their personality, charm, or talent as performers, something in this guide will appeal to you as their fan.
Selection Criteria
The boys' fashion style on and off stage has been wowing ARMYs everywhere, especially for the past six years. So seeing a few of their iconic appearances in Funko Pop form is a delightful and welcome sight. Although, when you're after their best look, you'll only have to aim for the 21 BTS Funko Pops that I'll be talking about in this article.
What distinguishes these Pops from the rest in the lineup?
Radiates the person's on-stage or personal vibe – Though fans love BTS as a whole, the members are what makes the band stand out from others. Therefore, Pops that can express the nature of the person they're based on are more exciting and worth getting.
Presents the member's best outfit or style – BTS has gone through several looks, and the Pops that capture their most flattering moments undeniably deserve to be in your collection.
Has an appealing pose – Many BTS Pops' poses are from their dance choreographies. Sadly, what looks fantastic in real life doesn't always translate well in Pop form. As such, I skipped the figures with awkward positions and only included those with fun or classy poses.
My Top Picks
Best Color Scheme – Funko Pop! Rocks – Jung Kook (Love Yourself: Answer Version)
Most In-Character – Funko Pop! Rocks – RM (Dynamite Version)
Best Visuals – Funko Pop! Rocks – V (Dynamite Version)
The Best BTS Funko Pops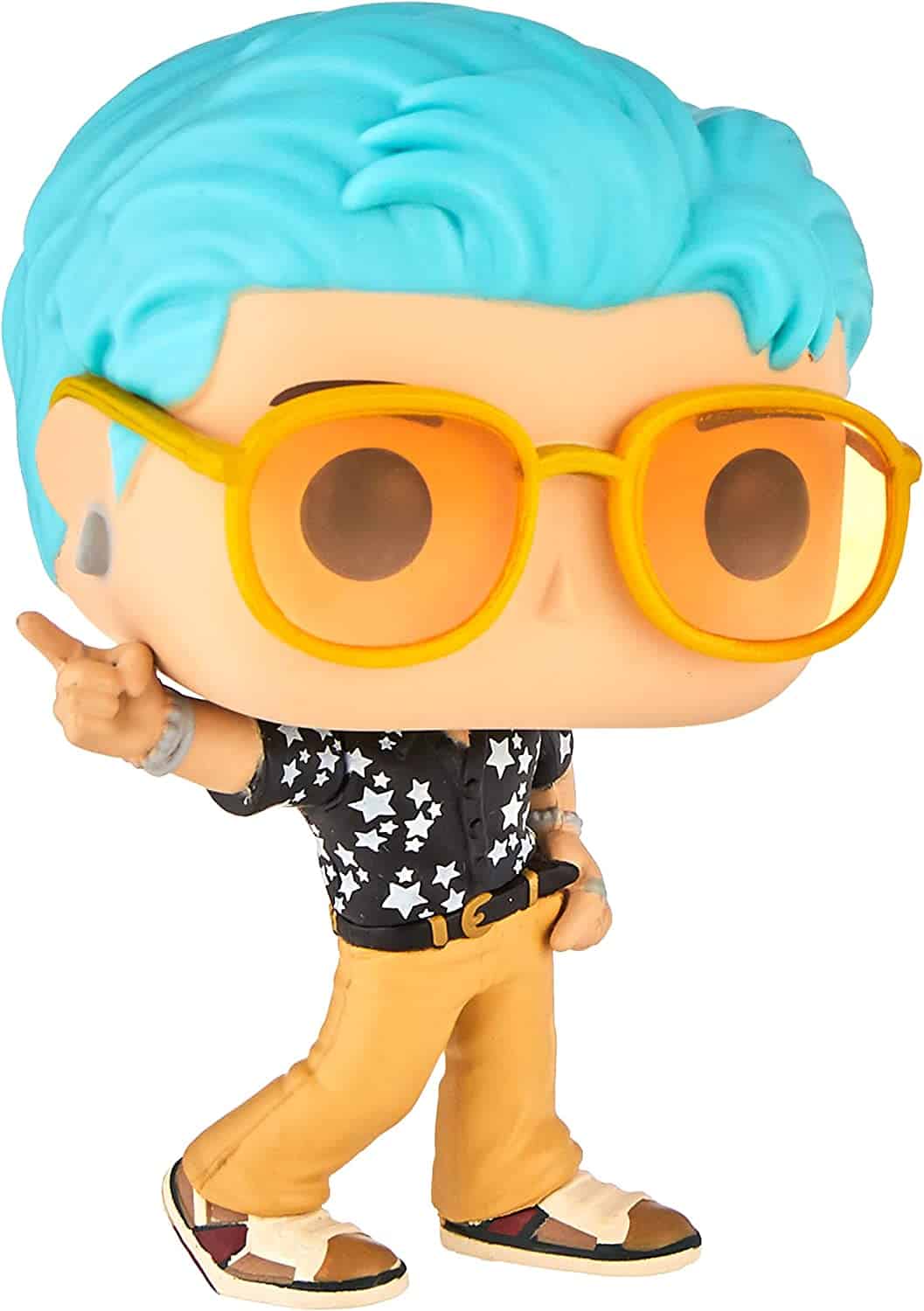 RM looks every bit like the group's team leader and superstar in this fancy-looking Pop version of him.
Release date: September 2021
Rarity: Low
Pros
The Pop has a neat sculpt with barely noticeable seam lines
It's based on RM's third attire in the Dynamite official MV or music video, which is his best look among the five outfits that he wears
The figure has the most eye-catching hair color out of all the RM Pops. It has a bright blue hue, which overpowers the others
This Pop's glasses have colored lenses, which complement the warm color scheme of RM's outfit
The details of this Pop are mostly accurate to the source material. Funko even duplicated a portion of the shoes' soles to get his whole appearance from the MV
Cons
Some stocks of this Pop may have paint bleeding from the sunglasses to the hair or ears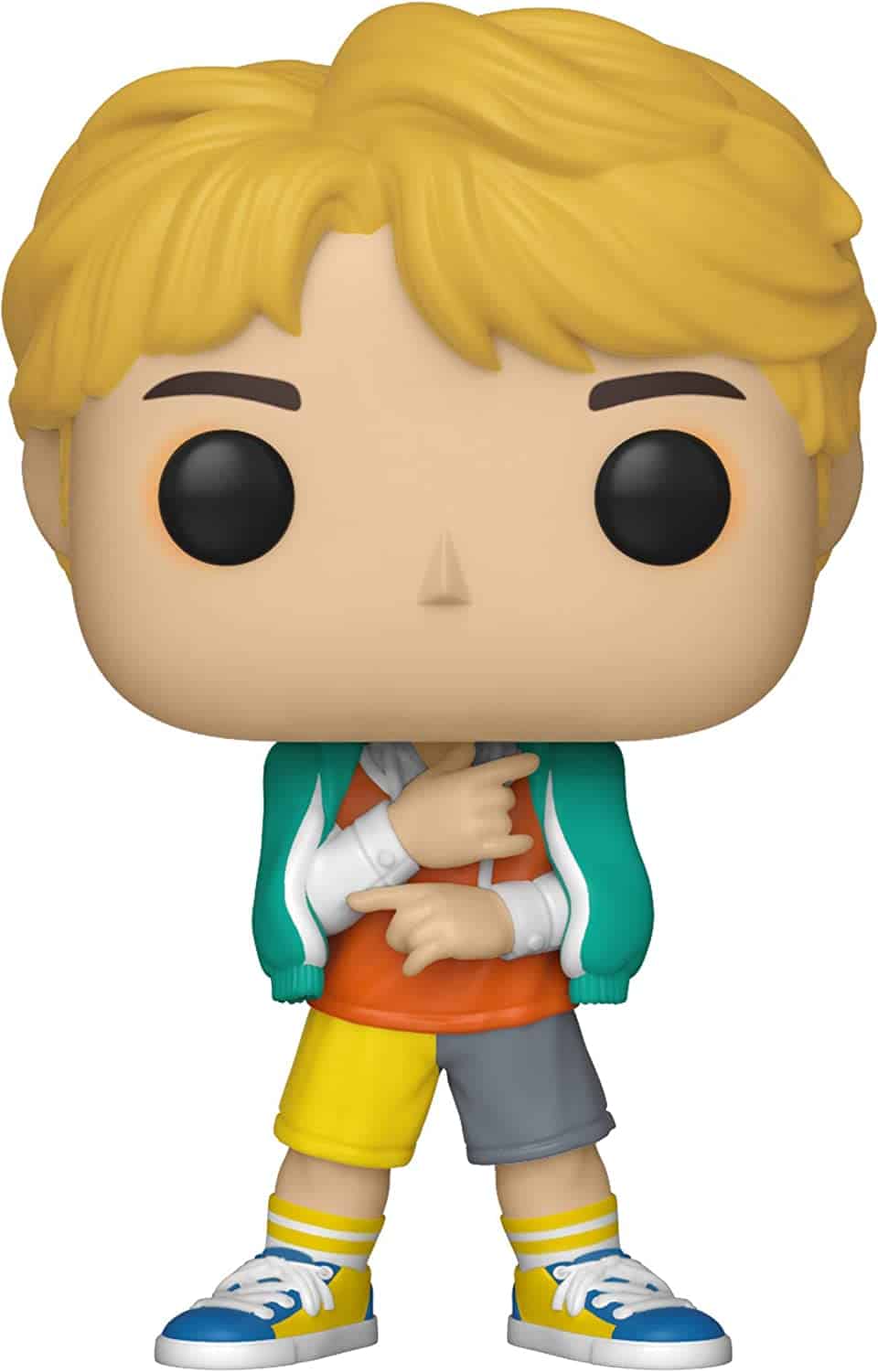 The vibrant and playful style of this Pop 100% suits RM's position as one of the main rappers of the group.
Release date: May 2019
Rarity: Moderate
Pros
This figure has RM's most attractive and energetic color combination from the BTS lineup. In comparison, the two other RMs have more mature and subdued colors
The Pop's costume is taken from the Love Yourself: Answer Concept Photo F set, which is one of BTS' best-selling albums that RM helped create lyrics for
The figure's pose fits RM's on-stage rapper persona since the Butter and Dynamite versions have a pretty boy style
This Pop has a better-looking hair sculpt than the other RM figures, as its hair looks softer and more natural
Cons
Funko wasn't able to fully imitate RM's outfit from the concept photos since there are many missing details from the Pop (such as the plaid pattern on the shorts)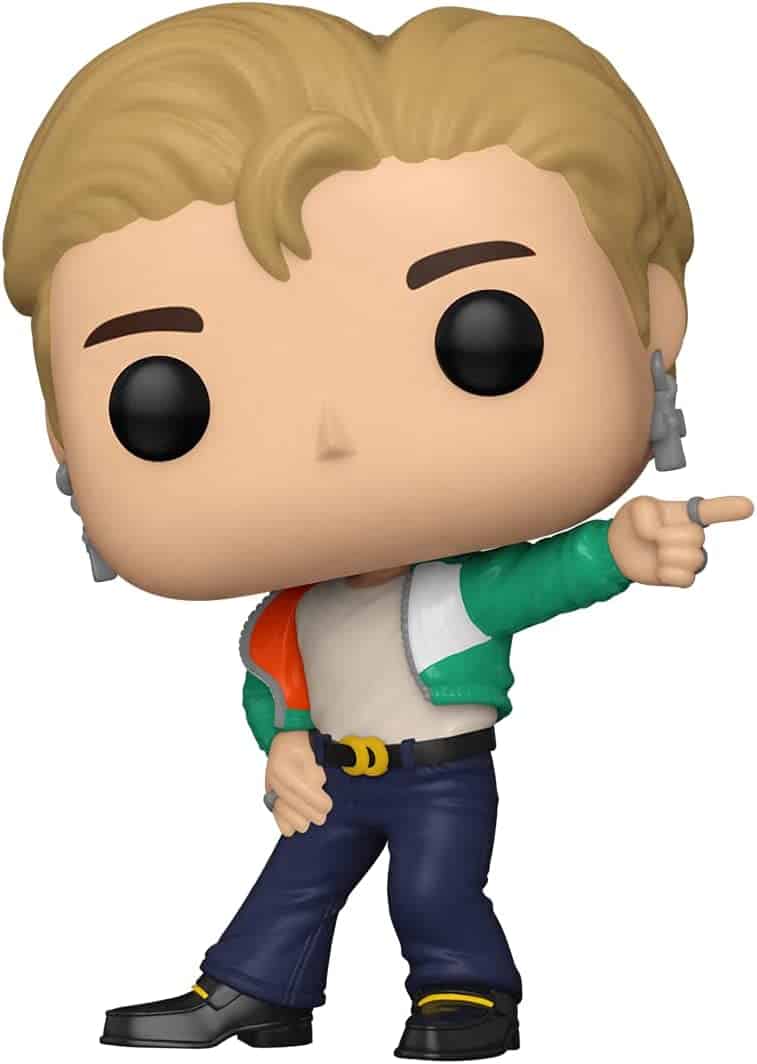 Given that Jimin's one of the main dancers in the group, this Pop of him in a striking dance pose is among the best toys that represent him.
Release date: July 2021
Rarity: Low
Pros
This figure's pose is taken from a recurring part of the Dynamite MV dance choreography, making this perfect for those who love Jimin's moments from the video
Of the three Jimin Pops, this version highlights Jimin's dancing skills the most
Funko got all the details of Jimin's outfit right and even included the tiny accessories that he wears in the video
The different paint finishes give the figure's clothes a somewhat realistic texture. The jacket even has a glossy finish that's true to the source material
Cons
This figure's hair color is too blonde and light, while Jimin in the MV has dark blonde-brownish hair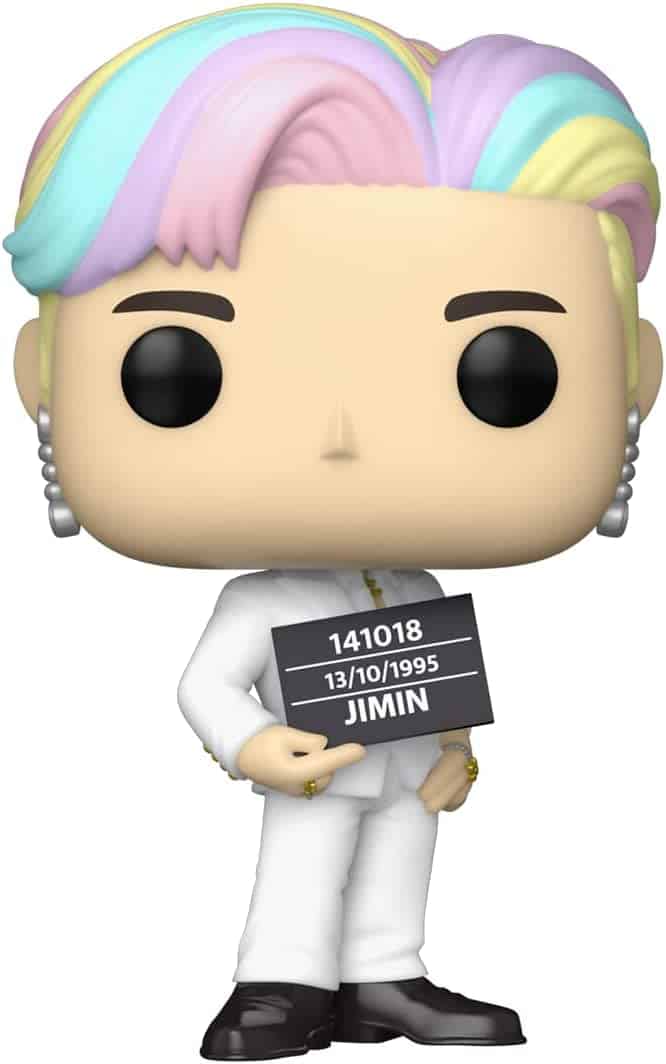 Nothing emphasizes Jimin's handsome features like a well-tailored suit, as seen in this Funko Pop.
Release date: October 2022
Rarity: Low
Pros
This figure has the prettiest and most colorful hair among the BTS Pops. It also includes many of Jimin's popular hair colors throughout the years (pink, violet, blue and blonde)
There's a memorable date associated with this figure that diehard ARMYs will appreciate. The number on the Pop's placard, 141018, refers to the start of the group's first world tour, BTS Live Trilogy Episode II: The Red Bullet
Due to the Pop's all-white outfit, most stocks of this figure have a smooth mold and error-free paint job
The figure's design and pose are directly from the intro of the official Butter MV, so it's a good representation of the song
Cons
This figure has a plain pose compared to the two other Jimin Pops since they have dynamic poses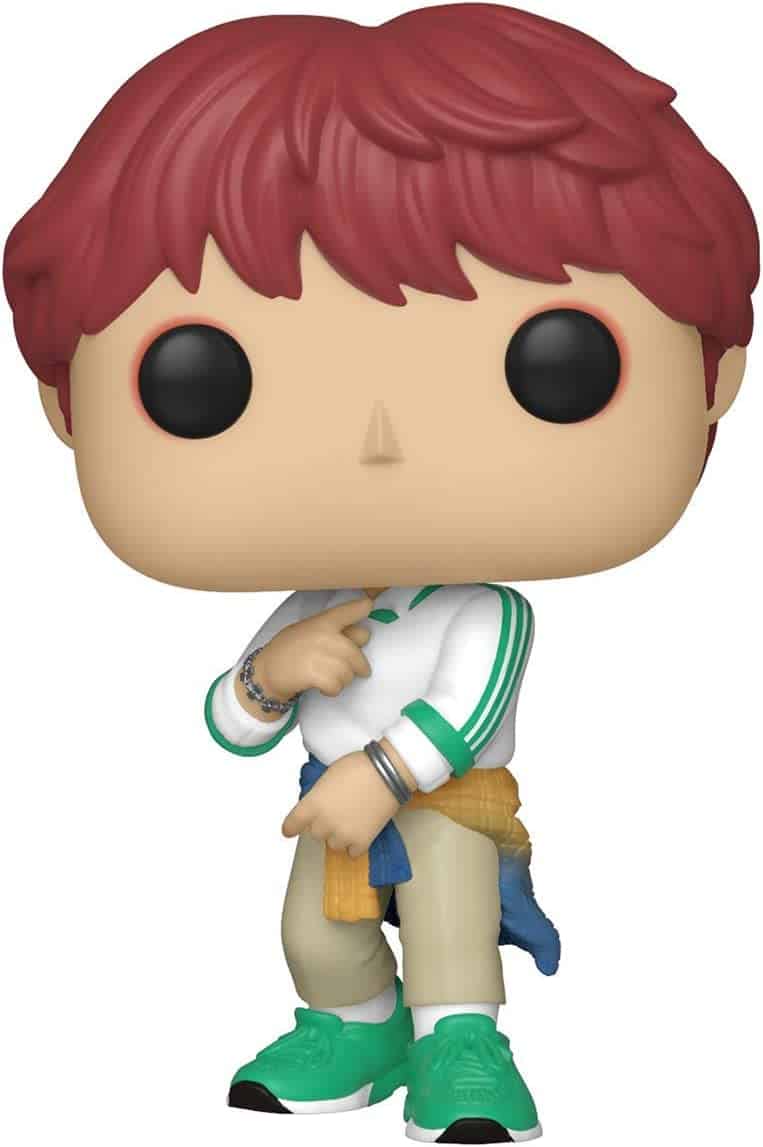 The multi-talented Suga is ready for any ARMY's shelf or display cabinet in this lovely 4-inch Funko Pop.
Release date: May 2019
Rarity: Moderate to High
Pros
I like how Funko applied the eyeshadow because it looks much better than in the promotional photos. The color also matches the figure's hair, which gives it a well-put-together look
Owning this Pop will give you a sense of prestige because it's been vaulted and isn't in stock at regular retail stores
The colors used for this figure are close to the source material, especially the shiny silver paint for the bracelets
Even though the pose isn't as flashy as the others, it's in line with Suga's reserved yet fierce attitude on-stage
Cons
Since this figure has been retired from the production line, it's not as easy to find anymore. As a result, getting a replacement will be difficult should you end up with a defective stock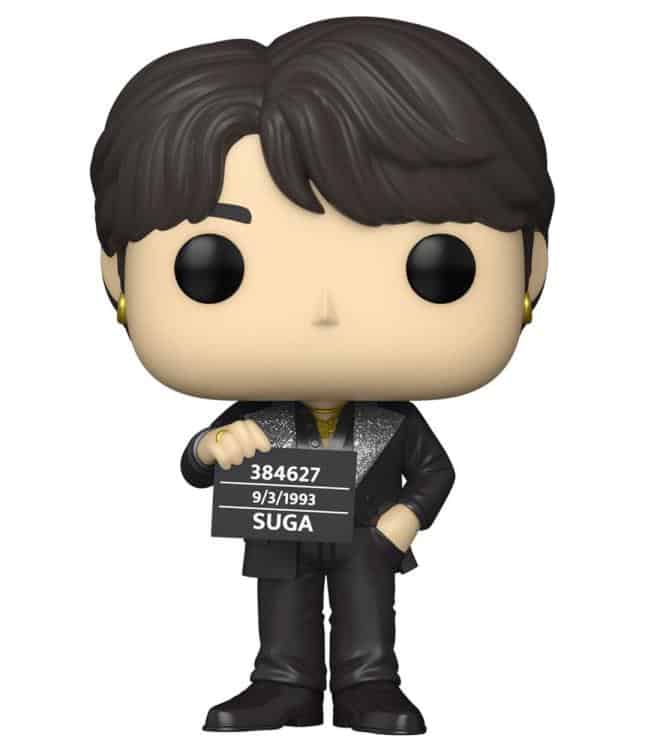 Are you a Suga fan? Then this stunning Funko Pop of him should be in your checkout cart as soon as possible.
Release date: October 2022
Rarity: Low
Pros
This figure has the most similar aura to Suga out of all his Pop versions. It has his K-Pop artist appearance, but because of its casual pose and face, it gives off his off-stage nonchalant vibe
This figure's costume goes well with Suga's personality because it's classy yet laidback
Even though this figure has a simpler design than the older Suga Pops, it has better paint details. Its sleek and polished look further accentuates the sparkly lapel
Funko did an excellent job with this Pop's quality in general because most stocks have no visible seam lines or paint flaws
Cons
You can't get a full view of the outfit's design due to the placement of the placard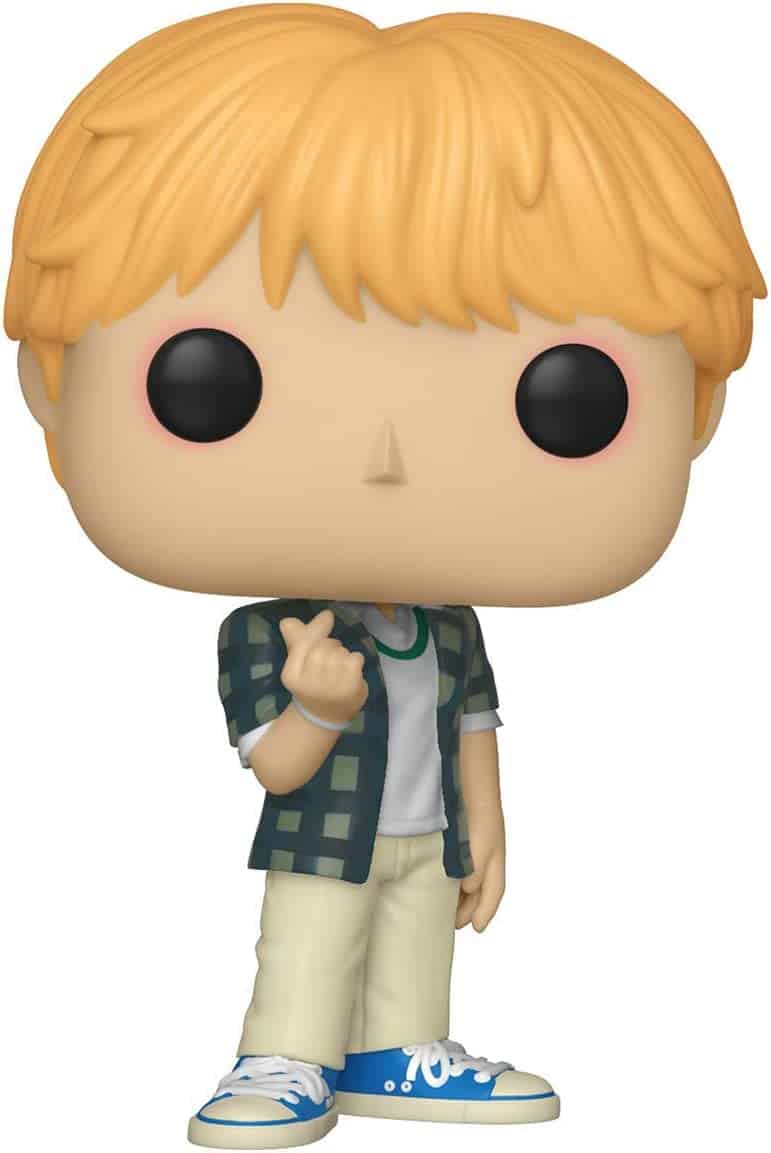 When it comes to visuals, Jin deserves the 'Worldwide Handsome' nickname. Naturally, this Funko Pop of him displaying his aegyo is no doubt stealing hearts as well.
Release date: May 2019
Rarity: Moderate
Pros
The Pop's finger heart pose goes perfectly well with Jin's image since he's one of the most fun-loving and cutesy members of the group
It's one of the few Pops in the BTS Love Yourself: Answer lineup that closely mimics the outfit's entire design from the Concept Photo F set. The other figures stick to the colors but don't copy the patterns
The fresh and boyish style of this variant aligns with Jin's spirited and light-hearted attitude off-stage
It's the ideal Pop for fans who like Jin as a person, more than a K-Pop star because it's more down to earth than the Dynamite or Butter variants
Cons
The eyeshadow of this figure isn't as prominent as what's shown in the photos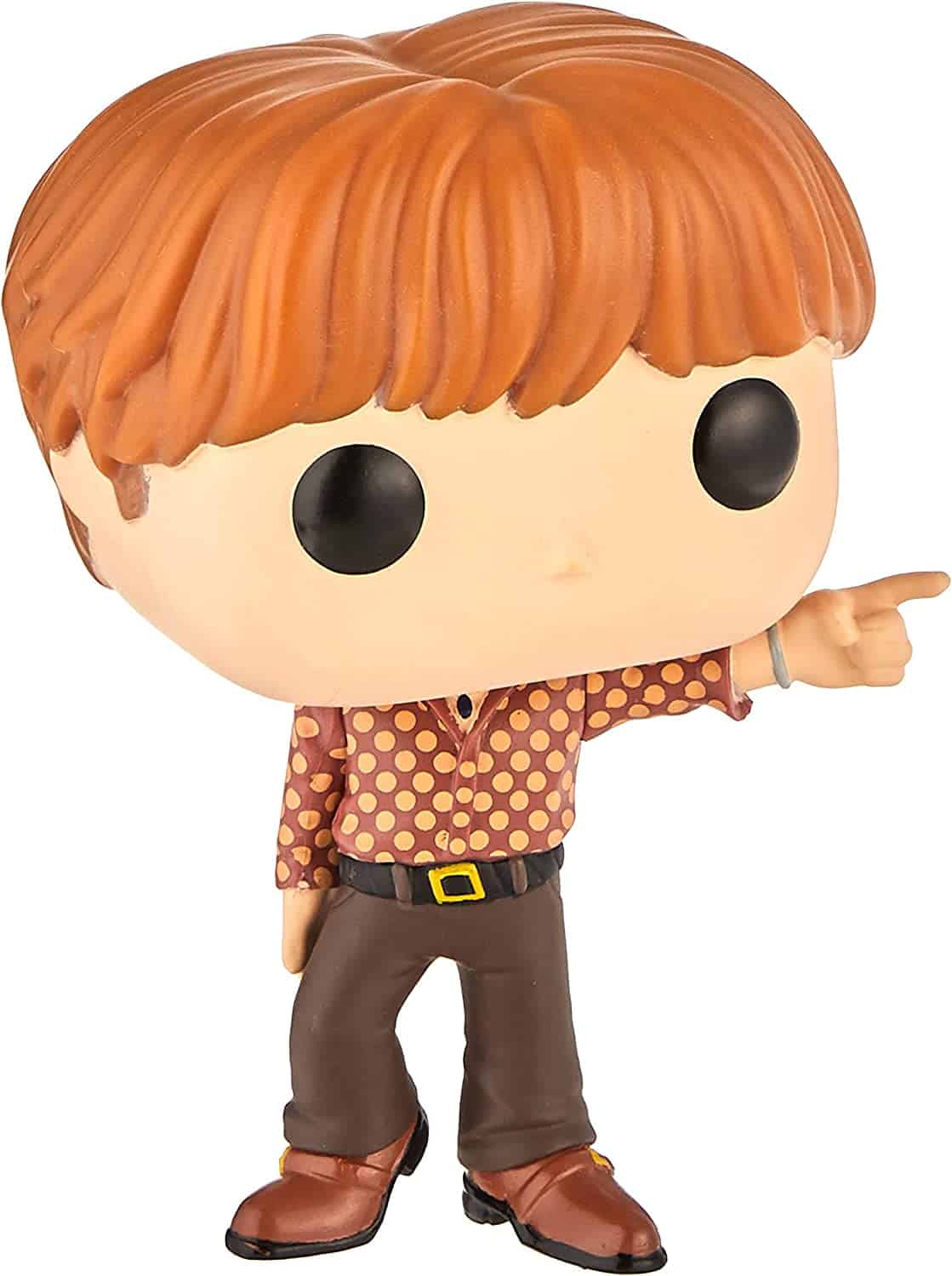 Do you want a Jin figure that shows off his dashing good looks and enchanting K-Pop persona? There's no need to search anymore, as this Pop variant is for you.
Release date: July 2021
Rarity: Low
Pros
You'll get a tiny version of Jin while he's in 'artist mode' with this figure since it recreates a portion of Dynamite's MV
This variant is a combination of the best features of the other Jin Pops. It has similar vivid colors to the Love Yourself: Answer version and the elegant appearance of the Butter variant
This figure has the most detailed outfit of the three Jin variants since it has intricate details that the two lack (like the clean polka dot pattern)
It has a good sculpt since it includes the creases on Jin's pants and mimics the texture of the belt
Cons
Funko messed up this figure's hair color because it's too orange and light. Jin's hair has a dark orange-brown shade in the MV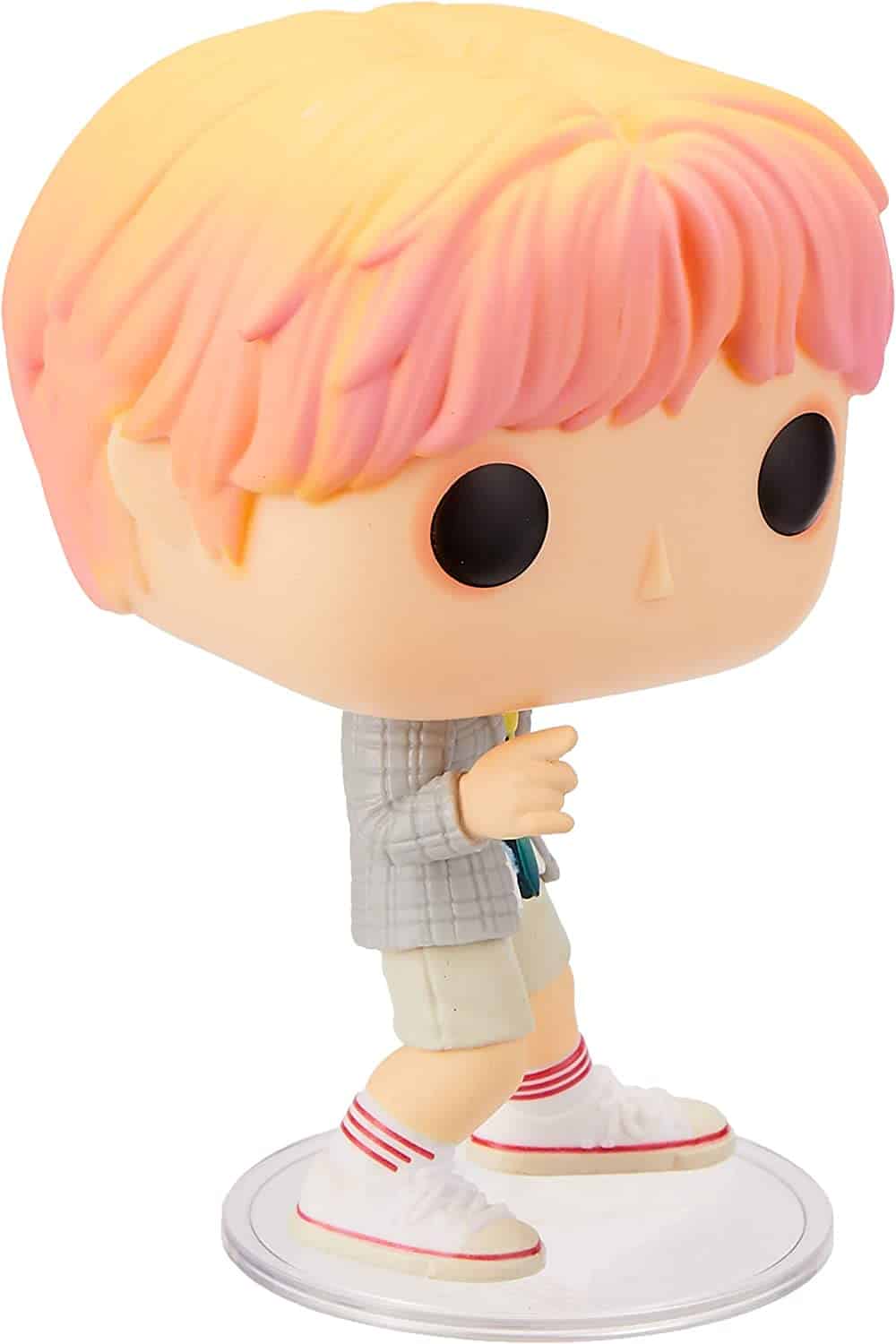 Be it in the flesh or as a vinyl toy, V continues to slay in every form. So if you adore him as the group's fashionista, you've got to add this Pop to your BTS collection.
Release date: May 2019
Rarity: Moderate
Pros
It has the flashiest color scheme and outfit of the V variants, making this an excellent embodiment of V's fashionable side
The Pop's jacket's pattern is sculpted and not simply painted on, which gives it a textured appearance
Even though Funko didn't keep the tie's original pattern, the gradient coloring they replaced it with fits the overall theme. Moreover, the revised design looks better as well
The colors Funko used on this figure look great in person and are identical to what's in the photoshoot
Cons
This Pop should've had pastel peach-pink hair instead of a blonde and pink ombre hairstyle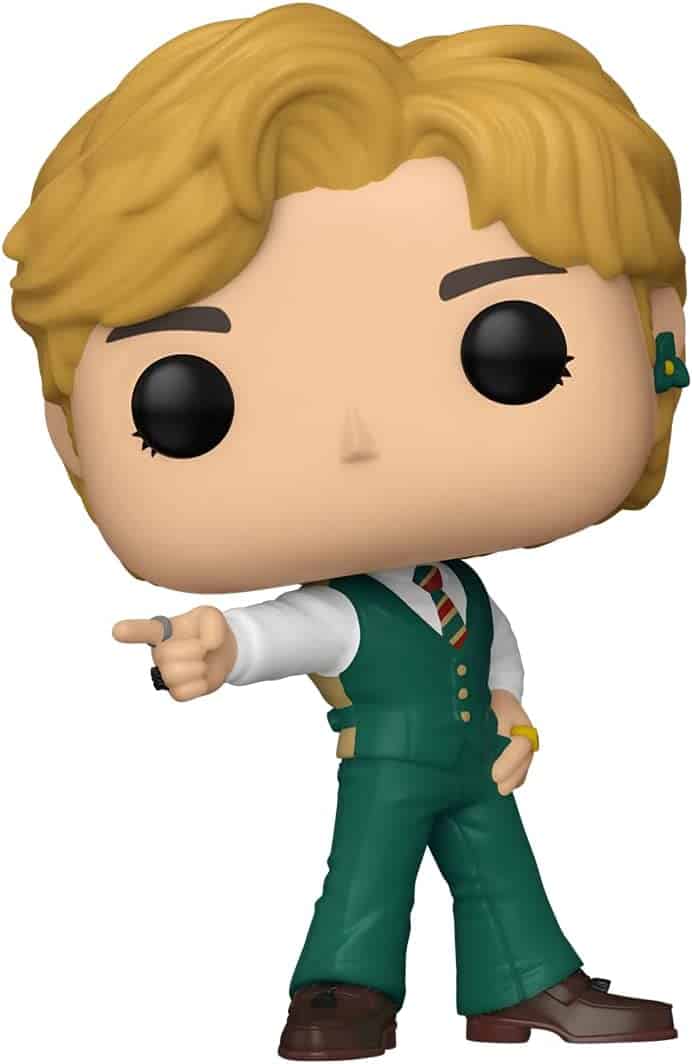 You can't miss out on this Pop variant of Taehyung strutting his stuff in emerald green if you're in the mood for a polished and sophisticated V.
Release date: July 2021
Rarity: Low
Pros
Even the most minor features of V's outfit from the Dynamite MV were imitated, such as the rings, pants seams, and outline of the pockets
It's one of the two Pops in the entire BTS line with long eyelashes painted on it, distinguishing its face from the others. (Only V's Dynamite and Butter Funko Pops have this feature)
Most stocks of this figure have little to no paint or sculpt issues. Even the waistcoat's buttons and shoes' buckles have precise paint jobs
Funko correctly recreated V's hairstyle from the MV since they got the proper color and shape of the bangs
Cons
The mold for the Pop's bangs has visible seam lines, and the edges may be rough in some stocks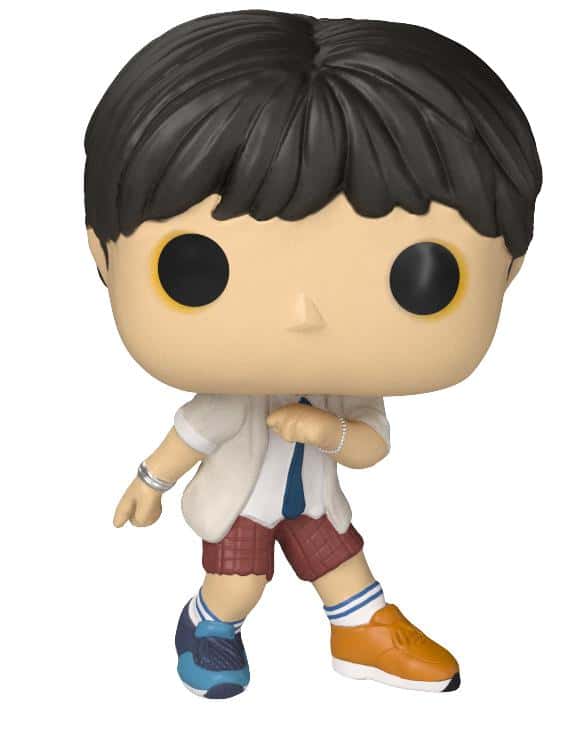 The group's beloved dance captain always looks his best when flexing his dance moves. Therefore this figure of J-Hope breaking it down is a must-have when he's your bias.
Release date: May 2019
Rarity: Moderate
Pros
The bright yellow eyeshadow has just the right opacity to be noticeable without overpowering the rest of the colors
The figure's pose is reminiscent of many of BTS' dance steps, which completely fits J-Hope's main dancer role in the group
Due to its pose, this Pop has a wide range of flattering angles. Hence you have several ways to display it, aside from its frontal side
This figure's outfit resembles J-Hope's casual style the most
Cons
The necktie is supposed to have a colorful pattern, not just a plain blue color. Even if Funko couldn't copy the design, it would've looked better if they had kept the colors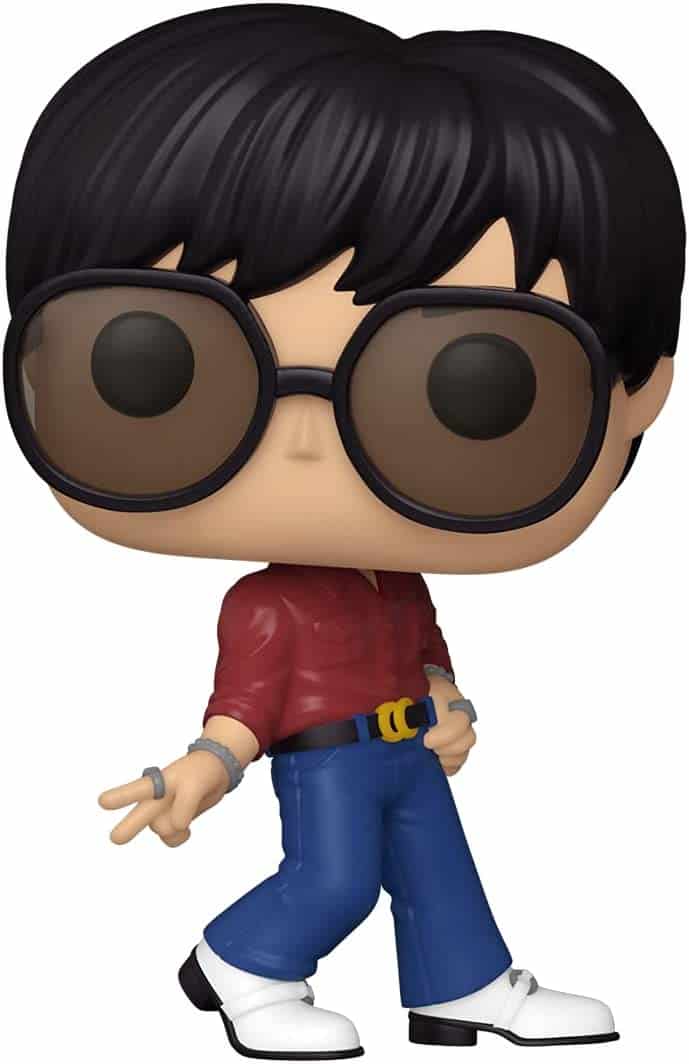 If J-Hope is your main boy, this sizzling hot Pop of him is sure to be a desirable add-on to your Hobi altar.
Release date: July 2021
Rarity: Low
Pros
This figure has a notable paint job because it correctly mimics the texture of J-Hope's clothes in the MV (The top has a shiny finish to imitate leather, and the pants are matte to replicate denim material)
The sunglasses give this Pop a presence that's hard to ignore, which boosts its attractiveness. It's also one of the only two figures in the BTS lineup to have this type of accessory
The pose feels like it's a mix of the Dynamite dance choreography and J-Hope's own dance style
It's the figure to take home when you want J-Hope in his suave and sexy dancer mode
Cons
The Pop's common flaw is the messy paint along the hair's edges, especially on the sides and back part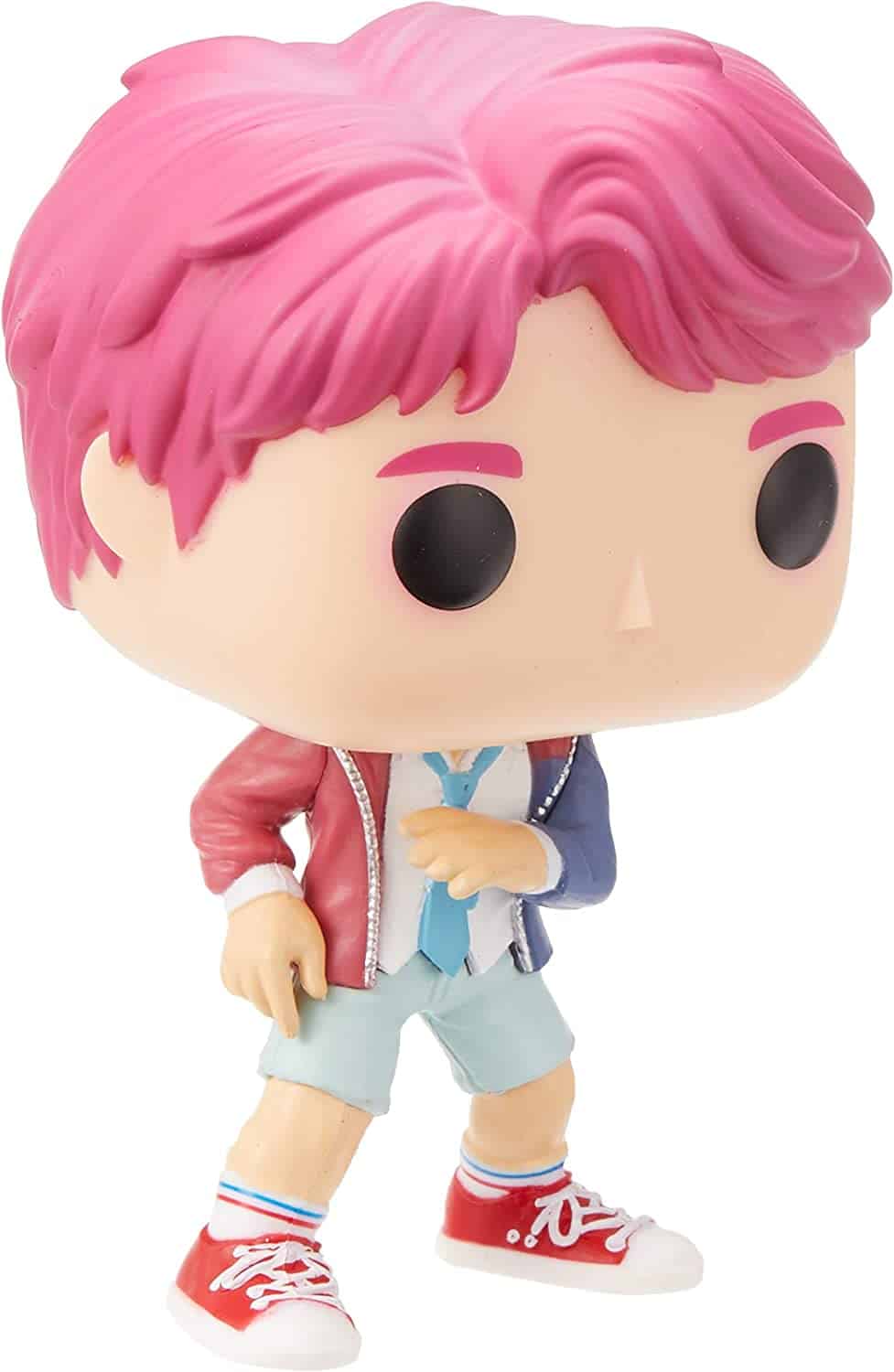 The group's golden maknae is undeniably irresistible in this radiant Pop variant as it fully conveys JK's youthful charisma.
Release date: May 2019
Rarity: Moderate to High
Pros
This figure's gorgeous color scheme is among the best in the BTS Funko Pop lineup. The pink color, in particular, looks refreshing and inviting, which matches Jungkook's dongsae position
Since the Pop has a stable pose, you can display this figure without attaching it to the stand anymore
Aside from being part of the most attractive BTS Pops, it's also one of the most valuable. It currently costs double to triple its original price
Out of the three Jungkook figures, this is the variant that reflects his coming-of-age vibe since he was 20 years old (South Korea's age of consent) during the release of the album
Cons
Stocks of this Pop may have a distinct seam line in the middle of one or both of its legs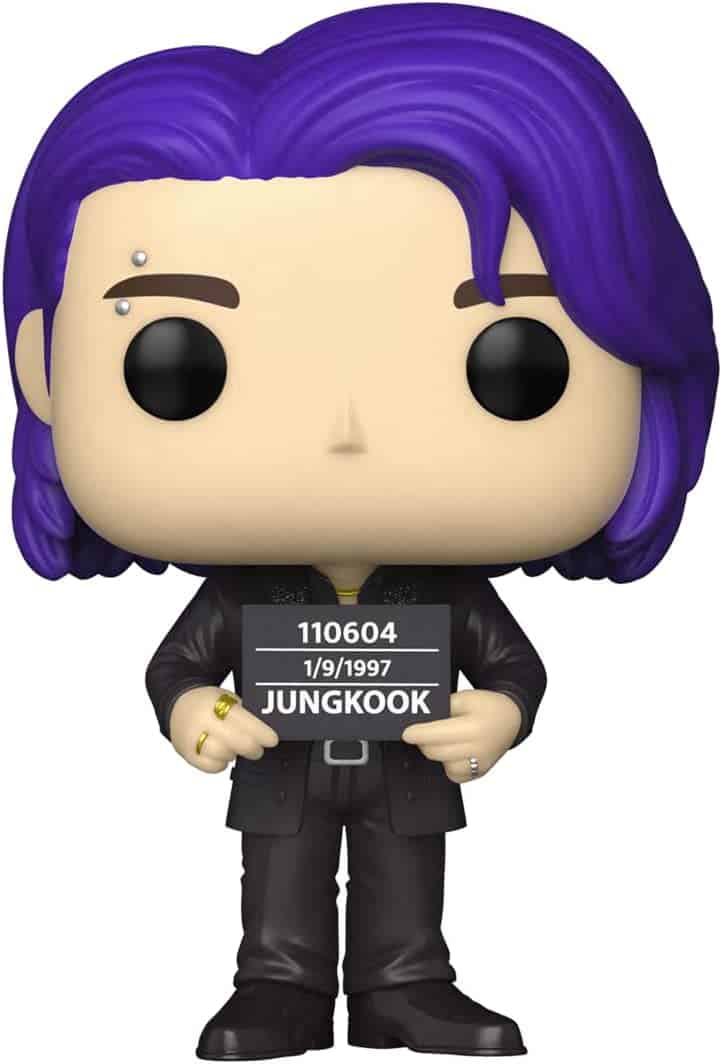 There's no question that Jungkook's sweet dongsae side is endearing. Though if you share my tastes and prefer his bad-boy style, this Pop is what you should get.
Release date: October 2022
Rarity: Low
Pros
It's the only Pop that shows a hint of Jungkook's body modifications. As such, the figure represents his personal preference for tattoos and piercings
This figure showcases Jungkook's mature tough guy style nowadays, which is vastly different from the older Jungkook Pops that have a bubbly vibe
It has a sentimental value that the others don't have. The placard this Pop holds features the date when Jungkook joined the BTS dorm for the first time
This is the most badass Pop in the BTS lineup because it's the only one that has an uncommon feature (the eyebrow piercing)
Cons
This variant has a boring pose since the older Jung Kook figures have dynamic poses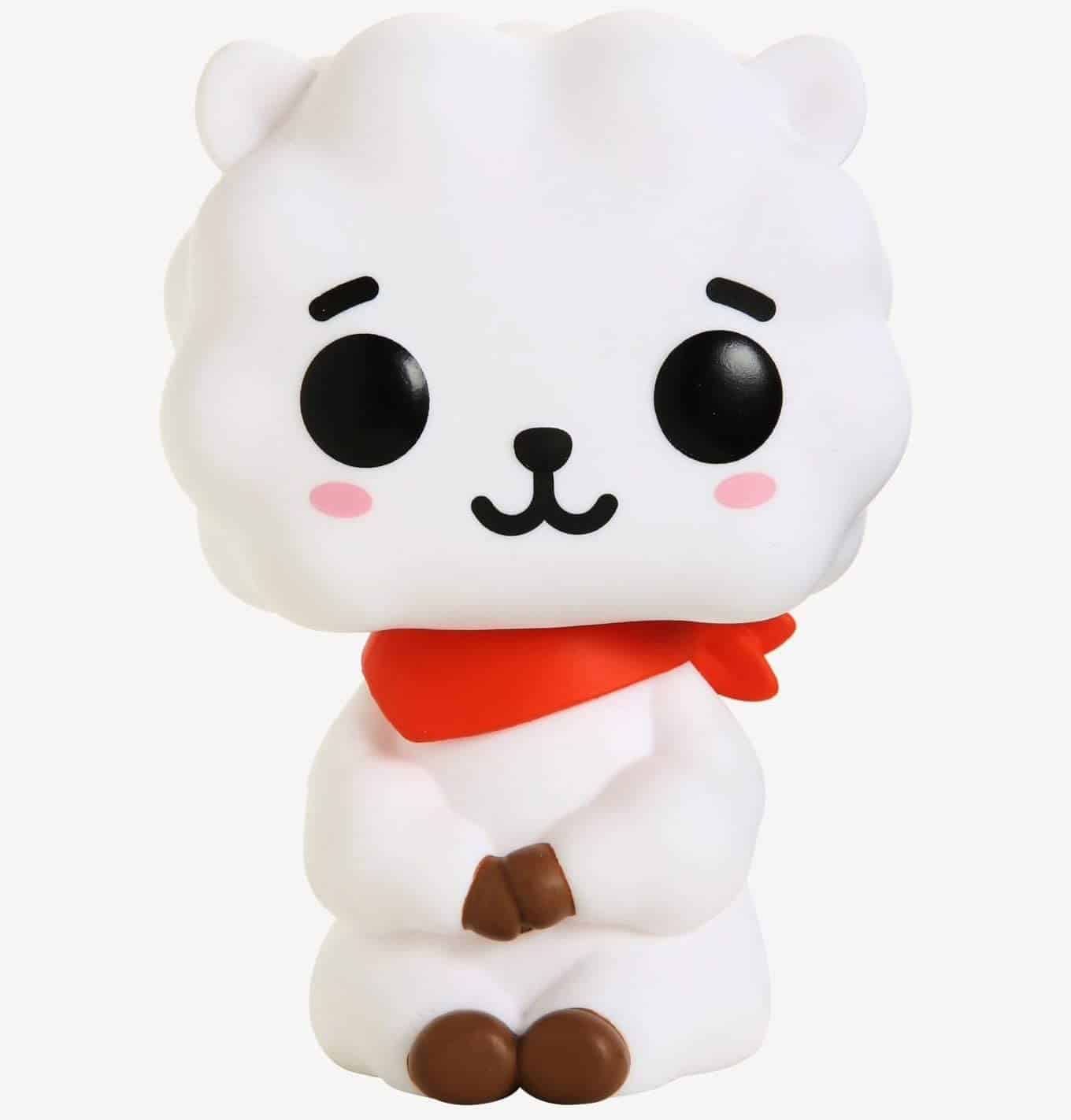 The sweet fluffball has such a loveable design that even Jin has loads of RJ merch. And if you're a fellow Alpaca lover like him, you better get your mini RJ by buying this Pop.
Release date: November 2019
Rarity: Moderate
Pros
Jin used himself as the inspiration for RJ because he thought he resembled an alpaca. This detail makes this Pop a solid option when you want a cutesy version of Jin
Even before the LINE FRIENDS collab with BTS, Jin had been working on RJ's design for two years. So owning this figure is similar to having a piece of Jin's creativity and personal handiwork
This figure has one of the most attractive designs in the BT21 creations
The Pop has a terrific mold, especially since the fur around its head looks fluffy and soft
Cons
This version of RJ slightly strays from the original design because it has a chubbier body. The Alpaca is supposed to have a longer and thinner body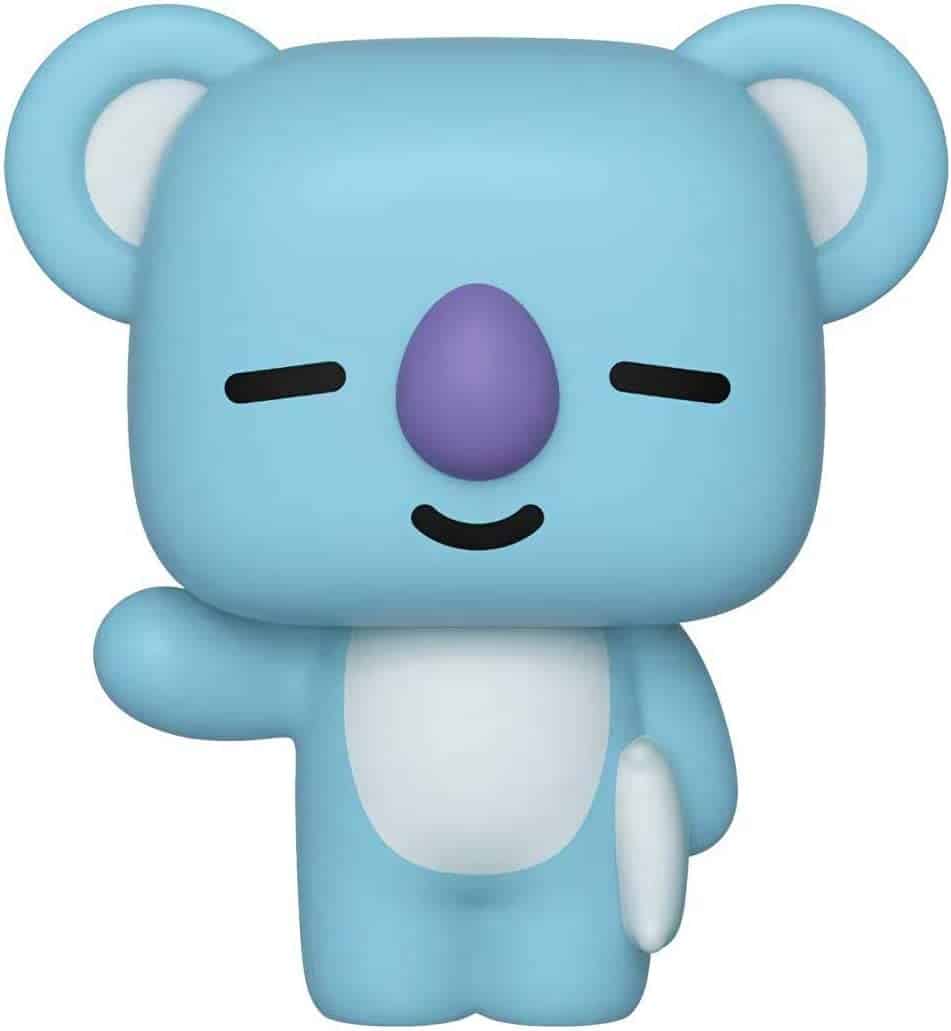 People usually associate Koalas with Australia or wildlife. But this specific blue one is well-known to ARMYs globally as Namjoon's creation. It's why if you need more RM in your life, having this Koya Pop is a great way to go about it.
Release date: September 2019
Rarity: Moderate
Pros
Koya's a prominent image in the ARMY community because its stickers are frequently used to censor the members' shirtless photos and videos
This Pop has Koya's signature look since it includes the character's trademark pillow
Koya's overall appearance is from RM's drawing. The LINE FRIENDS artists didn't alter the basic details and only improved his initial design
Since the character has a simple design, nearly all stocks of this figure have flawless paint and sculpt
Cons
Funko didn't follow Koya's exact design. This Pop has a square face, whereas Koya  has a round face in the official illustrations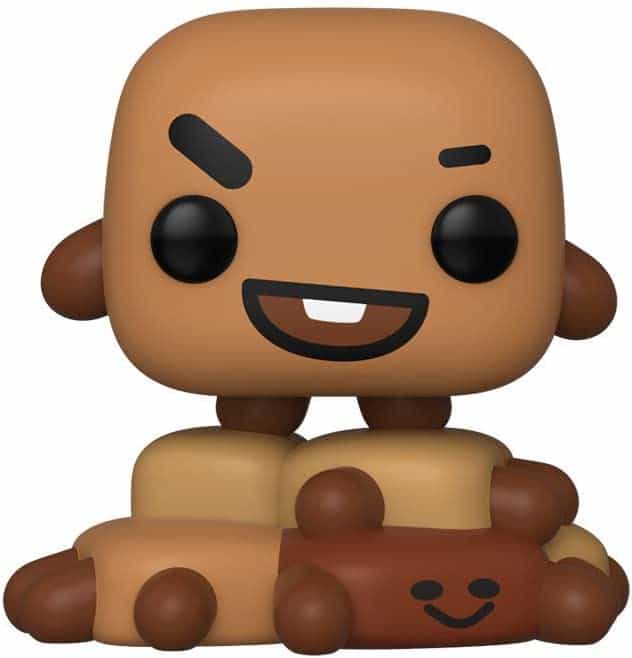 There's a saying that sons take after their fathers. In this Pop's case, that's completely true because Shooky, like its maker Suga, is one tough and fascinating cookie.
Release date: October 2019
Rarity: Low
Pros
Many of Shooky's expressions are similar to Suga's, including the one this figure has. So having this Pop feels like you're bringing a part of the real Suga with you
It's the sole figure with an elaborate base. All the other toys under the BTS and BT21 labels only have the standard clear base that Pops typically have
A unique perk comes with this Pop – you get more than one character from the BT21 universe. Besides Shooky, you'll also have the Crunch Squad
Cons
Similar to the Koya figure, Funko changed the shape of the character. They made Shooky into a square cookie instead of a circular one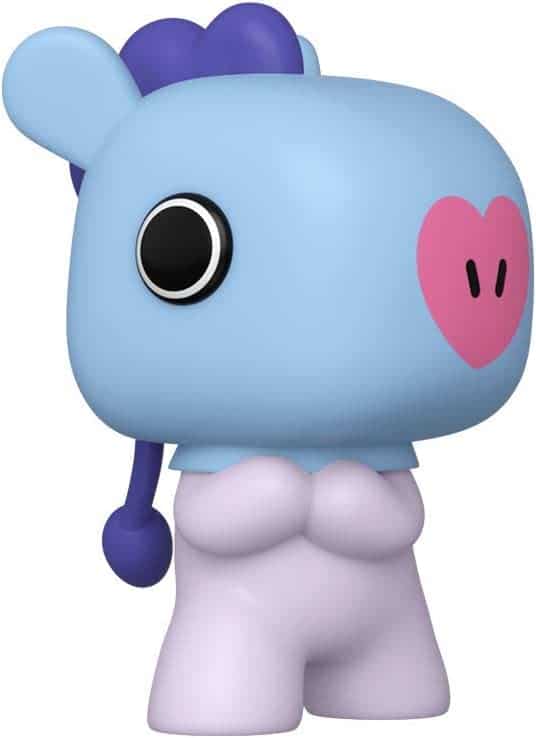 Mang is the 3D incarnation of J-Hope because it's just as crazy about dancing as its creator. On top of that, this Pop also has a cute face that will dazzle any Hobi stan.
Release date: October 2019
Rarity: Low to Moderate
Pros
It's the only character that doesn't have plain black eyes, which gives this Pop a unique appearance. Plus, the eyes' design adds a bit of realism since they look similar to dogs' eyes
Since Mang's personality revolves around dancing, getting this Pop is just like having the cartoon version of J-Hope
This Pop is like a real-life version of Mang since it correctly replicates the horse's design and shape
Cons
Mang's eyes are on the side of its head, so your display options are limited to either the Pop's left or right side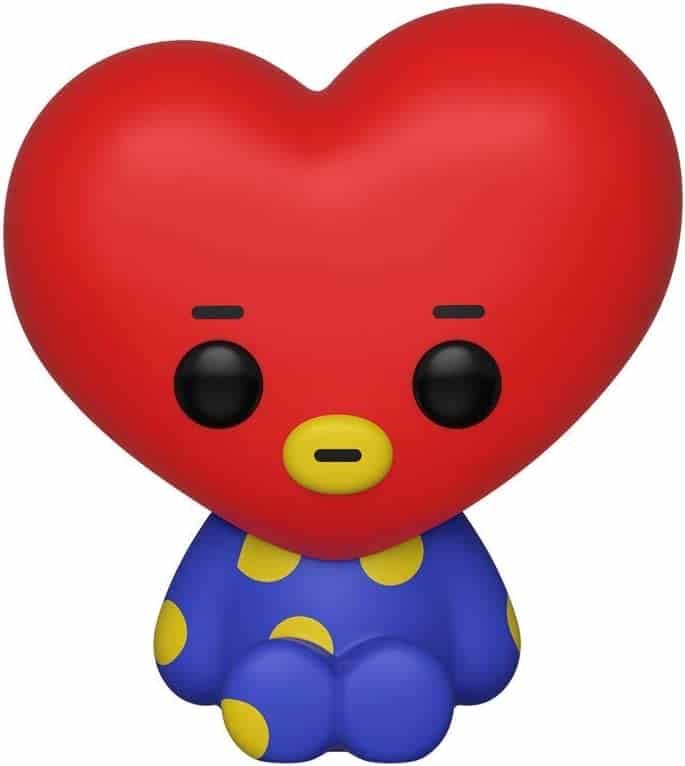 Like its maker, V, Tata has a unique and charming appearance that most ARMYs can't get sick of. So if you want to enjoy your bias in cartoon form, you should go for this Tata Pop.
Release date: November 2019
Rarity: Moderate
Pros
It has a one-of-a-kind design that you won't see anywhere else since Tata is an alien prince
Tata is one of the top three popular characters in the BT21 universe. It's often among the first character to go out of stock in stores
Funko didn't chibify this figure. It's a precise copy of Tata, right down to the rich colors and proportions
V came up with Tata's superpowers and meaning on his own, which gives this character a personal touch. Additionally, the LINE artists didn't revise much of Tata's original design by V
Cons
Stocks of this Pop might have paint errors, such as tiny paint splotches on the body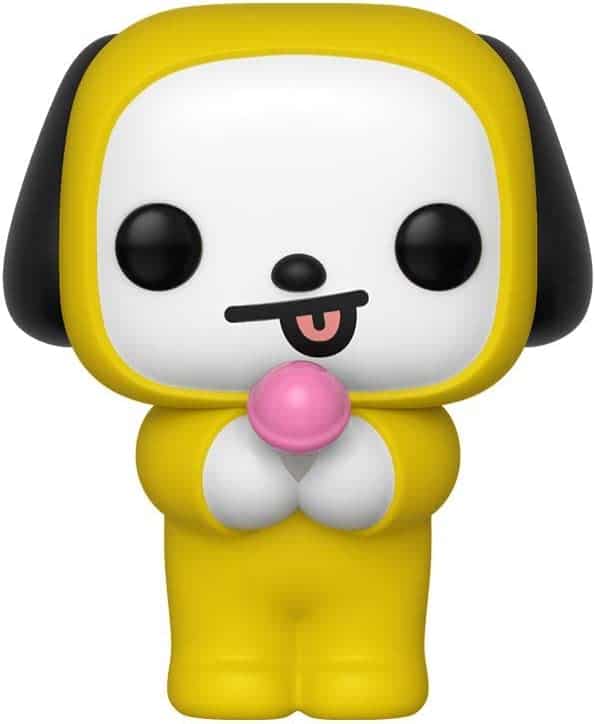 Jimin's talents don't just end at performing. The baby-faced heartthrob also has a knack for producing attractive creatures – this Chimmy Pop is a prime example.
Release date: November 2019
Rarity: Moderate to High
Pros
Similar to Jin's RJ, Chimmy is primarily Jimin's work. LINE FRIENDS added the yellow one-piece hoodie and retained Jimin's base design and name for Chimmy
It's a sought-after Pop in the BT21 line. And since it's no longer in production, its value will keep on increasing with time
The figure's goofy expression stands out from the rest since most of the other Pops have neutral or smiling faces
Cons
There's a chance you might get a Chimmy Pop with a messy paint job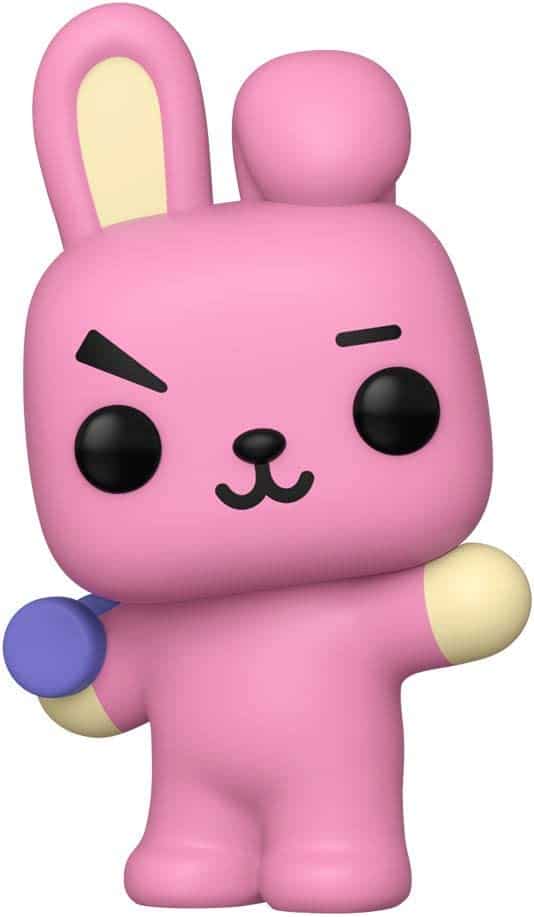 There isn't any other character that embodies the different sides of Jungkook as well as Cooky. You'll get both his cute and macho sides when you obtain this Pop.
Release date: November 2019
Rarity: Moderate
Pros
Unlike most Cooky toys, this figure includes the character's go-to accessory, the blue dumbbell
This character shows the duality of Jungkook as a person. It has two forms, a fluffy and muscular one which is similar to JK's sexy on-stage style, and rugged personal style
Jungkook's good at drawing, so Cooky's design is entirely from him. Everything about this character is essentially Jungkook's original work. Even the cute and muscular sides are his idea
Cons
Stocks of this Pop may have a rough sculpt or some minor flaking around the neck area
Conclusion
Now that BTS has penetrated the international scene, more and more people are joining the fandom. This means ARMYs all over the world are raring to own tons of BTS merch. Luckily for you, this demand makes it easy for anybody to access plenty of BTS Pops.
The downside, though, is that since there's a high demand, the Pops are naturally sold out quickly. So if you don't want to miss your main boy's variants, now's a good time to purchase them. Otherwise, what you're aiming for might leave the retail stores' shelves for good since 14 Pops from the BTS and BT21 lines have already been vaulted.
I'd also like to point out that you're better off with Pops than other merch. Because unlike shirts and similar items that fade with use, displaying figures won't lead to wear and tear. Plus, their value won't diminish much when you take them out of the box.
Considering these advantages, the Pops in this guide are the ideal pieces to start your own BTS collection. You'll get to experience the group's various looks in the best and most secure form.
Top Q&A
Question: How Many BTS Pops Has Funko Made?
Answer: There are 21 Pops under the BTS lineup. But the total number for all BTS-related Funko Pops is 28, which includes the LINE FRIENDS and BTS collaboration label BT21.
Question: What Are The Different Versions of The BTS Funko Pops?
Answer: The first wave of BTS Pops is from the group's Love Yourself: Answer Album Concept Photo F set, which has a preppy and fun motif. These Pops came out in 2019 and have been vaulted.
The second wave was released in 2021 and was based on their third outfit in the 2020 Dynamite Music Video.
As for Funko's most recent release in October 2022, the Pops are from the intro scene of the 2021 Butter Music Video.
Question: Are The BT21 Funko Pops Related to BTS?
Answer: Yes. The seven BT21 Funko Pops are part of the BTS label. They're the creations and alter-egos of the members
Continue reading: